How to Organize your Pantry with Pretty Pantry Containers
This post is sponsored and may contain affiliate links, please read my disclosure policy.
I admit, I'm not the most organized person in the world. When it comes to keeping things tidy, I am NOT the one. lol!  I usually let things get to the point of complete disaster before I dive in and clean. But I when I do, there is so much joy that comes with making sure everything has a place. I can sit for hours organizing little spaces like this, because when it comes to making spaces pretty, I get excited! If you want to learn how to organize your pantry then keep scrolling!  
Have you ever heard the sang " A clean house is the sign of a wasted life" When I first heard it, I thought ha! Yes! But the more I thought about it, I thought, no. There are women out there who LOVE to clean and organize. Cleaning to them comes as natural as decorating comes to me. So, NO! They aren't waisting their life cleaning, they are doing something they love and for that, I appreciate them! Without them, women like me would never be motivated to get things organized!!!
So here I am today showing you my organized pantry. It's not always like this but today it is and it has the potential to stay this way because of all the pretty little containers I added. Plus the way I set it up really works for our family. So let's take a little tour shall we?

How to Organize your Pantry
Baskets
I'm a big believer in baskets friends. Not only are they functional but there also a favorite because they hide stuff and pantries are one of those places that tend to have a lot of stuff. I used these large baskets to hold our everyday stuff that isn't opened yet or just needs a place to be. When cereal runs out, I have extra in these baskets so all I need to do is open the next box and pour them into these containers!
When I go grocery shopping I know that I can put any extra in the baskets until they are ready to use. You see I have three different cereal container because I have three kids who at any given morning want something different for breakfast so I usually just stock up with each of their favorites.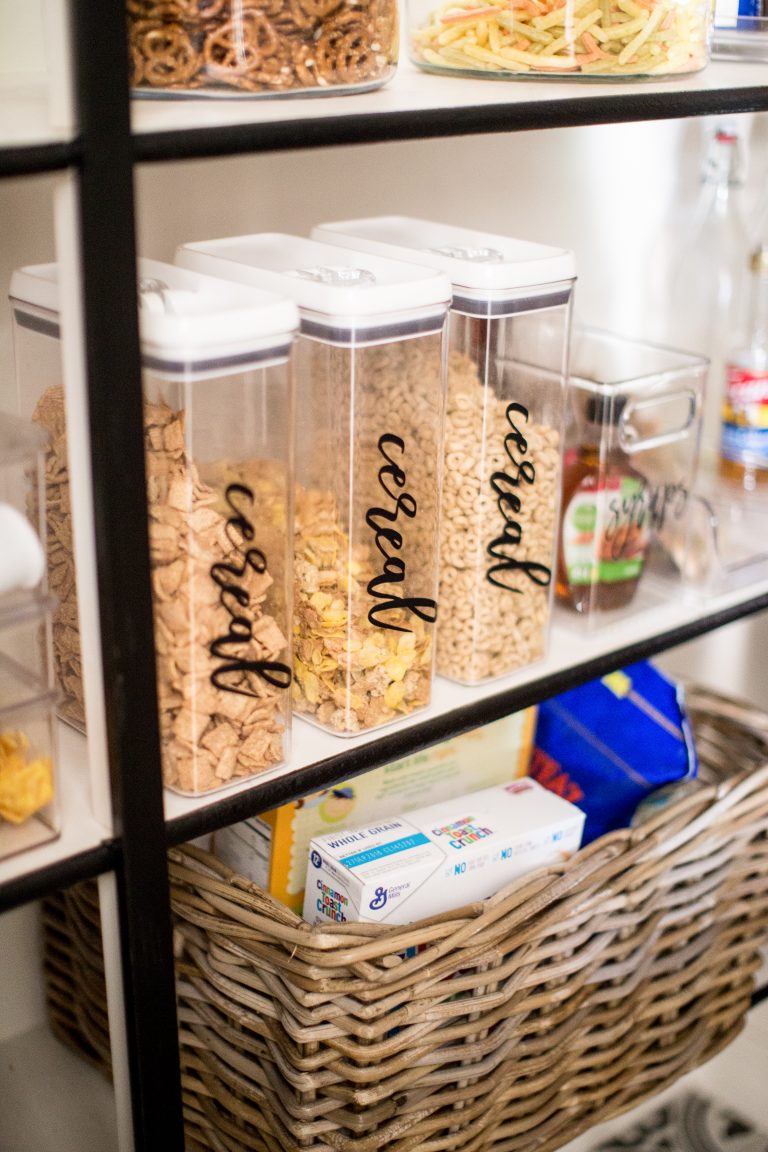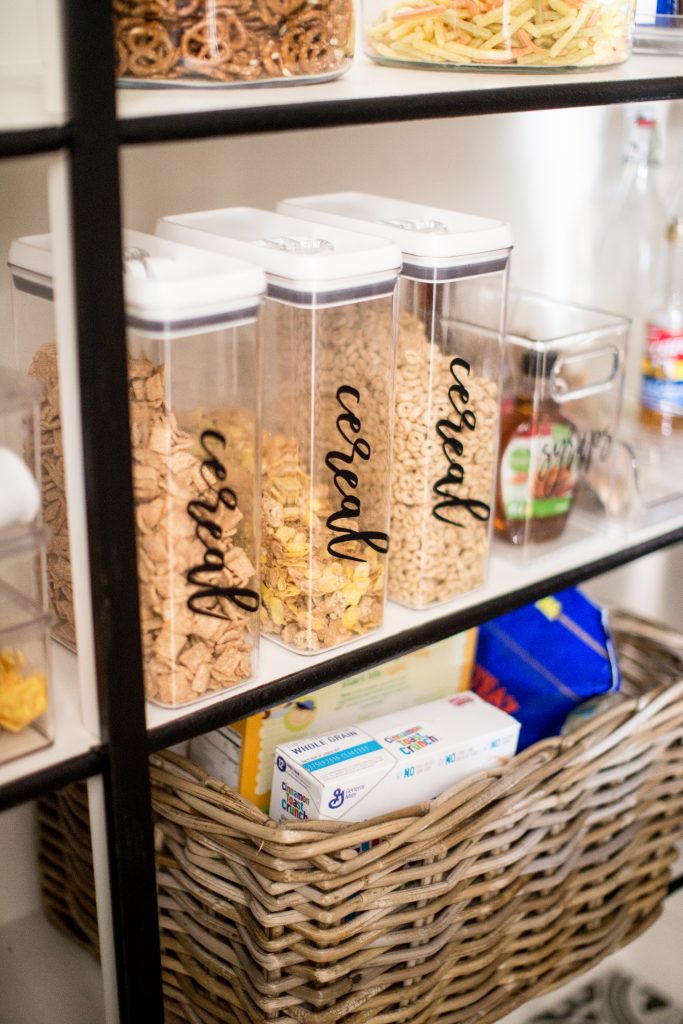 Glass Jars
Glass Jars are one of those must haves when it comes to organizing the pantry. I labeled these jars with everyday items like oats, chips and snacks, lots of SNACKS! That way when we I go grocery shopping I don't need to really worry about putting goldfish in the goldfish jar, I can just stick it one of the snack jars and call it a day! Snacks covers anything from cookies to Zbars so we are all covered! I also used some clear scoops to help with portions!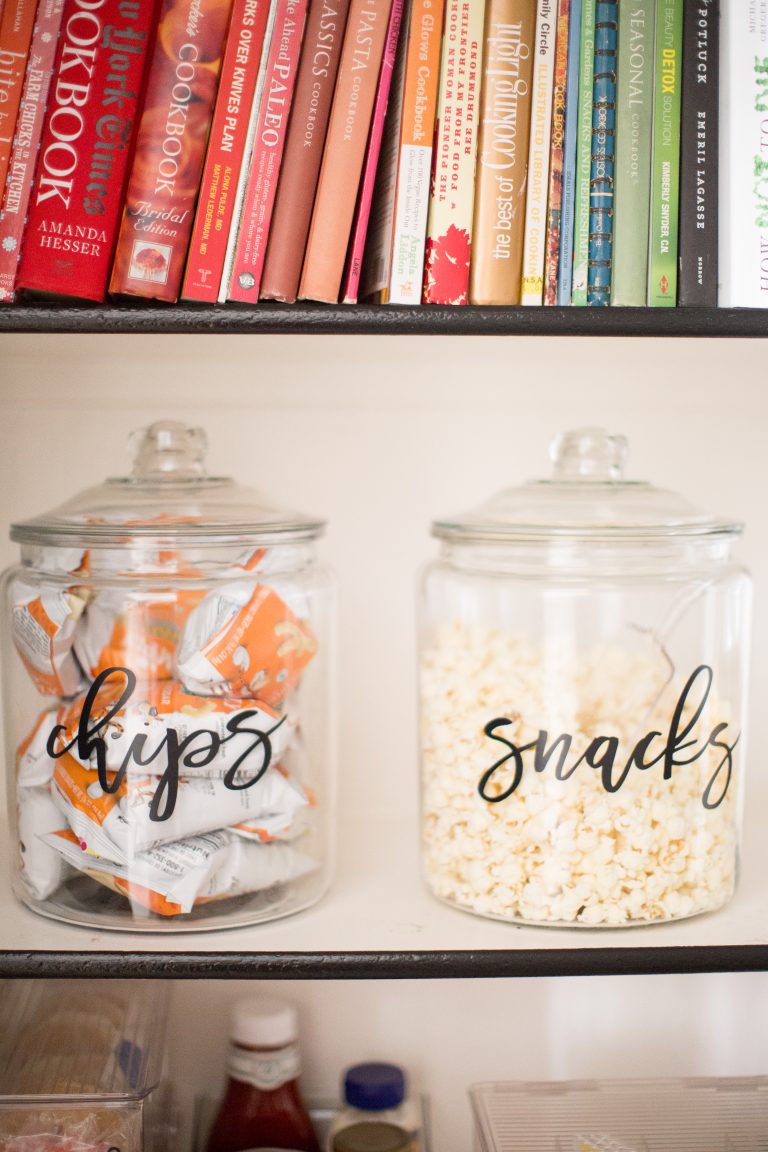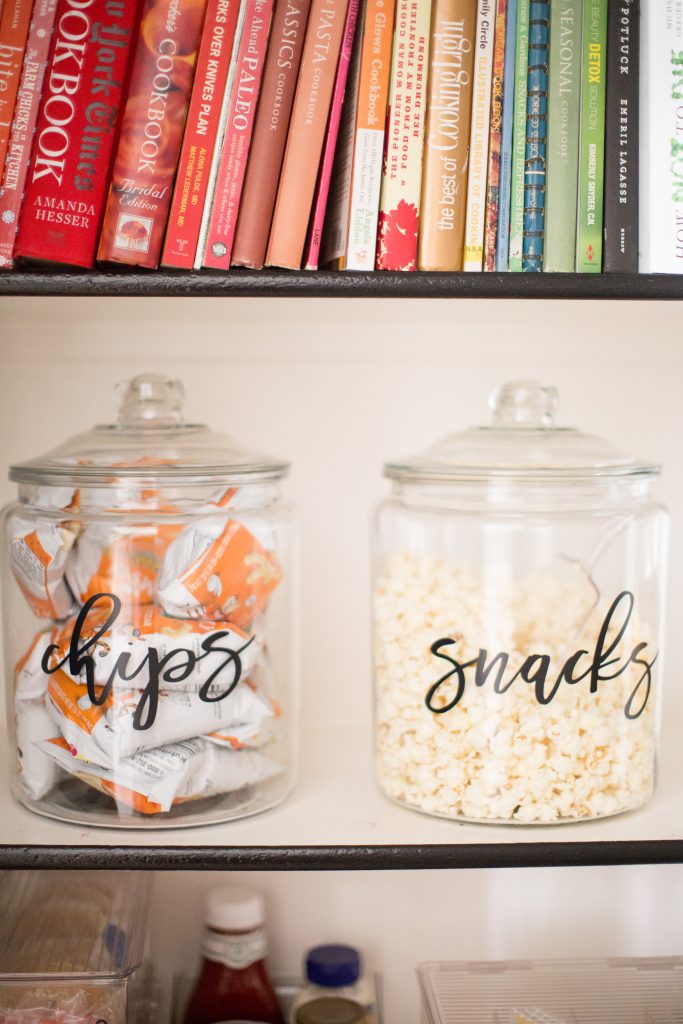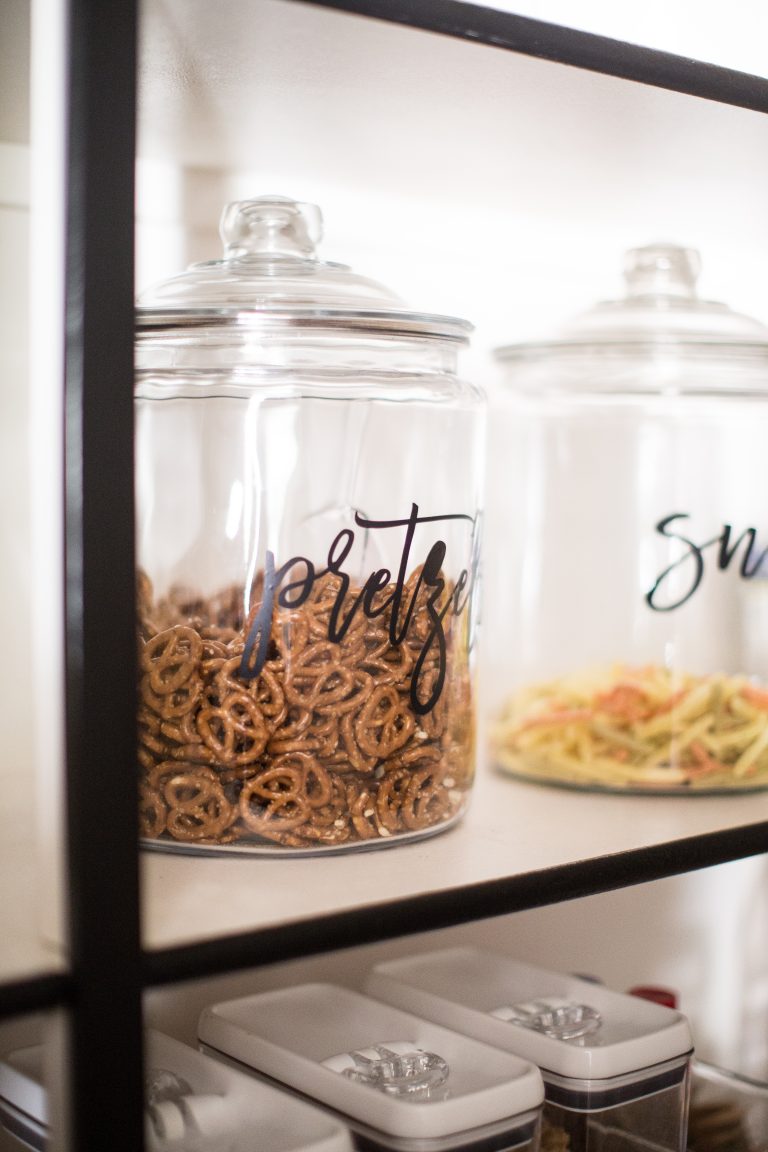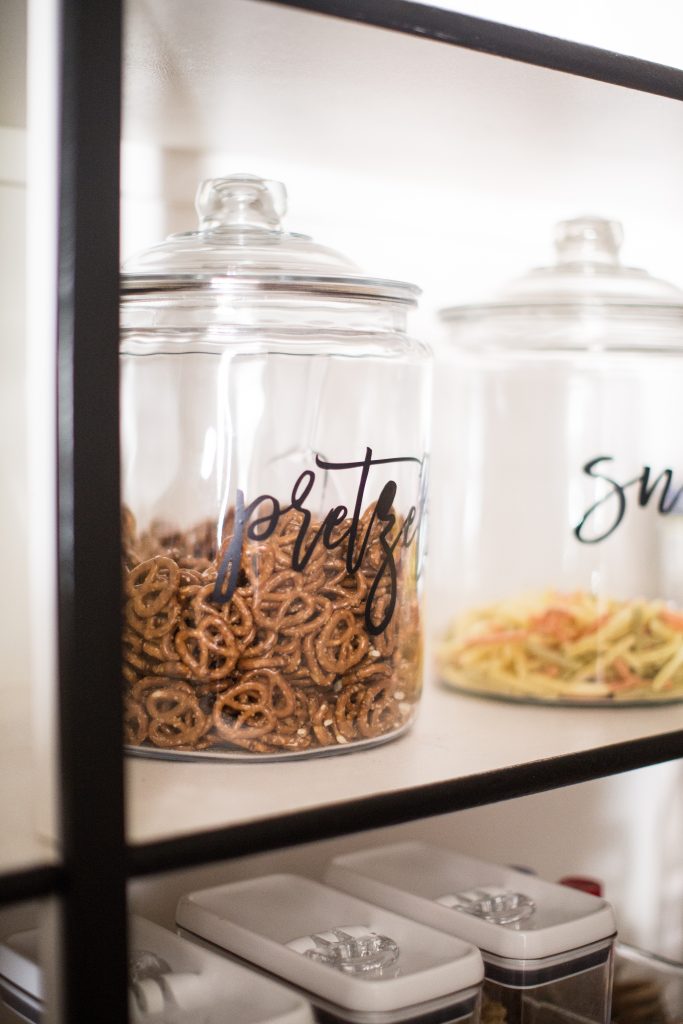 Clear Containers
Containers are a lifesaver when it comes to organizing. If you have any type of clear container in your home like the ones below, I bet you they're from InterDesign and you didn't even know it!
InterDesign is your BEST FRIEND when it comes to organization and getting your stuff together. You can find them at Target, Bed Bath and Beyond and even our very favorite AMAZON! ( You'll find some of my affiliate links throughout the post)
The reason I love clear containers in the pantry is because you can see everything! You don't need to worry about lifting or digging through much. You can see what you need to purchase and the kids can see what snacks they want.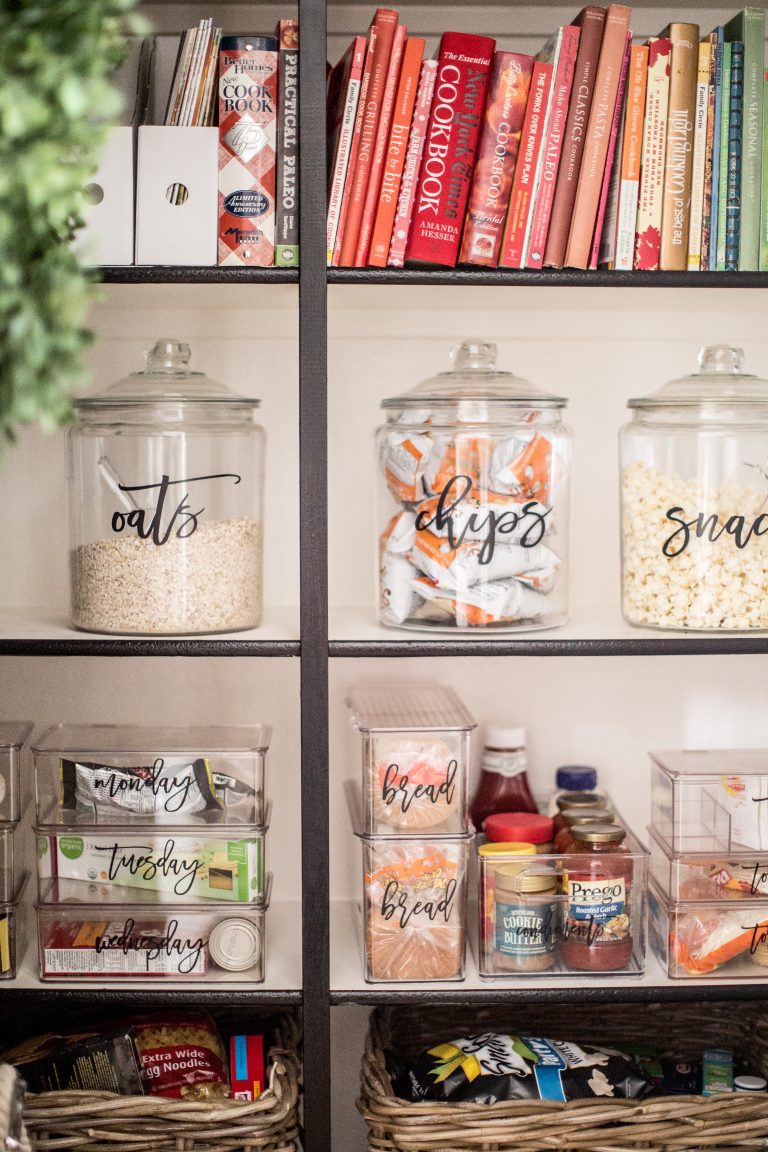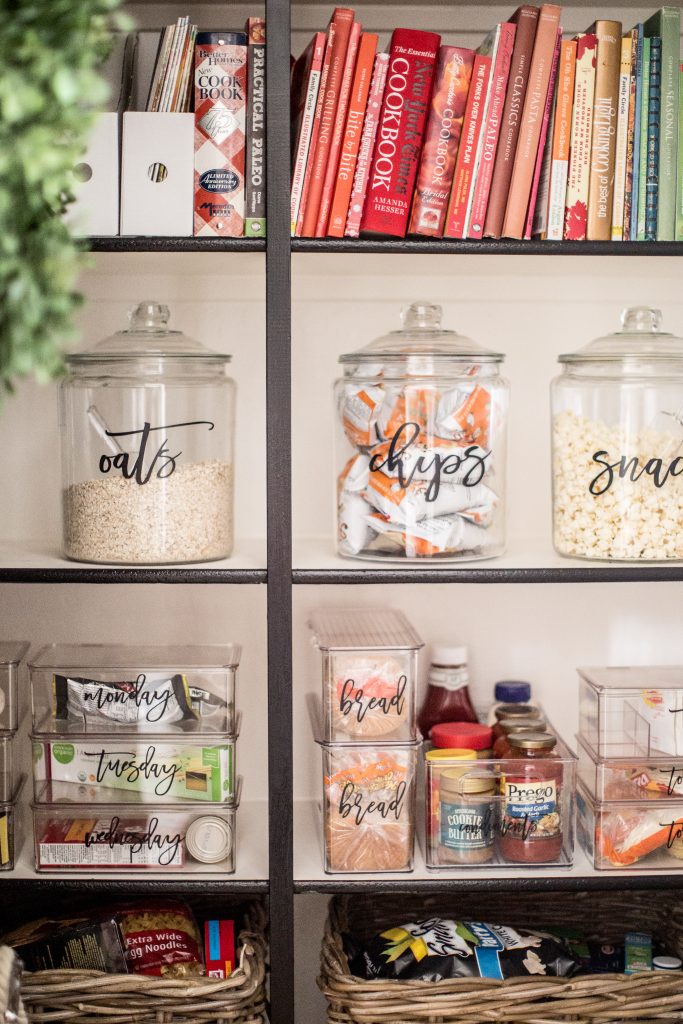 Over on the left side of the pantry I used these medium sized lidded box to help me organize some dinner starters. Each one is labeled a day of the week. In them I have a few pantry friendly ingredients to help me get started with dinner.
So for example, in Monday's box I have two packages of rice, a can of black beans. All I need to do is add chicken and dinner is done! Looking at Wednesday I have a pack of hamburger helper( hey I need all the help I can get ha!!) , and some corn. Add some ground beef and dinner is done. So it just helps me see what I have for dinner. A lot of times I think to myself " We have nothing for dinner" But if I glance over to that corner, I can see that I have a few options to get started!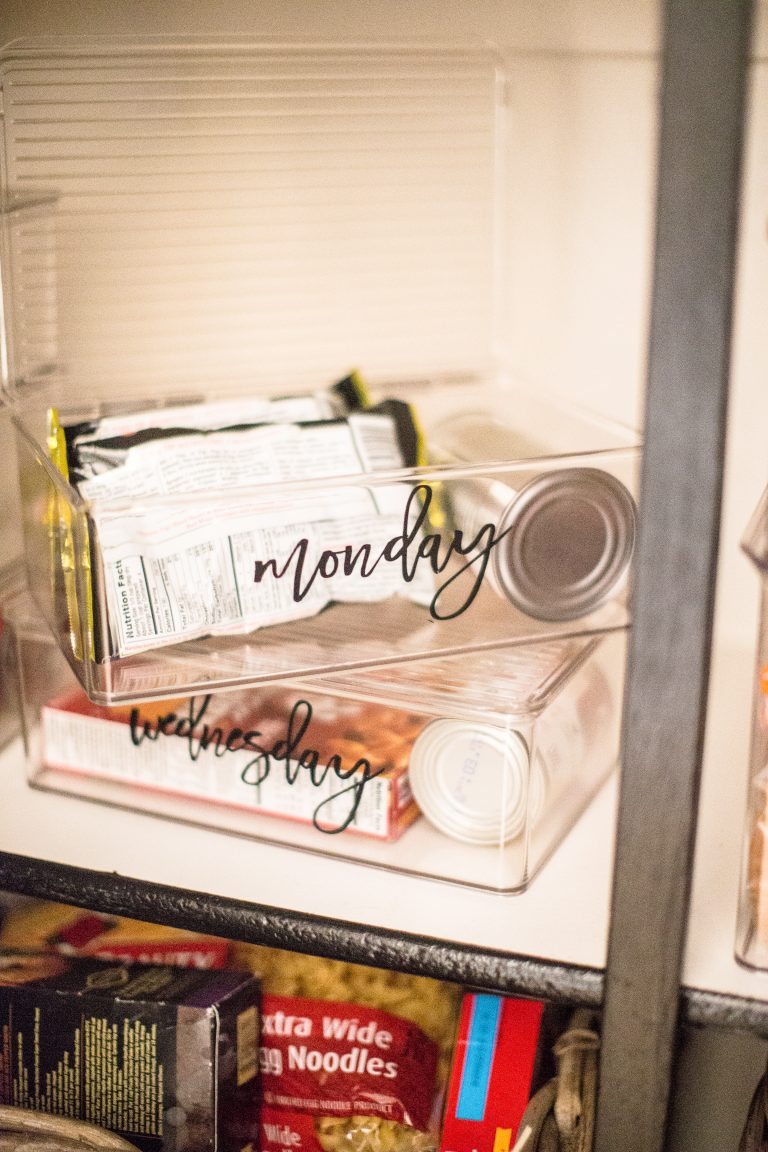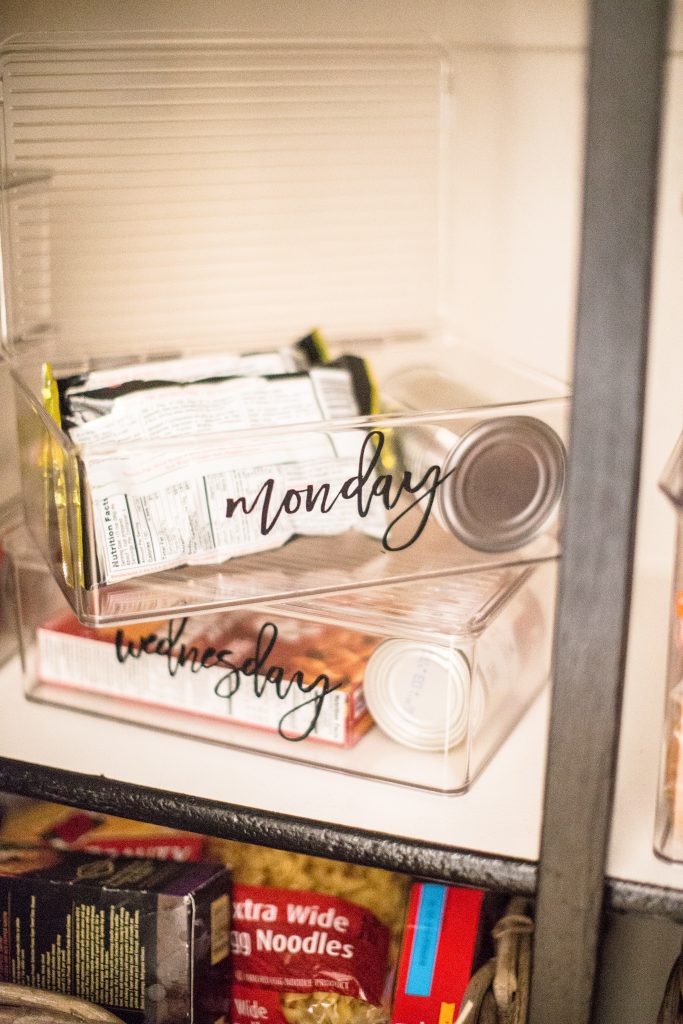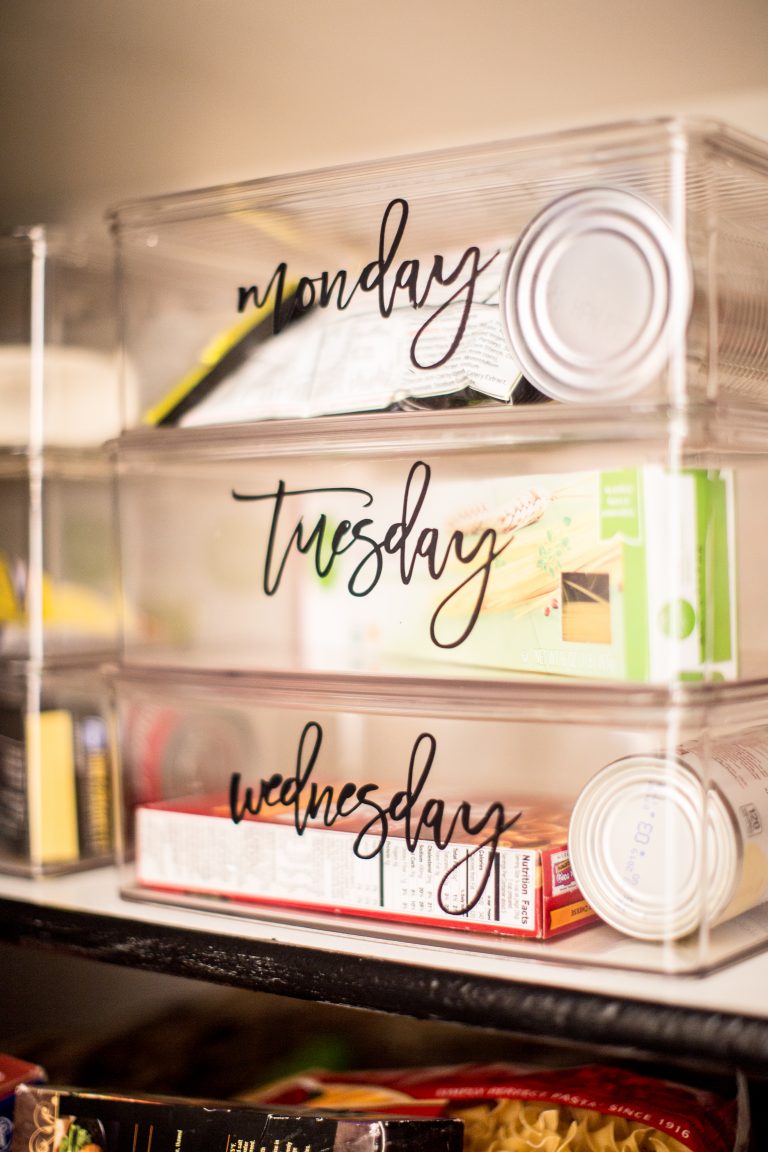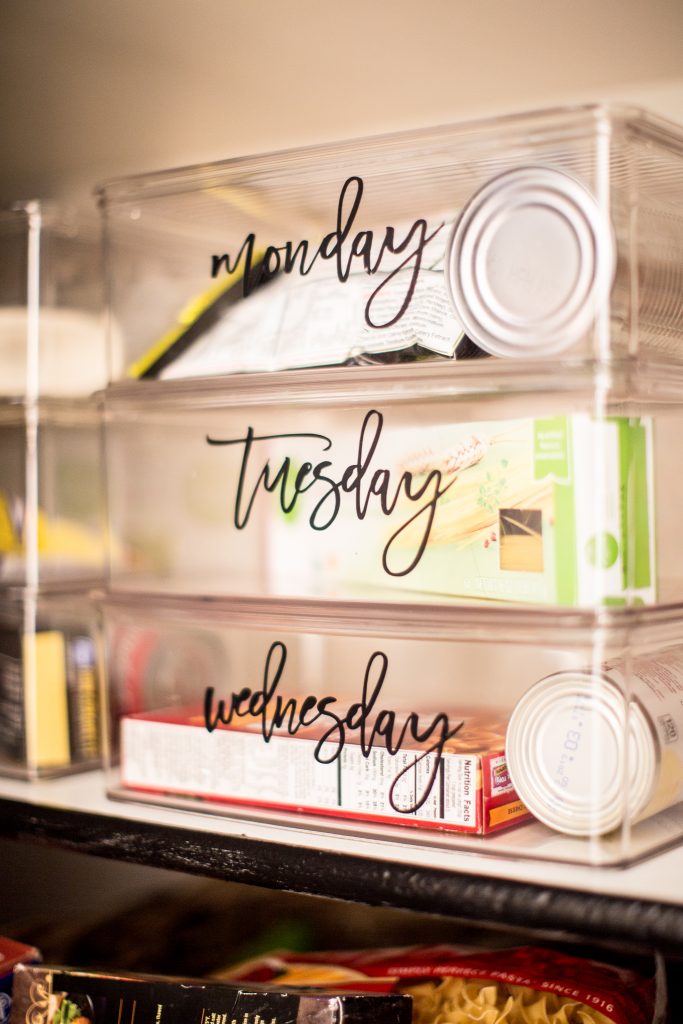 I also love these taller hinged boxed for bread, bagels and english muffins. They are the perfect length and help keep things fresh! ( I'm horrible and putting the twisty thing back on the bread)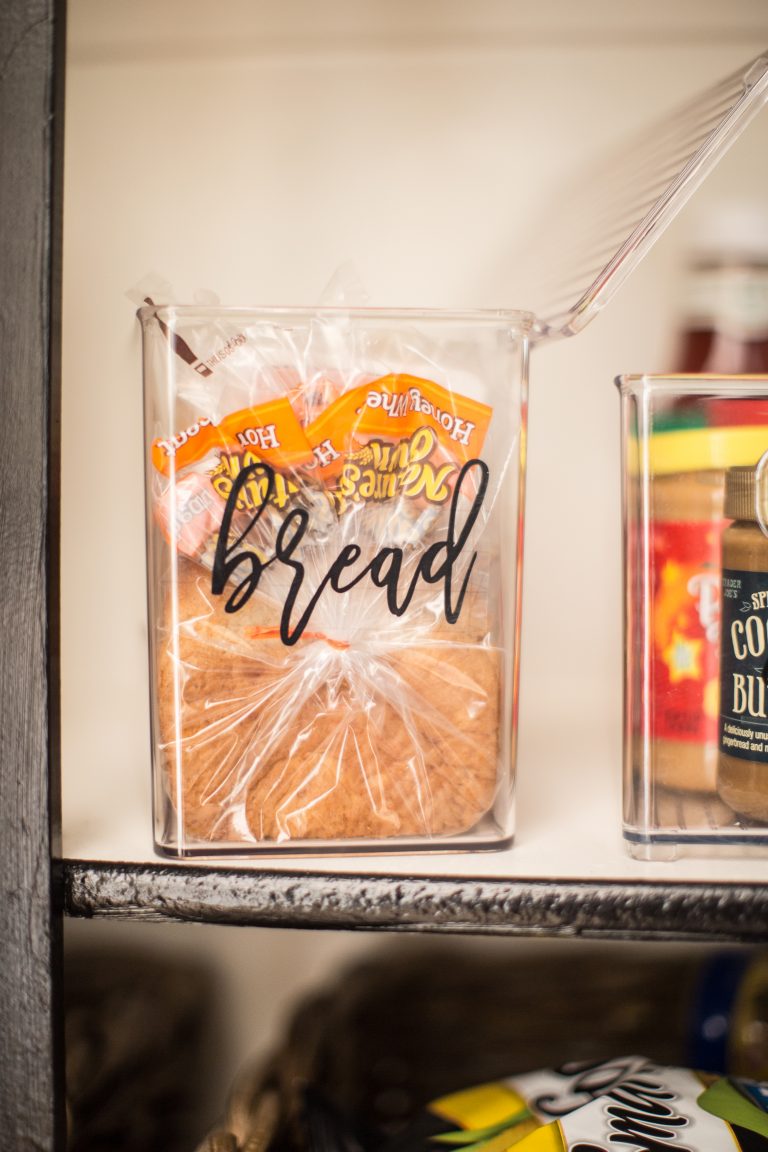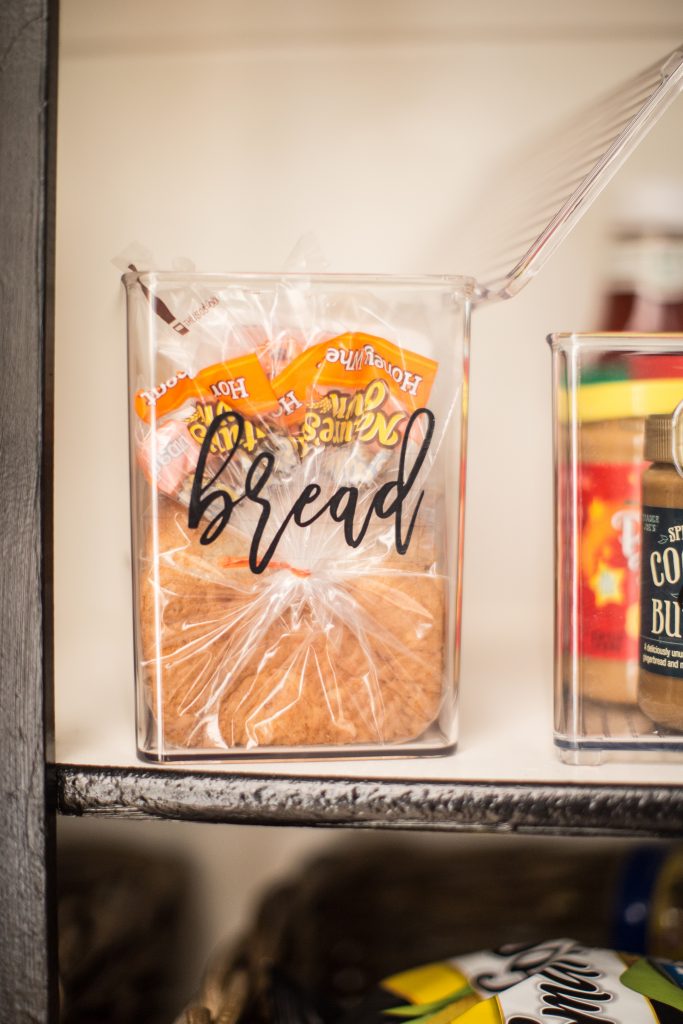 Another set of lidded tops helps me keep our tortillas organized too! I use corn and flour tortillas a few times a week. So these were a must when it came to getting things in order! I tend to over or under buy tortillas. This helps me see what I have before I head to the store!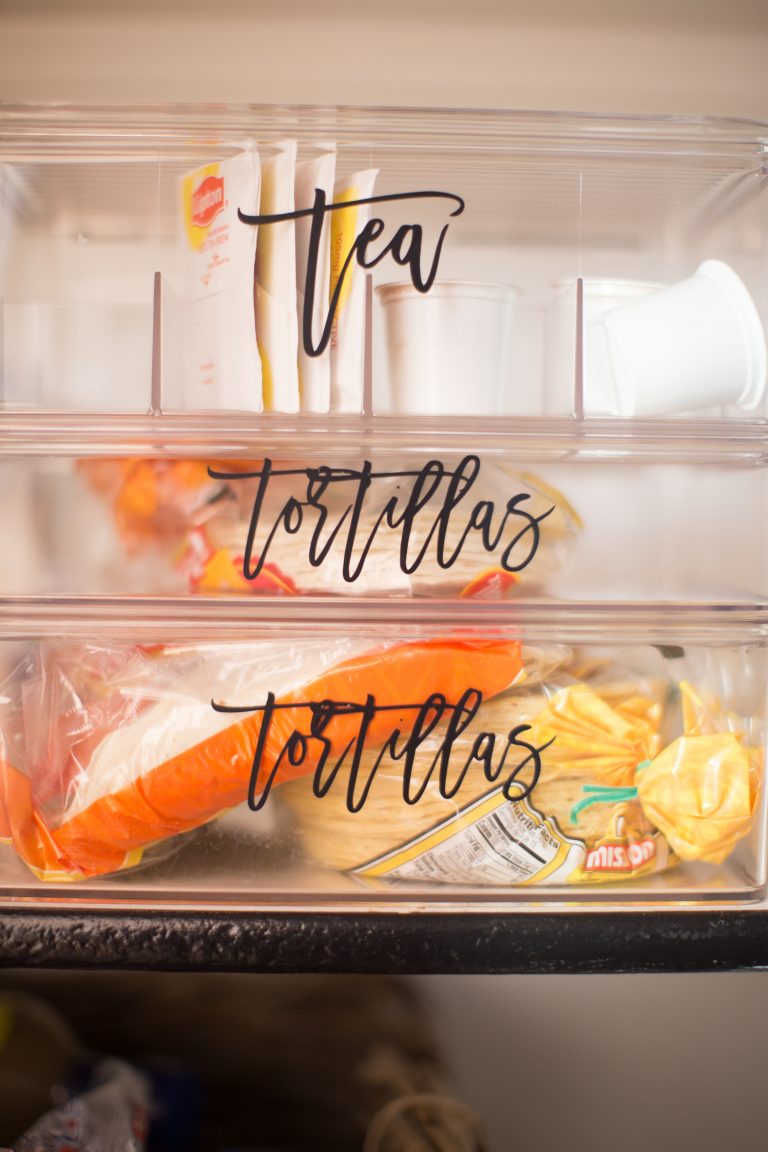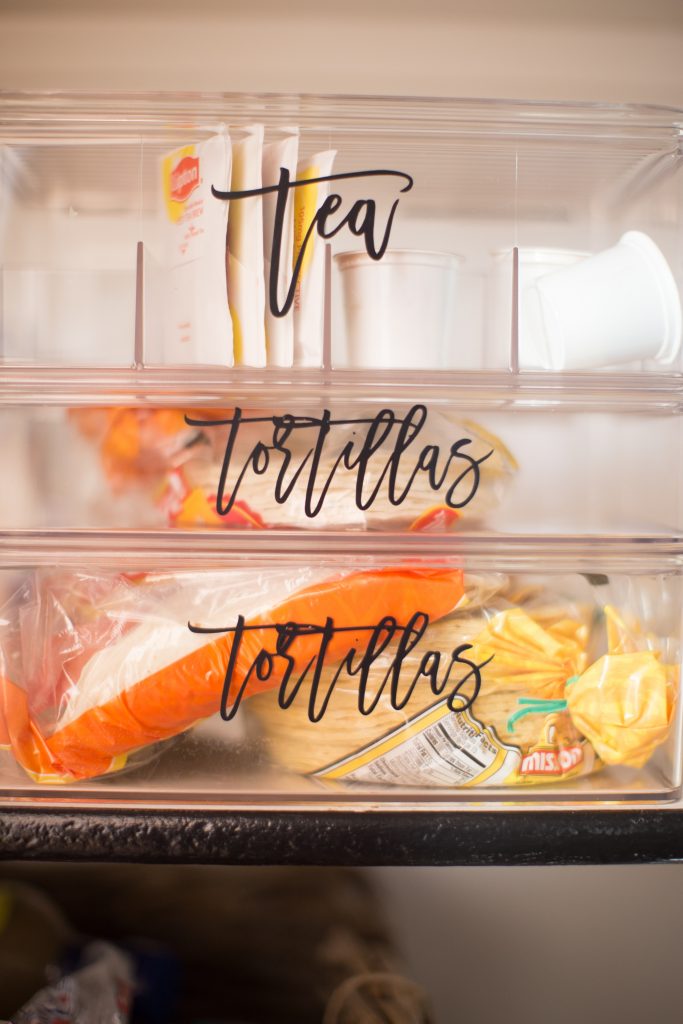 This specialty lidded top had dividers for my teas!
I feel like our pantry could easily be called the snack pantry because we have SO many snacks. Snacks, on snacks, on snacks…haha! I put a row of these clear containers at the kids height so they could easily pick a snack. The more options they have the better. I love how deep and wide the containers are for that very reason.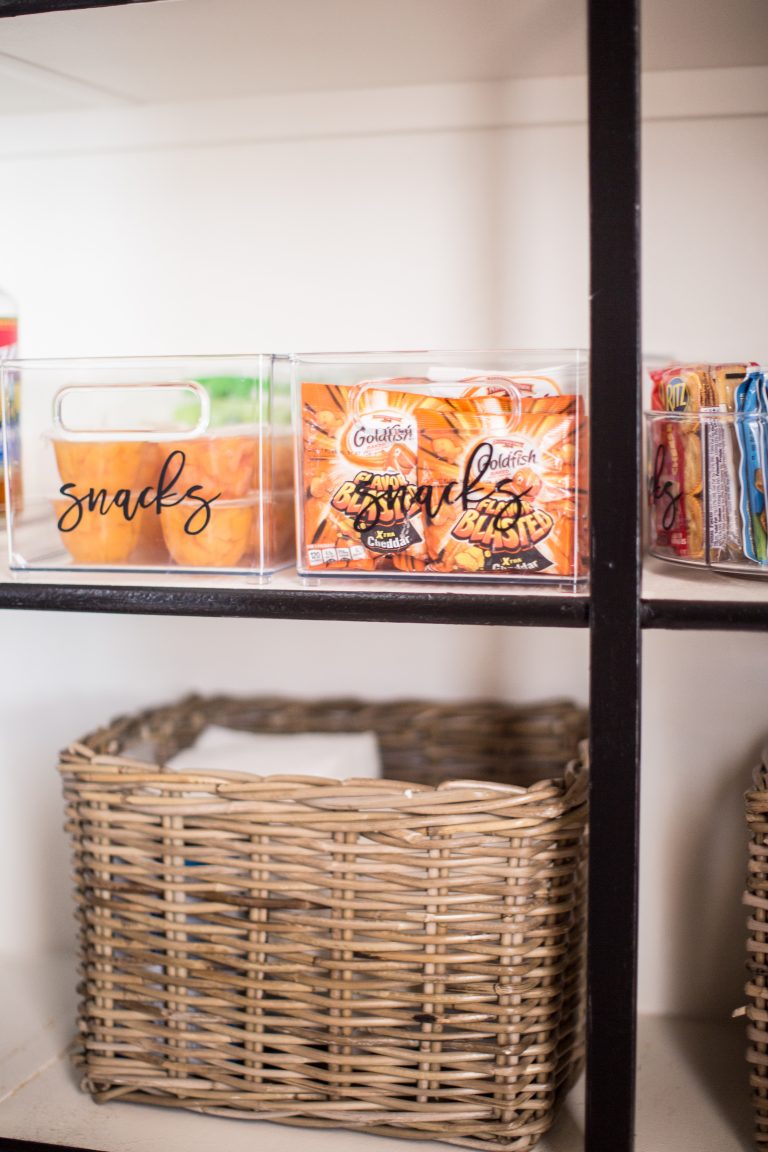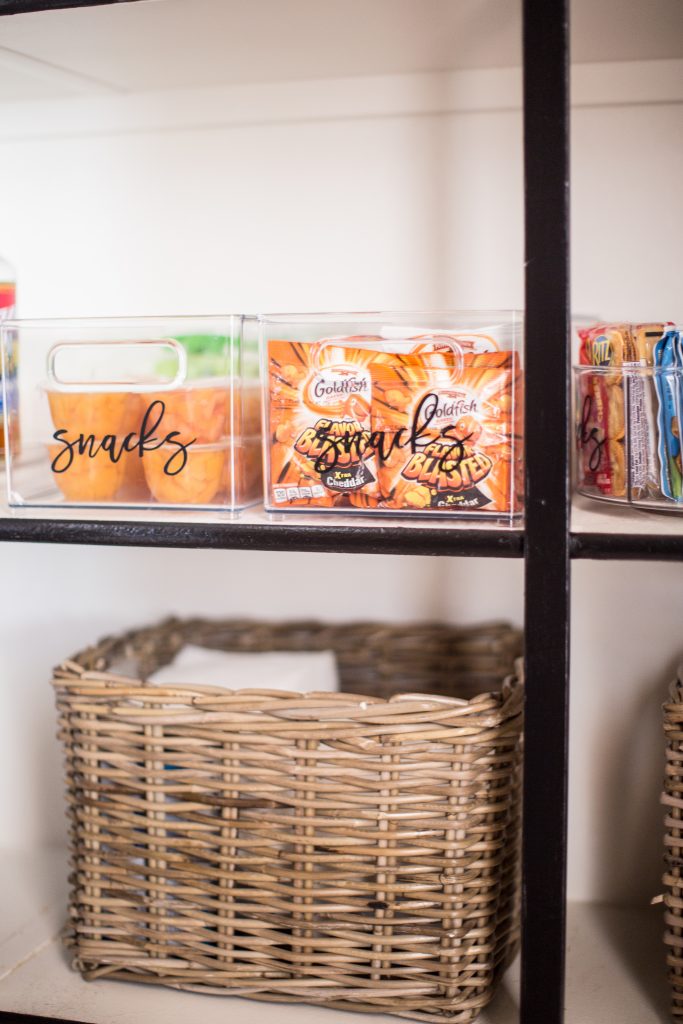 The dived lazy susan is great for snack bars! Just give it a little spin for multiple options! So fancy.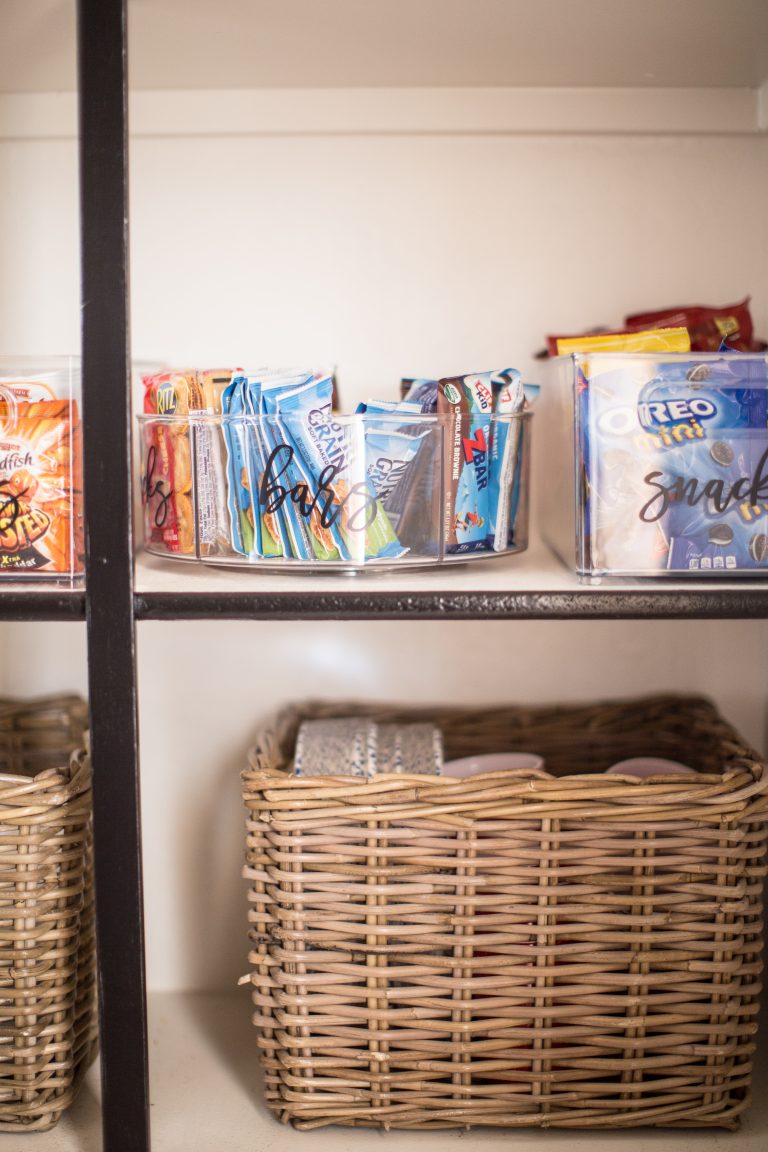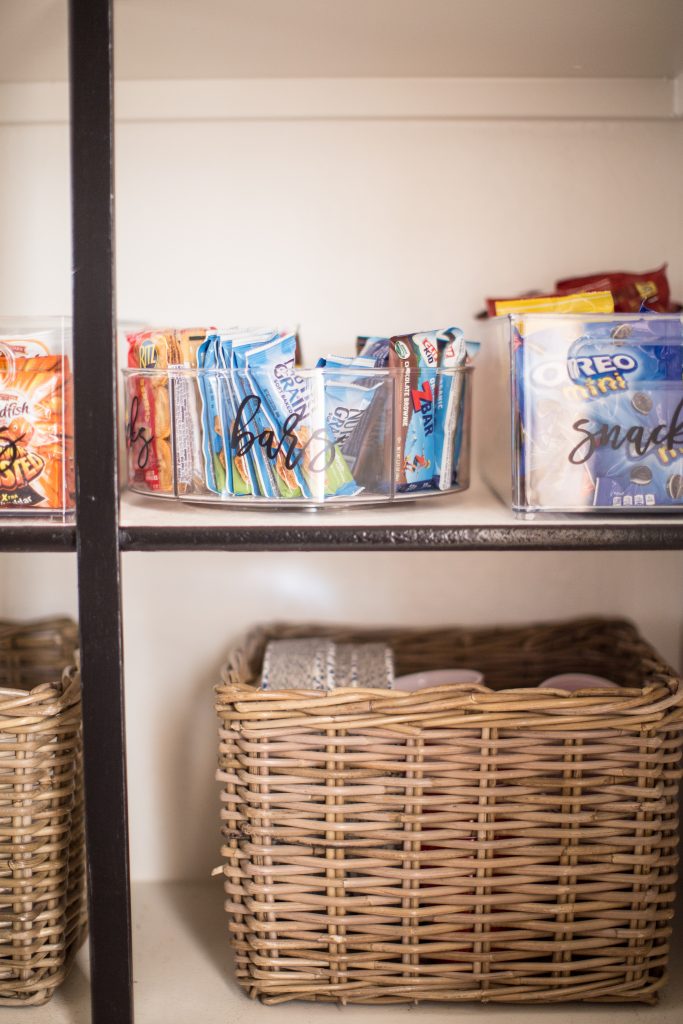 Up on top I have all of my can foods. They are sorted using the clear can food organizers by InterDesign. Each one holds about 8 cans. For bigger cans like my enchilada sauce I put them on the turnable that fits perfectly in the corner.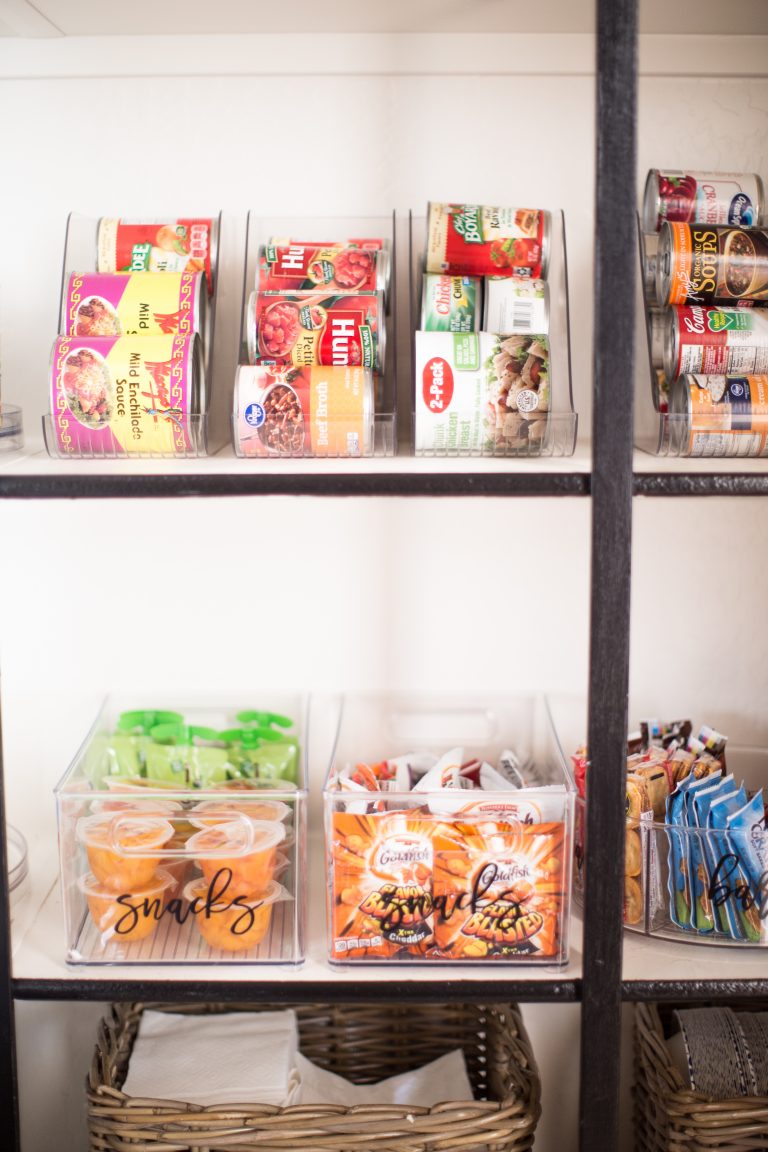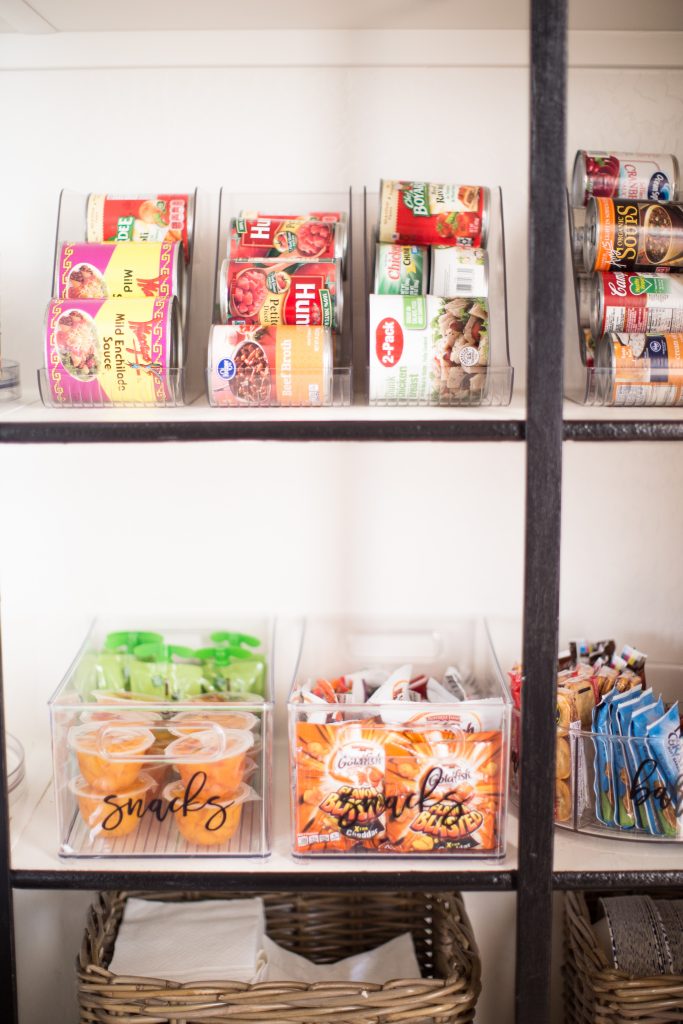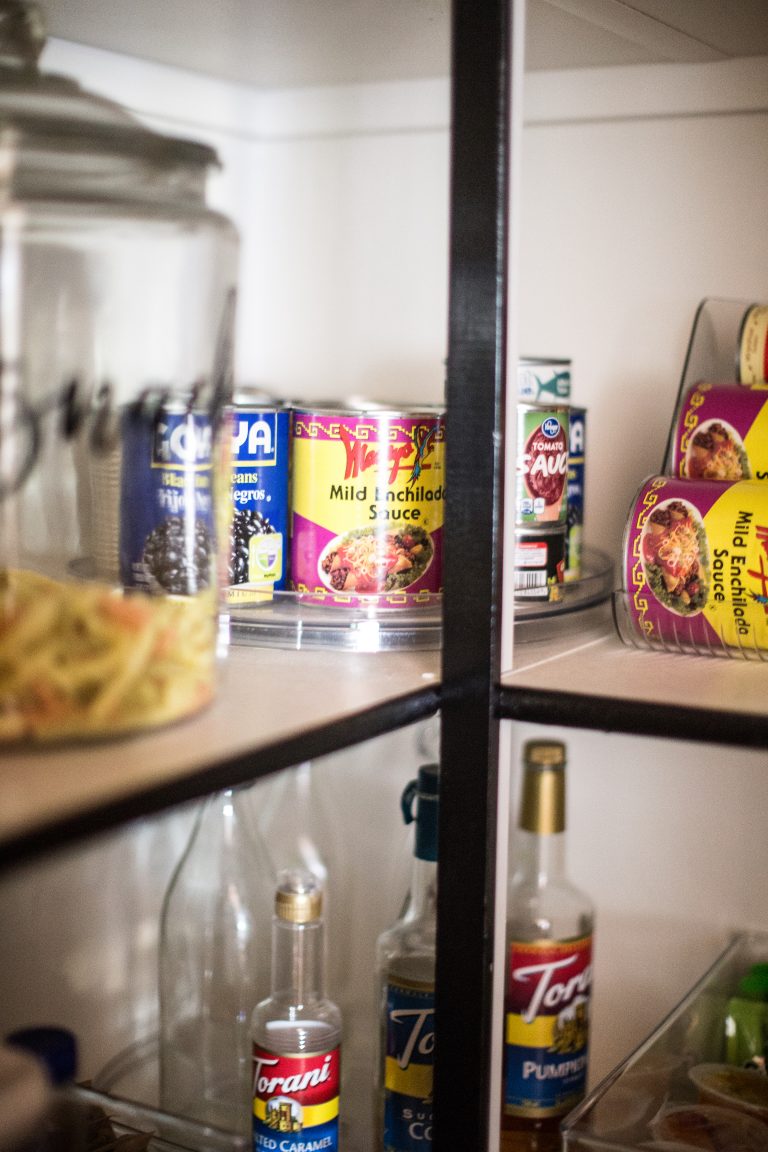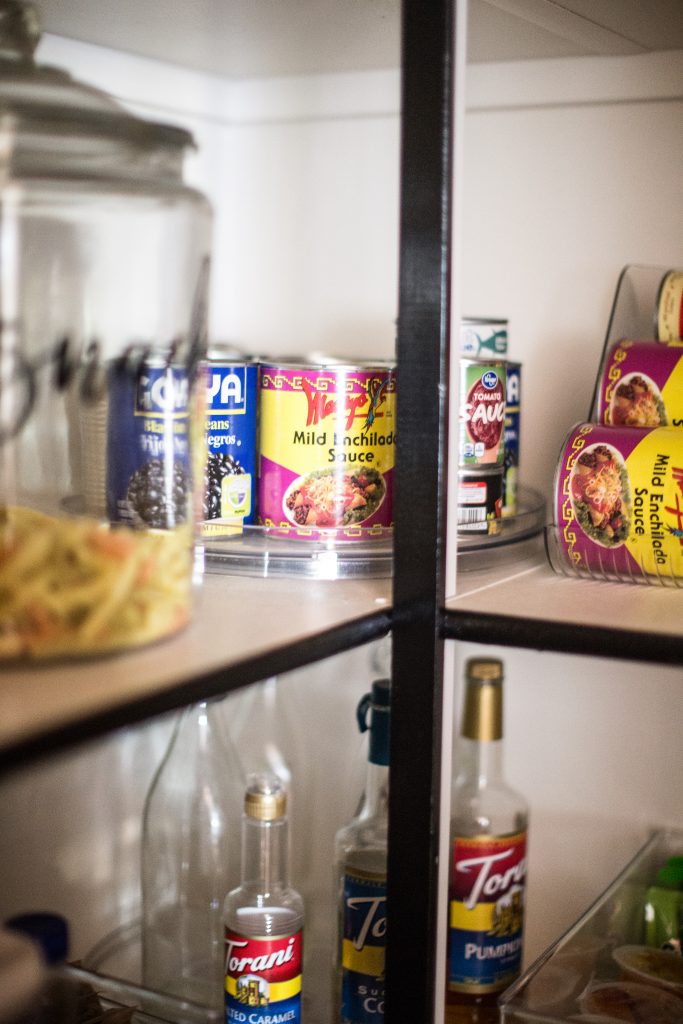 Another product that I found so useful were these lidded bottles. They have a seal at the top to keep things like rice, beans and even candy fresh! I love how easily you can just pour your rice out! It's genius! You can also use these in the fridge as well. There are a few different sizes to choose from.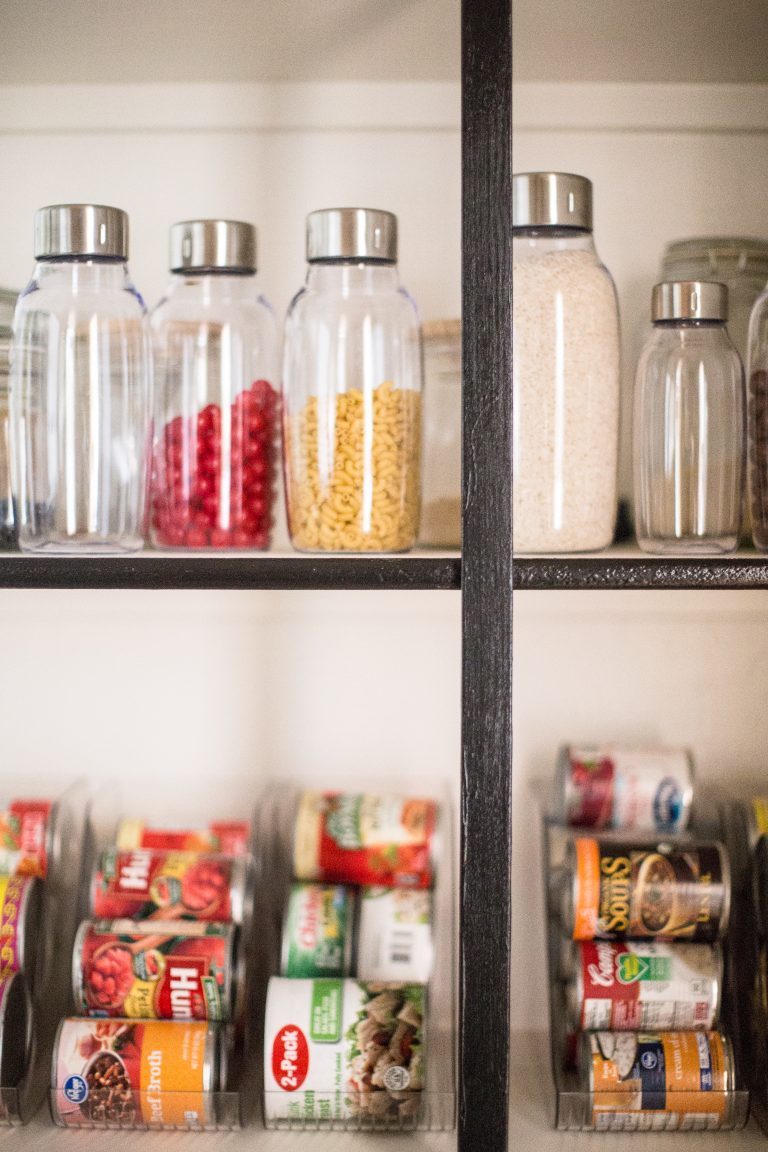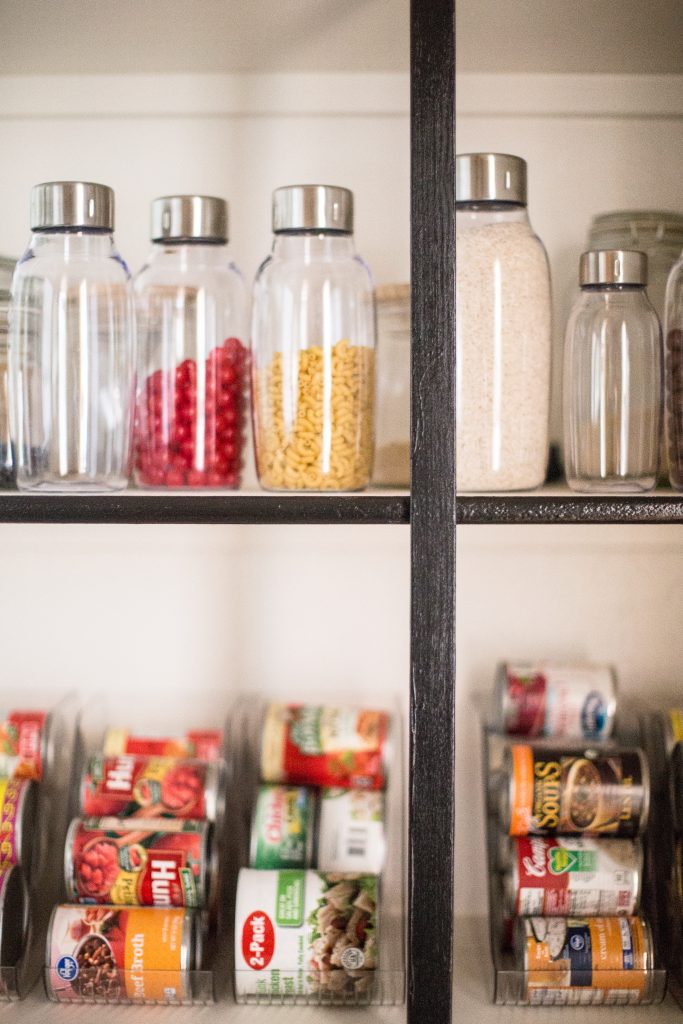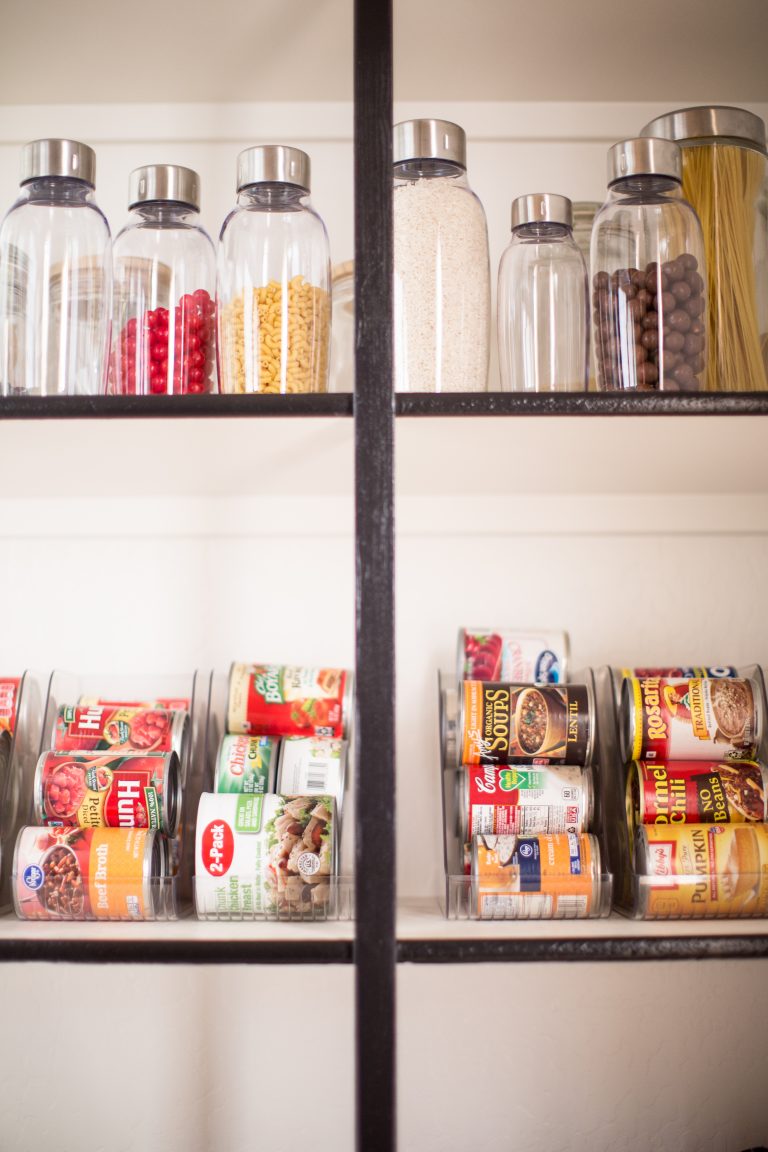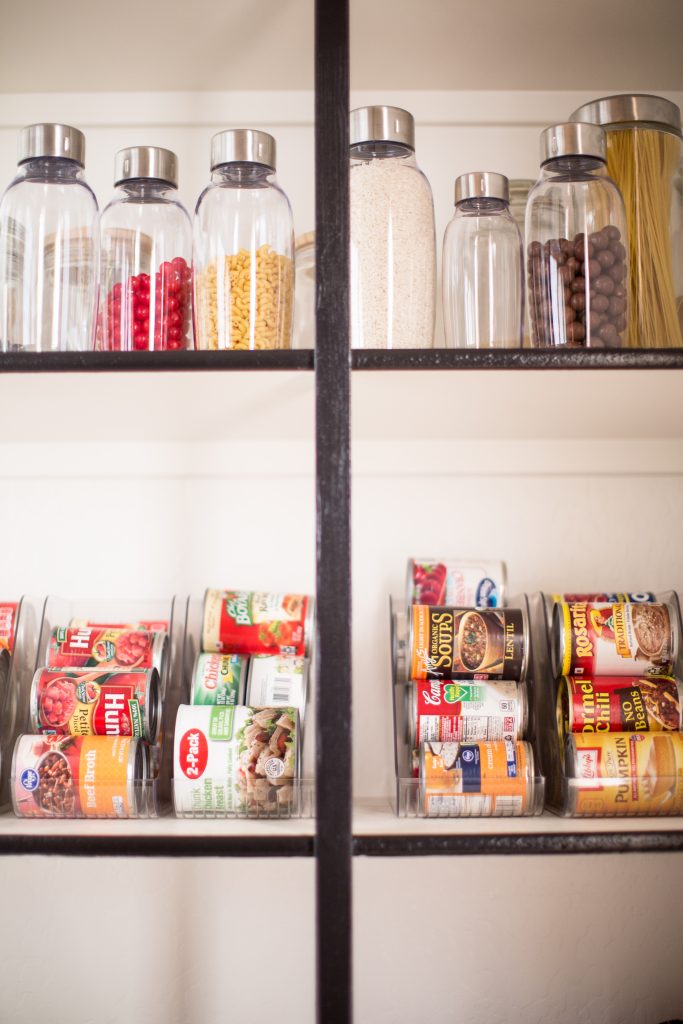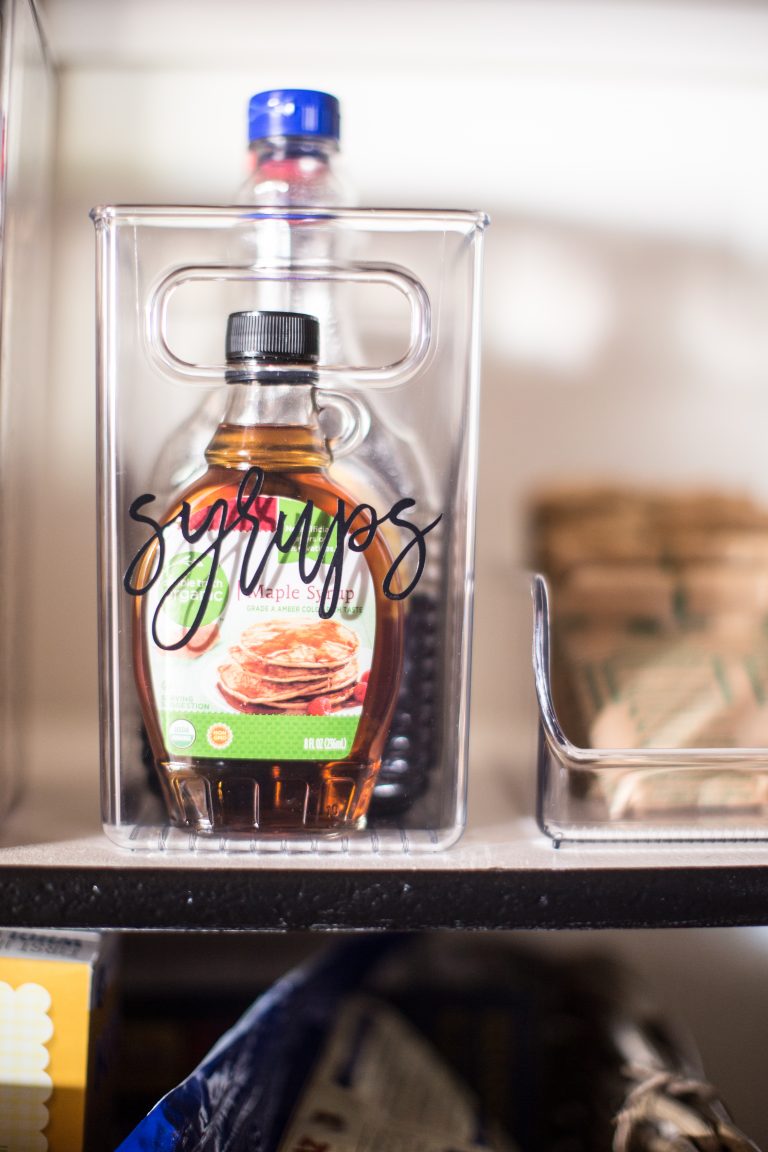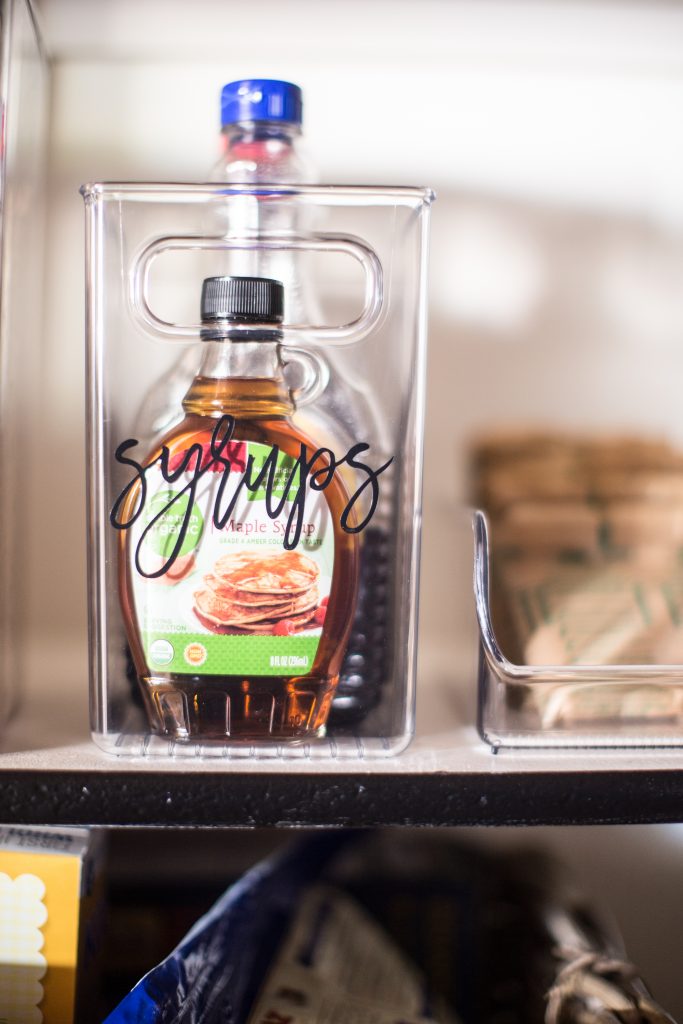 I really love how it turned out. I'm so happy to have a happy organized pantry…for at least a week! There is no right or long way to organize your pantry but hopefully you got some great ideas!
Check out some more details from this post below! Including that fun font for the labels!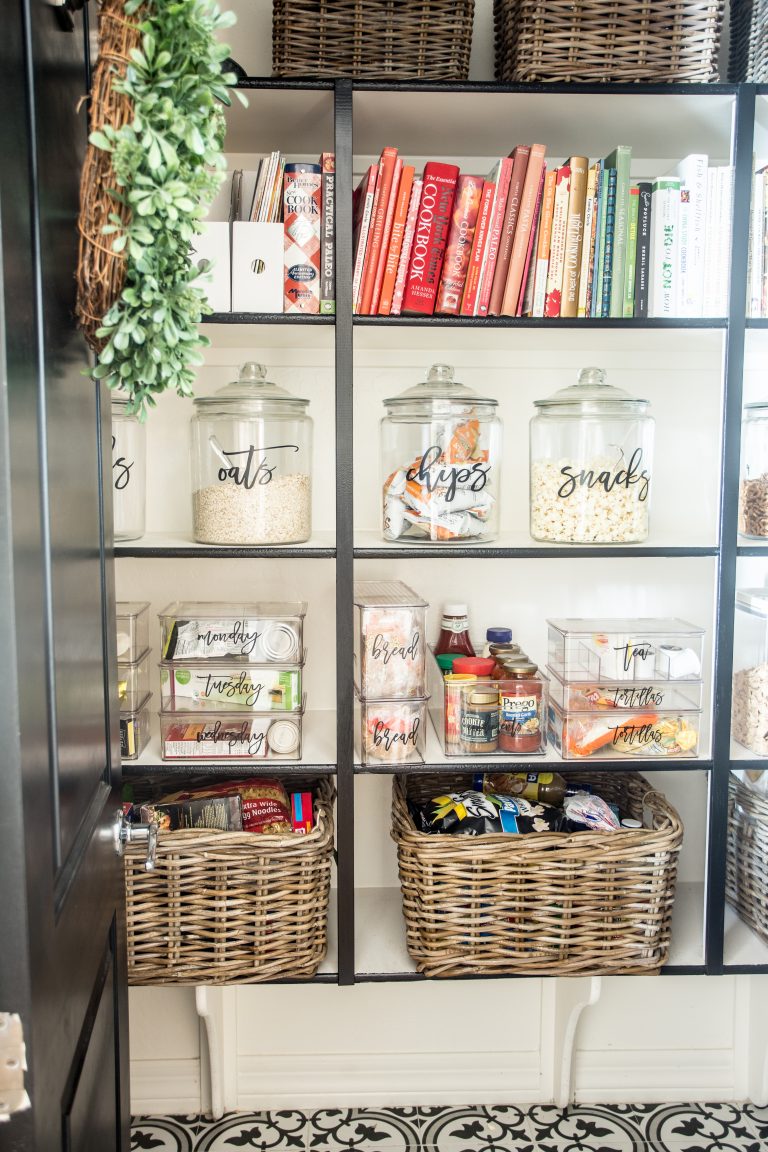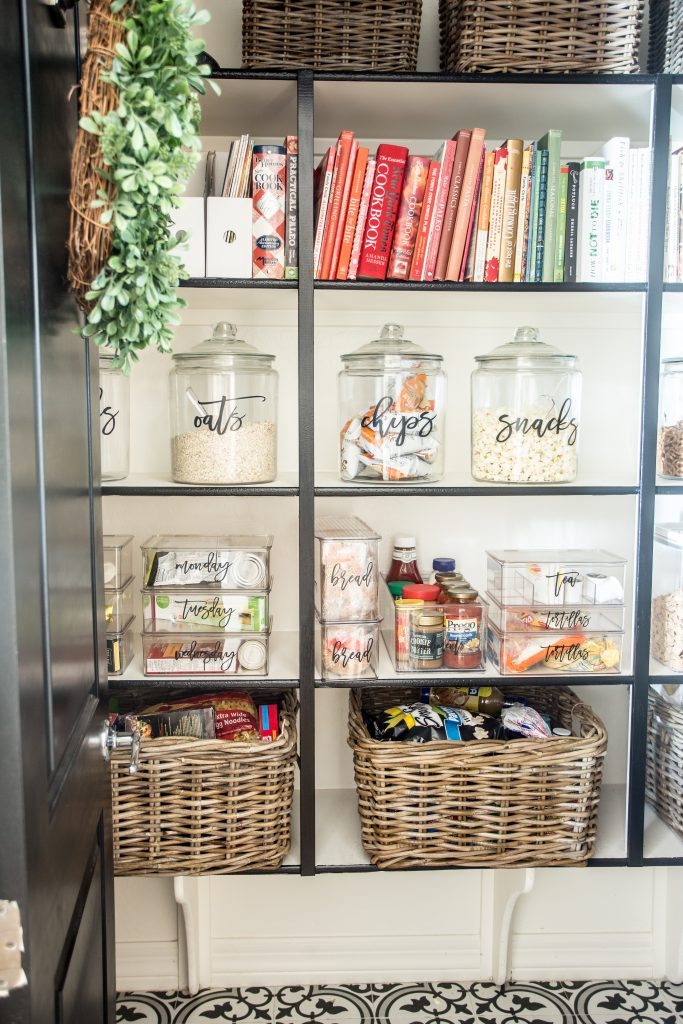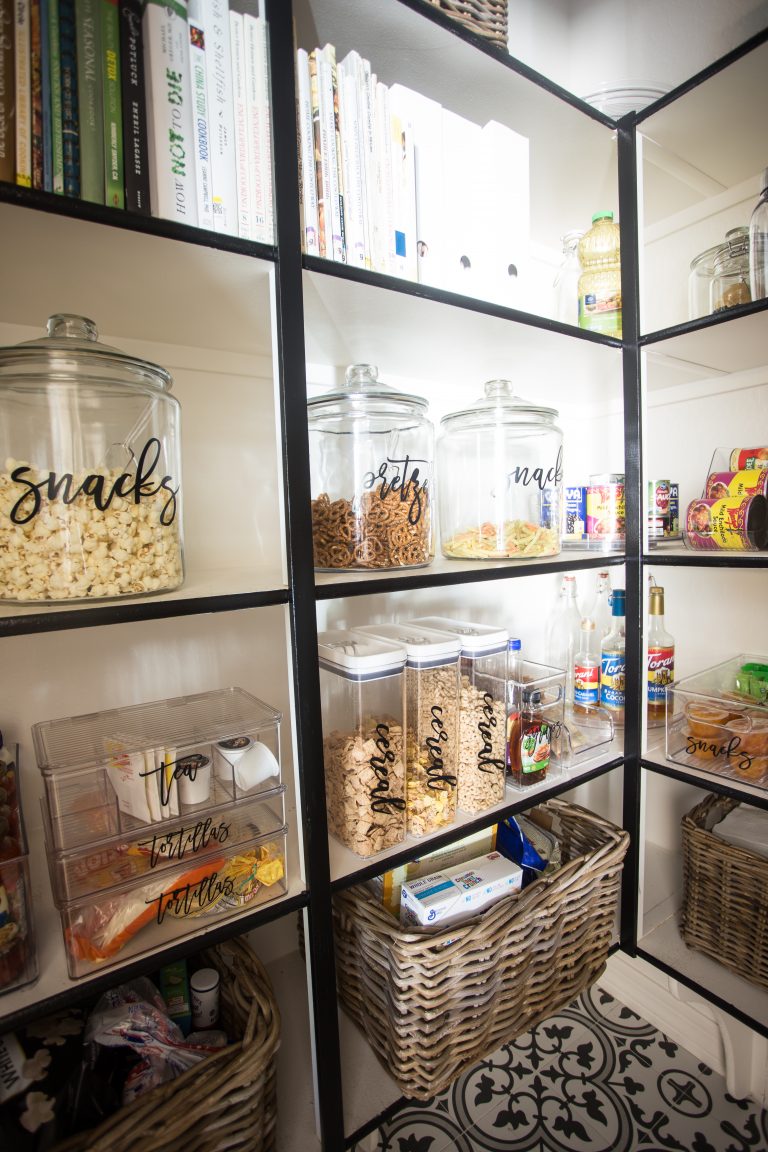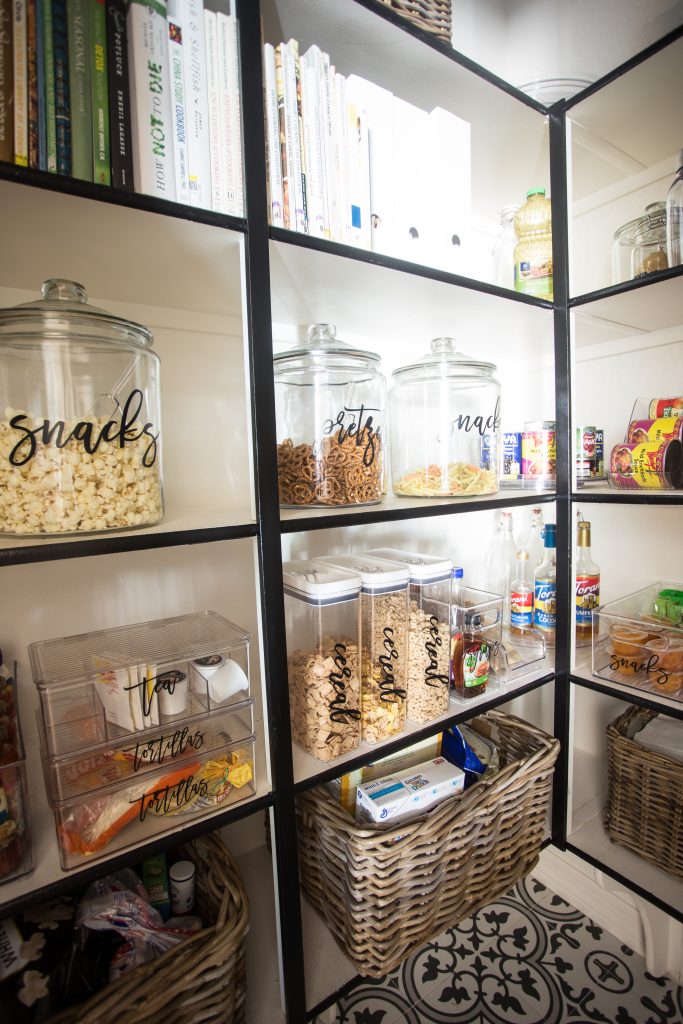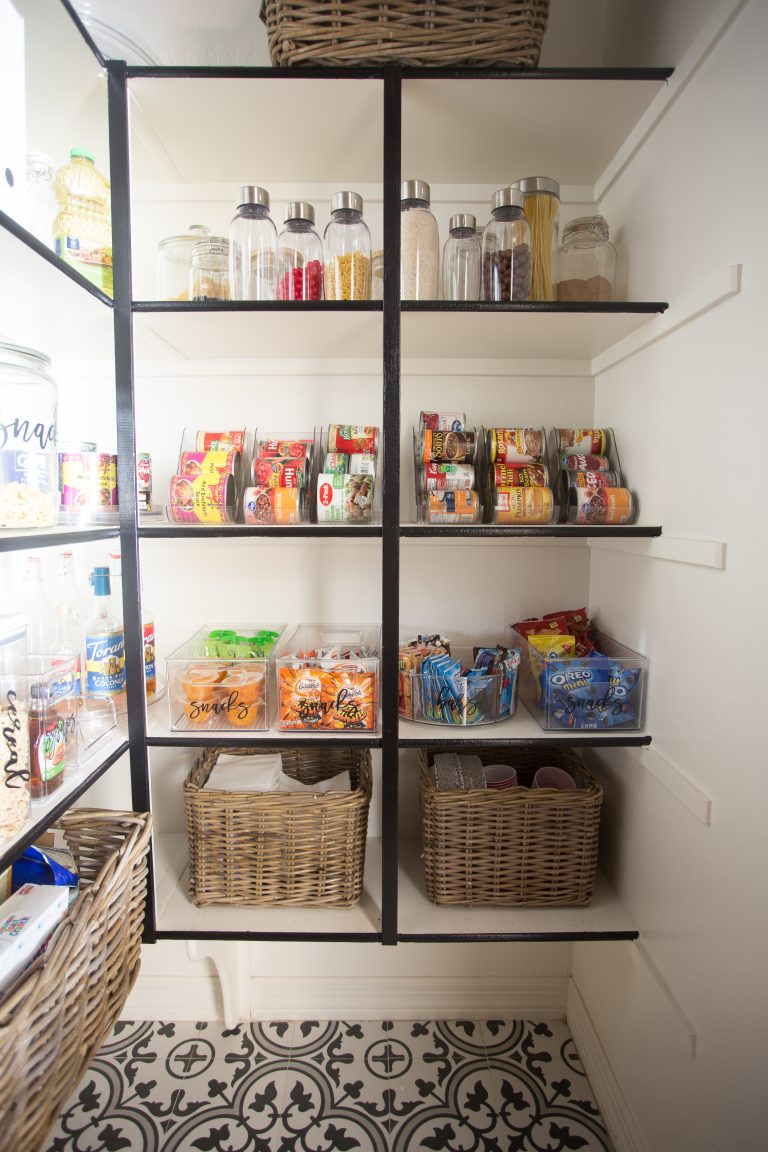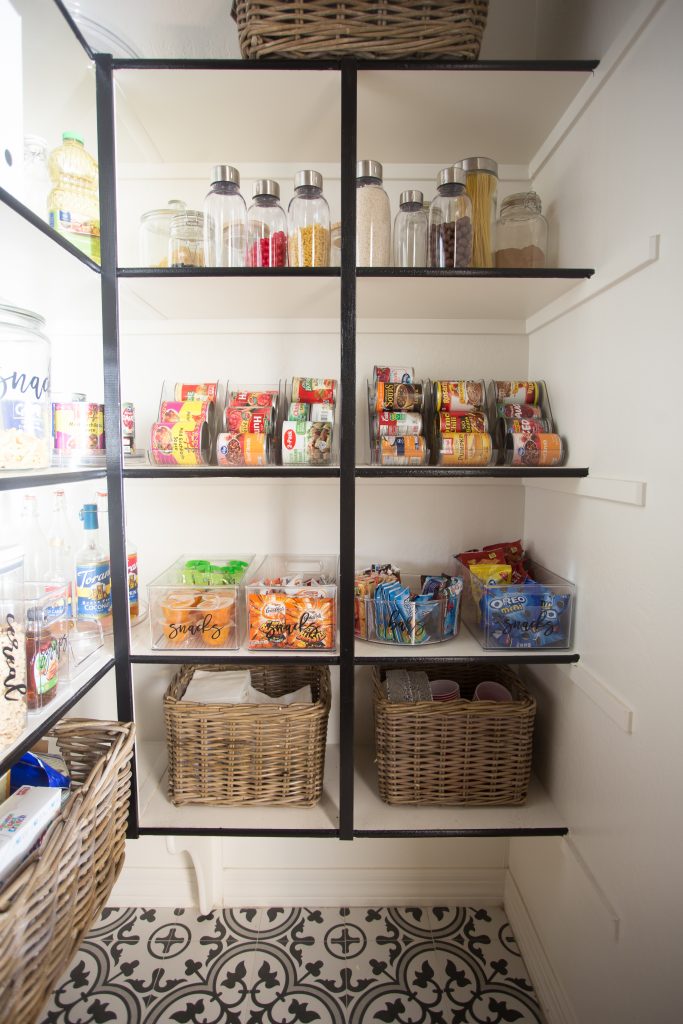 Font Used for Labels Get HERE!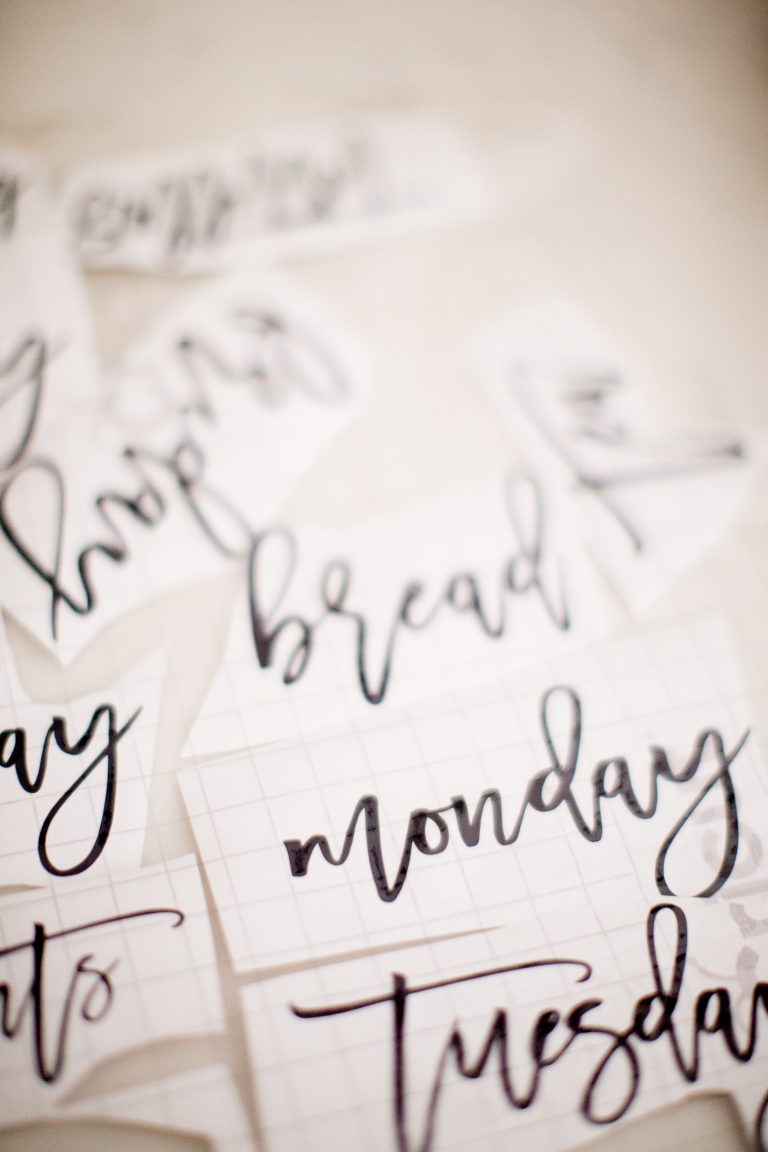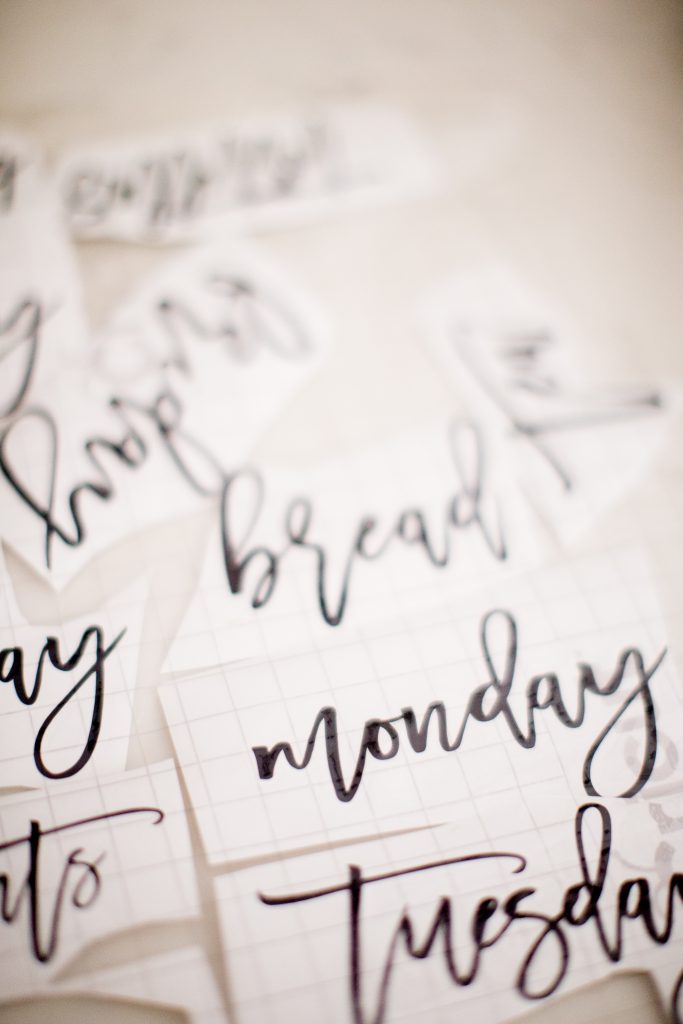 Use a Circut to cut vinyl and label your own pantry! Perfect gift for the holidays! I use this little machine all the time!
Items Used in this Pantry

See more organization projects below!