Small Pantry Makeover Ideas
This post is sponsored and may contain affiliate links, please read my disclosure policy.
This post is in partnership with my friends at Better Homes & Gardens Walmart!
If there's one project that I think every DIY/eager decorator can start with, it's the pantry. Most of us start out with something big like a kitchen or a bathroom and get overwhelmed during the process. But the pantry is most likely one of the smaller spaces in your home. So it's perfect to tackle, add a bit of style to and something that you can feel proud of when you finish!
My pantry got a little love a couple of years ago so I headed to my sisters house to help her out with her pantry! I came up with a little plan that included, new shelves, fresh paint inside and out and some really pretty containers from one of my favorite partners, Better Homes & Garden Walmart so she could have a pantry she was proud to open! Even though it may seem small, little upgraded areas in your home can make your day and lift your mood!
Take a look at the plan.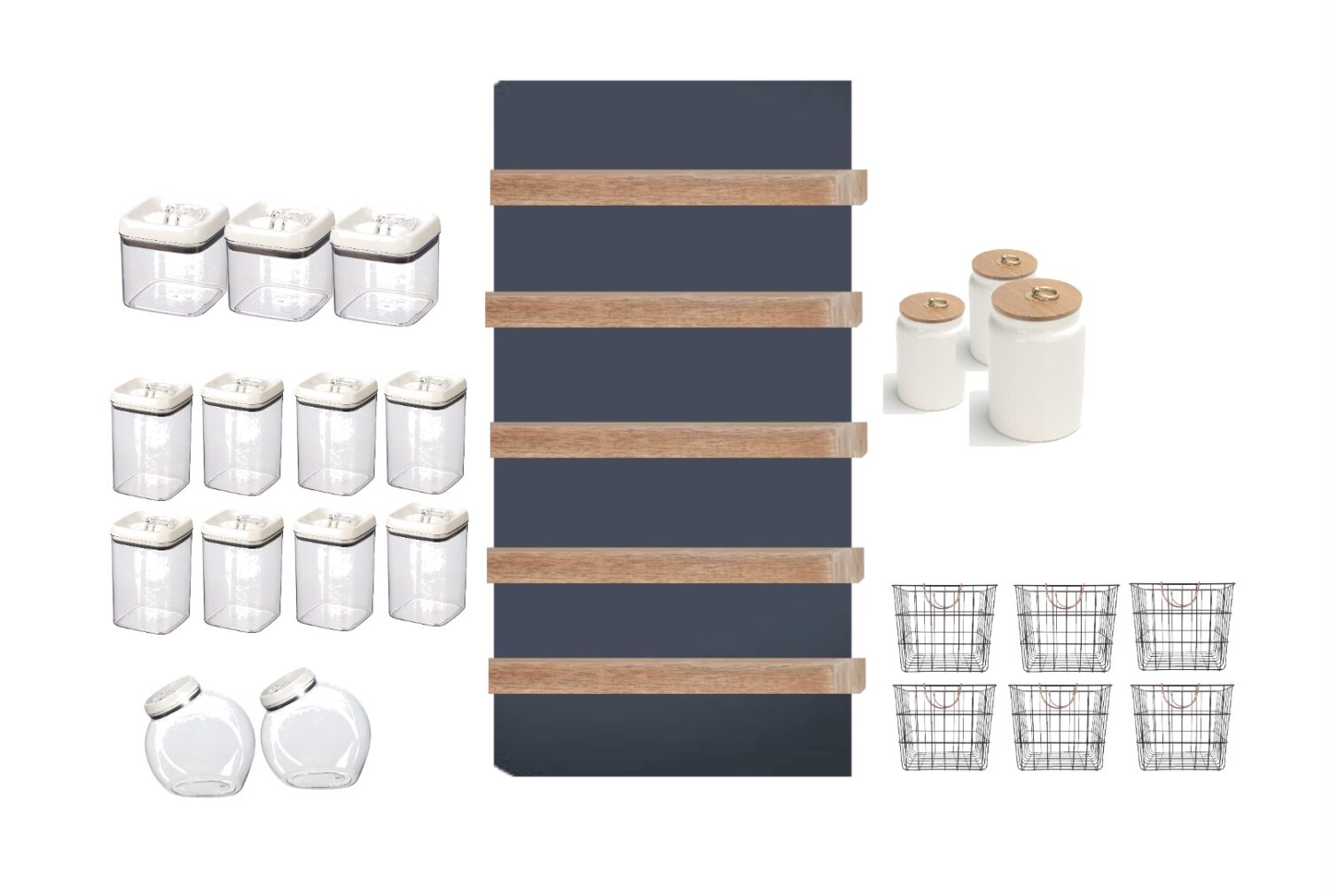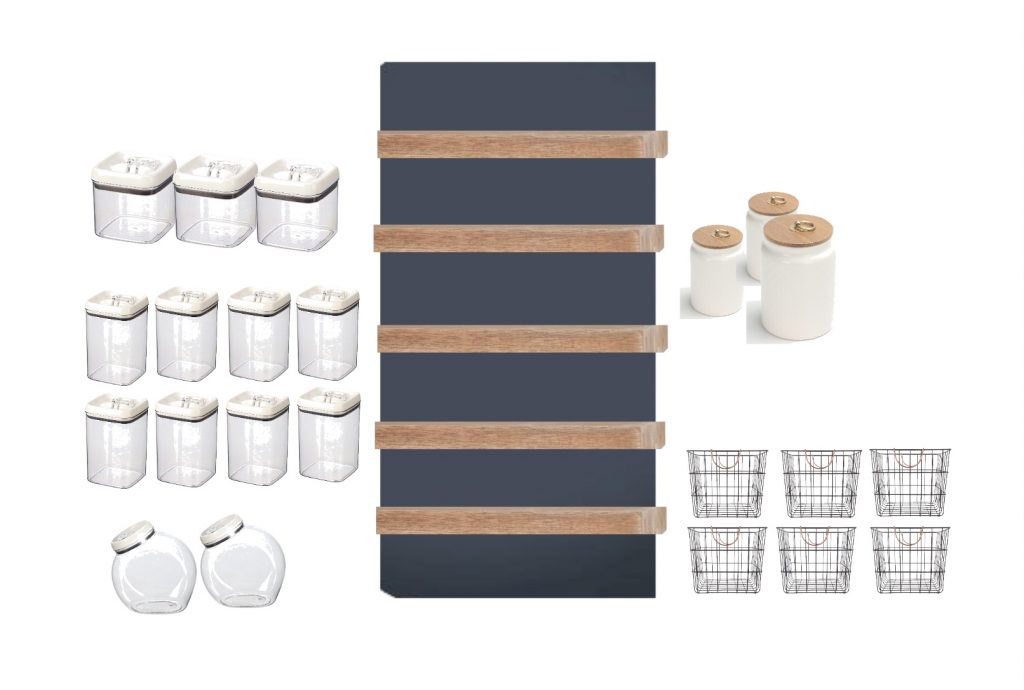 I wanted to add a little color so I had them paint the door, add some new shelves for a upgraded and custom look and then planned to add tons of fun containers to get it all organized!
How to makeover your pantry
Making over your pantry is pretty simple.
Remove all the food from your pantry
Scrub shelves clean with cleaner or remove shelves all together
Paint pantry with a fresh coat of paint
Install new shelves
Add shelf liner or a clear coat of polyurethane for easy clean up
Measure pantry shelves and plan categories for each shelf
Purchase containers and baskets
Transfer food into containers and baskets while checking expiration dates!
Put all pantry food and enjoy!
Remove all the food from you pantry
Before we did anything with my sisters pantry I had her remove all the food from it. This way we could get a good sense of how much room we actually had to play with. This is also a great idea because with your new pantry space you might want to put different items in different places. Maybe you want all the can foods lower, or maybe you want the snacks kid height because everyone is getting older. Either way now is a great time to start new!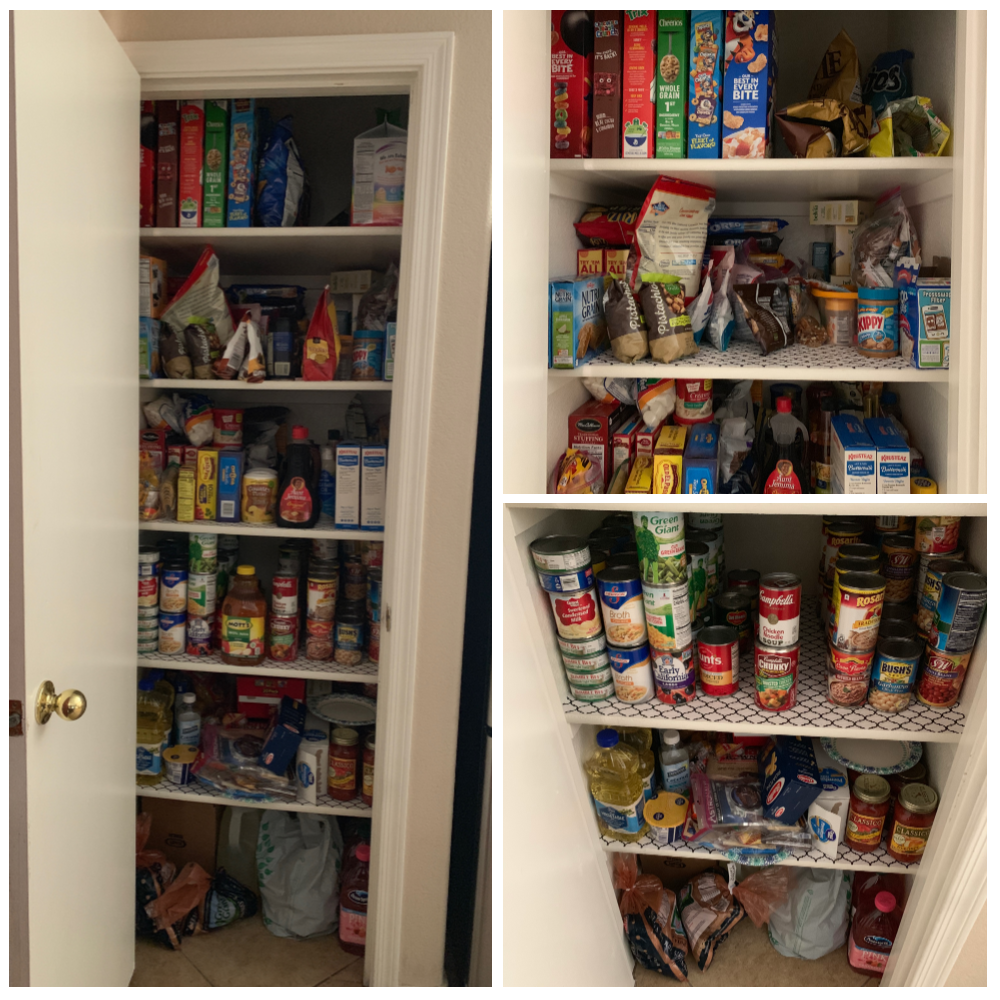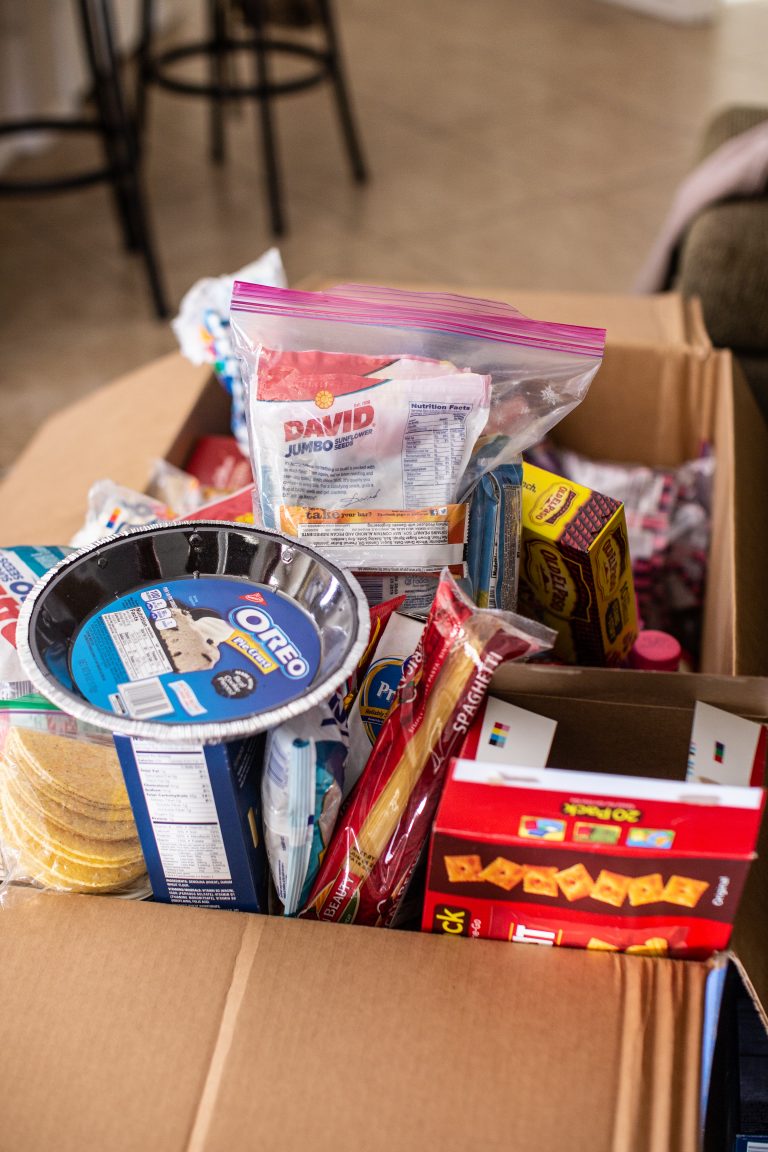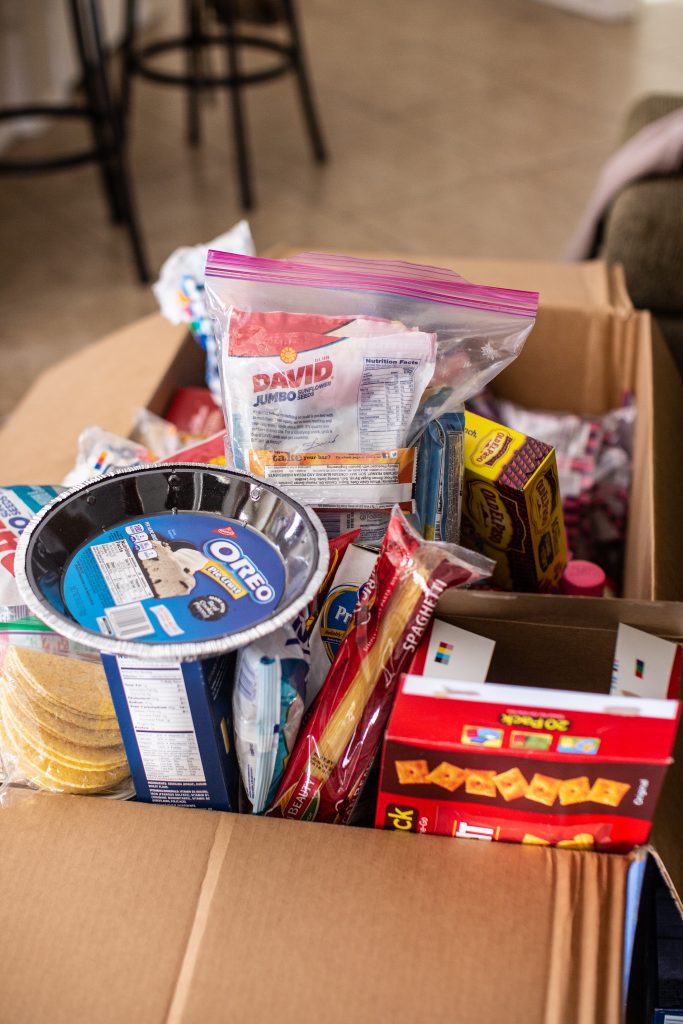 Clean or remove shelves
If you're keeping your shelves give them a good cleaning with your favorite disinfectant and cleaner. This way everything will be nice and fresh. If you find your shelves are a bit dingy or you just don't like the color, paint it! A nice coat a white paint ( my favorite white is Pure White by Sherwin Williams) will give it a brand new look!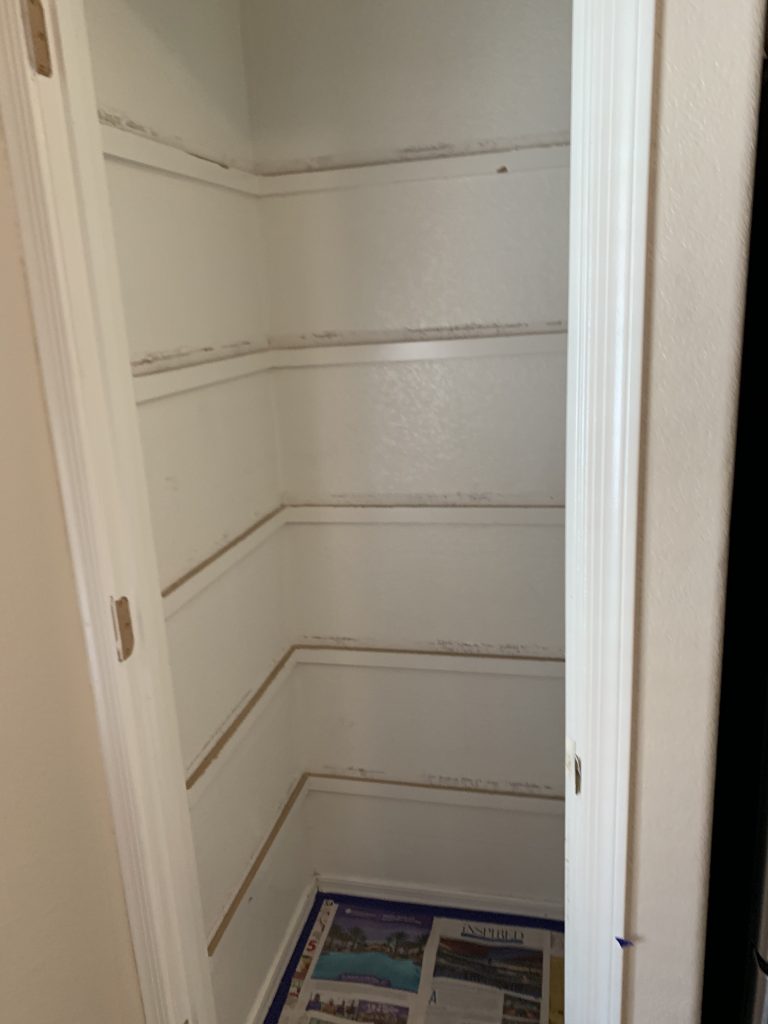 If you plan on removing your shelves right now is also the time to do it. Most shelves are sitting on a small wooden lip and can be pulled of by scoring and lifting the shelf gently off with a crowbar.
Install New Shelves
My sister and her fiance decided new shelves were the perfect upgrade. So I had them cut to size plywood for the shelves and attach a wood lip to the front so that the shelves appeared to look thicker and more like floating shelves without all the bulk. You can make it as think or thin as you want it. Also feel free to use different wood for a more upgraded look as well! We used this picture for inspiration!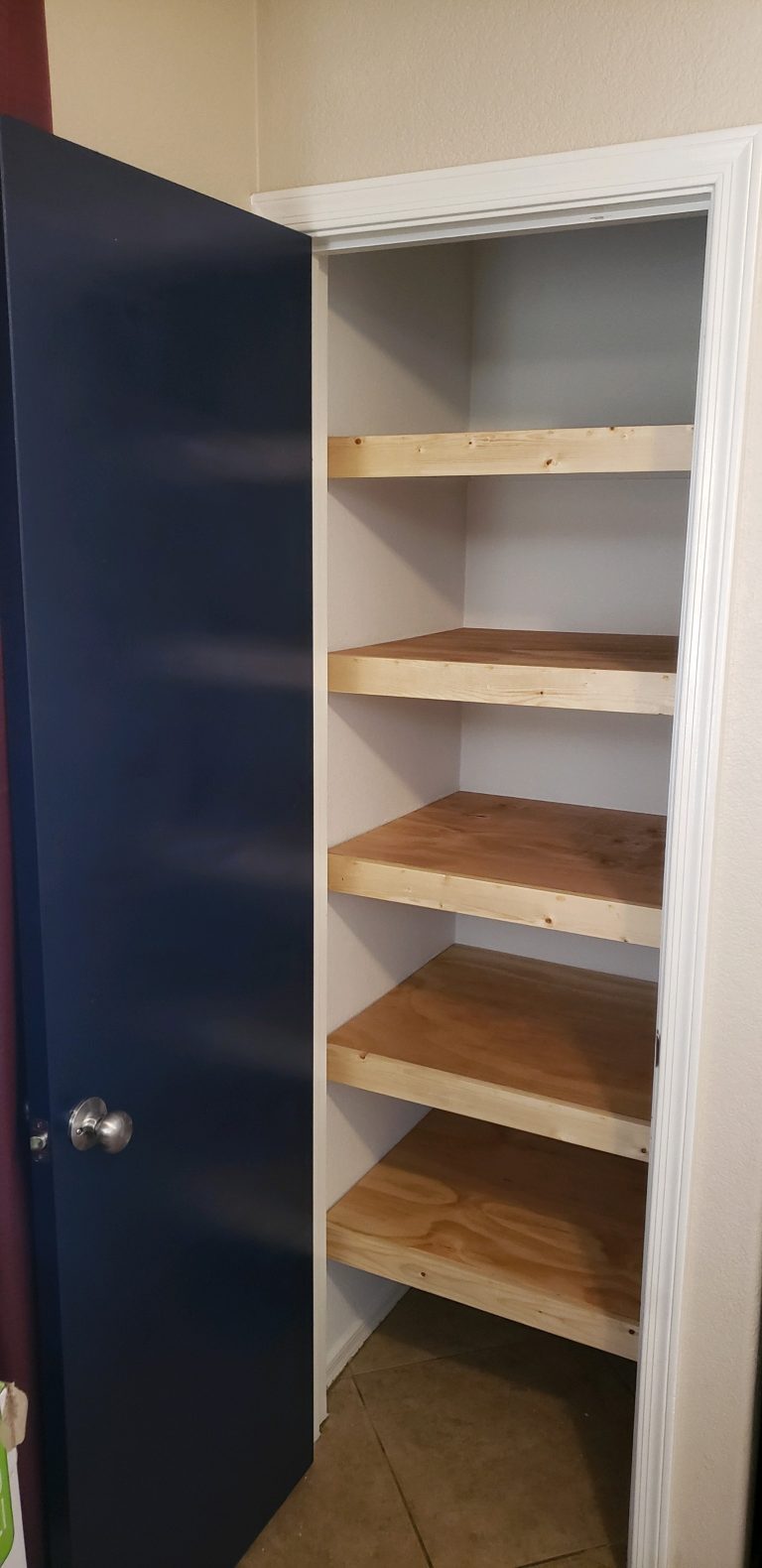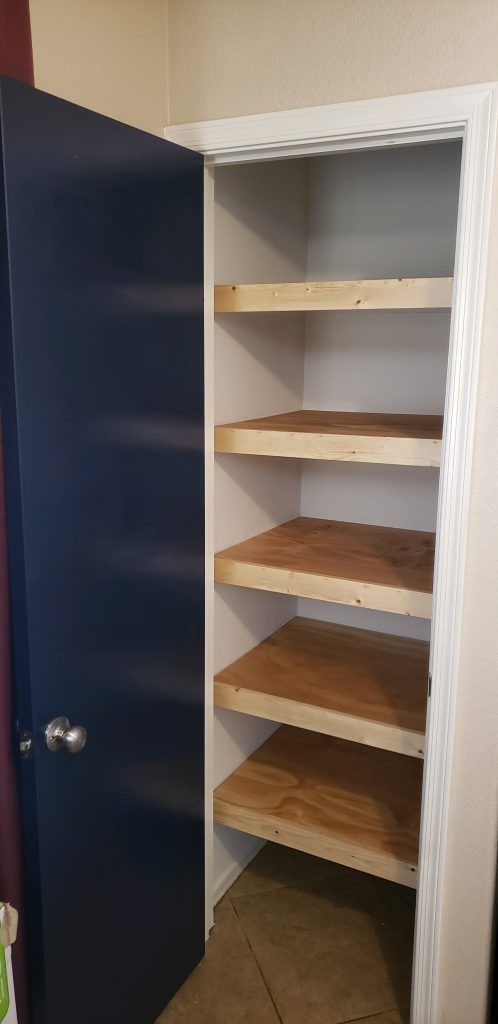 Simply install the shelves by using a small bead of glue along the small wooden shelf, attach the plywood and use a nail gun to secure it to the wall. Start the install at the bottom and work your way up!
Categorize all the things
Here is the fun part! Once you've installed your shelves or painted your shelves it's time to start to plan to put all your food back. But before you begin, make a plan and see which shelves will hold what. Take inventory of all your pantry food and stock and see how many containers and baskets you will need for each item/items!
If you know you have anywhere from 5-7 open snacks at a time, then get 5-7 containers. If you don't use that much flour then by smaller containers and "hold" the stock flour behind the containers.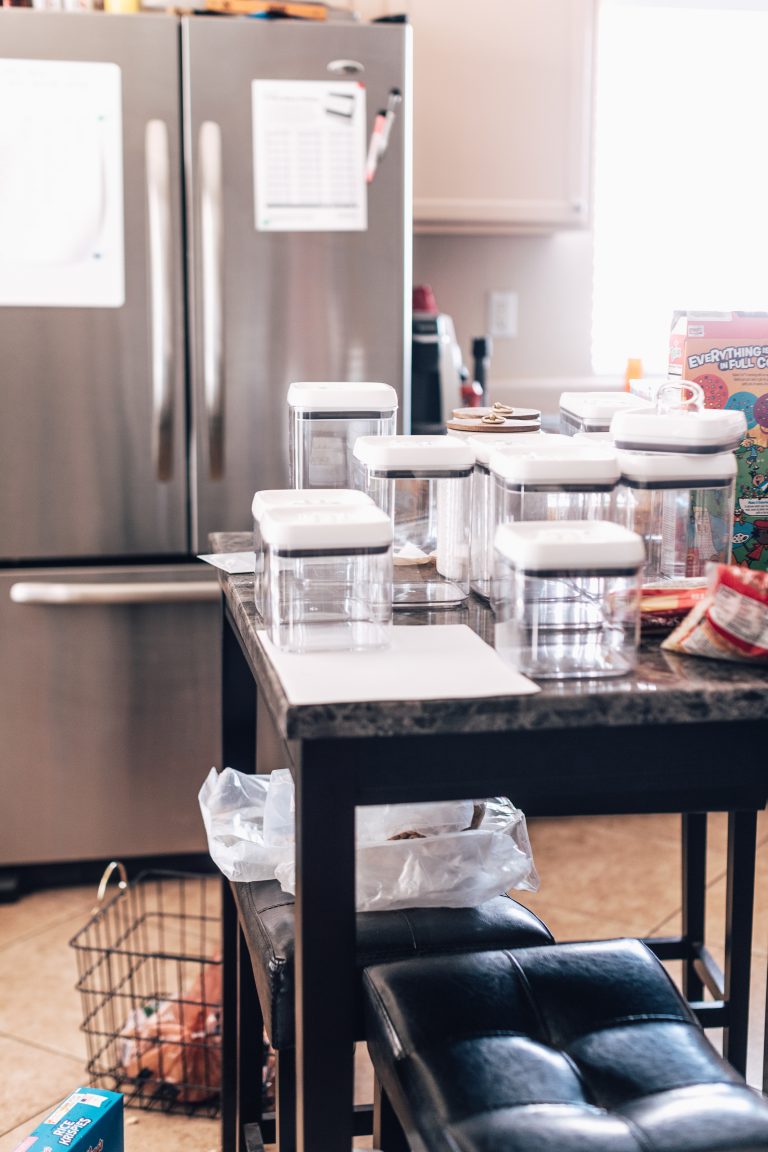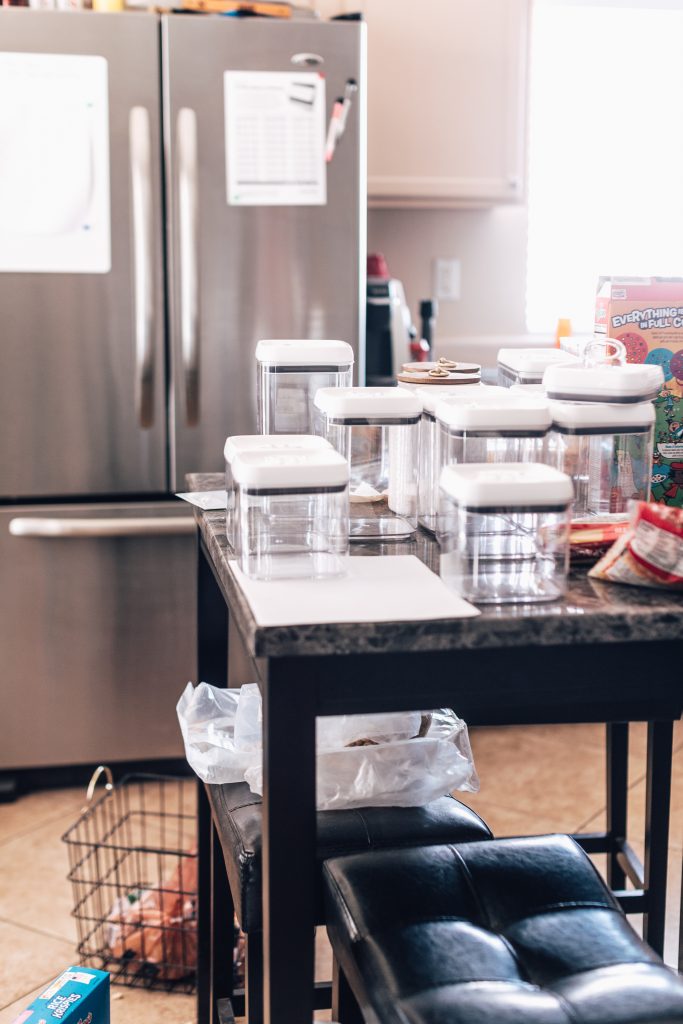 I like to use baskets for baking supplies, pasta, etc or any other packages that need to stay in the pantry. That way it has a uniformed look! Plus baskets and bins just makes everything look organized even if it isn't! Ha!
If you've ever wondered how professionals make the pantry look completely custom with store bought containers here is the secret. Measure the containers and the shelves to see what will get the BEST fit! I do this all the time with my projects. It takes a bit of extra time but it makes everything look so much better! For example you have a shelf that is 36.5 inches wide. Five, 7 inch wide container would look better than three, 1o inch wide containers because it fill in more space. Look for the containers that will give you more fill!
Here are some categories to think about!
Snacks
Cereal
Nuts/Seeds
Produce
Baking
Flour
Sugar
Can Foods
Breakfast
Pasta
Rice
Crackers
Purchase Containers and Baskets and Transfer all the Food!
For this project we ordered a bunch of very affordable containers from Better Homes & Gardens Walmart! They have some very comparable food storage containers that are similar to another name brand but at a much more affordable price!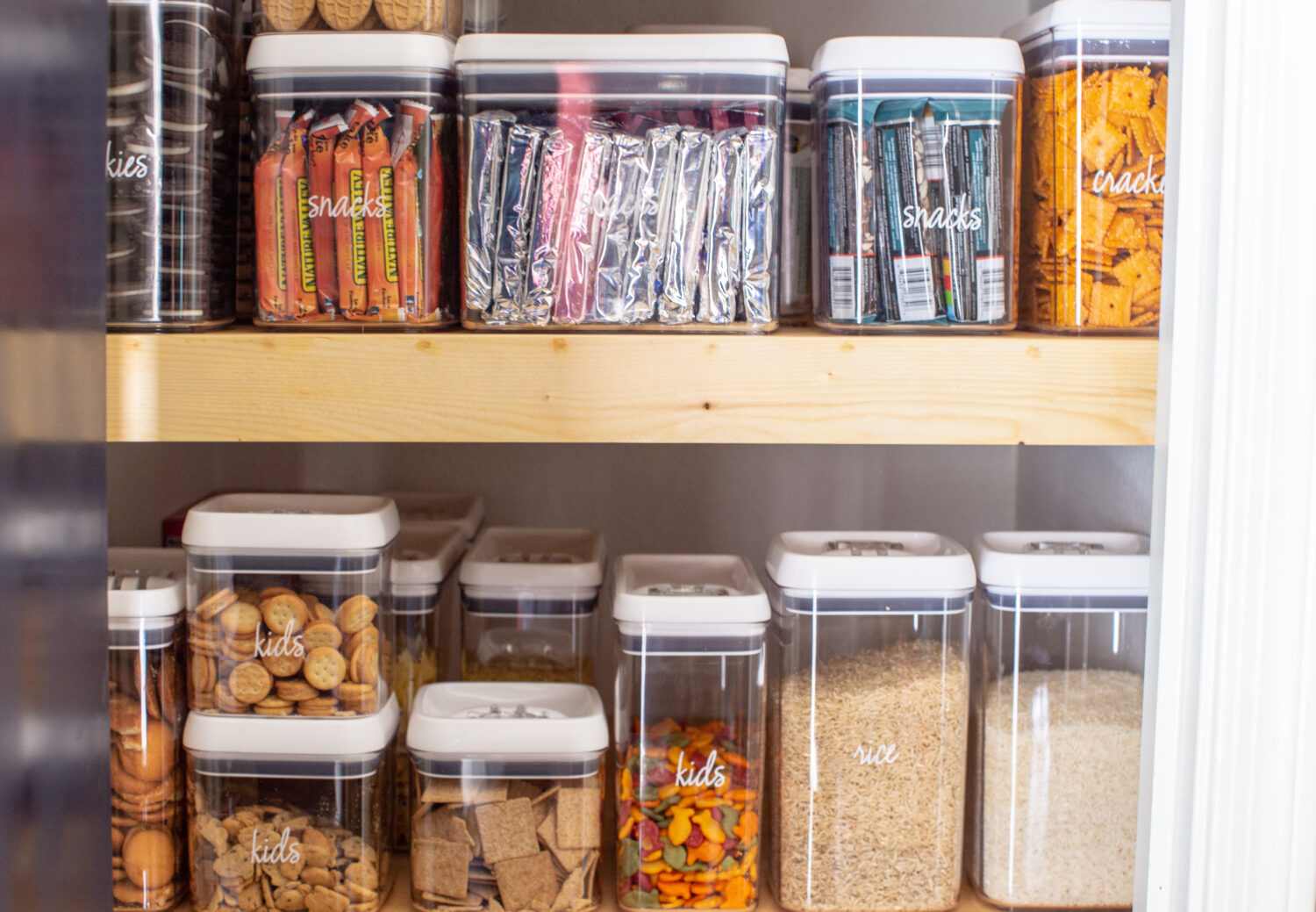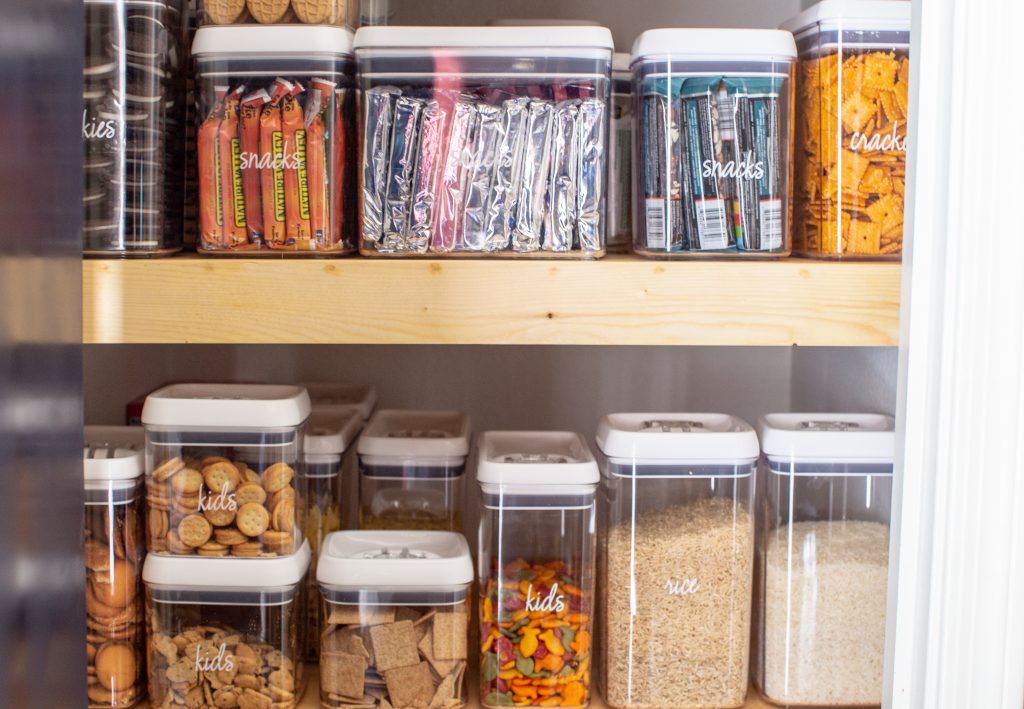 We start of with Better Homes & Gardens 3-Piece Flip Tite Food Storage Set which I new would give me the biggest bang for our buck. At only $15 each we got a great set of different sized containers to keep all of the open packages of cracker, rice, cookies all locked up and tight.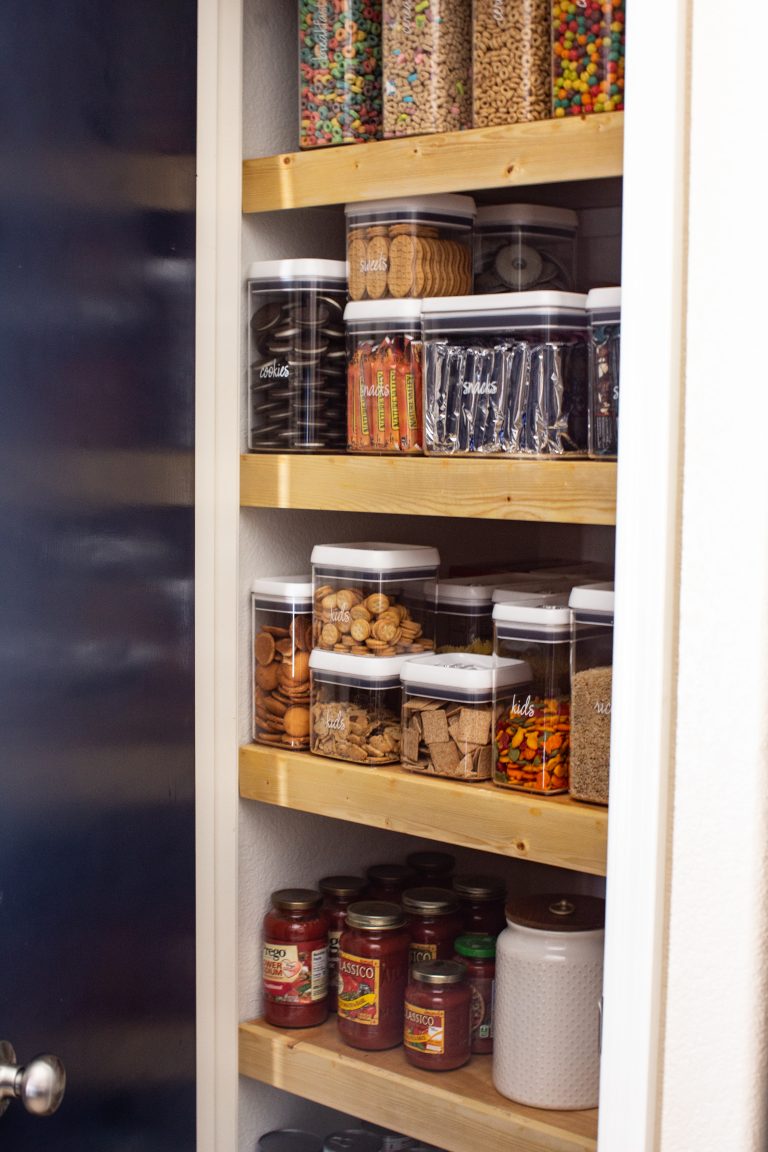 We also purchased matching cereal containers, mid ranger containers for crackers, large containers for breakfast foods and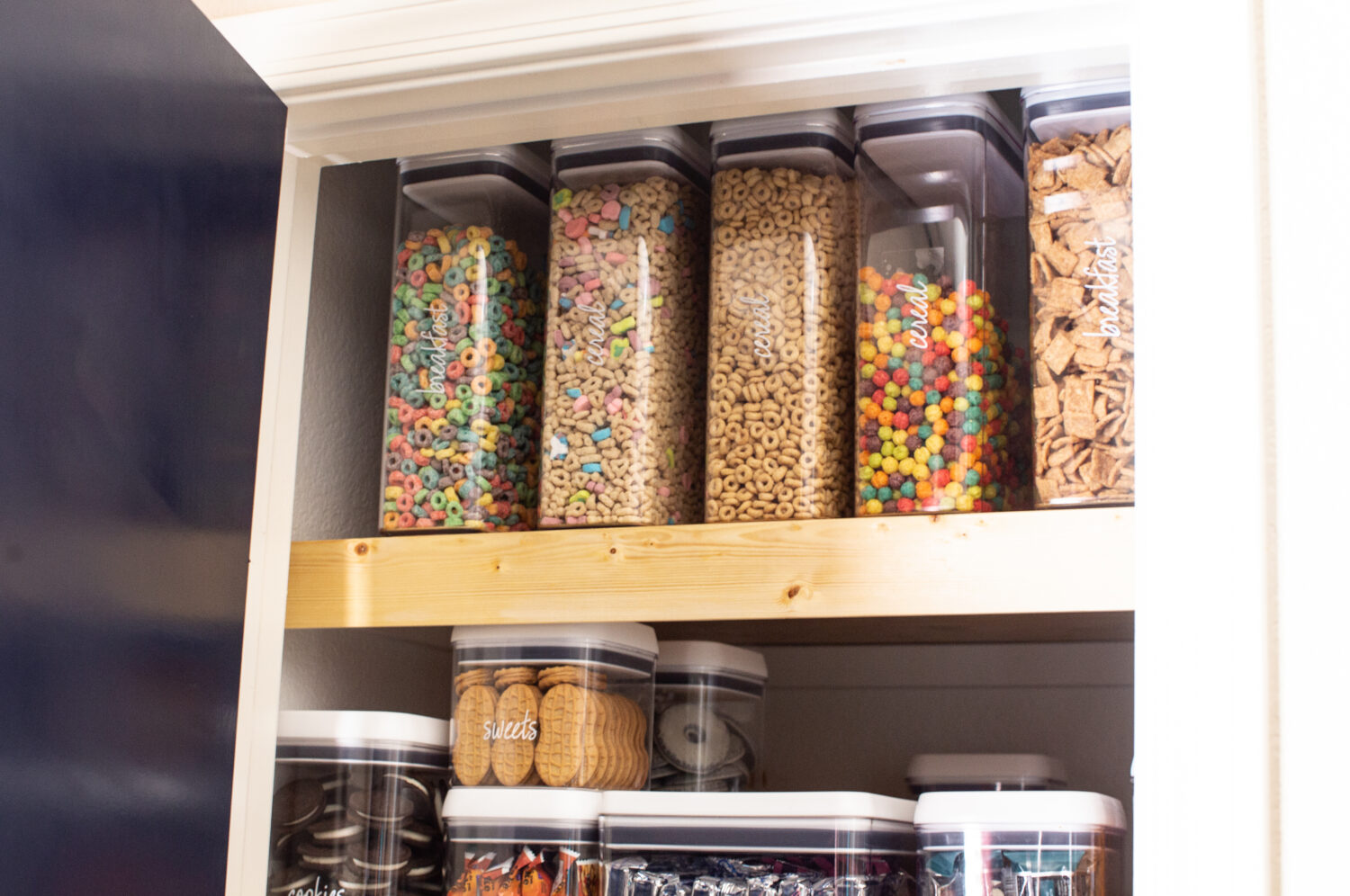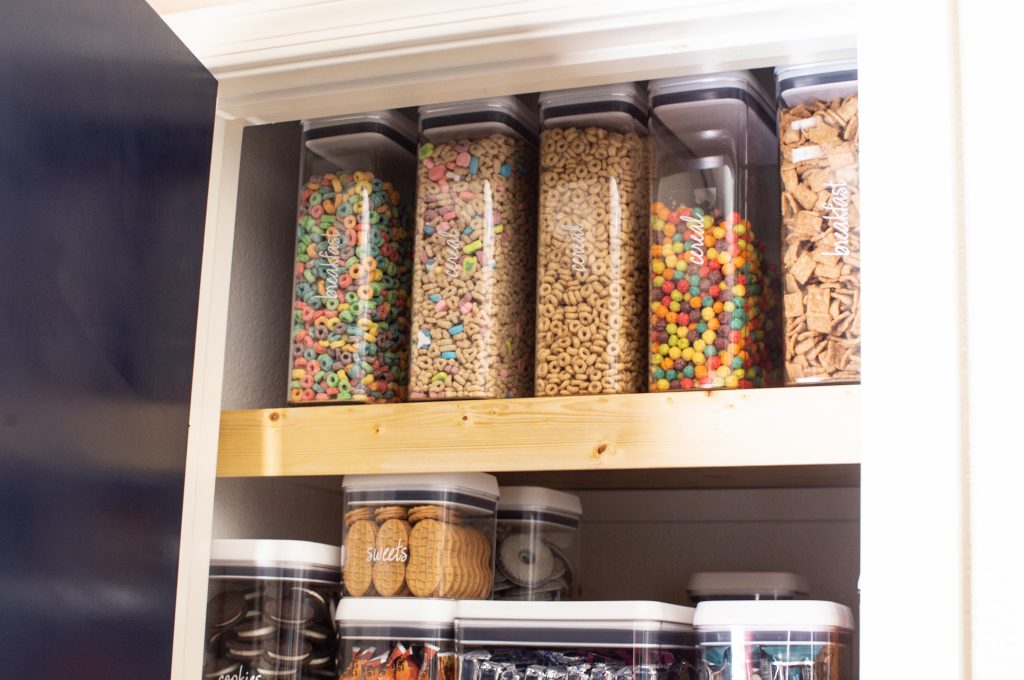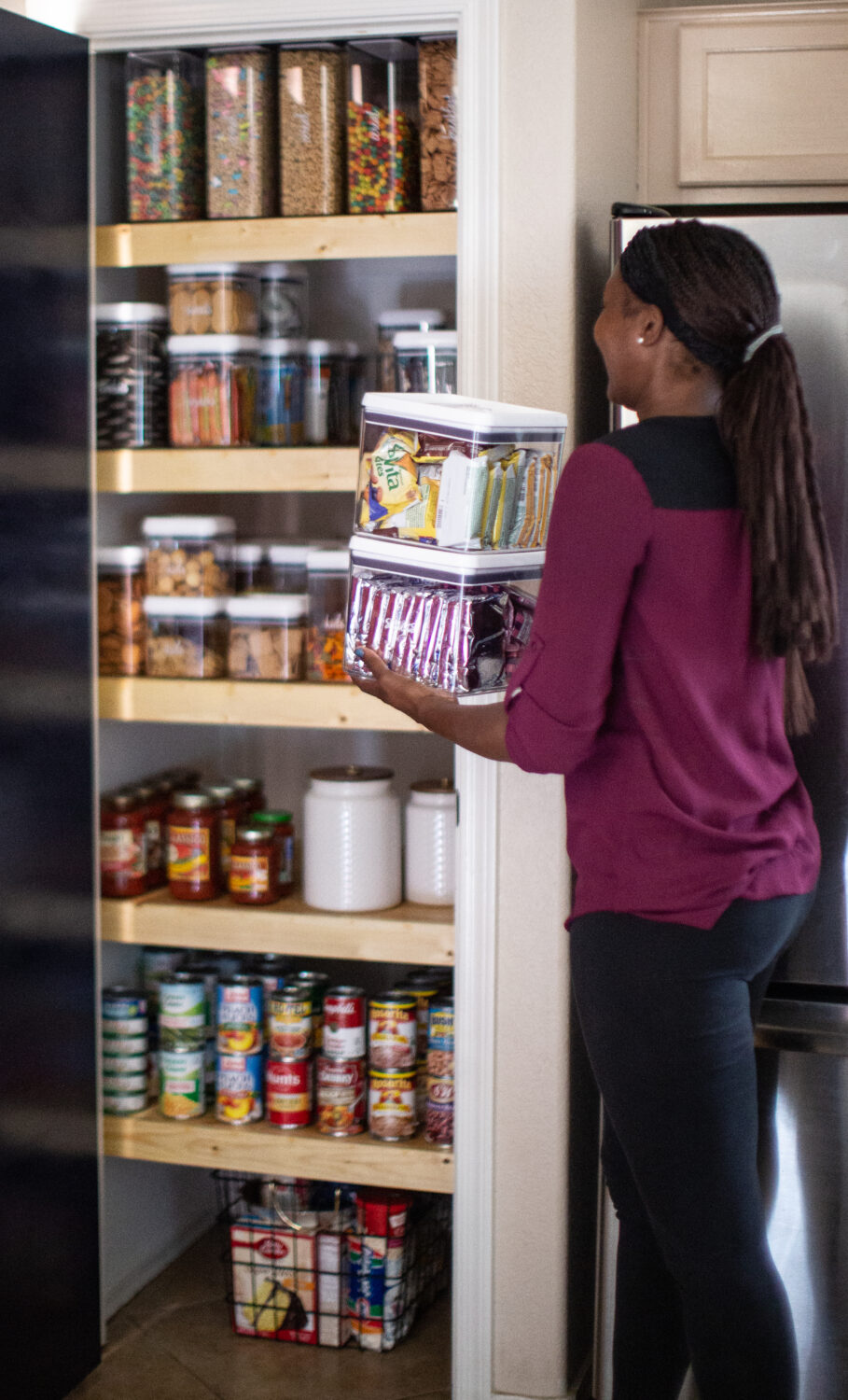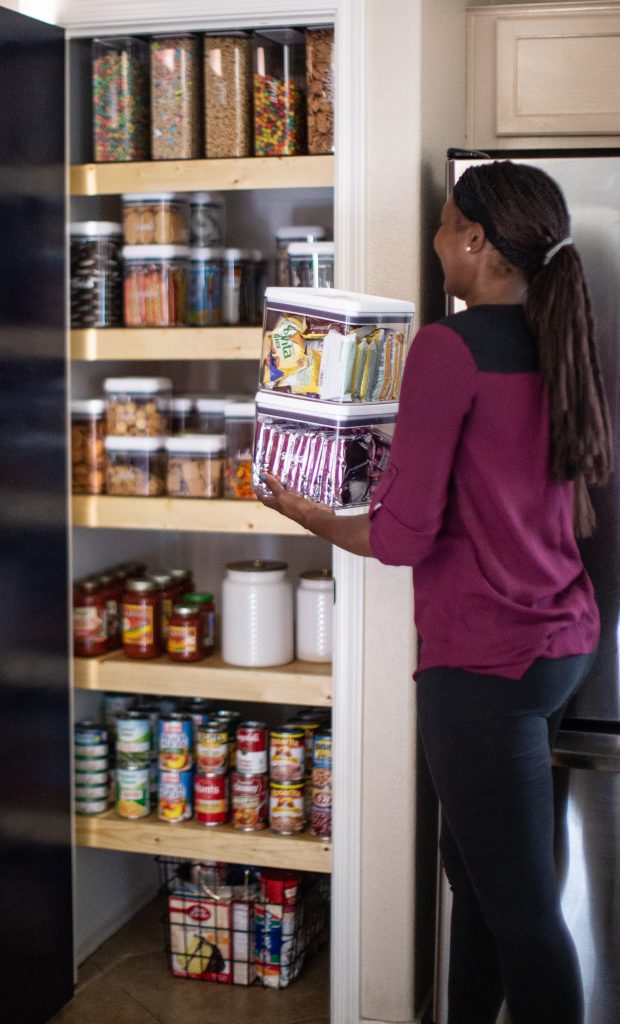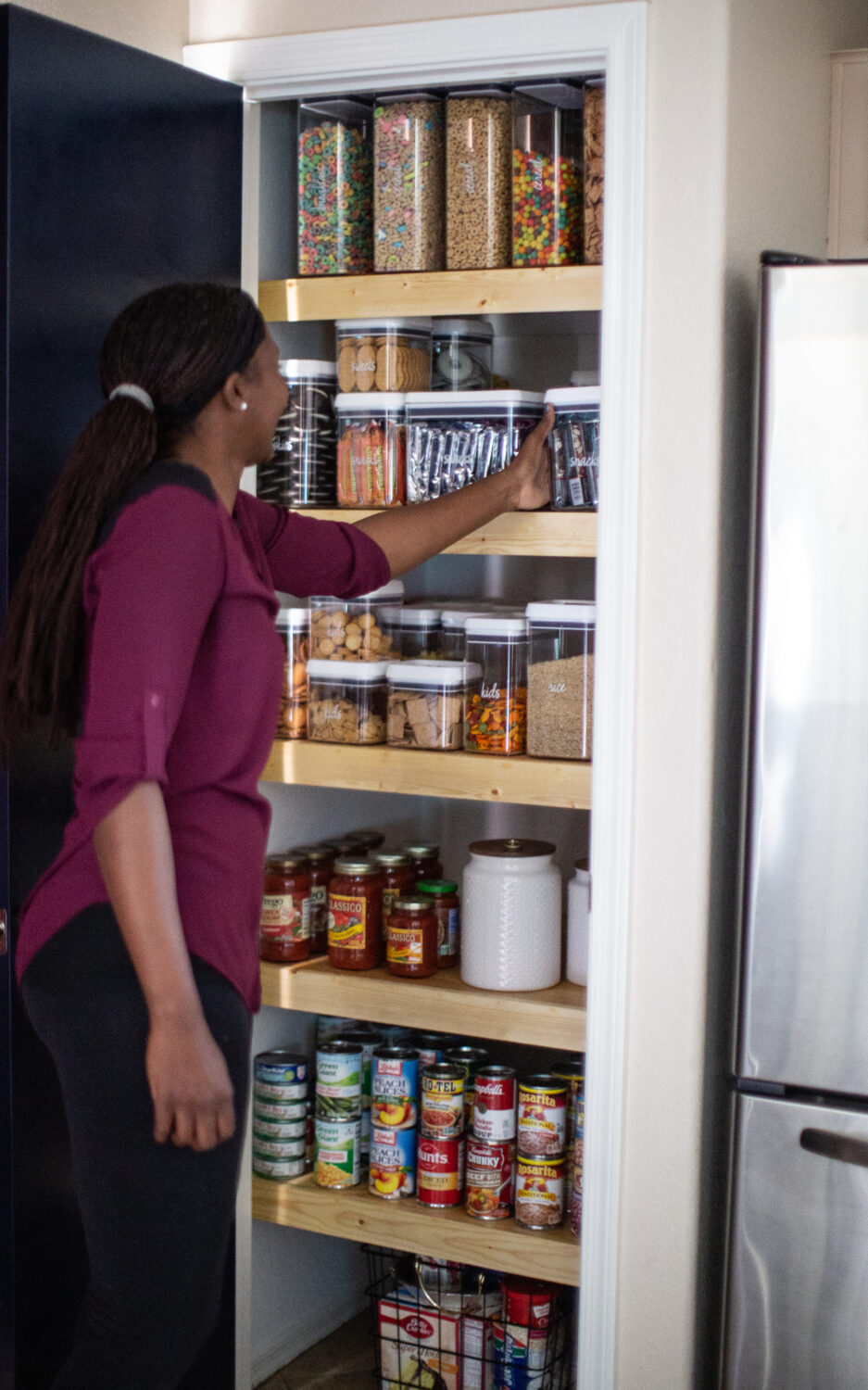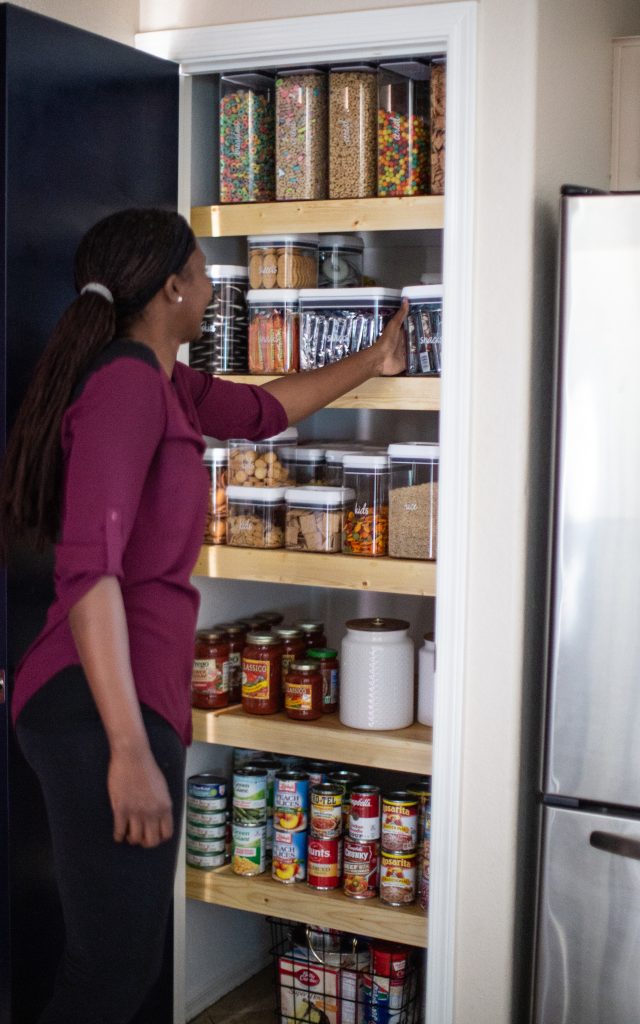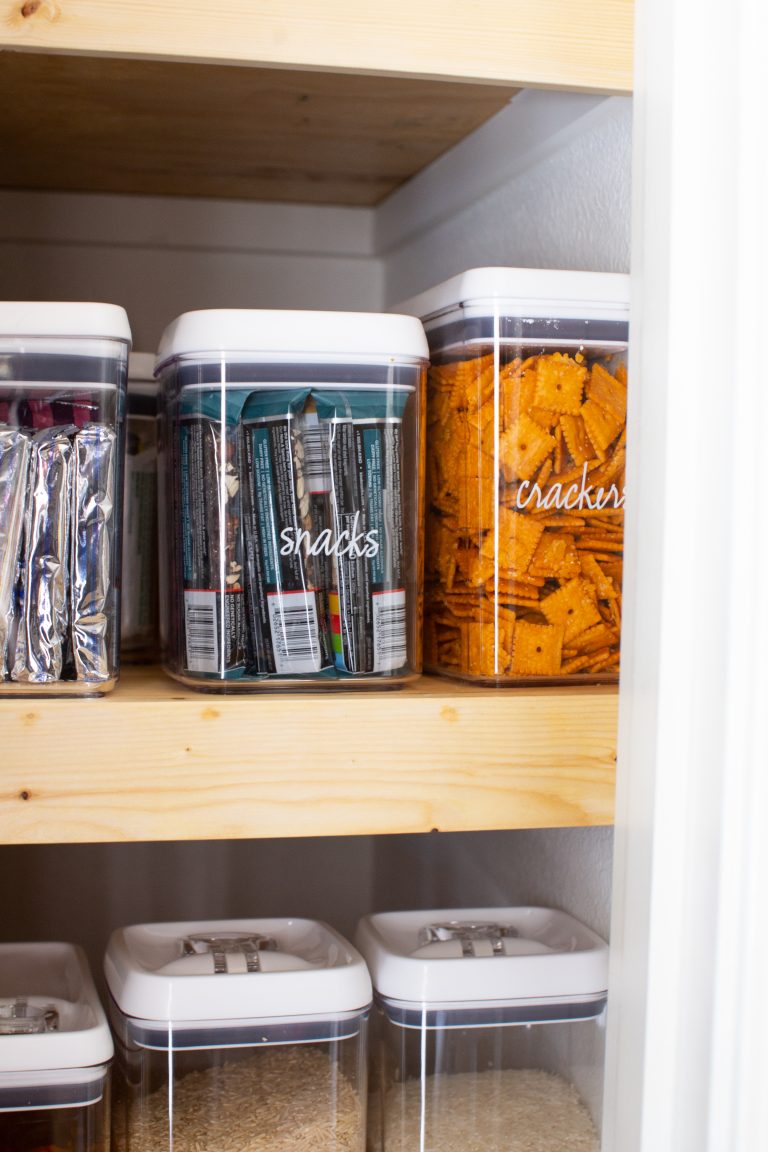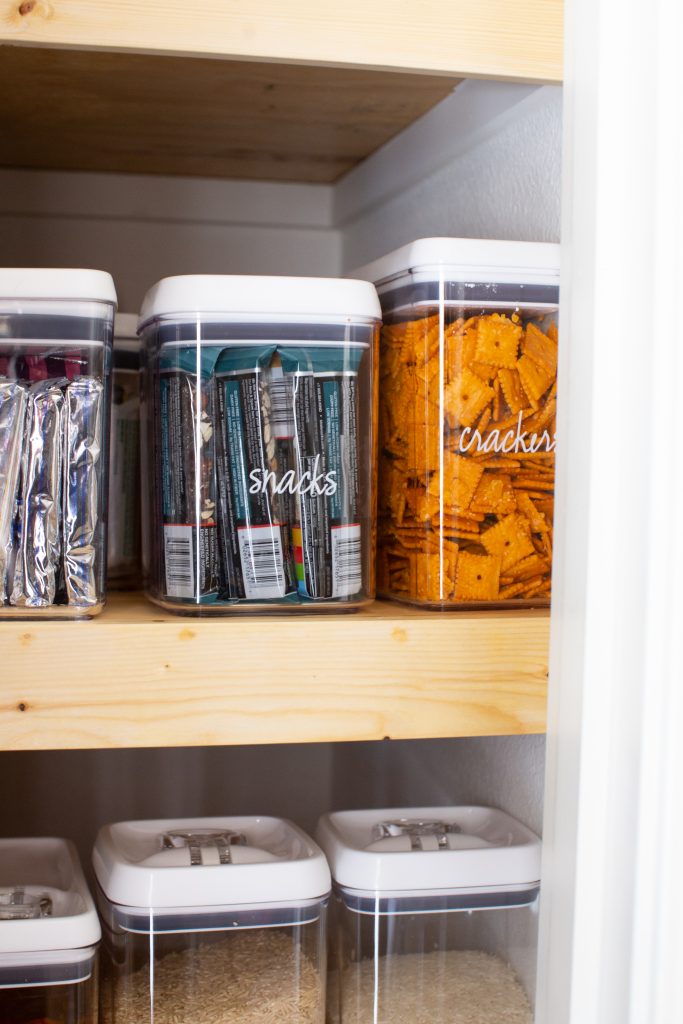 For loose baking goods we used canisters that tuck away nicely and grouped them together. If you don't have tons of counter space in your kitchen, then the pantry or a second cabinet is a great storage place. These cream colored canisters come in a few different sizes and I love the texture that it brings to the space!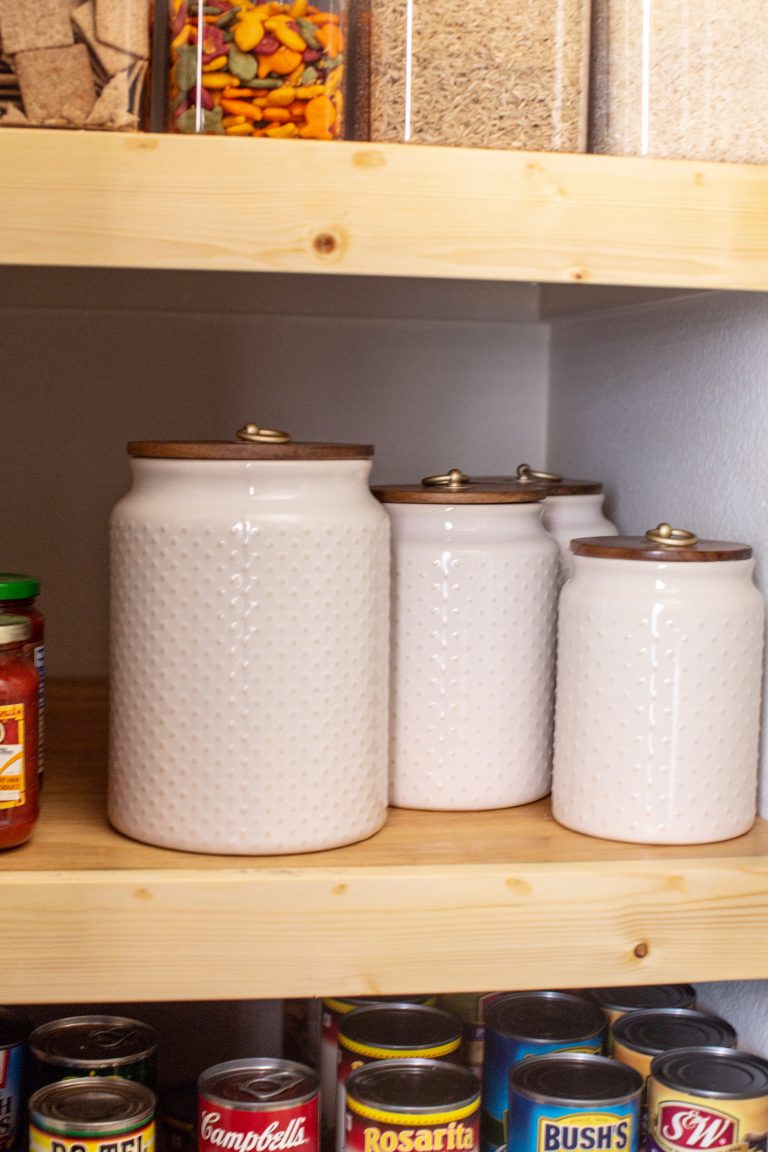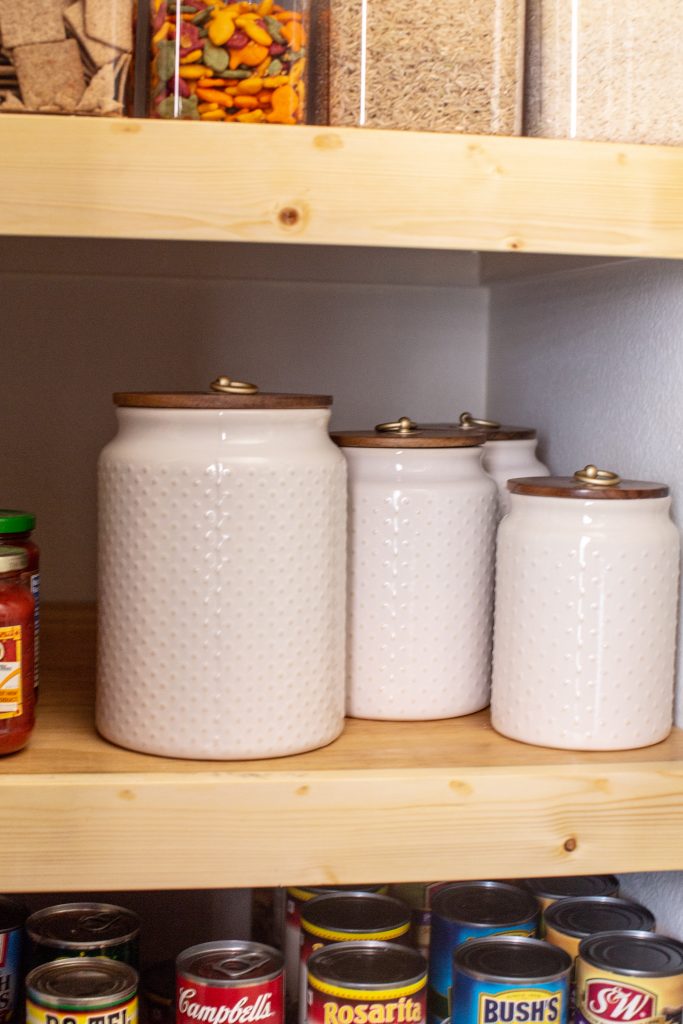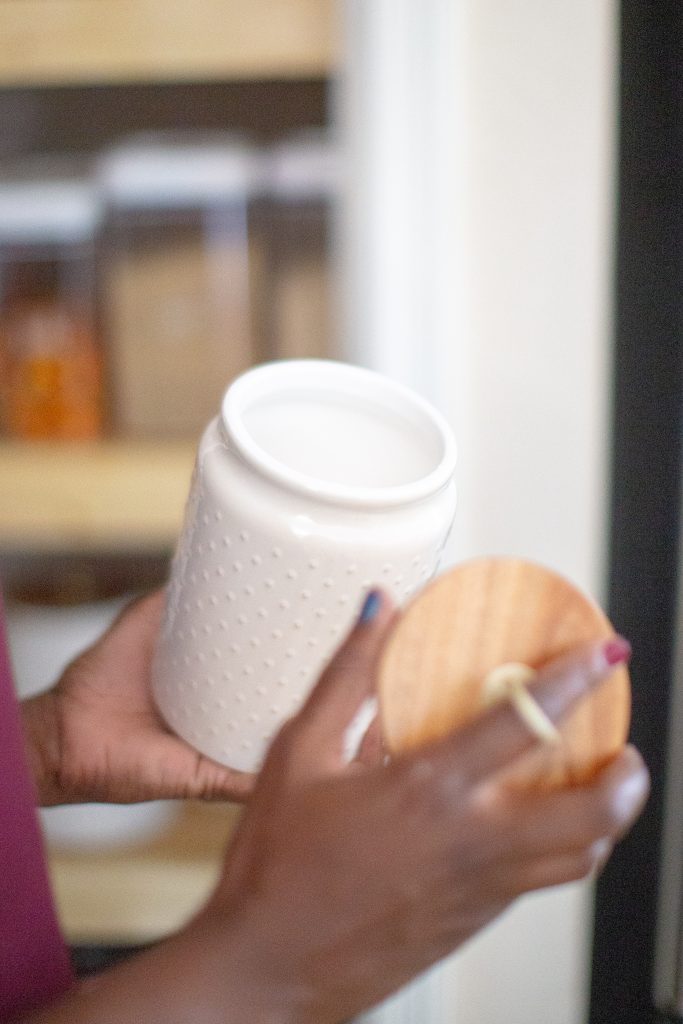 At the bottom we focused on bulk storage! I ordered a cute basket ( two more are on the way) to help out with pastas, baking supplies and anything else that she buys in bulk! This is a great way to store your groceries so you don't always run out of all of your daily essentials!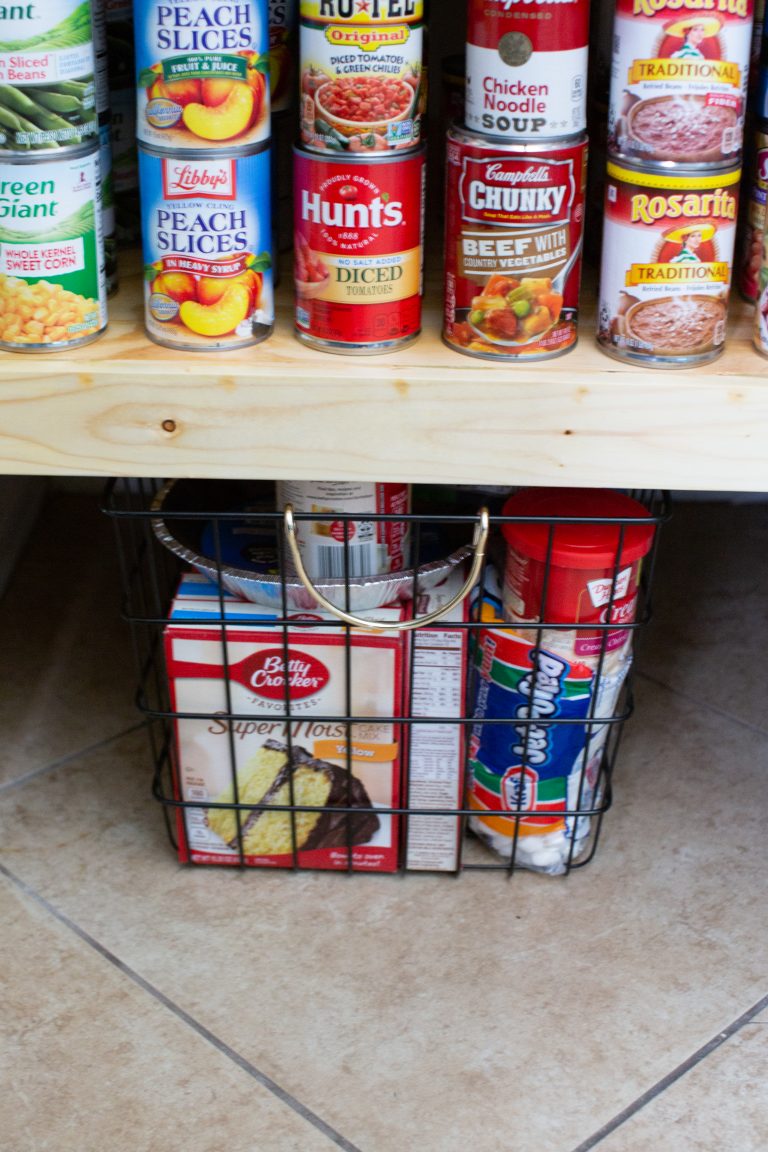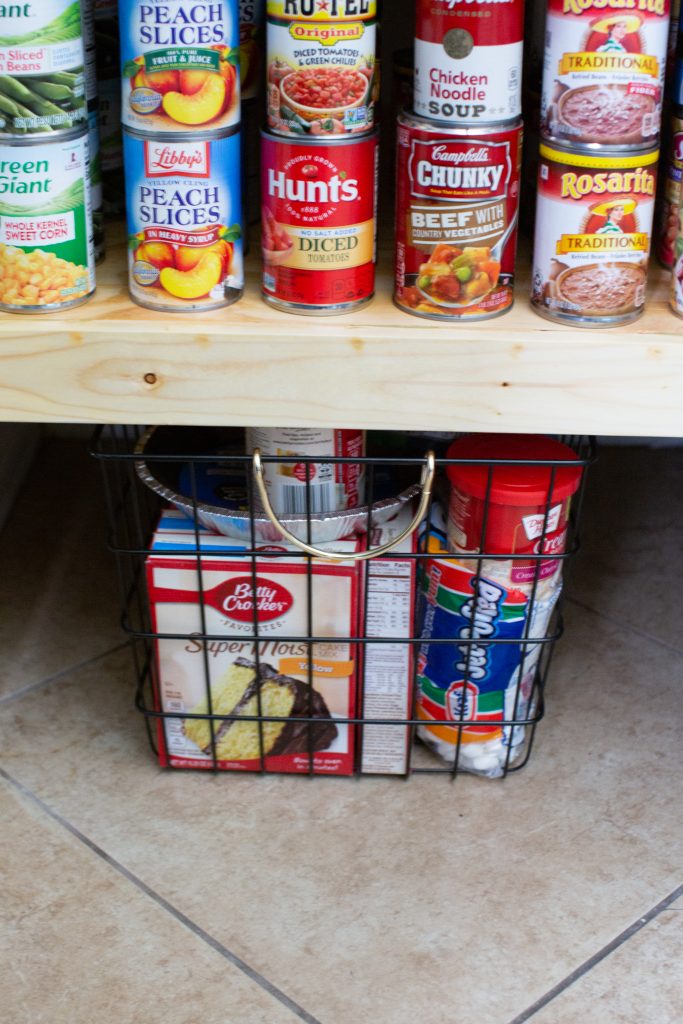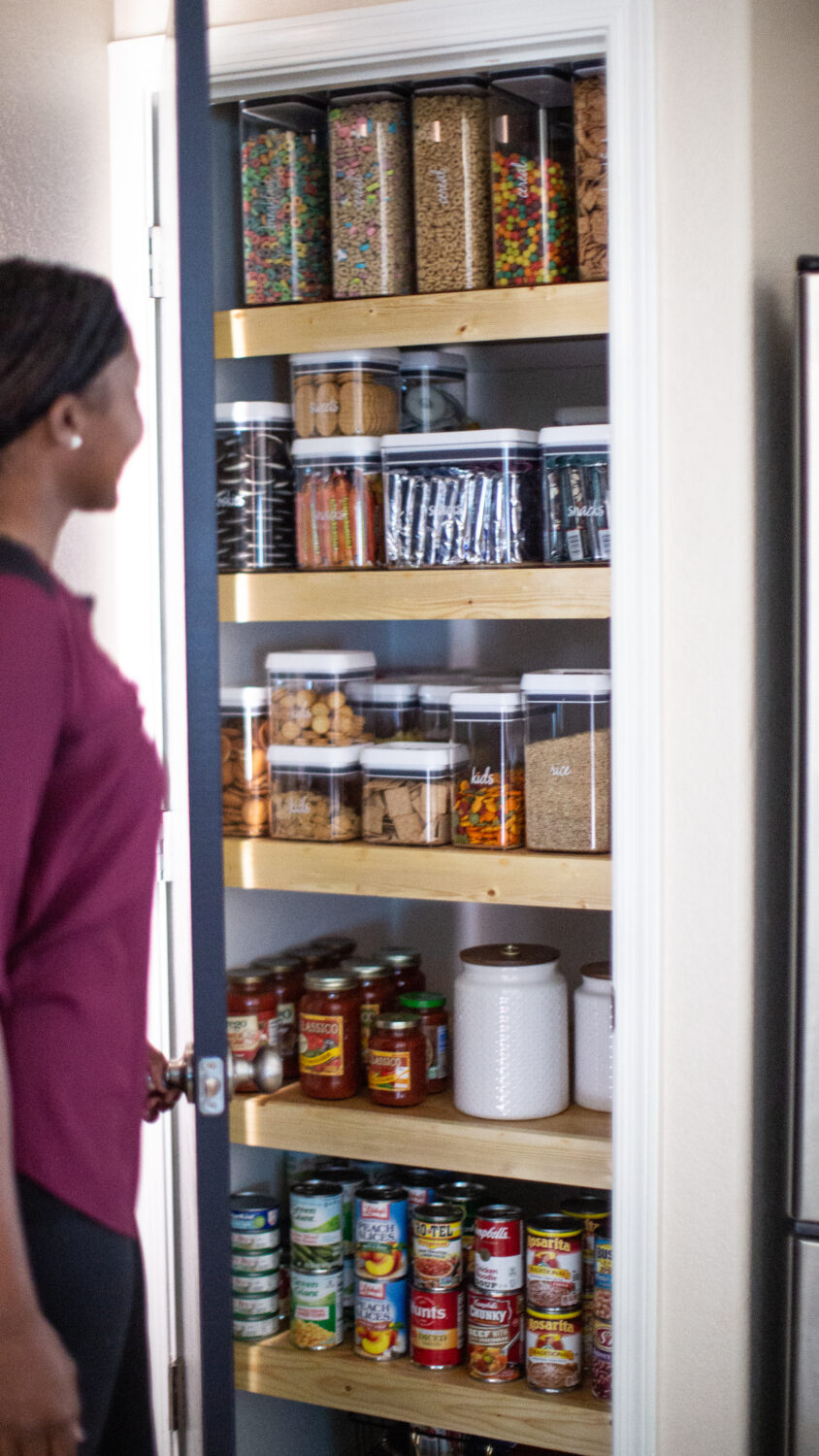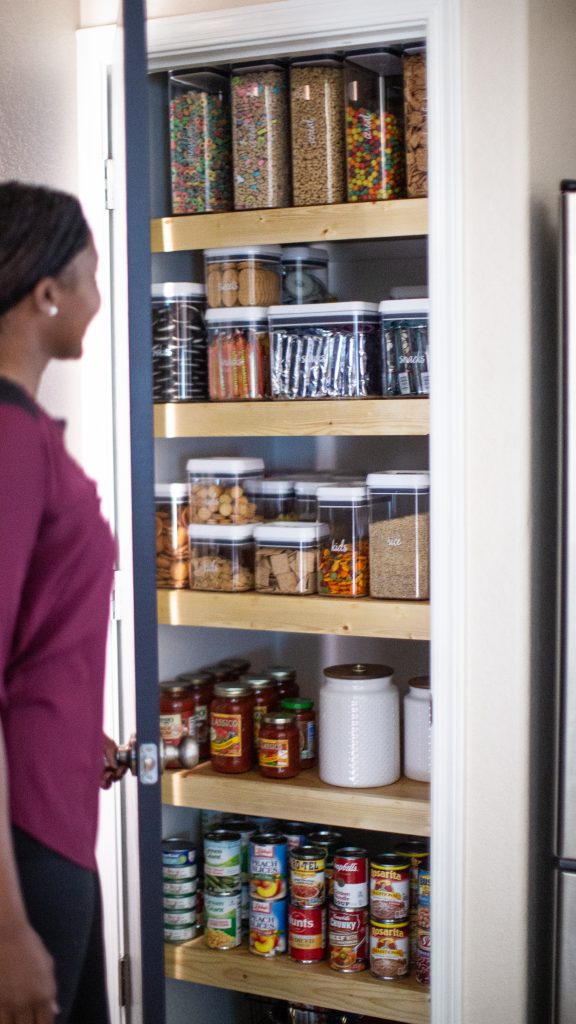 Are you ready to tackle your own pantry? Shop everything below!
---