Have you ever wondered if there's a difference between all those dishes you see at your local Target or department store? Besides the obvious dish education your receive when you sign up for your registry, there's actually some differences that could help you decide on the best everyday or casual dish sets. I've been scouring books and the internet to check out these differences because I wanted to see if there was something I didn't know and I guess I found a few things worth sharing:0)
Basically everyday dinnerware comes in a few different materials which include earthenware, stoneware, porcelain, glass or plastic. The most expensive everyday dinnerware sets are going to boast features such as chip resistant and made of the most durable porcelain and stoneware. The most versatile color choice when buying would be white or off white set because it's easy to coordinate, showcases your food a whole lot better, and most likely won't fade. One thing I suggest when upgrading your everyday china or choosing a set for the first time it to get something that's timeless. Meaning something that will last you a few decades or so or even forever. Think of something that would be a great hand me down to your daughters or granddaughters or any other dish lover in the family.
Stoneware
You'll find that stoneware is both a hard and durable option for your everyday plate. They can basically take a lickin and keep on tickin! You'll also find stoneware in various colors and finishes which is great for those who like their plates colorful!
I just recently updated my everyday dishes to these Farmhouse plates from Crate and Barrel. Now, if you are turned off from the word " farmhouse" like most people these days, don't worry, I think they are a neutral plate that would go with any style! We've had them for a few months now and we LOVE them!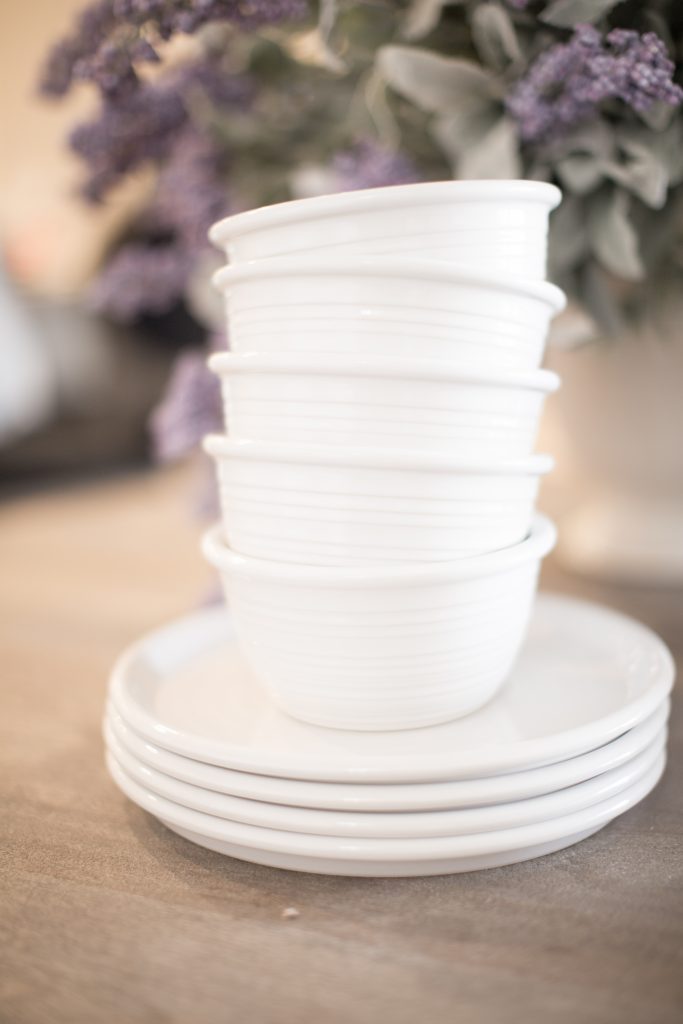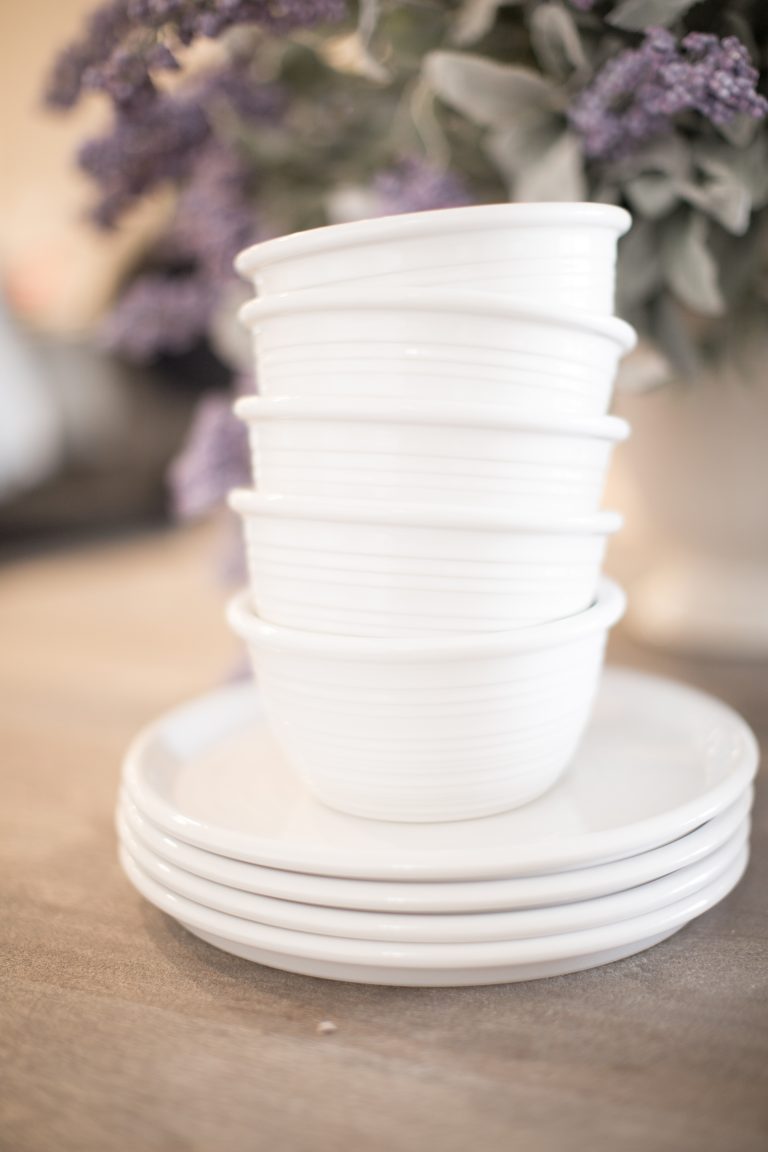 I only purchased the plates and the bowls but after using them I'm going to order more for sure. I think the smaller plates will be great for the kids.
A few things I love about these everyday plates…
They are big enough and they have a lip. For some reason the lip is so subtle but it's absolutely my favorite part. When I'm plating food for the kids or for my hubby I can move sides all the way to the edge without them falling out or off the plate. It's the little things! haha
They have a smooth finish all the way around. I bet some of you are wondering what I'm talking about, but sometimes plates are glazed on top but not on the bottom. These are glazed all the way around which makes for better stacking and you don't get as many scratches when you stack them.
They have matching pieces. I love the fact that I can not only add a bowl and a cup to my collection, but also a pitcher, pancake warmer, batter bowl and more!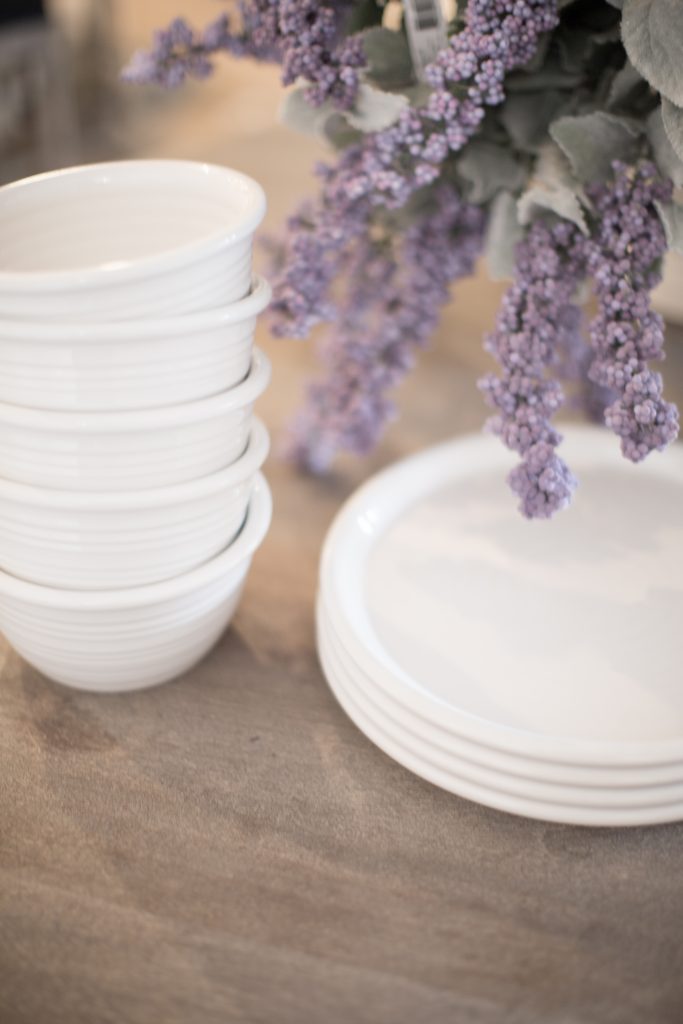 Other stoneware sets:
Earthenware
Although earthenware is not as sturdy as stoneware it is budget friendly and perfect for those who aren't ready to invest in a more durable set. Earthenware dishes do chip easily but because of the thinner material they allow for some beautiful details like this Emma Set from Pottery Barn that I love!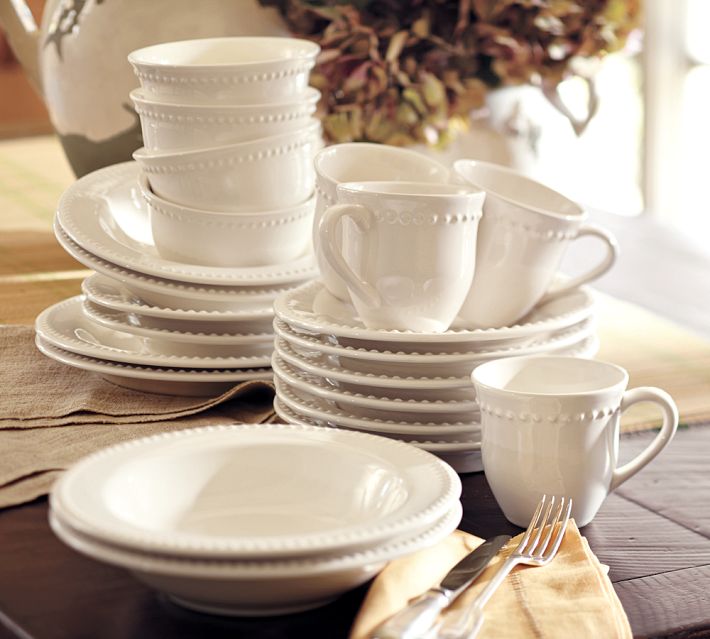 Other Earthenware Sets:
Porcelain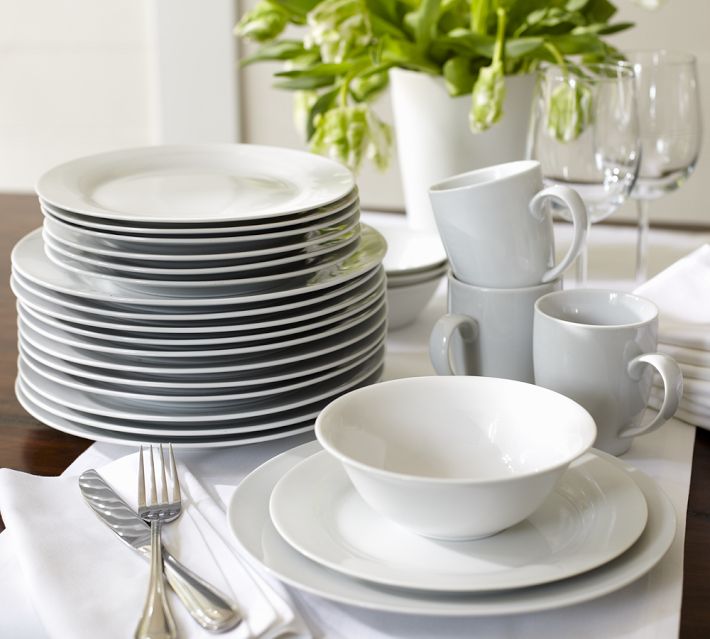 Porcelain is also a great option for your everyday dishes. I must admit when I hear the word porcelain I immediately think delicate and fragile. But when it comes to everyday use, porcelain is the strongest and most durable material there is when it comes to dishes. From my understanding as long as you purchase the dishes in white vs a porcelain with patterns ,you won't see any fading. Many restaurants and hotels use similar sets for their durability and longevity.
The set pictured above is from Pottery Barn and is chip resistant and is also dishwasher and microwave safe. I think these would coordinate beautifully with other colorful dinnerware for a spectacular holiday setting. These pieces are an investment, ranging in prices from $200.00-$1500.00 for a full set.
The tablescape below is beautiful and features the very popular Pillivuyt dinnerware set from William Sonoma.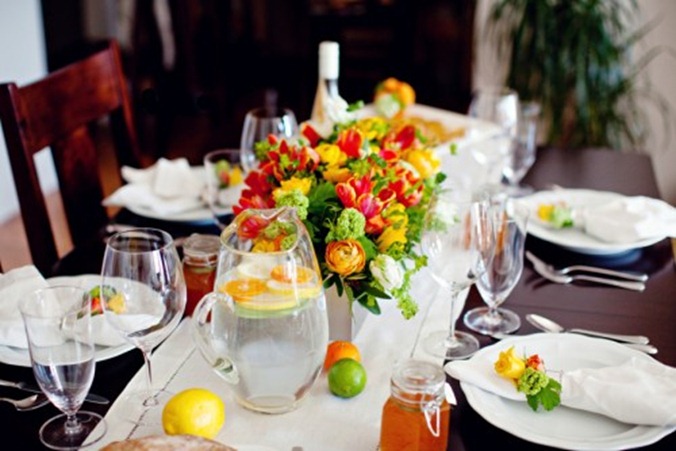 Other Porcelain Sets: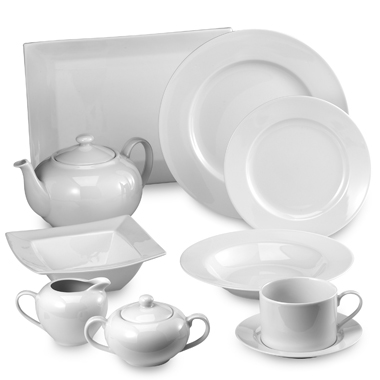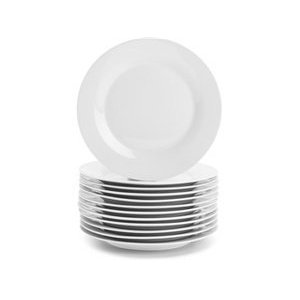 BedBathandBeyond//TenStrawberryStreet
If you're still not sure if you can handle the everyday use of these materials,glass and plastic are another alternative that can get you through the years until you're ready. Some cons you might want to think about it is the ability to use them in the microwave and dishwasher.
So no matter what material you choose for your everyday dinnerware set you want to make sure that it's microwave and dishwasher safe. If chipping bothers you then look into a white porcelain or stoneware. If you're on a budget ,are pretty careful when it comes to handling or plan on upgrading in a few years check out earthenware or glass for your everyday set!
Check out my current favorites!

Looking for another everyday option? Click below!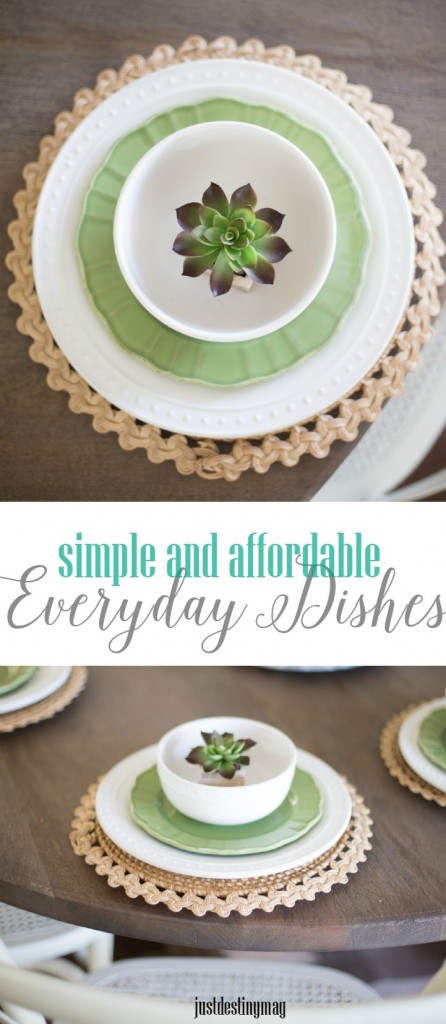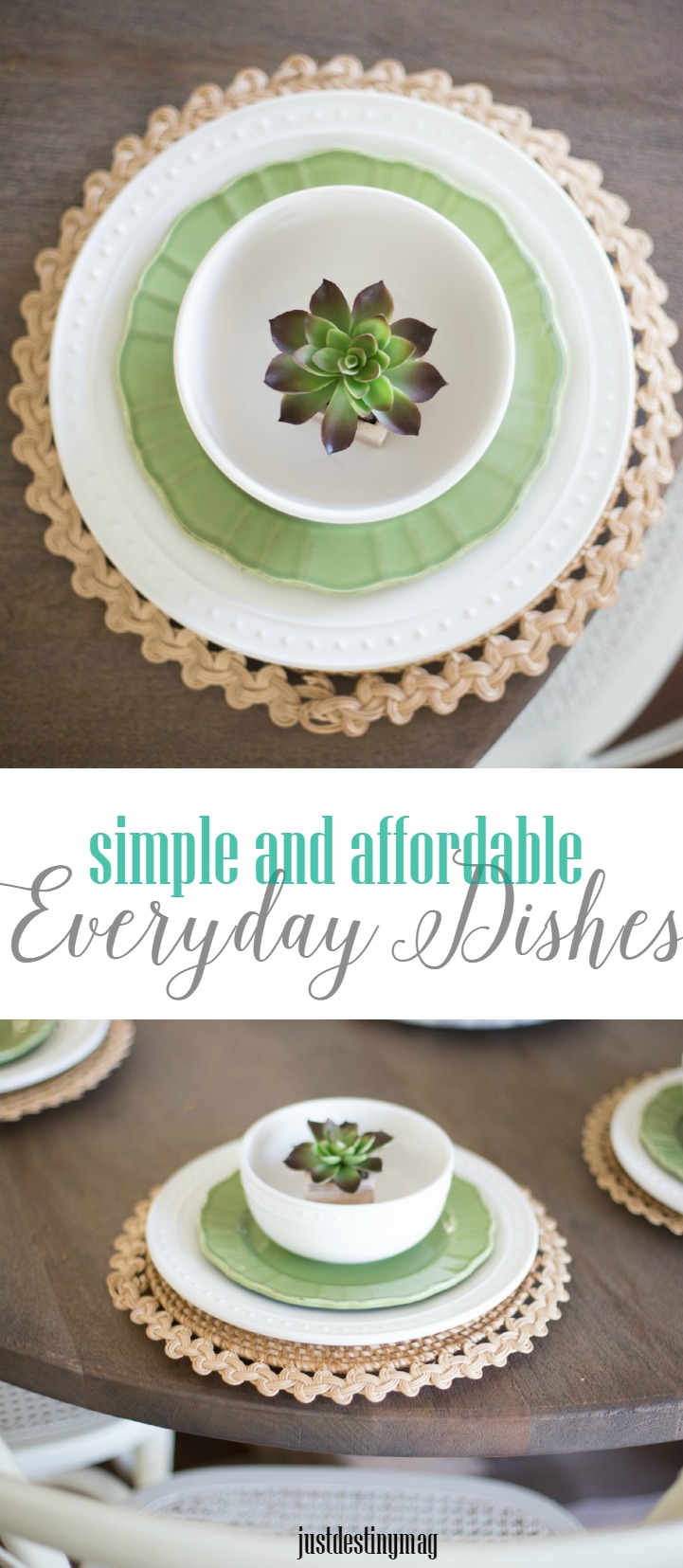 59