My Favorite White Knife Sets
This post is sponsored and may contain affiliate links, please read my disclosure policy.
I appreciate anything that can be 100% functional but also 100% pretty. Pretty things matter!!! Why? Well because you just feel better when you use products that match your personality. There are so many product engineers and artists who totally get that! Sure you can cook with just a plane ole knife. But a pretty knife set all in white? Yesssss! Or even sleek modern black, or red or YELLOW! Whatever your jam is! But you get what I'm saying right? Aesthetics in product design matters so today I'm showing your my favorite white knife sets for every budget!
For me, opening up a drawer of pretty knives can inspire me to cut up some veggies or fruit. As simple as it its, color sometimes be that one thing that draws you into the kitchen and gets you cooking.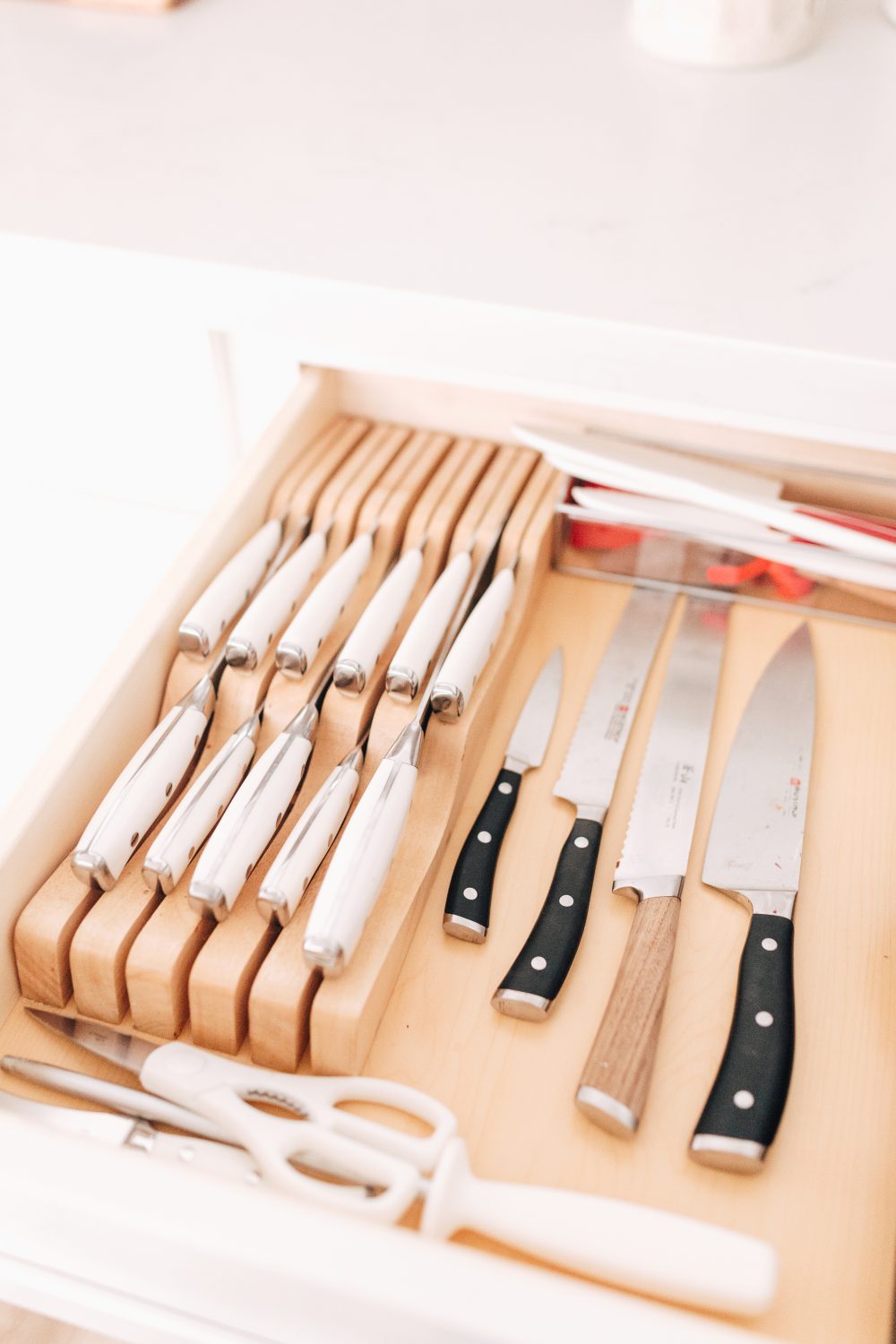 If you are looking for a good, better or best knife set, I've listed some great options below! I get to see these knives each year up close and personal as an housewares expert for The Inspired Home Show each year so trust me, you're going to love these gorgeous options!
A GOOD Knife Set
If you're looking for a good white knife set that fits into your decor perfectly then the Pioneer Woman Linen Knife Set is for you. For around $50 you are going to get a full block with 14 different pieces!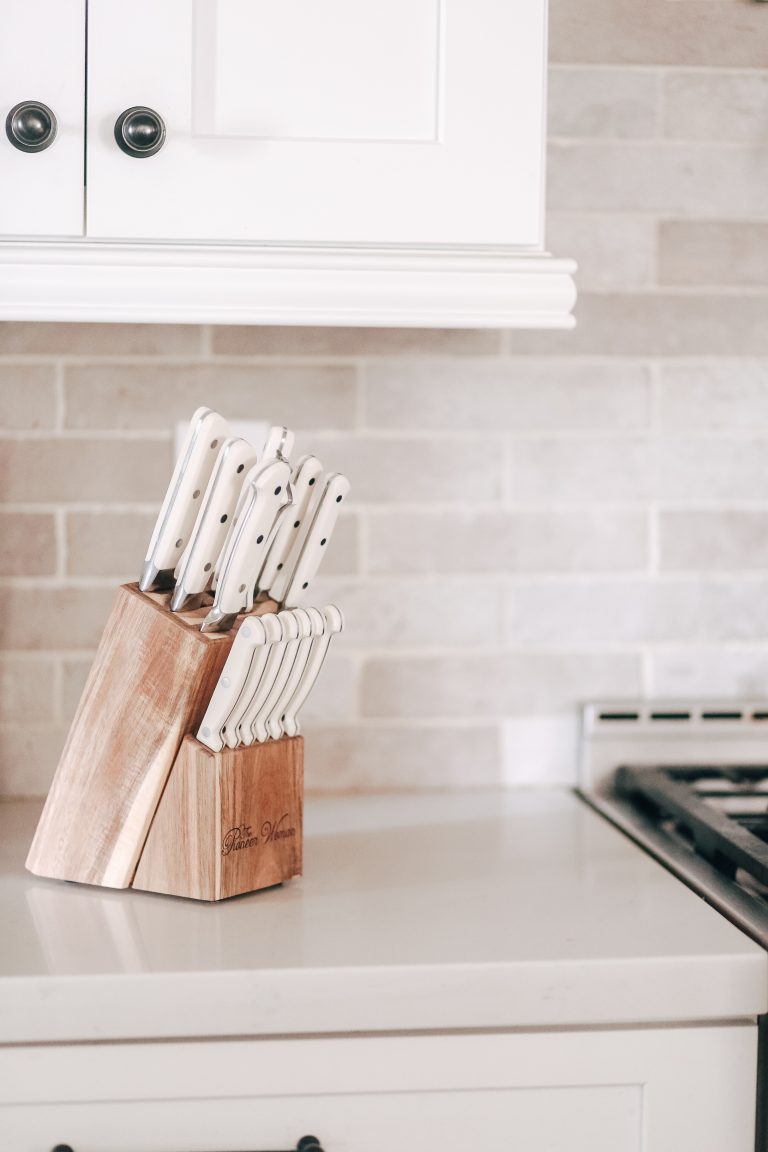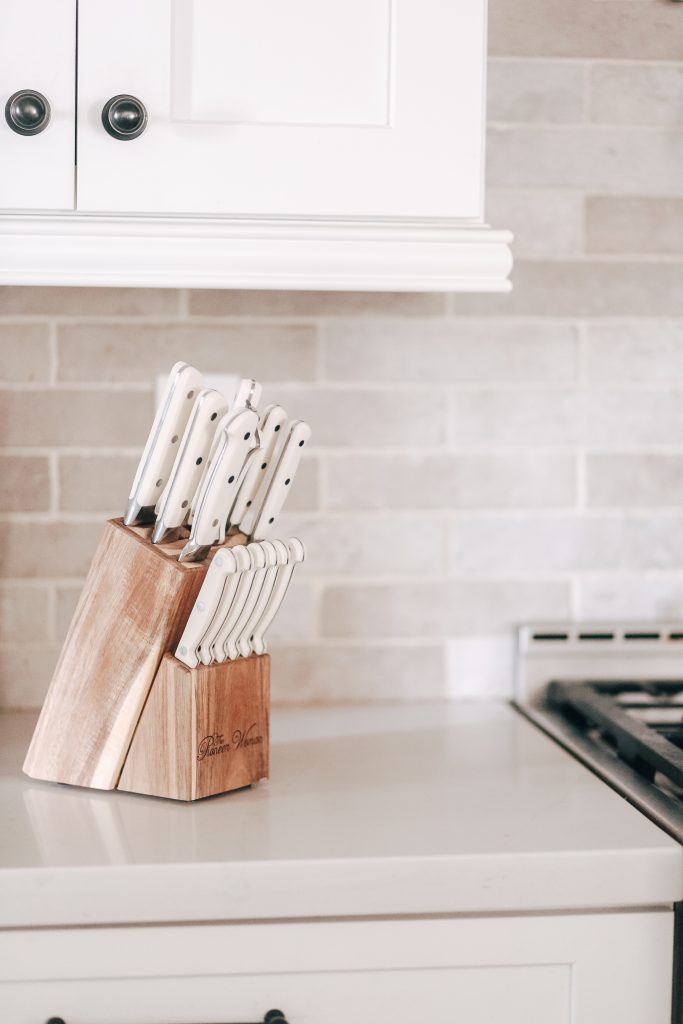 The white color is a bit more creamy then a true white so it's great for those who don't want something that's too modern.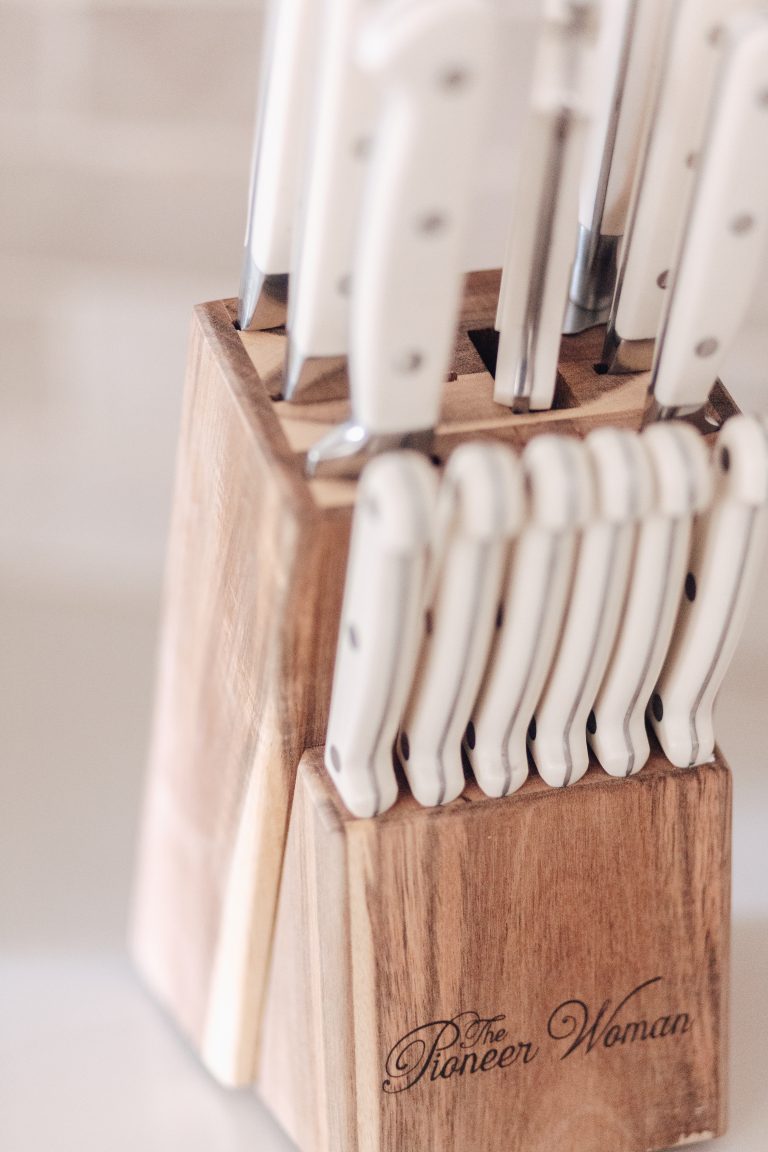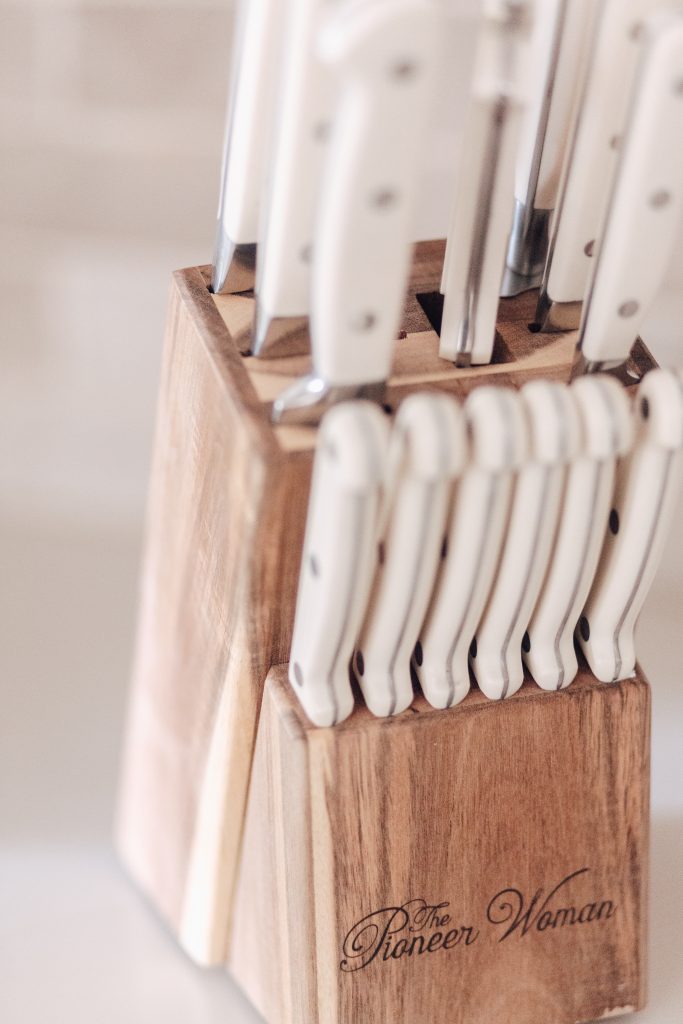 A BETTER Knife Set
The all white Cuisinart Set is an upgraded option from the linen knife set above because of a few things. So I'm giving it a BETTER!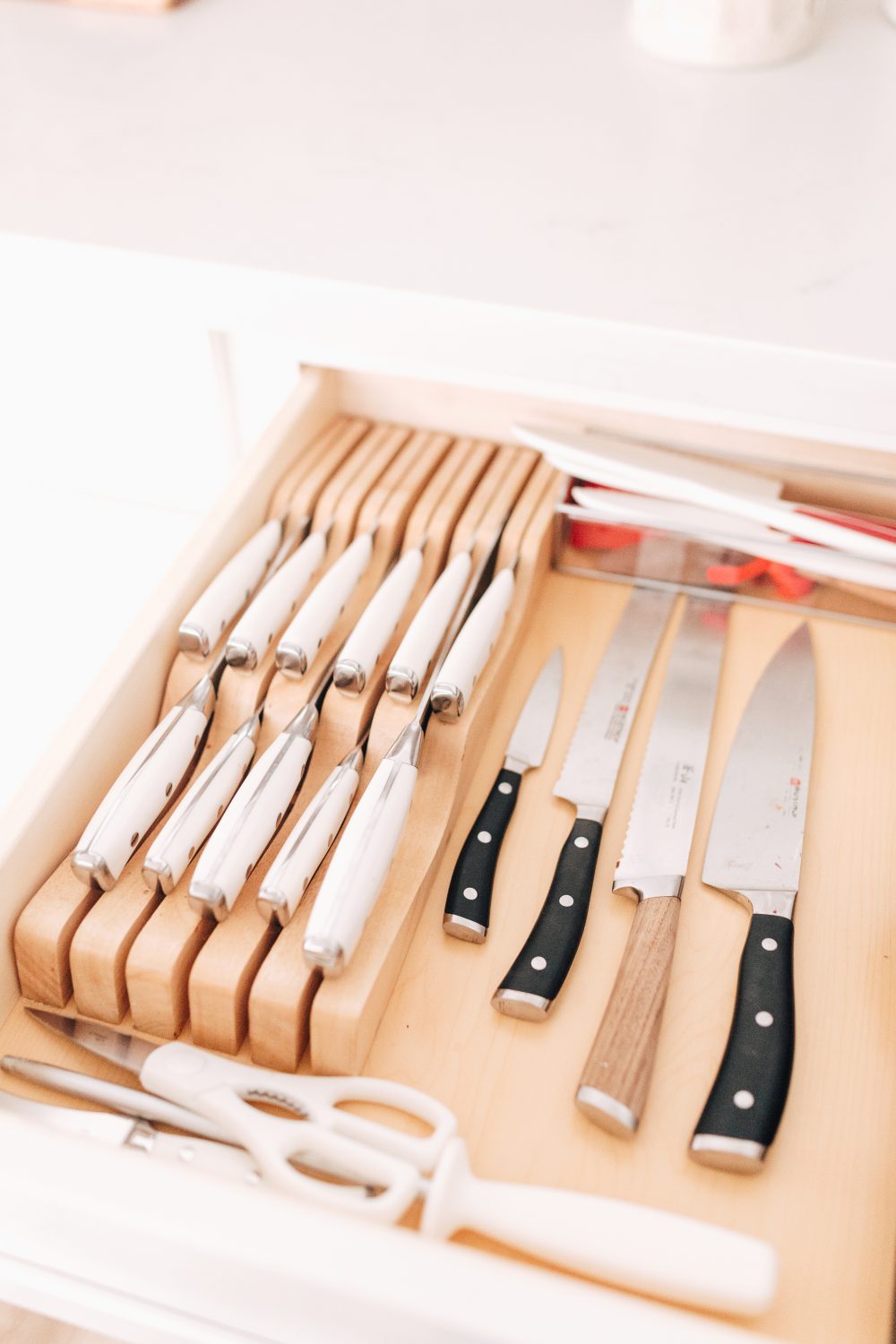 First, I think this set actually cuts better! I have both sets and after holding them both in my hand and cutting them using the same piece of food I had to give the win to Cuisinart! Plus I think Cuisinart is just a household name when it comes to housewares so you just know they are going to make a great set of knives.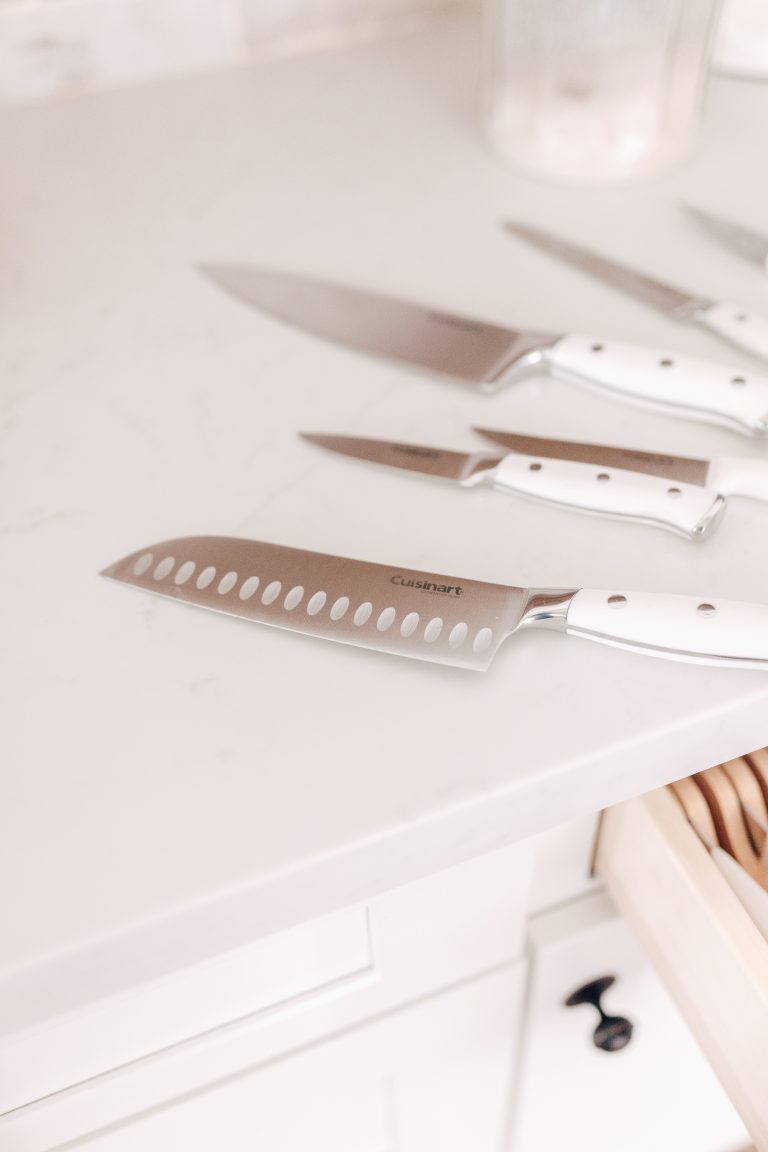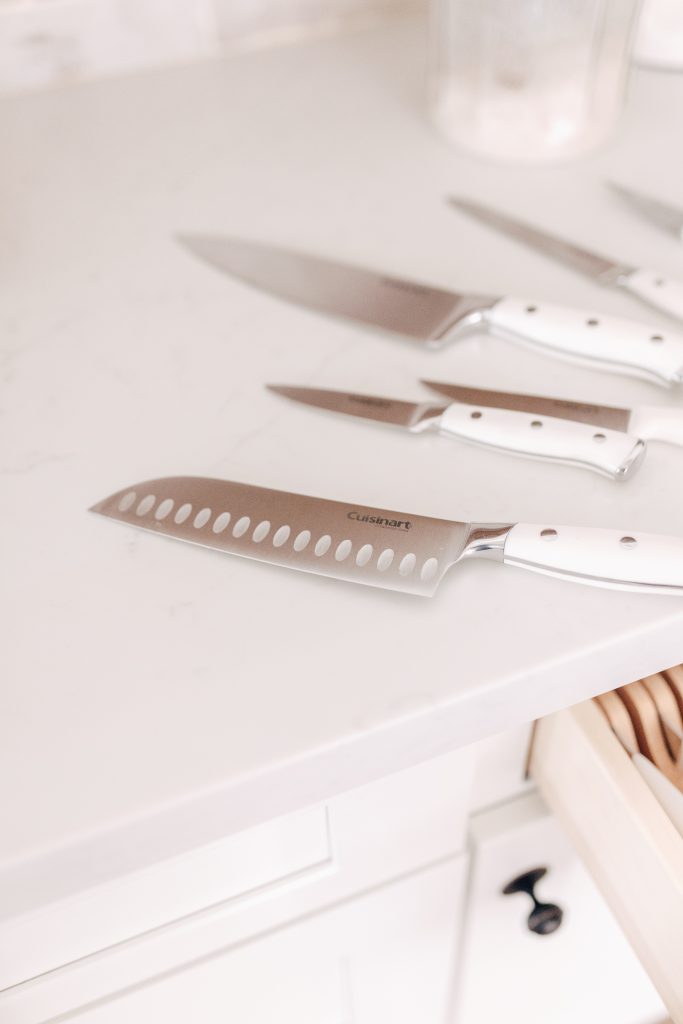 Also I love the aesthetics of this knife set more than all the others I have. It's simple, a true white and brand free handle. Which means it doesn't have Cuisinart all tattooed all over everything. haha! When I have something out on the counter I appreciate when things appear to be unbranded. Its only when you look closely you realize its from Cuisinart!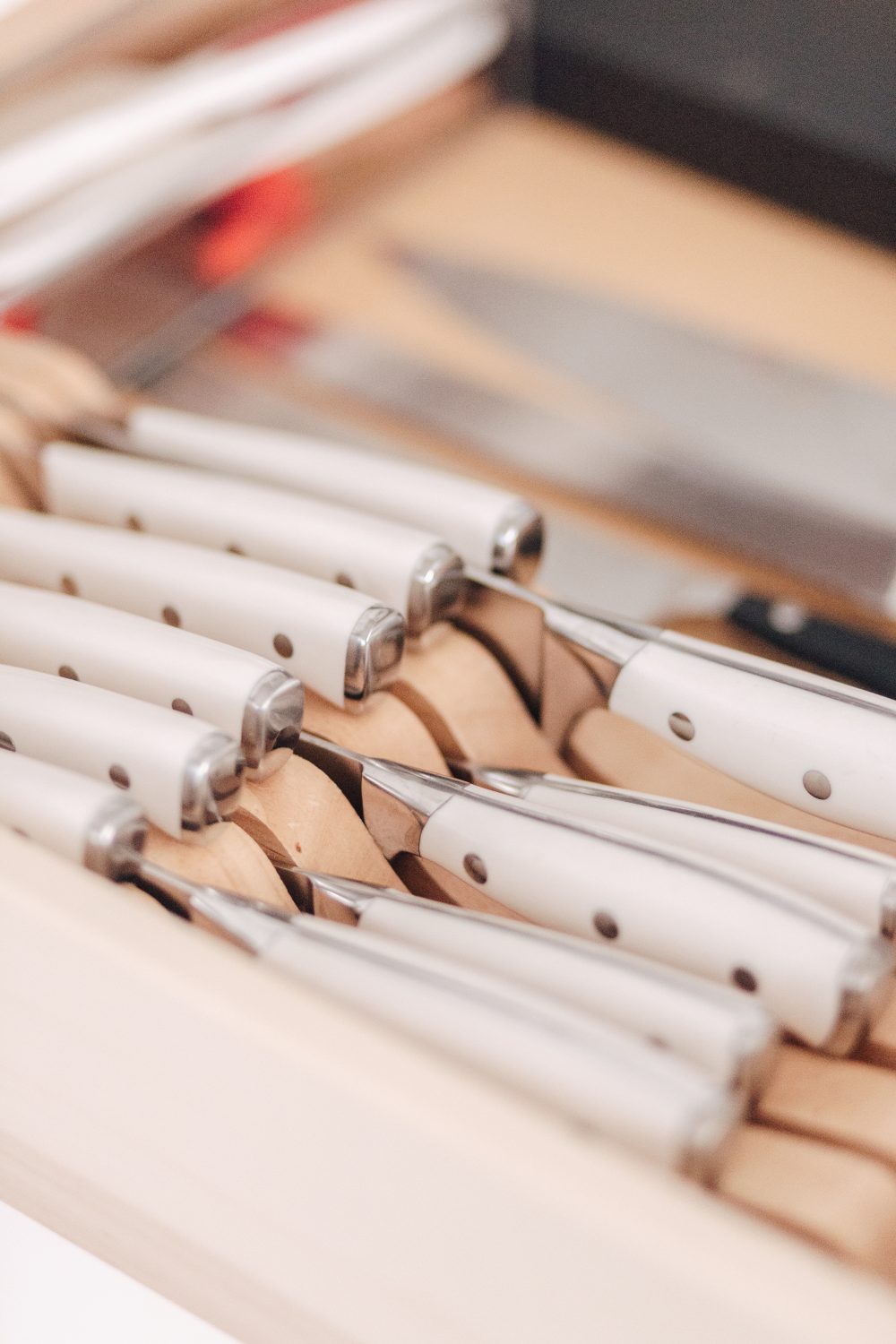 At $60 you can get a oak colored block with 15 pieces!
I have my white set in my knife drawer in a knife drawer organizer so you can do the same thing.
The Best Knife Sets
Ok so this is where design meets engineering. The function AND the pretty. You're also going to see a BIG price tag $300-$3,000! BUT just like in all things, you get what you pay for and these knives are worth the price! But the fact that they come in white makes them worth it to us right? I mean that's why were are here! Let's take a look at some of my favorite white knife sets from some of my favorite high end, luxury makers. All of these companies specialize in knives so you know the quality is there because that's all they really focus on!
Wufstart Knife Set $300
I have the Wufstart Icon knives and I must say, they are my favorite right now. The only thing is I have them in black, not white! Booooo! Haaaa! But I'm 1000% sure that both finishes work just the same. The knife is sharp. Cuts like butter and feels good in my hands. You will not be sorry if you get this set. The only thing that might turn you off is the color of the block set. It's walnut. Which I don't mind at all! But you might. So you can get a generic block set and switch it out. Or place them in the drawer like I do!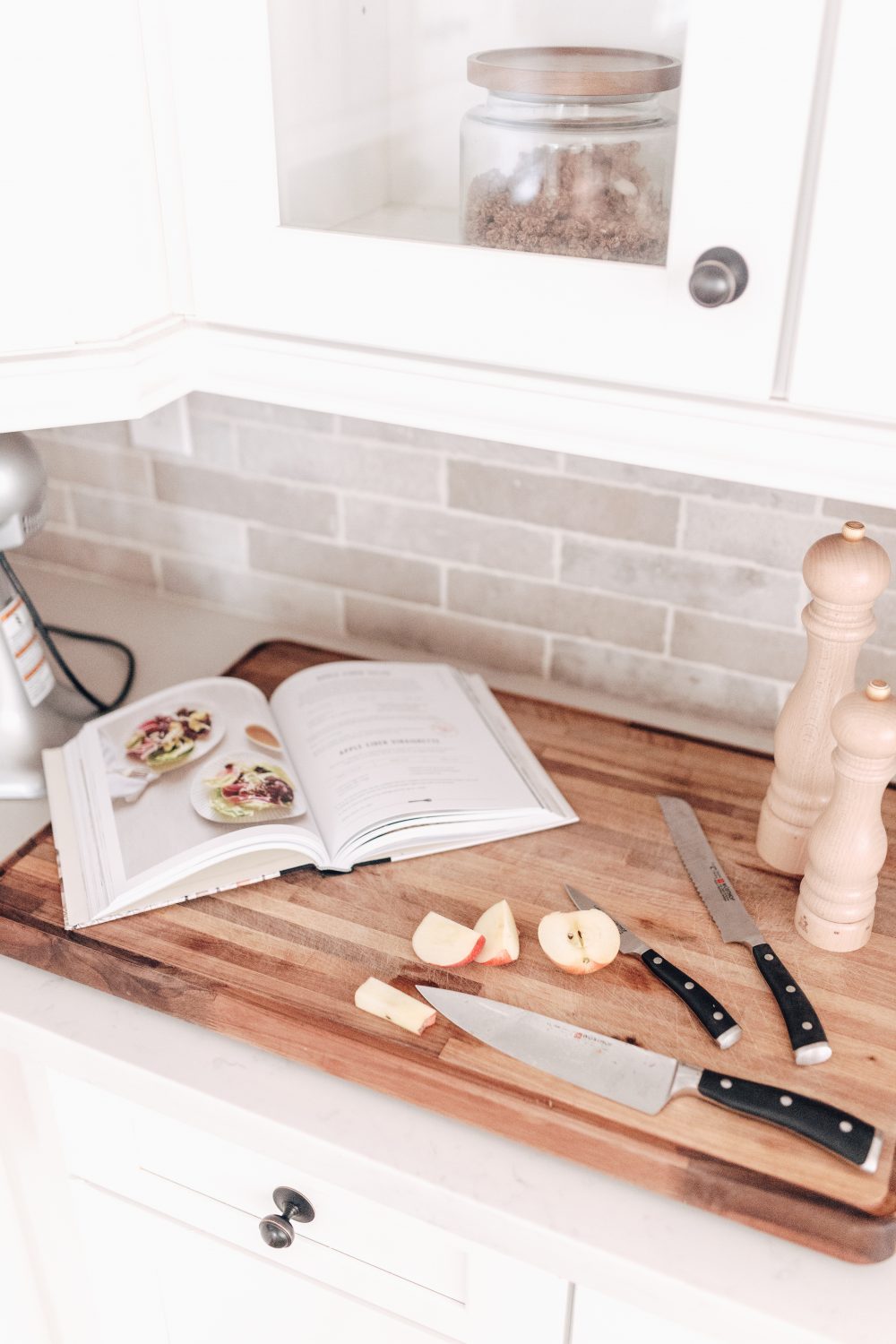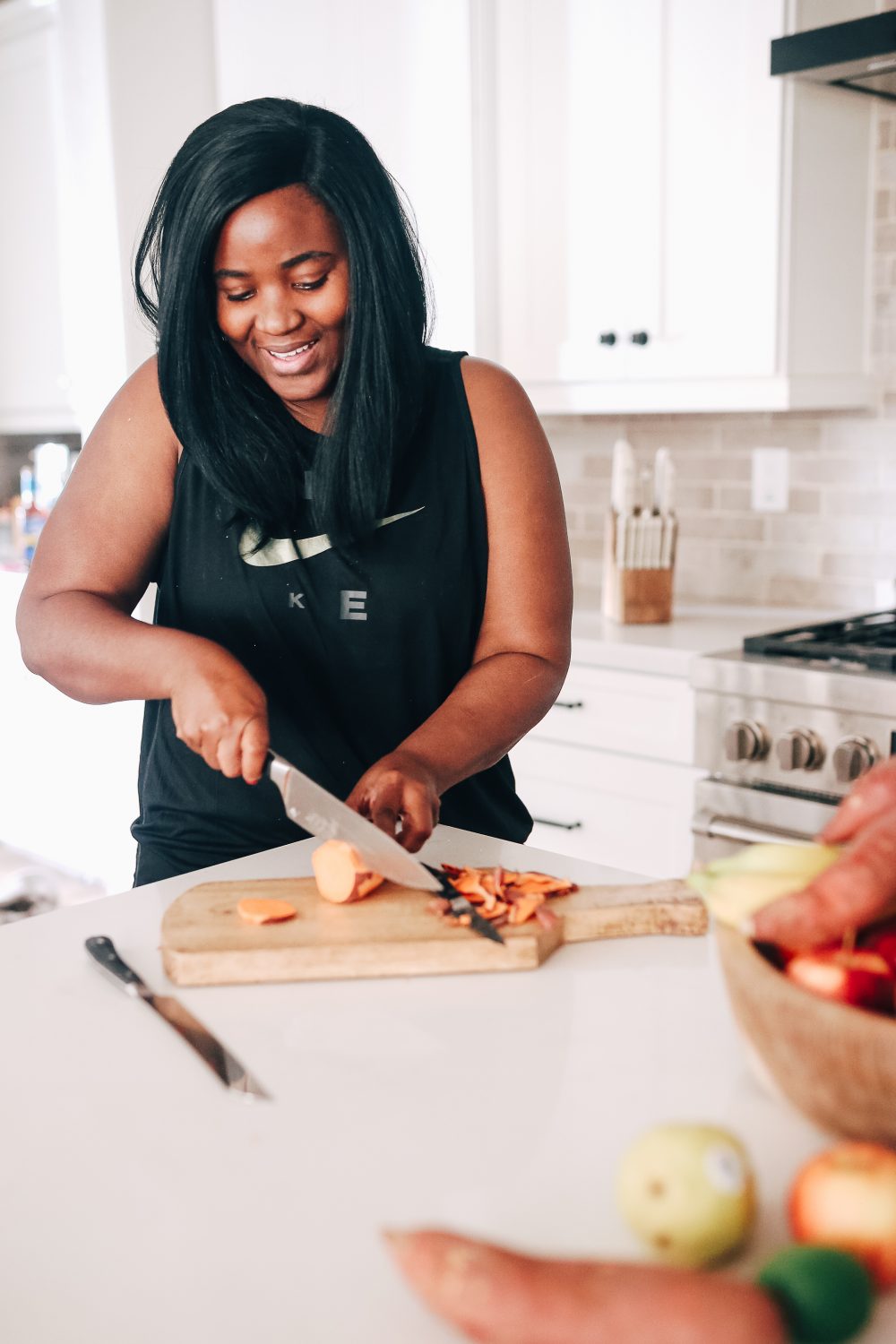 Wufstart also has another line of white knives for just under $300 for a full set BUT they have a big red logo on them( WHYYYYY?!?!?) . So when you have them displayed you just might see it. So make sure you can set them up a the right angle to hide it!
The CutCo knife set is known for its big price tag, but also its lifetime warranty. Yep, they have this insane Forever Guarantee that basically states that they will replace your knife if anything happens to them! Plus they will professionally sharpen all your knives if you send them in for a small fee! I love this. One day maybe I will get my hands on a few CutCo knives to share with you all!
Another gorgeous knife set in white is by Cangshan, a leader and well known brand in the knife industry for sure. This set reminds me of the Cuisinart knives because of the brandless logo, but obviously with the Cangshan name, the quality is going to be so much better!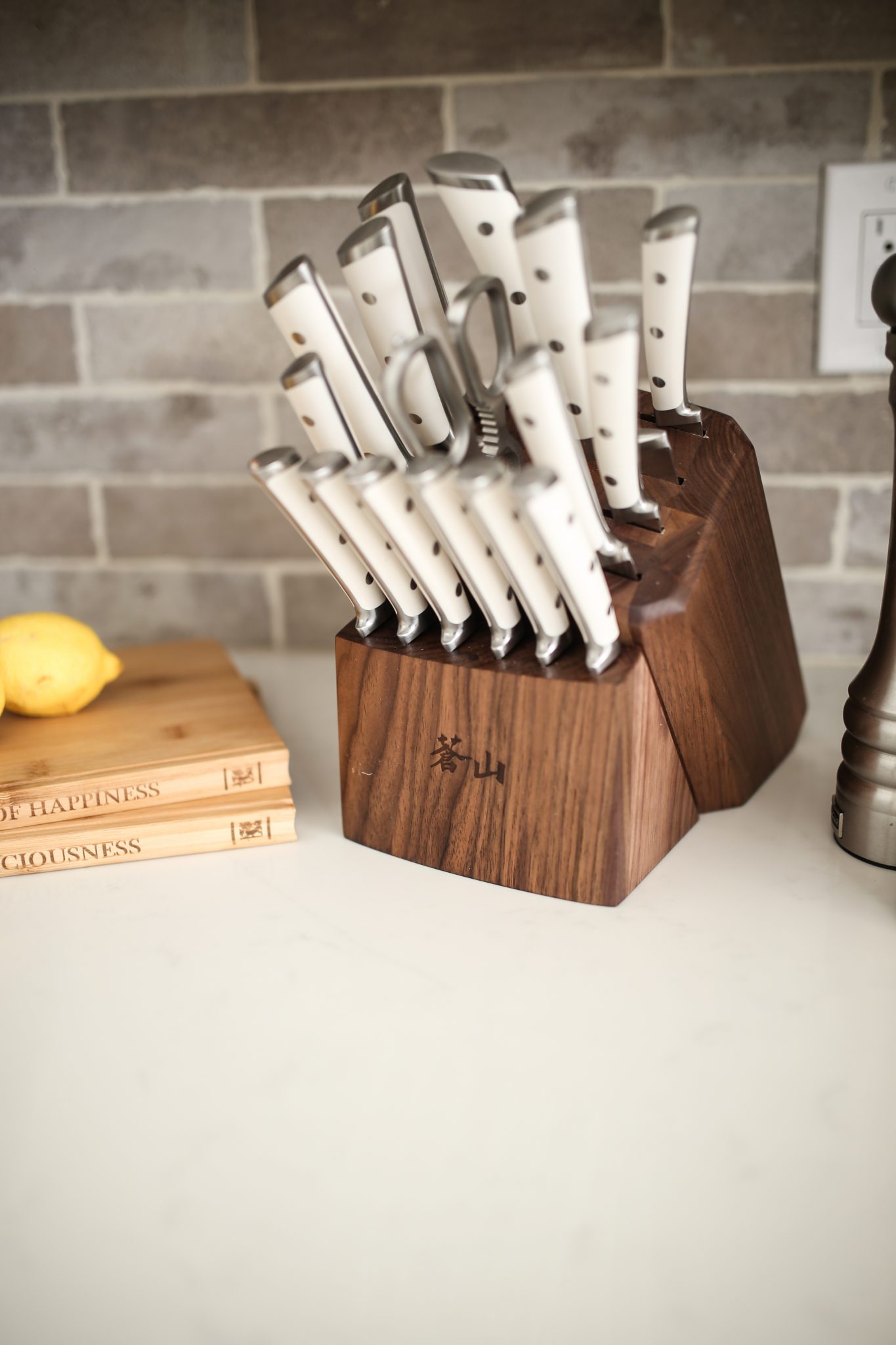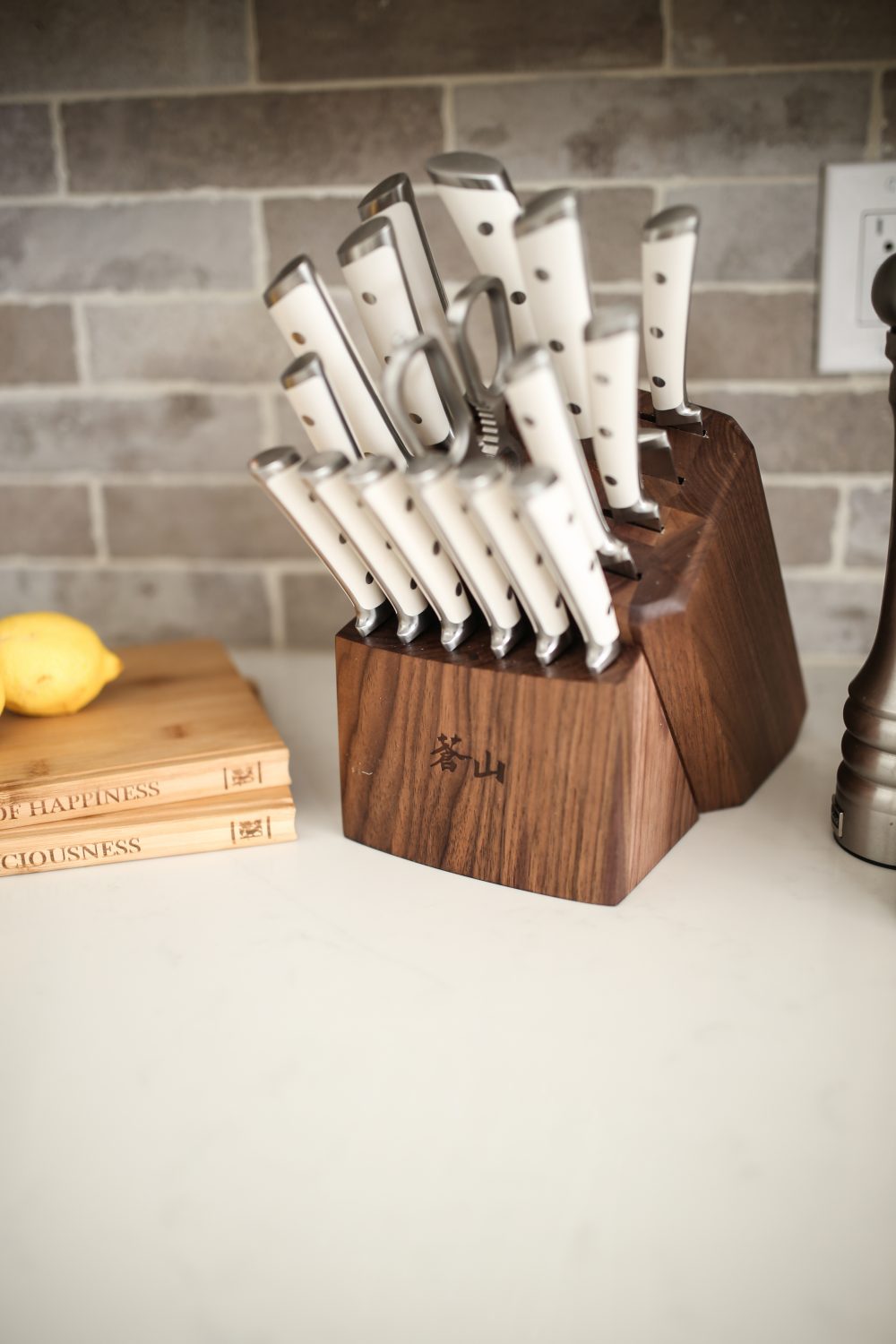 Insider Secret:
If you really want to a good collection of knives, then purchase them separately! I've never seen a block of knives in a real chefs kitchen, haha! They usually have a mix of knives they have collected over the years! According to Epicurious you really only need three knives to start out with and I agree! All in white of course! haha!
Chefs Knife
Paring Knife
---
So what do you guys think? Are you ready to get your own set of white knives? I would love to know! Also if you have any questions just shoot me a message below!
---
Looking for more beautiful housewares? See my MOST POPULAR post about everyday dishes! Be warned, you will want them!