How to Make an Easy Apple Pie Recipe with Canned Apples: You can Do it!
This post is sponsored and may contain affiliate links, please read my disclosure policy.
There is an art to pie making that most people don't have. But just because you weren't born with those magically pastry forming hands doesn't mean you can't learn. But the problem is most of us don't have time to learn.
I've actually made and entire pie from scratch before and it turned out SO good. But most days I don't have the time to make one entirely from scratch so I go with a semi homemade version!
You can easily make an apple pie with canned apples and store bought pie crust and you'll love it just the same!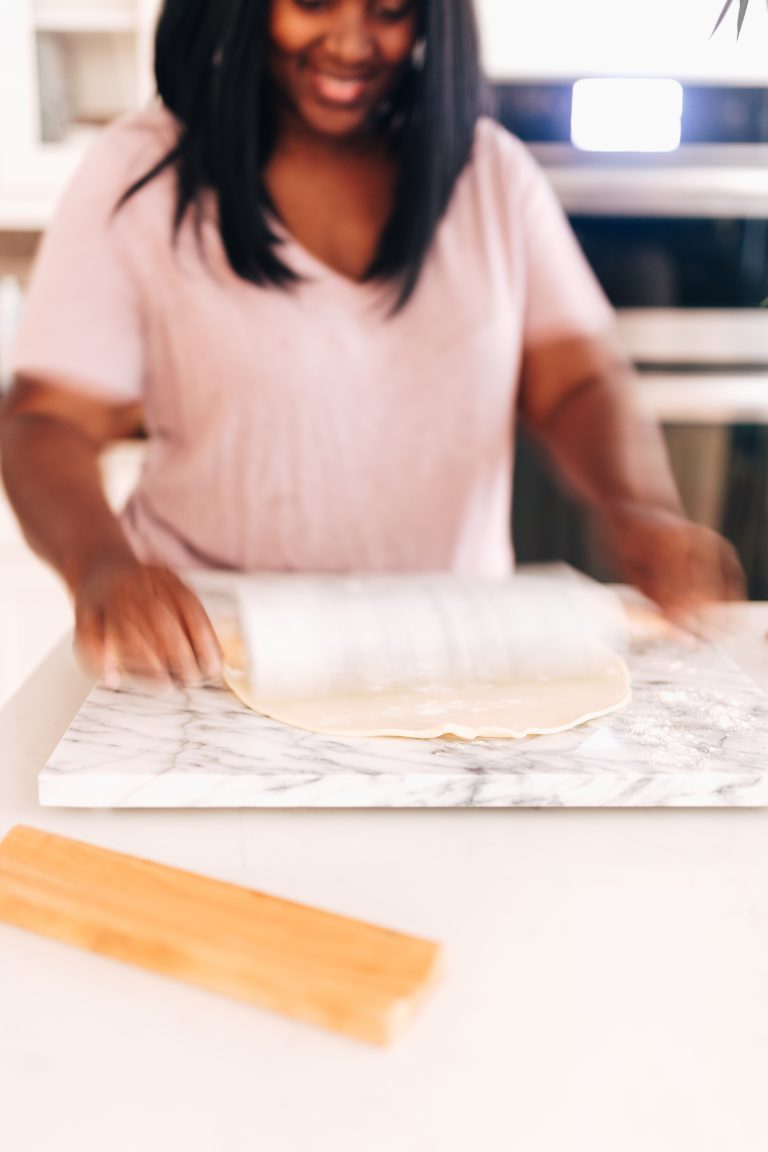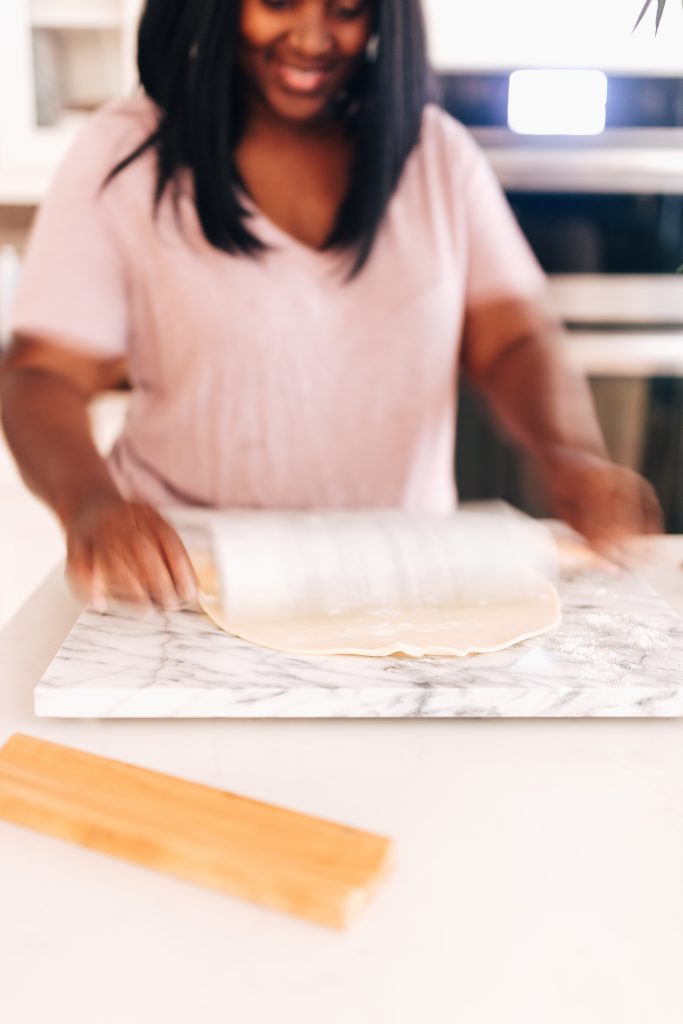 First thing you want to do is to make sure you have all the right tools! Here are my favorite apple pie tools!
Emile Pie Pan– She make the most gorgeous pie pans in this ruffled design! I could legit collect all of her pieces. But this one is just pretty.
Crust Protector– If you want to save you pie edges and keep them from burning use is hand pie crust protector while your pie is baking! Remove it towards the end of the baking process to get perfect flaky edges.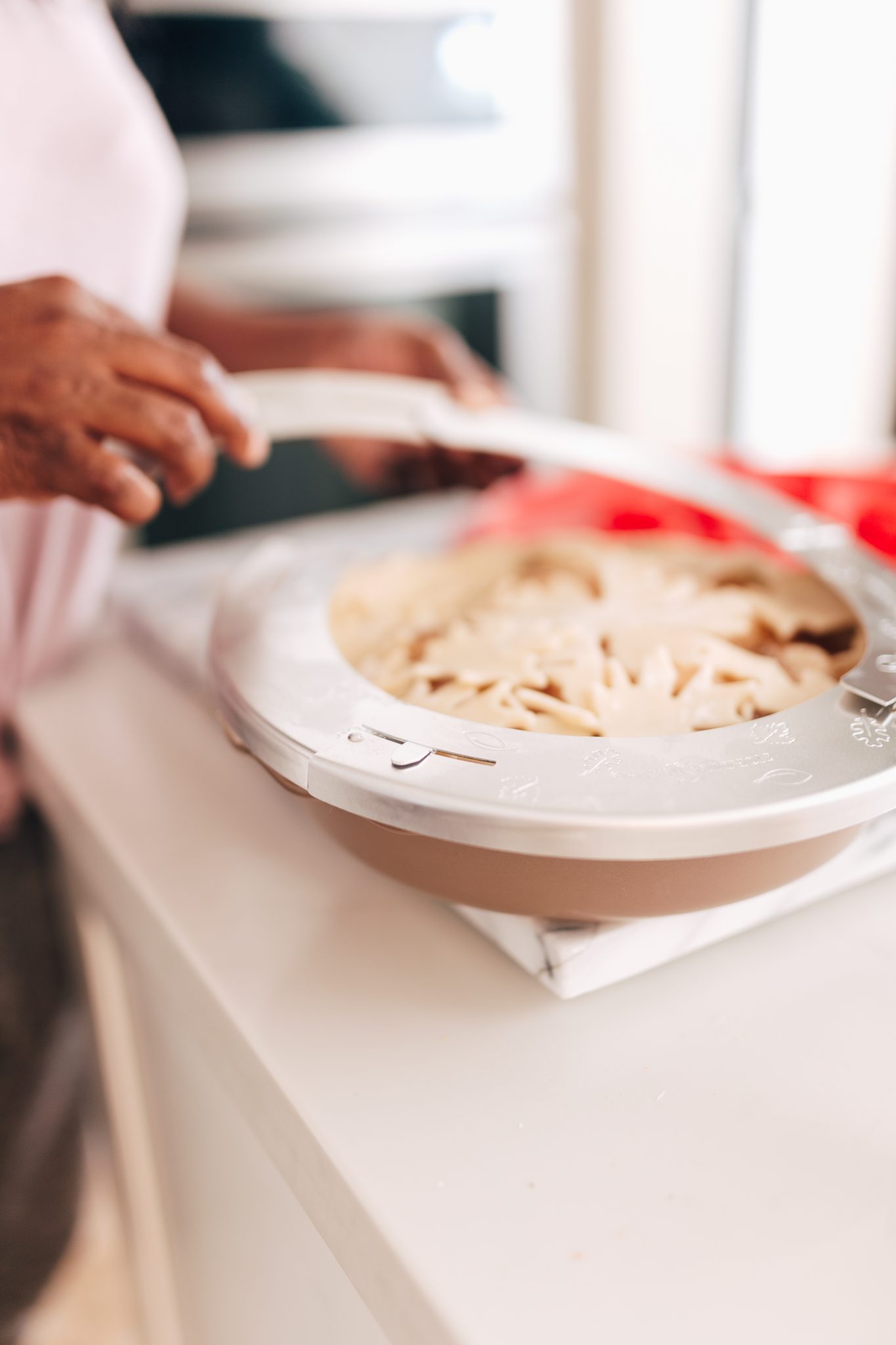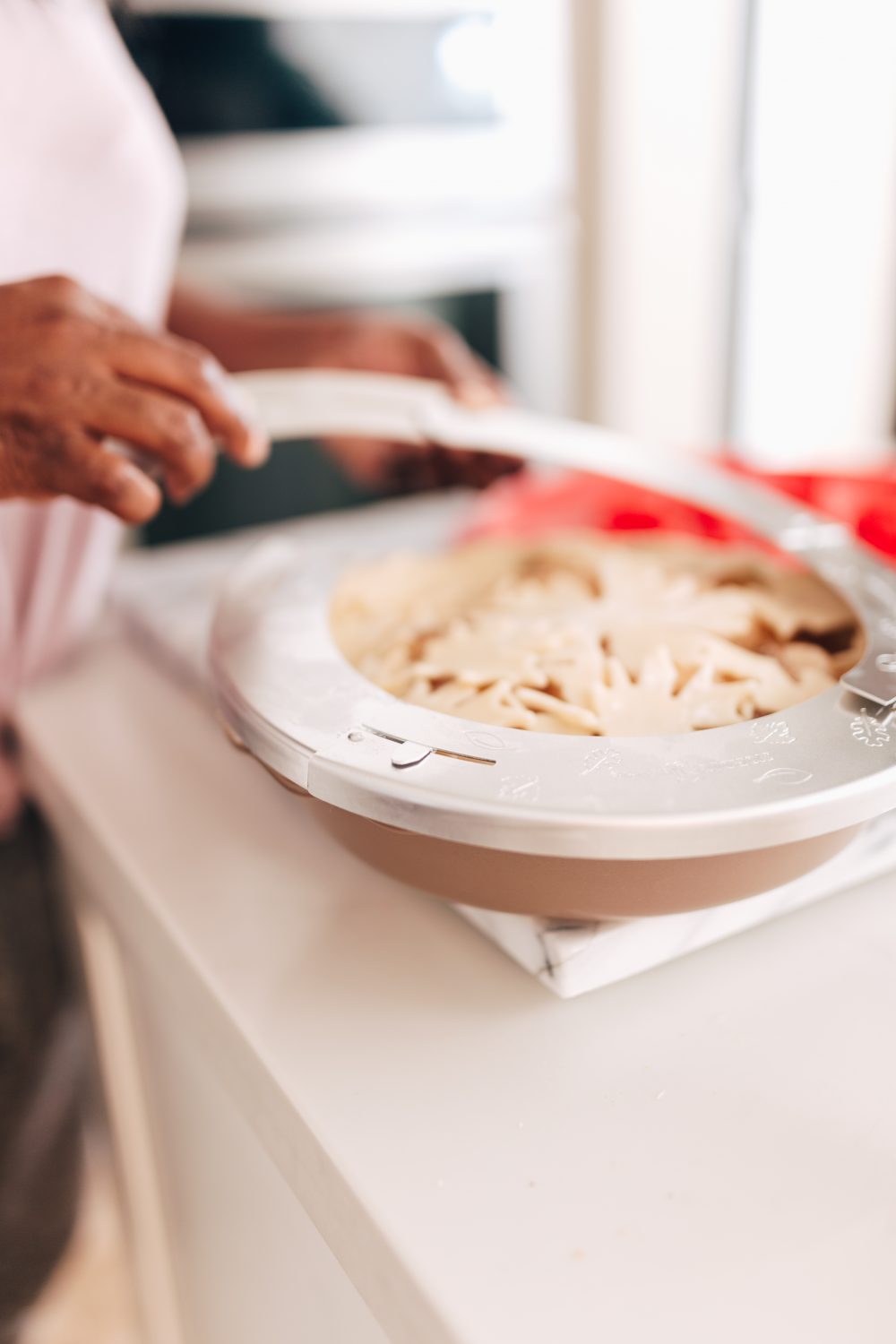 Marble Everything- Ok maybe not everything but marble and pastry making just go together because it keeps everything nice and cold.
This marble board and marble rolling pin are some of my favorite items in the kitchen.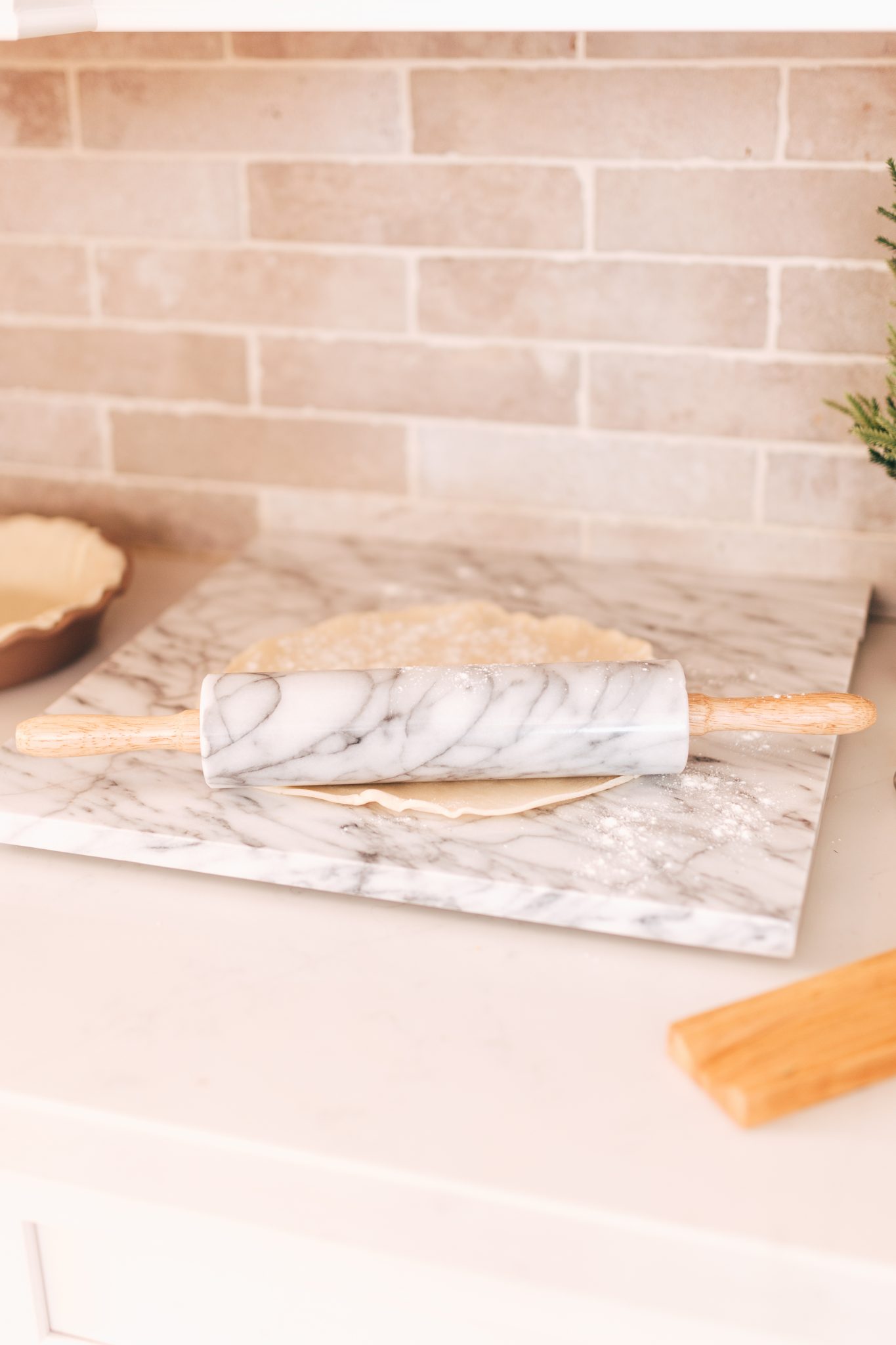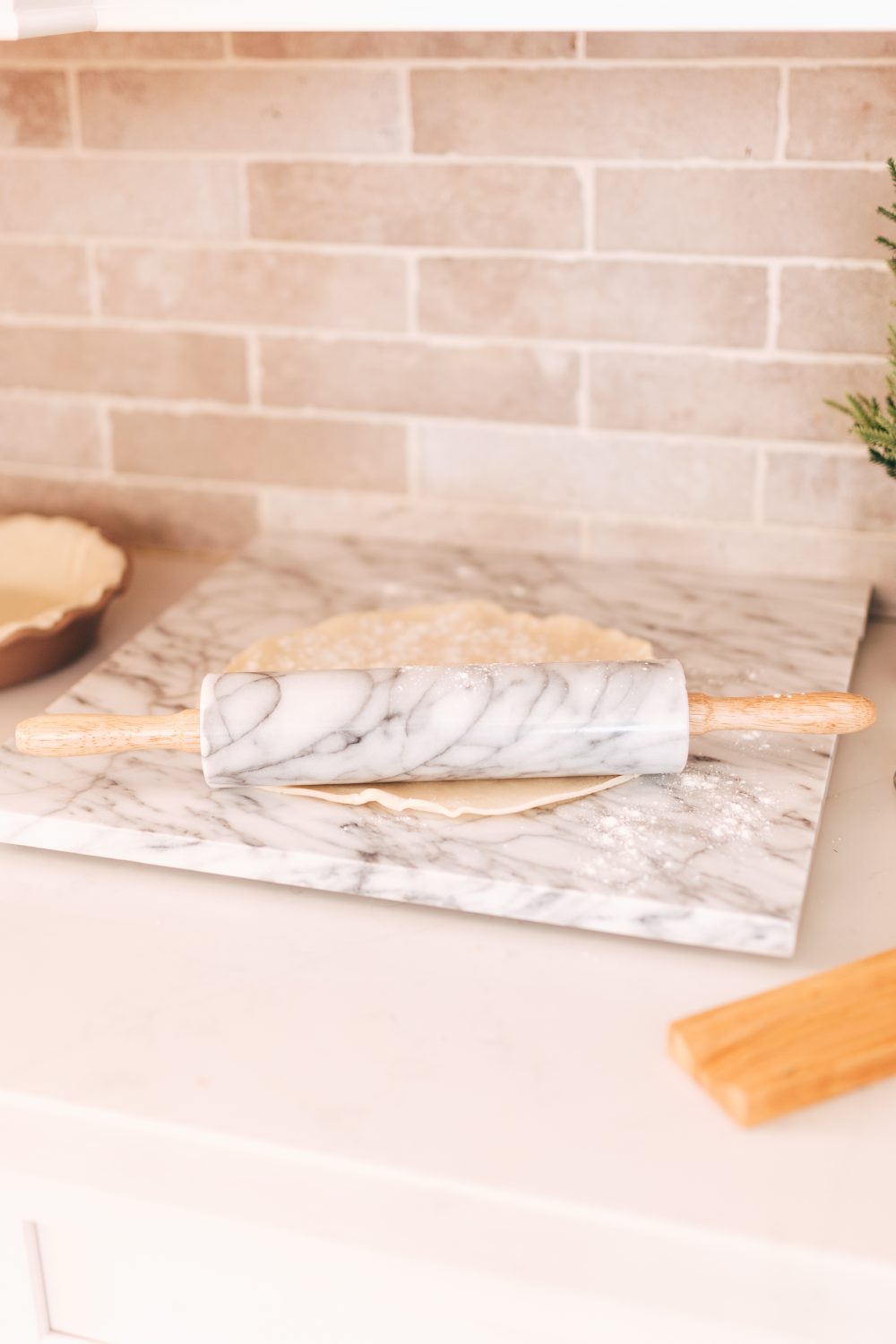 Other tools- you'll also want some really good bowls. My favorite bowls are from Mason Cash. I you are familiar with Downton Abbey then you'll recognize these beauties right away!
How to make an Apple Pie with Canned Apples
First roll out one half of the pie crust onto a marble board. If needed use a rolling pin to make the dough a bit larger.
Line the dough with the bottom of the pie pan and press into the sides. In a large bowl mix two cans of the apple pie filling with nutmeg and cinnamon. Then pour 2 cans of apple pie filling into the pie!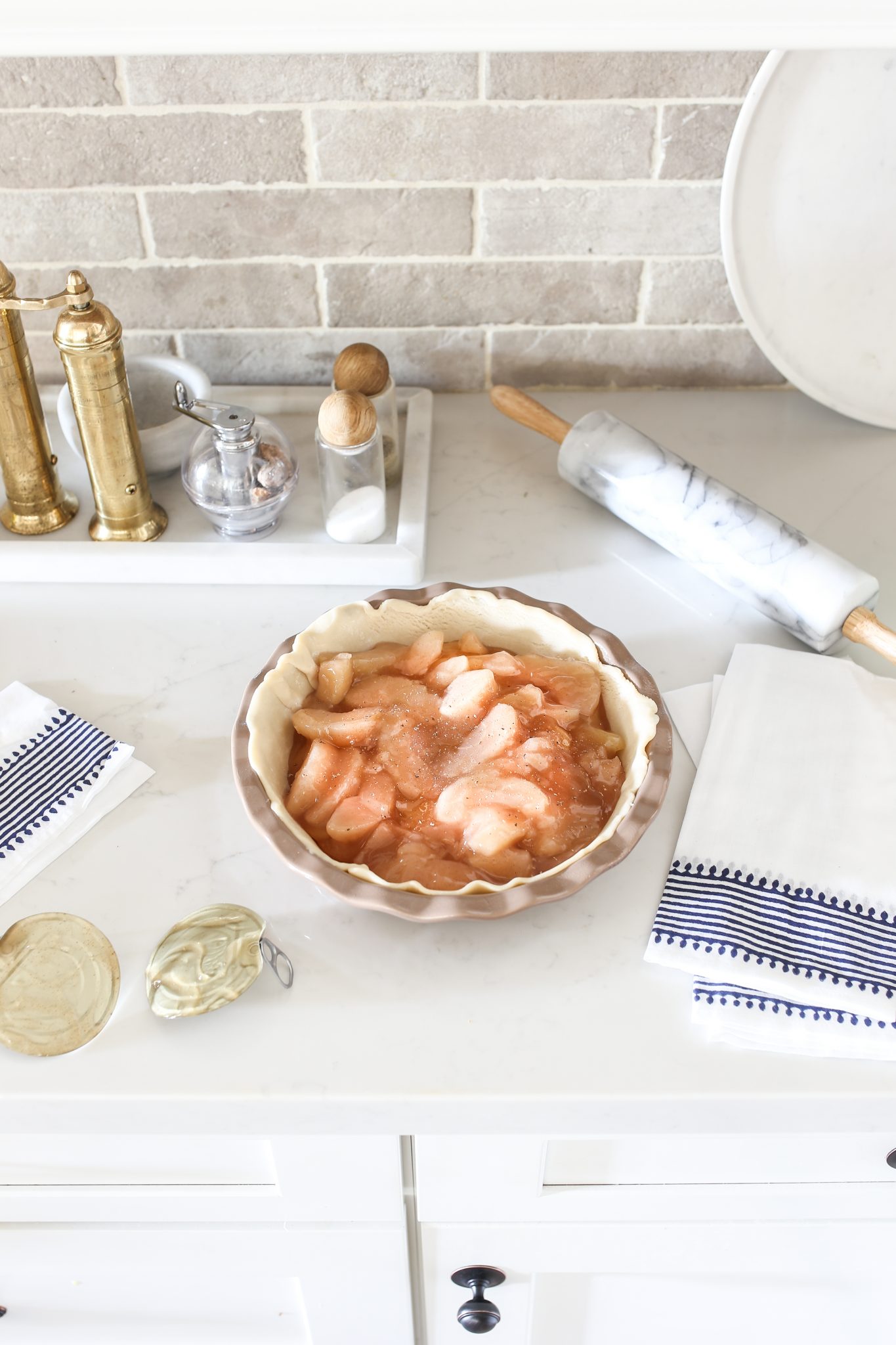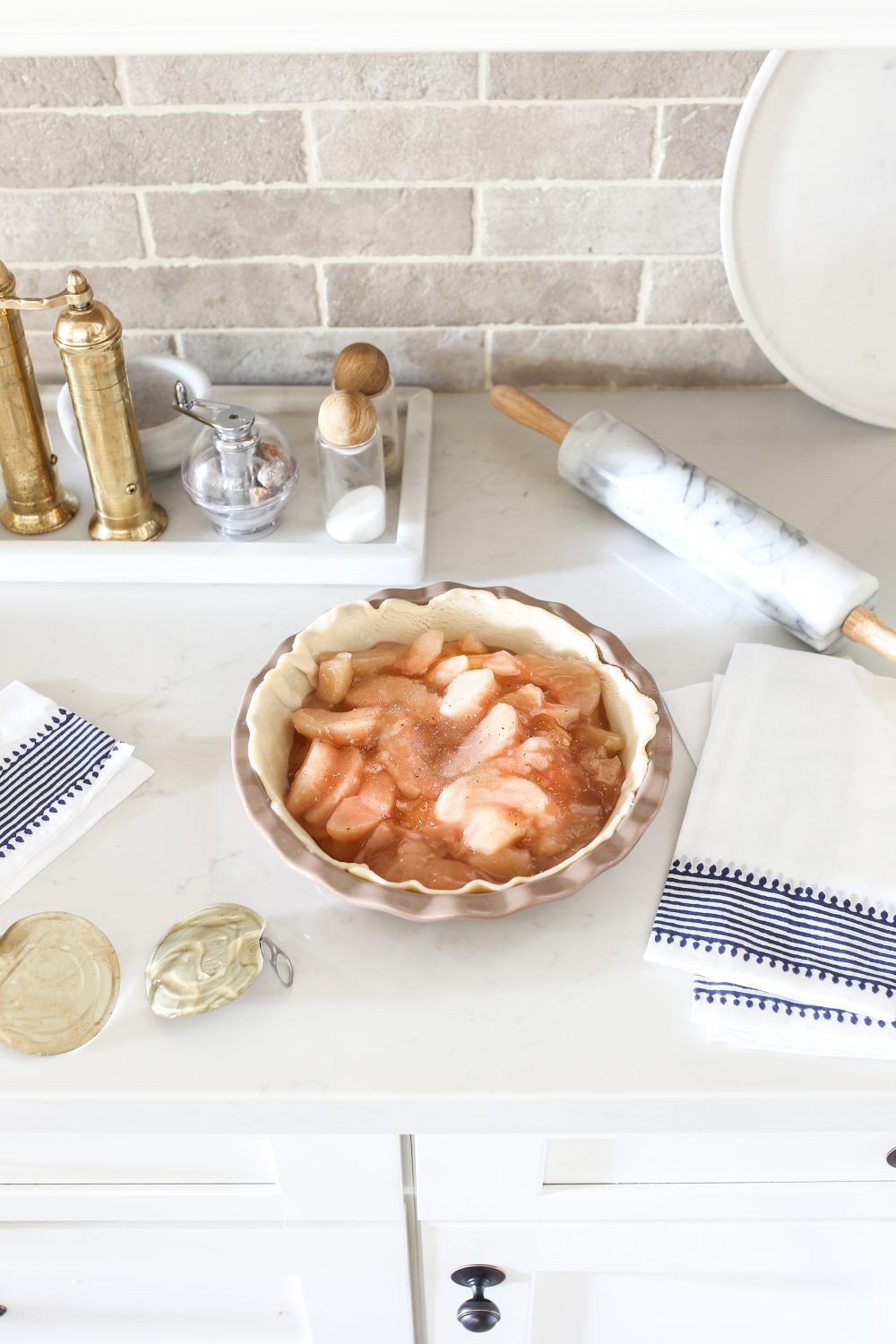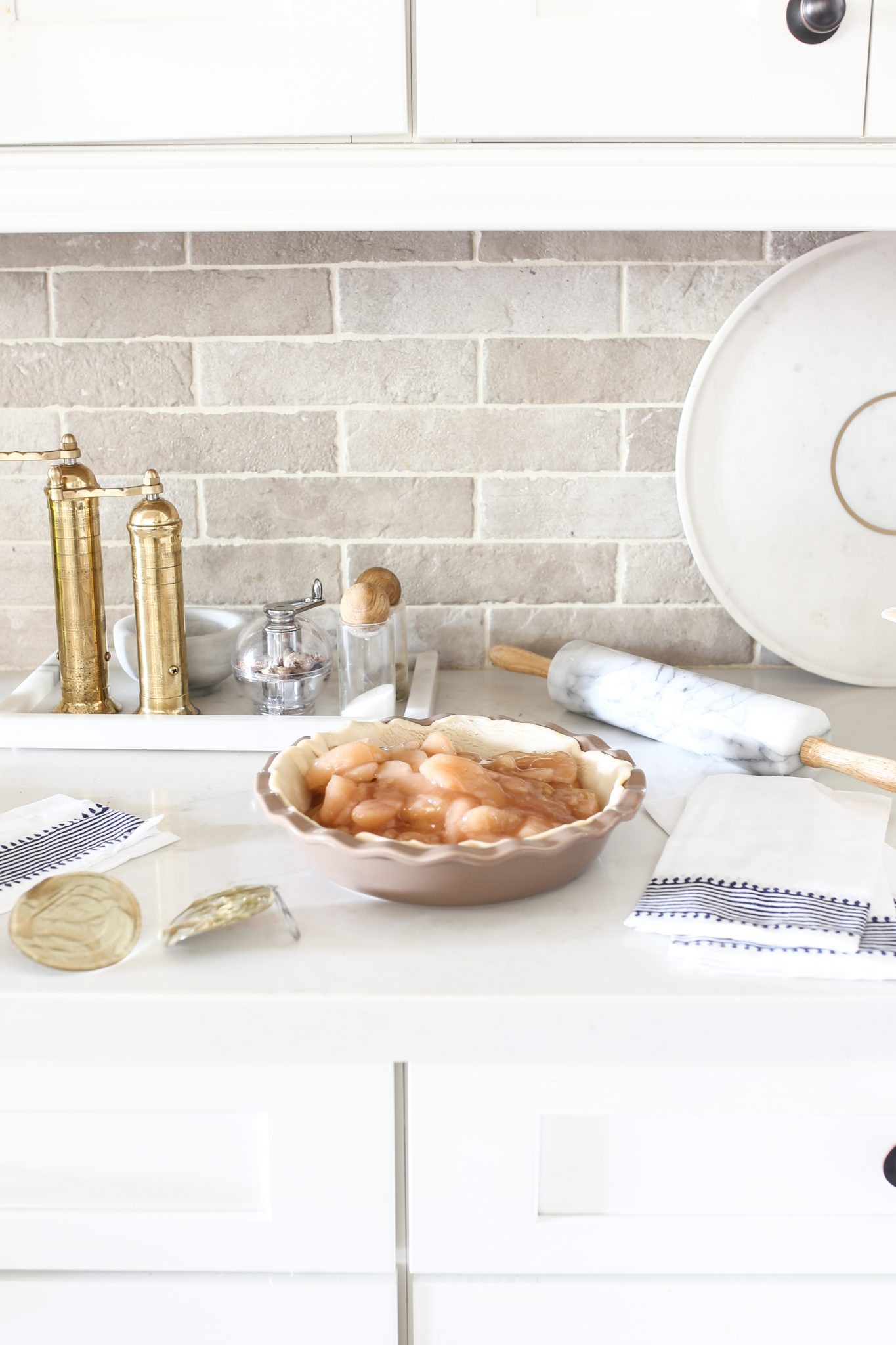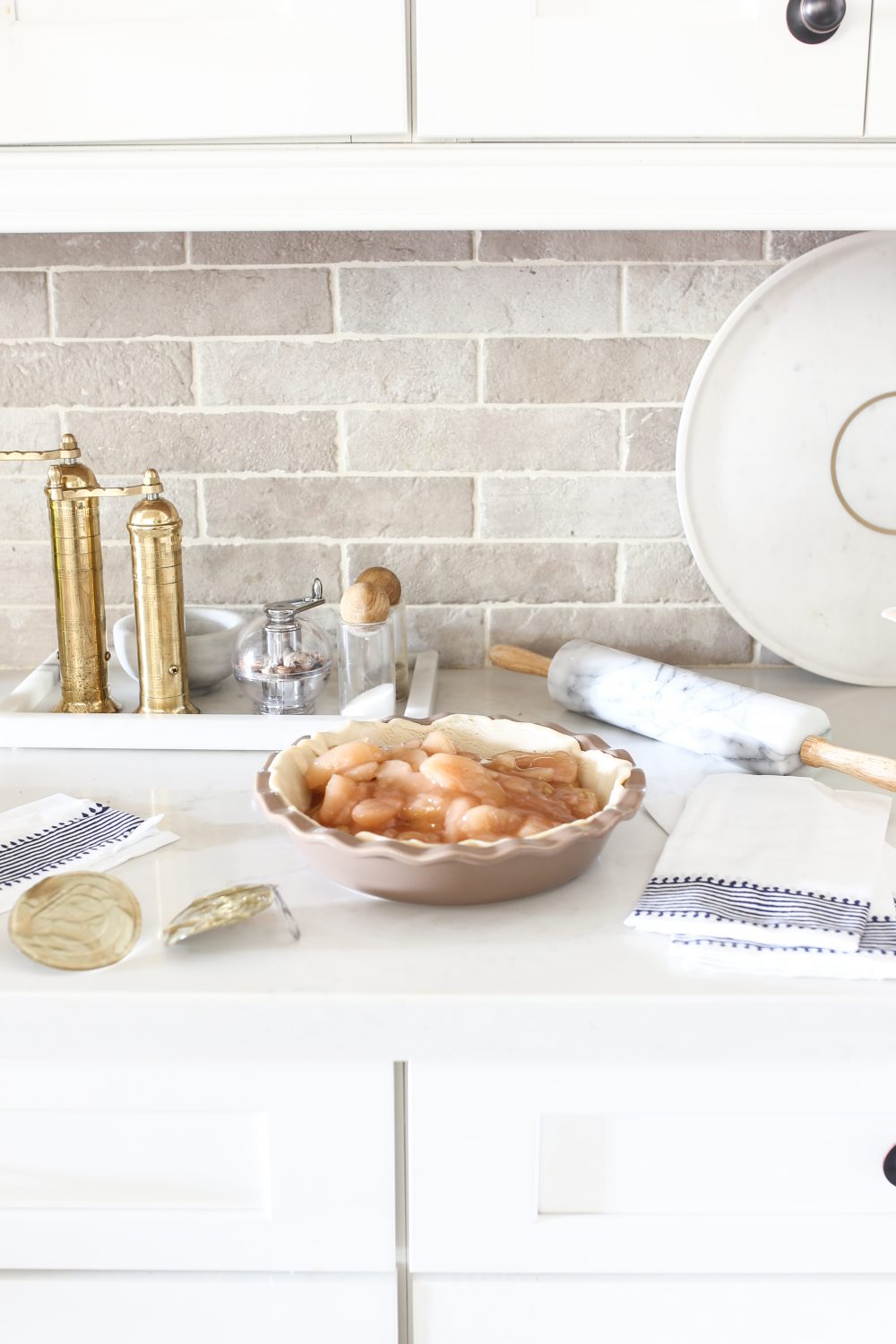 I love to make fun designs on my pies! It's really easy and so relaxing to create little cut outs in the shape of leaves or other fun seasonal shapes. Serena and Lily asked me to recreate a pie that was inspired by there Valley wallpaper and I was SO up for the challenge!
The first thing I did was I covered the entire pie with a piece of pie crust. This acts as a backdrop to the design! Then I took a third piece of pie crust and I cut small leaves using a cutter in a few different sizes and made vines by rolling small pieces of dough.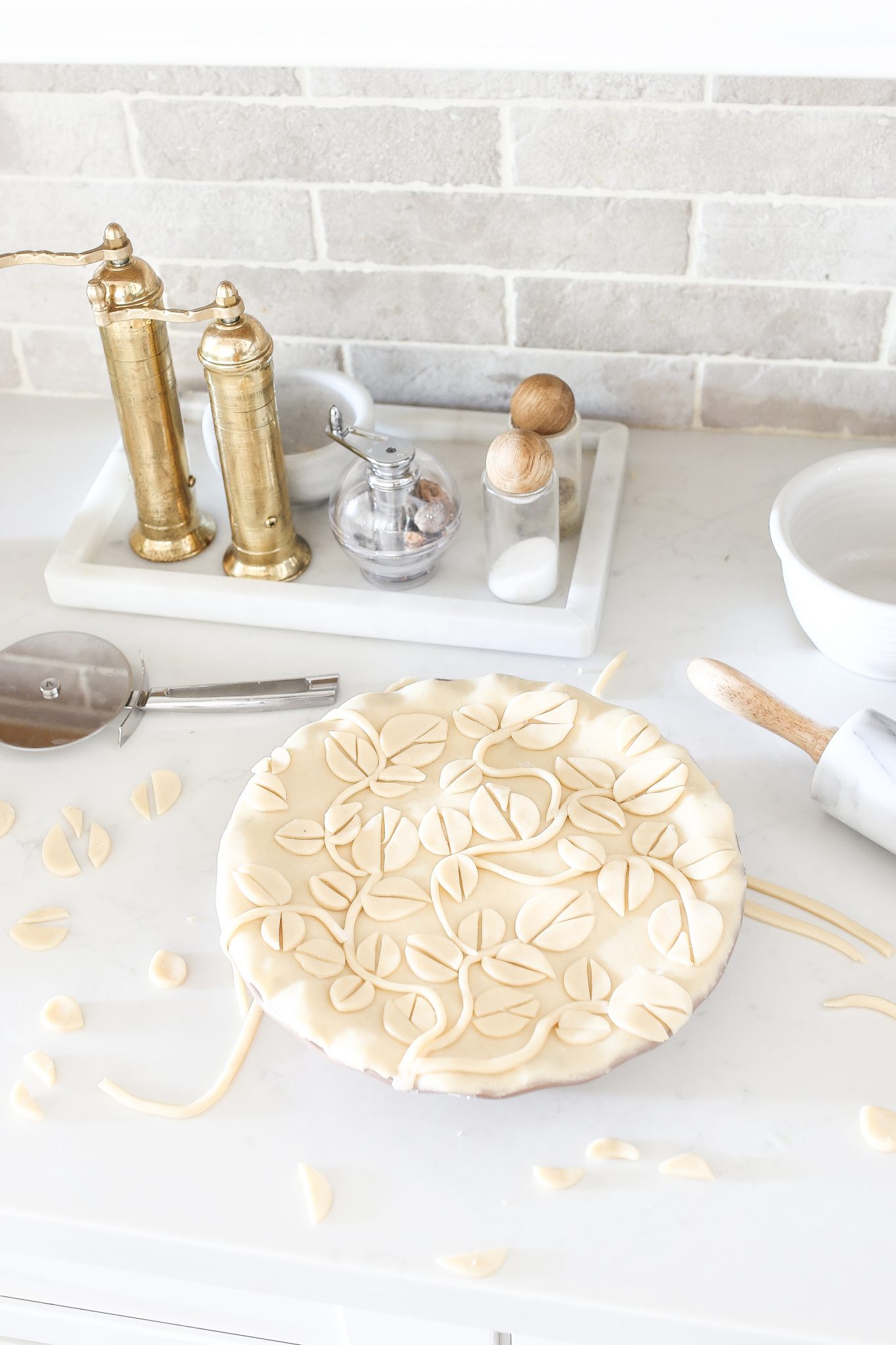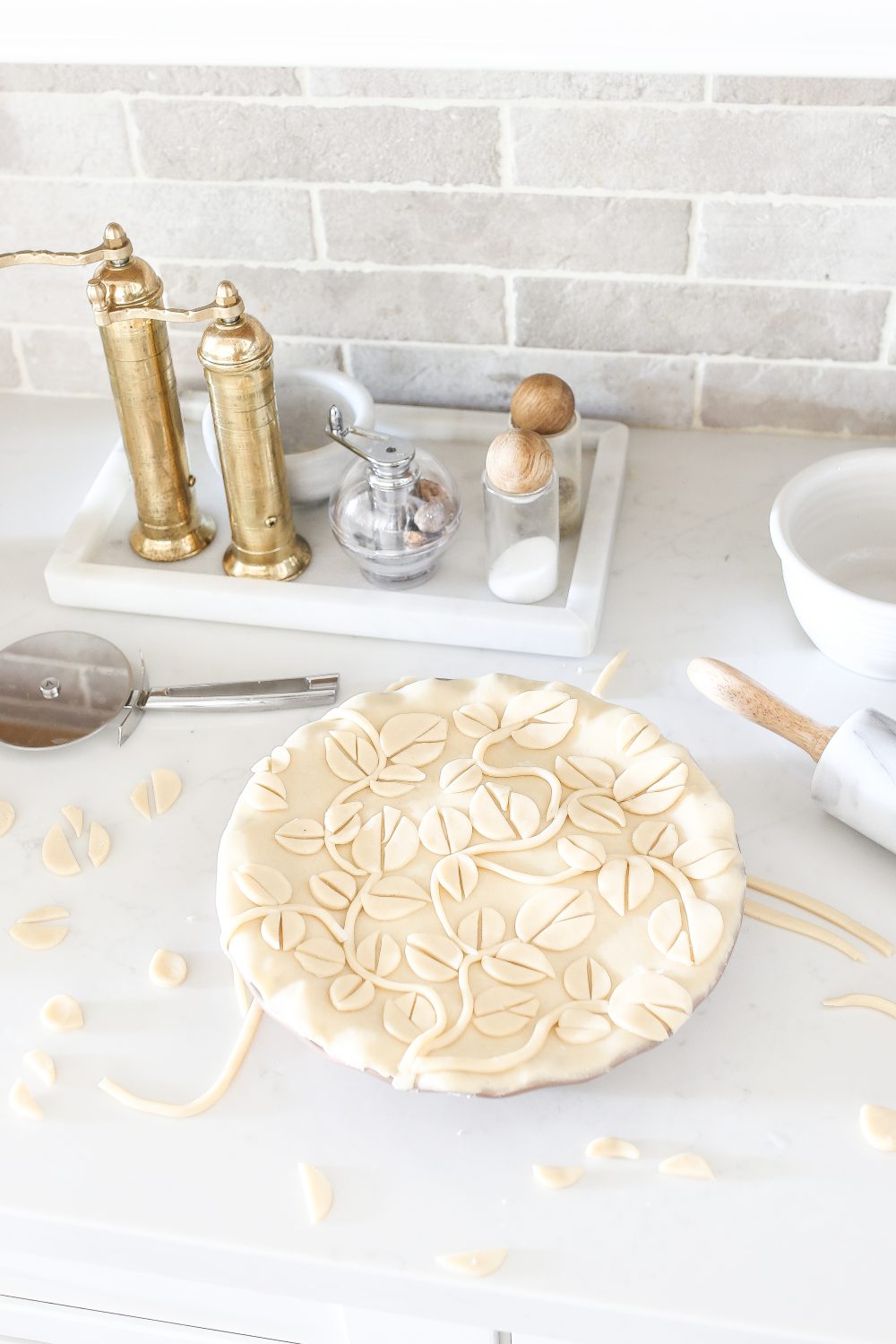 It turned out SO cute! You can find the entire recipe below!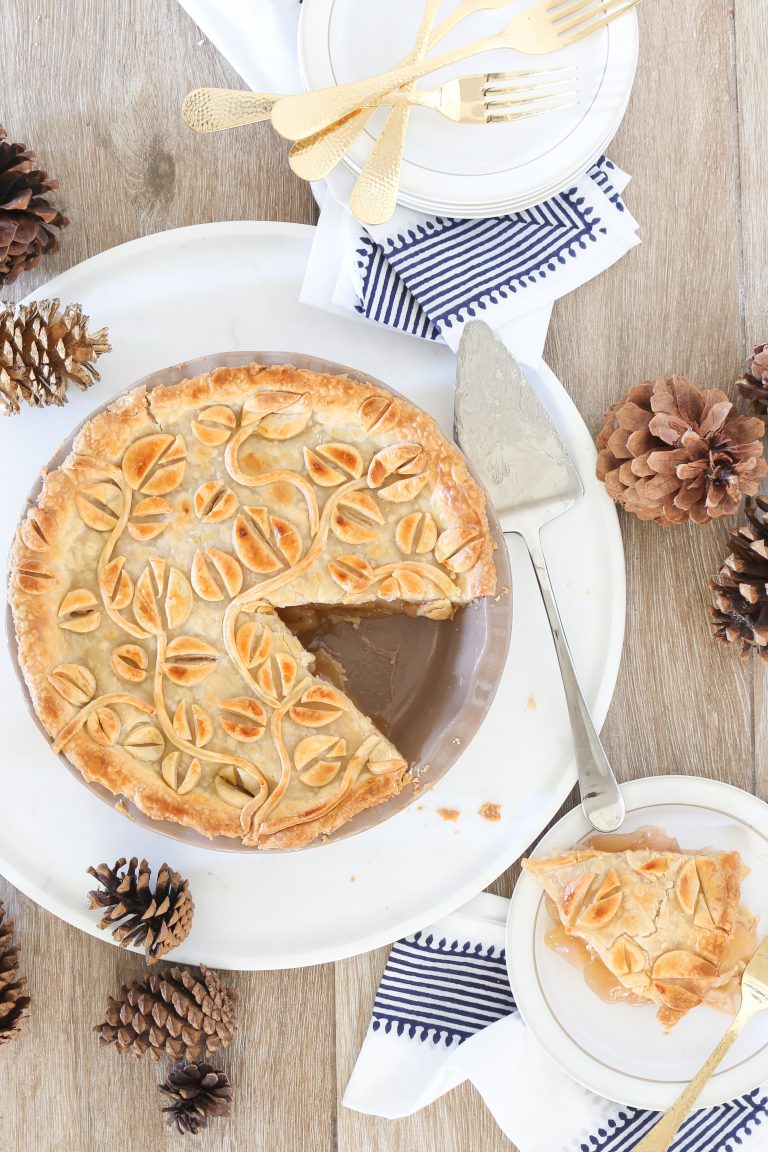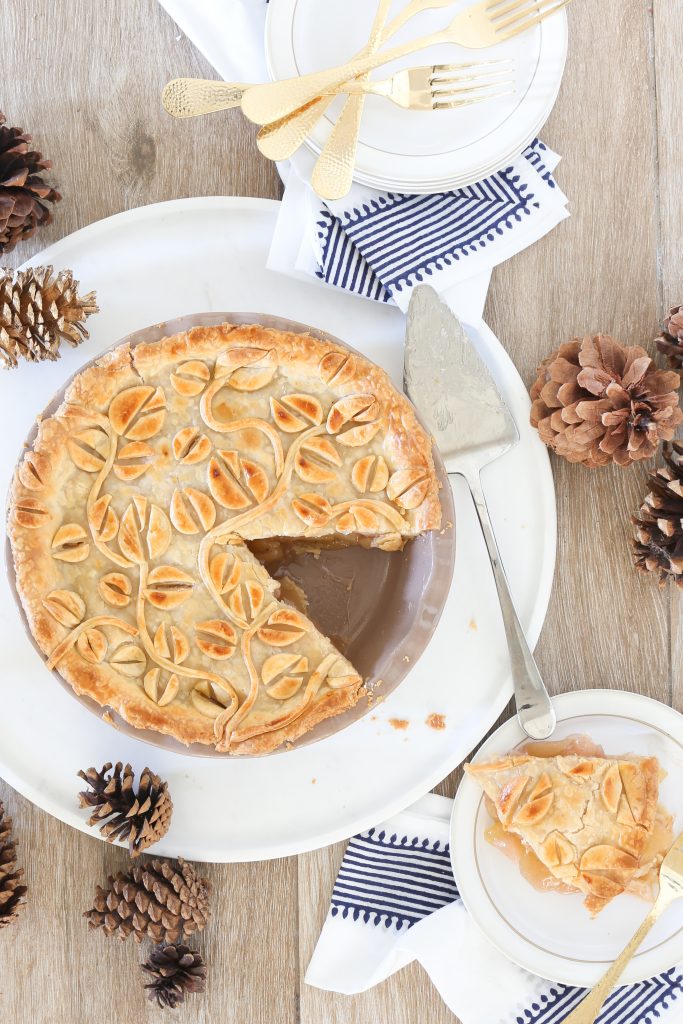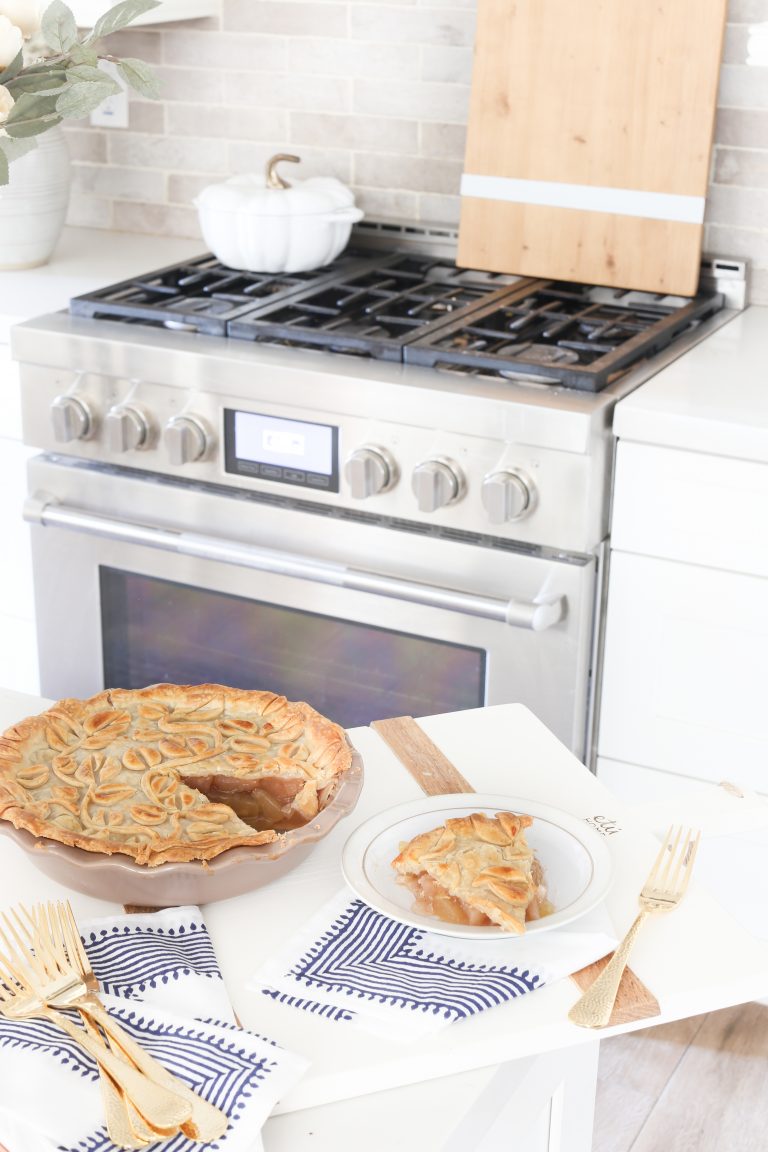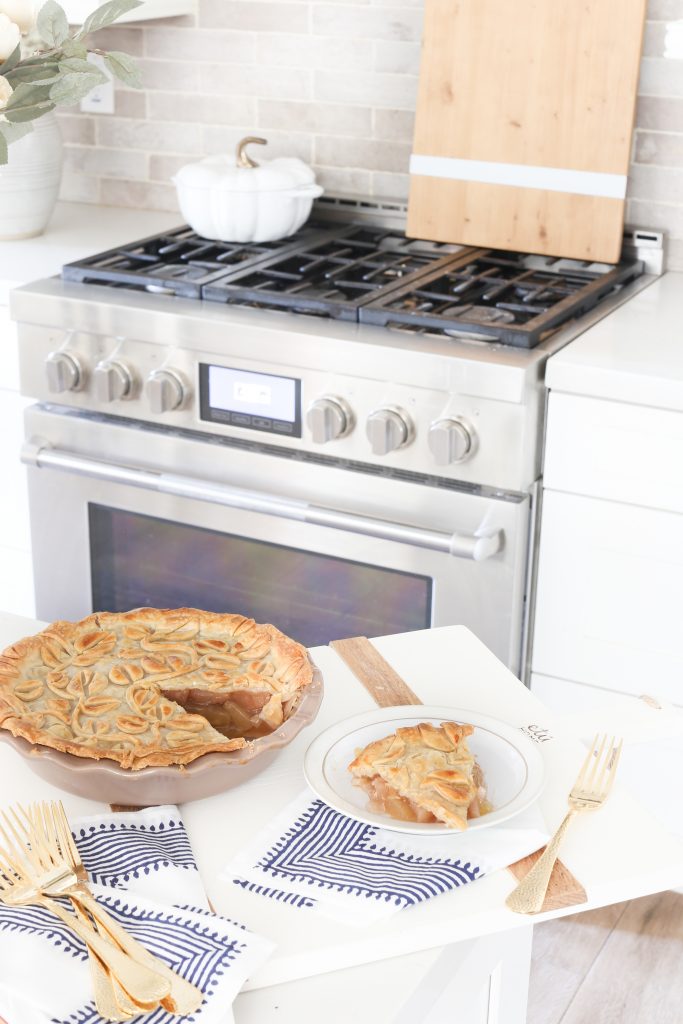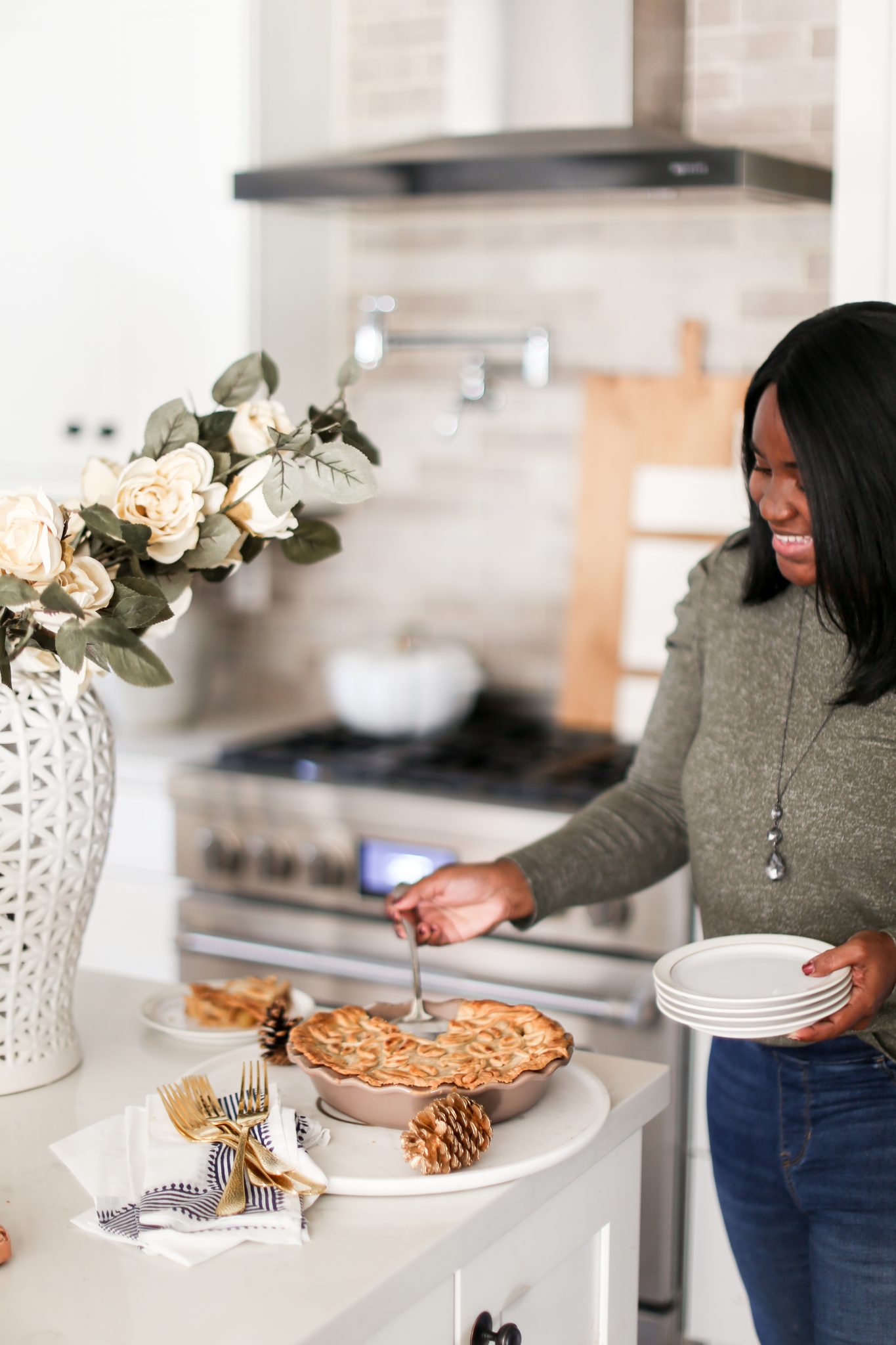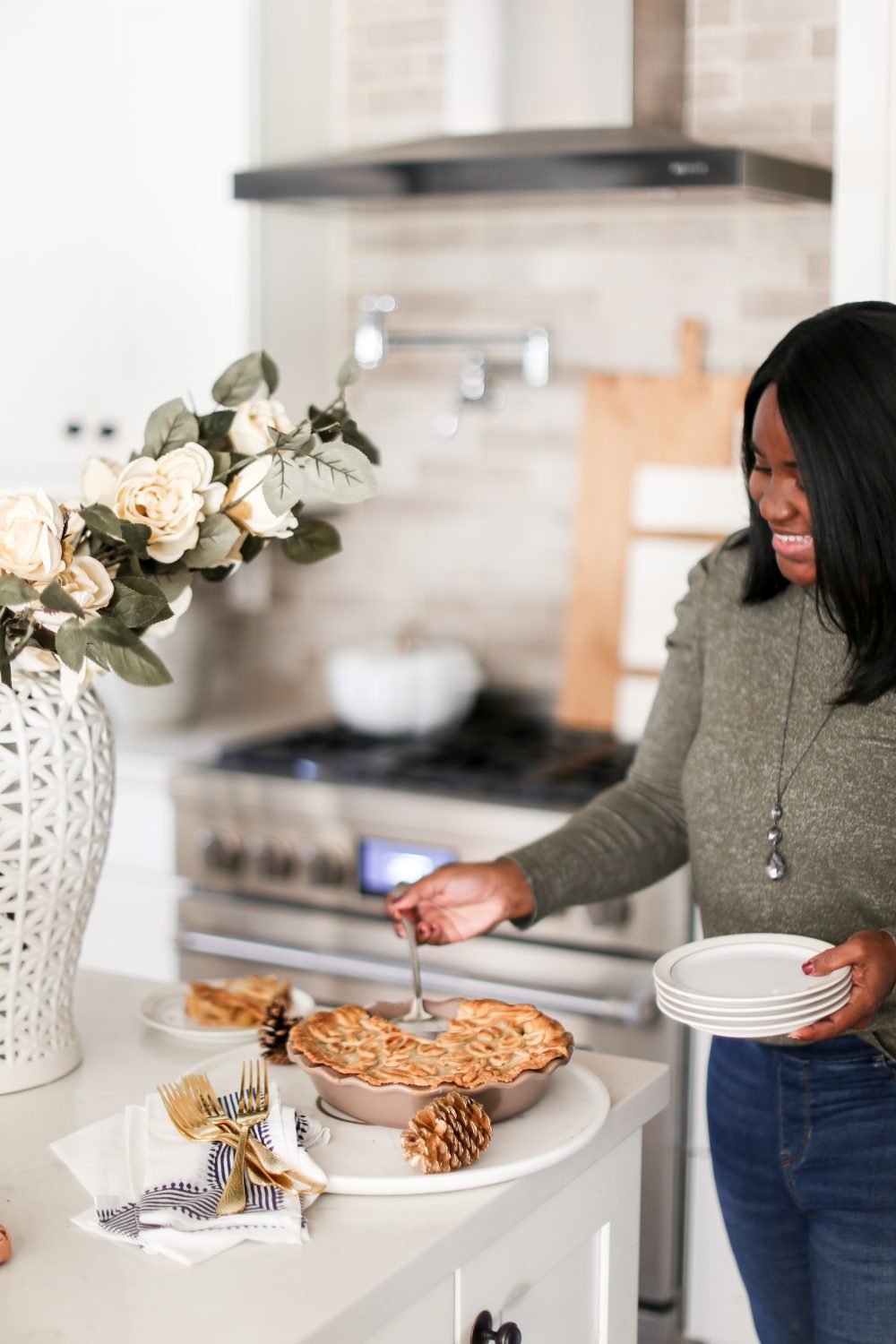 SHOP EVERYTHING IN THIS POST: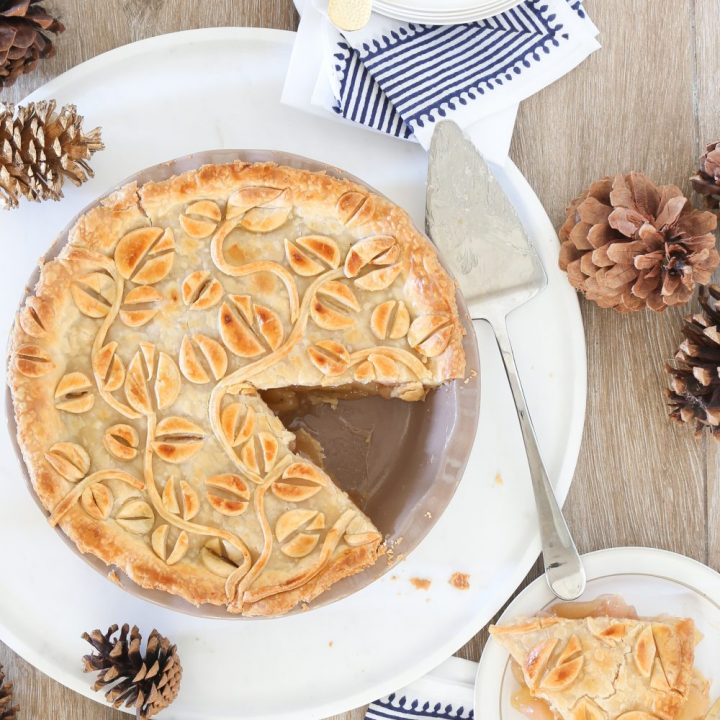 Easy as Pie Apple Pie
Total Time:
1 hour
10 minutes
This simple apple pie is made with store bought pie crust and pie filling! Gives you a semi-homemade pie that tastes just like the real thing!
Ingredients
Crust
2 box refrigerated pie crusts, softened as directed on box
Filling
2 can 20z apple pie filling
1 teaspoon of ground nutmeg
1 teaspoon of cinnamon
Optional : 1 egg and 1/4 cup of water
Instructions
Heat oven to 425°F. Place 1 pie crust in an ungreased 9-inch glass pie plate. Press firmly against the side and bottom.
In a large bowl mix apple pie filling, nutmeg and cinnamon. Gently pour the ingredients into the crust-lined pie plate. Even out the filling with the back side of a spoon.
Next, top the pie with the second crust.
Press firmly the edges together to seal the pie.
Use another pie crust to cut out shapes for the top of the pie.
Cut slits in several places for venting.
Optional: Whisk together 1 egg and 1/4 cup water. Brush the entire crust with a light layer of the mixture. This will insure a golden brown crust!
Bake for 40 to 45 minutes or until the crust is golden brown.
Remove from the oven and cool for at least 2 hours before serving!
Notes
Cover the edge of the crust with foil after the first 15 minutes of baking to prevent excessive browning.
Nutrition Information:
Yield:

8
Serving Size:

1/8 slice
Amount Per Serving:
Calories:

253
Total Fat:

12g
Saturated Fat:

4g
Trans Fat:

0g
Unsaturated Fat:

7g
Cholesterol:

23mg
Sodium:

212mg
Carbohydrates:

34g
Fiber:

2g
Sugar:

12g
Protein:

3g
Our Favorite
Apple Recipes