Game Day Snacks| Pizza Dip
This post is sponsored and may contain affiliate links, please read my disclosure policy.
Hello Homelovers!
I have another recipe to share with you today! If you follow me on Instagram you know that last year I made this fun arragment with my hubby. Each week I would find a new recipe/ snack to try out on game day. Just like every other sport loving hubby in the world, when it comes to sports, he's all in. Reggie and I actually met in college when he was playing for the basketball team and I was playing on the volleyball team. We both abandoned our professional athletic dreams for love and marriage:0) ha. But anyways, as much as I dislike GAME DAYS mostly because I can't get his attention for 4 hours, I must admit I do at times enjoy it and get way into even more than I thought I would.
Who am I kidding. I like game day OK. There I said it. :0)
This entire project is just away for me to serve my hubby and make him happy. It really isnt about me. It's away to serve and love my hubby. Not just the literally serving of snacks but me putting my needs aside and tuning into him. Which I think is so important in marriage. There is plenty of situations that allow for compromise in our lives but for one spouse to really put there own needs,wants and in this case hobbies aside is also so important. Really, its the definition of love!
[line]PIZZA DIP[line]
The first time I tasted this dip was from one of our small group friends, Santos. He's now a full time bee keeper and sells this amazing organic honey, so we don't get this recipe as much as we like to. So I decided to try my hand at it. It's really easy. I just suggest that you don't have this on the same day you're having pizza. Ha! It's a pizza overload!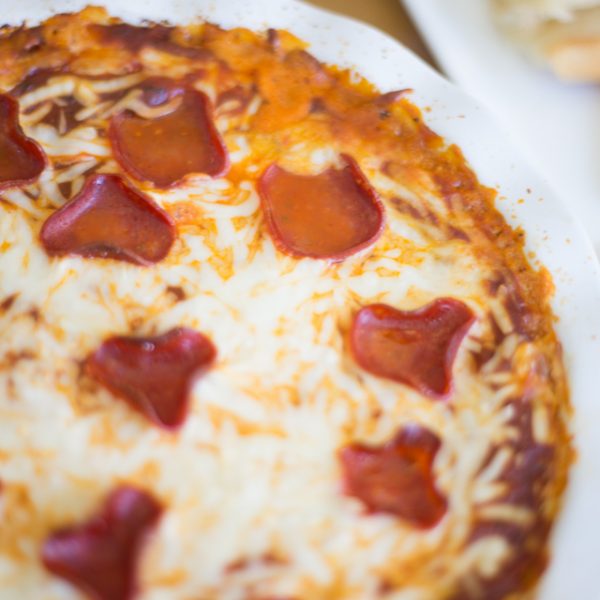 Pizza Dip
A cheesy delicous pizza dip perfect for the game day crowd!
Ingredients
8 oz package cream cheese softened
1/2 cup sour cream
1 cup freshly grated Parmesan cheese – divided
2 cups freshly grated mozarella cheese – divided
1 cup pizza sauce
Pizza toppings like pepperoni, sausage, etc
Pizza Crust Dippers
2 cans of pre-made pizza crust
1 tub of garlic herb butter
1/2 teaspoon Italian Seasoning for garnish Dippers
Instructions
Pre-heat your oven to 350 degrees. In a bowl, combine cream cheese, sour cream, 1/2 cup of the parmesan cheese, and 1/2 cup of the mozzarella cheese.
Mix until mixture is light in fluffy.
Spread in the bottom of a pie pan, then top with 1 cup of pizza sauce.
On top of the sauce, add remaining 1/2 cup of Parmesan cheese and 1 1/2 cups mozzarella cheese.
Top with your favorite pizza toppings
Bake in the oven for 20 minutes or until the dip is warm and bubbly.
Serve immediately!
Pizza Crust Dippers
Heat oven to 400°F.
Grease cookie sheet with cooking spray. Unroll dough on cookie sheet. Press out the dough onto a 15x10-inch rectangle.
Spread the herb butter over dough.
Bake as directed; remove from oven.
Let the bread cool and then cut into squares or triangles.
Nutrition Information:
Serving Size: 1 grams
Amount Per Serving: Unsaturated Fat: 0g