Back to School Planning with Sharpies
This post is sponsored and may contain affiliate links, please read my disclosure policy.
This shop is part of a social shopper marketing insight campaign with Pollinate Media Group® and Sharpie, but all my opinions are my own. #pmedia #StaplesBTS http://my-disclosur.es/OBsstV
So everyone is officially back to school friends. Yep. Summer is over in our house and we have stepped into the new school year! Like I mentioned before in my pretty planner post, every year I start off with a new planner. No matter how digital things get, this mom will always have a love for the paper and pen. It's a relationship that I never ever ever want to see end. They are just so cute together. Pen+Paper=Love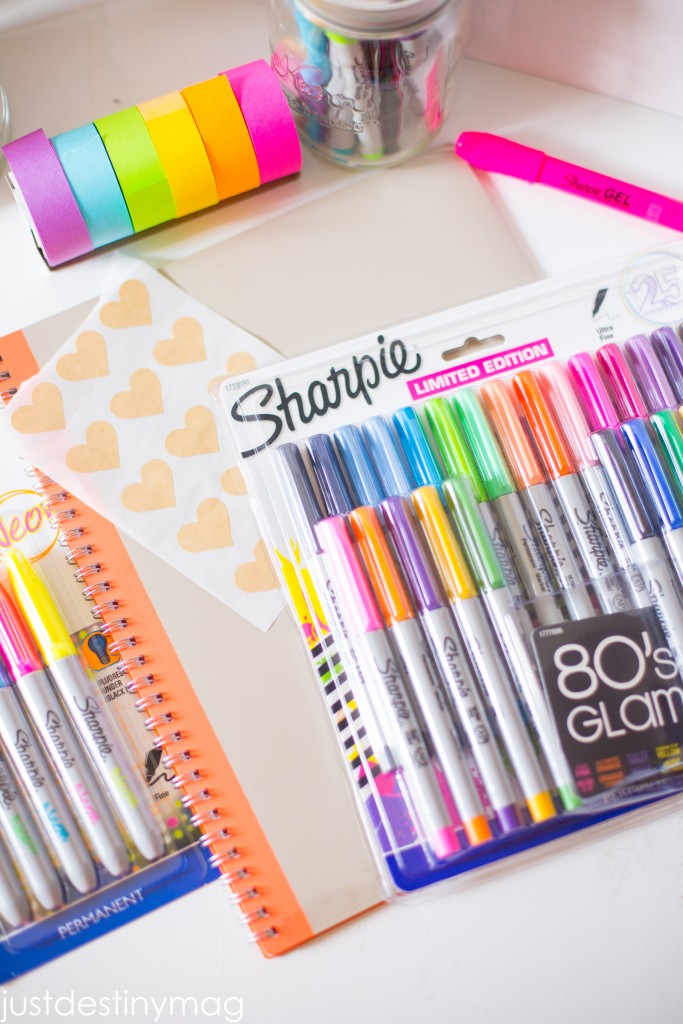 Planning out the school year is super exciting to me. It has been ever since I was in middle school and FORCED to get an agenda, you know to be more organized and all grown up:0) I've enjoyed writing down my events. Like I said before, I'm a monthly planner. When I think about things to do, I think about them in a monthly way. But if I'm REALLY honest with myself, the best part of planning is making it look fun and exciting. I mean writing down when I need to go to the gym actually makes me excited to go to the gym. It's like I have an appointment with the gym. If it's not written down then it just floats in my head and who knows if I'll ever catch it, let alone get to that floating gym thought in my head:0)
So with every new planner comes new pens and markers and all the little stickers that make your LIFE look soooo fun. While I was roaming the isle of Staples the other day I stopped by the Sharpie section. Pause for a moment. Did you know there is a Sharpie section now? Oh yes there is. Long gone are the days of black permanent markers to mark all things YOURS. Oh, it's a whole new world folks. I'm talking about neons, and highlighters, gel, and inks colors named after decades. Yes folks, Sharpies are it's own section.
After a 20 minute session in the Sharpie section I finally picked out some super fun neon and 80's themed Sharpies. I felt it necessary since I'm an 80's baby:0) Here are few ways I use my sharpies to make my planner pretty!
But first……let me take a selfie. #sharpieselfie :0)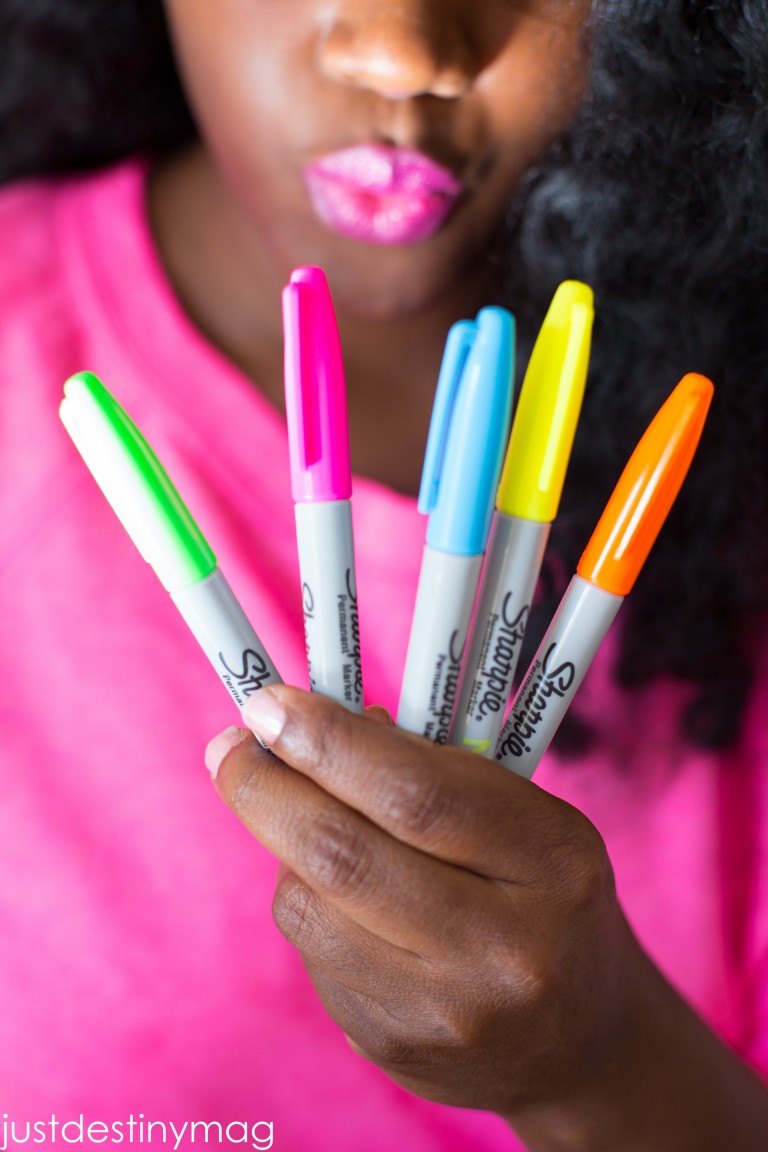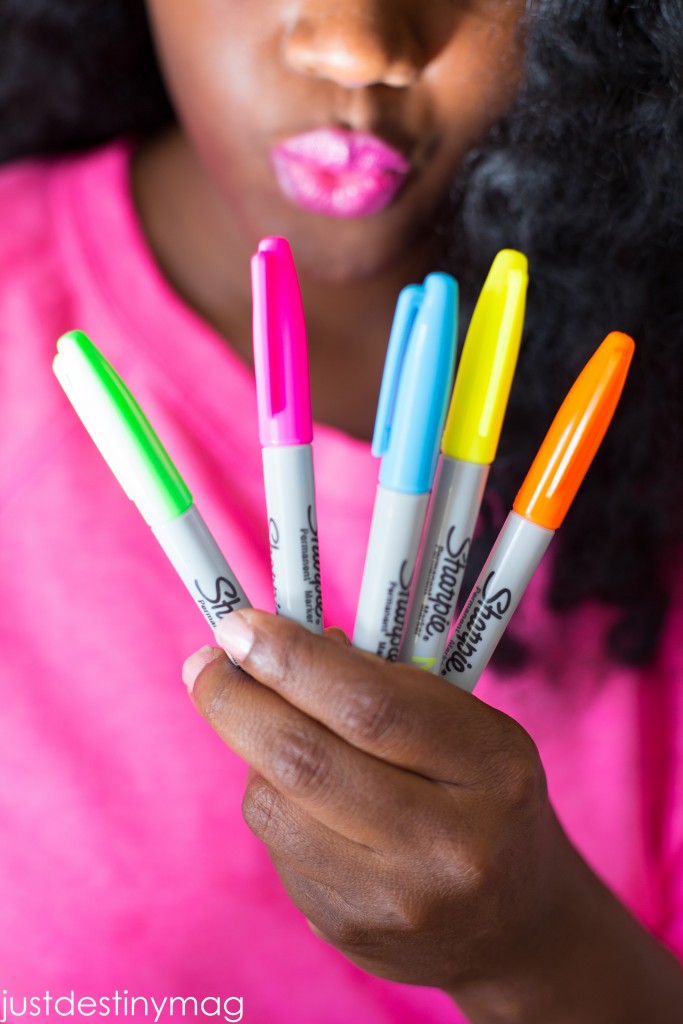 When I plan out my months I usually go with the color coded option. I don't know a person who doesn't. I LOVE using this paper tape so that the markers don't bleed through to the other side. It's unlike washi tape because it's actual PAPER that sticks. Almost like a post it but a littler thicker. If you don't use tape then make sure your planner is Sharpie friendly:0) BUT did you know that Sharpies have a no bleed PEN option as well? YEP. You're welcome.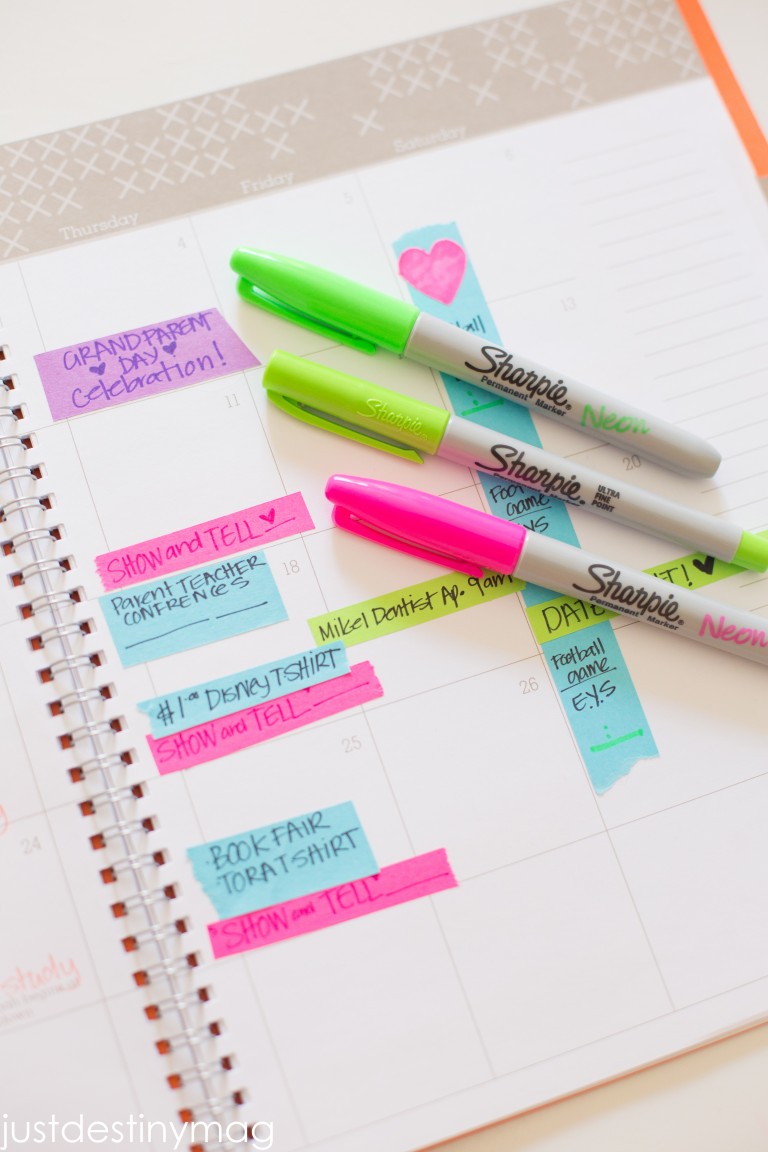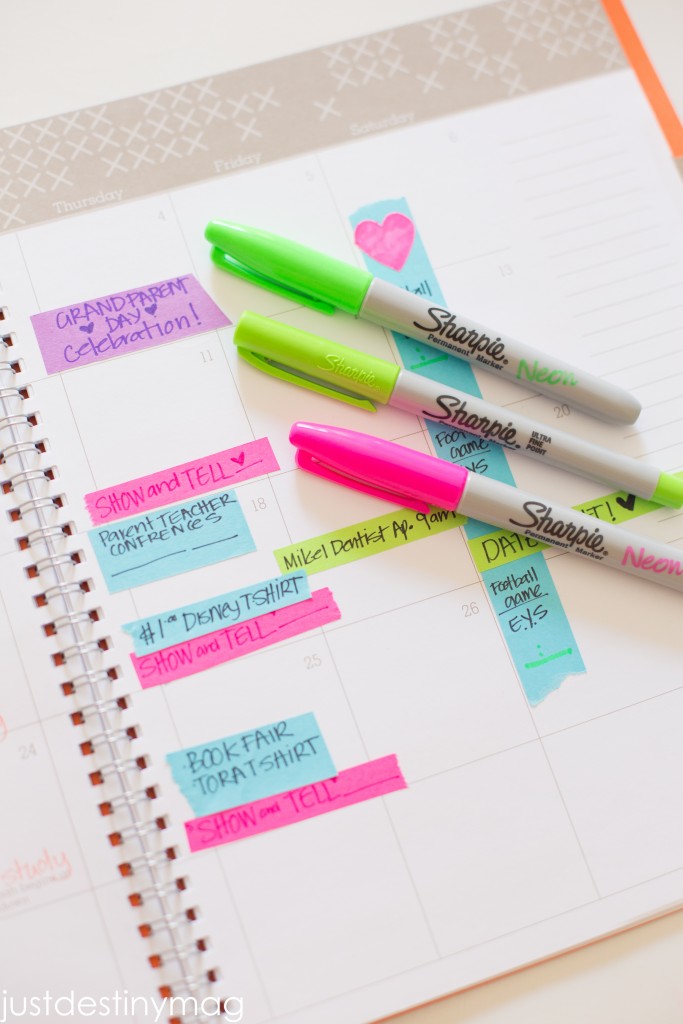 I also love getting the fine point pens because I LOVE the way it writes. It give just enough boldness for me. With all the different colors you have the option to make a custom color coding system for all your events and dates but with the colored paper you can use whatever colors you want and let the paper do all the color coding. In my calendar I have all of the kids sports and school events plus any family dates that we may have. Then I use my markers to fill in dates as needed! I just need some WHITE paper tape. Then things will get real crazy!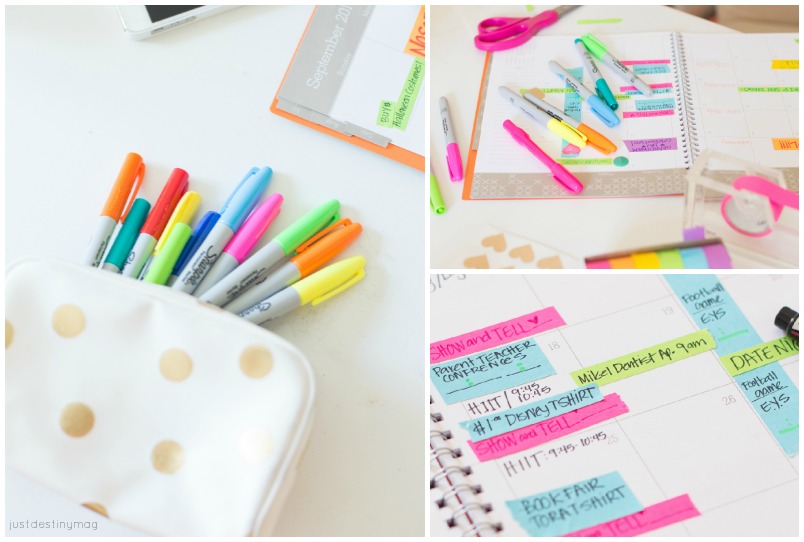 The thicker markers are great for highlighting certain dates and it gives my writing a sort of two toned look! Plus if you like your writing a little more BOLD then these are the markers for you!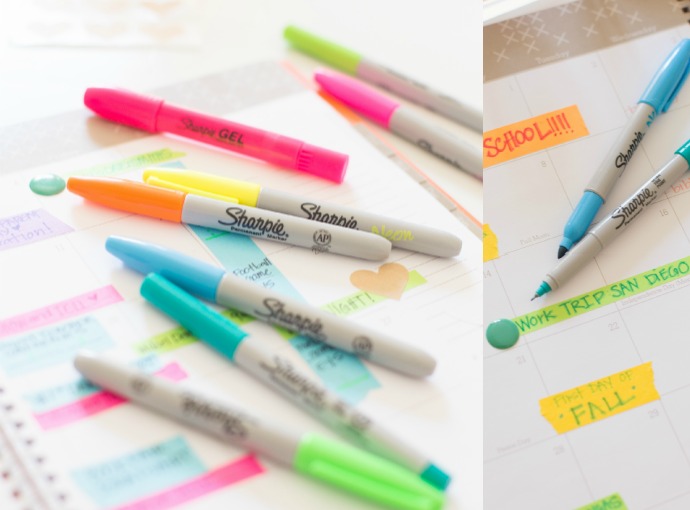 So if you're a little low on your Sharpie supply, right now Sharpie Fine, Ultra Fine assortment packs and Sharpie Neon Marker packs are currently on sale at Staples through August 24th while supplies last! AWESOME sale friends!
Are you a Sharpie lover? How often to do you restock your supply?
Shop my favorite Sharpies here: