Buttered Soft Pretzel Bites
This post is sponsored and may contain affiliate links, please read my disclosure policy.
Football Sunday seems like a national holiday at our home! The hubs is a big NFL fan, loves his team but enjoys watching football pretty much all Sunday after a nice 8:15 church service. We call that a guilt free Sunday around here. Even though football gives me anxiety (I just want my husbands team to WIN so all will be well)..lol, I enjoy cooking up something for my hubby and the kids to snack on. This week I decided to try out a Soft Pretzel Recipe. We LOVE those mall pretzels and well my family is not shy about it's love for carbs (in moderation of course) So sharing a big batch of pretzel bites seem like the right thing to do this Sunday. Oh and you won't have to worry about left overs with this one friends. Gone in 60 Seconds…lol.
I'm a big fan of anything King Arthur. I recommend using their brand of flours. It's just better. I've never had a bad outcome with ANY of their recipes. This one is adapted a bit but you will still enjoy the deliciousness or the original. Just use lots of butter…haha! Oh and feel free to try any type of cheese dip you like. Mine was super simple because that's what the Mr. preferred. But if it was just me I would have done something a little more cheeeeeesier:0)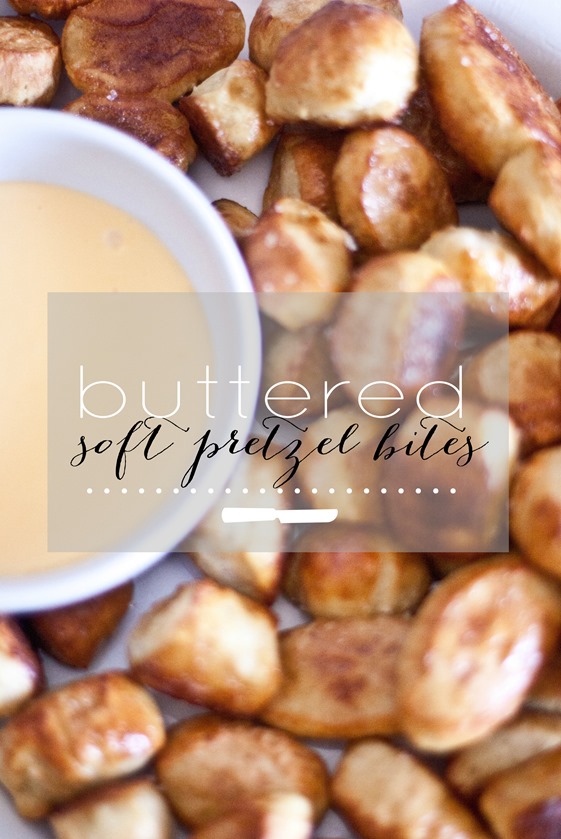 This is our game day huddle. Ready, set , EAT!!!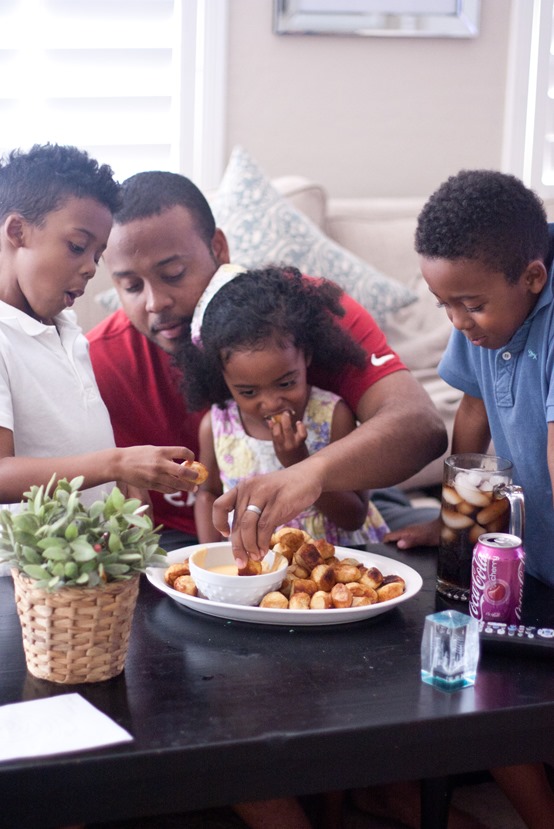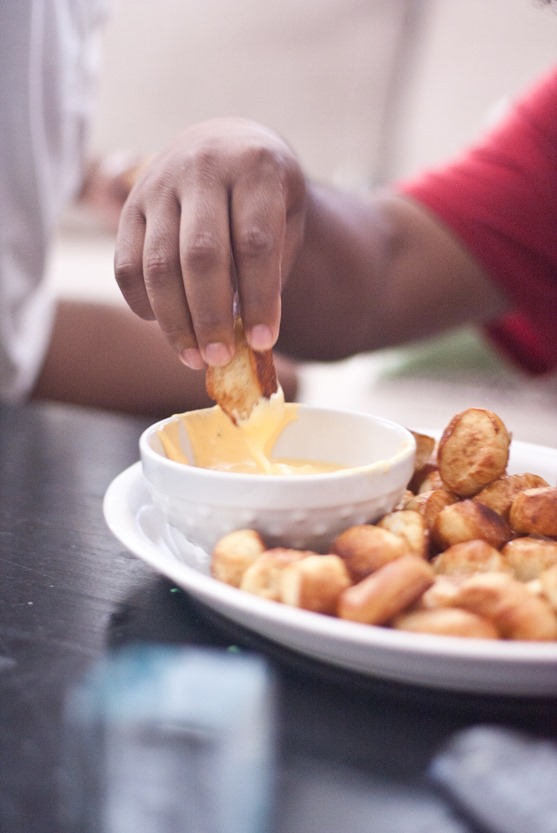 Here's the recipe! Enjoy and happy game day to ya! GO__________<—-insert team here:0)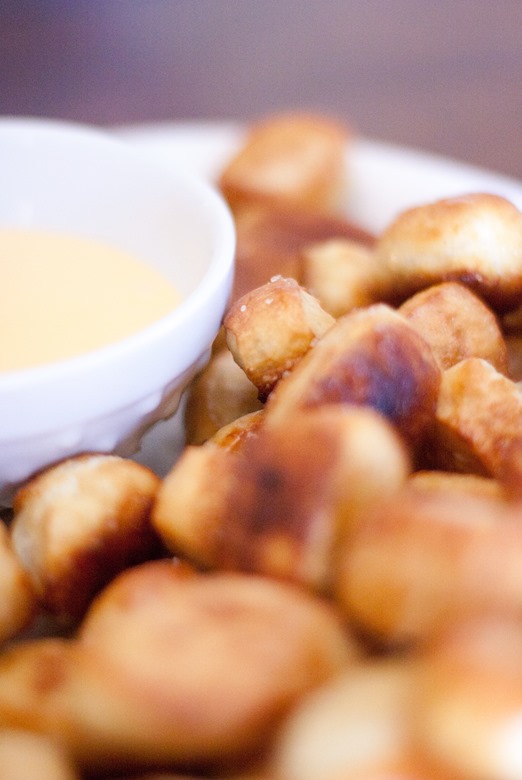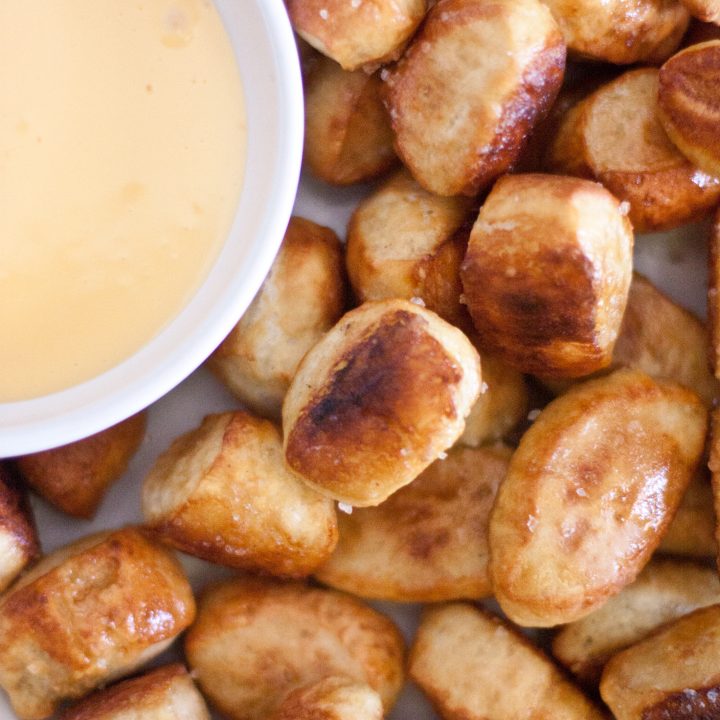 Buttered Soft Pretzel Bites
Yummy soft pretzel bites for dipping or eating alone!
Ingredients
Soft Dough
2 1/2 cups Unbleached All-Purpose Flour
1 teaspoon salt
1 teaspoon sugar
2 1/4 teaspoons instant yeast, or rapid rise yeast
1 cup warm water 120-130 degrees
cooking spray
Coating
1 cup boiling water
2 tablespoons baking soda
Sea Salt or Pretzel Salt
1 cup unsalted butter, melted
Cheese Dip, optional
4 oz Velveeta
1/4 cream cheese
2-3 tablespoons of milk
Instructions
To make dough with a mixer: Place all of the dough ingredients into a bowl, and beat until well-combined. Knead the dough, by hand or machine, for about 5 minutes, until it's soft and smooth. Spray a large bowl with cooking spray and place the dough inside and turn over once so the dough is coated in oil. Cover the bowl with plastic wrap and allow it to double in size by letting it sit for 30 minutes to an hour.
Preheat your oven to 500°F. Prepare two baking sheets with parchment paper and spray the paper with cooking spray. Just to be sure. We don't want anything to stick!
Transfer the dough to a lightly greased work surface, and divide it into about four strips of equal length. Set the strips aside to rest for a bit.
While the dough is resting, combine the 1 cup boiling water and the baking soda in a liquid measuring cup (deep enough to dip the pretzel bites into). Make sure the baking soda is almost dissolved. It won't dissolve all the way. Set the solution aside until its warm to touch.
Cut each strip of dough into about 6-8 pieces, about 1 to 1 ½ inches in width.
Dip each pretzel bite in the baking soda solution because this will give the pretzels a nice, golden-brown color! Then place them on the baking sheets.
Sprinkle them lightly with sea salt or pretzel salt. Allow them to rest, uncovered, for 10 minutes.(optional if your pressed for time)
Bake the pretzels for 7-8 minutes or until they're golden brown.
Cheese Dip
Combine 4 oz of Velveeta, 1/4 cup cream cheese and 2-3 tablespoons of milk (more or less as needed) Combine all ingredients in a microwave safe bowl. Heat for 1-3 minutes and mix until smooth and combined. Add more or less milk for desired consistency.
Remove the pretzels from the oven and drizzle them with the melted butter. For extra soft pretzel toss the butter and pretzel bites in a bowl and cover with a towel for 5 minutes. Serve warm with cheese dip or not!
Nutrition Information:
Yield: 50 Serving Size: 1 grams
Amount Per Serving: Unsaturated Fat: 0g