Fun and Pretty Teen Bedroom Lighting
This post is sponsored and may contain affiliate links, please read my disclosure policy.
I remember the day we found out that we were having a little girl. We were so hopefully, but after having two boys back to back we were fully expecting another little boy. But once everything was confirmed the very next day I pick out a beautiful white crib for her and I have not stopped buying her all the girly things ever since!
A couple of months ago I introduced you guys to the peel and paint samples from the Home Depot and decided to paint Livy's wall a beautiful color called French Colony by Behr. The room came together beautifully with a new bed, bench and drapes.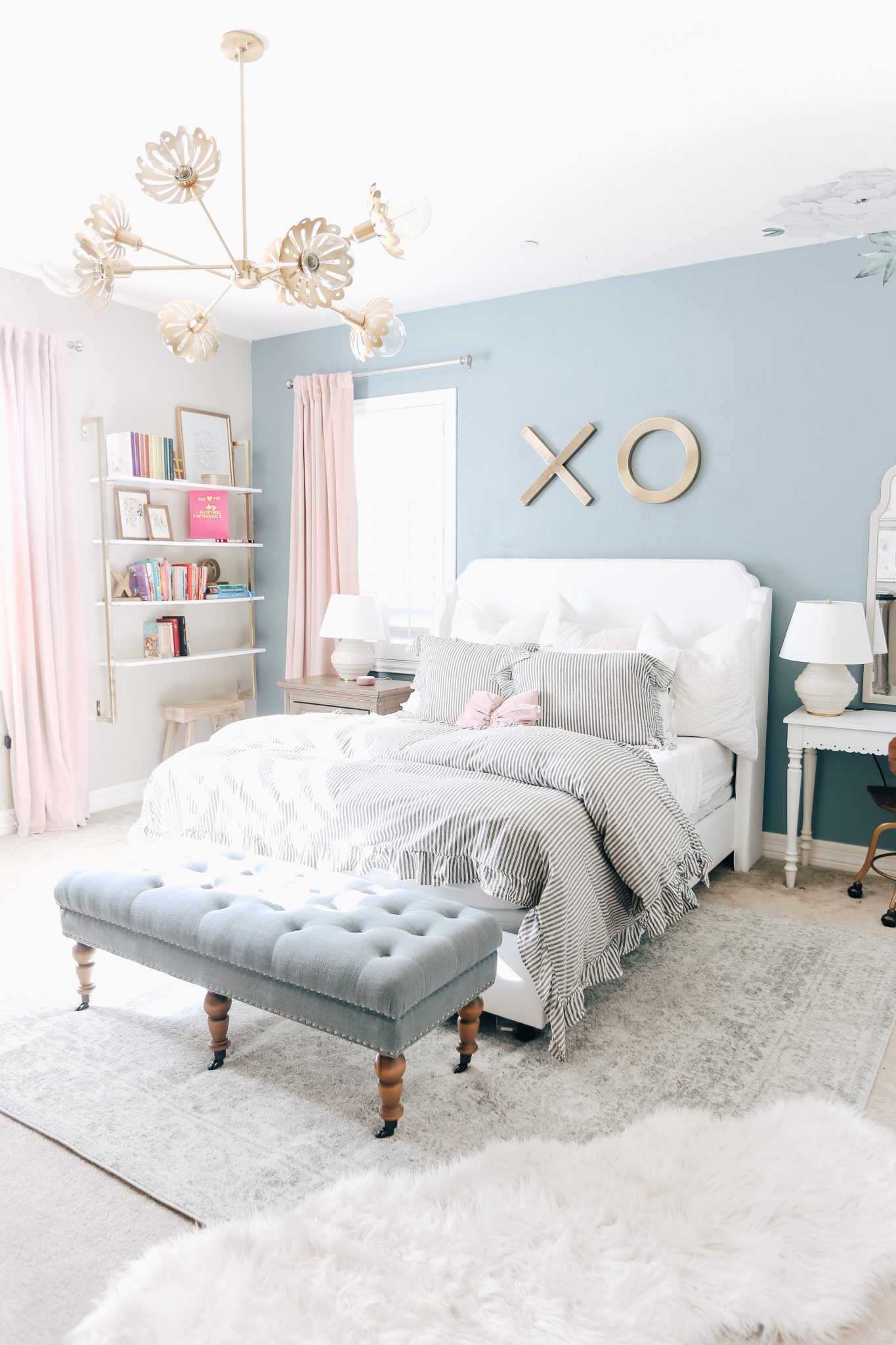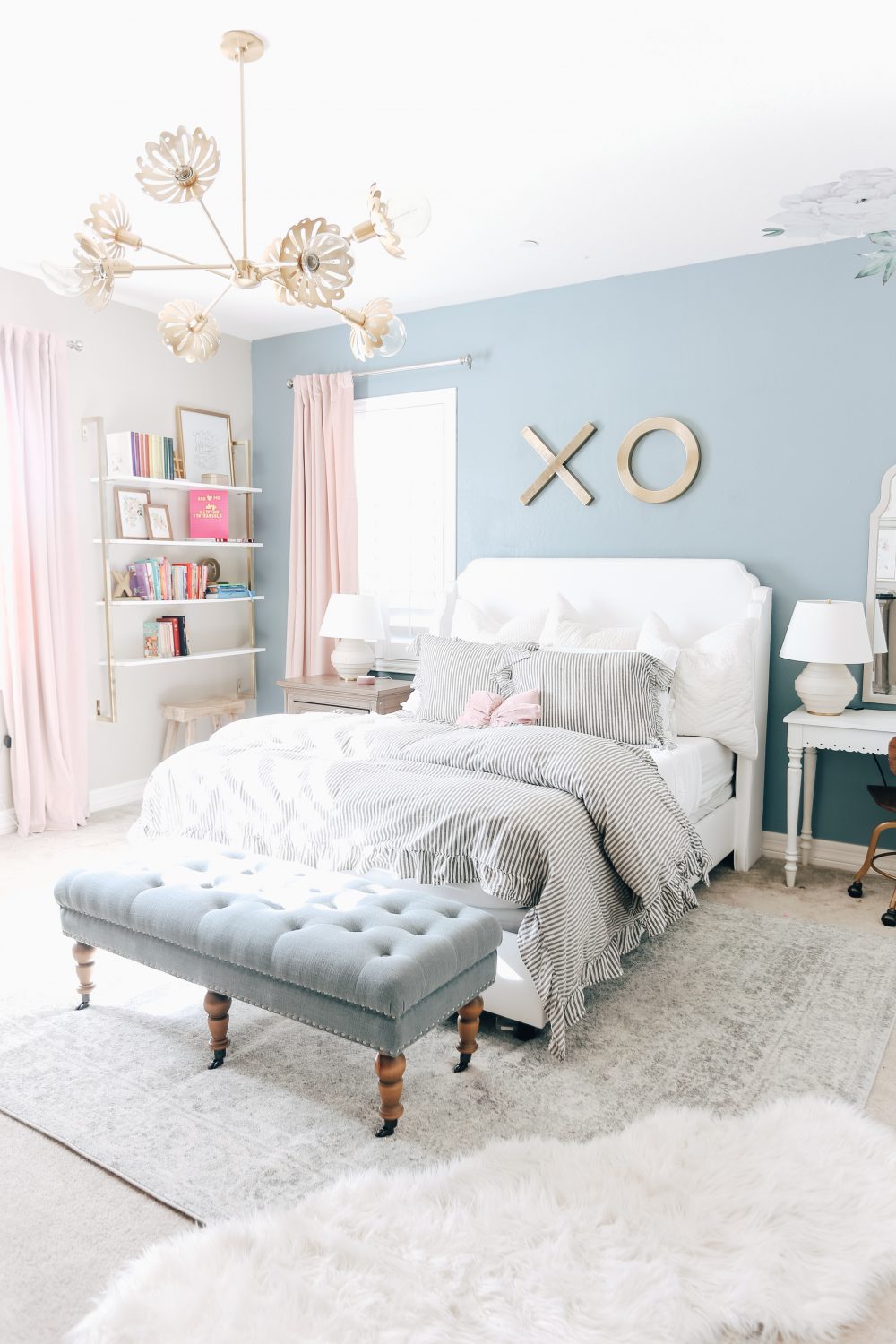 Today I'm adding onto her bedroom with a few more details that include these gorgeous lights by Hudson Valley Lighting and their sister line MITZI  ( TWO OF MY FAVORITES!) , a spread of garden flowers on the wall and a freshly painted desk. 
Decorative Flowers on the Wall
First up, the flowers. If you watched my stories awhile ago you remember Livy wanted her room to be like a garden. We have little nods to a garden feel in here room like the bunny chair and the bunny lamp, but she also said she would like some flowers on the ceiling. I knew the perfect product to make that vision come true. So many home decorators, bloggers and folks just like you have used large decal sticker on the wall. Remember wayyyyy back in 2013-ish I used the confetti wall idea and it went viral? Well I like to think that started a wave of new ideas for the wall which include beautiful printed decals of flowers, animals, and more to make full murals!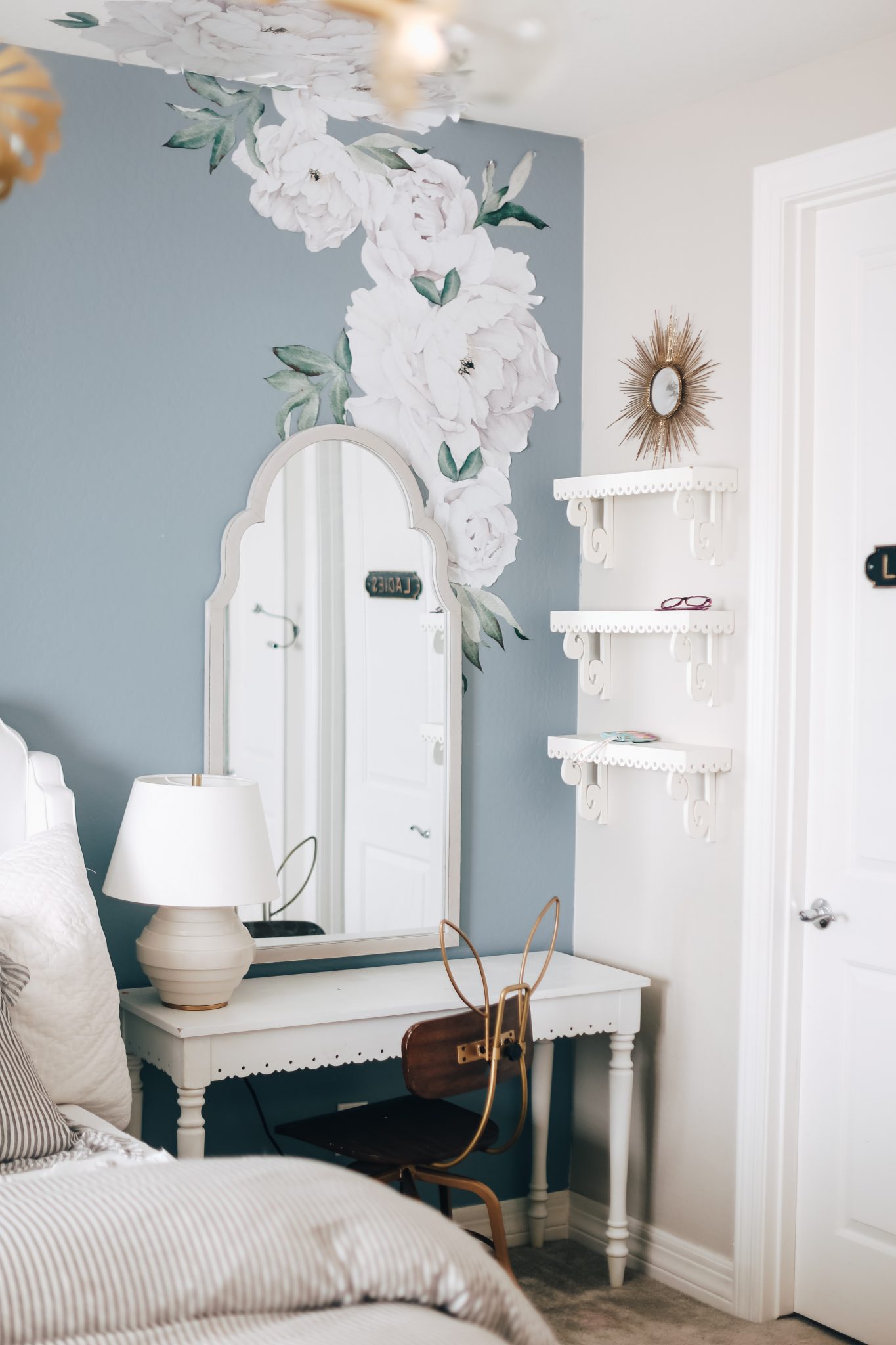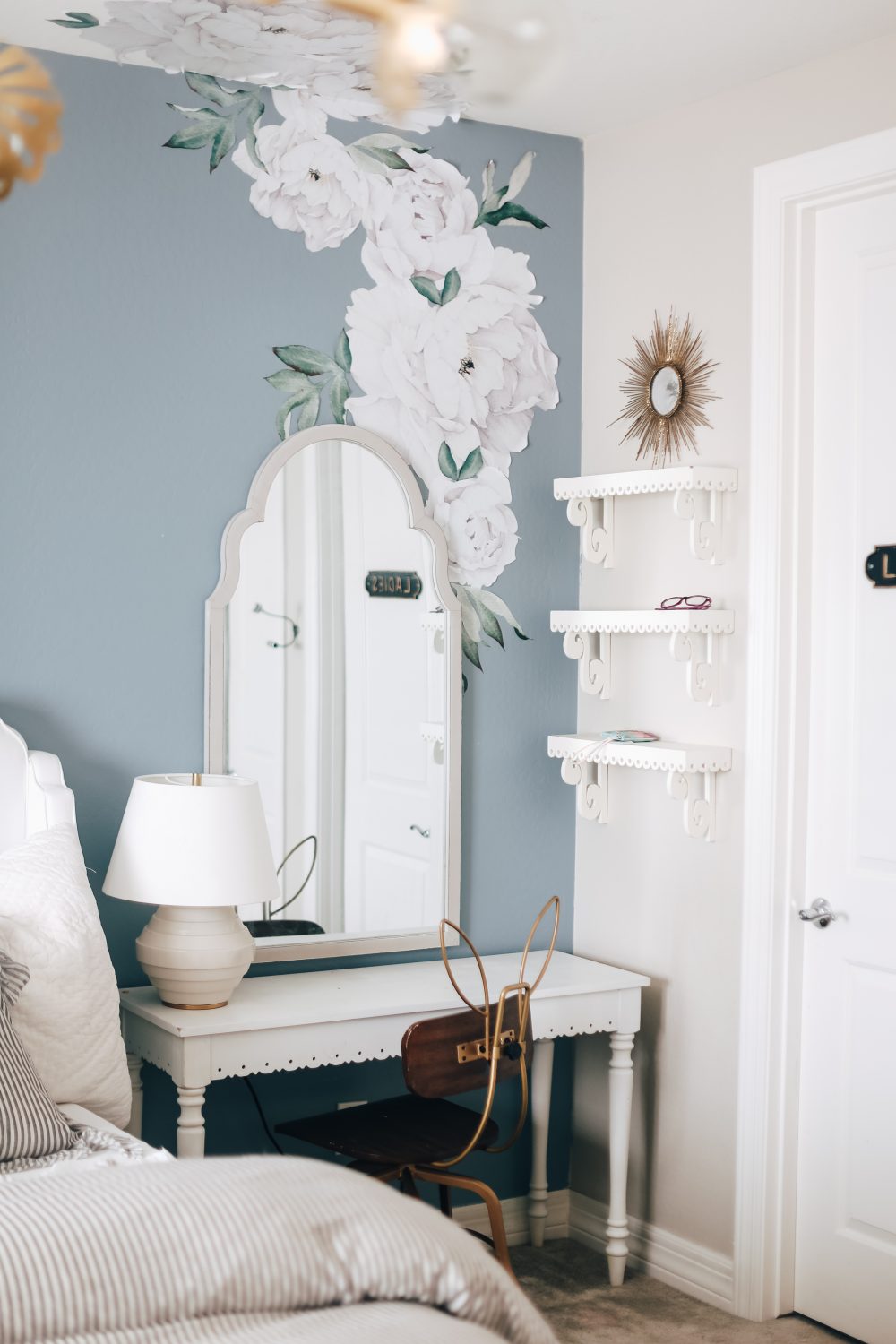 I decided to order these flowers from Amazon and made sure to concentrate on just one small side of the room. I might add more later but I think for now this is a great way to add that garden detail that she wanted so much. Plus it's on the ceiling! These decals are super easy to apply even to lightly textured walls like ours. If you have more heavy textured walls then they might be a problem. So make sure you read the instructions before you purchase. As far as the pattern goes you can copy the picture that is given or you can use your imagination a bit to get the look you want. 
Desk Facelift with Spray Paint
I also decided to give Livy's desk area a face lift. She DESTROYED this little desk with all her drawings. Pencils, markers and PAINT! Ughhhh. Yes, the paint not only ended up on her desk BUT also on the floor. But that's for a different day. I was going to get her a new vanity but decided to save this with just a wipe down and a fresh coat of chalk spray paint from my local hardware store. Friends, let's not forget how AMAZING spray paint is. Have you spray painted anything lately?
Pretty and Fun Lighting
Zooming all the way out, you can also see that Livy's room got a big upgrade with this super fun lighting! When I first saw this light I was a bit hesitant because I thought it really wasn't my style. I also thought the scale might be to big for the room ( its 42 inches wide!) But once I got it up I knew it was the PERFECT fit for her!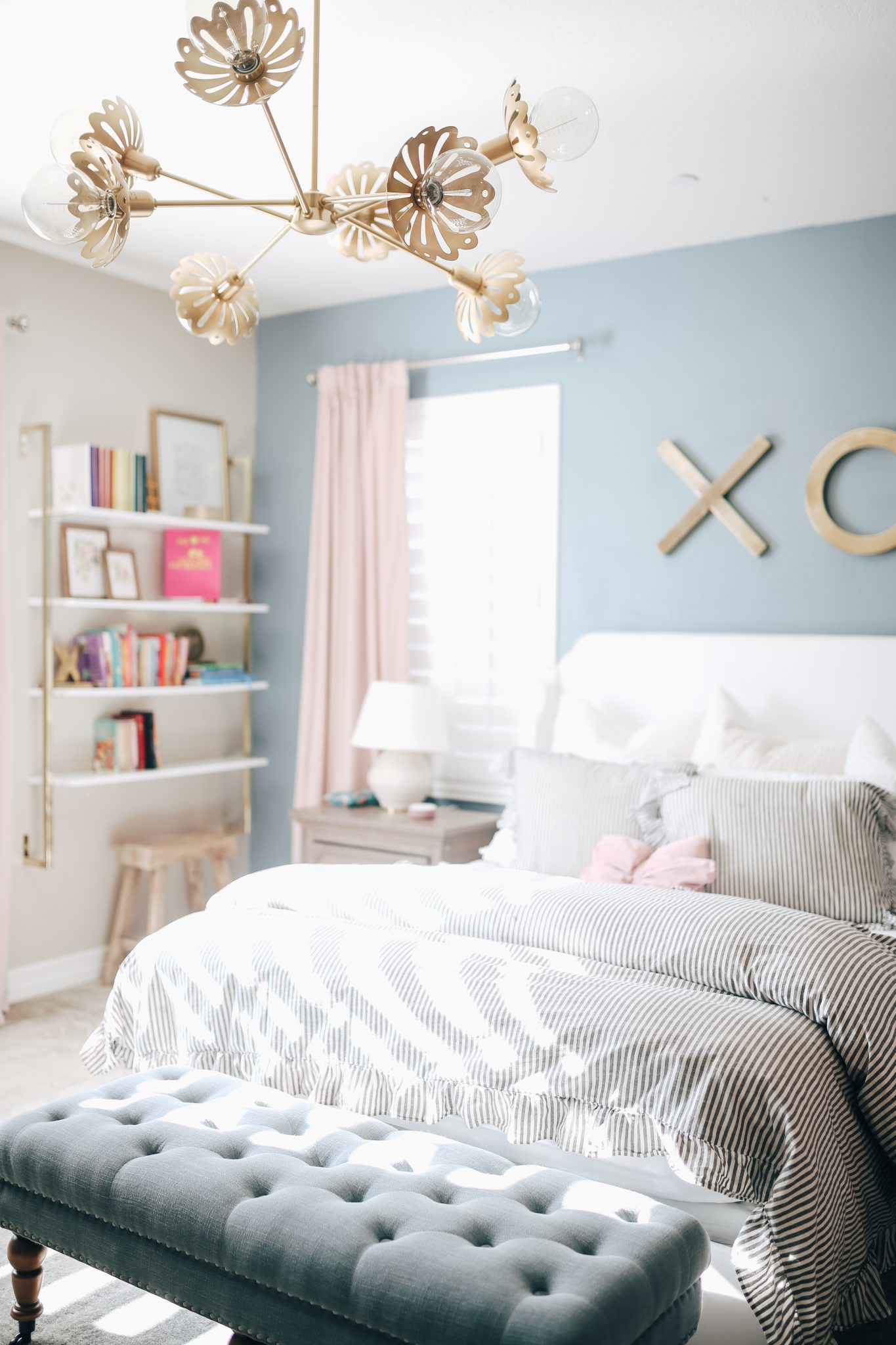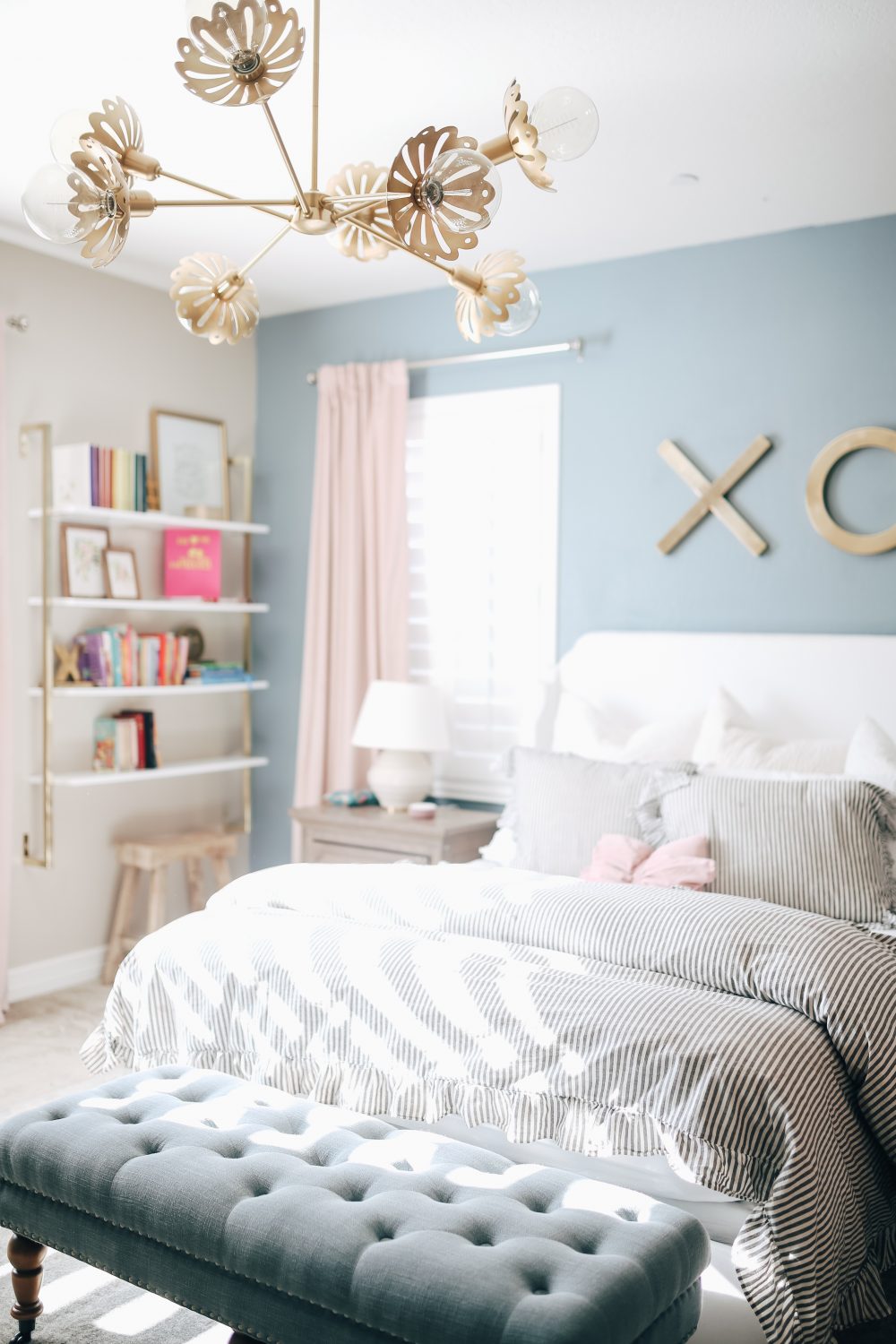 The Alyssa by Mitzi by Hudson Valley Lighting is one of their newest lighting collections. Alyssa has a very playful floral charm and an elegant simplicity to it! Which I think works well with my aesthetic and Livy's personality. The Alyssa collection comes in three different finishes and plenty of options for your rooms.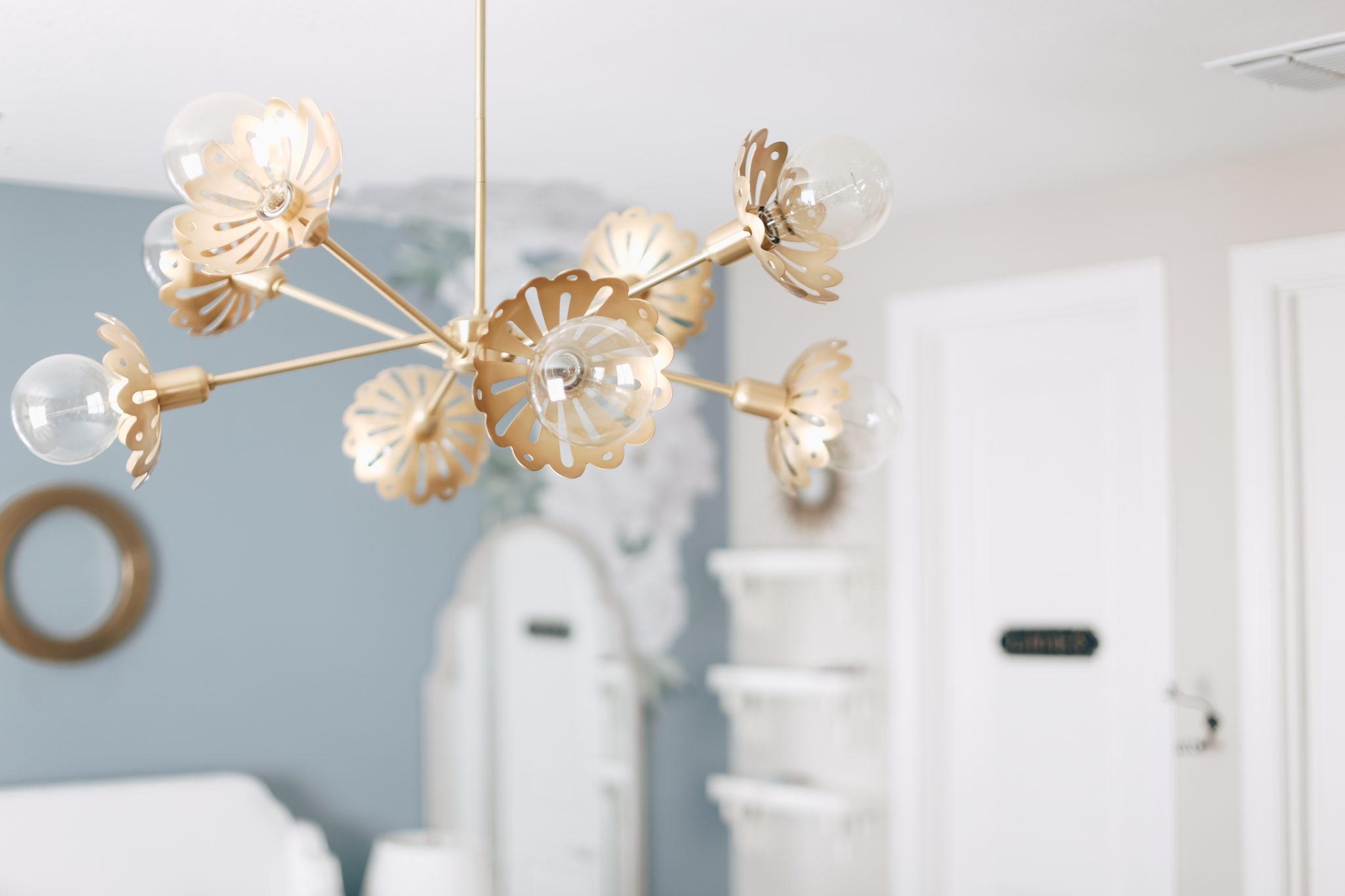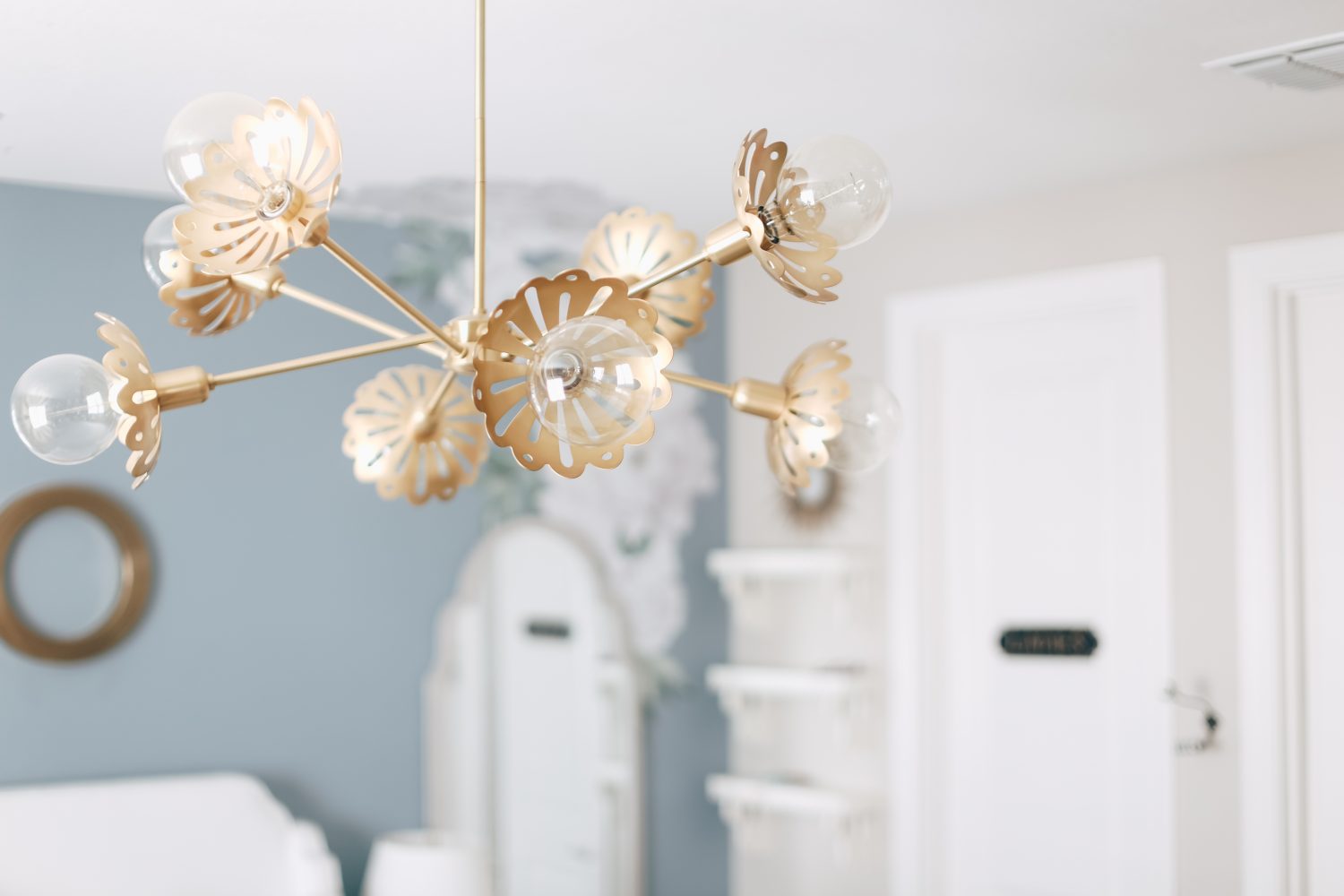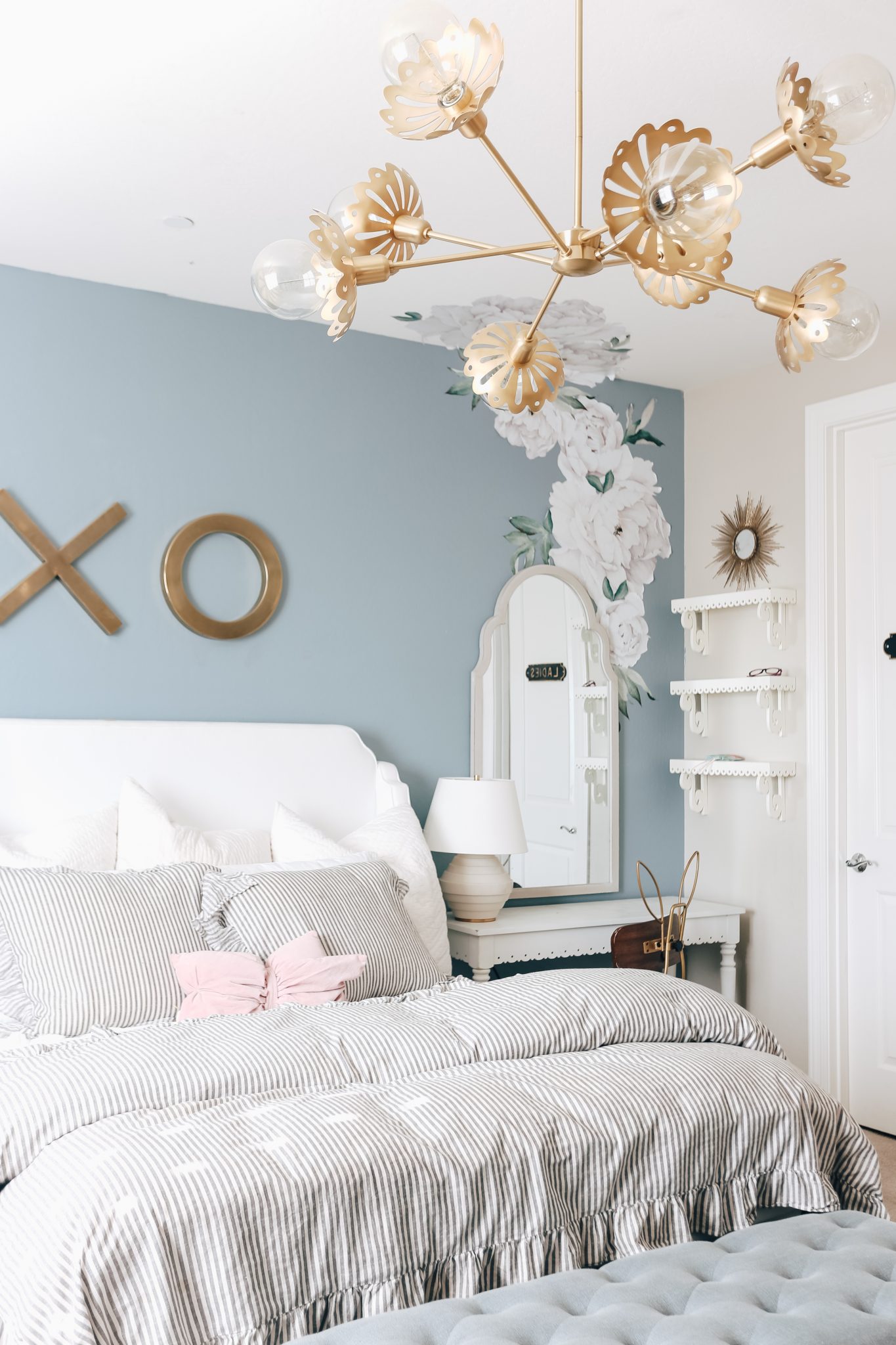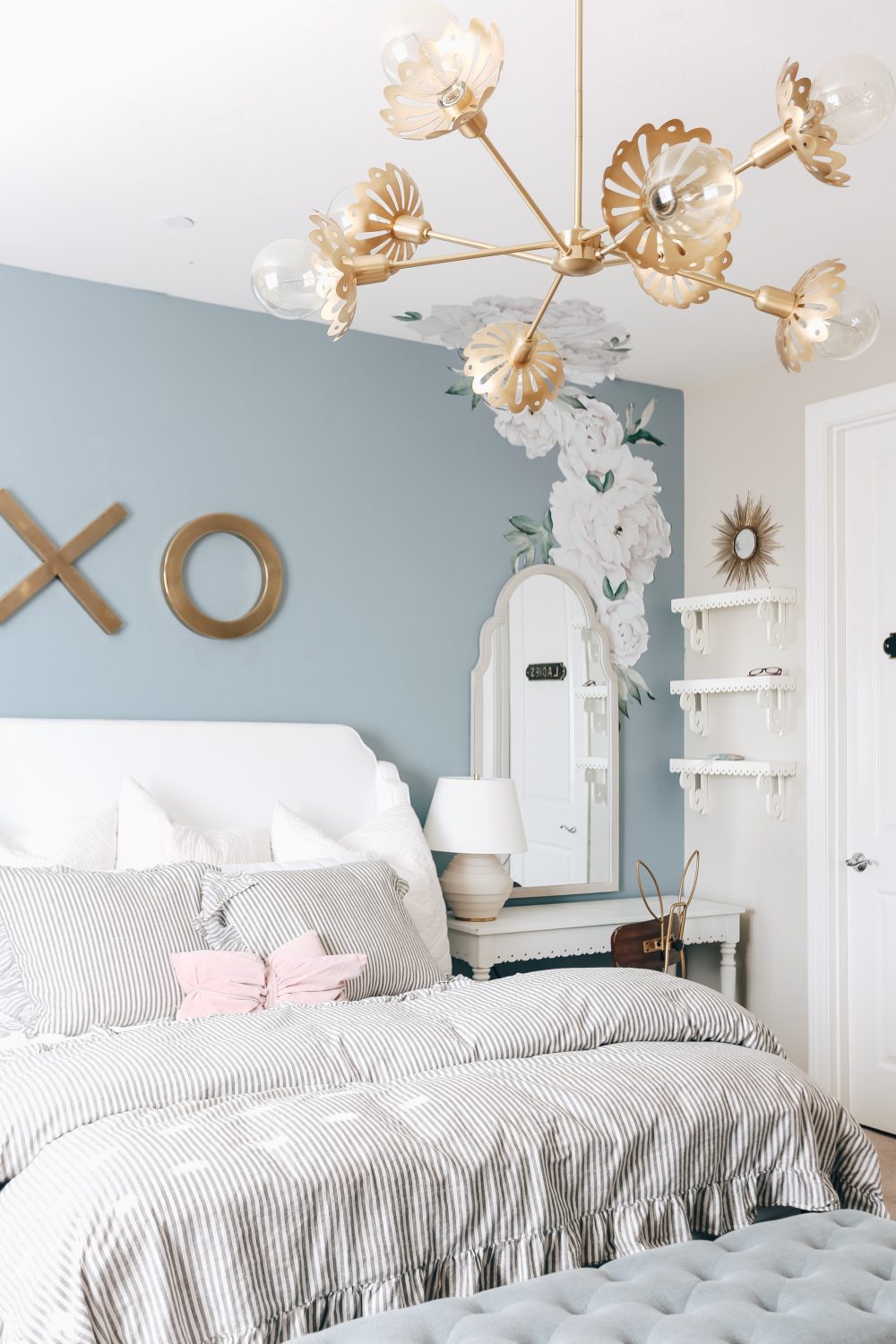 Hugging her bed on both sides are the beautiful table lamps that coordinate well with the fun and pretty ceiling light. Hudson Valley lighting is known for a more traditional nod to the lighting space. The Calverton lamps have a pleated base that features both smooth and textured ceramic.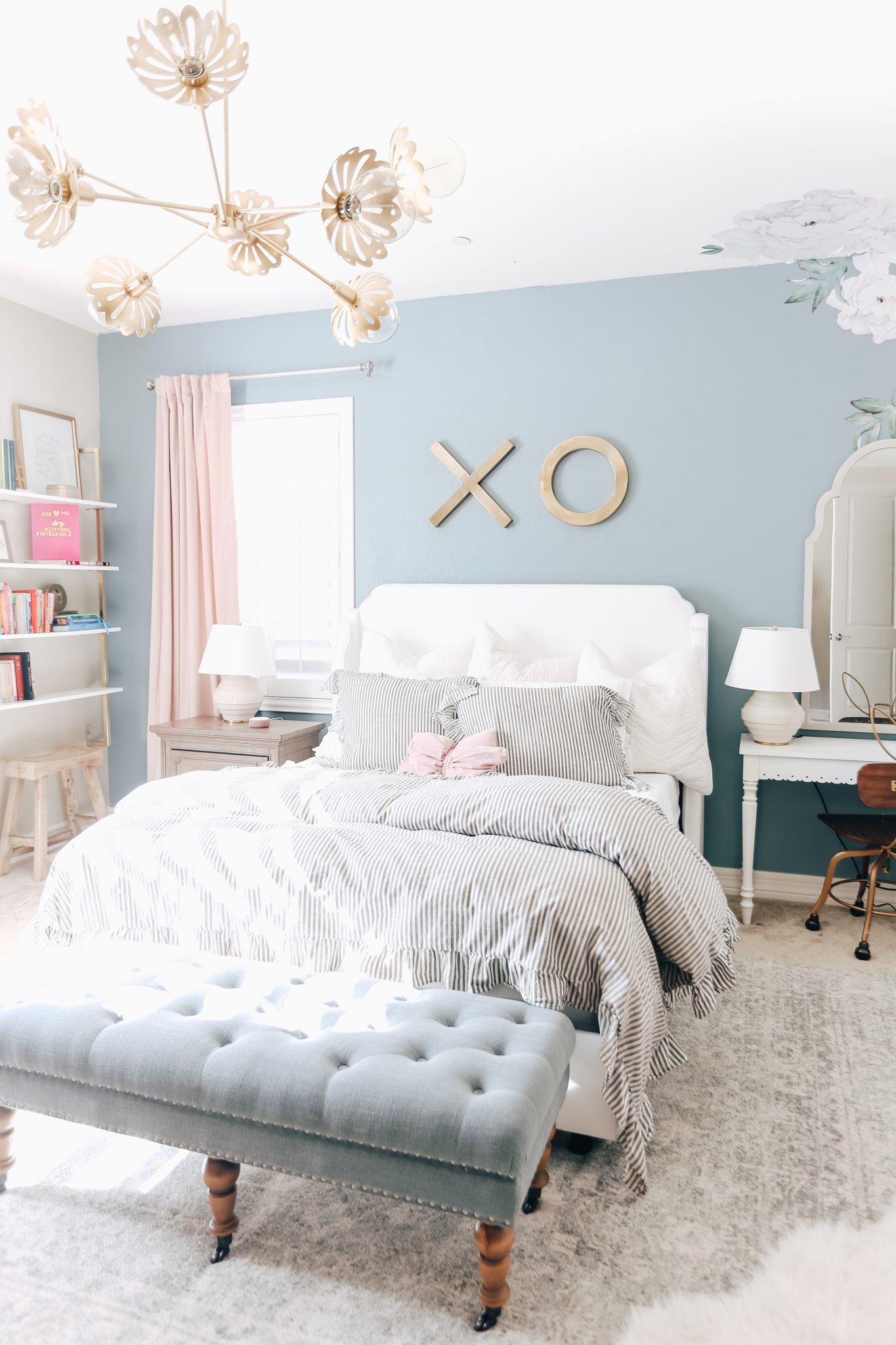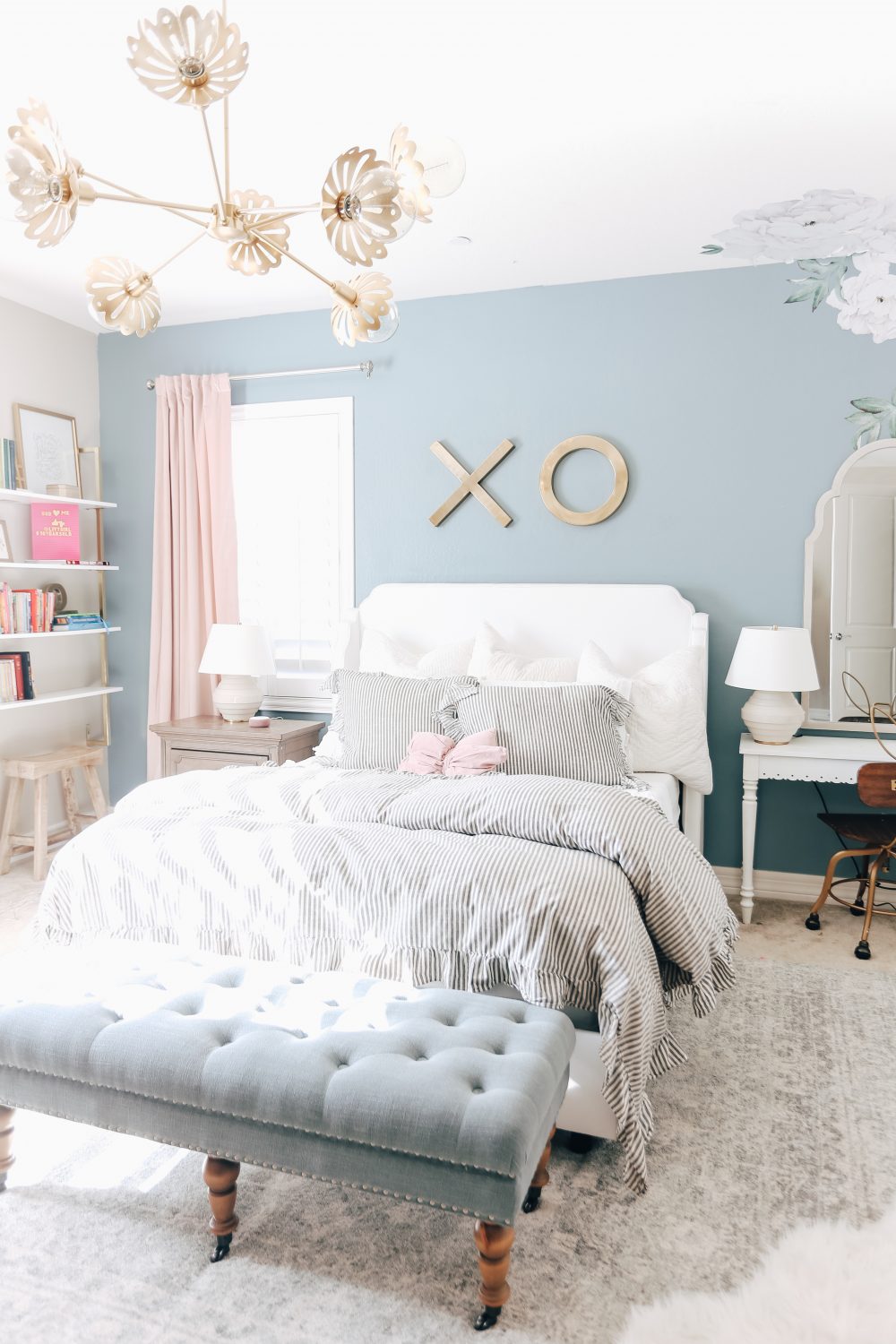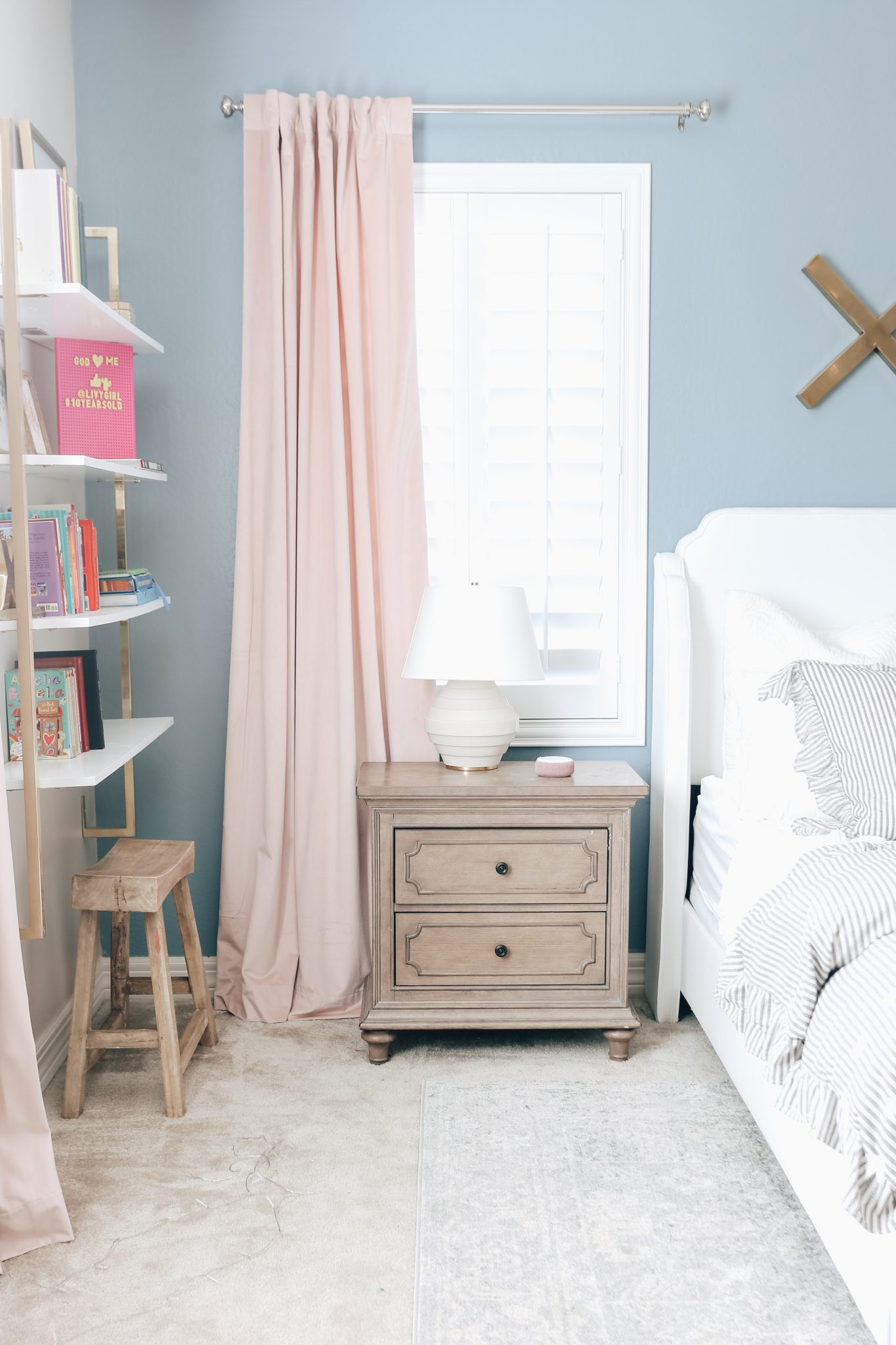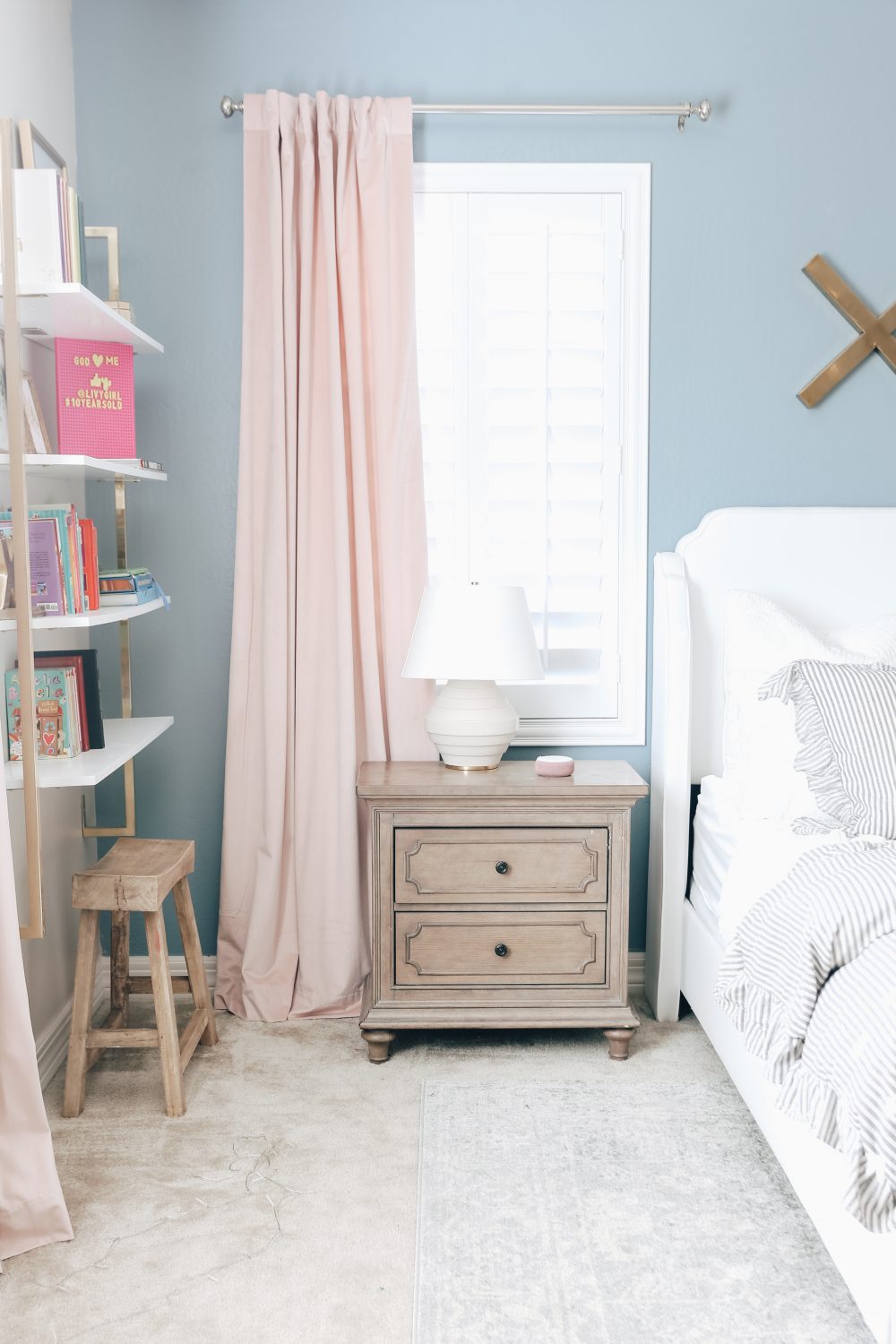 Loving the way her room is coming together. Such sweet details for our sweet and spunky little girl!
Shop even more of Livy's Room below.