Elegant Small Space: Living Room Decorating Ideas
This post is sponsored and may contain affiliate links, please read my disclosure policy.
I've been working on my living room off and on for the last 4 years. Trying new ideas with the layout and even color. When we built our home, we had the entire house painted Accessible Beige. Our living room is an average size not to big and not to small, but I still use some small space ideas to help me decorate this room!
Last year, during my Daniel Fast I decided to lighten this room up even more and painted then entire space Alabaster. This room has come a long way! Being on the smaller side, our living room needs some smaller pieces to help with the scale of the room.
We already have a sofa that we love but I wanted to add two chairs to help out with seating and finish off the space as far as layout goes! So I digged into some options from HomeDepot.com/decor!
Hopefully by now after reading my "The Home Depot has Decor and it's Awesome" You guys have seen how many amazing options they have as far as decor goes. We have used them in our owner suite, and even in our entryway!
So if you're looking for some elegant but small space options for your living room chairs then check out my round up of options below along with some small table options to go with them!
Plus they have million of items online that are eligible for free shipping. Not only that but you can get your items shipped to the store of your choosing and pick them up as well.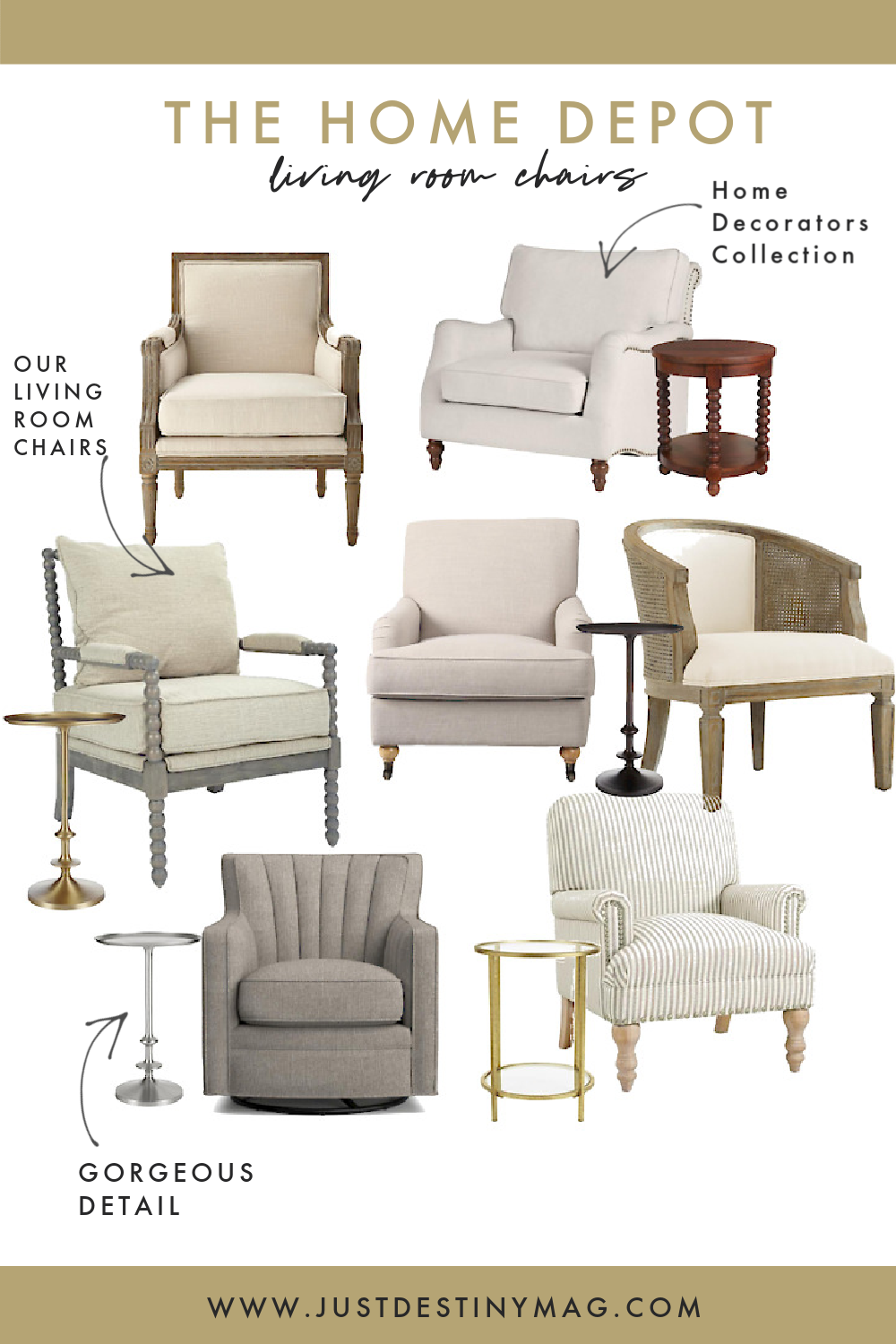 For our living room space we ended up using a pair of these two chairs beautiful chairs. They are similar to the ones we used in our owner suite but with a different finish and fabric!
The detail on these chairs are absolutely amazing and really give the room something fun to look at. I love the fact that these chairs are also a bit more transitional in style.
They can fit into either or more traditional space or space like mine that is causal but also elegant!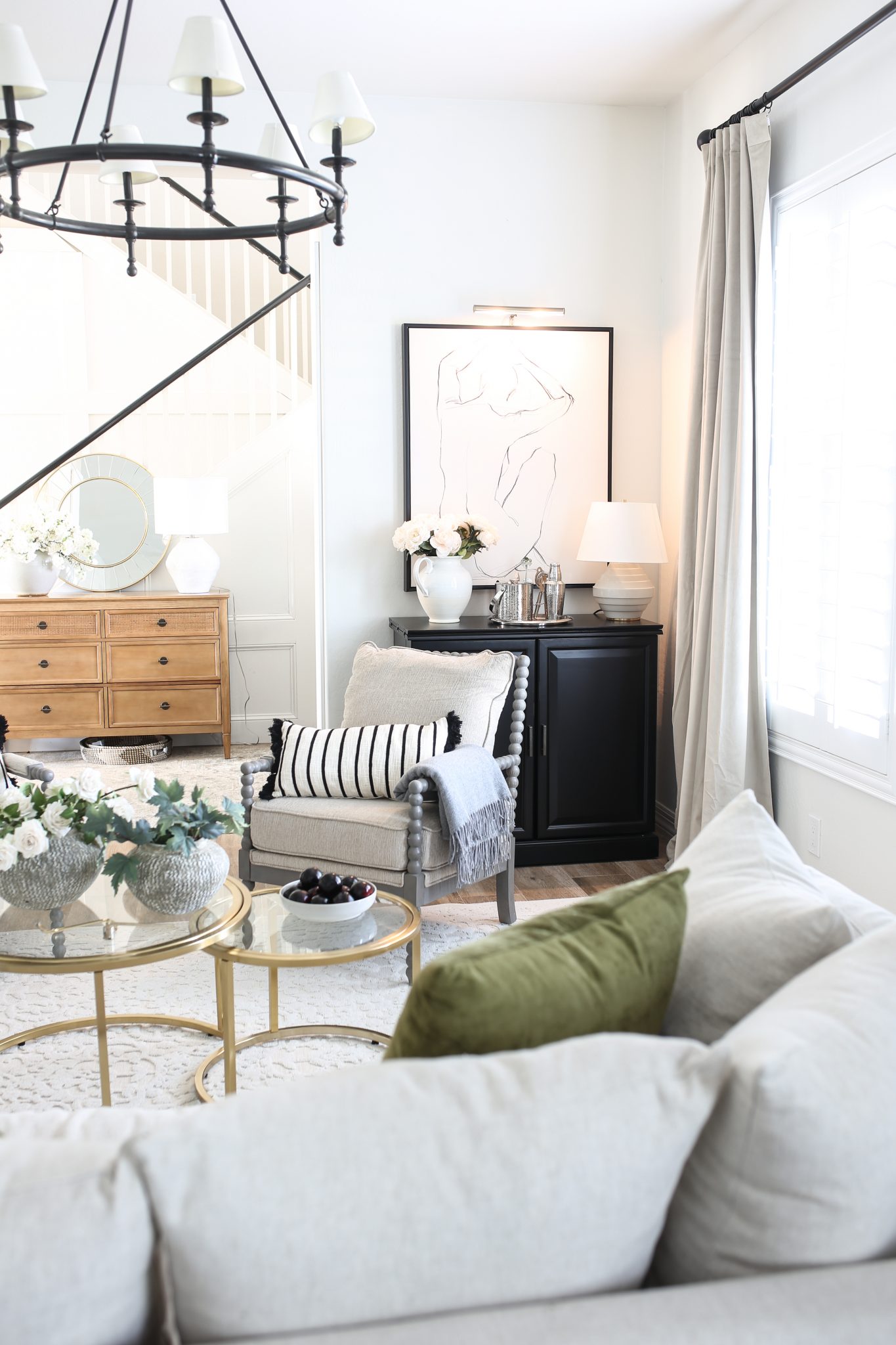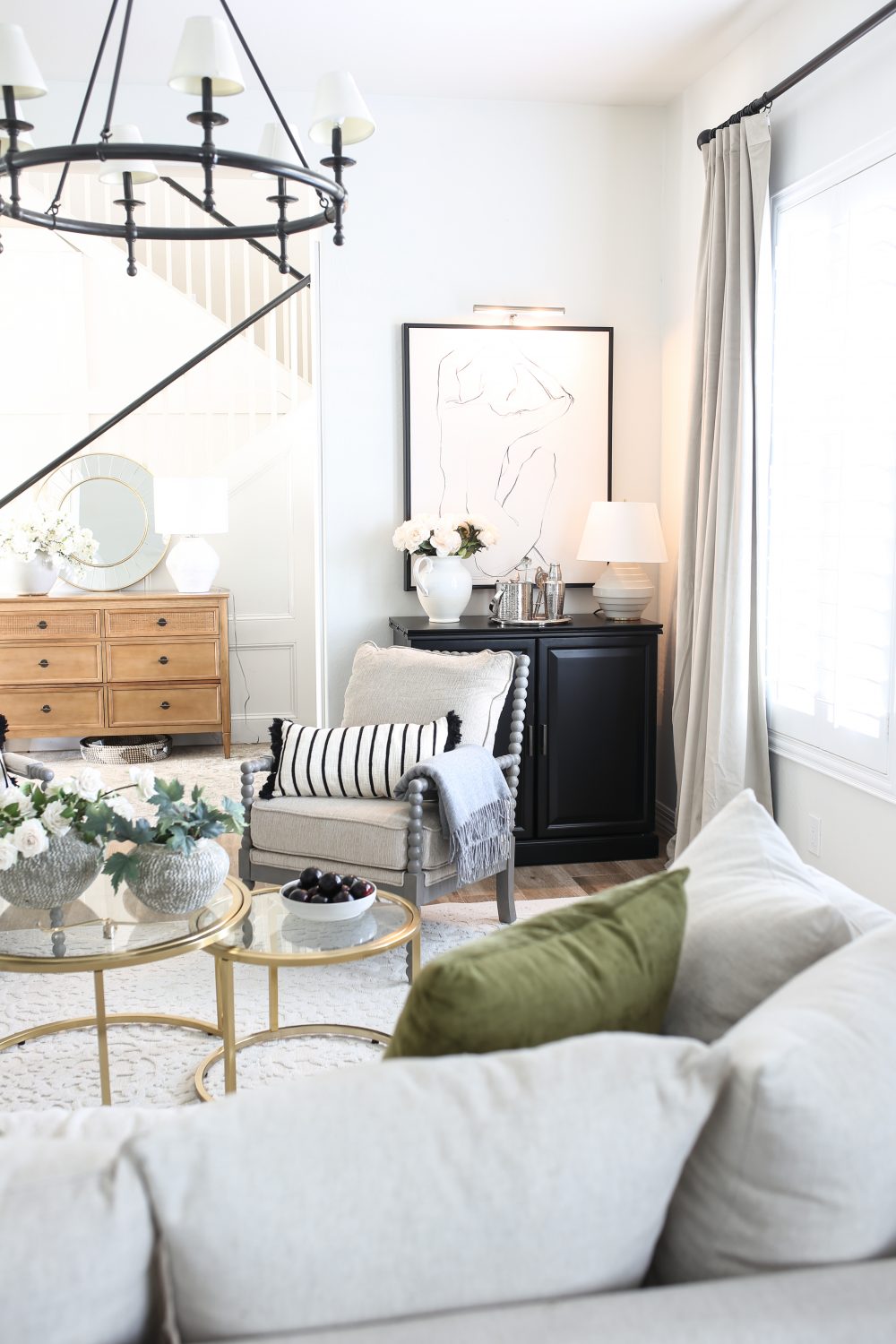 Featured along with these beautiful chairs are is this softer than life lambswool blanket from The Company Store, a Home Depot brand and a fun black and white stripe pillow with fringe at the ends!
Looking at the entryway back there? You can shop that entire space on my "How to Style your Entryway" post!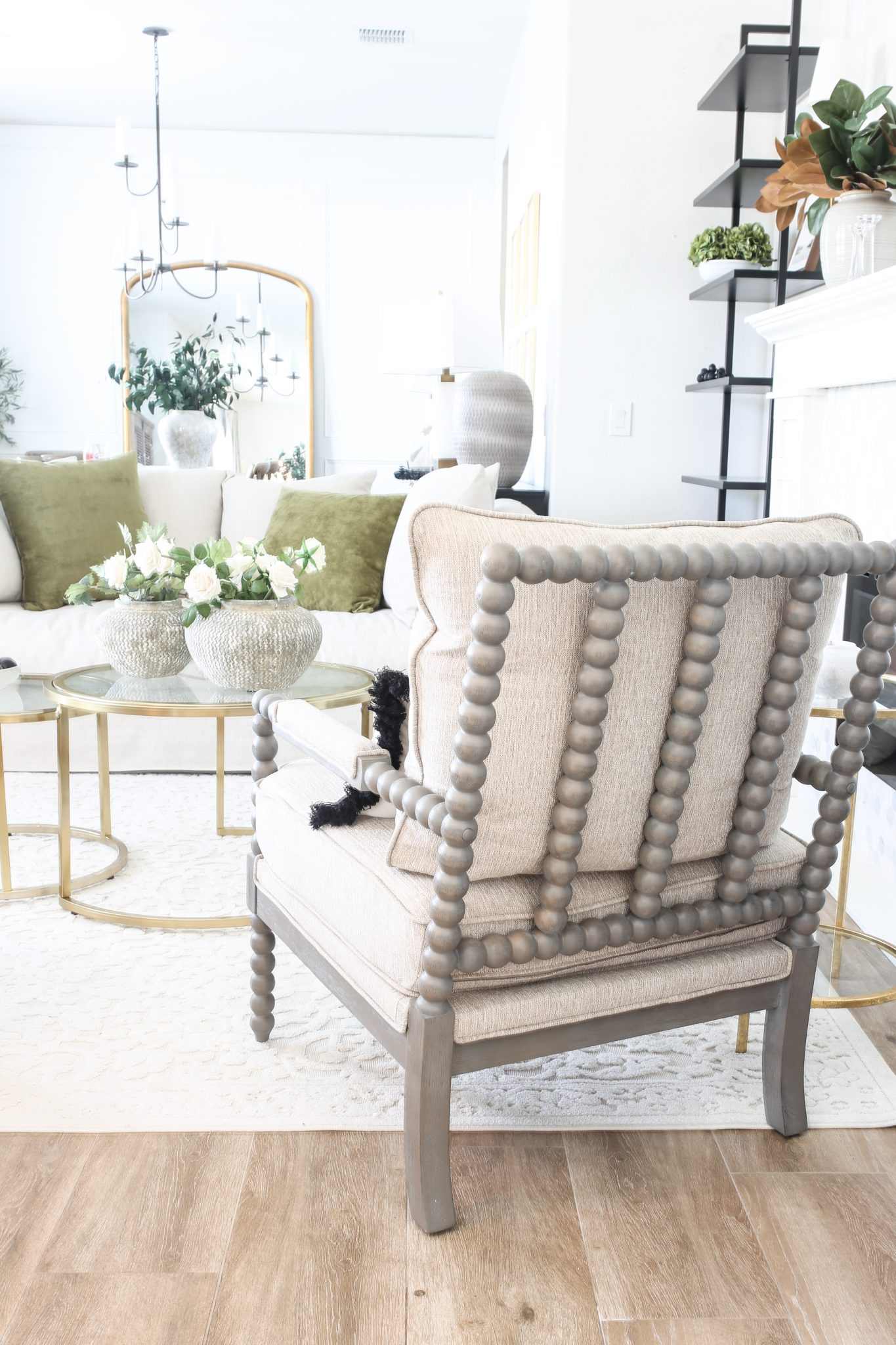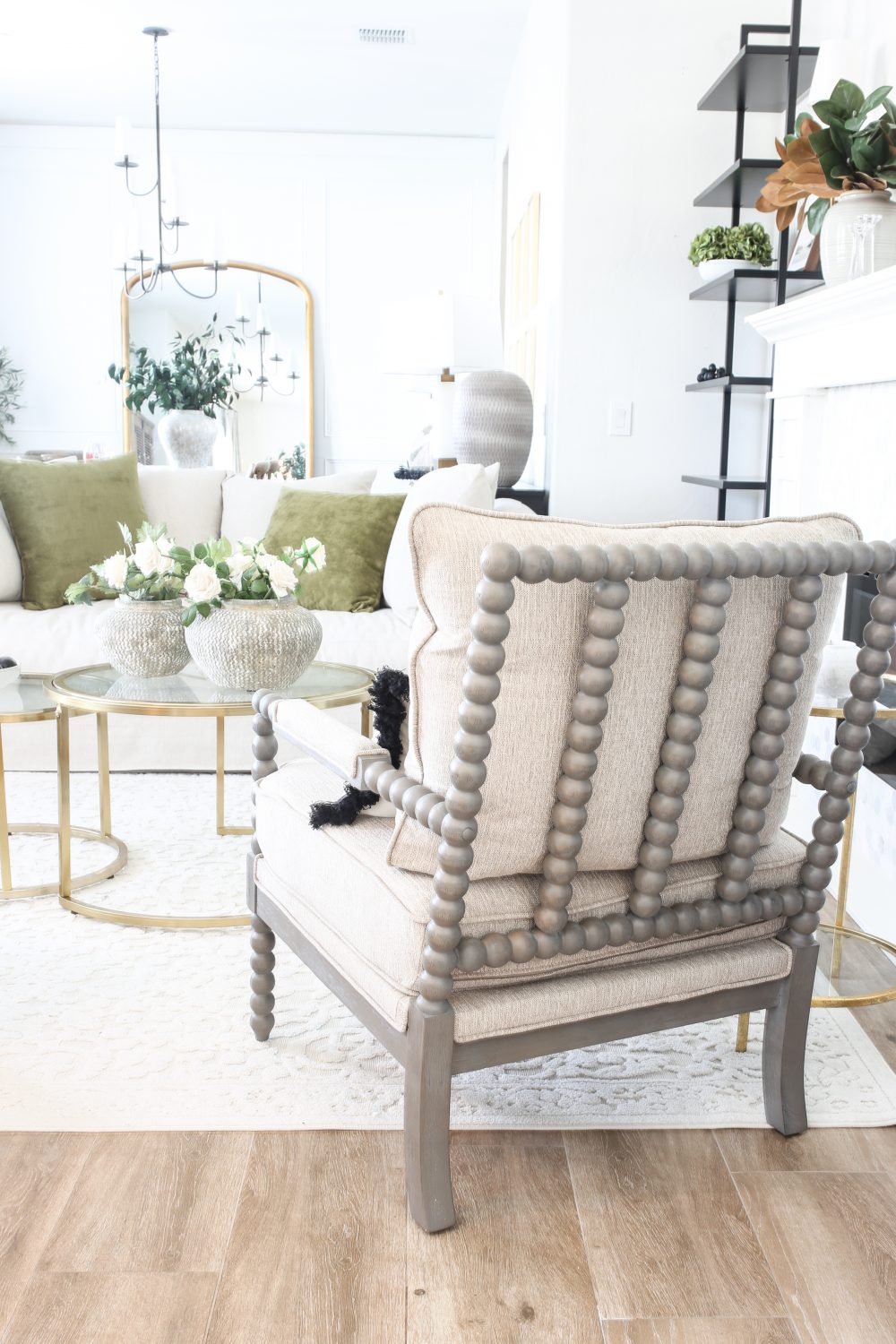 TIP: If you're looking for a small space chair look for something in about the 25-26 inch range when it comes to width and deepness. This will give you enough room for a comfortable space to sit without taking up precious floor space.
All though these chairs are a bit over that recommended size, all hope is not lost. Instead of going with two chairs, maybe you just go with one and opt for a smaller sofa. Or two with a couple of ottomans. There are ways to design your room even if it's small without sacrificing any style!
Small Space Living Room Tables
Along with small space living room chairs small space tables might be a great idea too. This beauty is the Cheval Gold Metal Nesting Coffee Tables with Glass Top from the Home Decorators Collection can be nested .
This means it's a BIG space saver. During the everyday it can be a single table but when you have company it can swing out and be so much more! Perfect for snack and drinks.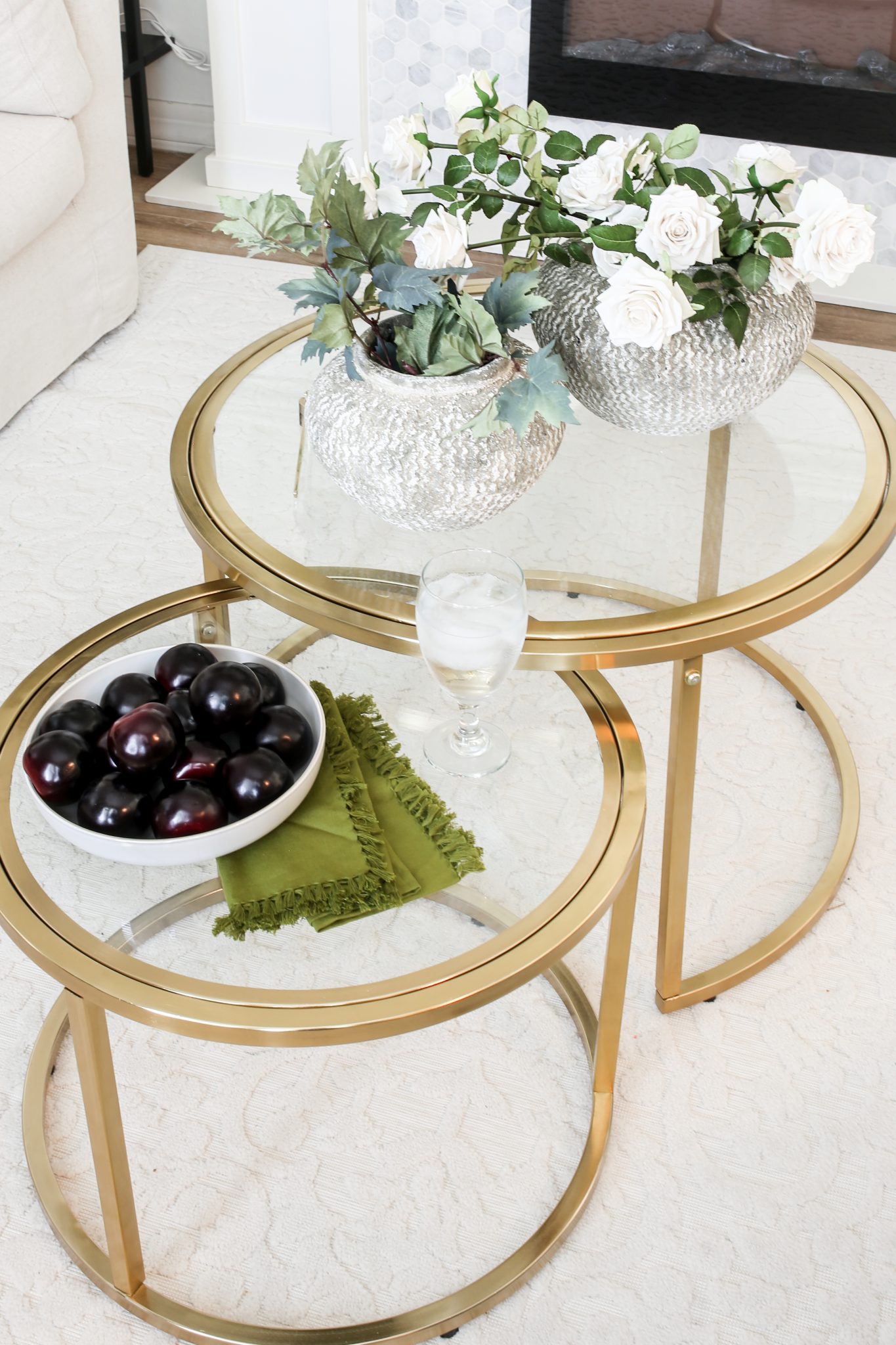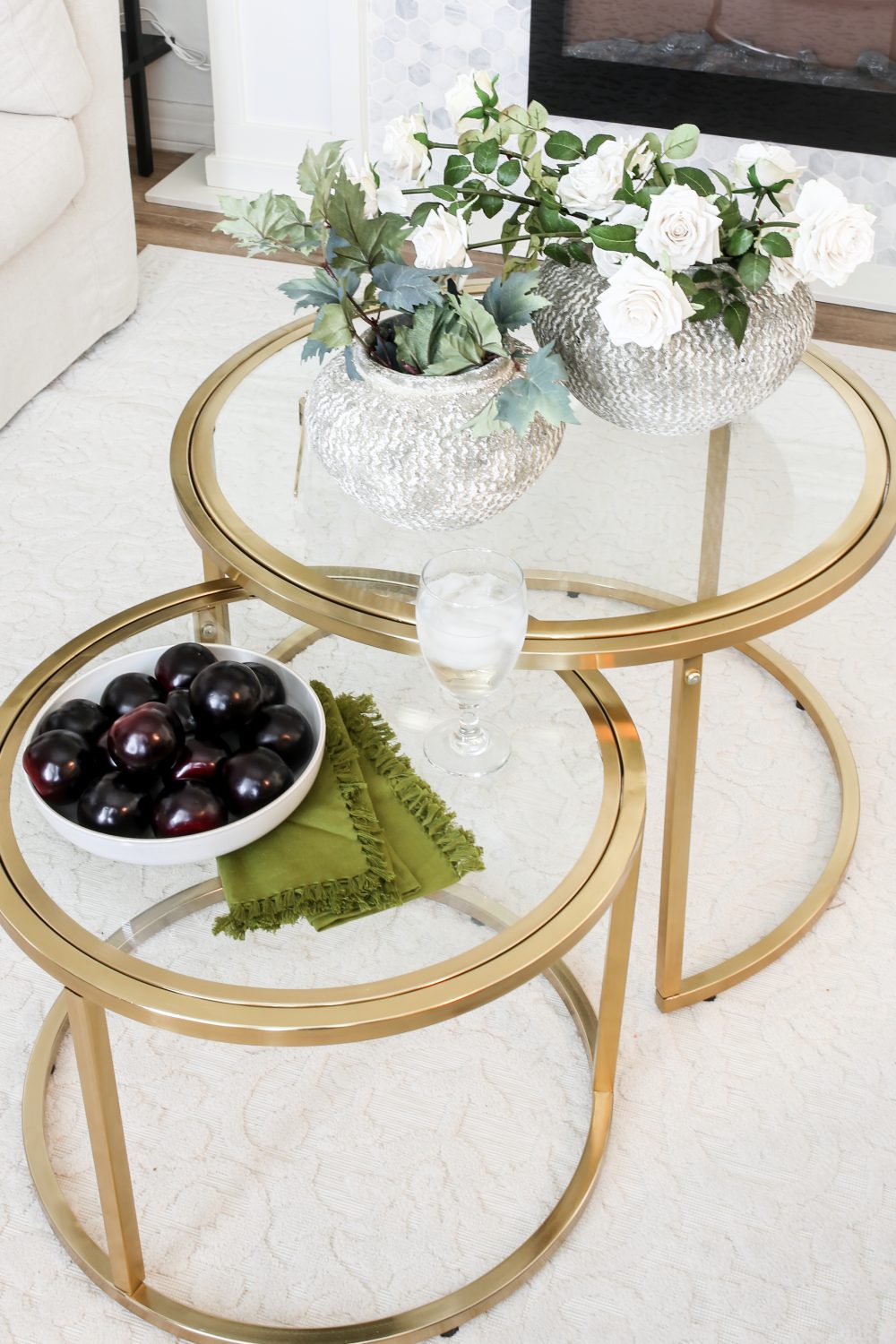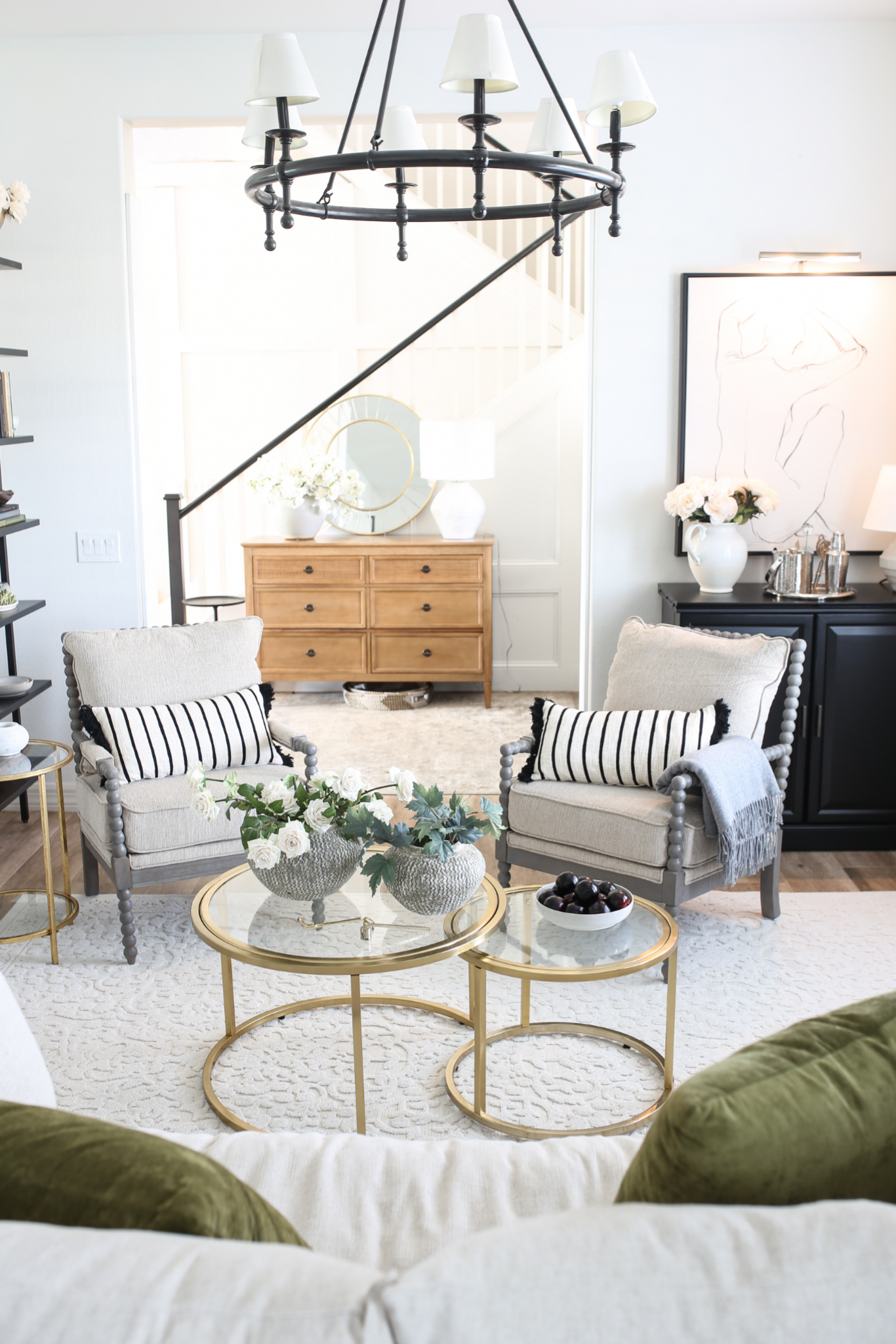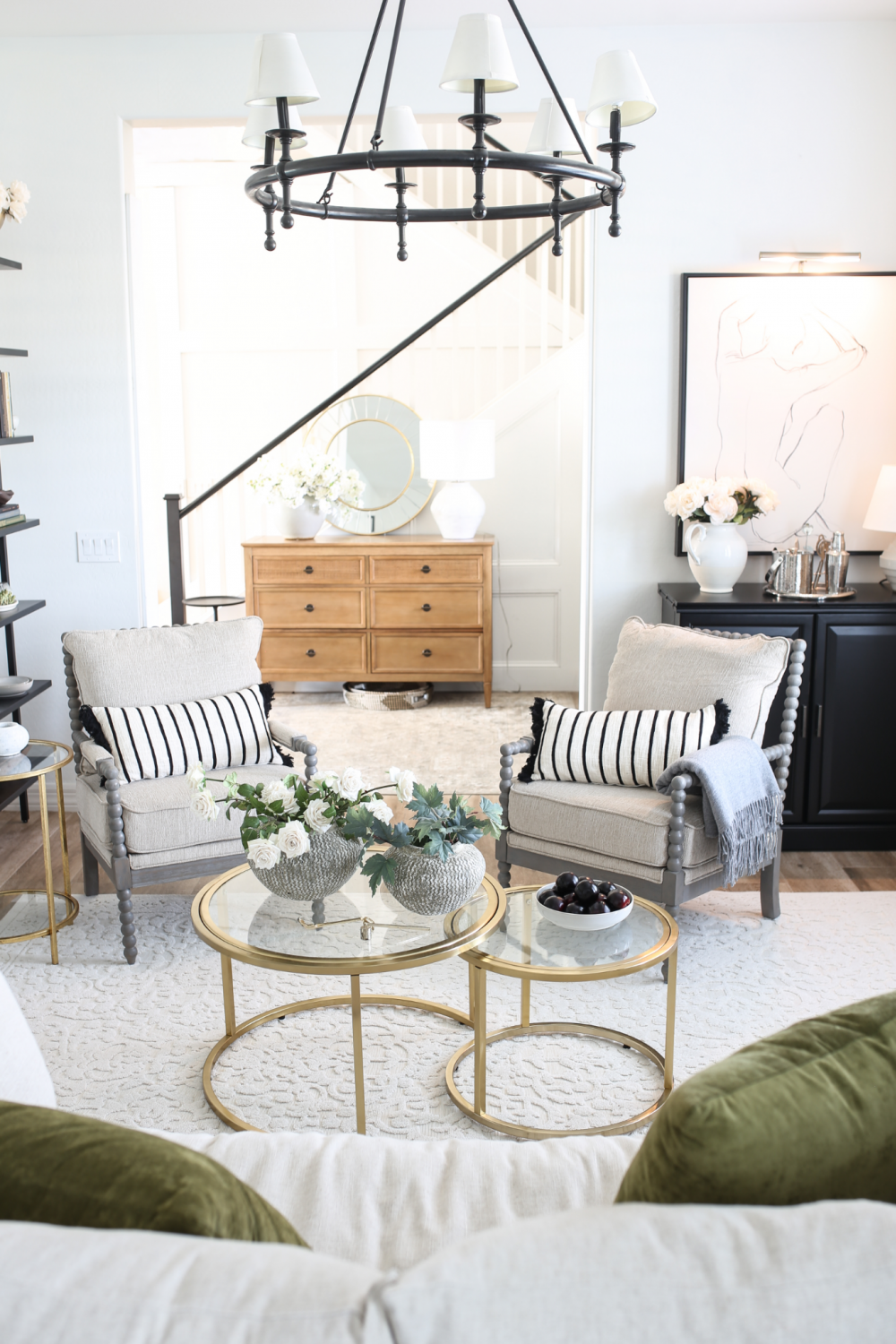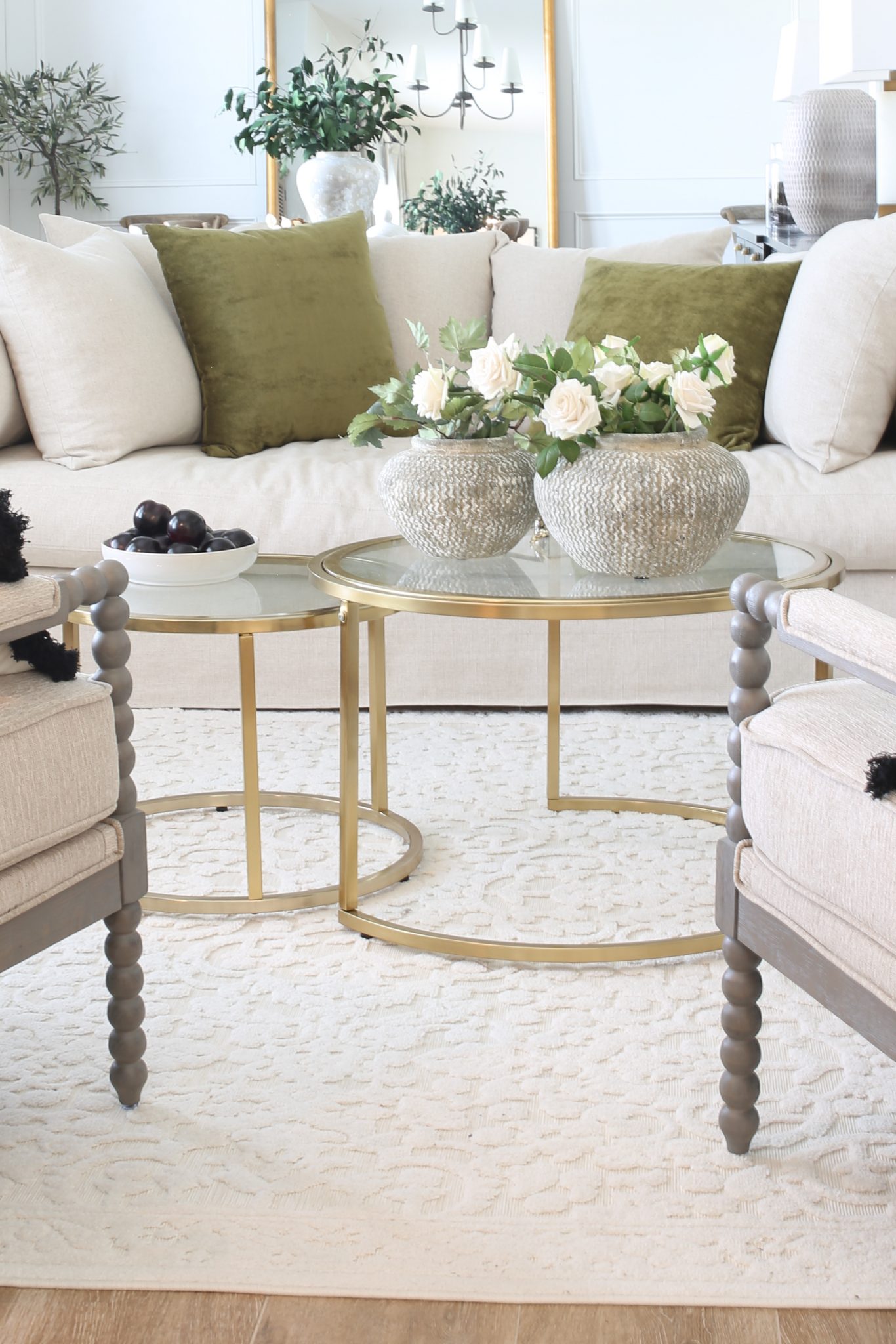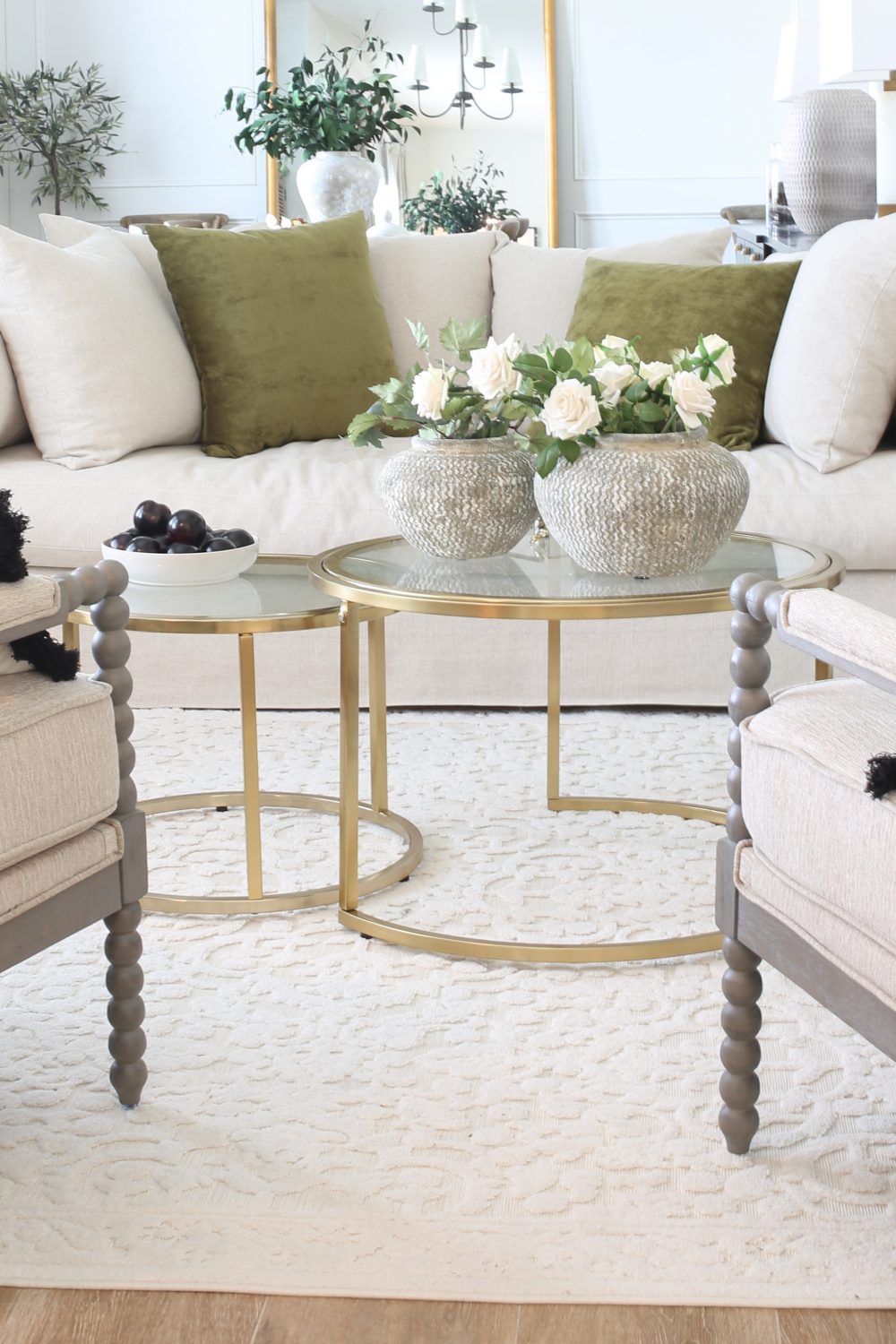 This glass table is another table that leaves a small footprint. I love the gold leaf finish on this Home Decorators Collection side table and how it has a double glass area that is perfect for styling! This small table is only 18×18 so it will fit perfectly next to a chair or at the end of a sofa!
Featured above:
Large Cement Vase/ Small Cement Vase/ Faux Roses/ Denby Nesting Bowls/ Green Velvet Pillows Similar Sofa that I LOVE
Small Space Living Room Bar
This beautiful black cabinet may look just like an ordinary cabinet, but it's actually a bar. Yes, it opens it to a fully functional bar. The Jamison Home Decorators Collection bar it the perfect solution for smaller spaces because it saves on space when it's not in use.
Having a party? Open it up and enjoy! It even has a fold out top! See more here. Even though we don't drink, our friends do so we keep this stocked with a little bit of alcohol but mostly ingredients for mocktails!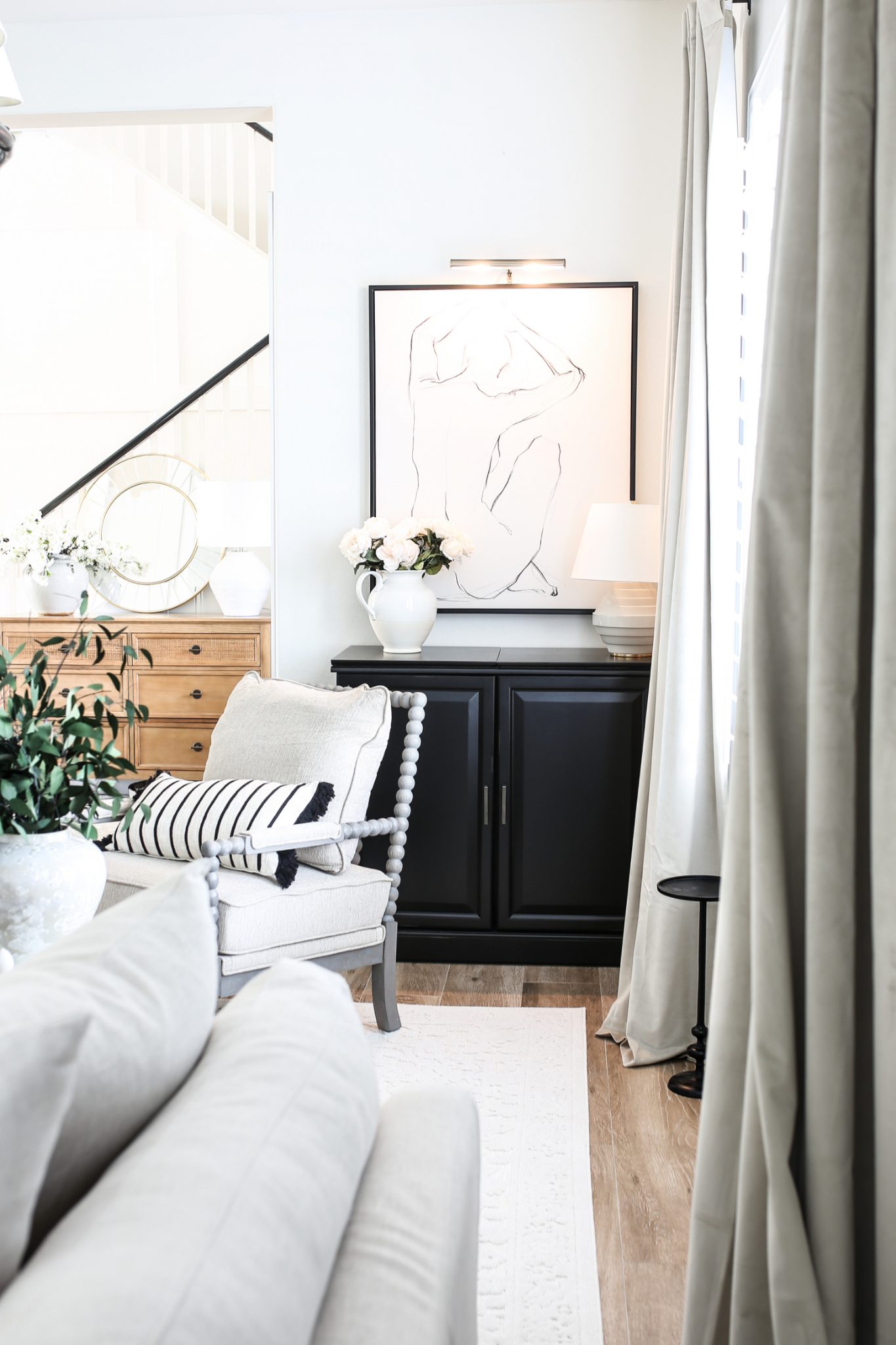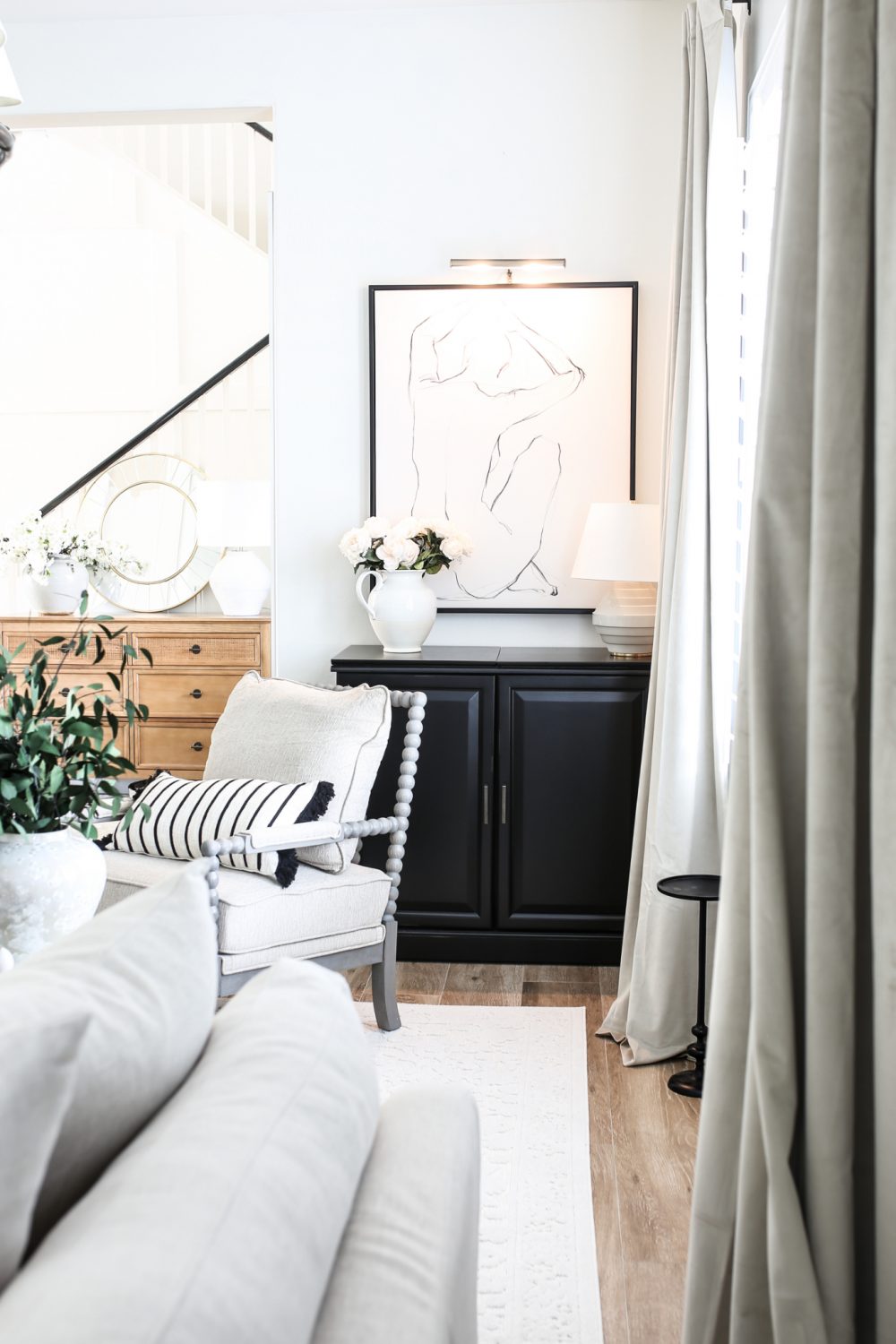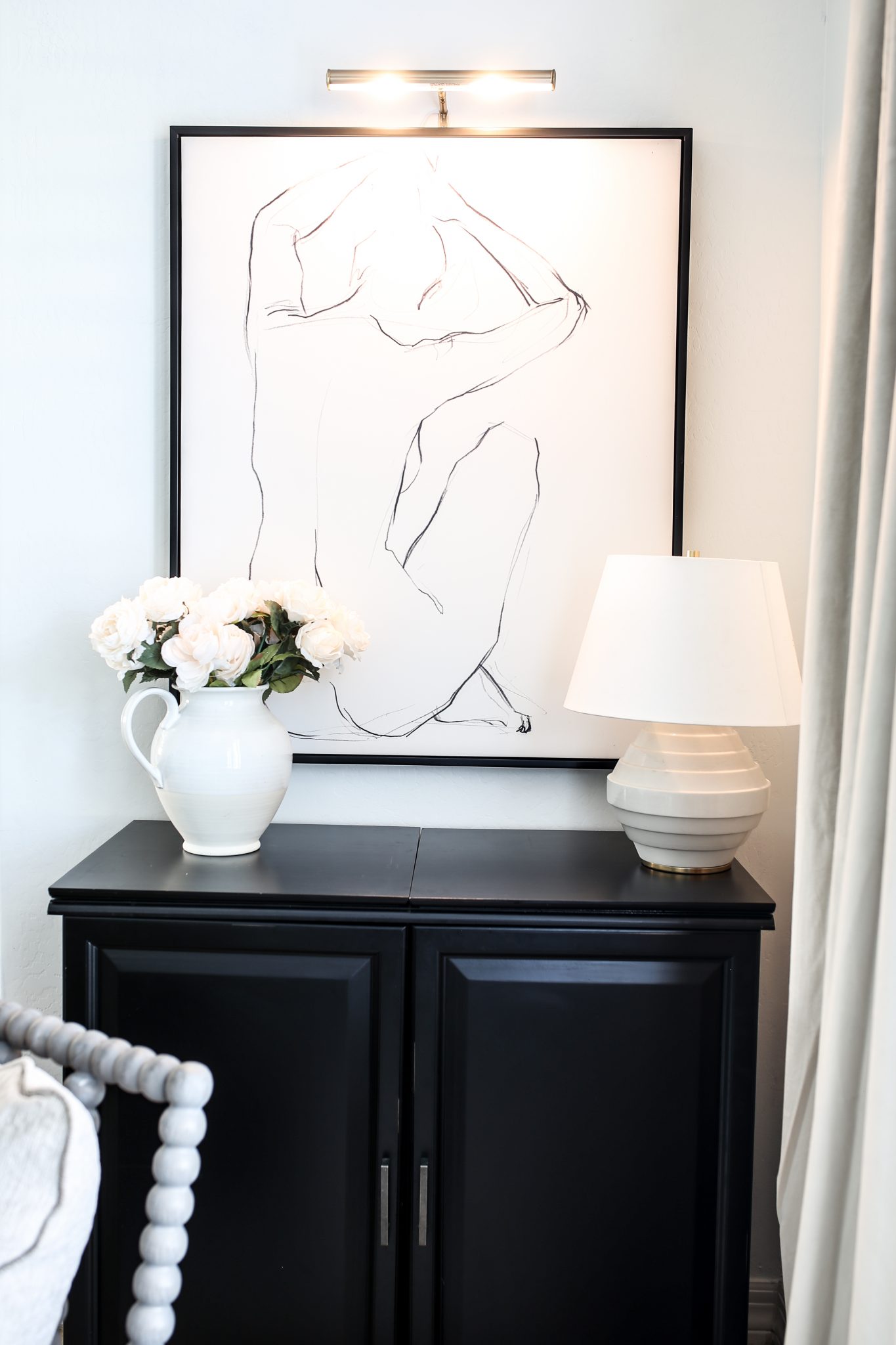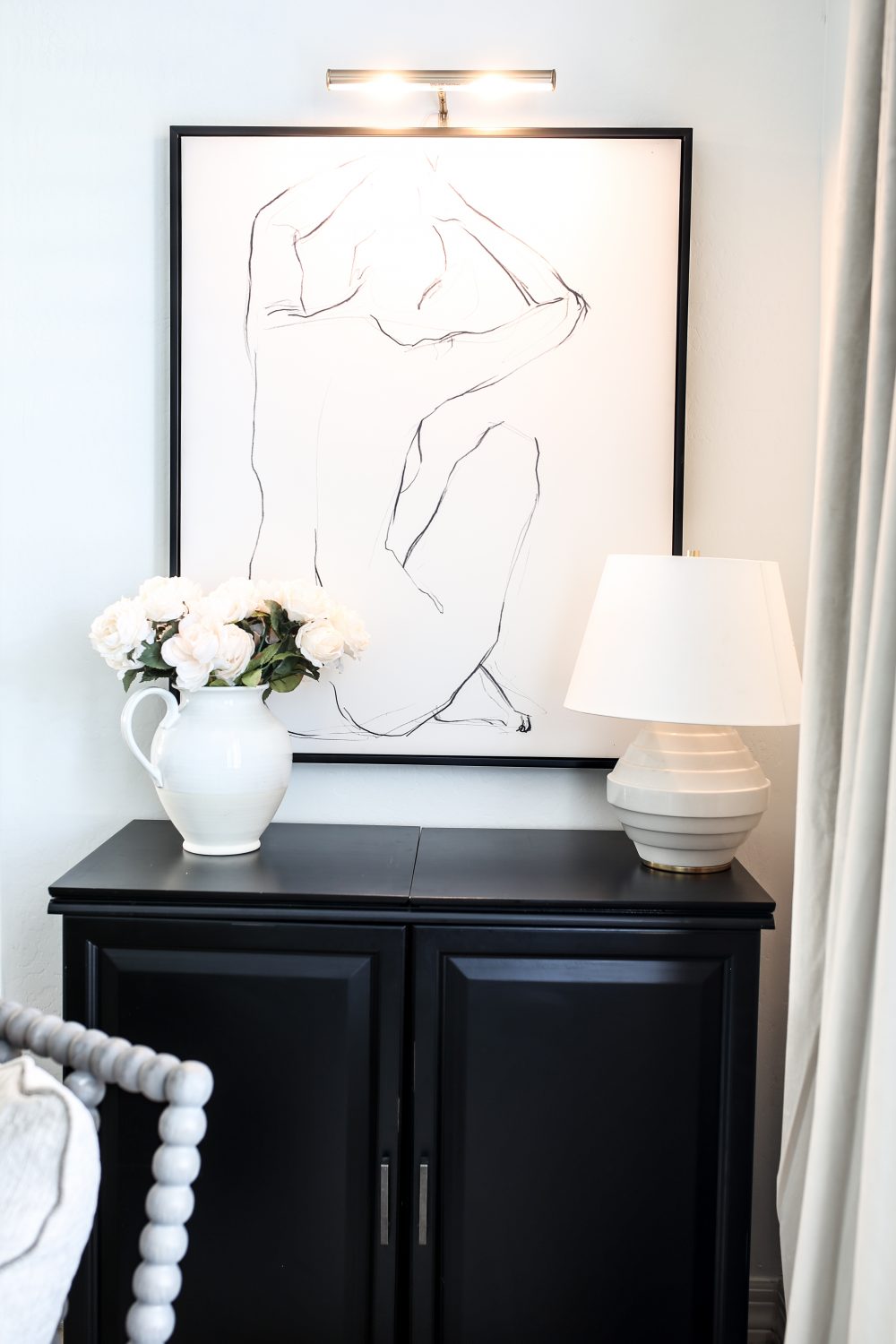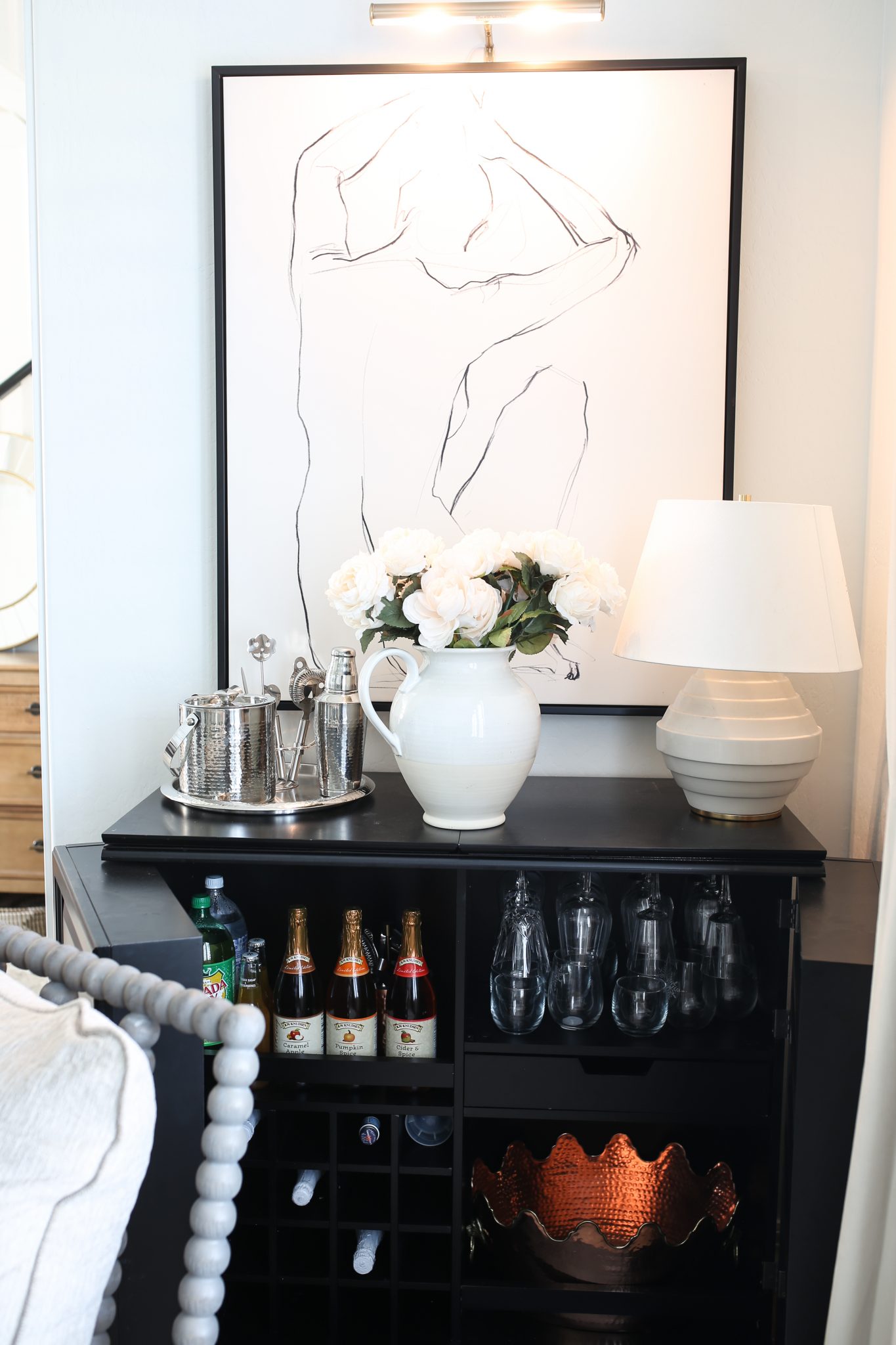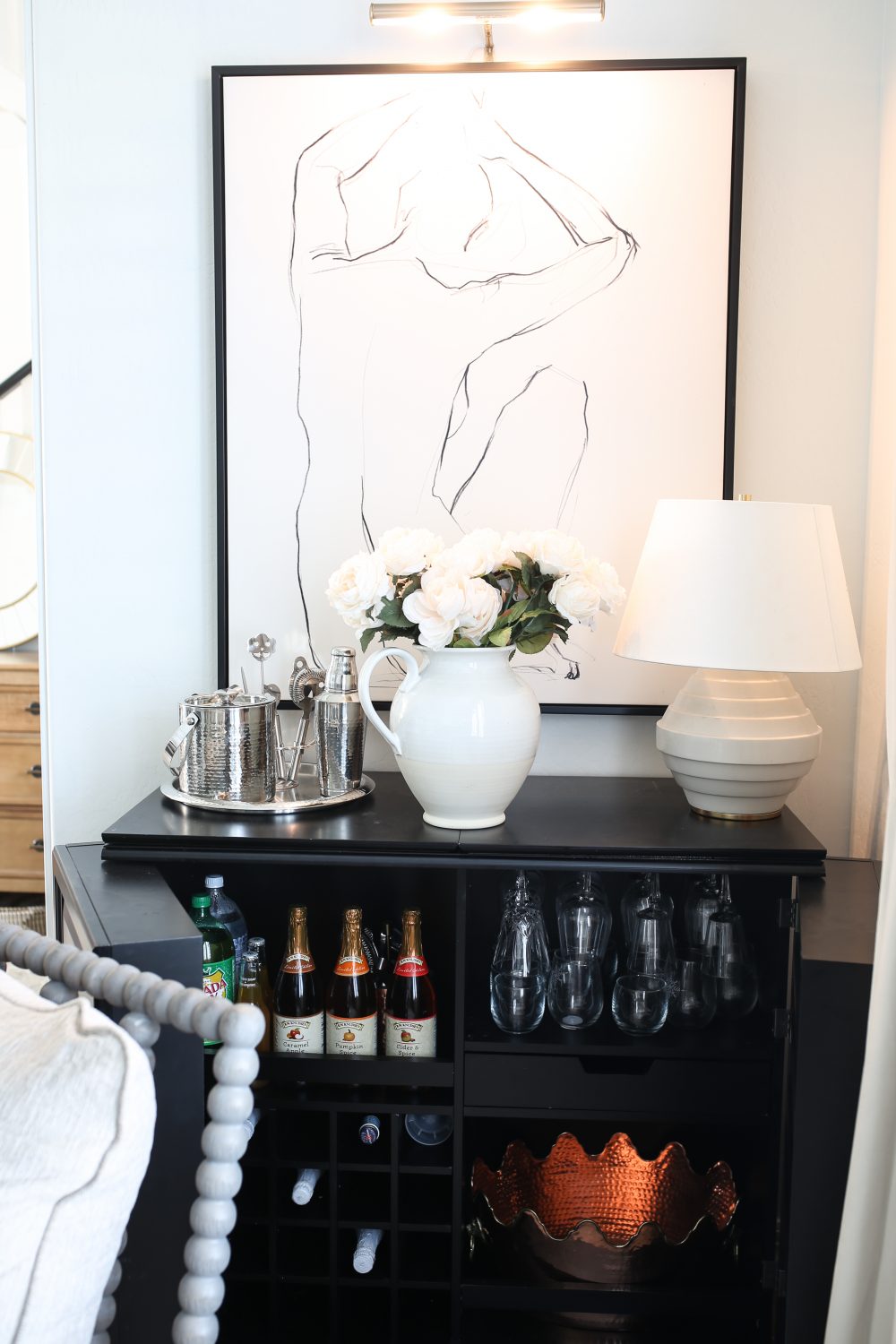 Featured Above:
Jamison Bar/ Ceramic Pitcher / Classic Art/ Picture Light/ Lamp- similar/ Bar Set
There are so many great small space solutions over at thehomedepot.com/decor! Hopefully this guide is helpful but make sure you take a look for yourself by heading over to shop some of the best selections any online retailer has to offer!