Revival Rugs Review and Discount Code
This post is sponsored and may contain affiliate links, please read my disclosure policy.
A good rug can often be overlooked when putting a room together. Sometimes the rug might be the wrong scale, the wrong color, not interesting for the space or non existence. If you're in the middle of pulling a room together and it seems like it's missing something, take a look at your rug!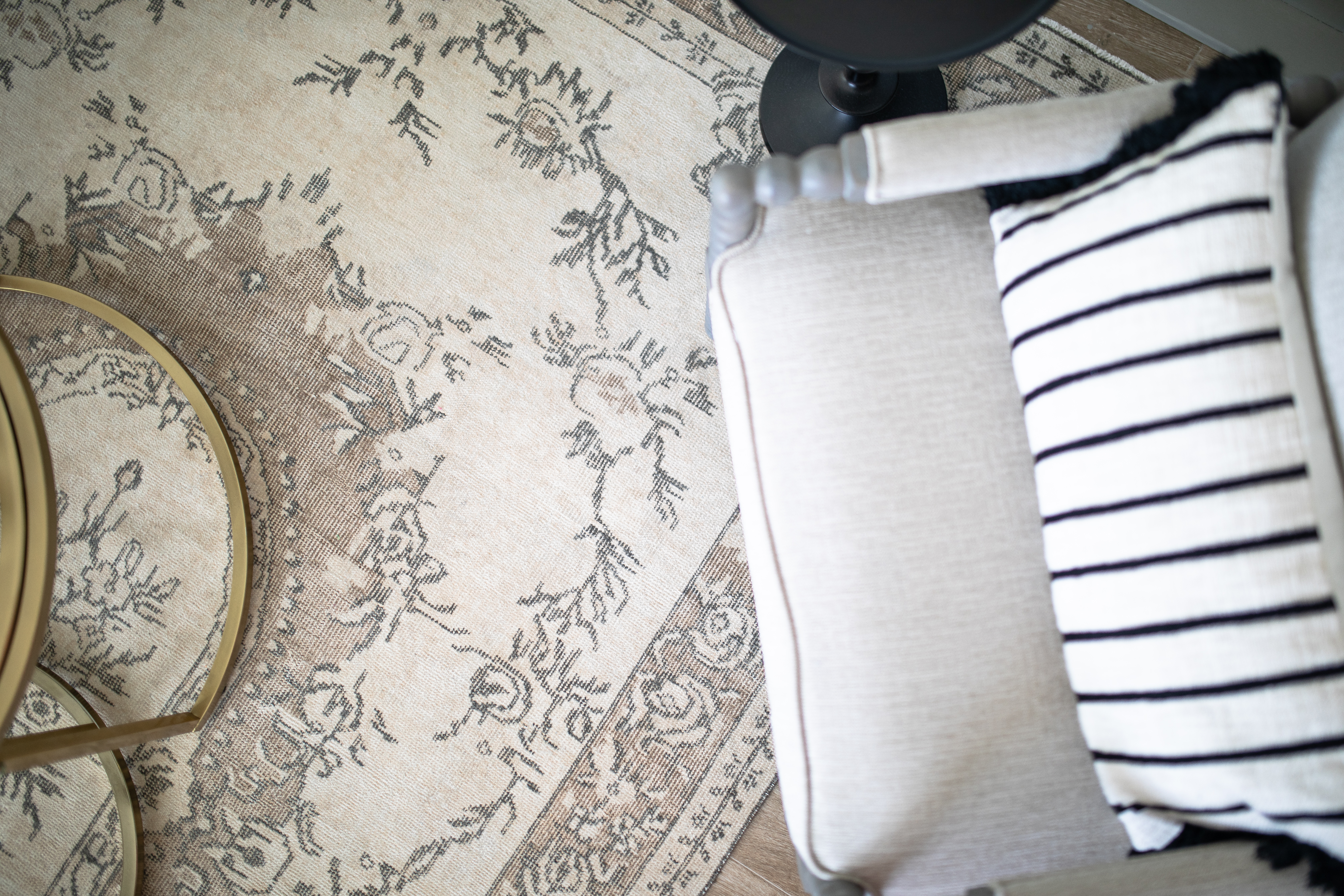 I joke on my instagram about living that RUG life instead of thug life. Haha. Meaning I love a good rug and I love reviewing rugs I think you guys might like and appreciate.
Affordable, impactful and well made are three things I take into account when I review rugs and use them in my own home. Sometimes affordability might be a priority when it comes to your budget and sometime it's about having that one of a kind rug to pull everything together. I think Revival Rugs does a good job at both!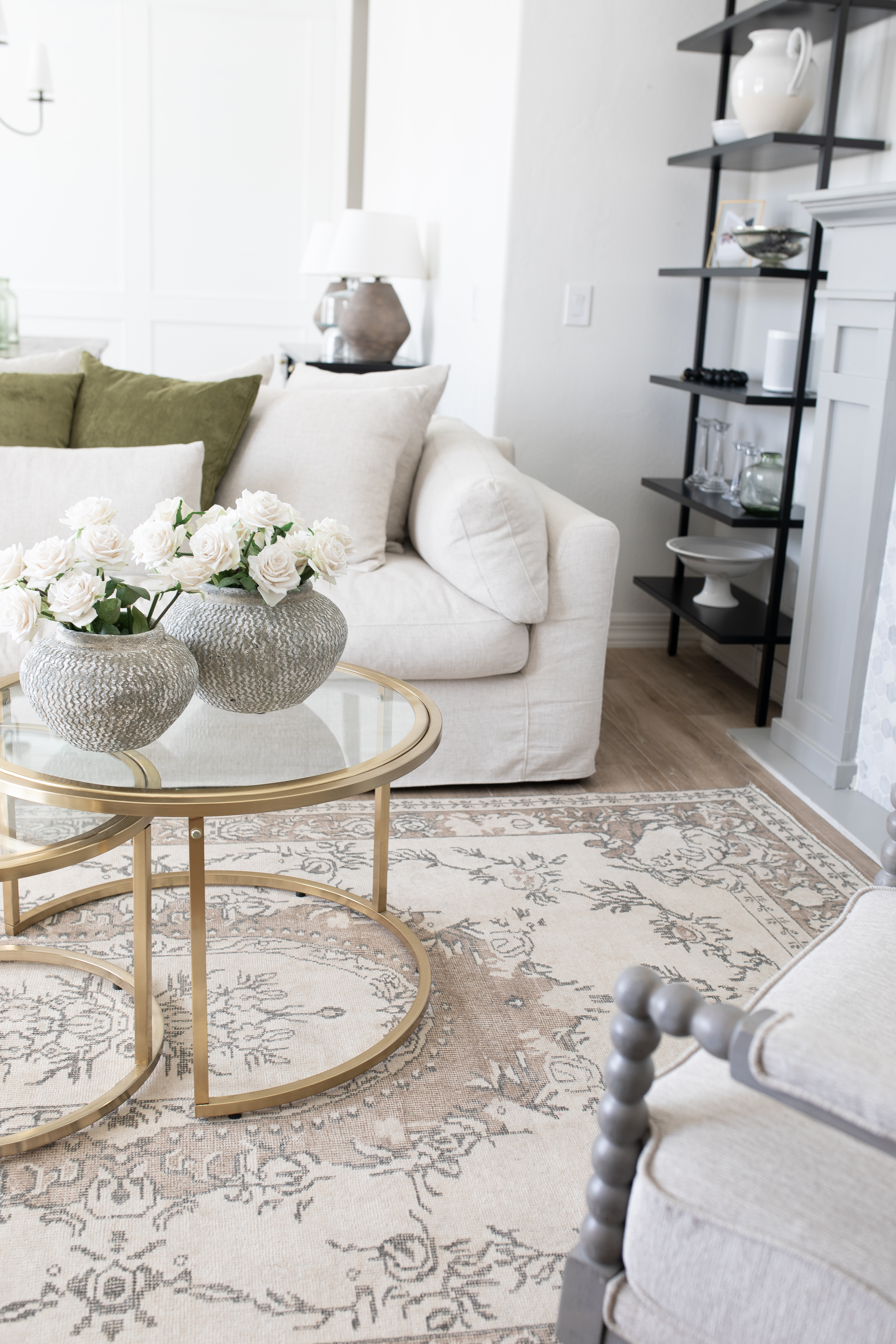 If you'r not familiar with Revival Rugs here's a little snippet about them in their own words: "Our vintage pieces are each one-of-a-kind, made between 30 and 100 years ago, and curated by them! While our newer collections are fresh off the loom, handwoven today in limited editions, designed and woven in collaboration with artisan partners."
Use Discount Code: JUSTDESTINY10 for 10% off your purchase! Valid through June 12th 2021
For this review I chose a one of a kind vintage rug called the RUKIE which you can see on their website. It was such a hard choice but I did narrow it down! I knew I wanted something in the neutral family with some more traditional patterns and lines. I also love the muted colors of this rug that read gray and light brown.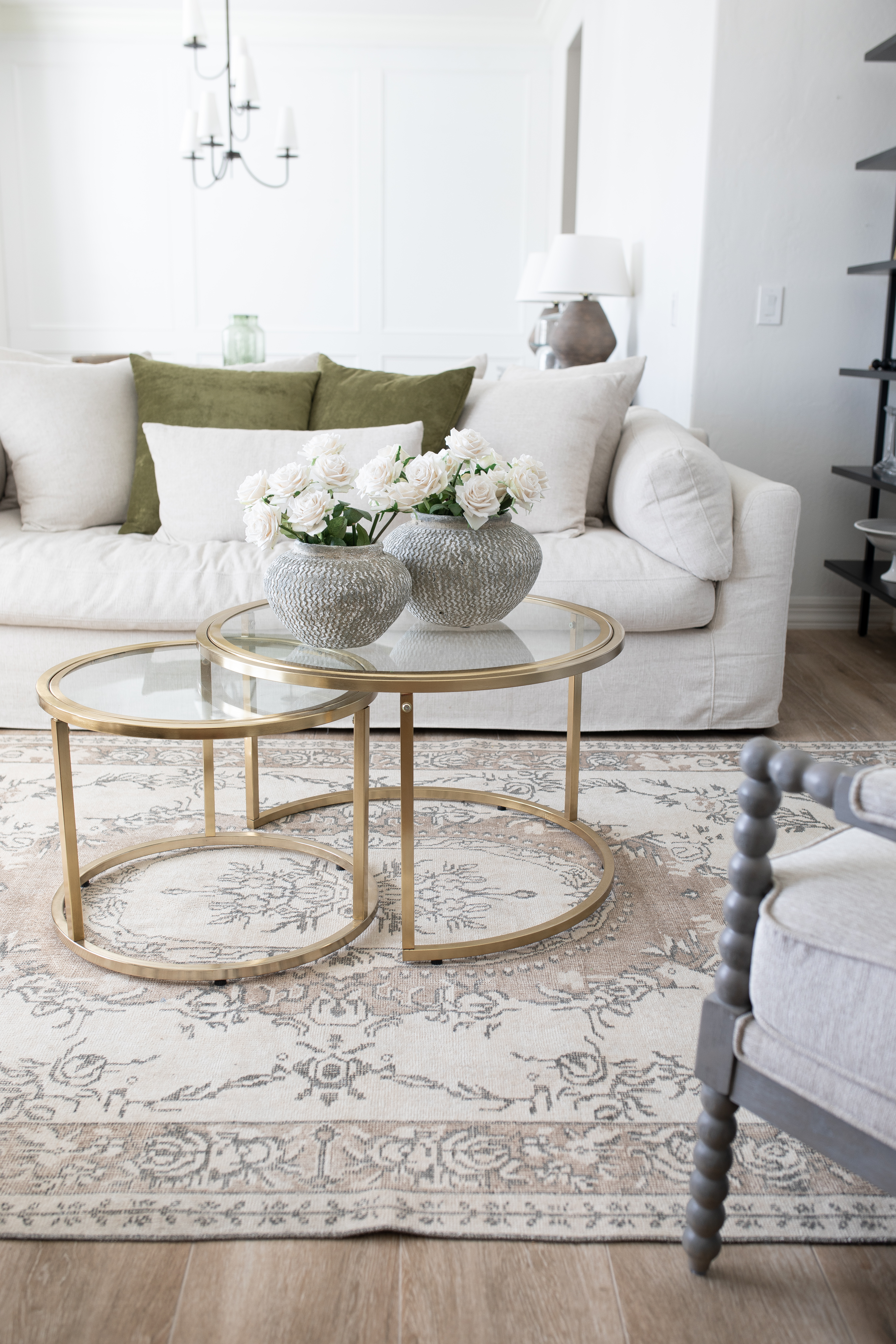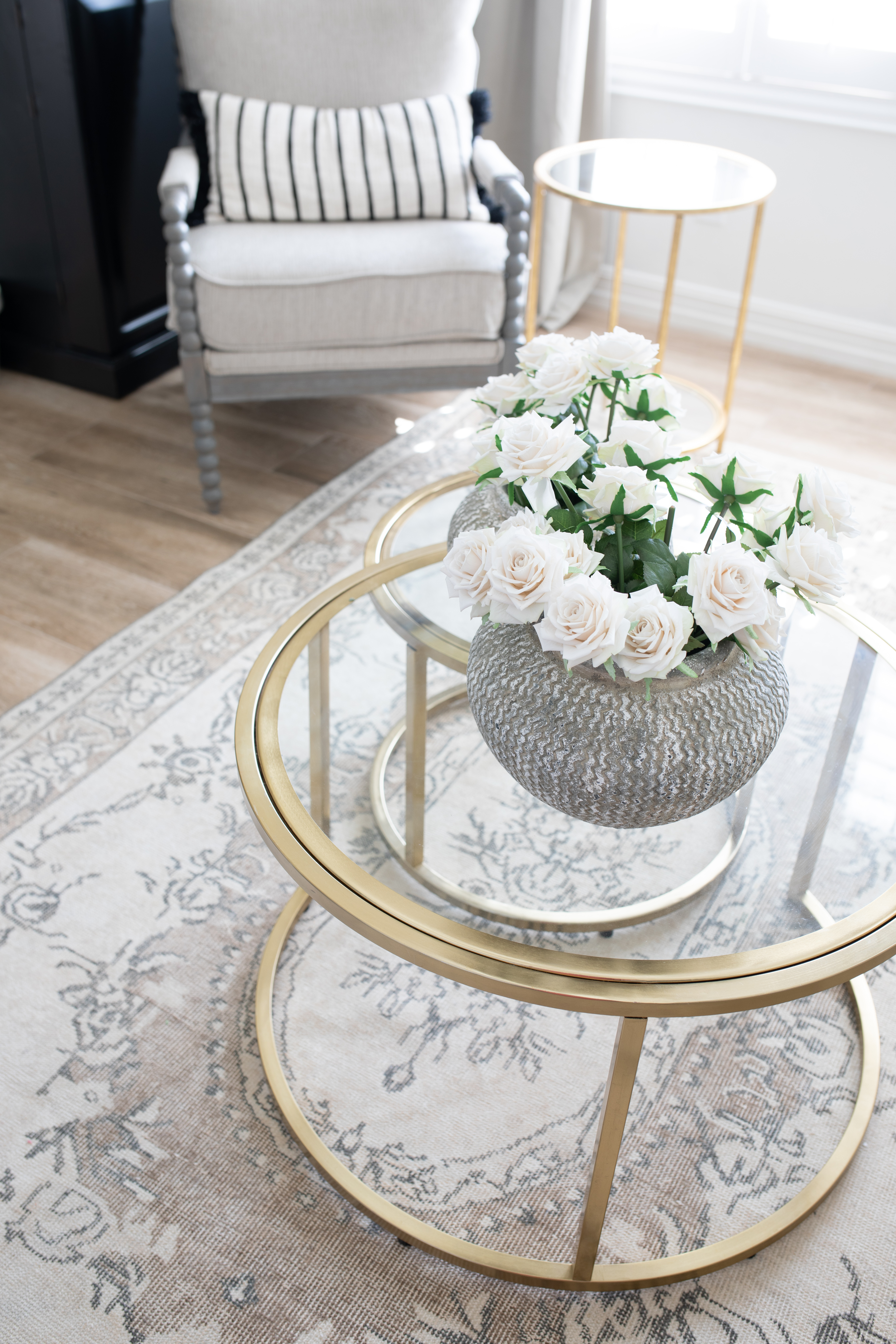 This rug was originally for our office, but until that space comes together I thought I would show you the rug in our living room/dining room area. Which I think looks AMAZING . It also goes to show how versatile it can be in our home.
Choosing a one of a kind rug with Revival Rugs
I actually like to start off with a rug when designing a room. But if you're working backwards or maybe switching out a rug that's just not working, here are few tips to help you narrow down your choices.
Start with Size
If you have the right size rug it can make a world of difference. Most rooms will need something bigger than an a 8×10 but if you're on a budget I suggest using a basic natural rug in a larger size like a jute rug in a 9×12 or larger and then layering on your vintage find for even more texture and depth.
You might find the PERFECT rug but the size might not work. So this little trick helps you bring home that rug without making your rug look and feel to small!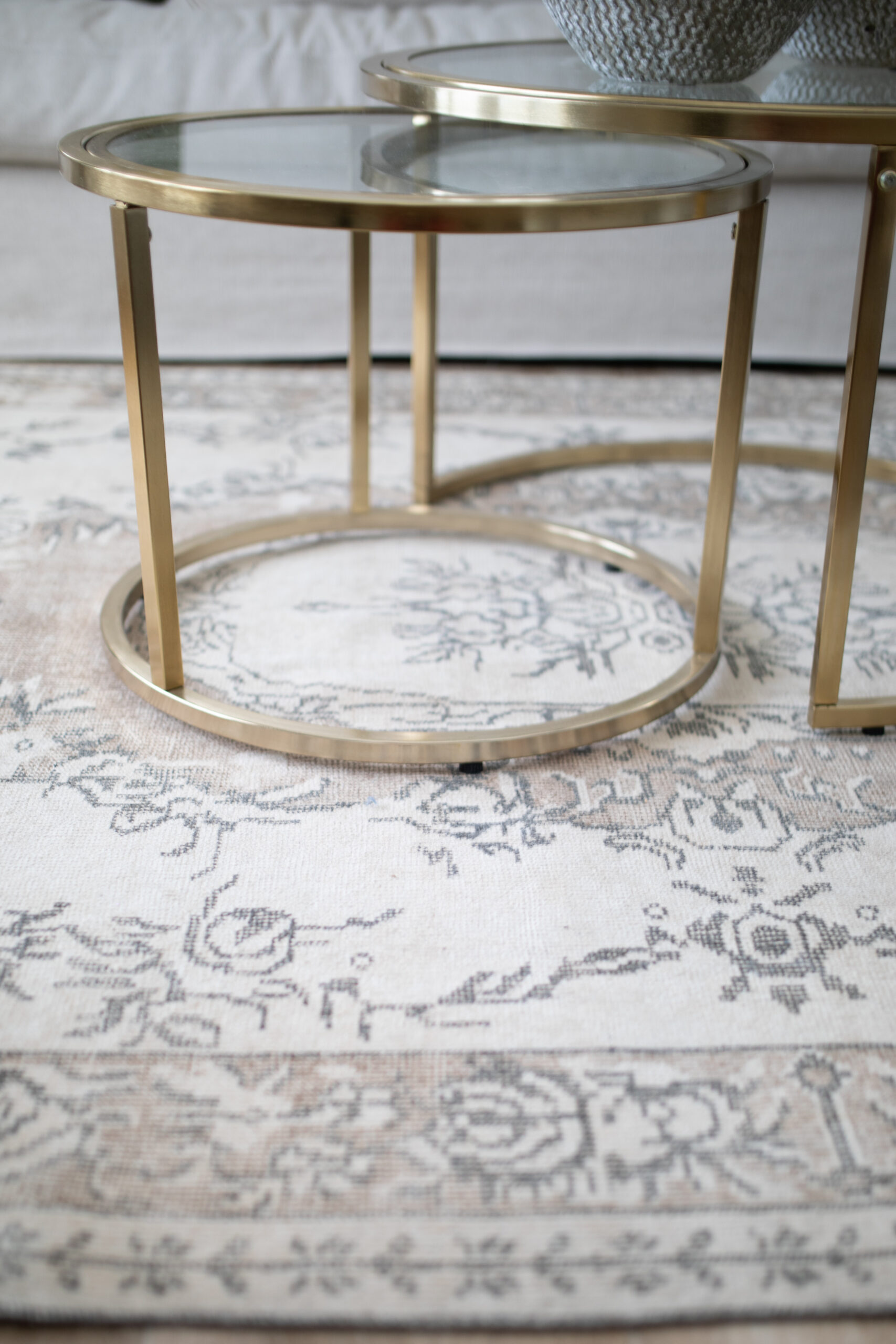 Find your color
Once you've got the correct size rug you'll want to narrow it down by color. Revival Rugs make this super easy by providing a rug color filter for you! For this rug I narrowed it down to creams and whites, then selected vintage rugs on the side panel for any even more narrow search.
Vintage rugs are great for causal elegant spaces like mine because older rugs tend to lose vibrancy over time making the colors less vibrant and more muted. Embrace the fade girl!
Consider the source and technique
If it's important to you, Revival Rugs also lets you narrow down your search by country and even technique.
For example you can search Turkish Rugs Moroccan Rugs and Indian Rugs! Each one will give you a different connection to the rug!
Technique might also be important to you! I for one love the hand-knotted technique of rugs. Something about real human hands crafting a rug brings such a heirloom quality to each rug. Revival Rugs provides both hand-knotted rugs and flat-weave rugs as well!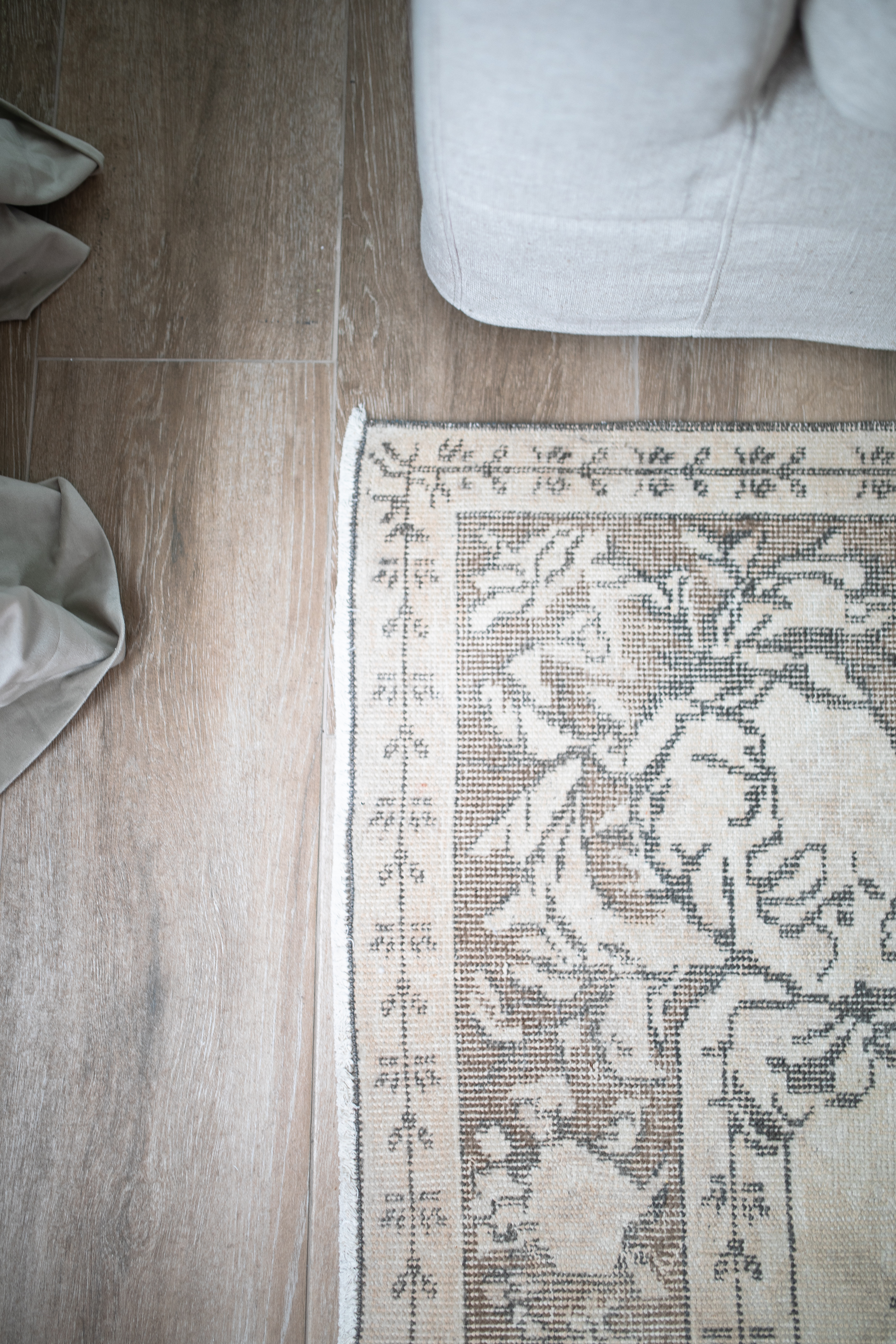 Shop Some ONE OF A KIND rugs from Revival Rugs now: Code JustDestiny10 for 10% off