How to Make Refreshing Watermelon Lemonade
This post is sponsored and may contain affiliate links, please read my disclosure policy.

"Watermelon sugar high! Watermelon sugar high!" That's the only song I can think of whenever I make watermelon lemonade. haha! Am I the only who can match a song to an activity in like one second? I'm sure I'm not the only one with this talent right friends?!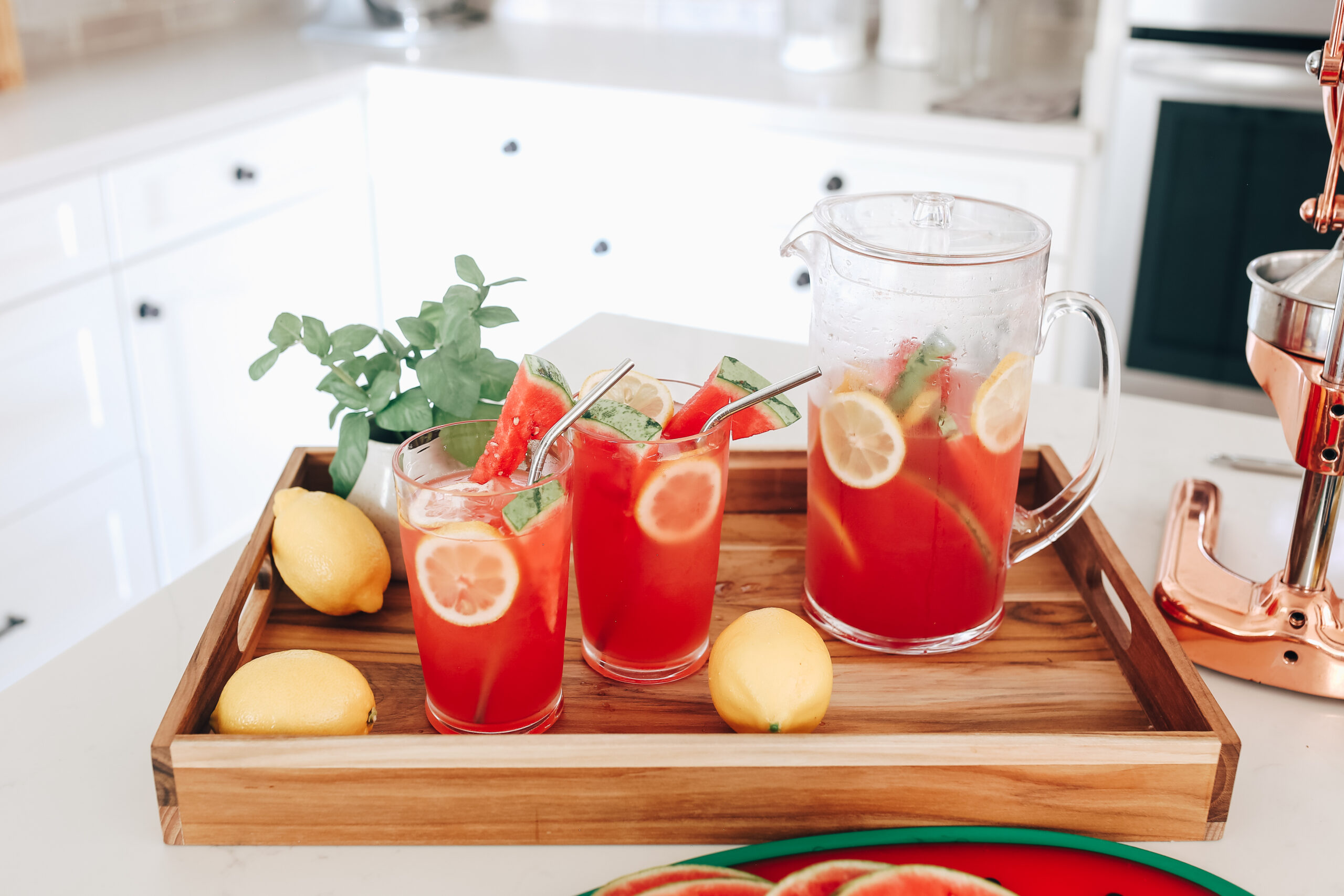 Today I'm making watermelon lemonade and it's one of those drinks I've been wanting to share forever. It's not a new recipe or idea but I made it up as I went just like I do with regular lemonade. I mean a little sugar, water, some lemons? I can do that all day! It really just comes down to portions, remembering to write what you did down and how you like your drinks to taste.
Black folks are known for extra sweet drinks like Koolaid and lemonade. I remember growing up and mixing that red Koolaid and watching my dad add the sugar. SO much sugar!! I think I've only made Koolaid once or twice because for my own kids because of that! haaa! 
Actually to save time I wouldn't hesitate to buy a couple packages of watermelon and lemonade Koolaid packs and mix it up. Then add the fresh fruit in at the end. But because I do have time and I just love the fresh taste, I decided to make it from scratch. But go head friends try that time saver!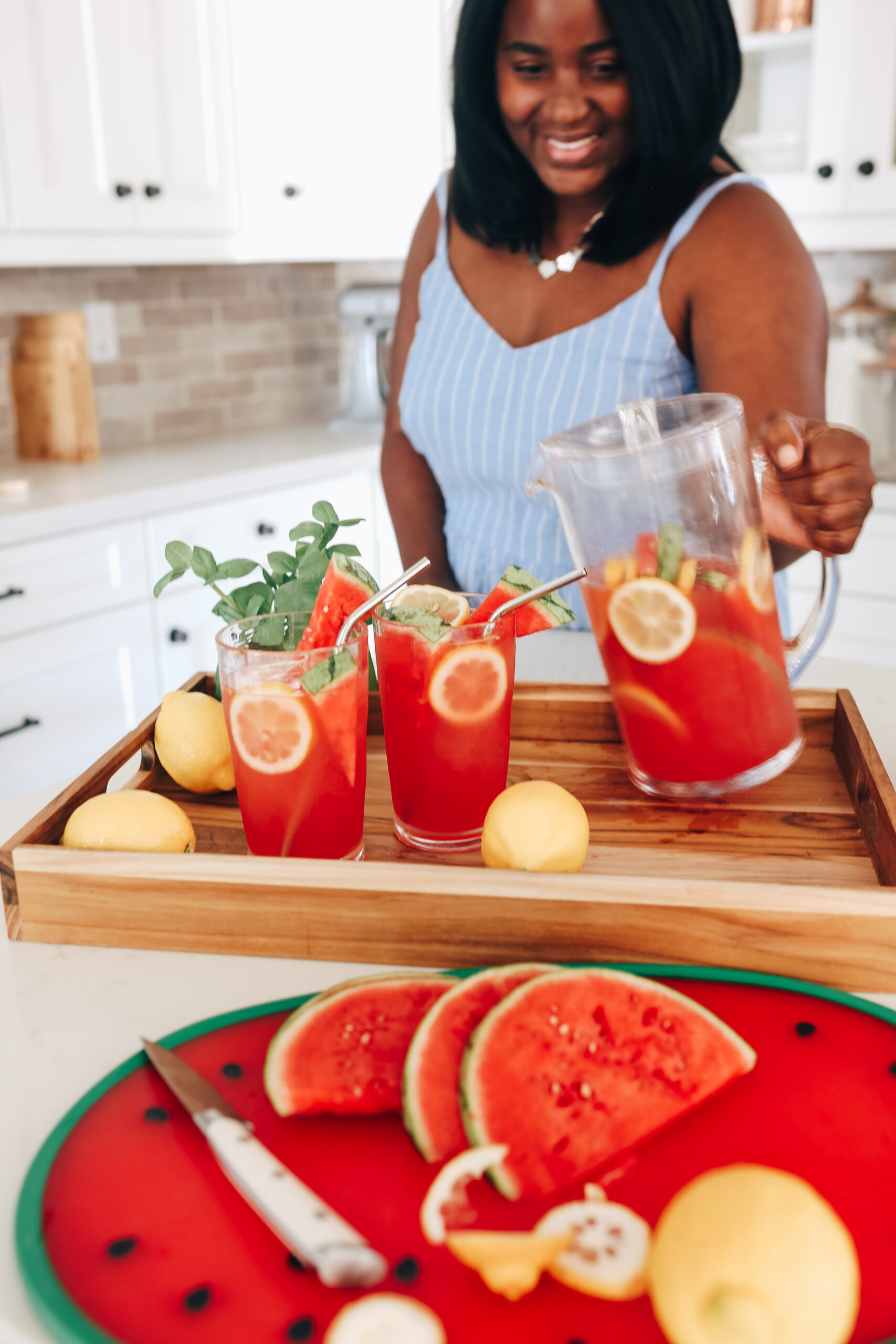 I must admit I do like my drinks sweet. Just not CRAZY sweet! So just like with any recipe you can tweak the amount of sugar to your liking. 
Scroll down to see the full recipe. But if you have a few minutes I would love to share some of the tools I used to make the process a little easier.
Fun and Useful Watermelon Lemonade Tools
Cutting Mats
So the first thing are these adorable watermelon themed cutting mats. I think they are SO festive and just fun. I love to bring out items like this seasonally. The watermelon shaped one is perfect for slicing watermelon and the quad-color ones are great if you're cutting up lemons or trimming mint.
Watermelon Dicer/Slicer
This one is my favorite! After cutting the watermelon in half you use this tool by cutting the watermelon vertically and then horizontally. Once you've gone both ways you end up with perfect little watermelon cubes.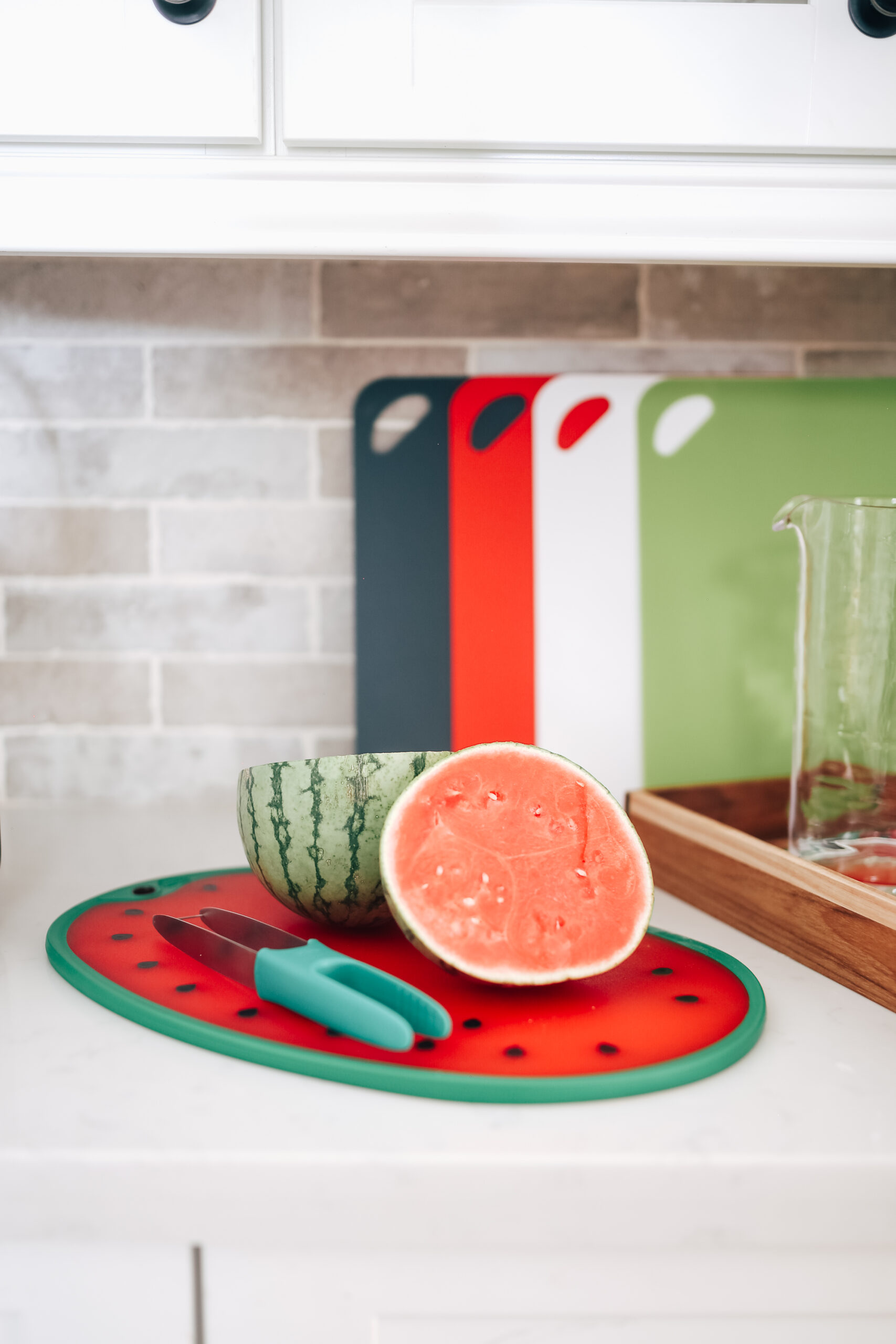 Citrus Press
This might be one of my favorite tools in the entire kitchen I use it all the time! Remember the Rosemary Lemonade Recipe or Cilantro Lime Chicken or even the Lemon Chicken Thighs? We have lemon trees and tangelo trees in our yard so it is well worth it. Plus I think it just looks beautiful on the counter. This citrus press gets EVERY bit of juice out of that citrus!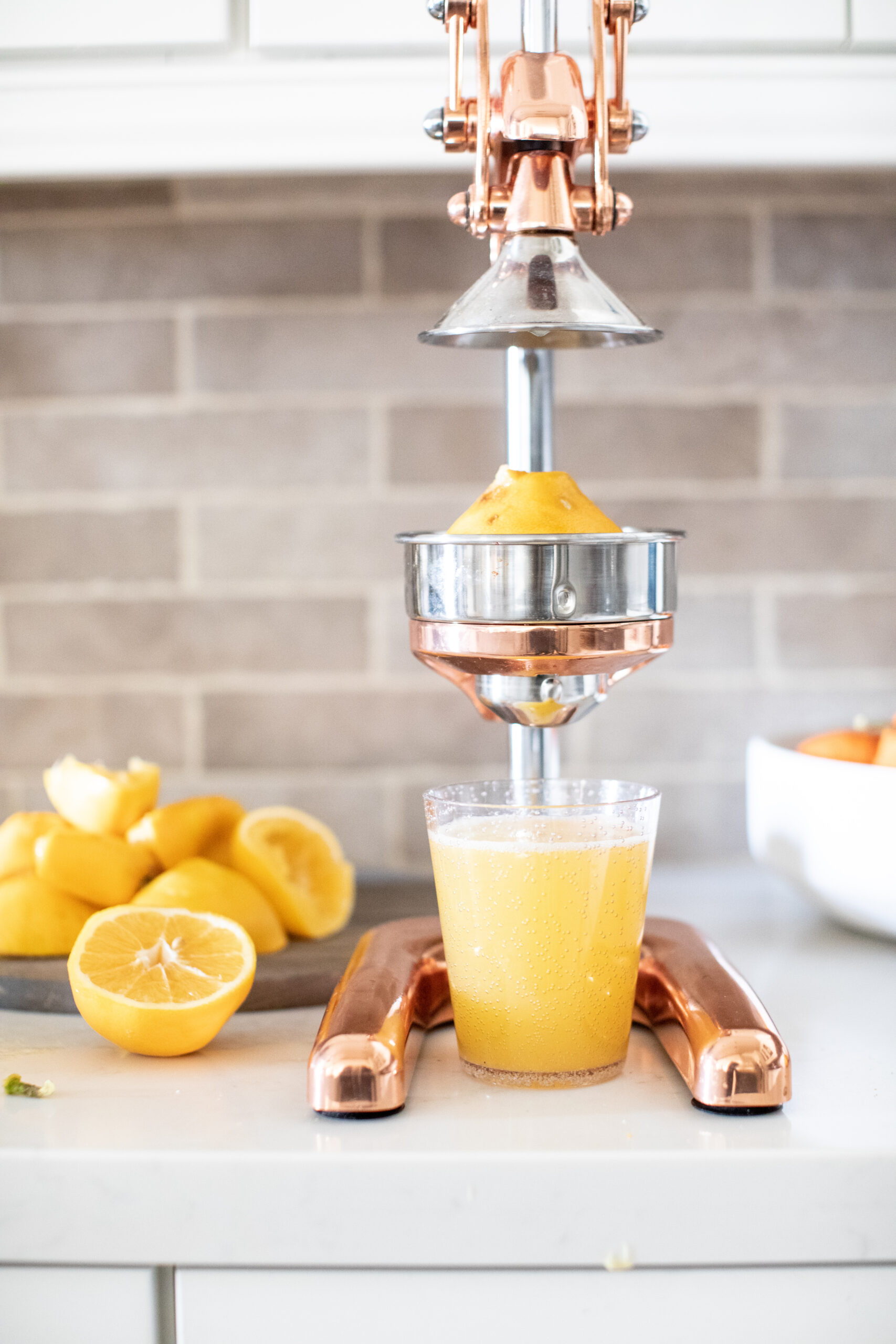 High Powered Blender
Blenders are apart of my kitchen essentials list for a reason. You don't know you need one until you need one. This one by Wolf is the one we choose to have in our kitchen. For the lemonade I needed a very fine puree of watermelon and this did the job perfectly. I just used a strainer to separate it from all the juice.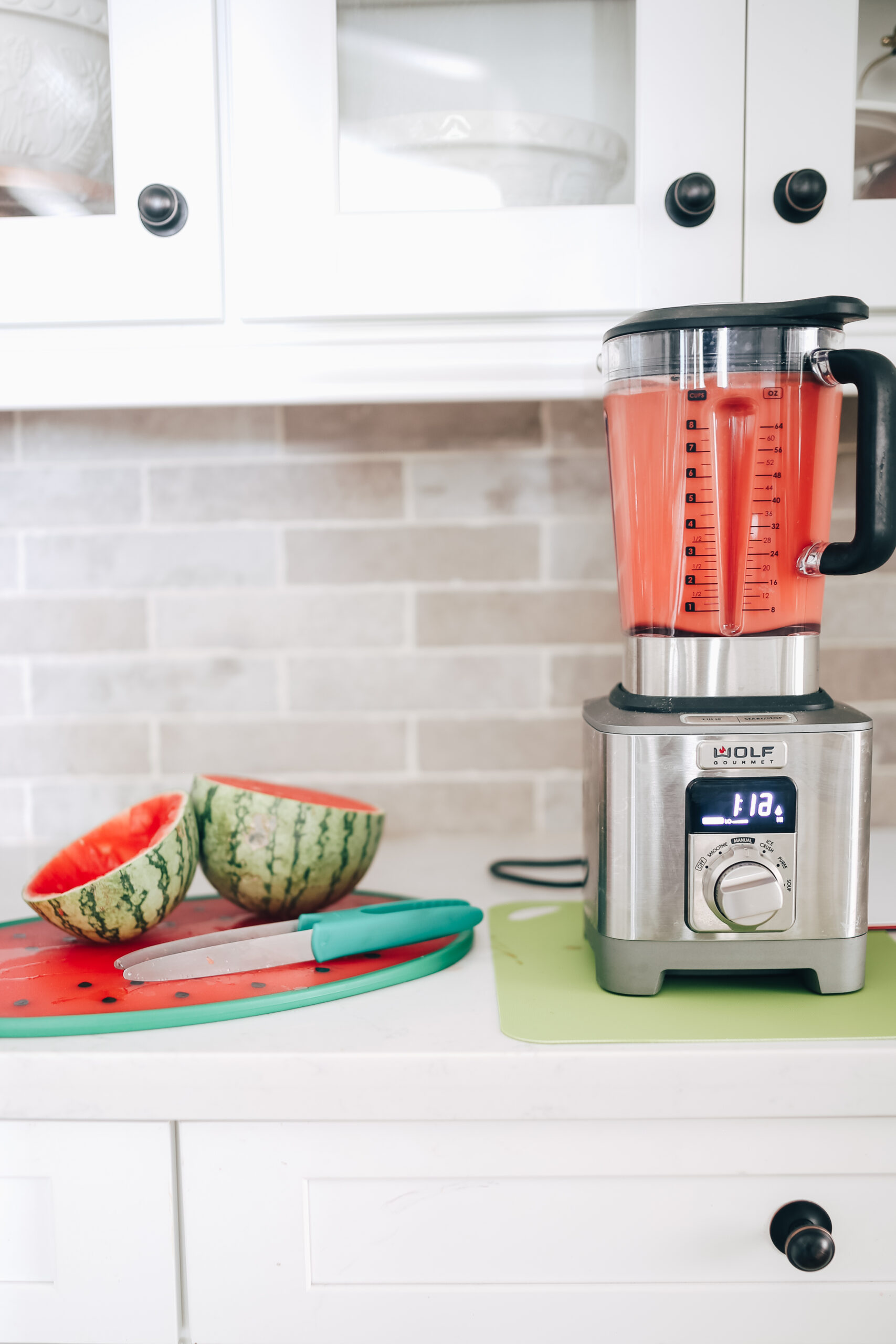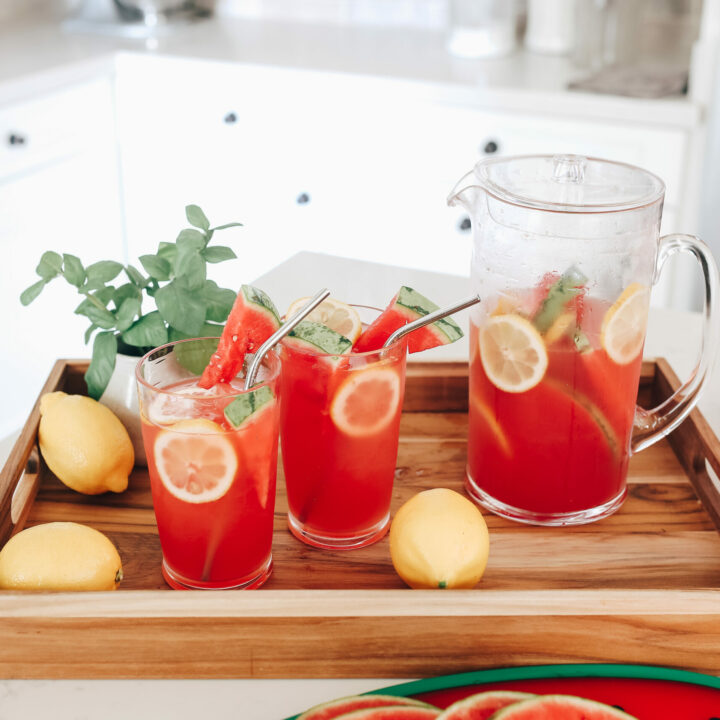 How to Make Refreshing Watermelon Lemonade
Additional Time:
10 minutes
Watermelon Lemonade is such a simple summer drink that packs so much flavor and color. Perfect poolside drink or make big batches for BBQ's.
Ingredients
5-6 Cubes of Fresh Watermelon
1 Cup of Fresh Lemon Juice 
1/2 Cup Sugar + more as needed
4-5 cups of water
Watermelon Slices for Garnish
Lemon Slices for Garnish 
Optional: Mint Leaves
Instructions
Cut 1-2 small watermelons into cubes. Save 1/2 watermelon and slice in triangles for garnish.
In a blender combine watermelon cubes, lemon juice, and puree until smooth. Then strain and measure out 2 cups of juice. Reserve left over for ice cubes (optional)
Pour 2 cups of watermelon juice into a 64oz glass pitcher along with 4-5 cups of water. Stir in 1/2 sugar at a time until you reach desired sweetness.
Divide between glasses, garnish with a slice of watermelon, optional watermelon ice cubes and a lemon slice or mint sprig, then serve.
Notes
Fun Additions to Watermelon Lemonade
You can use extra watermelon concentrate for watermelon ice cubes.
Add sparkling water instead of water to make a mocktail!