Juicy Lemon Baked Chicken Thighs
This post is sponsored and may contain affiliate links, please read my disclosure policy.
We have chicken at least once a week in our home. Before I was married Reggie, I only really ate chicken breasts. But Reggie made it know that he loved thighs ( he sure does hahaha) so after that I started making more of our meals with chicken thighs.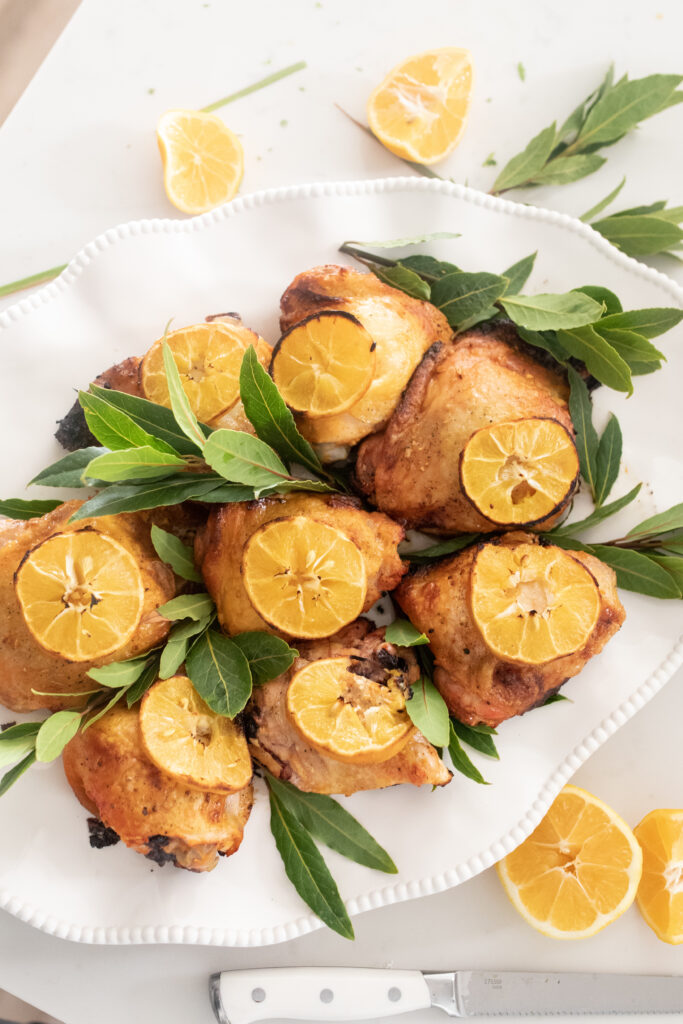 Both boneless and bone-in thighs hold a ton a flavor and make dishes like Chicken Spaghetti and Cilantro Lime Chicken Thighs so much better. My chicken thighs are first marinated and then baked in the oven with a slice of lemon on top! It's super simple and super delicious for any weeknight dinner!
How to Make Baked Lemon Chicken Thighs that are super juicy!
To make lemon chicken thighs you need lemons! Squeezing lemons is so much fun and not to mention a breeze when your using this little baby. Isn't it so pretty!?
I've used it before making lemonade but honestly I use it all the time. If you have ANY citrus trees in your yard then this is perfect for you. It squeezes every bit of lemon/orange/grapefruit juice out. I ordered one for my dad for his birthday this year because he loved it so much.
For this recipe you'll need about two cups of fresh lemon juice.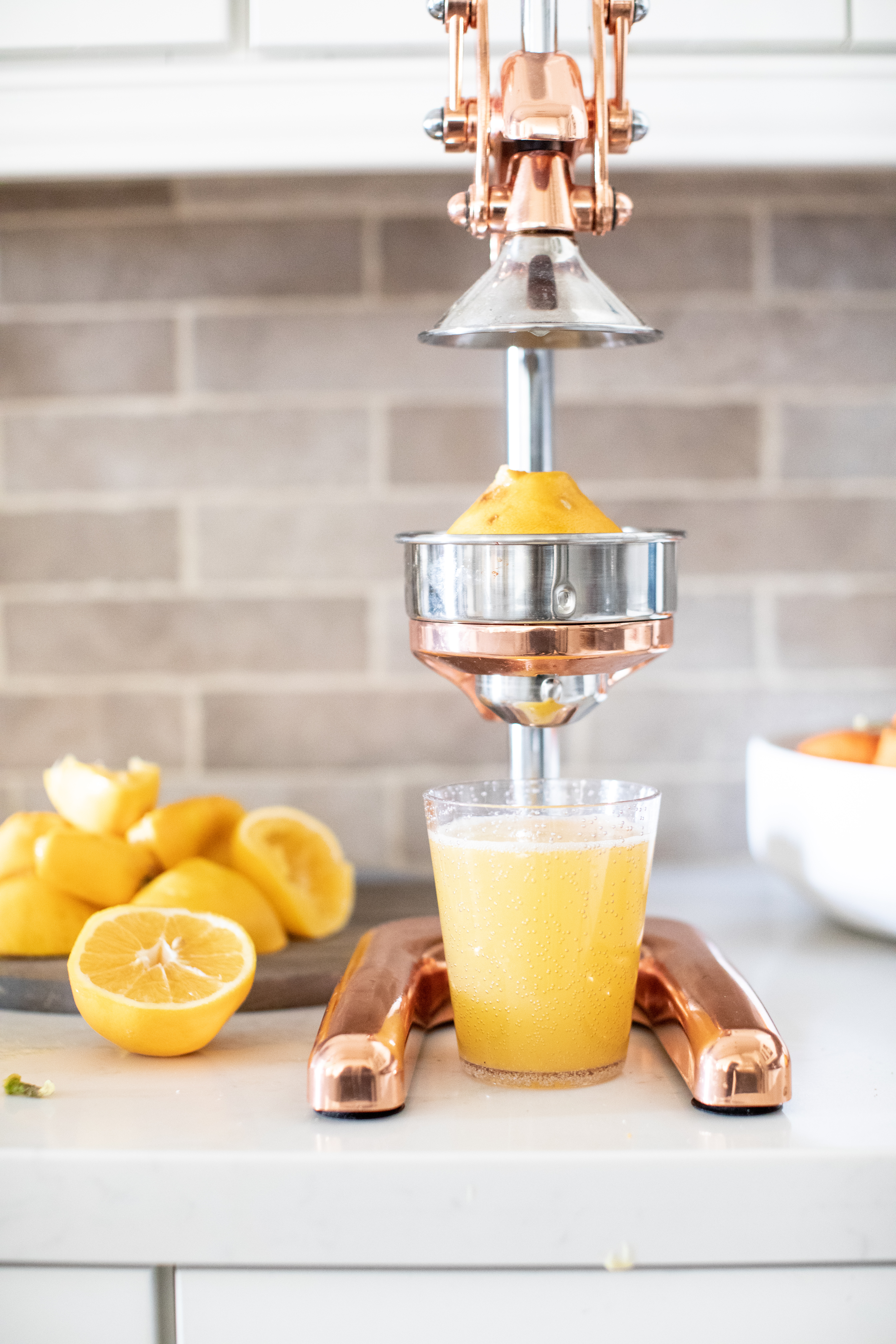 To start the chicken mix garlic, lemon juice, Sazon', salt and give it a good shake over the sink to get all the spices and flavors distributed. Let it sit in the fridge for about 2-3 hours or overnight.
Sazón is a seasoning packet by GOYA. I like to use Sazón with Saffron for not only the flavor but the color it gives this dish. You can find Sazón in any latin section in any grocery store or Walmart!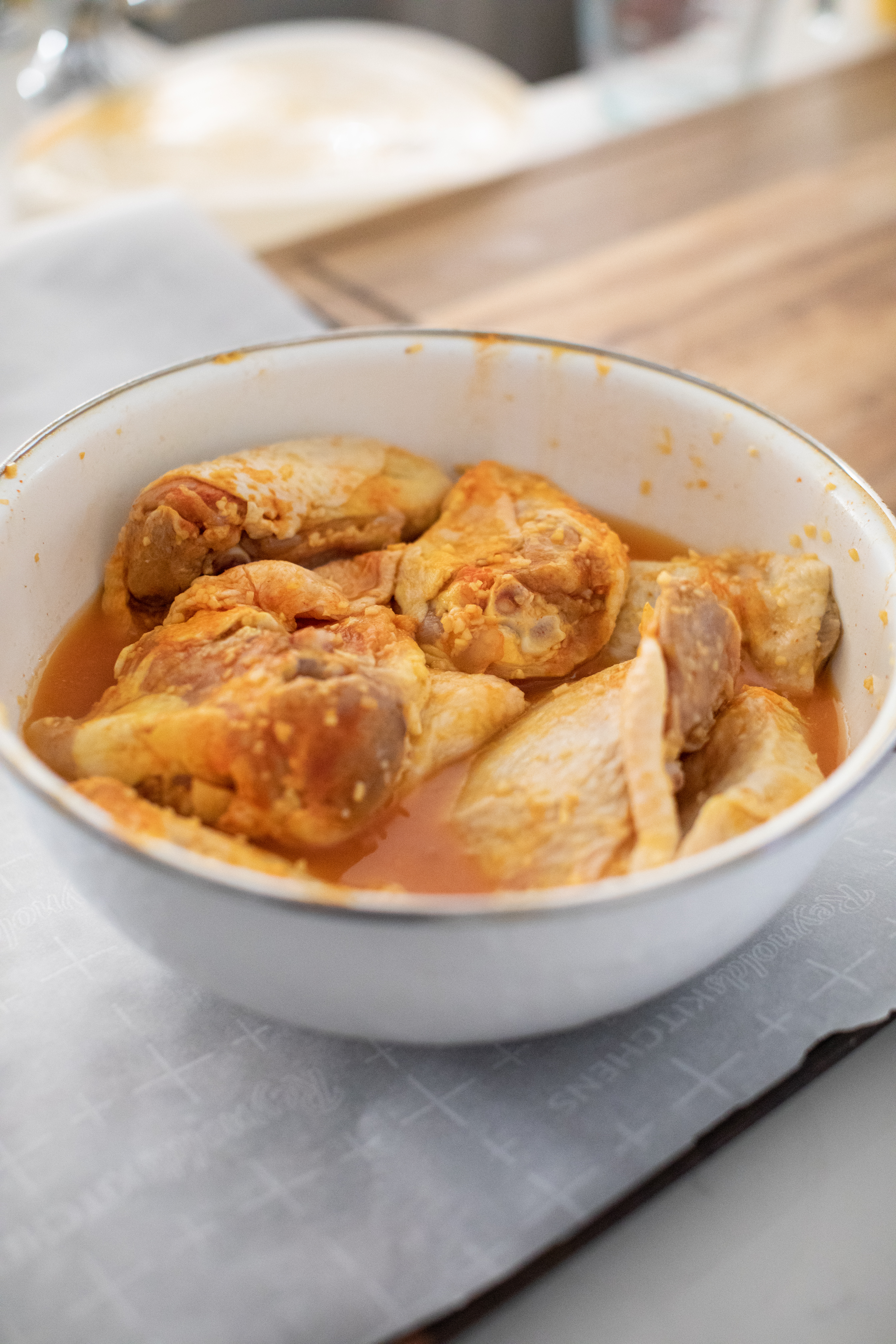 Once the chicken is done marinating, place them all on a large cookie sheet lined with parchment paper. I love using parchment paper for the easy clean up. Large cookie sheets are a great thing to have on hand too! Here are some of my favs.
If you keep the skin on chicken thighs it stays pretty juicy when you bake them! So I suggest leaving the skin on for this recipe for the juiciest results!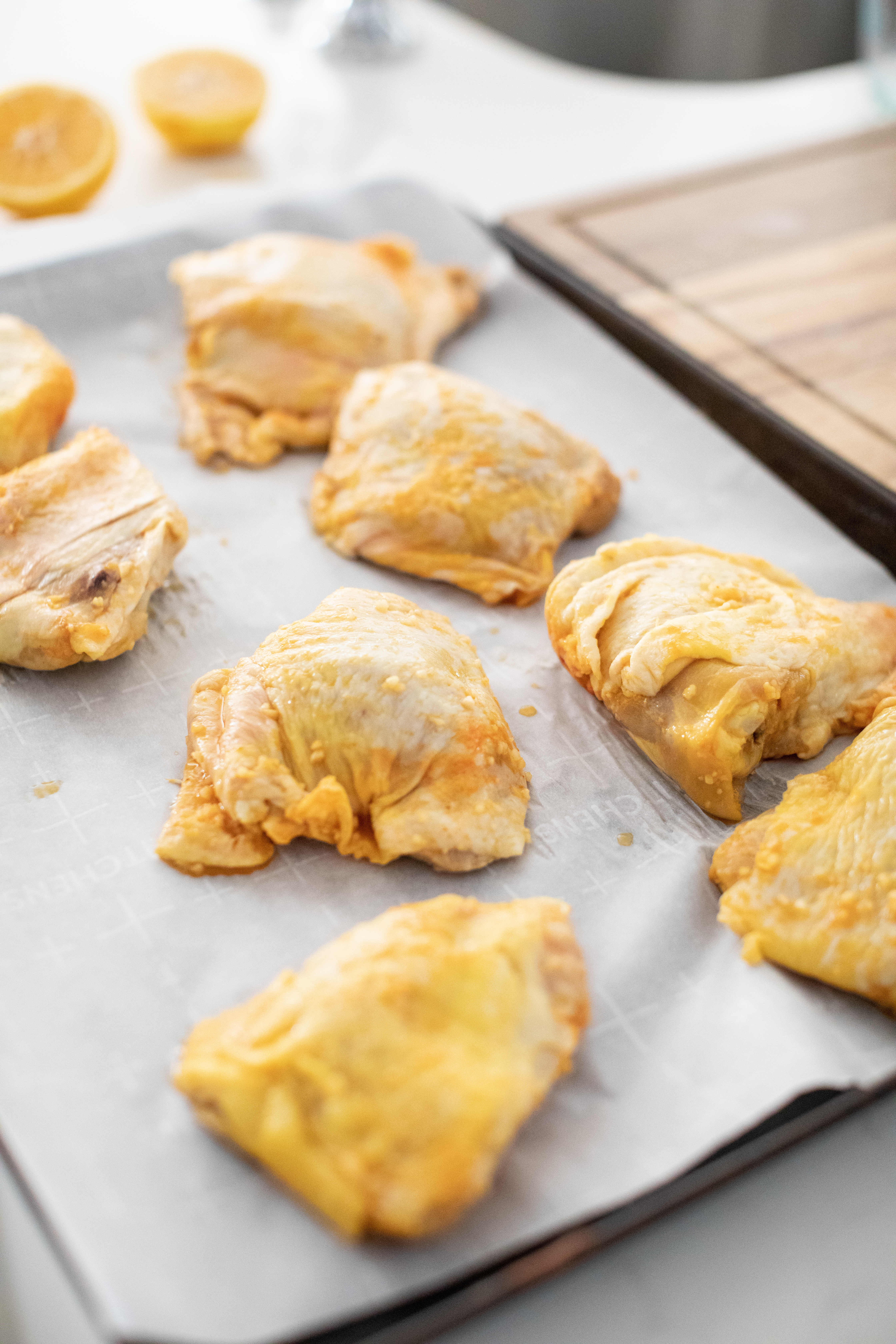 Next, evenly distribute the melted butter over all the chicken.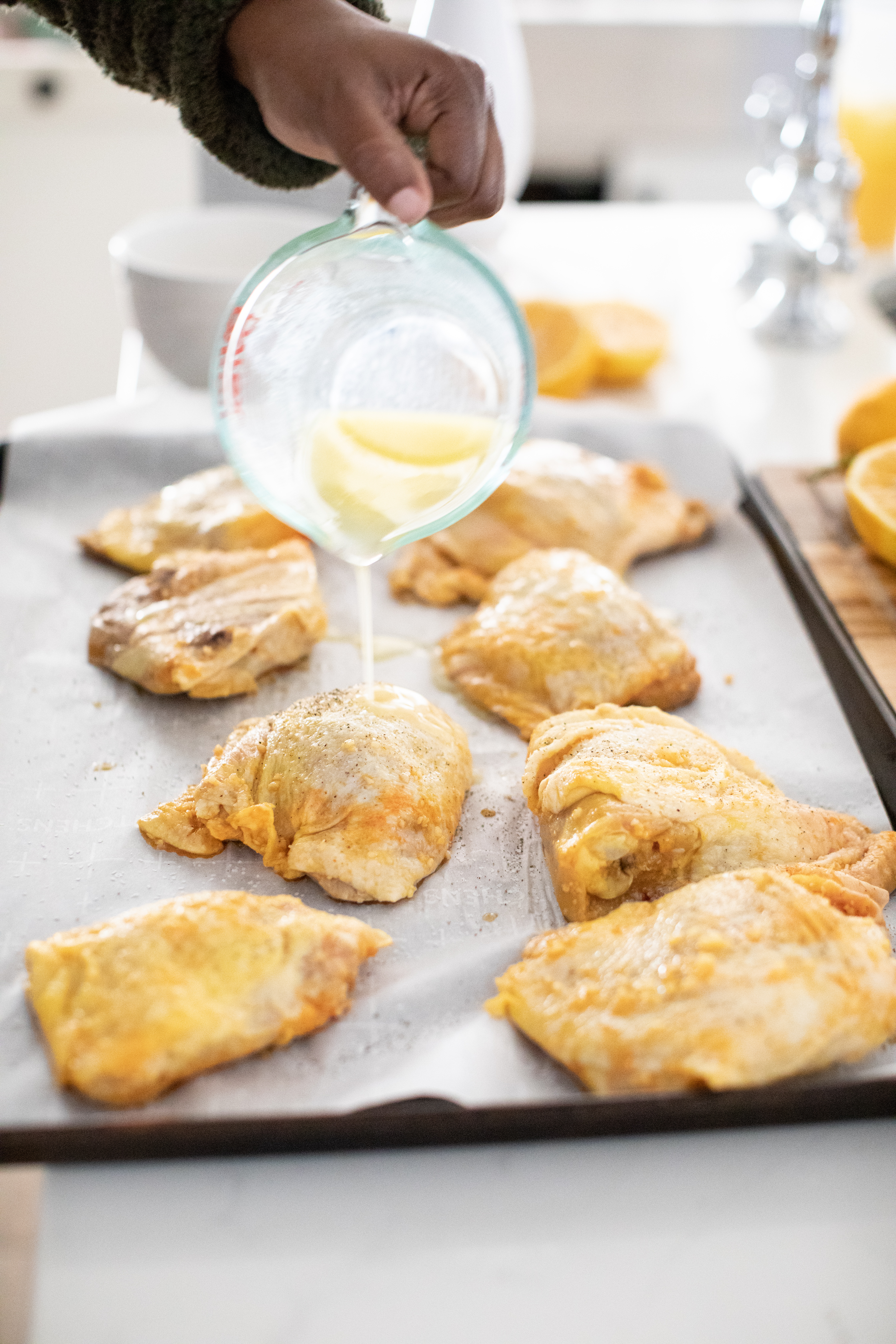 Then combine the salt, pepper and one packet of Sazón in a pinch bowl. Generously add the mixture to each of the chicken thighs. After that ,add one fresh lemon slice on top.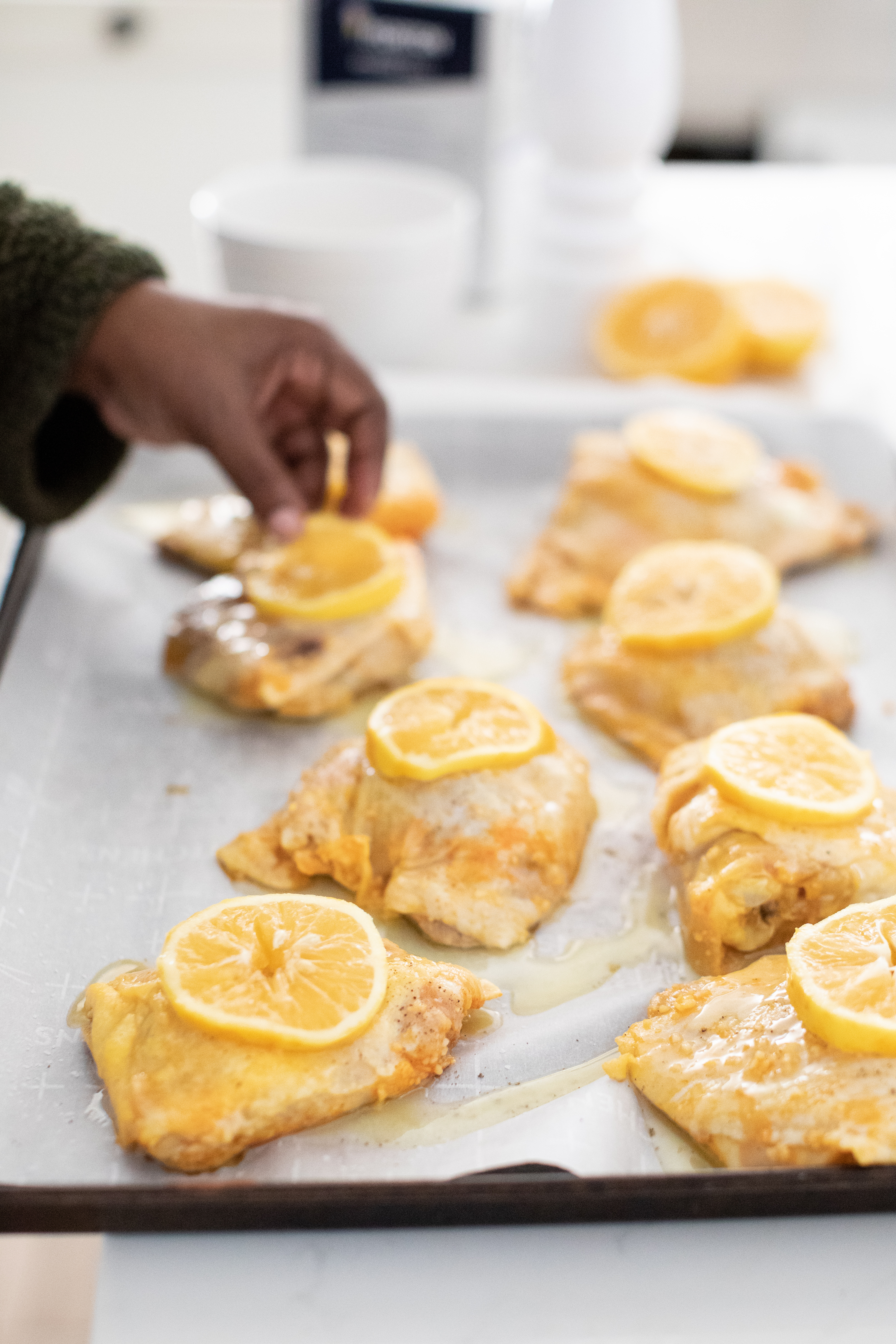 Bake at 400 degrees for 45 minutes-1 hour or until internal temperature reaches 165 degrees.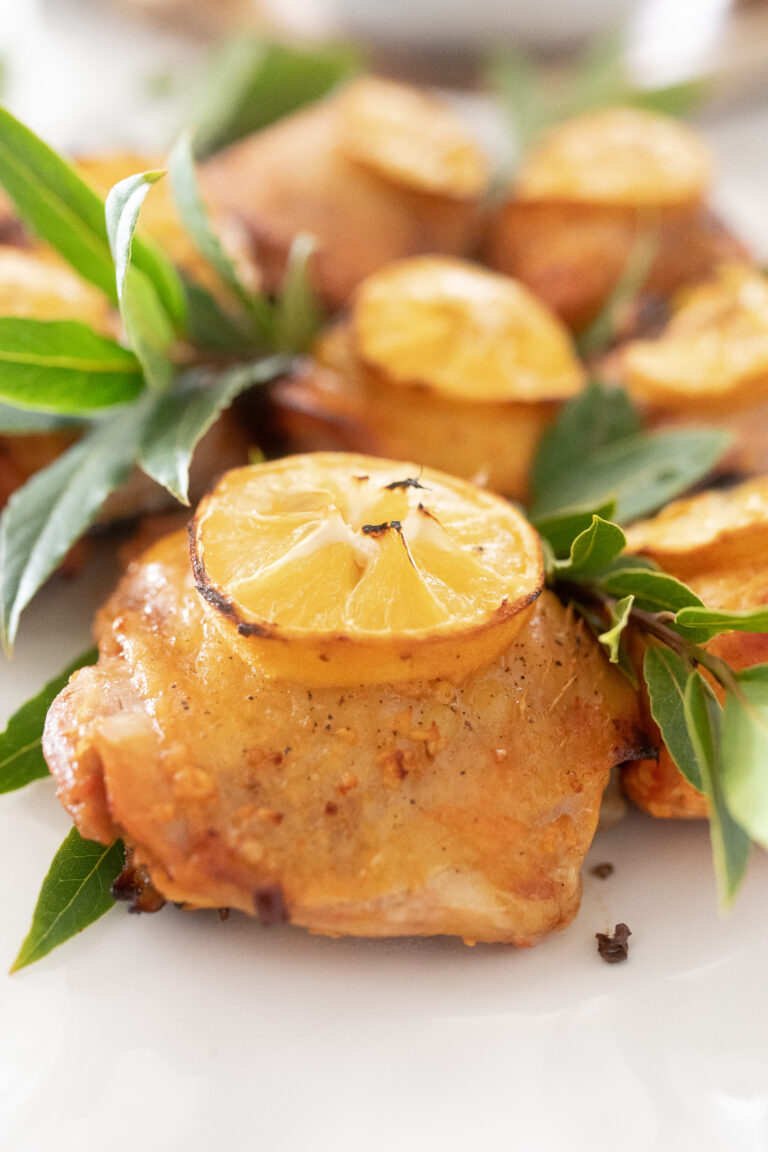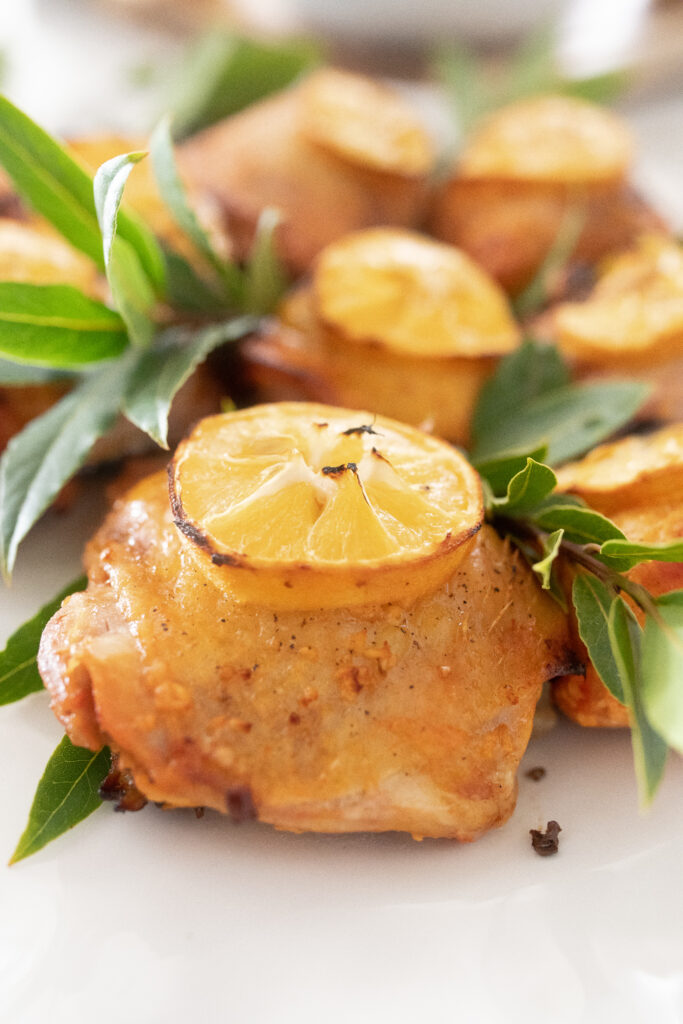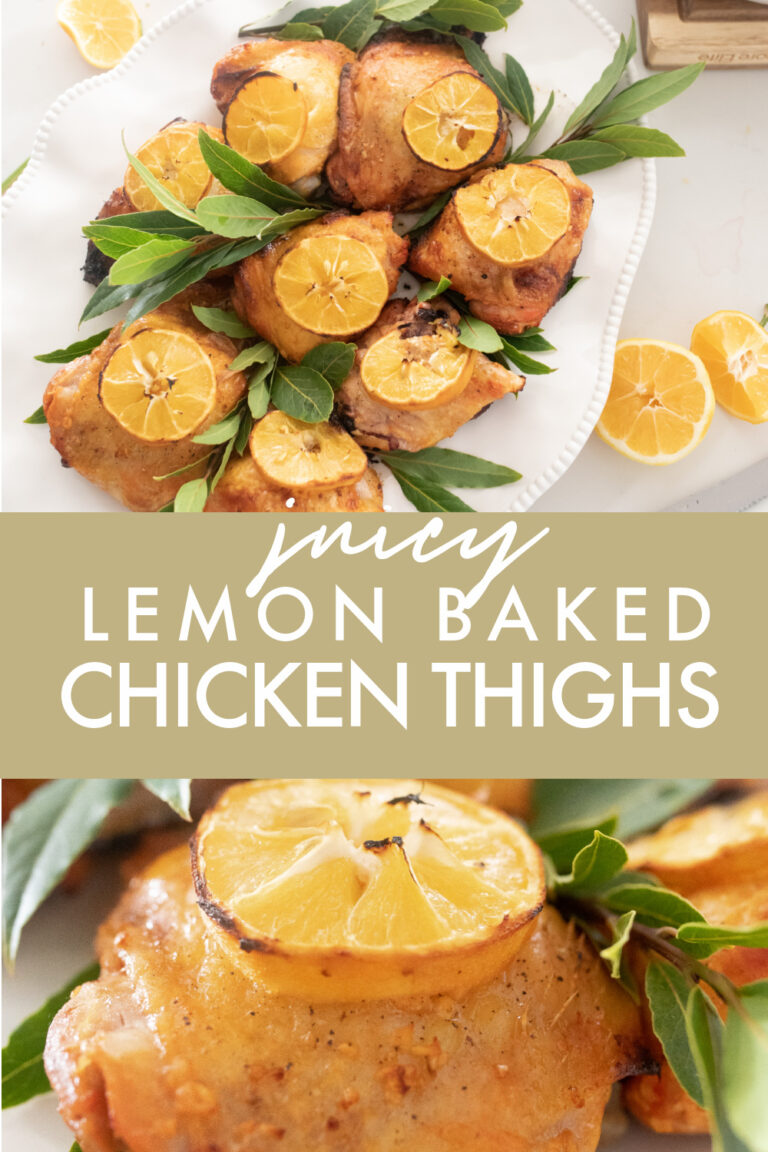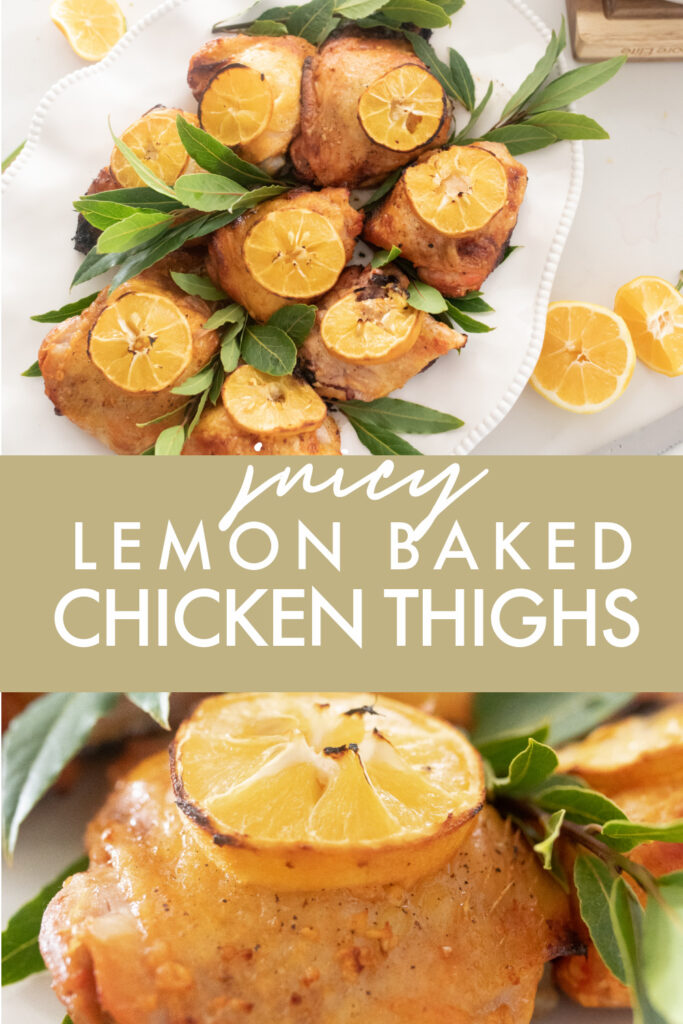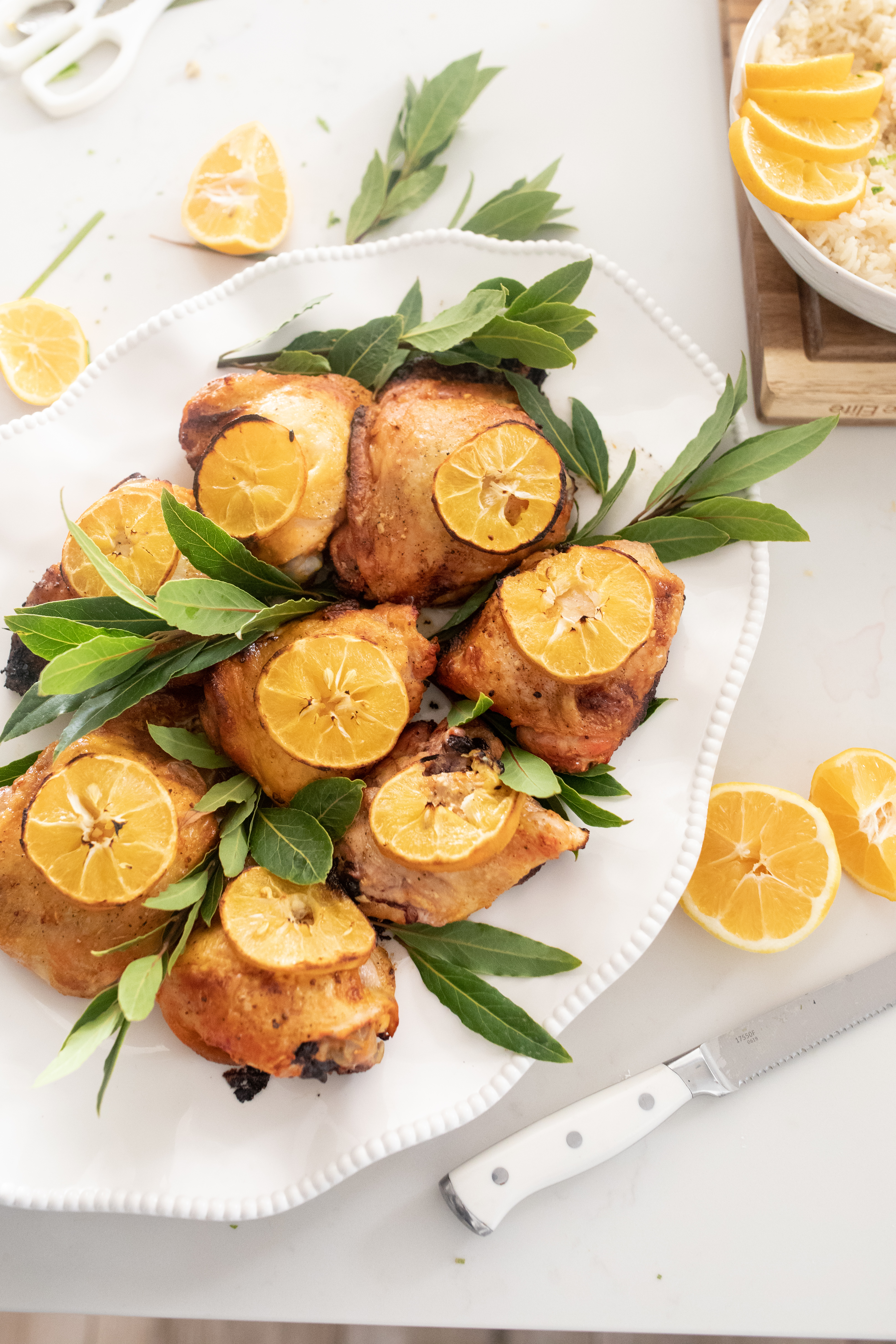 You can serve this dish with rice, potatoes or any fresh vegetables.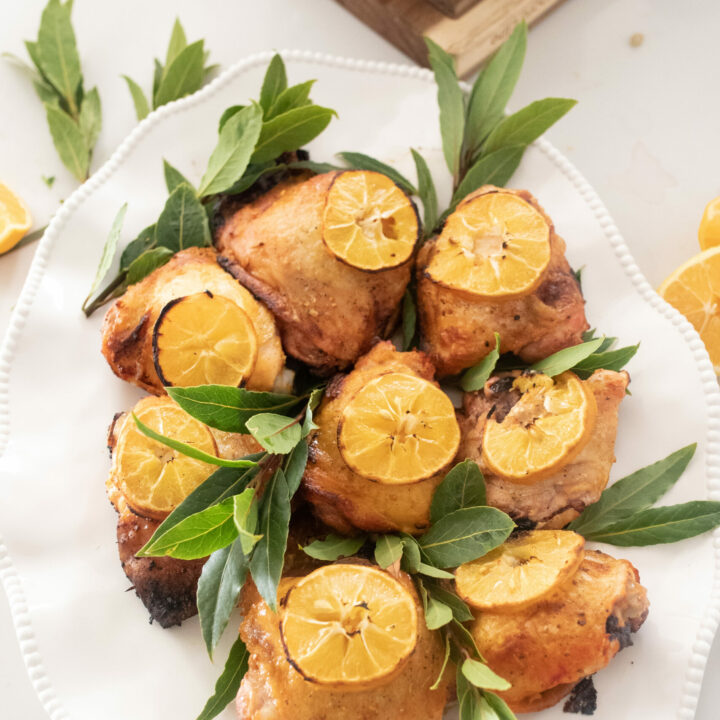 Juicy Lemon Baked Chicken Thighs
Total Time:
4 hours
10 minutes
Juicy Chicken Thighs with a citrusy lemon flavor. Perfect for a weeknight meal along your favorite rice or potato side dish.
Ingredients
2 cups of lemon juice ( fresh squeezed)
10 Tablespoons of minced garlic
1 tablespoon of kosher salt
1 stick melted butter
3 tablespoon kosher salt
1 teaspoon of fresh cracked pepper
8 lemon slices
Instructions
Pre-Heat the Oven to 400 degrees
Marinate
In a bowl with lid, mix together the lemon juice, Sazón, garlic and salt. Add the chicken. Place the lid on the bowl and give it a shake over the sink so that all the spices and juices are distributed.
Place in the fridge for 2-3 hours or overnight.
Seasoning
Remove the chicken from the bowl and place the chicken on a cookie sheet lined with parchment paper.
Pour melted butter over the chicken evenly.
In a pinch bowl mix salt, pepper and Sazón packet.
Generously sprinkle the mixture over all of the chicken evenly.
Place one slice lemon over each piece of chicken.
Bake in the oven at 400 degrees for 45 minutes-1 hour or until internal temperature reaches 165 degrees.


Notes
Sazón can be found in any latin section of your local grocery store.
Nutrition Information:
Yield:

8
Serving Size:

1
Amount Per Serving:
Calories:

131
Total Fat:

12g
Saturated Fat:

7g
Trans Fat:

0g
Unsaturated Fat:

3g
Cholesterol:

30mg
Sodium:

3328mg
Carbohydrates:

8g
Fiber:

1g
Sugar:

1g
Protein:

1g
Only an estimate.