This post is sponsored and may contain affiliate links, please read my disclosure policy.
One of the first things I learned how to cook was basic scrambled eggs. The perfect base for an American breakfast. Eggs are full of protein and other vitamins that will.
As you begin to set up a home for yourself you'll want to have a few easy recipes to make for yourself and your family. Scrambled eggs are a staple and pretty straightforward. As you begin to get more comfortable in the kitchen you'll have your own "famous" eggs before you know it. 
You can add cheeses, diced bell peppers and even salsa to your eggs to give it a twist. Reggie "famous cheesy eggs" includes 2-3 different types of cheese and are bit more runny than traditional fluffy eggs like these. 
Either way once you master these simple scrambled eggs the sky is the limit!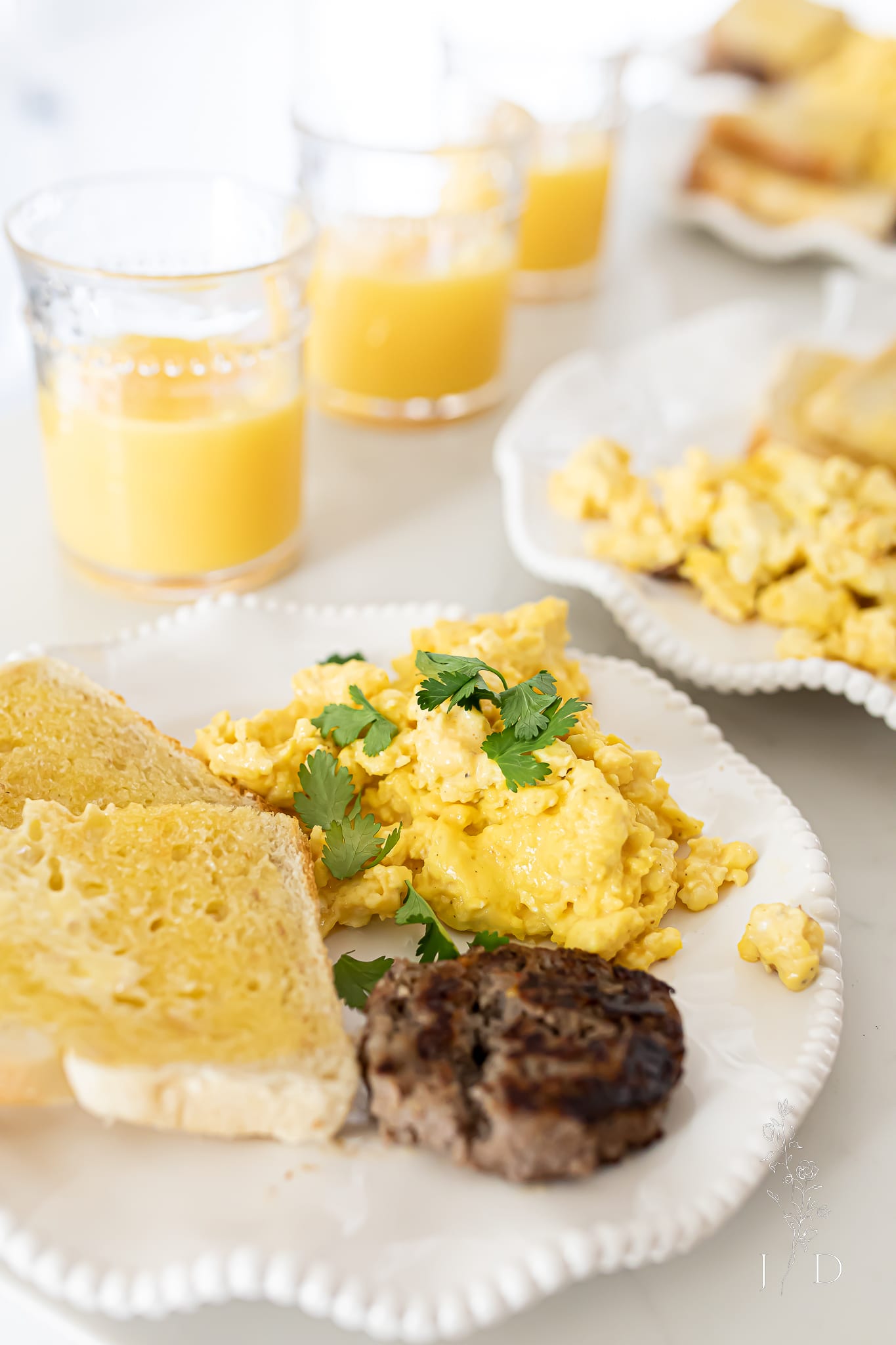 How to Make Simple Scrambled Eggs
Take your favorite medium-sized bowl and whisk together the eggs, milk, salt, and pepper. Pull out a large skillet and coat the bottom with your oil of choice. I use olive oil but you can also use butter or canola oil or even coconut oil.
Heat the skillet to medium heat. Pour the eggs into the skillet. ( The pan is hot enough when you splash water in it and it sizzles) 
Use a spatula to gently lift, fold and move the partially cooked eggs. The uncooked eggs should flow underneath and continue to cook. At this point you can add 1/2 cup of shredded cheese or leave it as is.
Continue cooking by moving the egg mixture around for about 3-5 minutes or until the eggs are full cooked. Eggs should have a fluffy and moist texture. 
Remove from the heat and serve right away with bacon or sausage and buttered toast. Also enjoy a glass of orange juice with it. 
See the step by step pictures below!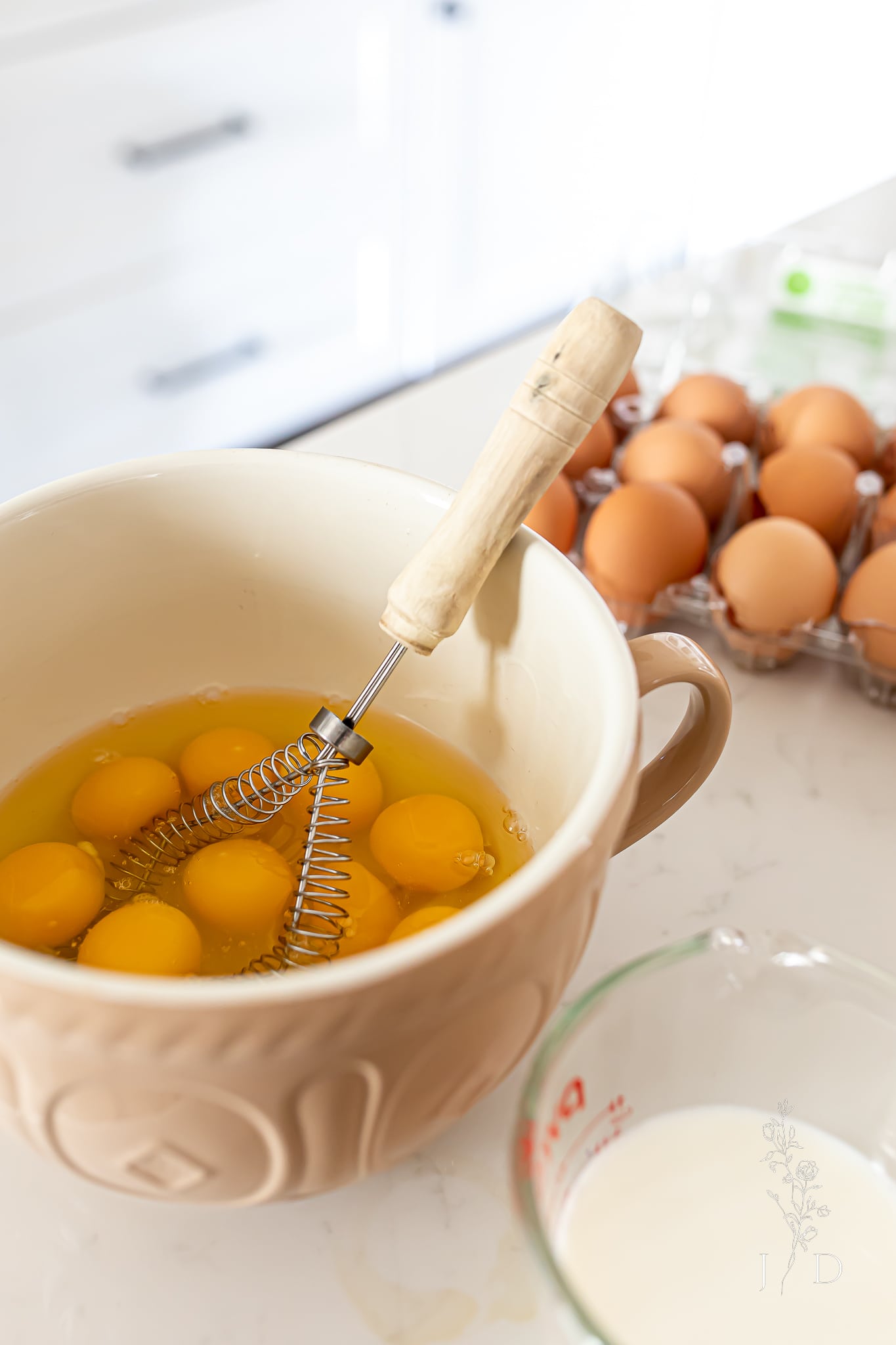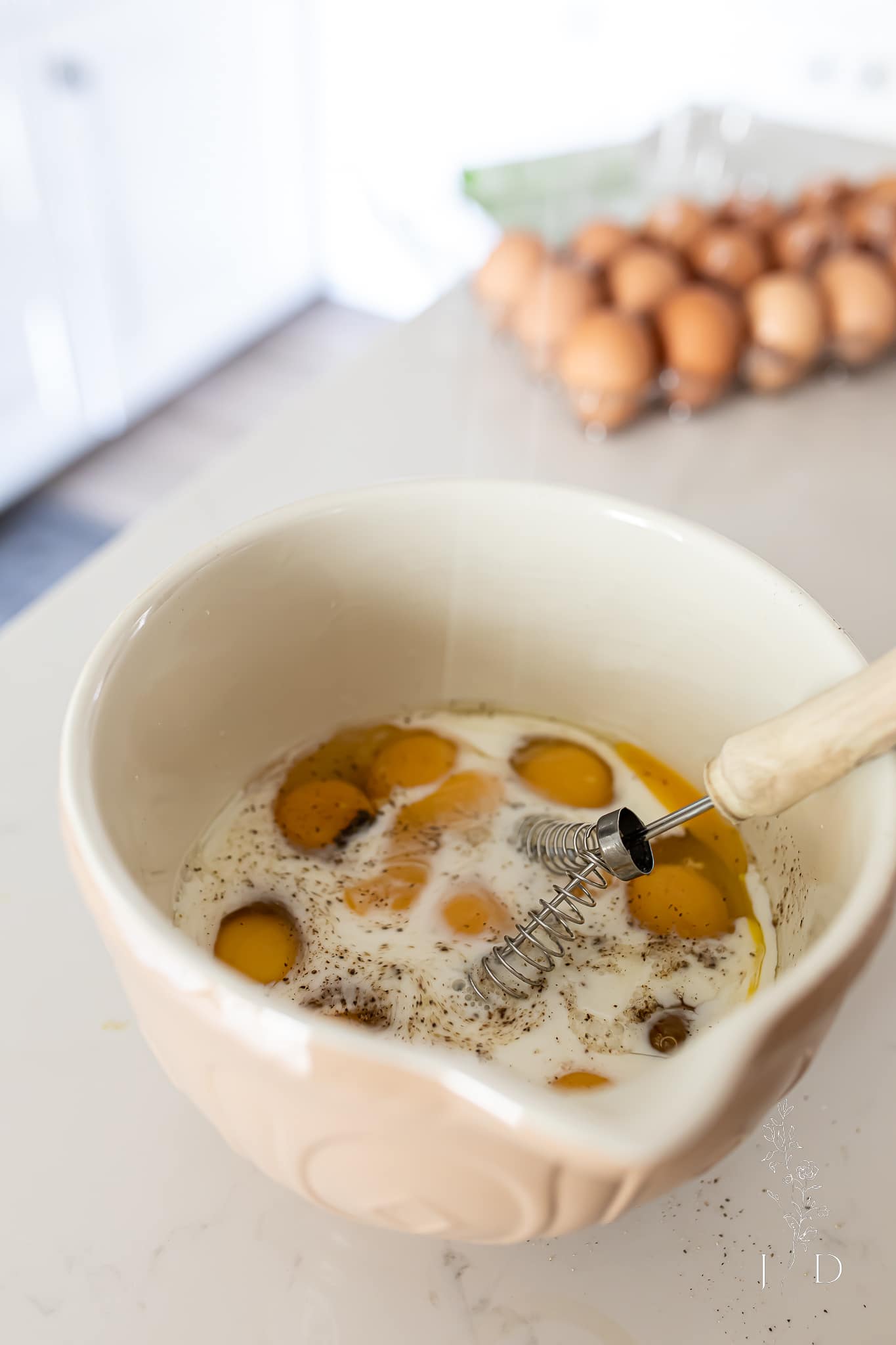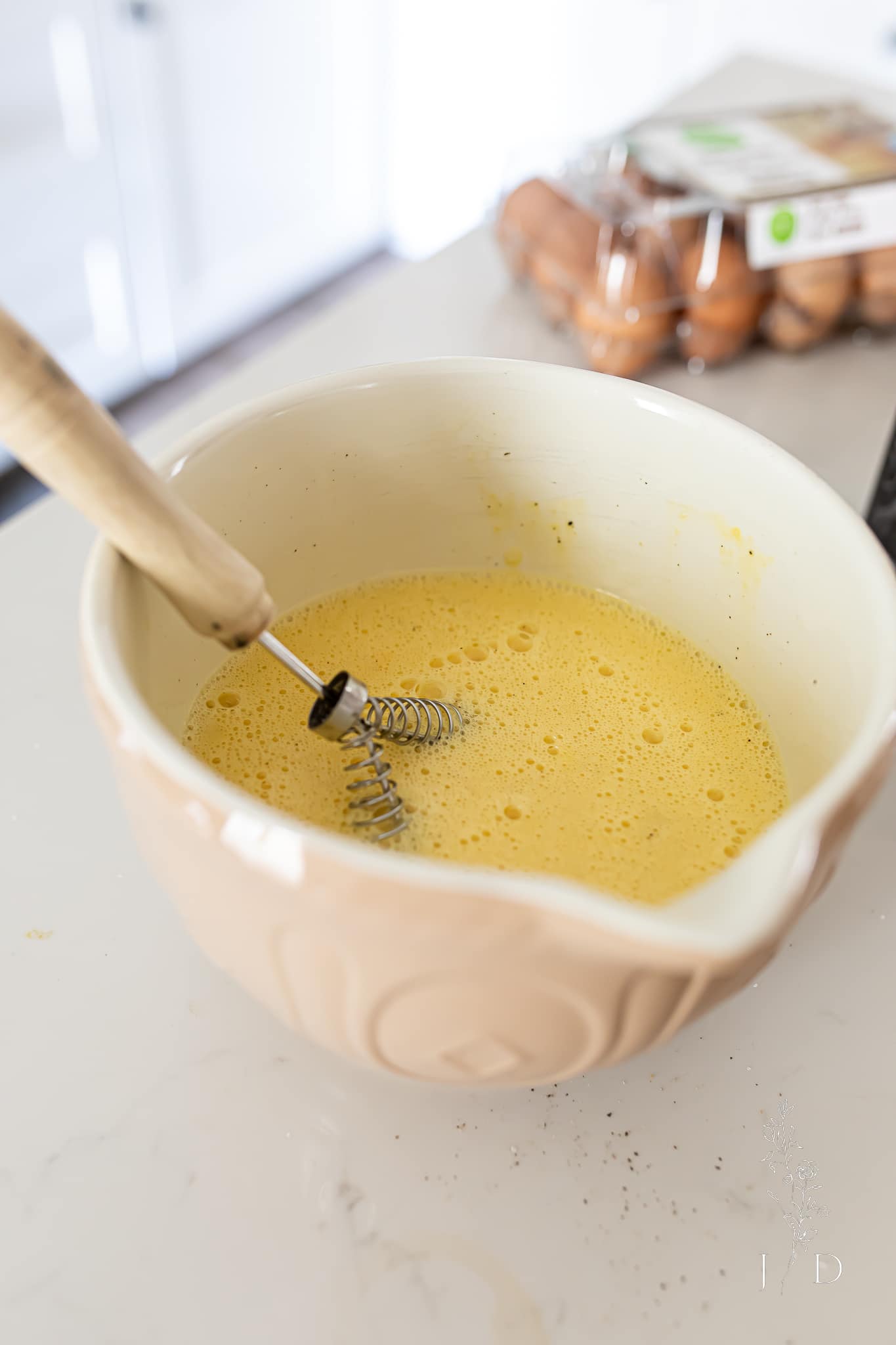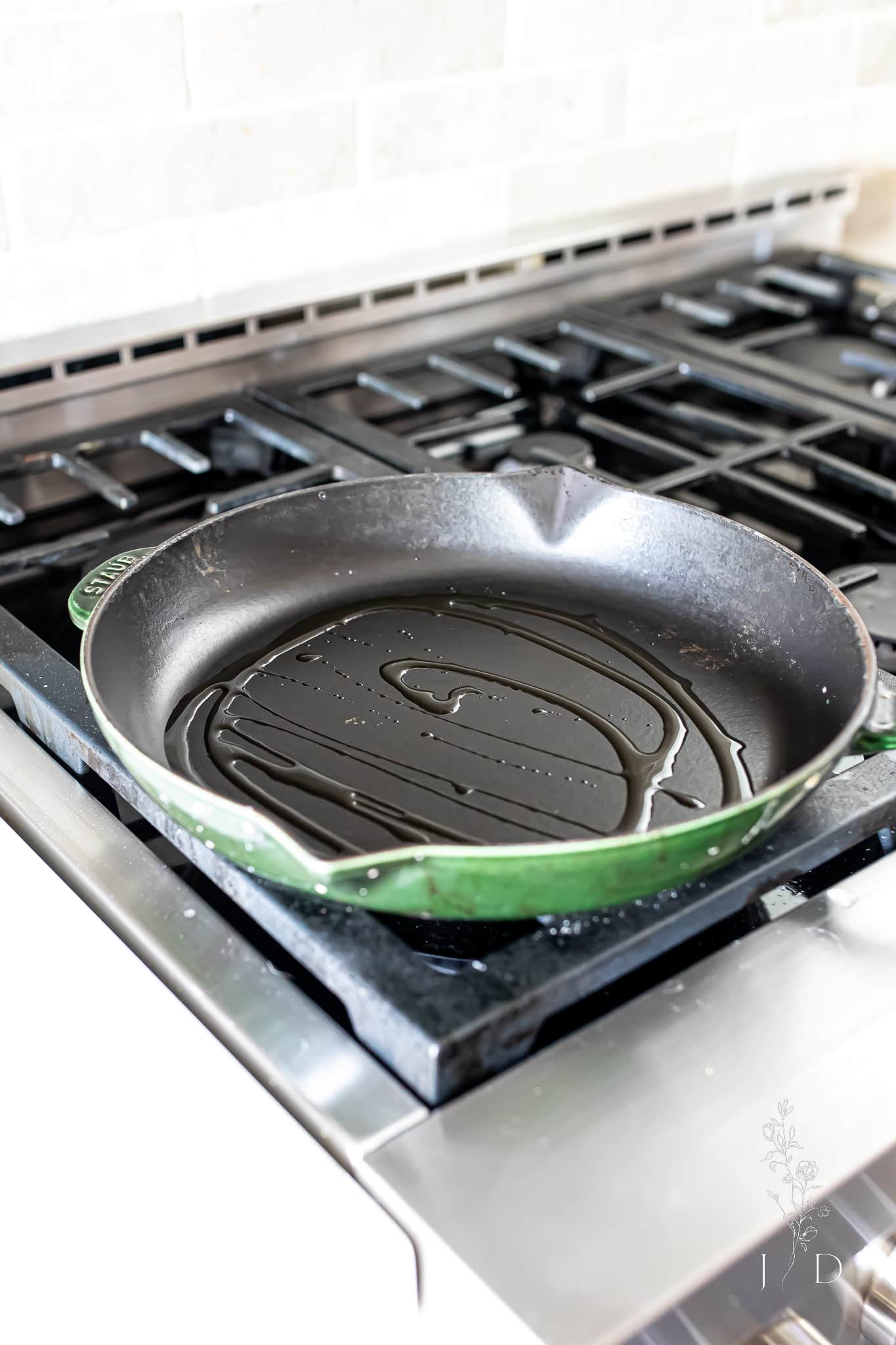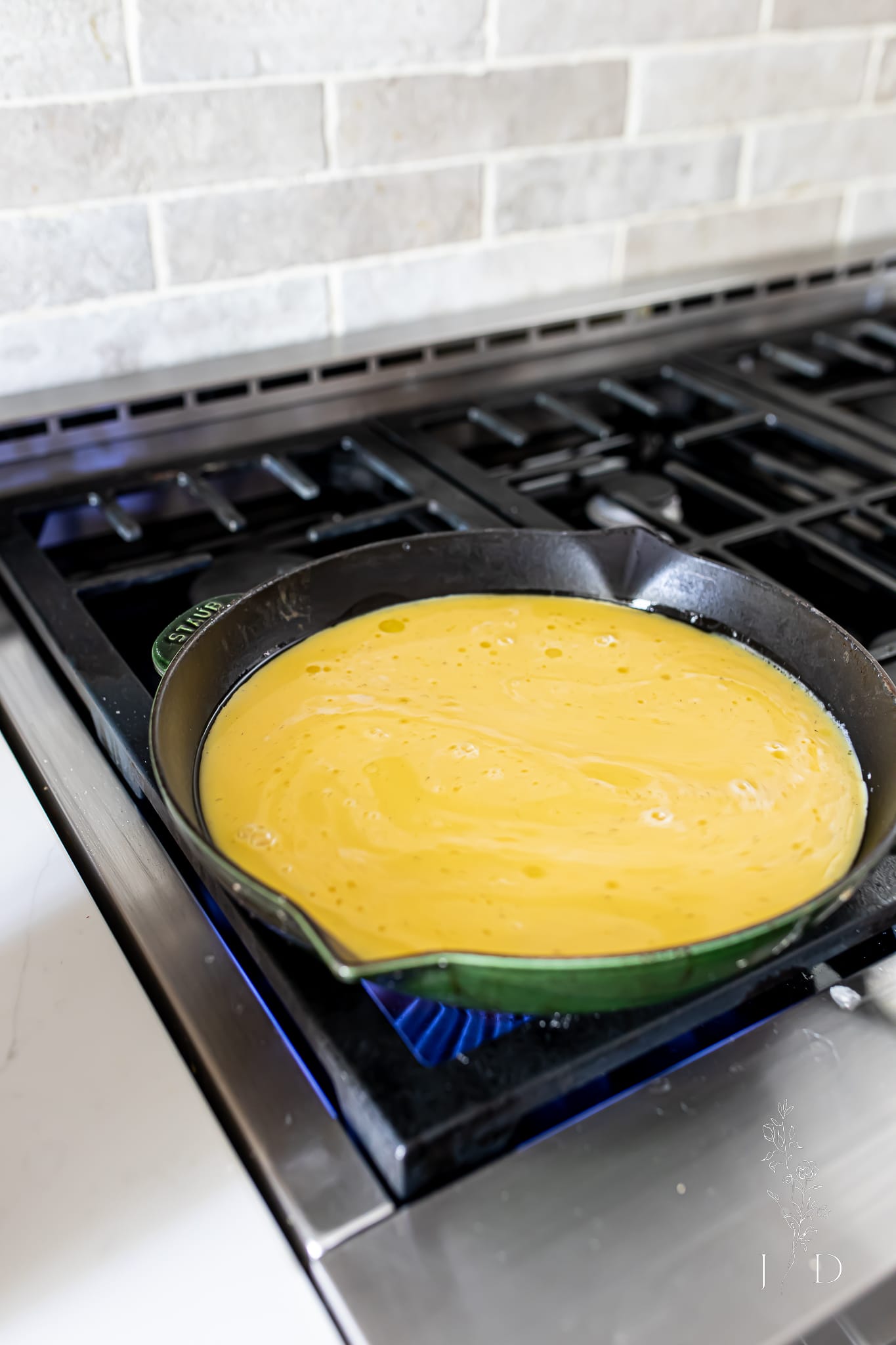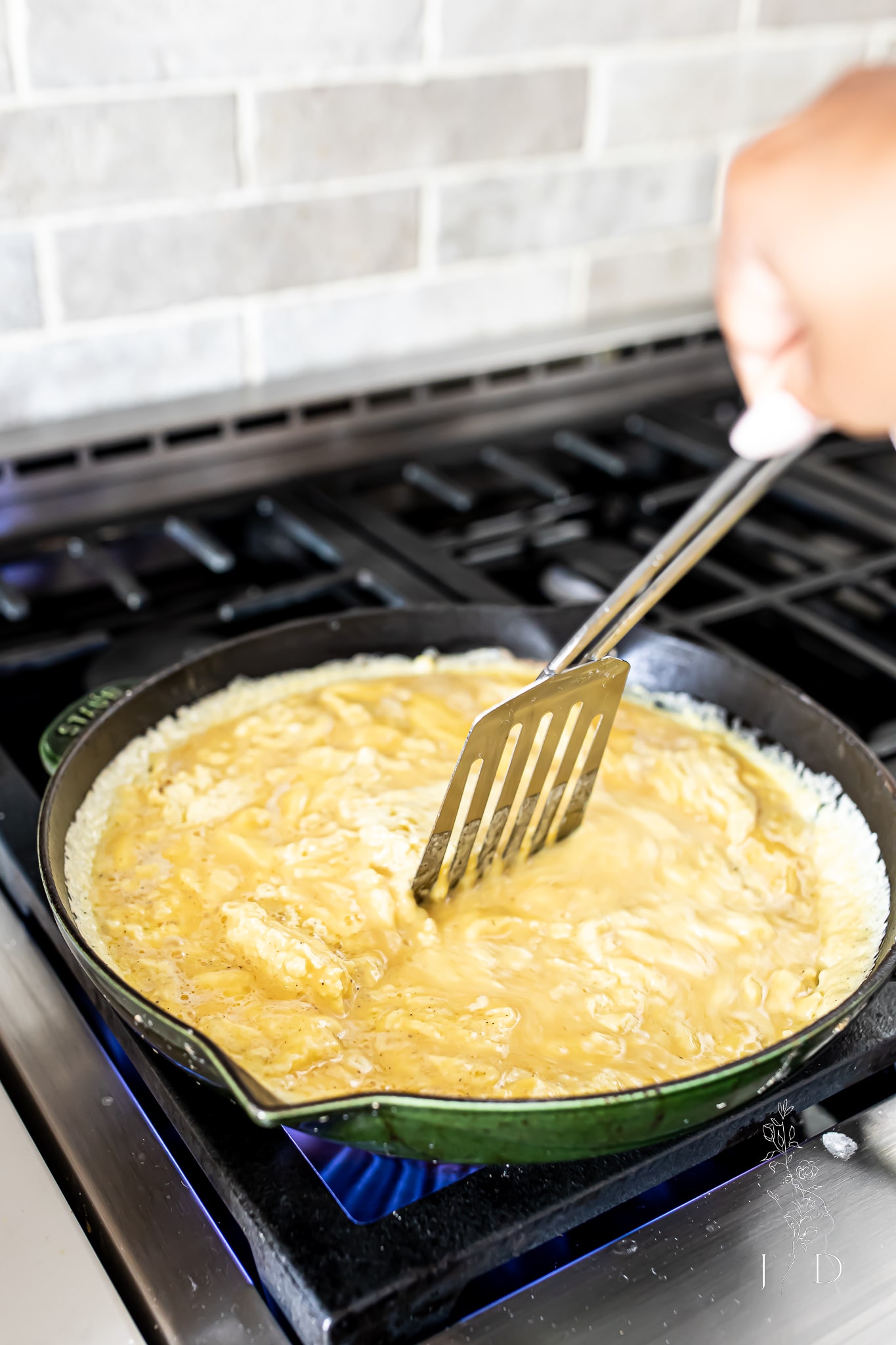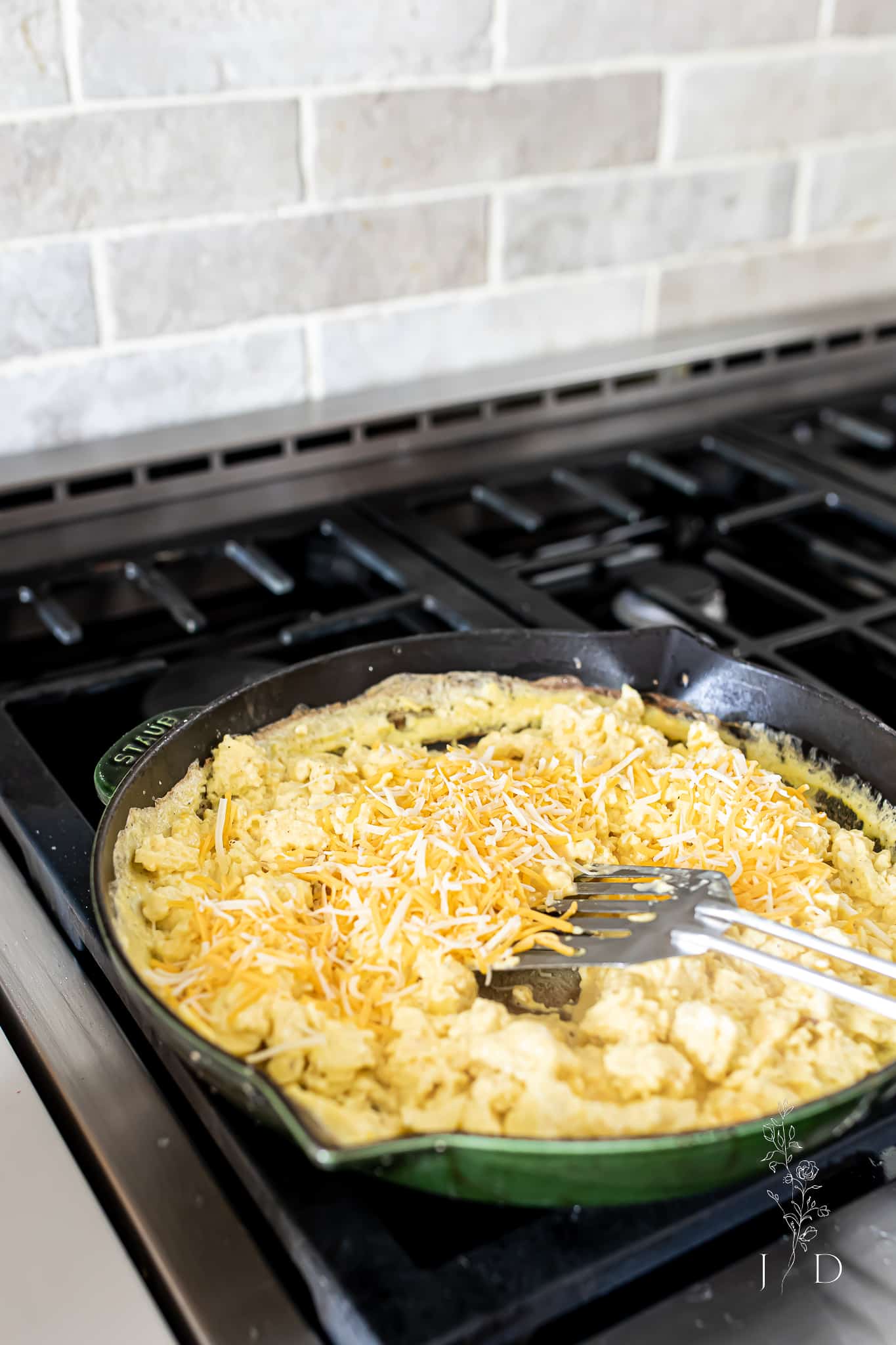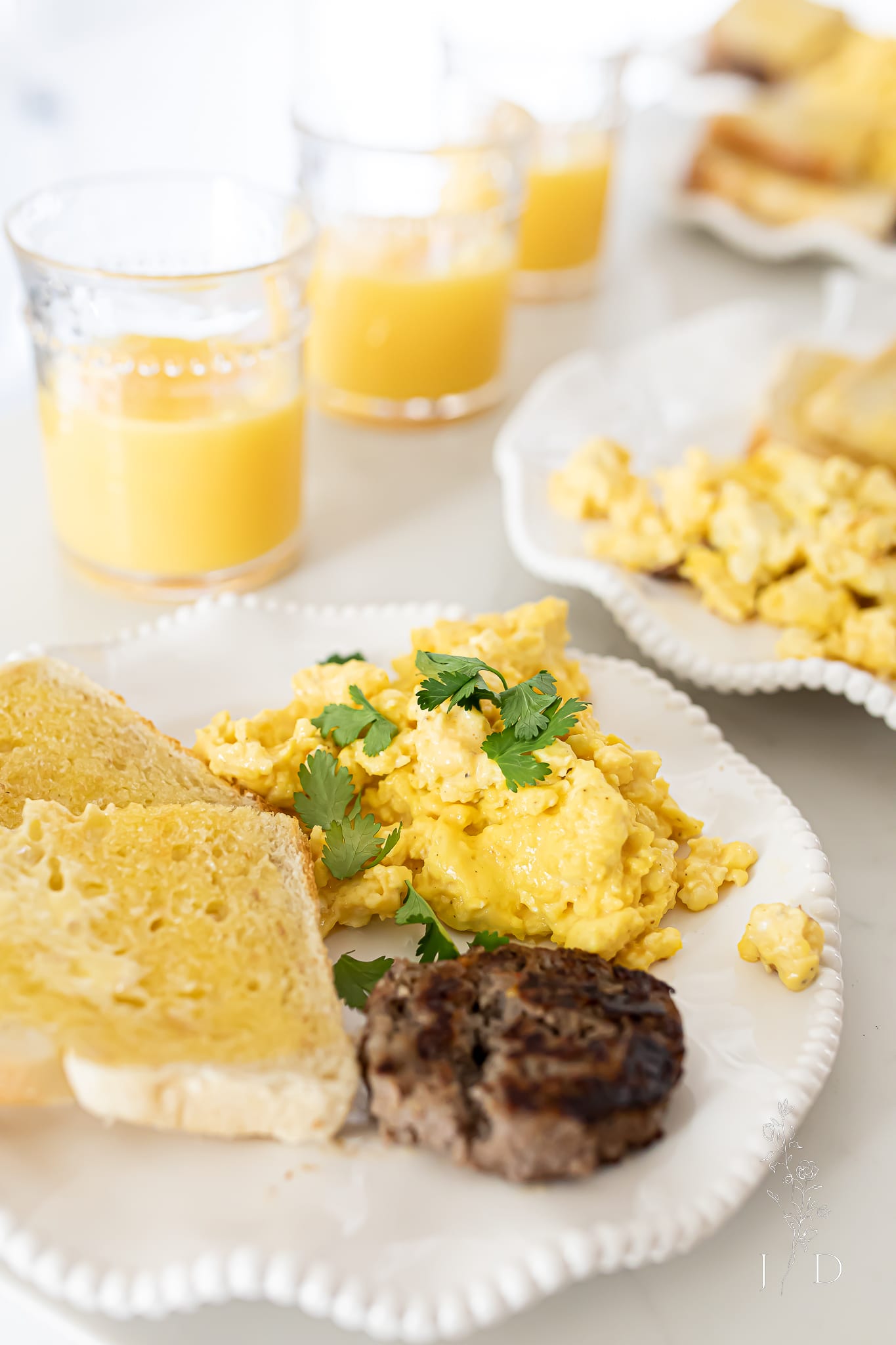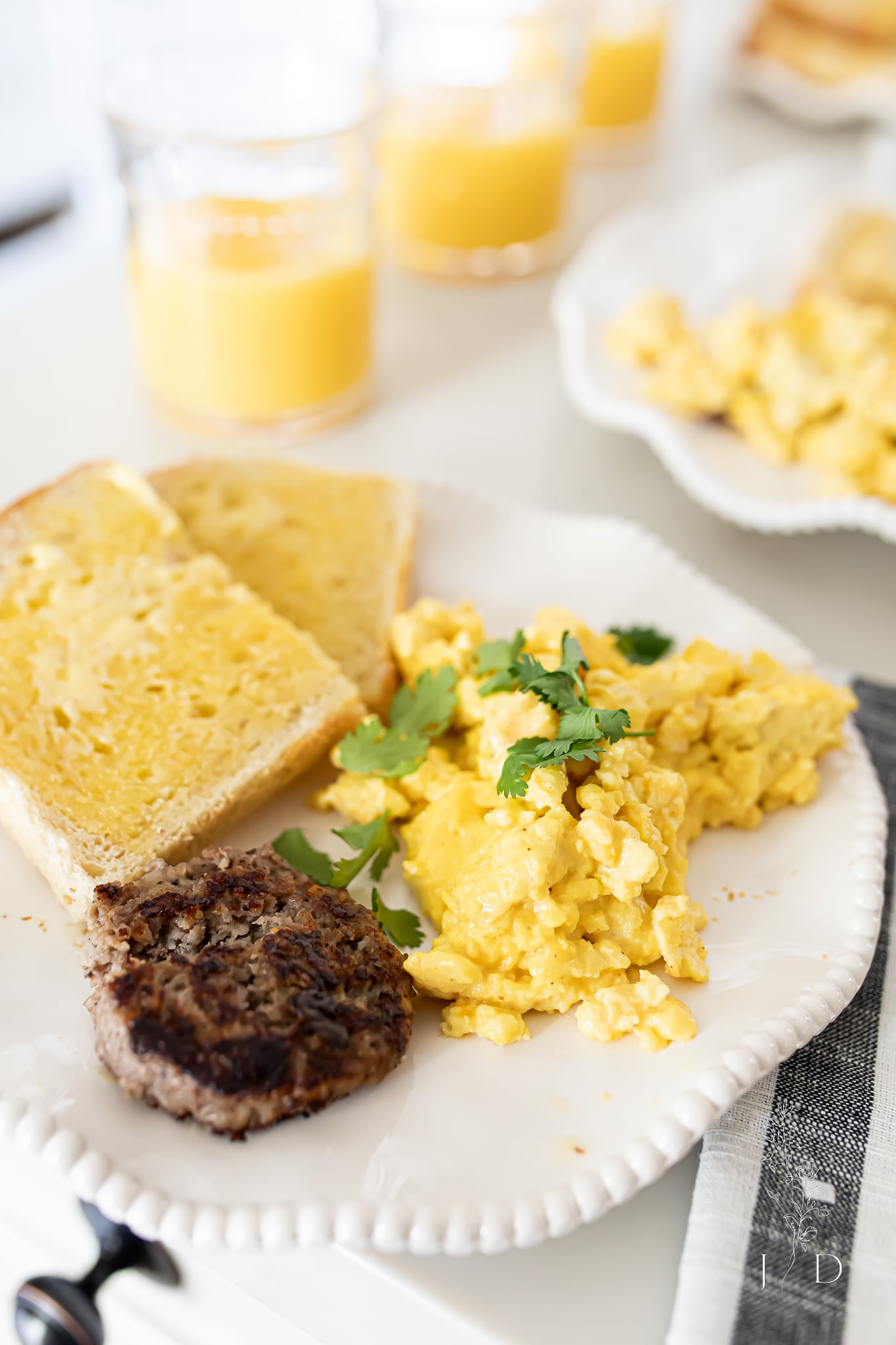 Simple Scrambled Eggs
A basic scrambled egg recipe you can use each morning. This feeds a family of 5 or 6 people.
Ingredients
12 eggs
2/3 cup of milk
1 1/2 teaspoons of salt
1/2 teaspoons of pepper
Salt and pepper to taste
Optional: 1/2 cup of shredded cheese of choice
Instructions
In a medium-sized bowl whisk together the eggs, milk, salt, and pepper.
Take a large skillet and heat oil over medium heat.
Pour in the egg mixture.
Over a medium heat gently move, flip and stir the eggs. The uncooked eggs will run underneath the cooked eggs. Just continue to move the eggs.
Add optional cheese at this time.
Continue cooking eggs for 3-5 minutes or until eggs are fluffy and moist.
Remove from heat and serve immediately. Enjoy!
Notes
Eggs dry out easily so watch them carefully as you cook them.