Amazing Strawberry Cheesecake Recipe
This post is sponsored and may contain affiliate links, please read my disclosure policy.
My hubby describes this cheesecake as "hugging your soul on a bad day". haha! He's not wrong! Finding an amazing recipe that hits all the spots is exciting to add to your recipe collection. This strawberry cheesecake will be one of your favorites!
No graham cracker crust here, instead of a yummy sugar cookie-like crust that's like a dessert layered on another dessert. I like to give my recipes a bit more lemon and vanilla. Whenever I see a recipe that calls for one teaspoon of vanilla I usually add another, same for lemon and this recipe is no different! 
Plus it can easily be adapted into a lemon cheesecake by adding more lemon flavors. I can't wait to try that next!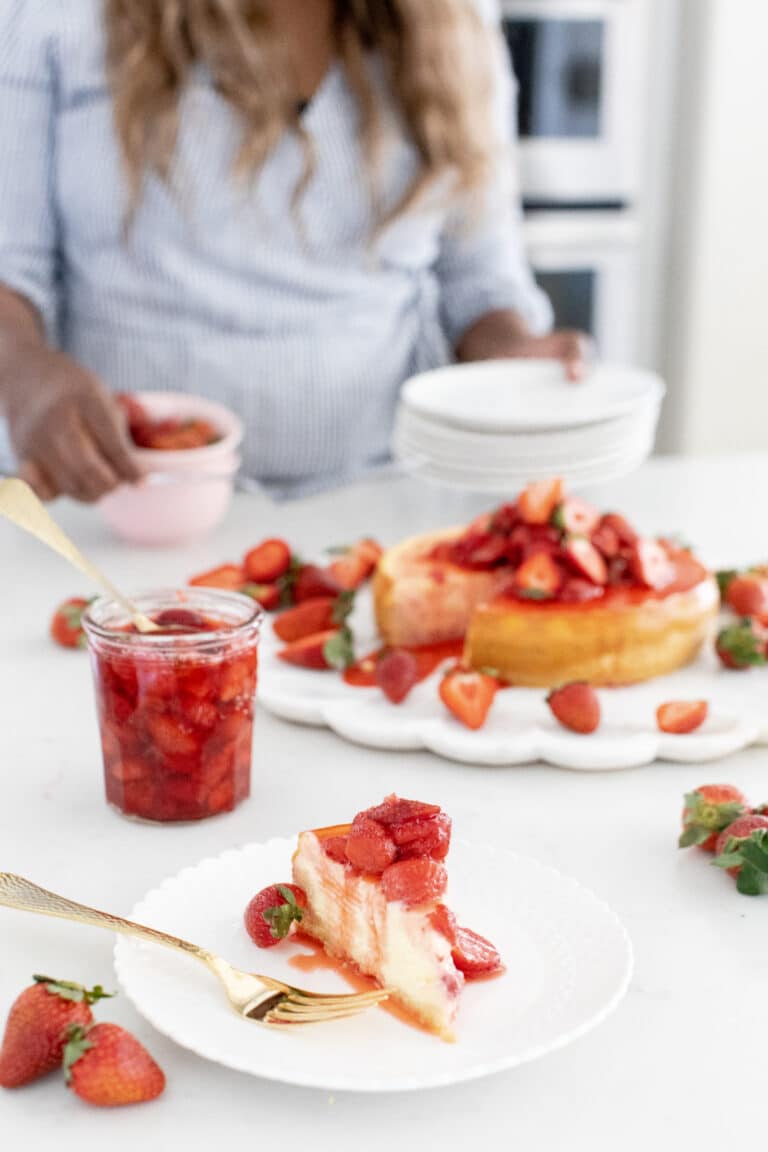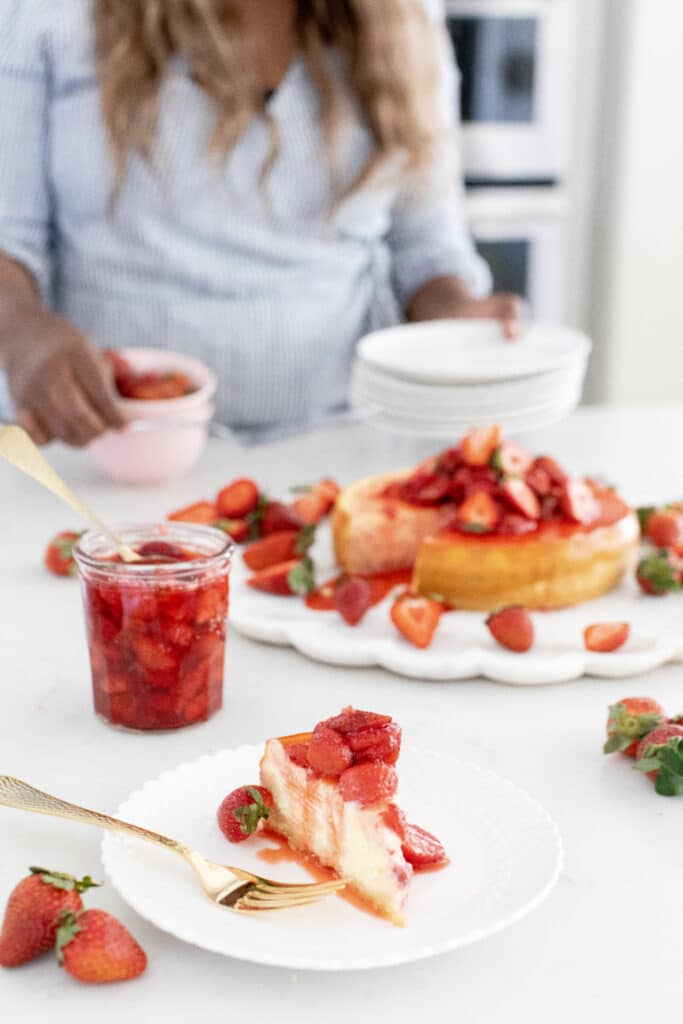 I also used a simple glaze to top the strawberry cheesecake with too. It's just frozen strawberries and 1/2 cup of sugar. Once you boil it down you have a nice sweet glaze and it's so delicious once topped over everything. 
Also, you will need to make this baked strawberry cheesecake is a springform pan. 10 inches will be perfect for this recipe. 
How to make Strawberry Cheesecake with Philadelphia Cream Cheese
One thing I've learned from my mom about baking and cooking in general is that the better ingredients you use the better your recipe will come out. Not to say that simple ingredients won't give you great results, but it's more about the quality of those ingredients. So for this recipe using Philadelphia cream cheese instead of the generic will just give you those better results! But before we get to that you'll want to make the crust!
Sugar Cookie Cheesecake Crust 
Once you've made your crust using all the ingredients found in the recipe,  you'll want to add the crust mixture to a lightly greased, springform pan. Originally I used an 8-inch pan when I made this but you will have so much cheesecake left over! So use a 10in springform pan for best result. 
Press the crust into the pan and go up about 1/4-1/2 inch up the sides of the pan. I used the back of a spoon to help me press and move the crust the way I wanted. 
Put it in the oven for 15 minutes. Once it's done let it cool completely and set it aside for later.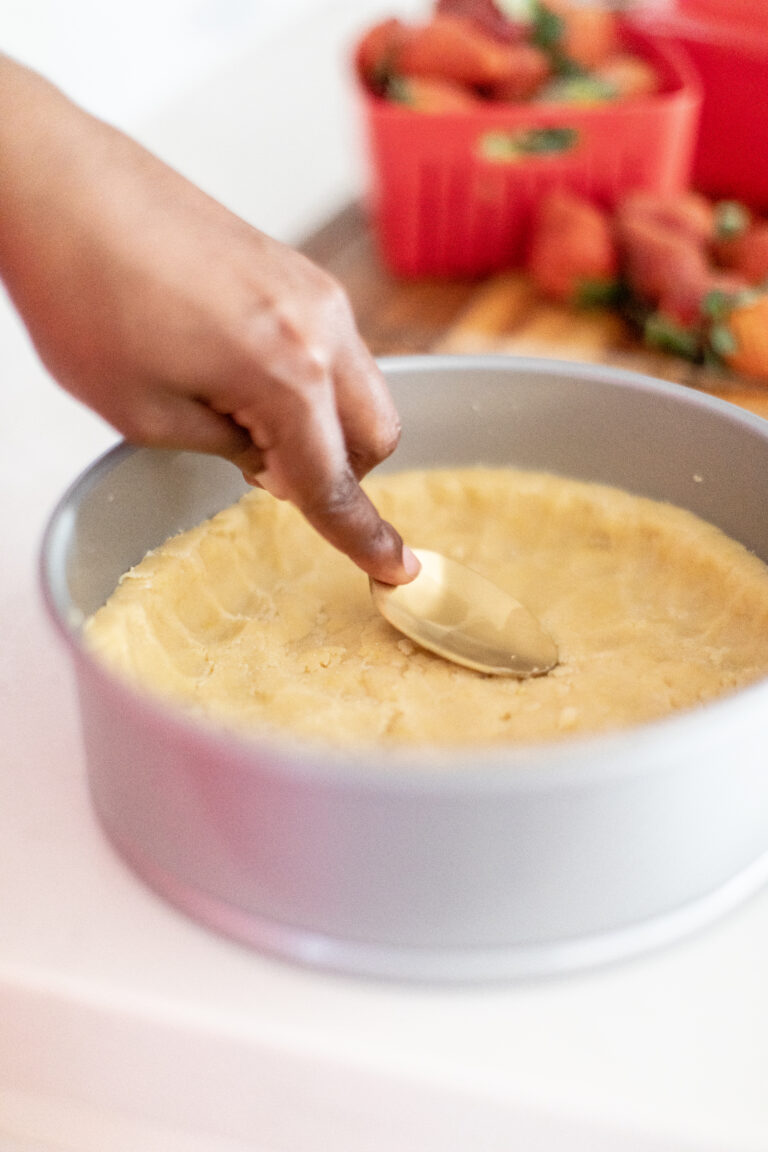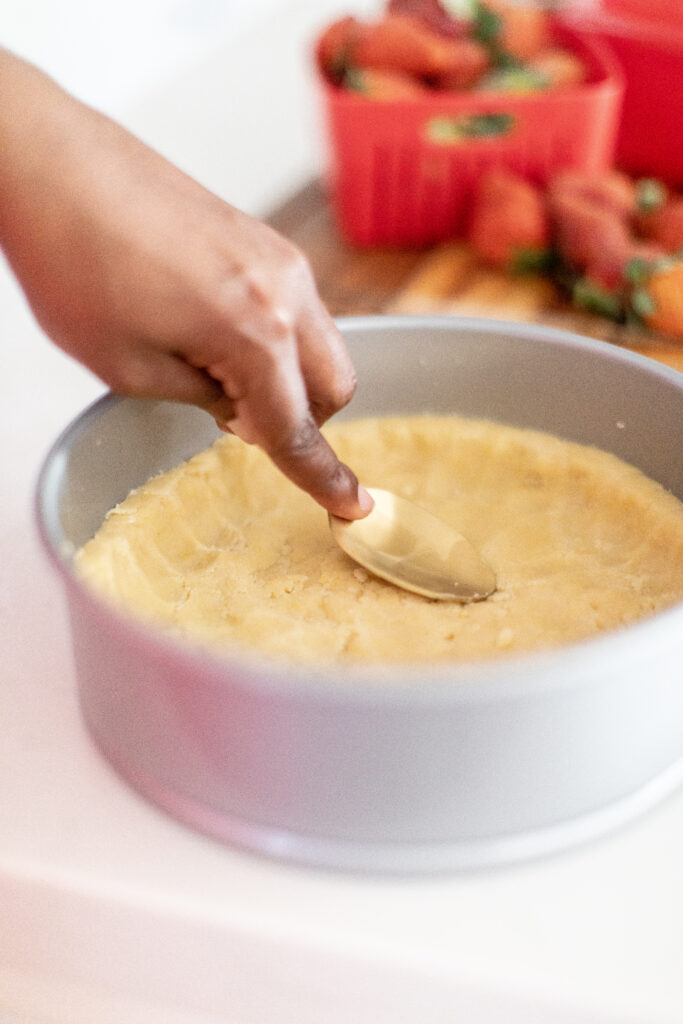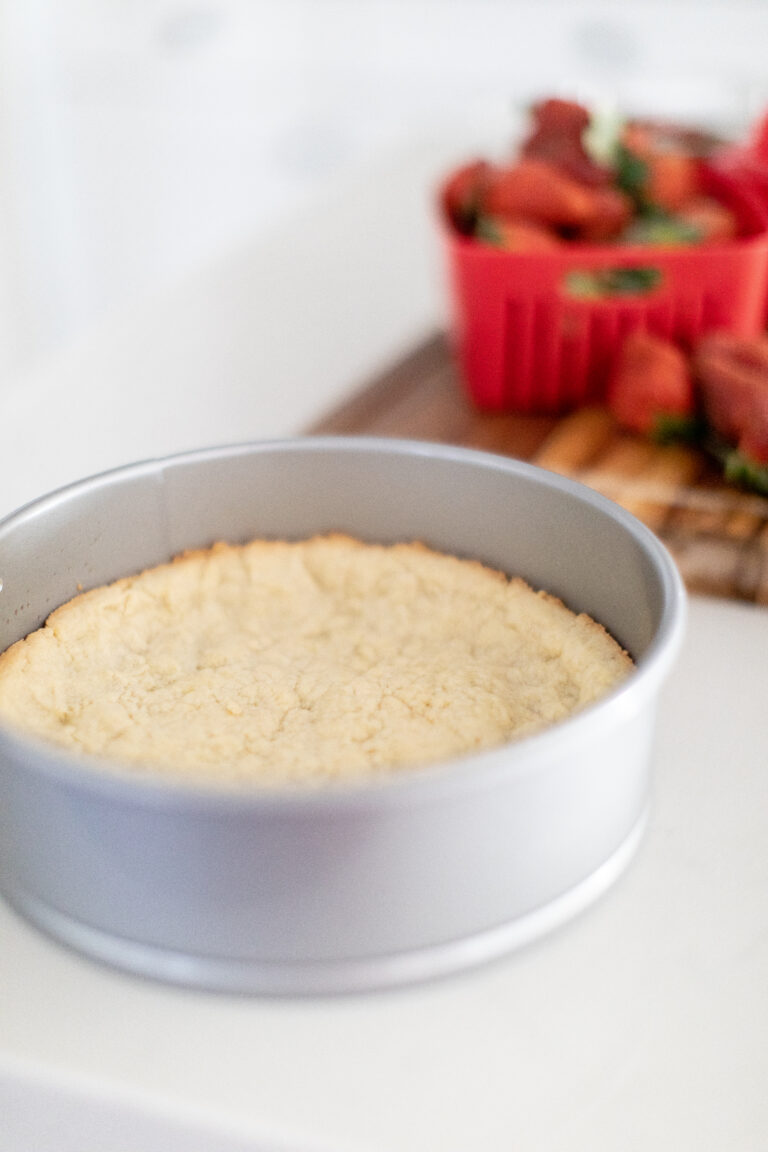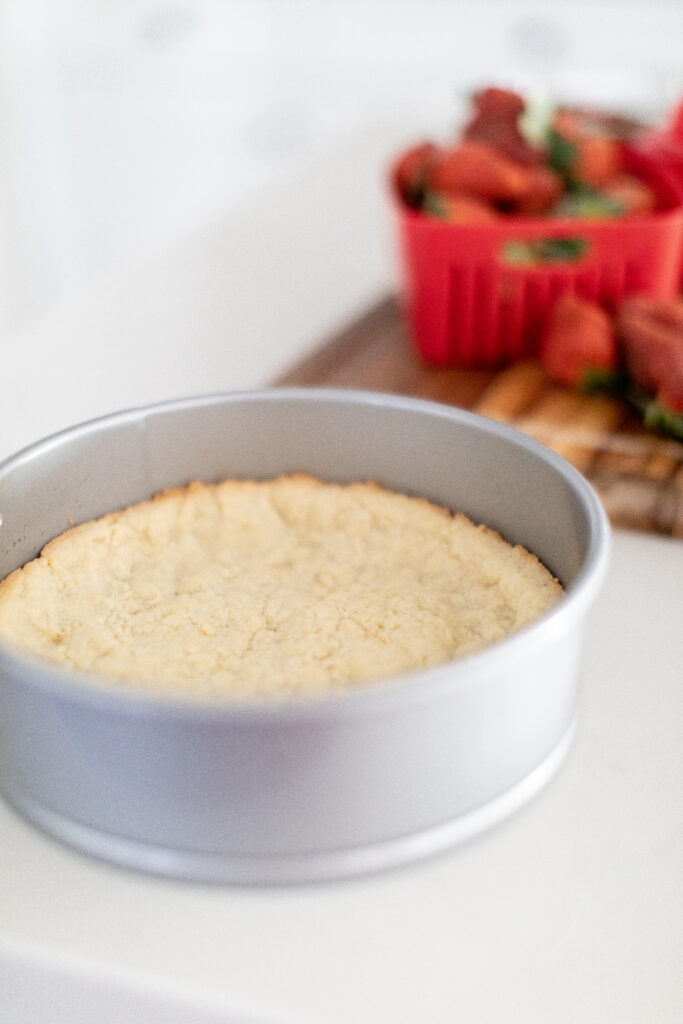 Cheesecake Filling
To make the filling get out your stand mixer. If you don't have one ( this is my favorite place to get them on sale) then that's ok, just use a hand mixer. But the stand mixer will just save you some time and work a bit faster to keep the mixture smooth. 
Mix all the ingredient together as directed in the recipe. But make sure not to over beat. This means slow and steady. Because of the eggs, if you over beat it might make the cake rise to much and then end up cracking.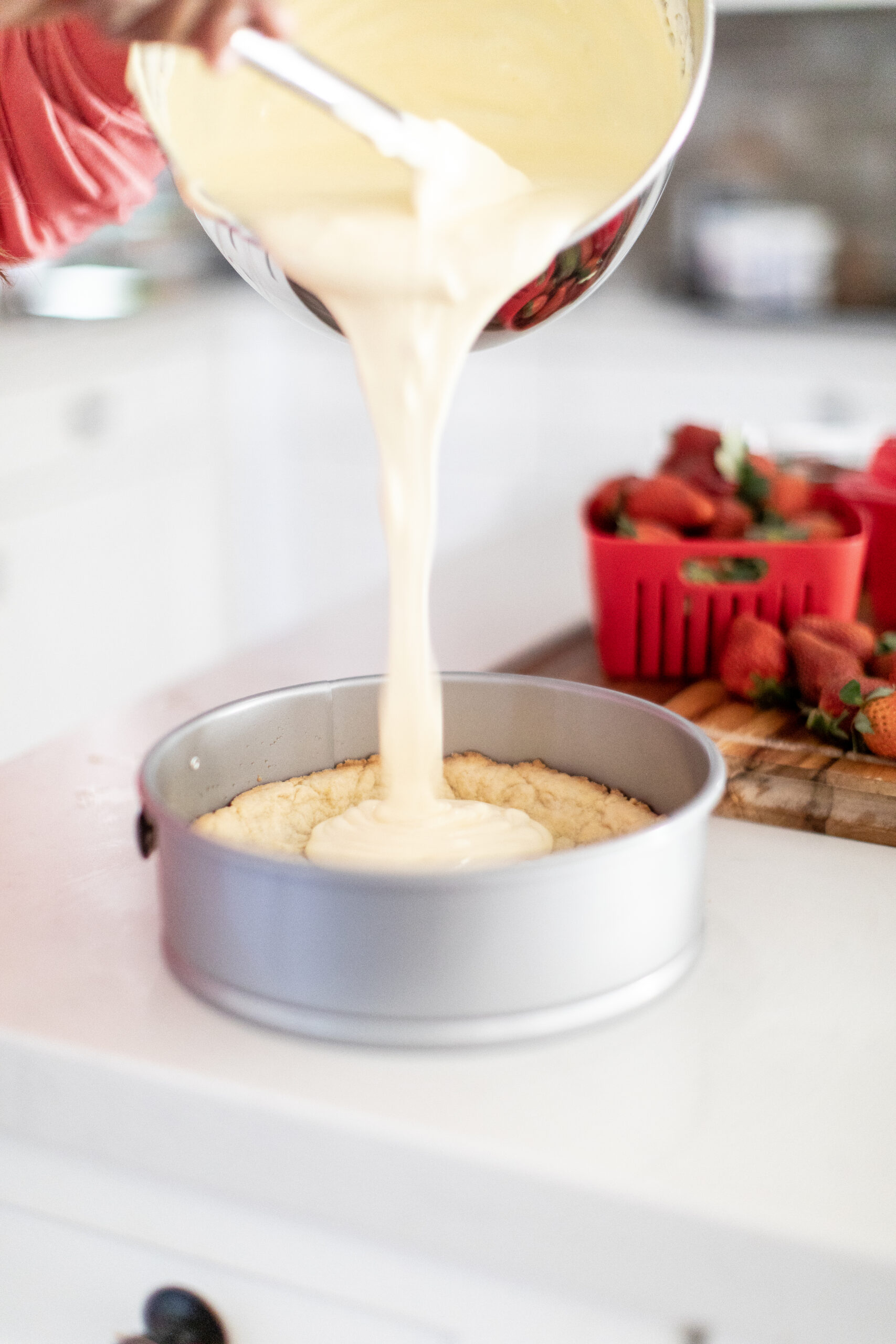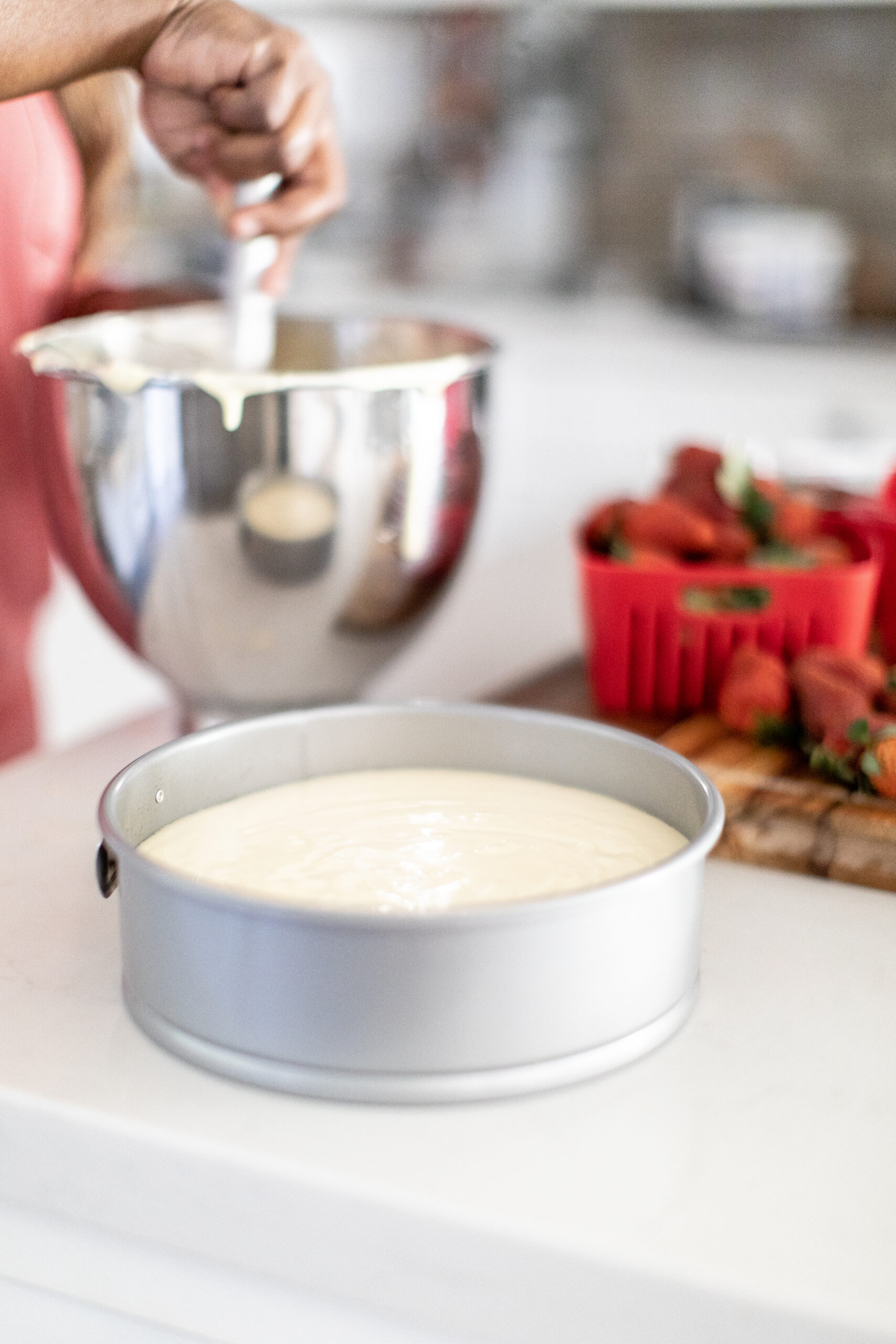 Then bake in the oven for 55-60 minutes. The cheesecake will seem to be undone in the middle when you check on it. That's ok. Just turn the oven off and continue to bake it in the oven with the oven door open, for 1 hour. 
After that remove the cheesecake and let it cool completely. Place it in the fridge until it's time to serve!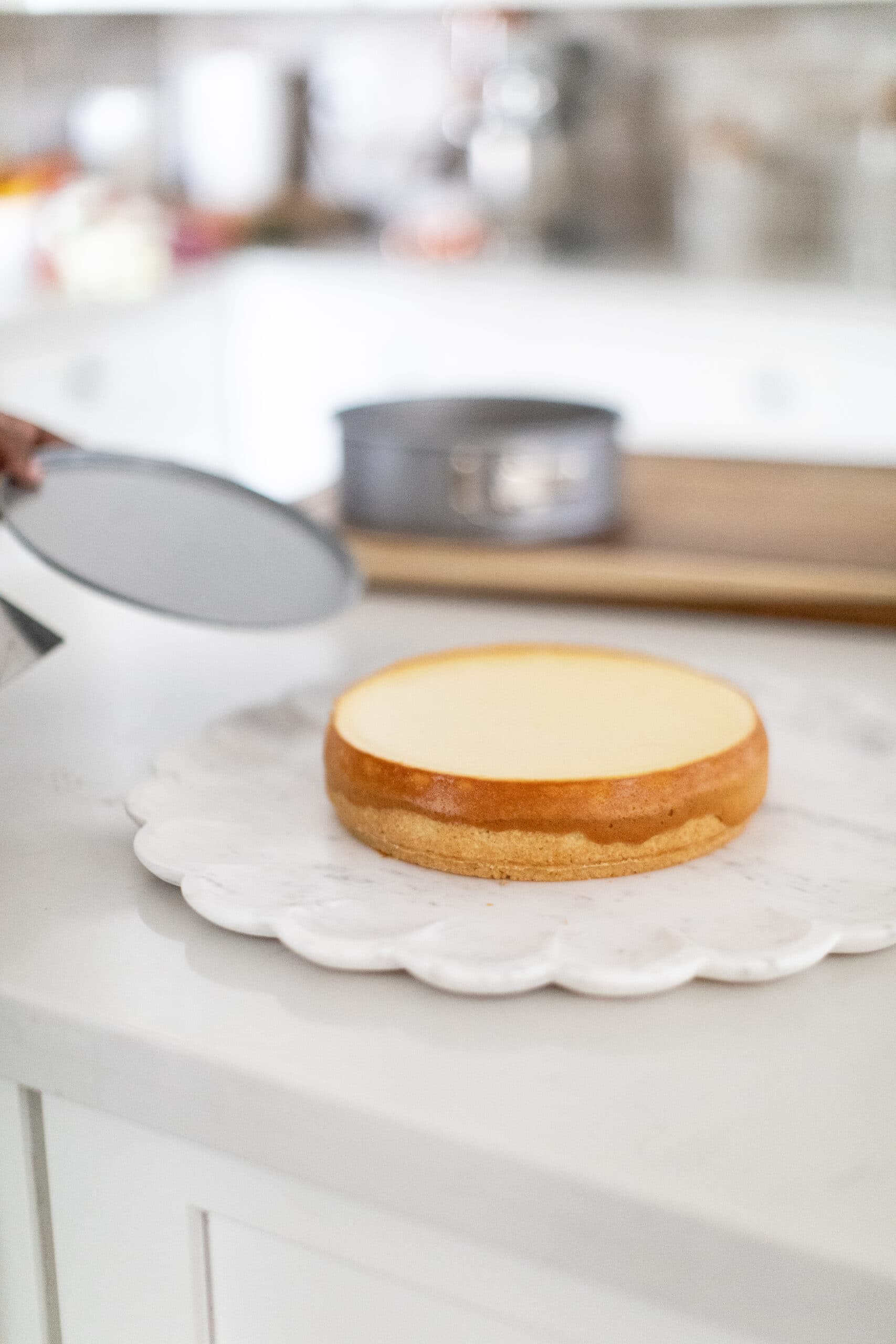 Strawberry Glaze 
Now for the other yummy part! The strawberry glaze. My dad made this all the time growing up and would put it over his vanilla ice cream. It's so dang good! Give the strawberries a good rinse and simply add sliced strawberries and sugar to a saucepan over medium heat. Stir until sugar comes to a nice boil then turn off and let cool. ( See the full recipe below)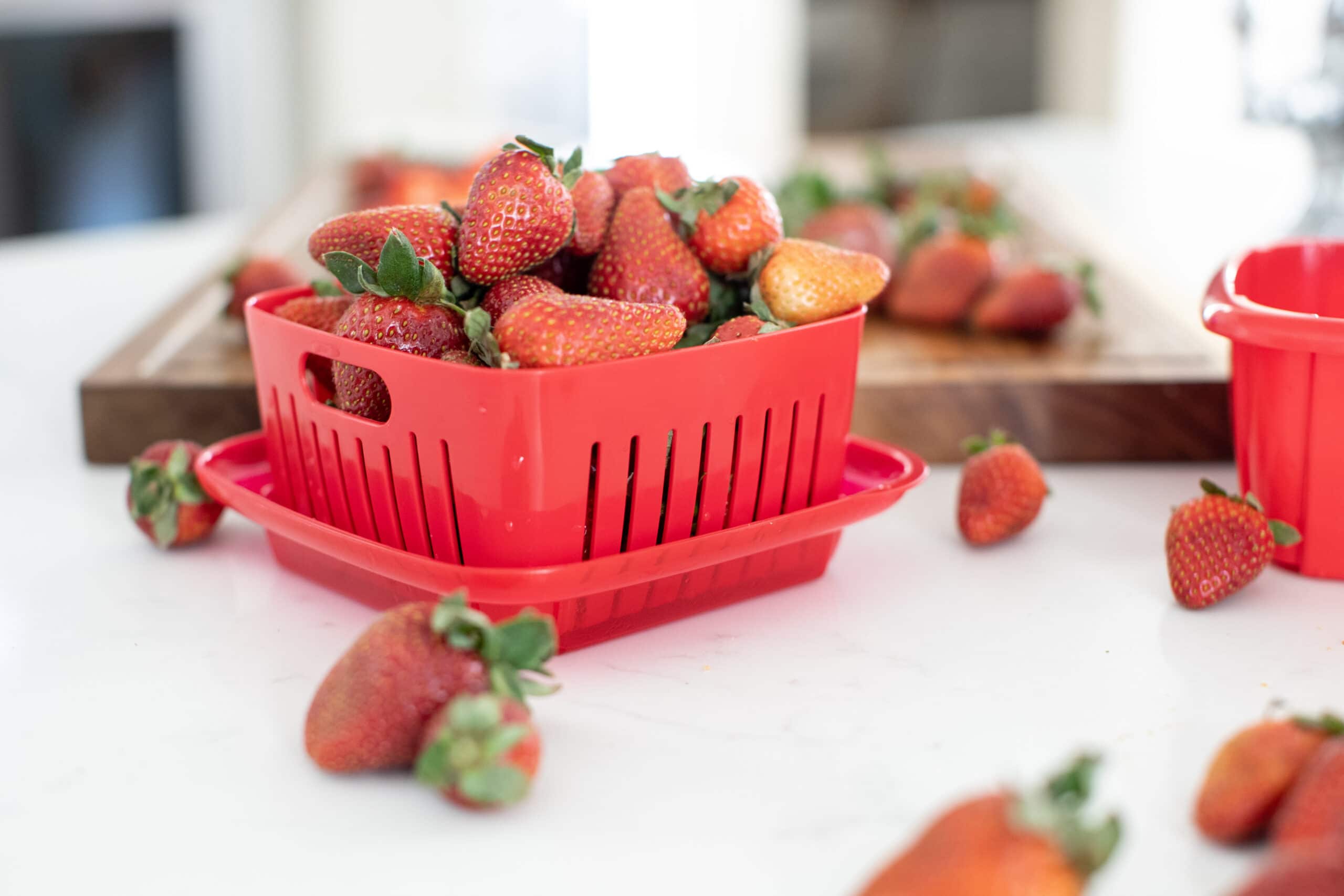 Poor over the cooled cheesecake along with fresh strawberries if you like! Serve and enjoy!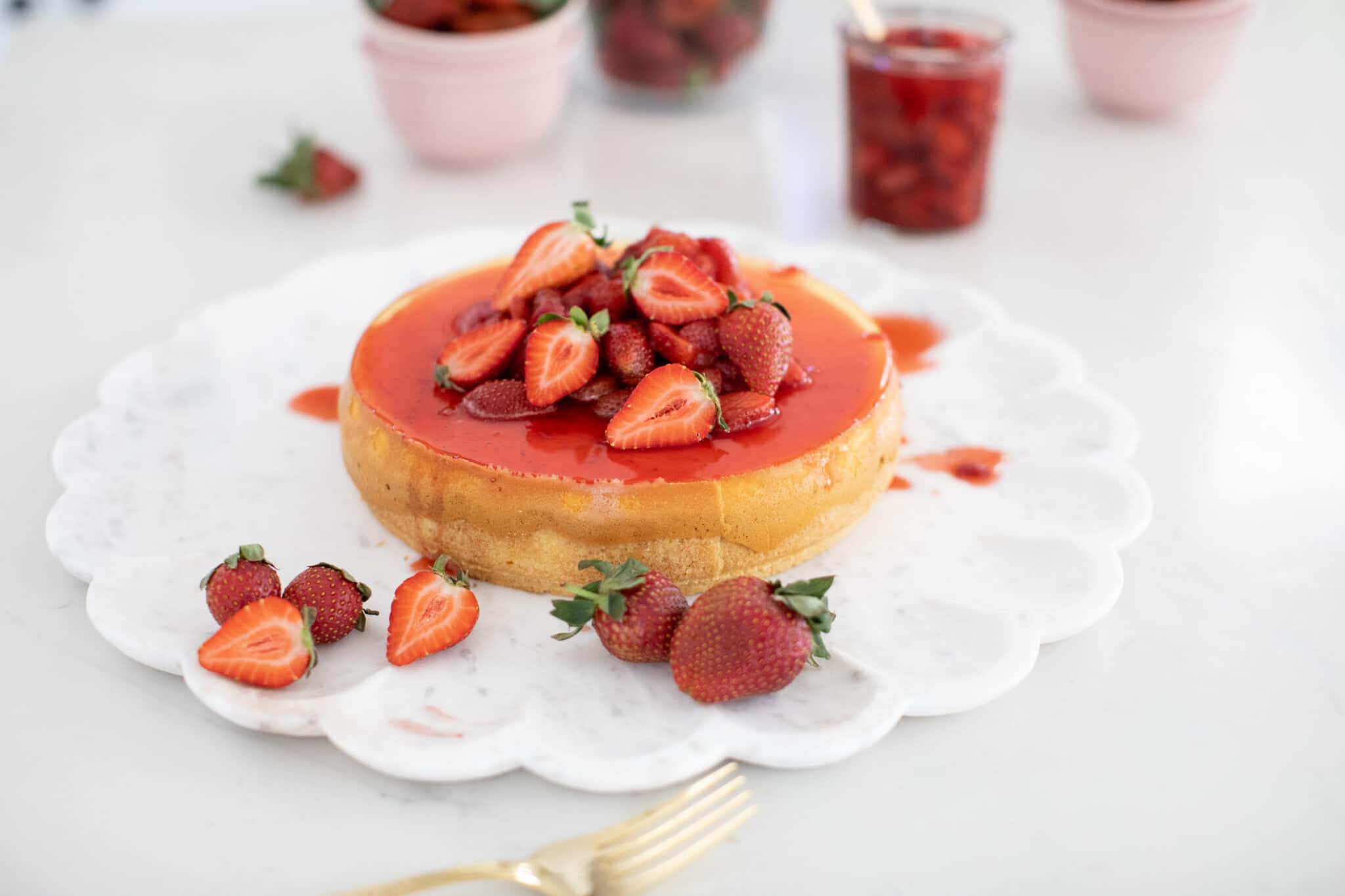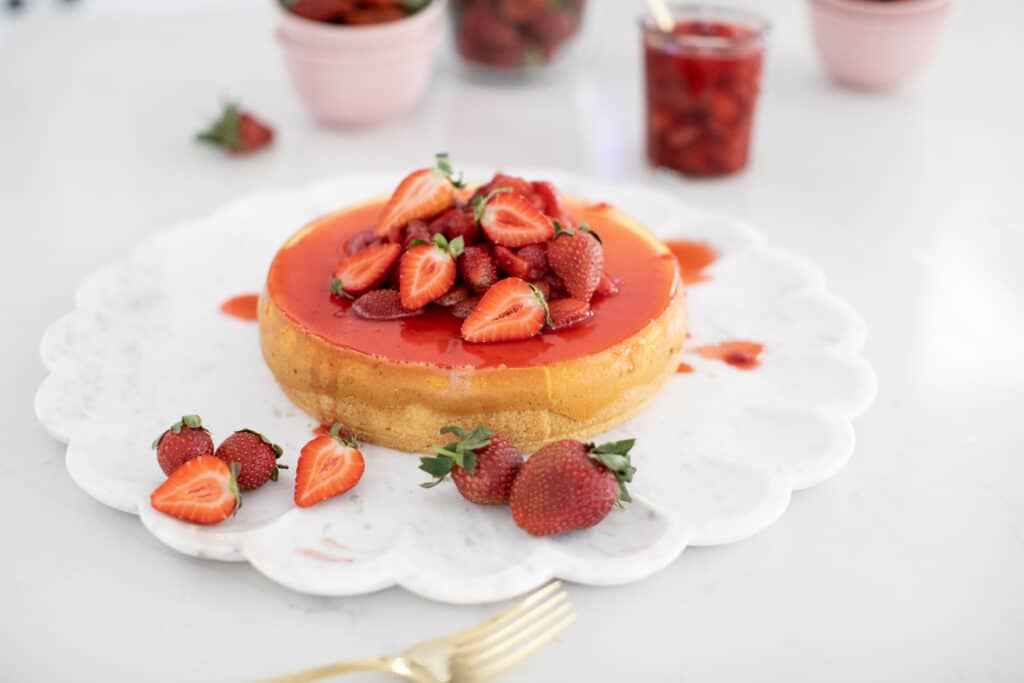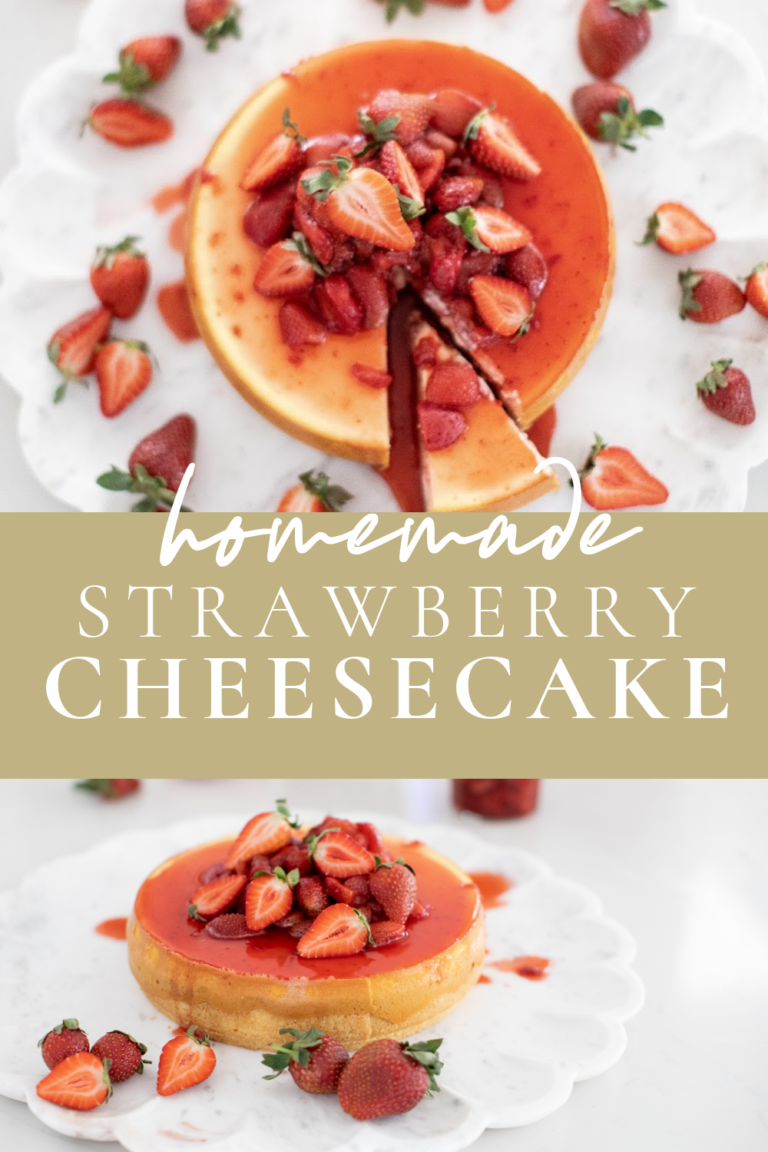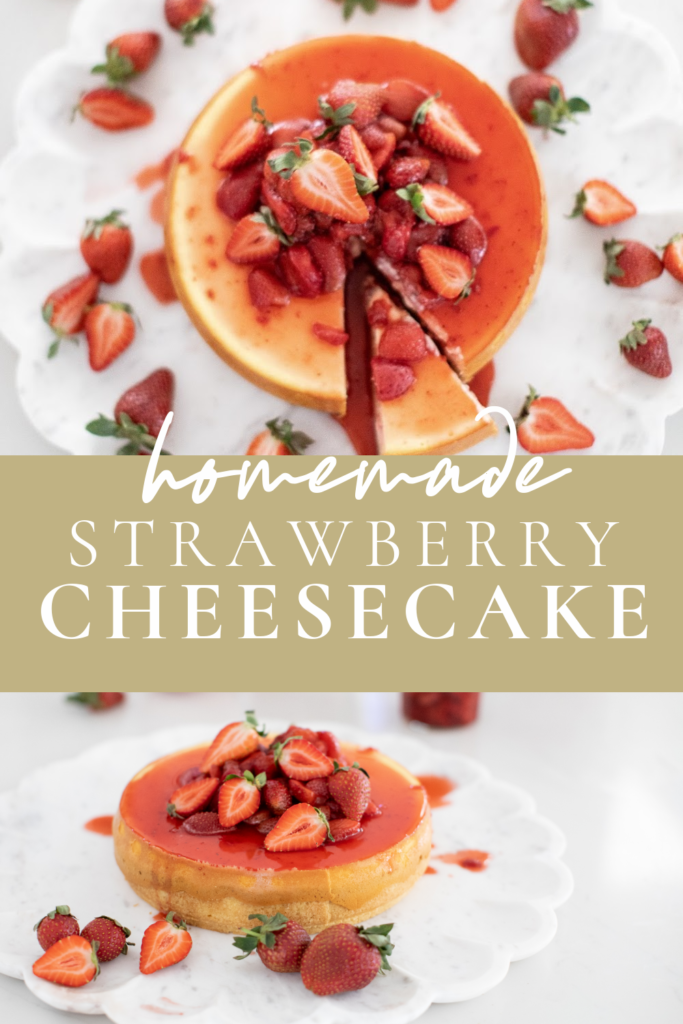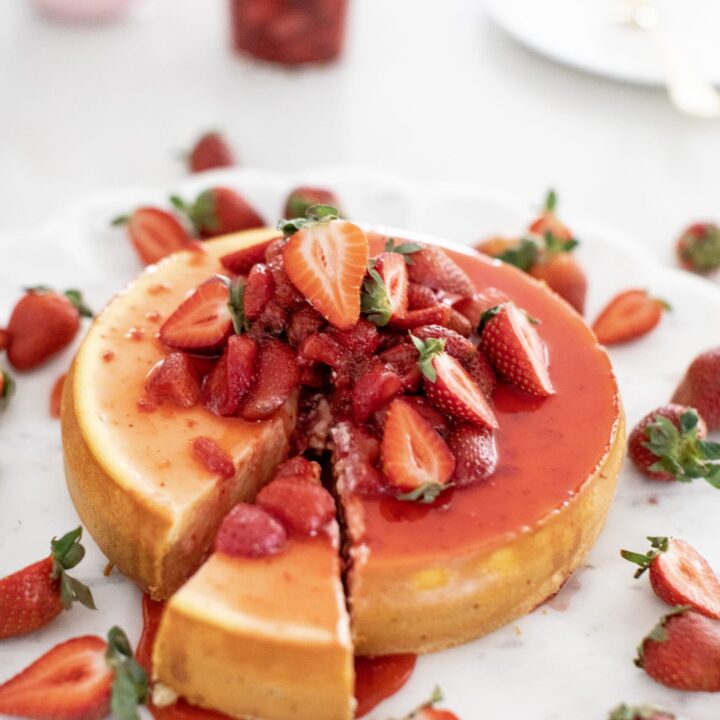 Amazing Strawberry Cheesecake
Yield:
1- 10 in Cheesecake
Cook Time:
1 hour
30 minutes
Total Time:
2 hours
50 minutes
A creamy resturant style strawberry cheesecake you can make right in your own kitchen. Simple ingredients make up this recipe but it packs a lot of texture and flavor you will fall in love with!
Ingredients
1 1/2 cups Unbleached All-Purpose Flour
1/3 cup sugar
1/4 teaspoon kosher
8 tablespoons unsalted butter, softened
1 large egg, at room temperature
Filling
Four 8-ounce packages Philadelphia cream cheese, at room temperature
1 3/4 cups sugar
3 tablespoons Unbleached All-Purpose Flour
zest of 1 lemon
1 tablespoon fresh lemon juice
1/4 teaspoon kosher salt
2 teaspoon vanilla extract
5 large eggs, at room temperature
1/2 cup sour cream, at room temperature
Strawberry Glaze
4 -5 cups fresh or frozen fruit
1/2 cup granulated sugar
Instructions
Preheat the oven to 400°F. Lightly grease a 10" springform pan.
To make the crust: In a mixing bowl with a paddle, combine the flour, sugar, salt, and butter. Mix until the mixture is crumbly, then add the egg and continue to mix until a soft dough forms.
Press the dough on the bottom and an inch up the sides of the prepared pan; prick it all over with a fork, and bake for 15 minutes, until light golden brown. Remove from the oven and cool to room temperature. Reduce the oven temperature to 325°F.
To make the filling: Place the cream cheese in a mixer with a paddle. Add the sugar and flour, and mix at low speed until there are no lumps. Scrape the bottom and sides of the bowl a couple of times and continue to mix until creamy.
Add the lemon zest, lemon juice, salt, and vanilla, and mix to combine. Add the eggs, one at a time, mixing until incorporated. Stir in the sour cream. Scrape the bowl to insure everything is mixed in.
Pour the filling over the crust and bake for 55 to 60 minutes, until the edges of the cake are set one inch in from the edge. The middle will still jiggle when you nudge the pan and will appear underbaked. You can measure the temperature of the cake an inch from the edge: when it reaches 175°F, turn off the oven.
Prop open the door, and let the cheesecake cool slowly in the oven for 1 hour. During this time the center will finish setting. Cooling the cake slowly will keep the top from cracking and ensure a smooth, even texture inside. Don't rush this part! Give yourself plenty of time to cool the cheescake down and let it settle.
To make the glaze: Whisk together the sugar, frozen/fresh strawberries in a medium saucepan. Place over medium heat and cook, stirring constantly, until the mixture boils and becomes clear.
Let the mixture cool to room temperature and then then spoon it over the cooled cheesecake.
Refrigerate the cake until you're ready to serve!
Notes
Adapted: King Arthur Cheesecake
Recommended Products
As an Amazon Associate and member of other affiliate programs, I earn from qualifying purchases.
Nutrition Information:
Yield:

8
Serving Size:

1
Amount Per Serving:
Calories:

1161
Total Fat:

58g
Saturated Fat:

33g
Trans Fat:

0g
Unsaturated Fat:

19g
Cholesterol:

293mg
Sodium:

489mg
Carbohydrates:

151g
Fiber:

9g
Sugar:

114g
Protein:

18g
Calories are only and estimate.