The Best Mexican Christmas Cookies Recipe
This post is sponsored and may contain affiliate links, please read my disclosure policy.
I don't know if there's a more perfect Christmas cookie than this Mexican Christmas Cookie Recipe. You are going to love the simplicity of the recipe and the amazing buttery taste that melts in your mouth. Get ready to put this on your annual Christmas cookie rotation. The Mexican Christmas cookie actually goes by a few different names:
Pecan Sandies
Snowball Cookies
Butterball Cookies
Mexican Wedding Cookies
Italian Wedding Cookies
Russian Tea Cakes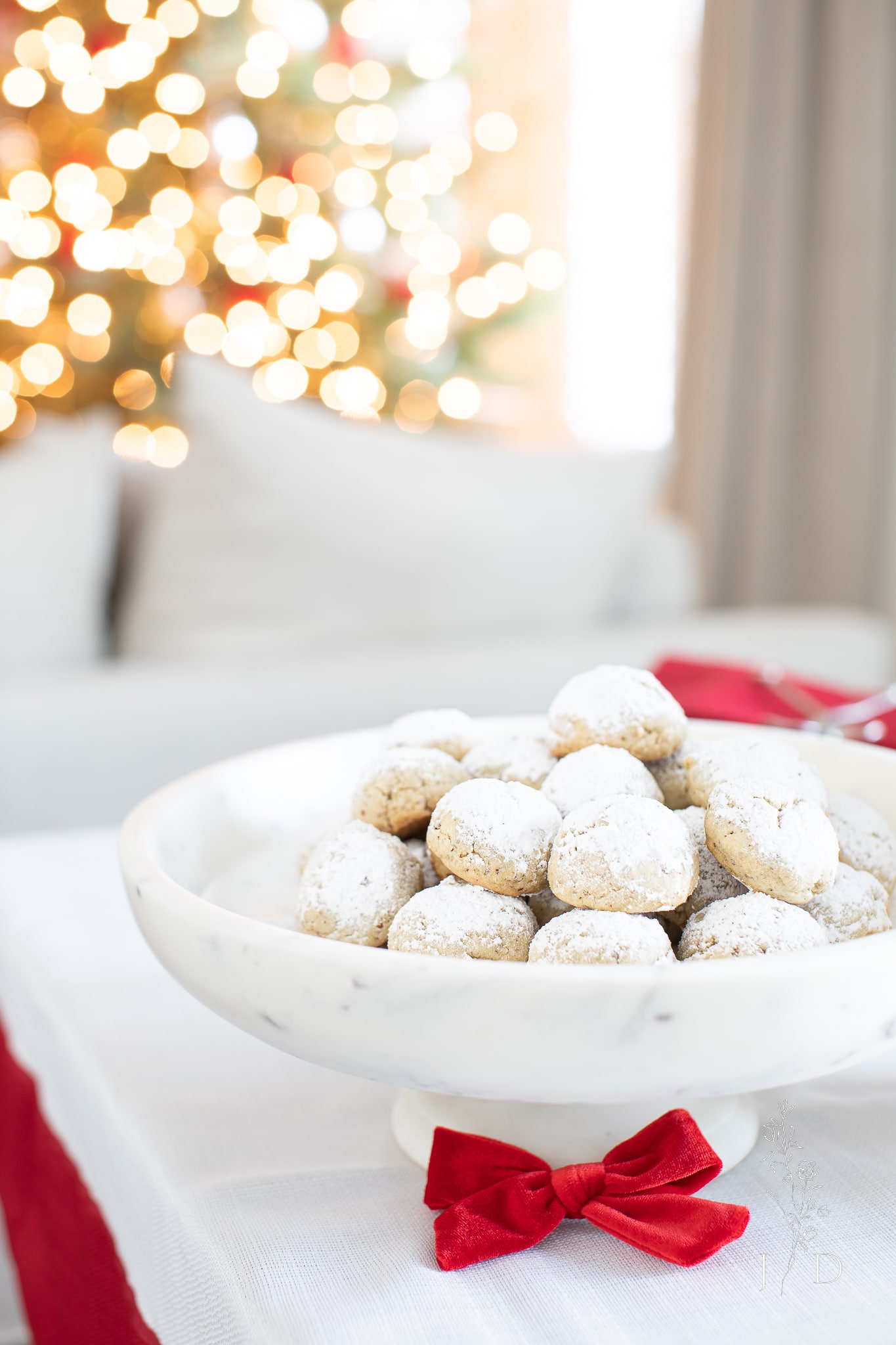 It seems like every culture has their own version of it. But no matter the variation of names or various recipes these classic Christmas cookies rolled in snowy white powdered sugar is one of everyone's favorite cookies during the holiday season.
My mom made these growing up so it's super nostalgic for me personally and I love making all the same recipes my mom made. Even though I think moms just have that special magic touch that's hard to recreate. But hopefully my kids feel the same way when I pass down this recipe to them! I crave that buttery cookie all year long but always wait until this time of year to make them. They're also great for other special occasions like um…weddings lol!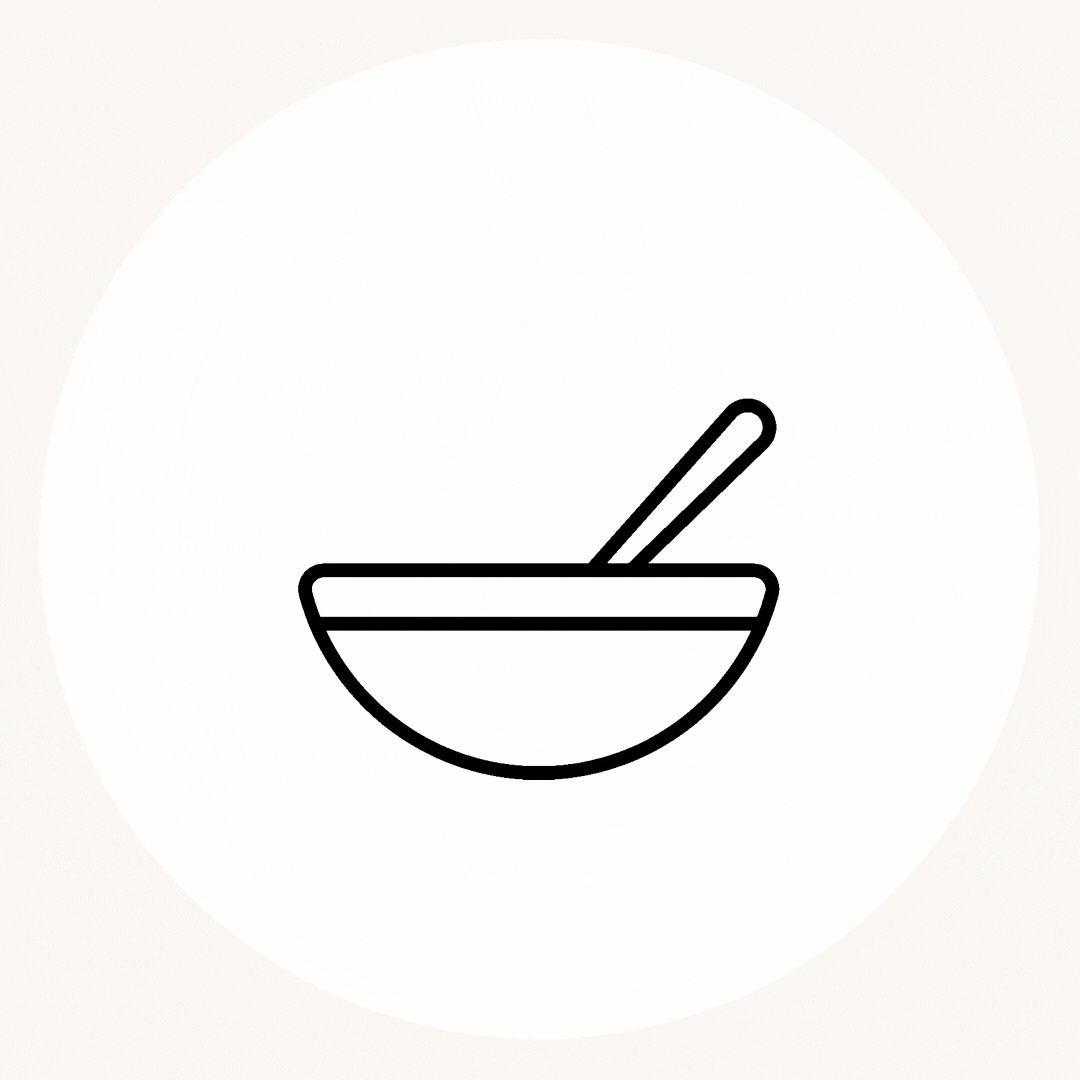 Tips & Tricks
These are perfect for a cookie exchange during the Christmas season and to make these cookies last you will want to store them in an airtight container at room temperature for up to 3 days.
To form the dough use a cookie scoop! Then roll the dough into a ball with your clean hands.
Make sure the butter is soft but not melted. Melted butter will give the cookie a flatter shape.
You can chill the cookies for 15 minutes before you bake them to help hold the shape.
Kitchen Appliances and Supplies

Cookie Sheets
Parchment Paper
Electric Hand Mixer or Stand Mixer
Food Processor or Mini Food Processor ( If using nuts)
Spatula or Wooden Spoon
Mixing Bowl ( These are my favorite)
Measuring Cups and Spoons
Ingredients
Always try to get the BEST ingredients. Splurge on butter and vanilla extract. It makes a big difference.
Butter
Powdered Sugar or Confectioners' sugar
All-Purpose Flour
Sugar
Pecans or Almonds (optional)
(Step-by-Step) How to Make Christmas Mexican Cookies
Take the food processor with the knife blade attachment and pulse pecans with 2-1/2 tablespoons of powdered sugar until very finely ground. Like the texture of wet sand.
In a large bowl ( these are my favorite mixing bowls) combine chopped pecans, flour, baking soda, and salt until well combined.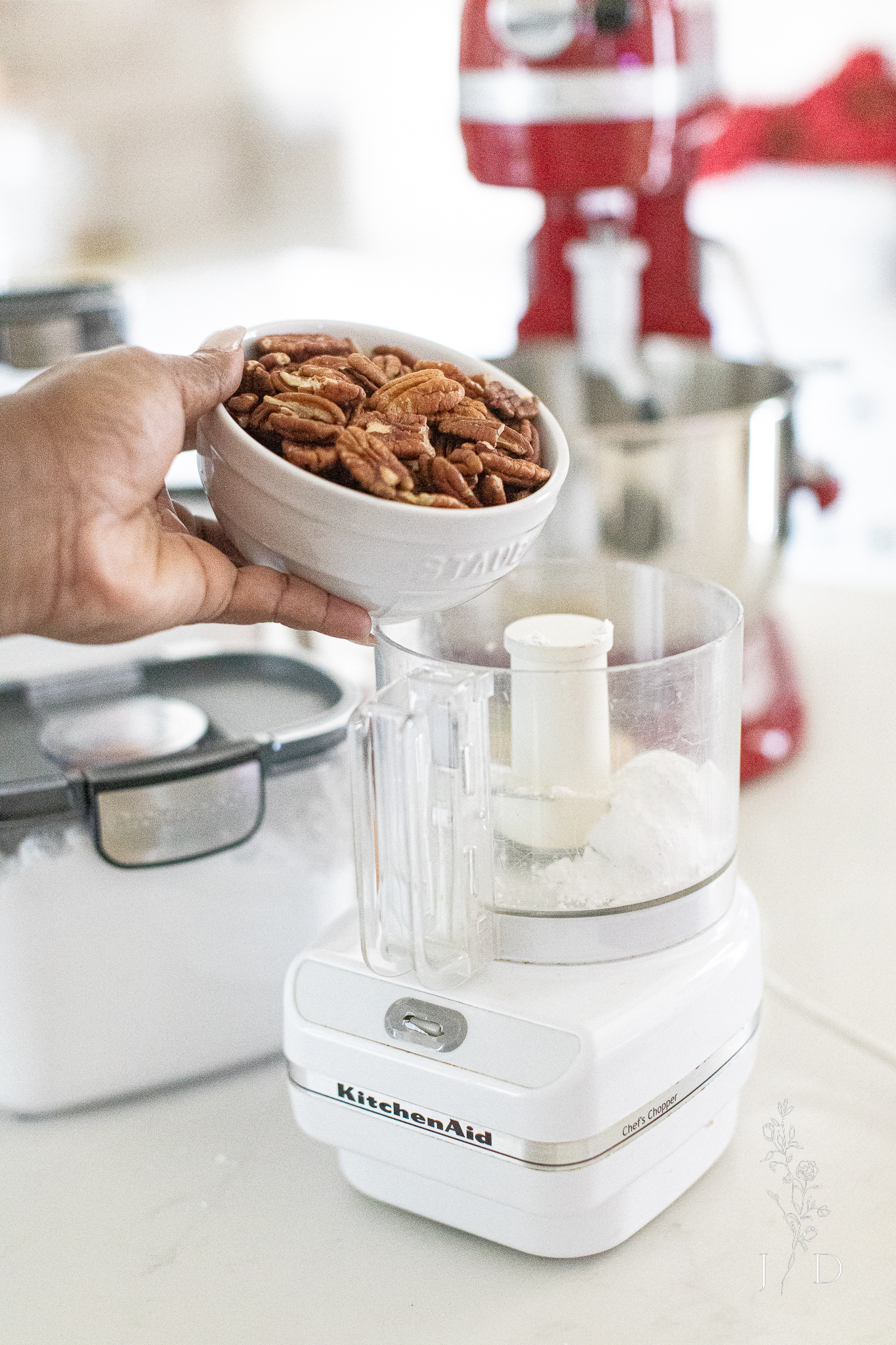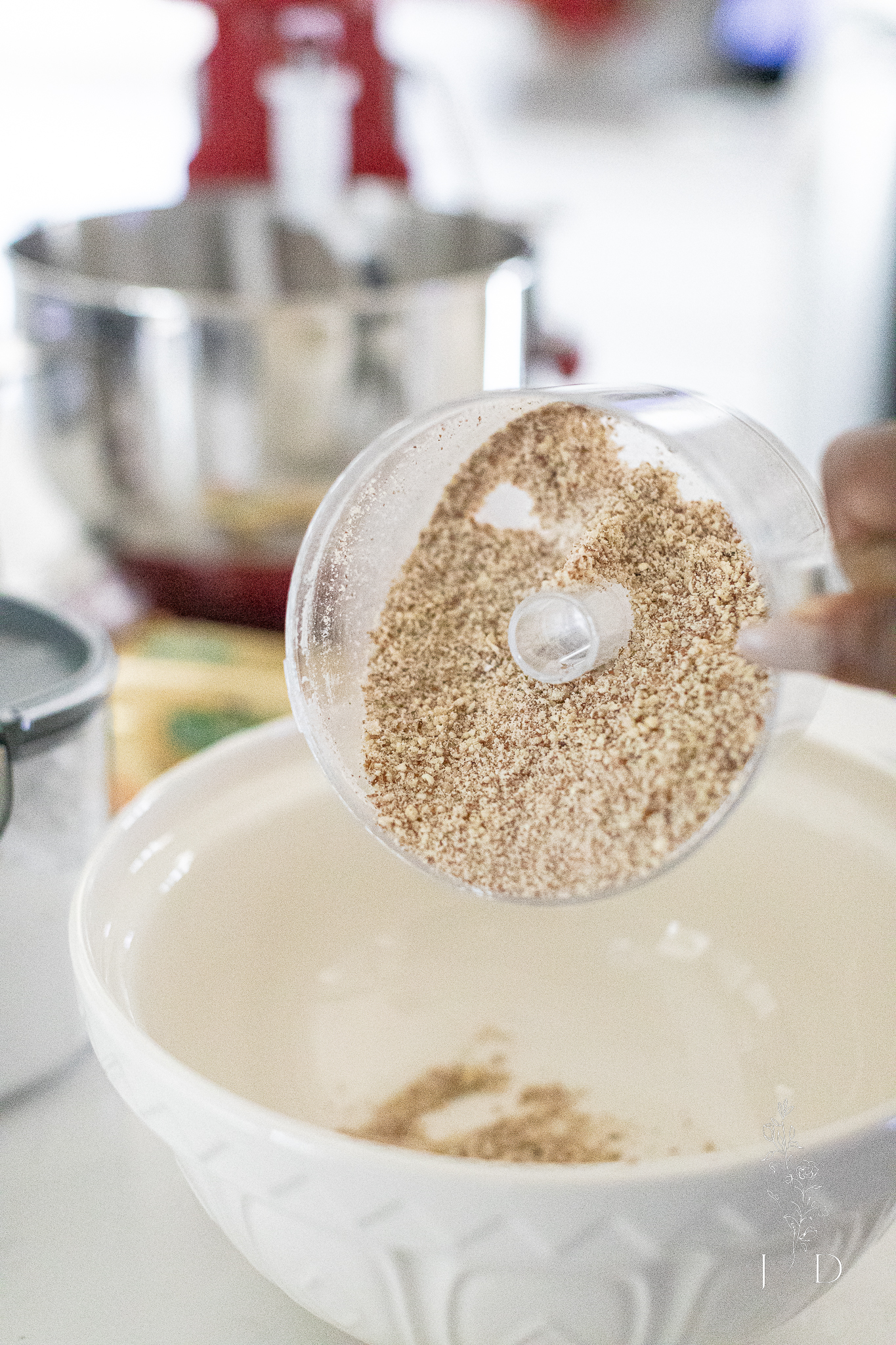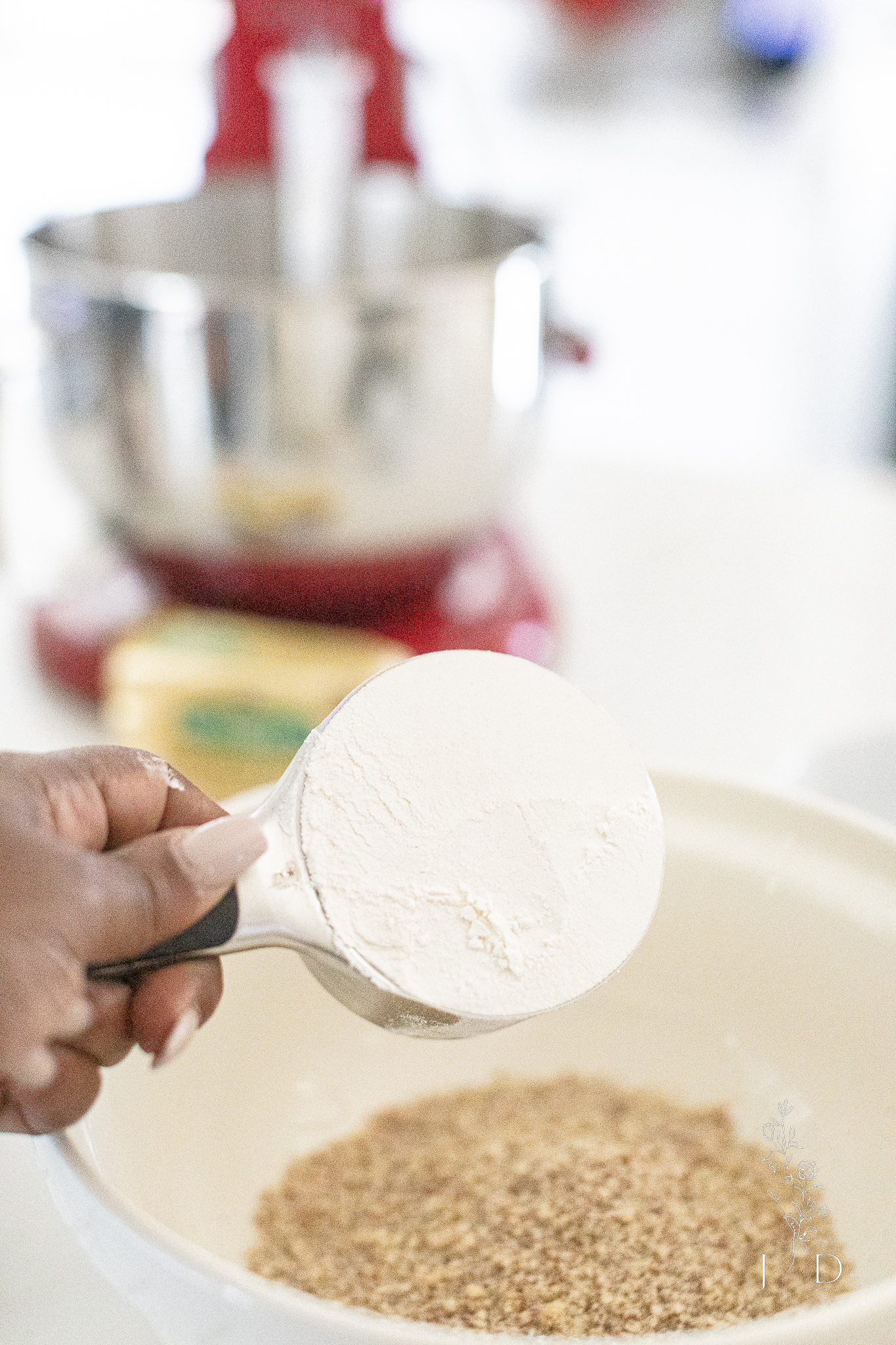 Using your stand mixer or hand mixer, beat the butter and granulated sugar until it's creamy. If using a stand mixer use the paddle attachment. Beat for about 30 seconds on medium speed. Scrape down the bowl as needed.
Next add the egg and vanilla extract. Beat until combined. Scrape down the bowl as needed.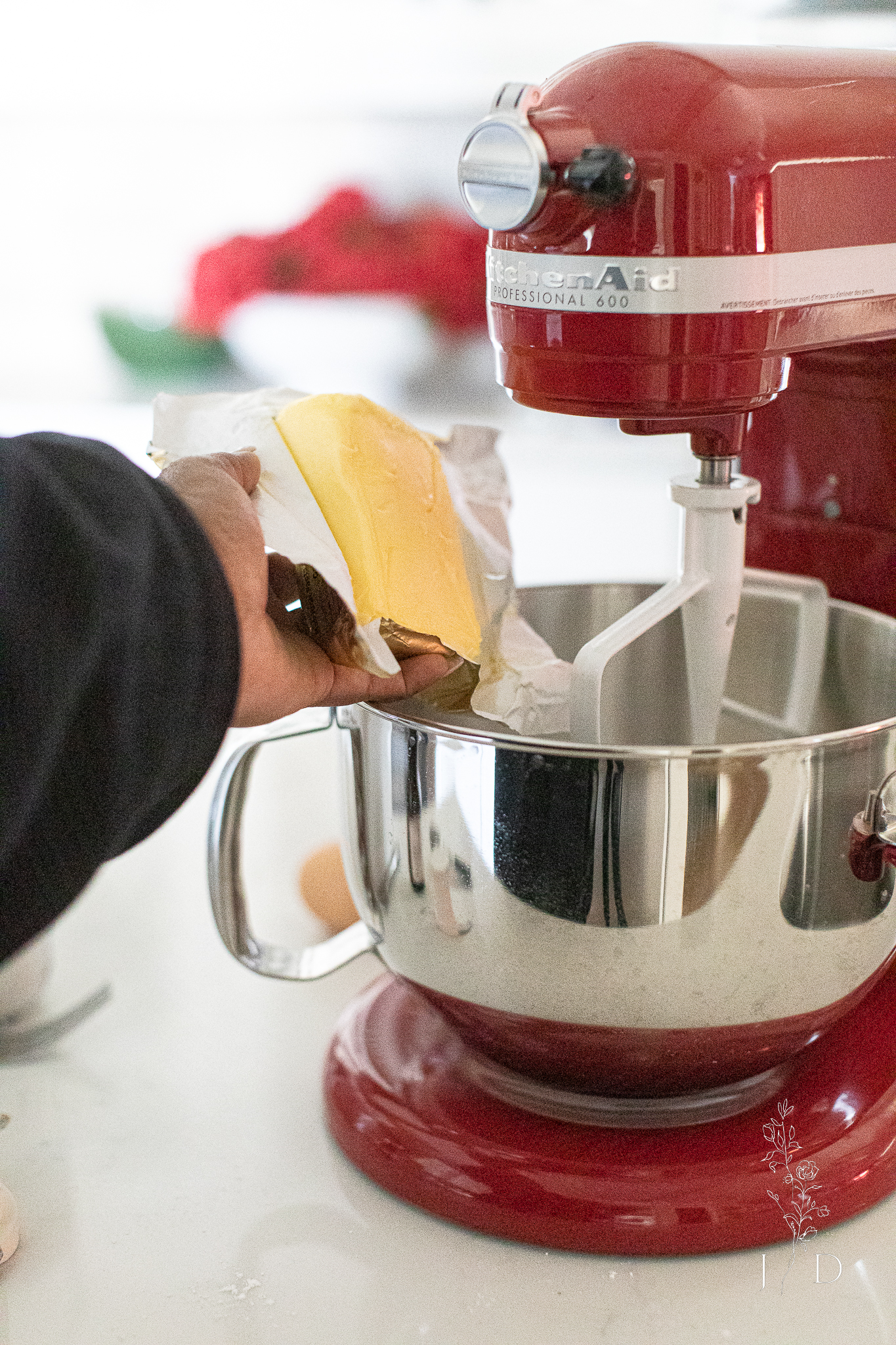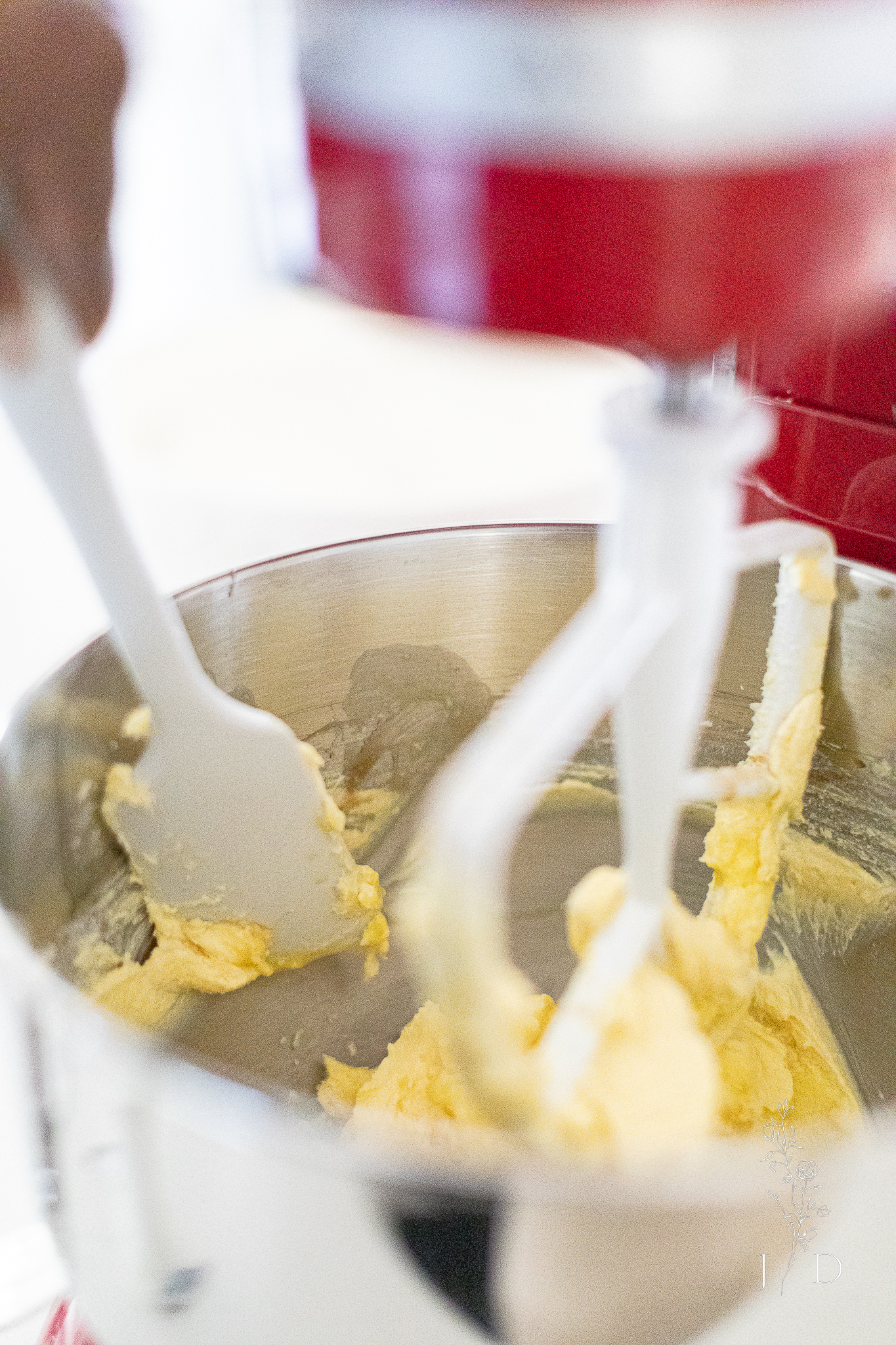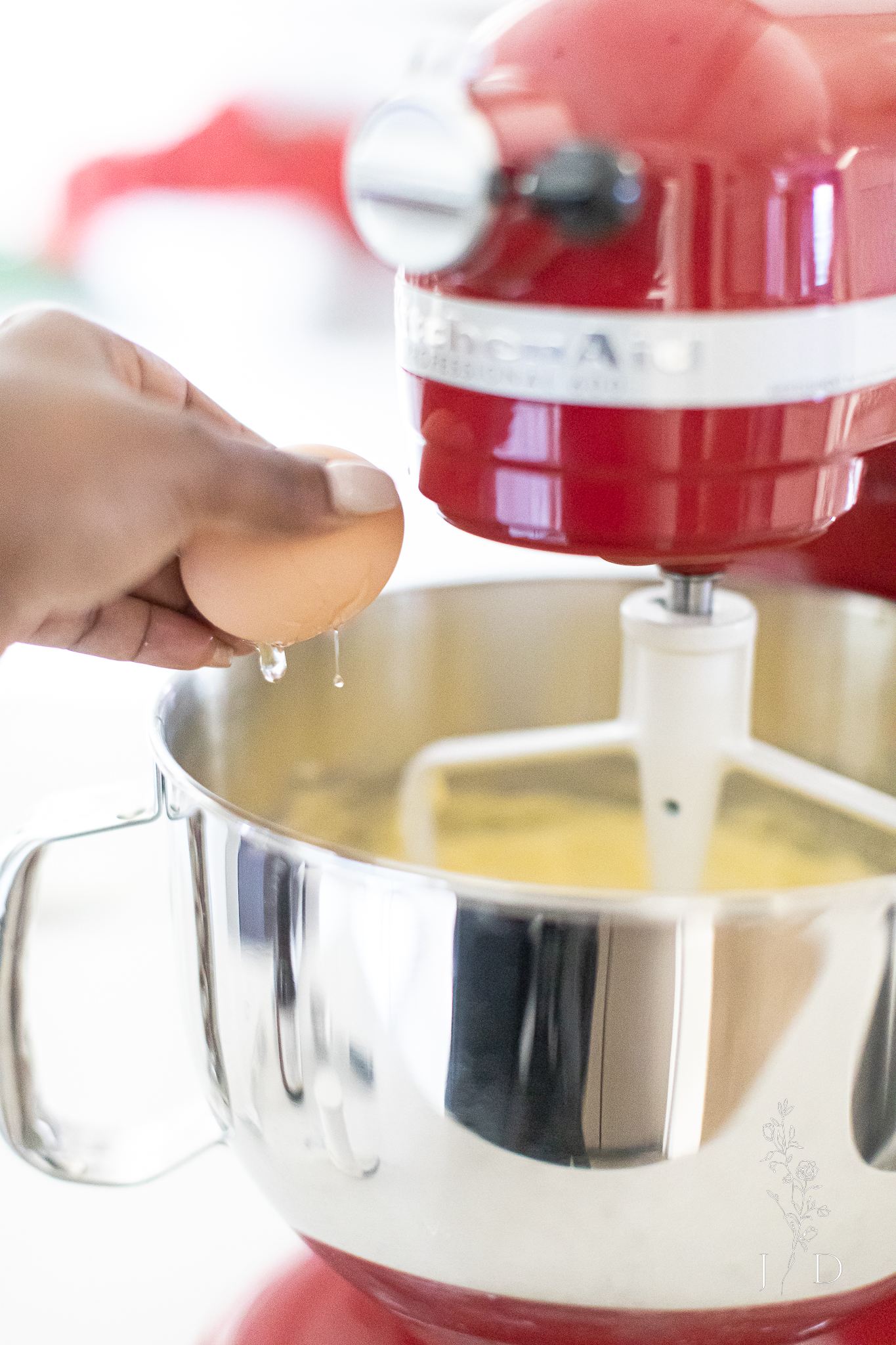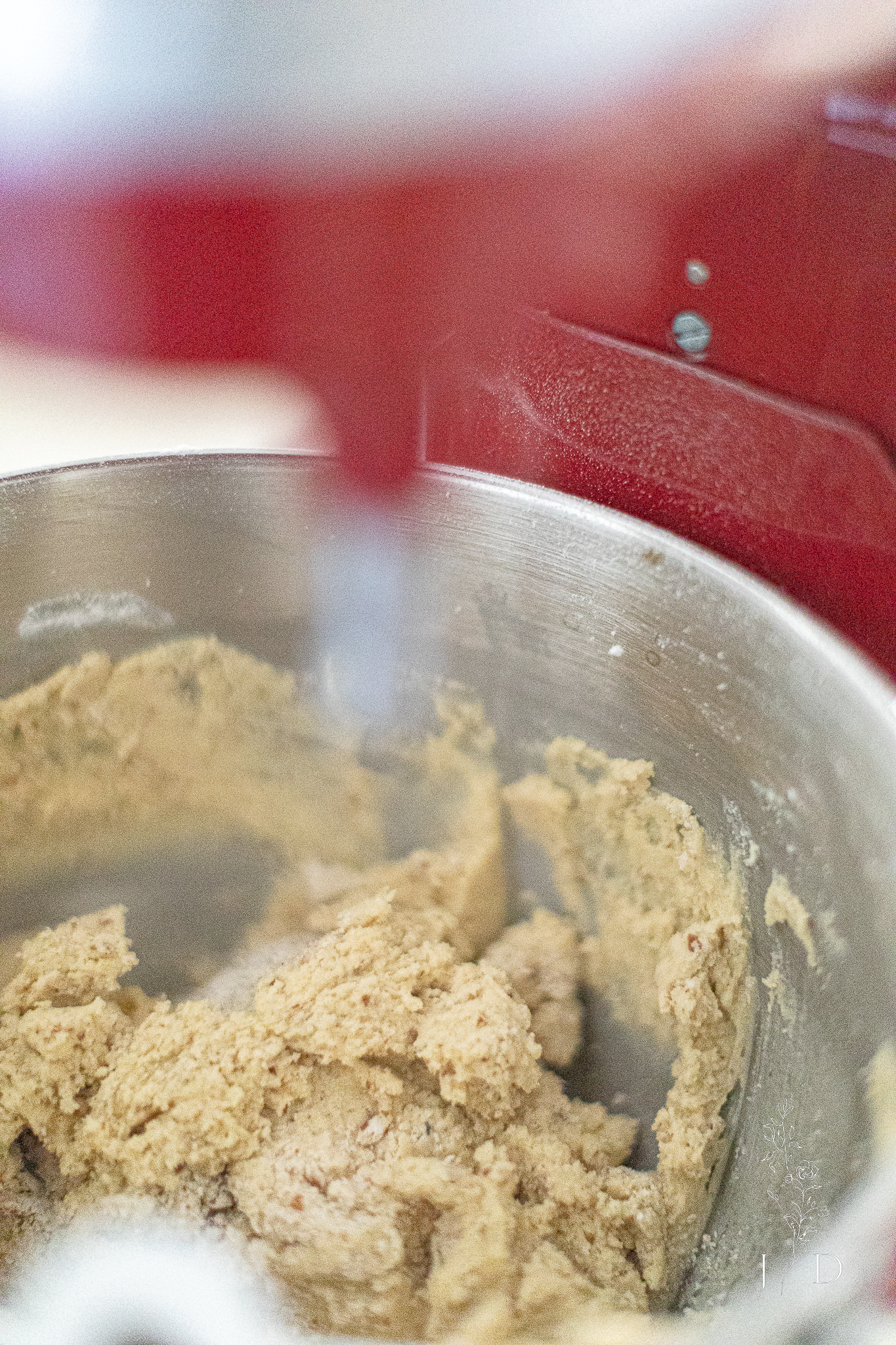 Reduce the speed and add the flour mixture a little bit at a time.
Once the dough is combined, form the cookie dough into 1- inch round balls and place on a baking sheet lined with parchment paper. I love using the a cookie scooper to help me keep the balls all the same size! It's a great way to make a consistent round cookie.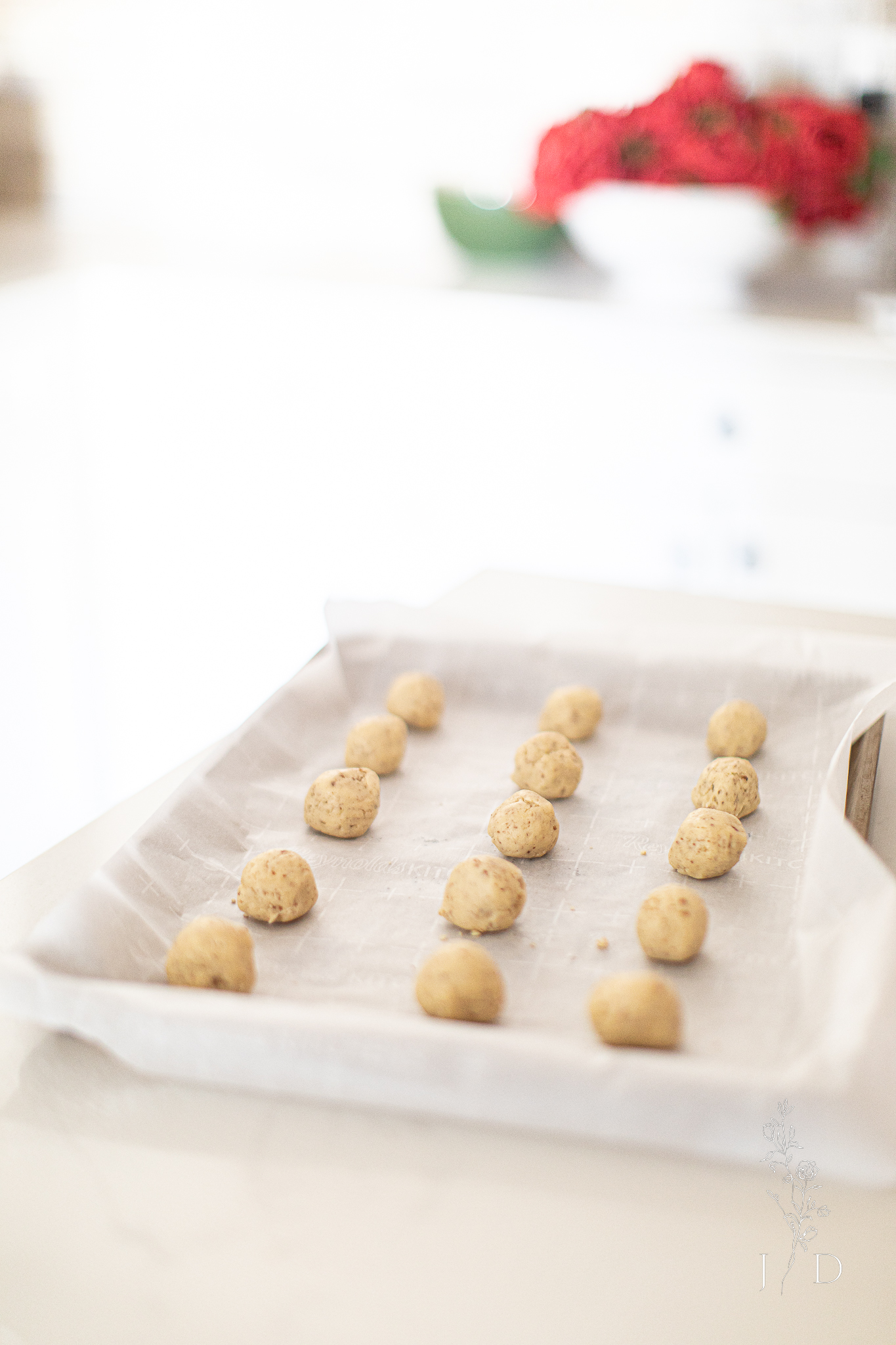 Place the cookies in a preheated oven and cook for 14 minutes or until bottoms are a light golden brown. Let cool on a cooking rack.
Once cooled gently shake 5-6 cookies and 1 cup of powdered sugar in a closed gallon sized zip lock bag or use a sifter to sprinkle the powdered sugar on top.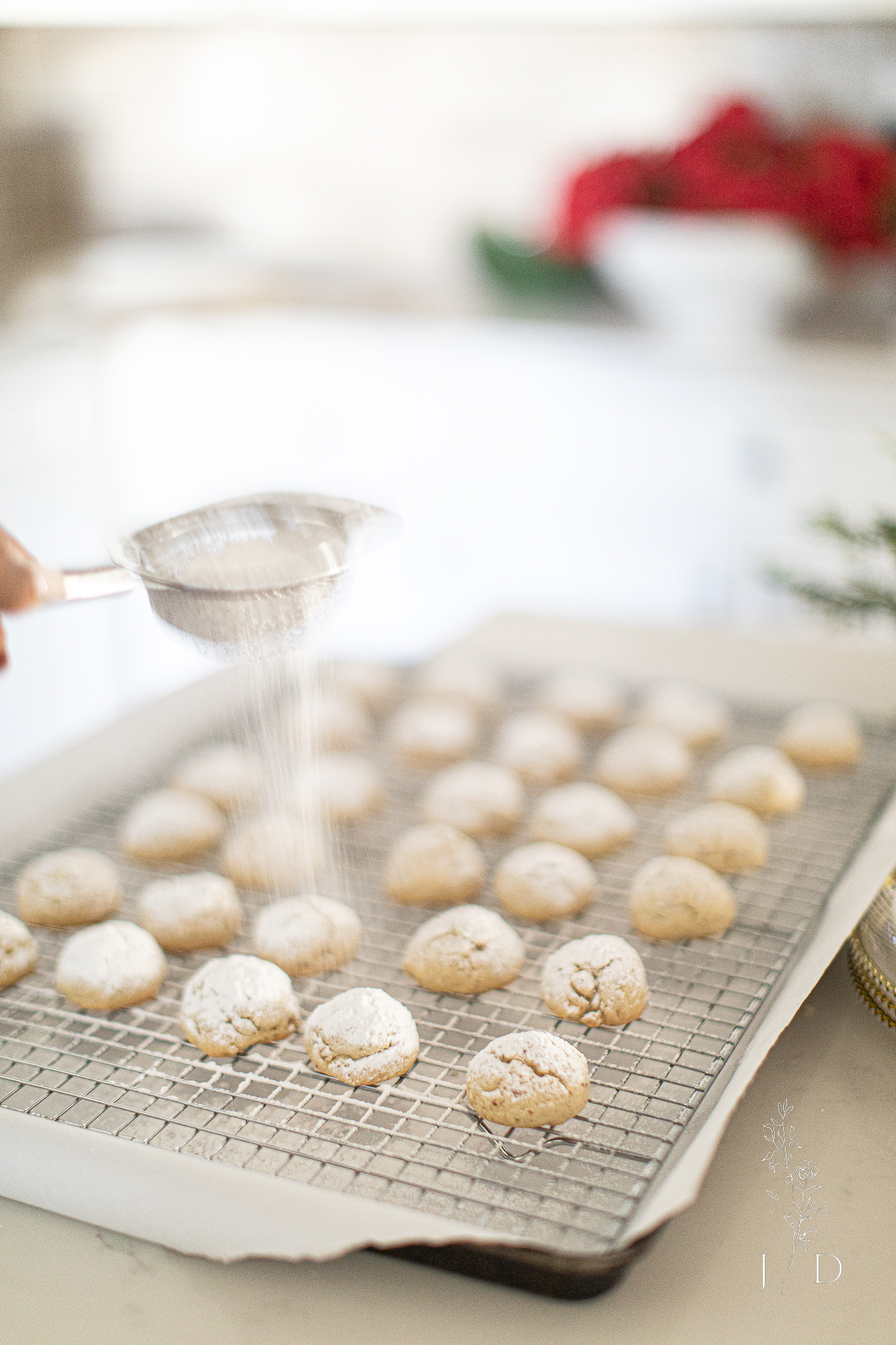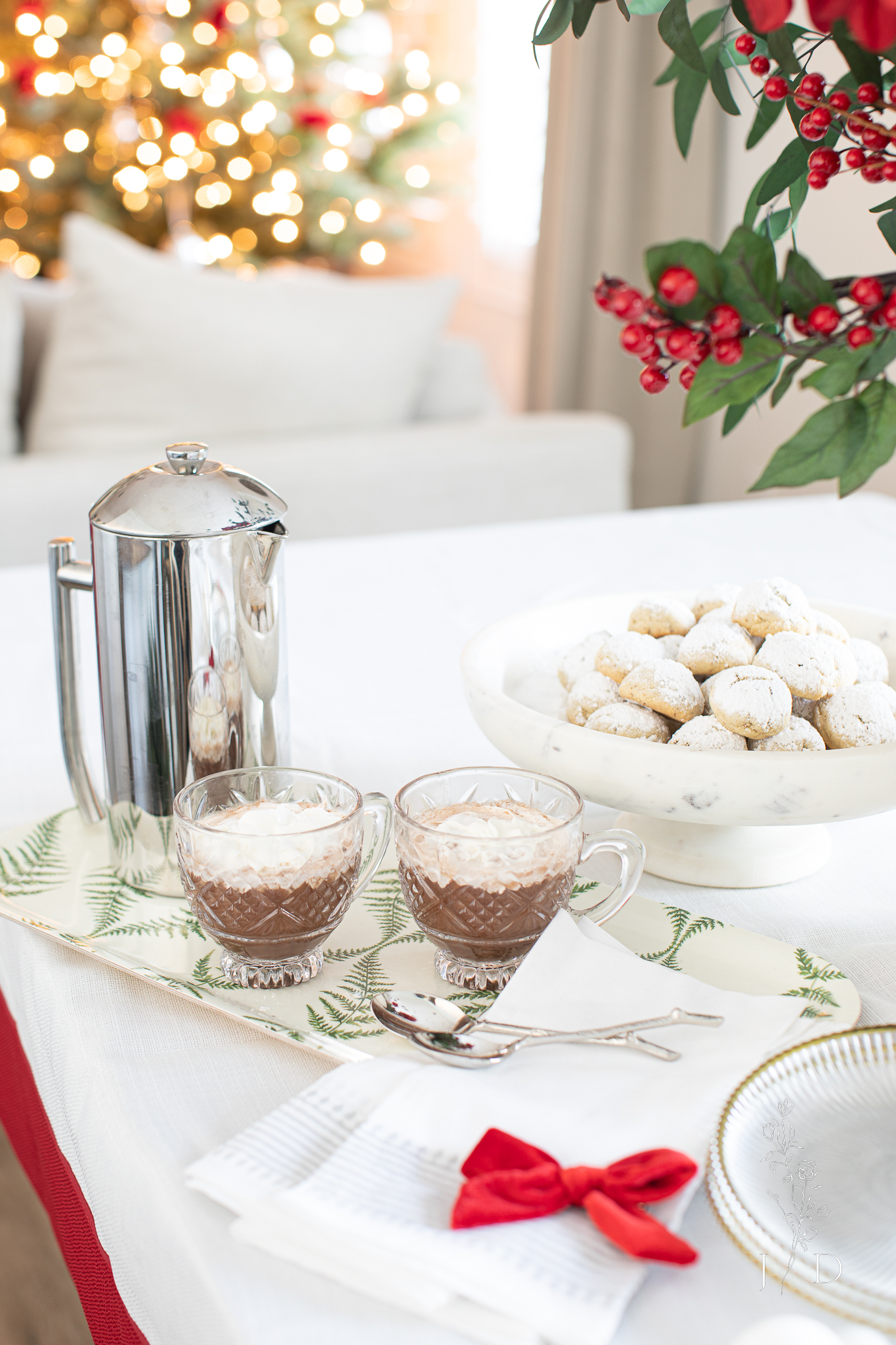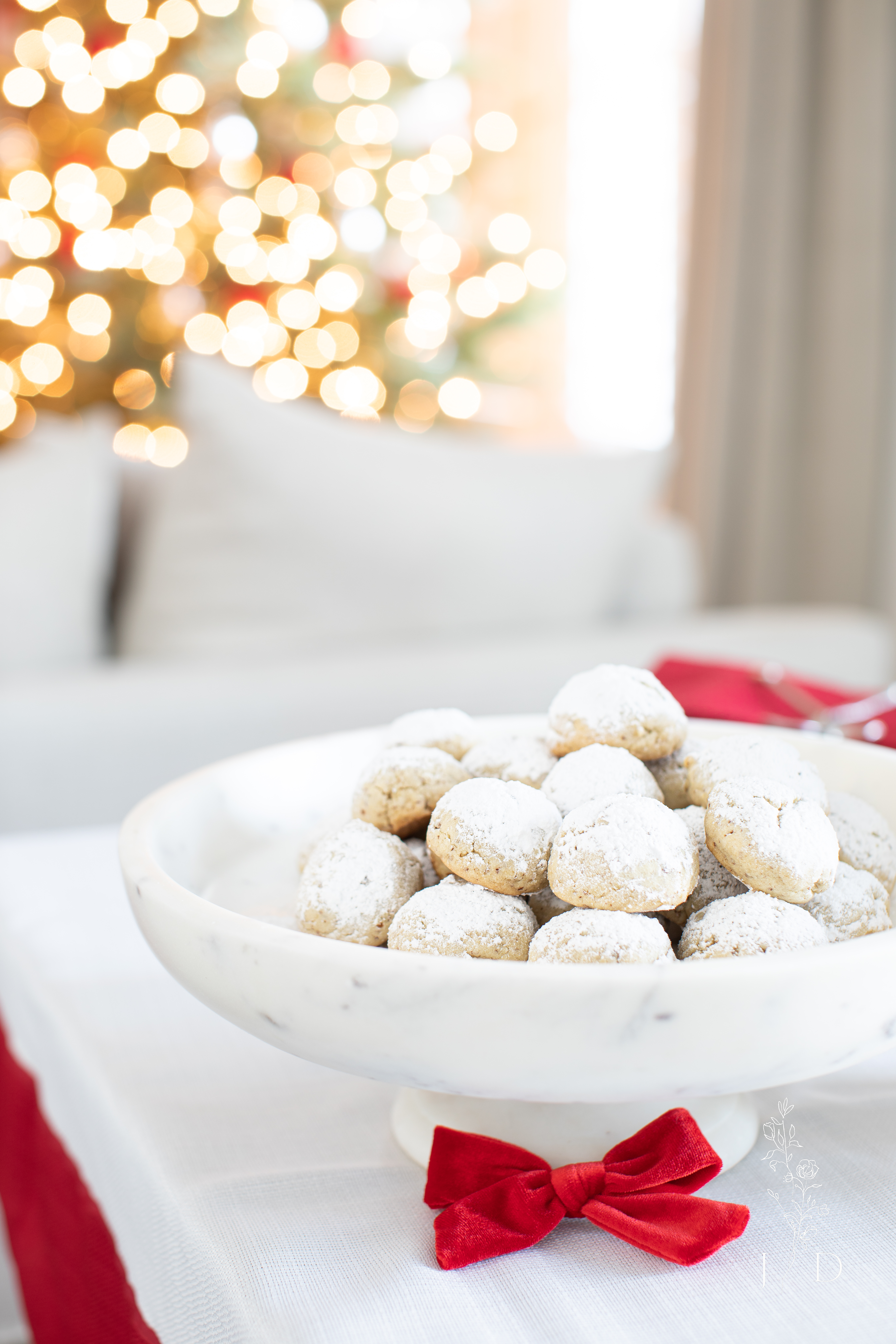 Mexican Christmas Cookies
Additional Time:
10 minutes
Total Time:
1 hour
23 minutes
Also known as Mexican Wedding Cookies. These nutty buttery cookies are the perfect way to celebrate any special occasion! Christmas, weddings and beyond!
Ingredients
1 cup finely chopped pecans
1 -2 cups powdered sugar 2 1/2 tablespoons reserved for pecans
2-3/4 all purpose flour
1/4 teaspoon baking soda
1/4 teaspoon kosher salt
1 cup of butter
3/4 cup sugar
1 large egg
1 teaspoon vanilla extract
Instructions
In the food processor using the knife blade, pulse the pecans with 2 1/2 tablespoon of powdered sugar. Pulse until finely grounded. Should be the texture of wet sand.

In a mixing bowl stir together ground pecans, flour, baking soda, and salt until blended.

Using a stand mixer of hand mixer beat the butter and granulated sugar until creamy. 30 seconds to 1 minute. Scrape down the bowl as needed.

Add the egg and vanilla.

Reduce the speed to low and slowly beat in the flour mixture until blended. Scrape down the bowl as needed.

Preheat the oven to 350 degrees F. Use a 1 inch cookie scoop to shape the dough into 1 inch balls.

Place the ball onto a cookie sheets lined with parchment paper. Cookies should be about 1-2 inches apart.

Place in the oven for 13-15 minutes or until the bottoms are brown.

Let stand for about 2 minutes before transferring onto a cooling rack.

Repeat until dough is gone.

Using a ziplock bag place 5-7 cookies and 1 cup of powdered sugar into a closed bag. Gently toss until all the cookies are coated in sugar. Repeat until all cookies are done and continue to add powdered sugar as needed.

You can also place the cookies on a cookie sheet fitted with a cooling rack and sprinkle on powdered sugar on top as needed.
Notes
Tips:
Use soft butter and not melted butter or margarine. If the butter is too soft then the cookies will become flat. If the cookies are warm from rolling them in your hand then place them in the fridge for 15 minutes to chill before baking to help keep the round
Nutrition Information:
Yield:

40
Serving Size:

1
Amount Per Serving:
Calories:

146
Total Fat:

7g
Saturated Fat:

3g
Trans Fat:

0g
Unsaturated Fat:

3g
Cholesterol:

17mg
Sodium:

54mg
Carbohydrates:

19g
Fiber:

1g
Sugar:

9g
Protein:

2g
Nutrition information isn't always accurate.
Fun Variations of this Classic Christmas Cookie
With or Without Nuts: If you are not a fan of pecans then add chopped almonds instead. But if you rather not have that nutty flavor then omit the nuts all together.
Chocolate: Prepare as above except add 1/4 unseewetend cocoa powder with the flour.
Almond: For more of an almond flavor substitute almond extract for the vanilla extract.
Cinnamon Sugar: When rolling the baked and cooled cookies into the powdered sugar add 1/2 teaspoon of ground cinnamon.
What to Serve with Christmas Cookies?
You can serve this Dark Chocolate Chia Latte.
Check out this list of other Christmas Cookies from some of my talented friends across the internet!
14 Christmas Cookie Recipes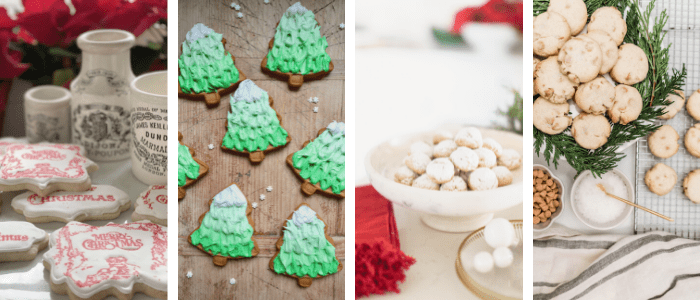 Classic Sugar Cookies For Christmas // My 100 Year Old Home
Christmas Cookie Hack // My Sweet Savannah
Mexican Christmas Cookies // Just Destiny
Salted Butterscotch Shortbread // Life Is Better At Home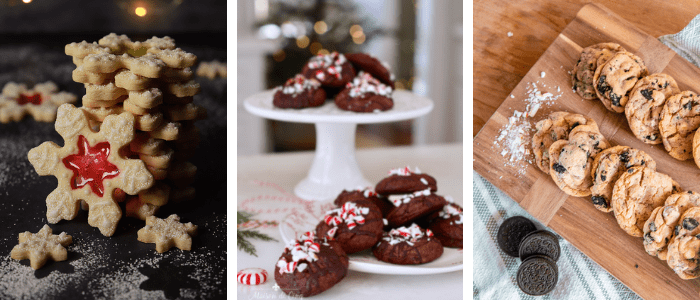 Stained Glass Sugar Cookies // Paint Me Pink
Chocolate Peppermint Crunch Cookies // Maison de Cinq
The Yummiest Oreo Cookies and Cream Cookies // Twelve On Main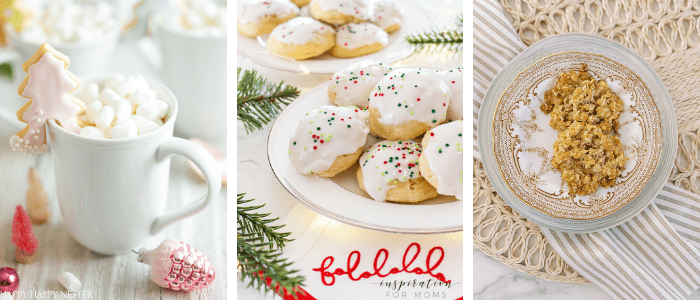 Hanging Mug Topper Cookies // Happy Happy Nester
Italian Christmas Cookies // Inspiration For Moms
Anzac Biscuit Cookies // Finding Lovely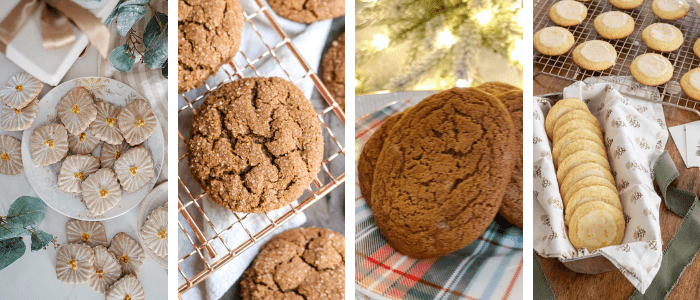 How to Make Easy, Mild Gingerbread Cookies (no molasses!) // The DIY Mommy
The Best Ginger Molasses Cookies // Modern Glam
The Best Soft and Chewy Ginger Cookies // The Happy Housie
Orange Glazed Sugar Cookies // Sincerely, Marie