The Big List of Kitchen Essentials
This post is sponsored and may contain affiliate links, please read my disclosure policy.
I've been wanting to write this post for a while! I decided to finally sit down and write everything you might need for your kitchen!
After working with The Inspired Home for almost three years now, I have become quite the housewares nerd/expert! I geek out over all the prettiness of the housewares industry, but just like a consumer, I like things to actually work and be useful. On top of that they need to last.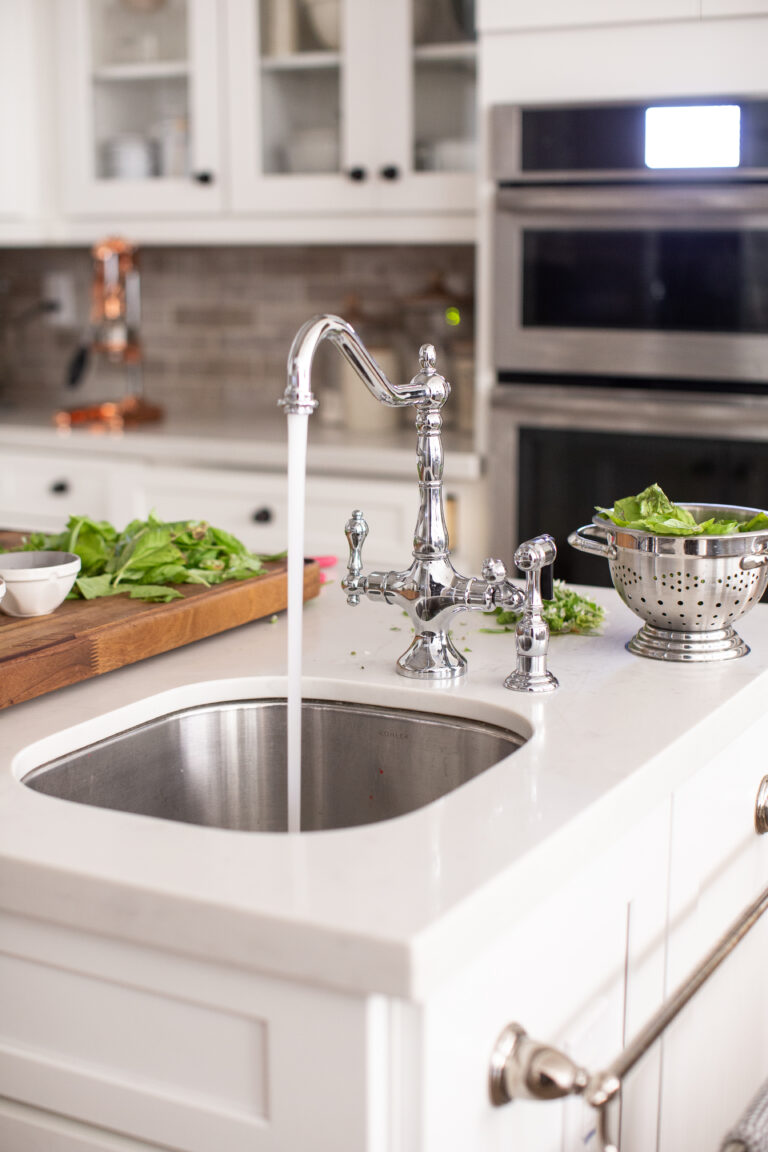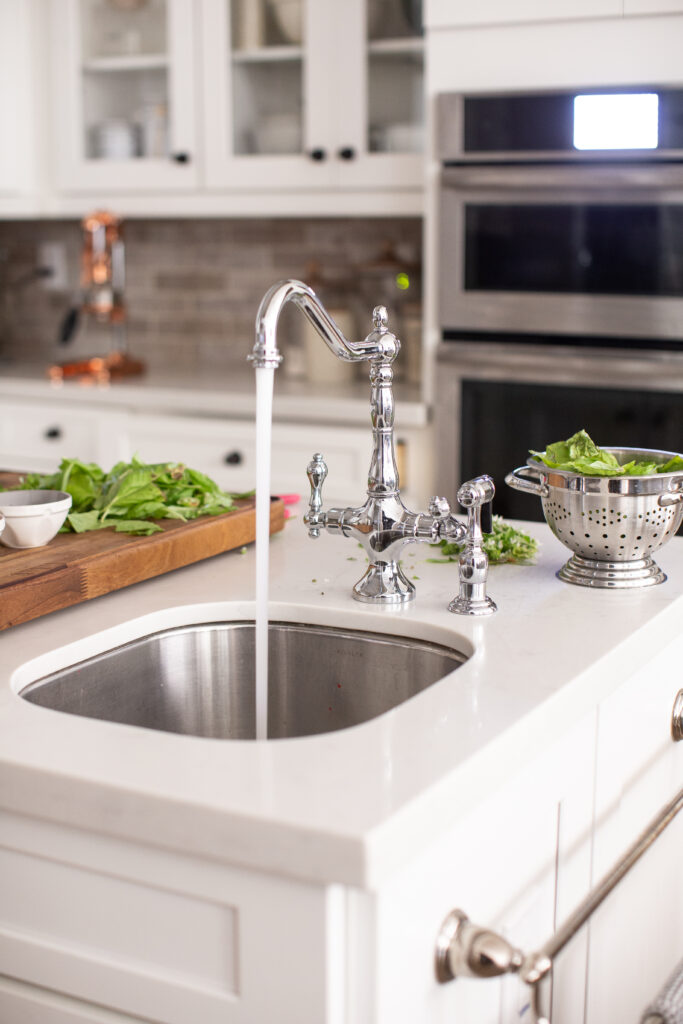 There are SO many great companies out there making really good products for your kitchen. I tend to lean towards the timeless and long-lasting housewares that I know I won't need to replace for a long time!
The initial investment might give you sticker shock BUT that usually means it comes with a good warranty and will last you a long time! But don't worry, there are plenty of super affordable items that will do your kitchen some good!
My aesthetic can be described as casual, neutral and resort styled living. I love blacks, white and natural woods. We live in sunny Phoenix, Arizona so anything and everything I put into my home reflects that lifestyle.
On any given Saturday, we are at a sports game, recital, family trip, poolside, or at the park! Indoor/outdoor living is most certainly a thing here! We also find ourselves spending a lot of time entertaining and hosting friends and family.
Big List of Kitchen Essentials
Below you will find a BIG LIST of kitchen essentials. I say essentials but that means something different for everyone… so keep that in mind as you make your way through the list.
To make this list work for you, first start off with a nice clean/decluttering! Go through each drawer/cabinet and get rid of duplicates or items you no longer use. Make sure you have a few boxes marked 'donations' to move stuff out.
Secondly, make a list of what you have and what you still need! Pencil in the style or color you are wanting for your new kitchen essentials. Also make sure you have room for whatever it is that you are purchasing.
Start off with purchasing a few items and then add more throughout the year! Amazon, William Sonoma, Crate and Barrel, Target, Homegoods and Walmart are my favorite places to shop for kitchen essentials. I like to put these items on my birthday wishlist or Christmas list.
Kitchen Essentials: Utensils and Cooking Tools
These are the tools that you will most likely be using every day. Utensils are all the things you use to help make or prepare your meals. For example, spatulas, spoons, knives, measuring cups, bowls, etc. While you're changing out your utensils and adding more, think about using some good ole drawer organizers to help with your new items.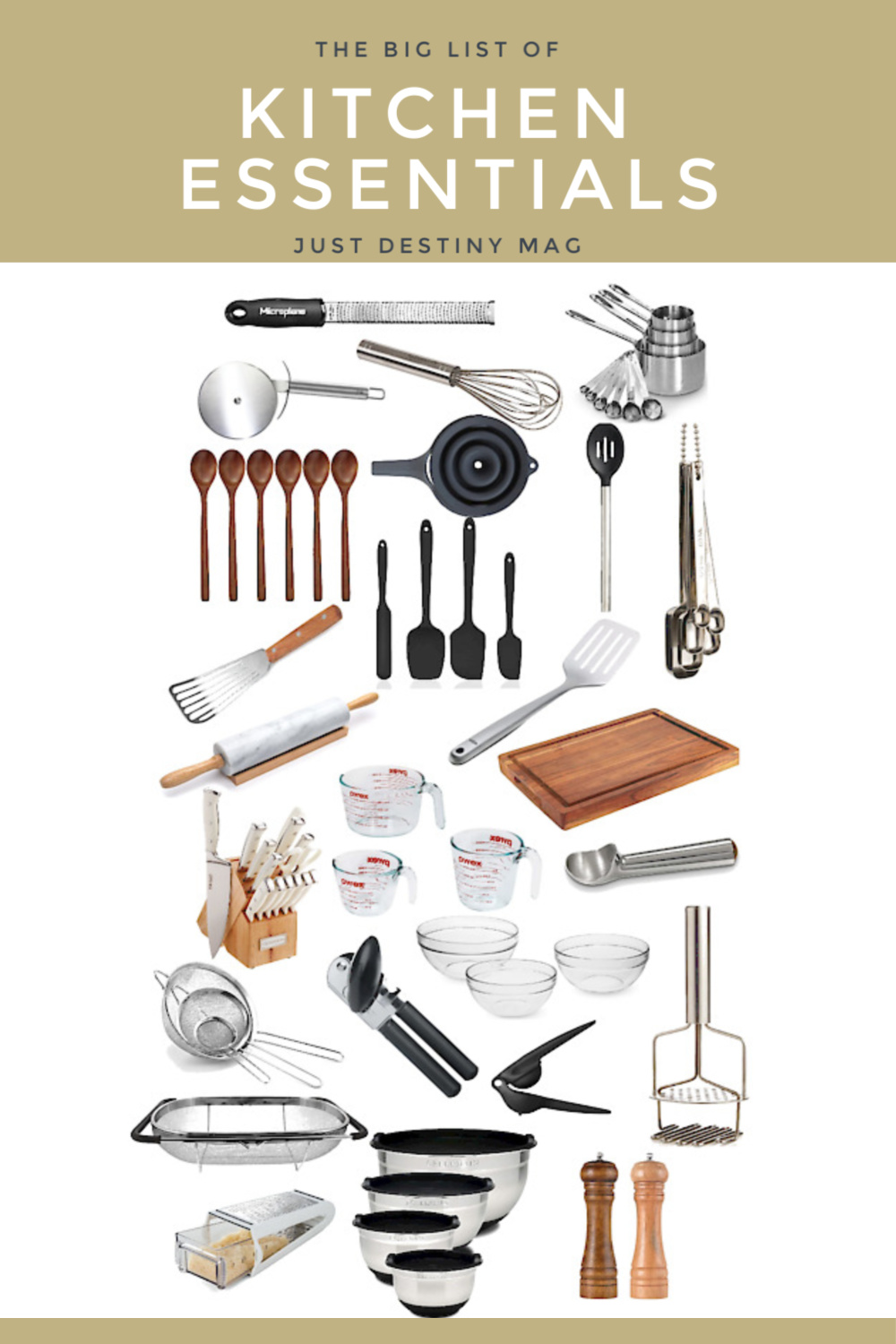 These are heat resistant and easy to clean.
These are great for both cold and hot temperatures. When the entire handle is made from silicone, it last much longer than ones made from wood.
You don't need a funnel until you need one. The reason most people don't have one is because they are awkward to store. But these fully collapse and can be stored in a drawer!
Another tool you will need when handling delicate fish recipes!
Perfect for pancakes, burgers or anything you need to flip! Use a slotted spatula to let air and grease through.
A good set of knives will be your saving grace in your kitchen! You can buy them individually or you can get them in a set. Just make sure it's a high quality knife set. See my favorite white knives here.
If you love lemons in your recipes you will need one of these juicers. You will get allllll the juice with this little tool.
Use these for any hot or cold liquids you need to measure. They are a classic in the kitchen and should be one of the first thing you purchase for your new or old kitchen. Pyrex is just the best. Don't bother with anything else!
To measure dry ingredients you will need a great set of measuring cups that nest. I love these heavy duty ones in stainless steel. They also have the numbers pressed into the measuring cup so it peel away.
Same thing with the measuring spoons. Make sure they are heavy duty and can handle whatever comes their way!
Use a wood cutting board for veggies and a plastic cutting board for raw meats. This will keep things in your kitchen sanitized and safe! Never mix the two. I like a sturdy wood cutting board to handle all the veggie cutting.
For the meats I prefer something mid-sized that I can easily wash.
You will most likely need one large and one small, but just start off with the large whisk and see if you need to add smaller one. Whisks are great for whipping and blending ingredients.
Choose a grater that is sturdy and that has multiple hole sizes.
There is nothing worse than cutting a pizza without a pizza cutter! It will drive you mad. So go ahead and store one in your kitchen.
Yep. Just like the pizza cutter, an ice cream scoop is one of those things you don't know you need until you don't have one. I love this one because it works perfectly. No worrying about the spring not working.
If you are going to have a rolling pin, make sure it's marble. It works great on pastries and all types of dough.
Nesting bowls are a space saver! Make sure you purchase a set so you can use them for multiple recipes. These glass ones are a classic. Plus it also makes a great gift.
If you prefer stainless steel bowls over ceramic then get a set of these. Same idea as before- space saving and can be used in a variety of recipes.
If you've ever made Italian food or washed fruit then you know a strainer is a great tool to have in the kitchen. If you only have room for one, that's ok. Just make sure it's diverse enough for different foods. I love this one that goes over my little sink!
Yep. You'll need one of these too.
A perfect little tool for those times the recipe says " A zest of…." You don't have to freak out- pull this little tool out and get to zesting sister!
A spoon with holes in it. Perfect for when you want to leave all the "soup" behind. But seriously a life saver for stirring pastas, draining liquids from chicken or beef.
If you're a real cook then you will want to grind your own salt and your own pepper. You will need a salt and pepper mill! Beautiful in your kitchen, too. Purchase this one for more decorative options!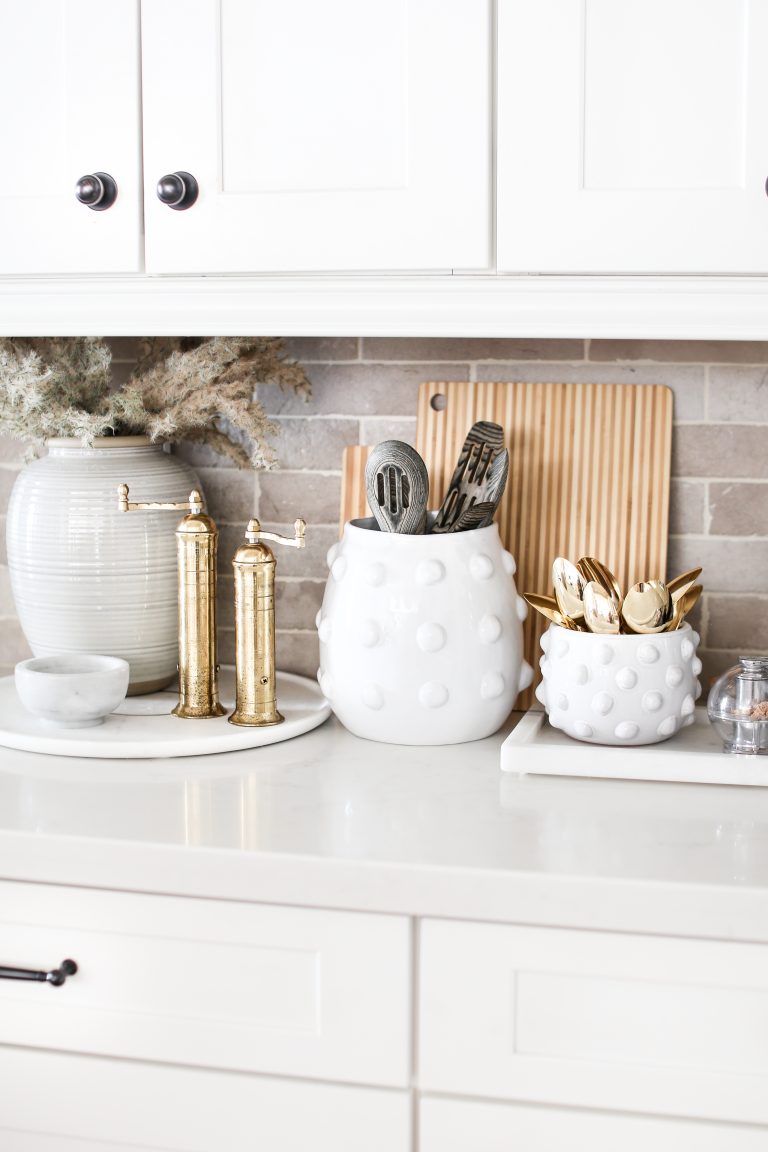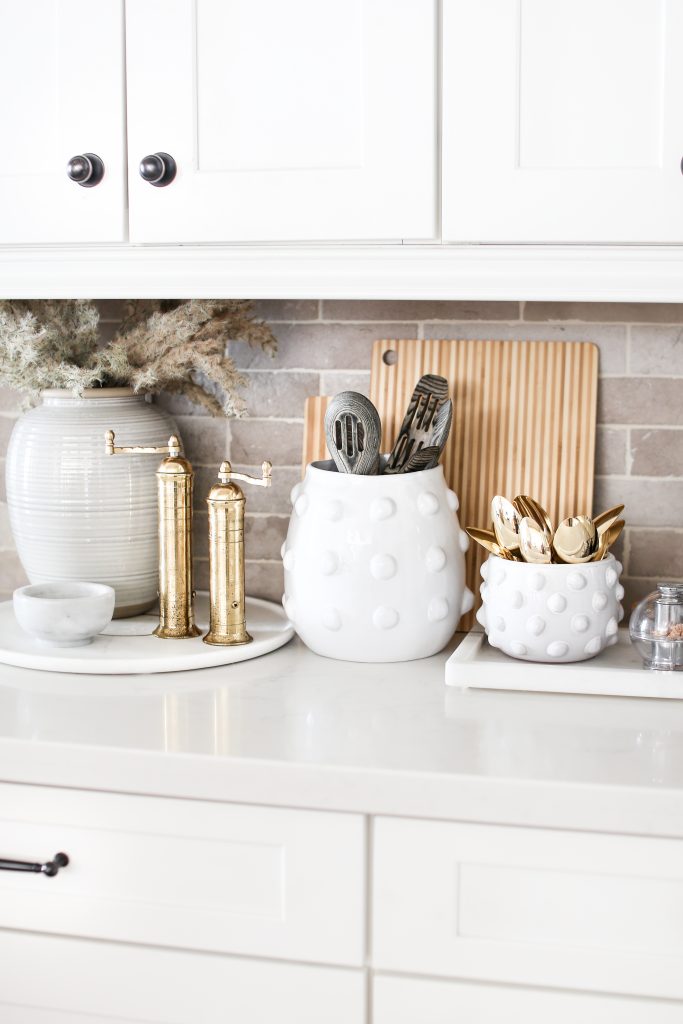 Annoying to store but really handy if you make mashed potatoes often! If not you can actually use your stand mixer to help with mashed potatoes.
---
Kitchen Essentials: Baking and Roasting
I love to have a variety of baking sheets! My favorite are the gold colored ones from OXO. They are non stick and they have lasted a long time in my kitchen without looking like they went through the fiery furnace!
I LOOOOVE a good casserole dish. Wow. I love a lot of things. Ha. But this one from Crate and Barrel is a favorite.
Every good kitchen needs a dutch oven. Although the one I chose is higher end, you can still get an affordable one that does the job! I also love this brand for long lasting quality.
I believe in parchment paper. It's a lifesaver when it comes to quick clean ups!
Digital thermometers are great for making sure any type of meat is fully cooked all the way through! Comes in handy around Thanksgiving and Christmas time for those big turkeys. We actually have one built into our oven.
I mean if you make any kind of muffin you will need one of these! I love the gold collection from OXO. It is amazing quality and bakes evenly!
Again another great essential. This is great for roasts, turkey and whole chickens. I love the All-Clad finish on this one. It's a beautiful elegant look that I love in my kitchen!
This is a perfect pan for cakes. A commercial grade finish helps you release the cake from the pan with no problems. Also super easy to clean.
Same thing with this pan! Great for banana bread or lemon loaves! But also easy to release… which is a big deal when you are baking.
Cookware
I love to cook with stainless steel cookware! I still have a set, that I got almost 15 years ago, that looks brand new thanks to this little secret! Super easy to clean and a must-have in the kitchen for sure. Remember, quality matters! This set might be expensive at first but will save you in the long run! This one is more affordable and has great reviews!
My favorite non-stick option because it's non-toxic and worth EVERY penny! They sell out pretty fast so make sure you grab one in your favorite color! My discount code is : JUSTDESTINY10 for $10 off your pan!
It's a good idea to have a couple different sizes of cast iron skillets. I have a large one and smaller sized ( 12inch) one. I love the collections from LeCreuset because it's not only functional, but the quality will last you a lifetime… and not to mention alllllll the colors you guys!
Small Kitchen Appliances
Girllll I love my mini chopper. From dicing onions for omelets to bell peppers for a salad, this thing comes in handy weekly! Even the kids and hubby use it!
I once gave my neighbor a stand mixer because I honestly believe in it that much! It's worth it even if you spend a small fraction of your time in the kitchen. But if you're in the kitchen often then it's worth it even more! Remember other companies make great stand mixers too! My sister has this one and loves it.
At first I didn't believe the hype. But then I got one and I was like Ohhhhhh I get it. The first time I put a frozen roast in the insta pot I was sold. (I always forget to defrost haha)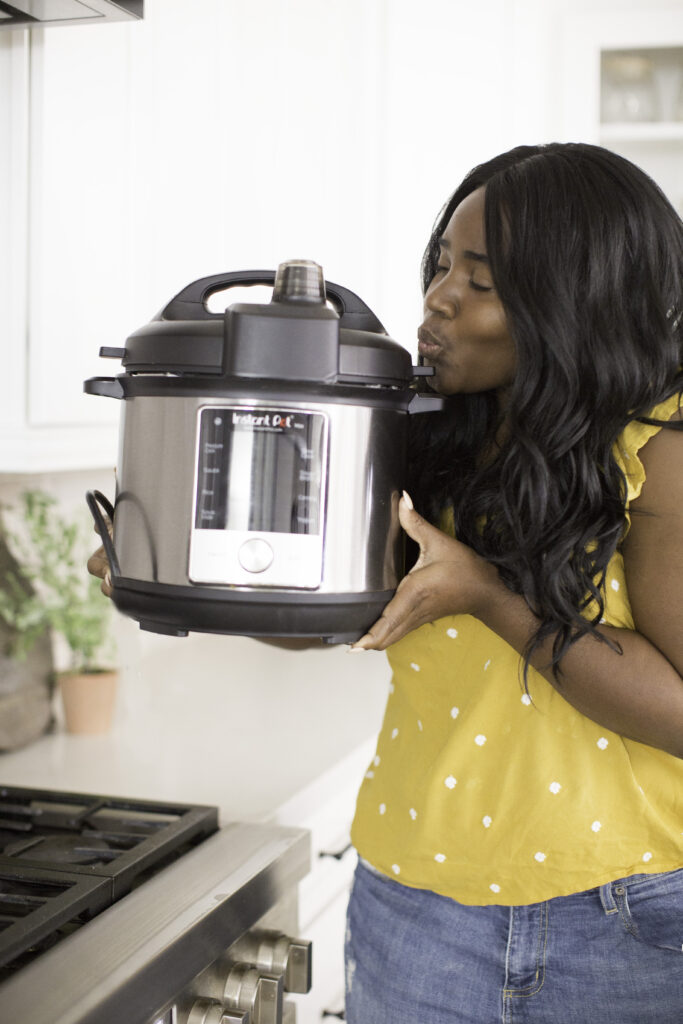 If I have an Instant Pot then do I really need a crockpot? NO! But you still can use it for other things. For instance, when you're having multiple people over, a crockpot and instant pot might both come in handy. If you had to choose I would go for the instant pot… although I do think aesthetically, the crockpot looks prettier haha!
This one I linked has a chrome finish and looks so elegant on the countertop. It also has six cooking programs including Slow Cook, Brown, Steam, Rice Simmer and Buffet!
If you're constantly mixing up shakes then you'll need this! A high power blender can go along way and you don't know you need it until you mix something and it's all CHUNKY! But the smaller Ninja ones work for smaller spaces and if you're solo on the whole "I love my protein shake in the morning thing" it's also perfect for you haa!
An appliance we personally use everyday. For example, toast, waffles and other frozen items fit well in here for a quick breakfast or snack. The only thing I wish they had was like a mega toaster with 6 slots haha! Can you imagine that thing on your countertop?! gesshhh!
Kitchen Linens
These are ESSENTIAL! We can't really use the kitchen without them. I love to replace my kitchen towels a few times a year! I usually get them at my favorite online spot for bargains but I also put these on my Christmas list almost every year.
Of course essential can mean something different to everyone, but I sure do use these items in my own kitchen! The reality is that everyone has a different budget, but overtime, I think these are the items I come back to and recommend for longevity! It's taken me almost 15 years to build a good collection of kitchen items I like and are worth the investment (but I also did include more affordable options).
---
I think you'll also love this popular post I wrote called " What Everyday Dishes Should I Use/Purchase" which is my guide to dinnerware! I got some great insights over there too!