How to Bring Your Interior Style Into your Outdoor Spaces
This post is sponsored and may contain affiliate links, please read my disclosure policy.
It's no secret that my interior aesthetic is influenced by my outdoor surroundings. From the signature green on our family room built-ins to the beautiful blues you see in my pillow choices and accessories. So when it came to designing my outdoor space I knew outdoor living and indoor living can and should connect to the overall story your home is telling! Today I'll be giving you some tips on how to bring your interior style, outdoors!
This post is sponsored by Bassett Furniture. All opinions are mine.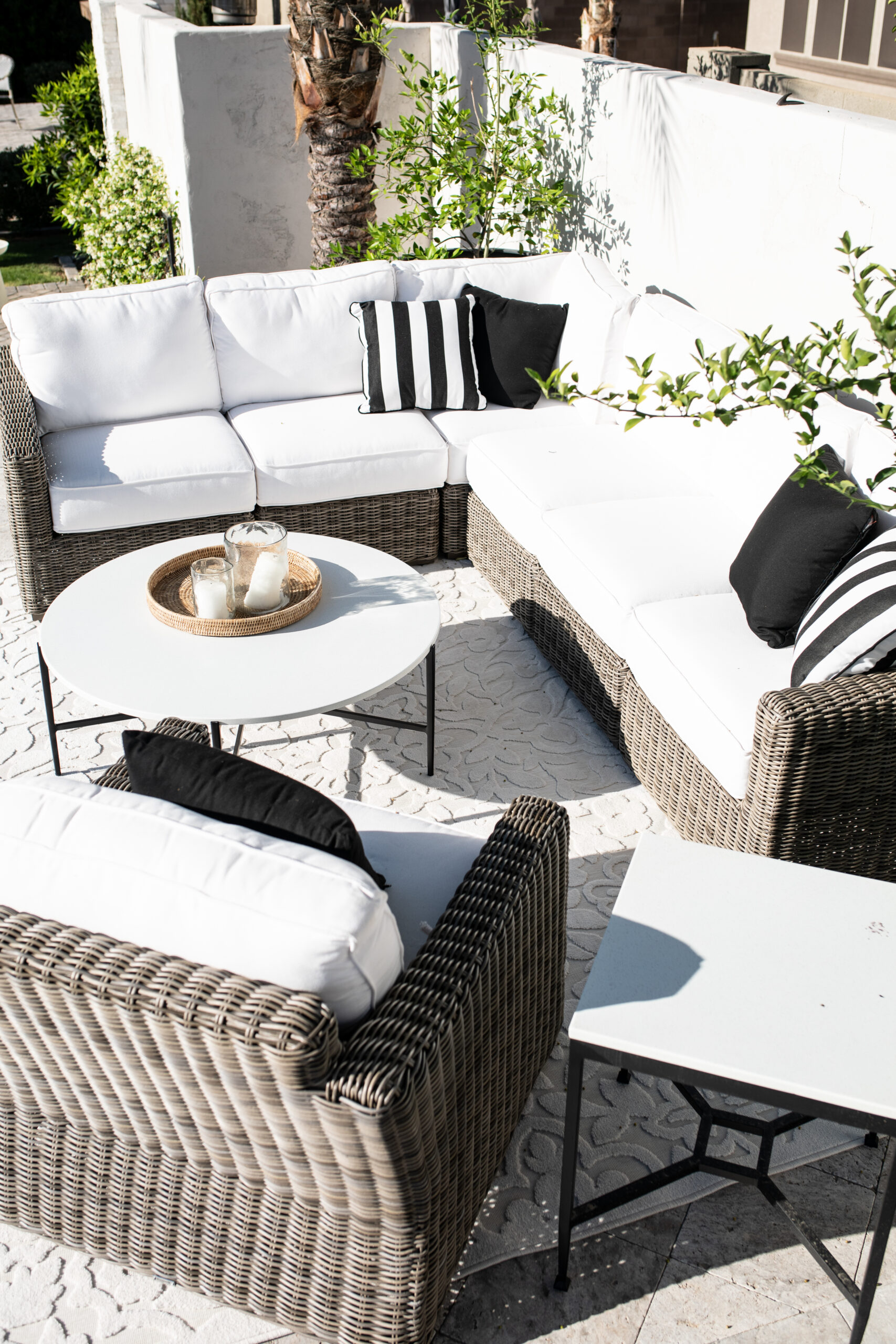 How to Bring your Interior Style Outdoors
1. Choose a similar color scheme.
Inside and outdoor spaces can stay related by choosing similar color schemes. In our outdoor space we used a classic black and white color scheme that is very versatile and really complements all the natural trees, palms and foliage we have in our yard. Black and white are two colors you will also find inside our home as well. So when you step out into our yard it just feels like an extension of our home.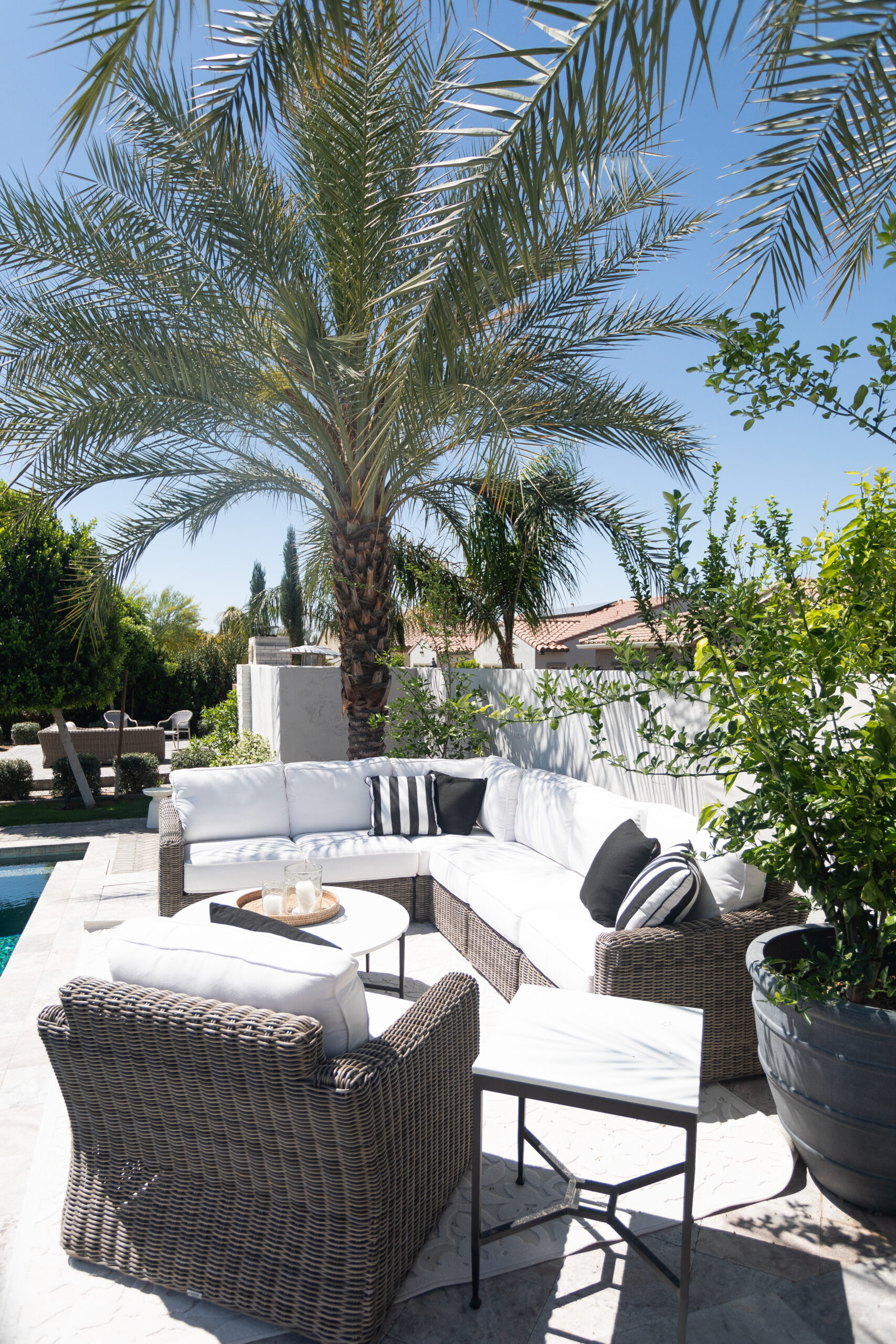 I also love the fact that our white outdoor cushions and pillows from Bassett can be used with any color. So if one year I'm feeling the color blue, or yellow or green I can easily add to or switch things out and freshen up the look without investing in another outdoor set. So when you are choosing your color scheme think about the longevity of the style and color.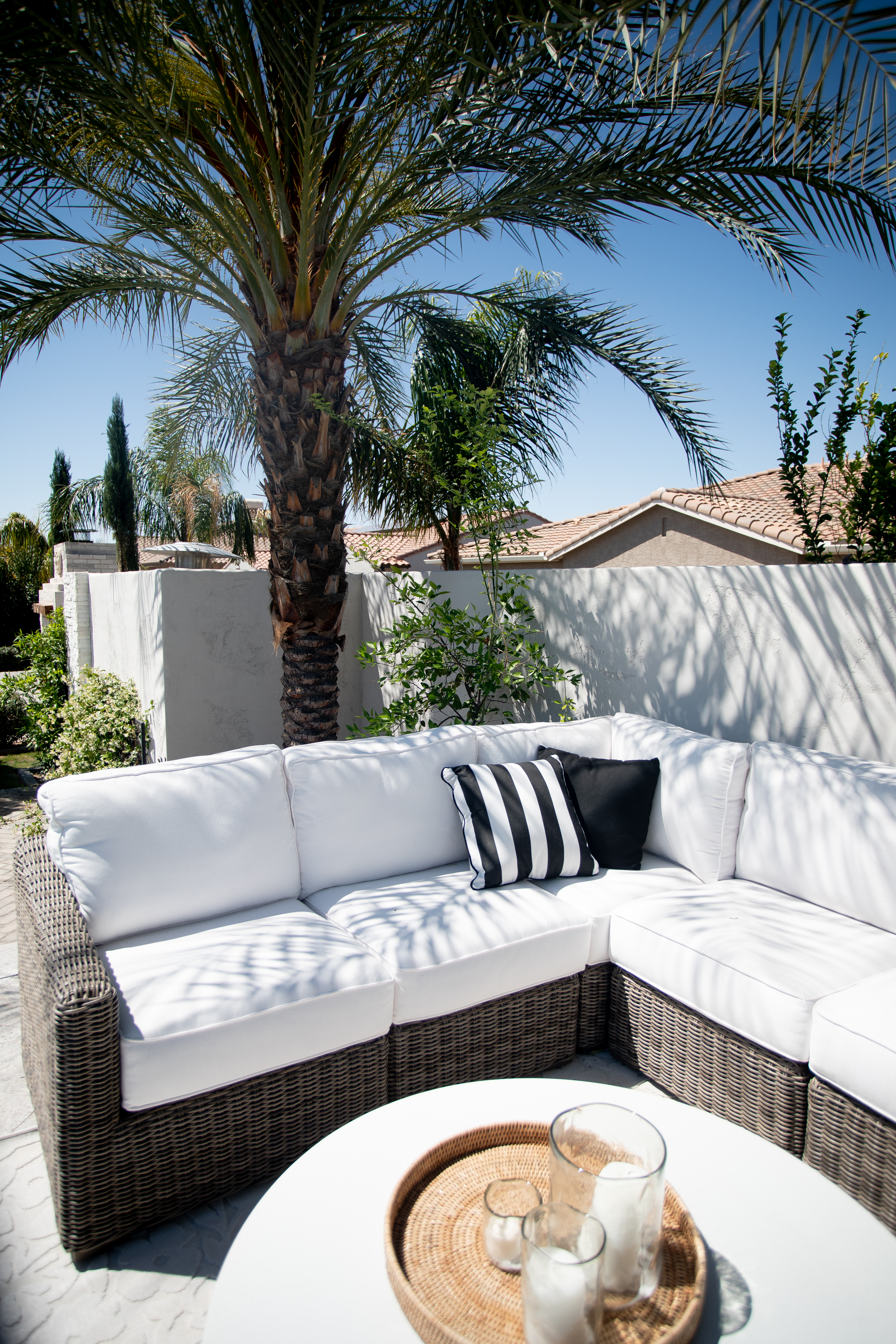 Bassett Furniture has so many fabric colors to choose from when it comes to designing and customizing your outdoor space. If you're feeling overwhelmed they have an in-house designer that can help you pull your vision together! You can choose between a virtual or in-house consultation that you can book online or by calling your local store. The benefit of booking a consultation is that you will find so many more color options when you collaborate with one of their knowledgeable and talented designers!
One of my favorite custom details that team help me with was selecting the contrasting piping fabric to use on some of our pillows. Such a gorgeous look!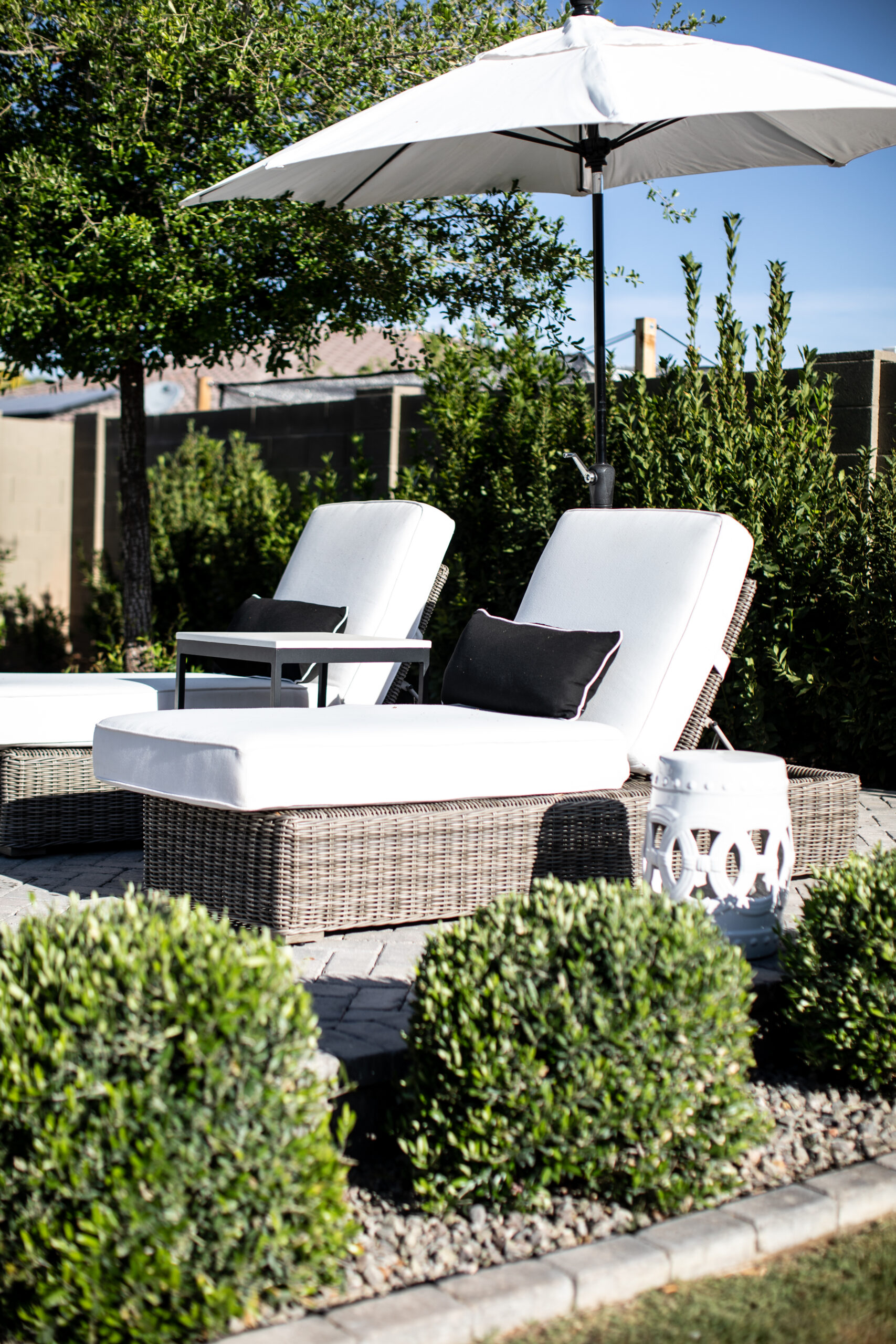 2. Use a rug to bring your interior style outdoors.
One of the most important aspects of an outdoor room that I think most people forget about, is the use of an outdoor rug. Rugs make a room feel cozy and they also define the space. Outdoor rugs have come such along way in the design world so the possibilities are endless!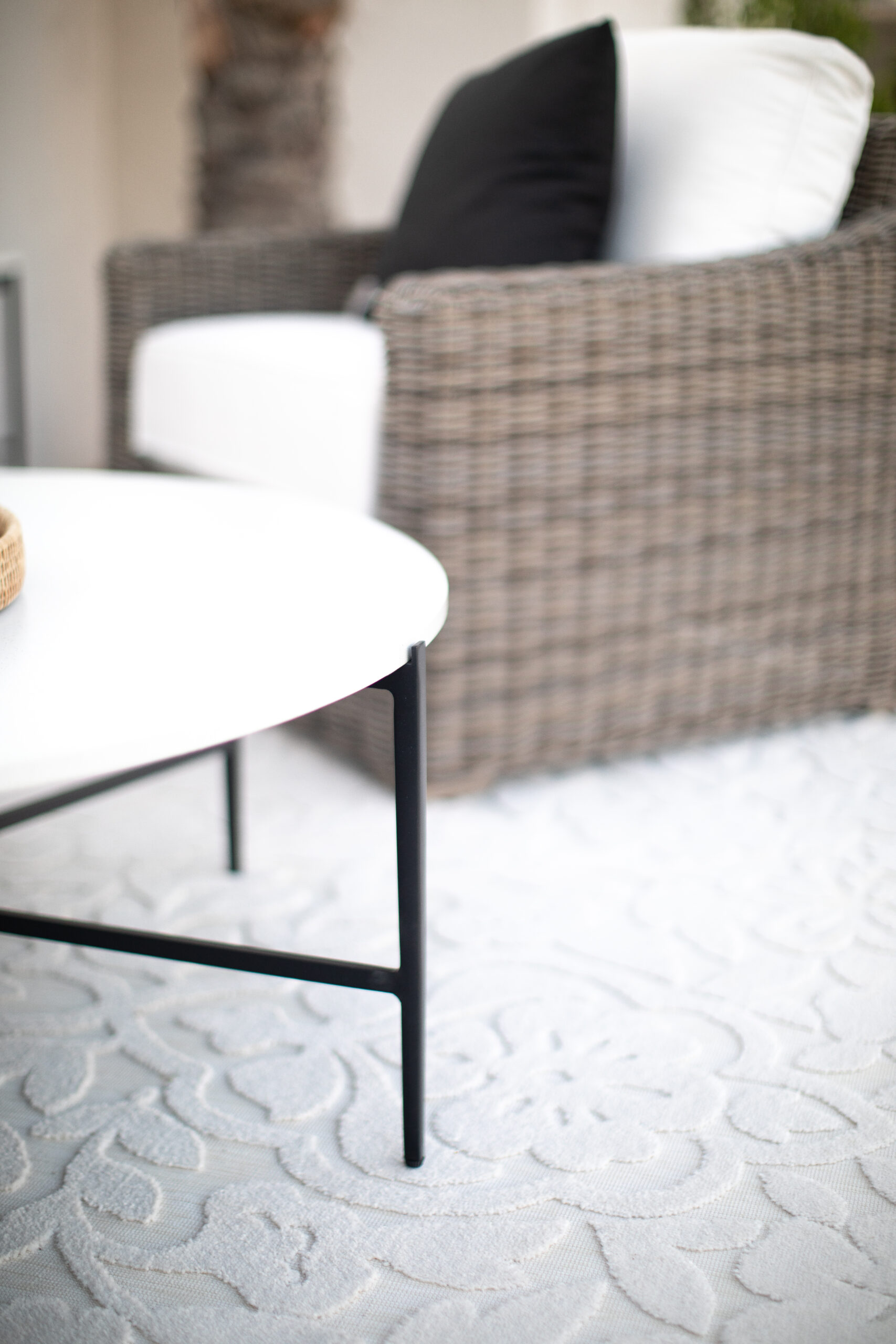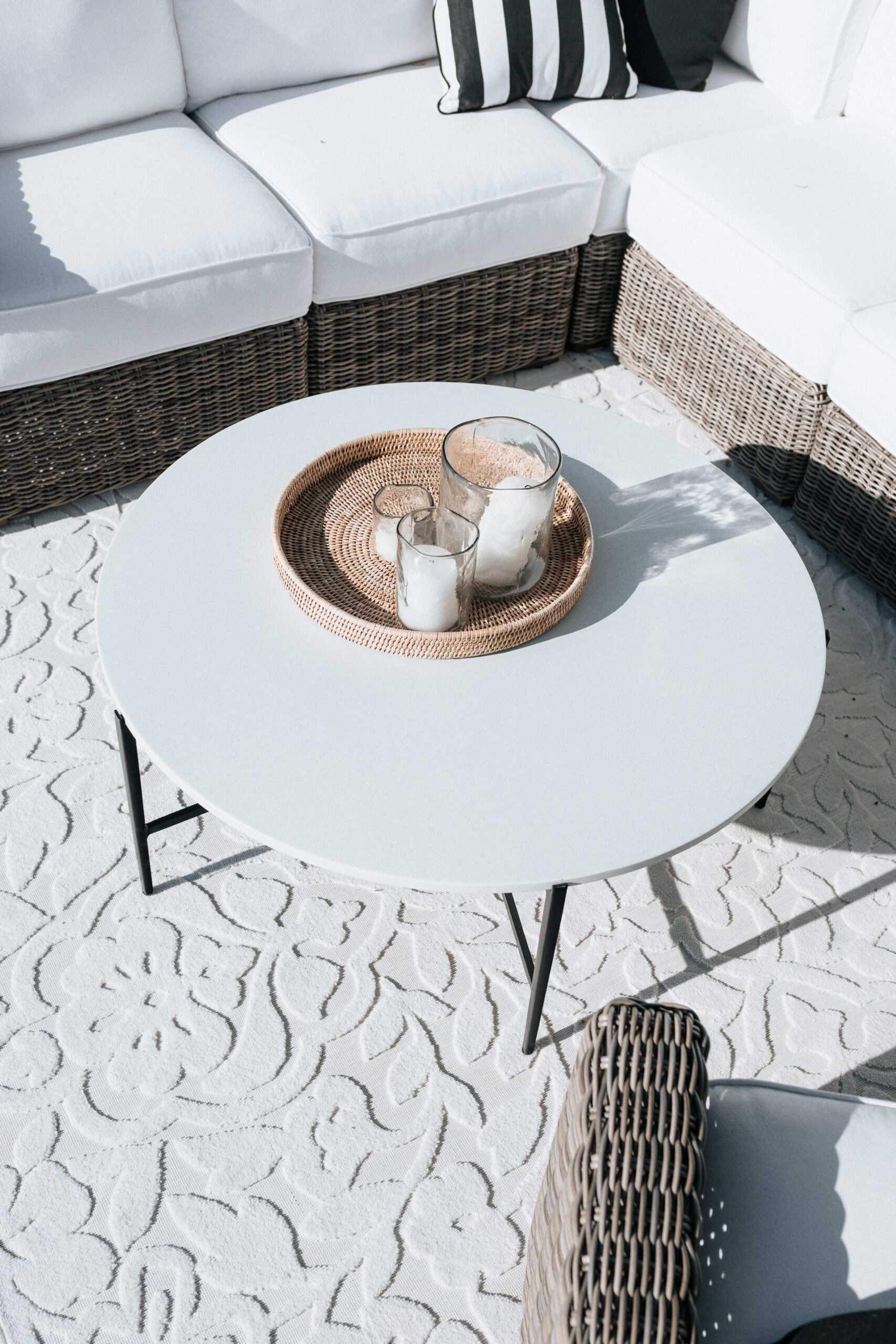 This beauty may be white but can be hosed down and is 100% outdoor safe! Plus it has some softness that feels great under your feet. If you're not ready to commit to white, don't worry, Bassett has several to choose from. Here are some of my favs.




3. Add in the Furniture and Details
Just like indoors, the details matter.. Even though outdoors brings in some natural textures , the details in your furniture and accessories can really make your outdoor space special!
When I chose our outdoor set from Bassett Furniture earlier this year, I decide to combine two different collections to make a custom look.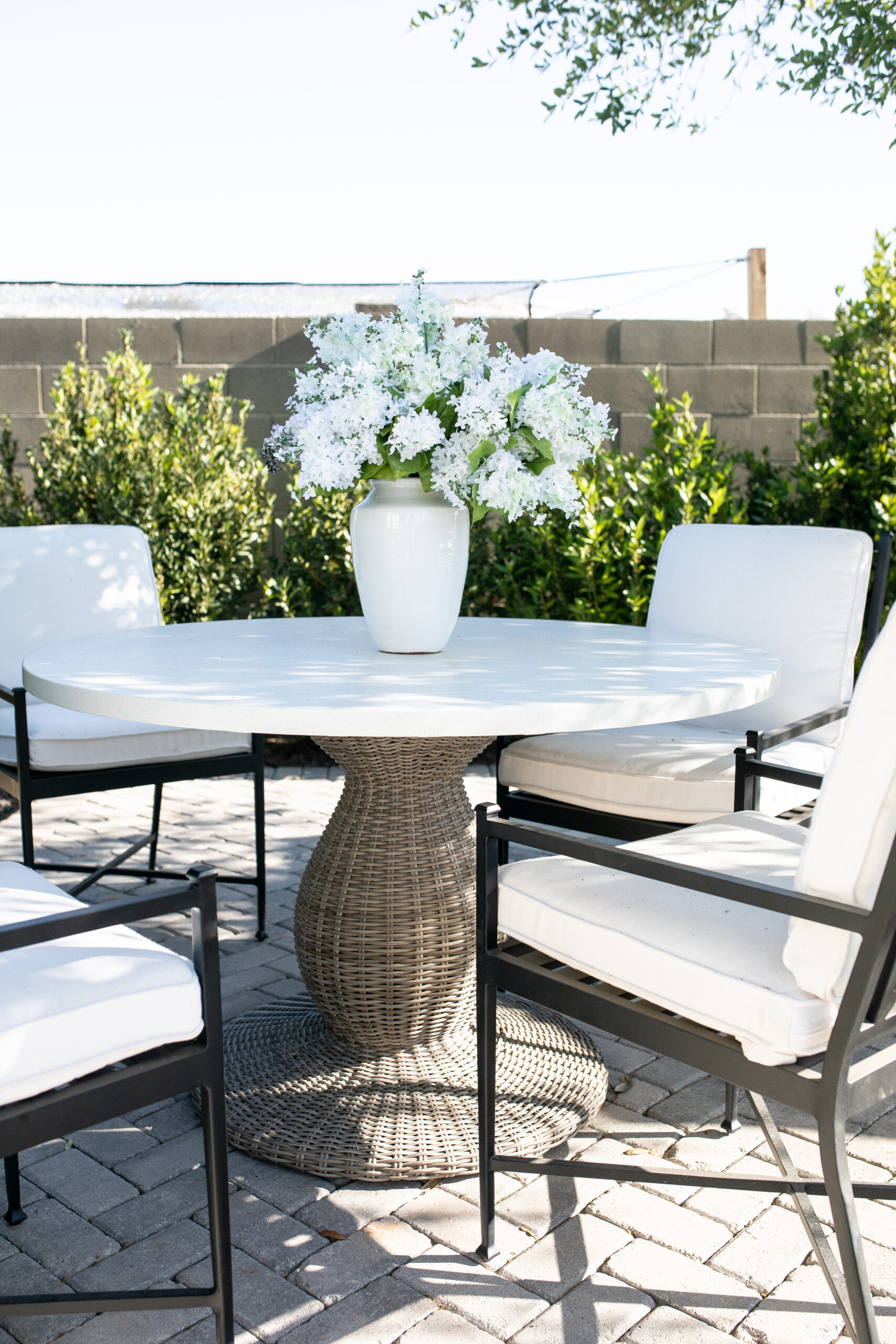 The Florence Collection has the most beautiful lines and uses an x pattern on the chairs and even on the outdoor bench that gives the space some sophistication and elegance.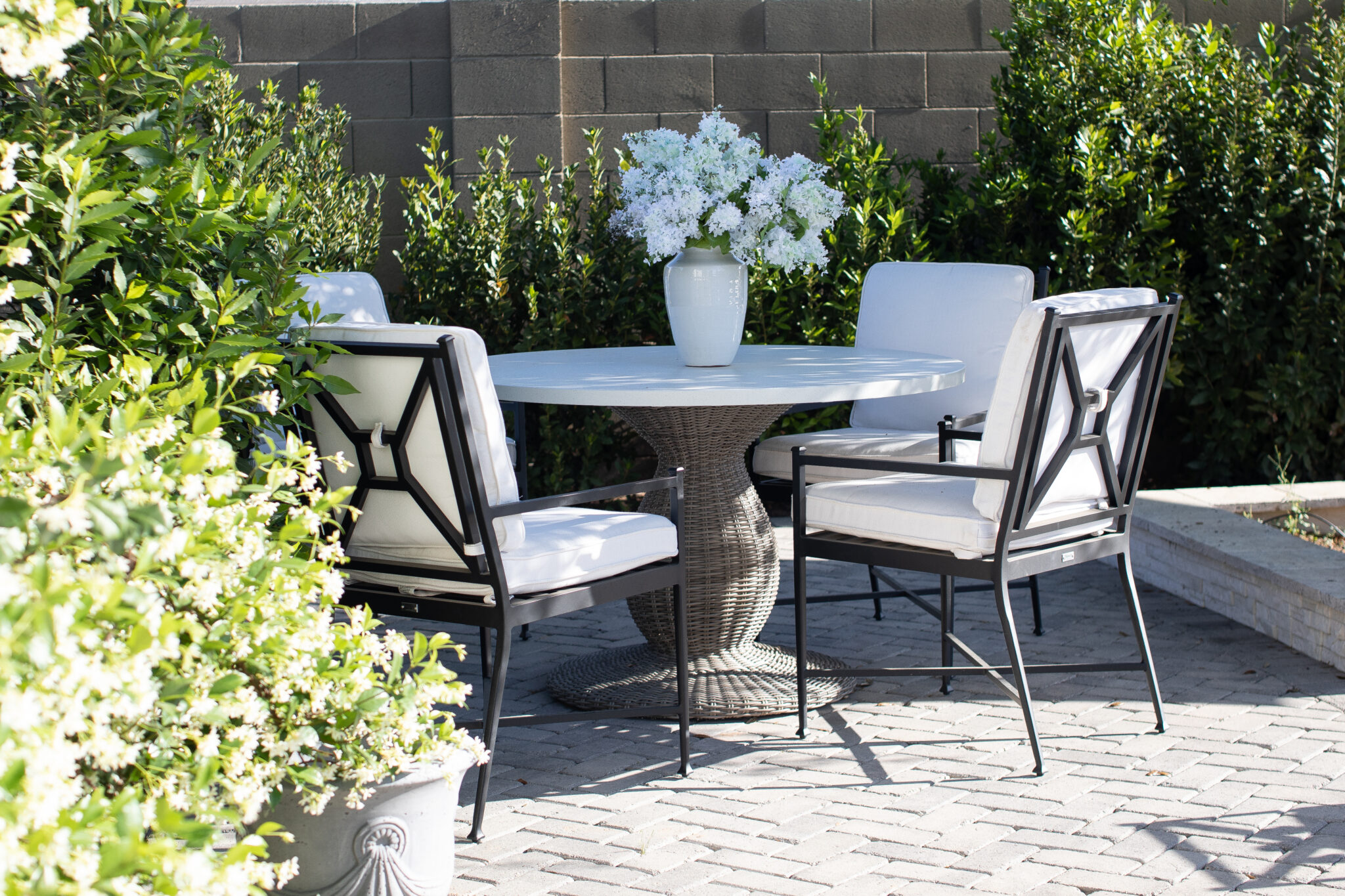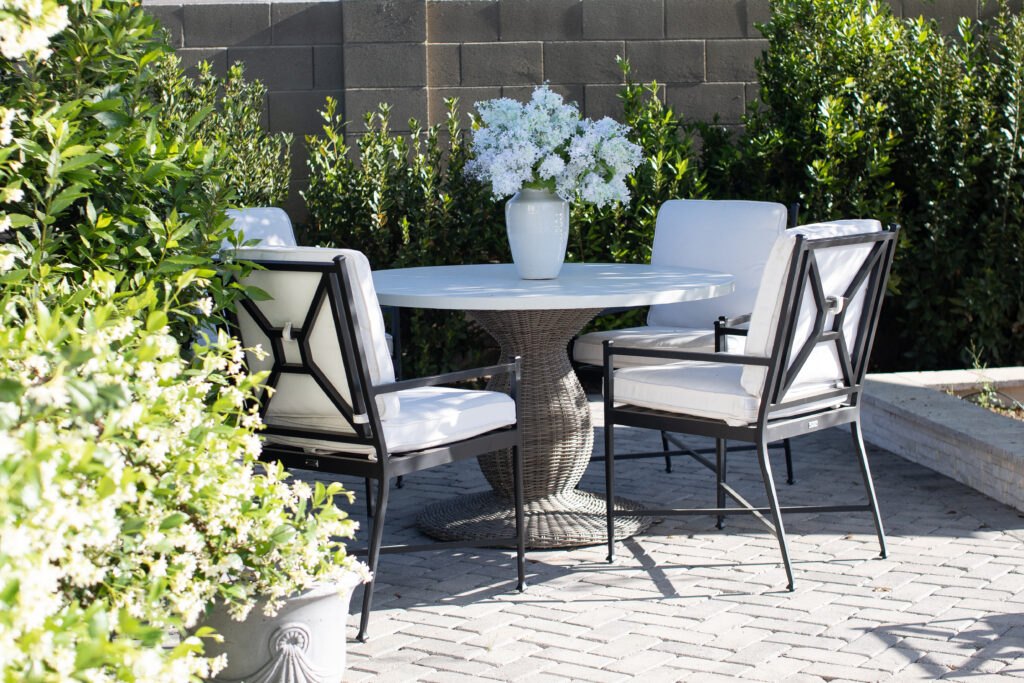 To keep things casual, I also grounded the space with the Huntington Collection. The chaise, dining table and sofa are all lounging spots that really make the space feel cozy. The Bassett Performance resin wicker in the gray, automatically gives the space a more casual feel.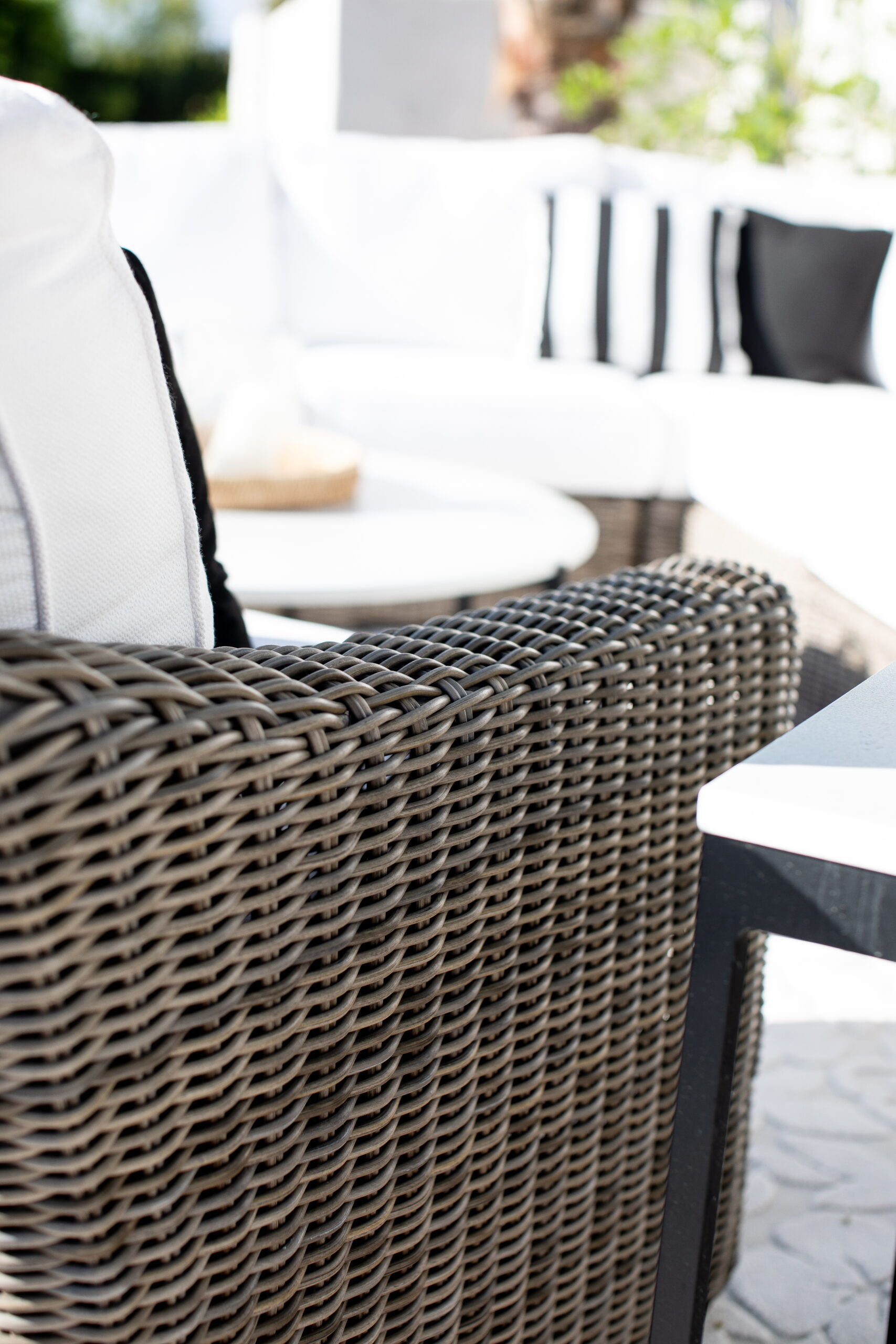 Being that I describe my style as casual elegance I think these two collection give our space that exact look! Elevated but still welcoming.
4. Make Useful Zones
Inside our homes we have defined spaces. Living room, dining room, kitchen, etc. The same rules apply when it comes to planning and decorating your outdoor space.
Give your outdoor spaces defined and useful zones. For example over by the pool we have a lounge area that over looks the pool and the backyard, a dining spot that is great for alfresco dining and then an alternative lounging spot for getting some sun and taking naps. Each zone has a purpose and is useful when we are outdoors and have guests.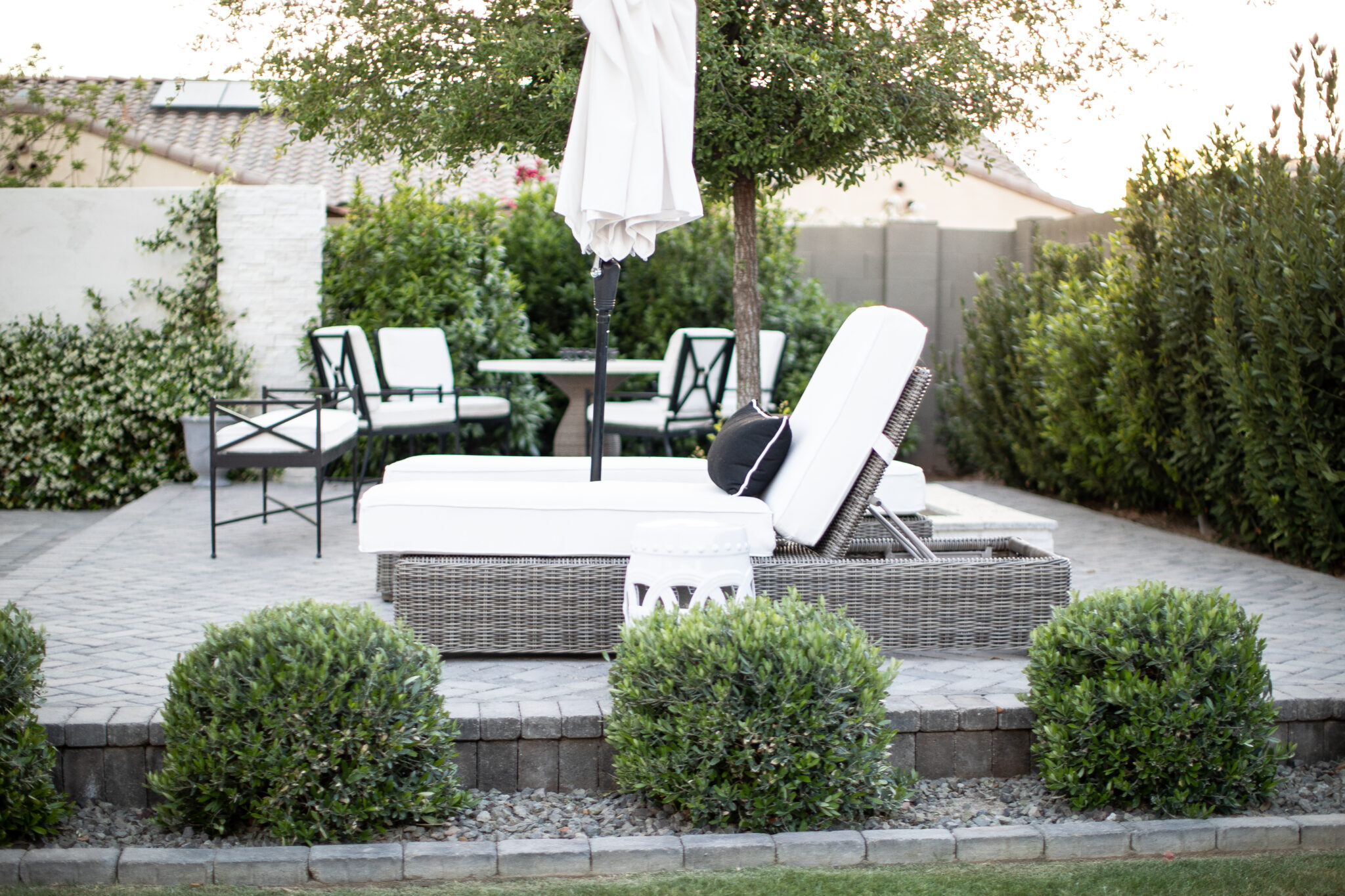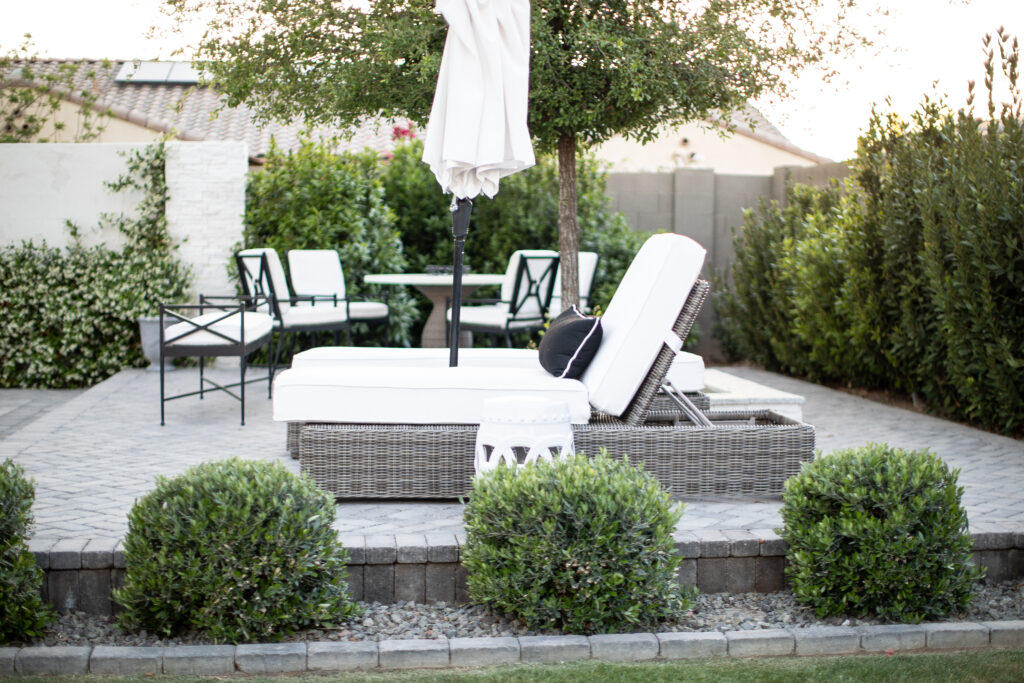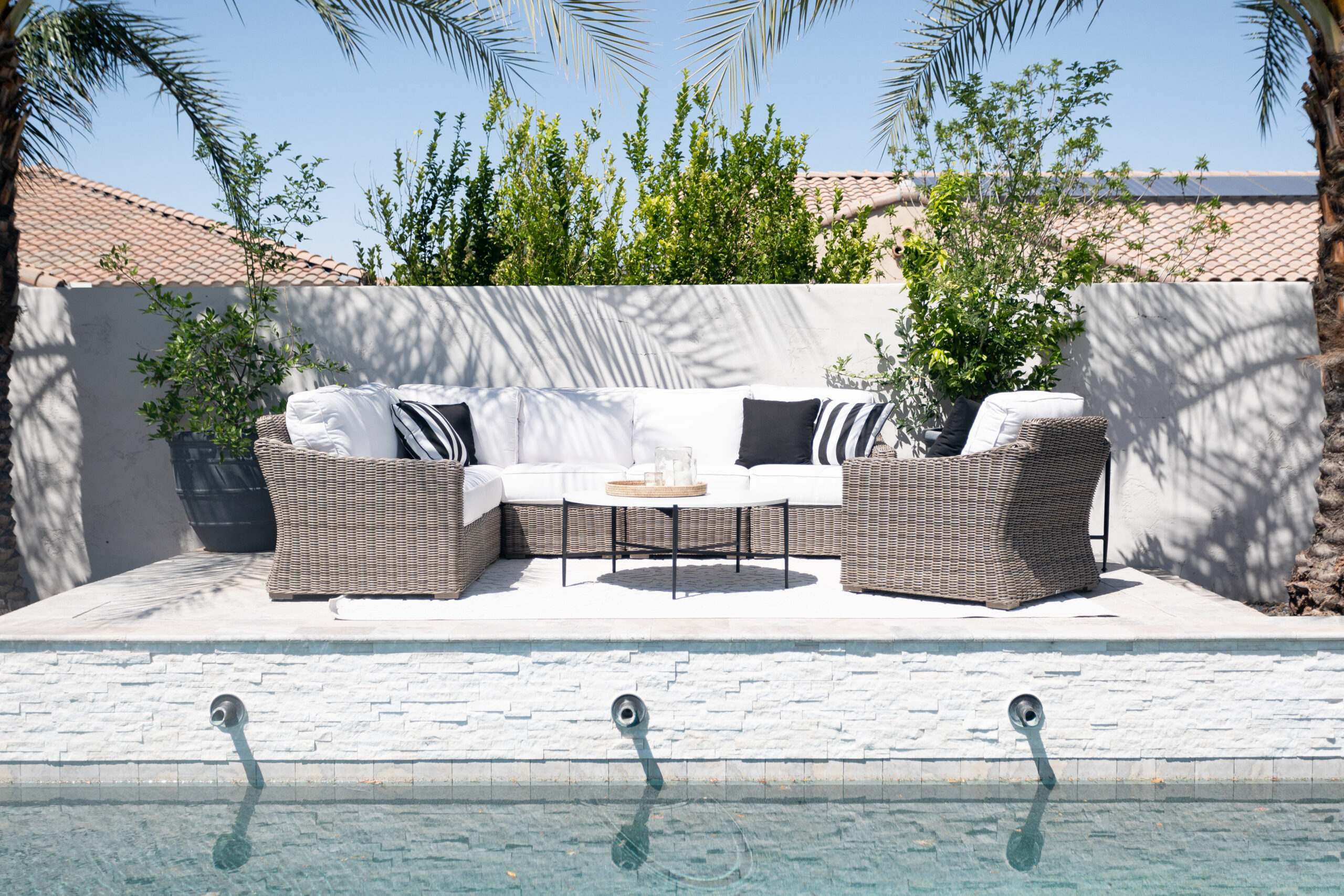 Not only are the zones defined by activity we also have use items like coffee tables, side table and umbrellas to make the space even more comfortable.
Small tables holds drink, books and other outdoor necessities while the umbrellas are practical and provide shade on hot days. See more outdoor extras on BassettFurniture.com.
6. Make it Yours
Just like indoors make your outdoor space yours. Give your outdoor space large doses of your favorites. Maybe you plant a bed of your favorite roses in a beautiful planter or add outdoor speakers to add music to the ambience of your space.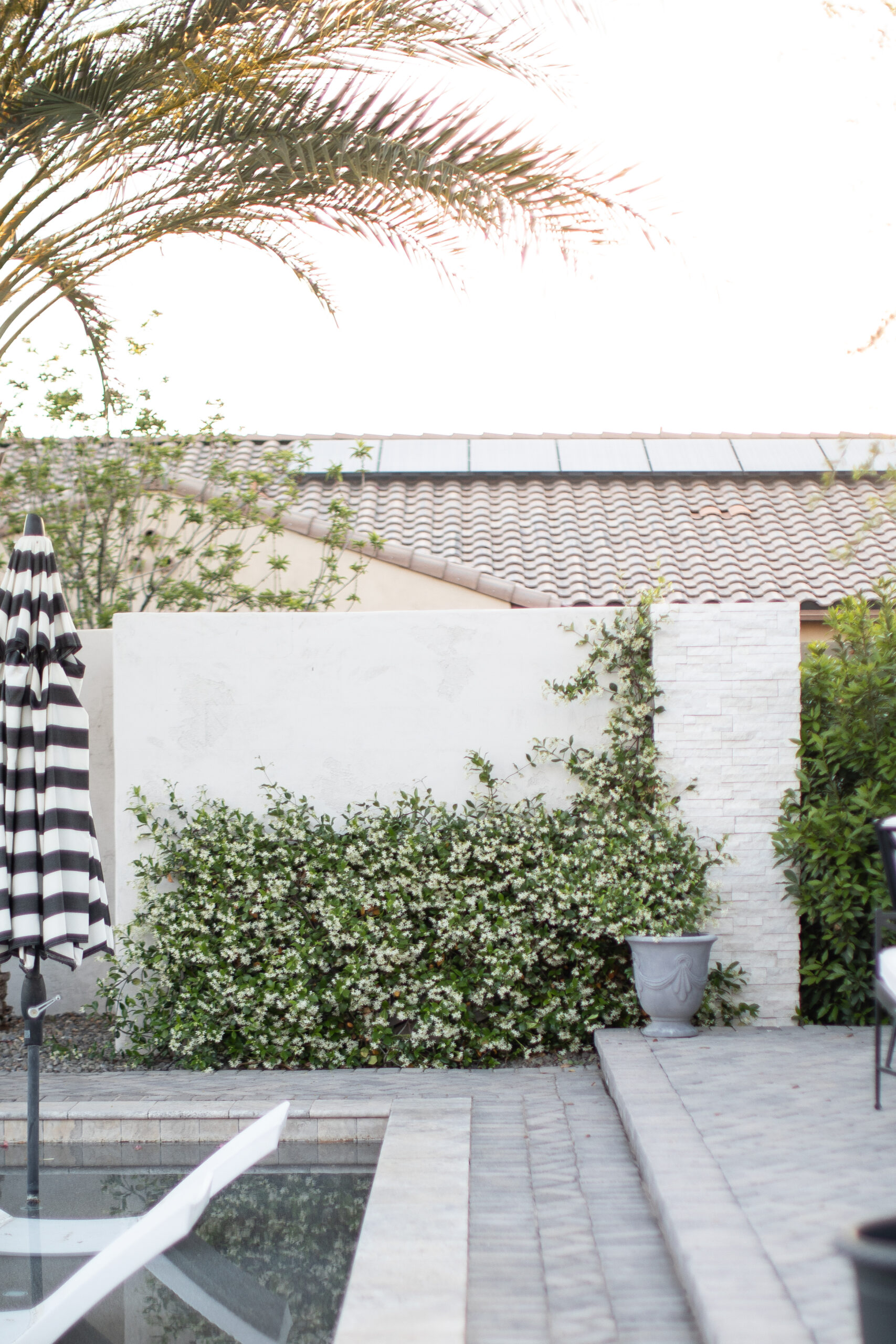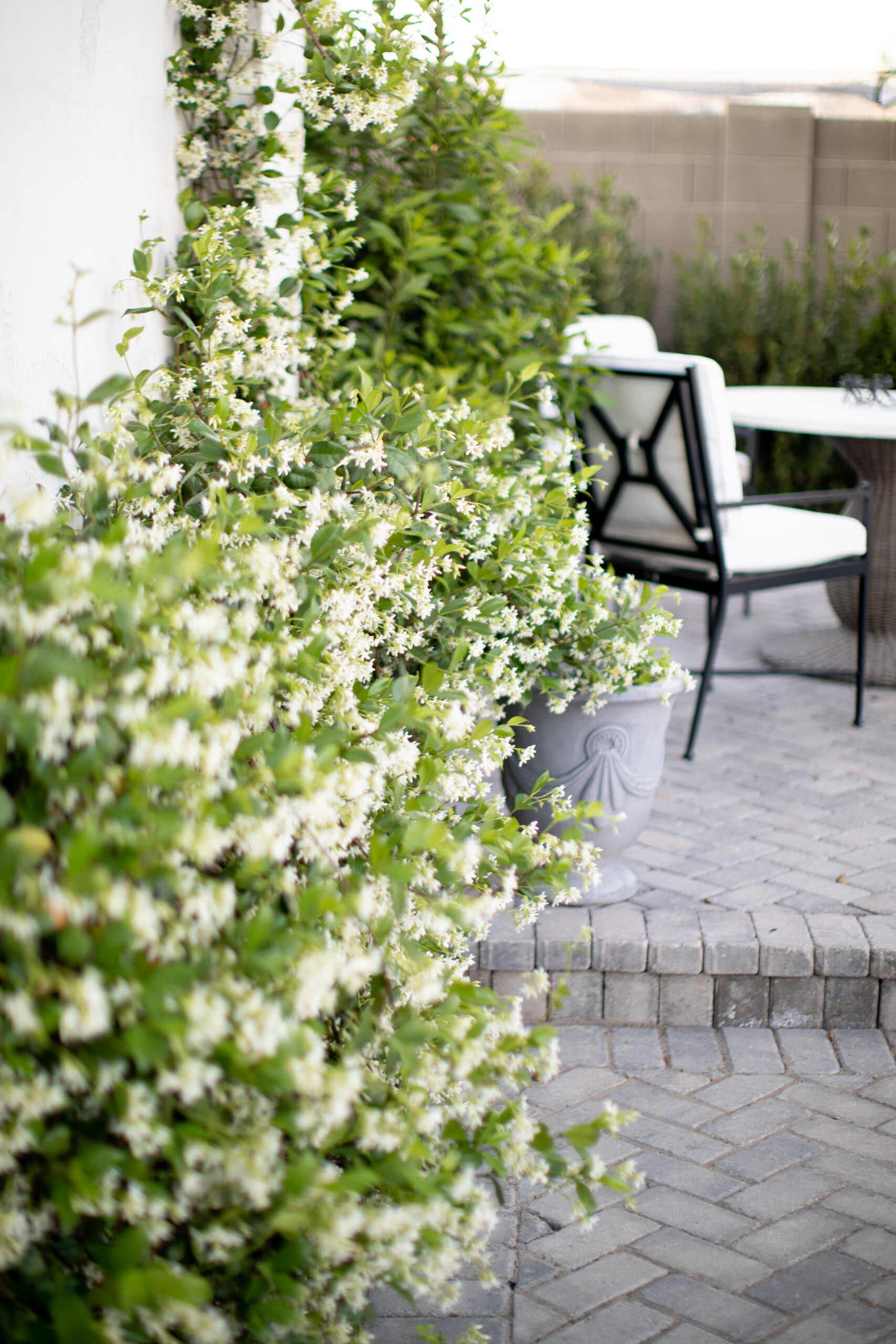 I ended up planting these jasmine vines in between the spaces so that each time you walk by you get an abundance of this enchanting scent. Our yard is also surrounded by some of my favorite plants that really make me feel at home while we are outside!
See every product that was featured in the post below!
Huntington Chaise Lounge Chairs