3 Ways to Use the Serena and Lily's South Seas Console and Bar Cart
This post is sponsored and may contain affiliate links, please read my disclosure policy.
When searching for pieces for your home it's pretty standard to get pieces that will last you a long time. Longevity, depending on the season you find yourself in, will be important! Not only will you research and invest in pieces that will last, but you might need a piece that can travel well. Seasonally and from time to time you might want to switch things up and you'll need a piece that will go from room to room seamlessly. The South Seas Console and Bar Cart from Serena and Lily is just that piece! 
---
How to Choose a Versatile Piece of Furniture
If you're looking to pick a versatile piece of furniture here are a few questions to ask yourself.
Where else can I use this piece? This is the most important question! Where else can I use this piece without leaving the other spaces void! Carts, stools, ottomans, side tables and consoles are some of the most versatile pieces of furniture in the home.
Is the piece easy to move? When the piece has wheels or hidden casters it makes the furniture very easy to move. Heavier pieces aren't very practical to move seasonally so think about that as well. This south seas bar cart is both lightweight and has wheels! Perfect.
 Color and Material. Choose a material that can be placed in any one of your rooms. Of course your choice will depend on your own personal style. This cart comes in rattan but also 2-3 different colors and sizes and even an outdoor option.
---
South Seas Cart in the Hallway
In our home I decided to use the console in our hallway when we updated it last year. It was the perfect fit and the perfect feature piece in that area. Hallways are those areas we forget to doll up because we don't spend any real time in hallways, but it can be a great place to have fun when it comes to choosing pieces.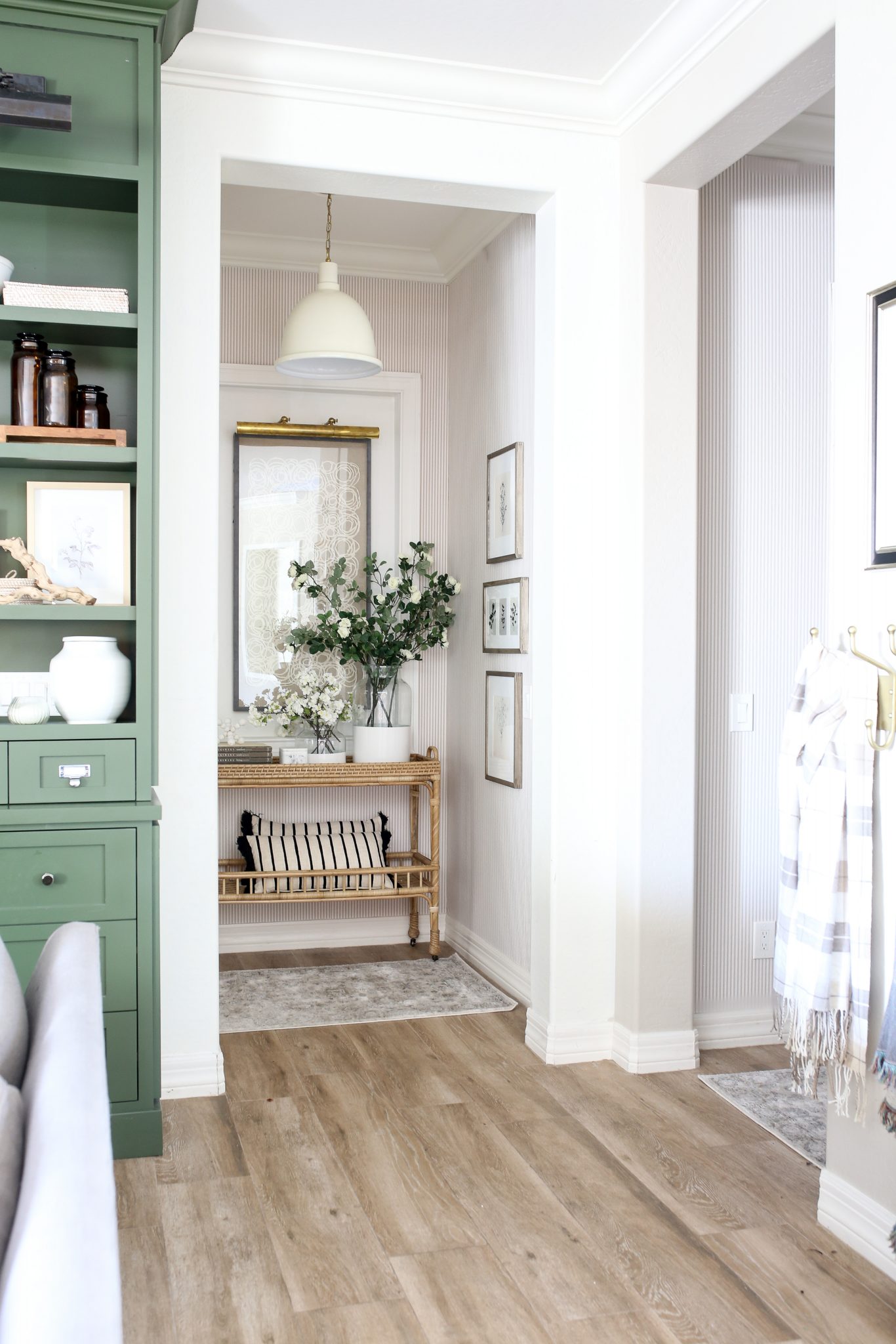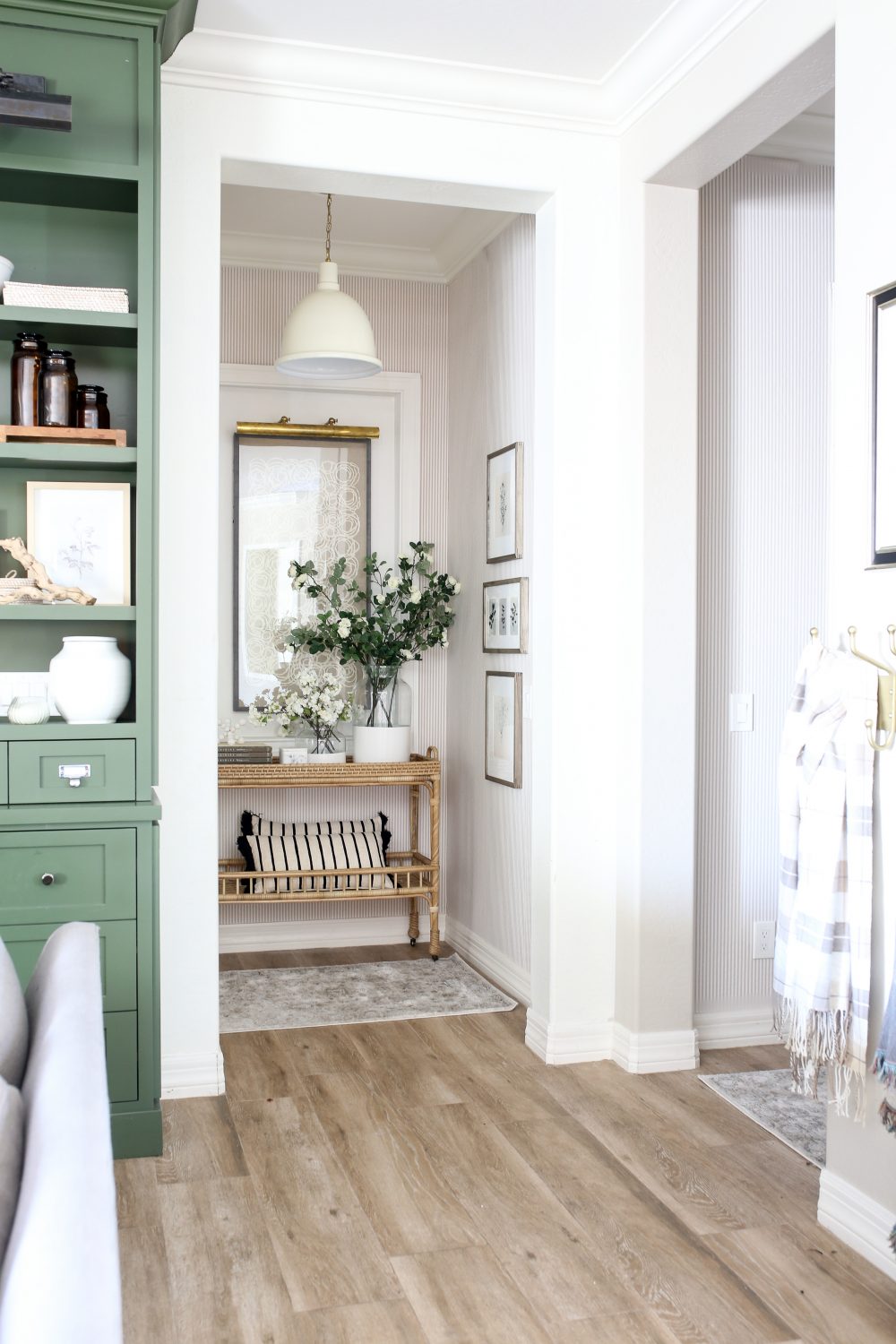 What I love about the south seas console is that is has two layers! This gives the cart a special leg up on other consoles because you can use the bottom and top to display some of your favorite decor pieces. You can see here I've used the cart to showcase flowers, books and other decorative pieces. I love having the big vase and florals because I feel like it just grounds the entire look. 
Plus I always love a touch of romance in my rooms so the florals are the perfect way to do it. You can recreate the same looks below!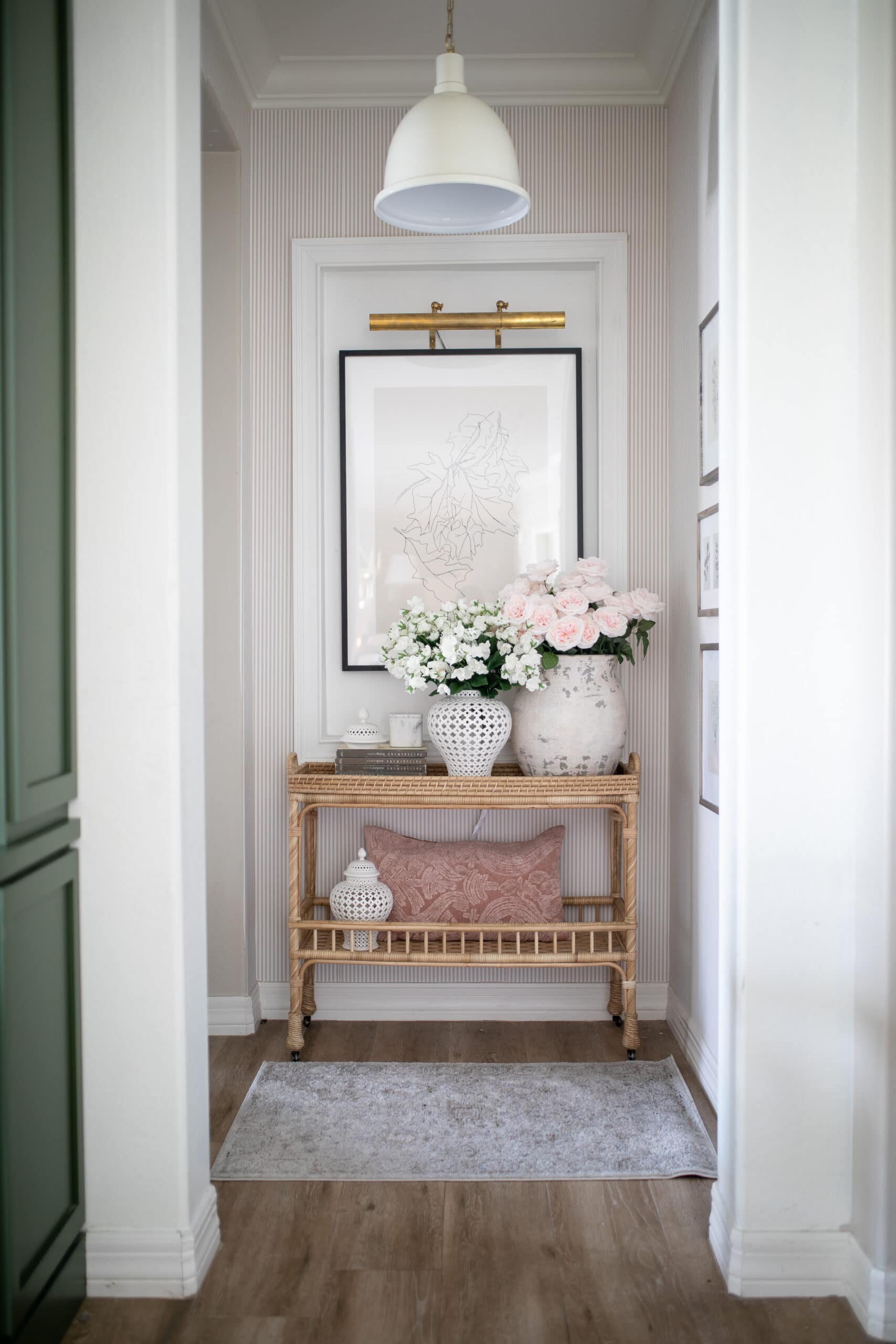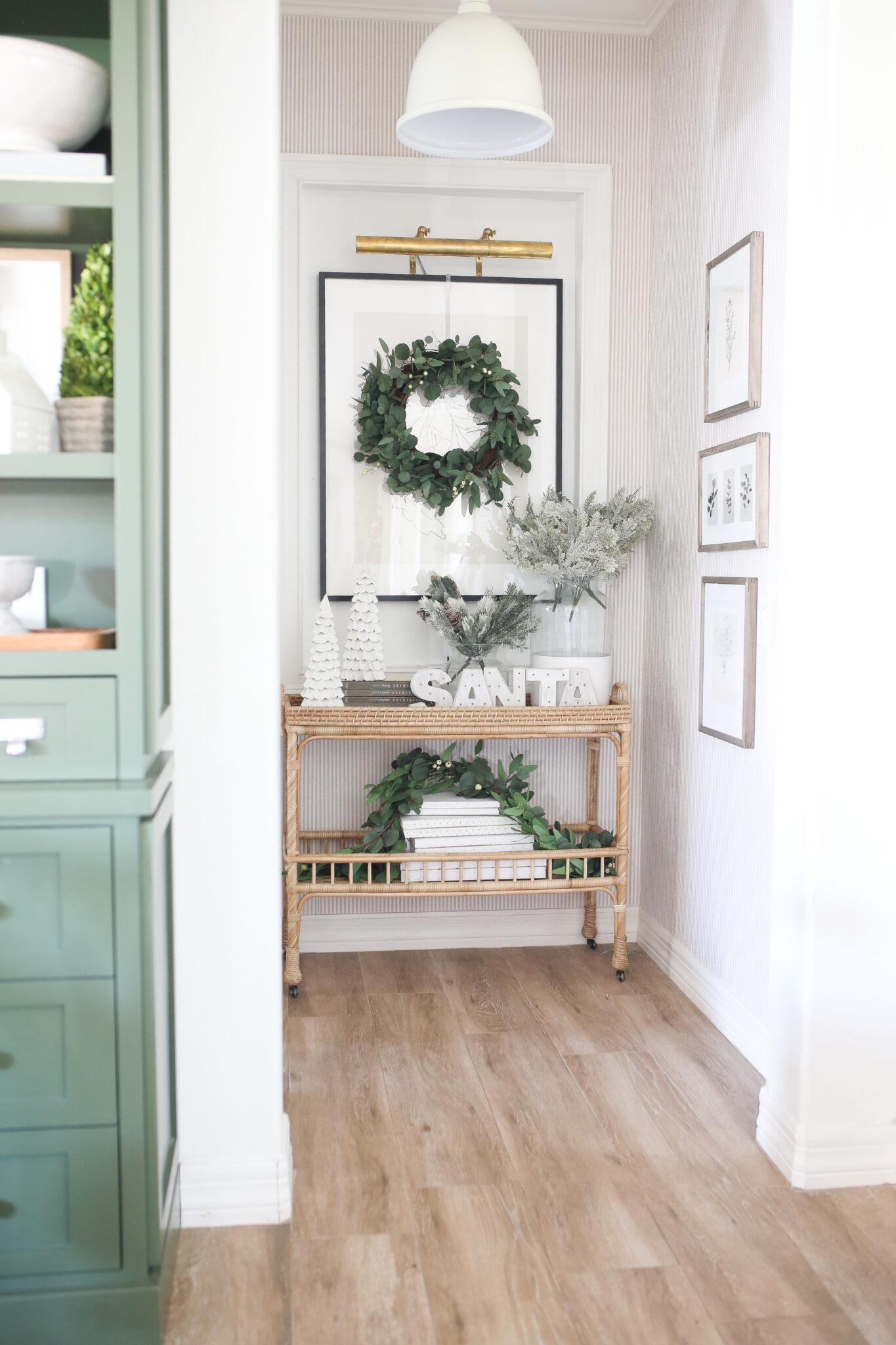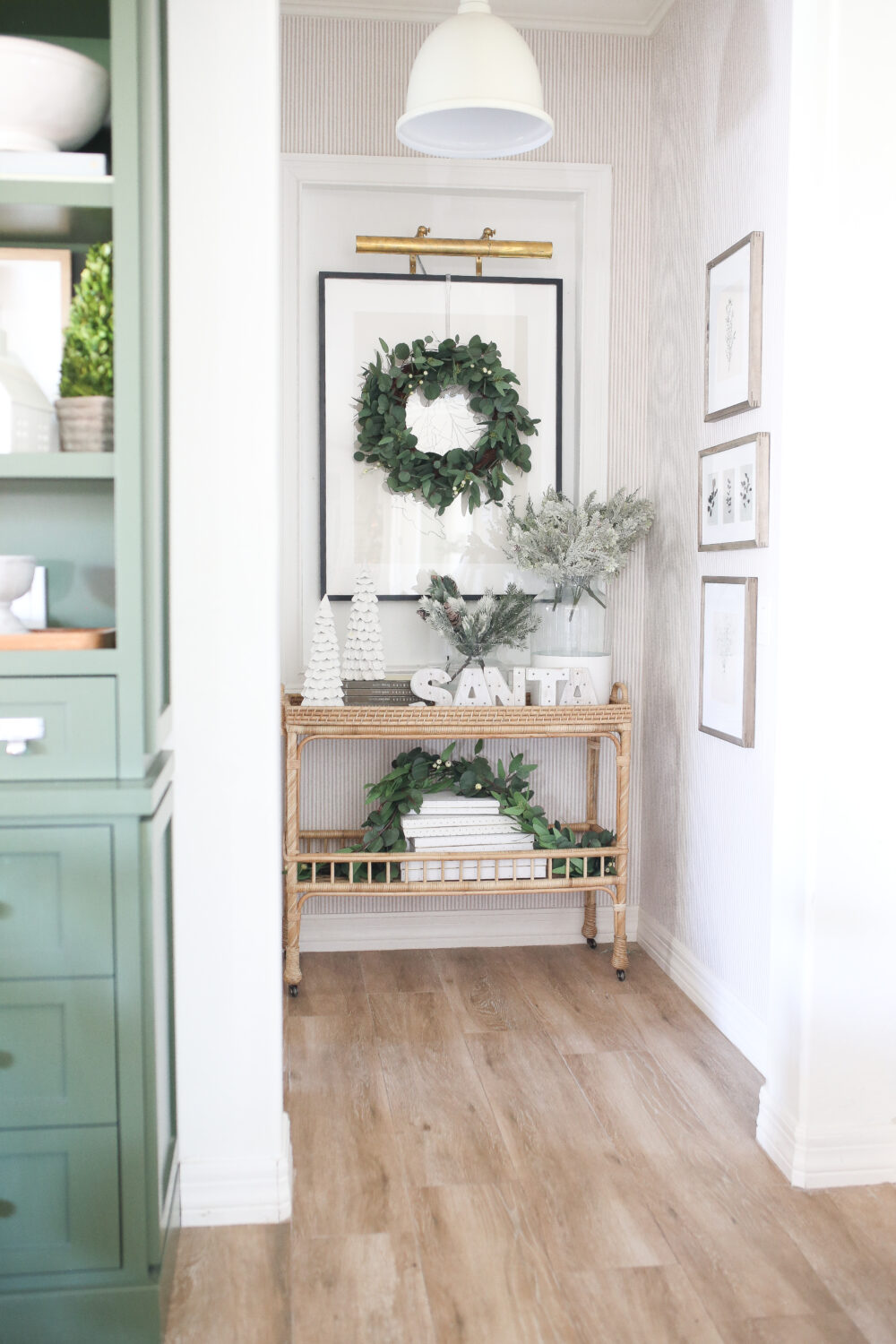 Use the South Seas Console as a Bar Cart
If you plan on using the console as a bar cart here is another look! You can just wheel it into another room or park it next to where you will be entertaining. If you have a covered patio this would be a great piece to add to some outdoor festivities. But this cart also has an outdoor option.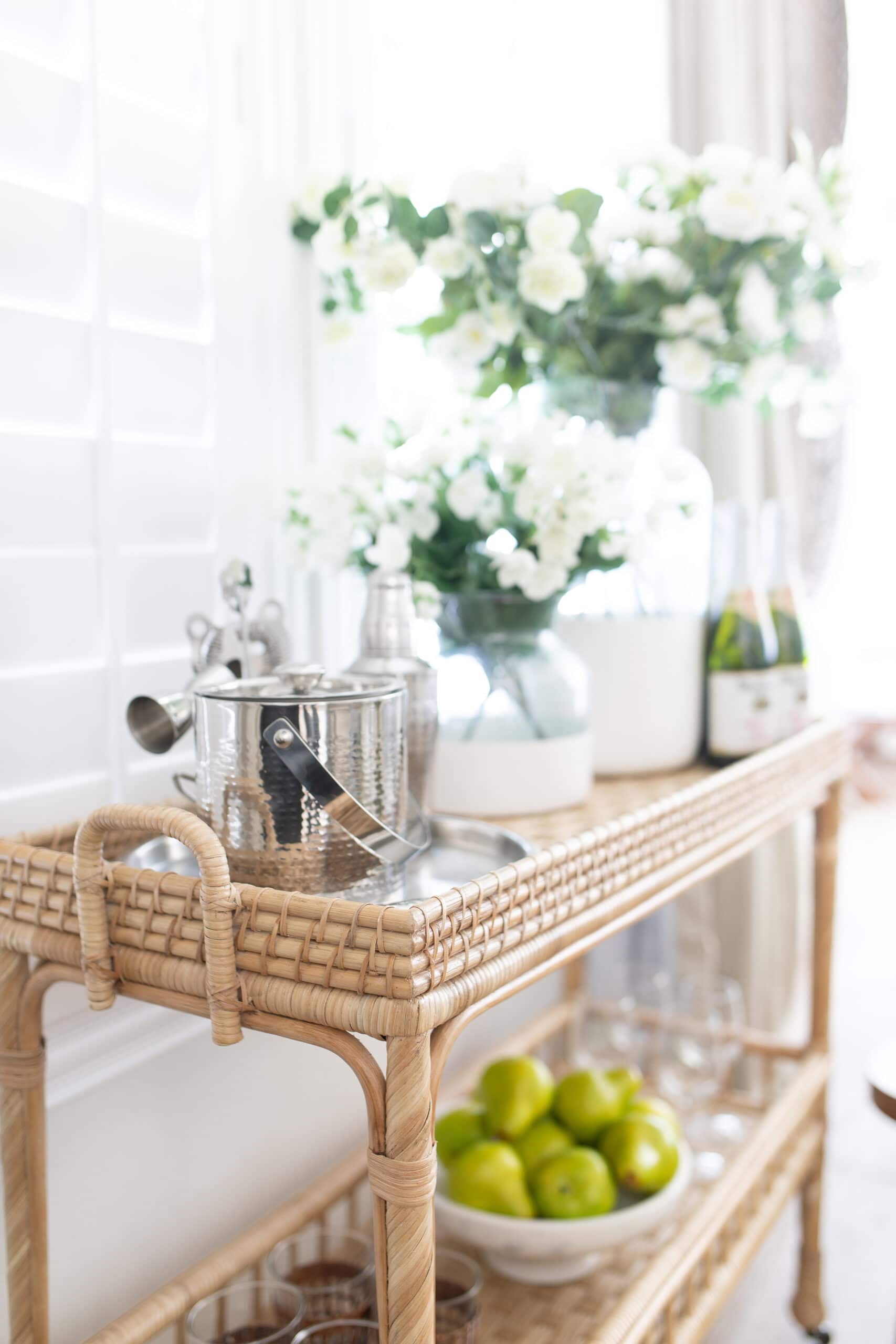 Again the double layer comes in handy when you are using it as a bar cart because you have a place to store not only your drinks but extras like ice, glasses and other bar essentials.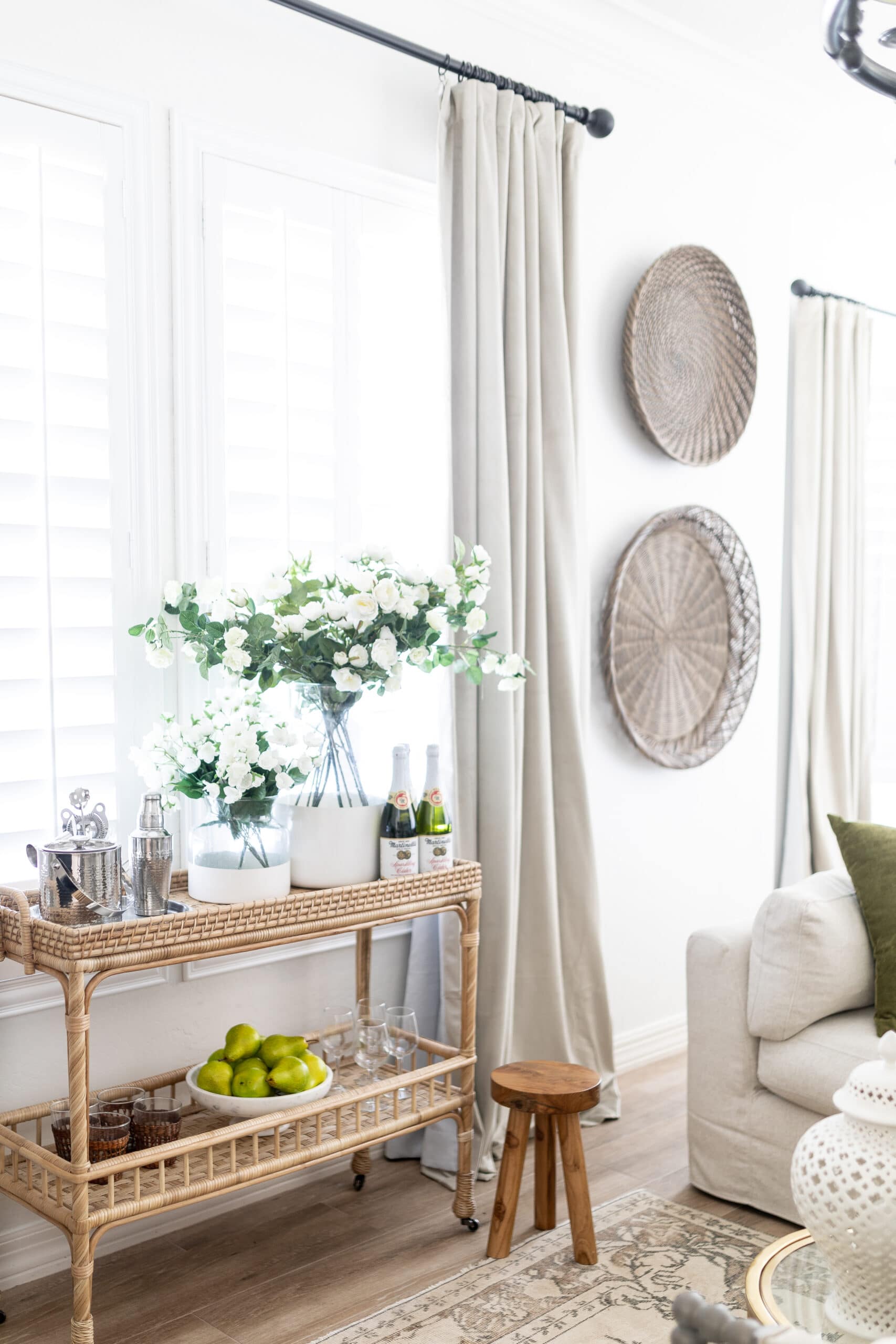 To recreate this look here's a tip!
Make sure you're set up flows with the aesthetic of the cart and the surrounding. This cart gives a more casual look. Even though it can be dresses up I would play with the natural texture is already has. White, blues and even yellows would be a great compliment to this cart.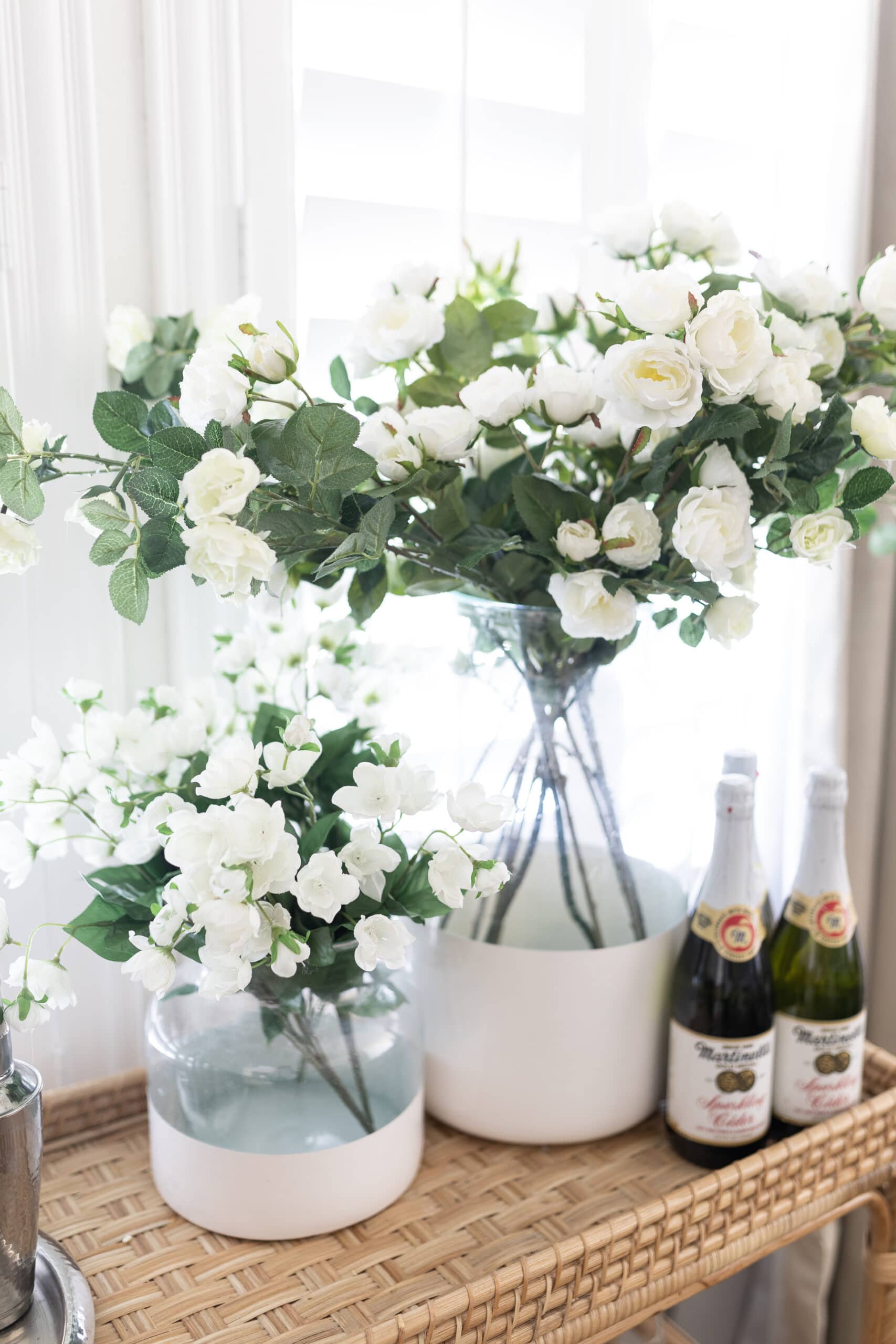 Using the South Seas Cart as a Nightstand
The South Seas bar cart continues to be a vertiale piece by acting as a nightstand or side table! The narrow footprint on the smaller cart makes it perfect for small living rooms or bedrooms.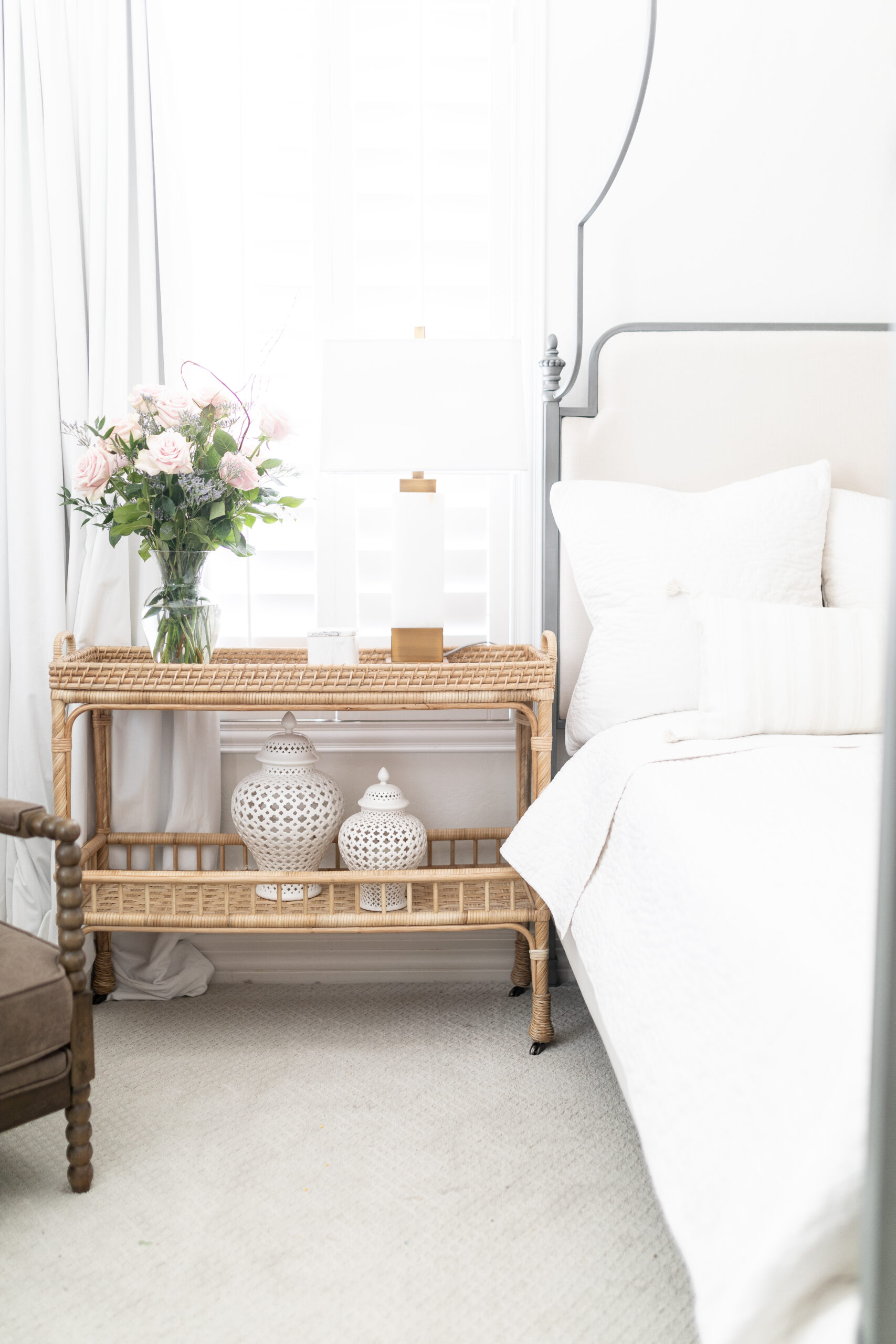 Place a lamp, books or any other nightstand essentials and beautifully display this piece next to your bed. You can use other storage piece to hide items you don't want our.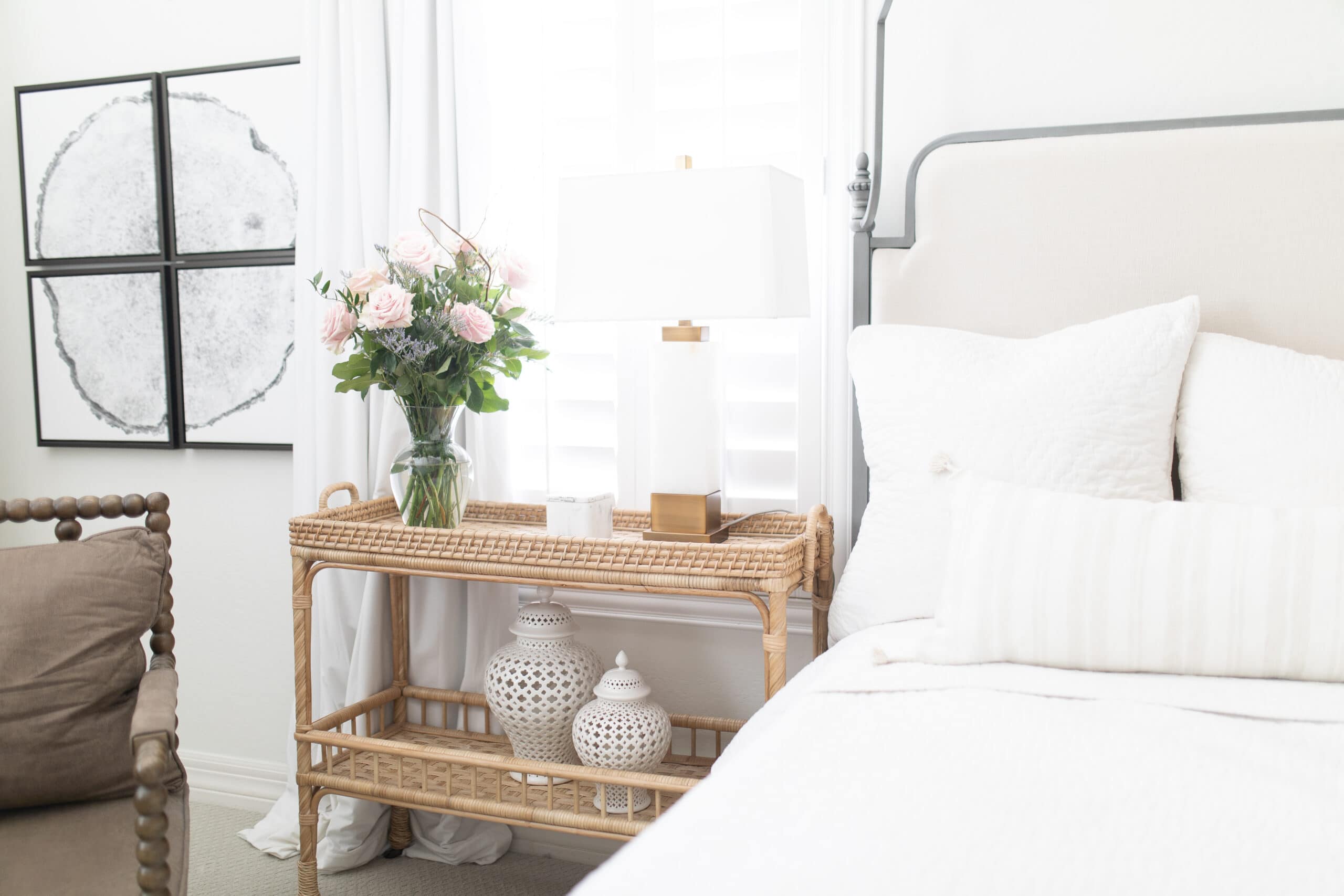 But keeping it simple seems to work for this cart!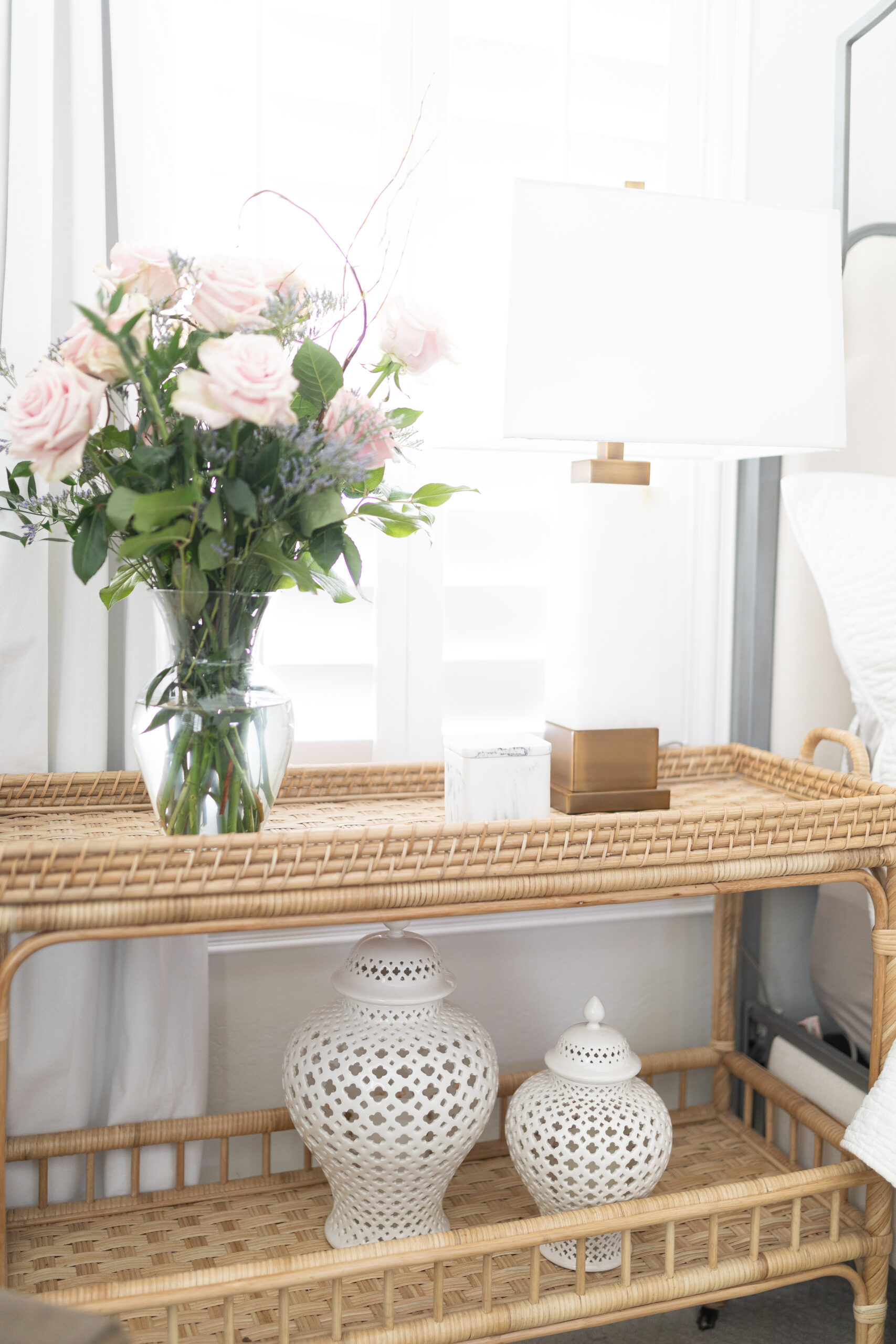 Hopefully this gives you a good look at how you can use this cart around the house. It's such a fun cart to dress up and move around the house. Definitely one of my very favorite pieces from Serena and Lily! I think you'll not only love it but find yourself using it often.
SHOP some of my VERY favorites from Serena and Lily Below including the South Seas Console and Bar Cart!