Floor and Decor Review and Remodel Options
This post is sponsored and may contain affiliate links, please read my disclosure policy.
This post is sponsored by Floor and Decor- A place for high quality flooring at affordable prices.
Moving into a new build SHOULD mean everything is brand NEW, DONE! But for us, it meant doing some major projects after closing to make the space ours without spending the extra money that sometimes comes with the builder.
Our first experience with Floor and Decor was to actually choose our flooring for the entire downstairs area. I was looking for something much lighter than our Durango home and something a lot more durable as well. I also didn't want to to see how messy the floors were on a daily basis. I was really set on a beautiful wood floor but my husband insisted on tile flooring because of our busy and honestly messy lifestyle. When it came down to it, we did end up finding the PERFECT tile wood-like floor at the perfect price at Floor and Decor and we couldn't be happier with it.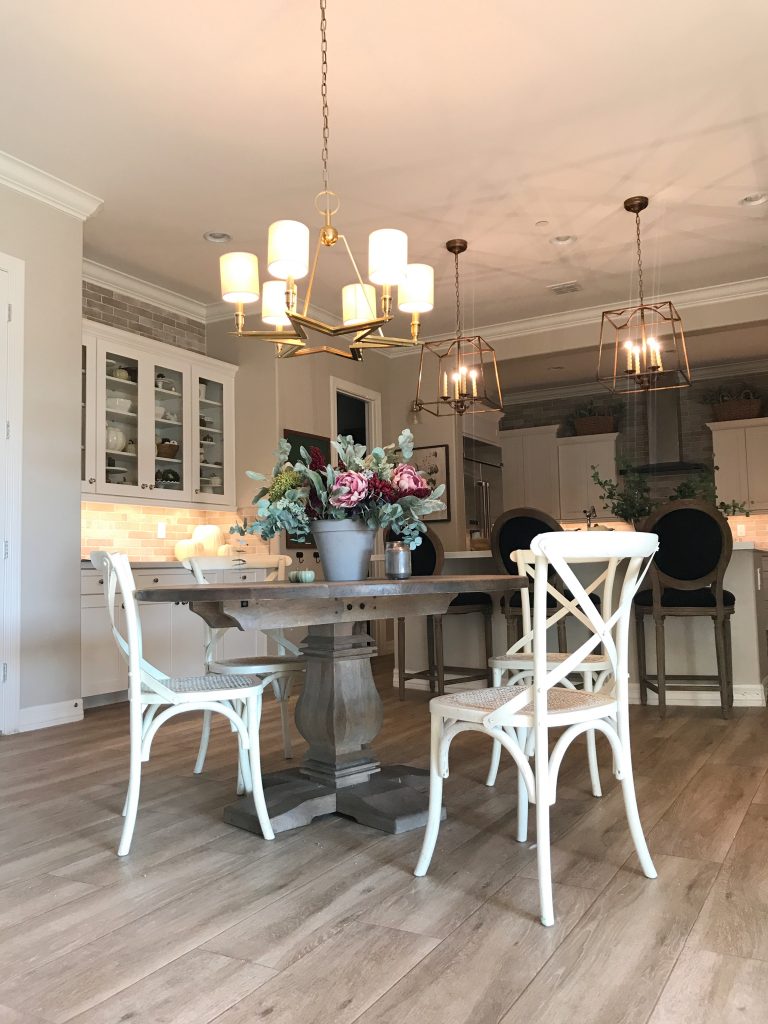 So here I am again looking for another perfect tile for a new project, our powder room! Again, it's as basic as it gets when it comes to a half bath. Pedestal sink, oval mirror, light and toilet.
My plan for this room is to dress it up with some traditional elements like marble, wood tones and some polished nickel accents. BUT I'm also thinking about some brass accents, just for a change! I'm not really sure if I want to go with something elegant and classic or moody and classic. I've always LOVED moody powder rooms lit with candlelight on nights when guests come in an out all night. The powder room seems to be a great representation of the feeling of your home. It's the only room where guests really get intimate with your style..haha!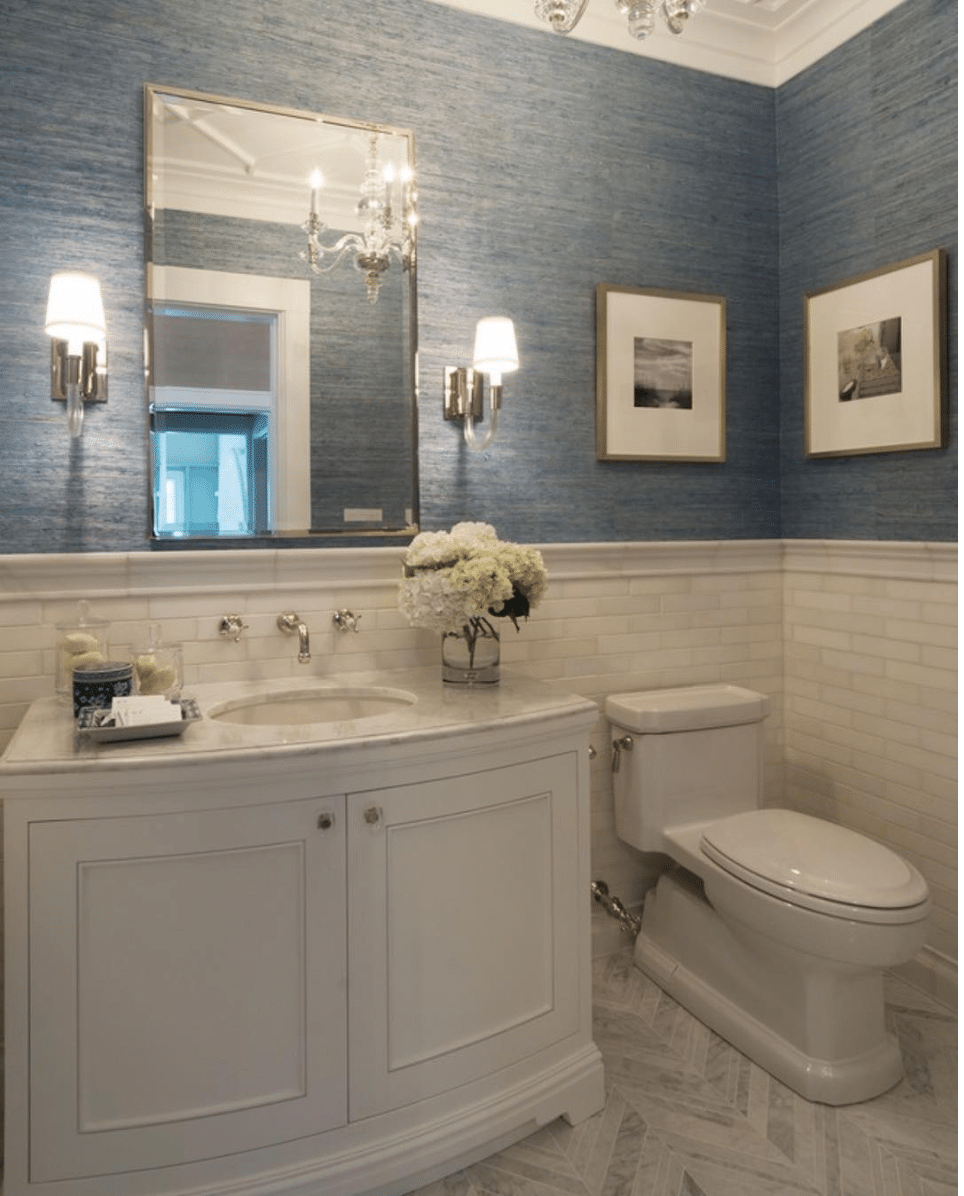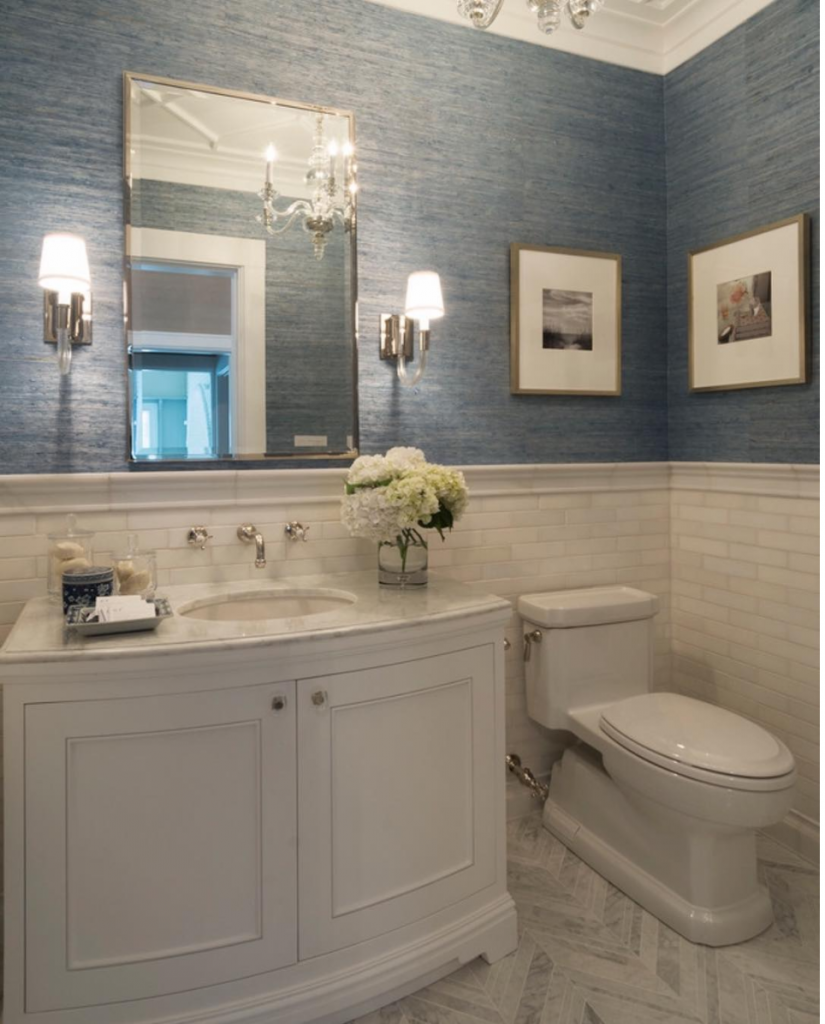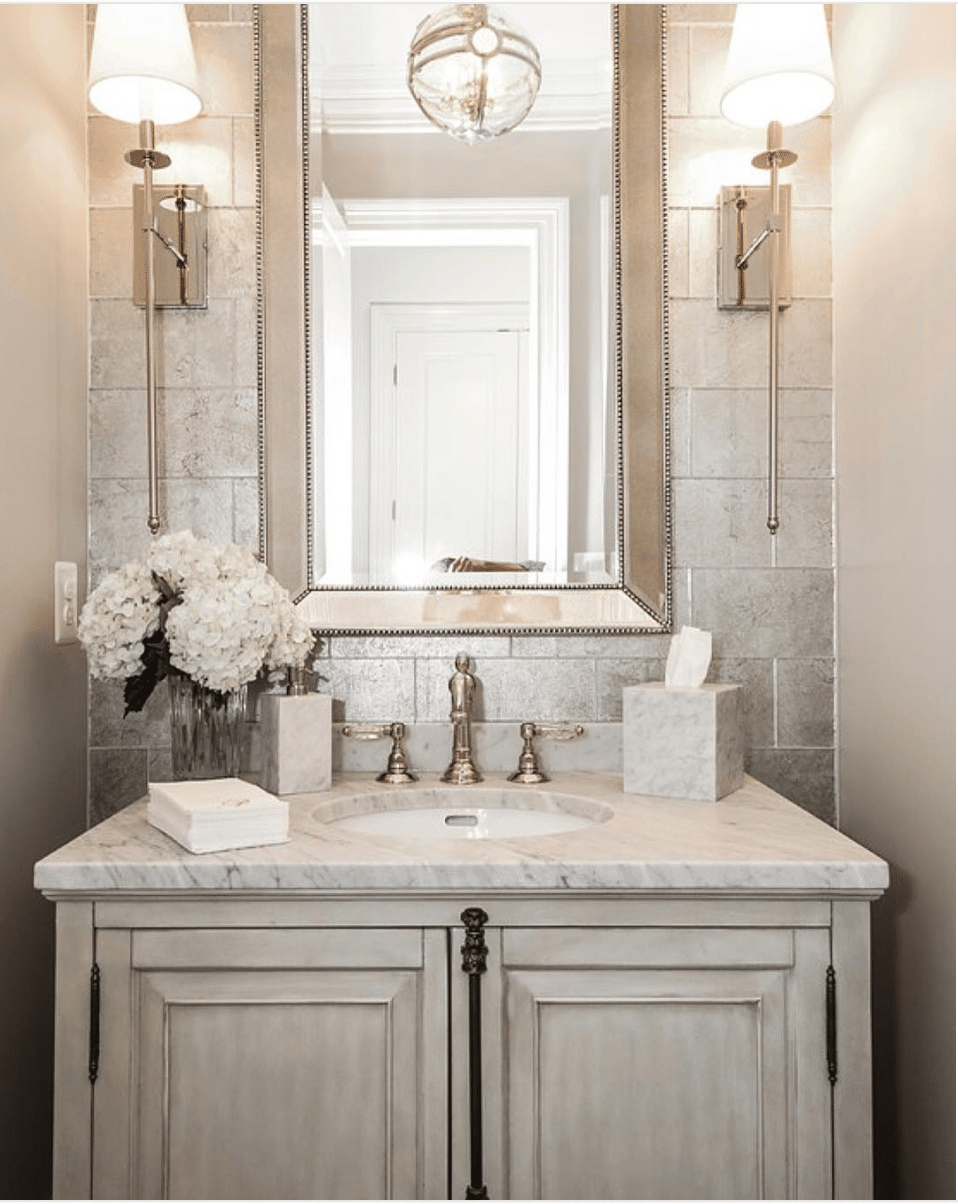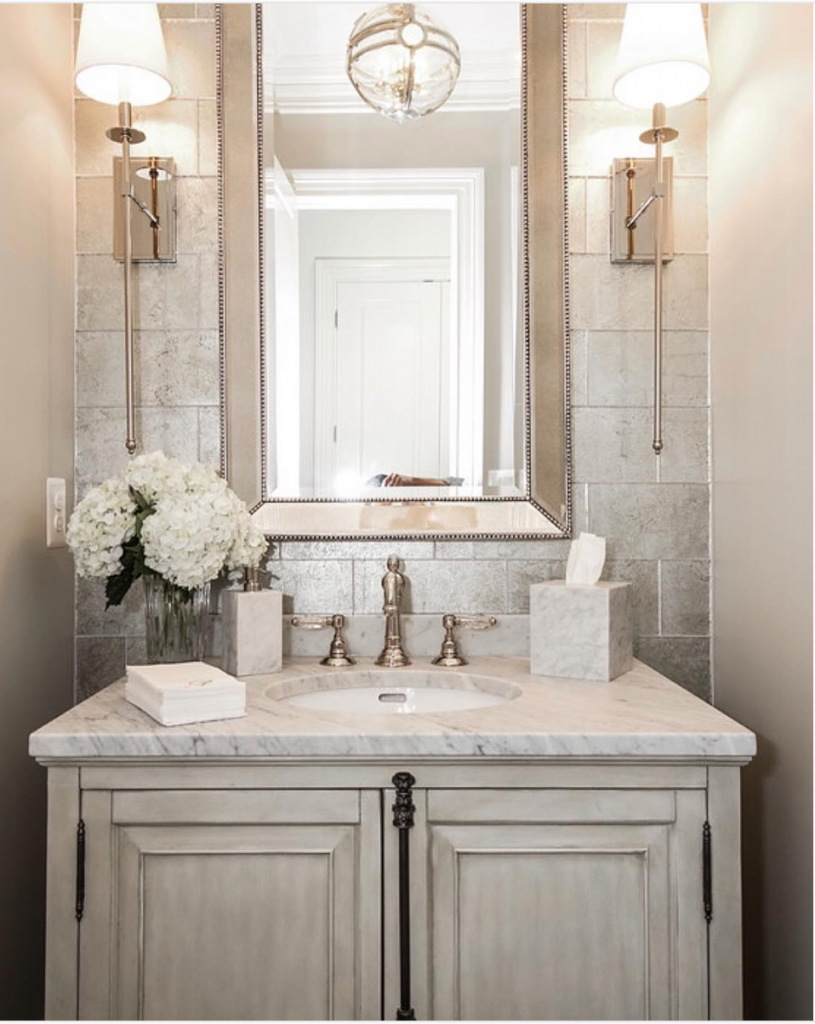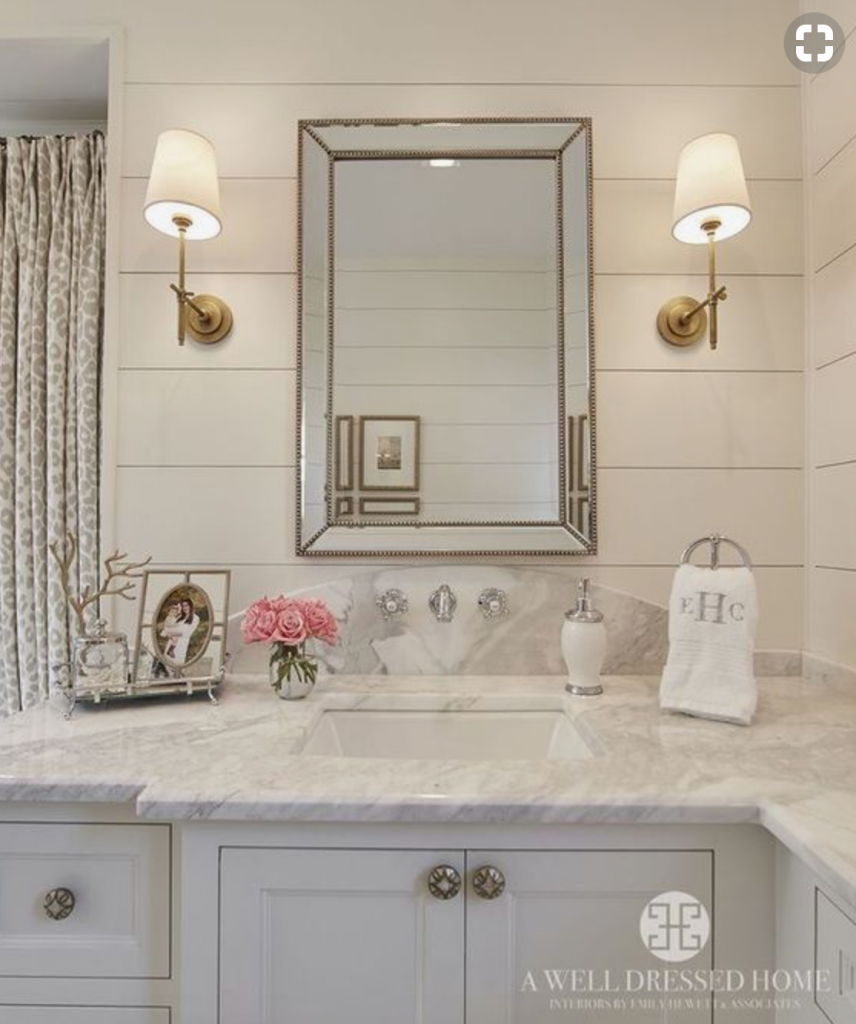 I was so excited to finally get a chance to go into Floor and Decor and see what options they had for the project! If you've never been in before I'll give you a little run down of what to expect. Floor and Decor has a few different sections.
In the middle of the store you will find a huge selection of floor tiles, including wood like tiles!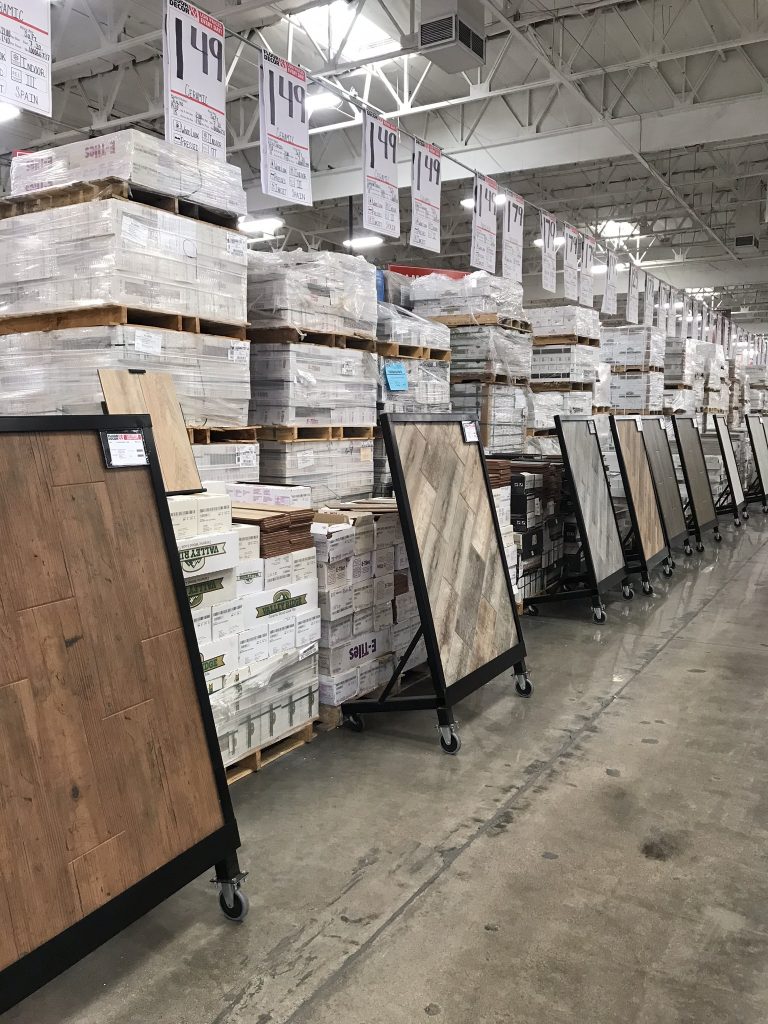 On the perimeter you'll find wood options including vinyl, bamboo, laminate and hardwoods.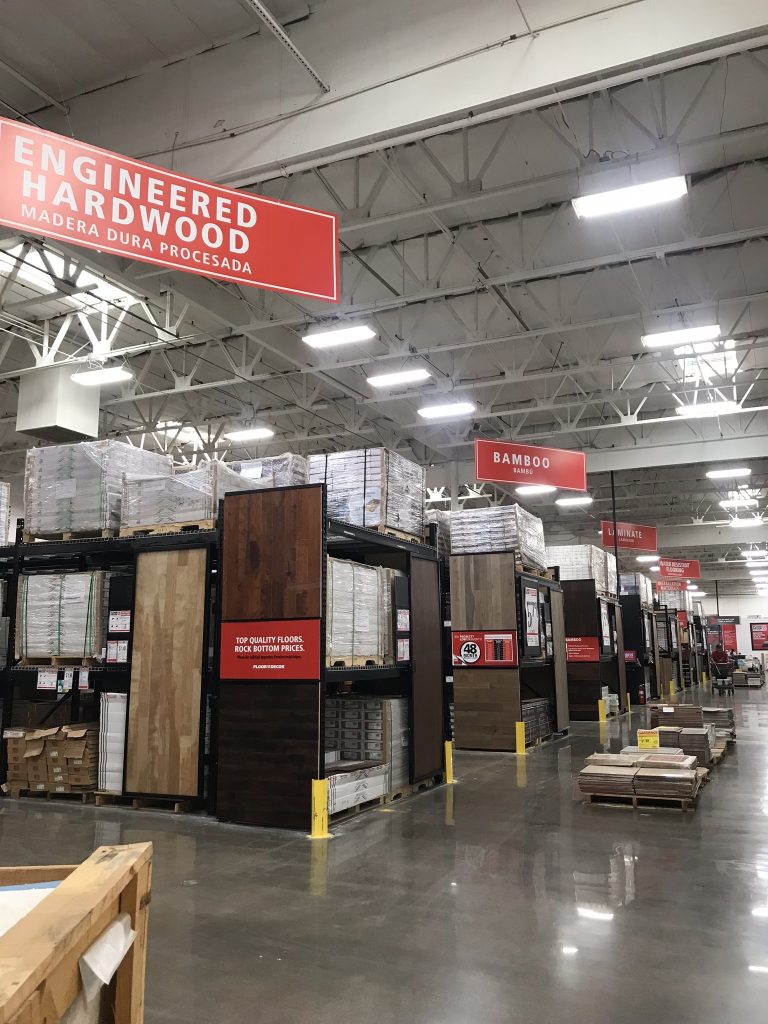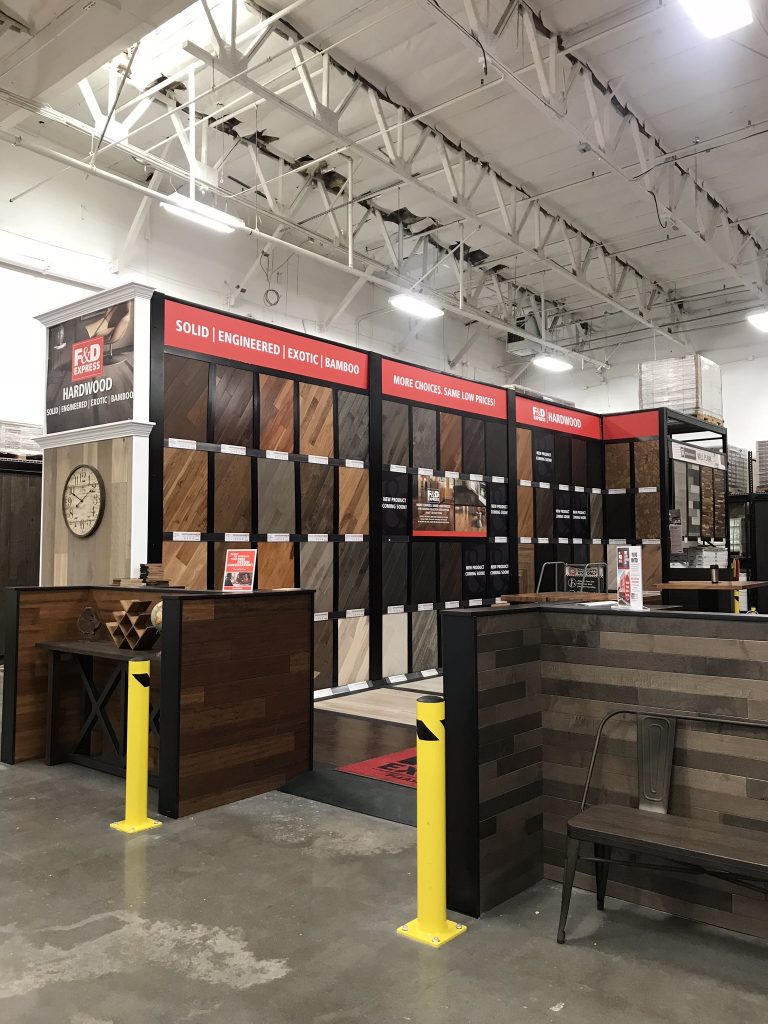 On the other side you'll find countertop options! Who knew?!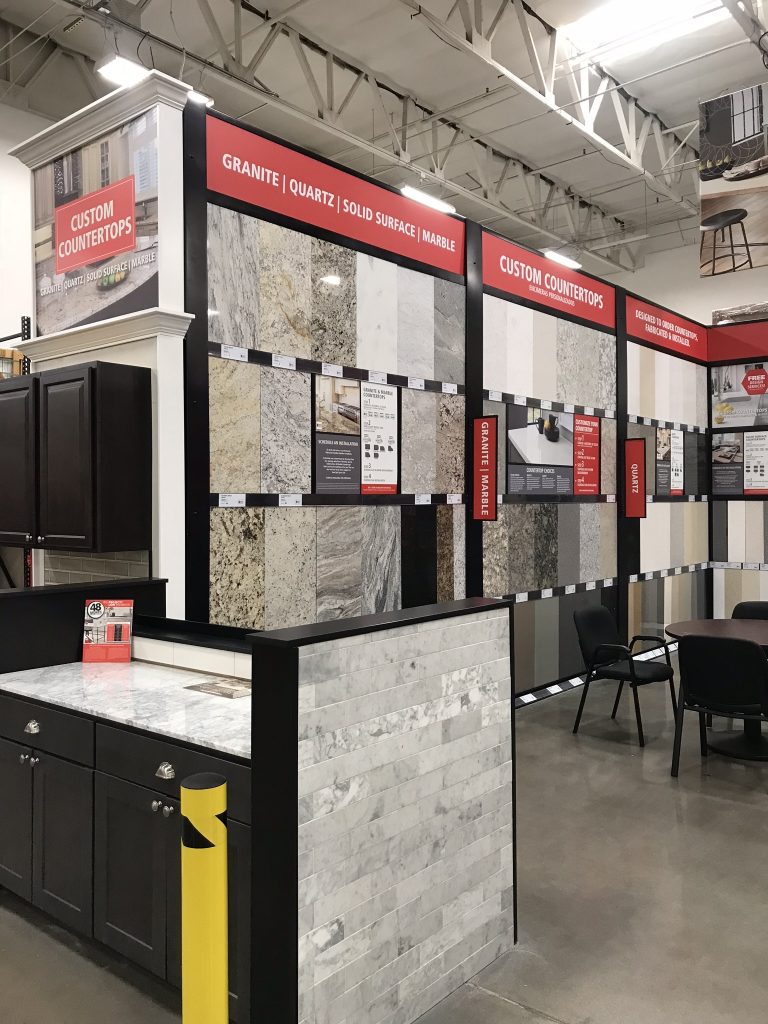 I headed to the bathroom tile selection which was also on the perimeter and went to work selecting some potential winners for the remodel. The displays they had offered so much inspiration.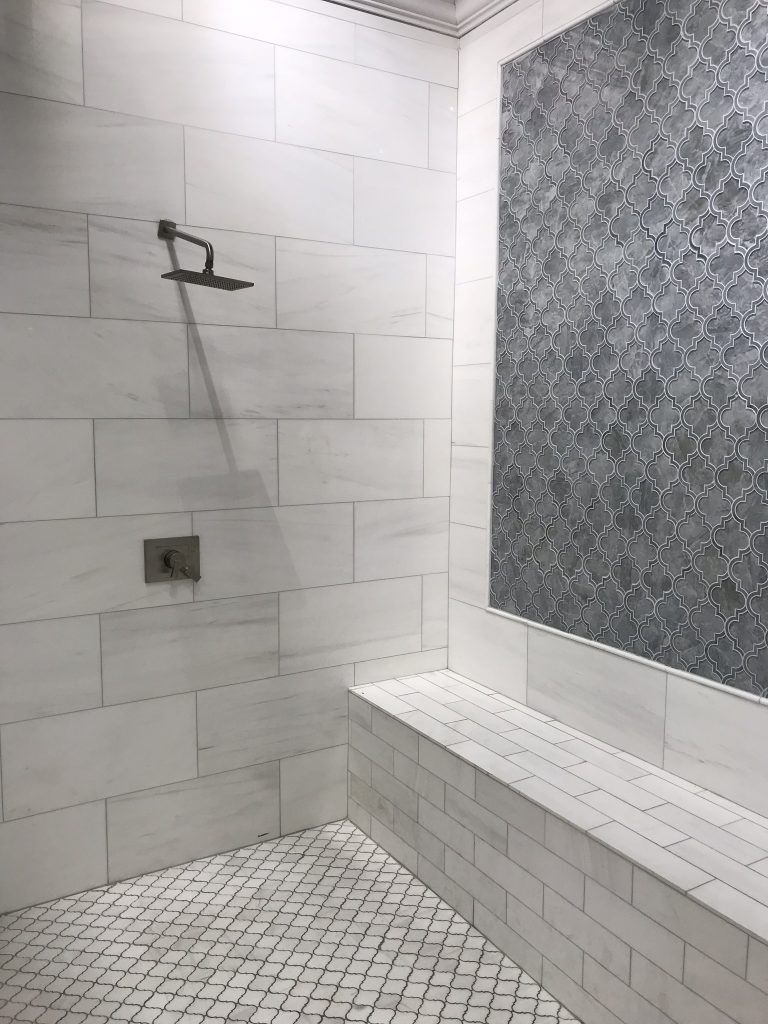 This shower was a stunner. A mix of 4 different tiles! I love the feature tile above the bench.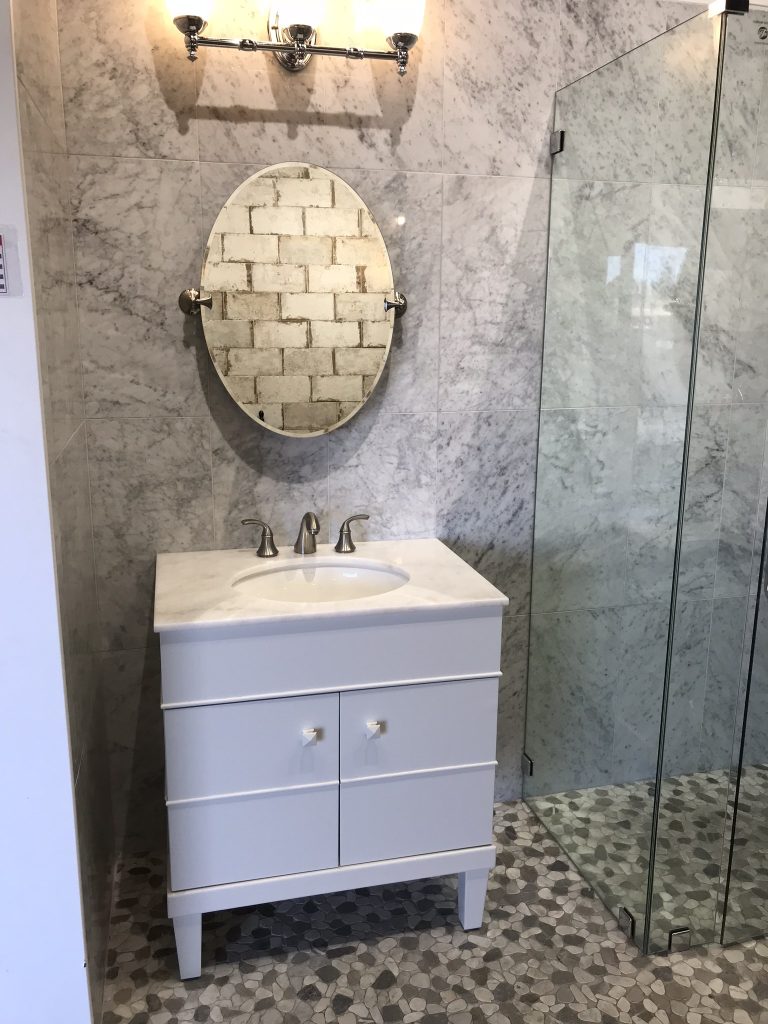 Another great display using marble!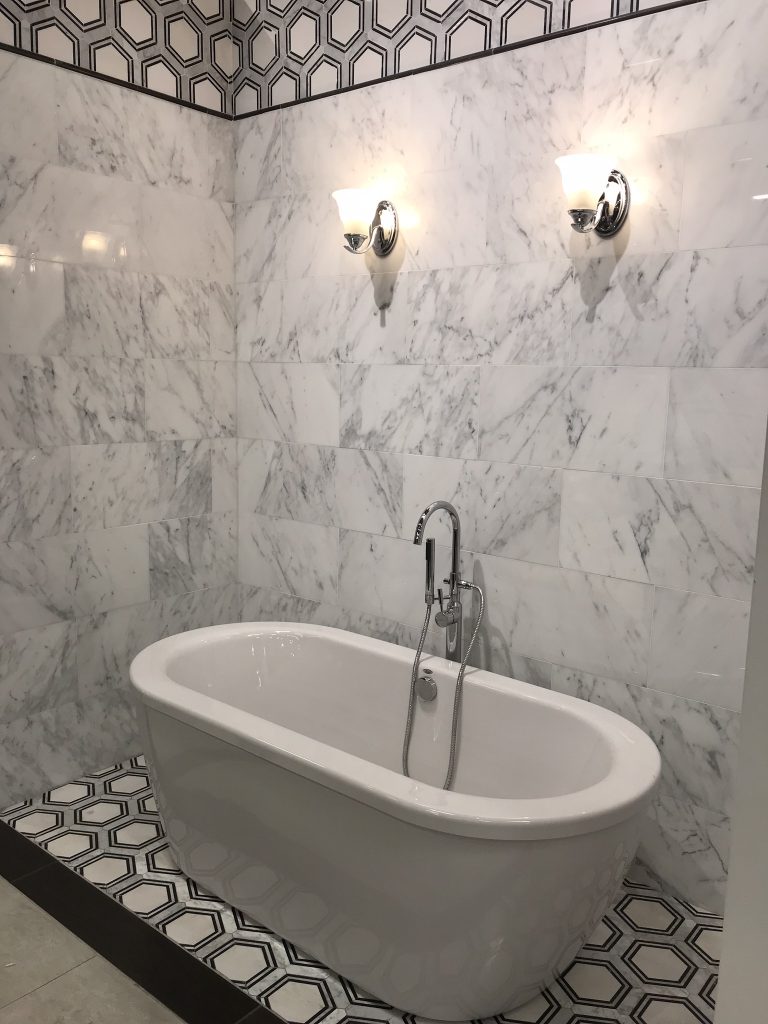 This one! Look at that black and white tile! Love how they also used it on the top as well!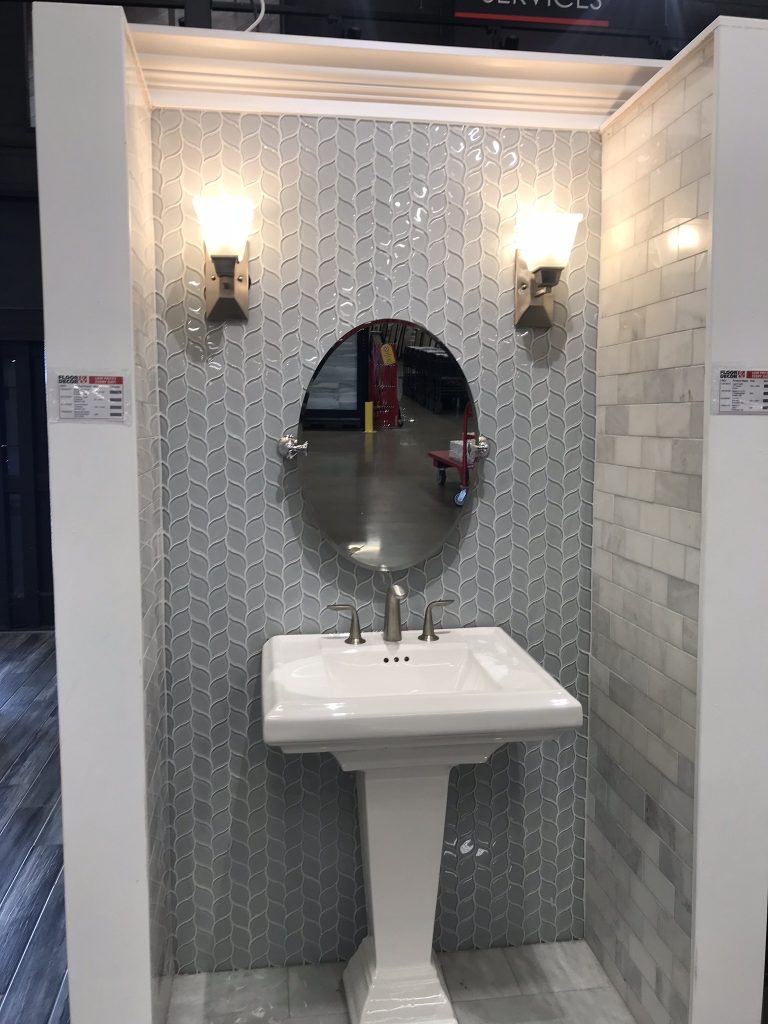 Gorgeous right?
They had so many unique marble choices (and glass.) Here are some of my favorites!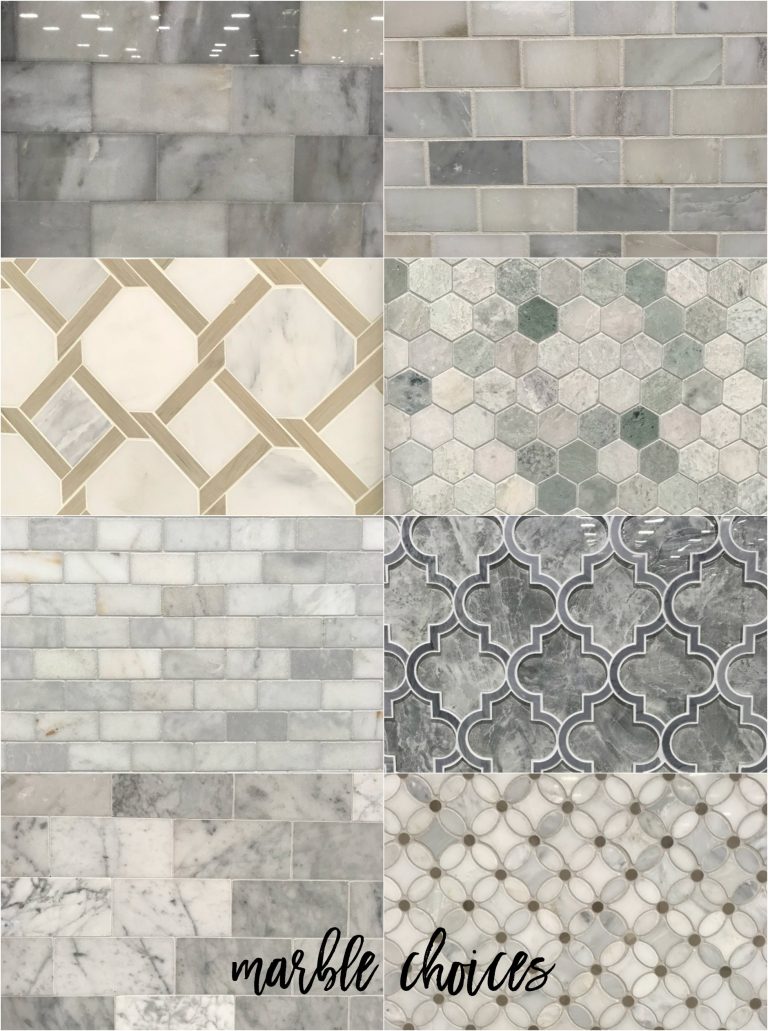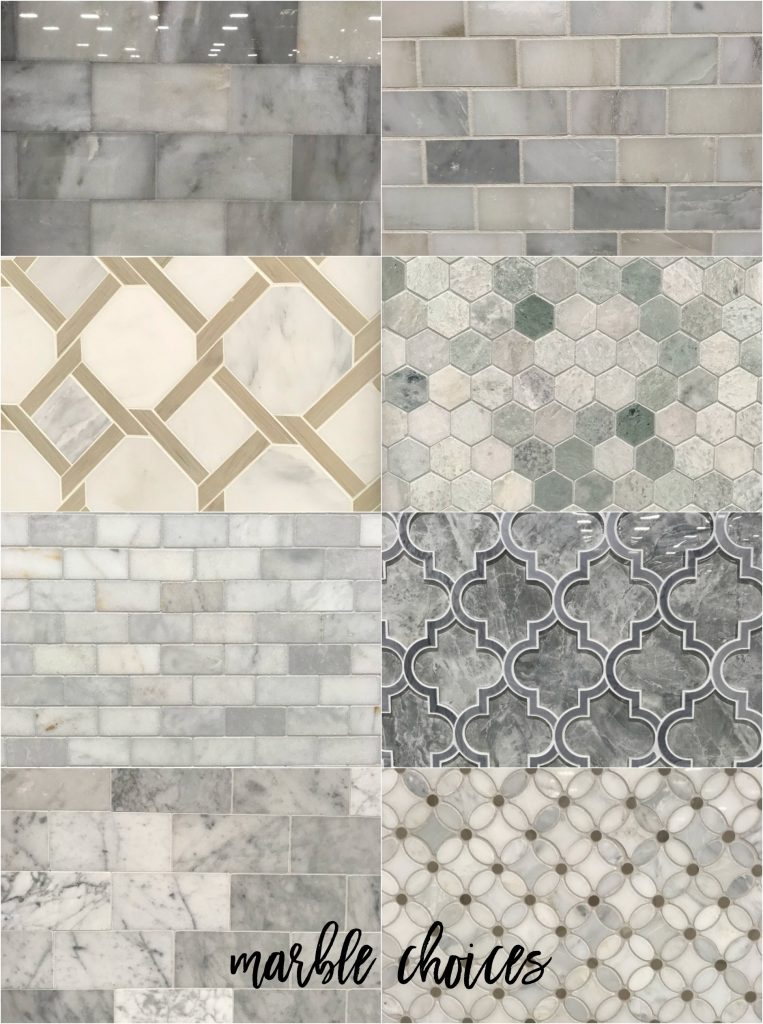 From right to left….1. Polished Marble 2.Honed Marble 3. Lattice Marble 4. Caribbean Green 5. Brick Marble 6. Jet Glass Marble Look 7. Polished Marble Brick 8. Flower Marble
Along with those favorites I was also dreaming up new projects with some of these beauties! I get so distracted. haa!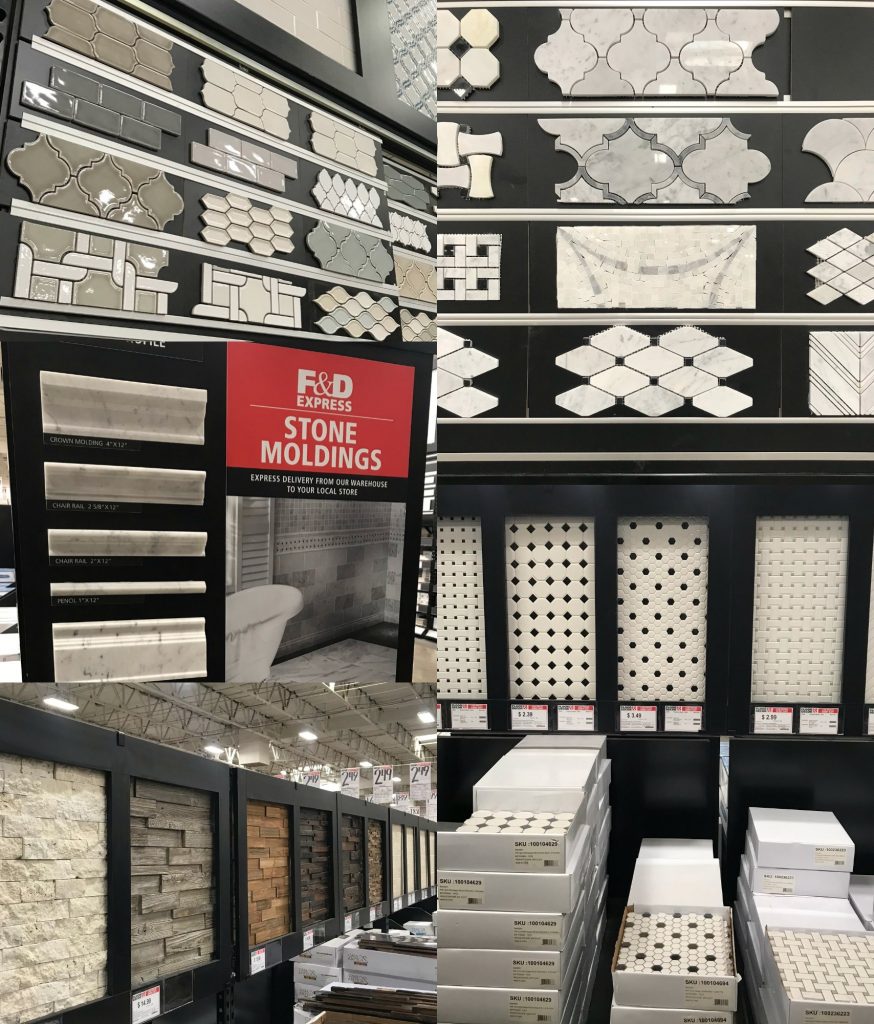 Stay tuned to see which one will be the winner for this project! Are you excited? Can you see the vision? Which one is your favorite?