A New Powder Room with Floor & Decor
This post is sponsored and may contain affiliate links, please read my disclosure policy.
This is a sponsored post written by me on behalf of Floor & Decor. All opinions and text are mine.
Happy New year friends!
I'm so happy to be back here on the blog sharing a fun makeover I did with my friends at Floor & Decor! But before we jump into that can I just say how much I've enjoyed this break. Winter has always been a season of slowing down and renewing and I always like to take some time off and just reboot! Spending time doing NOTHING and spending time with my family, writing lists and working on the house without any real agenda always gives me energy!
So back to this bathroom makeover. You guys remember in this post I explained what the plan might be. If you take a look at the before you can see it's is just your typical builder grade powder room. Nothing special. Painted walls, pedestal sink and a working toilet!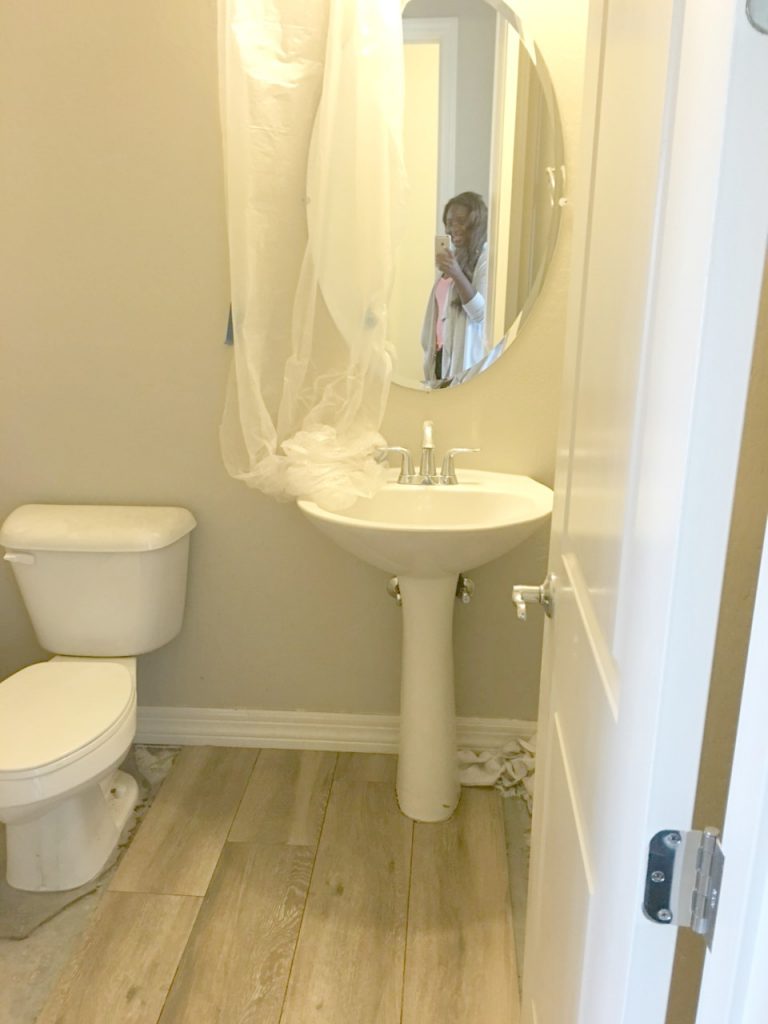 But I knew I wanted something that was mix between classic and some rustic elements as well. I like spaces to feel cozy and for the bathroom I like it to feel some what moody. So to get some help on the direction, I asked you guys if I should leave my wall white or paint it dark and you guys really were SPLIT! Some of you thought the dark would be depressing…lol and the others thought the white was too safe!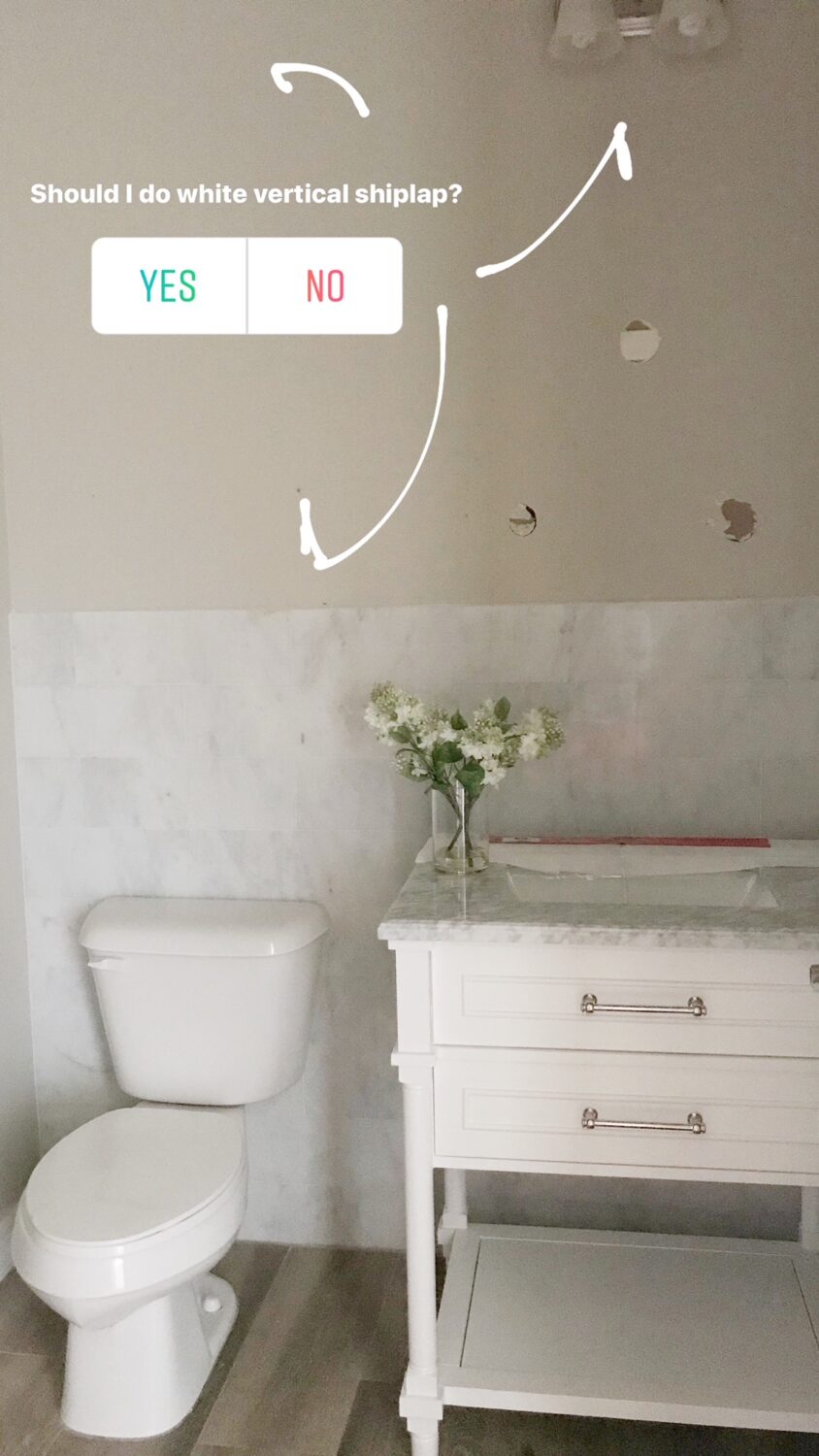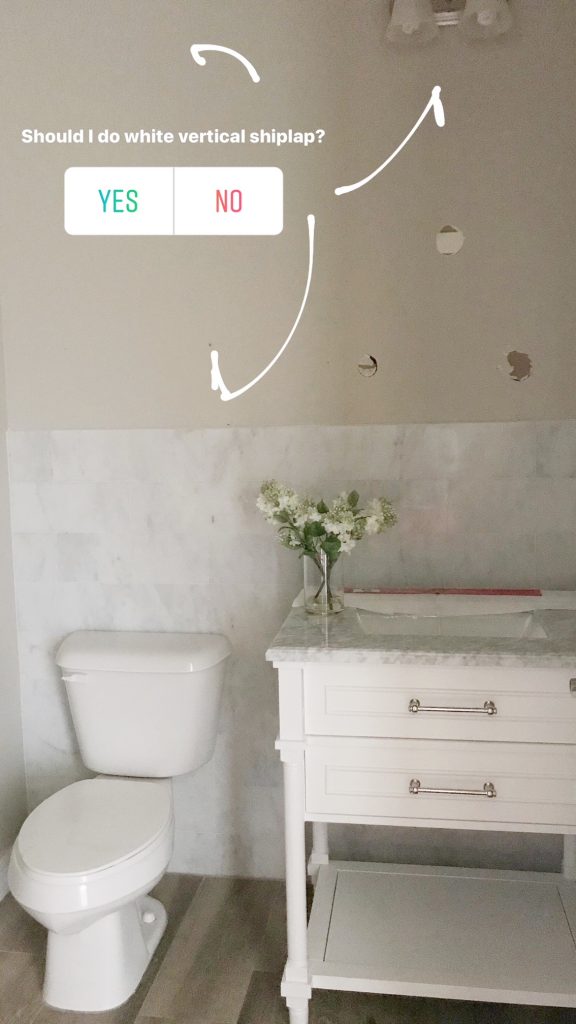 Well I decided on the white vertical shiplap and here is why. I thought for sure the black would've been my choice but because we split the wall with the marble, the contrast of it all would have been too much. So I decided to give the transition some cohesiveness by just leaving it white and taking the shiplap UP instead of across to help accentuate our taller ceilings. Then accent it with the black that I love SO much.
So we started off by getting rid of the sink, and mirror and doing a half wall of marble tile. I initially decided on a smaller tile BUT I really wanted to see more of the marbling so I decided on these slightly larger Carrara Milano Polished Marble in a 6×18 with a bright white grout for better blending. I wanted it to mimic just one large piece for marble. The install was done in a traditional staggered layout with 1/4 spacers.
This was probably one of the "simplest" projects we did last year but it was a bit time consuming too! Because of some delays with our vanity being on backorder we were suck at this point for a while but we finally got it in!
I thought the marble paired up well against the rustic looking Truewood Cream that we did throughout the entire house and carried into this space. We also got our floors from Floor & Decor! Almost 3,000 square feet delivered right to our door!
The vertical shiplap was done in less than half a day and it really started to bring then entire space togeher. Even thought I didn't have a concrete vision board for this space I knew how I wanted it to feel and so I added some decor items to help.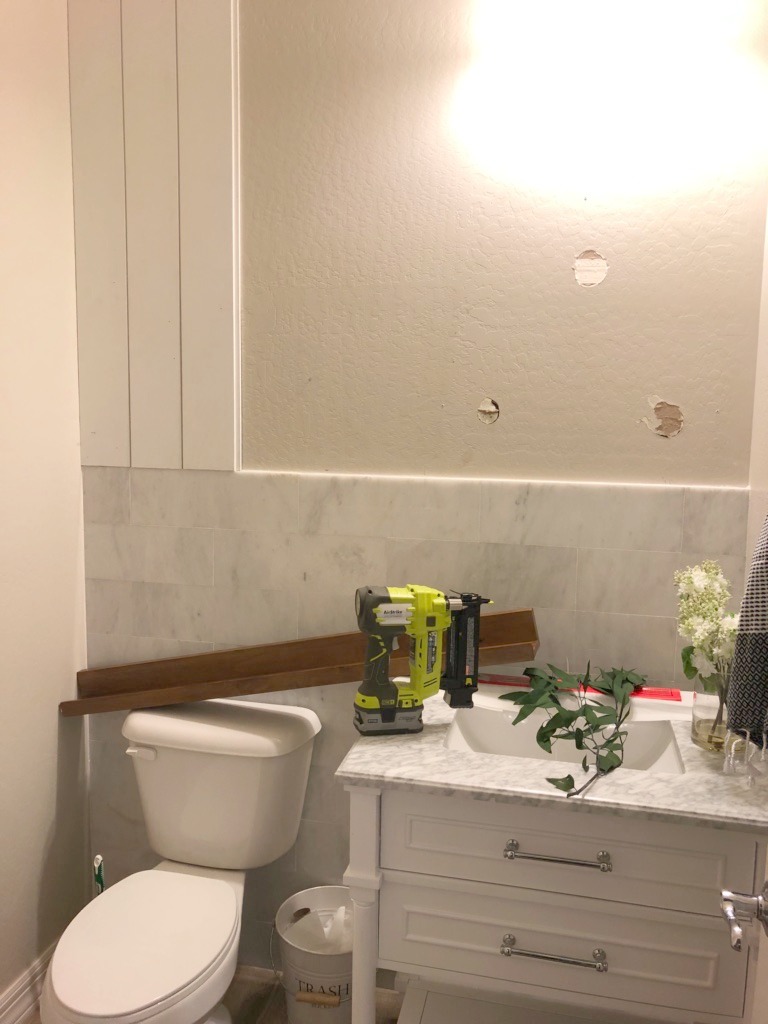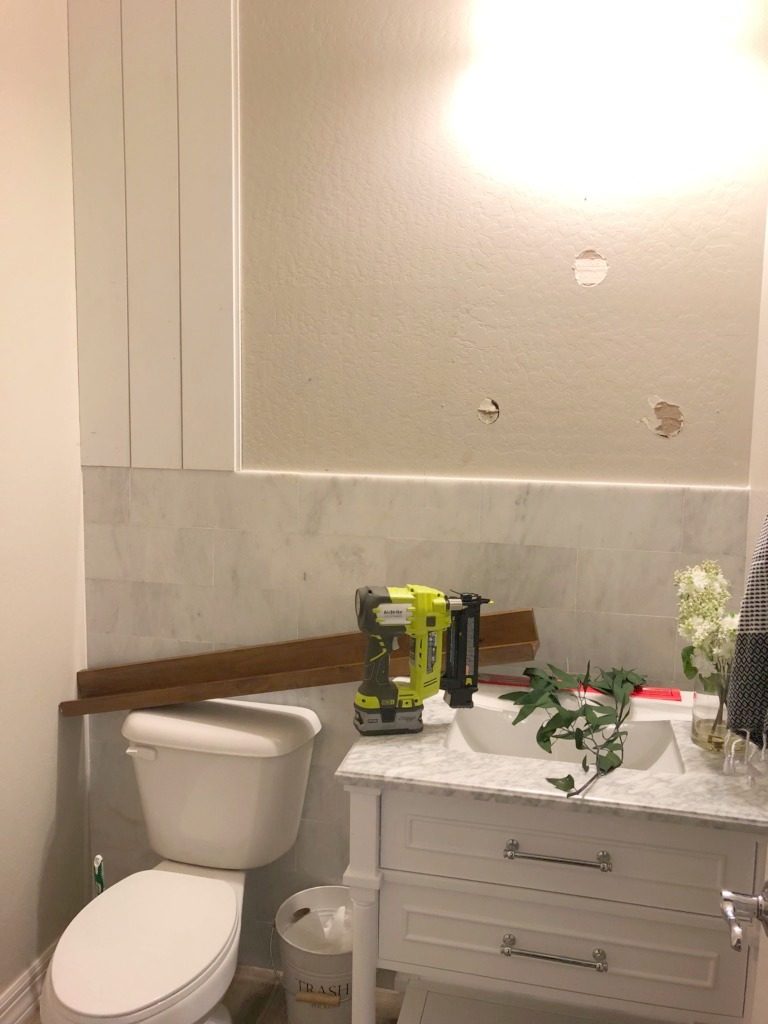 After a quick light switch up the bathroom was finally finished! First project of the new year and it feels great!!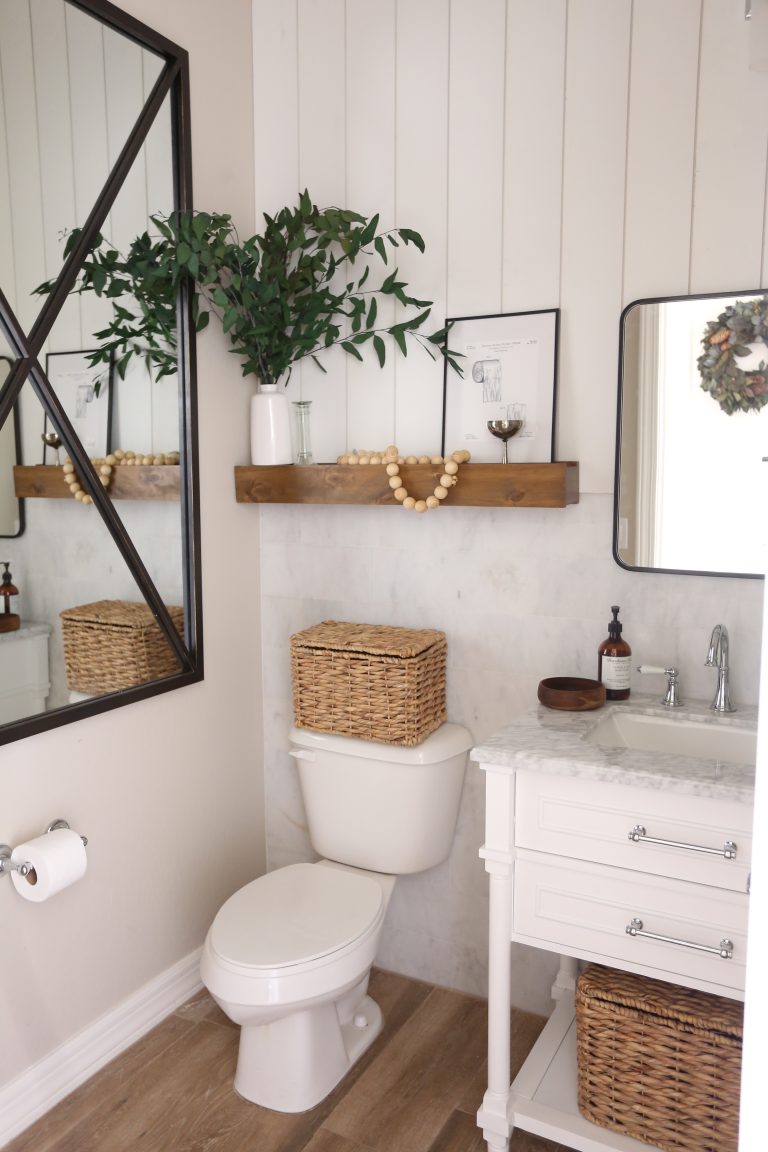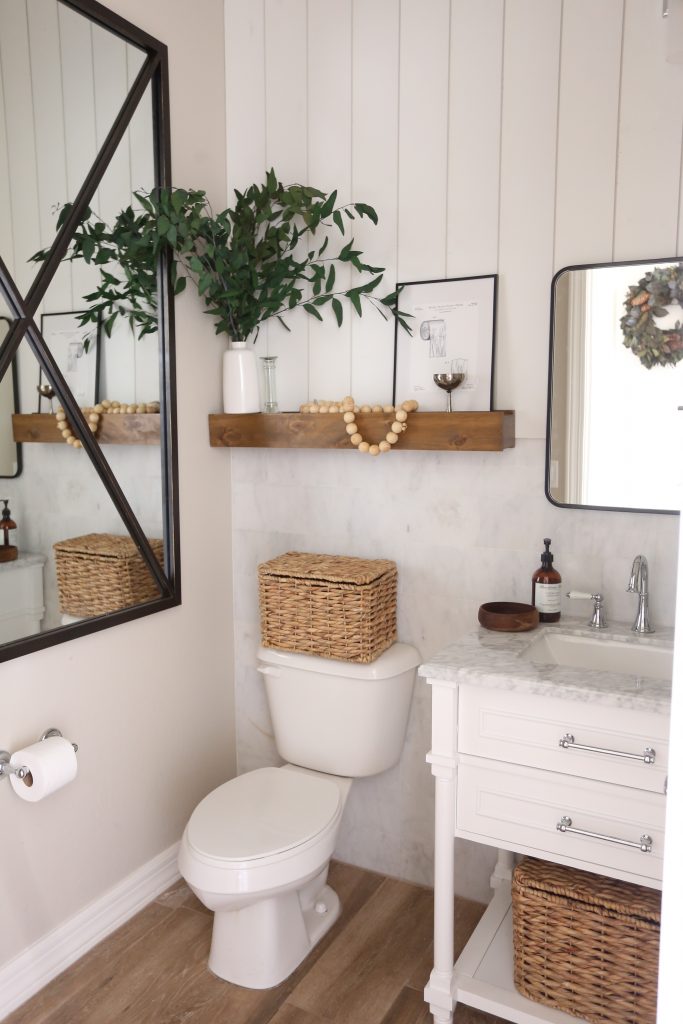 As you can see I left most of the walls the same color and really just focused on the backwall. I also added a HUGE and heavy mirror ( that needed a professional hang job) to the left side of the space. I really wanted something that would add some reflection and character. A full length mirror is always appreciated when it comes to guests so this was the perfect spot.
I also added a rustic shelf and a few other Goodwill finds!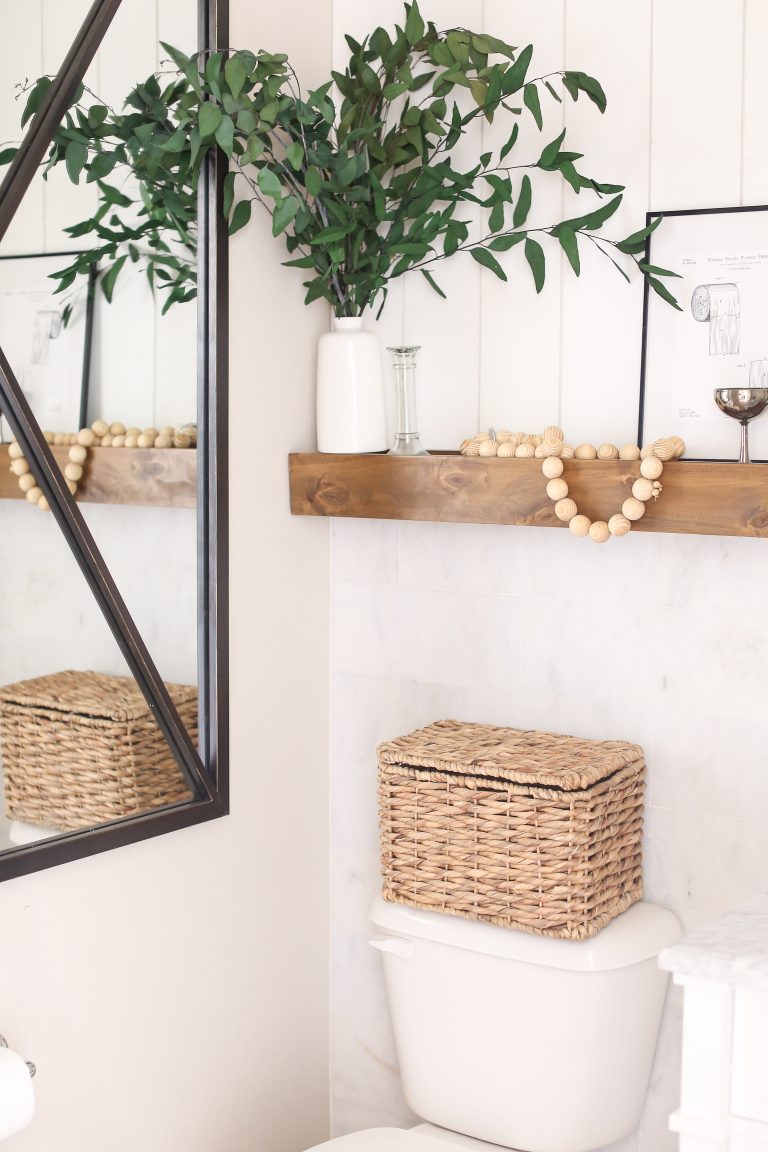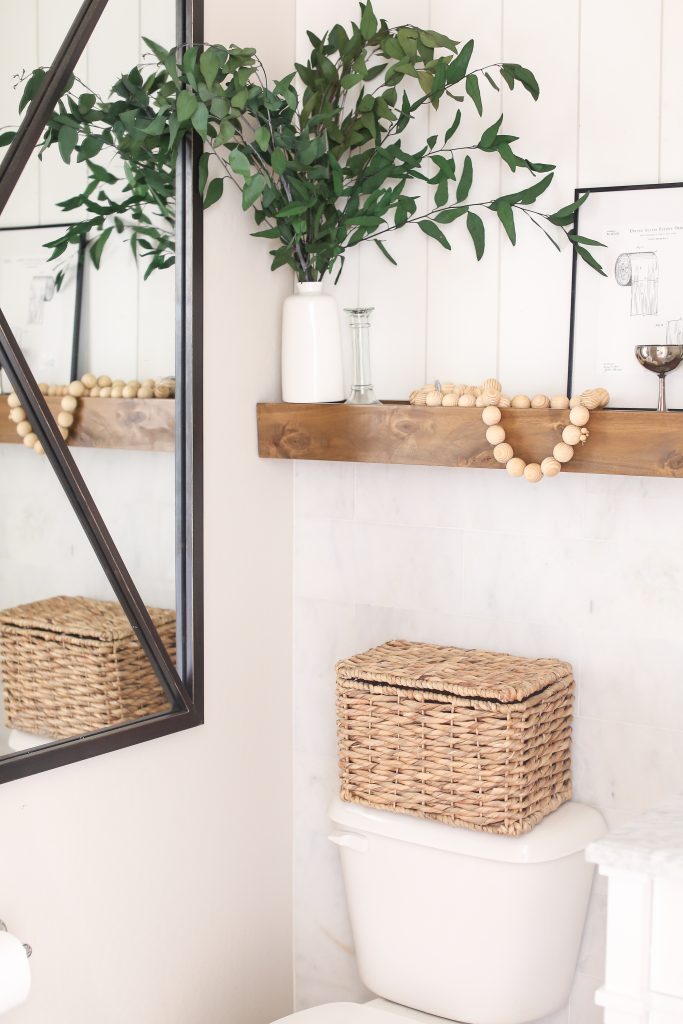 I just love the marble, wood and vertical shiplap transition. All though trendy right now, this is something that is timeless because these elements are in themselves timeless.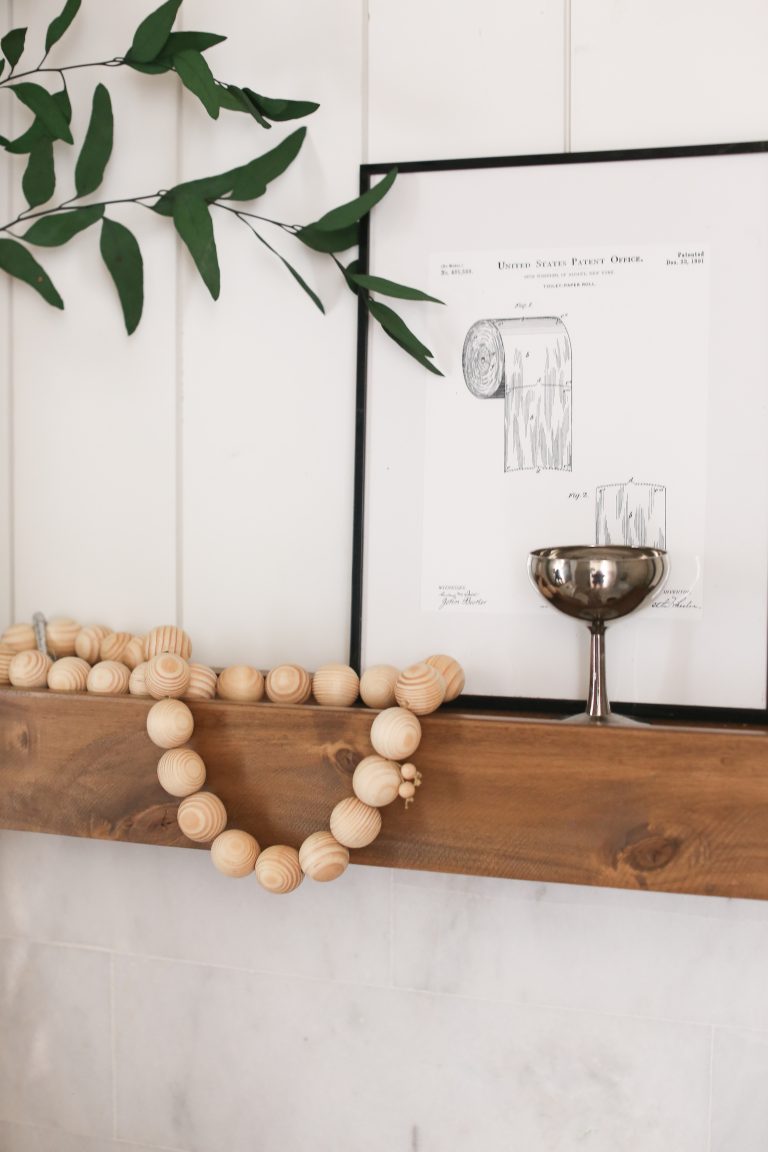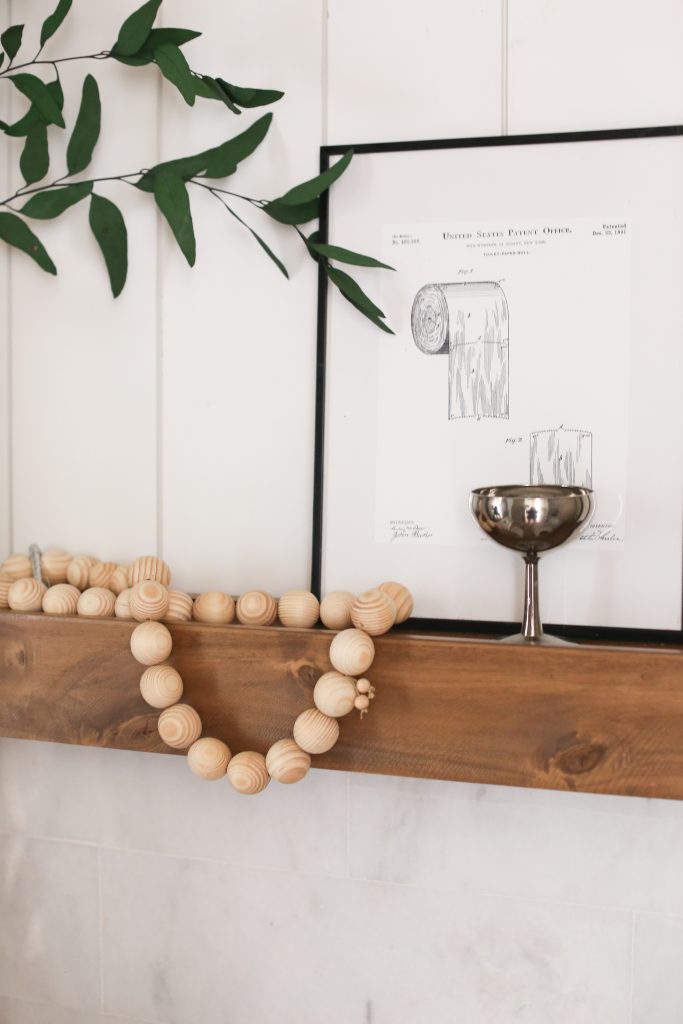 Close up of the marble tile……
You'll notice how this cut of marble is soft. Its SO beautiful in person and smooth to the touch. If I were to describe the texture I would say creamy for sure!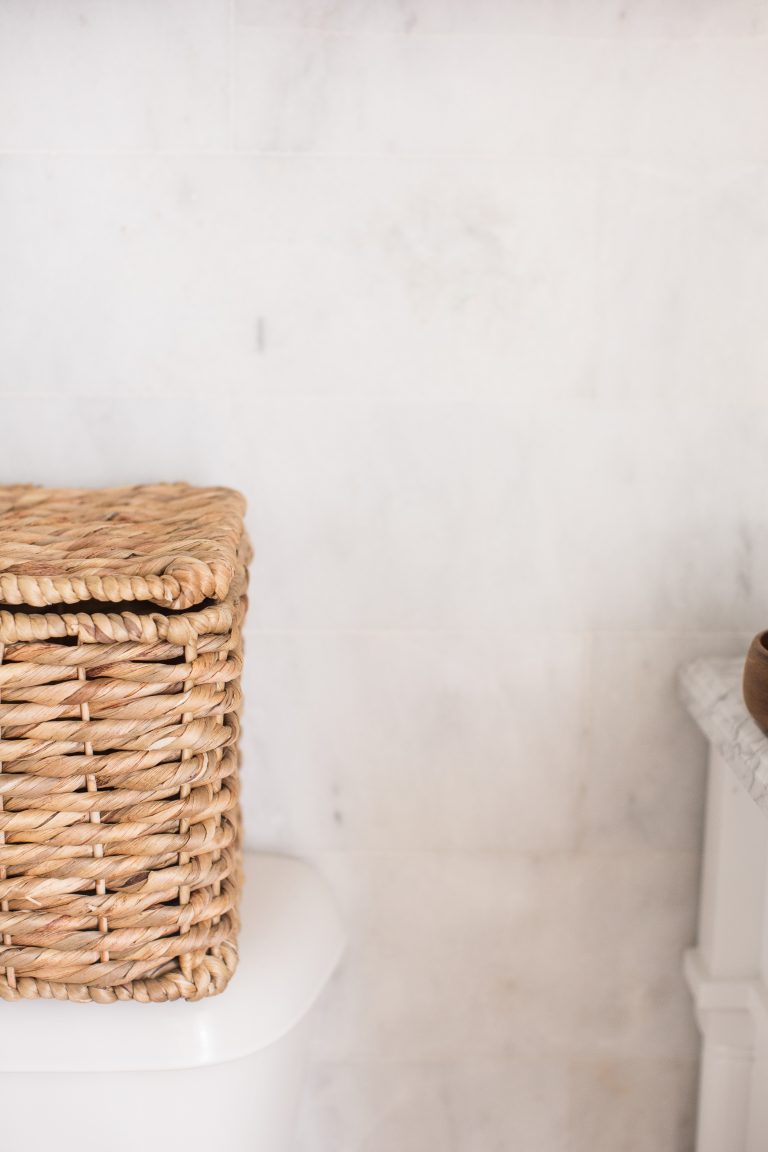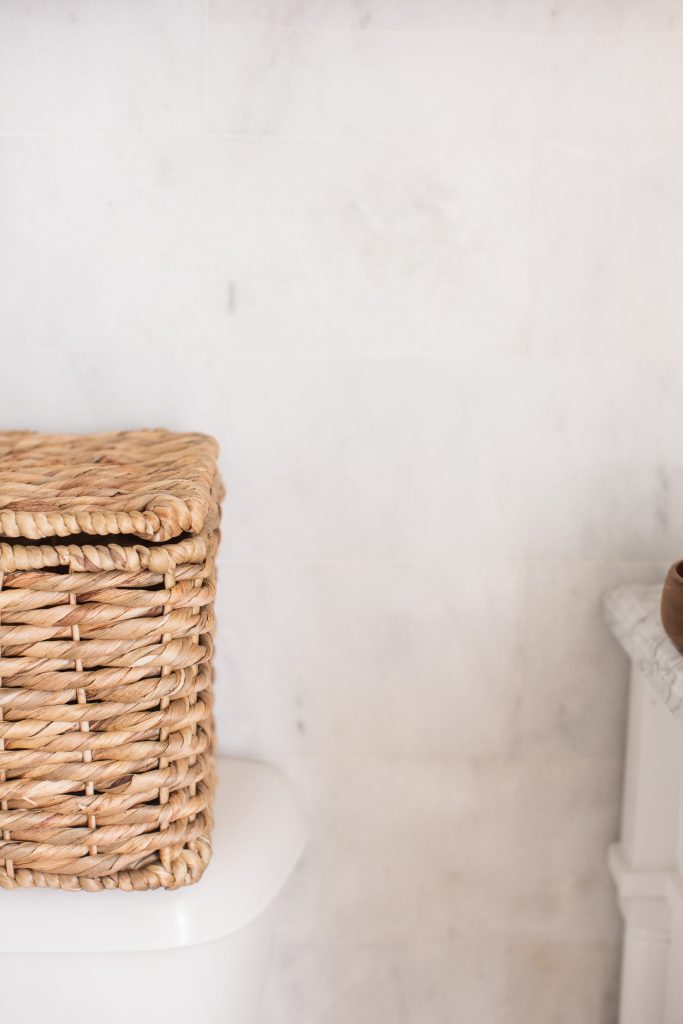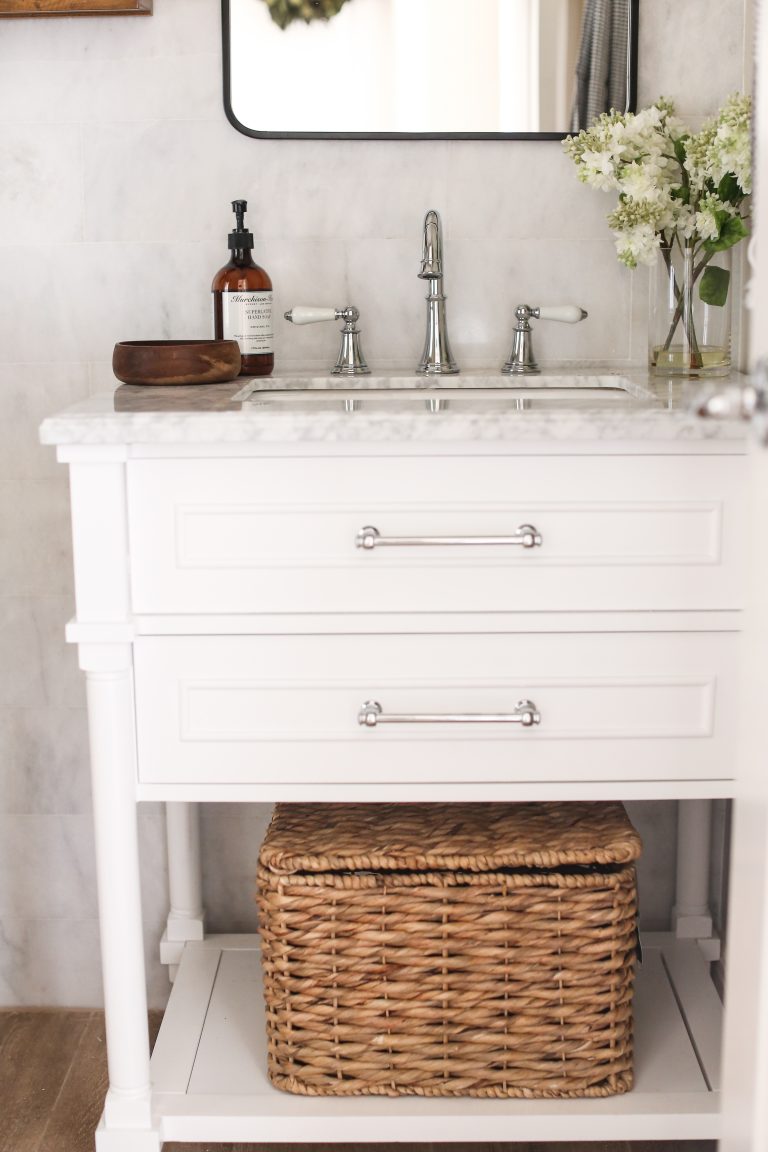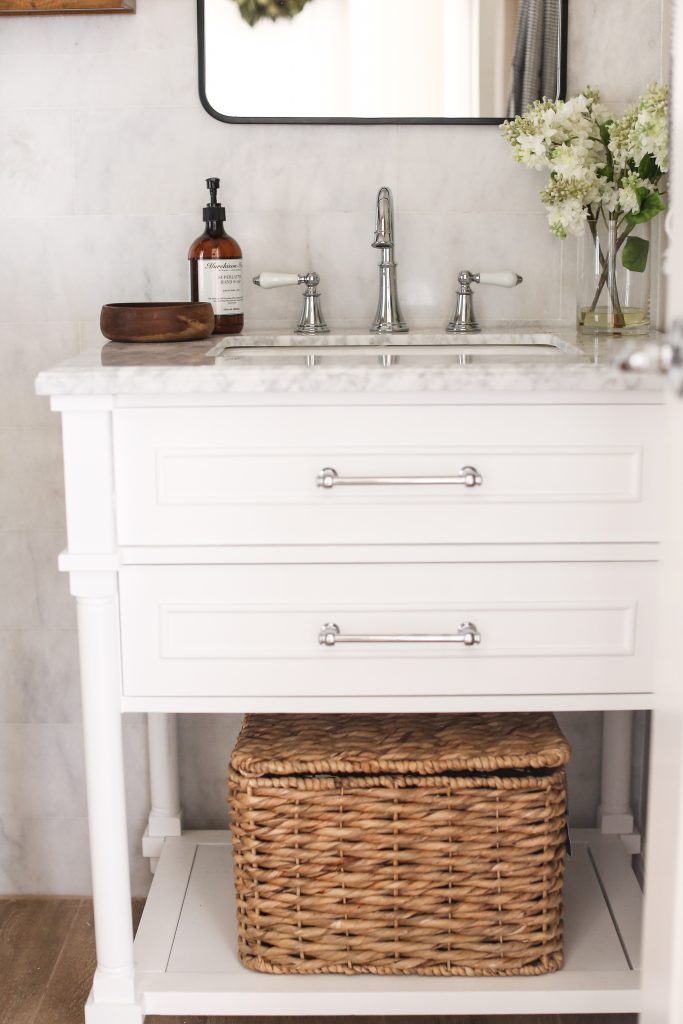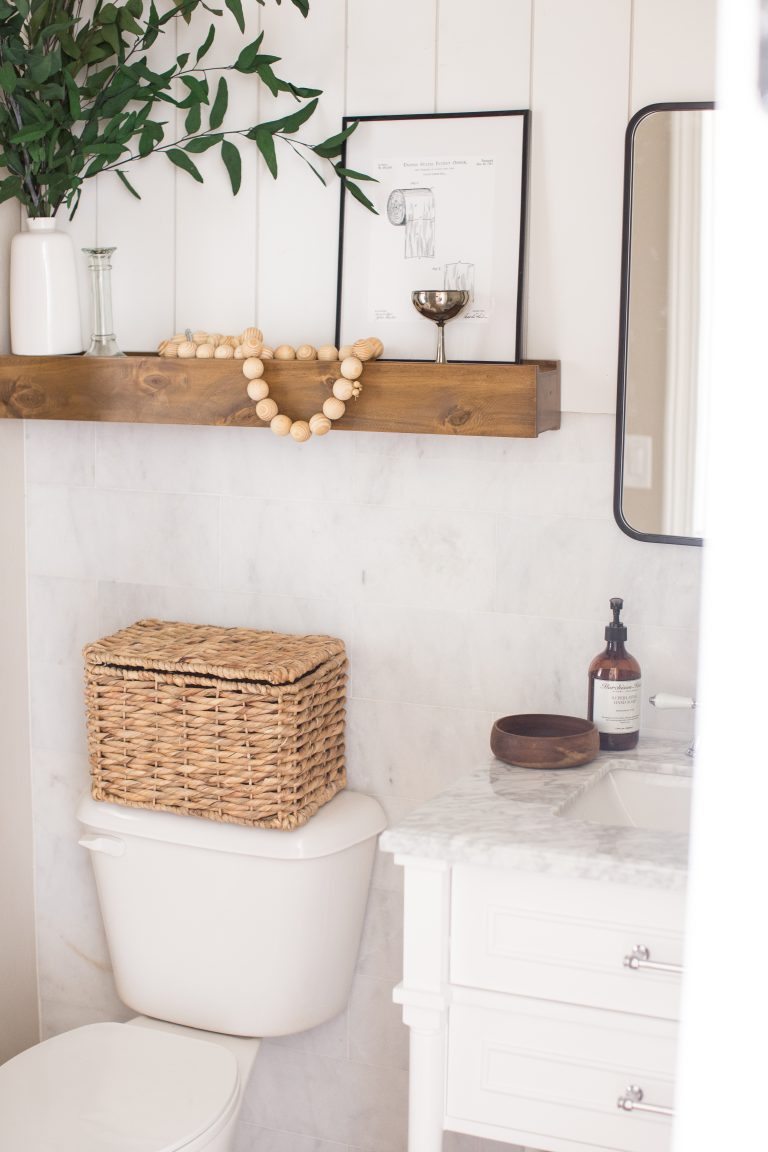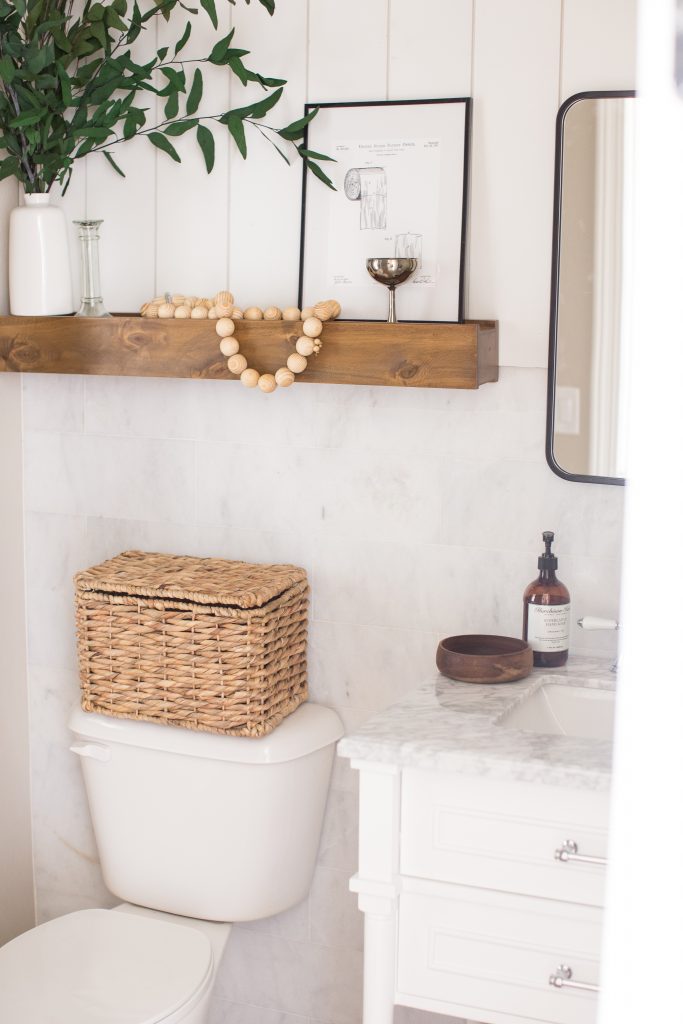 I think it turned out amazing! What about you? Are you heading into this new year with some renovations or makeovers in mind? My friend Sarah just asked me the other day if I knew of any places to get tile for a project she was doing in her kitchen. I was more than happy to mention Floor & Decor because of the selection, customer service and quality of products that they have! You can visit them online of find a store near you here!