New Year's Craft Resolutions
This post is sponsored and may contain affiliate links, please read my disclosure policy.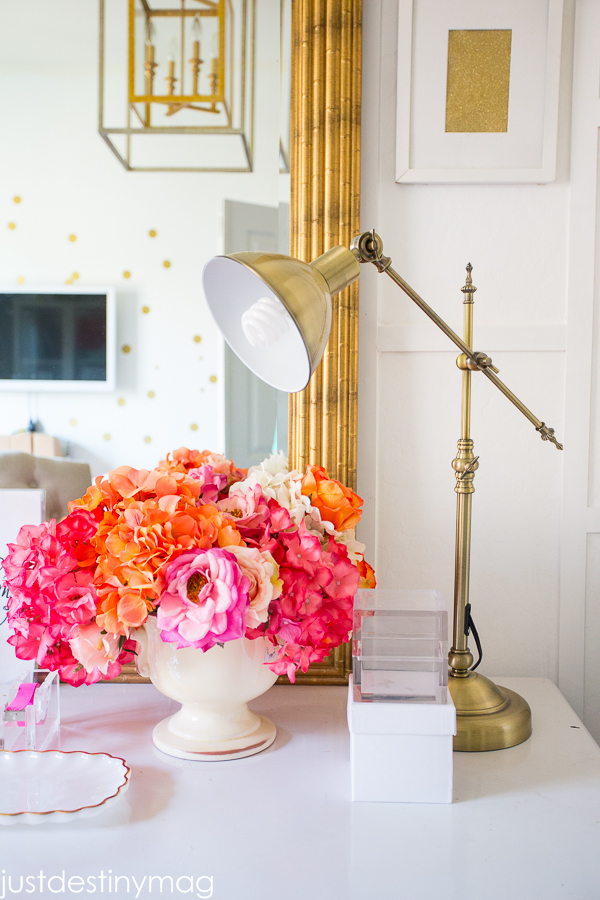 Hello!
I'm back today with my first Michaels Challenge of the year and a little late:0) ! In January the Micheal's team wanted us Micheal Makers to show our craft space with tips on how we organize and give you guys a project that we have been meaning to do but just haven't had the time!
So first up is my office!
This has been a office in the making for awhile. You first saw this back in 2013 with the gold polka dot confetti wall and coral dresser. Gold and Coral. That went viral real quick and since then I see them EVERYWHERE!! I almost took it down because I like my spaces to be a little bit different, but I just couldn't let it go quite yet. It's just so pretty. You'll see that my style is pretty neutral with pops of color and by color I mean green:0) I LOVE muted tones. But when it came to my office I wanted something a little more girly and this color combination was just perfect.
[line]My Desk [line]
This is the place were I set up shop. I knew I needed a table instead of a tradtional desk just because of how I blog. So I picked up this one from Craiglist years ago and painted it white. Plus it was a budget saver.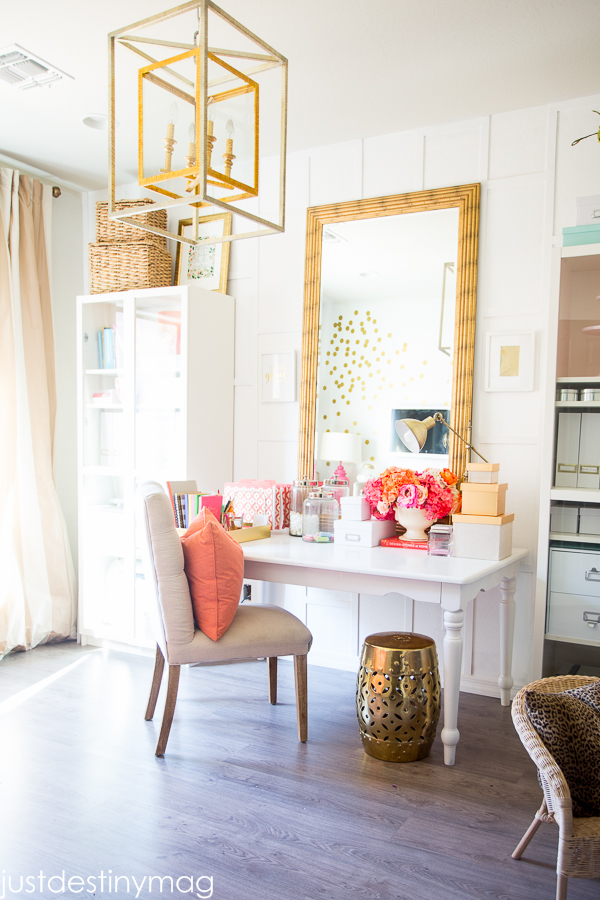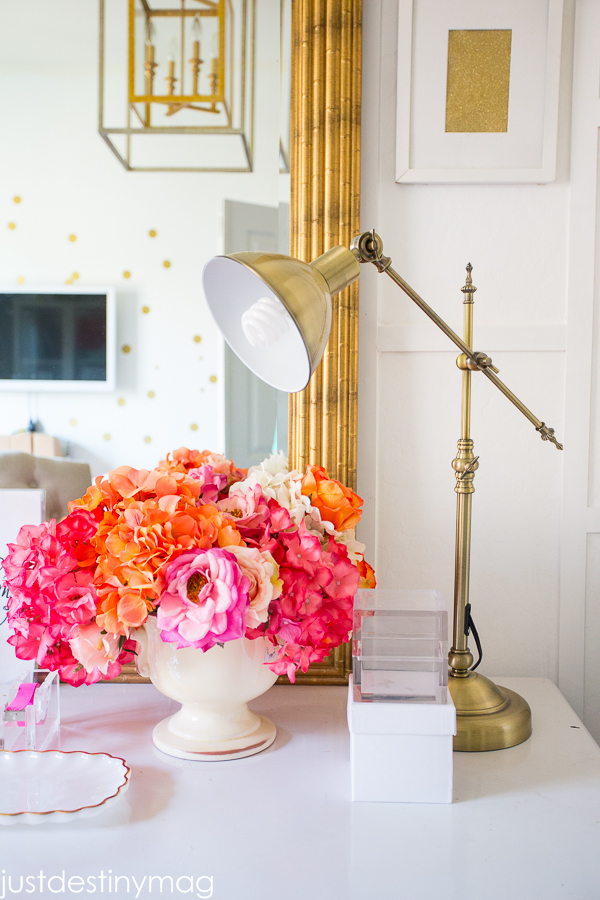 I recently got these huge gold bamboo mirrors for my dining room from my local Kirkland's but after trying them out I realized I only needed one because they are so huge! So I ended up sticking the other one in my office and it looks perfect. Plus I can see the TV.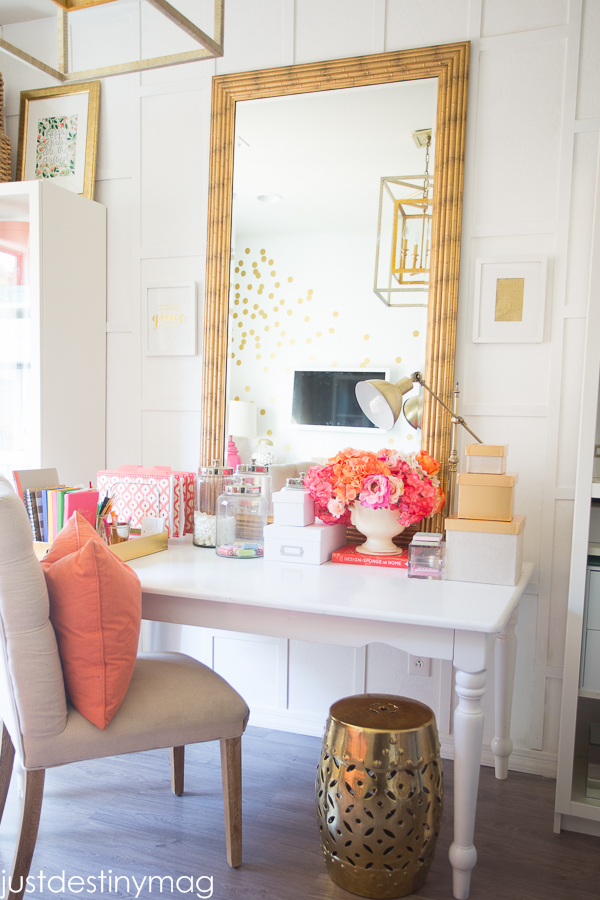 I love flowers! As much as I would love to have fresh ones in my home at all time it's just not realistic. This little combo was made using faux flowers from Michaels floral section. I love how it ties in all the colors I love for this space. Also using different boxes on my desk helps me hide the mess or at least put away current projects that I'm working on. I love these photo boxes from the Recollections line. They are only about 2 bucks each!
[line]Storage Project [line]
If you saw my BEFORE office photo on Instagram then you know I was in need of storage. Lots of storage. LOTS AND LOTS of storage. You can never have to much in my opinion right?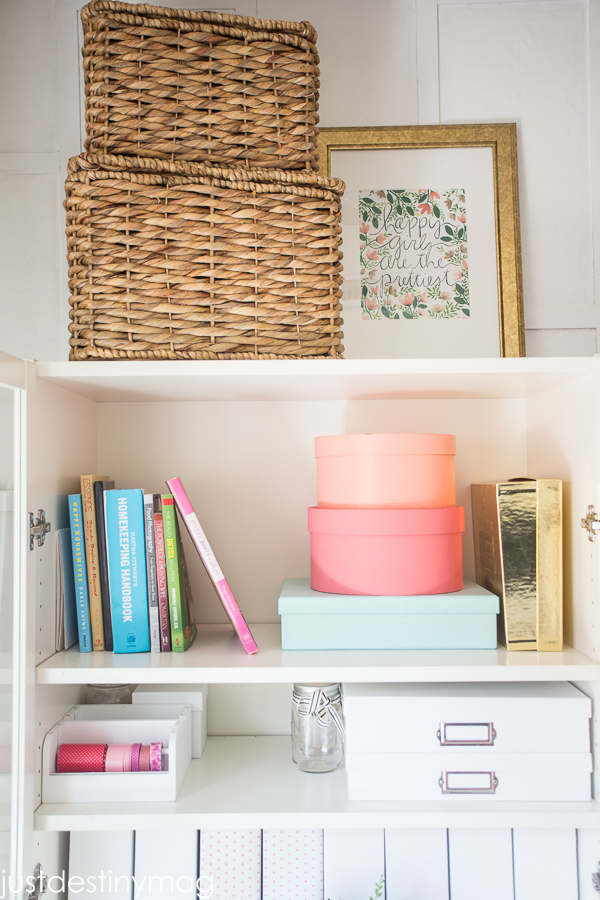 The two bookcases on each side of my desk is where I hold a lot of my items. I use boxes, jars and file folders to keep most of it. I also ended up picking up some of these storage units from the Recollections line to stick in my bookcases and they worked out beautifully. I love being able to have contained storage and easy access to all my tools. They were super easy to put together and I love the different options they have. I've been wanting to get this project done for awhile now so it's nice that it's finally finished! Two drawers, three drawers, open cubicles and combos! You can see the collection here!
On the back side off the office is a huge dresser with tons of drawers that also hold a lot of my supplies. It's the also the place for my wireless printer (life saver) and above it sits a TV that I got a few Christmas's ago. Gotta have TV when I'm working :0)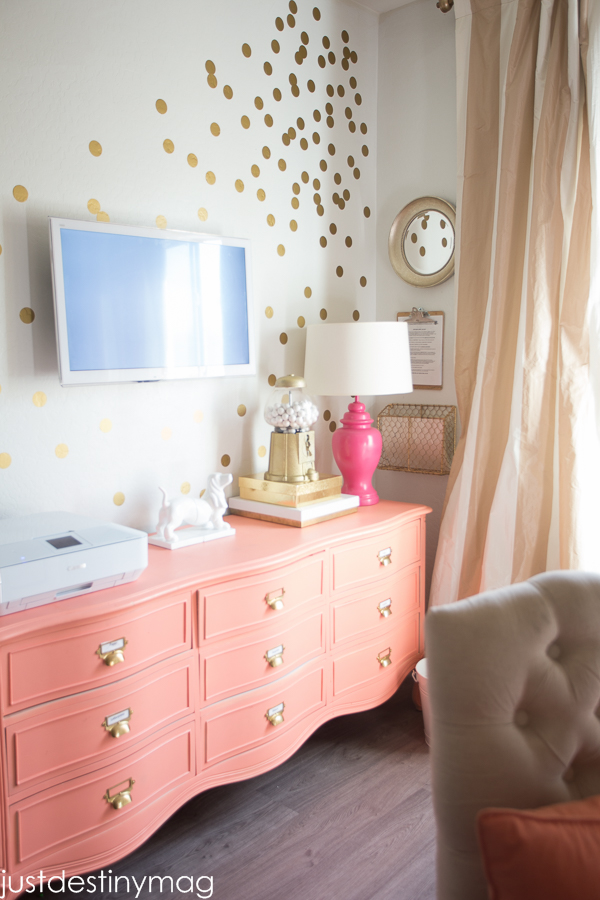 Kid Area/Photography Area
Being a stay at home mom means kids are always invited to the party. With the boys being at school most of the day I found myself always sharing my desk with my littlest one. She likes to be right beside me or at least int he same room. I originally was going to get her a table and chair set but when she begged me to get her a desk just like mine, I went to the garage and reused an old coffee table to make here own space. It worked out perfectly with a little chair added to the mix.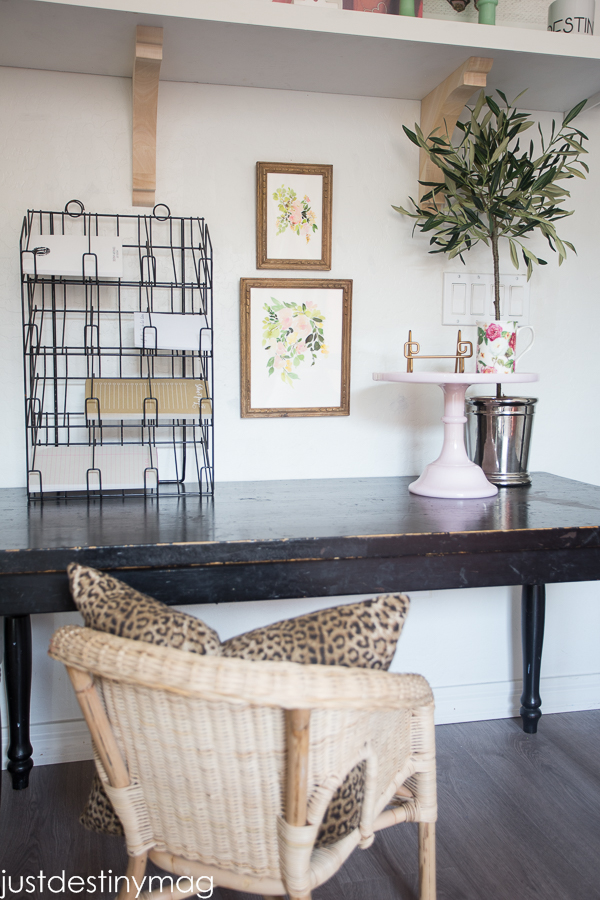 I also use this for photography purposes. I uses these and small tri fold boards along with other props to shoot projects. It's in the perfect location because the light is so good in the room I can shoot just about anywhere and get a good shot.

· Haven't decided what project you're going to kick off 2015 with? Stop by Michaels' blog The Glue String for inspiration from all 30 of the Michaels Makers.
· If one of your New Year's resolutions is to clean out your closet, your office or even your bedroom, but you're sick of the typical containers and boxes – here are some cool and creative DIY storage ideas that might help!
· For those of us that just need a place to store our craft materials and organize our scrapbook paper, paint, markers and yarn, you must check out these nifty craft storage systems.