How to Style your Entryway
This post is sponsored and may contain affiliate links, please read my disclosure policy.
An entryway is the first thing your guests see when they walk through your front door. So why not make it warm and welcoming and introduce your guests to the overall aesthetic of your home. Today my friends from homedepot.com/decor are helping me teach you a couple different ways to style your entryway with a collection of pieces from their home decor selections online.
Yes, The Home Depot has an entire online retail store that includes bed/bath linens, home decor, wall accents, and even furniture from their exclusive line The Home Decorators Collection. You can read more about it in my post about homedepot.com/decor and our bedroom makeover!
Plus they have million of items online that are eligible for free shipping. Not only that but you can get your items shipped to the store of your choosing and pick them up as well.
1) Choose an entryway table, buffet or dresser
There are many options you can choose from when it comes to selecting a piece of furniture that will work for your space. Traditionally, a entryway table will work but you can also use a larger scale buffet piece if you area is larger than normal, or even a dresser like we choose for our space.
This Patina dresser from The Home Decorators Collection is the perfect size and finish for the entryway in our home. I also love the fact that when you use a dresser, you have built in storage to store all your home decor items in!
Update: Our dresser is sold out! See a similar style here: Ashdale Patina Dresser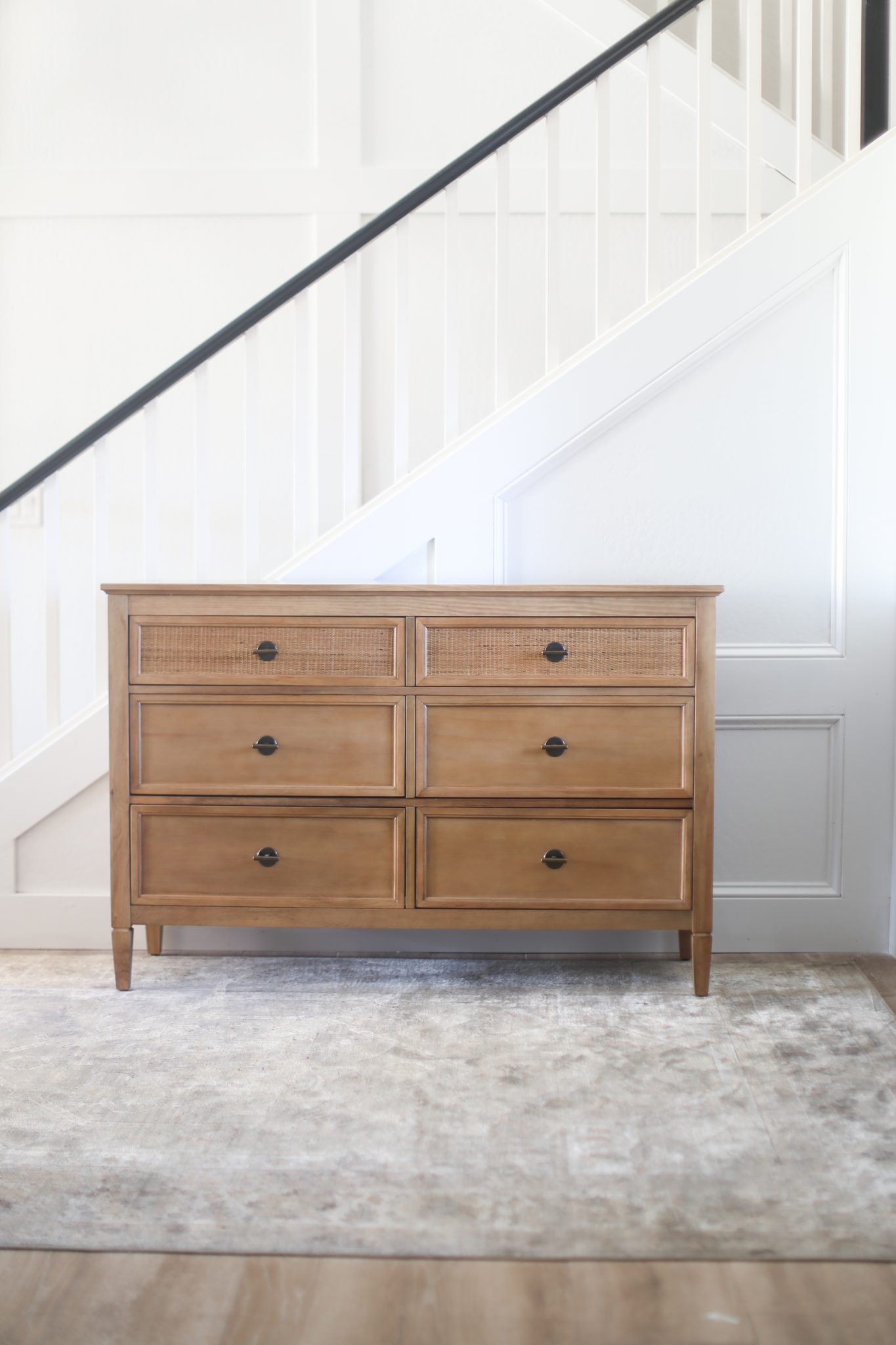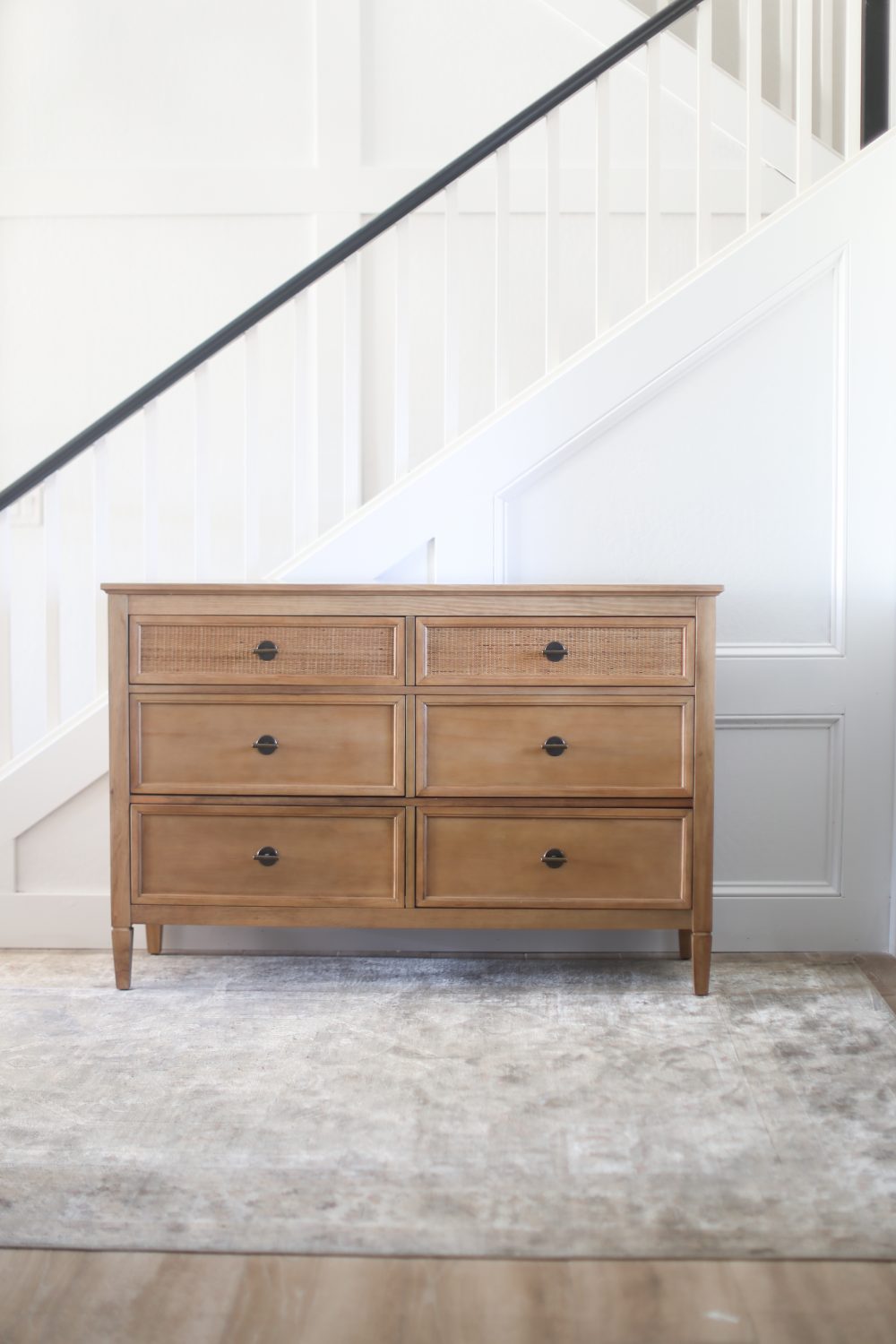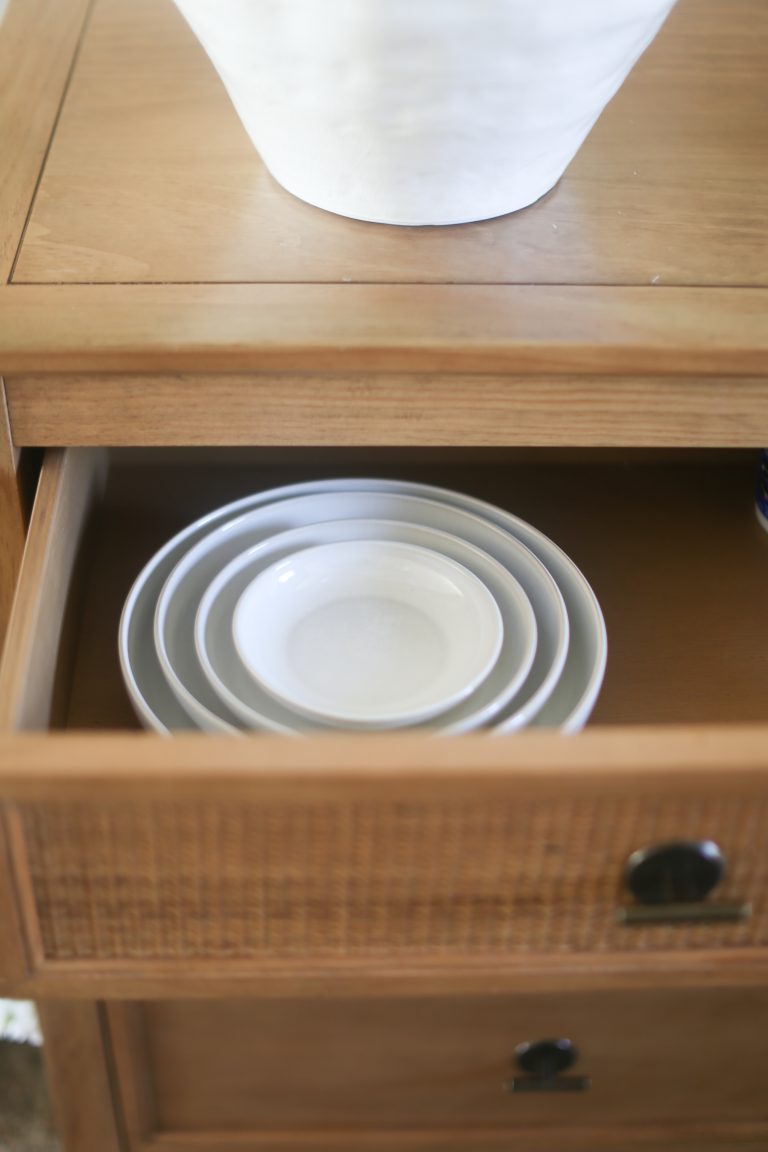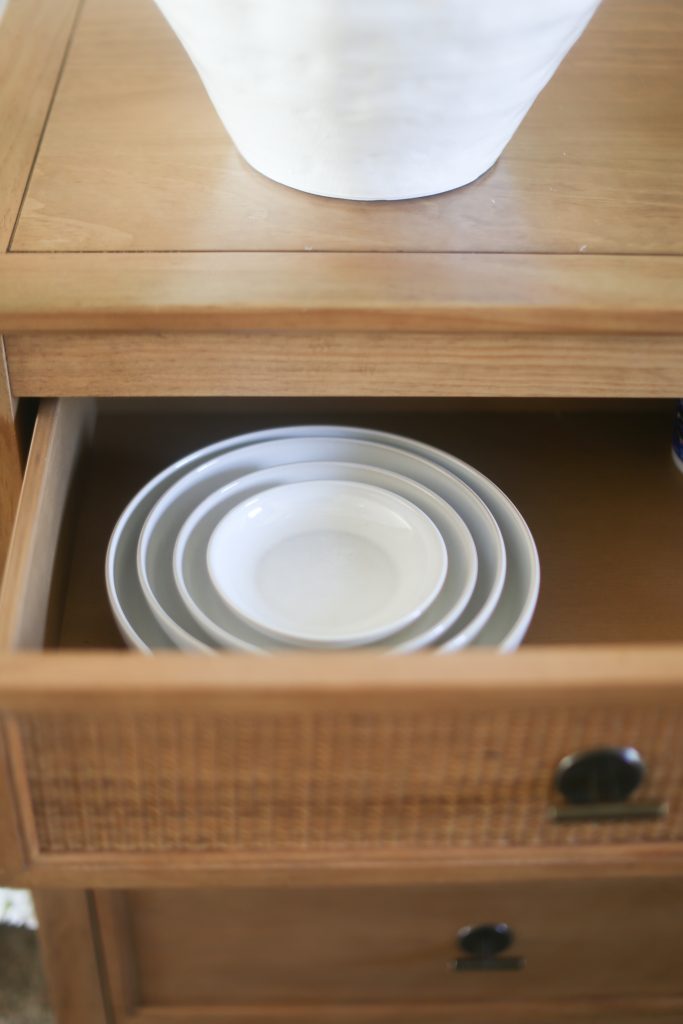 2) Add some light
Once you have an entry table selected it's time to add some light. A lamp in your entryway will add to the ambiance and personality.
I chose this beautifully textured lamp for our space. I love the organic movement it has. It almost looks like someone had fun with a piece of clay! The bright white glaze also looks so beautiful at night.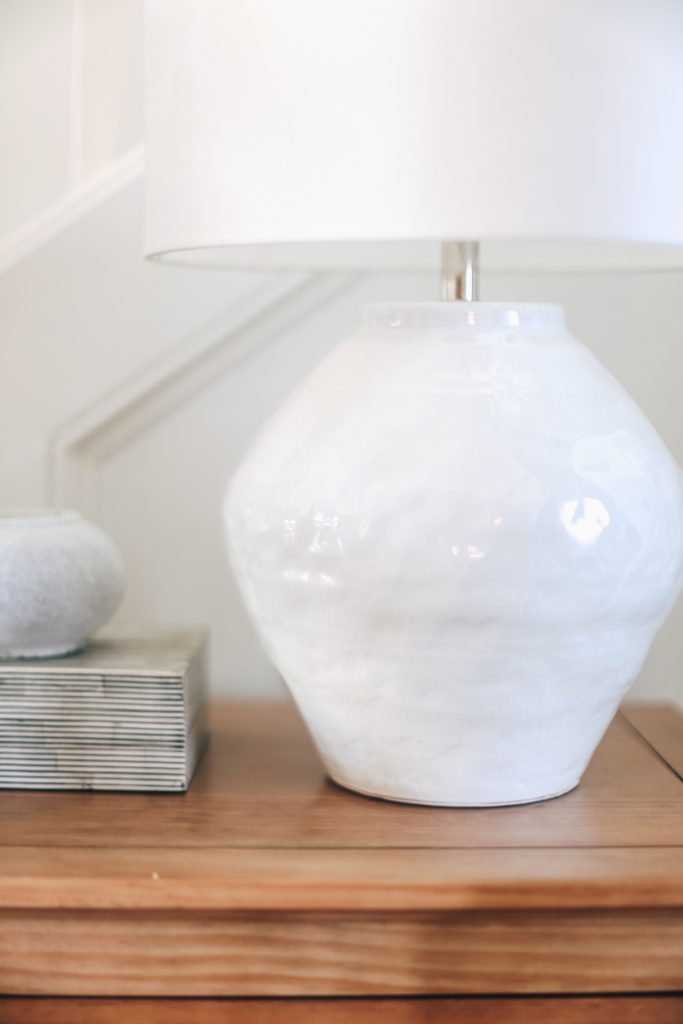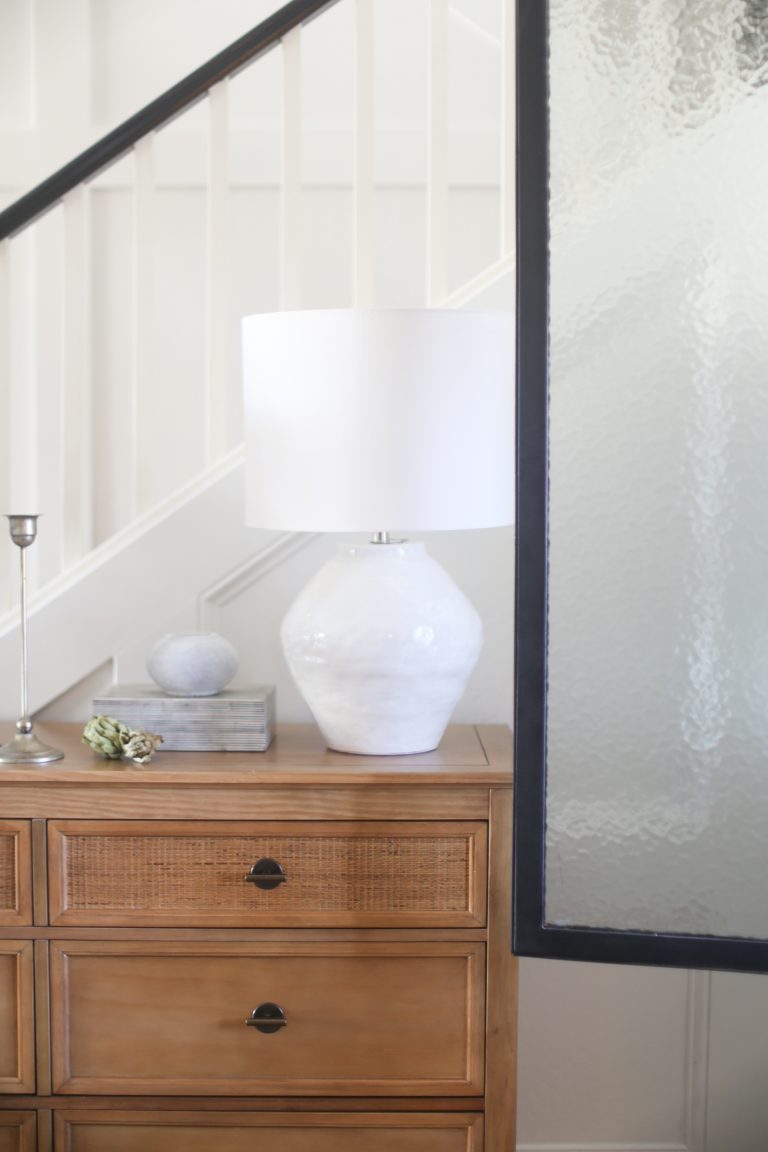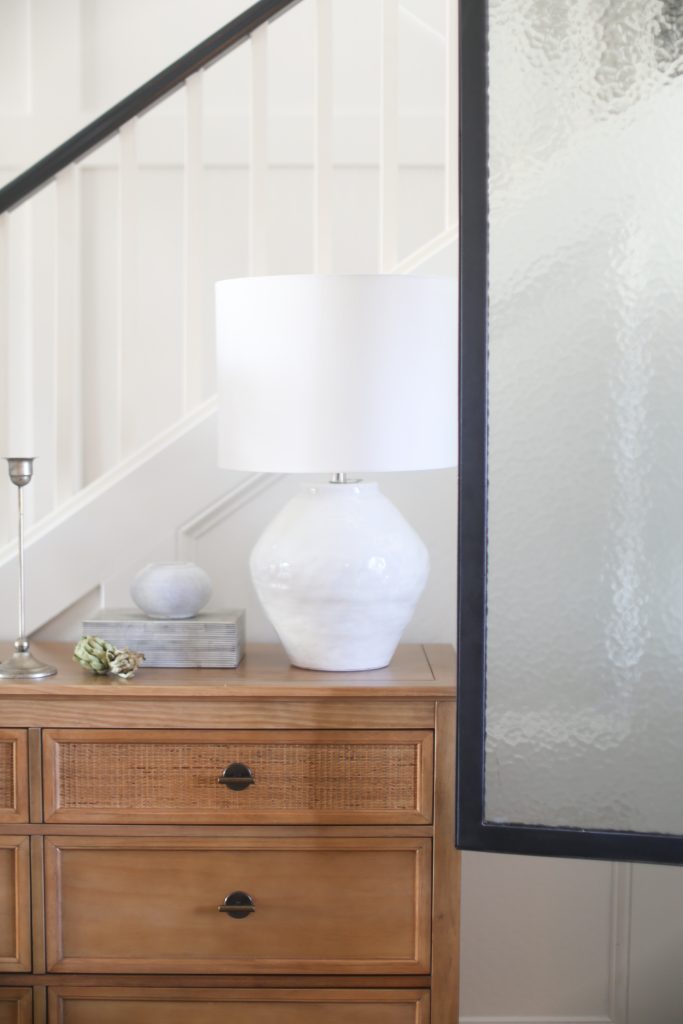 Purchasing Tip: When selecting your own light for the entryway stick to a lamp height that is between 25-30 inches for some vertical interest.
3) Add a Rug
If you have the room, adding something soft underfoot can help with the functionality and beauty of your entry space. This rug has a darker tone but also feels light depending on when the sun is shining in our family room.
It actually has a light cream tone even though it looks more gray in the pictures. Also there a specks of coral that are also beautiful. You can take an even closer look in my saved highlights on Instagram.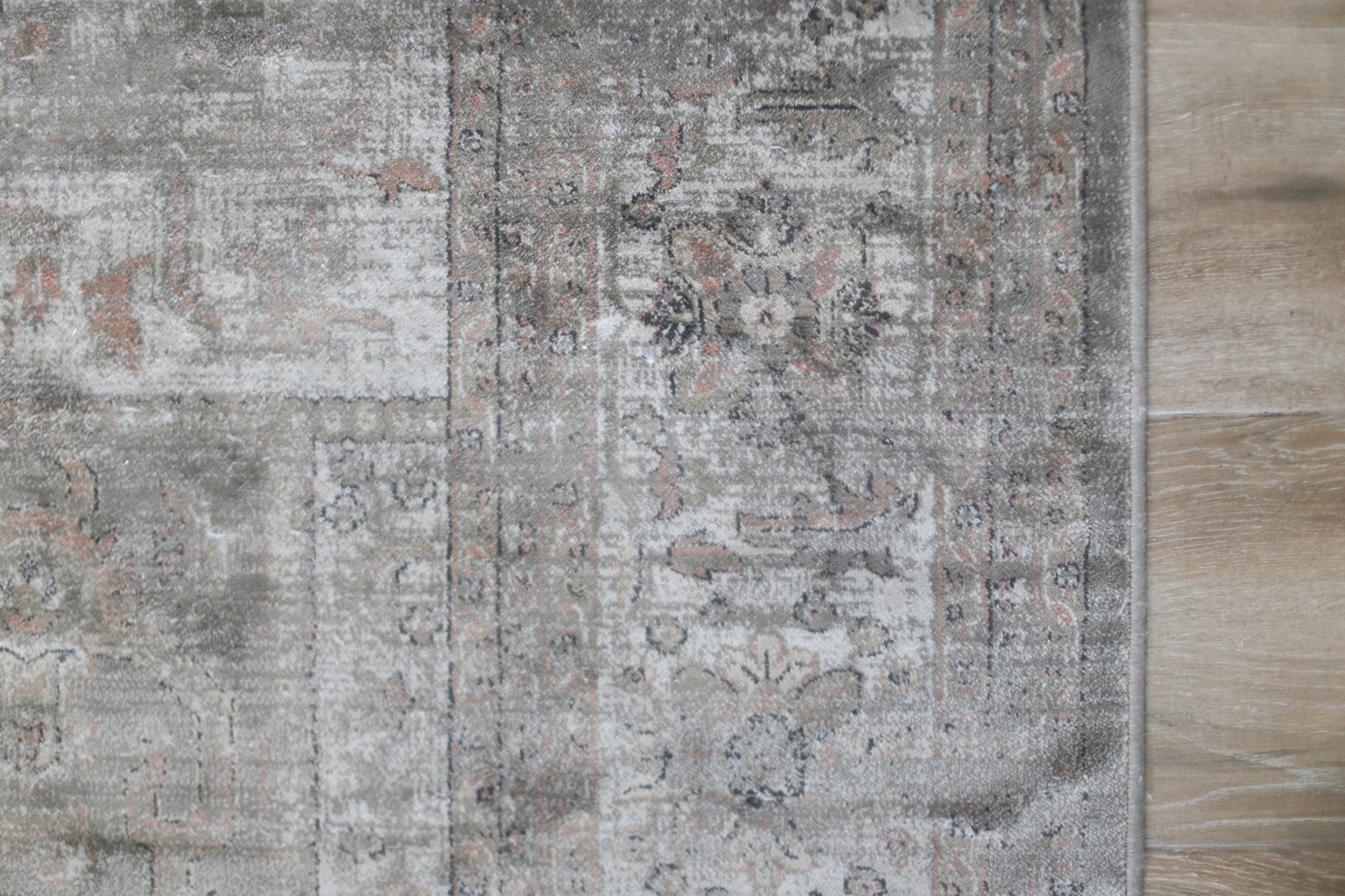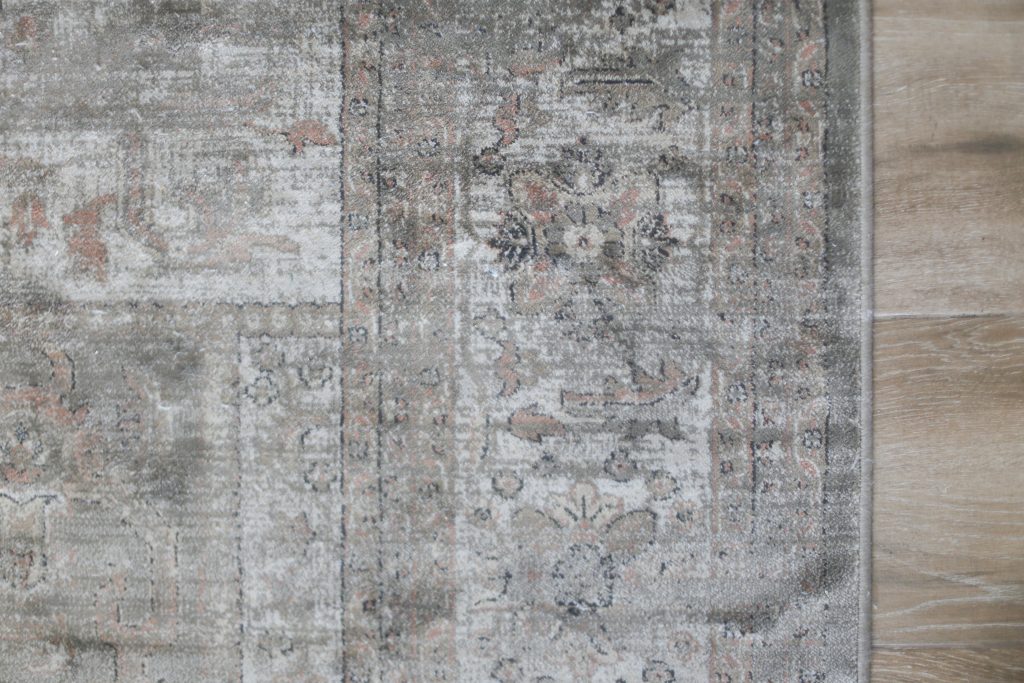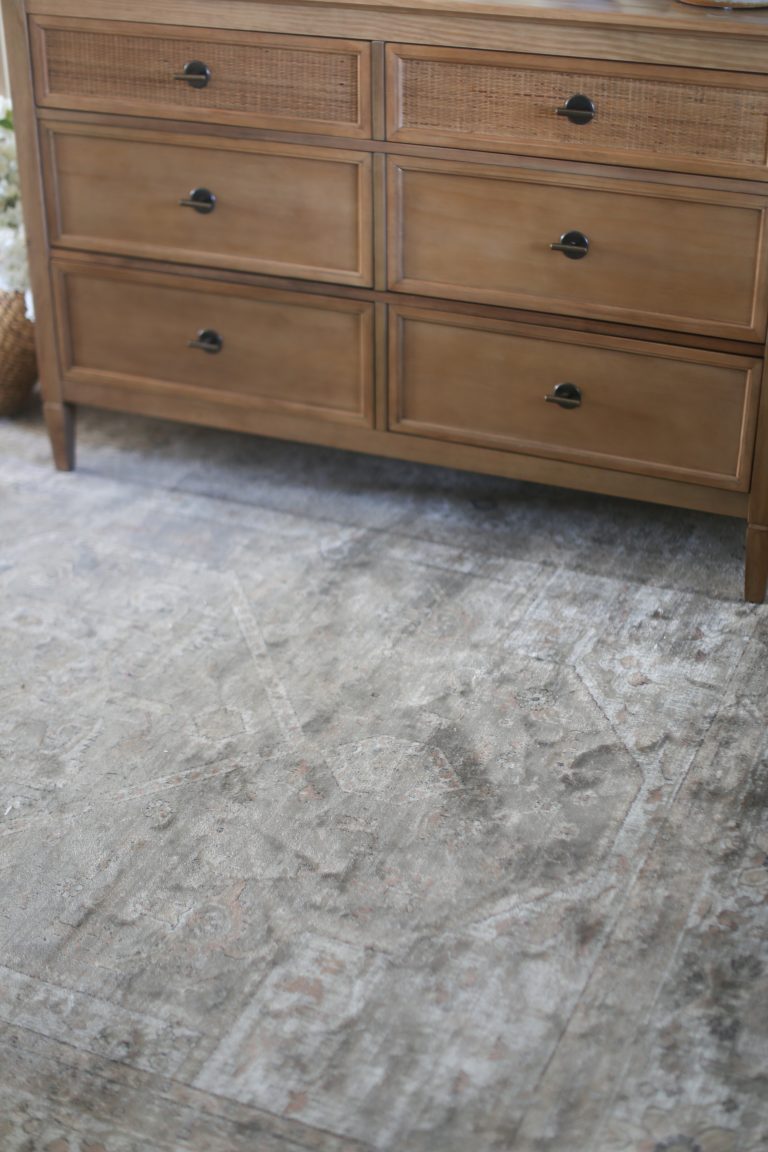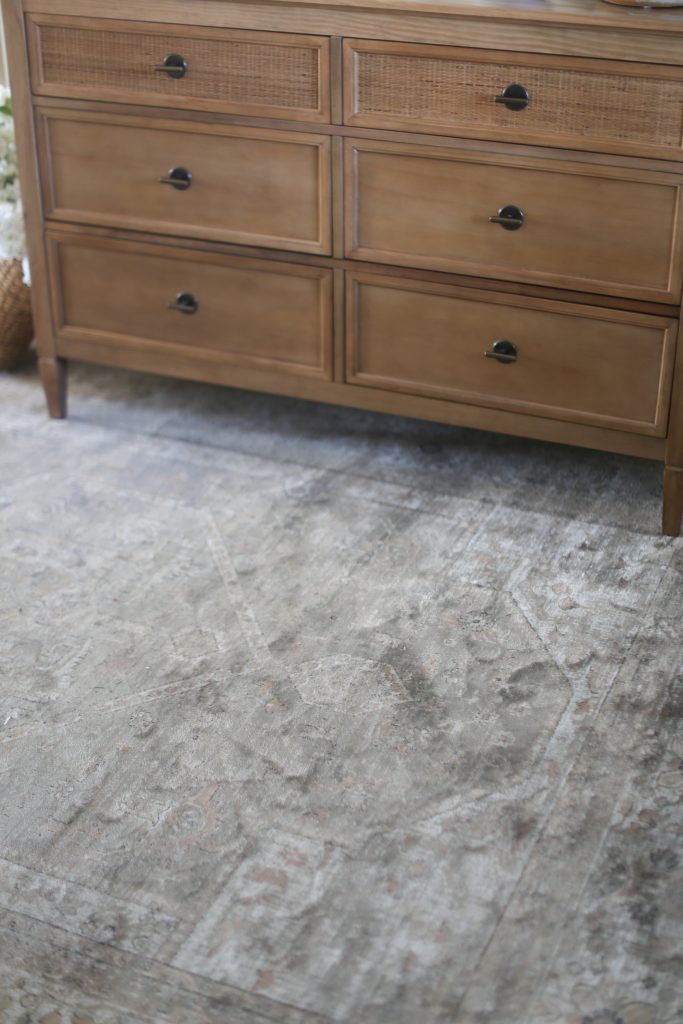 4) Add some Style
Now for the fun part! Styling with some decor pieces! homedpot.com/decor has everything you need! So many of you are surprised when I showcase some of the pieces on my social accounts. Even friends and family who ask about certain pieces are shocked! But it's true! They have a great selection online and these are my favorite things to style with when it comes to an entryway table.
Florals and Stems– these add height and a little life to each vignette. You can use florals during any season or just an evergreen stem for an everyday look.
Art and Mirrors -If you have enough room adding a piece of art or mirror will add a perfect layer to your entry table.
Decor Objects– this can be anything from candlesticks to interesting sculptures. Adding these elements to your entryway look will again add some personality while also telling a story!
Boxes and Trays – I love using boxes to add height and layers to my entryway table. Trays are a great add in for grouping object together. Homedepot.com/decor has a great selection of both!
Vases and Jars– Adding vases and jars that match your overall aesthetic is a perfect way to add interest. I love to fill my jars and vases with faux stems and greenery. This beautiful antique vase is the perfect investment that can be used all over your home for years to come.
Here are a few different looks I pulled together mixing and matching some of my favorite pieces from homedepot.com/decor.
White on White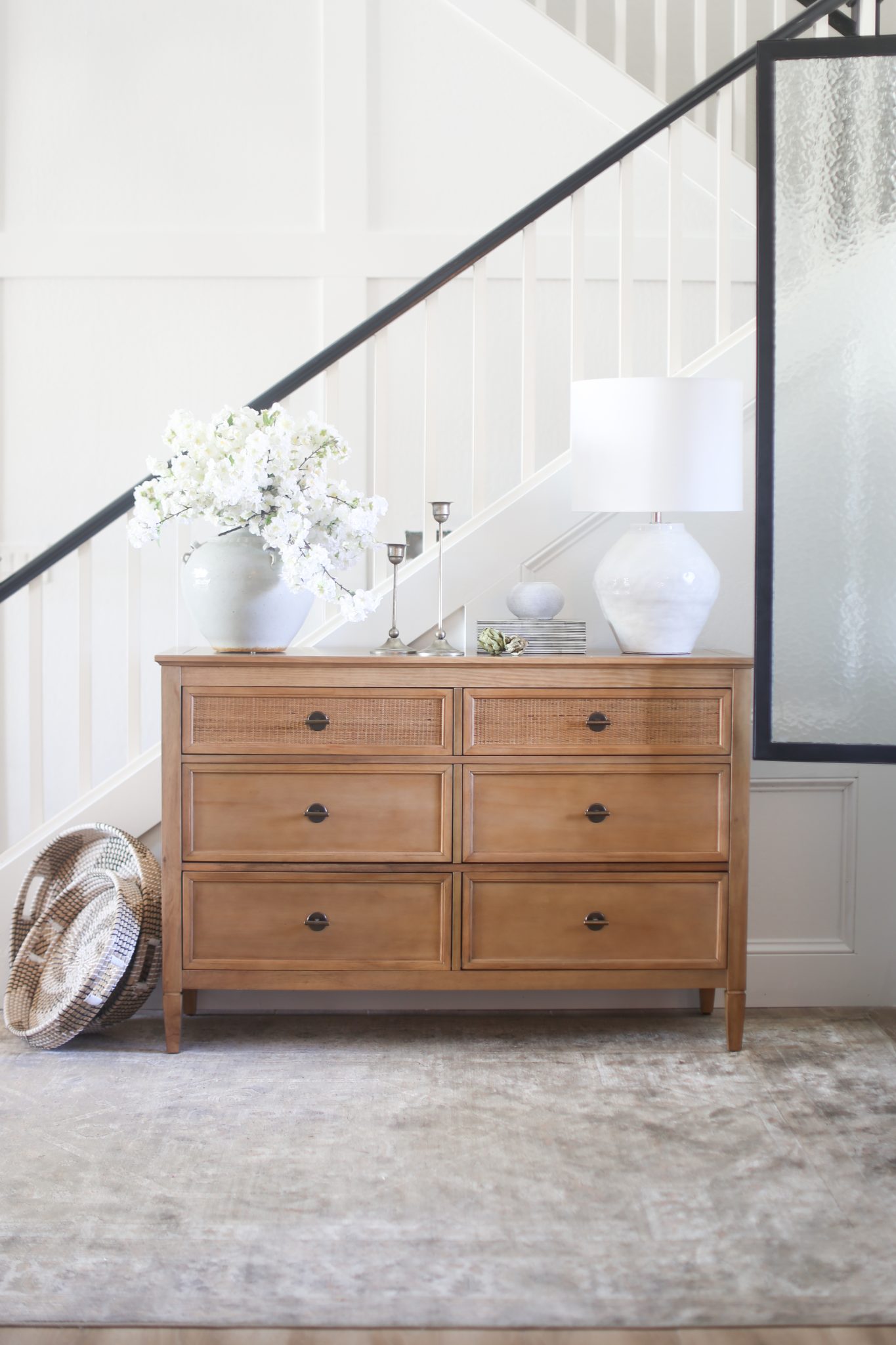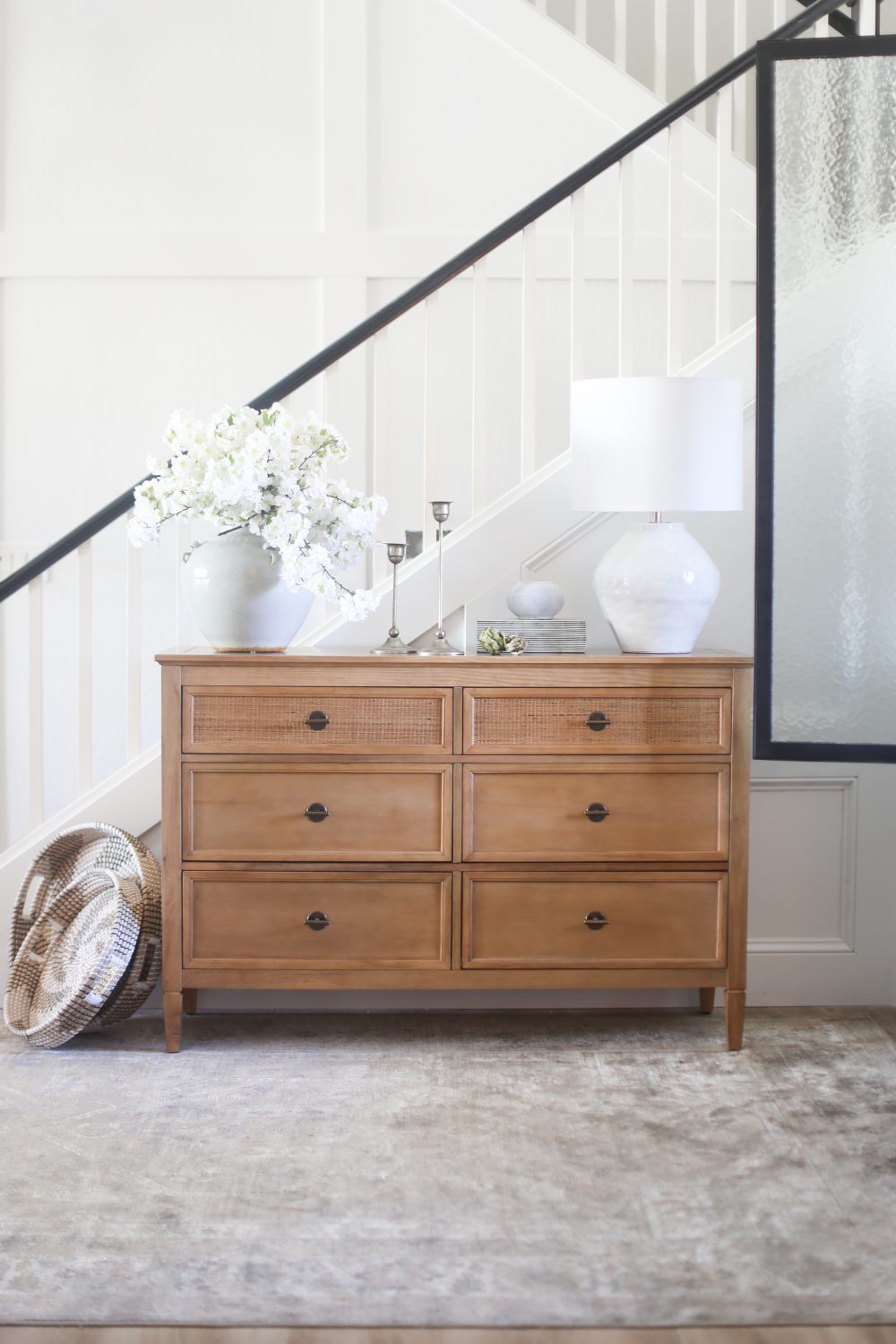 This beautiful set up features some tone on tone products. I love that everything looks clean and inviting. My style can be described as casual elegance and this look definitely introduces that feeling into the home! The lamp and the antique vase give the space some symmetry while also adding height and movement.
Items Featured:
Lamp//Antique Vase//Faux Florals//Candlestick//Bone Box//Marble Vase///Set of Trays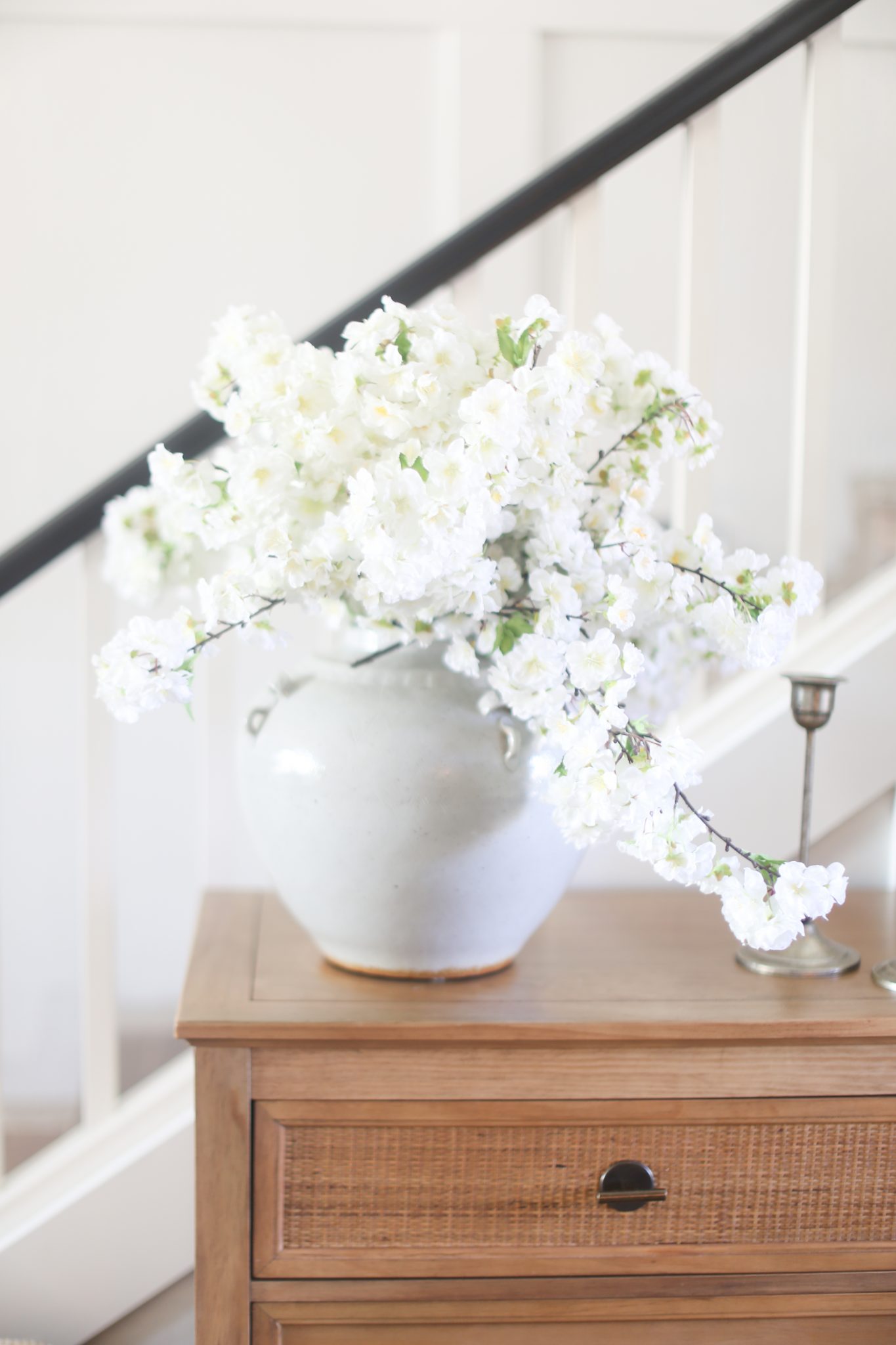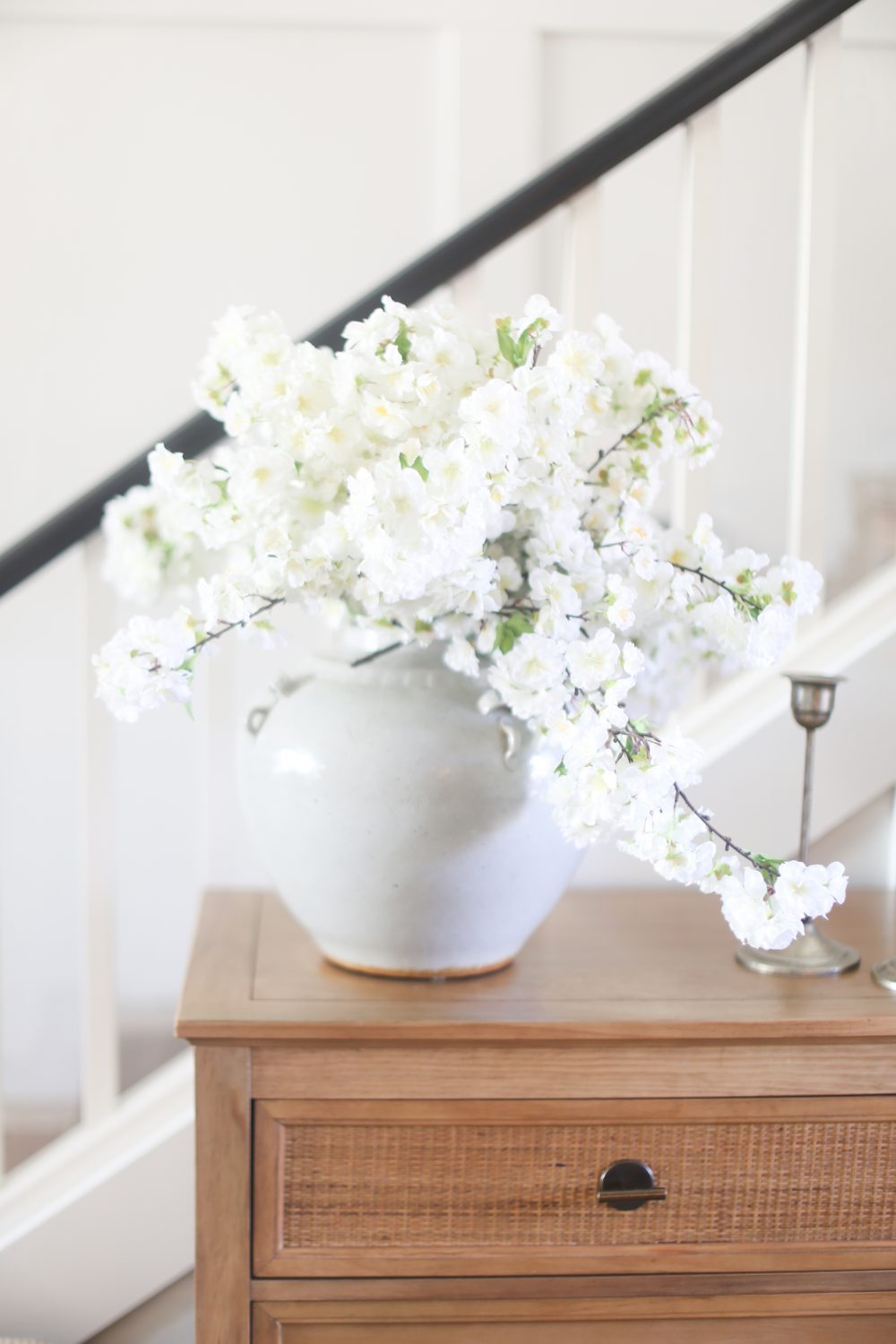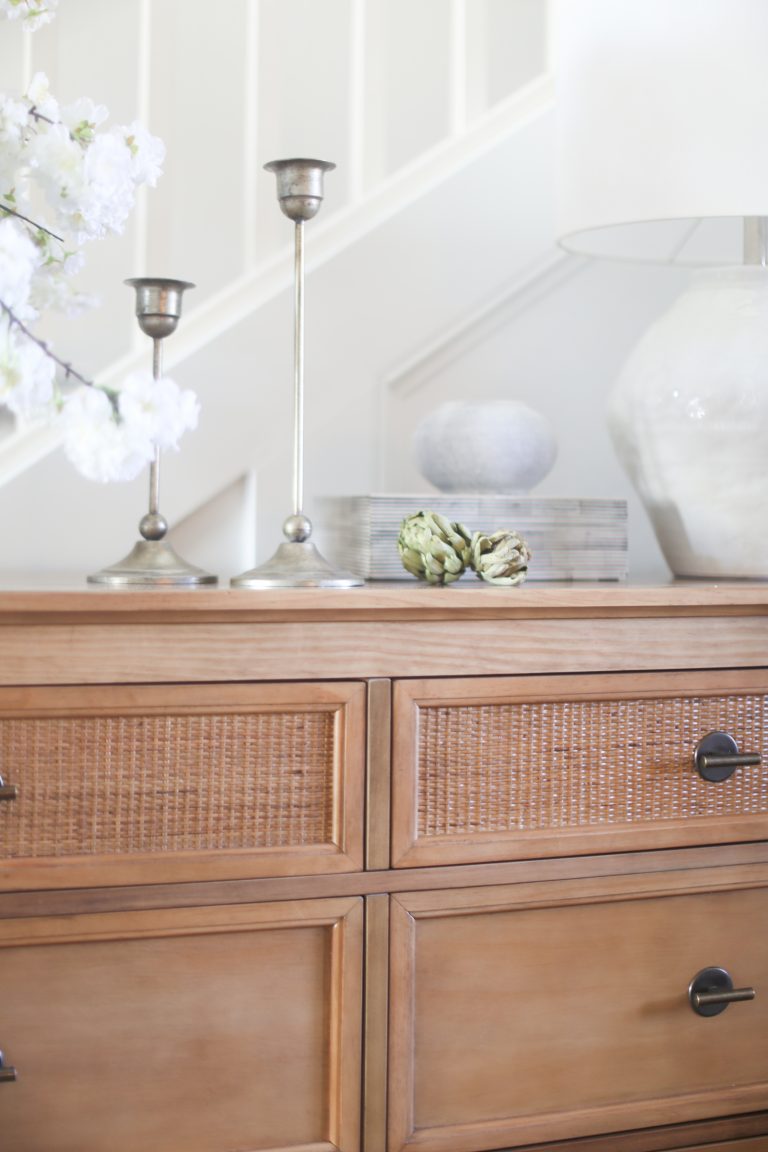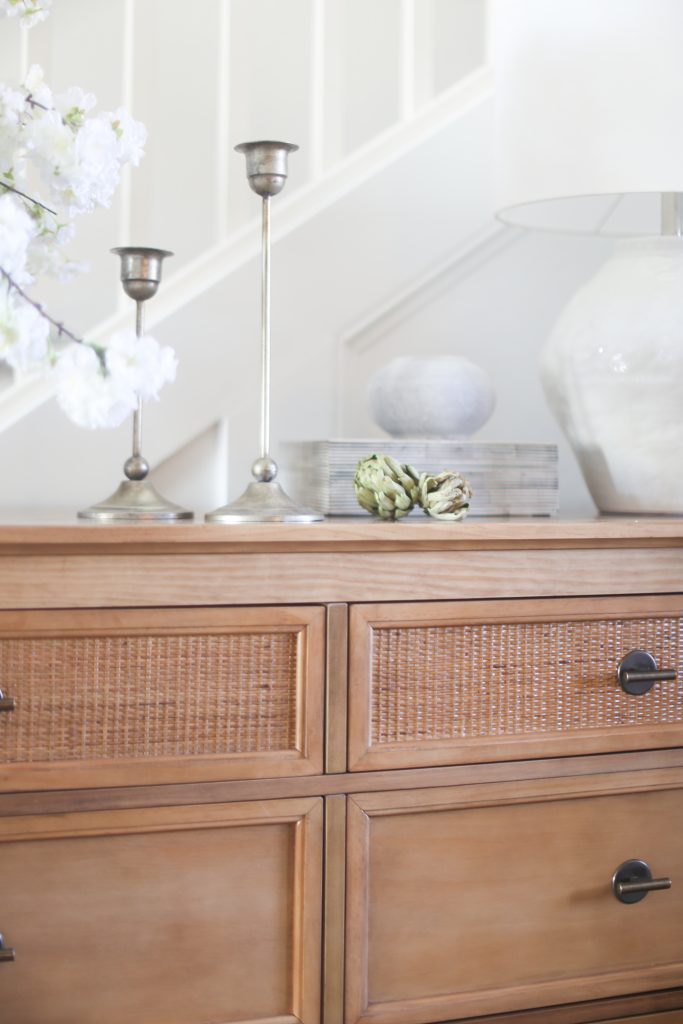 Green and Lovely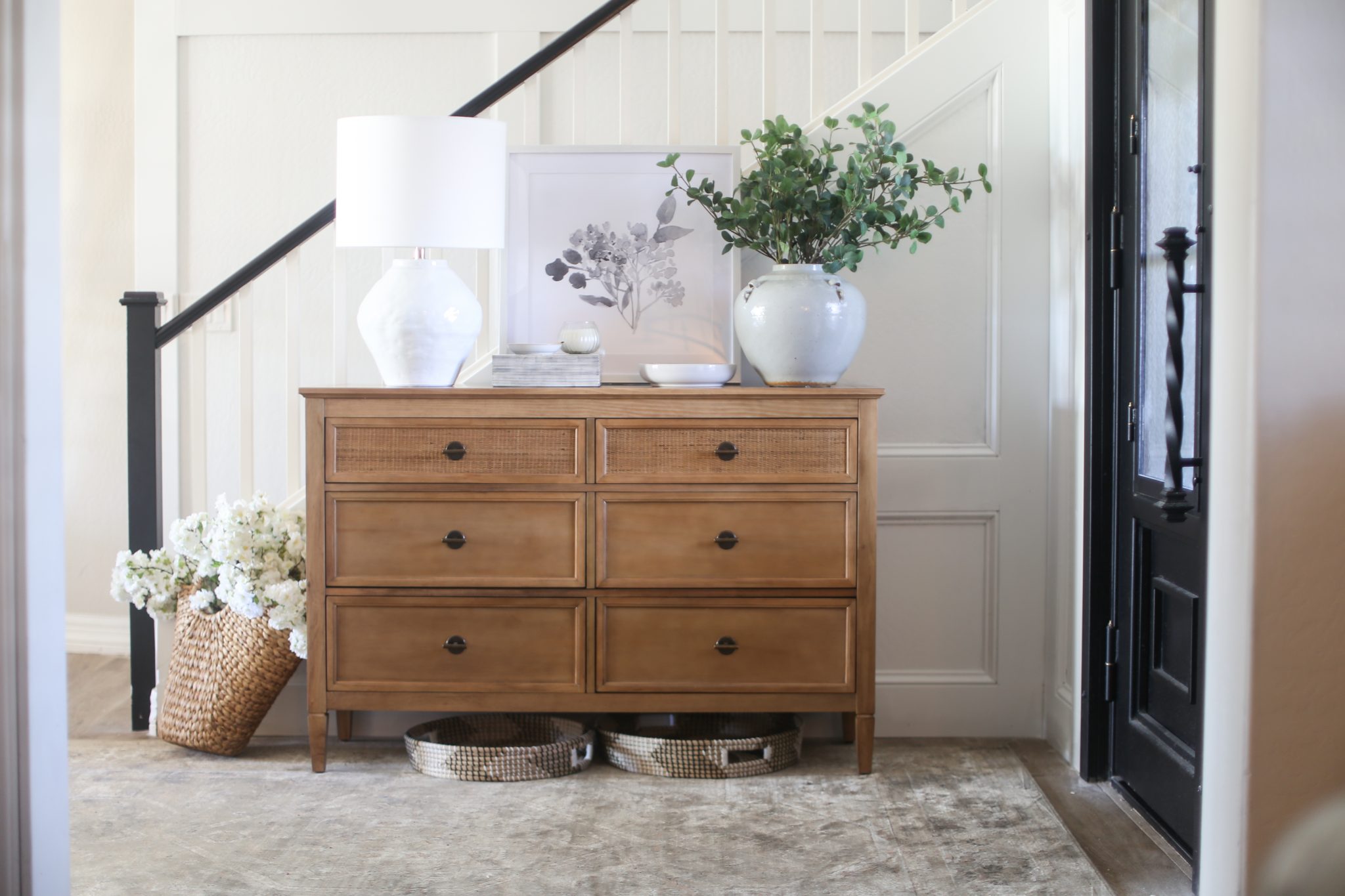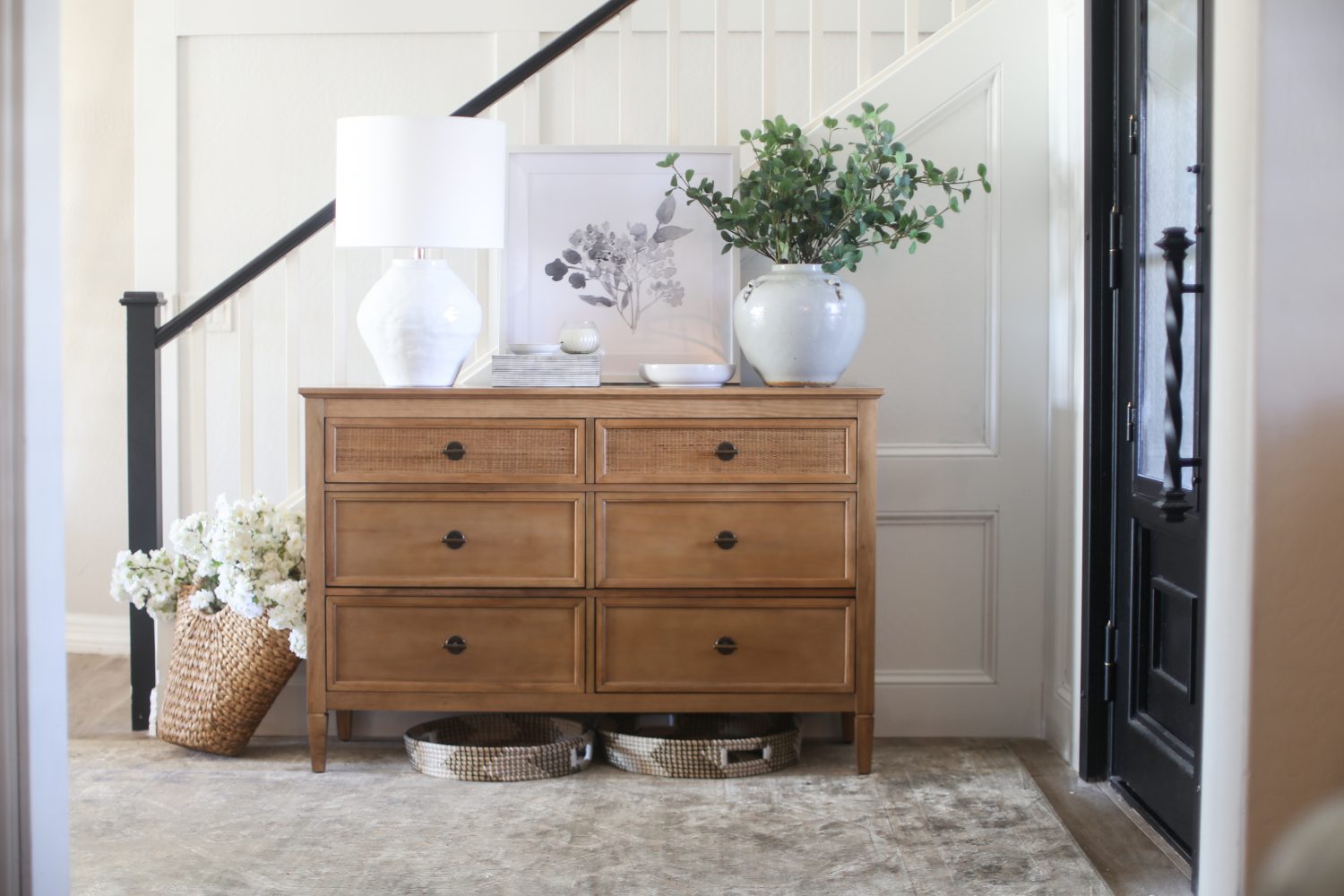 This look leans more into my casual style of decorating. Still using some of the base items like the lamp and vase, I added greenery to give it some life. I kept the flowers but added them to the floor in a cute little basket with handles. On top I layered the look with a piece of watercolor art. A leaning piece of art is a great way to a depth. When you don't have the wall space to hanging, leaning is a great alternative. Plus it's not a permanent!
I also love the ideas of nesting bowls at the entry. These beauties are from one of my favorite tableware brands, Denby and of course can be found on homedepot.com/decor . You can style them with candles or place sweet little treats in them for your guests. They are very versatile and a great piece to have while styling your entryway.
Featured Items:
Lamp//Antique Vase//Faux Florals//Bone Box//Marble Vase///Set of Trays//Nesting Bowls//Basket with Handles//Watercolor Picture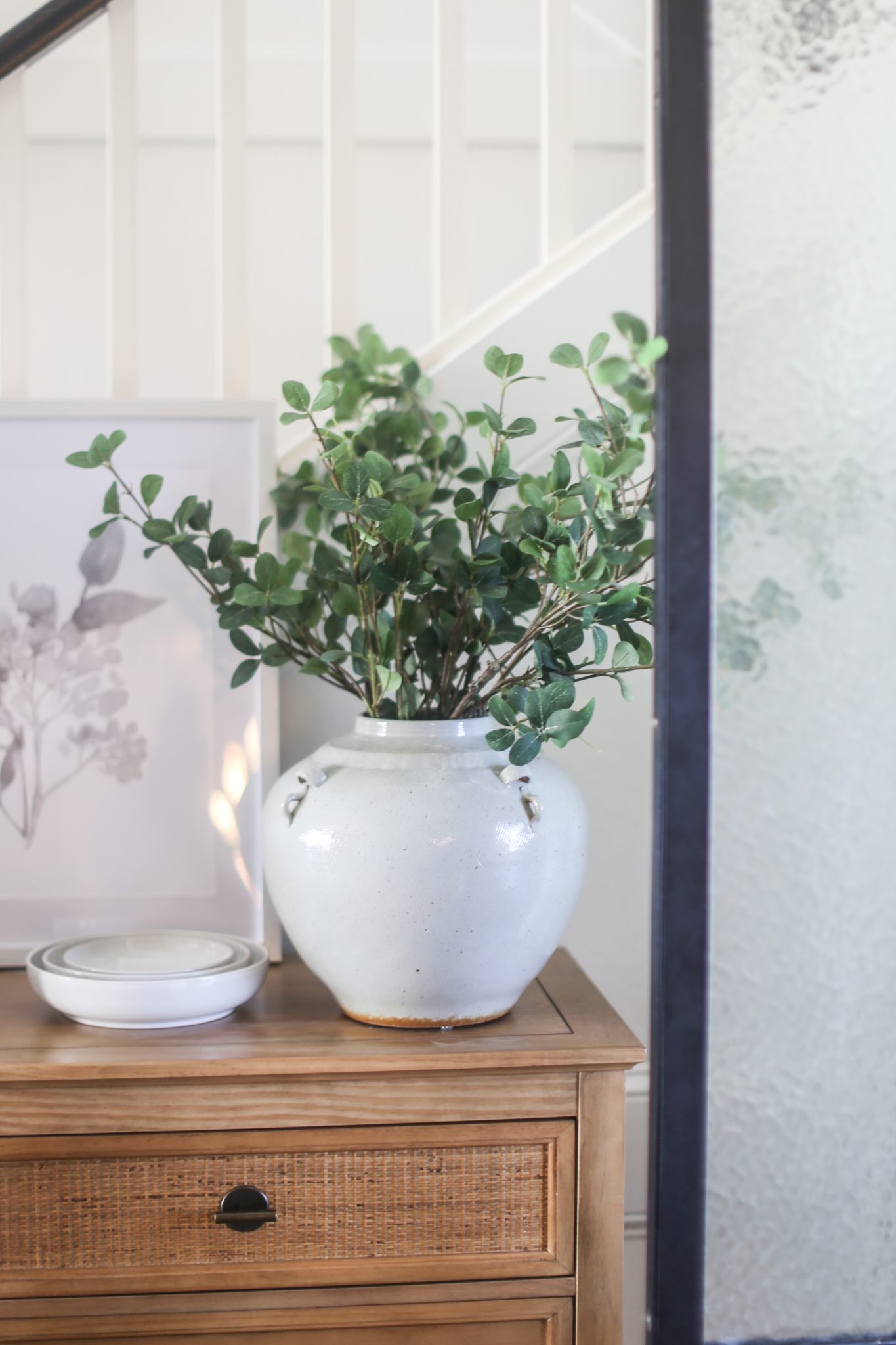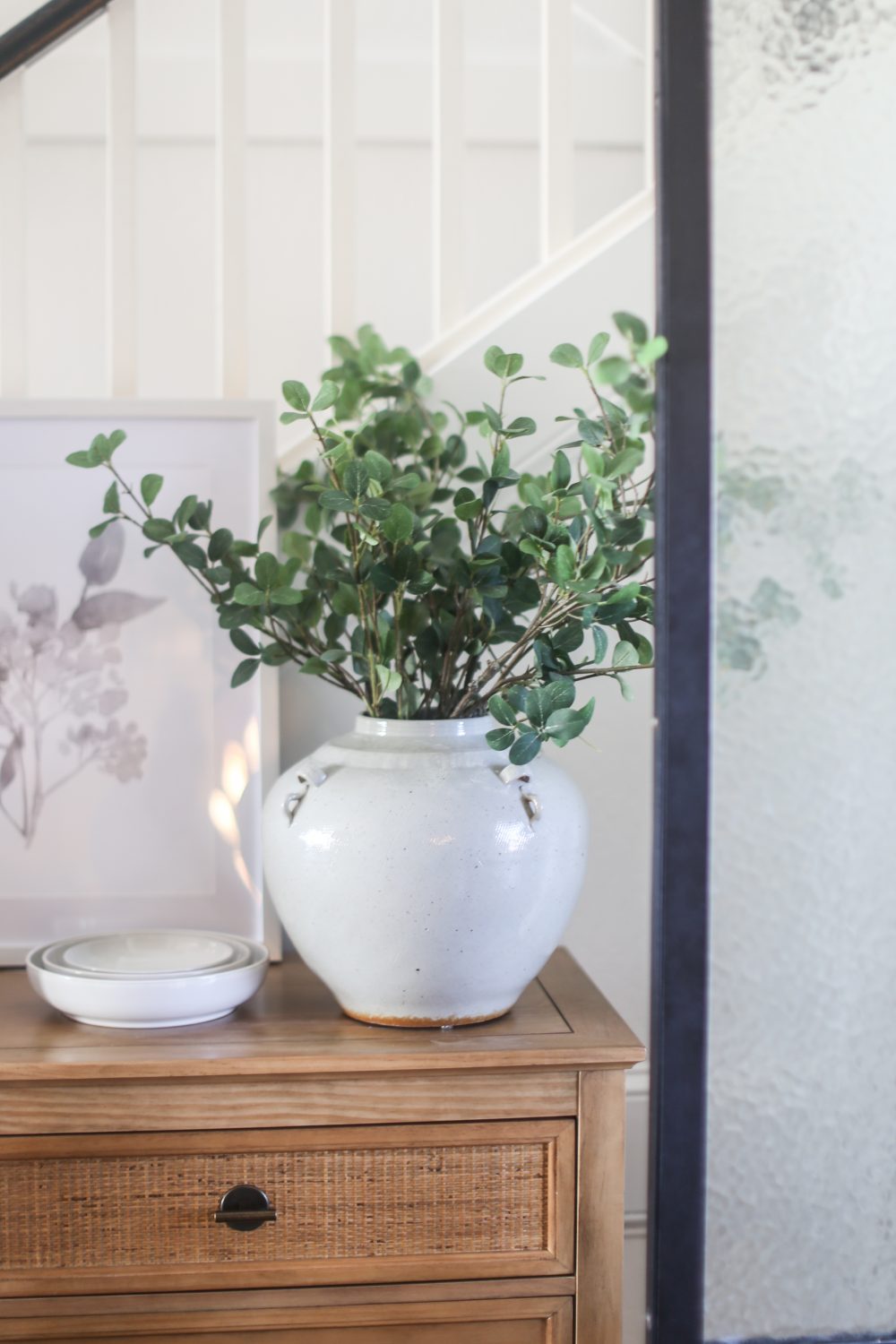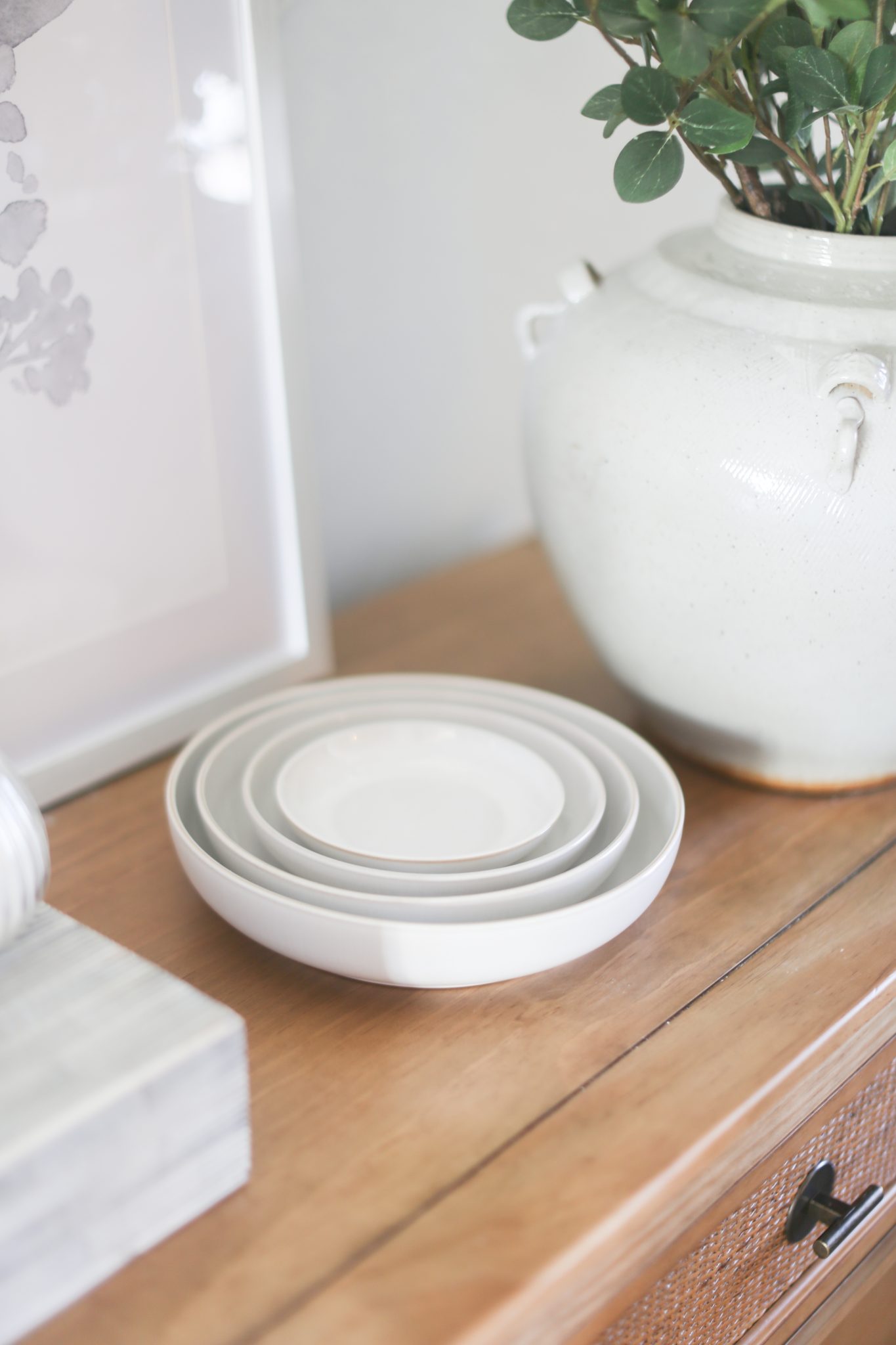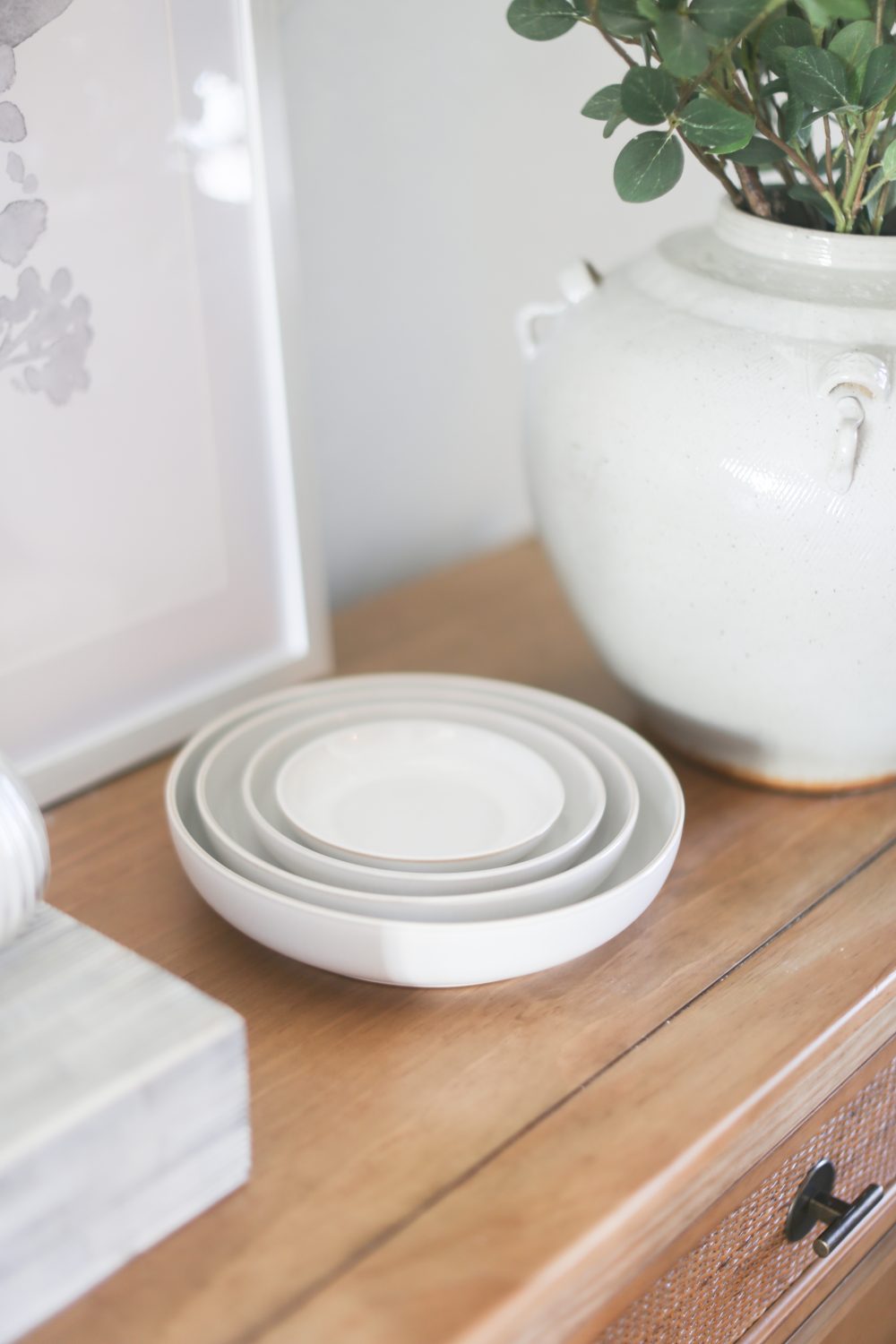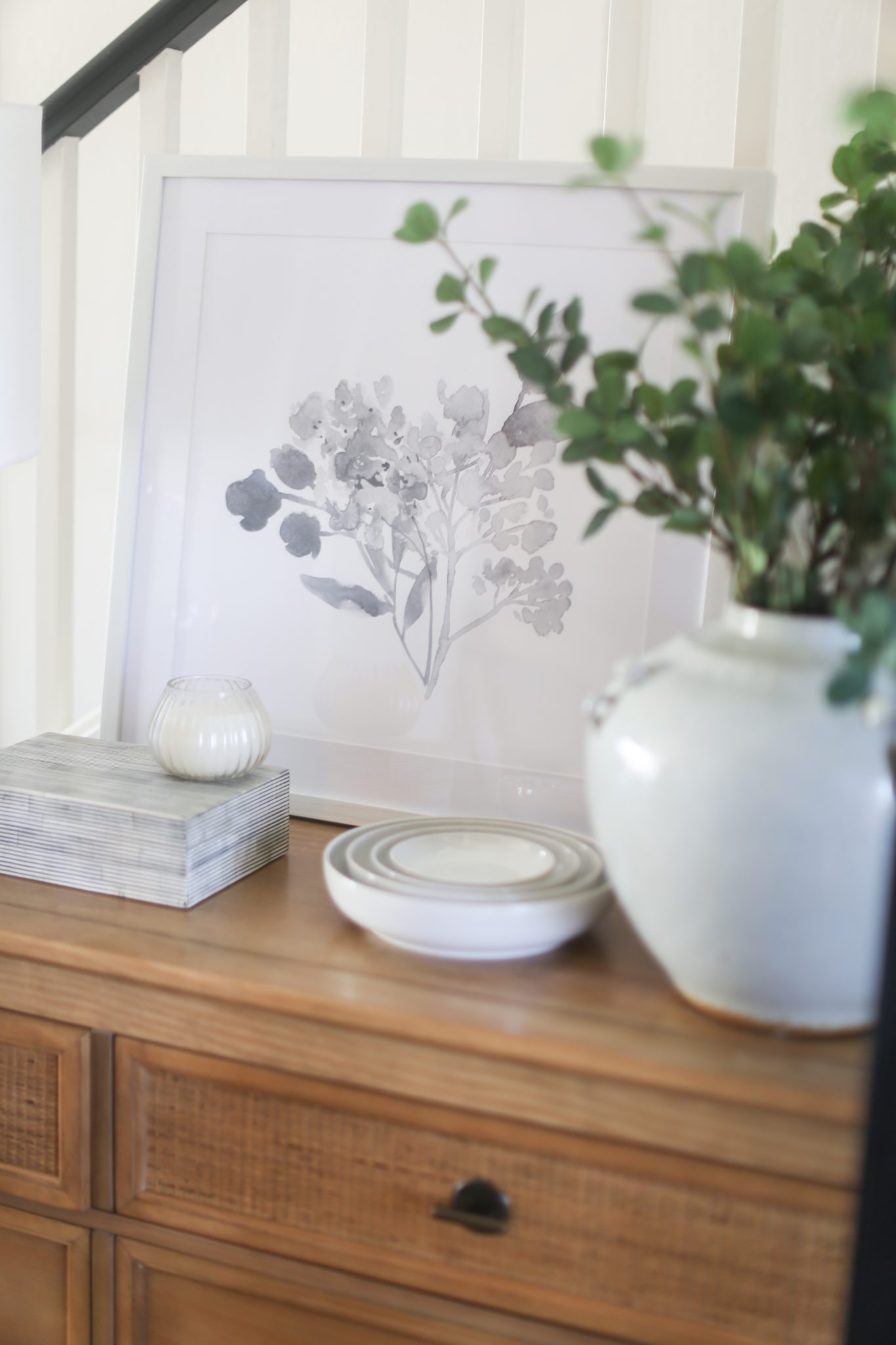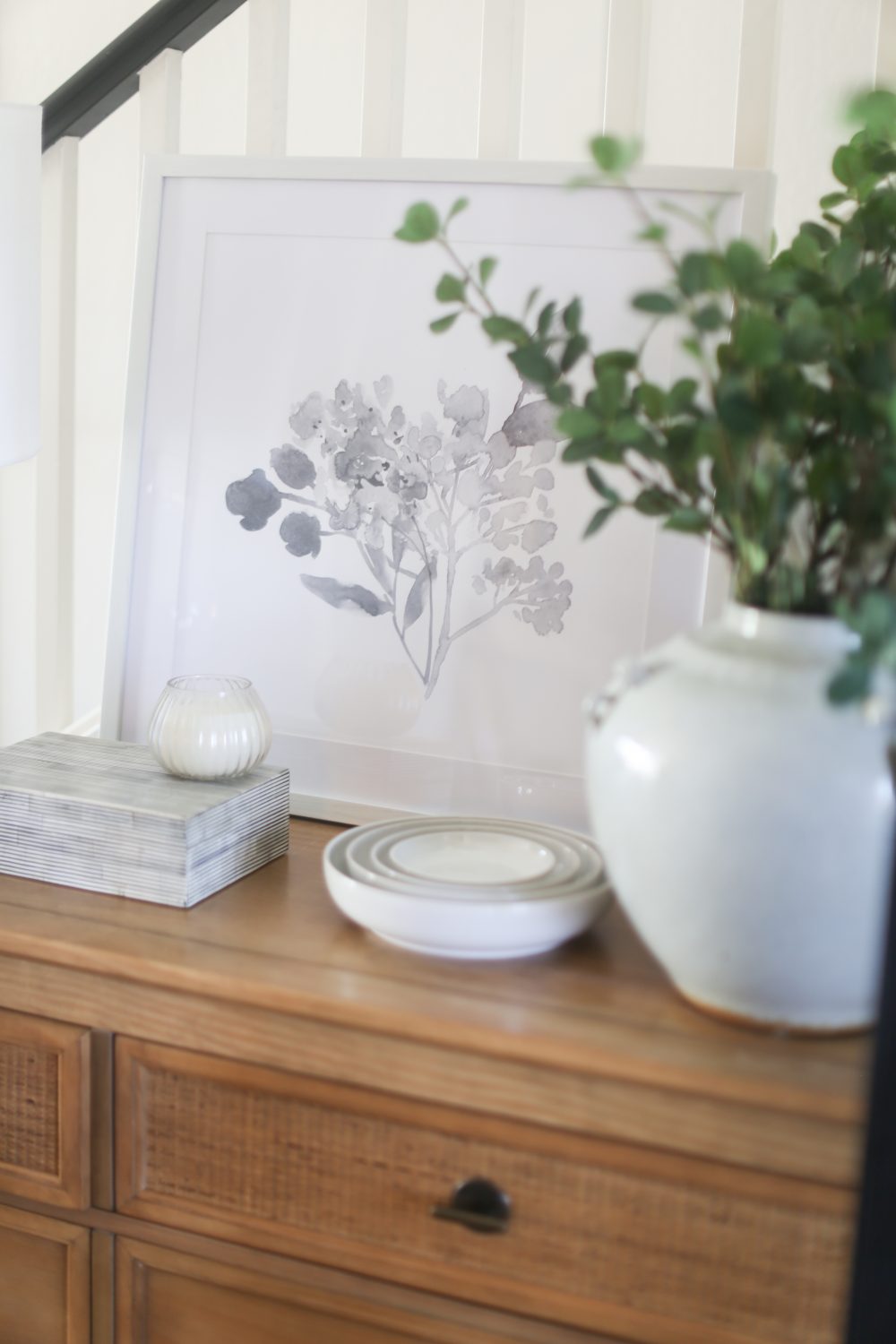 Reflective Beauty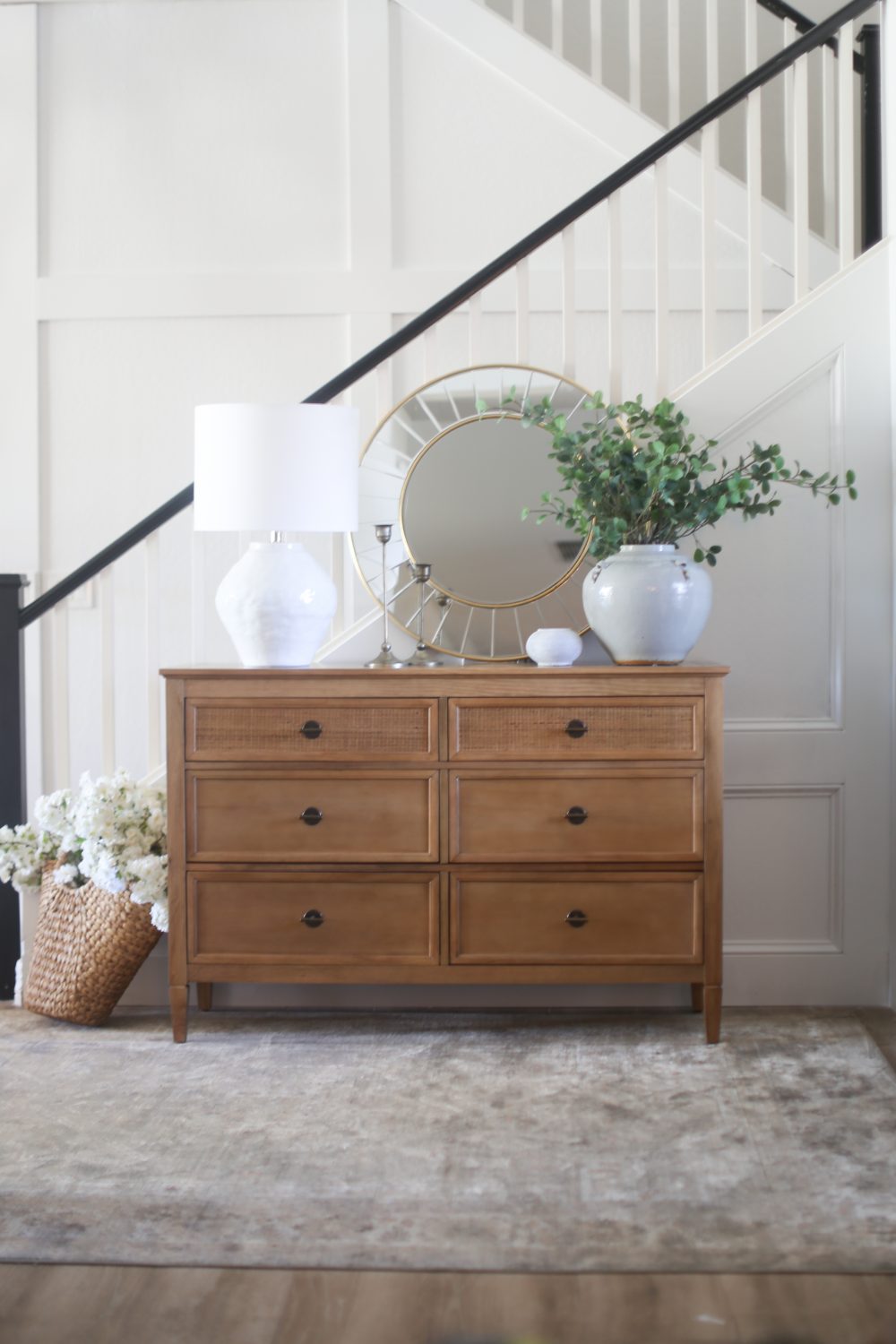 By adding a mirror to our entryway we upgraded the elegance. The brass/golden hues are picked up in the mirror, brass candlesticks and even in the rug. This round mirror from The Home Decorators Collection in the entryway adds some drama by reflecting all the light from the rooms around it making it seem brighter and bigger. Plus it's 100% functional. Who doesn't like to get one last look before heading out of the door! Hey girl hey!
Items Featured:
Lamp//Antique Vase//Faux Florals//Bone Box//Marble Vase//Basket with Handles//Gold Mirror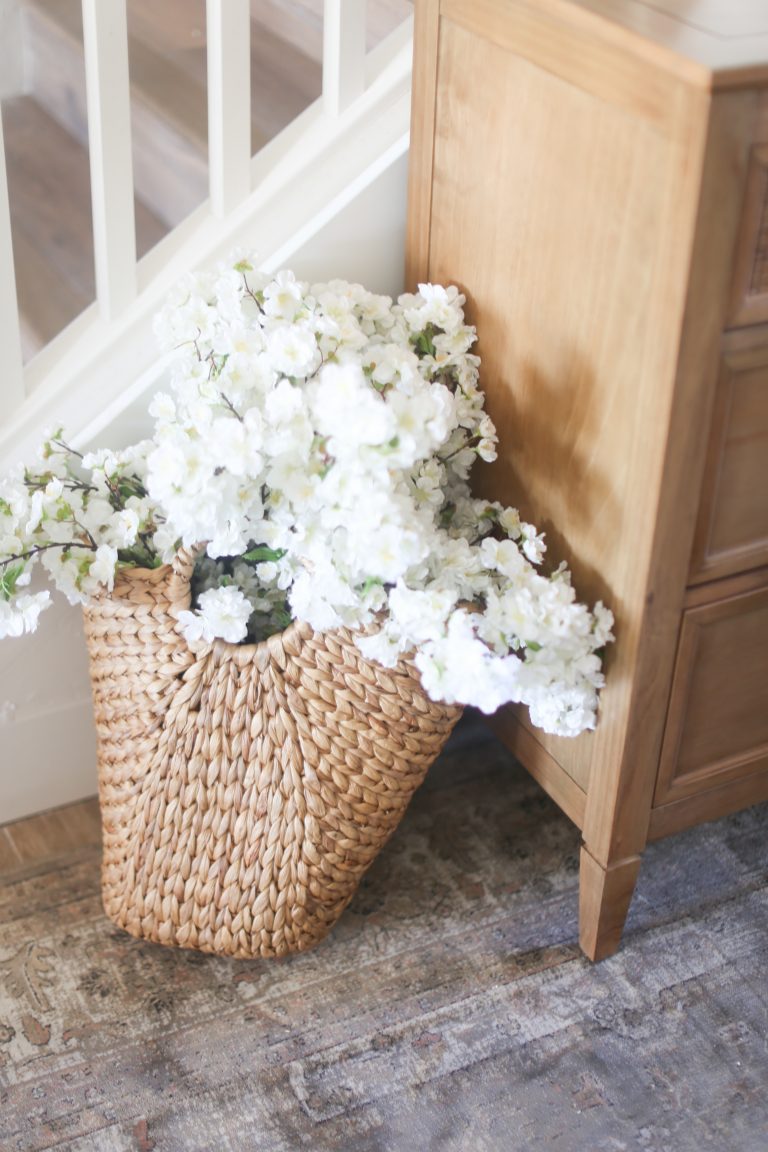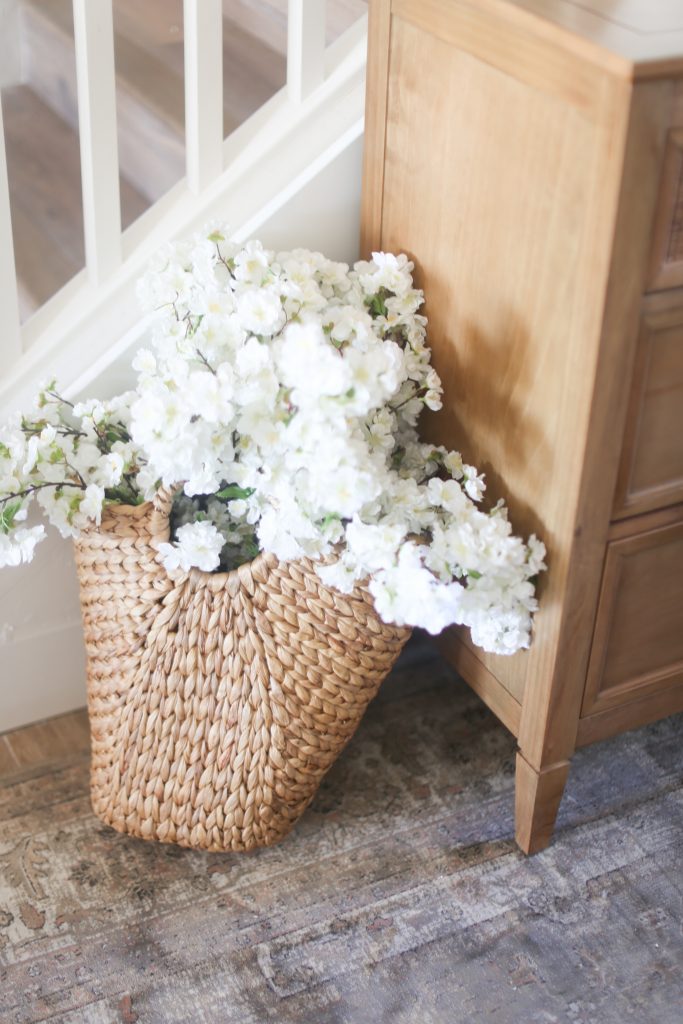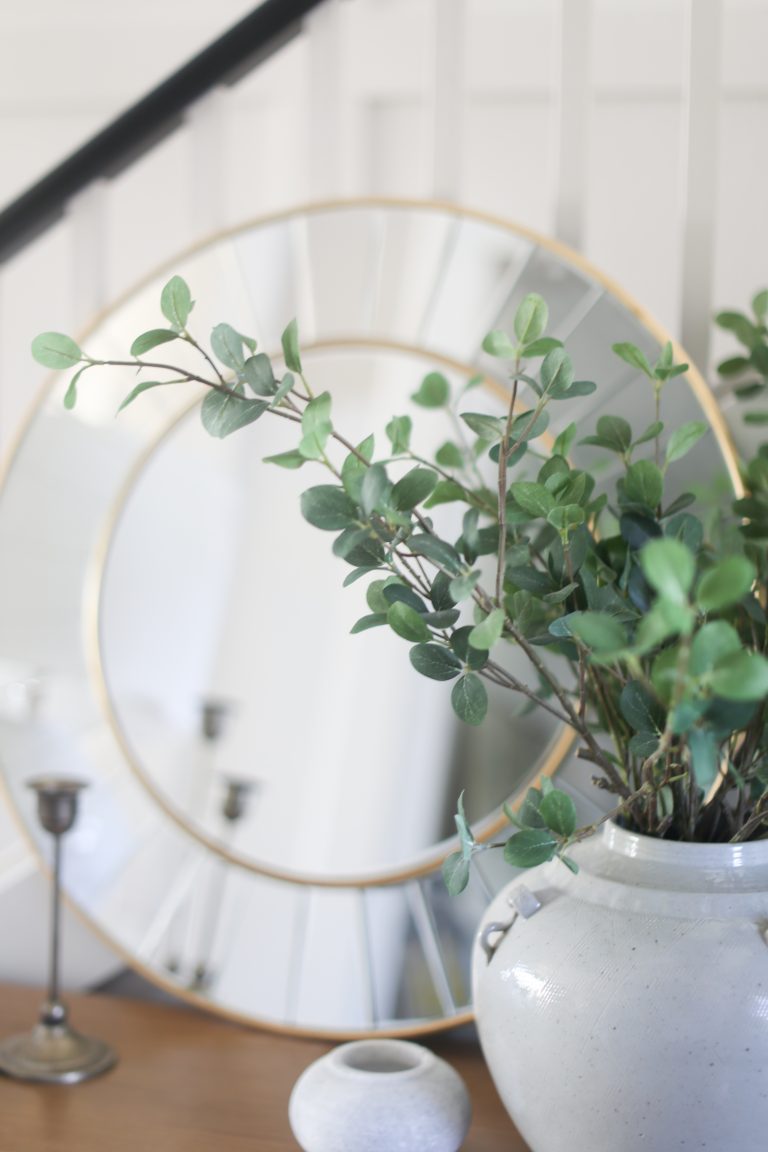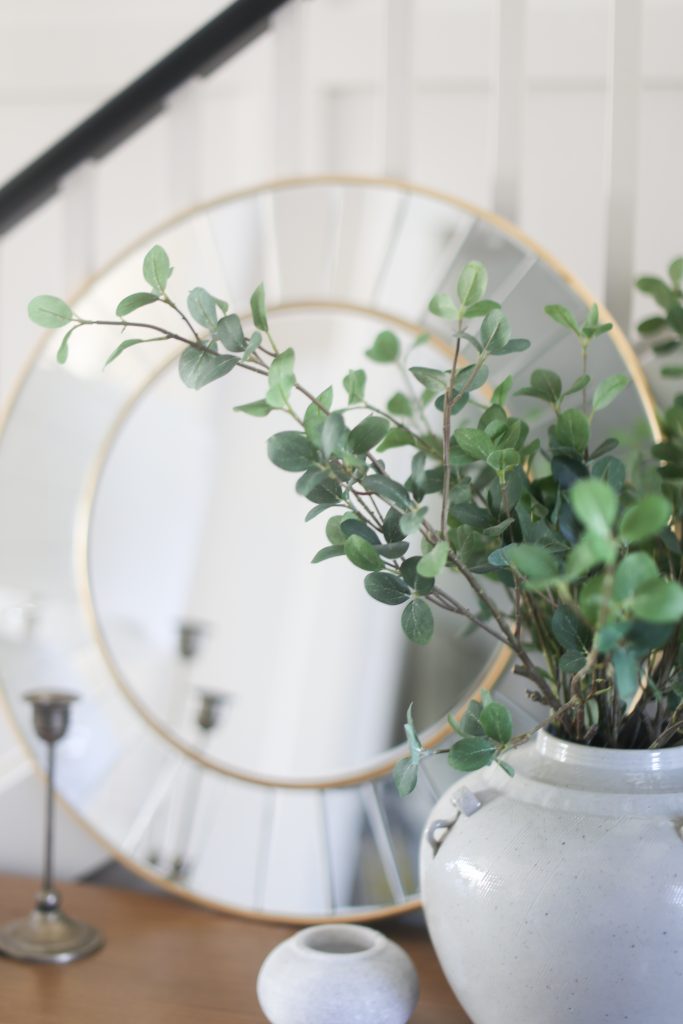 Hopefully these ideas gave you inspiration for your entryway styling. Remember to have fun. There are no rules when it comes to these things. Only experimenting and exploring different looks until you settle on one or maybe even two!
Remember when you're ready to shop, use my highlighted links! I get a small commision for every buy and it helps support Just Destiny Mag and my partnerships!
Your favorites out of stock? No problem. Here are some updated alternatives.
Happy Shopping friends!
Looking for more inspiration? Check out these: