Save or Splurge? The Breakfast Nook Table
This post is sponsored and may contain affiliate links, please read my disclosure policy.
This post is sponsored by Home Depot. All opinions are mine.
I love researching items for my home. But at times it can be SO daunting because of all the choices, the sizes to choose from and making sure that you nail the aesthetic based on your style. Another thing I always think about when it comes to purchasing items for my home is the budget. The dreaded B word. It can be great to know the exact boundaries you have for your purchases but at the same time the limits force you to be a little more savvy than you might want to be! Why can't I just put everything into the cart and be done?! haha!
But most of us can't do that so we are forced to ask ourselves, "What should I save on and what should you splurge on?"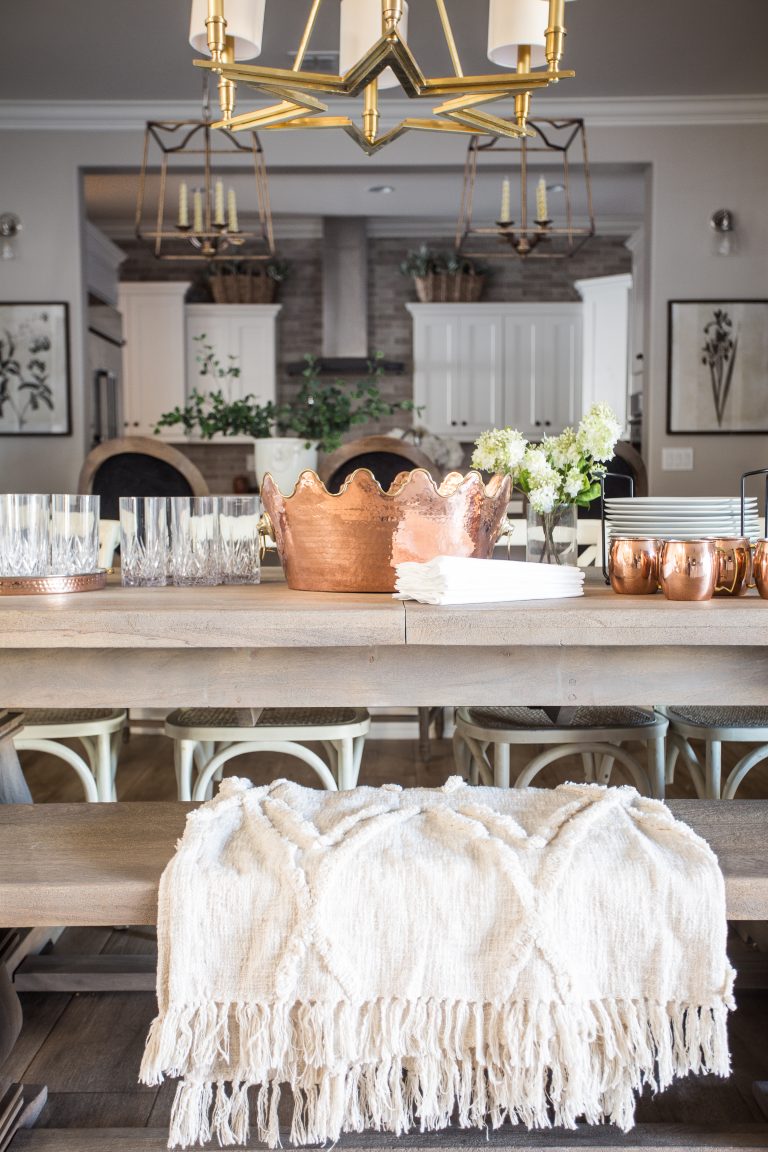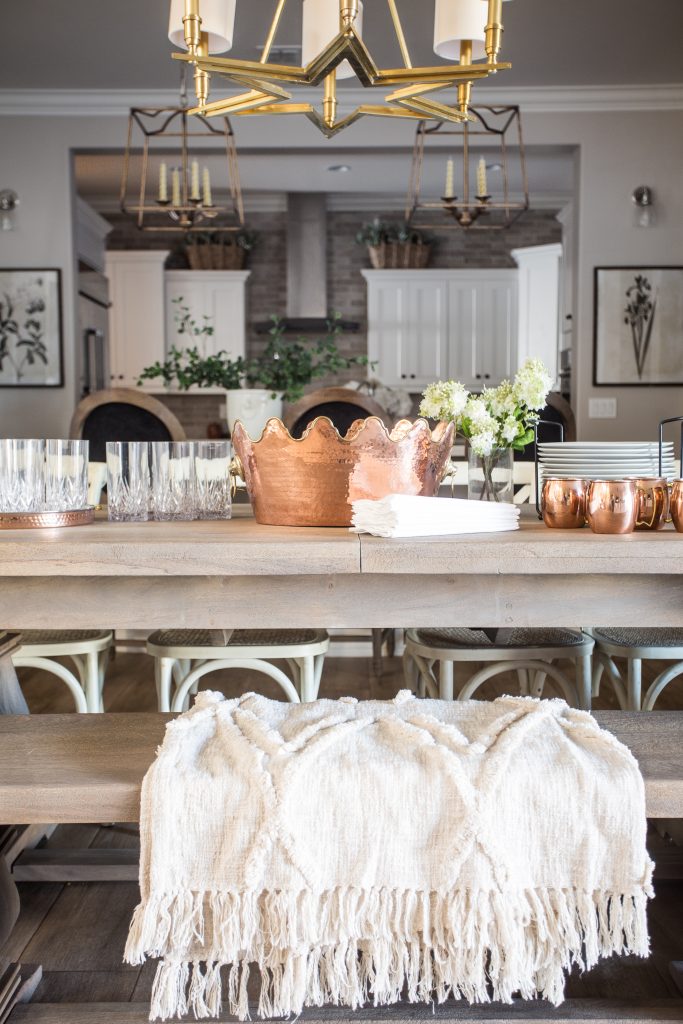 A few weeks ago I was able to purchase some items from Home Depot for our breakfast nook area. We had the round Aldridge table from the old house in the space before and al though it was ok, we needed something a big bigger when we entertain. I think a lot of my friend and maybe some of you FORGET that Home Depot has an incredible selection of furniture and decor items! Each month I get there catalog and make my imaginary wish list for future purchases! You can check out there collections here!
So take a look below and see what I decided to save on and splurge on!
Splurge
[su_divider top="no" style="double" size="5″]Baskets [/su_divider]
Because the table is the most important piece in our breakfast nook area we decided to spend a big chunk of the budget here. My thought was the table must last years, even decades depending on my evolving decor style. I wanted a table that could seat up to 10-15 people depending on how many we are entertaining! I also wanted a hard surface for easy clean ups. My children are typical children so they are MESSY! Crumbs are just apart of life right now. I also wanted something that wasn't to pristine. You know, fancy. I didn't want to worry about the preciousness of the table. If nicks and dings happened it would naturally be welcomed!
So we decided on the Home Decorators Collection Aldridge Antique Gray Dining Table (It also comes in Walnut)
What I love about this table is:
it's a finish that is kid friendly
it extends from 89.5-107inches
it has a coordinating bench for purchase
Its heavy and solid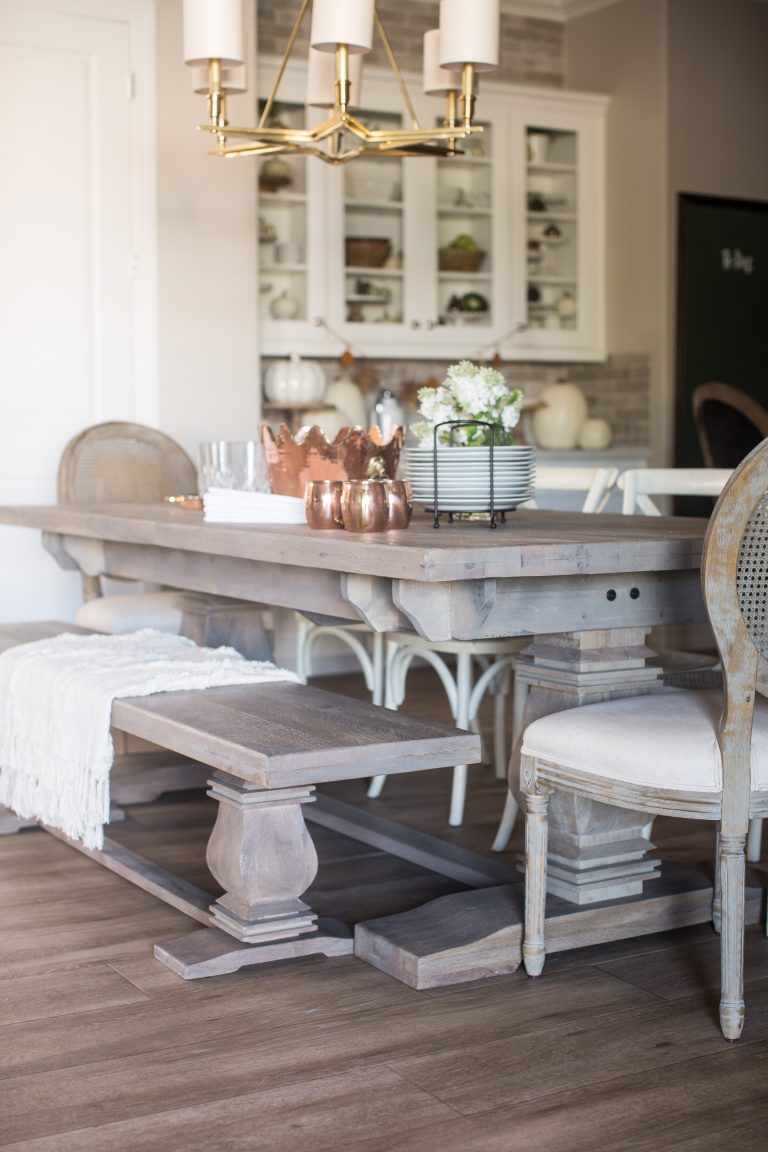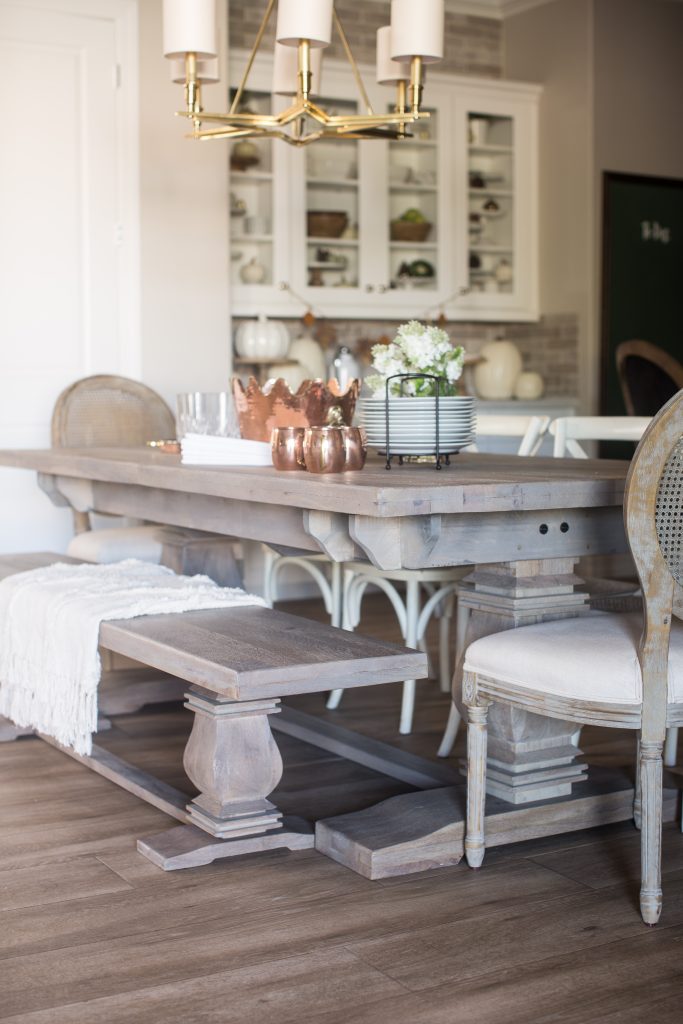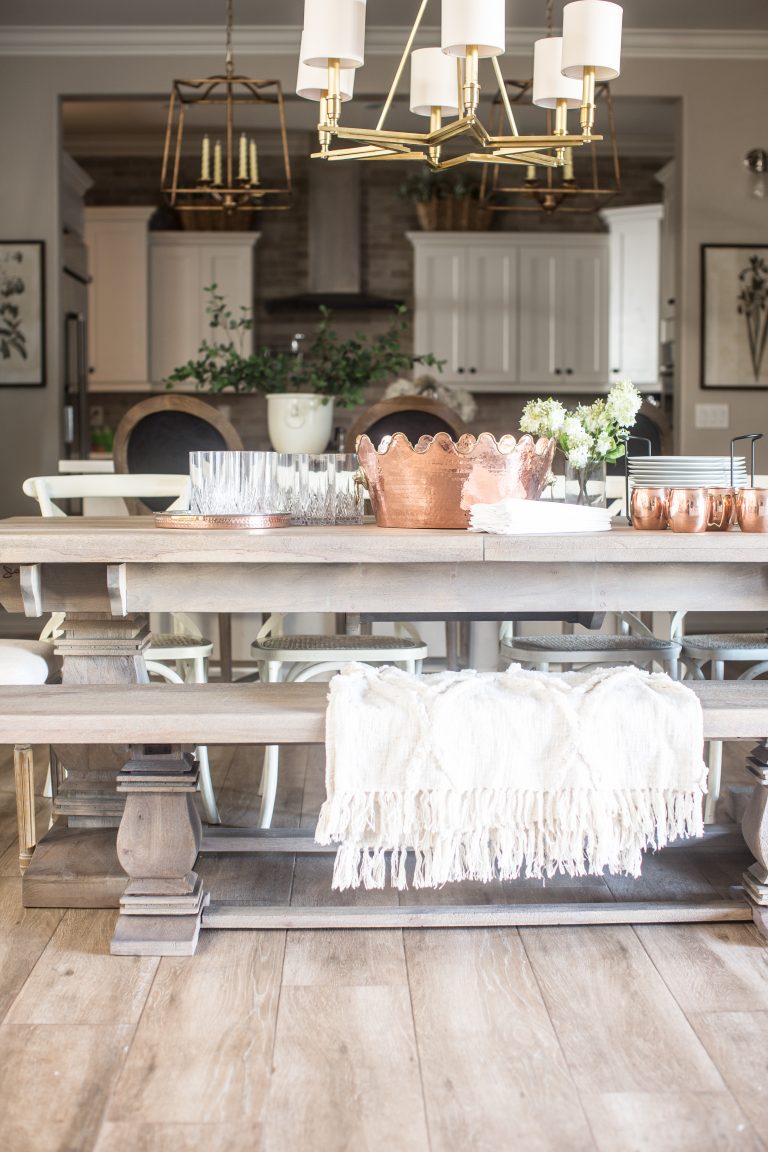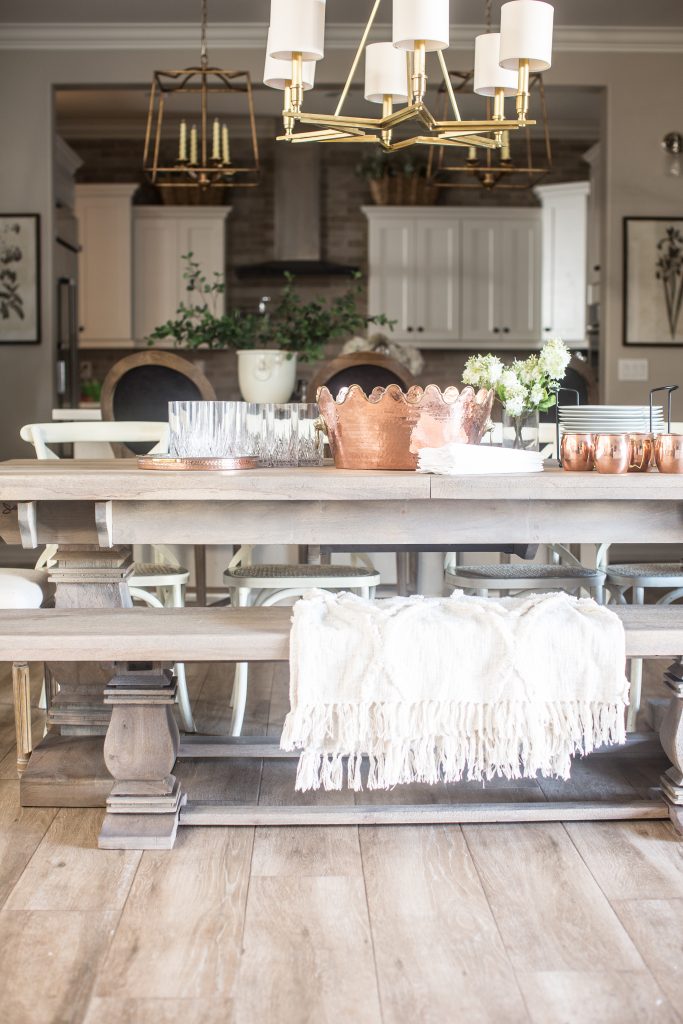 Another splurge for us were two JACQUES ANTIQUE BROWN OVAL BACK SIDE CHAIRS. I think in an idea world I would like to have more of these chairs, but because of budget restrictions I decided just on two. They also help break up the look of that " all in one" set that most dining room tables come in. I also think that bringing in fabric to this space makes it fell a bit softer. All hard surfaces and feel cold. Find these chairs here.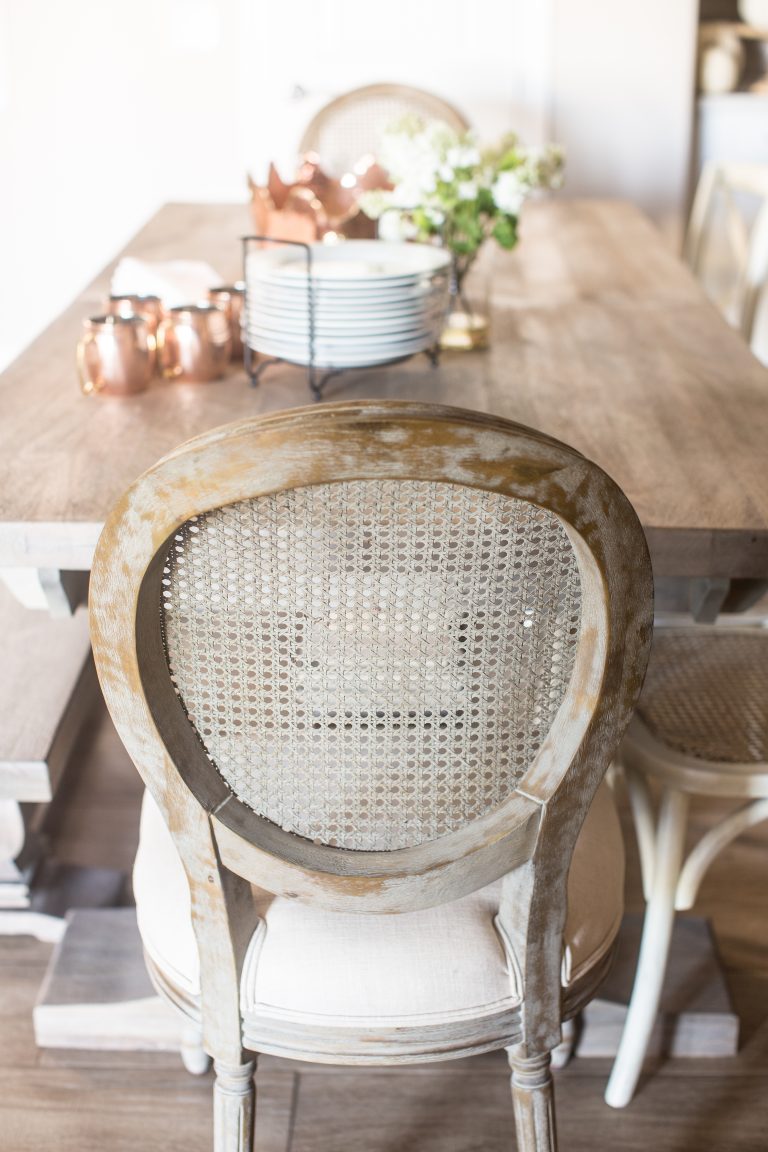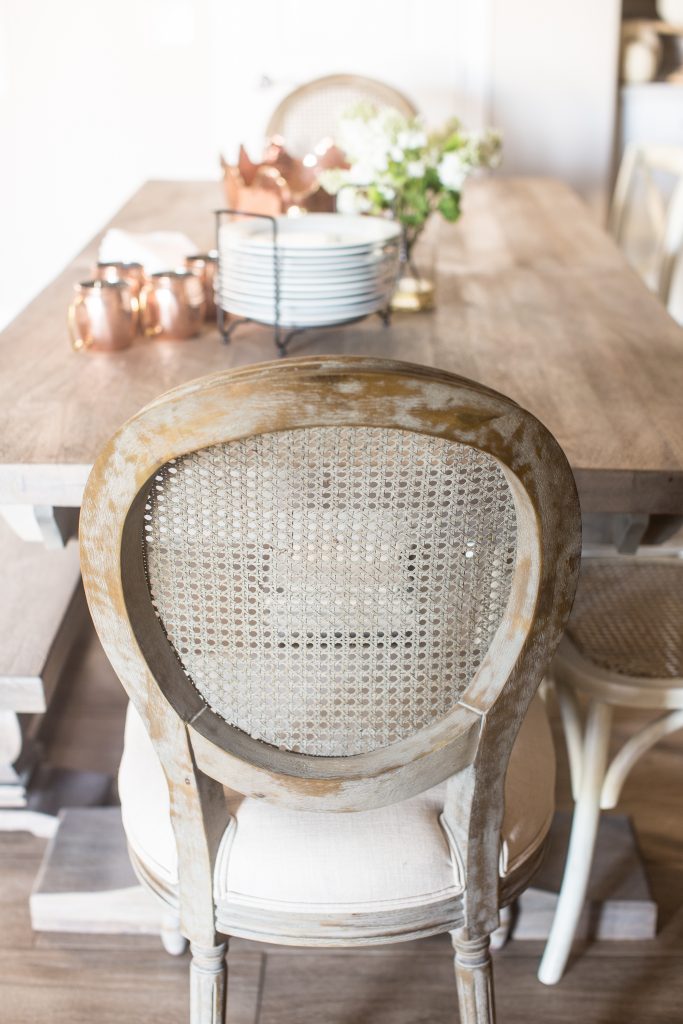 Save
[su_divider top="no" style="double" size="5″]Baskets [/su_divider]
Instead of spending money on individual chairs for the entire table ( 6 more chairs similar to the ones about would've cost me another $1500), I decided to get a bench. This bench from Aldridge line seats 4-5 people comfortably and saved me almost $1,000! The kids love to pile on here with friends and even our adult friends love to catch a seat!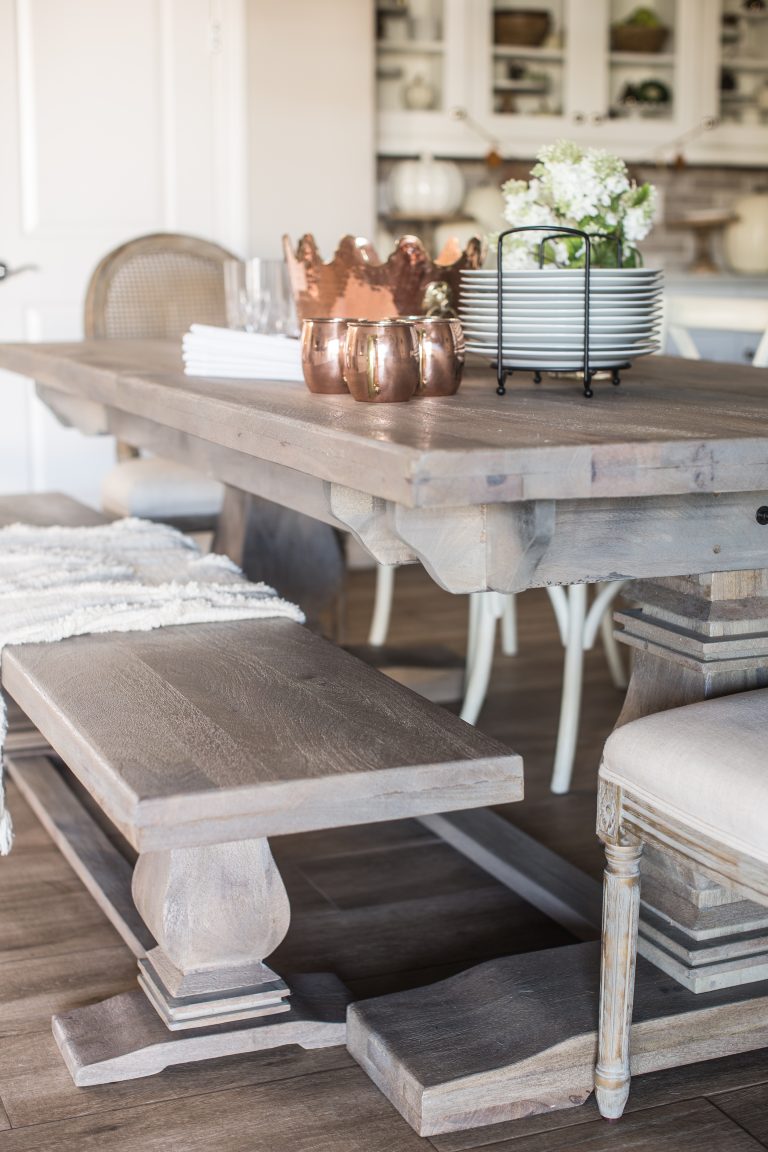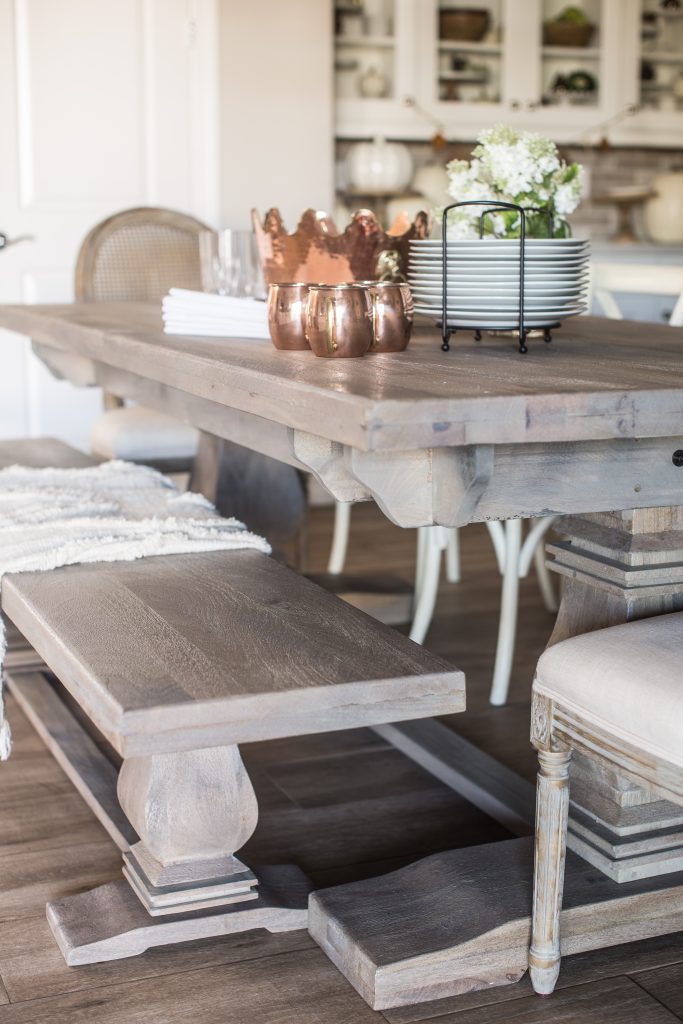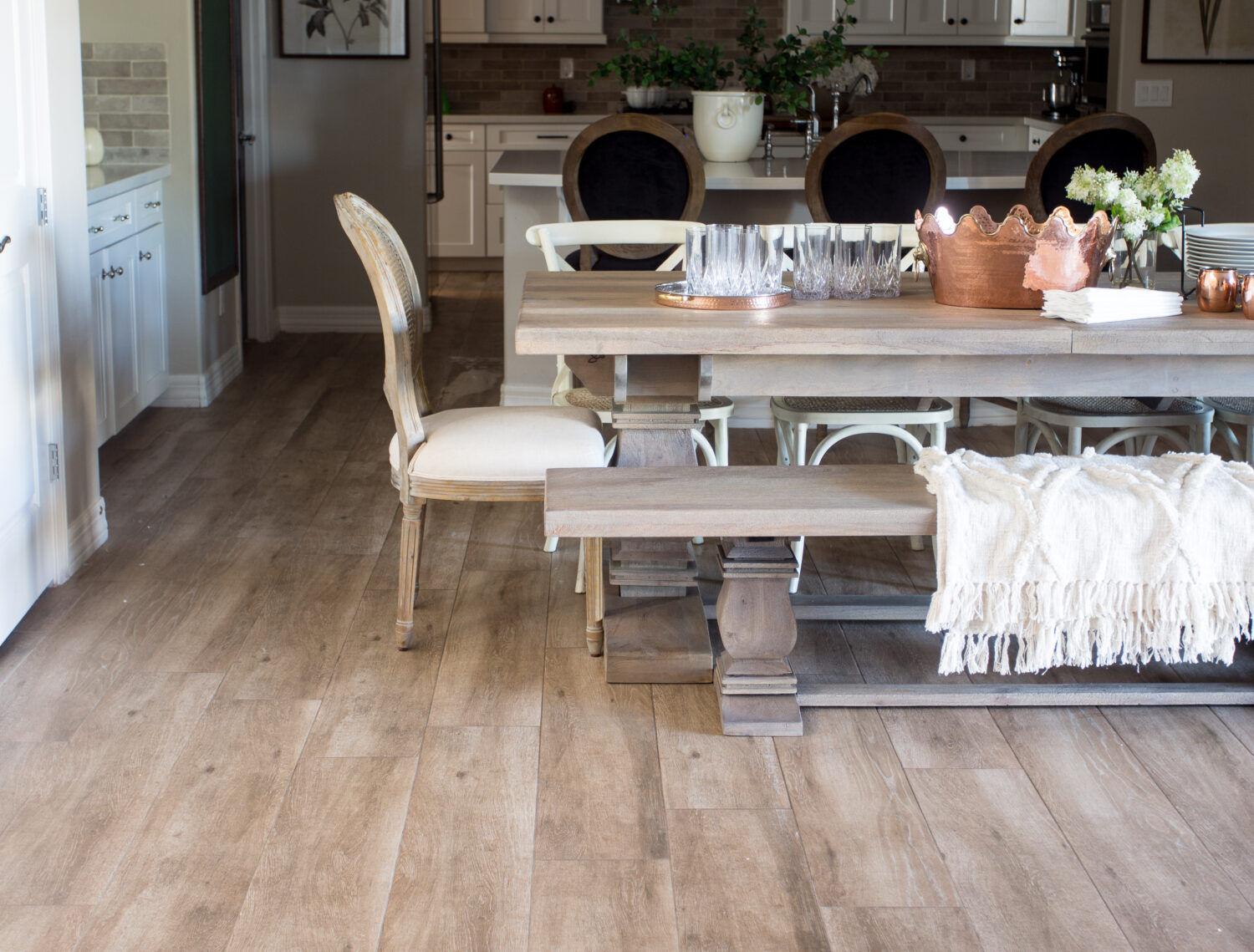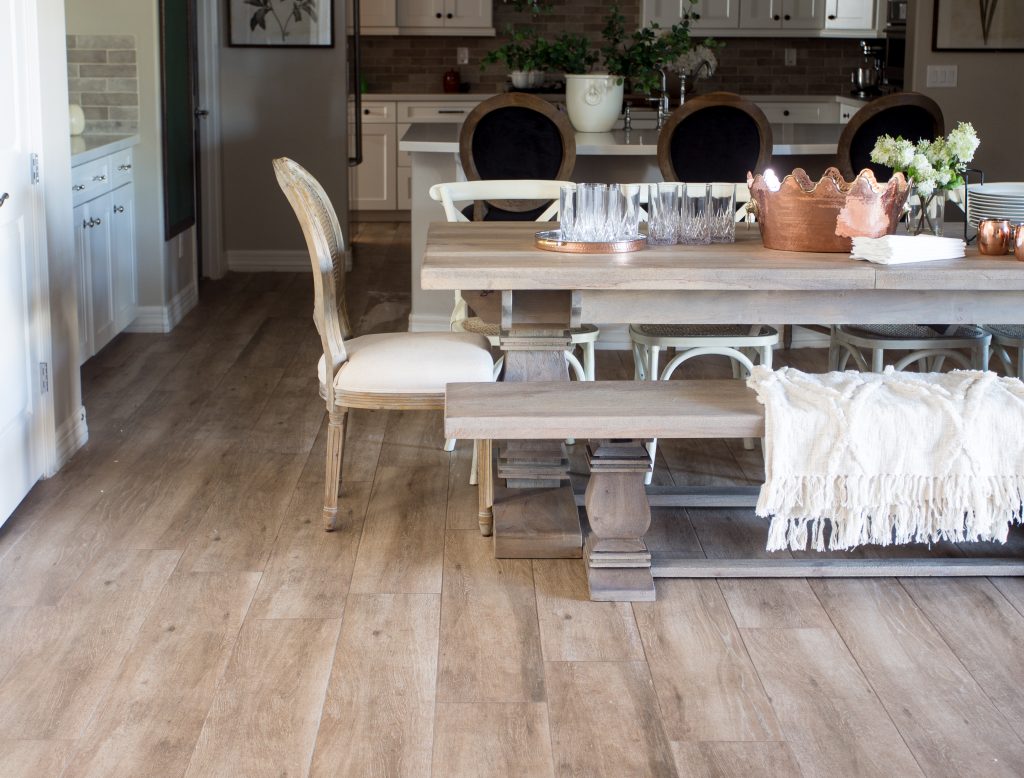 To save even more money I used chairs that I already had. I love these chairs because of the classic design. X anything will always be in my home! I just purchased this X mirror for the house!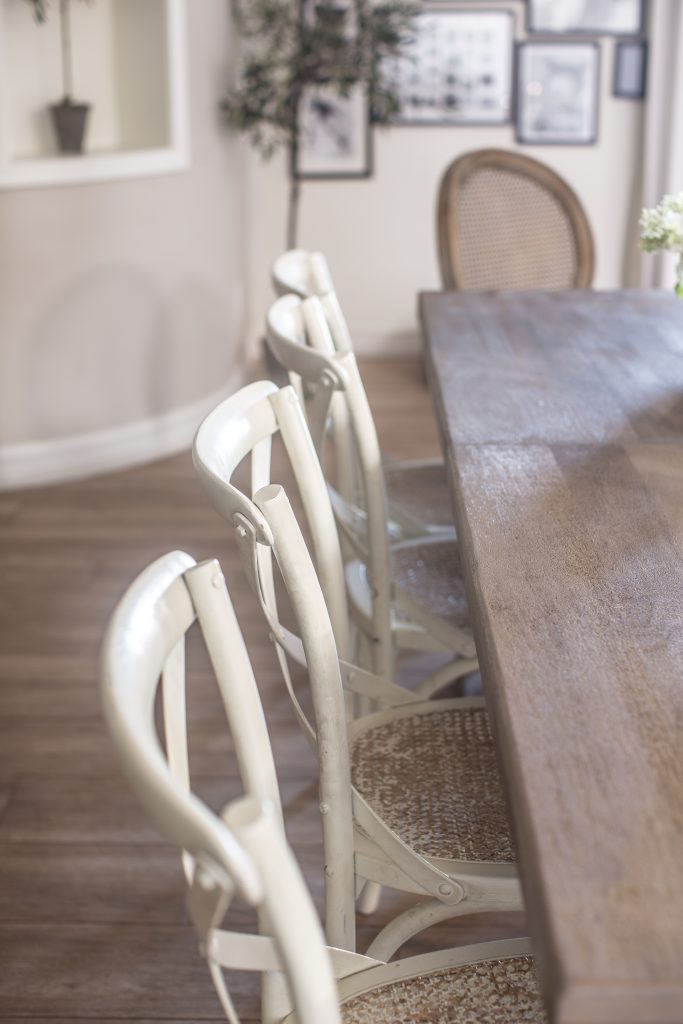 You don't have to spend a lot on other decor items, but make sure to leave some money in your budget for them otherwise the space looks unfinished.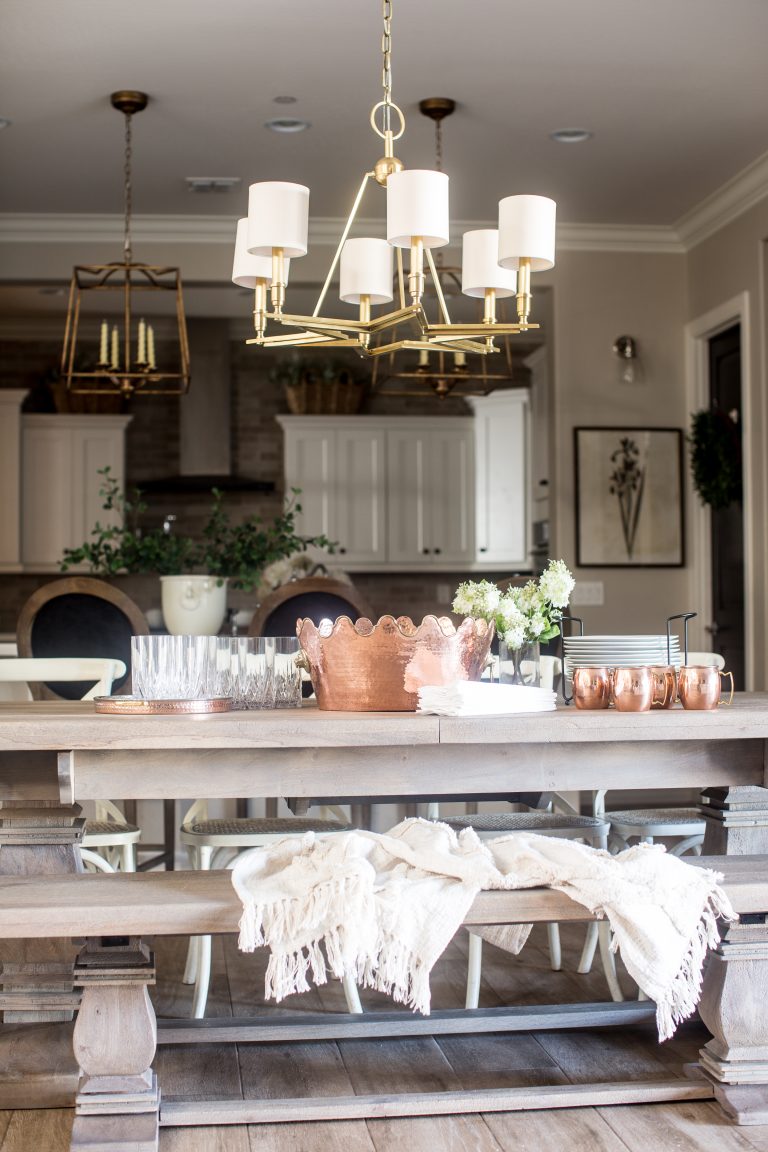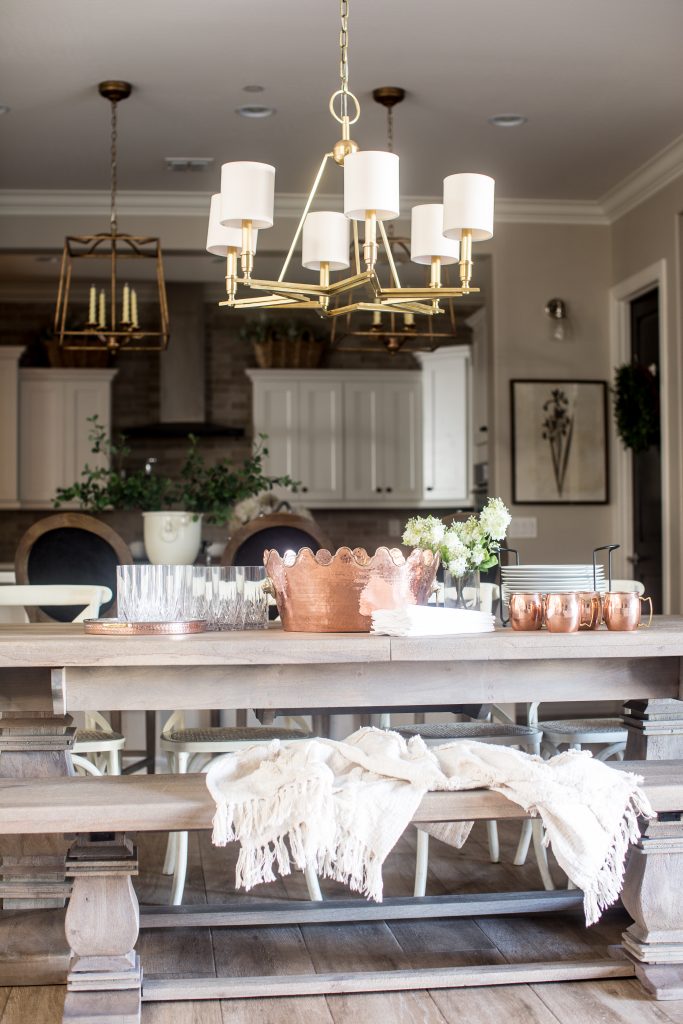 A cozy blanket on the bench is a great idea for an extra touch of texture and comfort.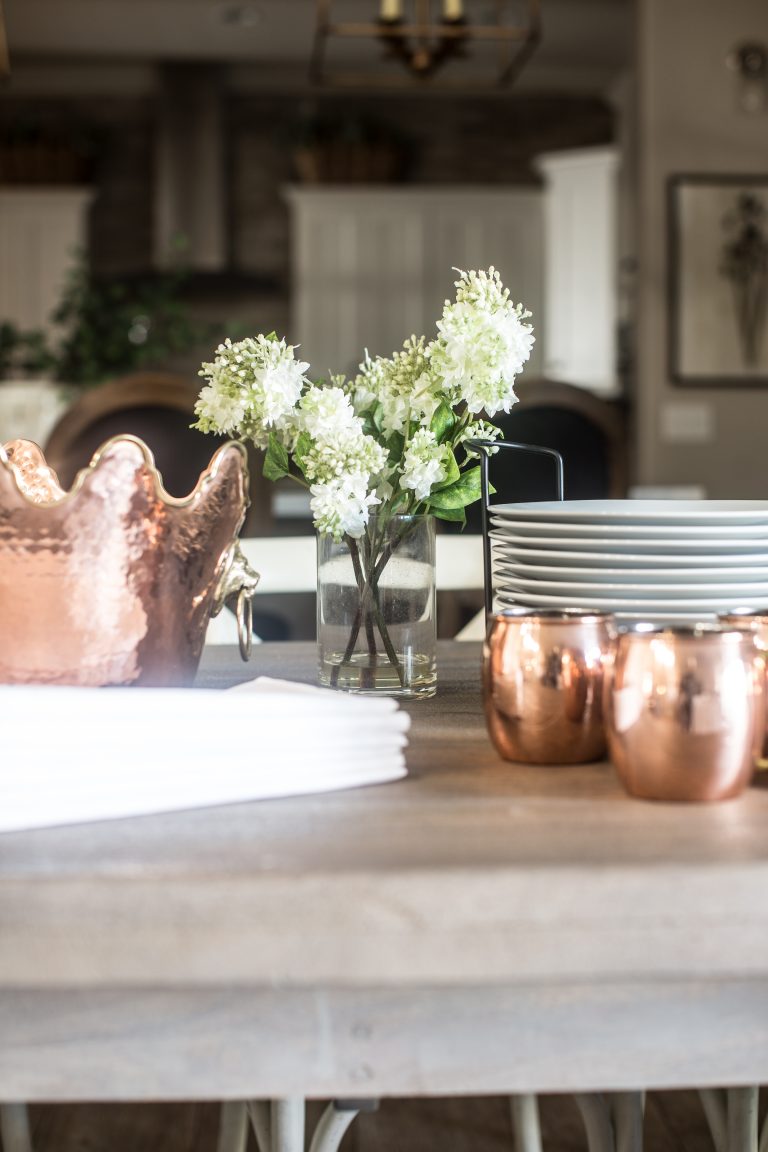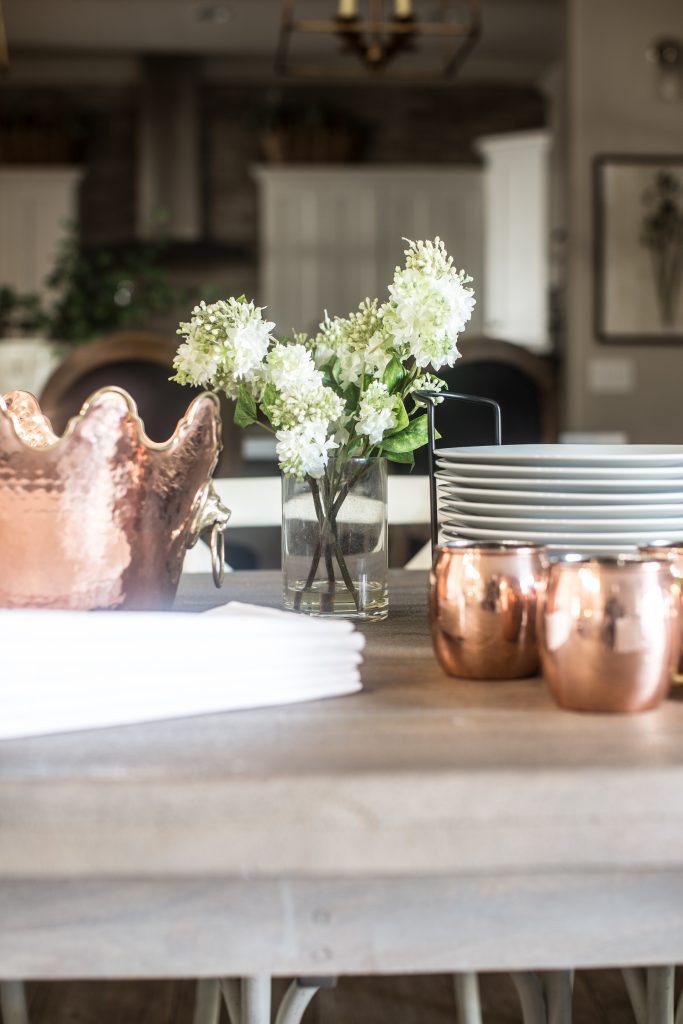 A simple flower arrangement on the table goes along way. This one is short enough to keep on the table so that conversations can happen without floral interference!
Shop this look here!
[su_divider top="no" style="double" size="5″]Baskets [/su_divider]