Learn How To Transform Your Small Bathroom With GORGEOUS Products From The Home Edit
This post is sponsored and may contain affiliate links, please read my disclosure policy.
If you have an organization fix then this is the perfect post for you! I'm here today with my friends from The Container Store ( THE BEST ORGANIZATION STORE IN THE WORLD) and we are organizing underneath my daughters bathroom sink and also her medicine cabinets with some new and exciting products from The Home Edit found exclusively at The Container Store!
Underneath the sink can be a place where all things work together in harmony or a place where everything ends up in one big pile. Well in our house it's BOTH! Sometimes under our sink looks great! Organized and fully backstocked ( I learned that term from the Home Edit girls) and sometimes well, it looks like everything we ever owned was thrown under the sink!
But if your here trying to get your sink in order I have a few helpful steps and tips for you!
First Clean Everything Out
Yep. But I bet you already knew that! Clean everything out from under the sink so you have a clean slate! I get out my best cleaners and get to work! Livy had a bit of a mess to clean so we got right to work!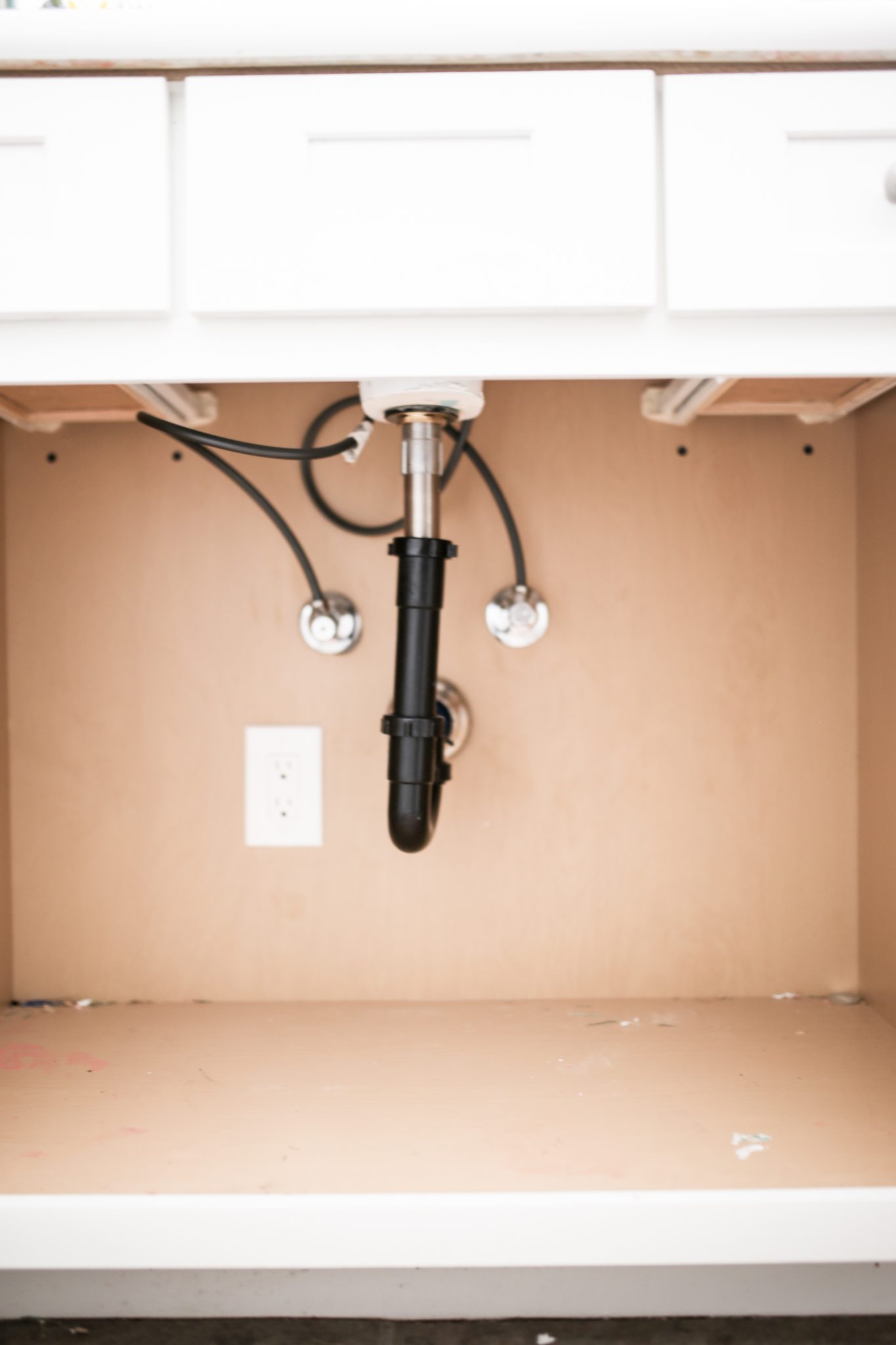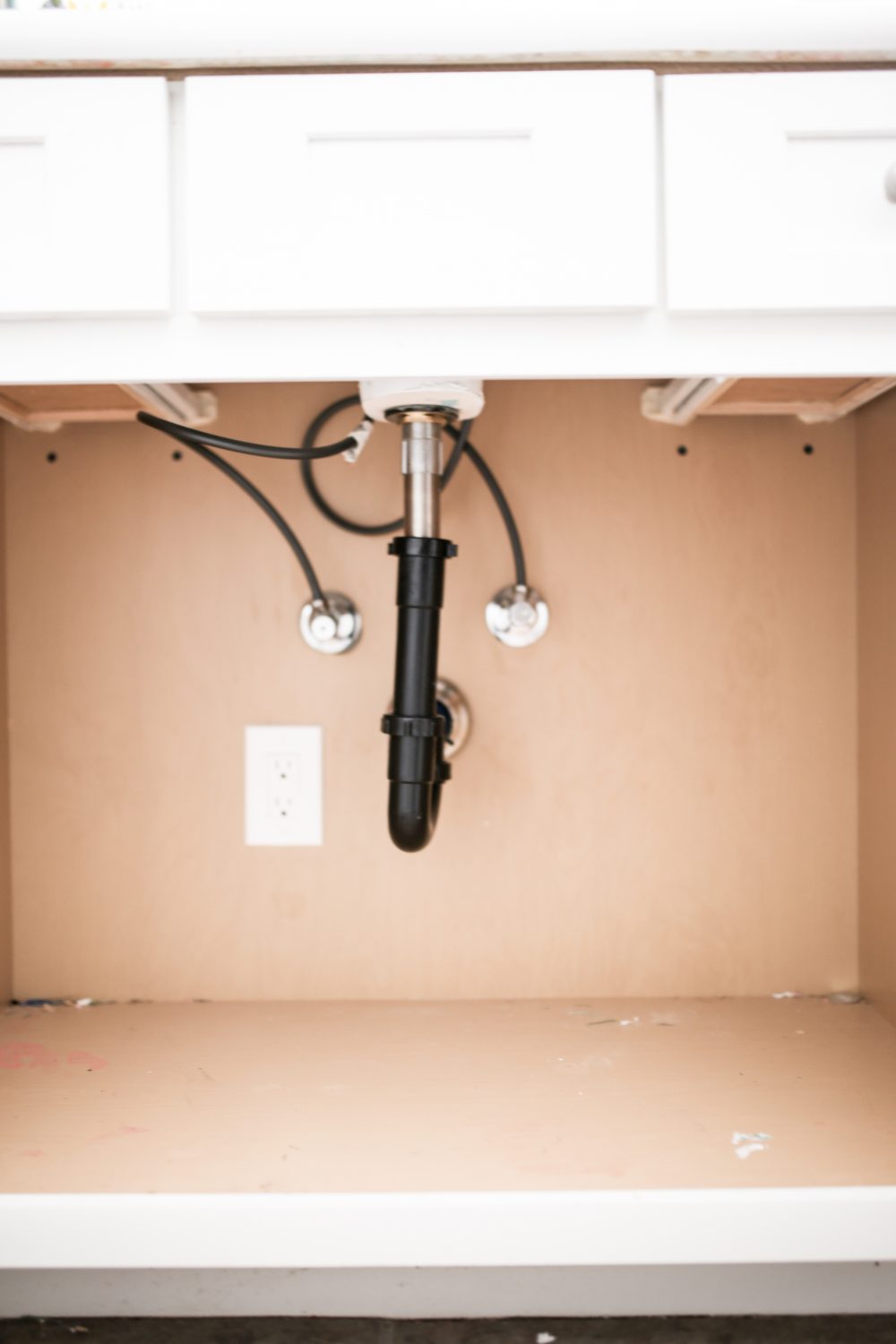 Protect and Measure
I like to put down a protective rubber sink mat or contact paper if I find myself reorganizing spaces like this! I used the marble look contact paper to give the space and easy to clean surface and it keeps spills and stains from reaching the cabinet area.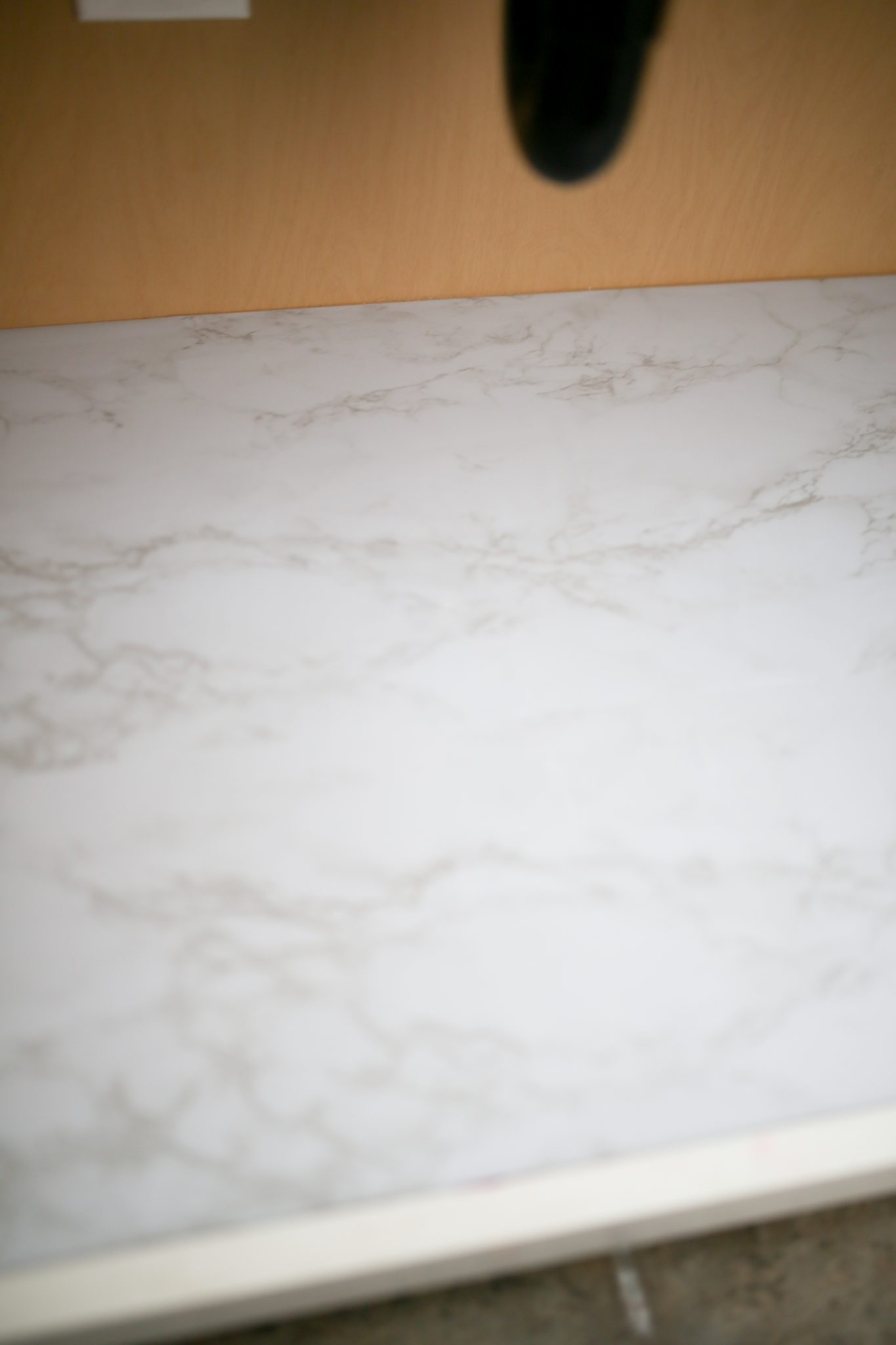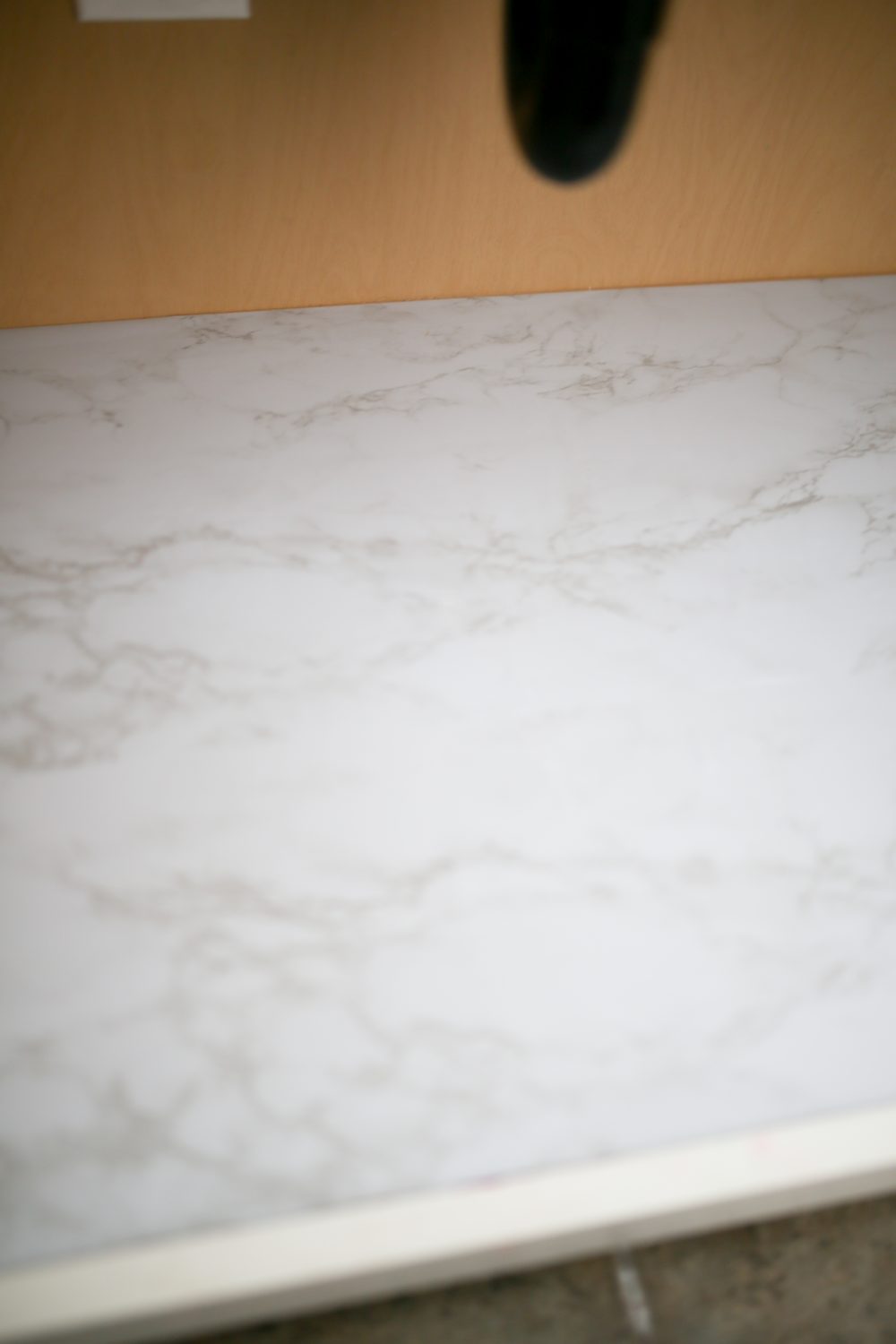 Measuring is also is a great idea during this stage. This way you'll know what size organizers will fit and the overall dimensions of the space you're working with.
Once you have the measurements then you can start to take inventory of what you need to store under the sink and how you will use the space! Underneath Livy's sink I will keep her trash, toilet paper backstock and other beauty supplies that she might use on the daily, including some face washing products now that she's a preteen!
Once you have all that you can go ahead and order your products! Take a look at what we got for the space for this under cabinet makeover!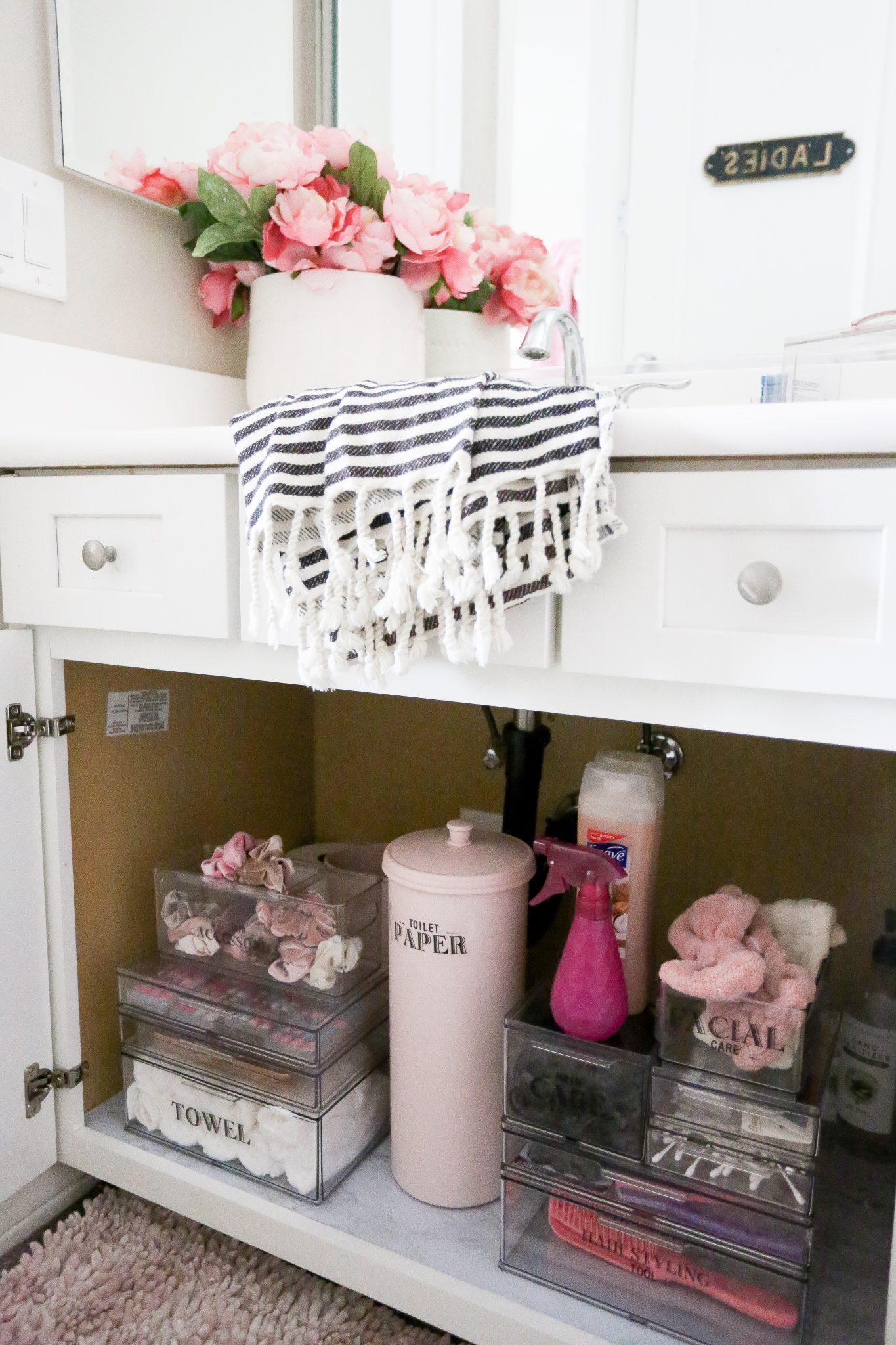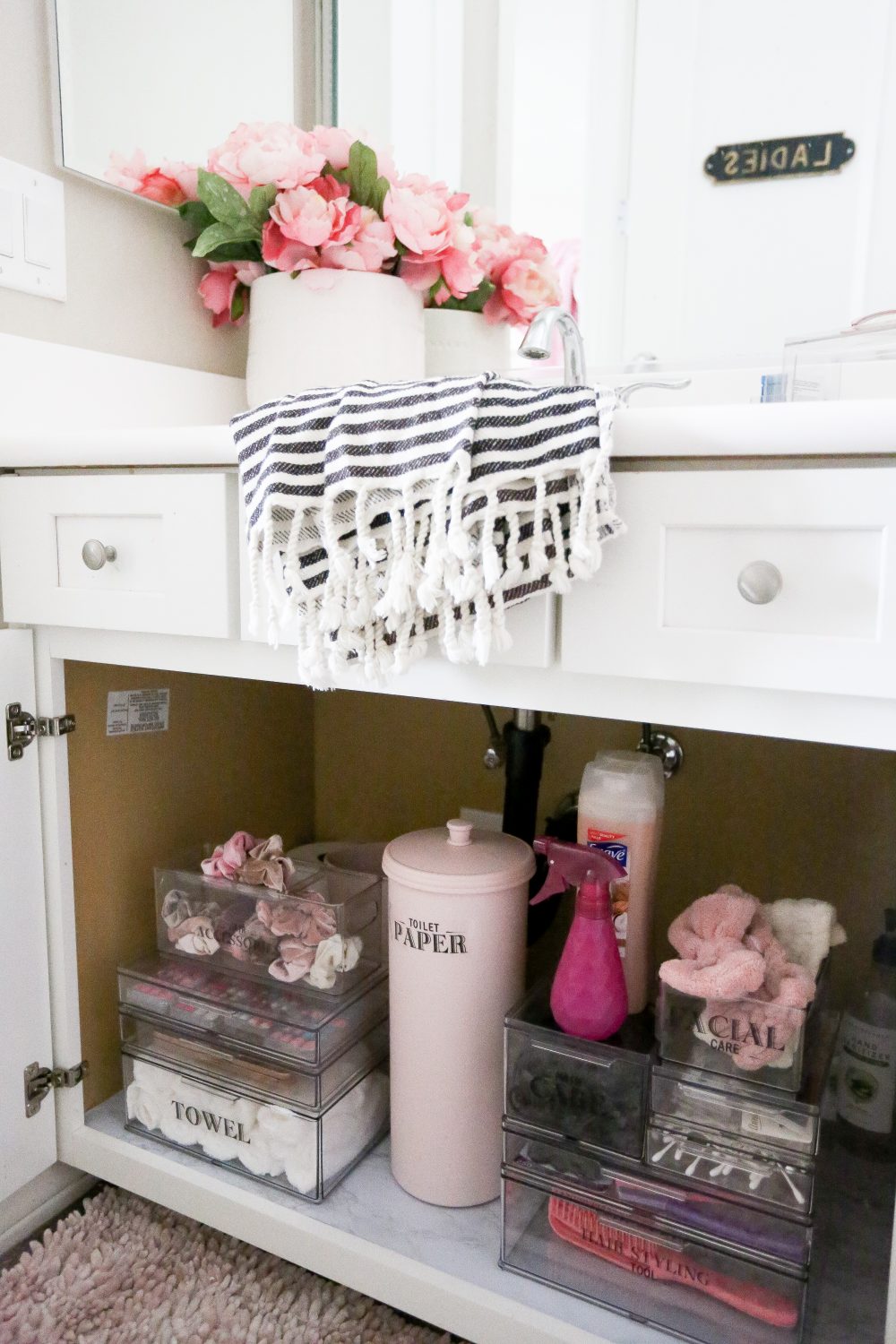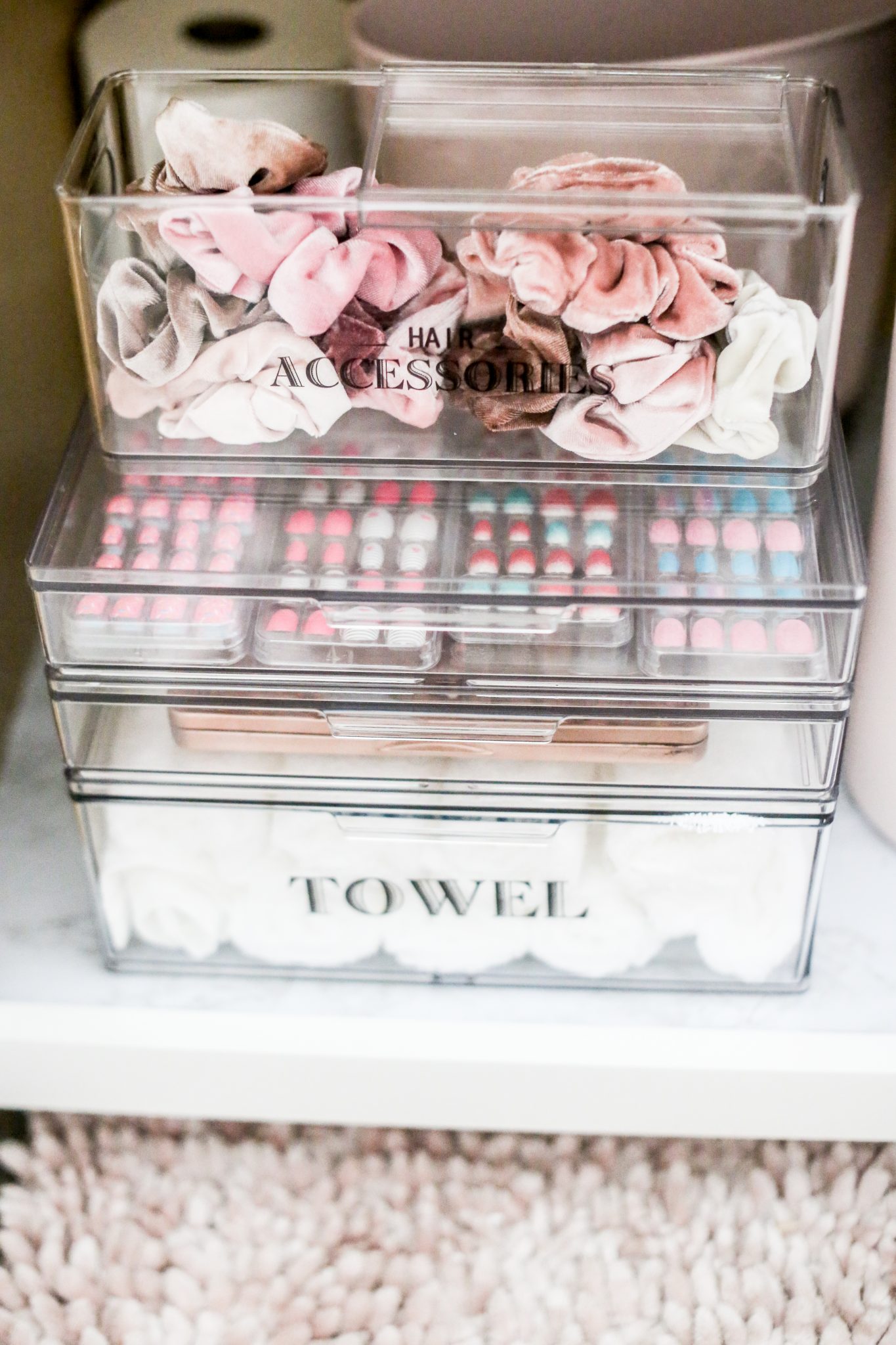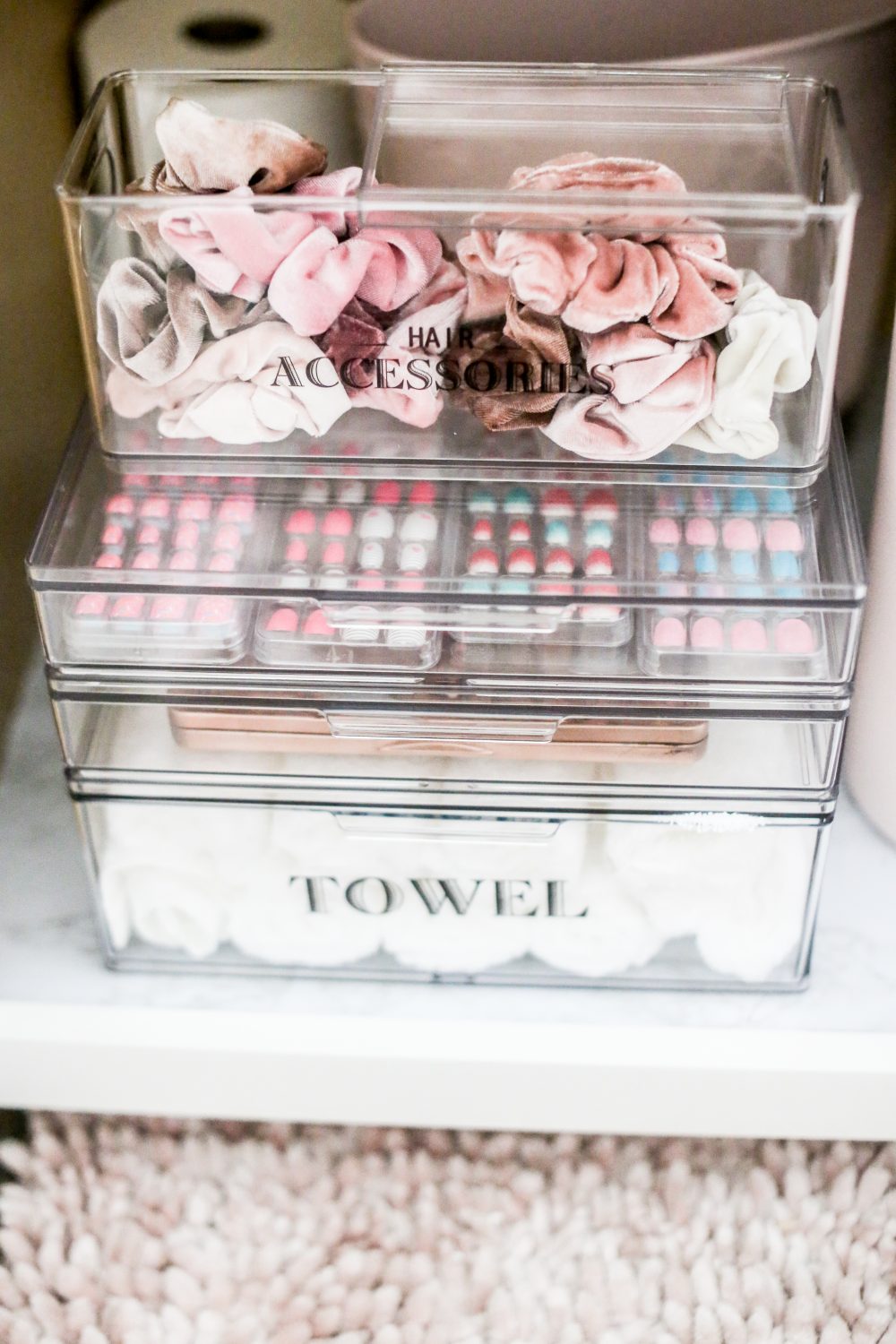 This set up to the left is full of some fun essentials just for her. On the bottom in a deep drawer that is full of face towels for when she washes her face at night. Fully stocked so it will last her a week or two to give time for washing days. The deep drawer is perfect for towels like this or as you can see on the other side, bulky items like hair brushes and combs!
Right above that is a shallow drawer with a eyeshadow palette ( for dance competitions) and then right above that a place for her faux nails she LOVES to rock!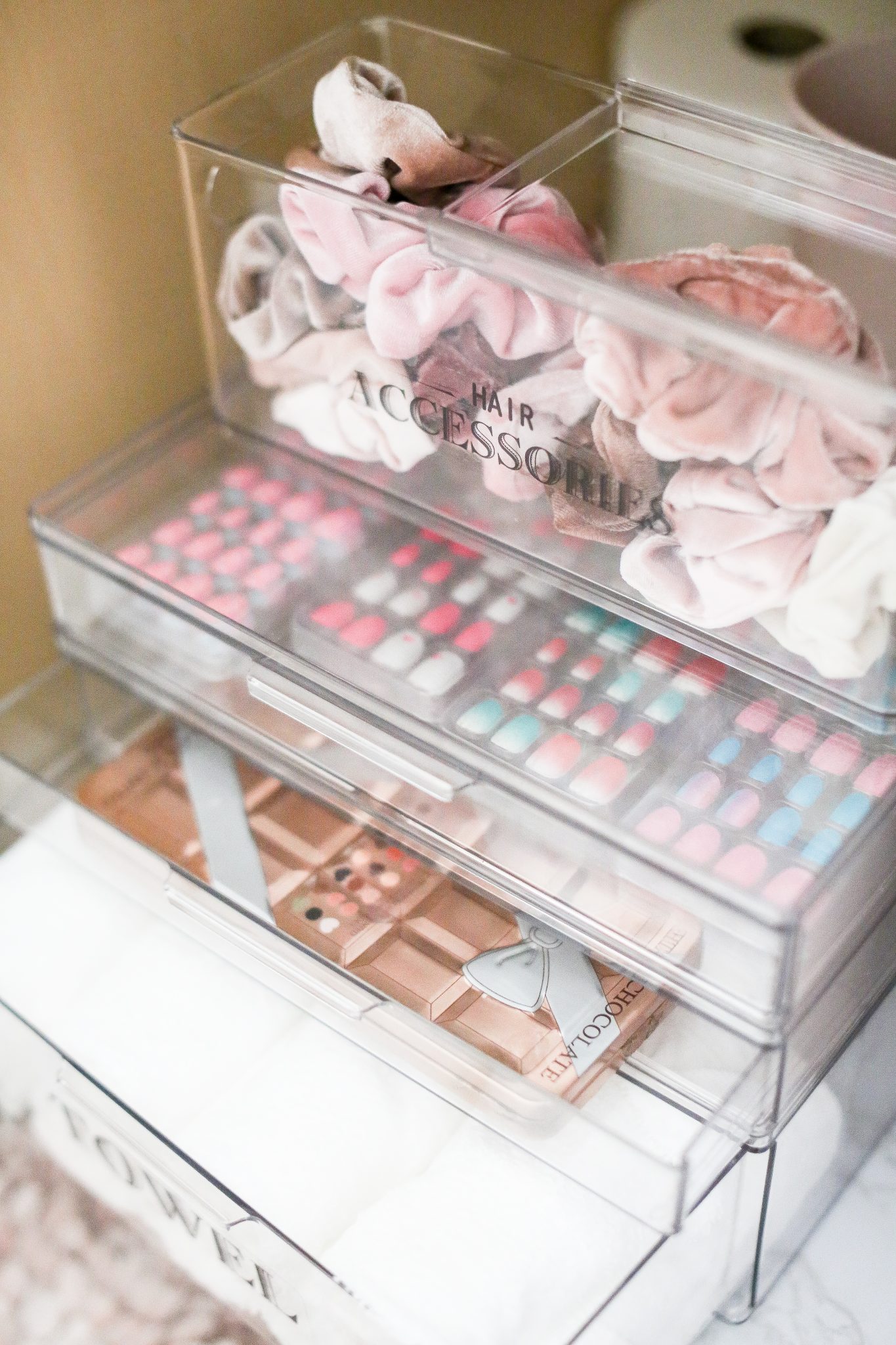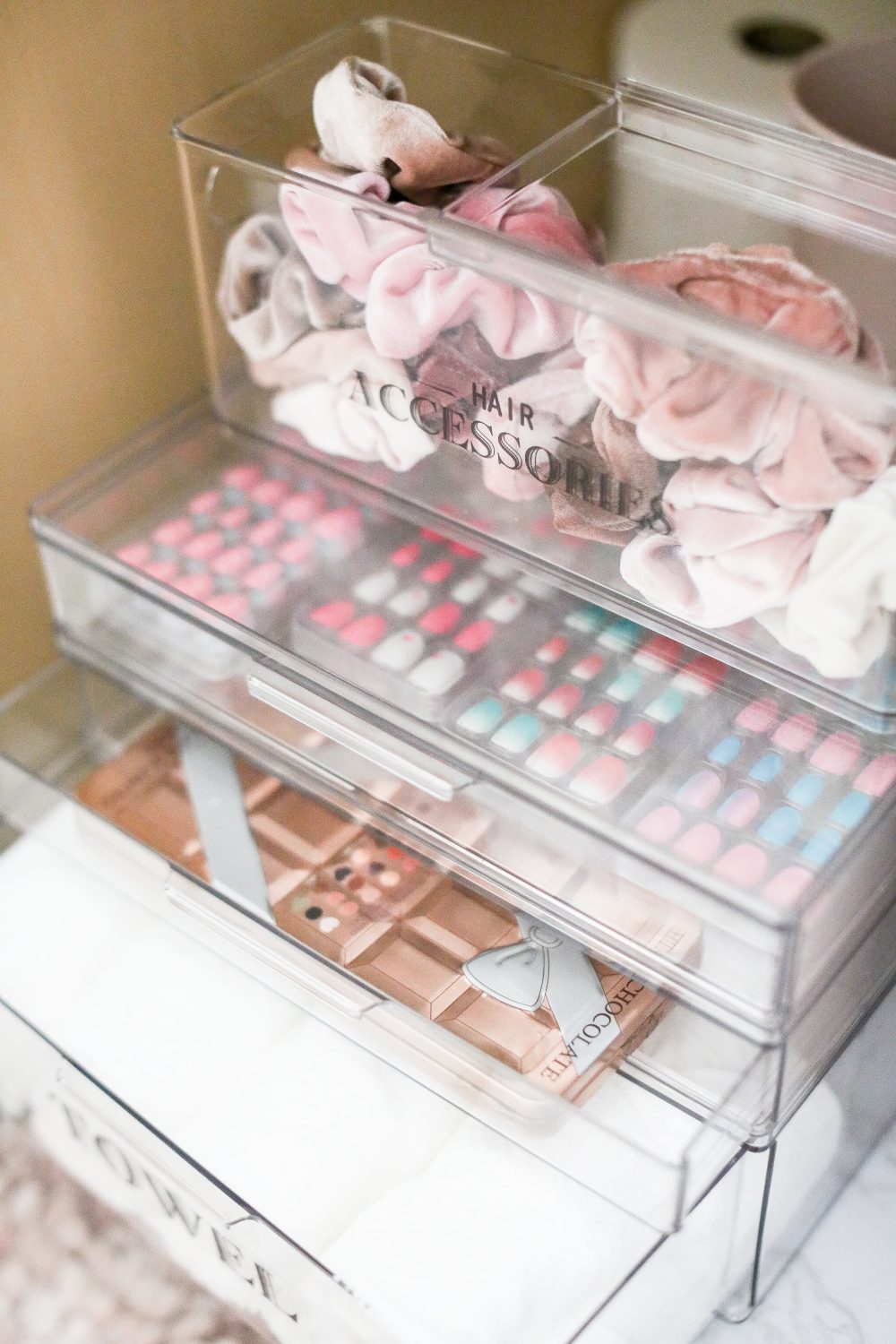 Pictured above.
Stacking Large Shallow Drawer.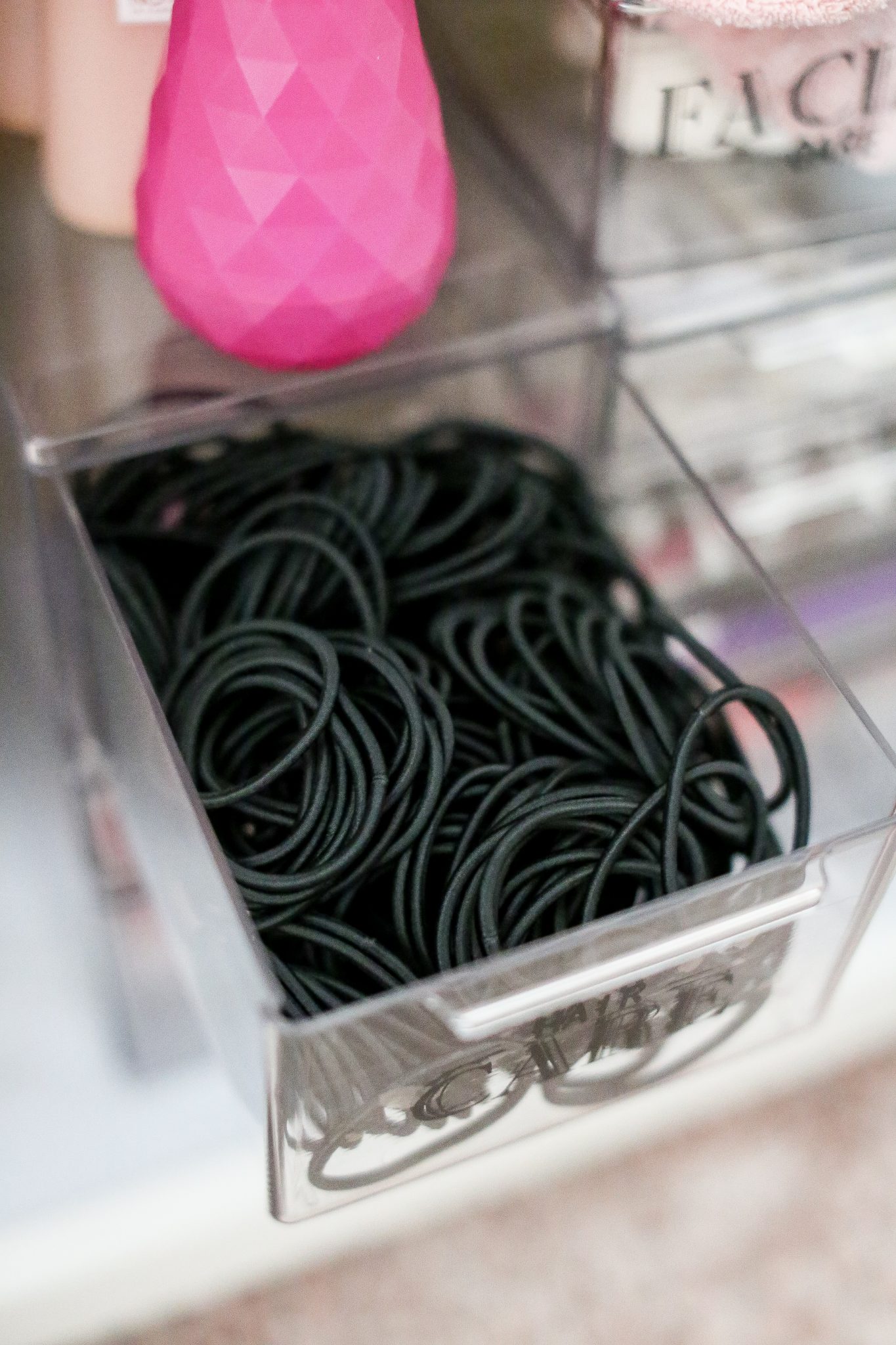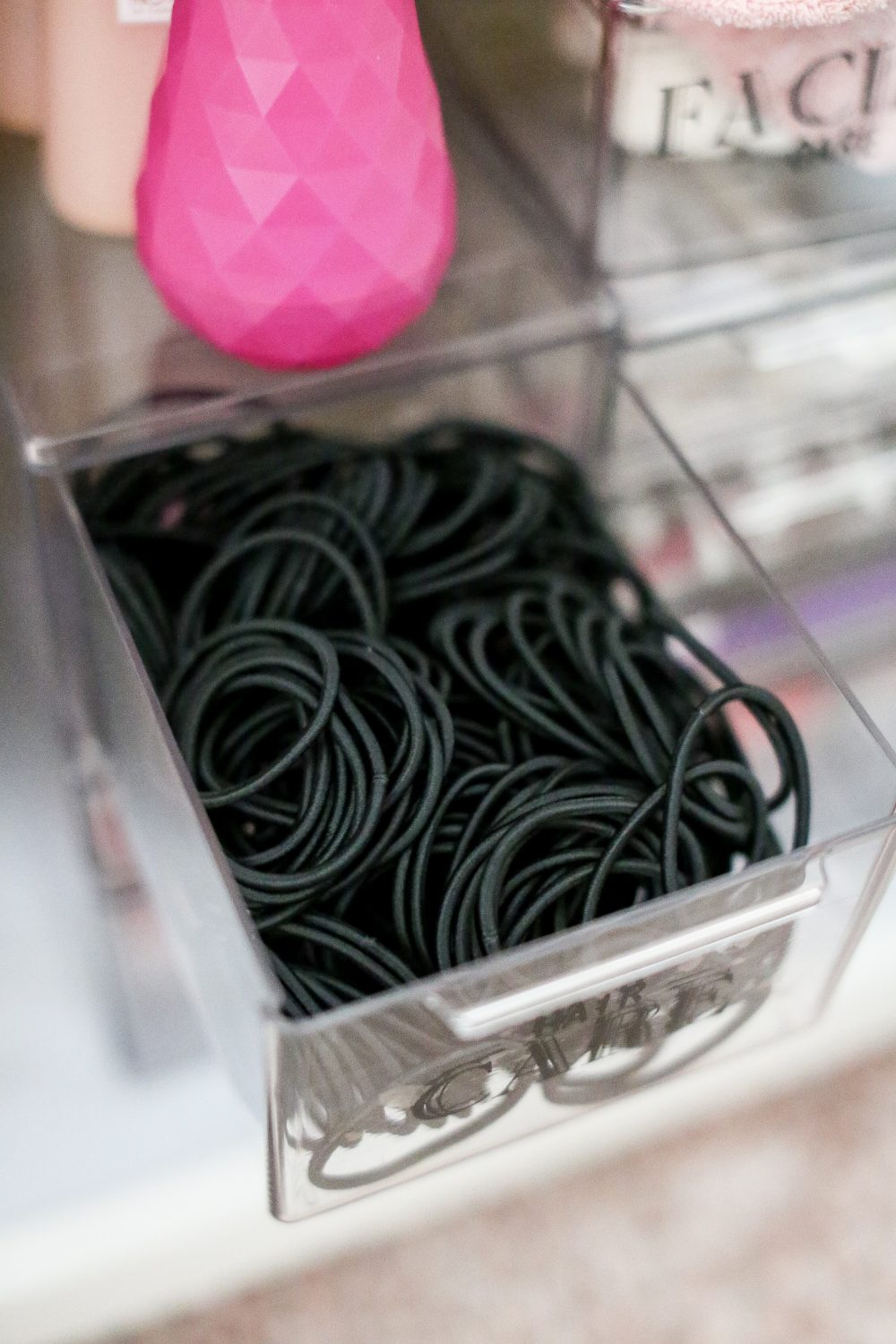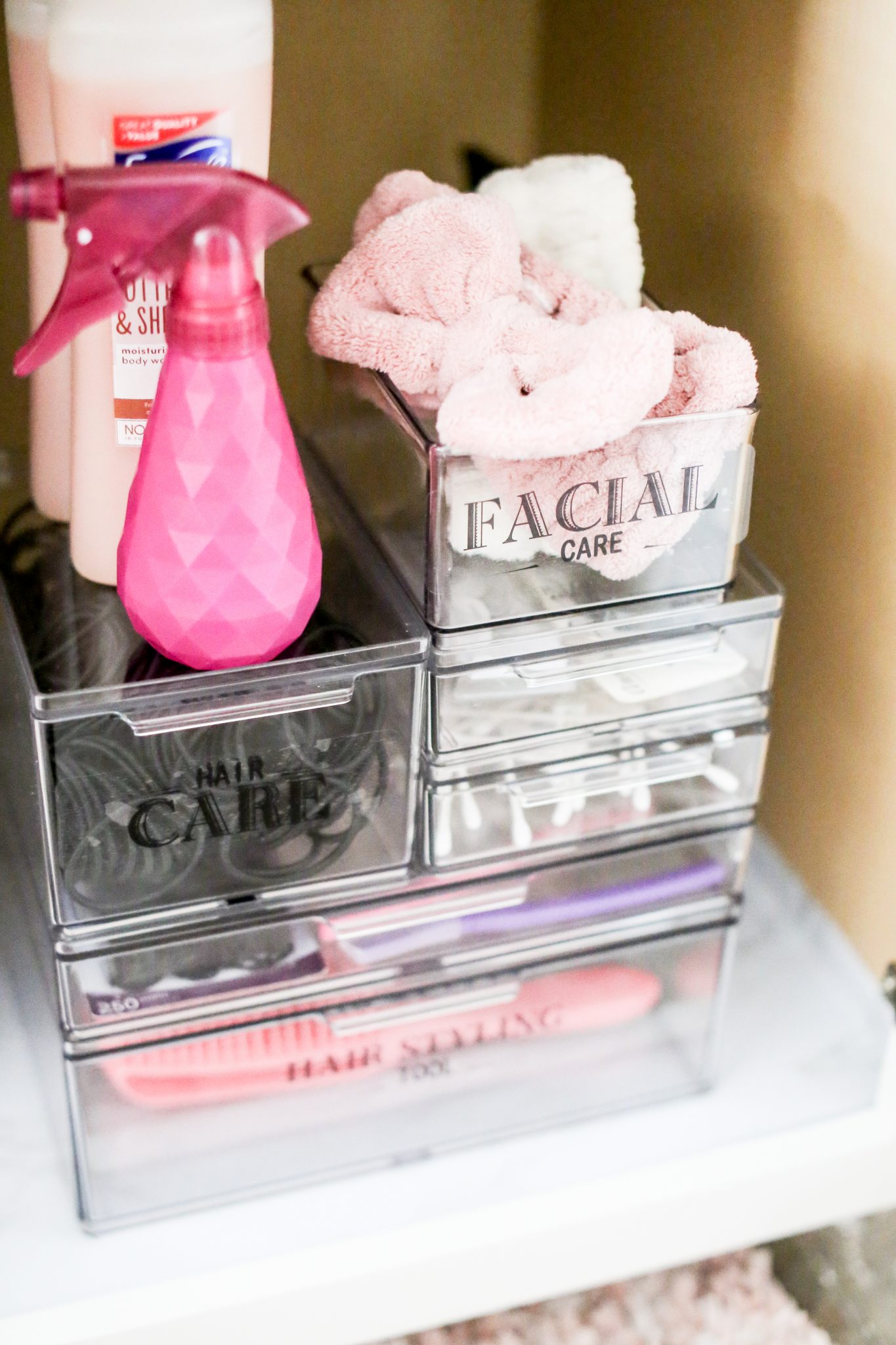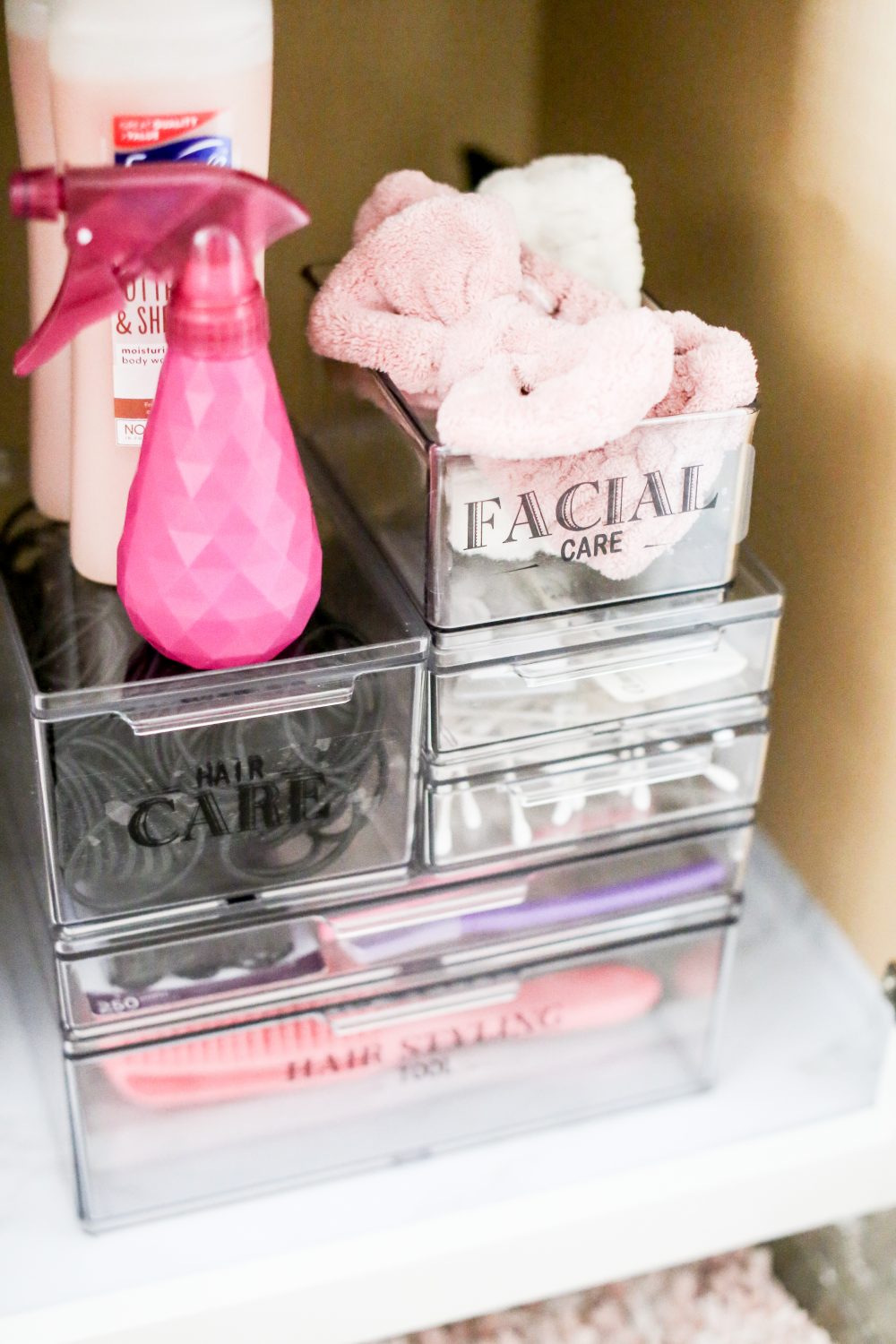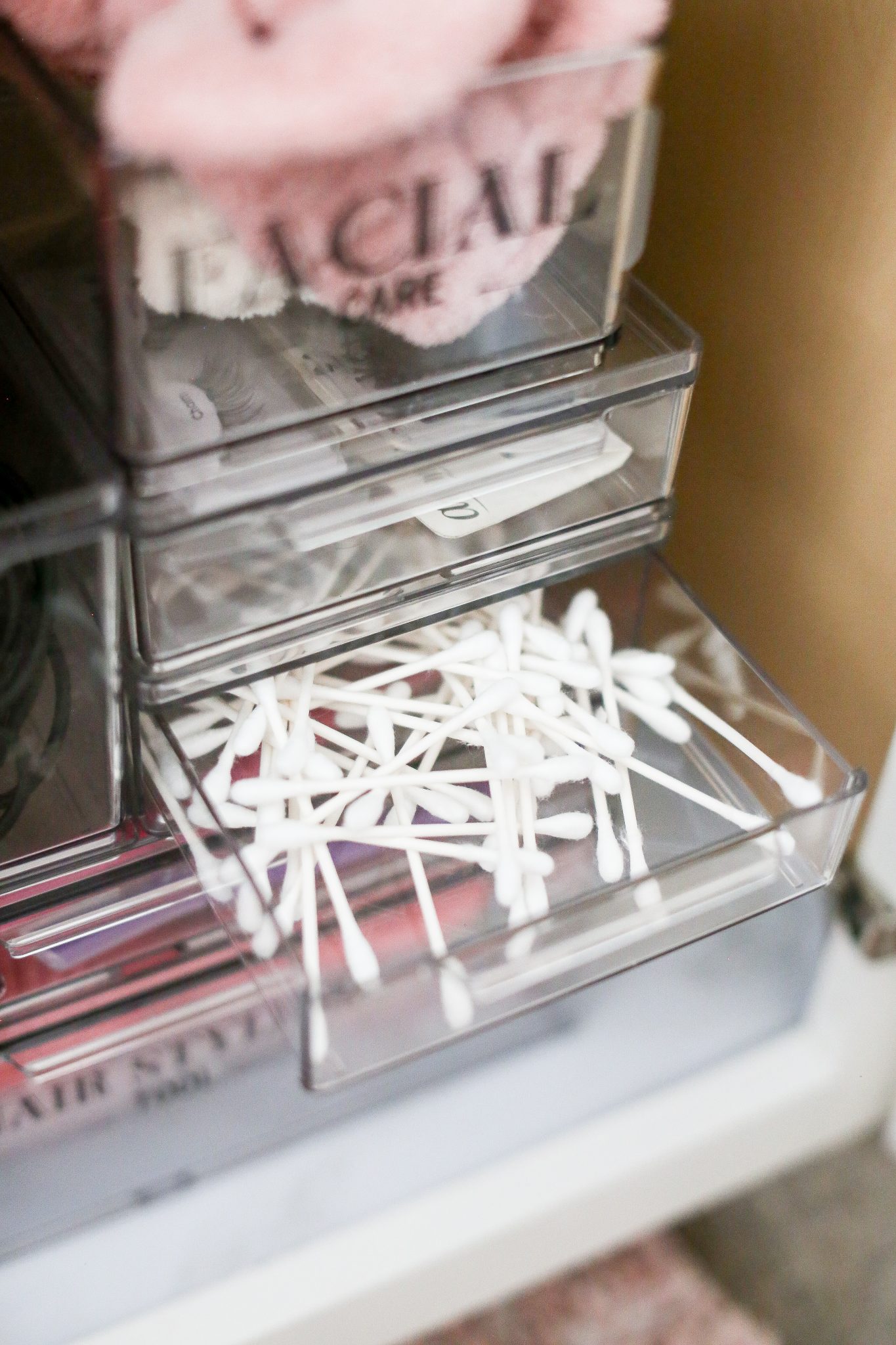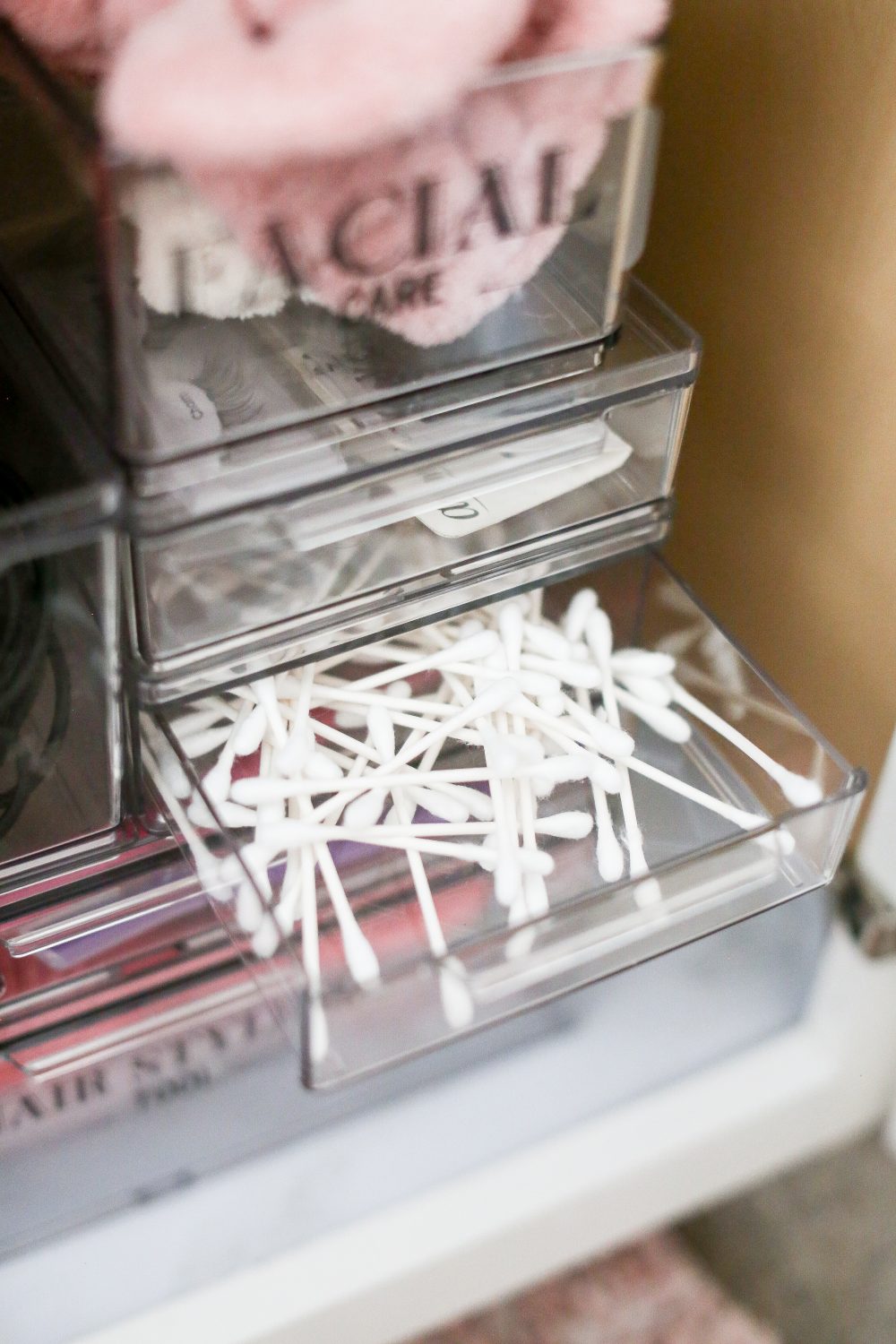 Above we got her medicine cabinet organized with some other functional products from The Container Store.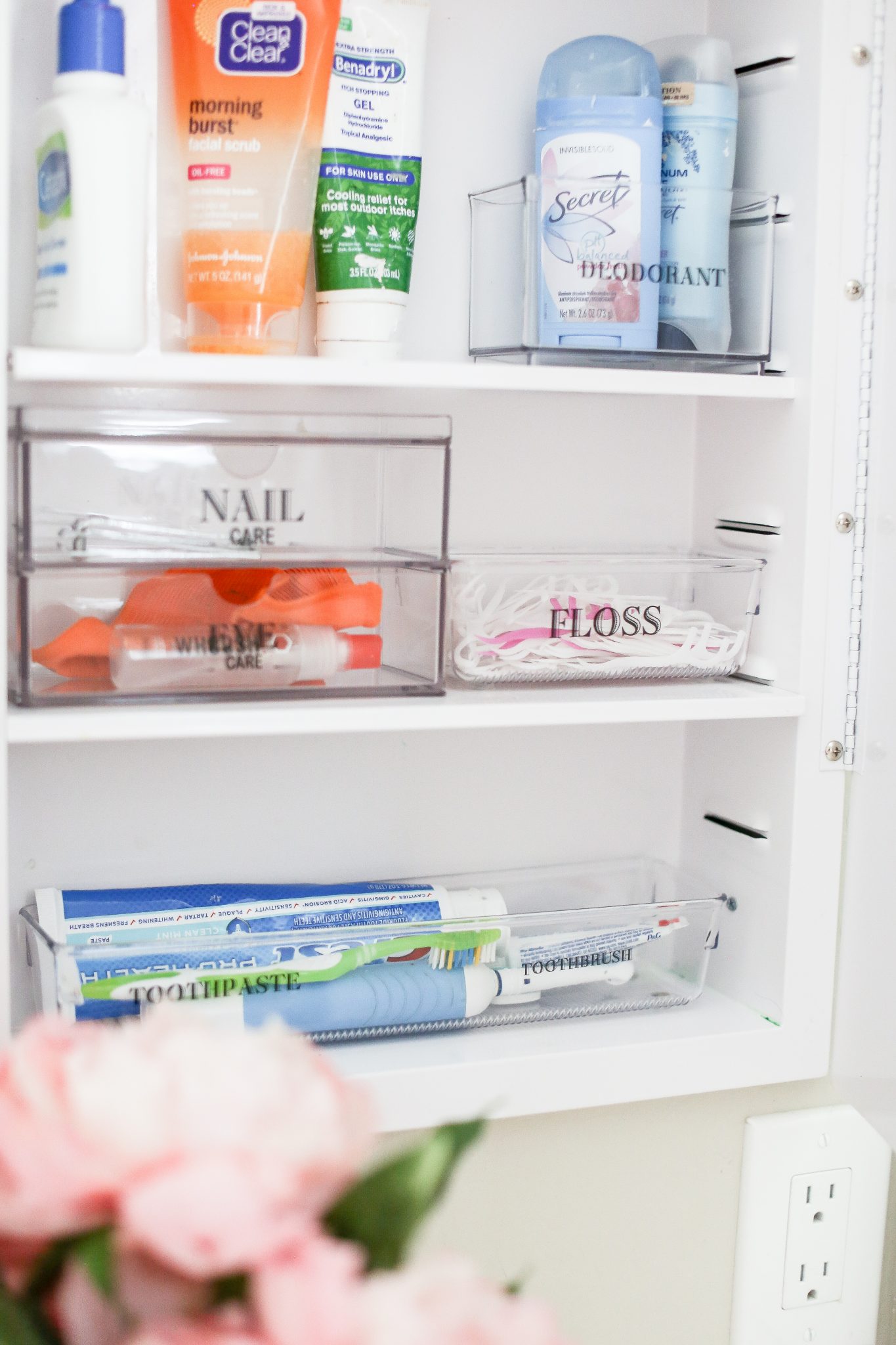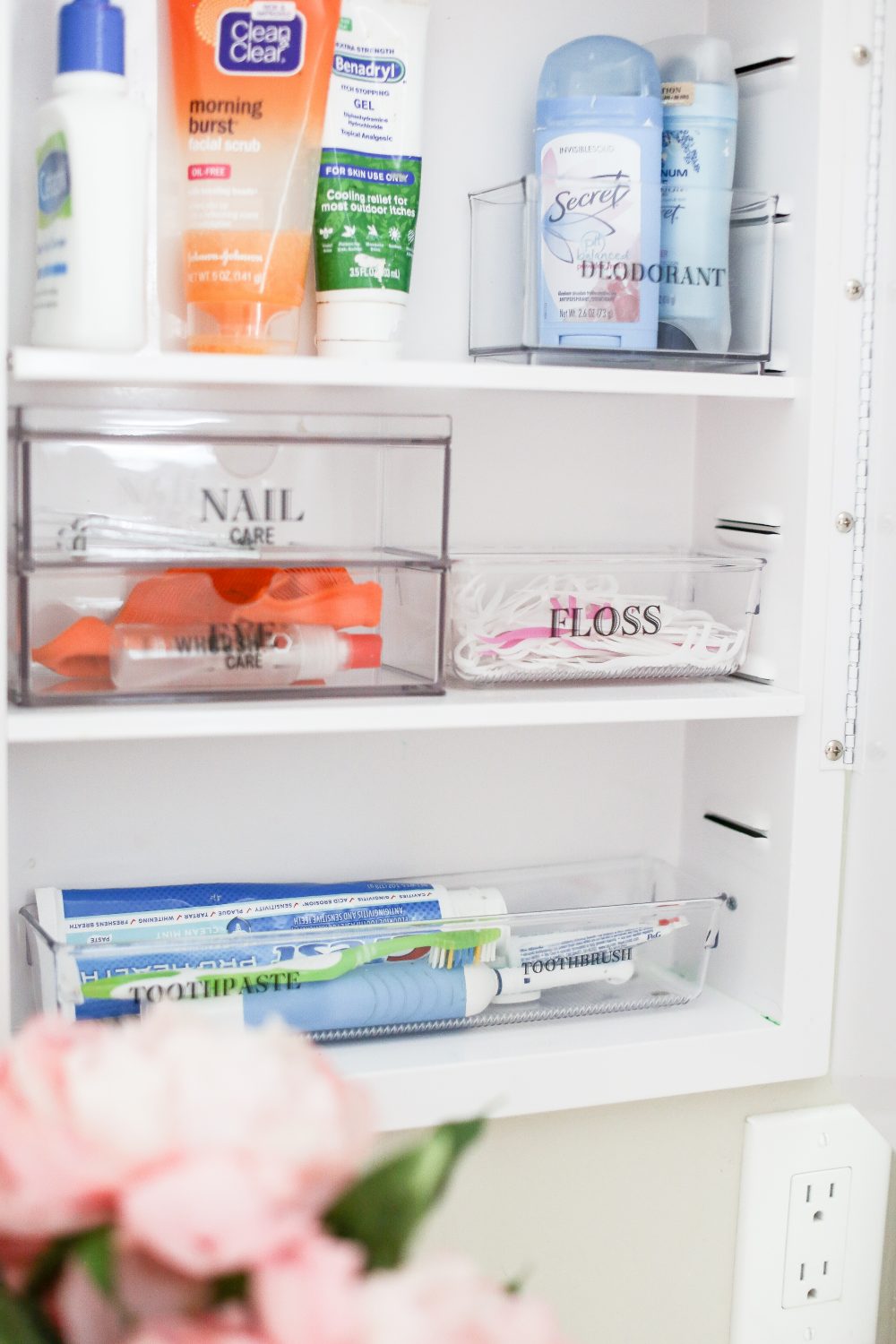 I used the mini two drawer container to keep her nail care and eyewear items contained. I love how all of these containers are clear so you can see exactly what's in them.
Her toothbrush, toothpaste and floss are all contained in the Everything Drawer Organizers. These come in multiple sizes but we used the longer 3″ x 12″ x 2″ h and the 3″ x 6″ x 2″ h which were both perfect fits for the shallow medicine cabinet.
The deodorant is contained in a THE HOME EDIT T.H.E. Small Bin Organizer Clear.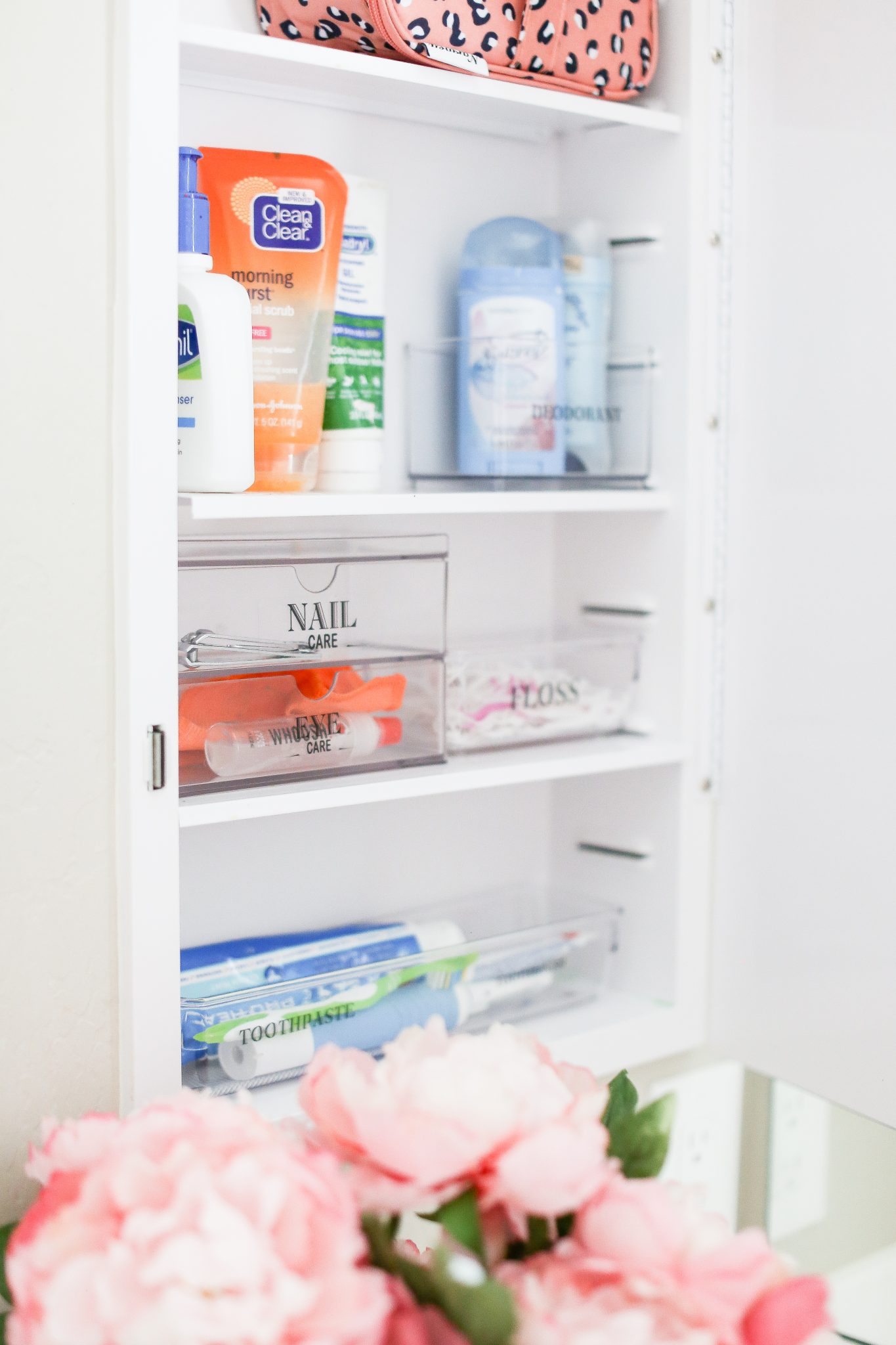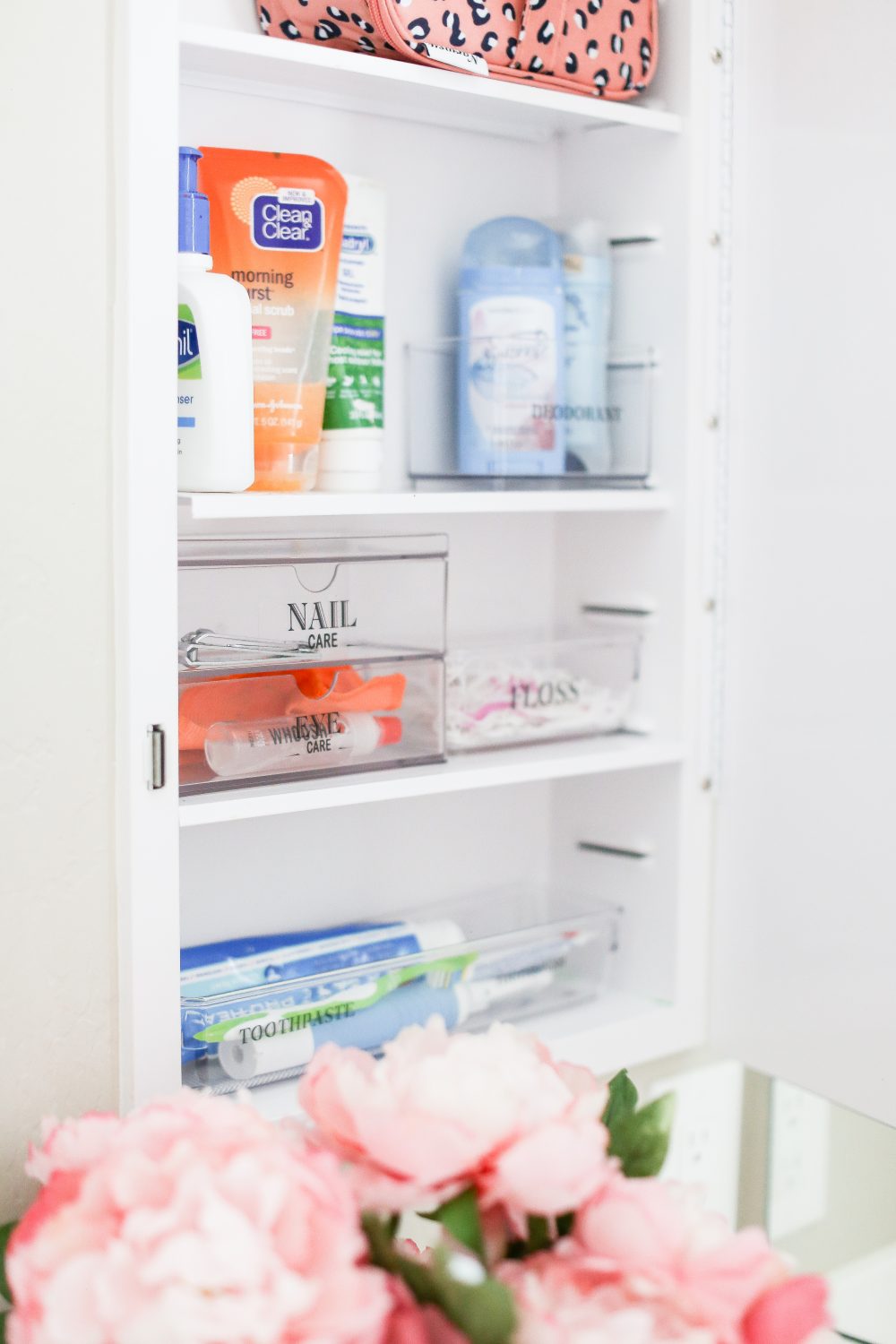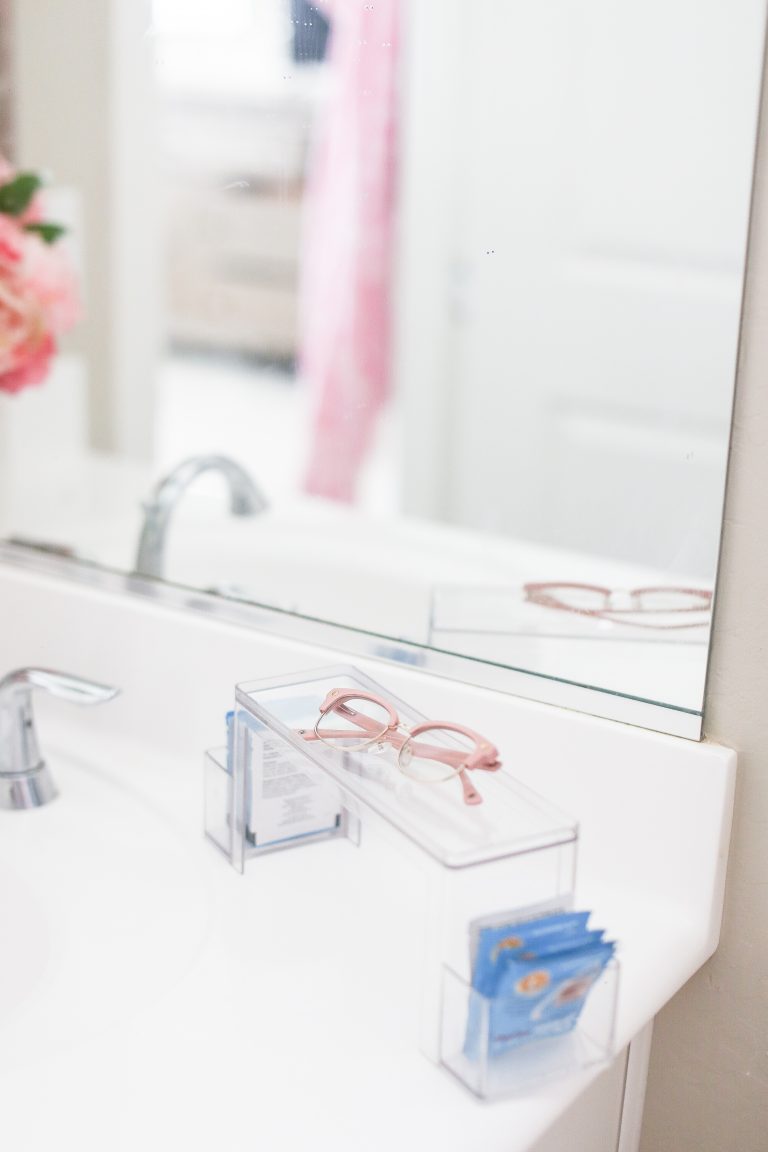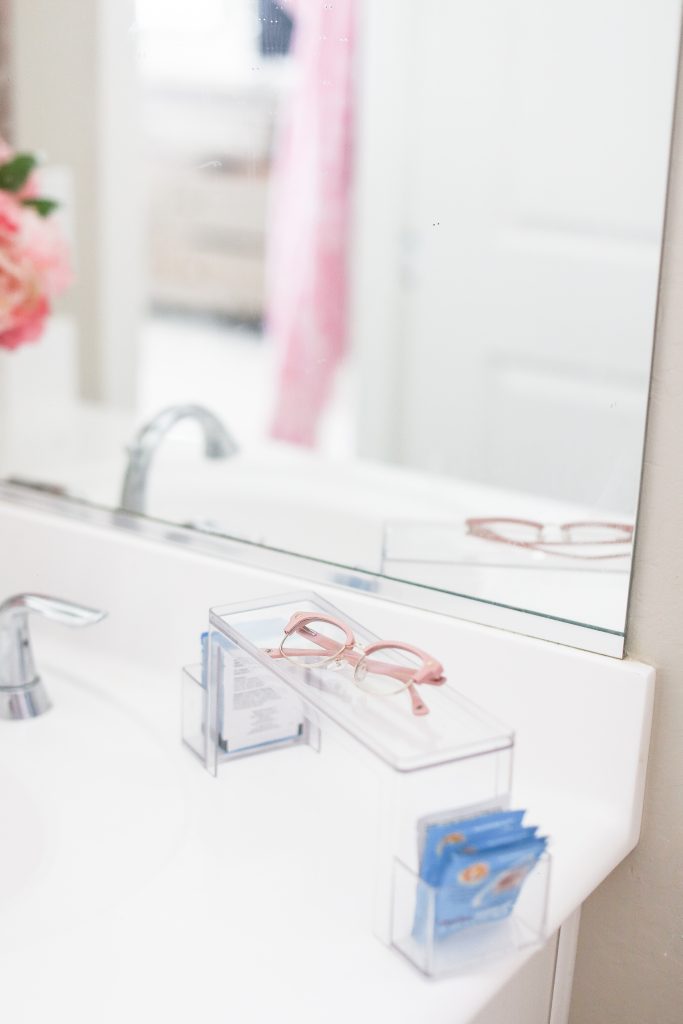 This 2-tier organizer is perfect for her glasses and eyelid wipes that she used daily! Once she gets older I think it will be a perfect spot for contact lenses and solutions!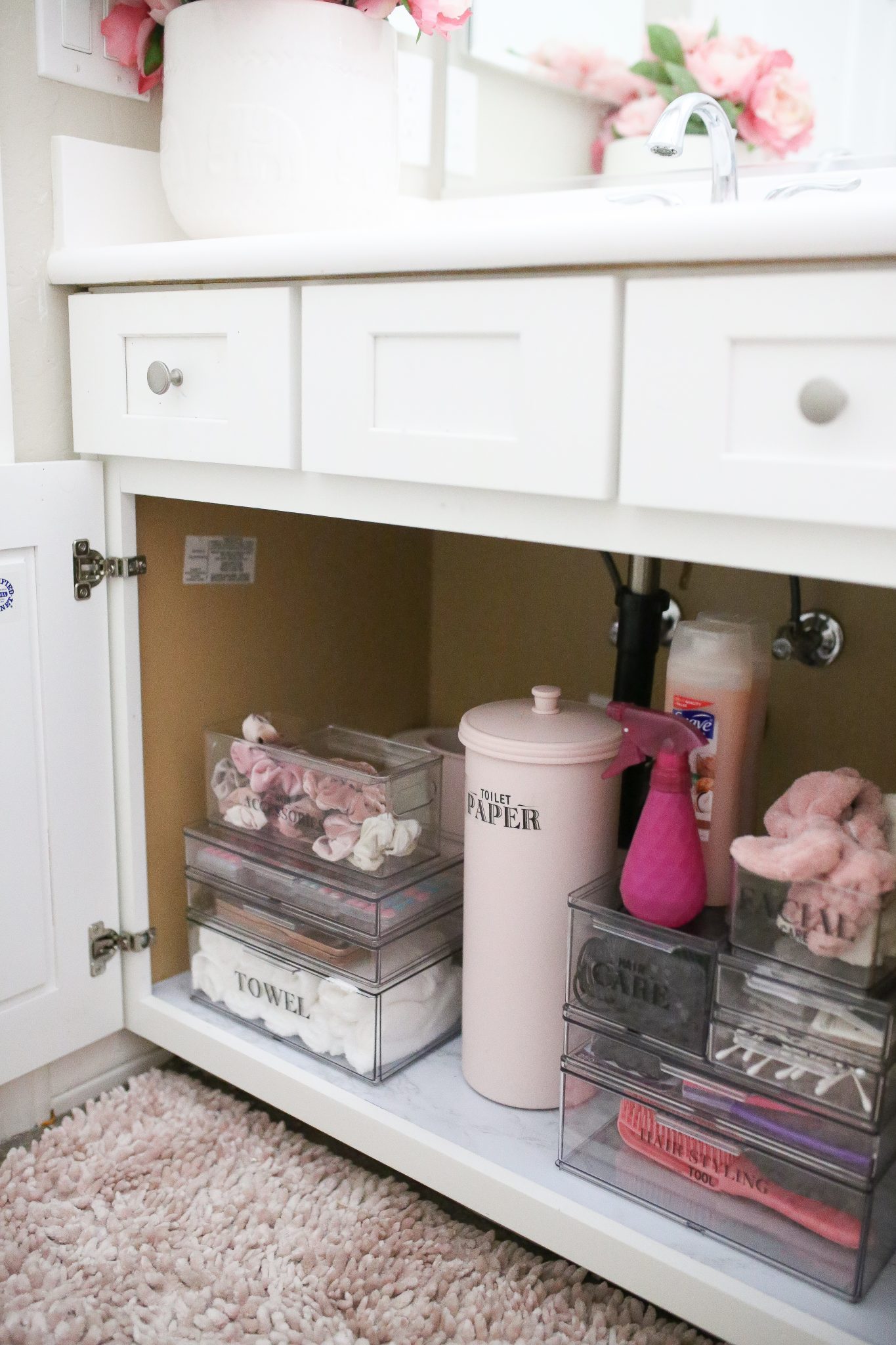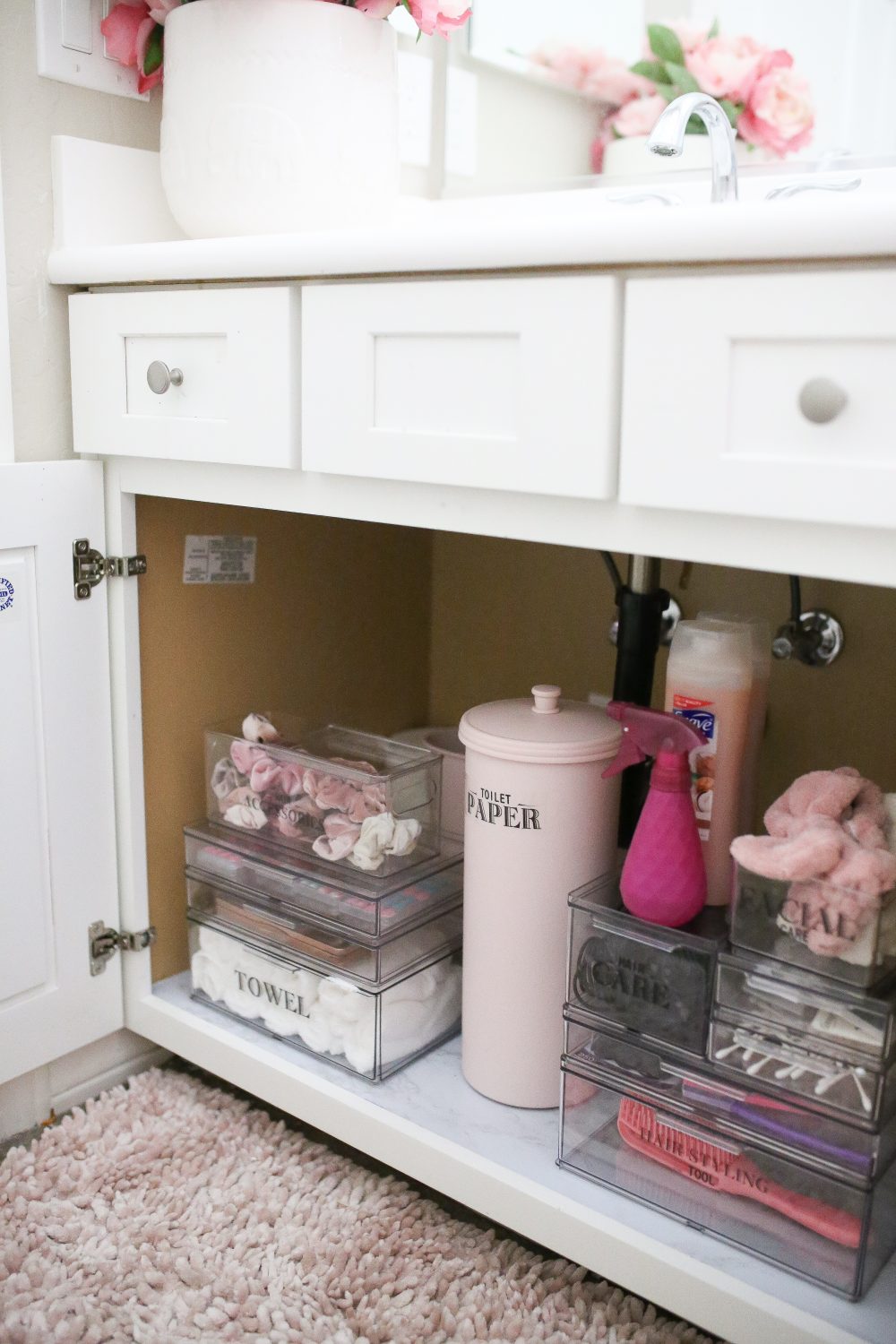 Hopefully that give you all some great ideas on how to organize your own bathroom spaces! Check out more of my organization projects on Just Destiny Mag!