This post is sponsored and may contain affiliate links, please read my disclosure policy.
I'm still working on my master! I wanted to make sure that I included some art in our room.. If you look around my home it's something that I lack when it comes to decorating. It really comes down to a few different reasons.
one. I really don't like any traditional "art" I see. I'm mostly drawn to photography anyway.
two.When I do find something I like I don't know what frame to get, how big to get it, and where to put it. Oh the drama.
[line]
It's actually pretty intimidating. I mean people have art up in there home for YEARS!! BUT I decided to dive in an pick out some pieces I love from one of my favorite places Minted. Remember my Christmas Cards from a few years ago and that large print in my office.
So for my master bedroom I wanted something that was large,something that I would LOVE to wake up to everyday and fall asleep to every night and also something that was still pretty monochromatic, peaceful and not to loud. For us, that would be the beach:0) Just thinking about it makes me smile. Here are some of my favorites that I think would look amazing in a large print.
But then again, there's something about Paris. Maybe because every Paris picture I see is dreamy. (sigh) one day soon I hope to see it in real life.
Here's what it might look like in our room! Hmmmm this is gonna be hard! Paris, I'm really liking you. Even if your not monochromatic. See this is why its SO hard!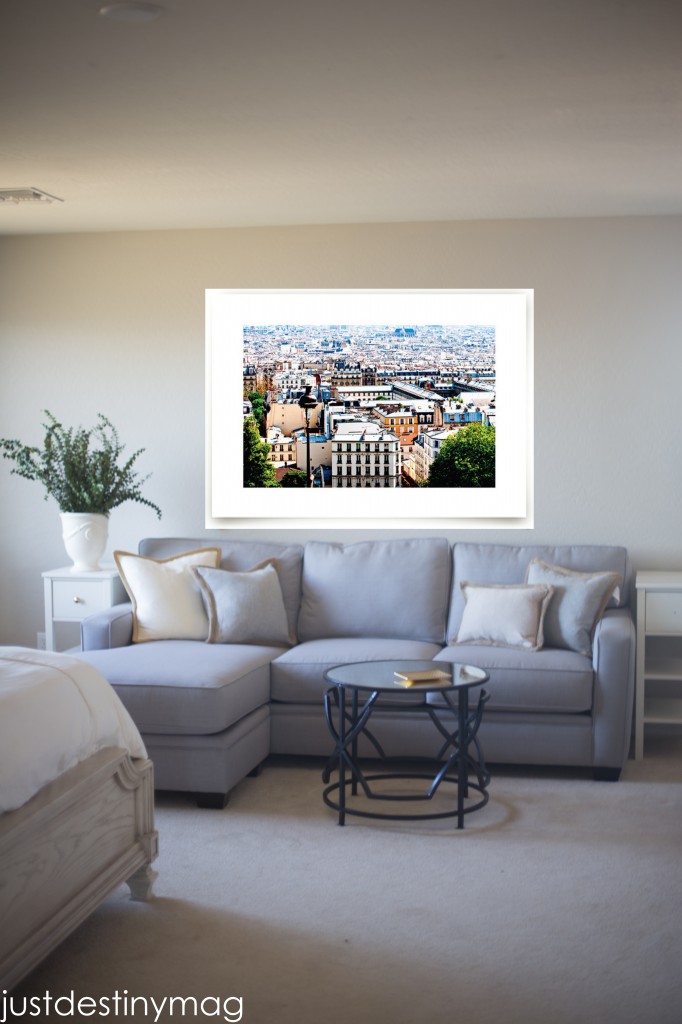 So here's the question. Do I go with something that I LOVE or go with something that stays true to my original design? Hopeful it's both right? Stay tune:0)
[line]
Right now Minted is having a great Fourth of July sale! Free shipping for all Baby & Kids orders $75+ (excluding art orders) and 15% off all wedding stationery + décor!
JustDestinyMag is an affiliate of Minted.com and this post includes affiliate links.