2022 Just Destiny Gift Guides: Gifts for Teen Girls
This post is sponsored and may contain affiliate links, please read my disclosure policy.
Great gift ideas for the teen girl who's into everything. This guide might be full of pink but click the links to find your teens favorite colors in all these trendy gift ideas for your favorite teen!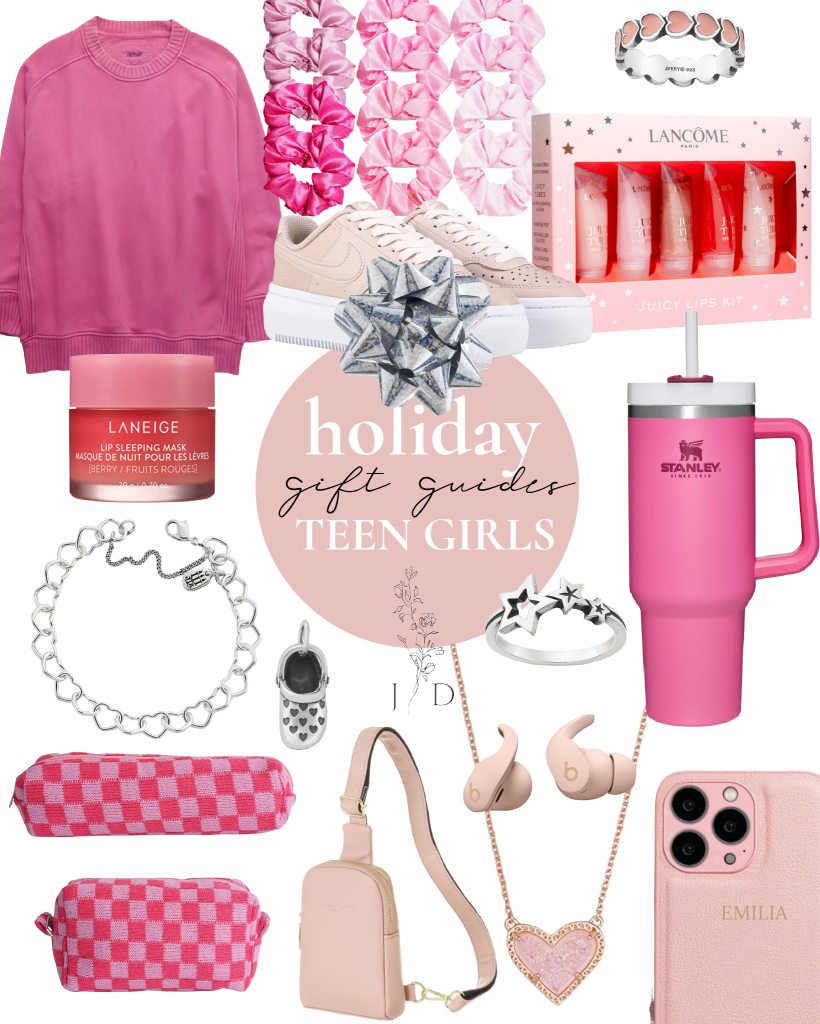 Pink Oversized Sweatshirt – simple oversized sweatshirt that is super soft! Made from a teen brand favorite!
Satin Scrunchies Set– sometimes they hair has to go up so this set of scrunchies will always be used. Great stocking stuffer too! Under $10
Pink Hearts Ring – love this ring. Super pretty. It also comes in different colors! Great for the girls who loves rings on each finger! 
Nike Platform Shoes – super cute shoes. Love the high platform style and teens loves these shoes right now! The color is amazing too! We just gifted these to a friend for her birthday and she loved them! 
Best Lip Gloss Set – I'm not sure if there is a better lip gloss set. I LOVE these!! My sister in law got them for me years ago and they've been on my list every year. Perfect for the teen girl now! 
Lip Sleeping Mask – super popular lip mask for super soft lips! Has a cult following so I'm sure it works! 
Stanley Cup – the most popular cup in the world and it comes in pink. Yes please! 
Charm Bracelet and Charms – this James Avery bracelet and charm in the perfect introduction to a charm bracelet. Gift a different charm for each occasion or event! She will have the best collection ever and memories to follow! 
Star Ring–  a cute ring for your superstar teen! Gift it with a message letting them know how special they are.
Pink Beats– love the color of these beats by Kim K! 
Checkered Makeup Bags– the checked pattern is still a thing and these cute little bags will make her smile. Again comes in a few different colors so make sure you look around 
Crossover Bag great alternative to the belt bag every teen still wants! This is leather and comes in so many colors. I'm sure she will love it! Plus it's different! 
Heart Necklace – sweet little necklace with a statement heart.
Personalized Cellphone Case – a great stocking stuffer, plus just a fun gift for those who like to switch up phone cases!