2022 Just Destiny Gift Guides: Gift for the Hostess
This post is sponsored and may contain affiliate links, please read my disclosure policy.
It's party season! So you'll need something in hand as you enter the homes of all your favorite people. These gifts are thoughtful ideas for your host this season! Every budget starting at $10!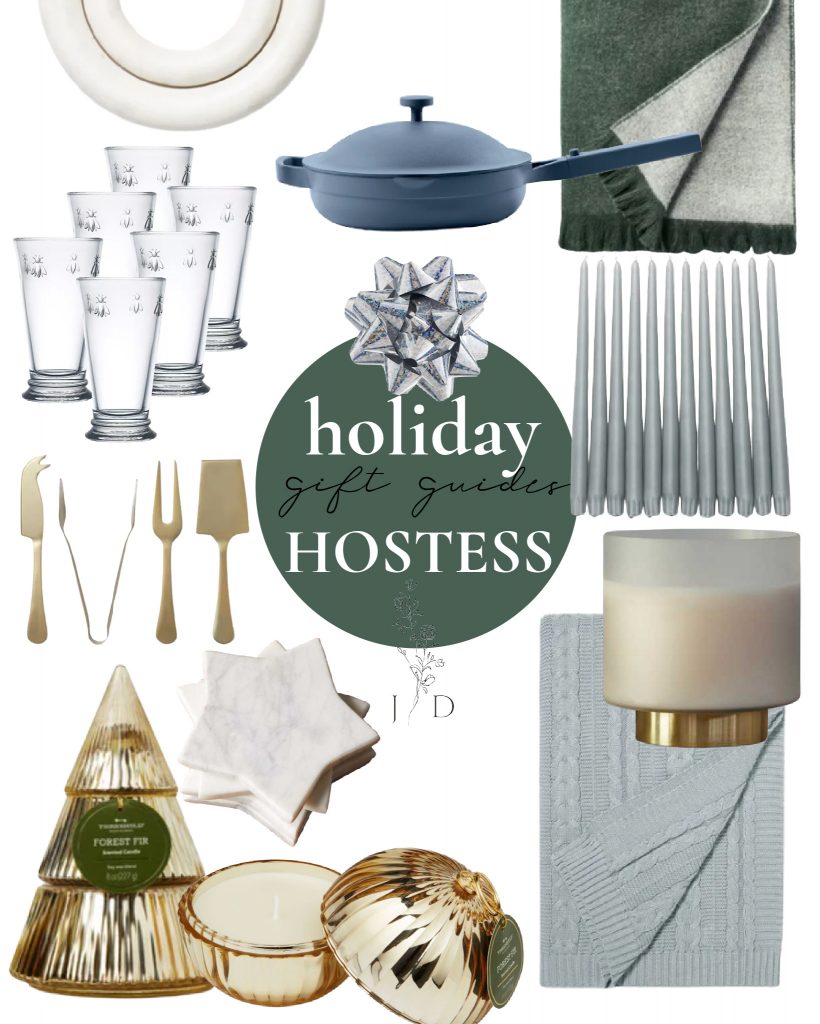 Marble Trivet – Great for the kitchen! This comes with two round trivets for hot food or casseroles. 
Always Pan- I have this pan and use it daily. It's just SO easy to use. Light enough to pull out of the cabinet each day and easy to clean. Winner for sure. 
Green Faux Mohair Blanket- something cozy for the home lover and her guests! 
Bee Glasses– every entertainer will love a set of these classic iconic glasses! 
Tapered Candles– a set of tapered candles in a pretty gray/blue color. Wrap them with a ribbon and you got yourself a pretty little gift. 
Cheese Knife Set– great for charcuterie boards during the holiday! 
Large Arhaus Candle- the largest size is expensive but worth it. It's a beautiful candle I don't mind getting once a year!! 
Marble Star Coaster– these are great along with your favorite wine glasses or on there own! Anything marble is always a great choice in my opinion haa! 
Christmas Tree candle/ Ornament Candle– so cute! and only $10. Gift these BEFORE the holiday so your hostess can use them. Perfect for Thanksgiving day hostess gifts.  
Cable Knit Blanket– I love gifting blankets. They are just the perfect gift because you can use them all around. Who dosen't love a cozy blanket! Use your favorite satin ribbon and gift tag to make it extra special.