2022 Just Destiny Gift Guides: Gifts for Her
This post is sponsored and may contain affiliate links, please read my disclosure policy.
She has everything but you still want to get her something. These are my picks this year and the ones I don't own are on my list this year too! Thoughtful, budget friendly gift ideas for the women in your life!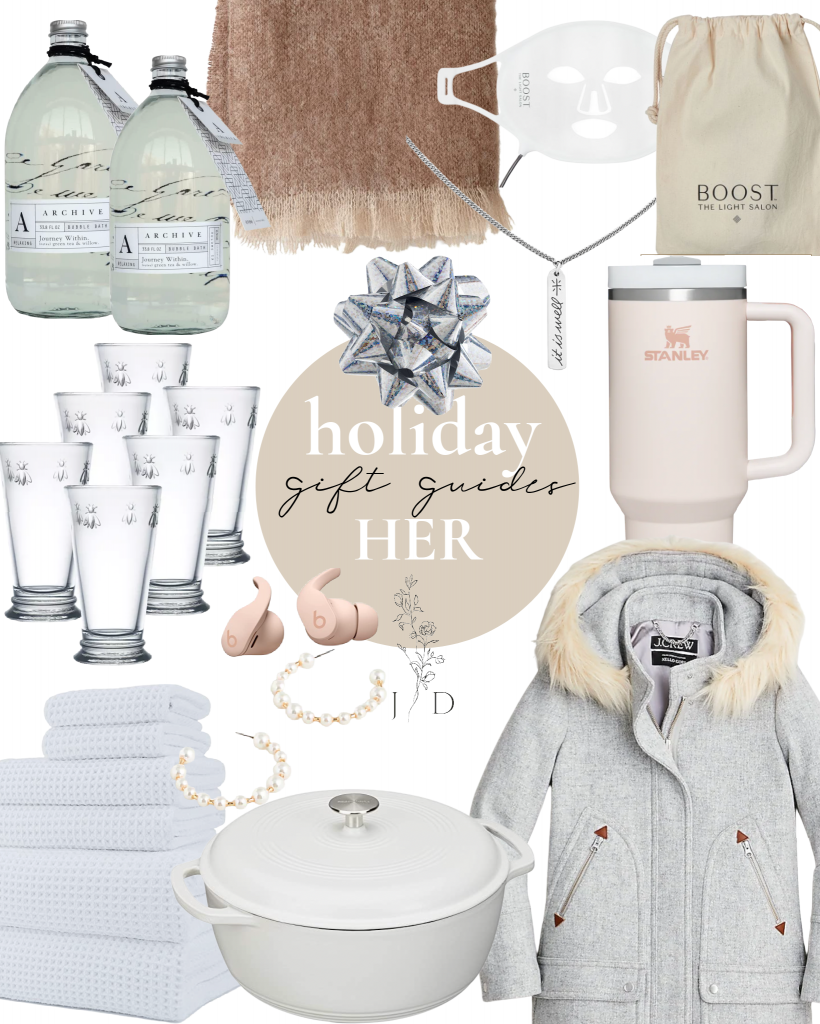 Luxury Bubble Bath– for those bath lovers, this is one of my favorites! Has just the lightest scent. Plus I'm not gonna lie. The presentation/packaging. Here for that 100%.
Mohair Blanket– totally into mohair lately and this blanket is perfect. You will love how soft it is! 
Light Mask- I heard about this on Alice Lane Home and now I must have it! Great for those who love to baby their skin. I still recommend this weekly, but so so interested to try this one too! Expensive but I think it will be worth it if you are a skin person! 
Bee Glasses– ohhh these glasses. I don't know what it is about them but I LOVE THEM SO SO MUCH. It's sometime the little things. I seriously can't explain it. They just make me so happy. I think they would be such a great gift for the homelover in your life! 
It is Well Necklace– I've loved working with James Avery over the years. This necklace has the most simple phrase that says so much in hard seasons. It is well. Gift it to a girlfriend who needs to be reminded of God's goodness. 
Stanley Cup– Everyone loves it. I don't get it. But I also kind of want one lol!  Get it before it sells out! I love this color. 
Pink Beats– Love the color of these Beats. 
Pearl Hoops– I have these and they are so classy! They go with everything too. Such a sweet and thoughtful gift. Perfect for your daughter in law or sister in law! 
Warm Parka Jacket– this jacket is SO dang cute. Classy and the color is just perfect. Plus I don't mind the fur on the trim of the hood. Makes it extra cozy. Great gift if you need a coat upgrade this year! 
Set of Waffle Towels– I always appreciate a stack of fresh linen. These beauties have a waffle texture that make you feel like you're in a five star hotel. Plus these are lint free and quick dry! 
Bestseller Dutch Oven– if you don't want to spend a million dollars on a french dutch oven then this is the one for you! I have it in a cream and it's held up just like my more expensive one!