2022 Just Destiny Gift Guides: Gifts for Teen Boys
This post is sponsored and may contain affiliate links, please read my disclosure policy.
Great gifts for your little man child. The teen gifts for boys will wishing they were still little! Gift them some useful and thoughtful gifts this season!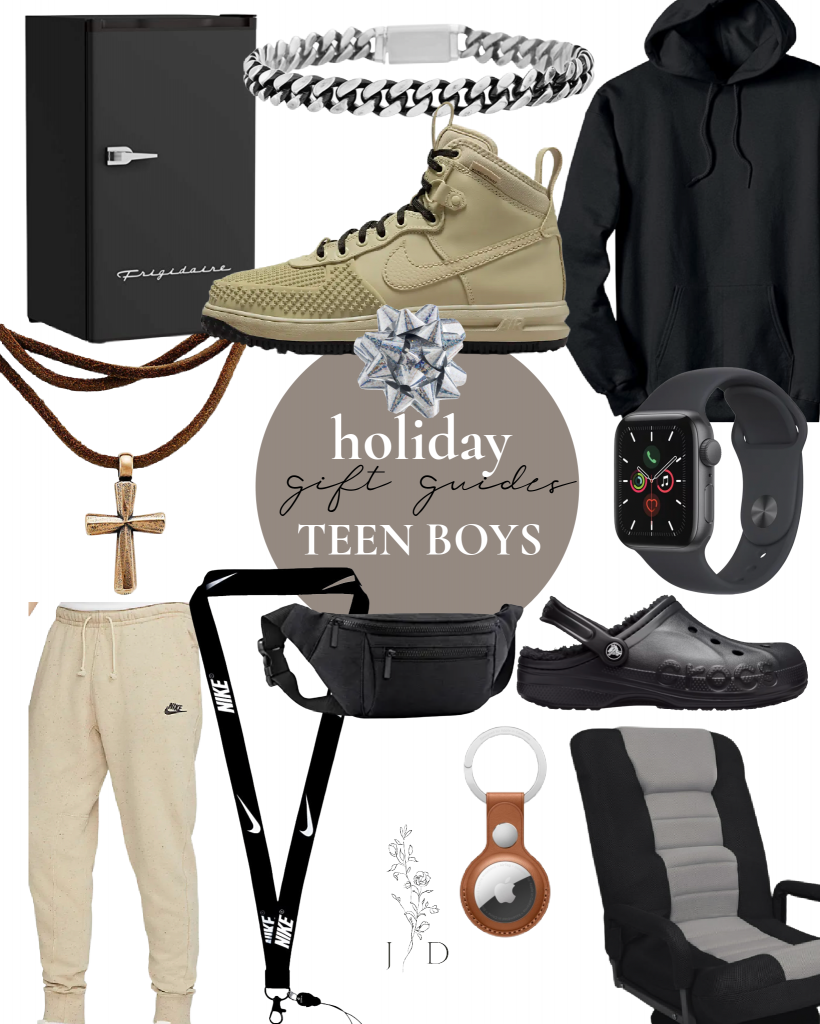 Mini Fridge – Great for their room. Just make sure they have a trash can to throw away all the drinks! 
Bracelet – if your teen is into jewelry he will love this classy bracelet. Plus it's under $20 
Black Hoodie – plain black hoodie that goes with everything. If your teen is super chill they will love this! 
Nike Shoes– I loved the color of these shoes and I'm sure one of my boys will too! 
Cross Leather Necklace – another great piece for the jewelry lover. This leather with the sterling silver cross is sentimental and makes a great gift! 
Apple Watch – for the kid who already has a cell phone maybe it's time for an apple watch! 
Nike Joggers – super comfortable joggers that are great for school without looking like pajamas haha! 
Nike Lanyard –great for school ids that the kids need to wear these days! 
Crossover Bag – great way to try the belt bag trend. Comes in a few different colors. 
Lined Crocks  – take it up a notch with the lined crocks. Great for those cold winter toes! 
Apple Tag Key Chain – if you have a teen driver they will love this! Apple Tag keychain to keep track of your keys and other important things like school bags and more. 
Gaming Chair –a comfortable way to play video games that support great posture.