This post is sponsored and may contain affiliate links, please read my disclosure policy.
Finally!!! I'm so happy to be bringing your guys our primary bedroom transformation in partnership with my friends from HomeDepot.com/Decor. For a couple of months now I have been working on our primary bedroom so this moment comes with much anticipation. We started off with a pretty blank slate and a decent amount of space. No real renovations just a paint lift (Alabaster for the win! ) , easy to install beams and of course decor. I selected so many beautiful furniture, decor and bedding pieces from homedepot.com/decor.
If you want to know about all the decor that homedepot.com/decor has to offer go to my blog post were I get into more detail about it. But in a nutshell, homedepot.com/decor is basically an entire online-only destination that is available to us with some affordable and on trend options for the home.
Home Depot also has FREE DELIVERY or FREE IN-STORE pickup on over one millions products online! WOW! It's one of my favorite places to shop online and I know it will be on top of your list too once you get to know all they have to offer.
Our Primary Bedroom Before
Here's a clear shot of our room before. Some of the things we wanted to address we talked about in our first post. But for the most part I just wanted some personality.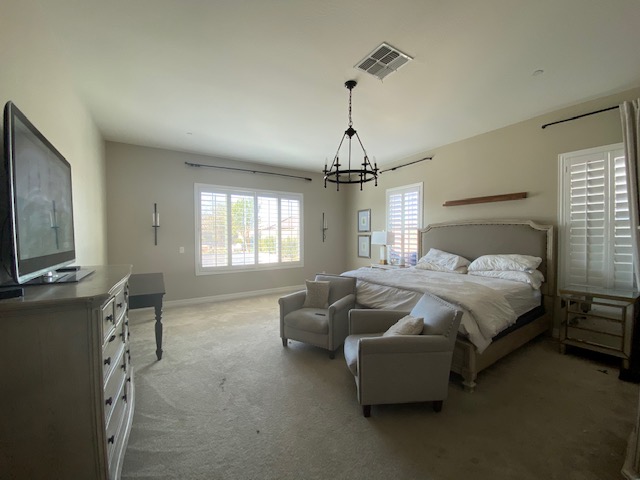 My style can be described as casual elegance. You can for sure hangout in any of the rooms that I design but you'll also find a more elevated feel on some of the finishes and textures that I use. Things you might find in more traditional spaces. So that is exactly what I did when I designed our new primary bedroom.
Primary Bedroom Transformation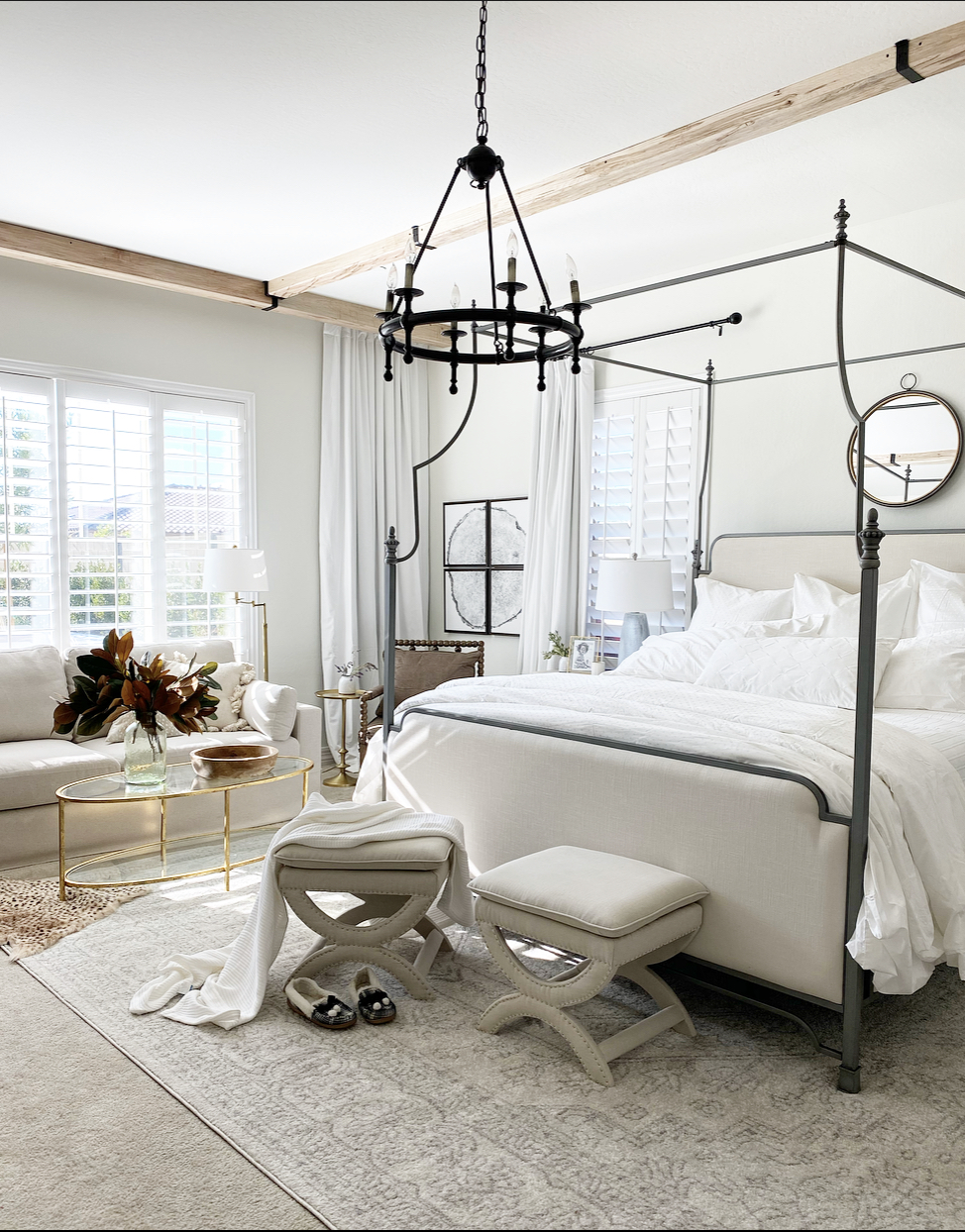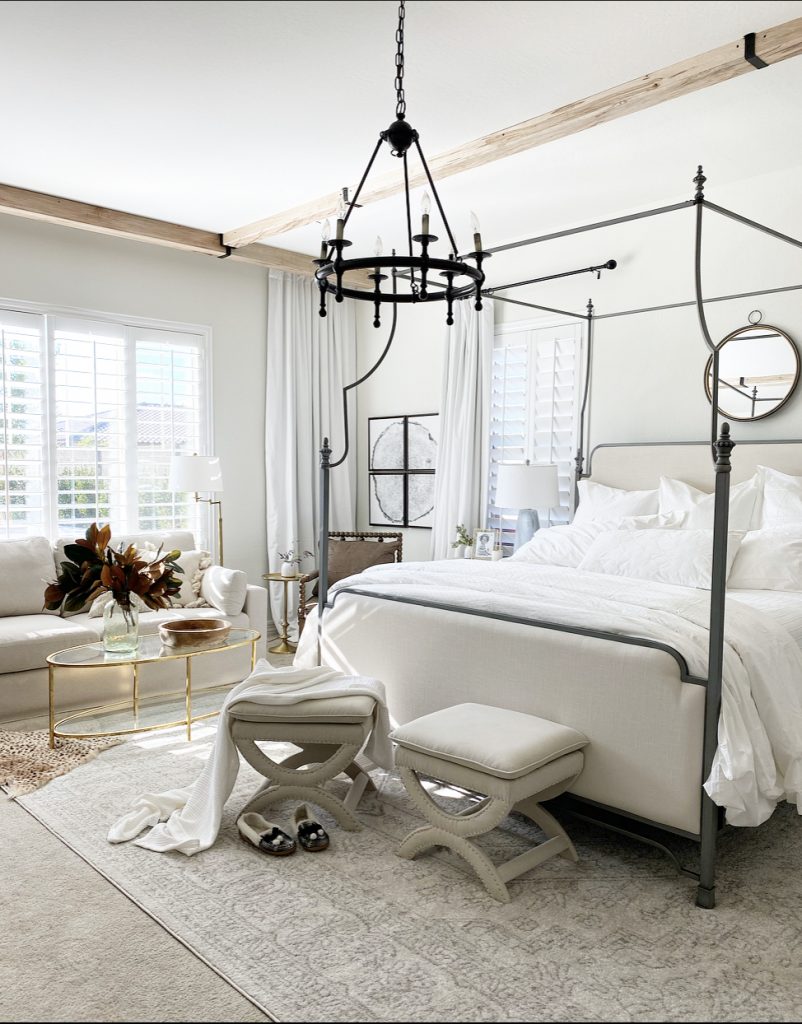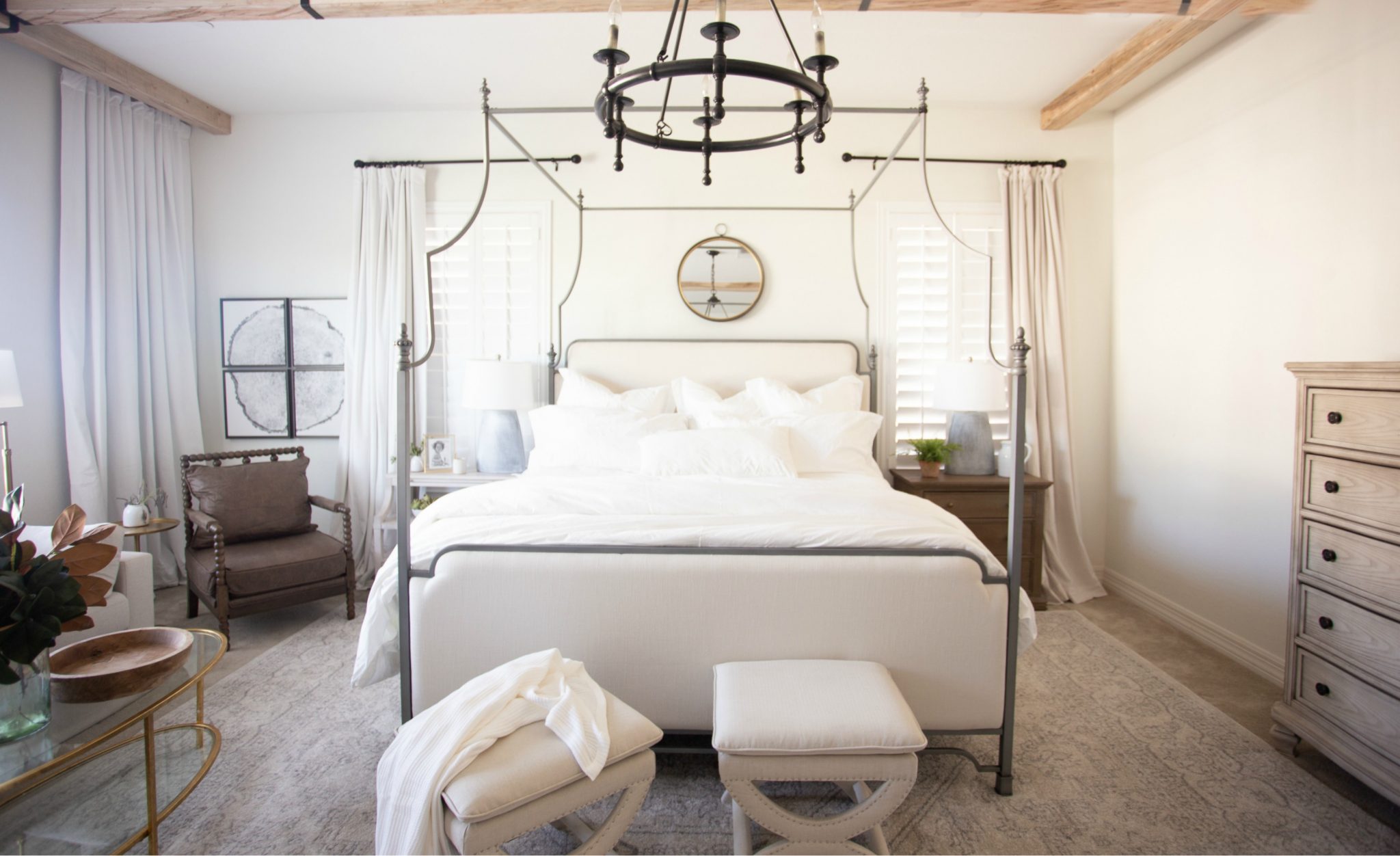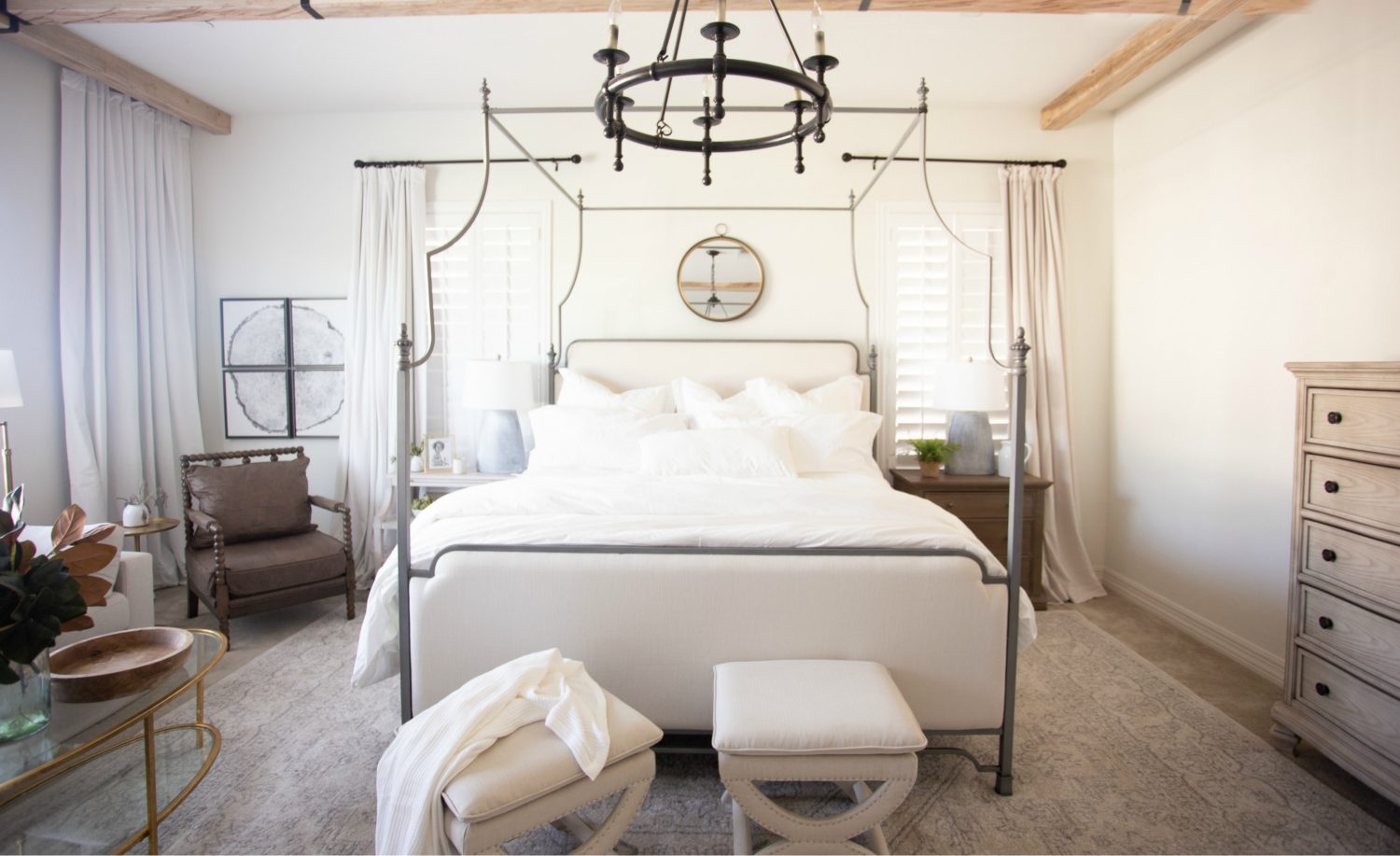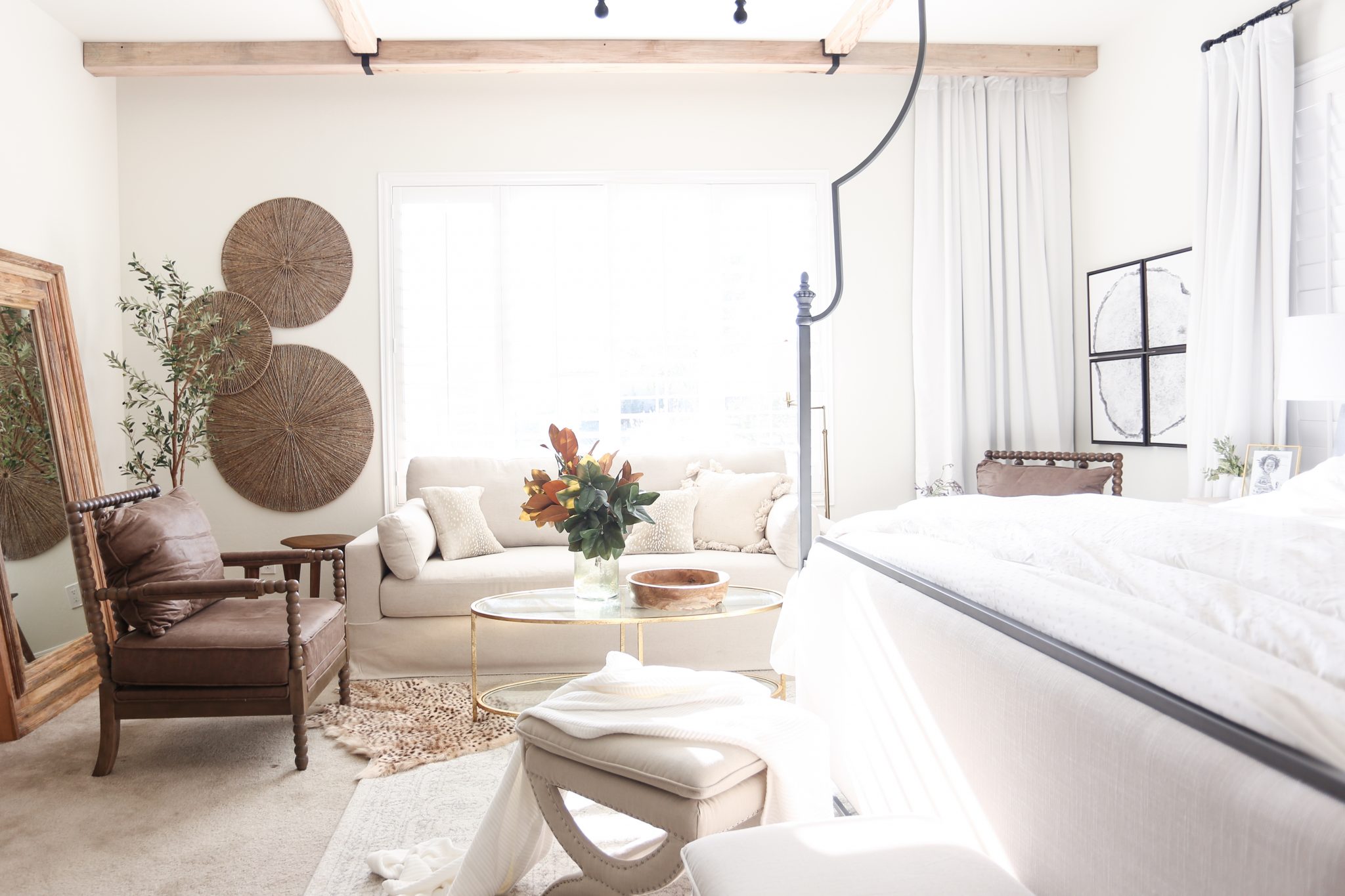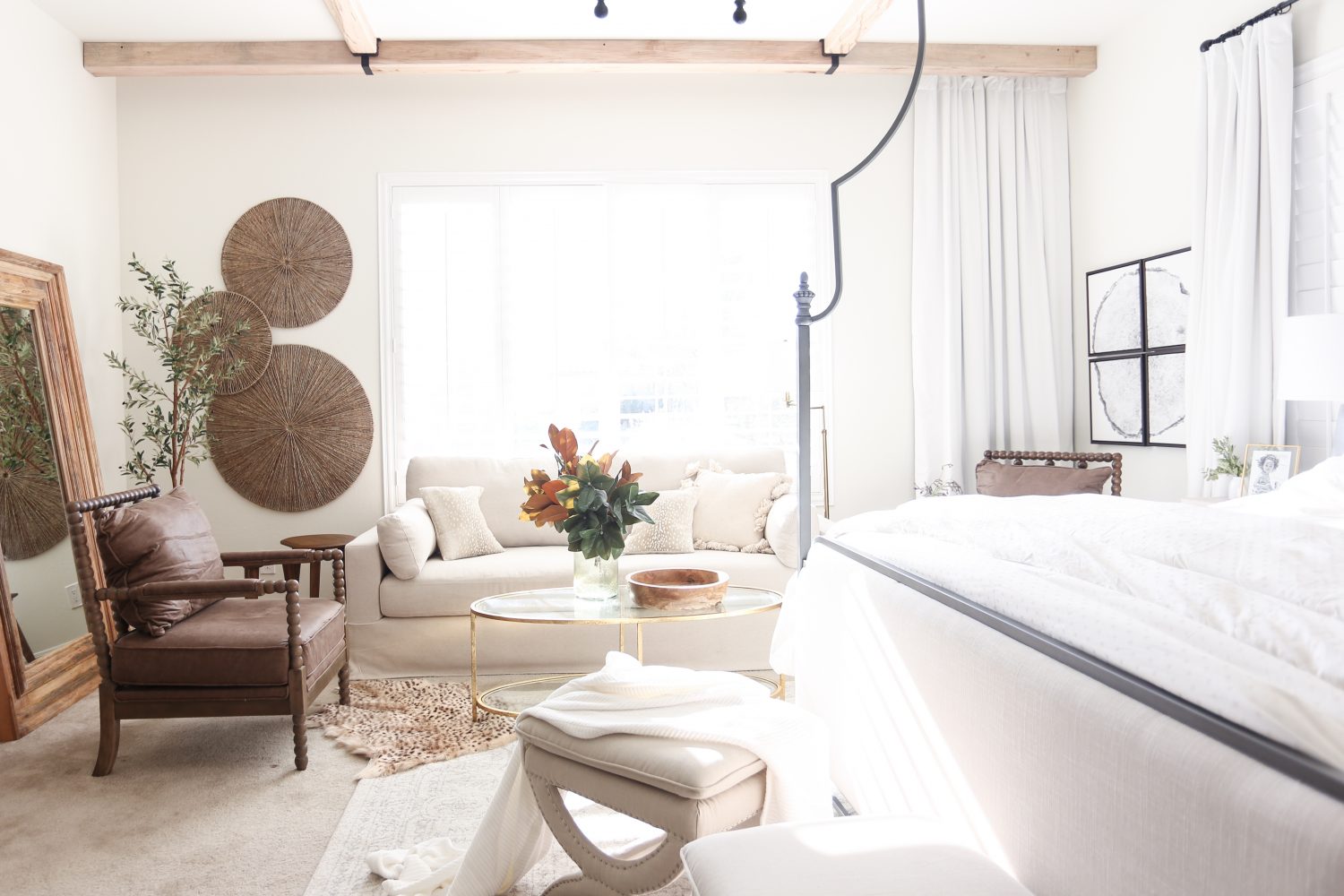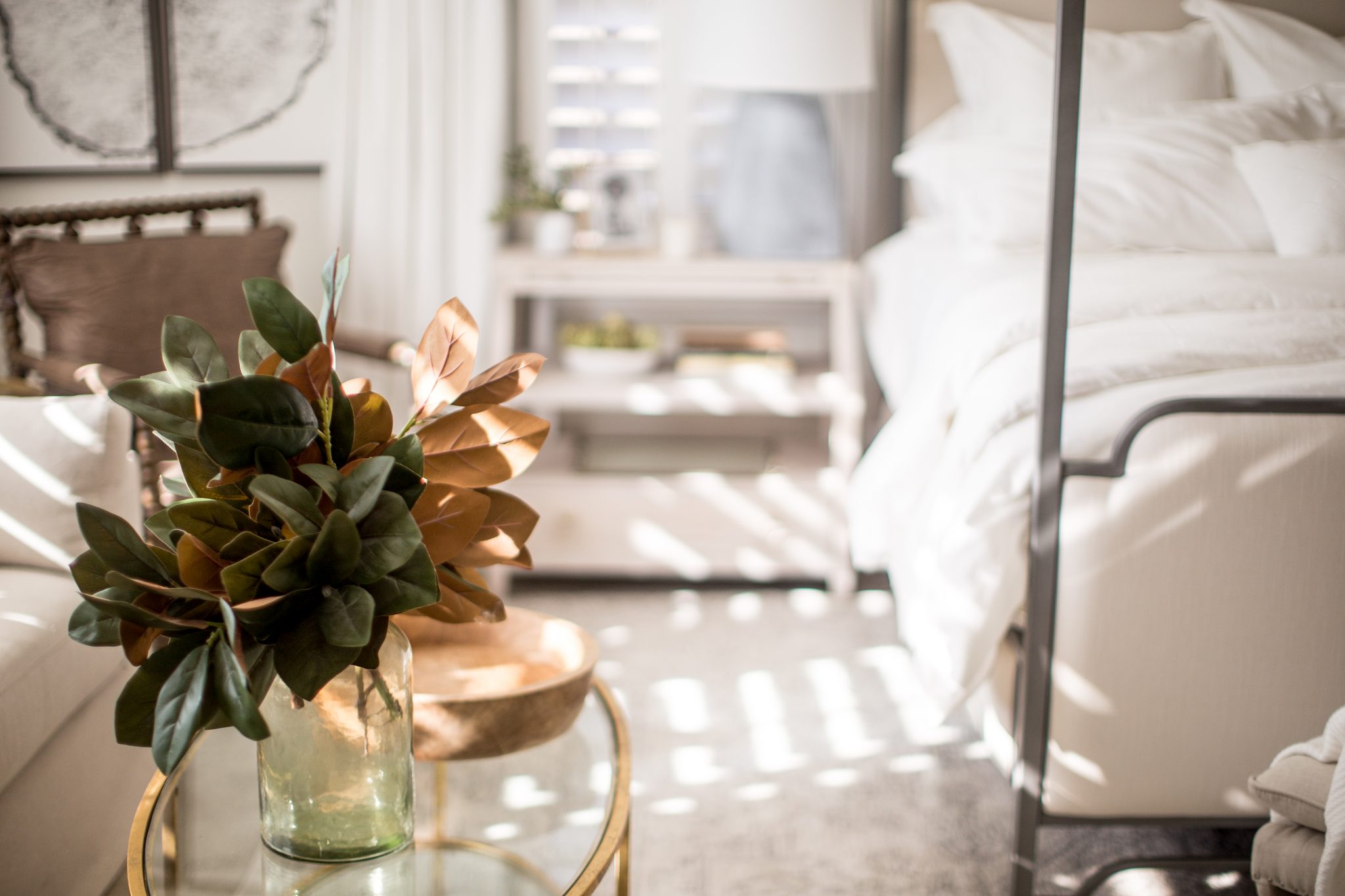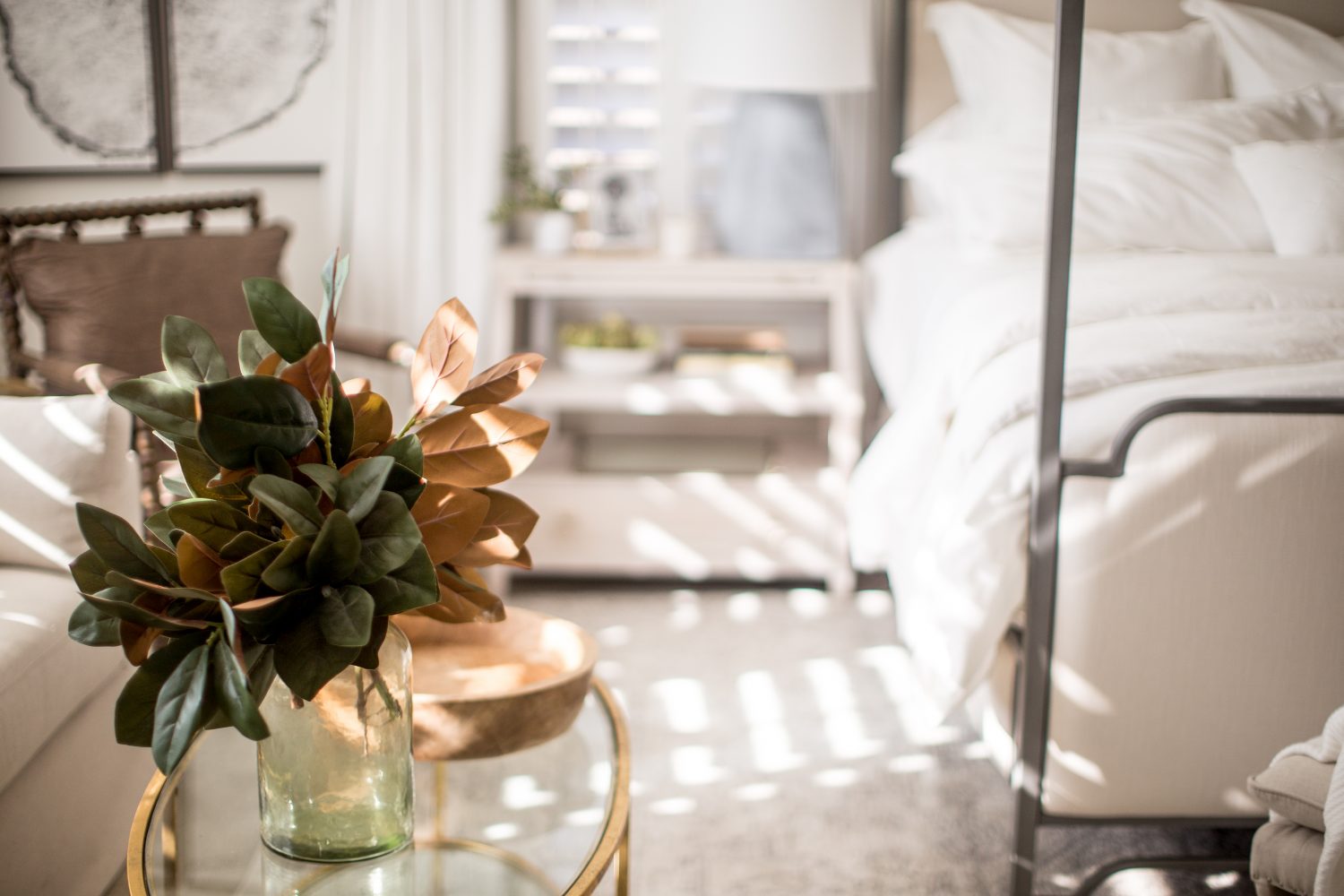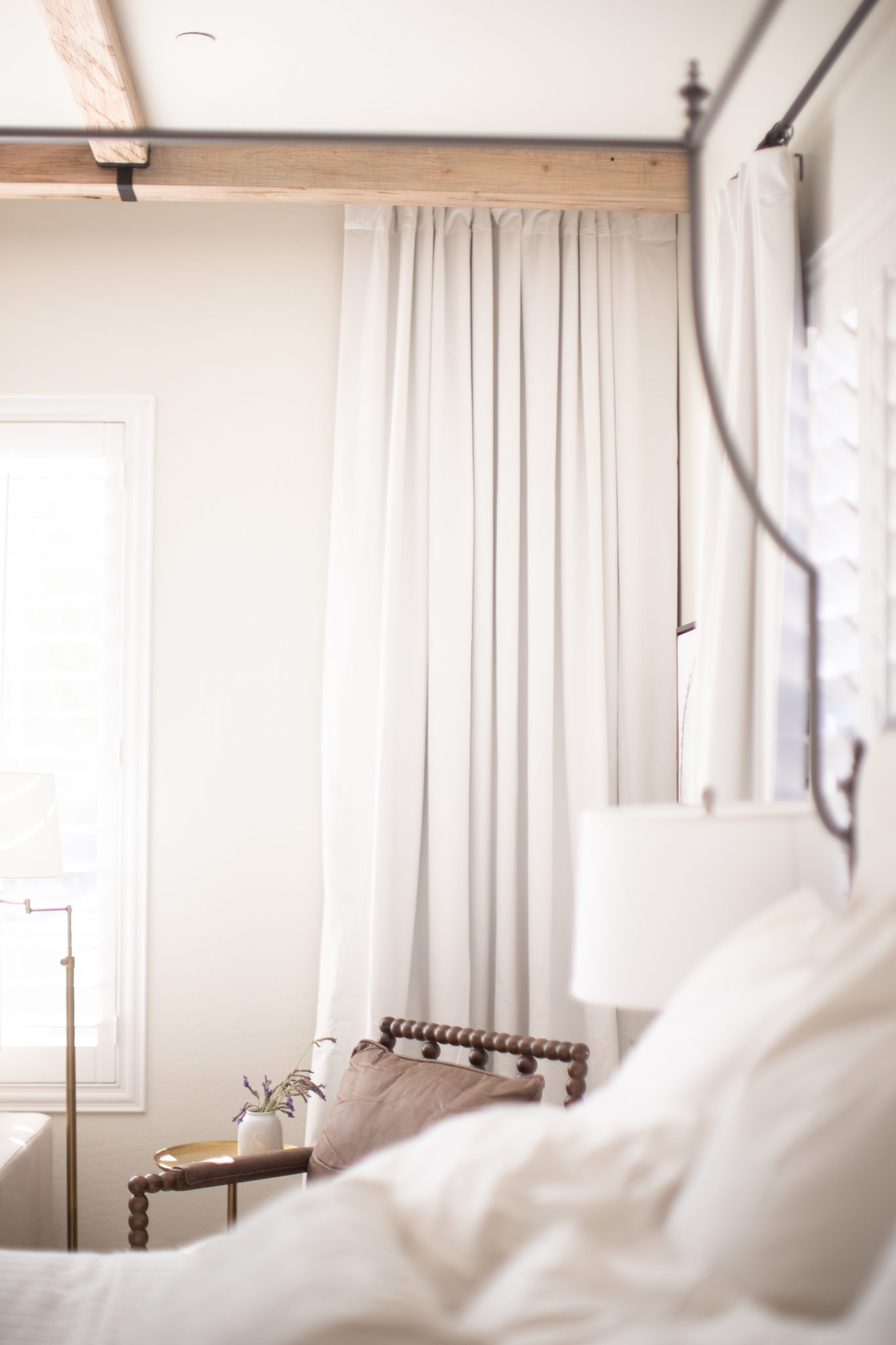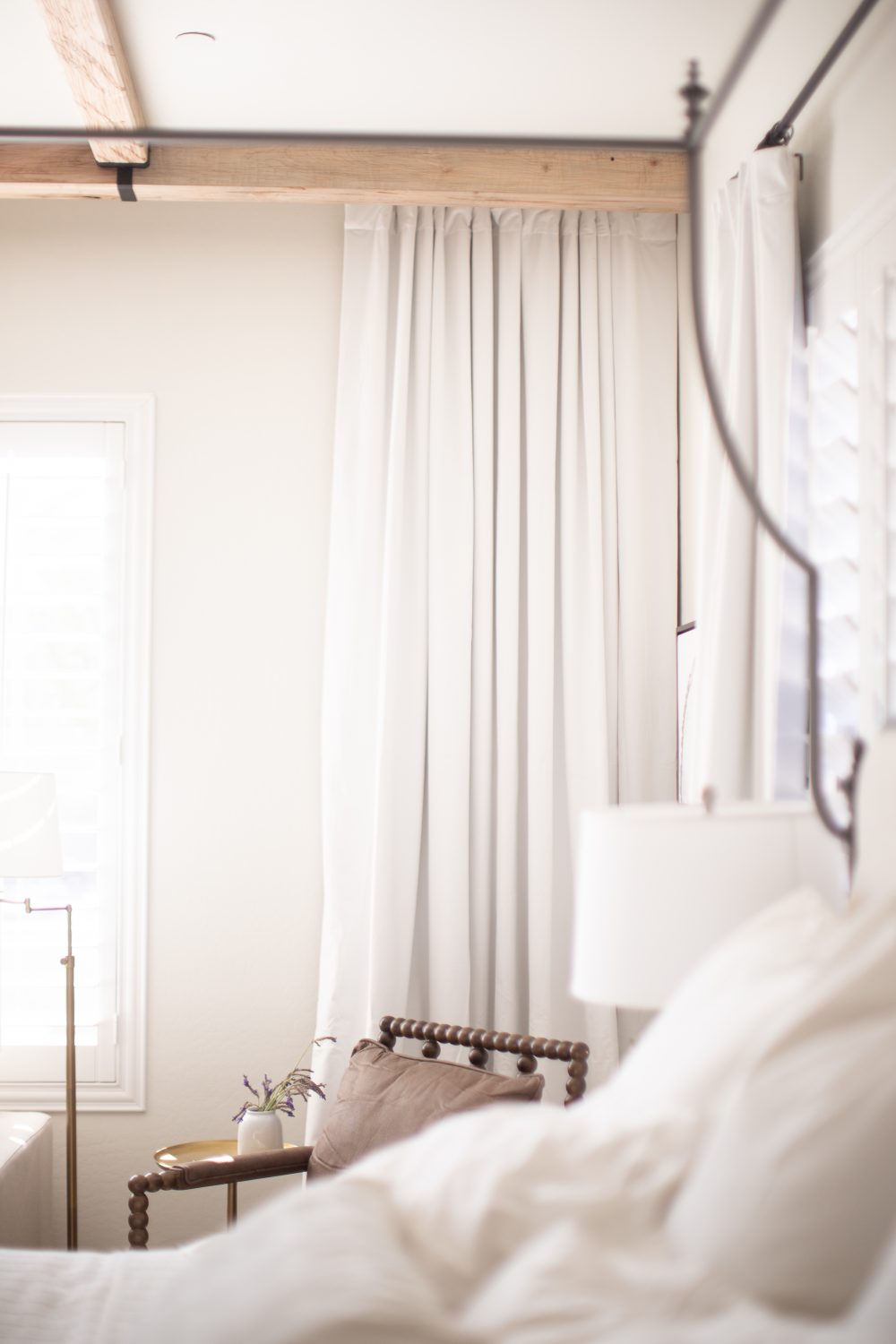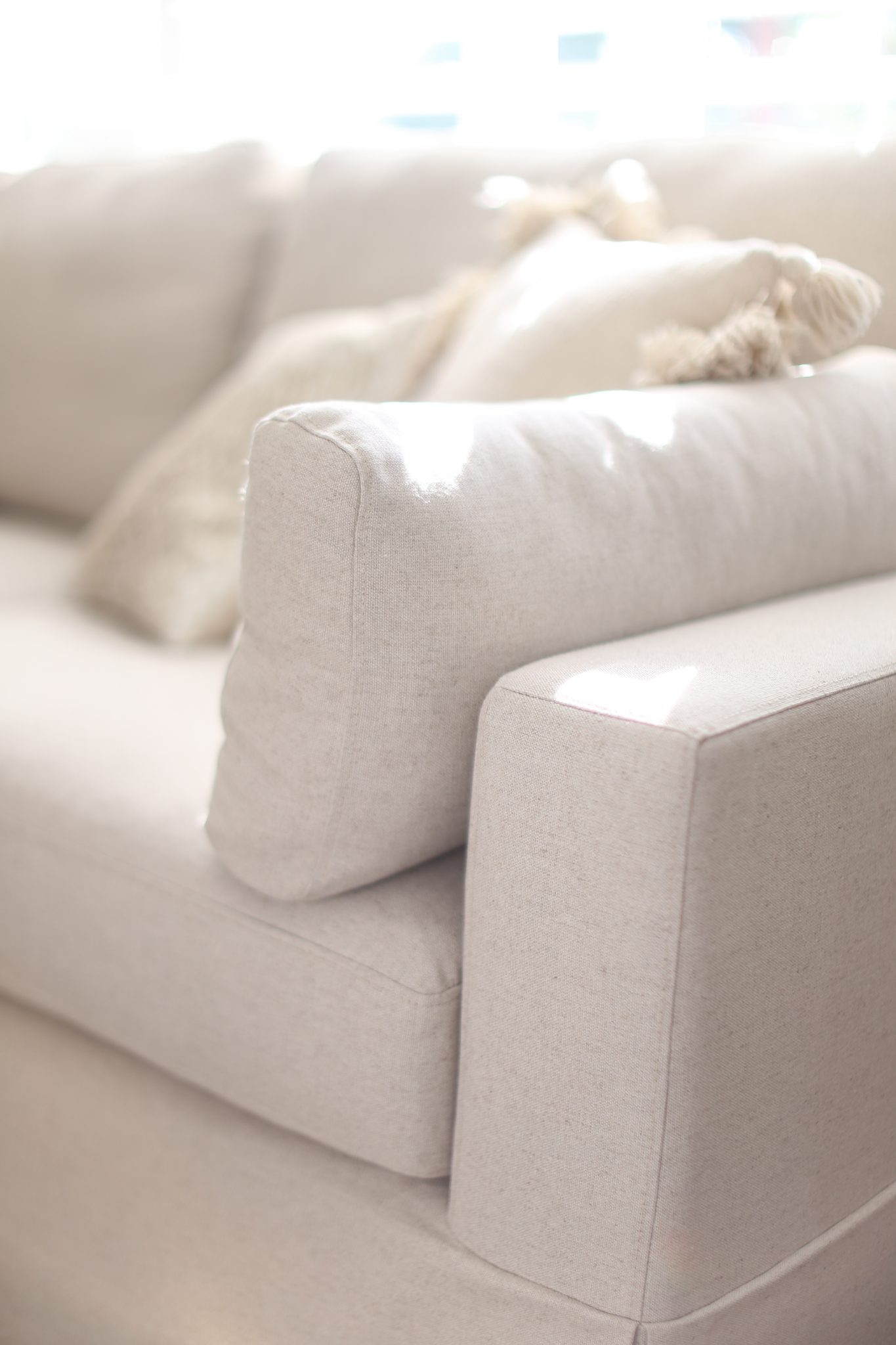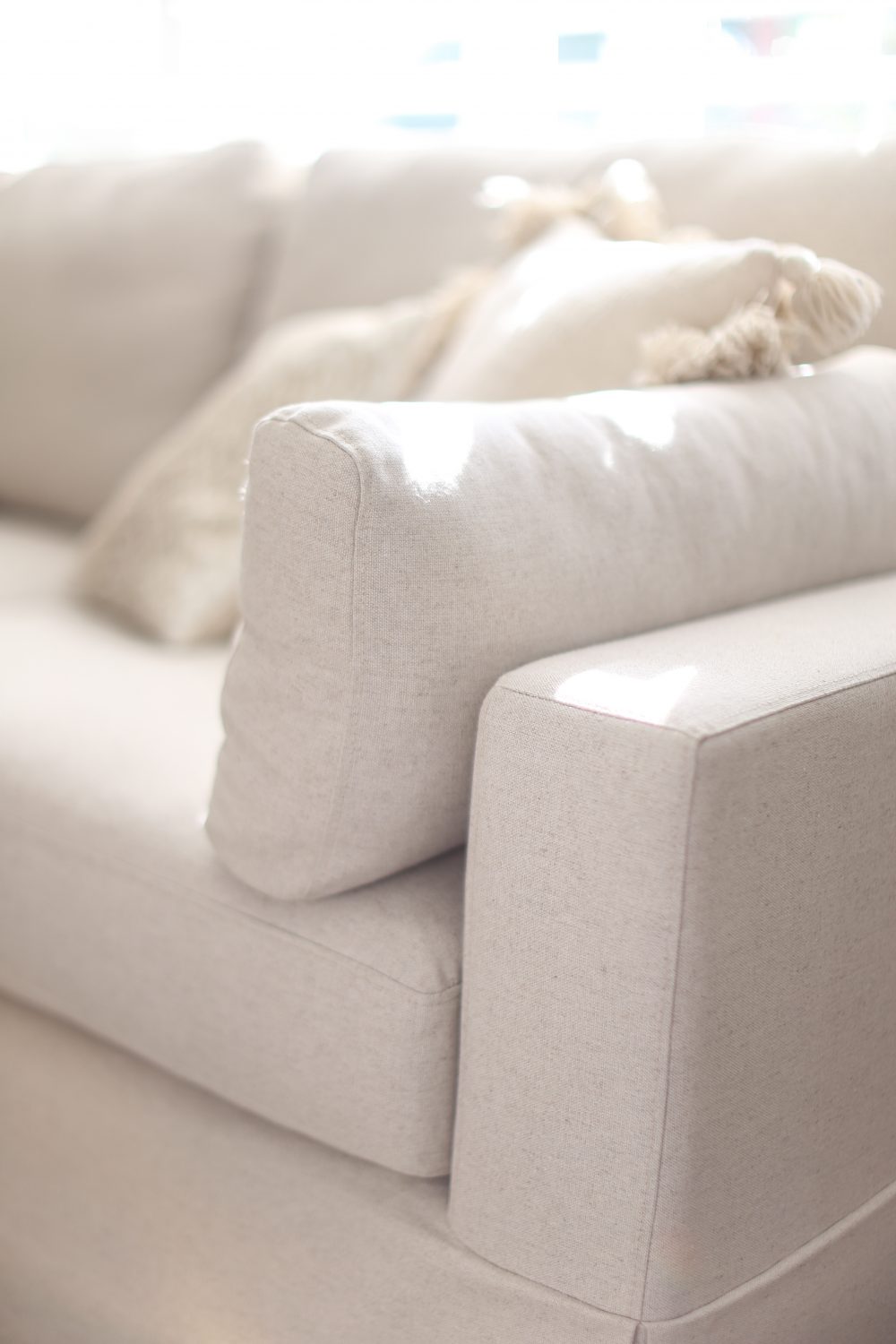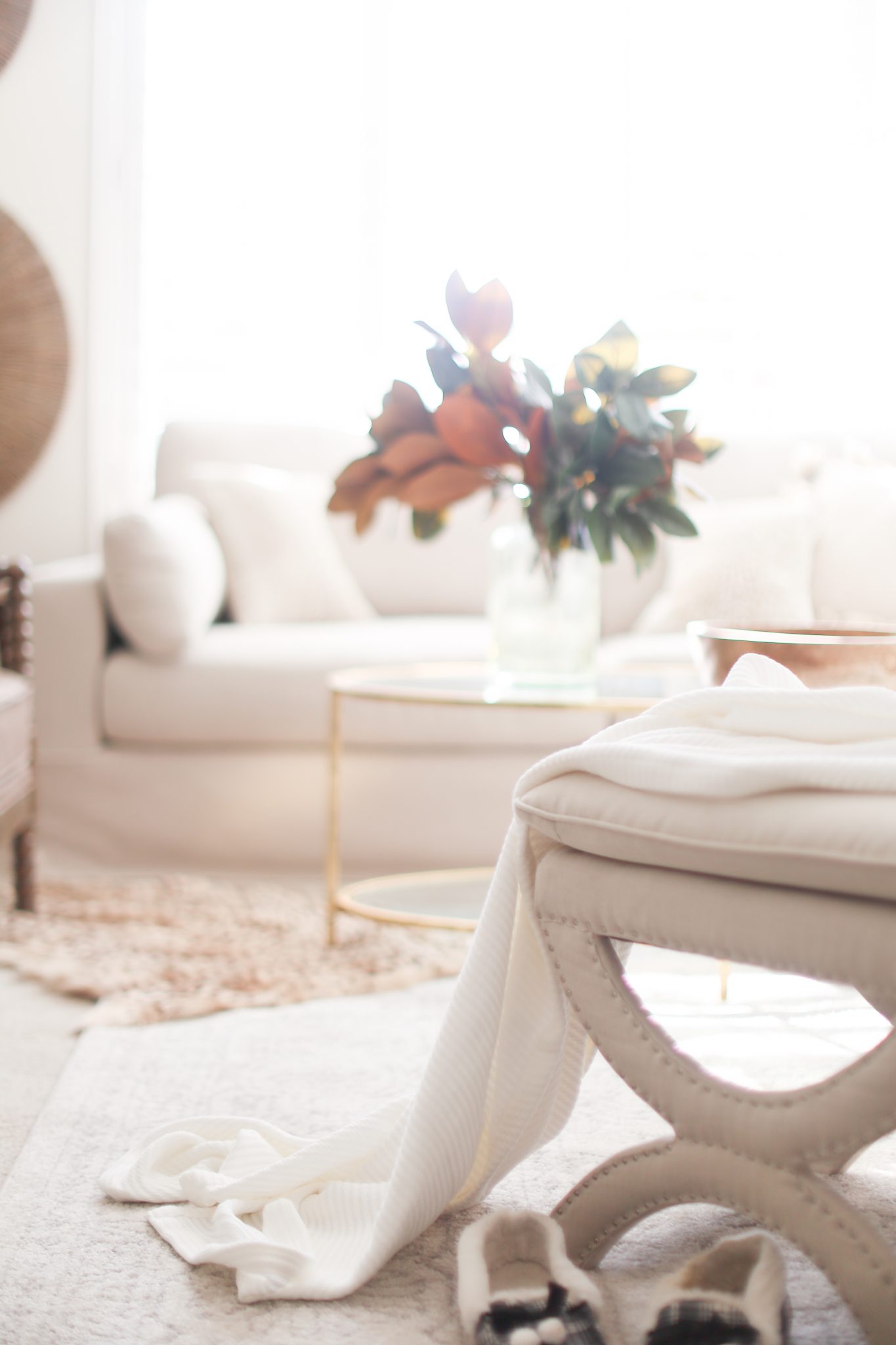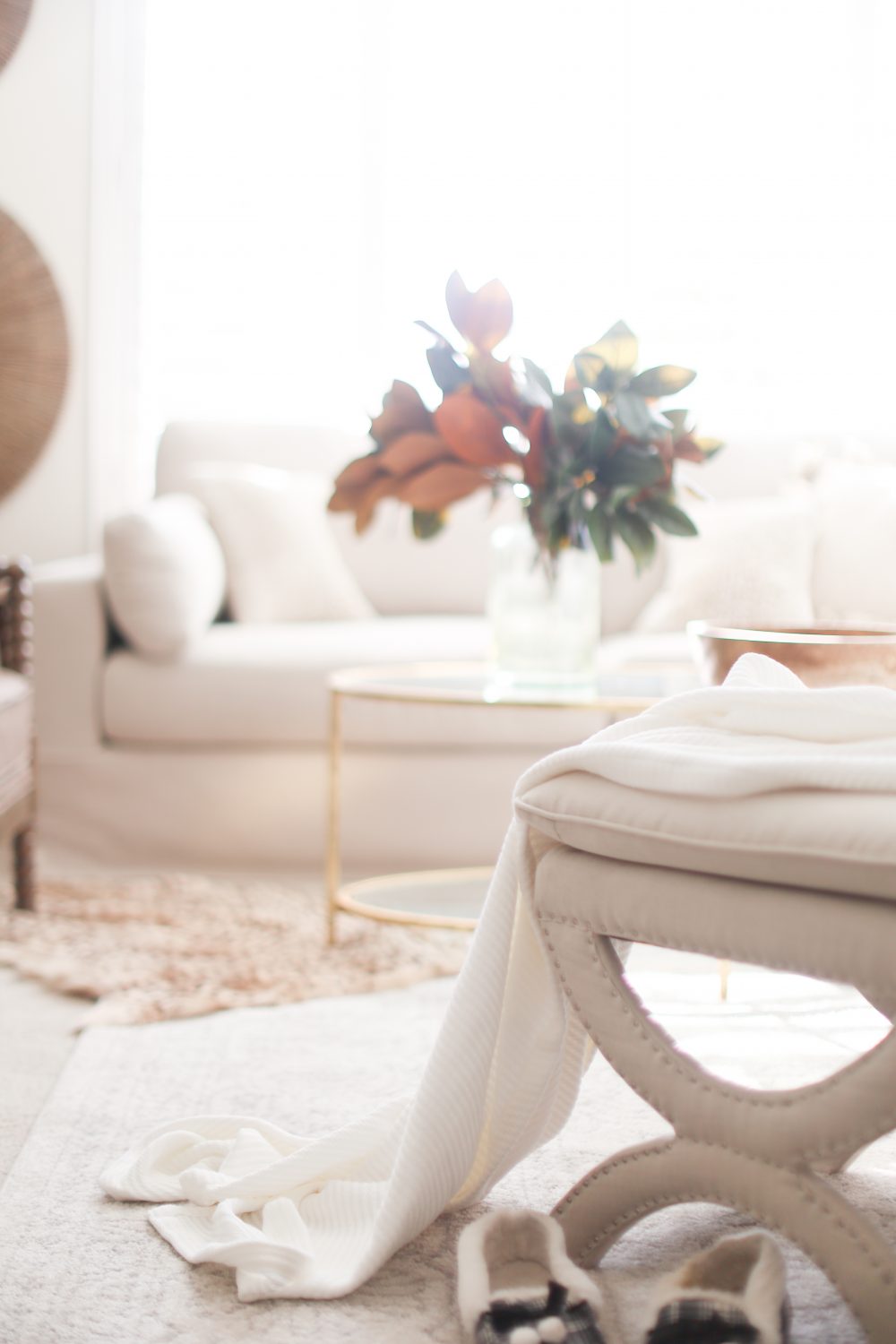 Show Stopping Canopy Bed
The centerpiece to this entire room is this gorgeous metal canopy bed by Home Decorators Collection . Scrolling through homedepot.com/decor you can find a ton of different bed options from Home Depot's private brands Home Decorators Collection and StyleWell. But this bed stopped me in my tracks. Elegant lines and finish with the most beautiful upholstered headboard , side rails and footboard.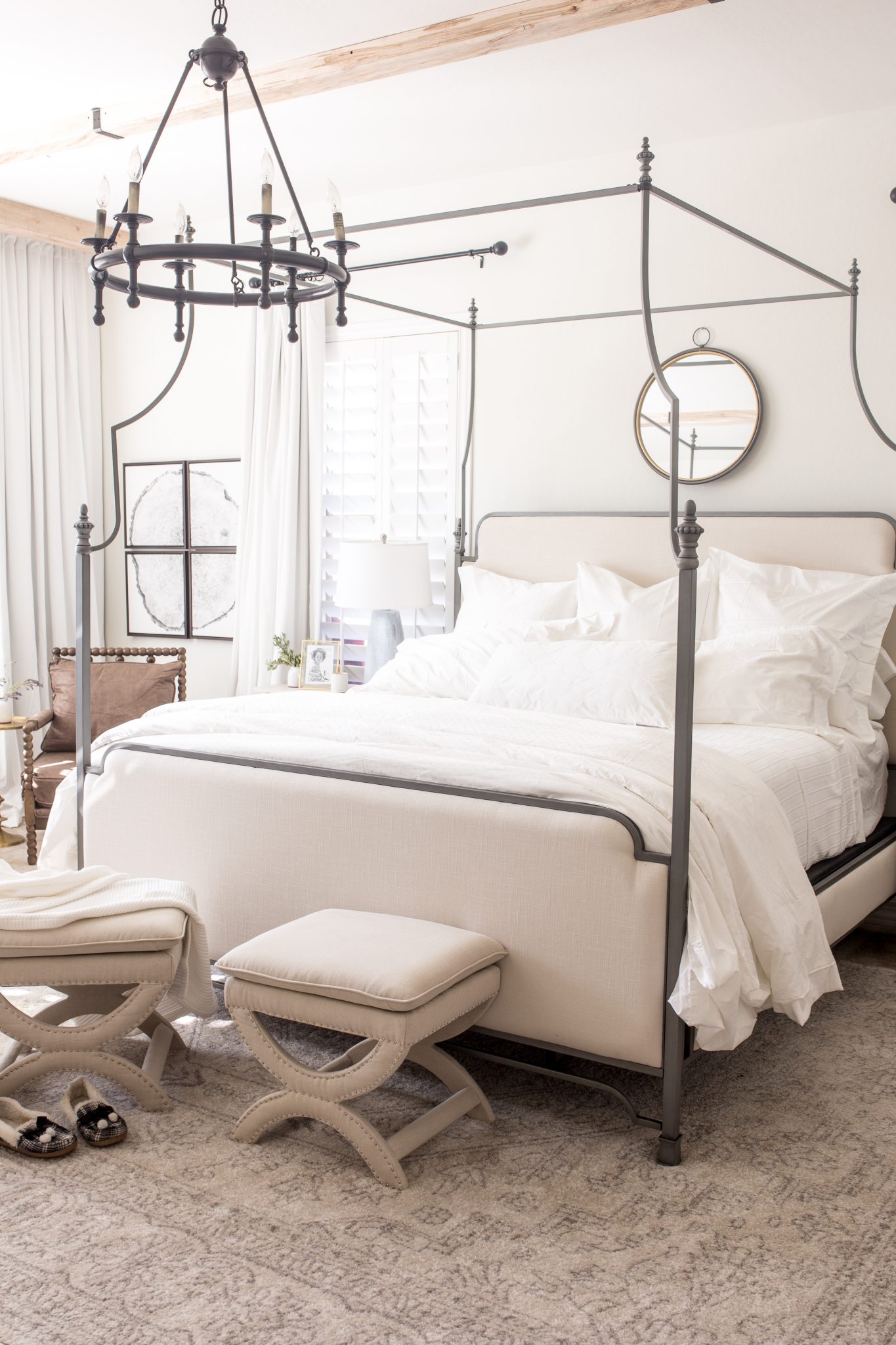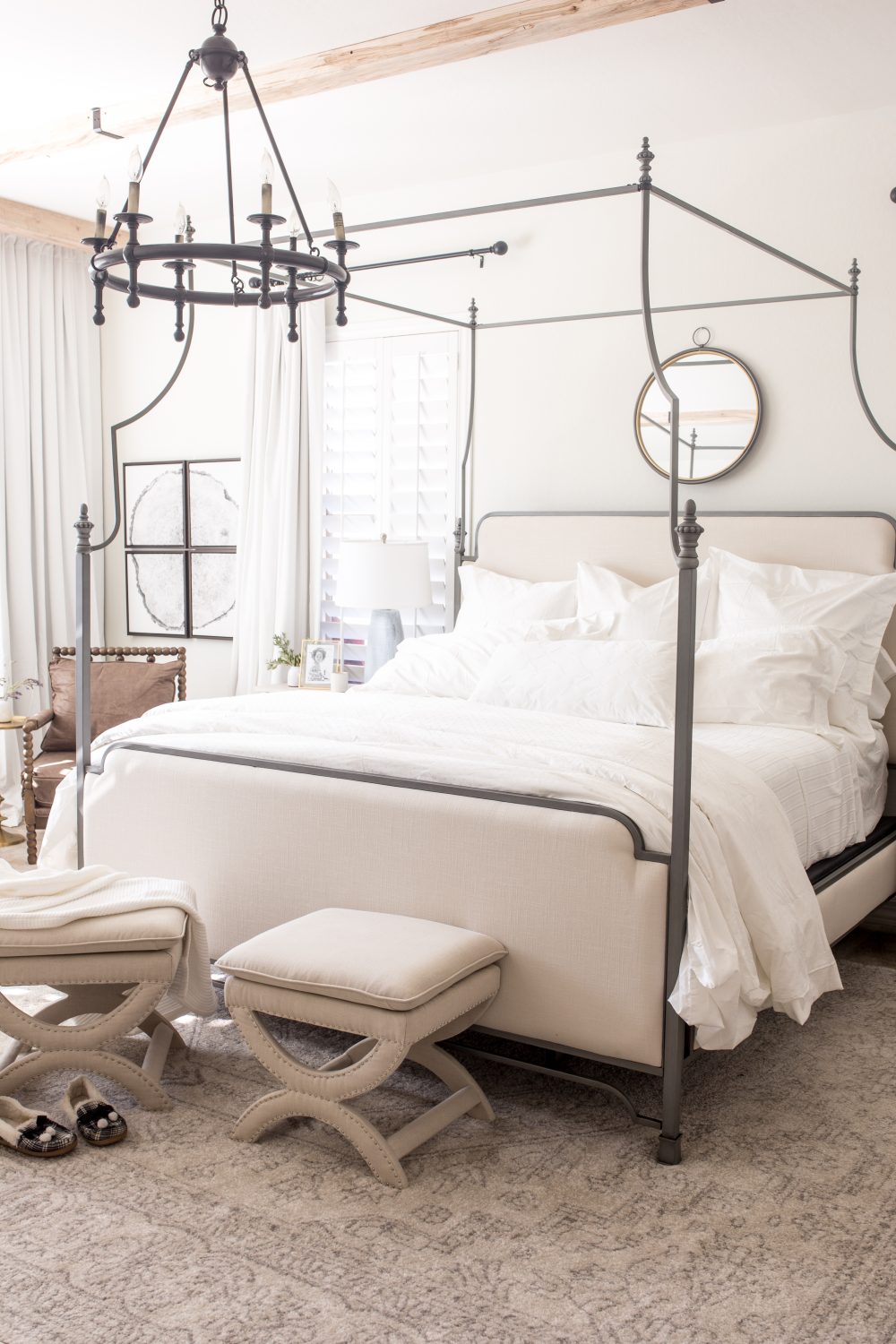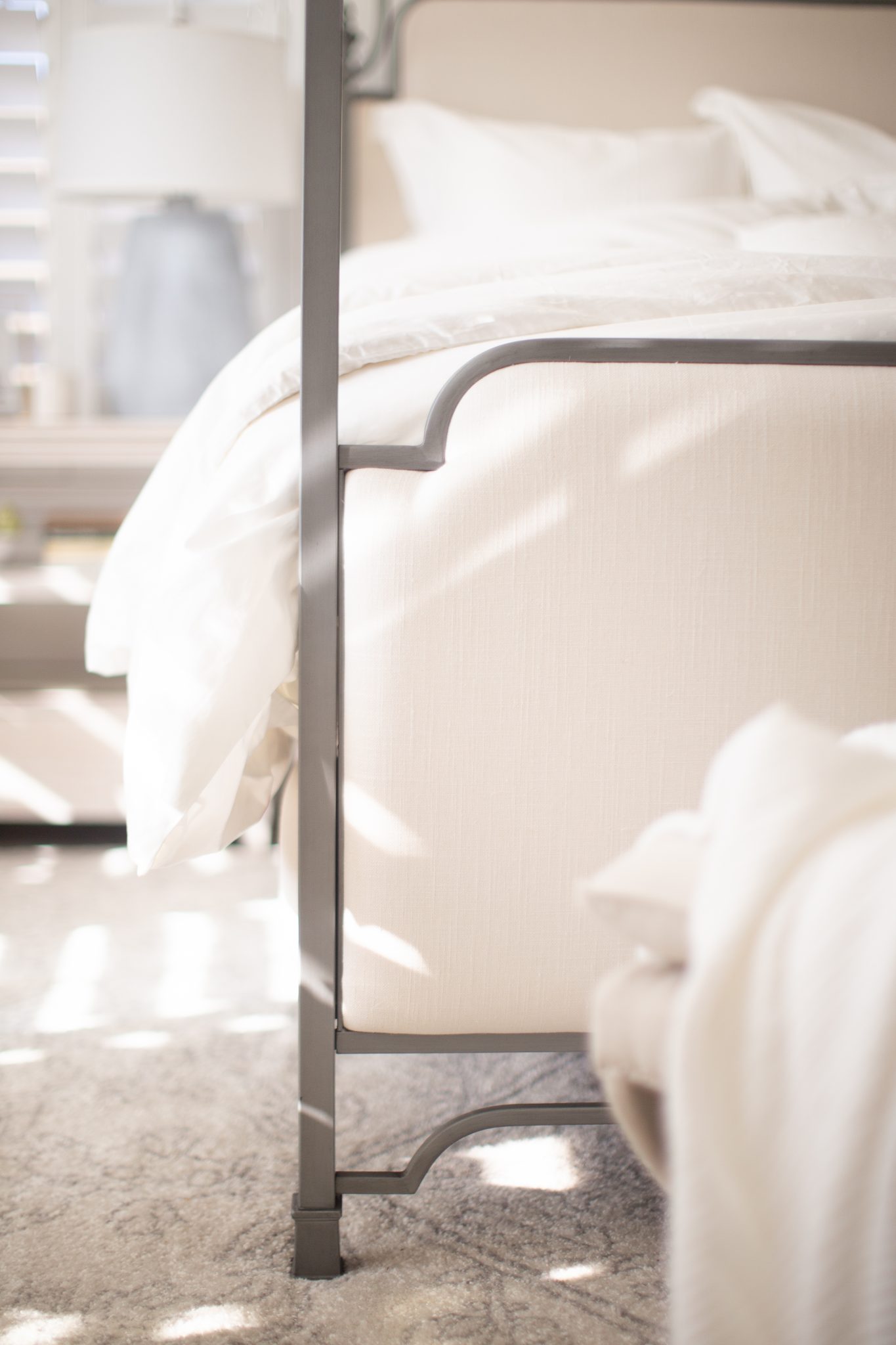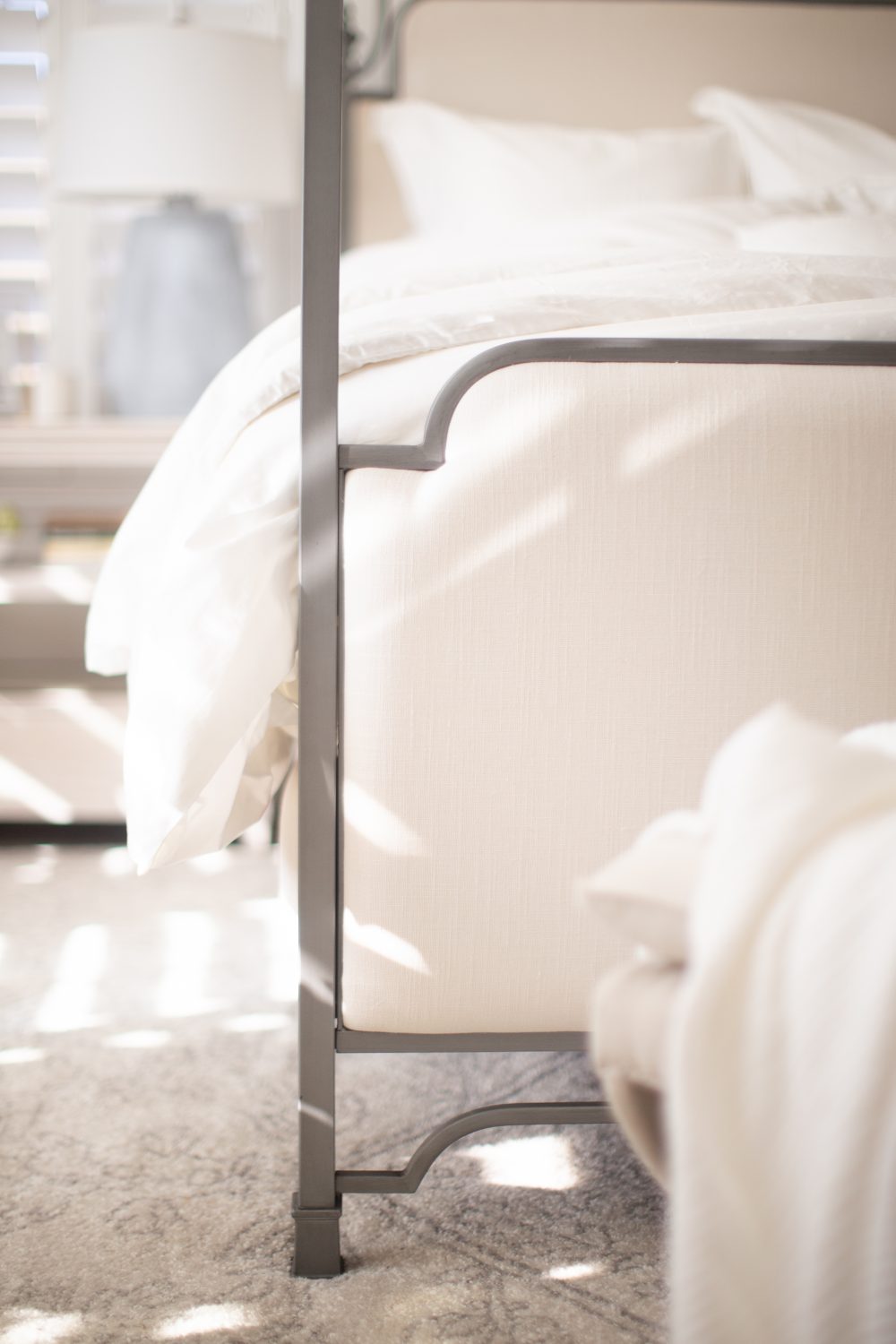 Canopy beds are definitely on trend right now, but they are also a classic when it comes to bedrooms. At only $799 for the king size the Adelina canopy bed is almost $1000 less than a similar ones at high end retail stores.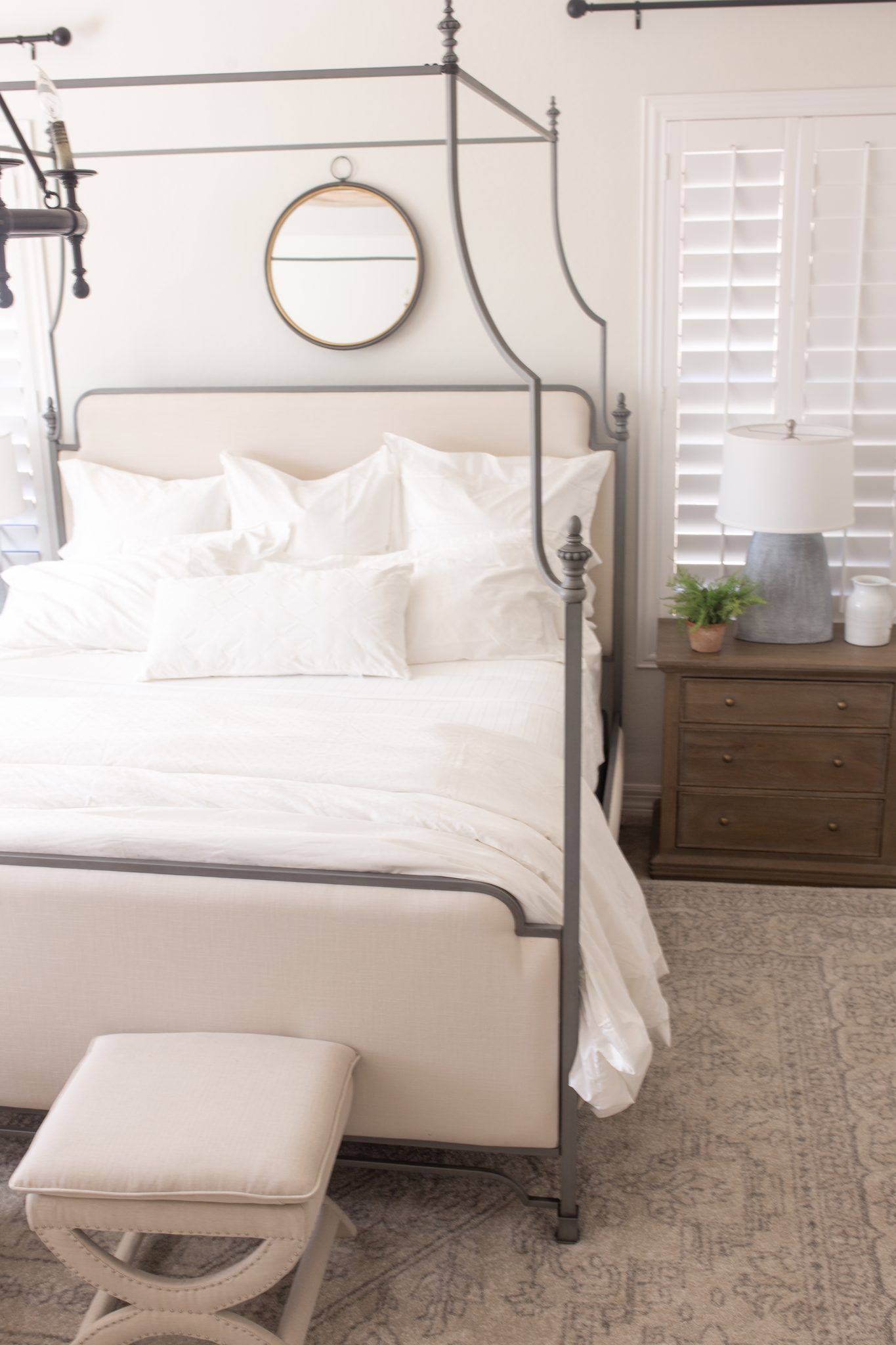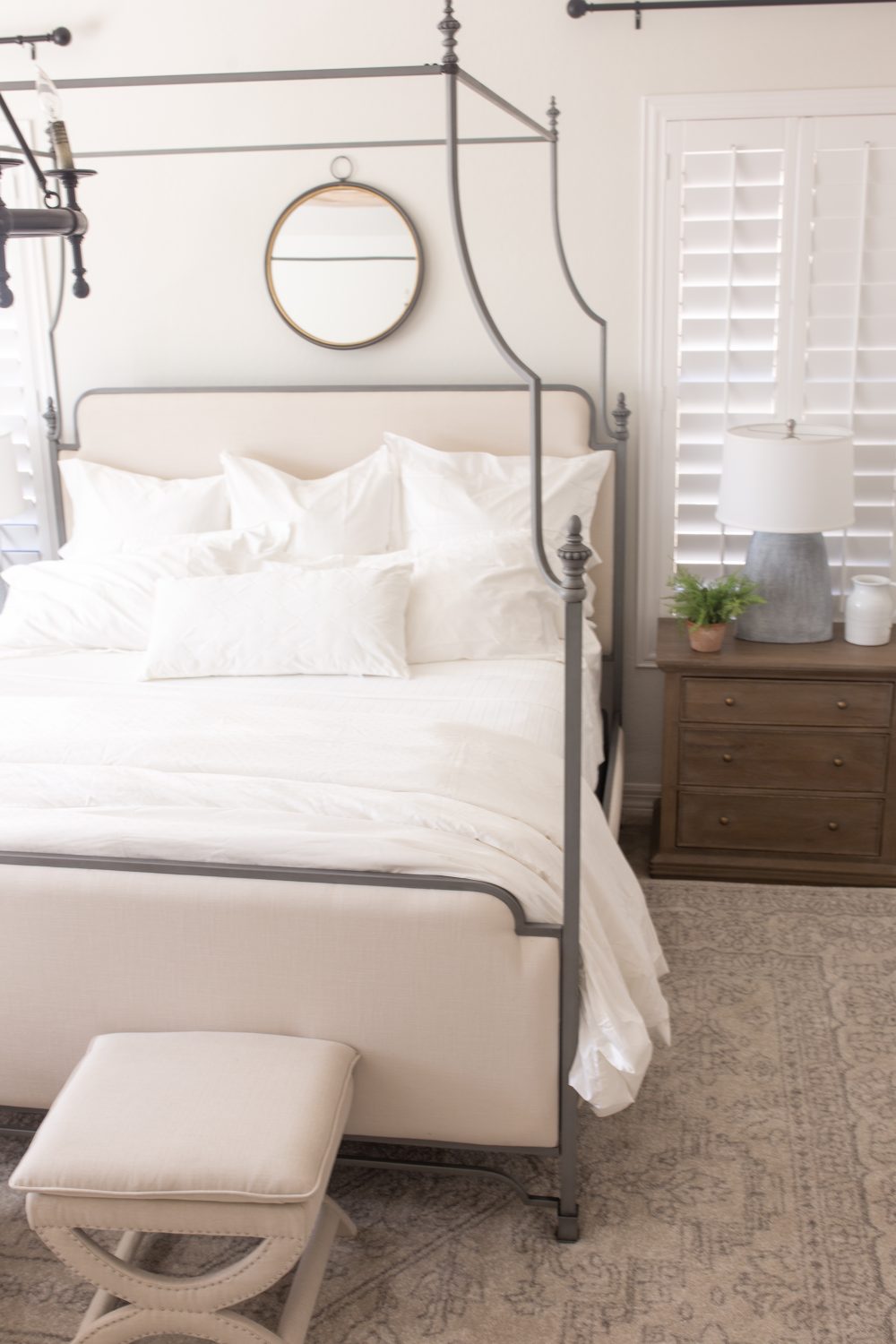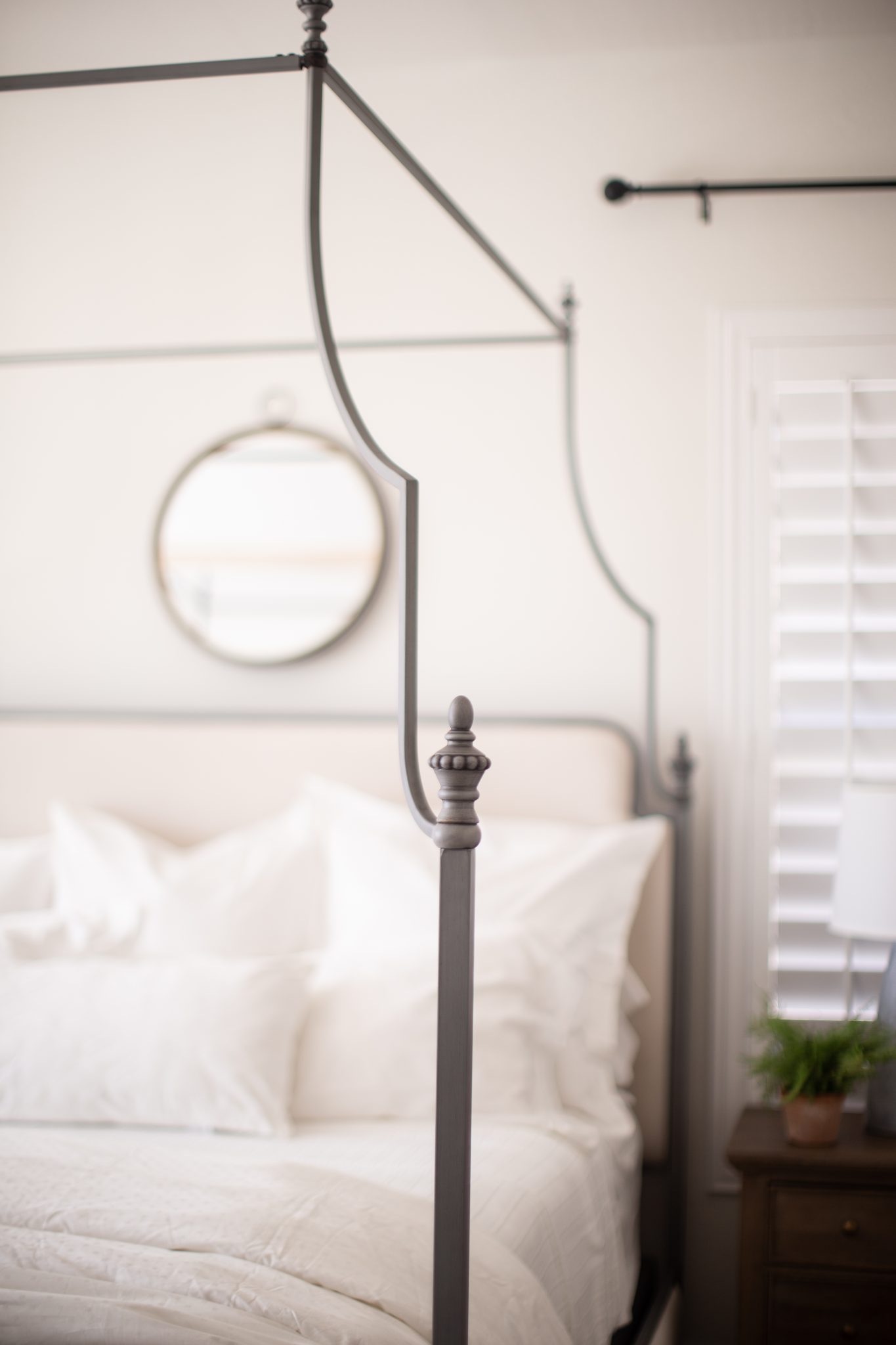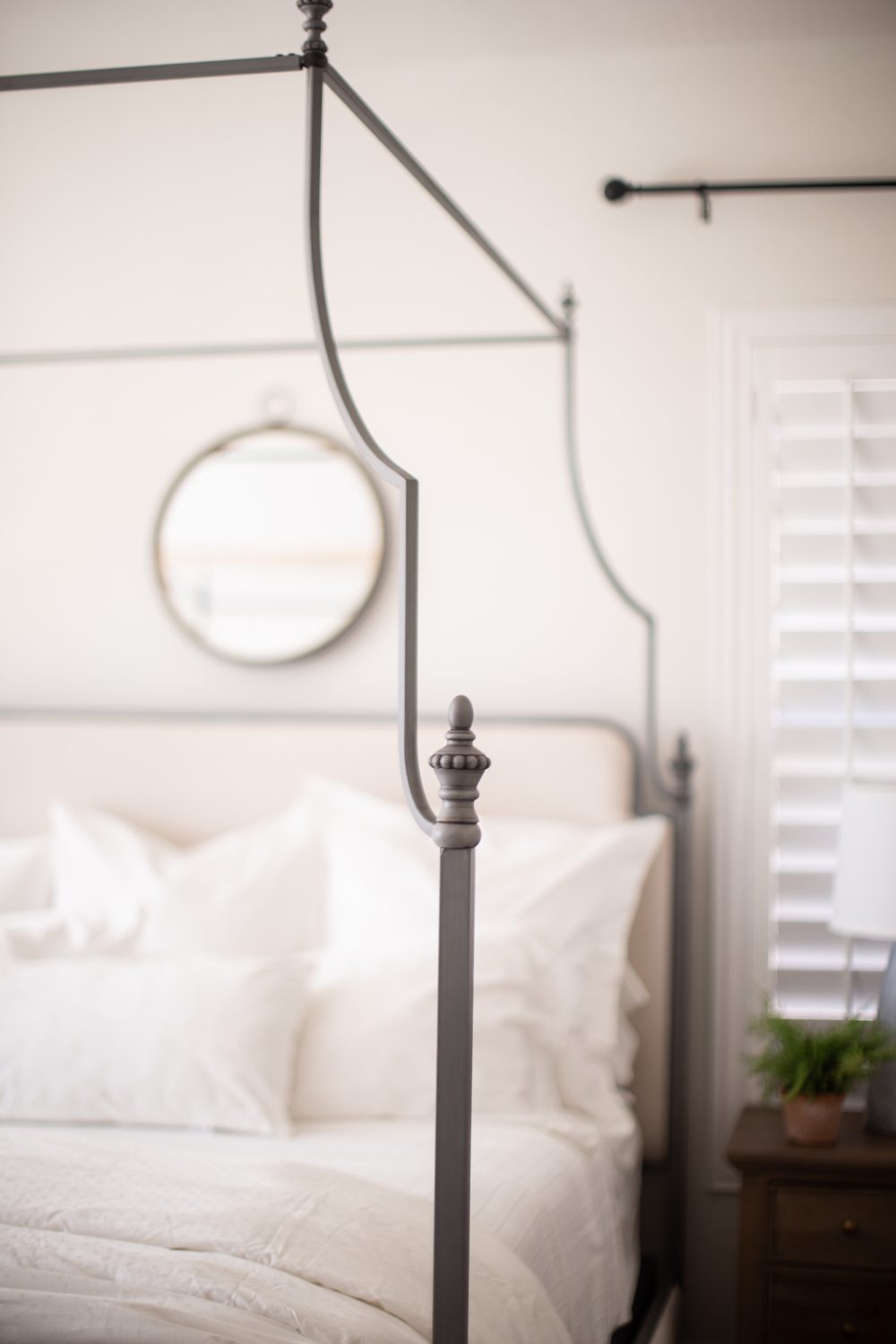 The bed was pretty easy to put together and took no time at all. See my full review on my Instagram account under my saved highlights called Home Depot Decor Talk.
Featured Products Above:
Bedding Looks
To show you how versatile this bed is I dressed it up in three different looks using some top notch linens from thehomedepot.com/decor. Most people don't know that they not only carry furniture and home decor items but they also carry linens. They have sheets, pillows, blankets and everything you need for your bed and bath. They recently acquired The Company Store and along with their other private brands Home Decorators Collection and StyleWell they have a huge selection of quality products to choose from.
Hotel Chic
This look is anchored with a the LoftAIRE 1.5 in. King Down Alternative Hypoallergenic Mattress Topper that goes right over your mattress. Not only does it give your mattress an extra layer of protection, but also an extra layer of comfort.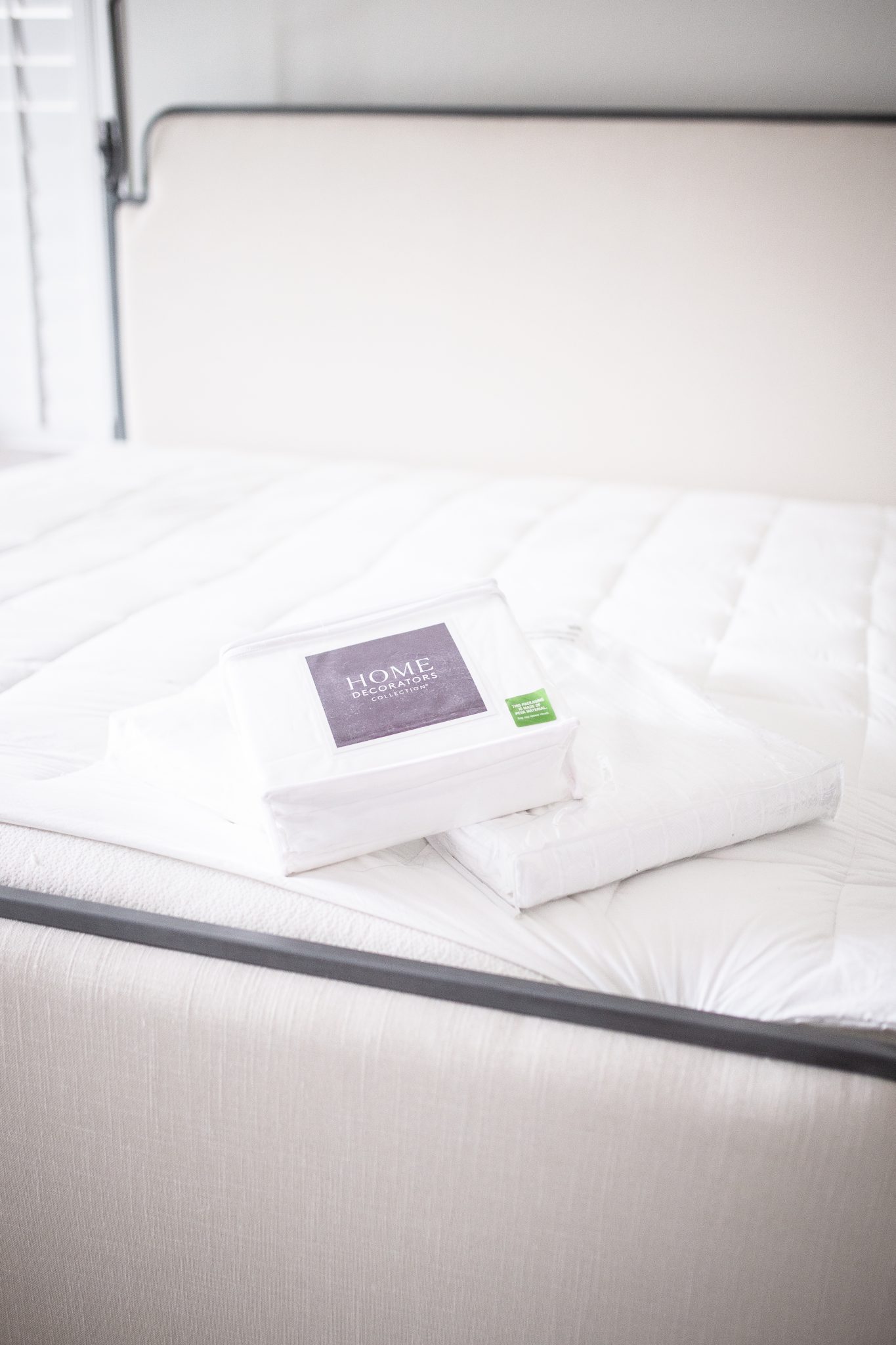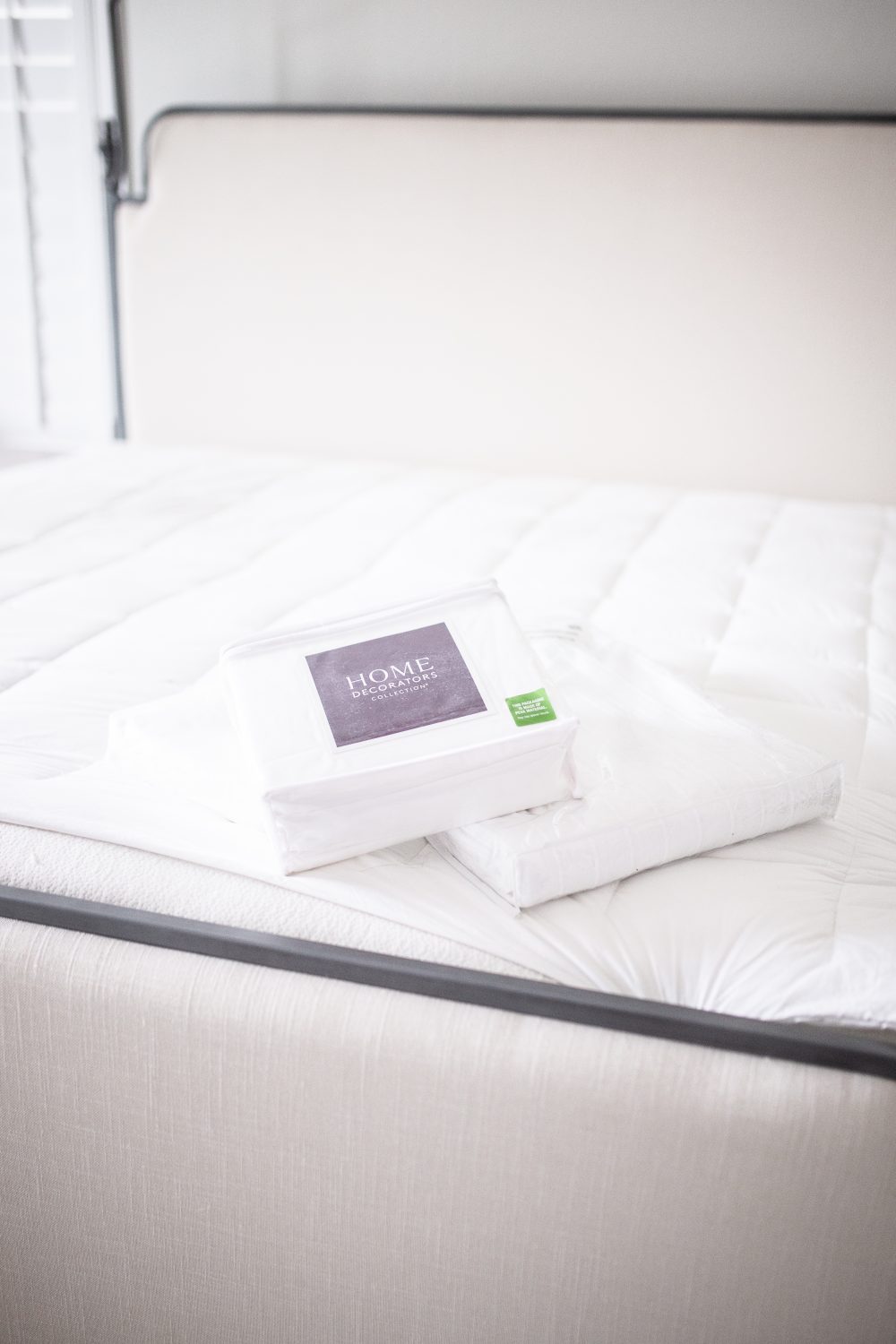 I started with The Home Decorators Collection Sateen Sheet set in white for the base. These sheets are SO soft friends. It feels cool to the touch when you finally climb in you bed at night. After a long day and a hot shower these sheets are the perfect partner for a good night's sleep.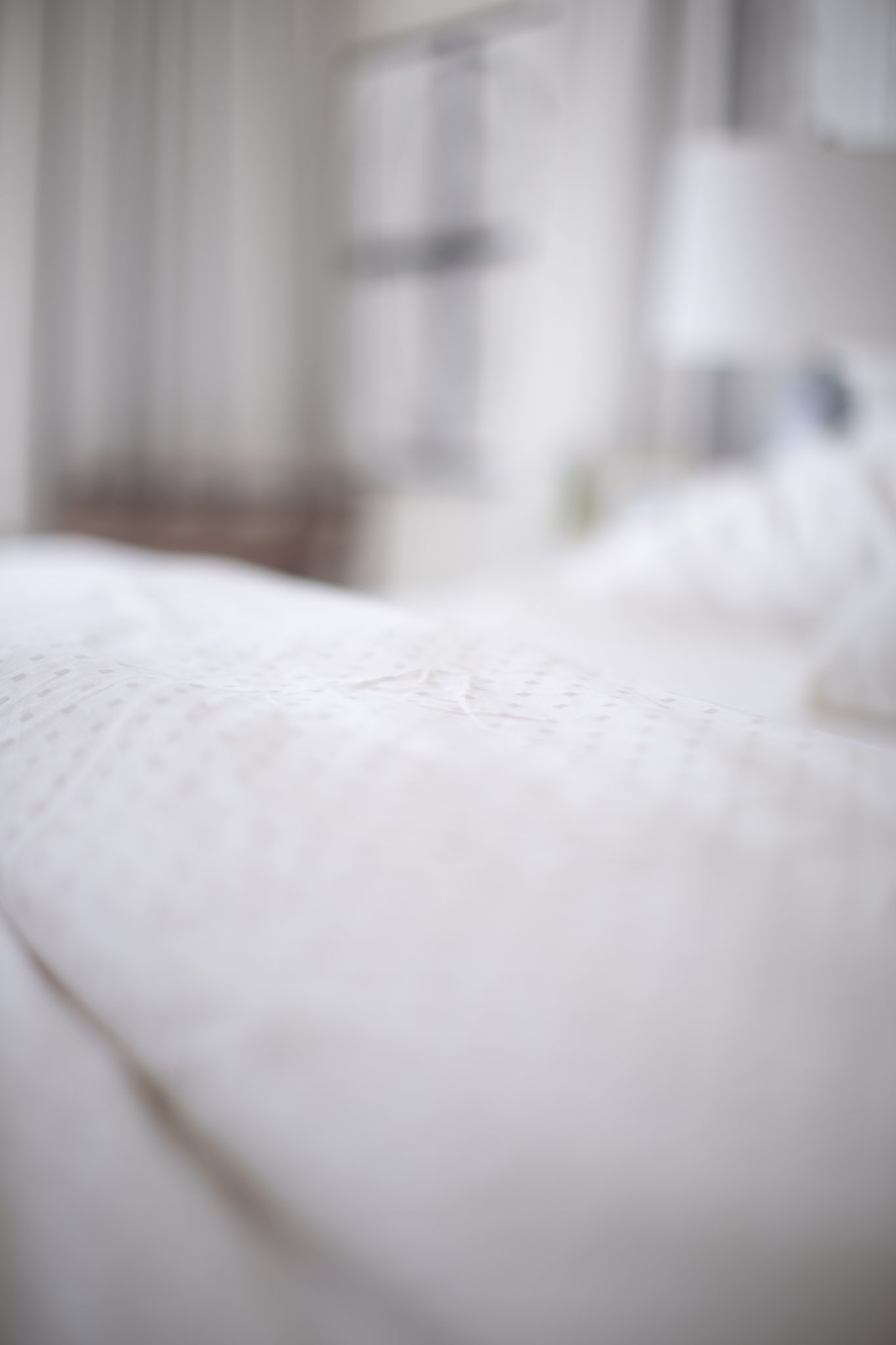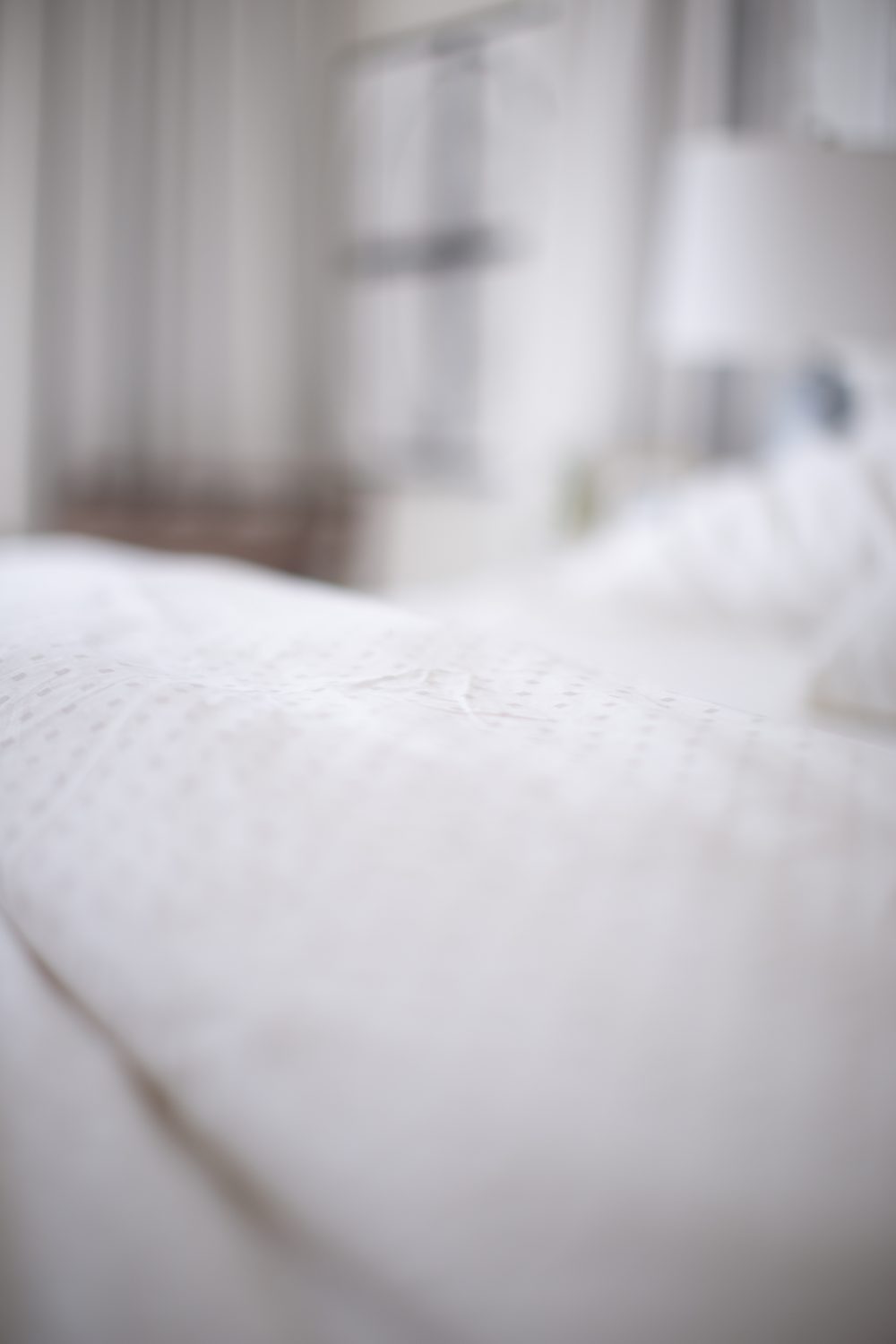 To keep along with the sateen texture, next I added a full duvet along with the euro and stand shams that match. The Legends Luxury Dot collection duvet and shams have the most beautiful subtle dots on them that you can see when the light hits them just right. Running my hand across the them to smooth them out is so satisfying because the sheets honestly feel just like butter and scream luxury. This is the look you should go for if you crave a luxury bed with a soft and cool touch. It's worth every penny.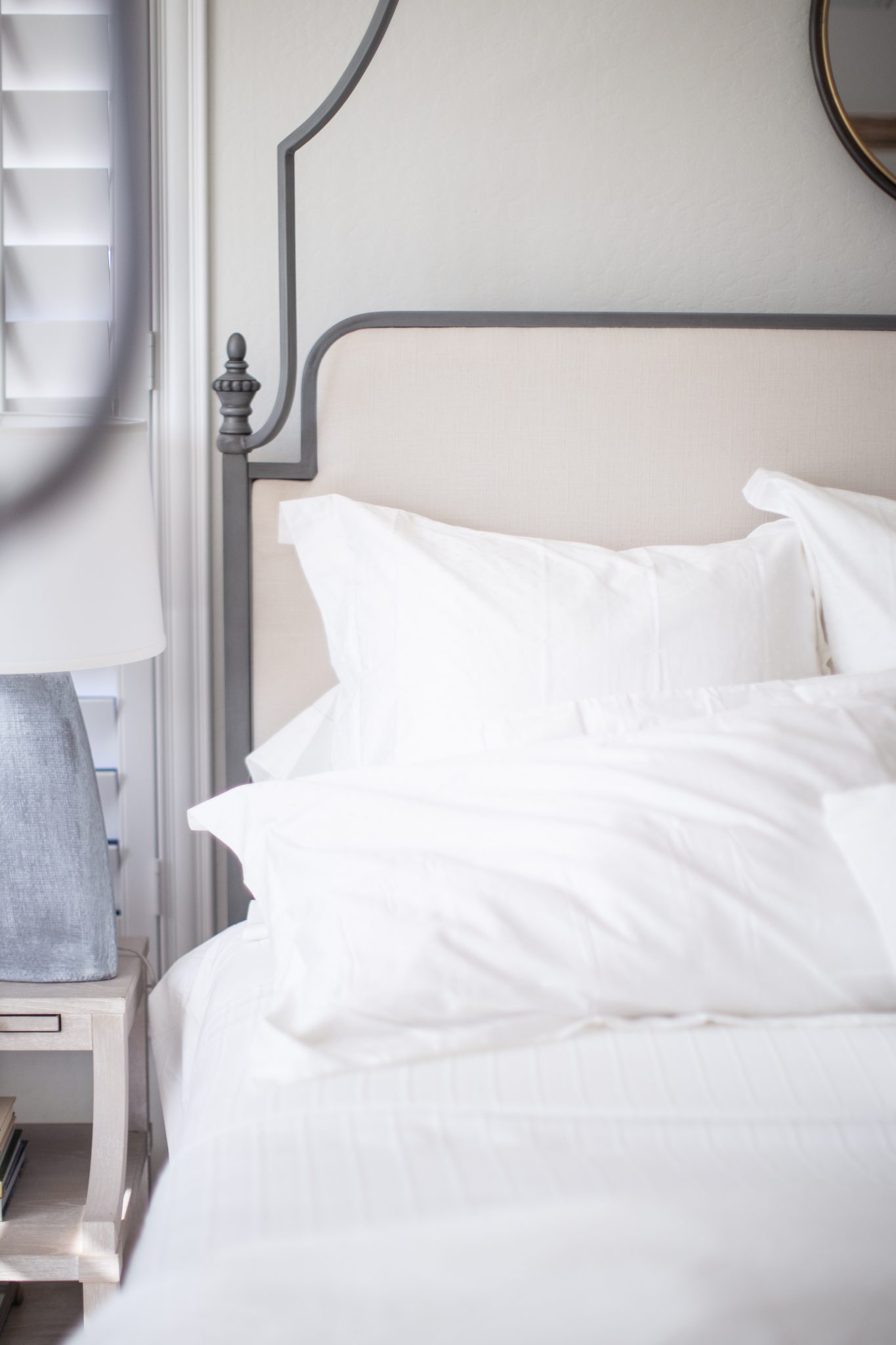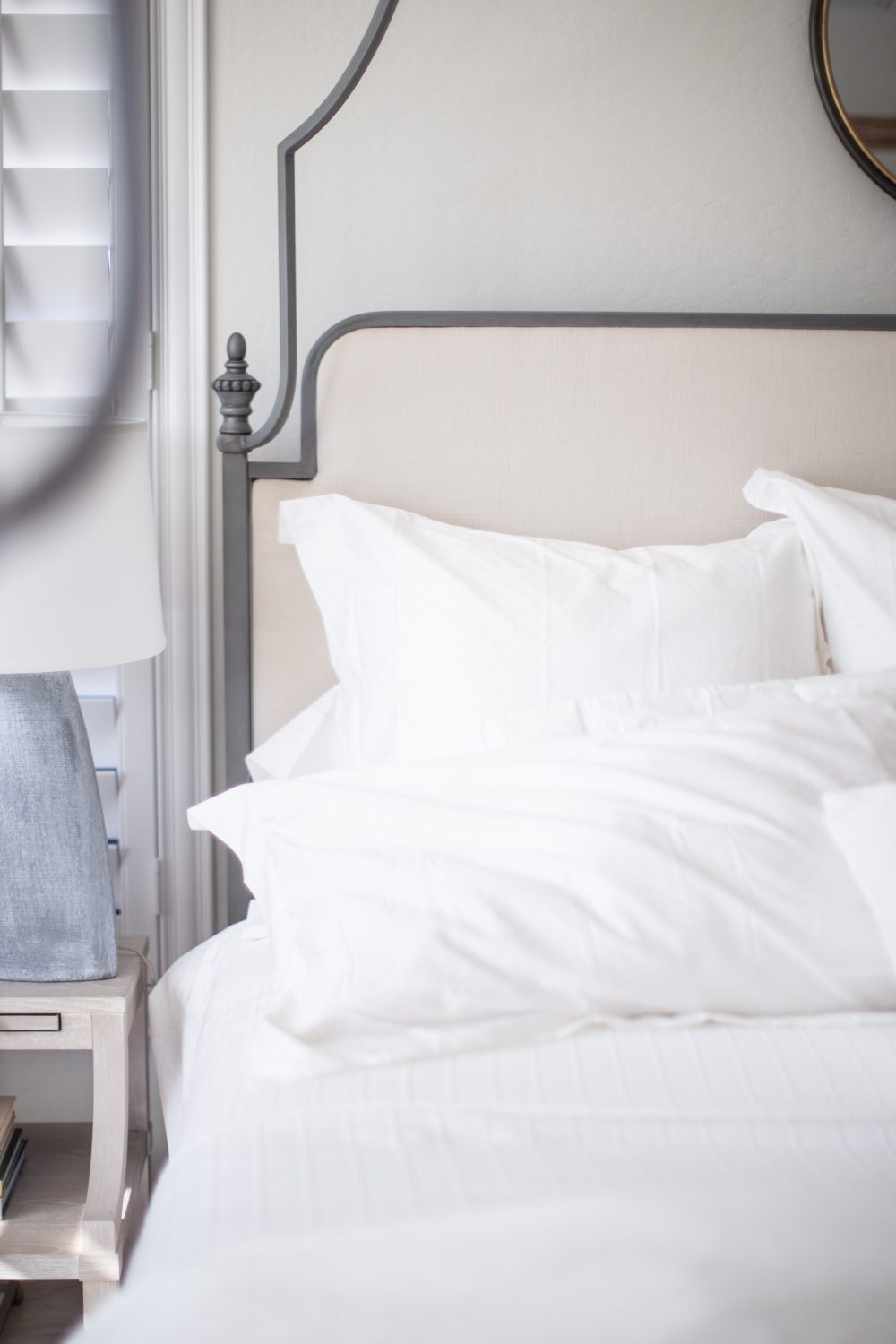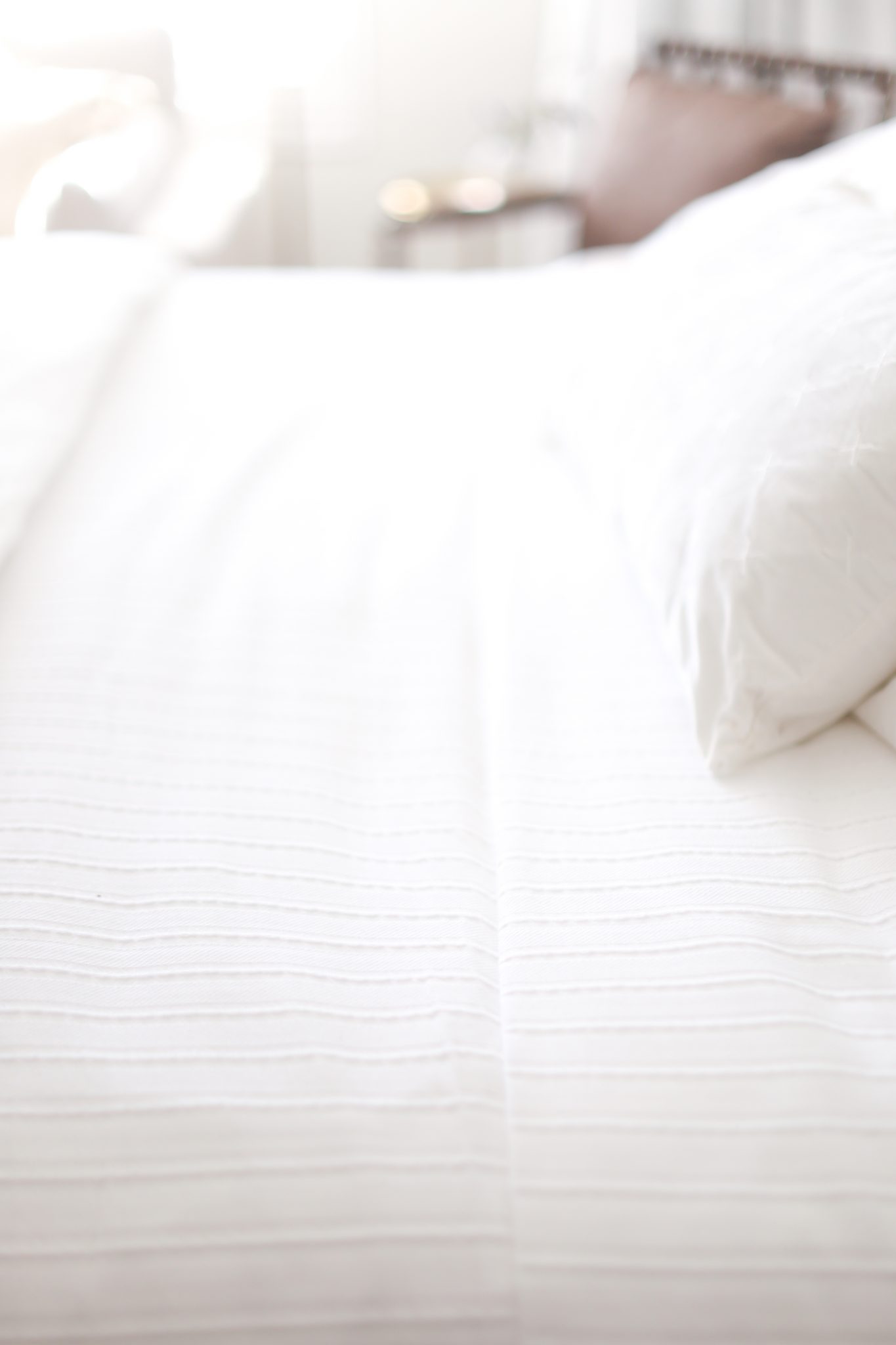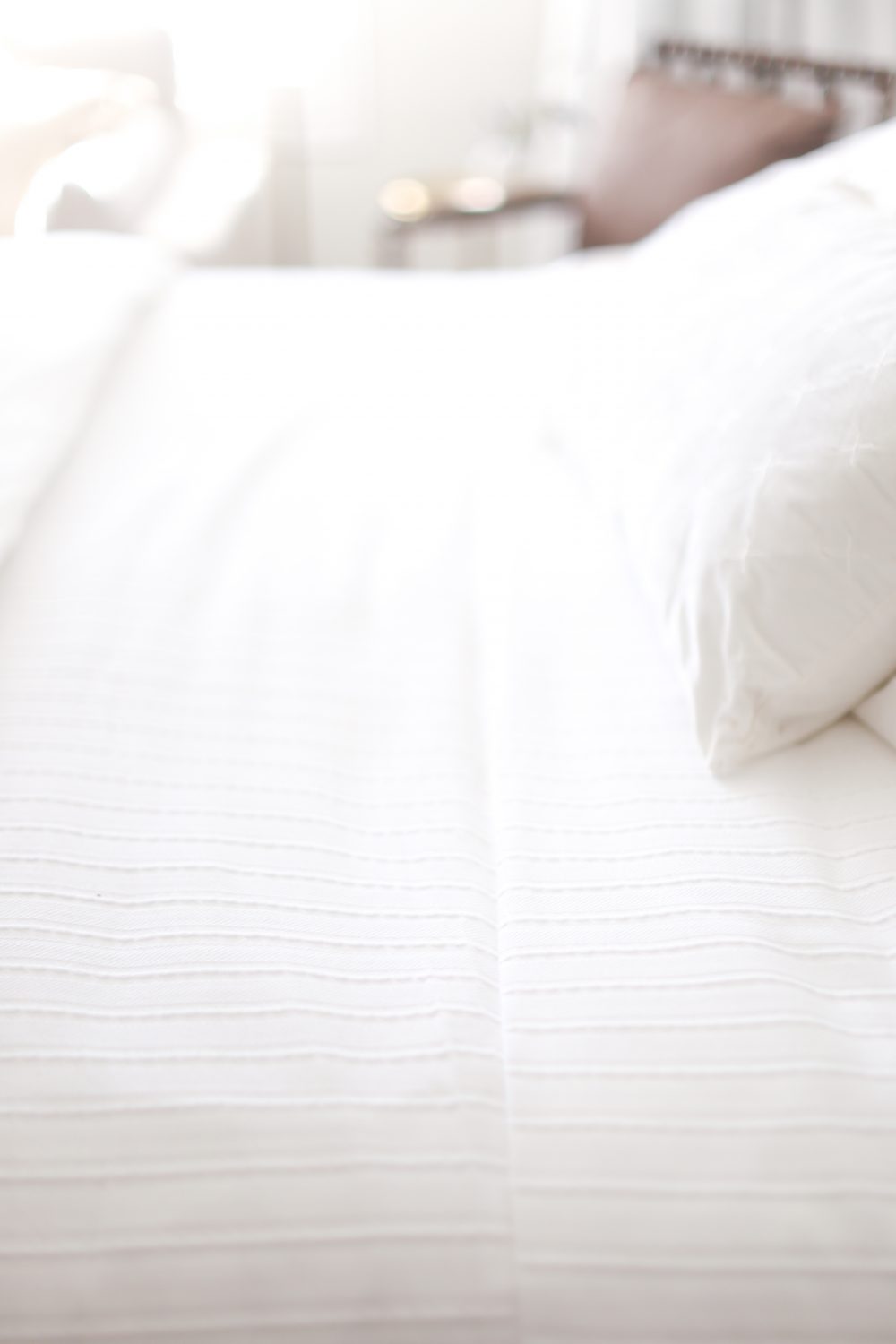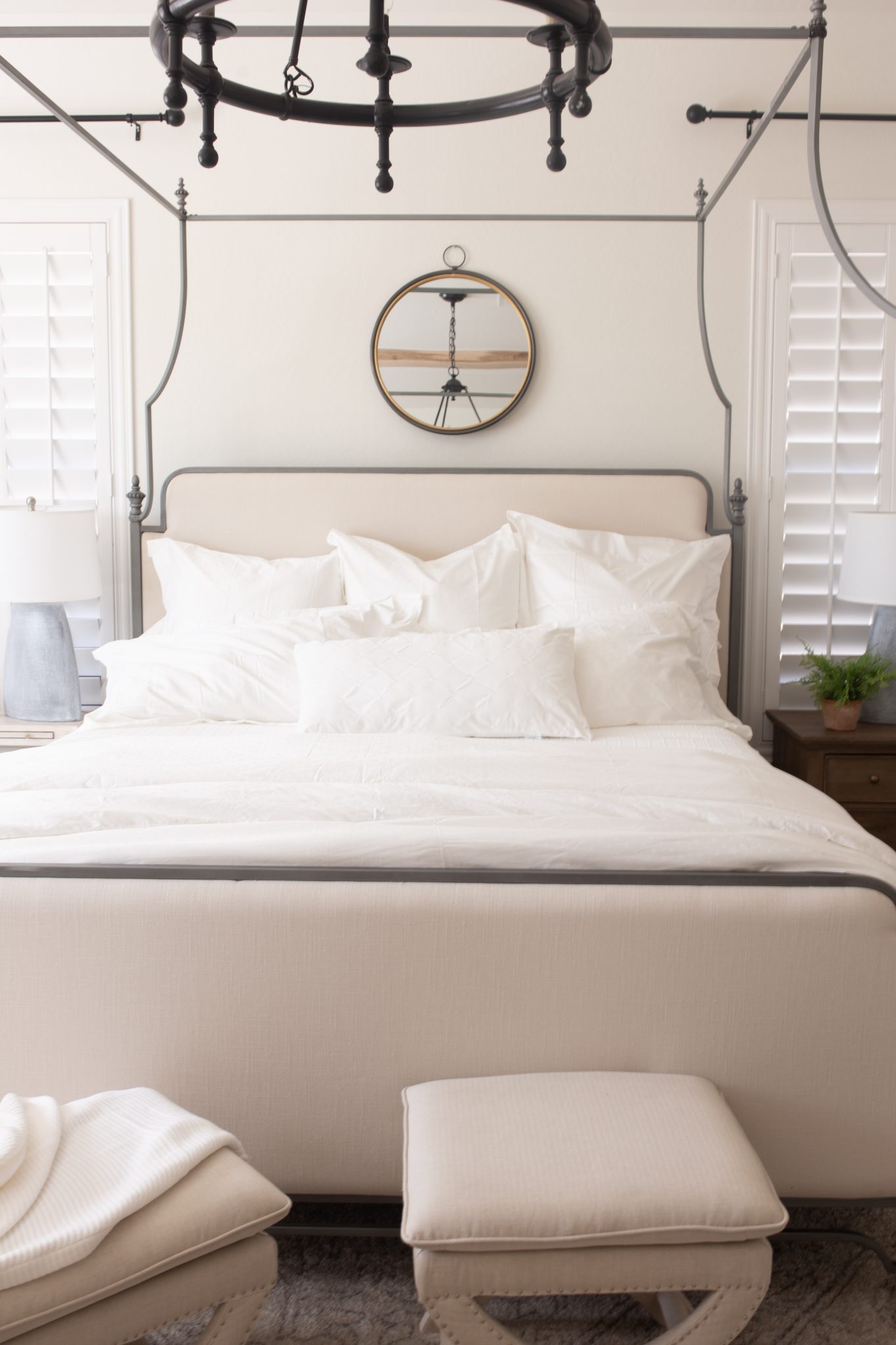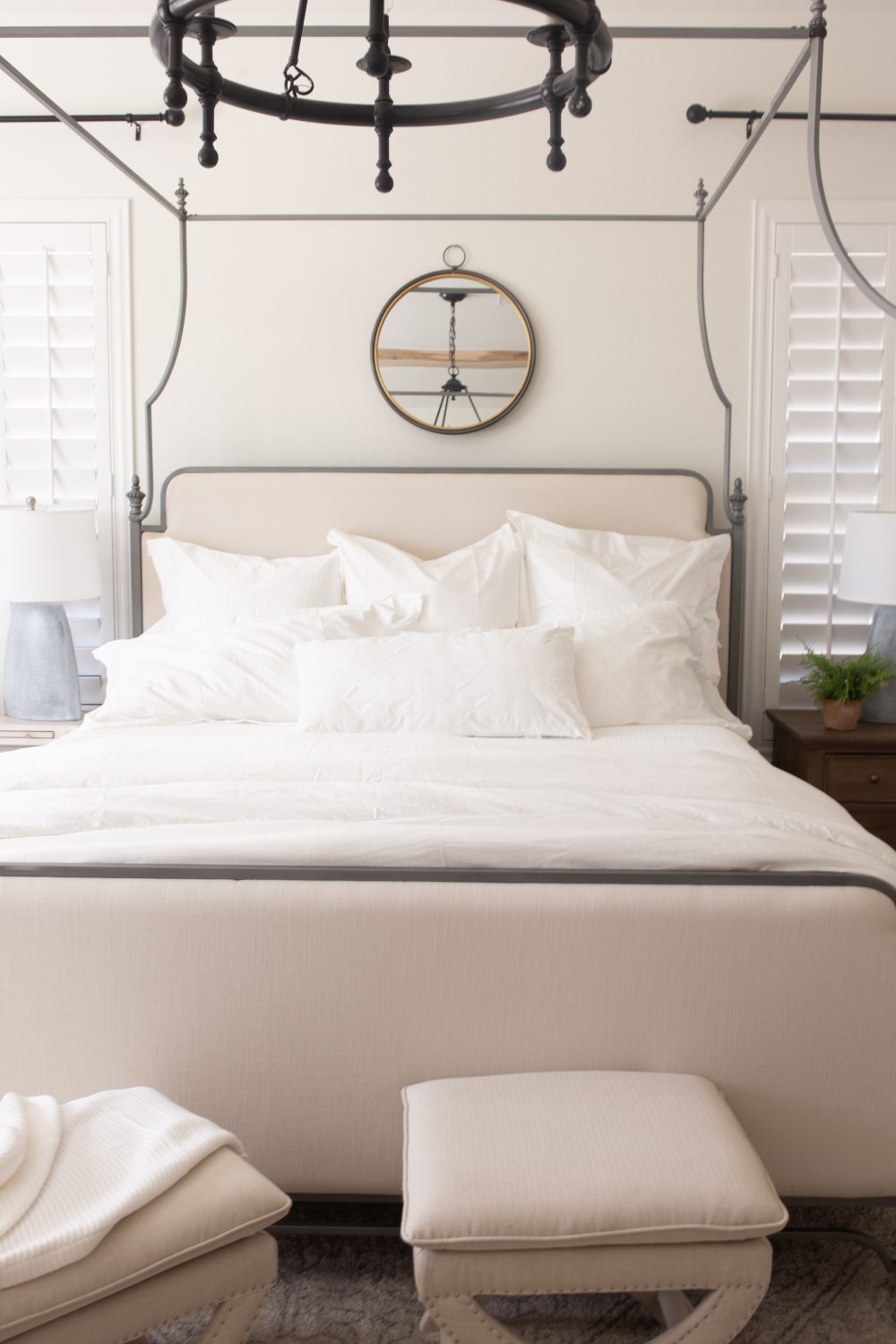 Pictured above:
Organic Love
Living with allergies all my life I have always found myself sensitive to certain fabrics. So the fact that Homedepot.com/decor private brands offer organic options makes me so happy. This next look is not only an organic look, it's oozing with natural linens and certified organic options for those who have allergies or rather have more eco friendly bed options.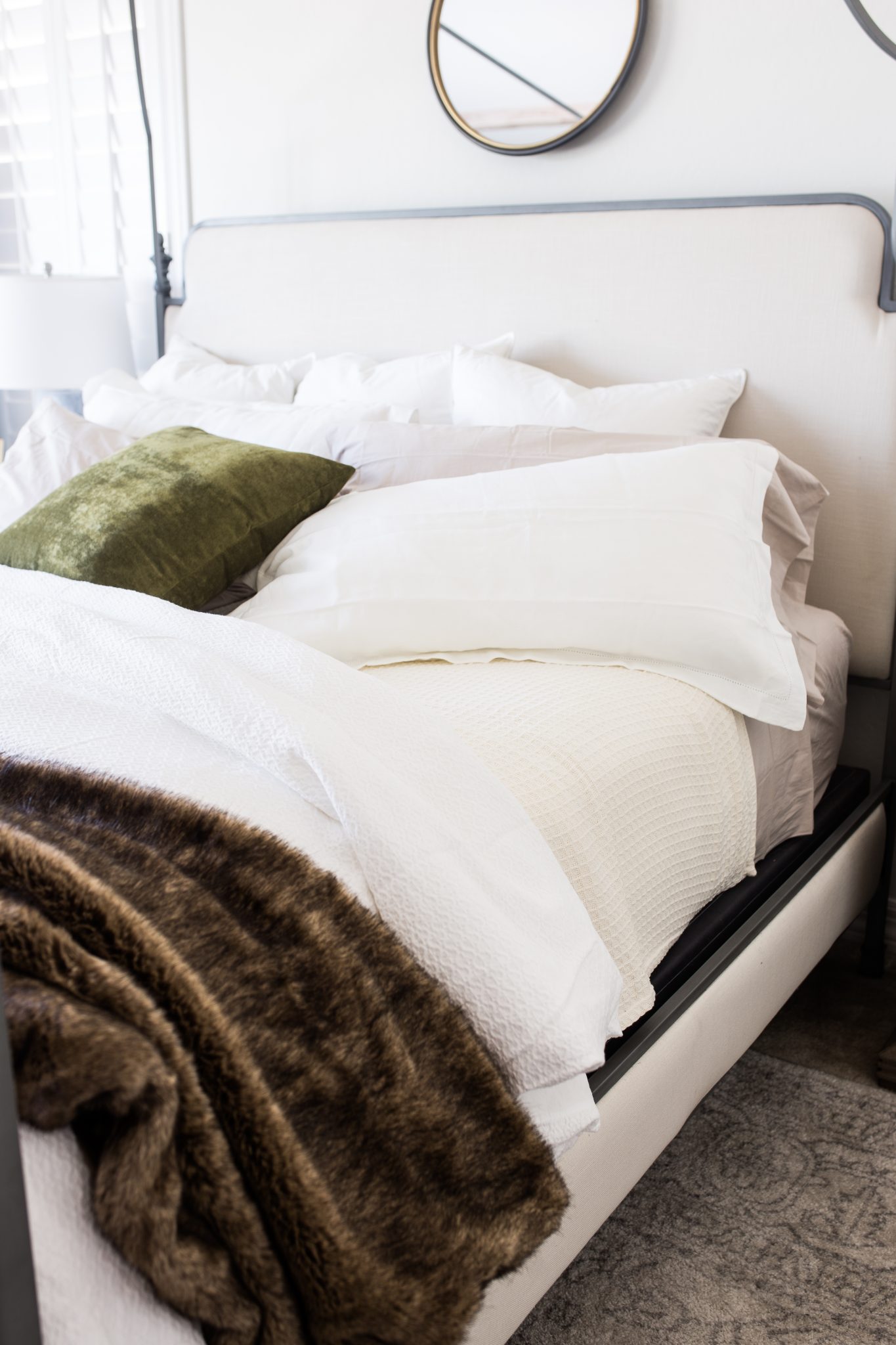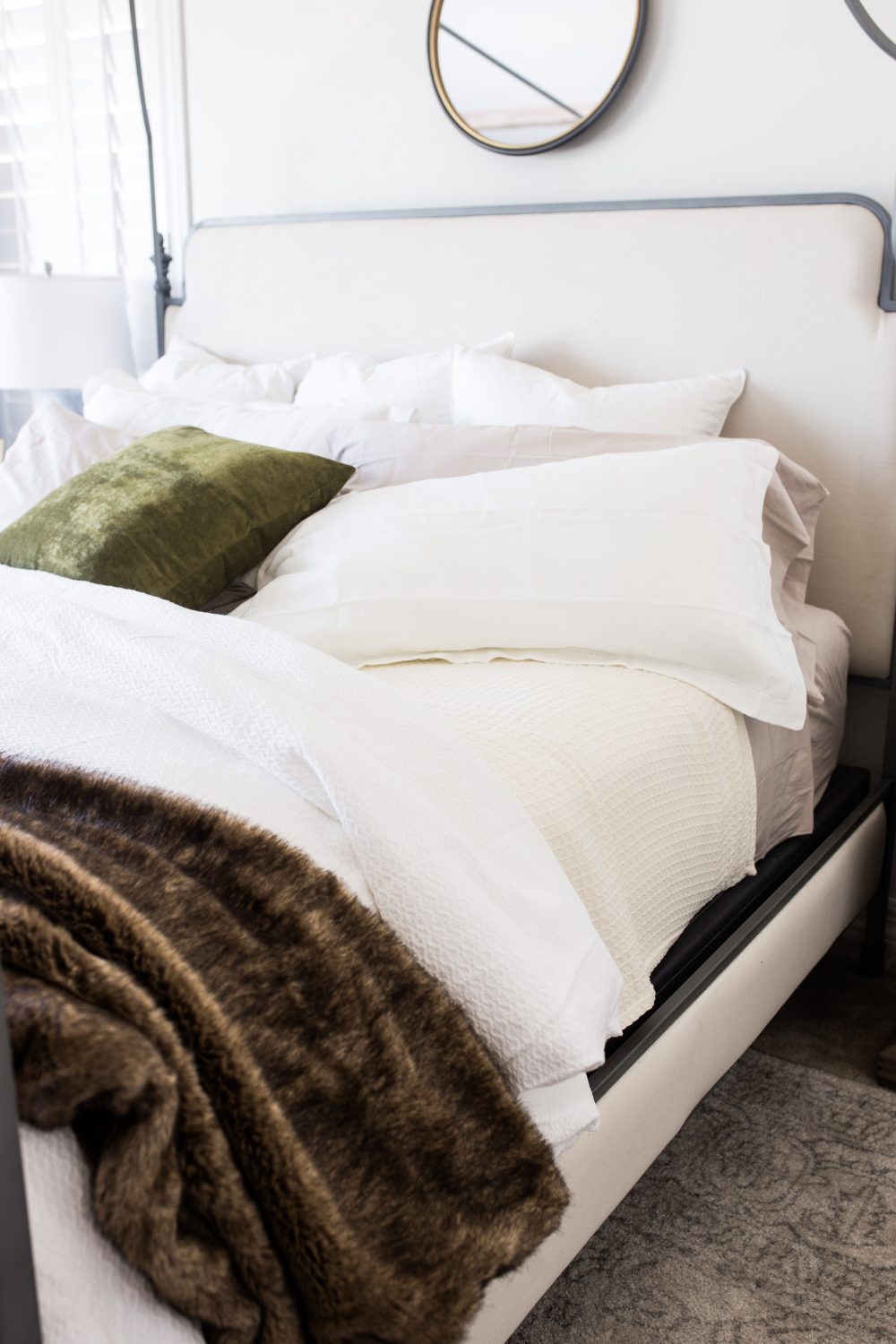 First, the mattress is wrapped in putty colored organic cotton sheet set from The Company Store. It has a lived-in patina and an ultra-soft, velvety feel.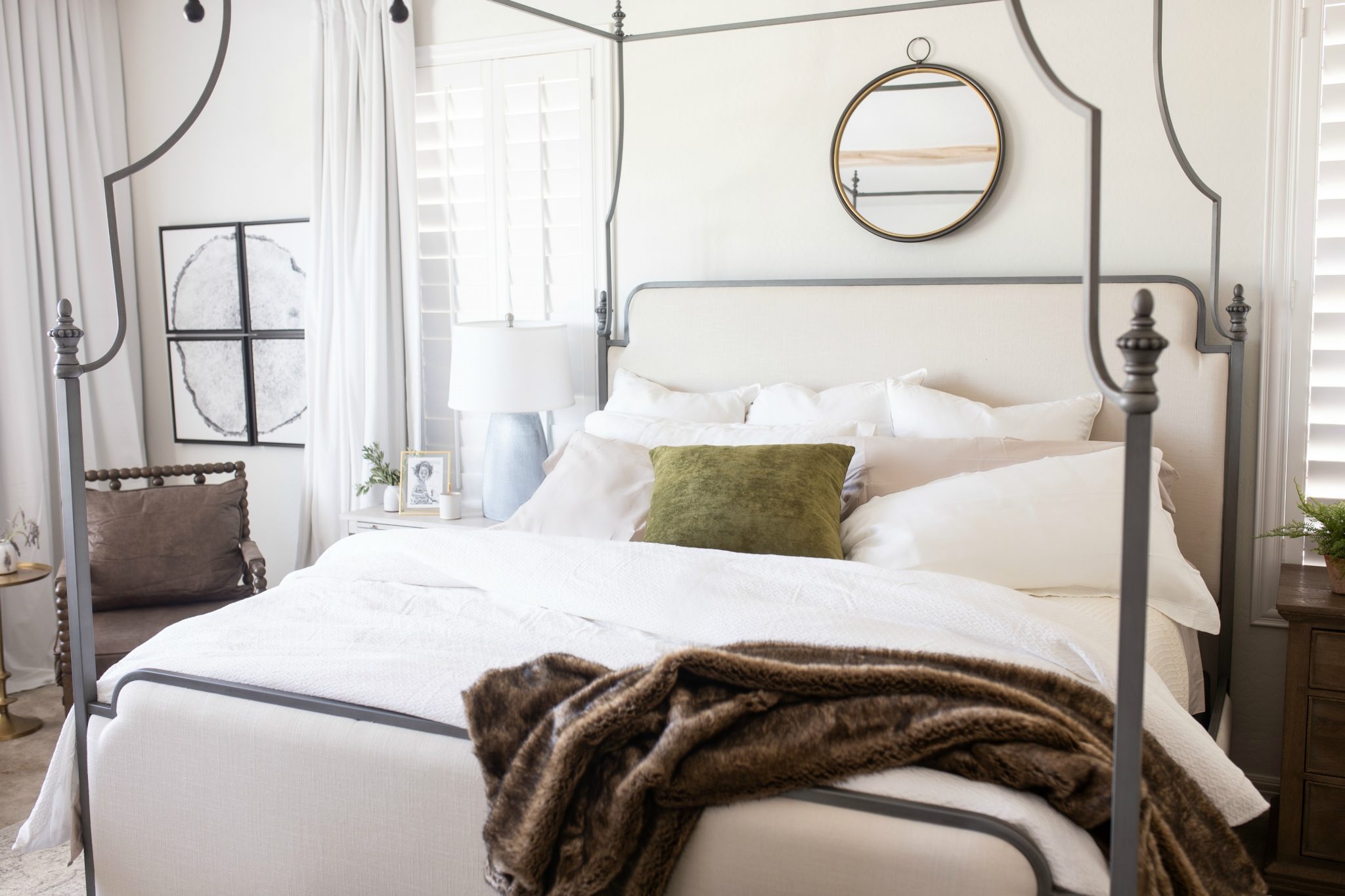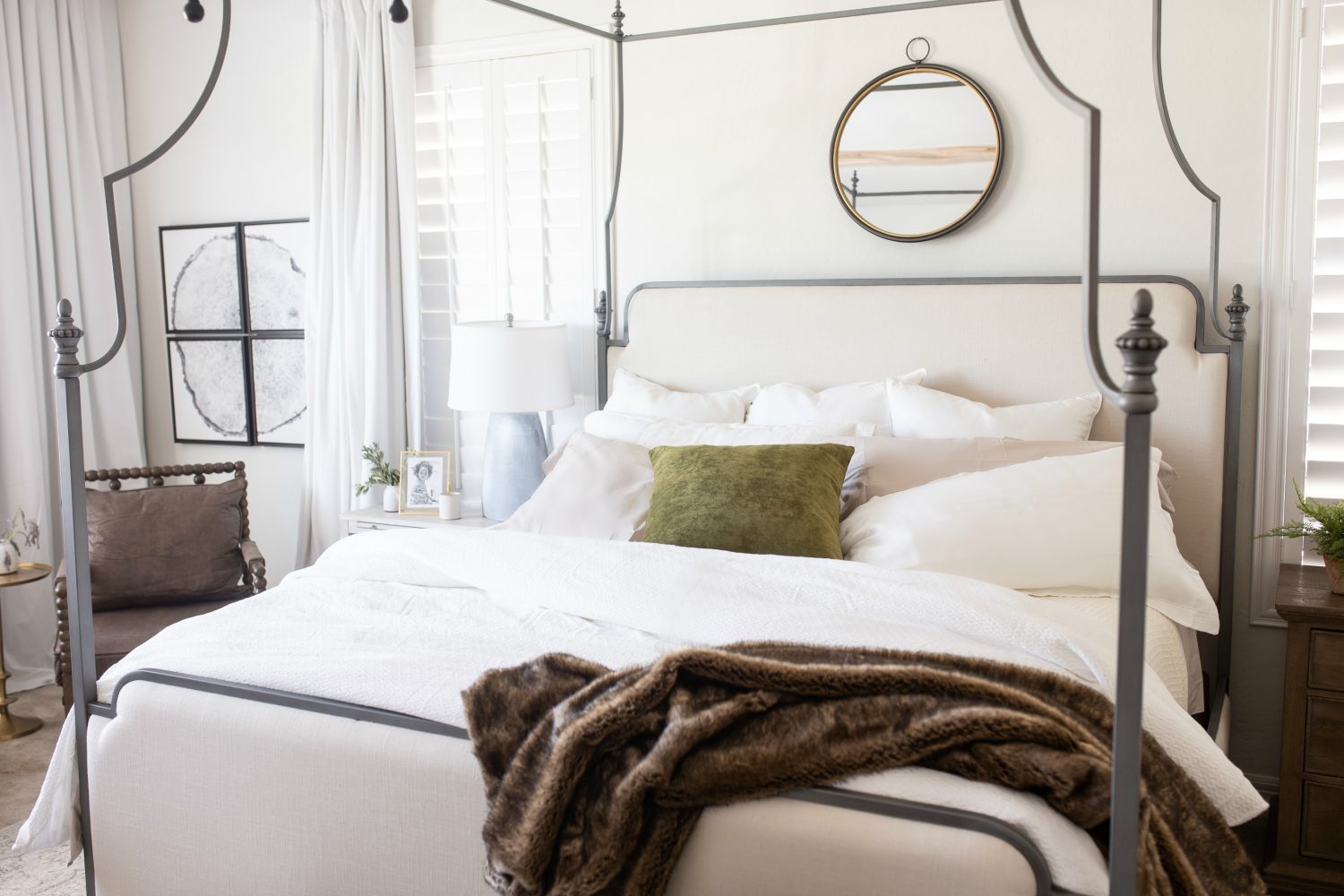 A detailed organic geometric duvet in white sits on top along with soft linen shams. I also wrapped the bed with an organic natural king sized knitted blanket that comes in multiple colors and is a staple in any bedroom these days and a natural for layering. The chunky texture bring some interest to the overall look but also provides all the warmth you need at night.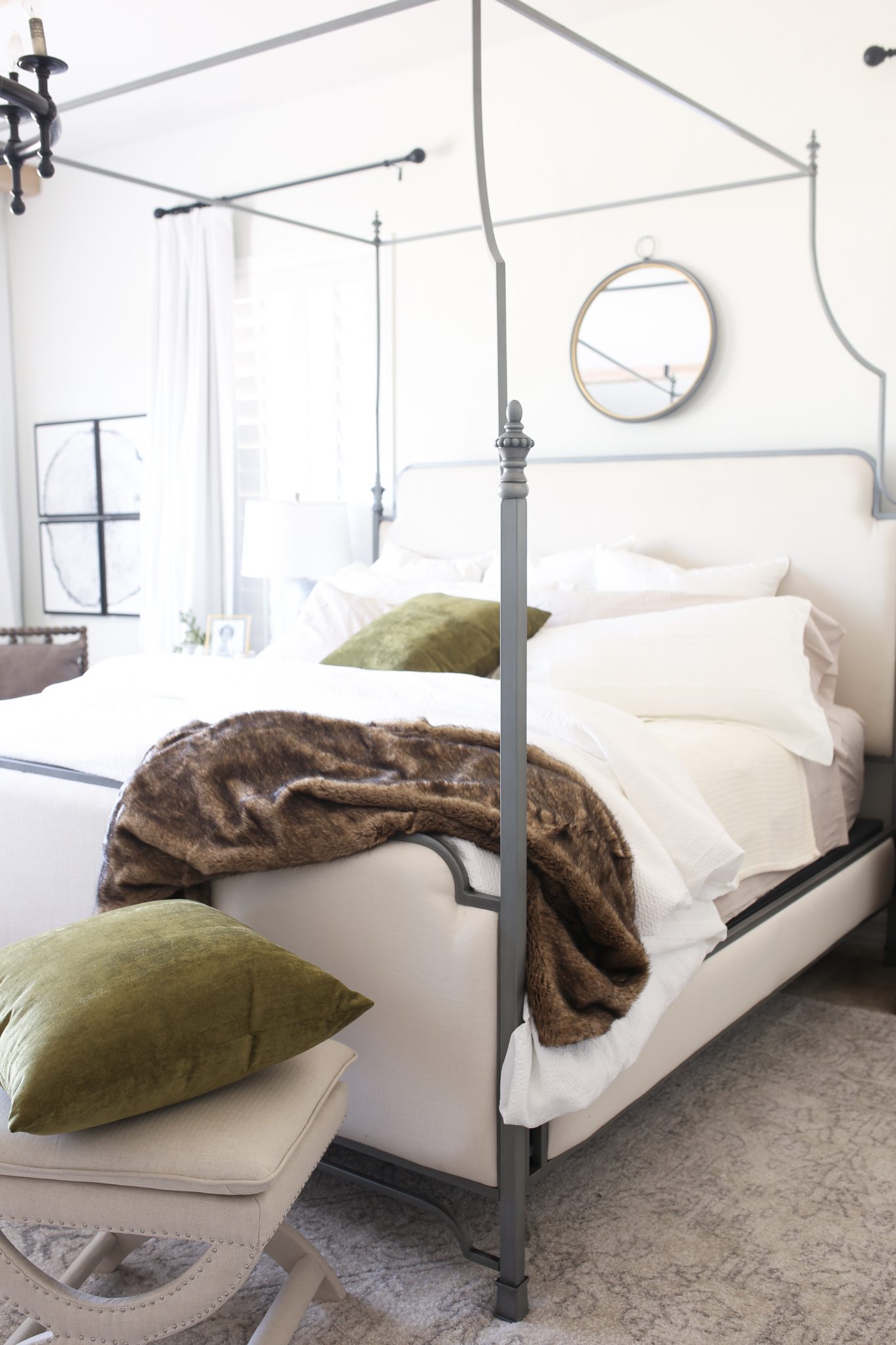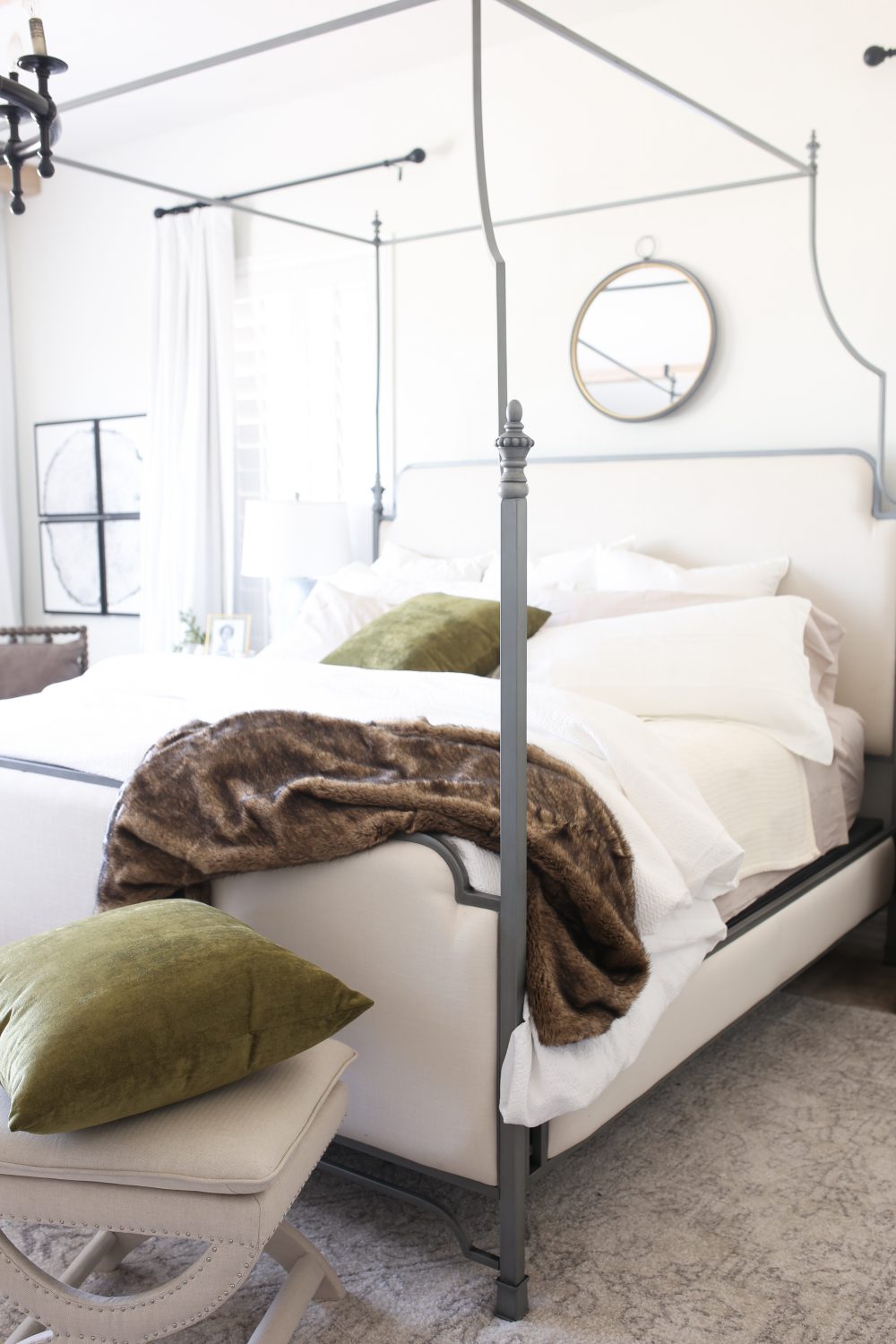 Pictured above:
Cozy, Comfy and Color
Now if cozy, comfy and color is your priority then you will love this next look. Comfy beds always start with comfy sheets. In our last two looks we used a softer more cooling sheet sets. This time I used a jersey knit sheet set from StyleWell that has a killer price and sheets that are perfect for climates that stay pretty cold for the most part of the year. These sheets feel just like your favorite t-shirt. Soft and nostalgic.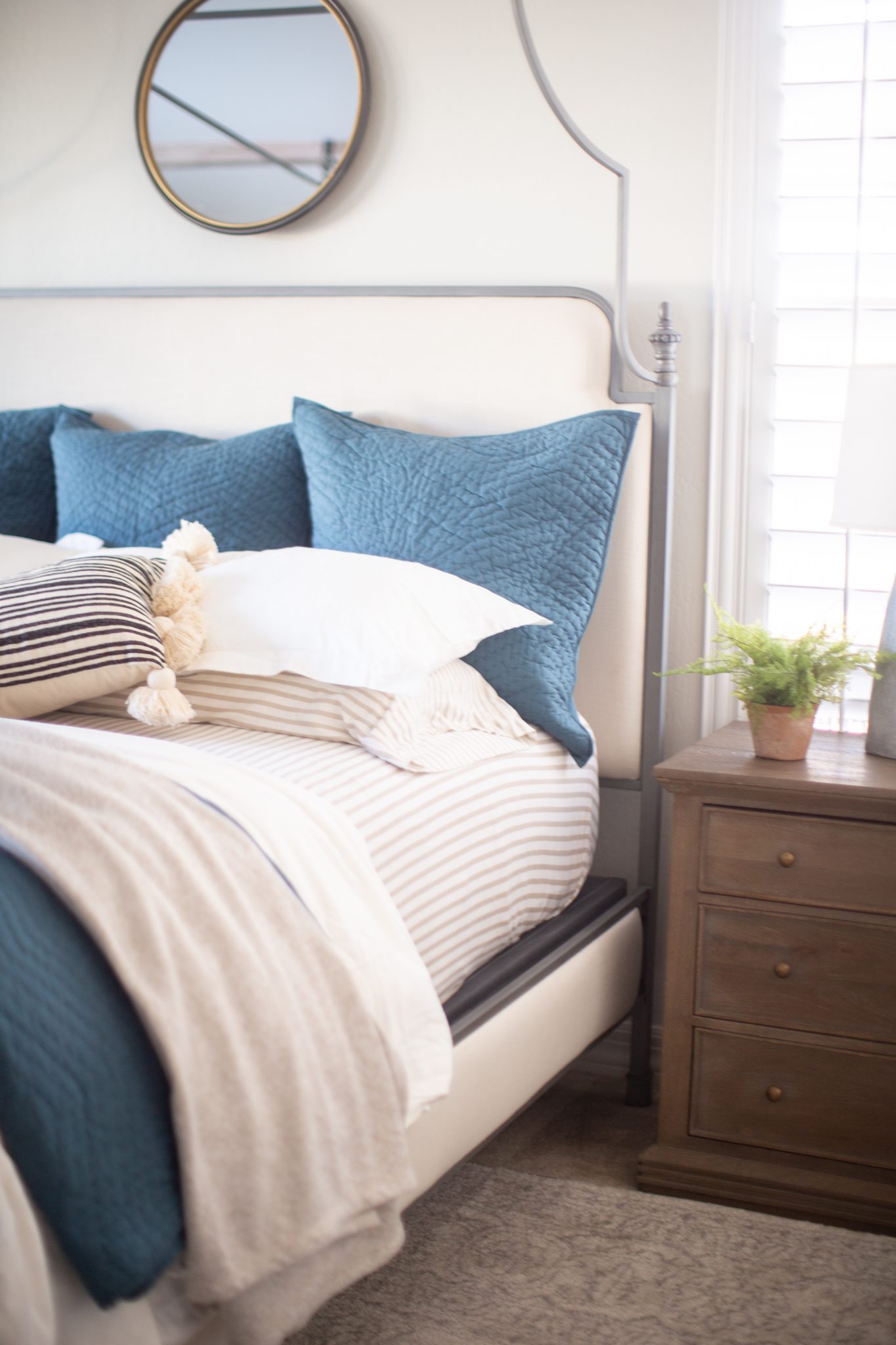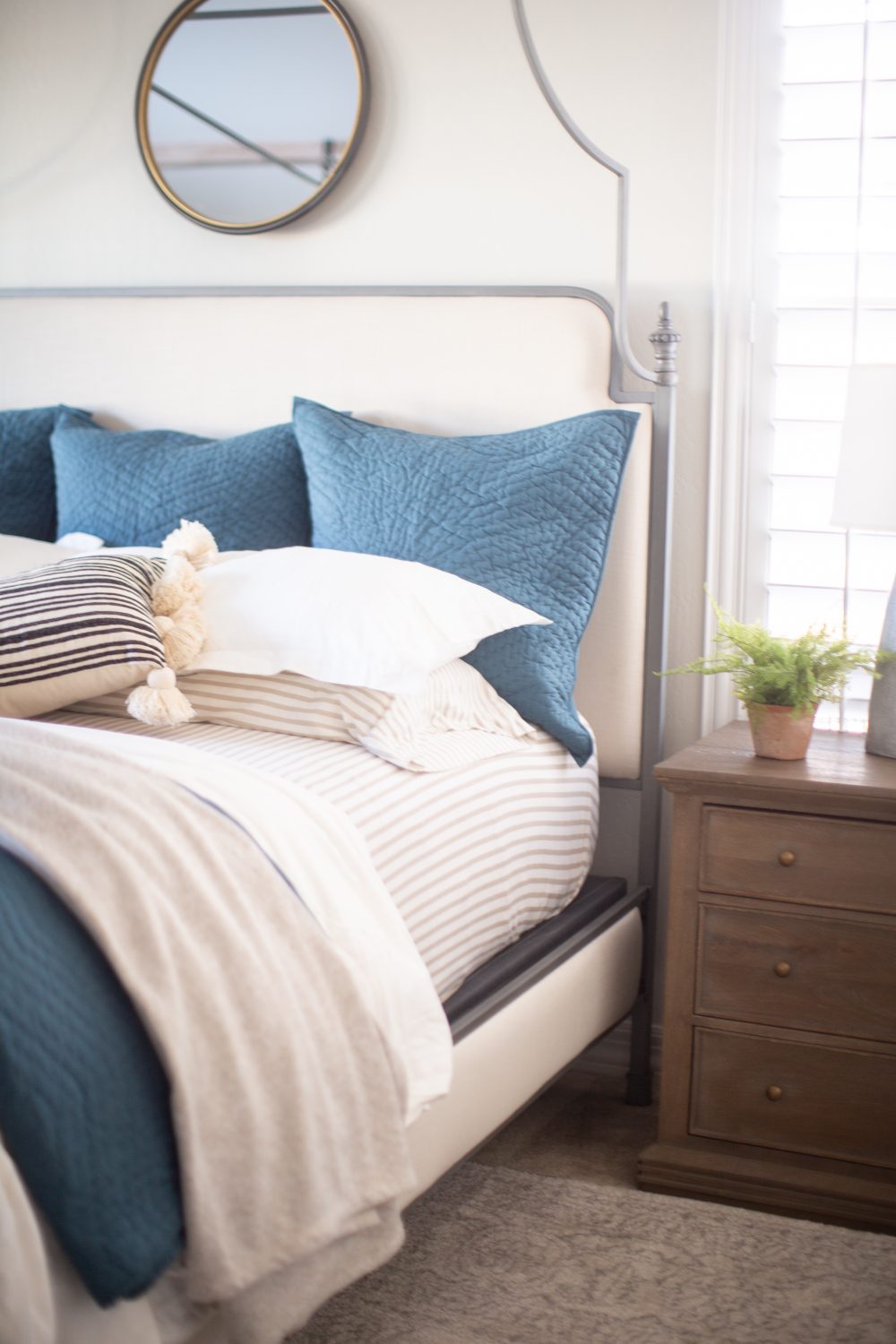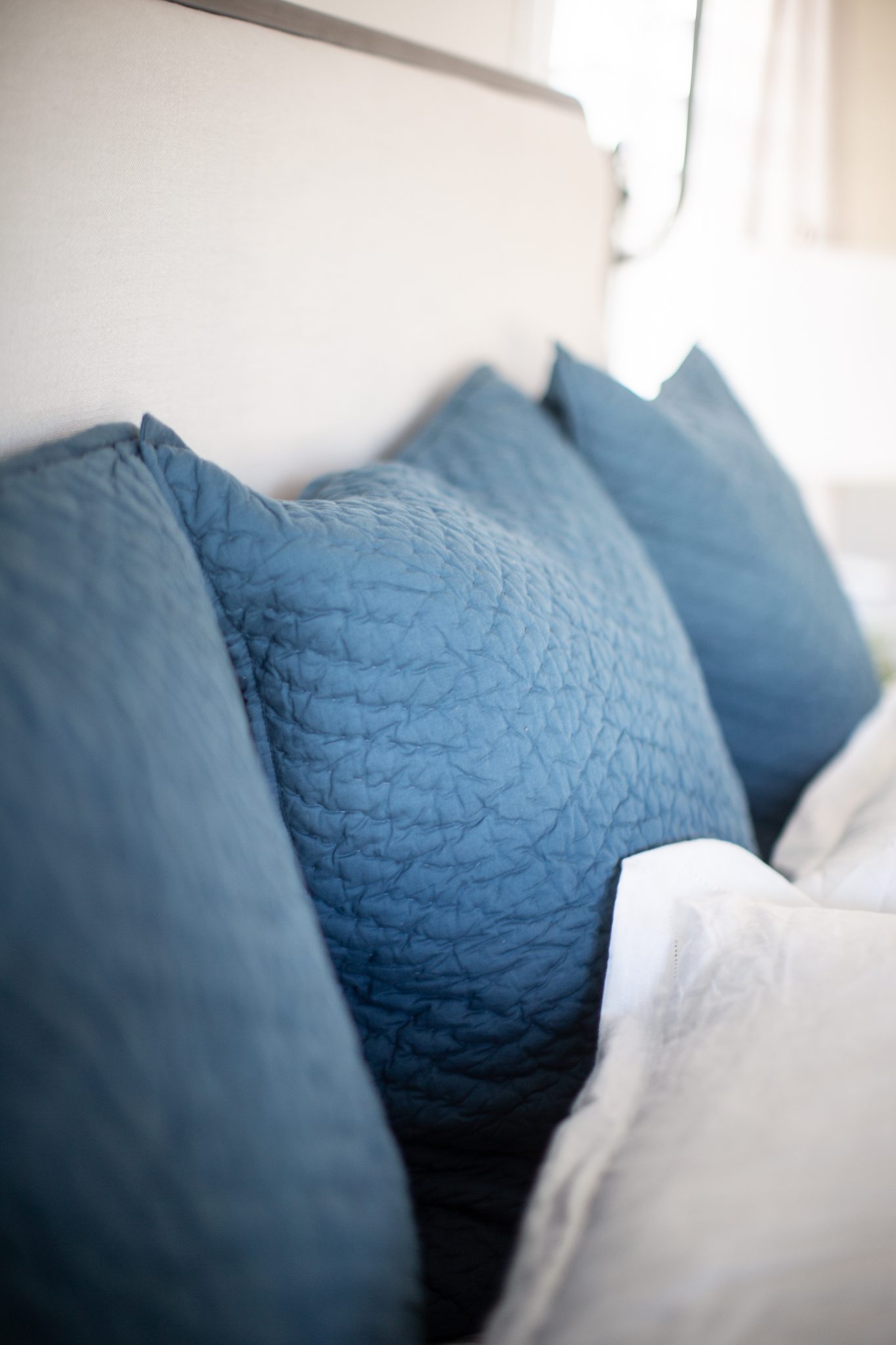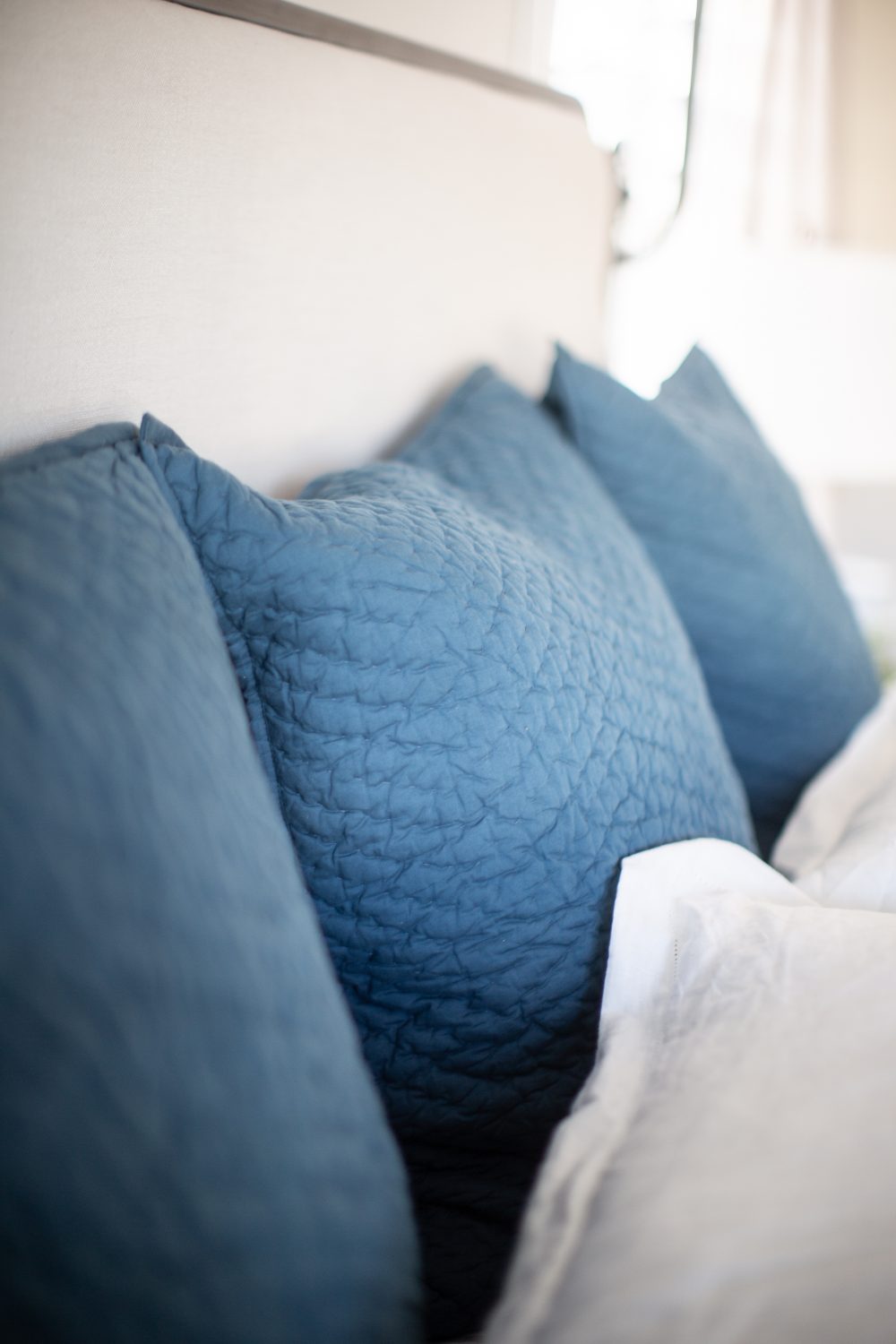 Cozy beds need a lot of layers so I added a soft quilt to give an extra layer of comfort. This Company Store Cotton Quilt and Shams comes in so many different colors to match whatever color scheme you have in your room. This color Pacific is a deep blue that reminds me of the ocean.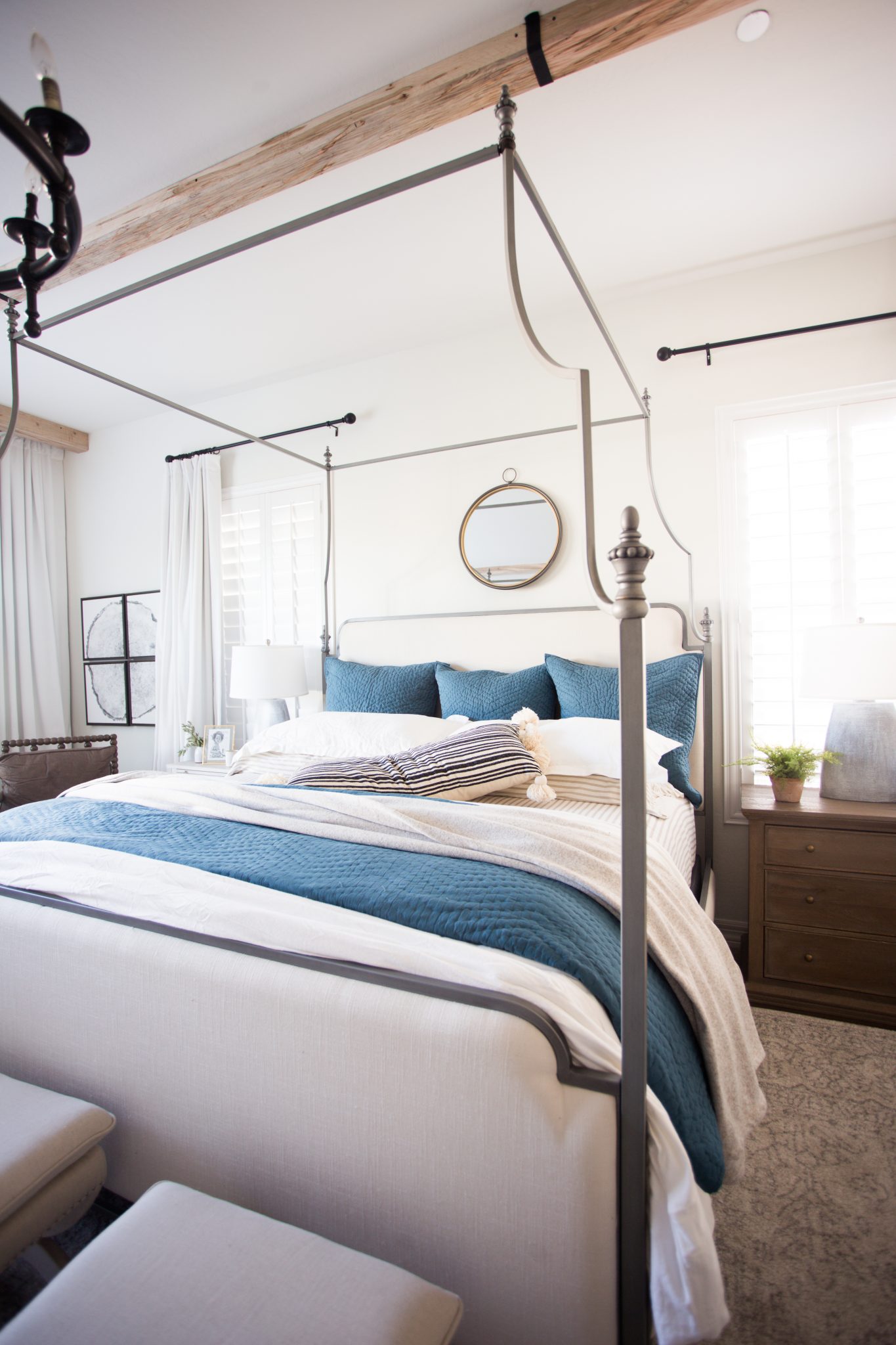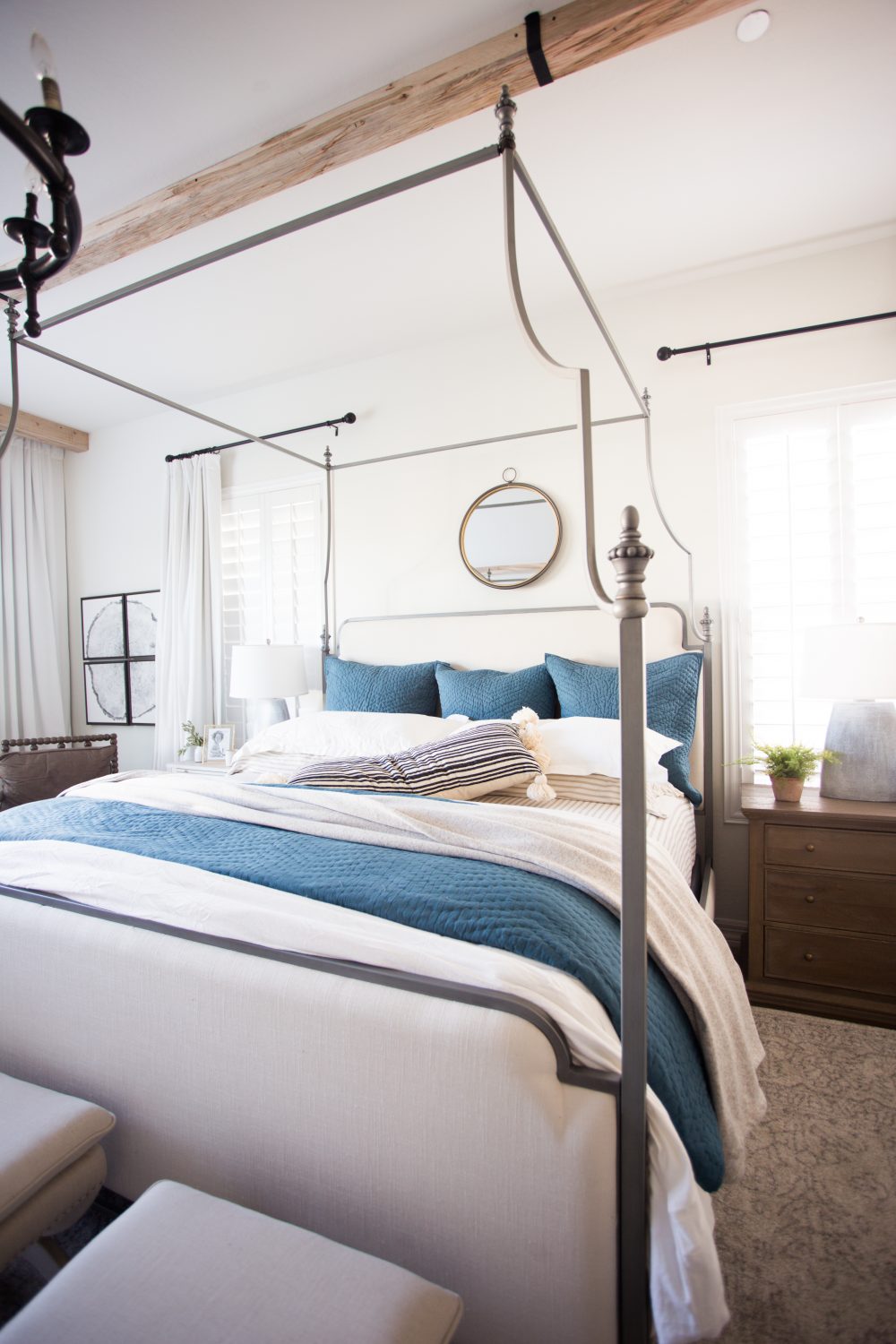 To top it off I choose a matching soft flannel duvet in all white to up the cozy. I also added the popular Sweatshirt Knit blanket. As the nights turn cooler, you will welcome the warmth of flannel, knitted, favorite t-shirt/sweatshirt type of bedding!
Featured Above:
NightStands
I chose to upgrade the nightstand on my husbands side. It's from the popular Home Decorators Collection, Aldridge line. I already have a few of these pieces in my home and I keep coming back to them because they are so well made and provide a rustic look with out looking to out of place.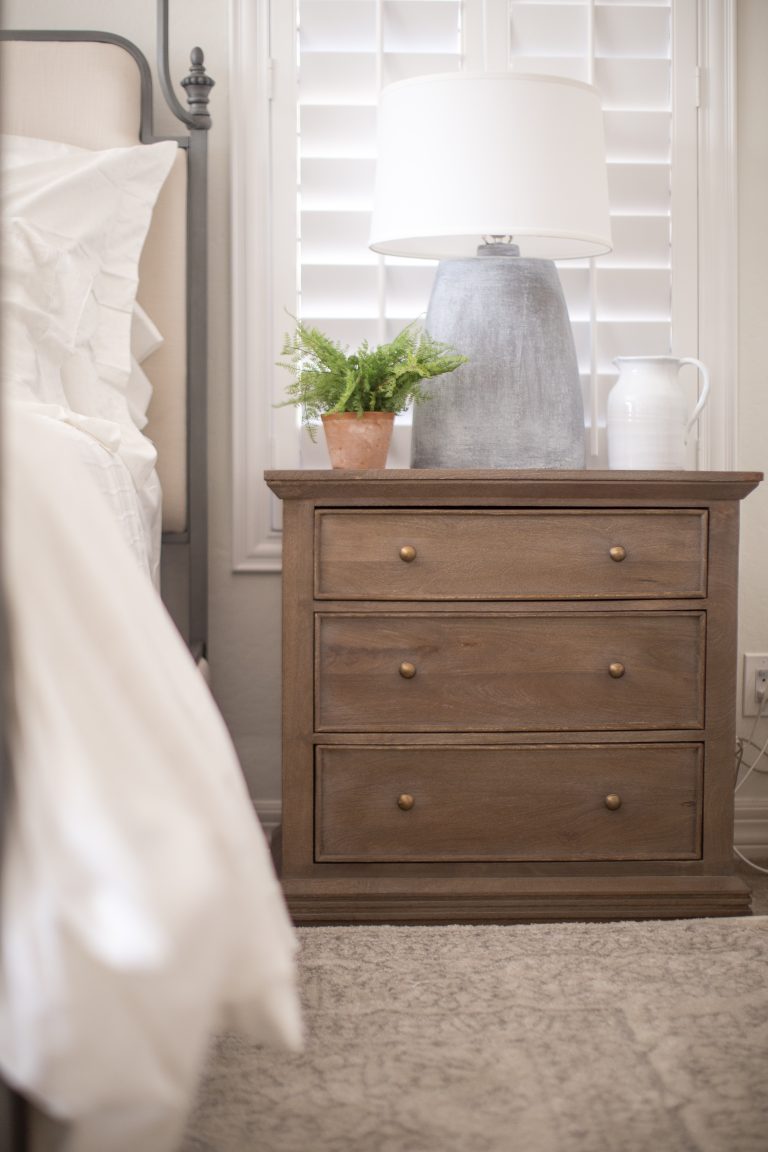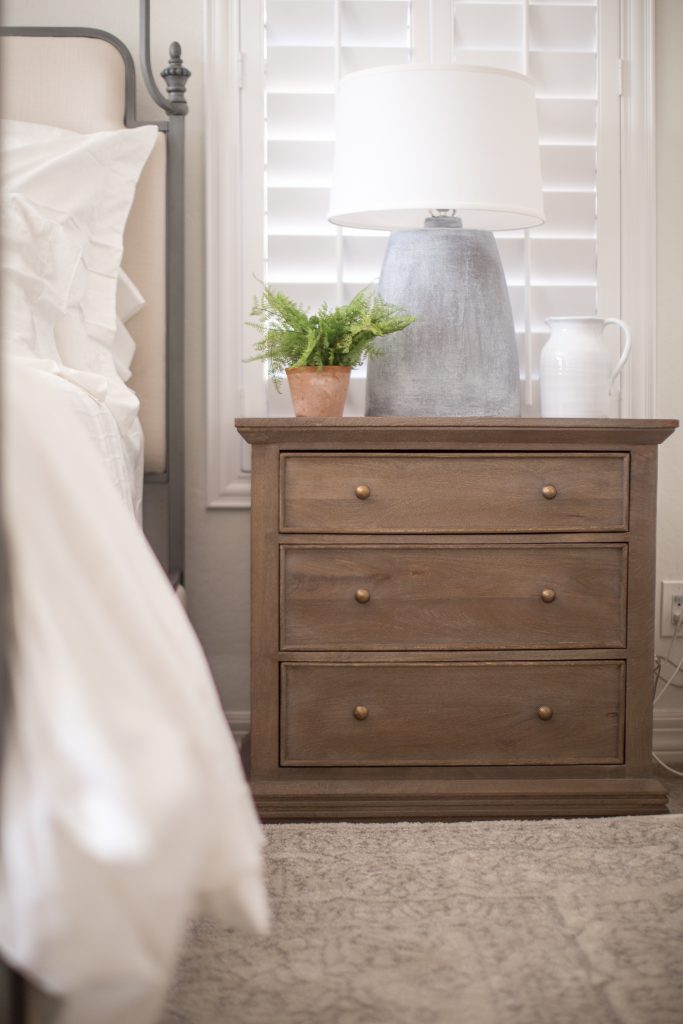 It came packaged in one piece so there was no putting anything together. Which I loved. It's a sturdy piece of furniture will plenty of deep drawer space for all your bedside needs.
I styled the nightstands using a white washed textured lamp in an oblong shape along with some small terra-cotta pots and pitcher also from thehomedepot.com/decor. They are perfect for fresh herbs or flowers and brighten up the room.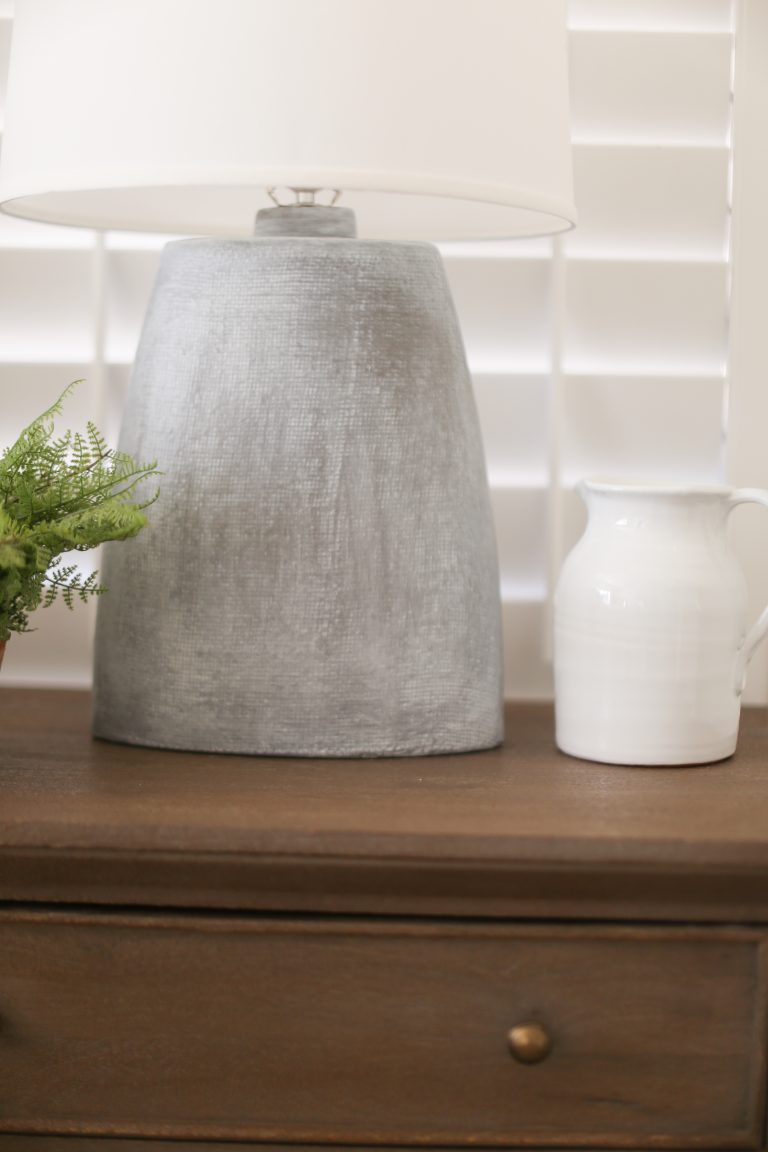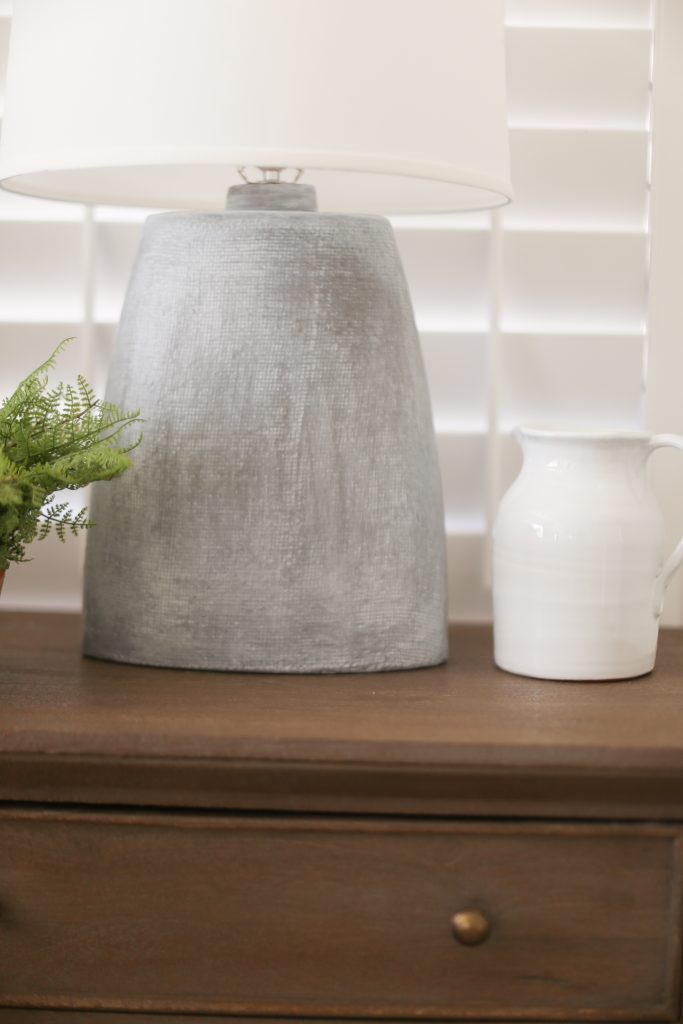 Featured products:
Lounge Area
This has been my favorite area to relax in besides our bed. We are so thankful to have a small area in our room that was perfect for a sofa and a couple of chairs. After looking at all homedepot.com/decor had to offer I landed on some amazing living room items along with some project completers to help bring this look together.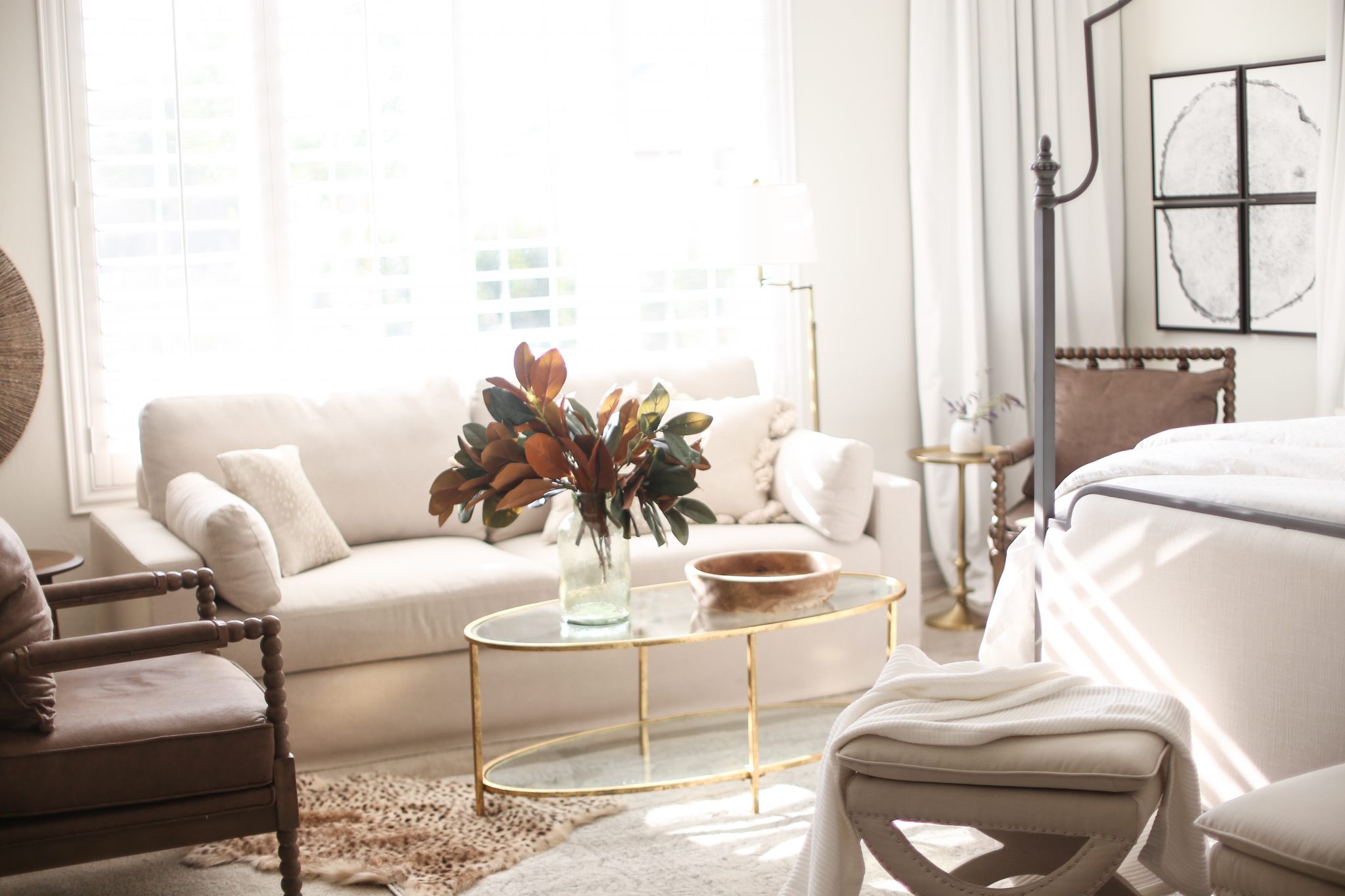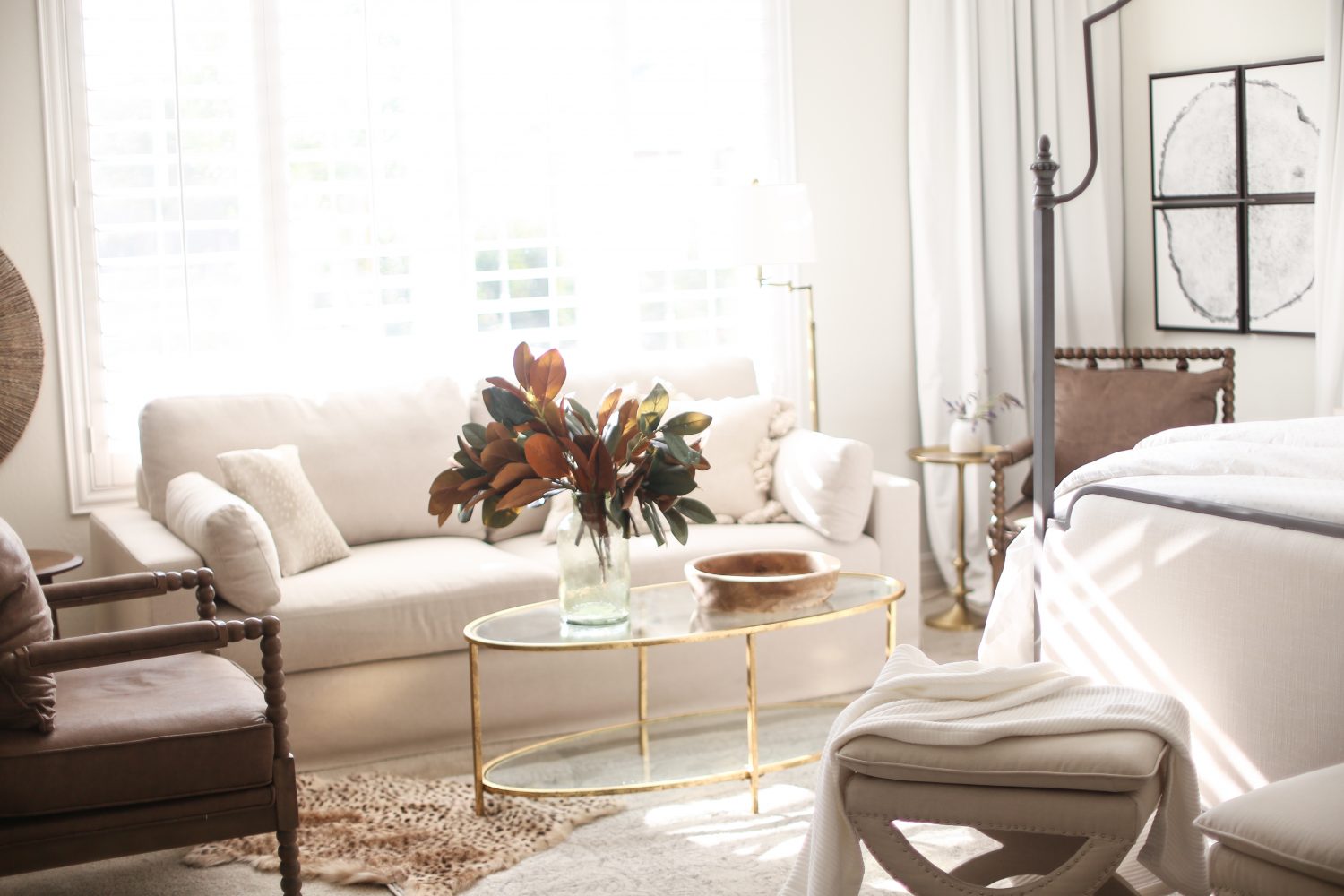 The sofa was the first thing I knew I wanted to get right. We have enough room for a small space sofa so I decided on the Addilyn Jute Sofa. When I received it I was in love! But as soon as I went to find a link for you I discovered that it had been discontinued.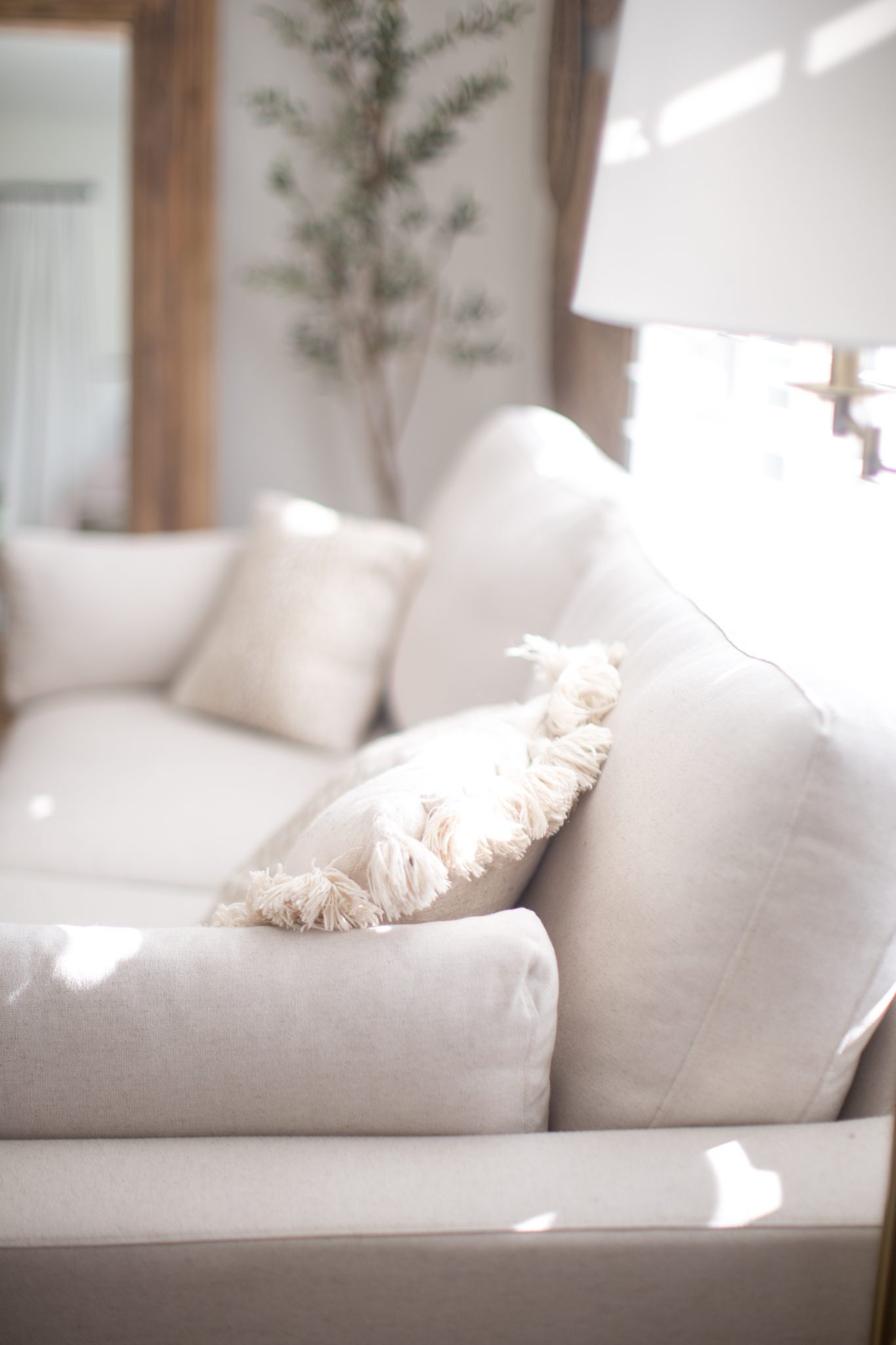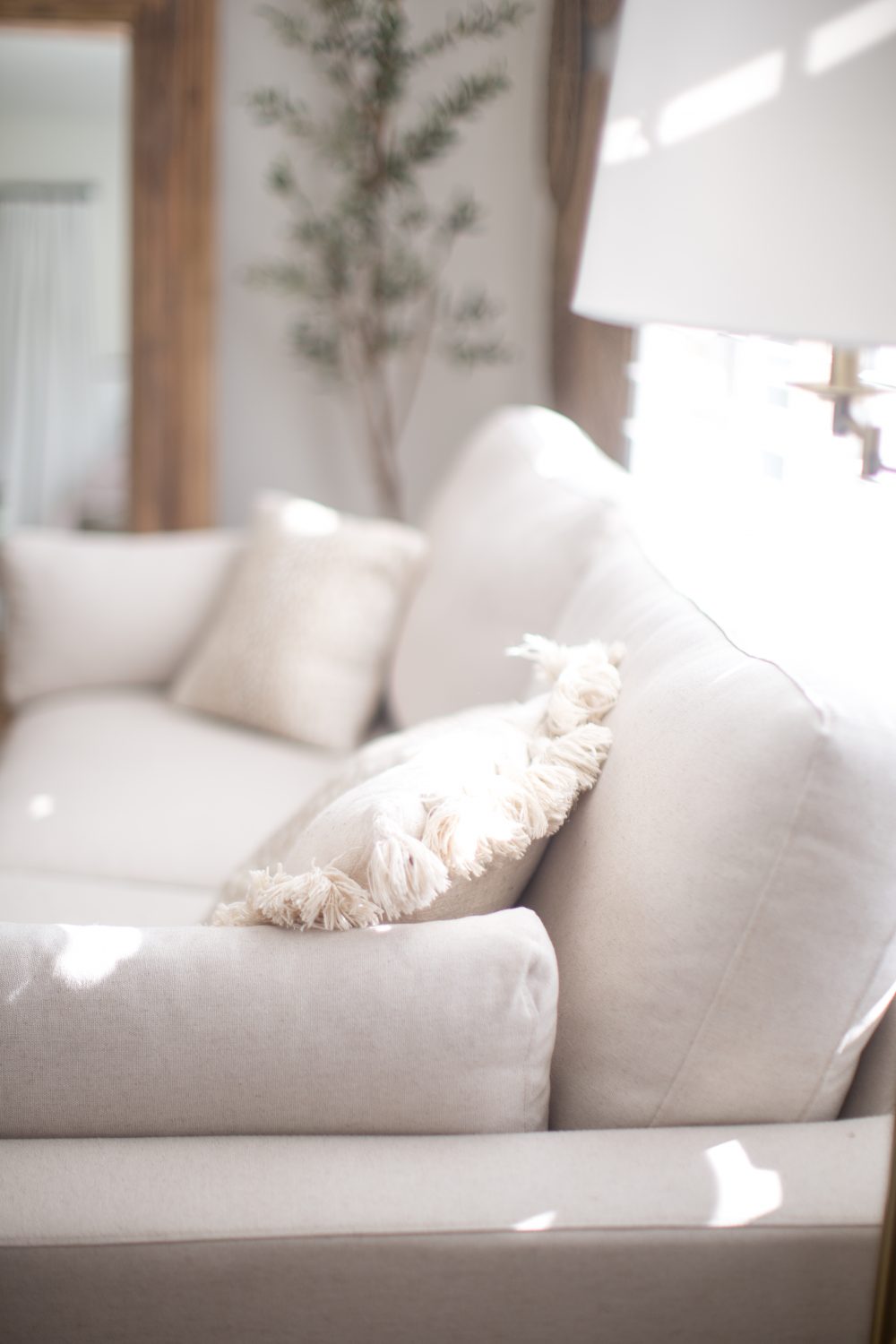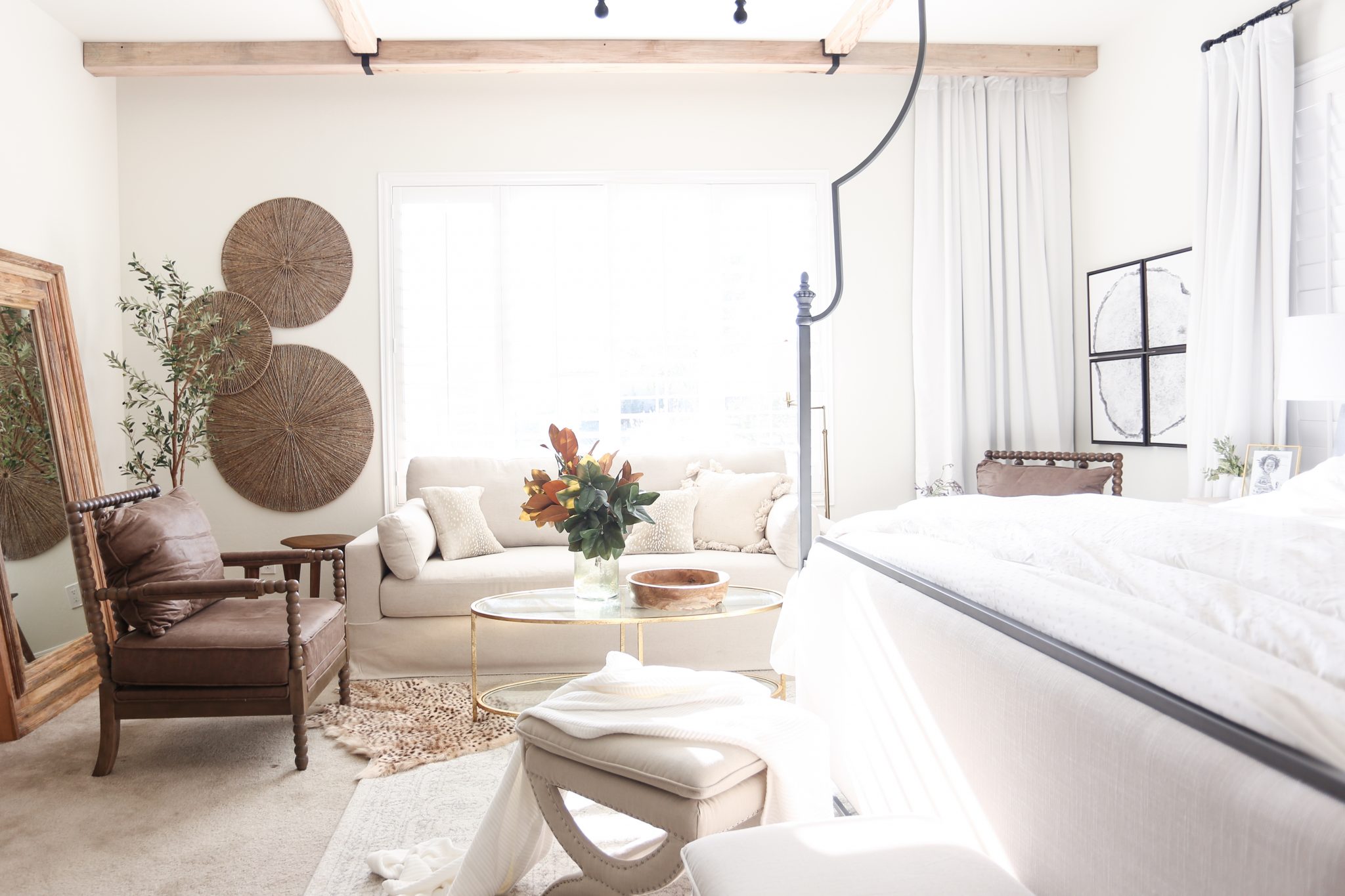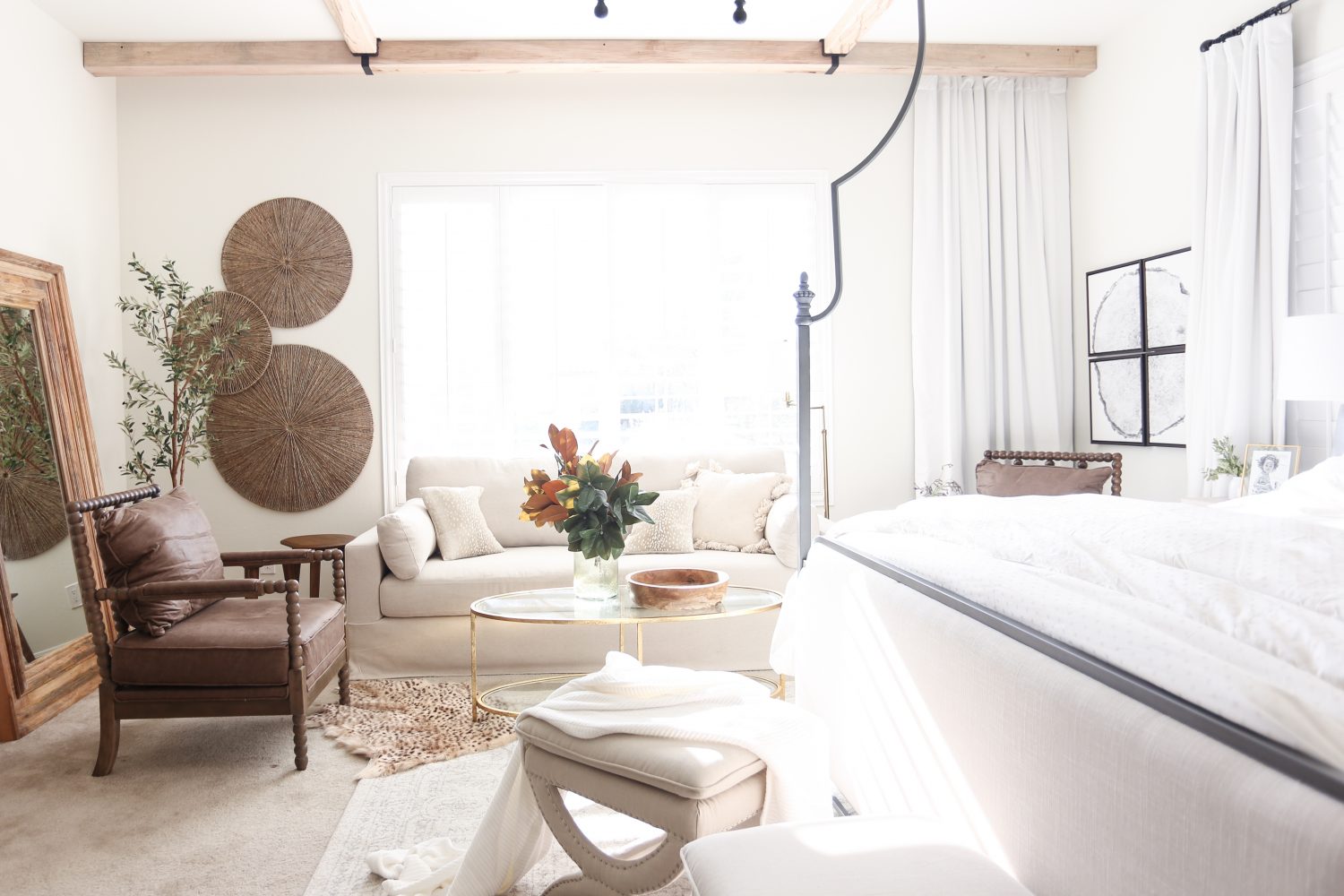 But here's the thing. I found and even better option.
When I went to Chicago early last month for a secret project with The Home Depot ( more on that soon) I came across the Daymont Acuff Straight Standard Sofa and let me tell you girls, if I could go back in time I would definitely order this after seeing it in person.
It's plush and the fabric options are gorgeous. I personally love the Ivory( more white) and the khaki color ( which is more of the color I have pictured) It's a little larger than the one I got but it still would work in a space like this.
The two bomber brown accent chairs on each side give off a rich shade of chocolate. The soft leather upholster isn't something I would normally choose but I wanted to add some depth to this room and these chairs do the job. The detail on the back is delicious. Something about curves makes me so giddy! The texture truly makes this chair a classic.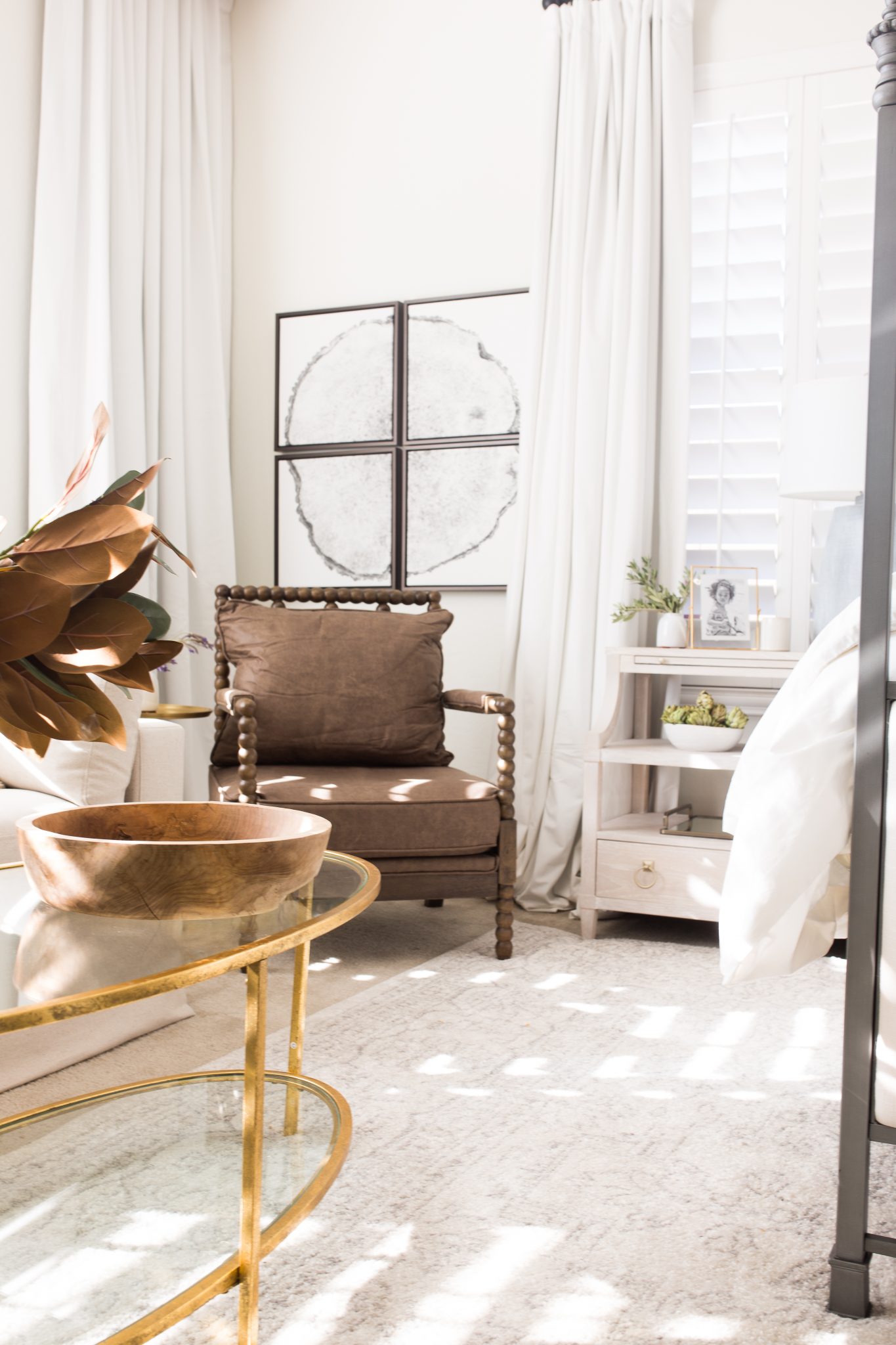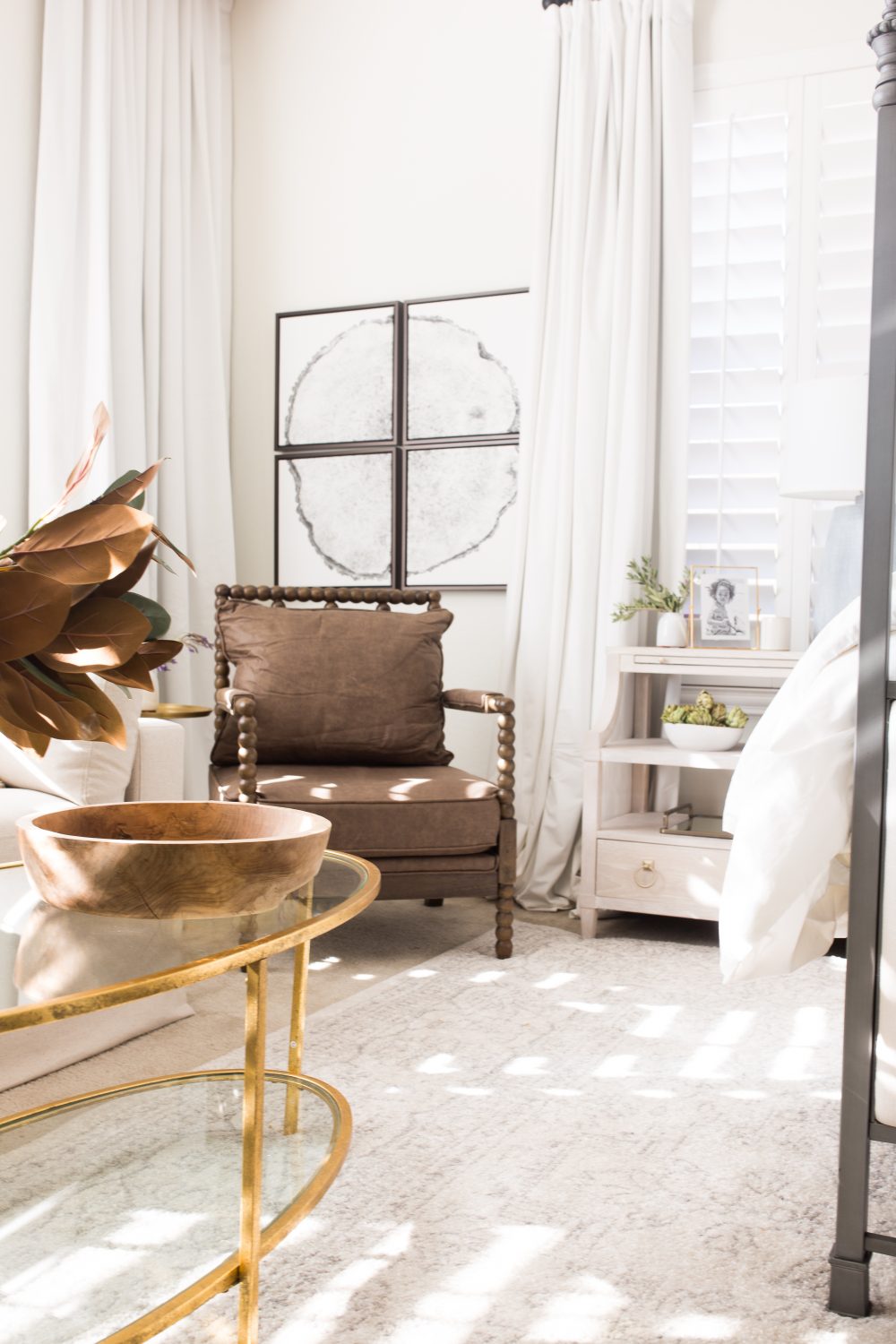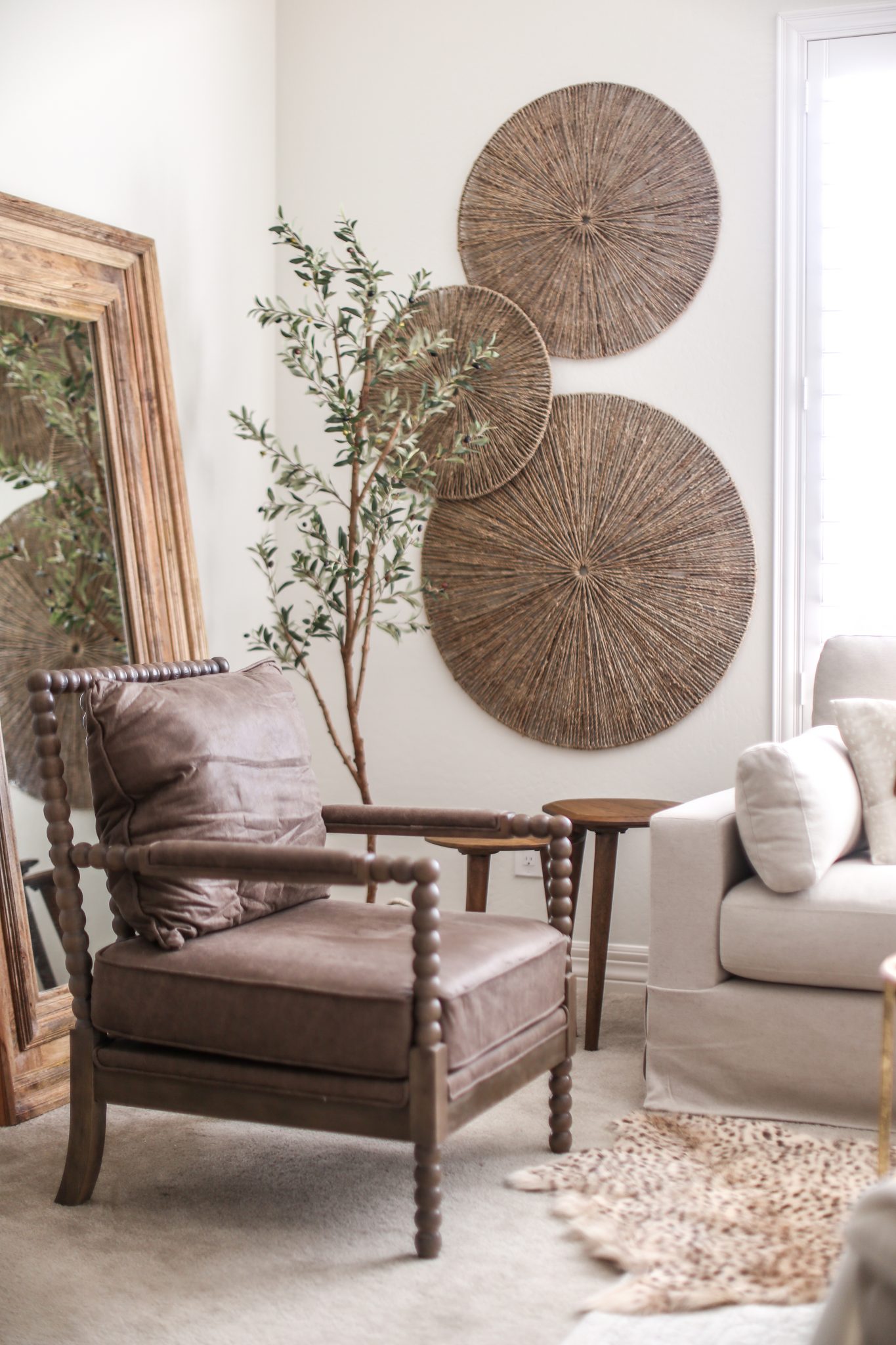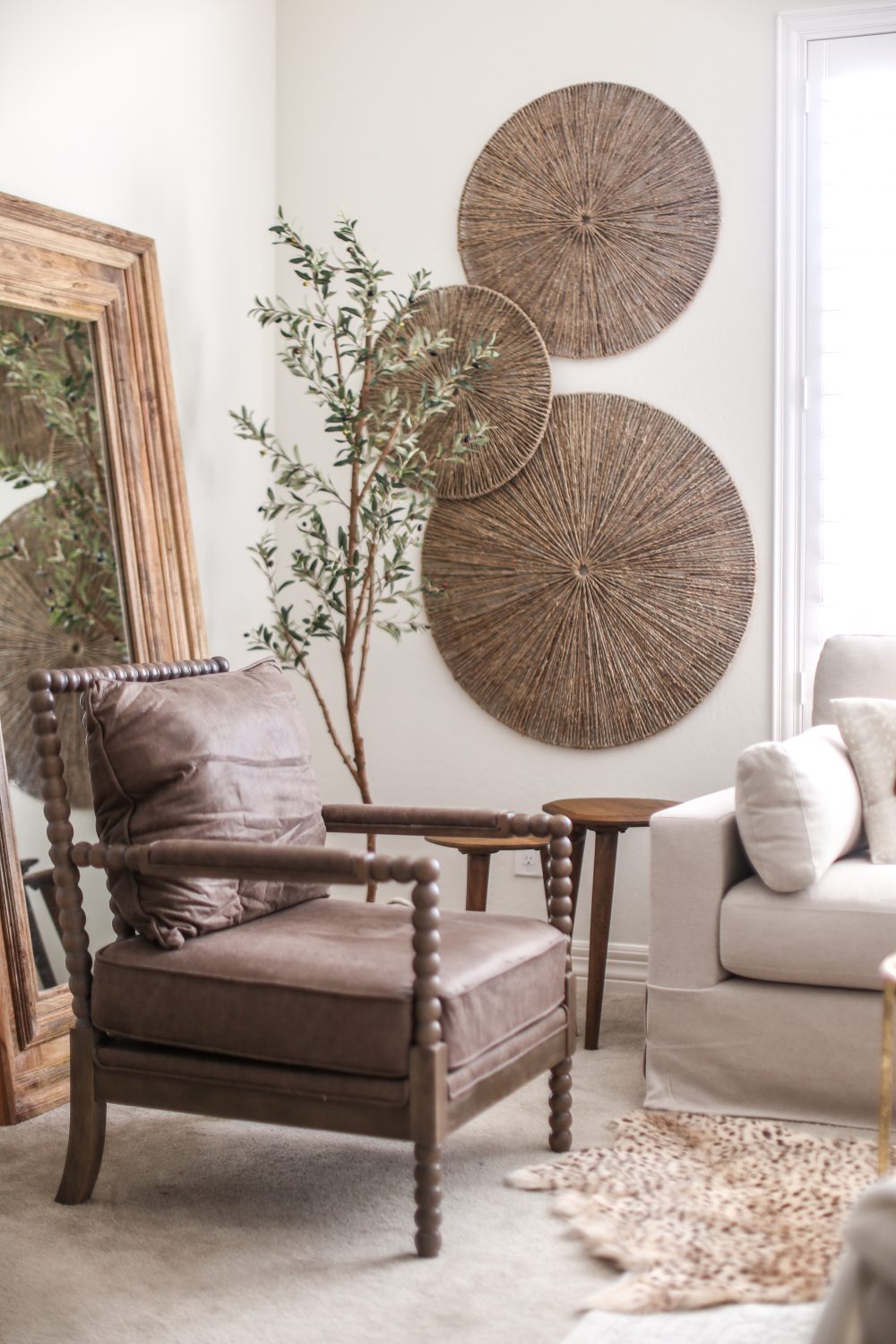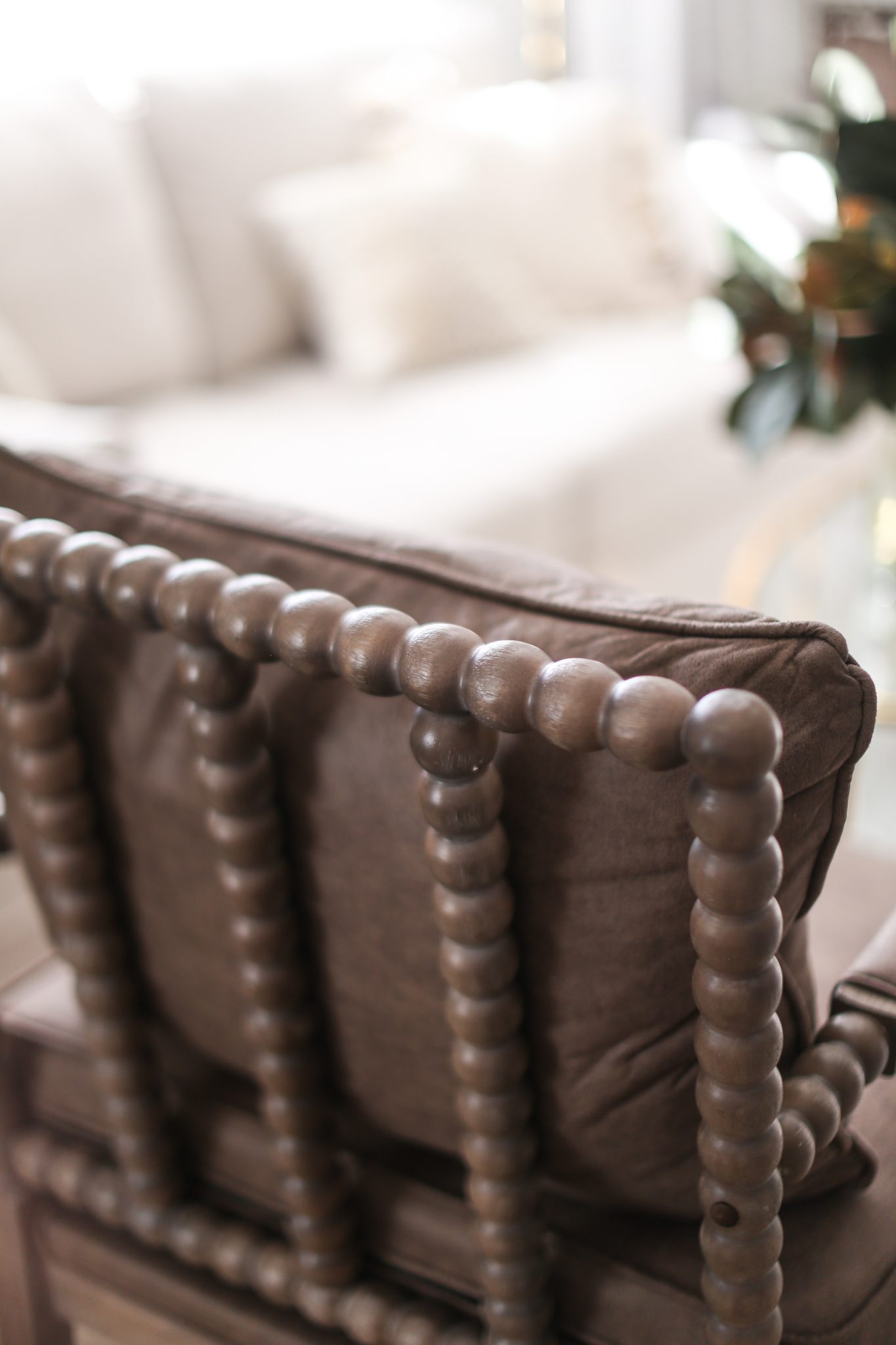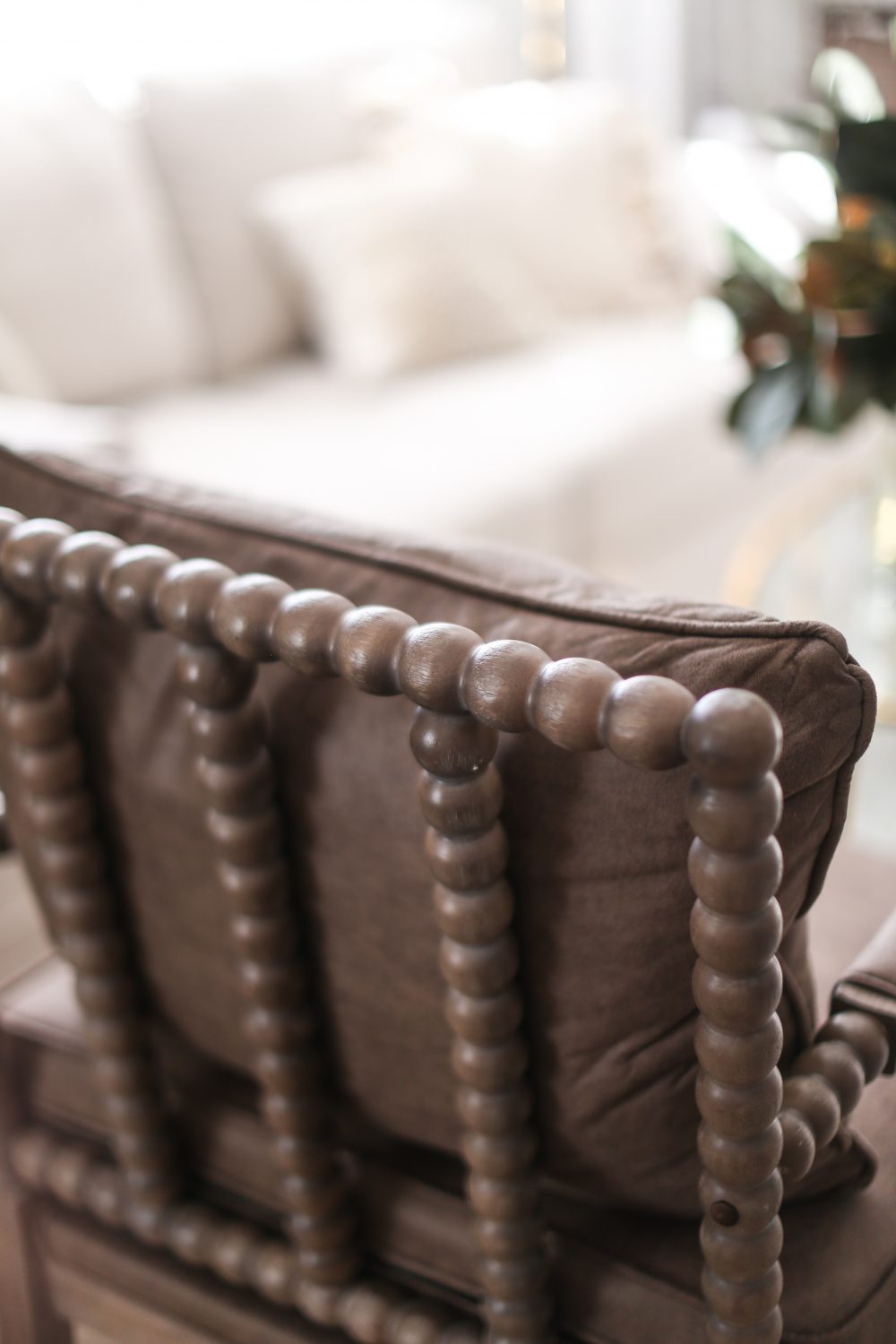 The use of tables big and small from the Home Decorators Collection make this space make it 100% functional. I use this area to work, read and to hangout with Reggie and the kids. It's not uncommon for us to have family meeting in our master bedroom. Our kids love to hangout with us in the space and just talk.
I have to say that is probably the number on thing I love to think about when I create spaces. How will the space be used? Can I have a good cry here? Can I binge watch my favorite movies or even receive the best news ever? If it's a yes to all of those then I've done my job. Pretty rooms are great you guys but it's nothing if you can't use them!
The glass Bella glass table in the middle is sturdy and well made with a beautiful gold leaf finish. On each side of the sofa I have a set of wood nesting tables and a smaller round Bellkirk gold table that is perfect for drinks or a book.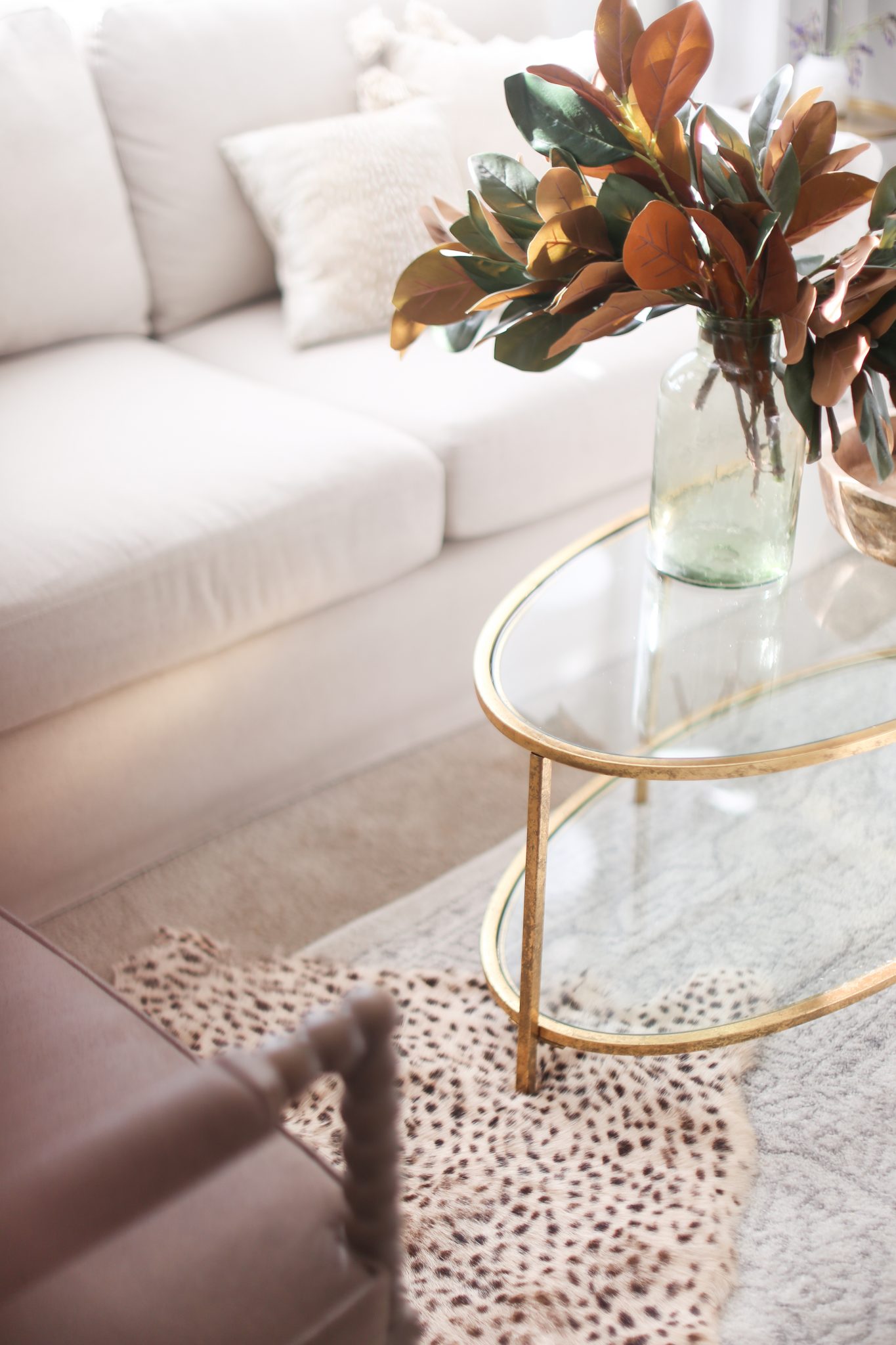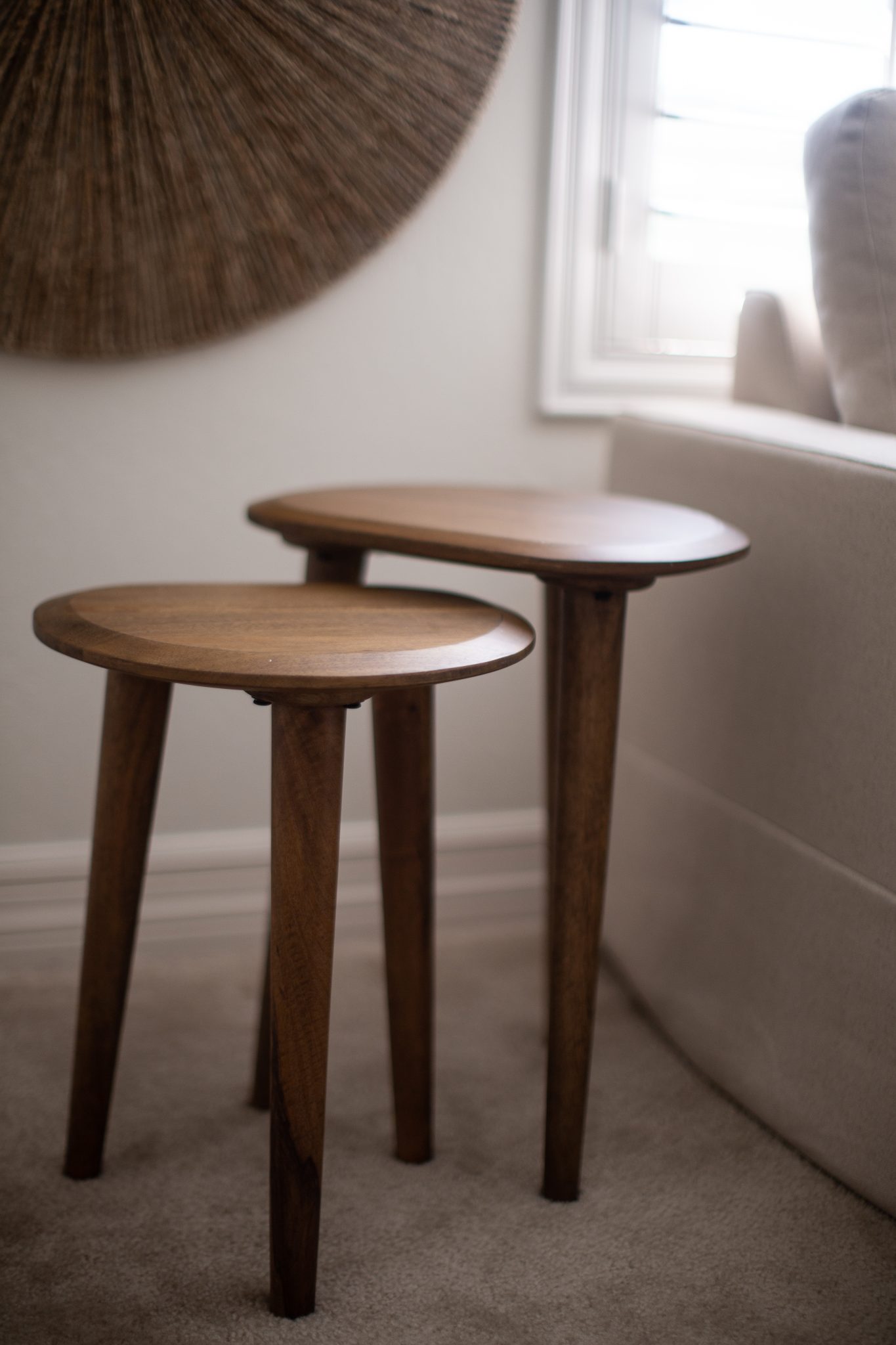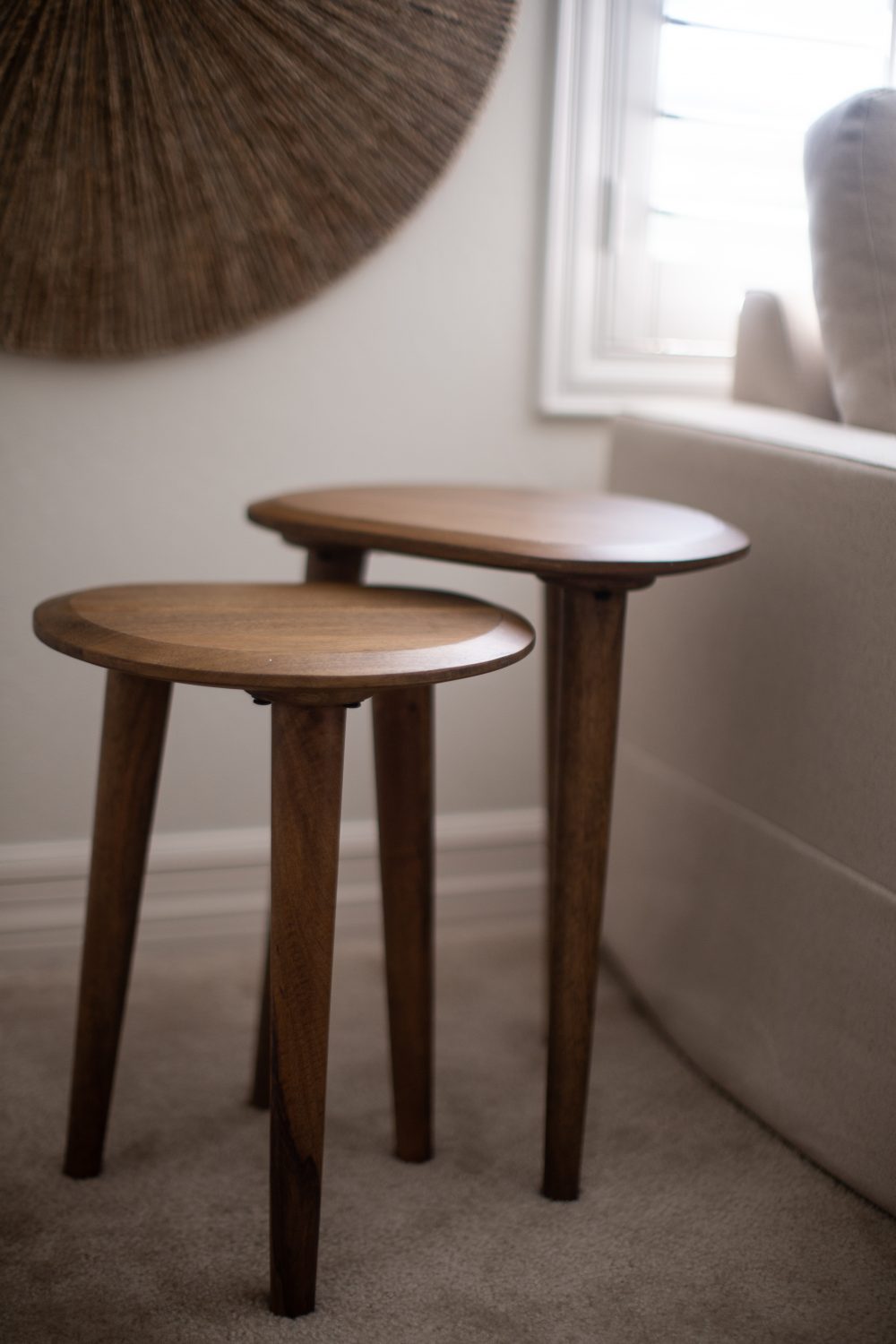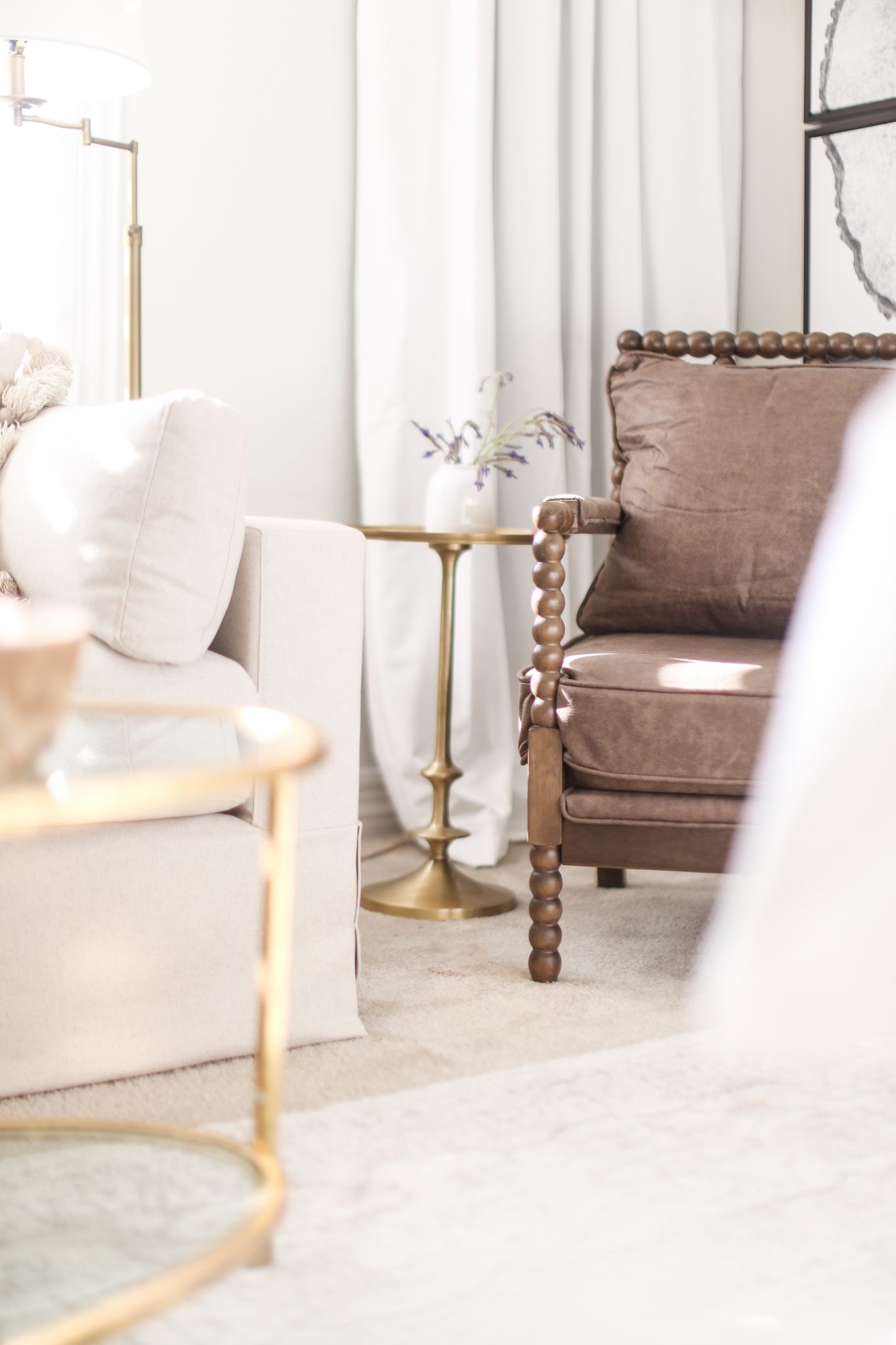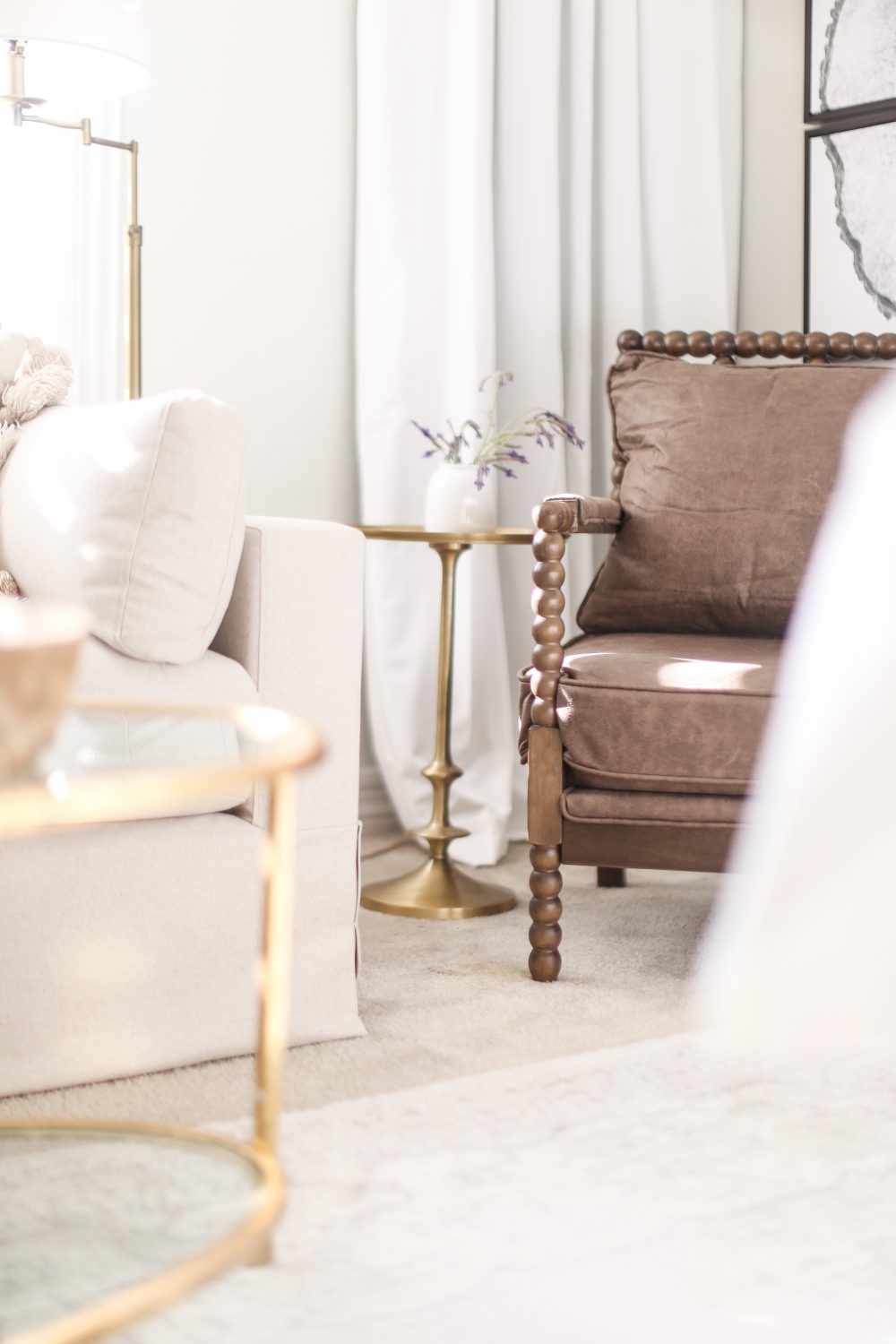 Mirrors, art, pillows and other decor can all be described as project completers. Those little details that add to the overall feel and function of the room while also bringing in textured and depth. homedepot.com/decor provides thousands of products for these quick and easy updates that make a big difference. Take a look at my favorite picks below.
The Sylvie "Tree Rings" are four pieces of art make on large piece of art. The wood slice in a black in white setting keeps our room in a neutral state but adds interest.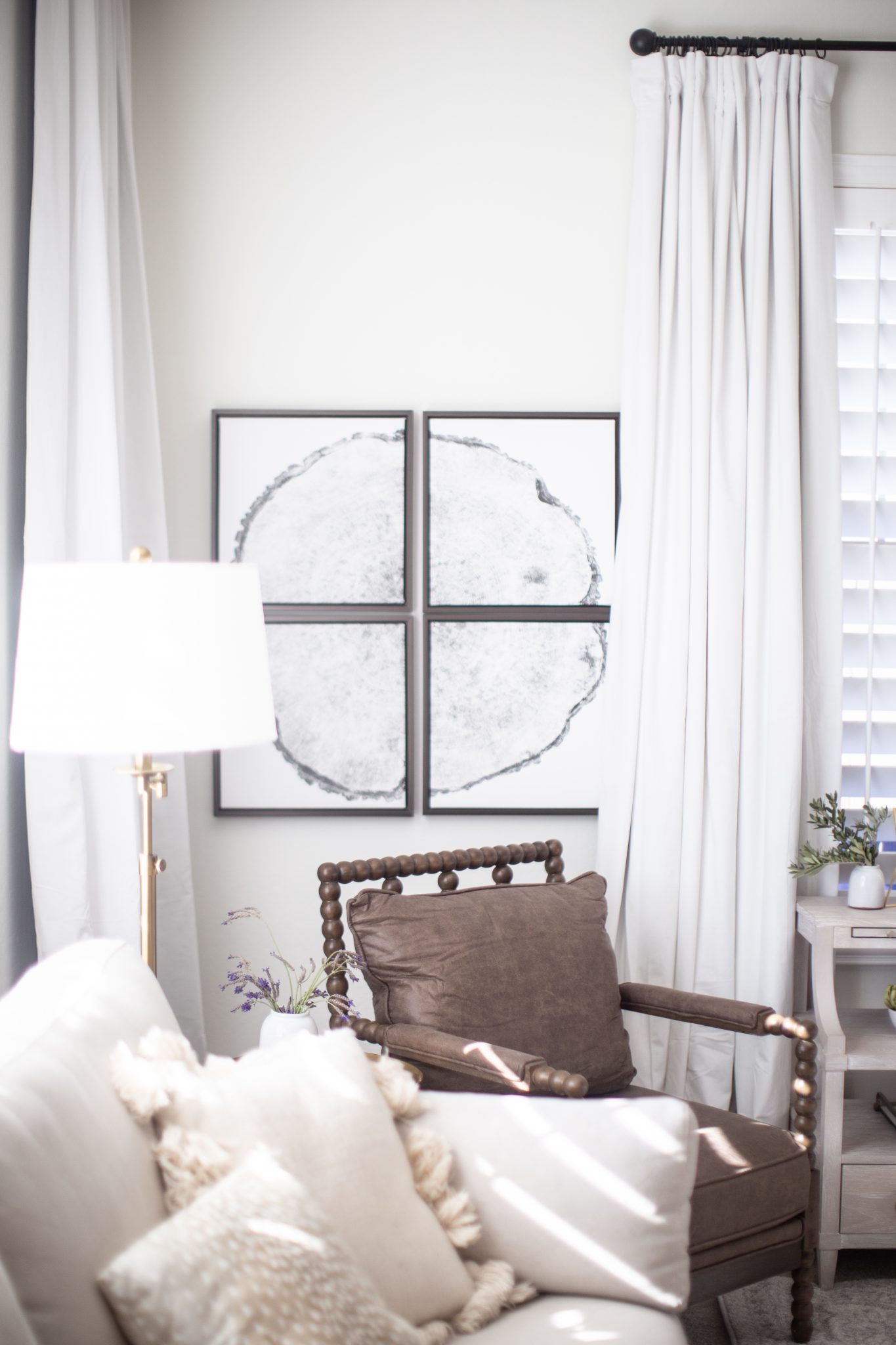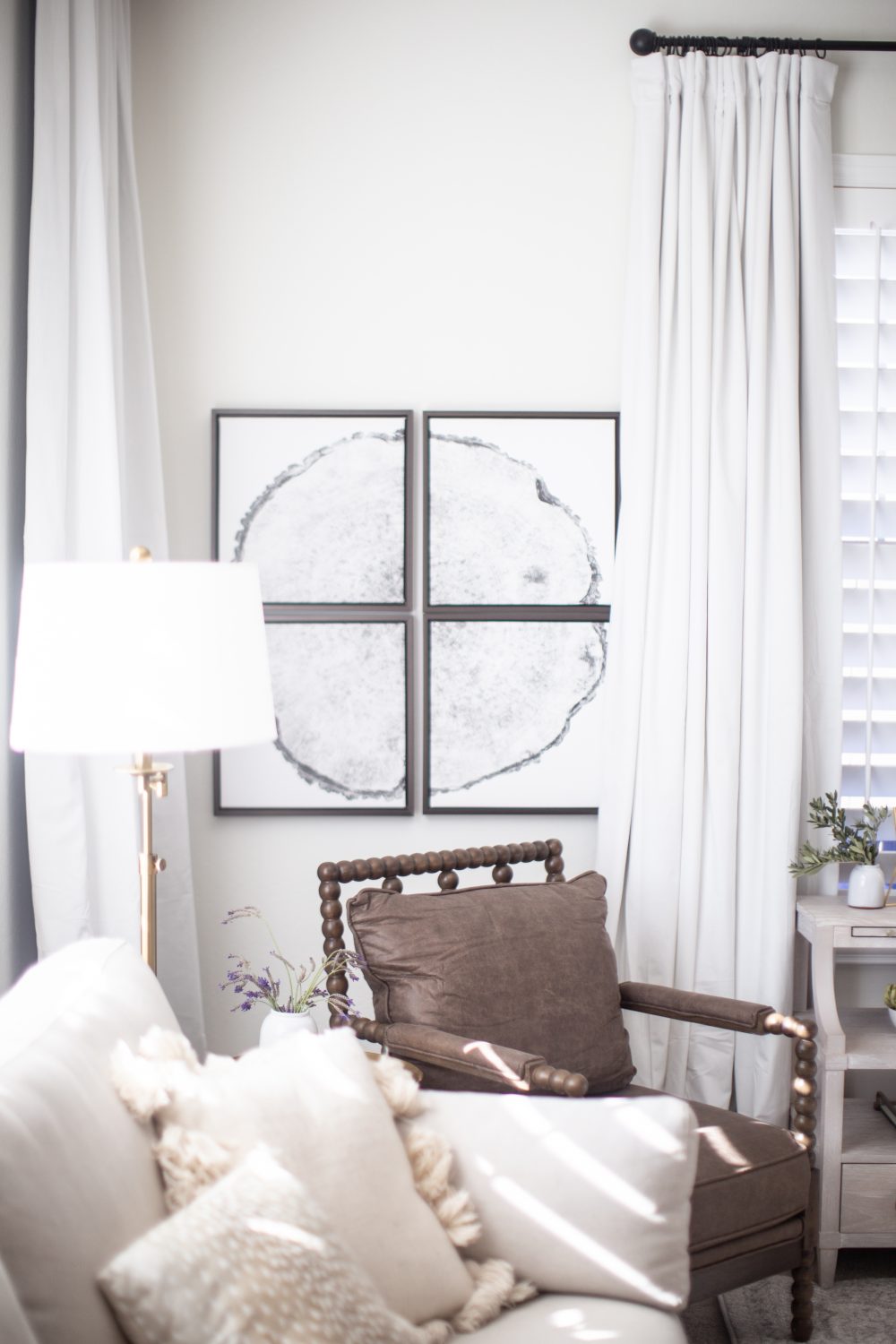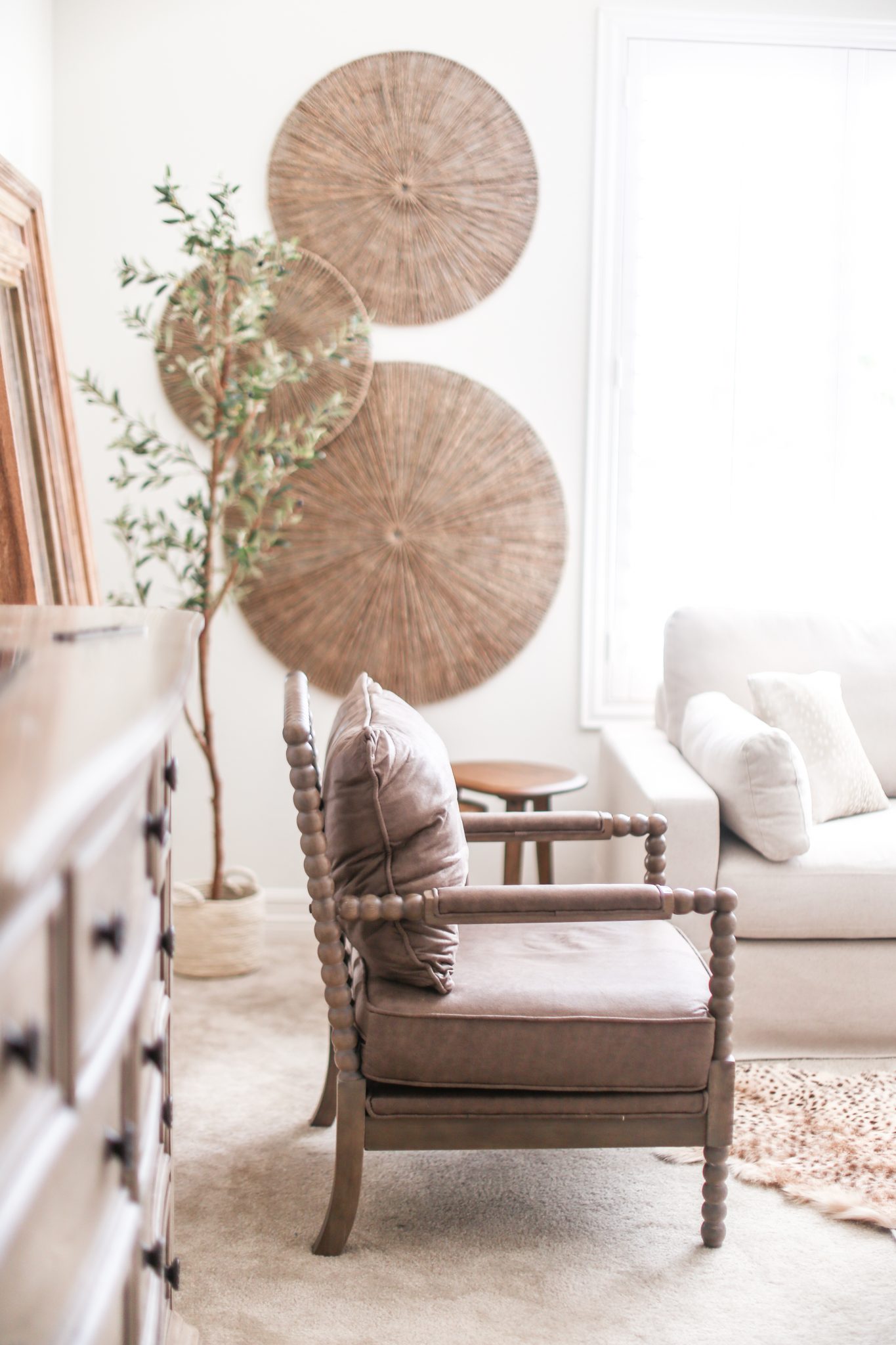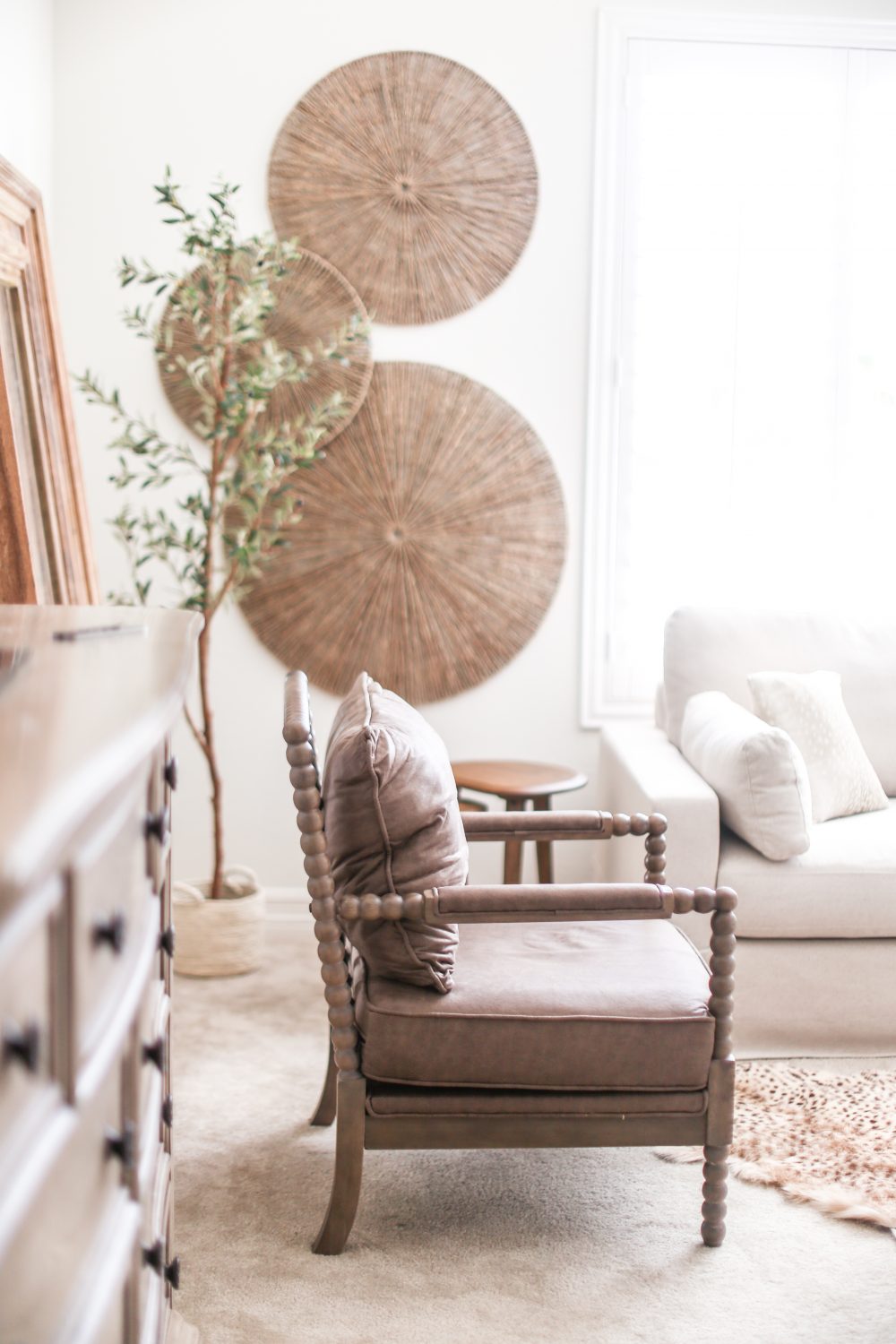 Pictured here is a corner of lovely details and texture. The Seagrass Natural Finish Wall Art provides a perfect backdrop. The faux olive tree gives some life to the corner by providing some greenery.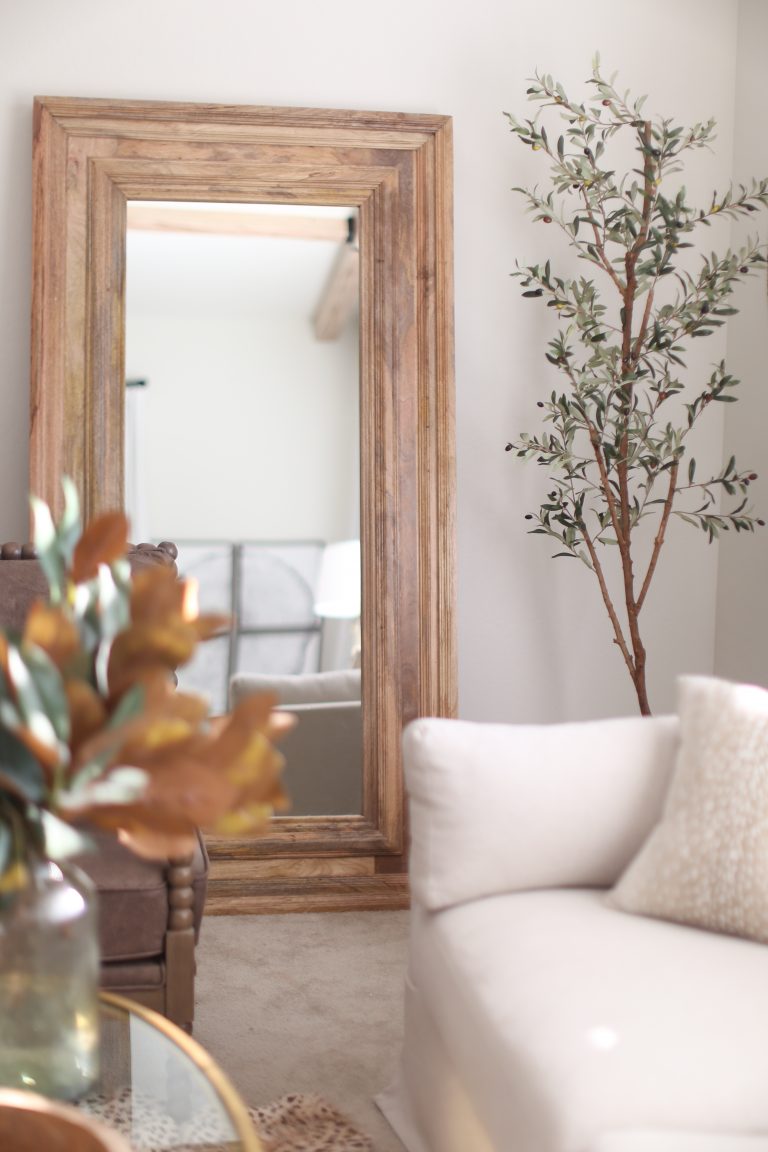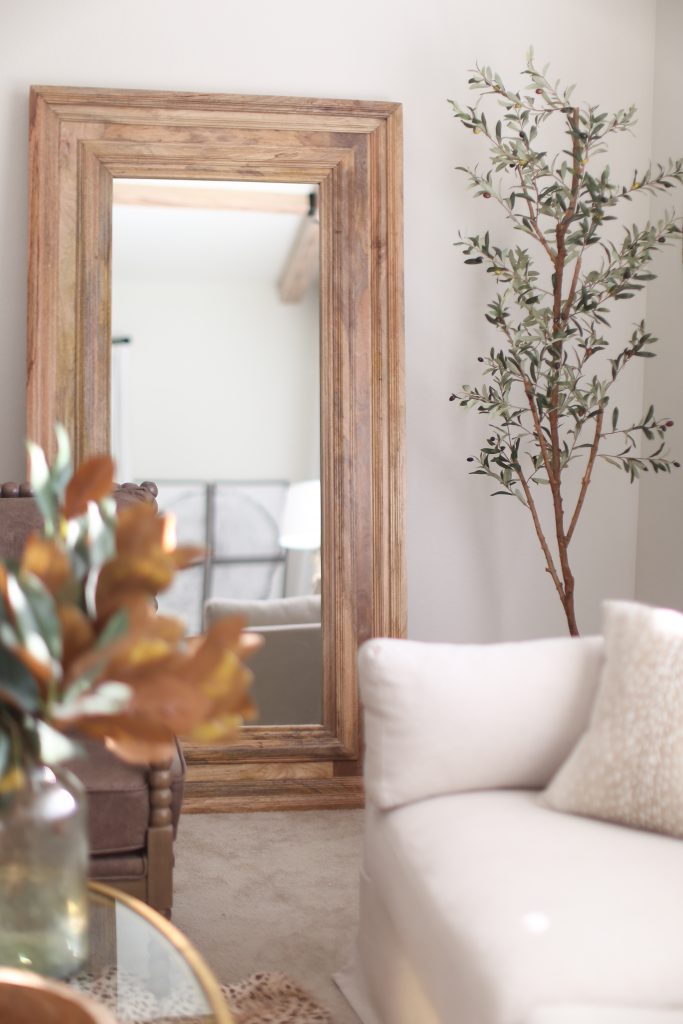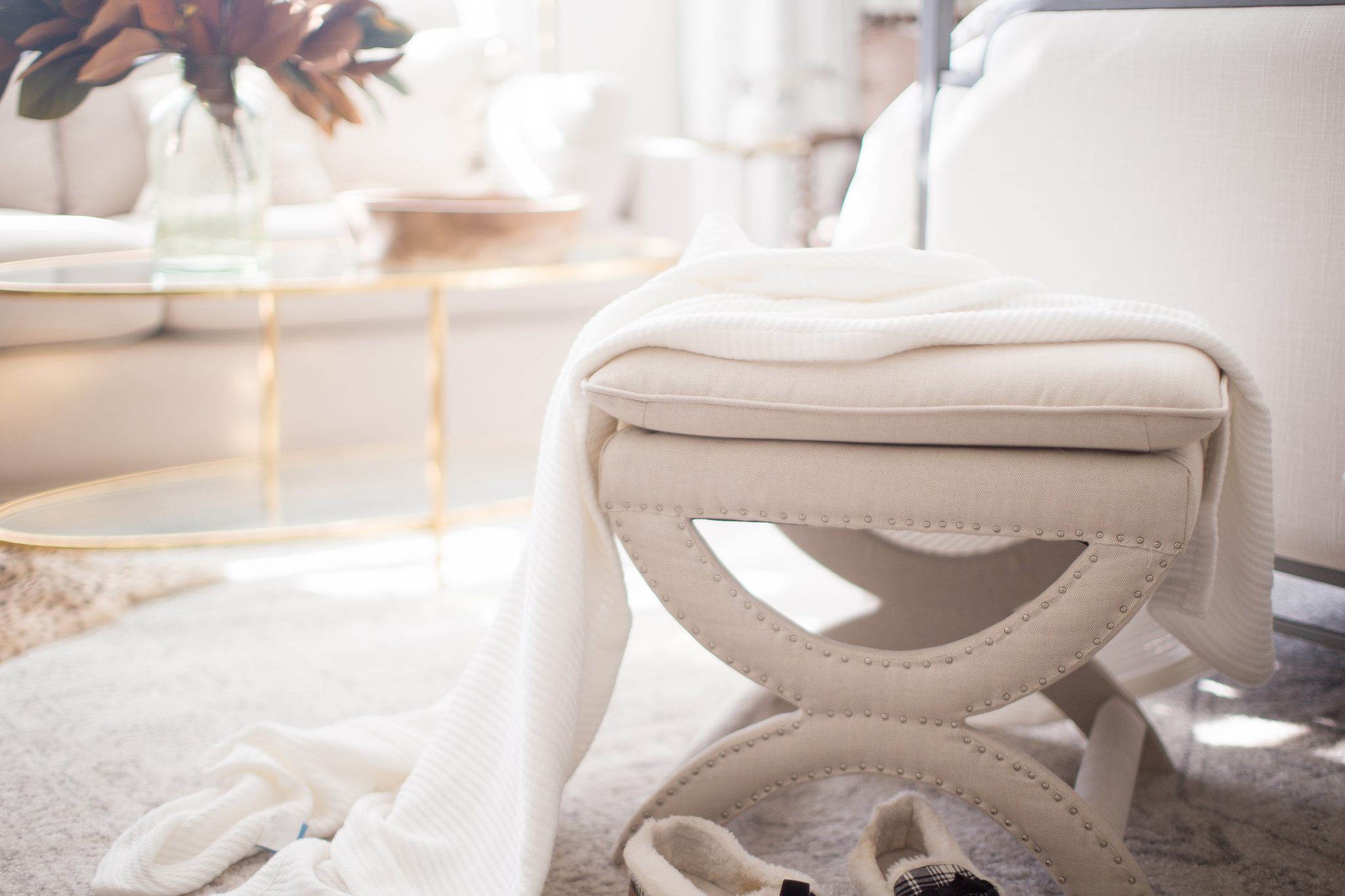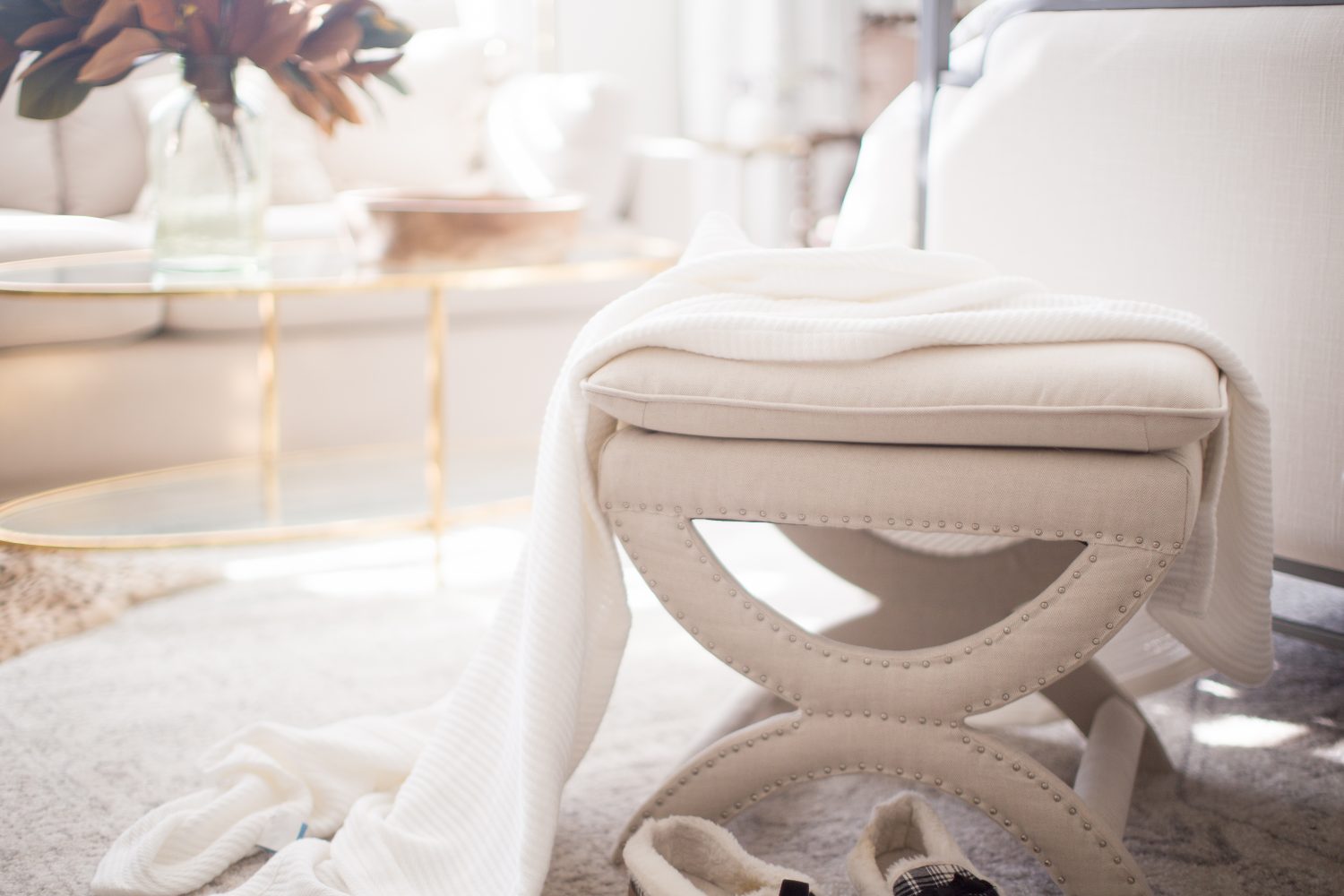 My absolute favorite is this mango wood leaning mirror. It's made of real mango wood and it's framed out with large carved and beveled details.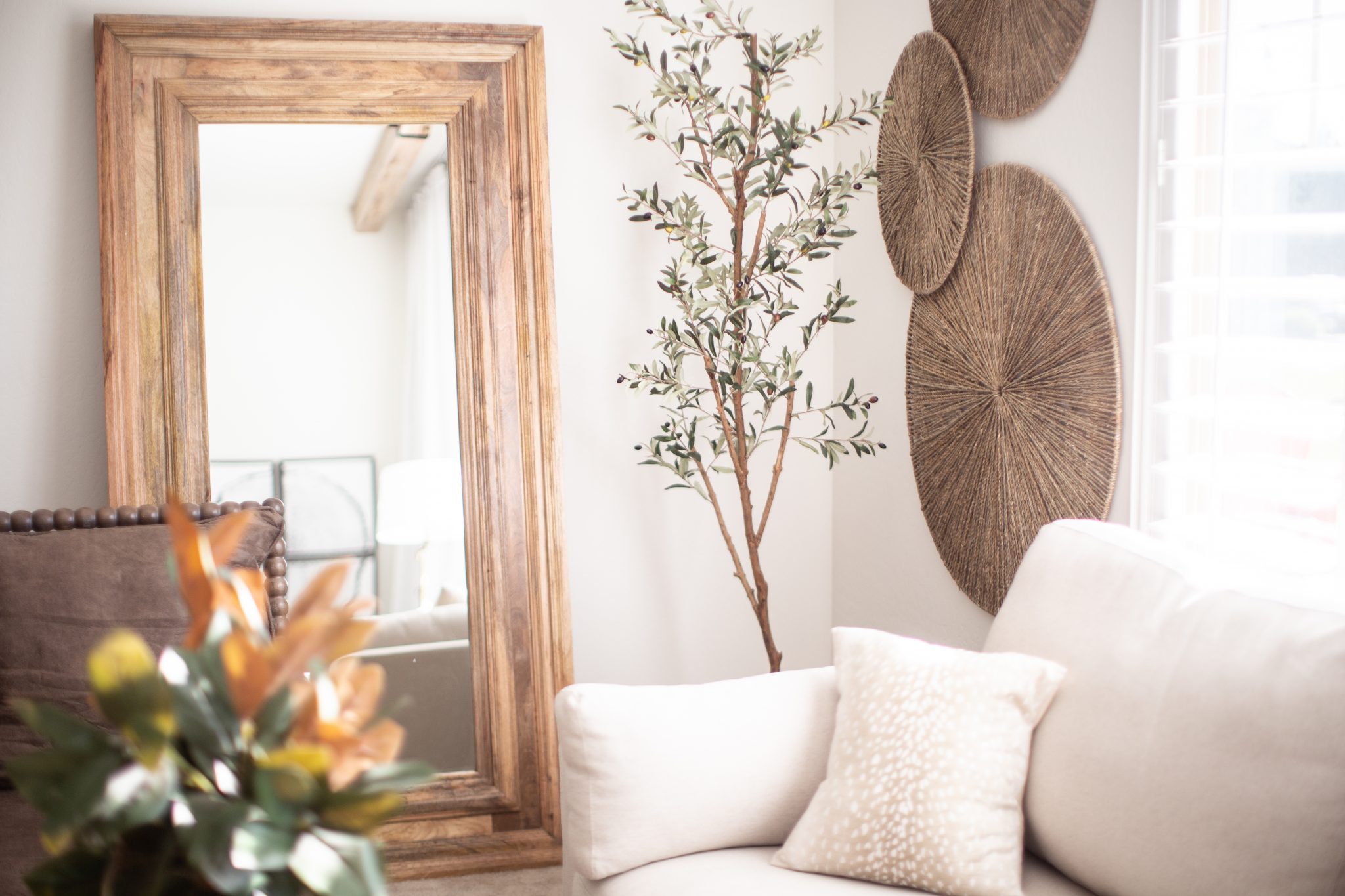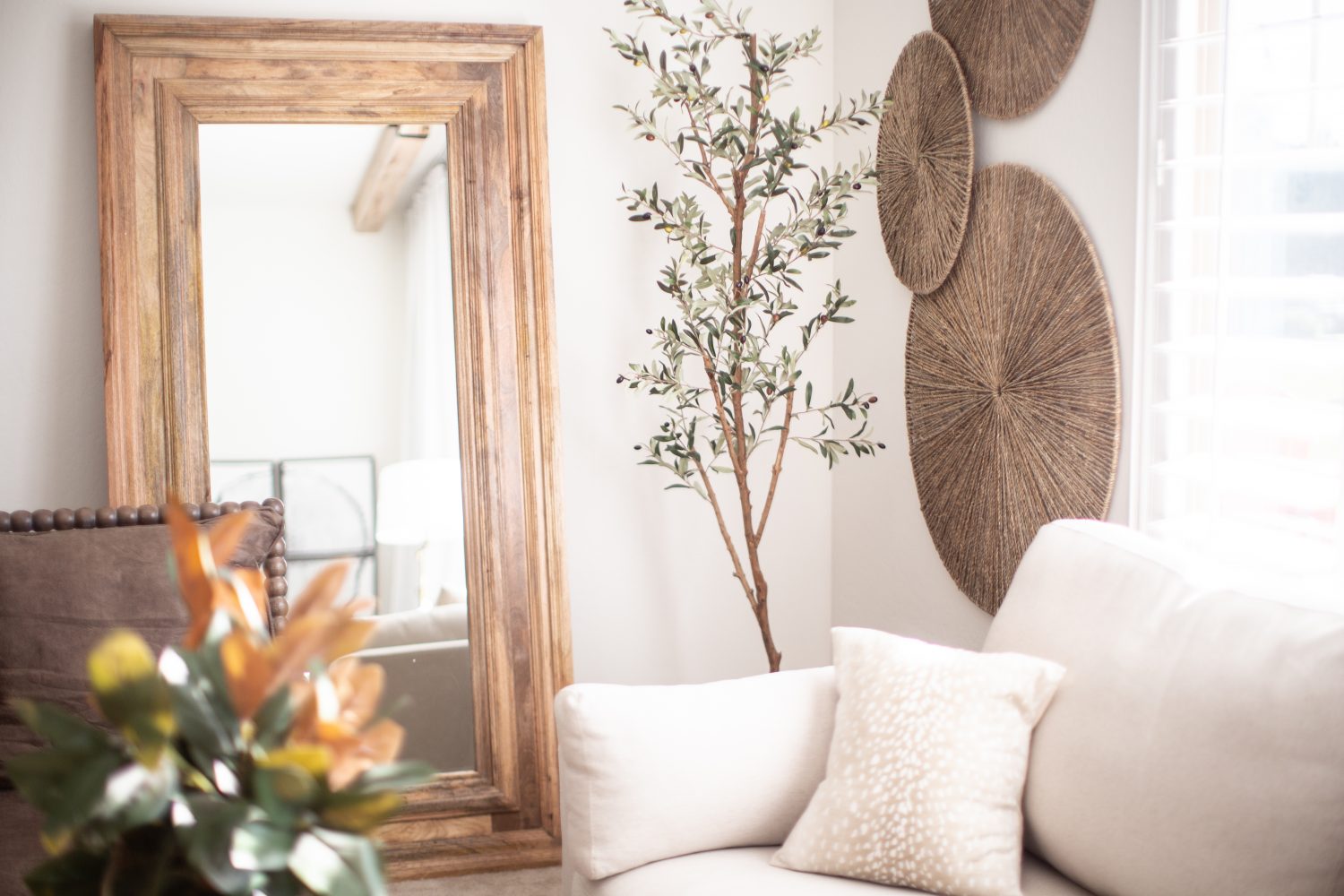 Pictured Above
We are so happy with how everything turned out and can't wait to make more magic happen in our home this year with Homedepot.com/decor. Stay tuned for our next makeover in late July!
In the meanwhile make your way over to homedepot.com/decor to start your own living room, bedroom or even dining room makeover!