Hallway Inspiration: Decor Ideas
This post is sponsored and may contain affiliate links, please read my disclosure policy.
We've been in our home for over 3 years now. Can you believe it? It was such a fun time to move in and think of so many different decor ideas for each space. I hit the ground running with idea after idea. But I think I got a bit fatigue throughout the years! It's so hard ( but still exciting) to come up with an idea for each space. One that is cohesive with the entire house and is still your personal style. Right now I'm working on a few different projects, but I paused a little so I could dream about our hallways! So below you'll find some of my favorite hallway inspiration photos. 
We have two hallways in our home. One long one upstairs that leads to all the bedrooms. Then there's another one downstairs that leads to the master bedroom.  Right now I'm focused on the downstairs hallways that leads to the master and I have a bunch of ideas that are brewing in my head! ha!
I hopped on Pinterest and made a Hallway Inspiration Pinterest board to help collect some ideas. So if you need some ideas yourself, make sure you check it out. 
Here are my favorites from the board!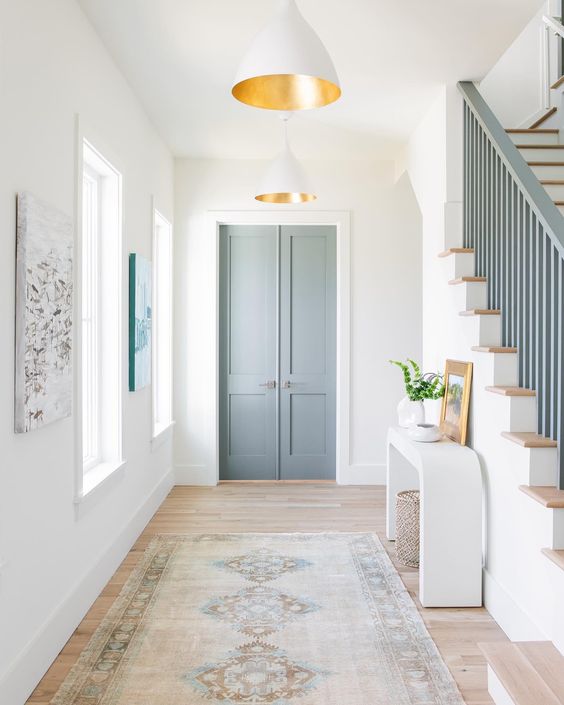 I love the color in this picture and the pendants! The touch of gold really makes the space more interesting. Also the blue gray door ties in with the stair railings. For our space I would love to use a similar pendant with the same shape!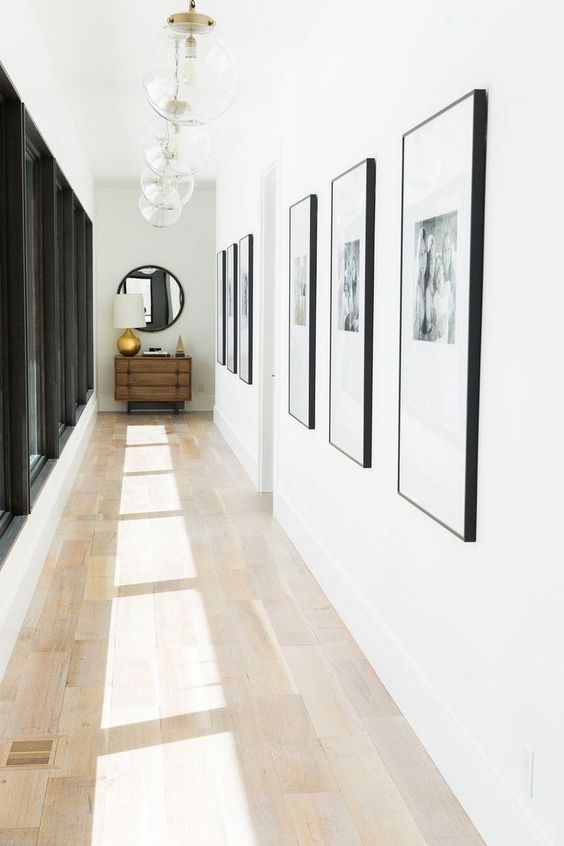 The pendants and natural light in this hallway is dreamy! I wouldn't mind going down this hallway each morning. Our master bedroom hallway turns the corner like this one. So I love the way they styled it with a dresser, mirror and lamp.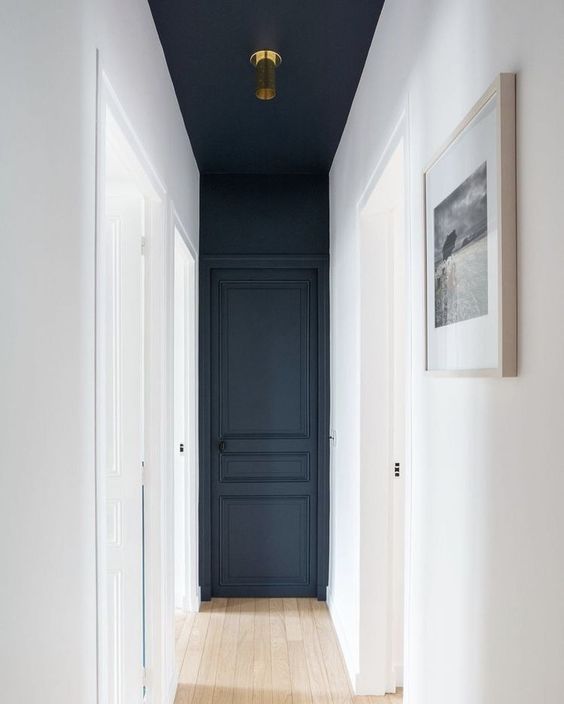 This hallway is so fun and interesting! I love how the blue travels off the ceiling onto the wall. I think it's so perfect. Our hallway is not set up like this but I do like the ideas of really paying attention to the ceiling. Taking notes!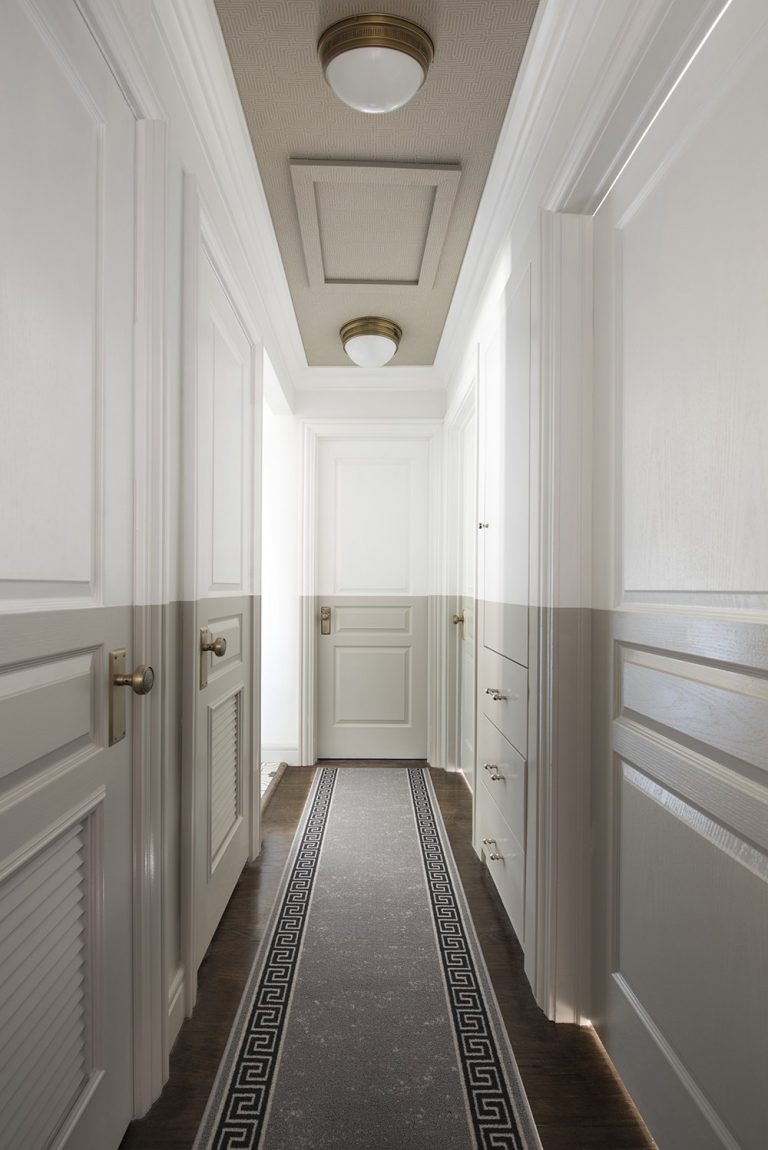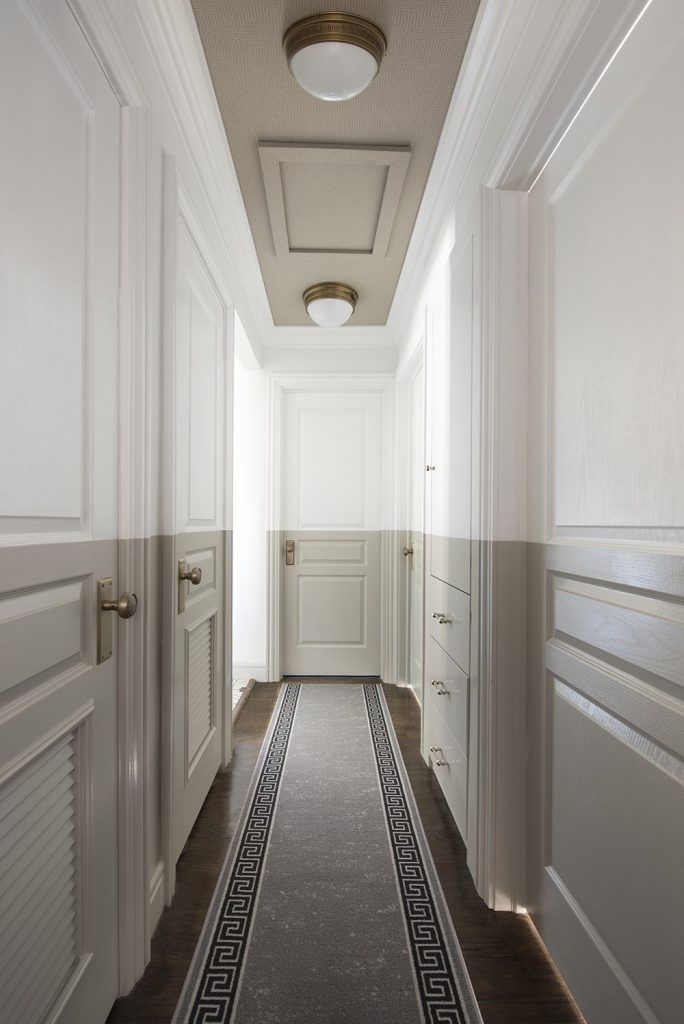 Same with this one from Room for Tuesday. Love the use of color on the ceiling and all the walls. Hallways can be such a great time to try something new and she she went for it. I love the result.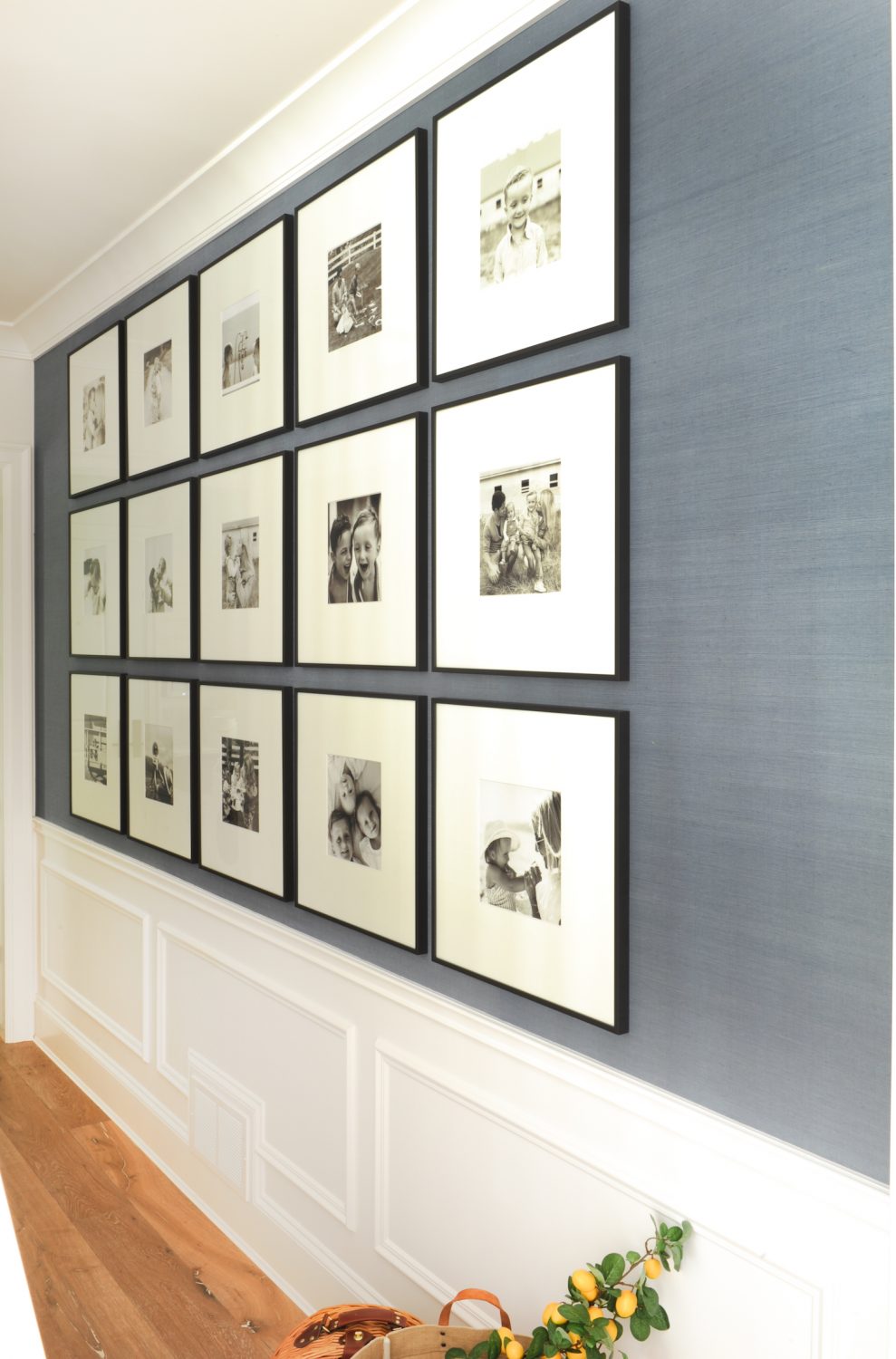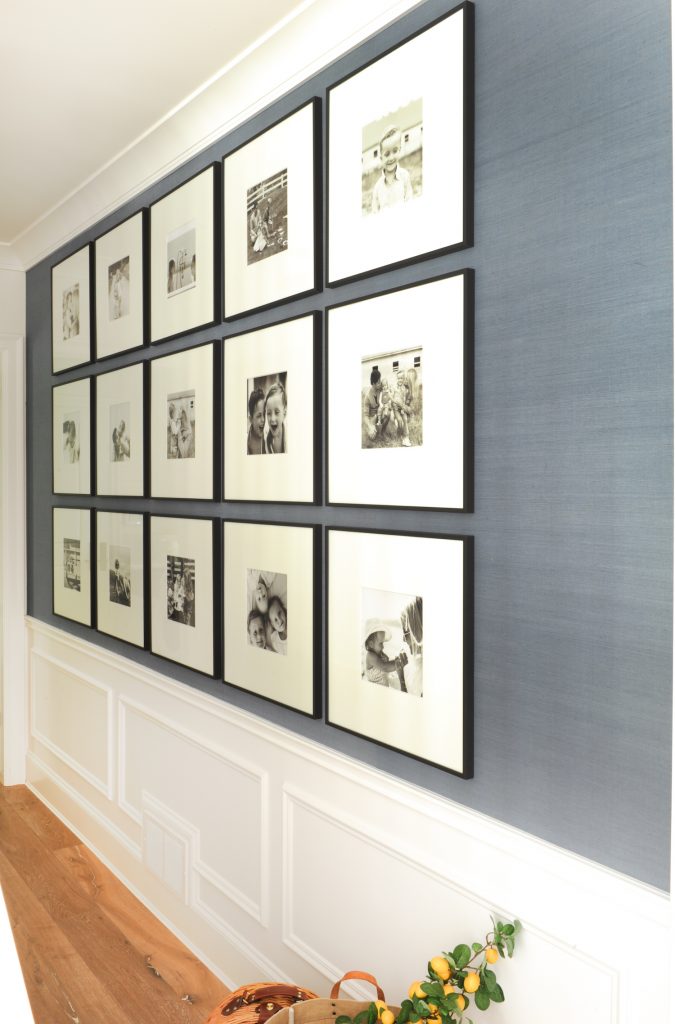 I'm really considering using wallpaper in our little hallway. I love the look of patterns and texture on the wall to break up all the paint. I love the grasscloth that Monika has in her old home. I however am really loving stripes. So I think subtle stripe might do the trick for us.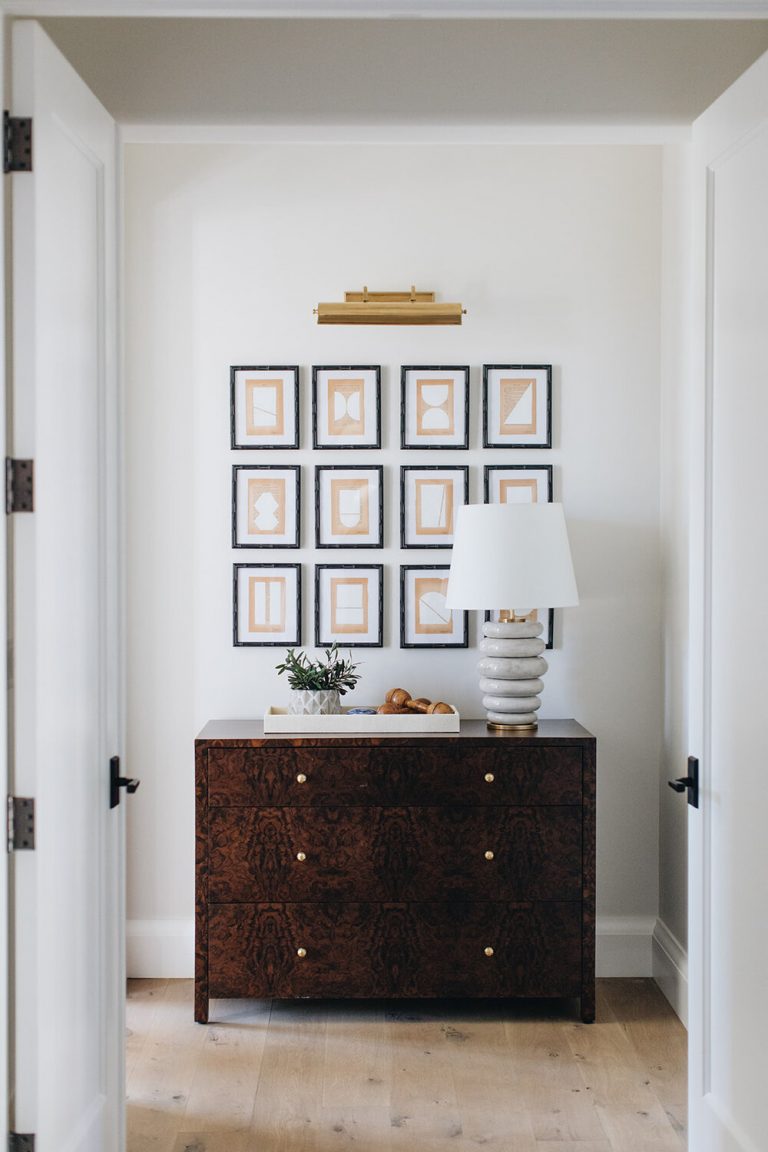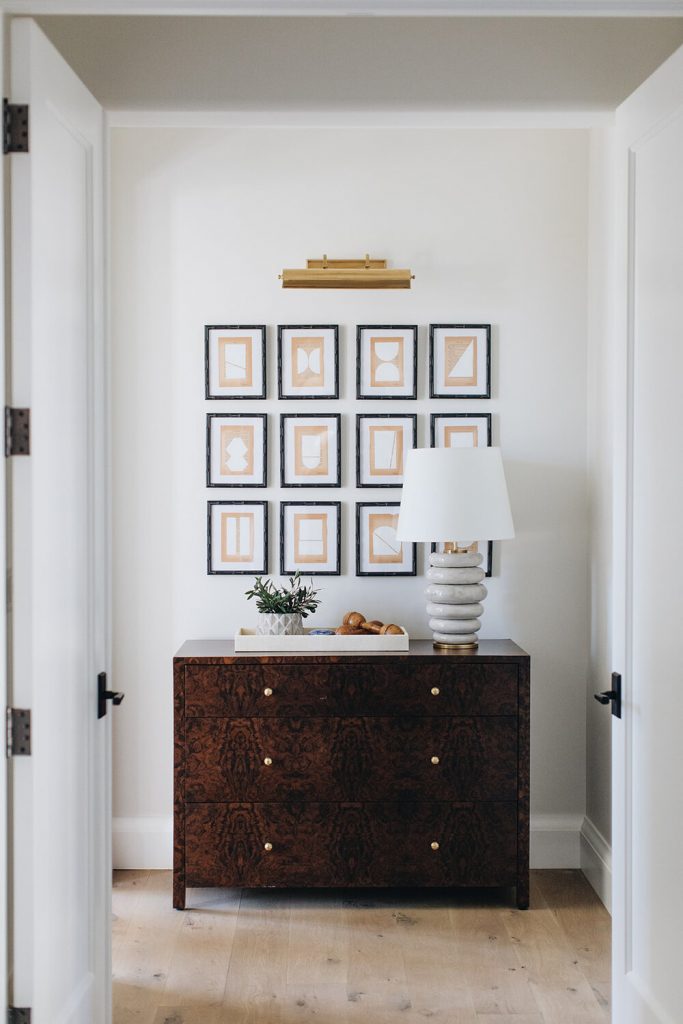 Our hallway has a place for a focal point. I think this is SO GOOD. It's simple and beautiful. I love the ideas of using a dresser and displaying art above it. It brings you in for sure. I also like the idea of layering the lighting. You have a lamp, picture light and then over head lighting to up the ambiance.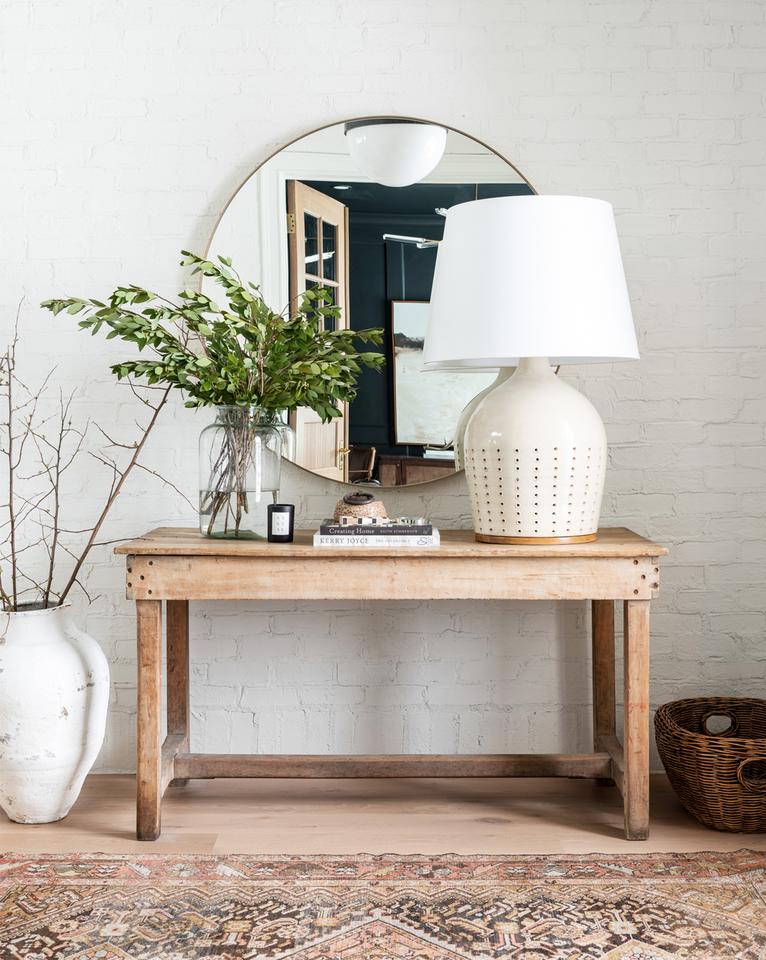 I love the way Shea has styled her entryway in their new home. The textured wall and the elevated greenery is giving me life! I think this same look down a hallway that needs a focal point would also be pretty.
For more inspiration visit me on Pinterest! I'll keeping pinning to this board as I find more hallway inspiration images that I love and inspire me. Plus you can get a peek of my design esthetic as I design our home!