This post is sponsored and may contain affiliate links, please read my disclosure policy.
Potato salad is THE essential side for any family BBQ. I'm not sure how it's with your family, but our potato family recipe goes back decades and generations. The same ingredient, same portions and the same results, perfectly cream potato salad to accompany your grilled deliciousness! But what happens if you…want to try a NEW recipe?!?
Will you be the laughing stock of your family or the new hero who changed up the game? Well I'm not one to take risks, haha but this grilled red potato salad is already crowd approved and will basically knock your socks off. With a few specialty ingredients this red potato salad will be your new favorite.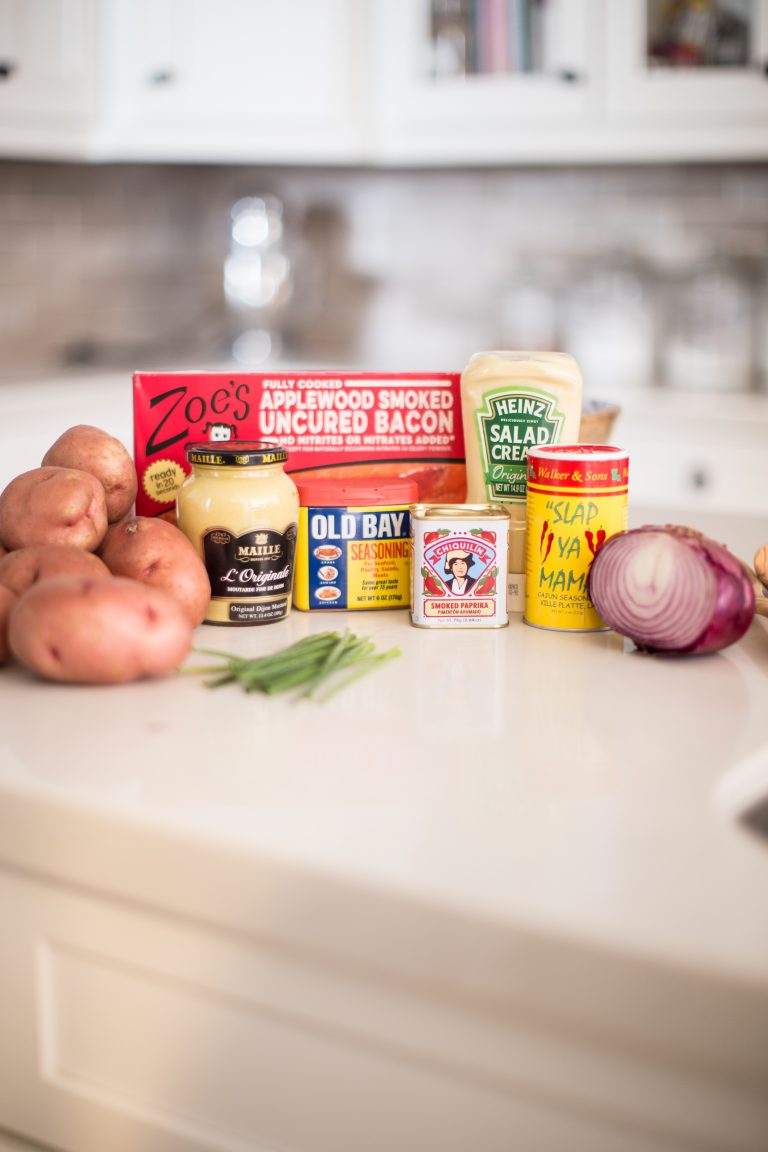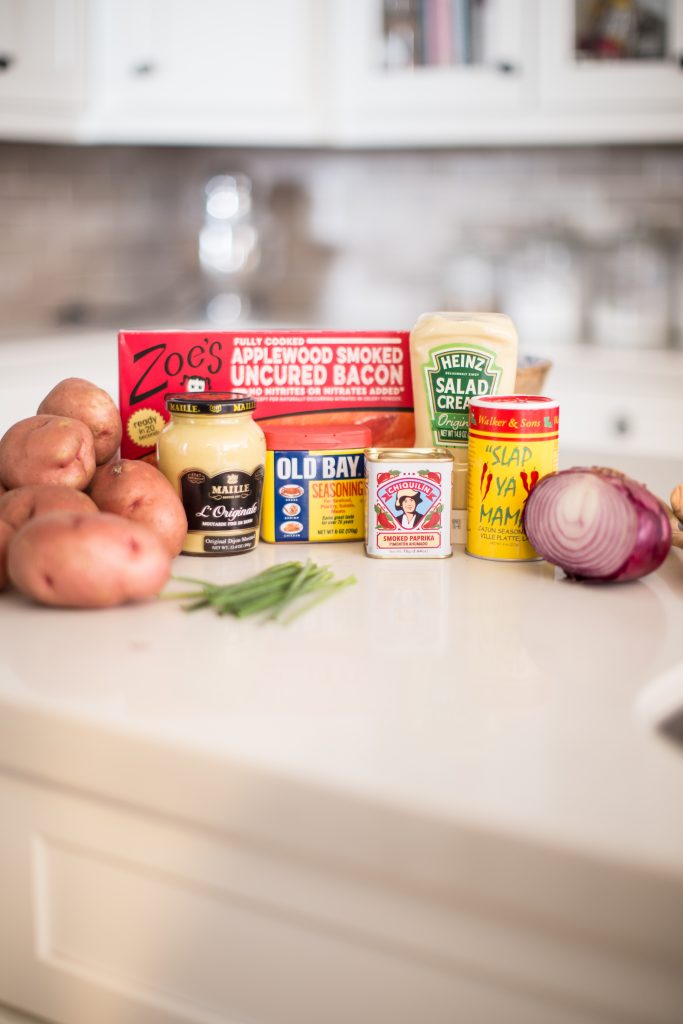 I started off by picking up a few ingredients from my local Cost Plus World Market. If your looking for some unique items to add to your recipes I would suggest taking a little time to browse their food market for some fun stuff!
To start with this recipe I chopped up about 3lb of red potatoes into squares and tossed them with black pepper, salt, Old Bay seasoning and olive oil. Then I baked them on high at 450 degrees for about 30 minutes or until they were tender.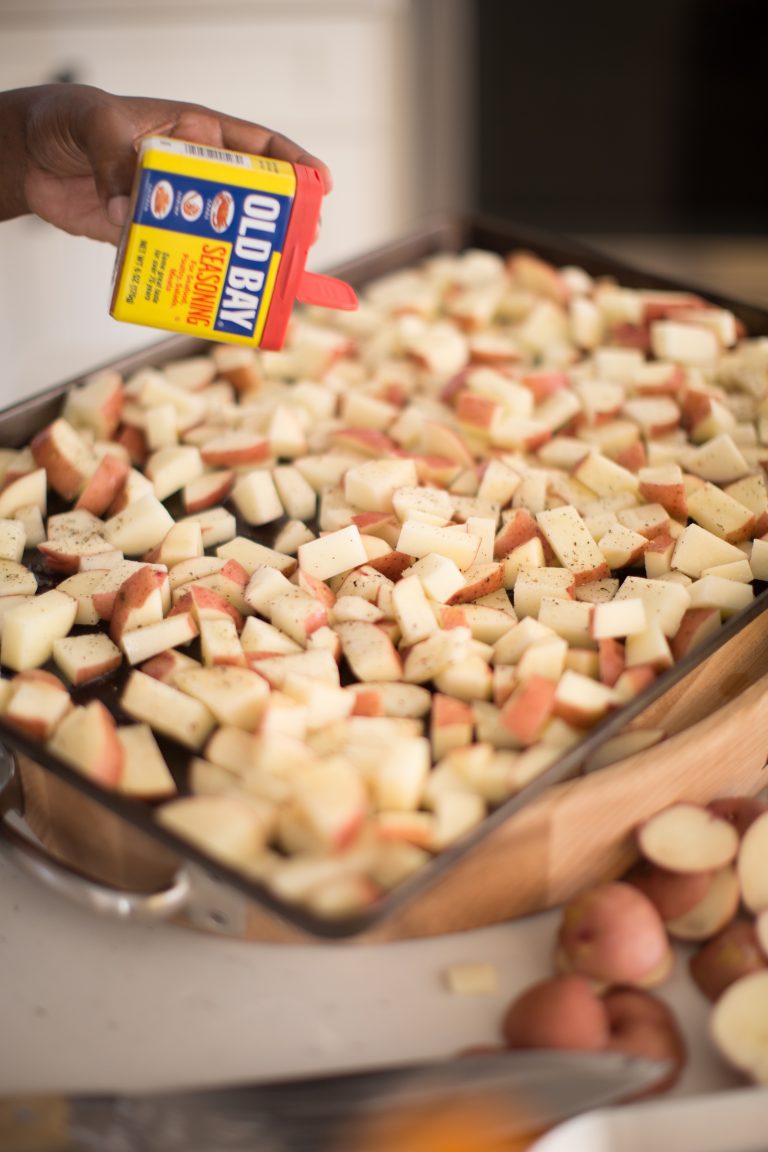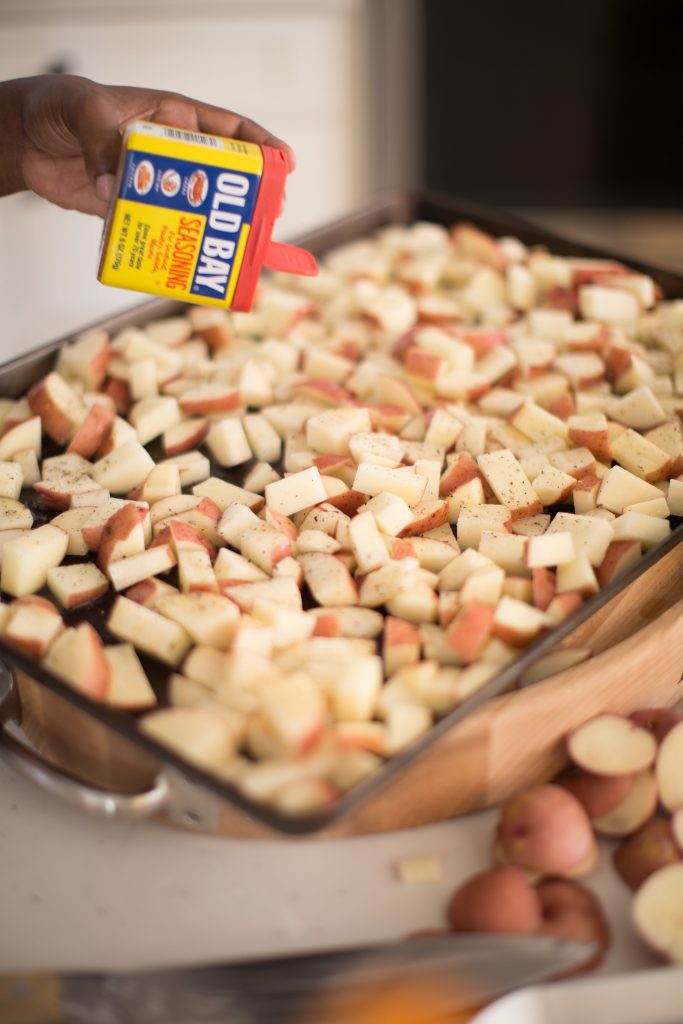 Next, I set aside about 1/2 of them for grilling! This gives the potato salad a nice smokey flavor that I love! Just simply move 1/2 of them onto a grilling sheet like this one grill for about 15 minutes on medium heat. Remove and let them cool!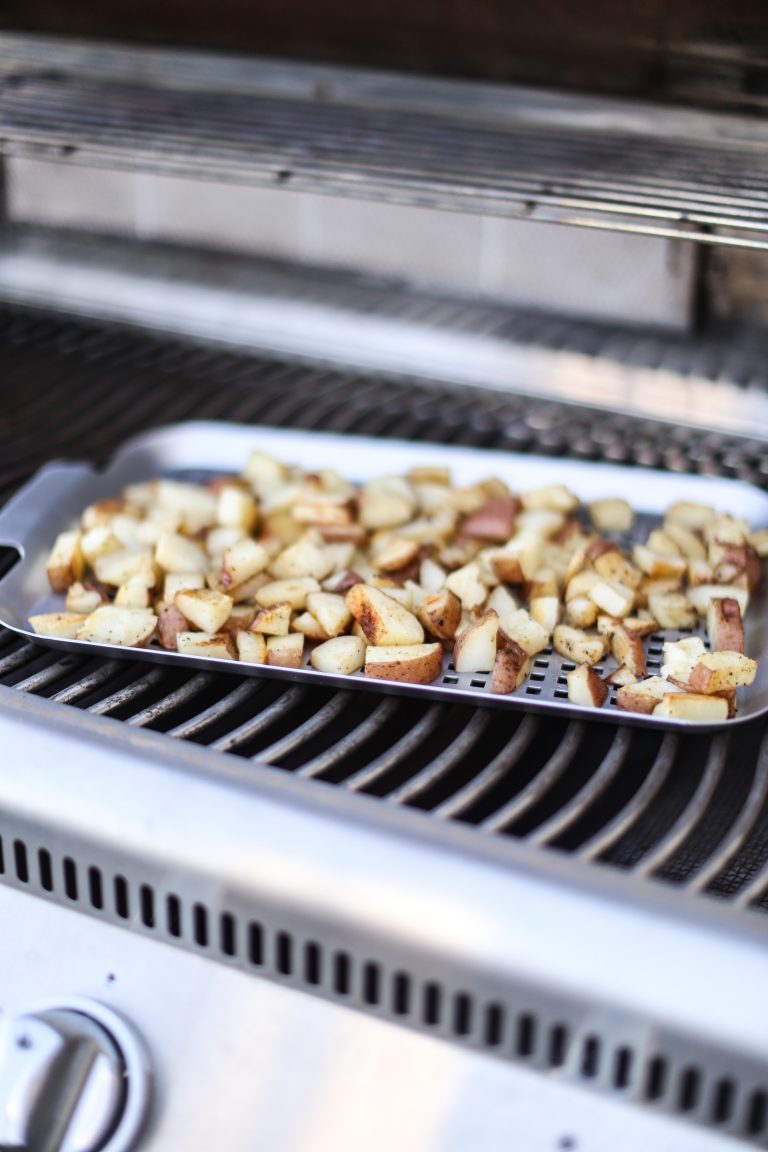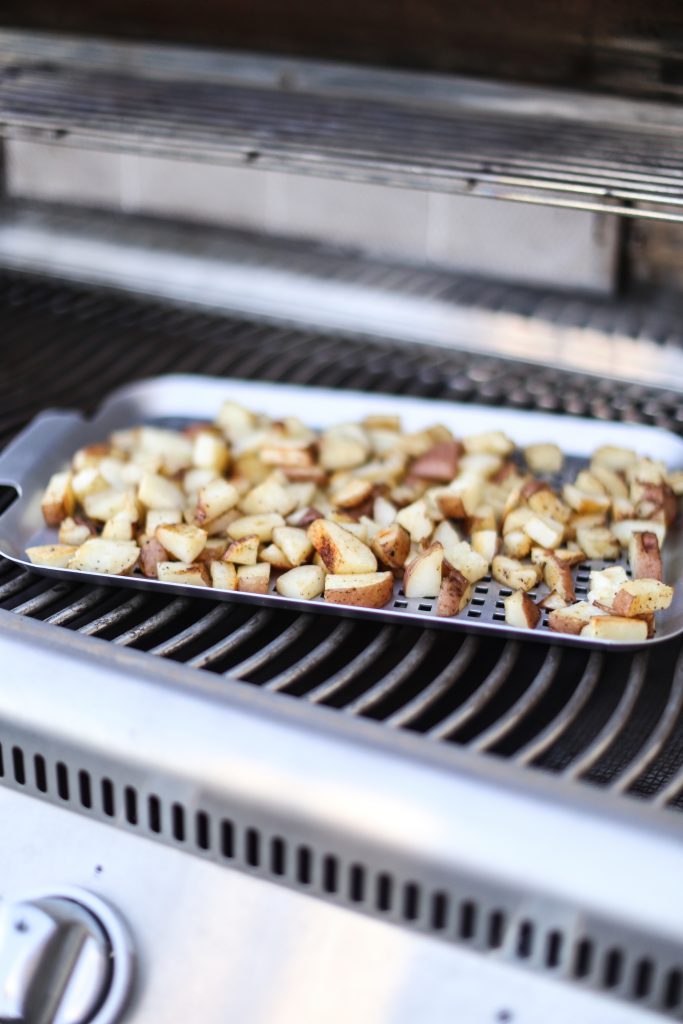 While the potatoes are cooling a bit, you can get started on the dressing! The secret sauce to this recipe is using a combo of salad cream and mayo!
Salad cream is a very european condiment that is hard to come across in the states and has more vinegar than oil, making it less stable than mayo! So it's perfect for something a bit more smooth and creamy! Plus I like the taste. If you don't have salad cream then go ahead and use mayo.
In a small bowl add the following:
3/4 cup mayonnaise
1/2 Creamy Salad Dressing
1/4 teaspoon of Cajun seasoning (Slap Ya Mama)
The Slap Ya Mama seasoning is really up to you! If you don't like spicy food then you can skip it, but if you do, then kick it up a notch! Set the dressing aside! Can we just talk about how cute these measuring cups are! They even have a matching set of teaspoons to go along with them!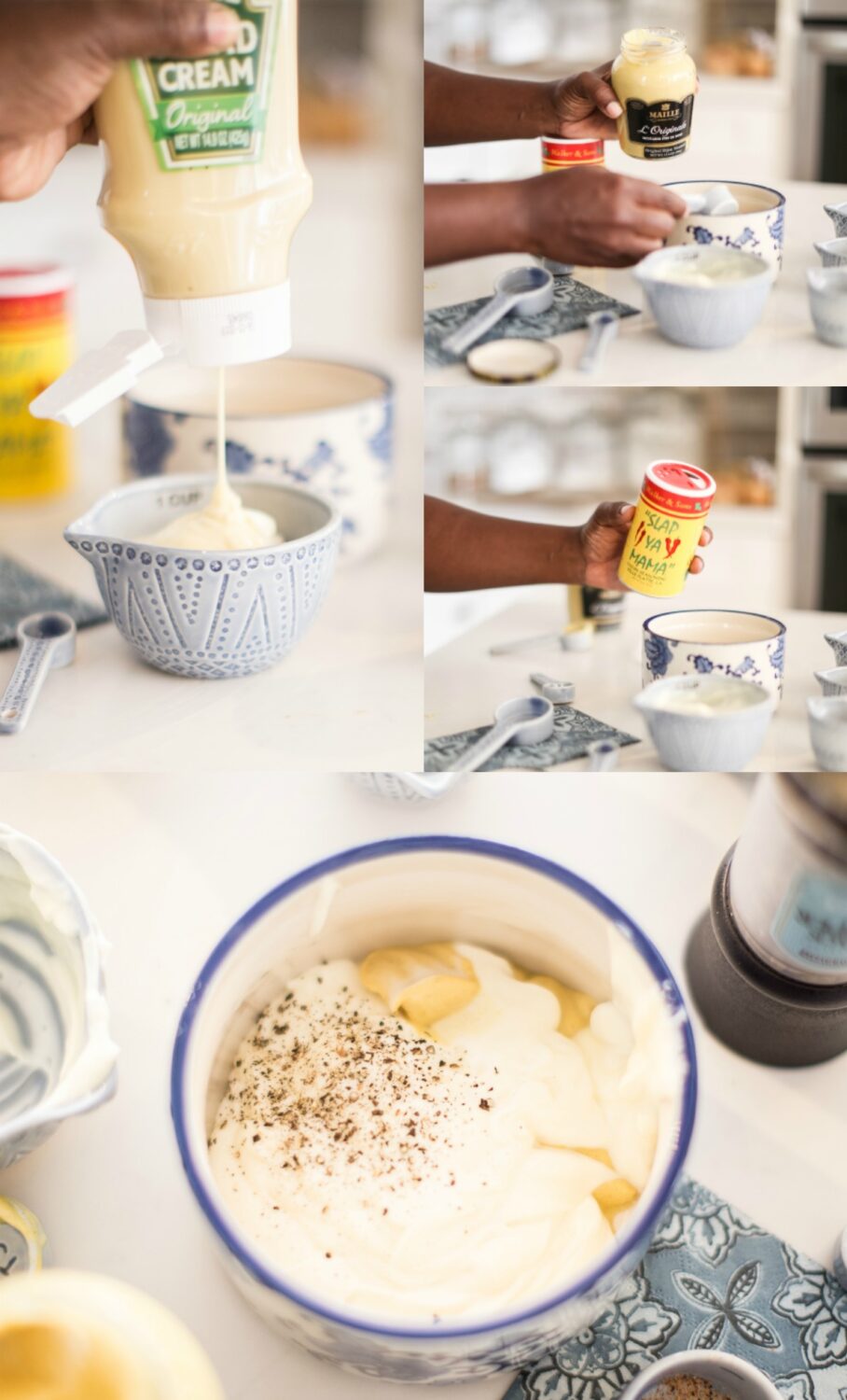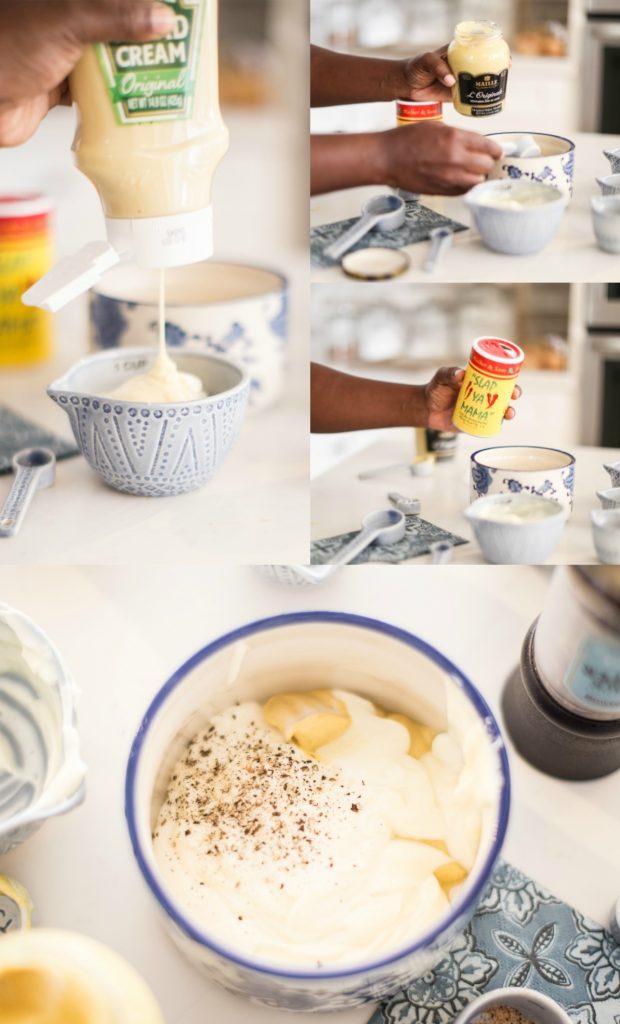 One of my favorite parts of this recipe is the bacon bits! Again going with the smoked theme, I used smoked bacon. But regular bacon will do just fine. Cut it up using a good chef's knife along with your red onions and boiled eggs!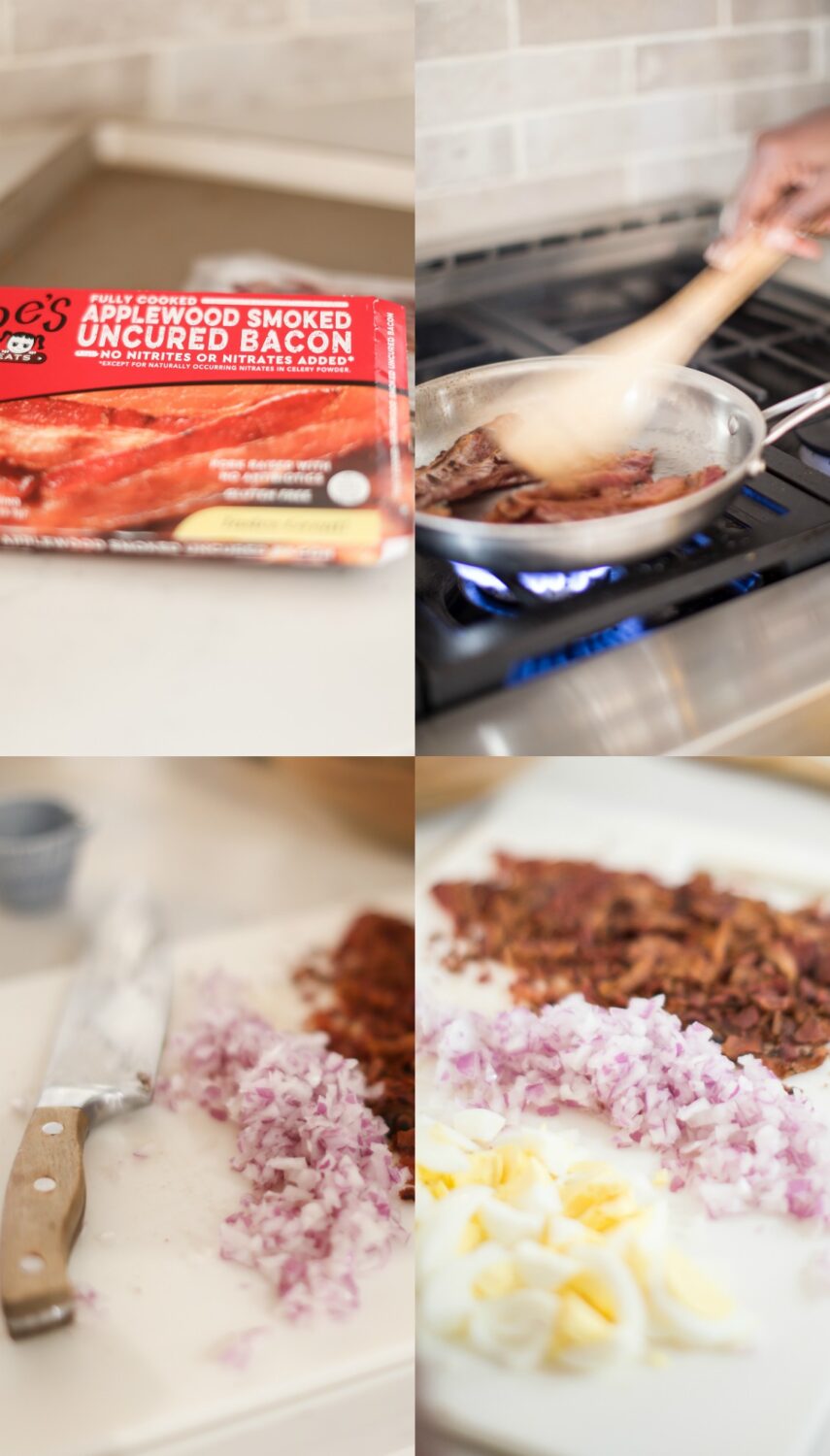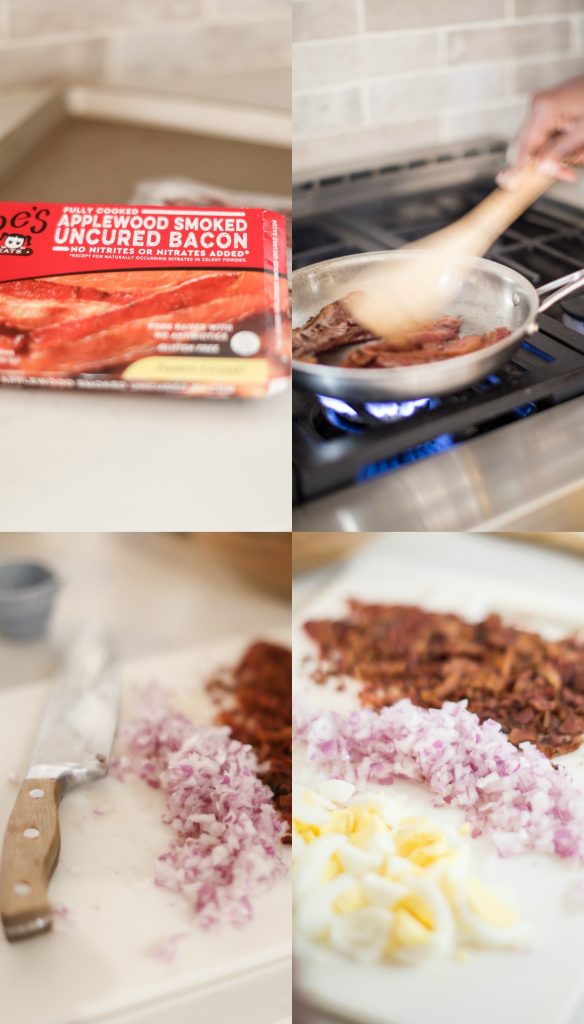 Once that's done it's time to assemble the salad! Pour all your baked and grilled potatoes into a bowl. Then add your chopped ingredients, and your dressing!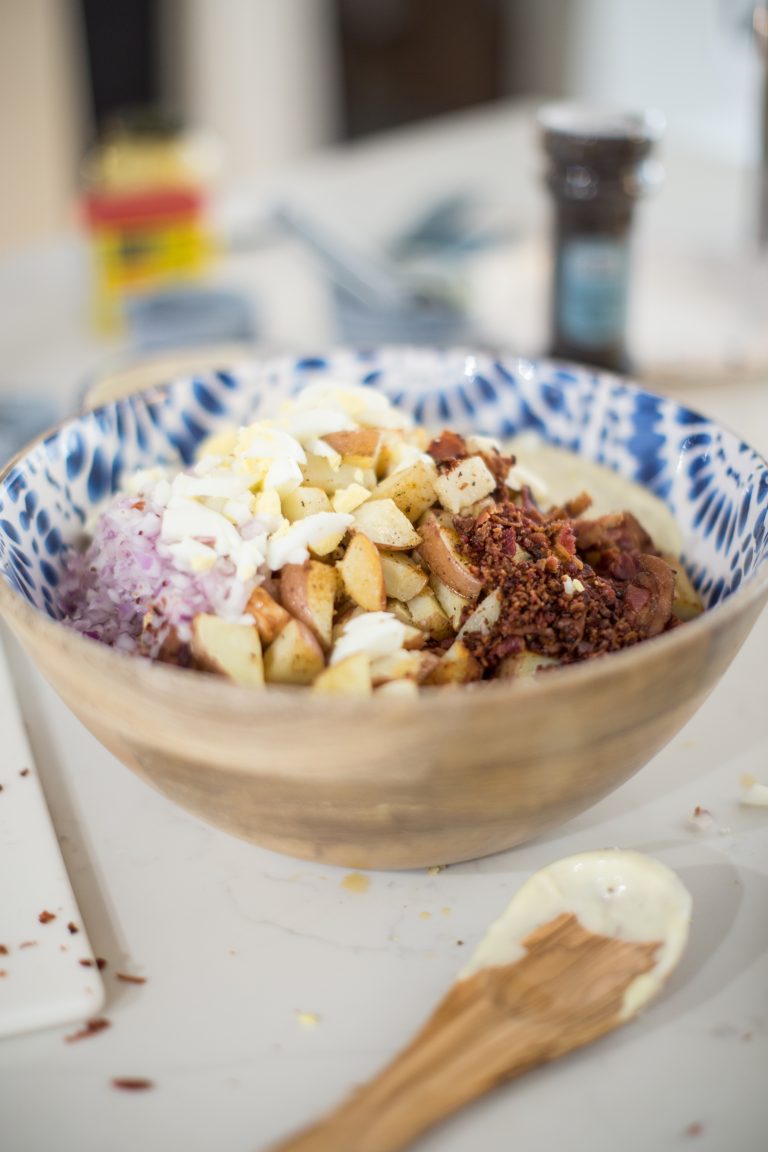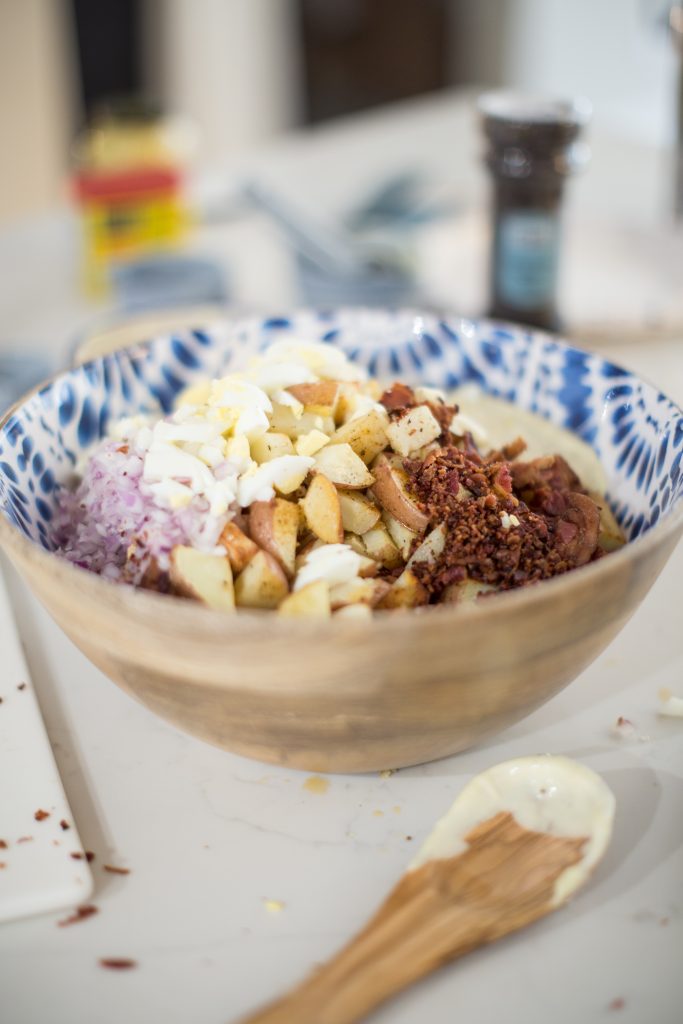 Give it a great toss and mix!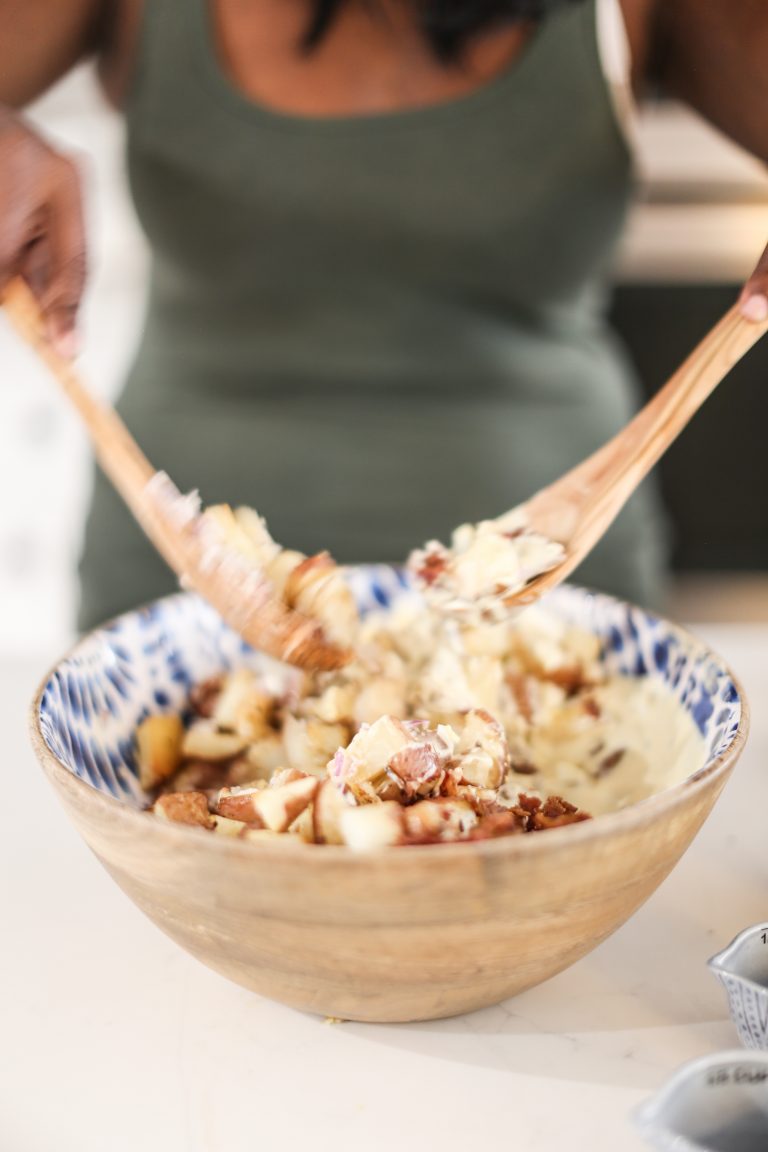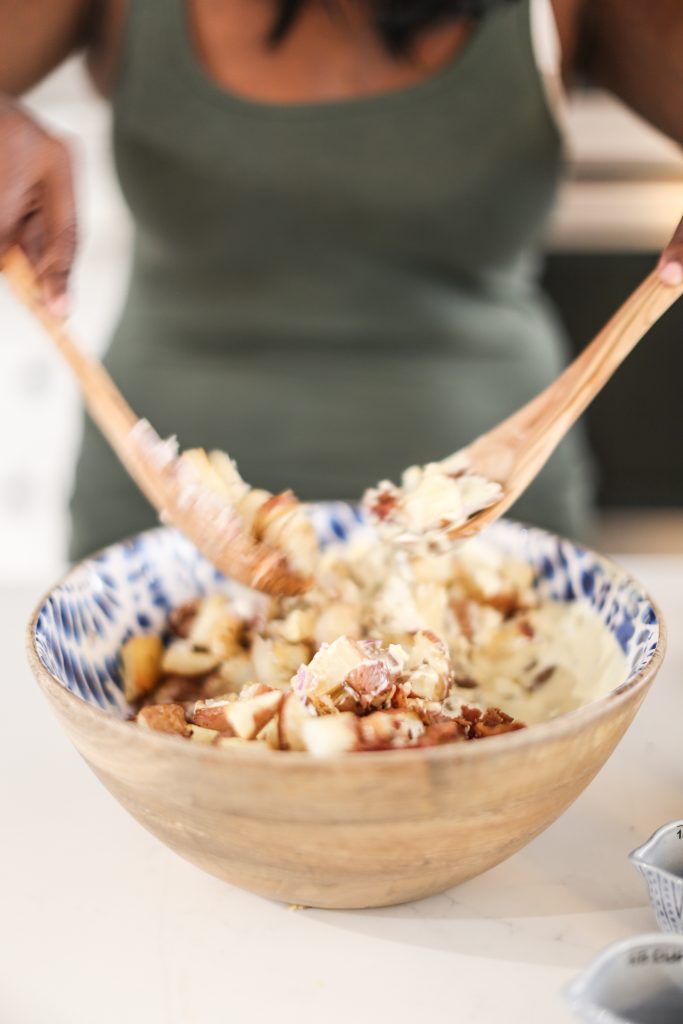 Sprinkle a healthy amount of smoked paprika for that final pop of color and flavor. It's also good to know that this potato salad is actually BEST when served warm! So don't be afraid to dig in right away!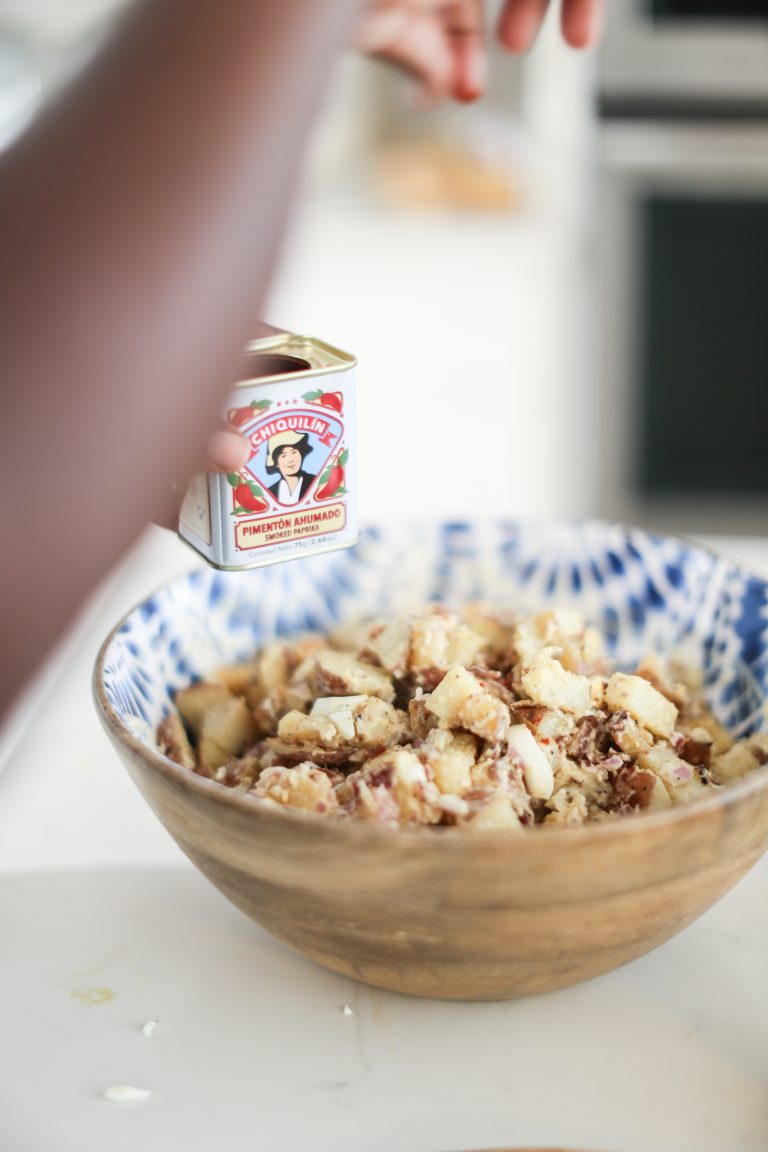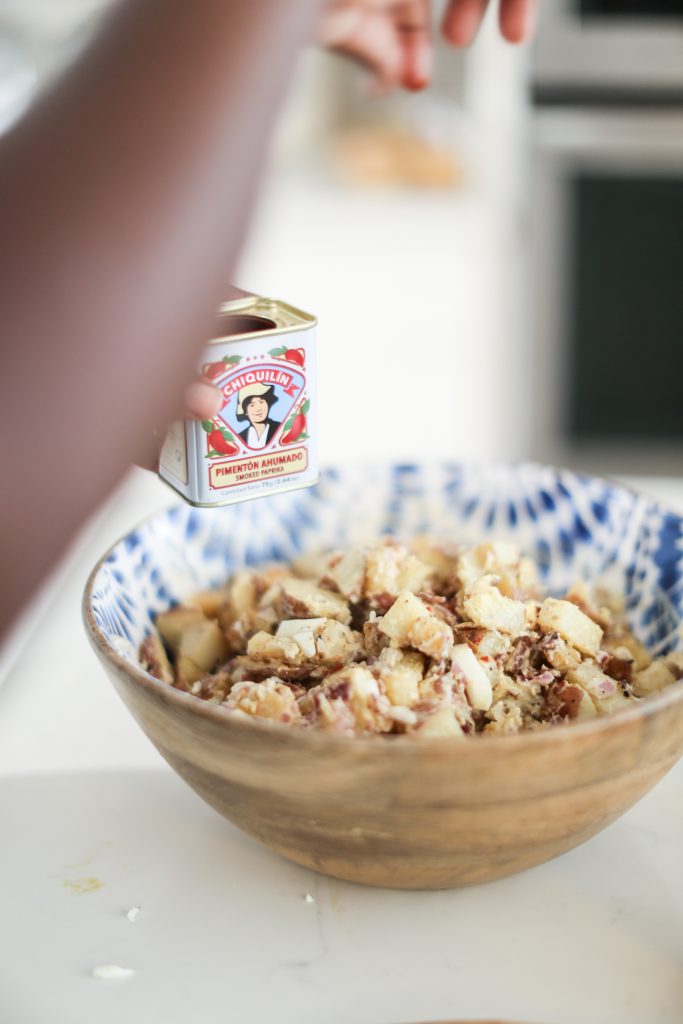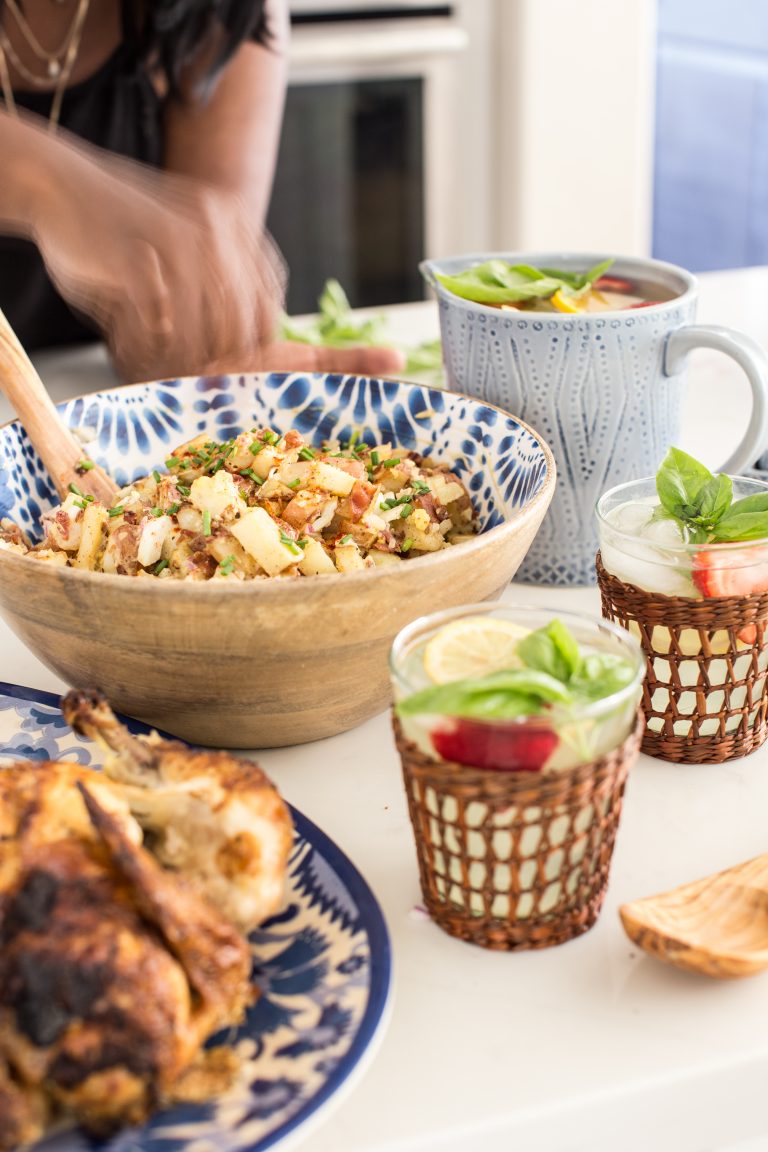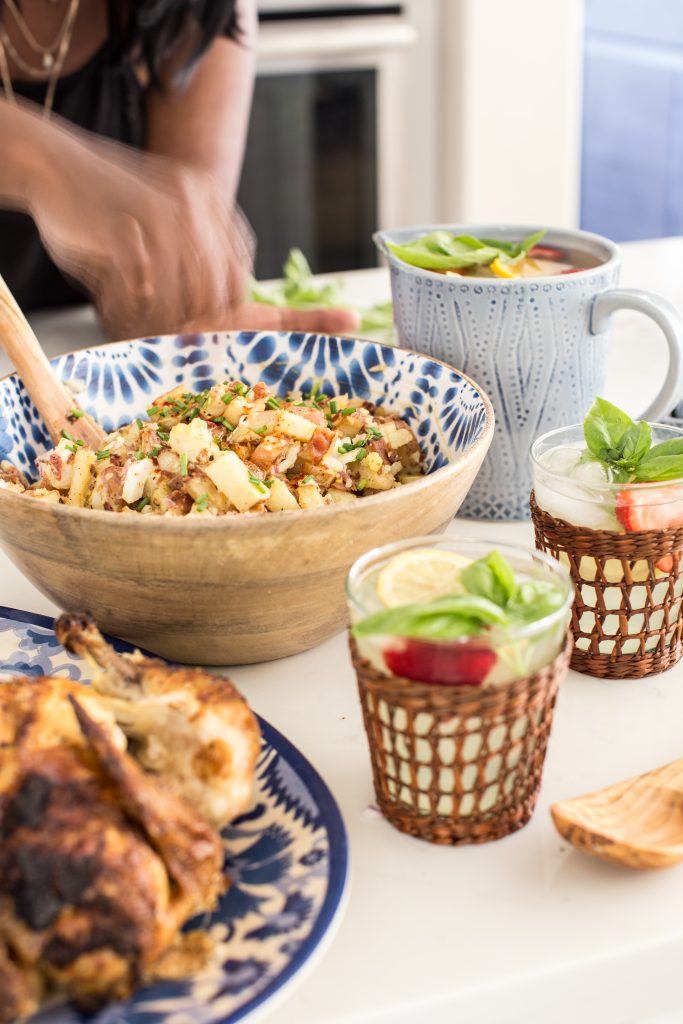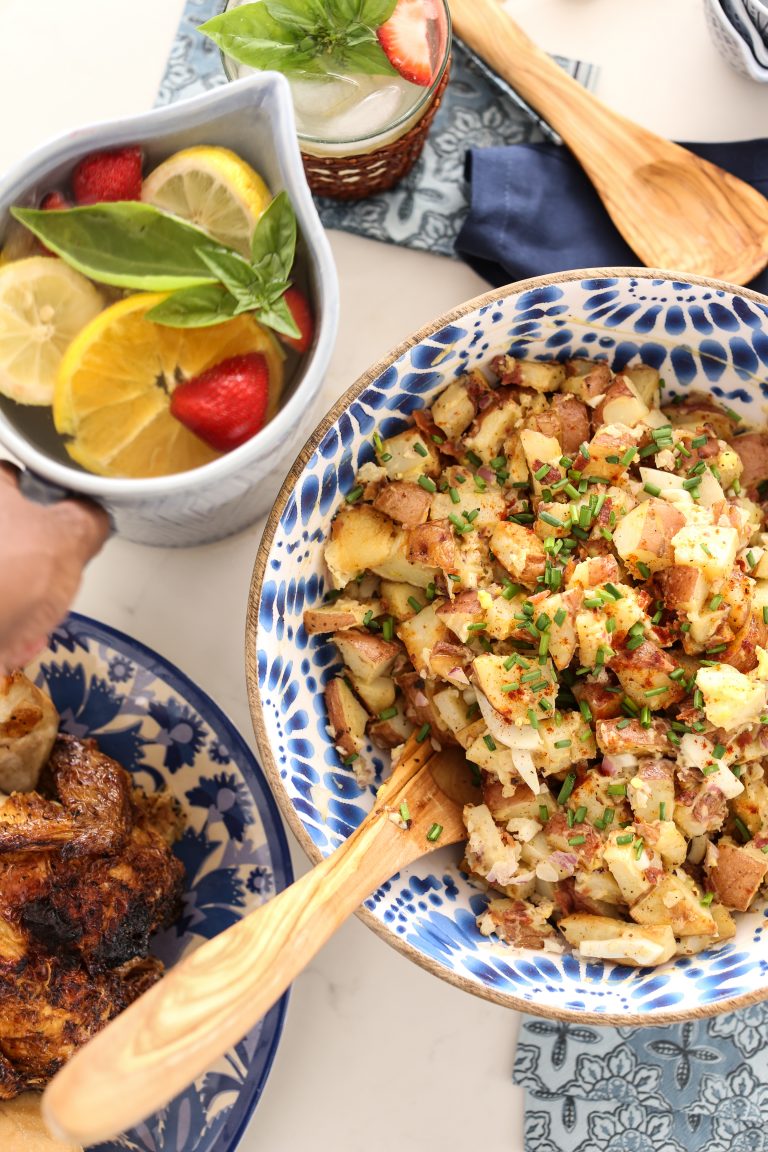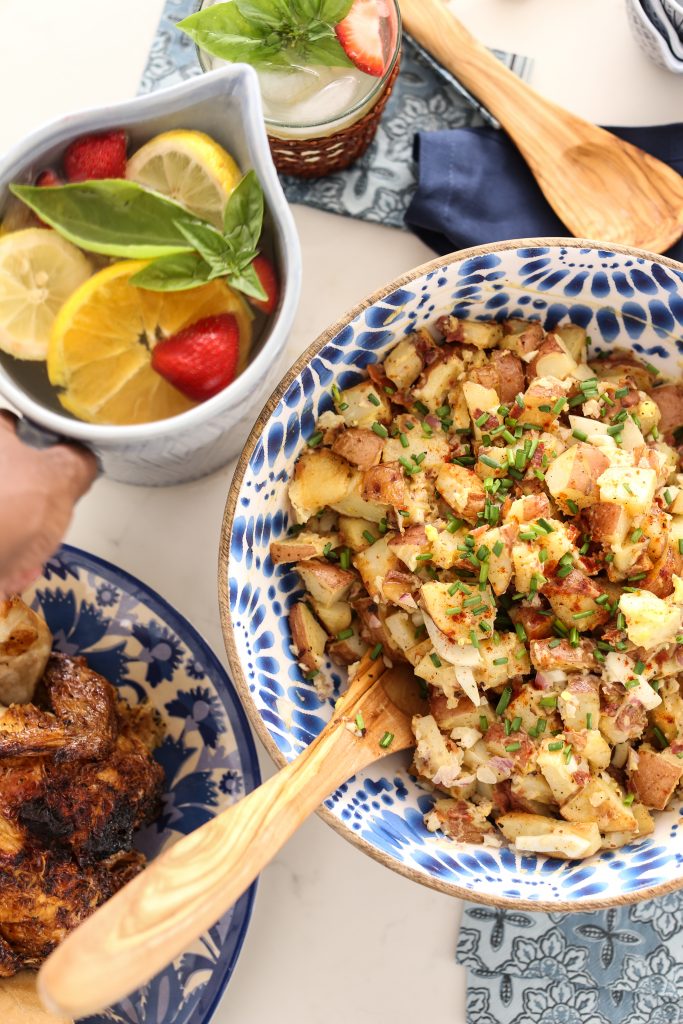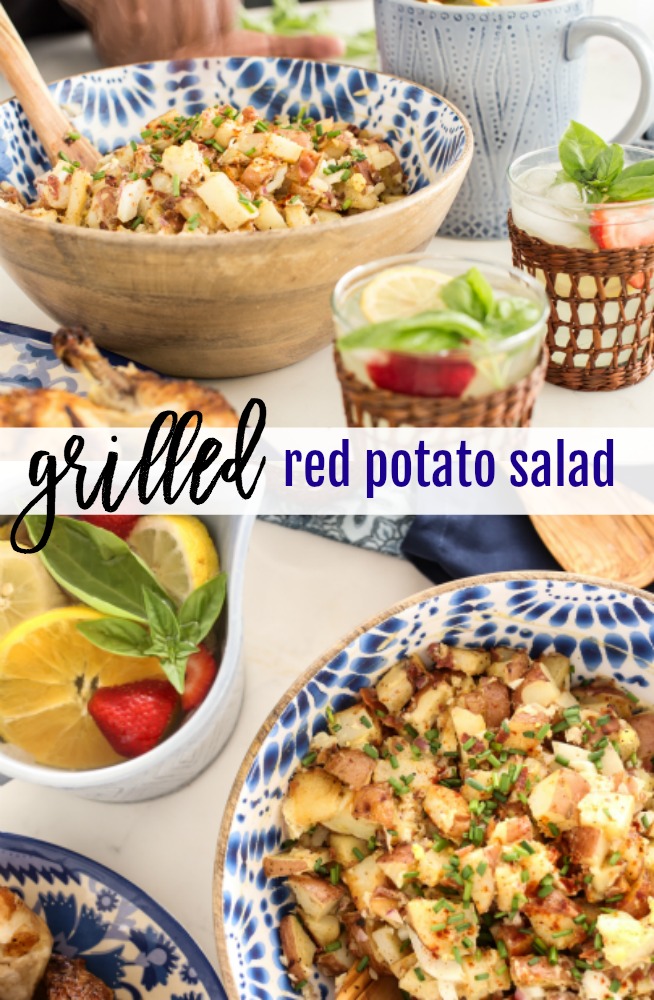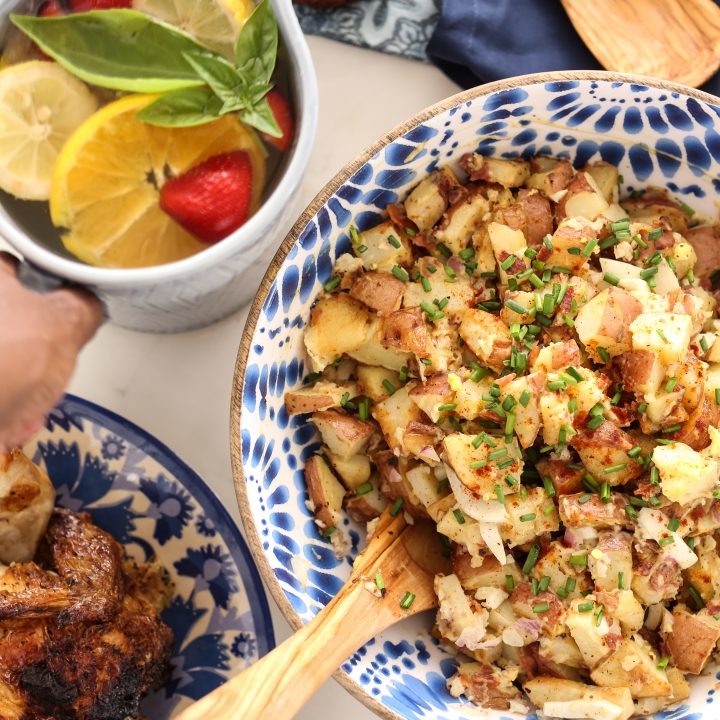 Grilled Red Potato Salad
Total Time:
1 hour
20 minutes
A delicious smoky flavored red potato salad featuring grilled red potatoes, creamy salad dressing and bacon.
Ingredients
3 pounds of small red potatoes (diced)
Olive oil ( drizzle)
1 tbsp Old Bay Seasoning
Kosher salt and freshly cracked black pepper, to taste
3/4 cup mayonnaise
1/2 cup salad cream (or mayo if you don't have)
1/4 teaspoon of Cajun seasoning, Slap Ya Mama
3 boiled eggs, peeled, cooled and chopped
6 slices of smoked bacon, cooked and crumbled
1/4 cup of diced red onion
Sprinkle of Smoked Paprika
Chopped Fresh Green Onions for Garnish
Instructions
Pre-heat oven to 450 degrees.
Cut potatoes into 1/4-inch cubes. In a bowl, drizzle potatoes with olive oil and add Old Bay Seasoning, salt and pepper.
Bake in the oven for 30 minutes at 450 degrees or until tender.
After potatoes are tender. Transfer 1/2 of them onto a grill sheet and grill on medium for 15 minutes. Just enough to have a smokey taste. Let potatoes cool to touch.
Meanwhile, for the dressing, combine mayo, salad cream and cajun seasoning. Mix well and set aside.
After that, fry the bacon until crisp; remove and set aside. Once it has cooled, chop it up along with the boiled eggs and red onions.
Pour the potatoes in a bowl and add dressing,chopped onions, eggs and bacon. Combine gently!
Sprinkle smoked paprika on top and garnish with green onions.
Taste and adjust for salt and pepper and mayo as needed. Serve right away.
Nutrition Information:
Yield:

10
Serving Size:

1 grams
Amount Per Serving:
Unsaturated Fat:

0g