How to make a Charcuterie Board on a Budget
This post is sponsored and may contain affiliate links, please read my disclosure policy.
When it comes to entertaining I'm all about the Charcuterie board or as regular folks call them, cheese boards! At first they look a bit intimidating but once you get use to making them and eating them, they quickly become your favorite way to feed your guests for any party you may be throwing! So how do you make one of these boards without going broke? Check out my favorite tips on how to make a Charcuterie board on a budget!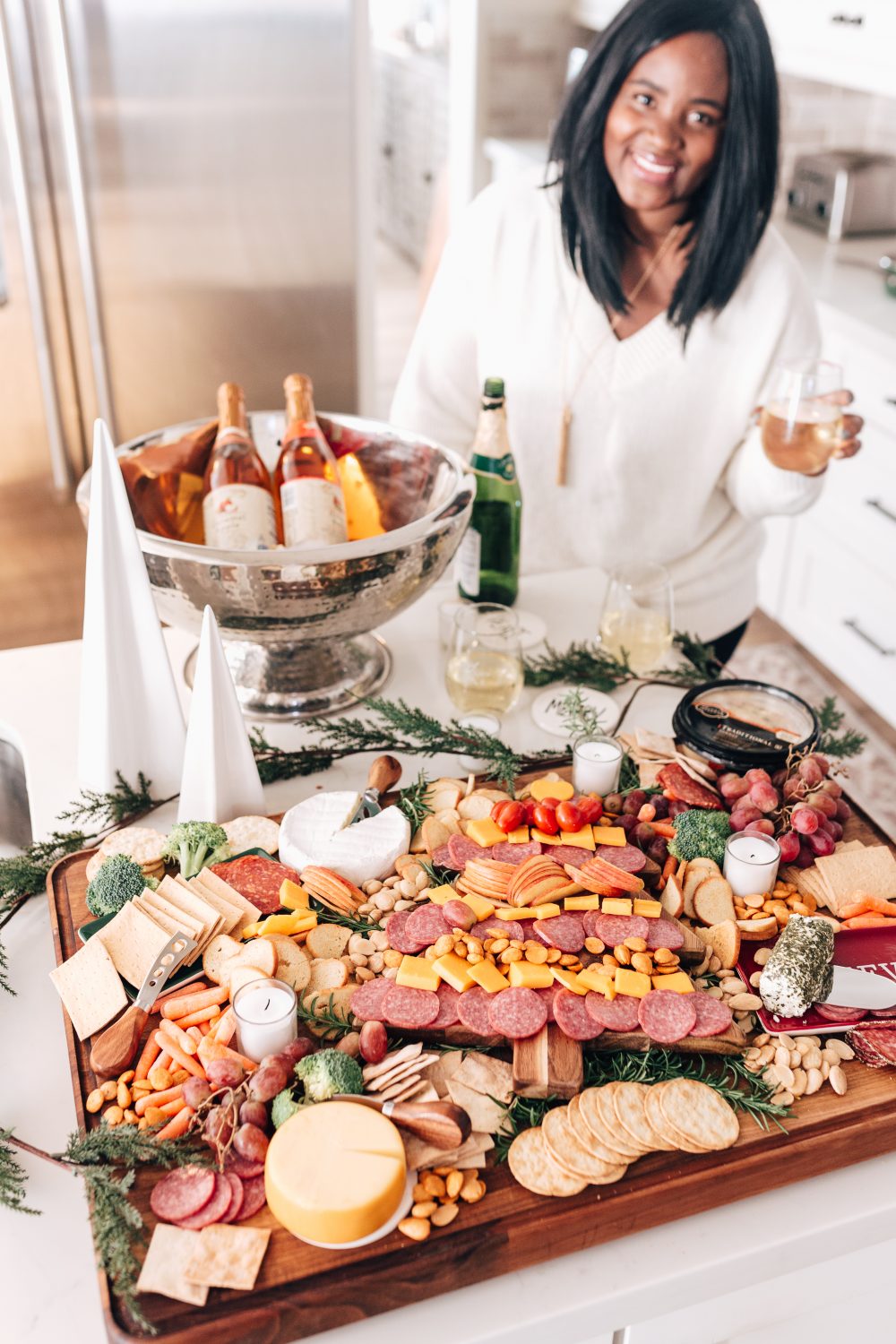 First I'm gonna tell you that you can get everything you need from your local grocery store! Yep, all this goodness is from my local Fry's/ Kroger! If you are lucky enough to have a new store near you then you know that they have an entire area dedicated specialty cheese and olives just for a set up like this. Plus anytime I go into the store I'm welcomed with warm friendly faces who are schooled on all things cheeses. They can pair anything!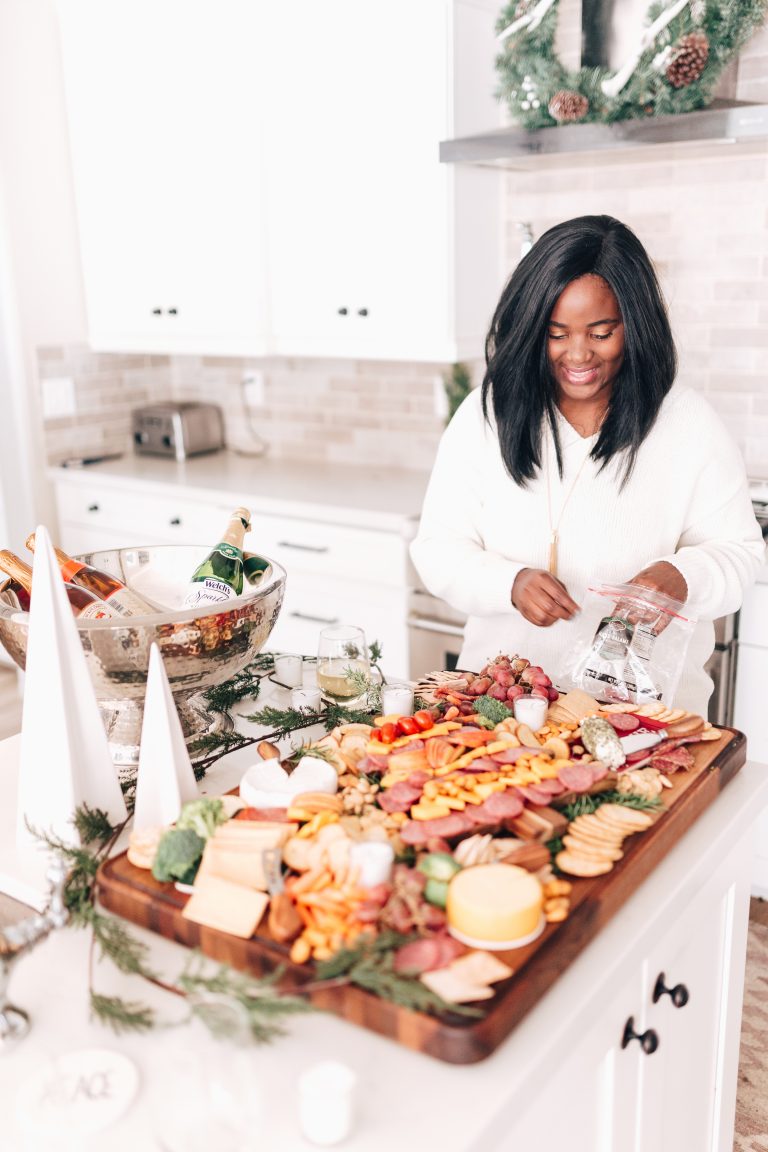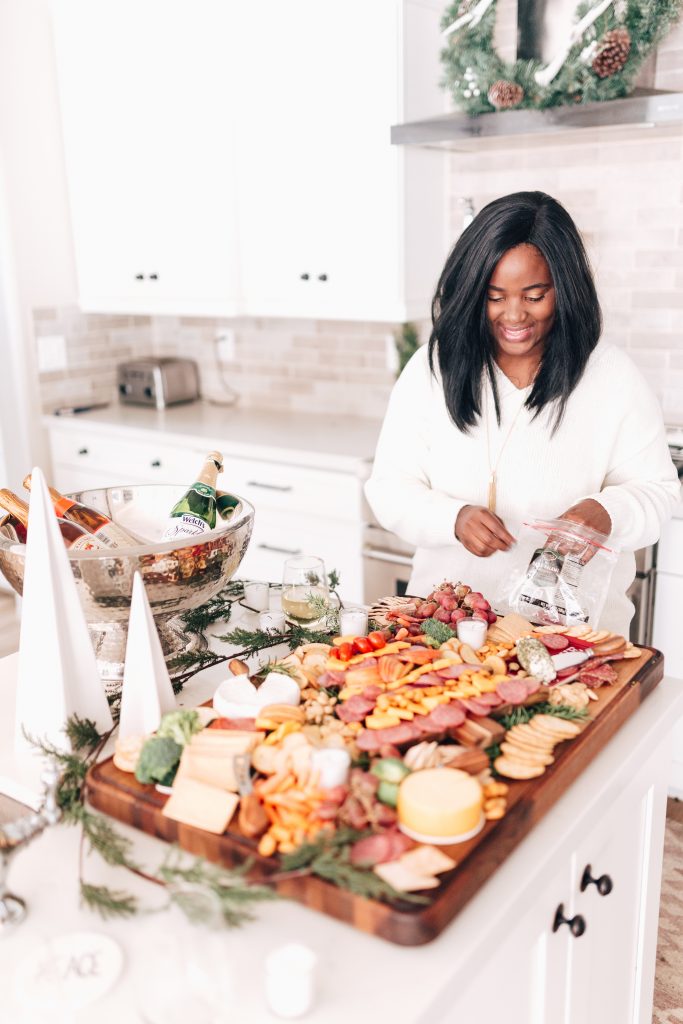 Thanks to my friend Kirstin from Chestnut Fine Foods in Arcadia I can now shop in confidence when I make my boards for parties! She coached me via texted and video so I knew exactly what to get!  
Cheeses ( choose about 3-4 different cheeses) 
Blue Cheese
Hard Cheese (Cheddar or Parmesan Reggiano) 
Herbed Goat Cheese 
Brie
Cream Cheese 
Crackers ( pick 3-4 types of crackers) 
Ritz
Water Crackers
Stacy's Pita and Bagel Chips 
Baguette slices 
Herbed Crackers 
Meats
Italian meats -Salami, prosciutto, pepperoni etc. 
Kirstin said you can't got wrong with meats as long as they are cured! 
Nuts 
Almonds in different flavors. Murrarys from Fry's has come amazing selections. 
Dips
Hummus
Ranch
Artichoke Dip 
Cream Cheese with herbs 
Others 
Pickles
Olives 
Dried Fruits
Fresh Herbs 
Peppers 
Mushrooms
Money saving tips Charcuterie Board Tips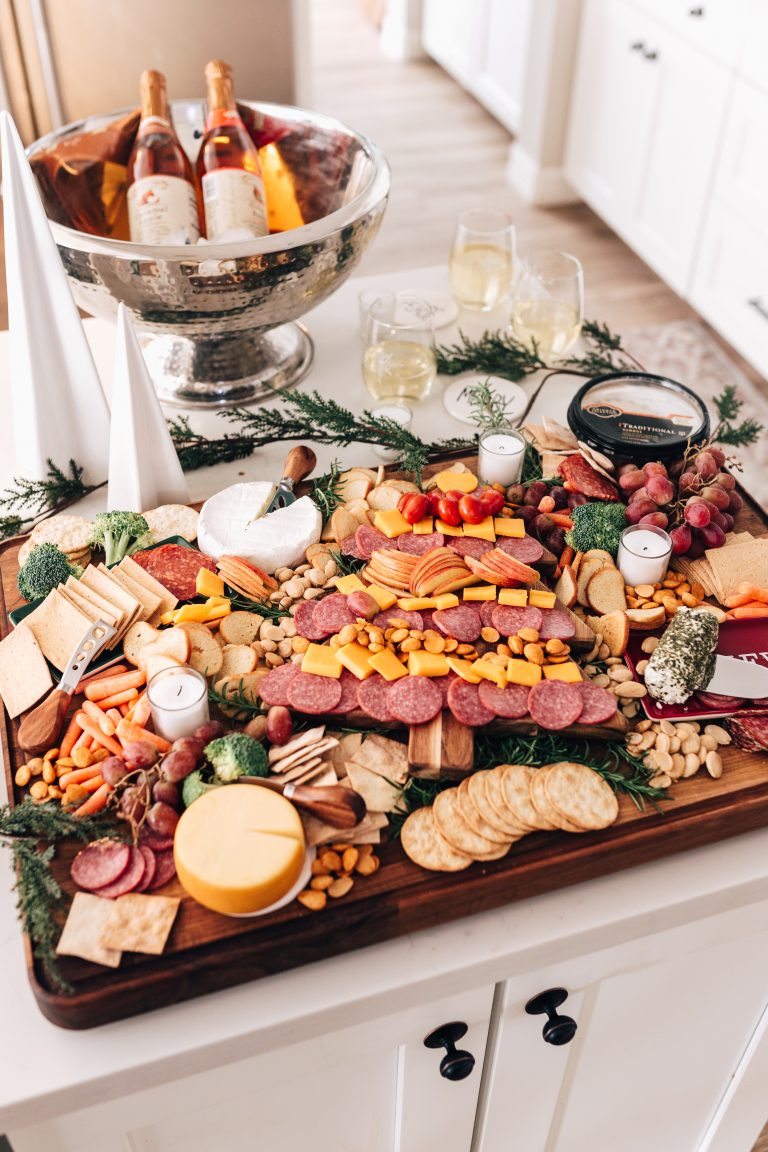 Most grocery stores have ready made veggie, fruit, meat and cheese trays already made, so take advantage of them! I like to take them and just add them to the board! No one has to know! haa! 
Use cheap fillers like crackers, grapes, nuts to fill in all the gaps on your board! They are easy to pick up and are filling for your guests!
Don't be afraid to use "regular' things like ritz crackers and pepperoni! You can get great deals on all these items all year long. Also deli meats are a great mix in! I also love using Stacy's Pita Chips and Bagel Chips! They are SO good! Add some hummus to the mix for dipping. 
If you can find a meat and cheese tray pick up cubed cheese in the cheese section of the store! Also ask your deli area to slice up meats for you too! Just make sure the meat is cured to stay fresh while it's out! 
Arranging Tips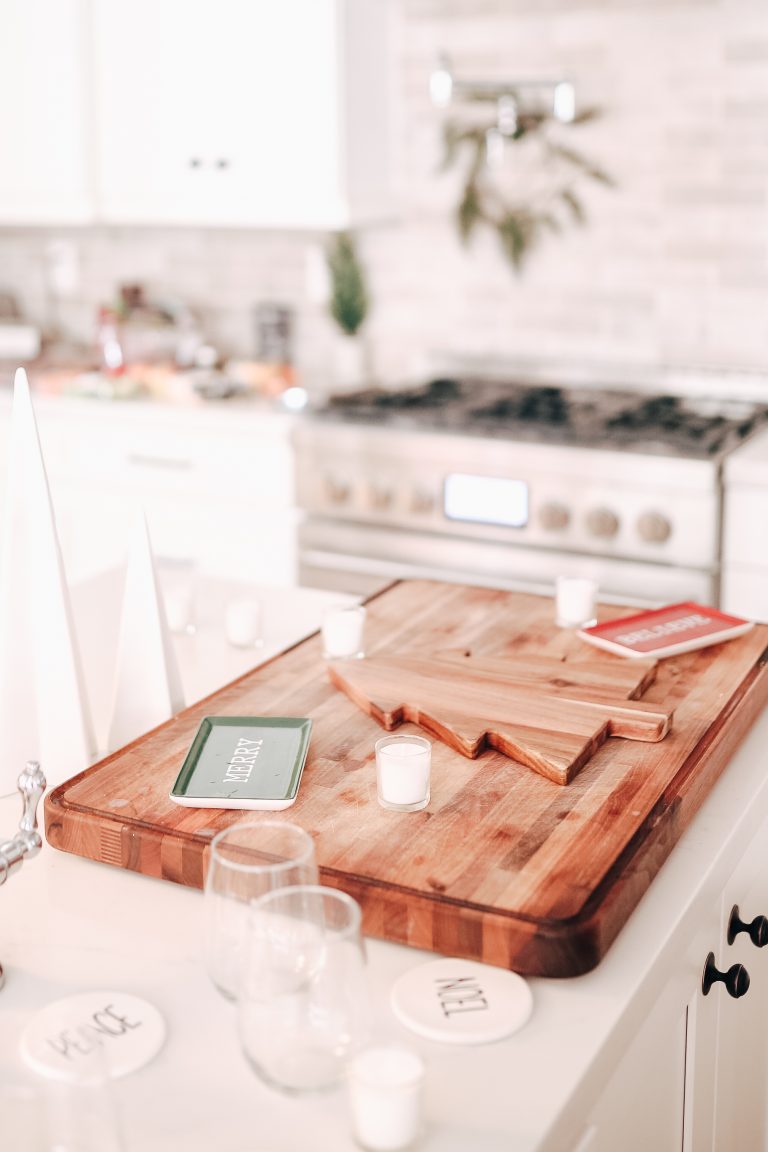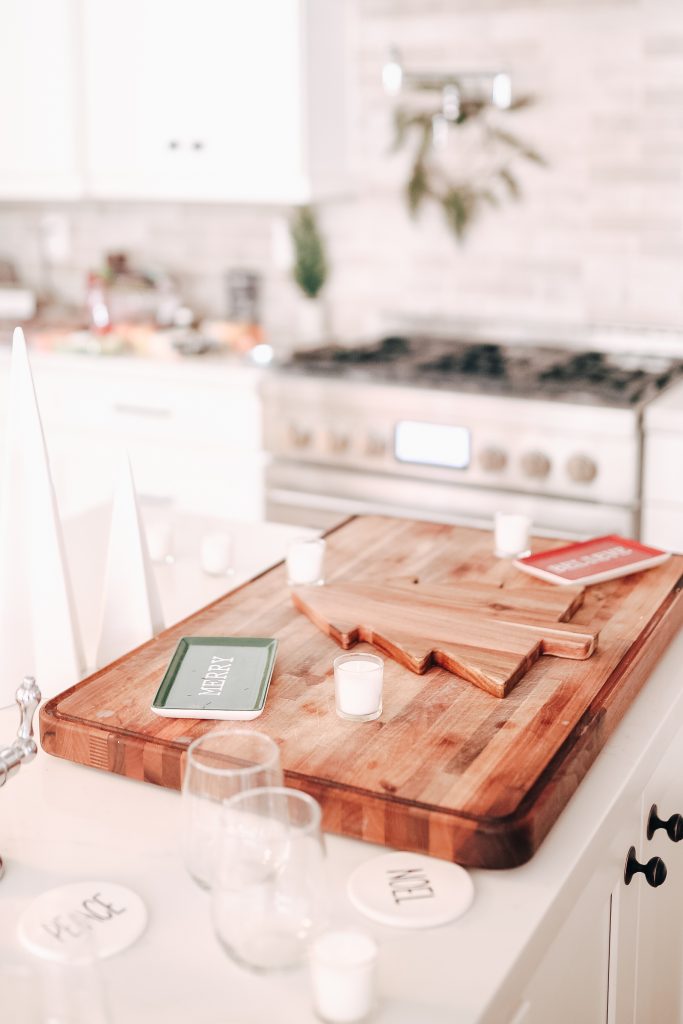 To arrange a charcuterie board you will need a LARGE cutting board! This one just sits on my counter. I use it for cutting veggies only. I love these options.
If you are entertaining more than 5 people, ,make sure your portions are GENEROUS!! There is nothing worse than going to a party when you feel like you have to eat like a bird..ha! I promise you by the end of the night, most of if not all the board will be gone! So make sure there is more than enough! 
Next decide how you want to arrange and go for it. This board was set up for the holidays so I put a cute little Christmas tree cutting board in the middle along with some plates to hold cheeses. I like adding small plates and risers so that it gives the board some depth. 
I also like to use unscented candles and fresh rosemary or bay leaves on the boards too! I think it adds to the ambiance and gives the board some life! 
When adding items I like to start with the cheese on all four corners of the board. 
Then I add the crackers and bread around them along with some meat selections. 
Whatever I put on one side of the board, I try to put on the other to balance it out with variety and also color!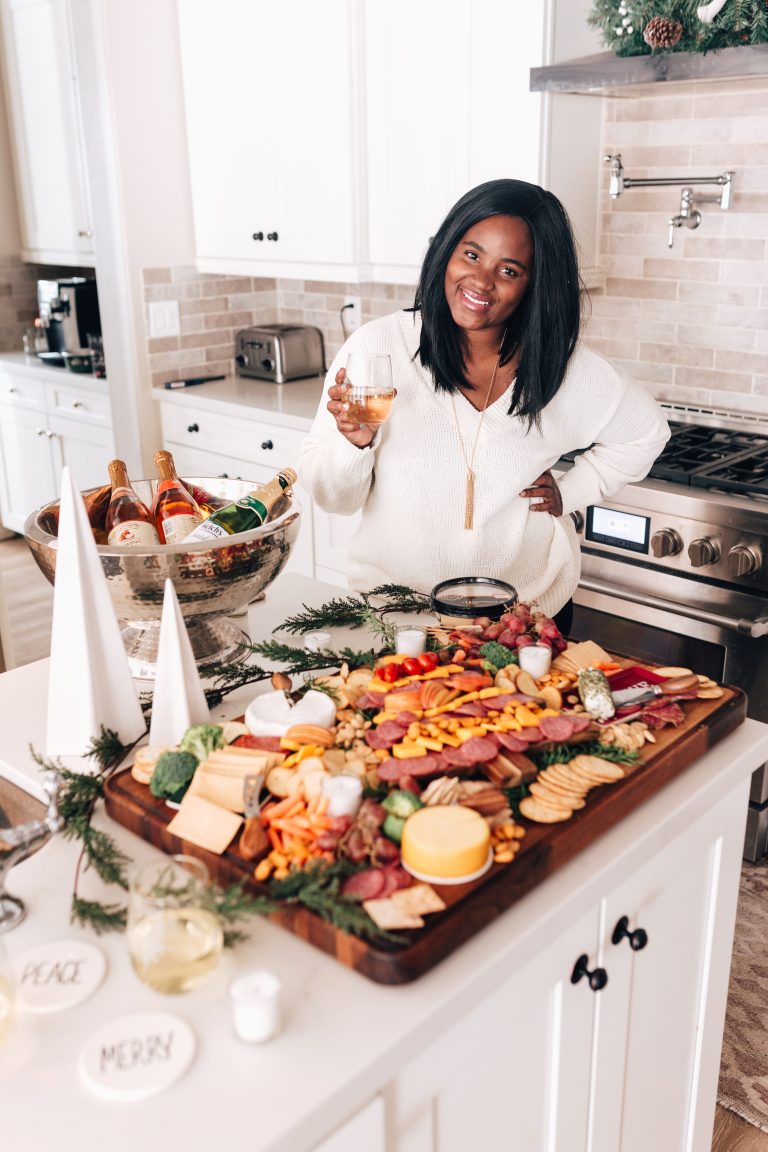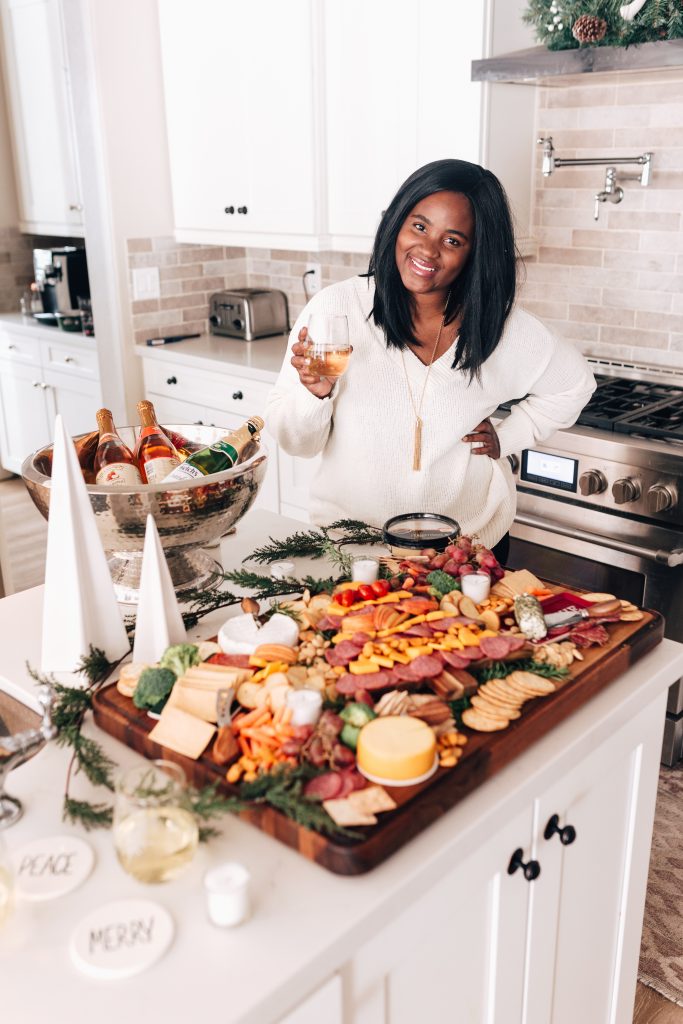 Are you ready to try your own board at home?!