Master Bedroom Retreat Plans
This post is sponsored and may contain affiliate links, please read my disclosure policy.
I'm so excited to be getting started on our first project of the year, our master bedroom! There is nothing quite like the importance of having a room where you can retreat to at the end of the day. A place to relax and unwind. With anxiety and worry disrupting our spirit these days, having a place to come to is SO important! So many times the bedroom can be a place to heal, to cry, to love and reflect. There are so many moments we spend in our rooms each day so why not make it a place you want to be.
We've lived in our home now for three years and this year we thought is was time to give our space a little TLC.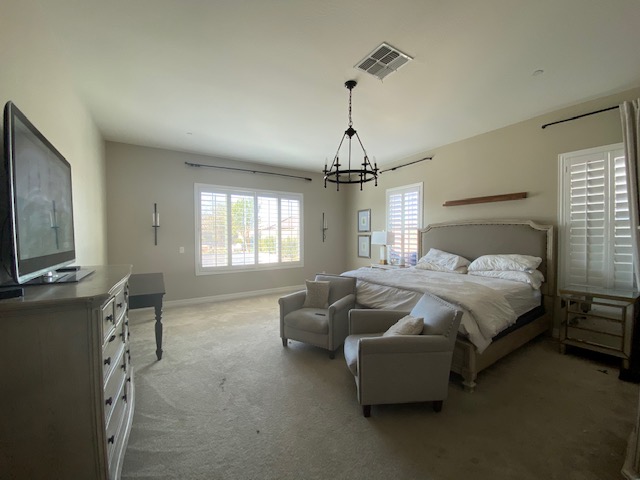 Since our bedroom sits on the right side of the yard we have a BEAUTIFUL view. We decided to take some of those elements that we love so much in our yard and bring them inside. Not literally, haha but just bringing the overall feeling of being at a resort into our bedroom.
The first thing we want to do is paint the room! When we moved in we had the builder paint our entire home accessible beige and I have loved it! But slowly we have been adding some other paint colors to the rooms as my style develops and evolves. We have a beautiful dark green built in, a airy white living room, a two different blues working in the kids room. For our room I went back to the airy feeling all that white gives you! I was so inspired by this picture!
via parachutehome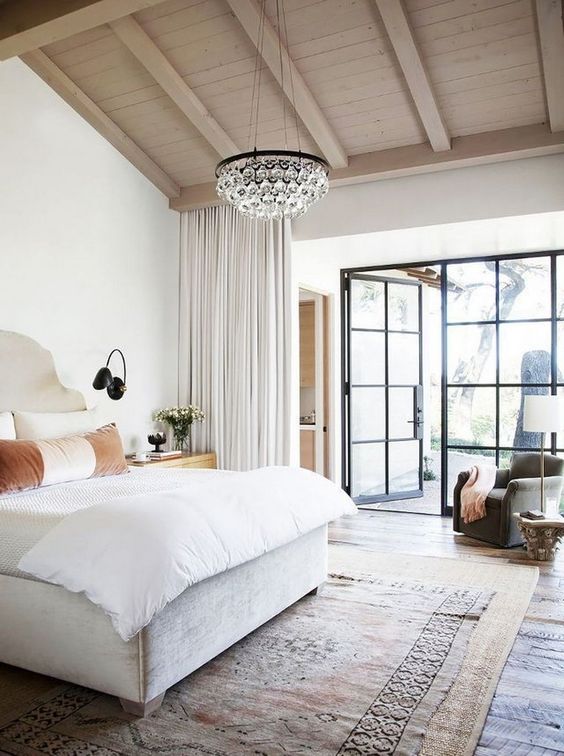 Some of the elements I love from this photo are the ceilings, the paint color, the french door and the stack of beautiful curtains. I think I can recreate this look for sure in our room!
I'm a bit hesitant to take on the ceiling project so I'm wondering if a similar paint color with do instead of the planks. But the planks are just SO gorgeous! I also feel like a set of faux beams might do the trick to give our ceiling some depth and interest.
We've also been wanting to put a french door that leads out to the backyard so this is a big on our wishlist. Our window is almost 95 inches wide so even if we don't go that route I will still be happy with the amount of light that floods into the room!
My favorite curtains look very similar to these ones so I will have no issue with that. But I do love that hidden valance idea instead of curtain rods! It gives it a cleaner line for sure and it also reminds me of some resorts I've stayed in. I'm also wondering if a pretty layer of sheers would add to the look too.
For the paint color I'm leaning towards Alabaster by SW or Pure White by SW. These two paint colors seem to work well in our home.
All though I do love the bed I have my eye on a canopy style bed and this one seems to be a winner. It looks just like the one from Frontgate but the price difference is crazy!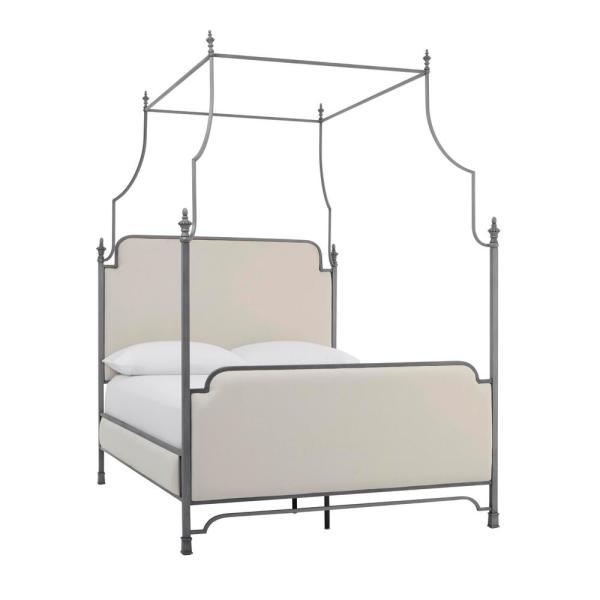 Home Depot will be helping me bring this entire room together by providing some gorgeous furniture and elements! You. GUYS! You know how much I love Home Depot!! You're always shocked when I source my furniture or accessories and they are from The Home Depot! I've spent hours sourcing some great finds online and I can't wait to share them with you as I bring this room together!
Right now through 1/31 you can get 20% off at The Home Depot! New Year, New Savings. Get 20% Off Select Furniture, Décor and Home Accents when you use code: HDDECORJAN20
One redemption per customer, max $200 discount and there's a limit to the number of redemptions. For example: a customer can only use the code once in cart, but it would apply to the chair, table, blanket, and pillow in cart, up to a $200 discount.
See my Master Bedroom Pinterest Board for even more of my favorite ideas and looks.