This post is sponsored and may contain affiliate links, please read my disclosure policy.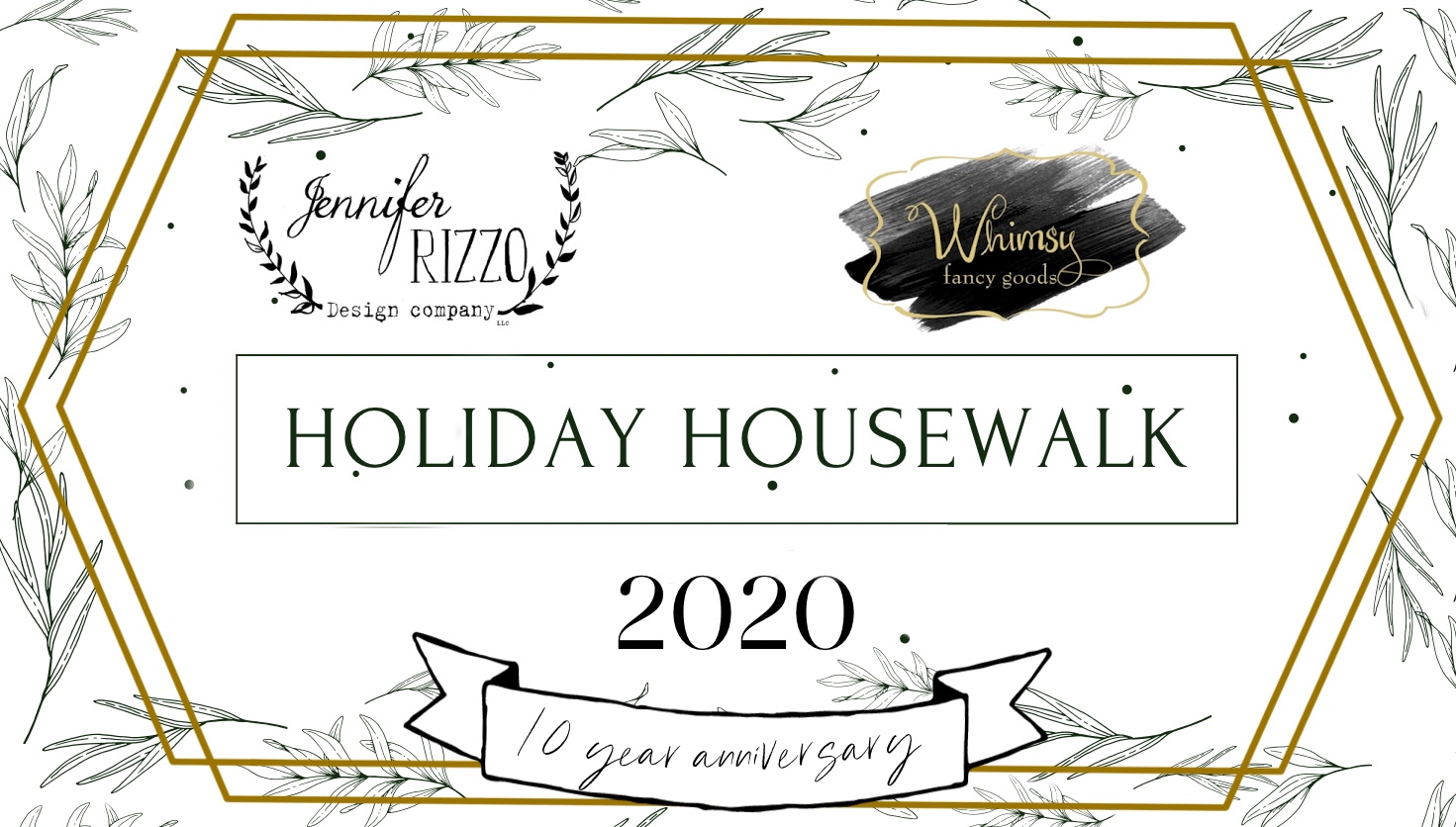 It's finally that time of year!! Jennifer Rizzo's Annual Holiday Housewalk!! I'm so thankful to be apart of this tradition for so many years now! The landscape of blogging has changed so much with the introduction of social media, but it's nice to keep so many fun traditions like this one! If you want to start the tour from the beginning then head back to Jen's page for Day 1!
Hello and welcome all my friends from Zevy Joy! What a gorgeous tour right? Her space is just dreamy and she really has an eye for making all things beautiful. The fact that she can even take a basement from her sweet grandfather and make it home let's me know how big her heart and talent is!!
I'm so excited you're here! Take a look around and enjoy yourself! I will have links throughout my page and on LikeToKnowit so make sure you're following me there!
If I didn't link it then it's most likely not available so I will try to link something similar! I won't be doing a ton of "talking" so just enjoy yourself! You have a lot of beautiful homes to see on this tour girls!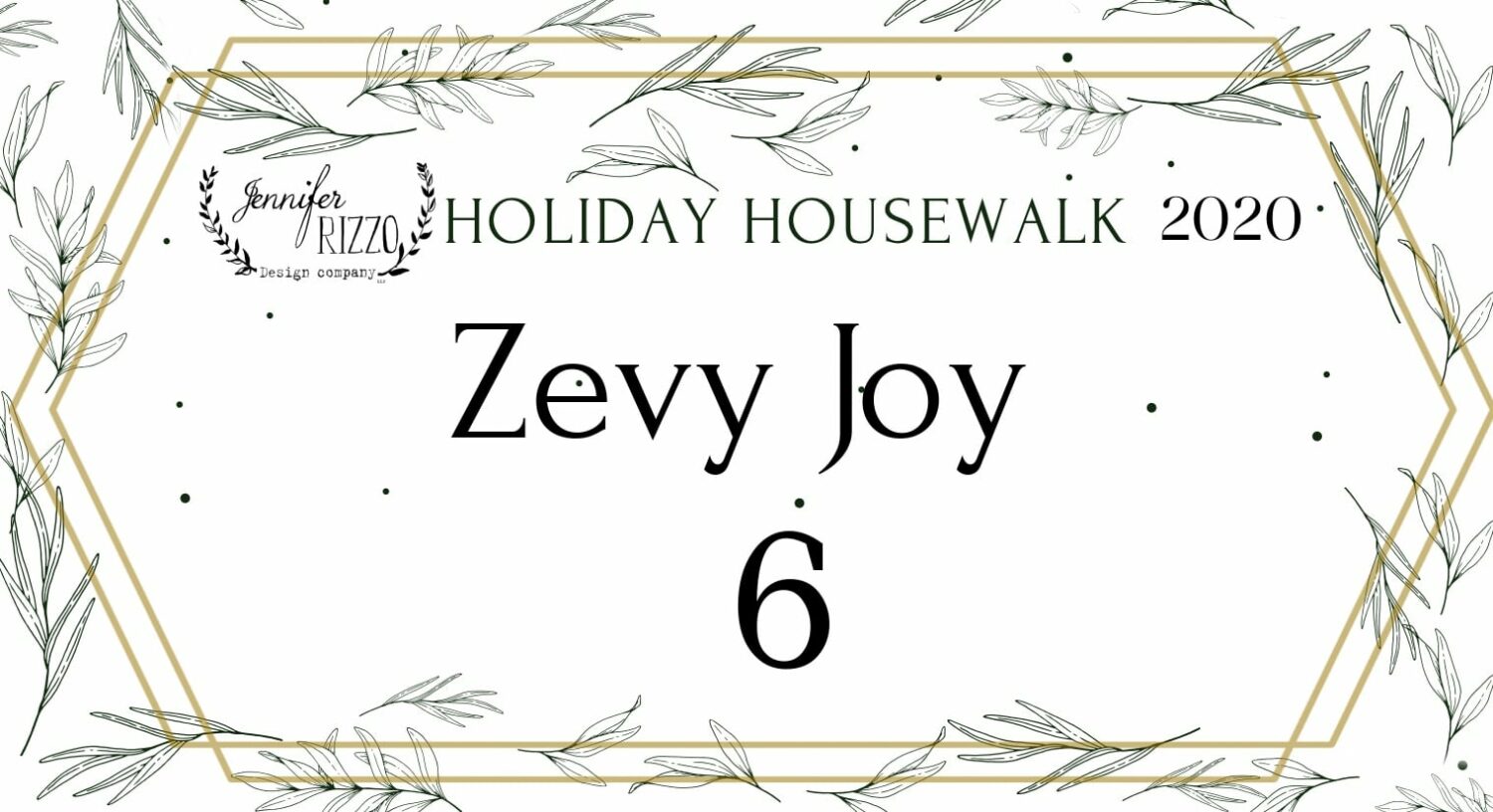 Living Room Decor with Elegant Christmas Tree
When you first enter our home, to the left you have our living/ dining room area. It's a quiet area in our home were I like to have coffee in the morning to get that morning light!
The tree in here is decorated in a beautiful elegant palette of golds, pearls, creams and slivers! I like to describe my style as casual elegant but this tree for sure leans towards that elegant style! You can shop everything on this tree here!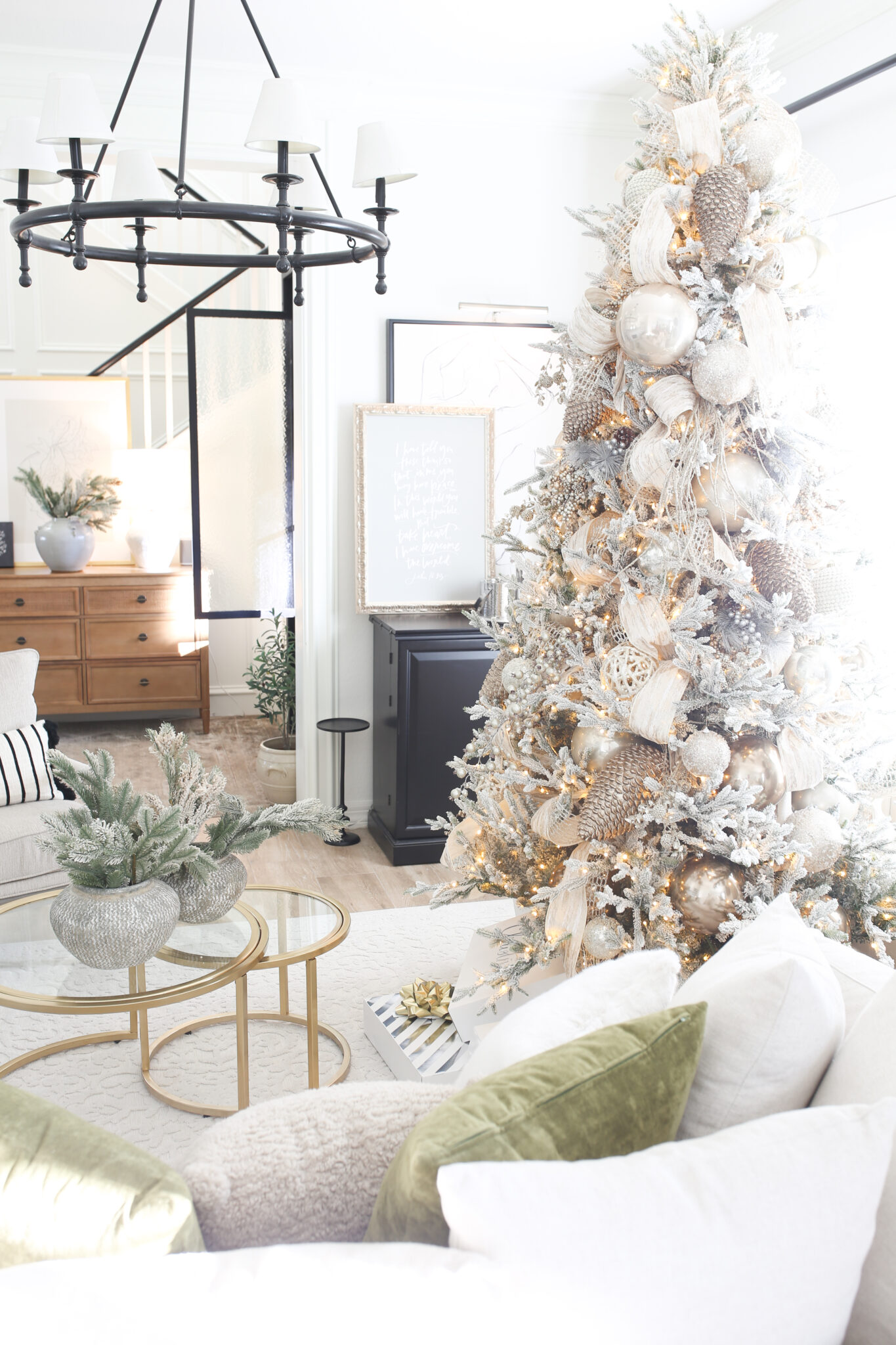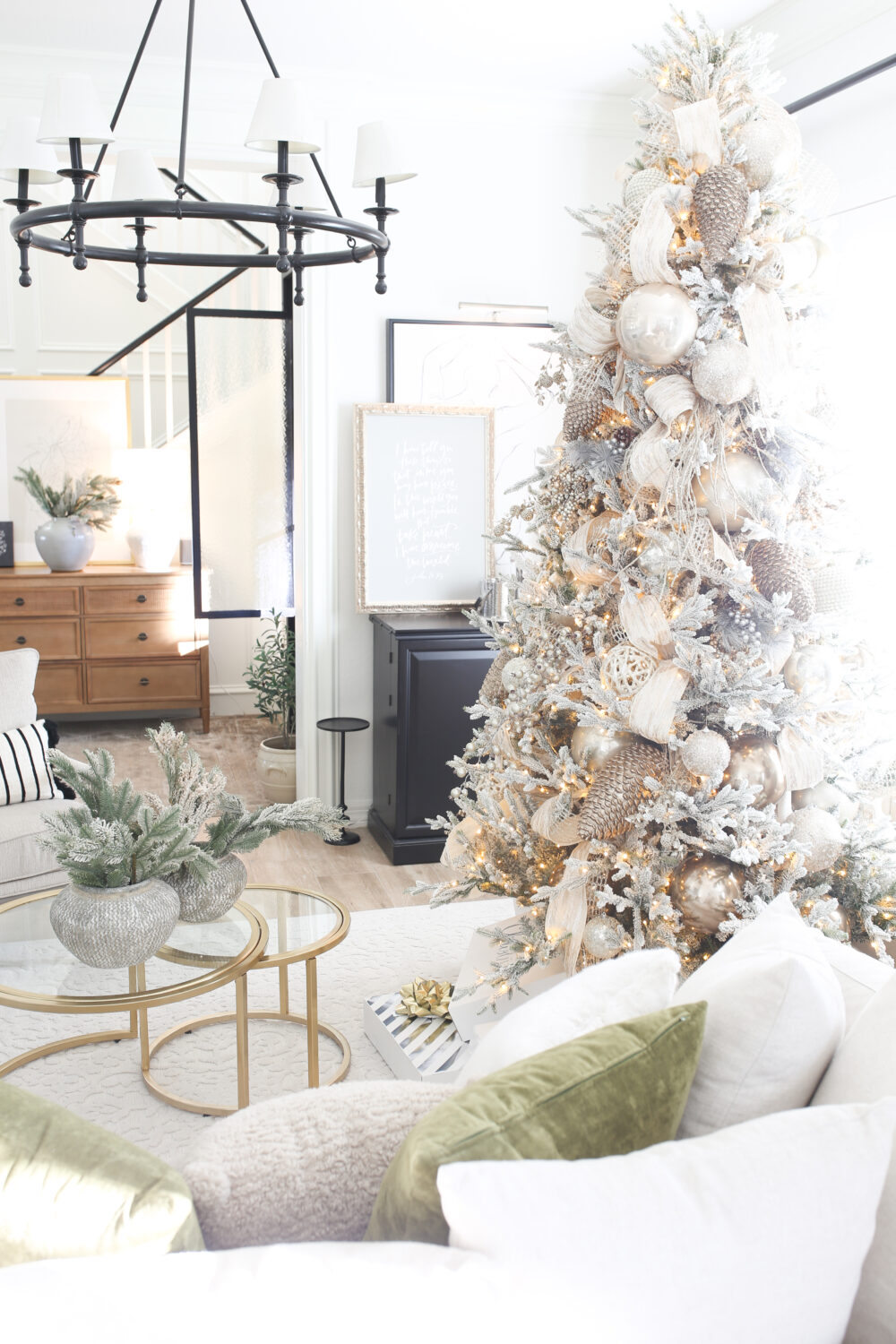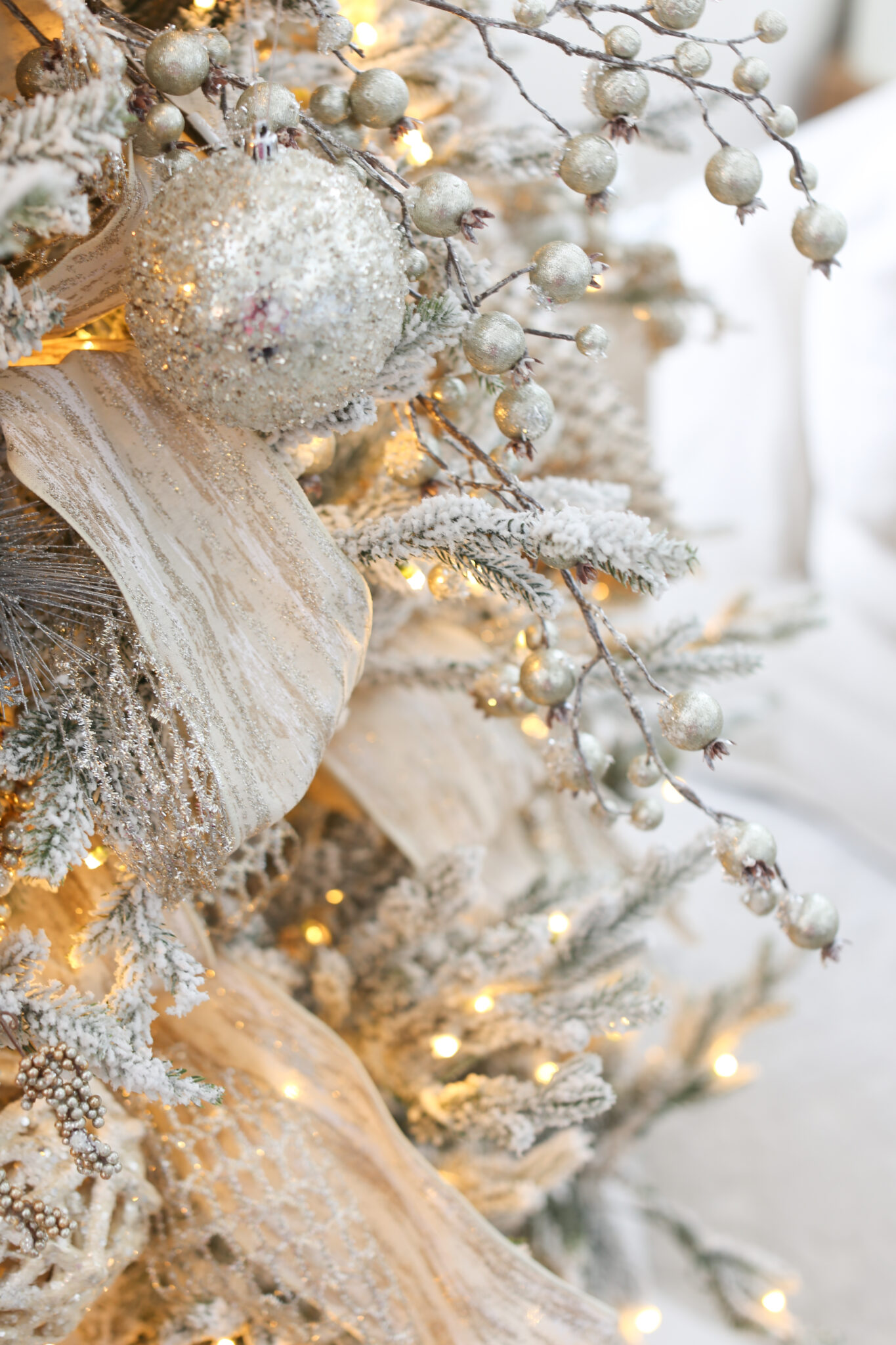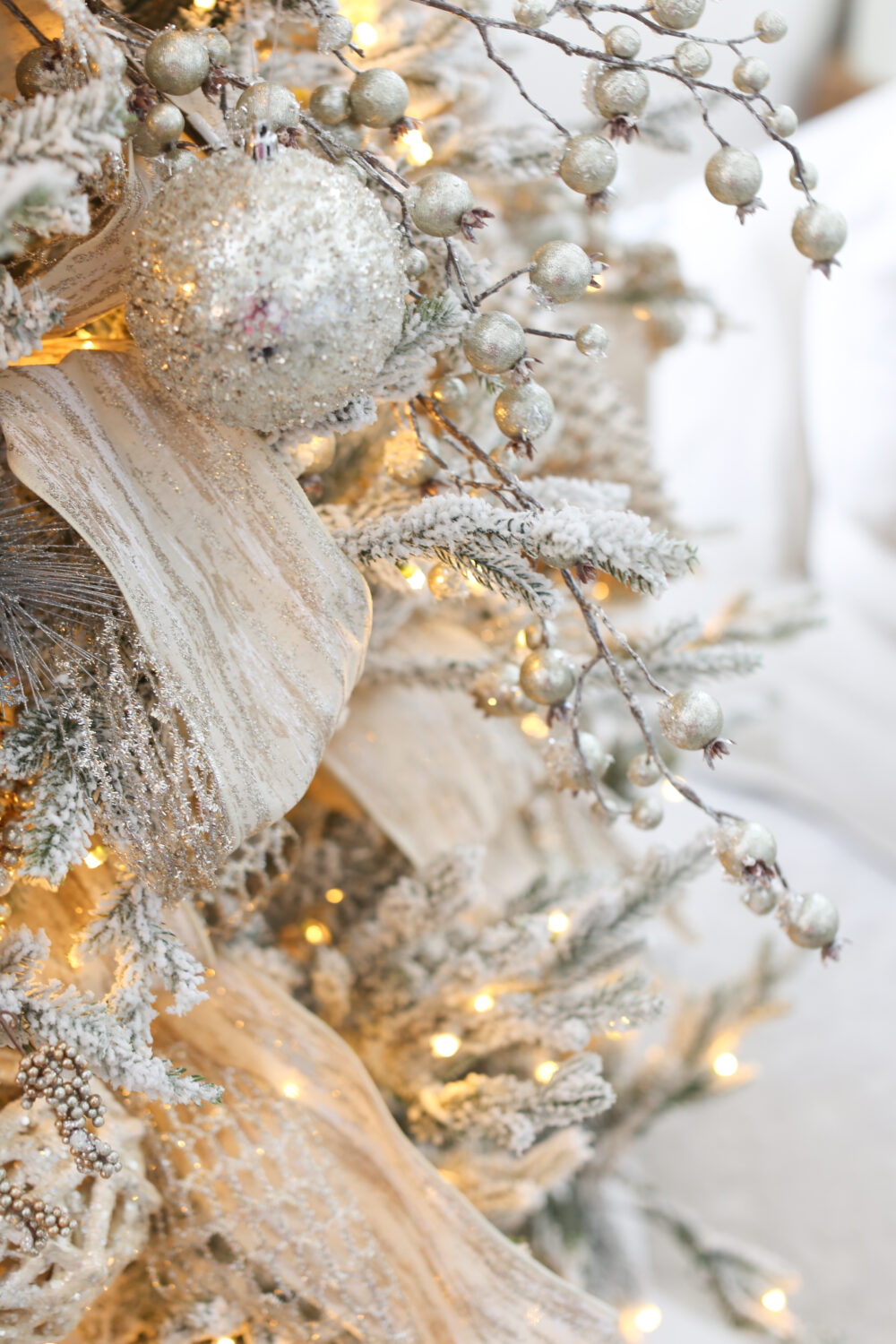 I just love all the different textures of this tree. It was so fun to create!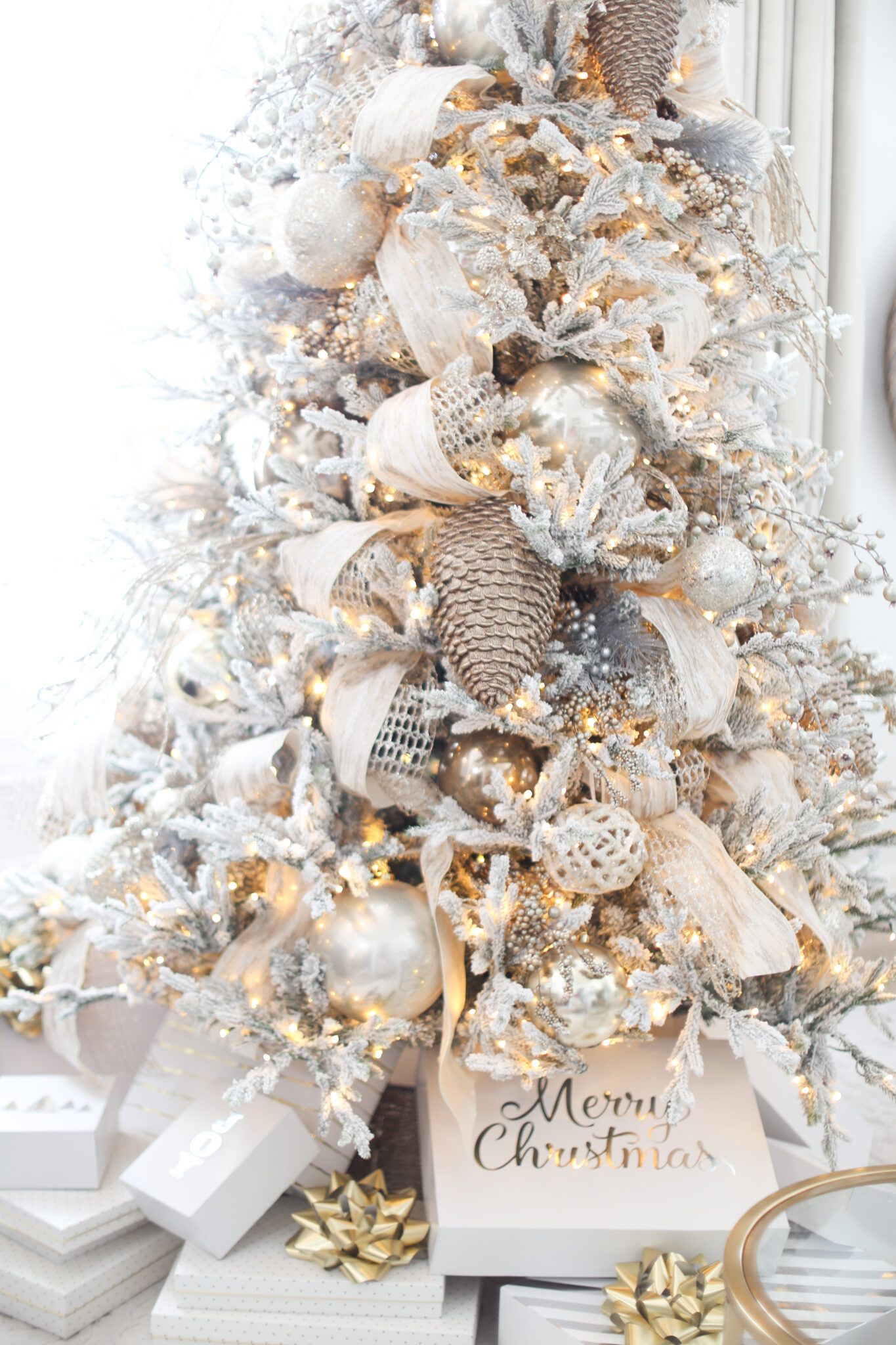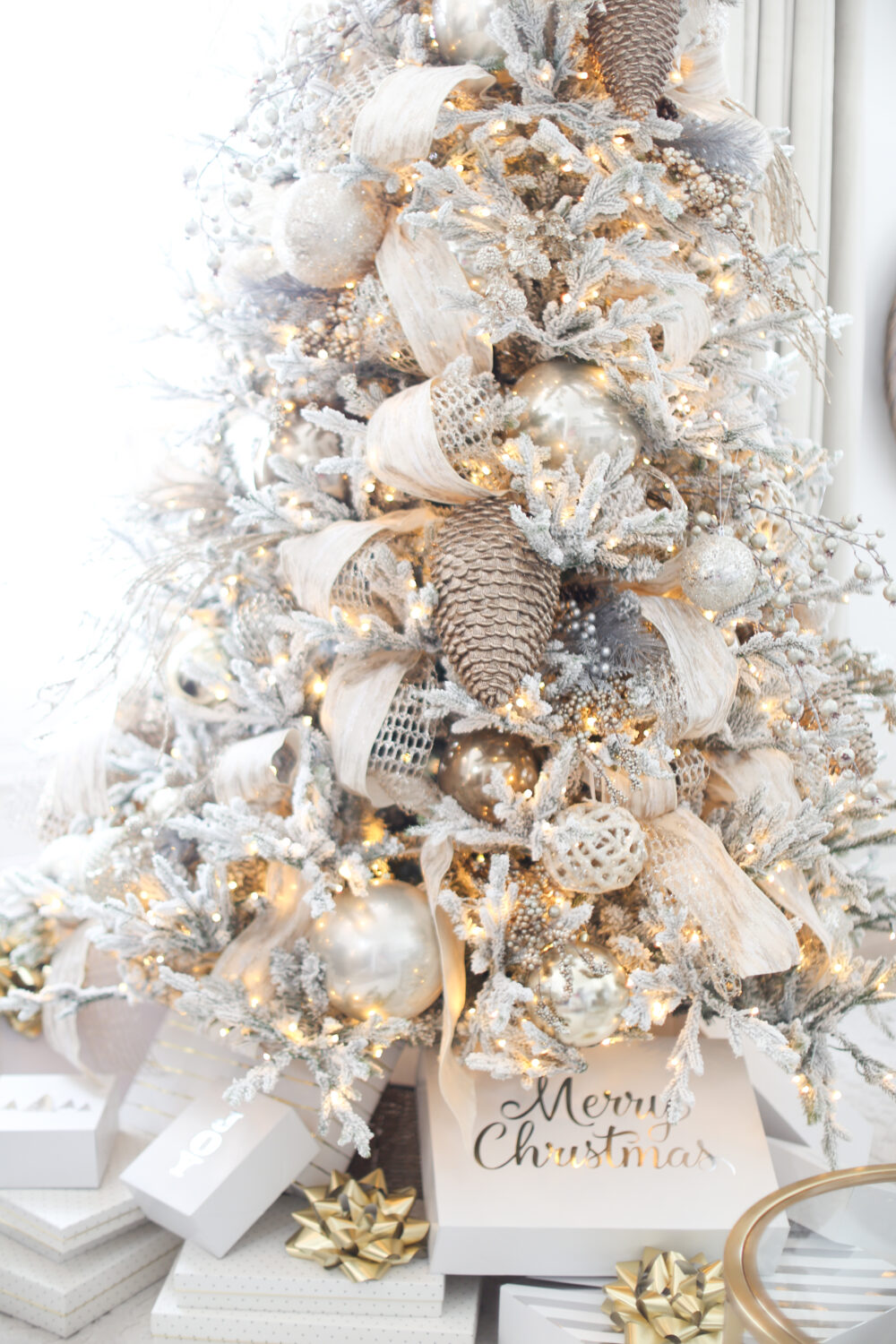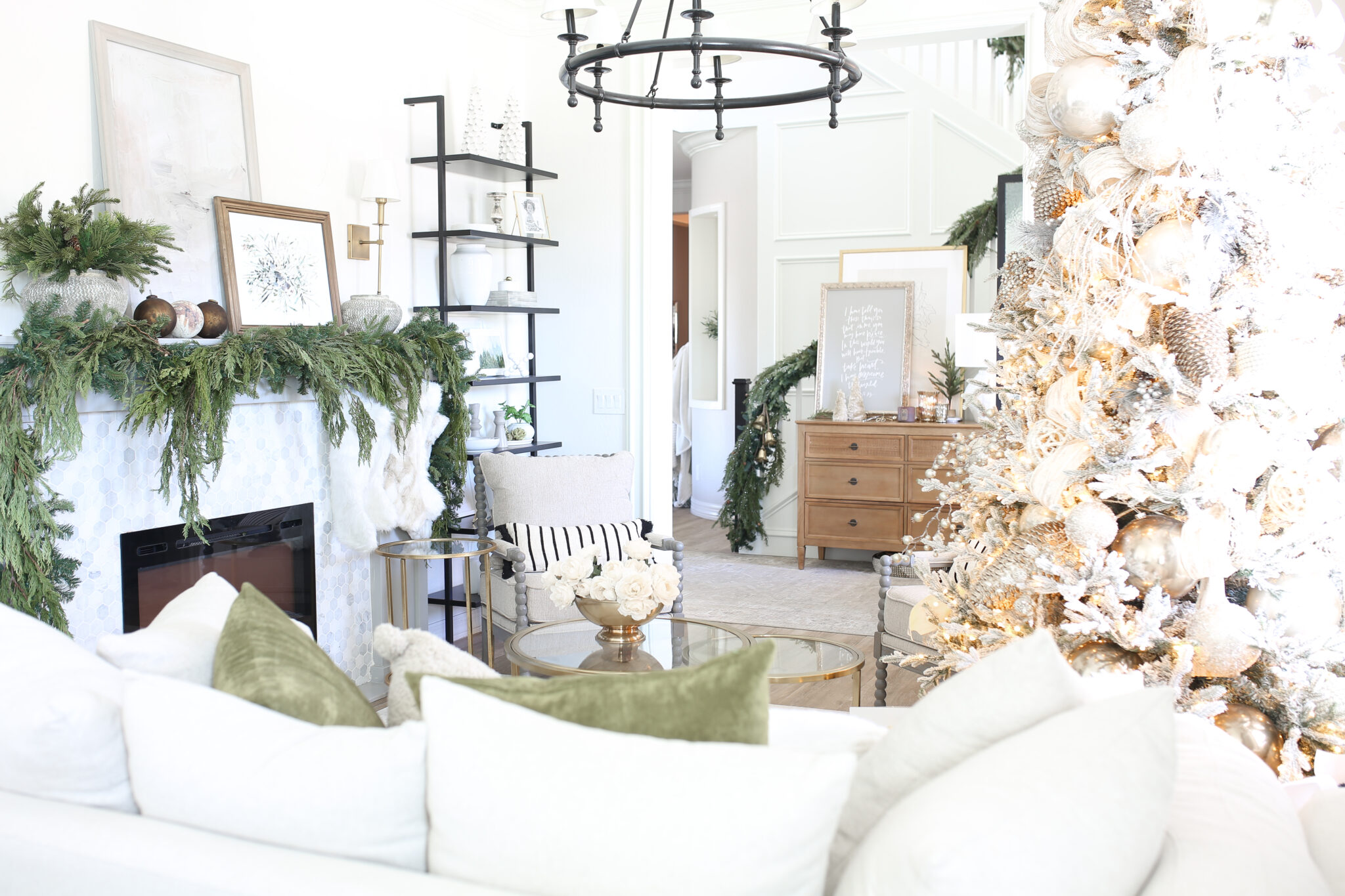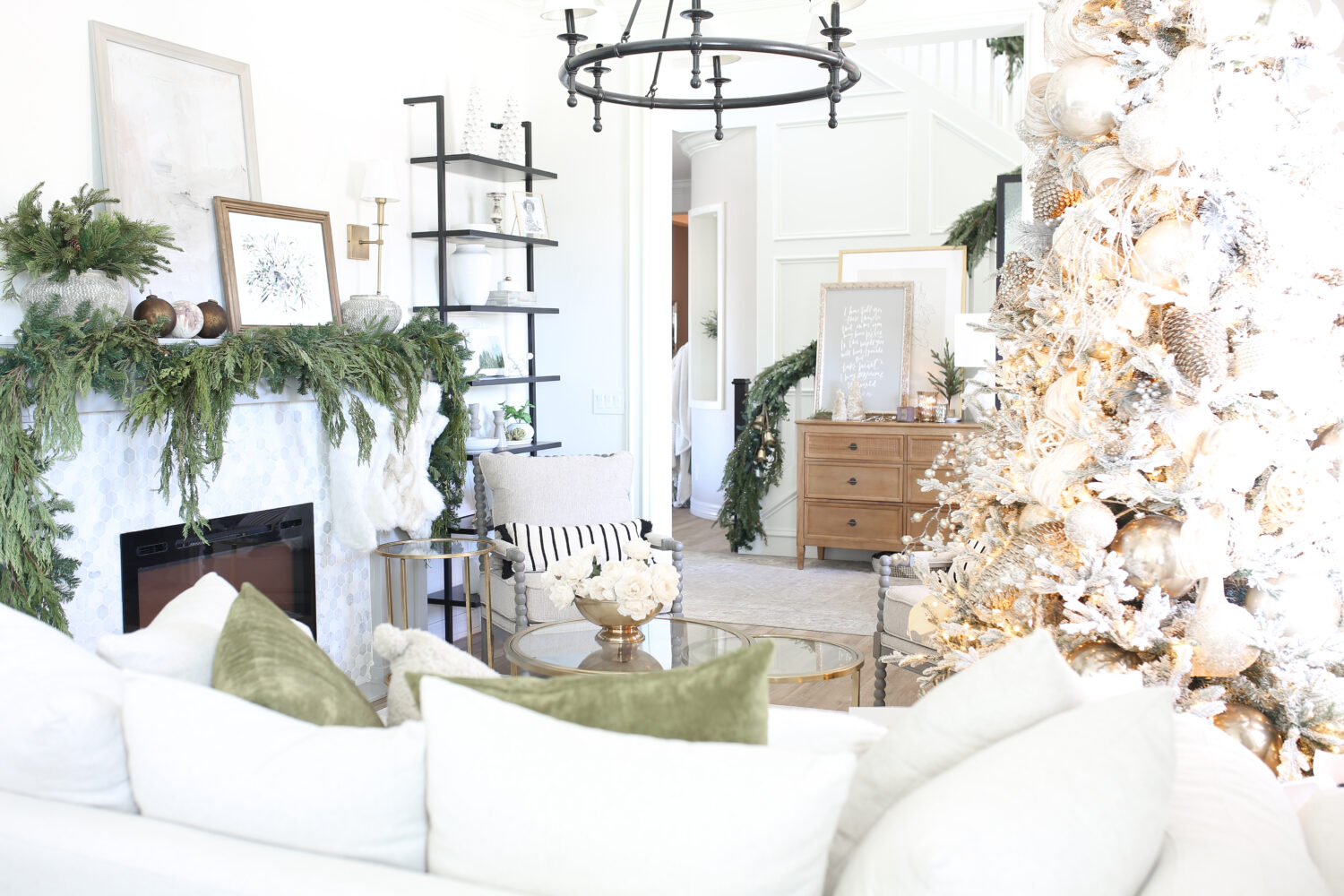 Juniper Print Shop is local here in Phoenix and they sent these gorgeous prints for over our fireplace! Aren't they so perfect!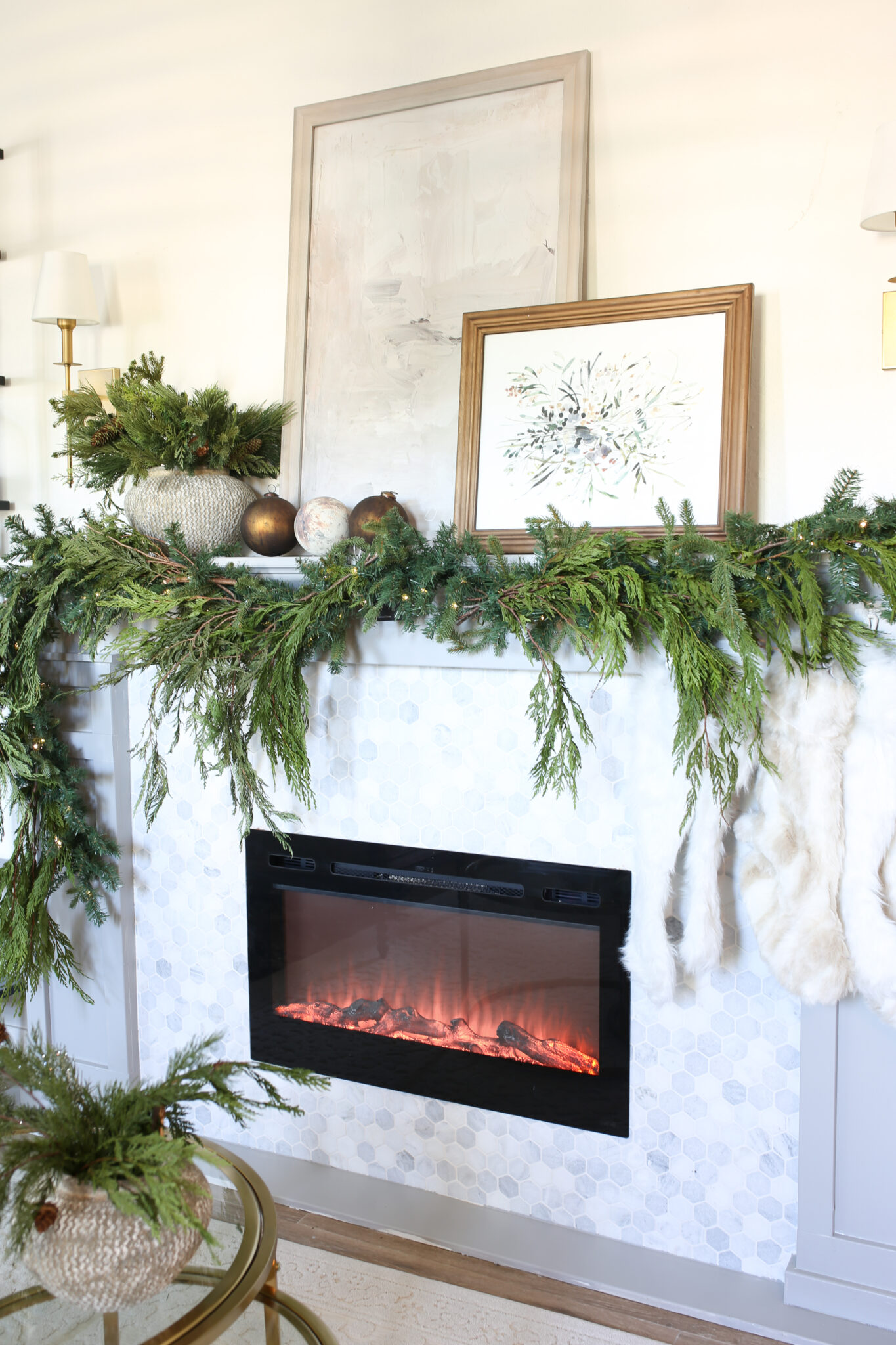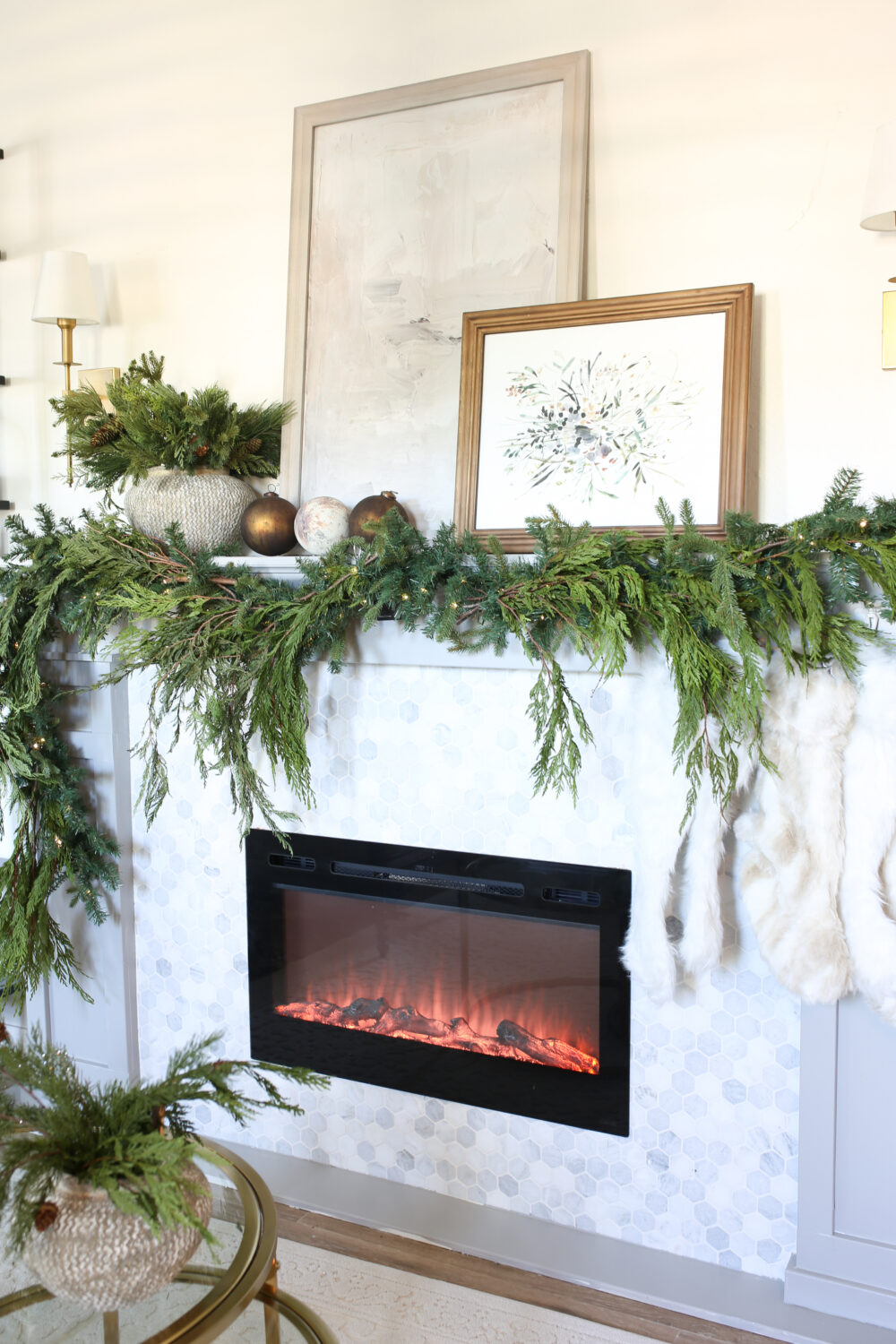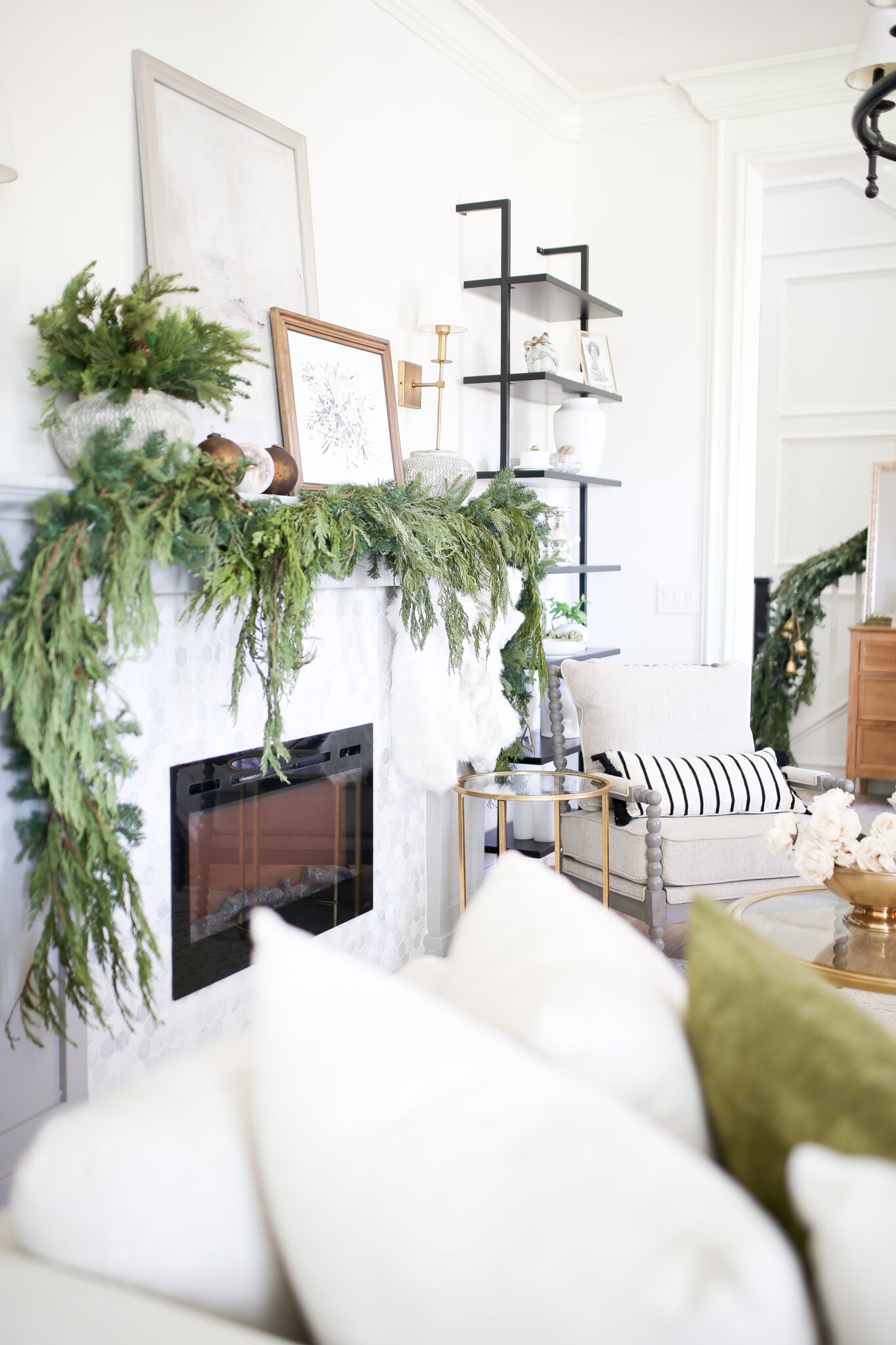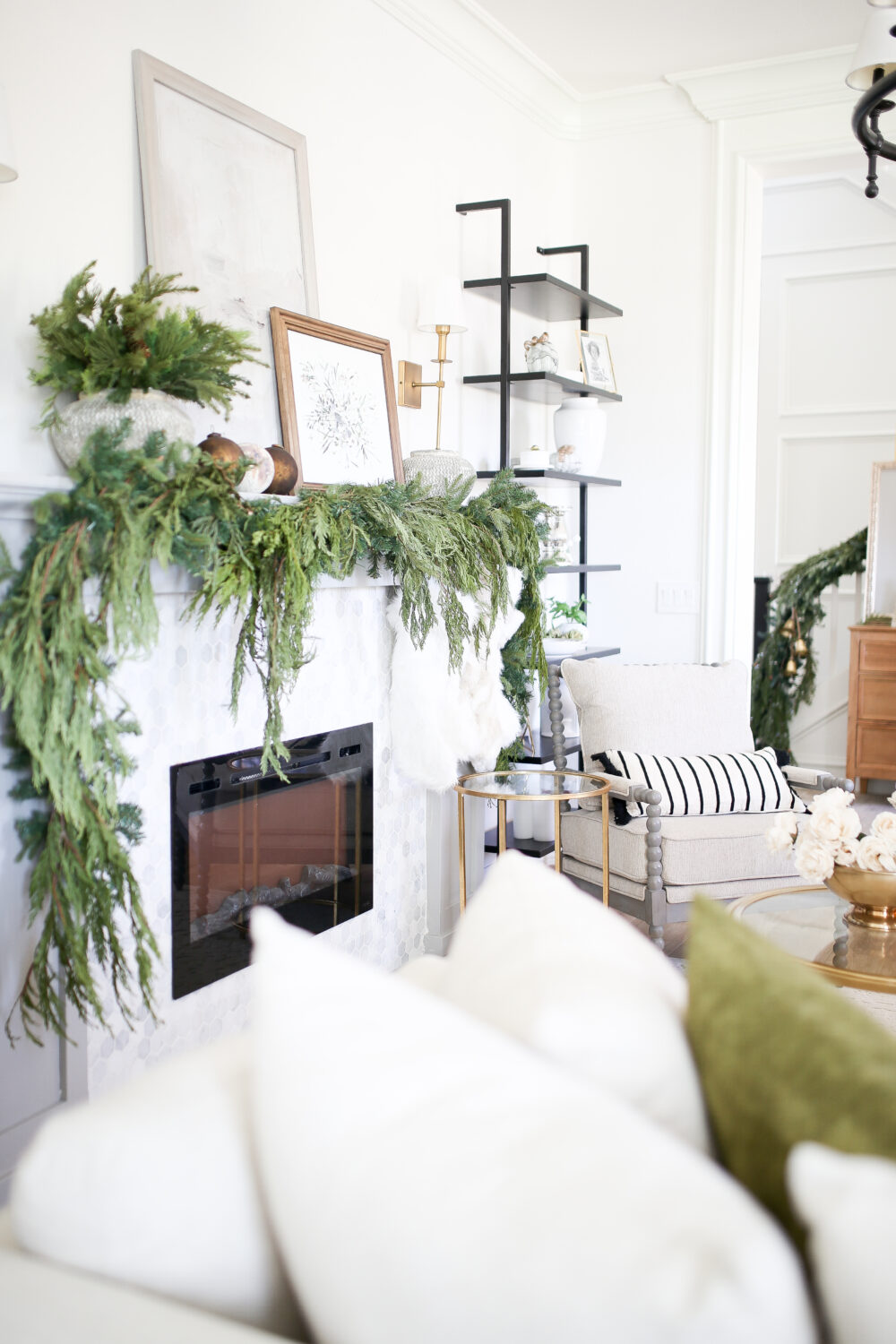 Entryway Christmas Ideas
We just finished up redoing our entryway by adding all the trim work you see in the photo below. Here in AZ details like this just don't come with homes! Maybe because it's so dusty…hahah! But I just had to have it and I love it! I had already painted our railings black a few years ago and it ties in so well with all the white trim!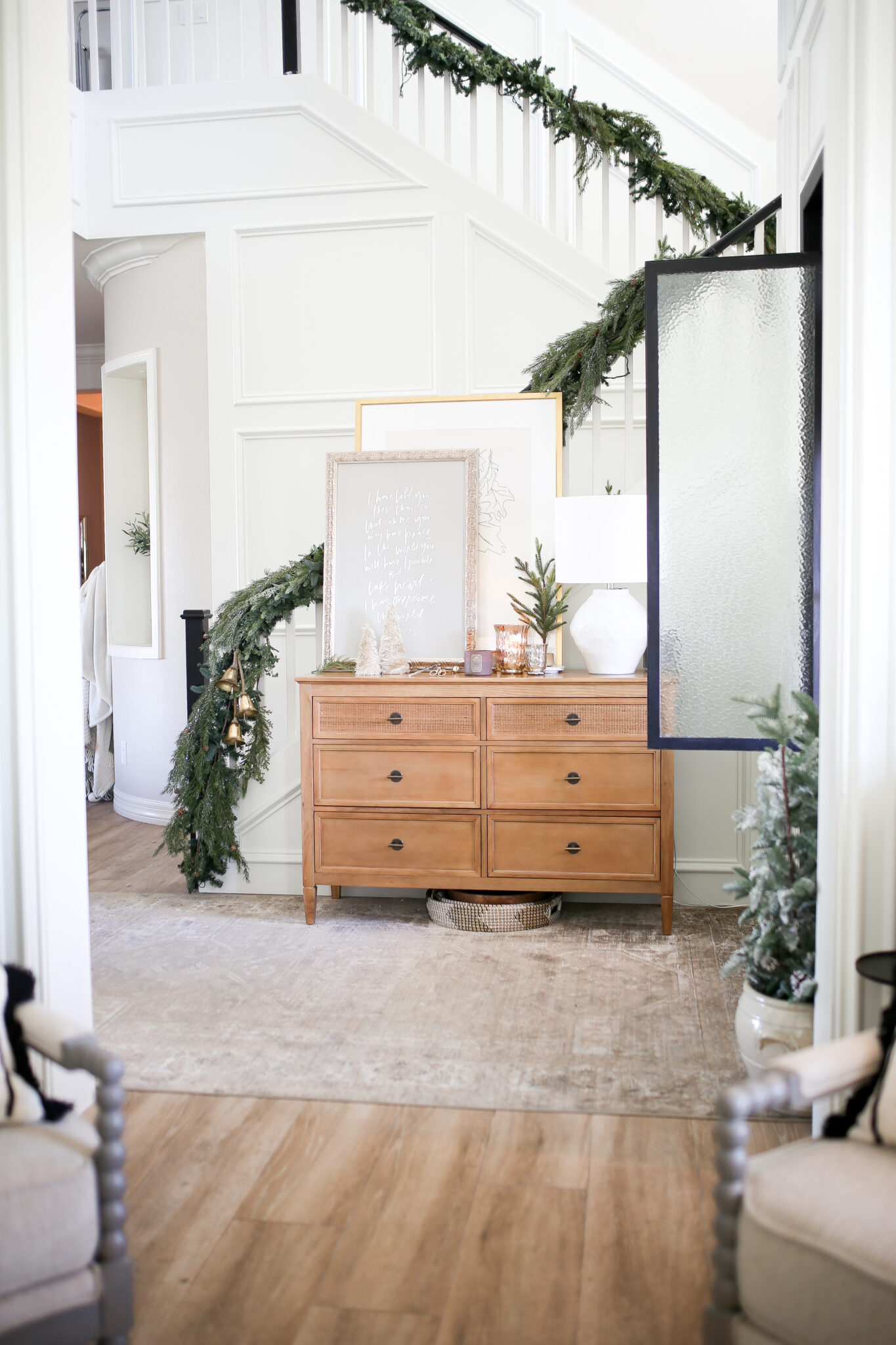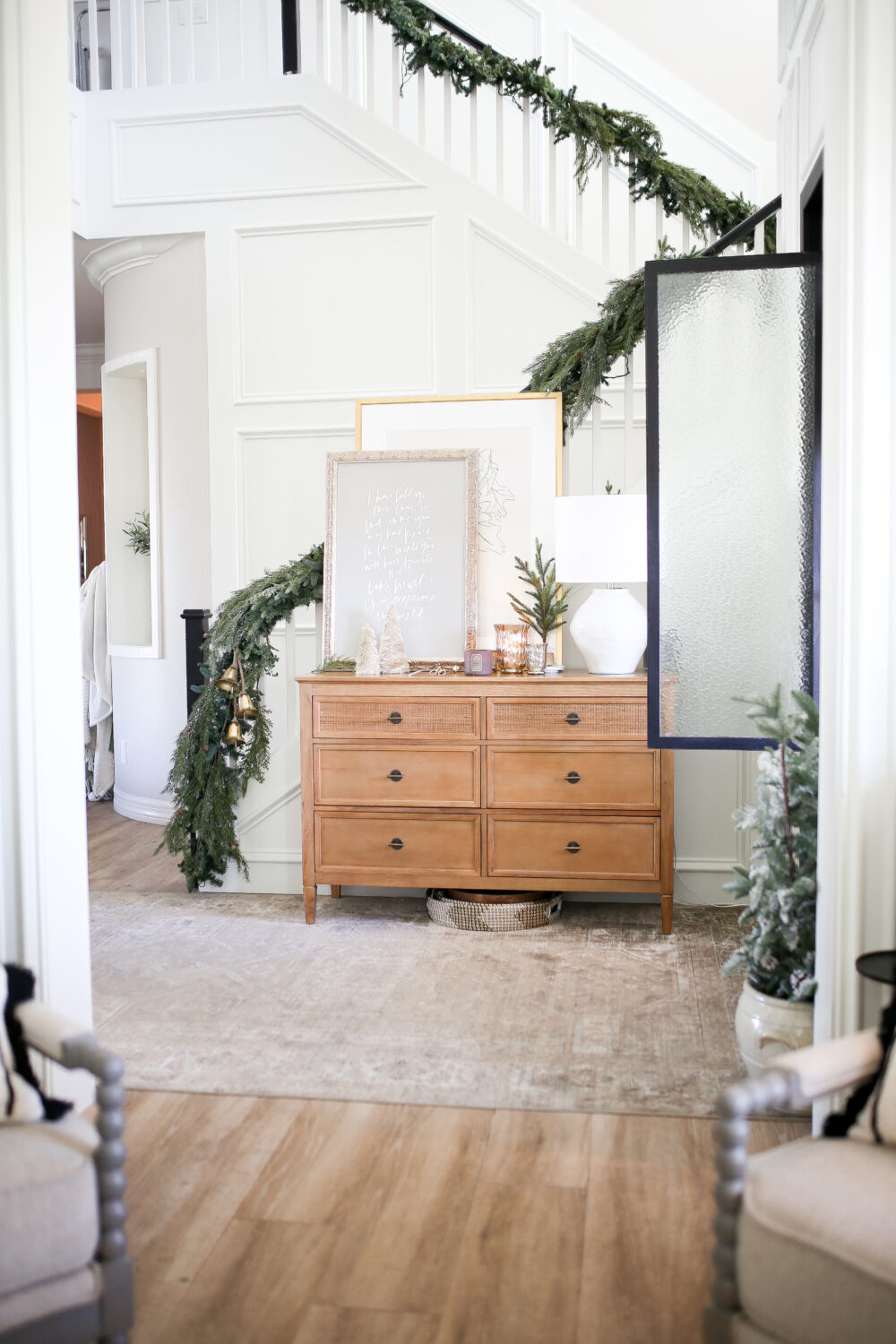 Featured on our entryway dresser is a beautiful print gifted from Lindsay Letters. It's one of my very favorite bible verses for sure! I absolutely fell in love with her entire Christmas collection this year and was more than happy to feature one in our home.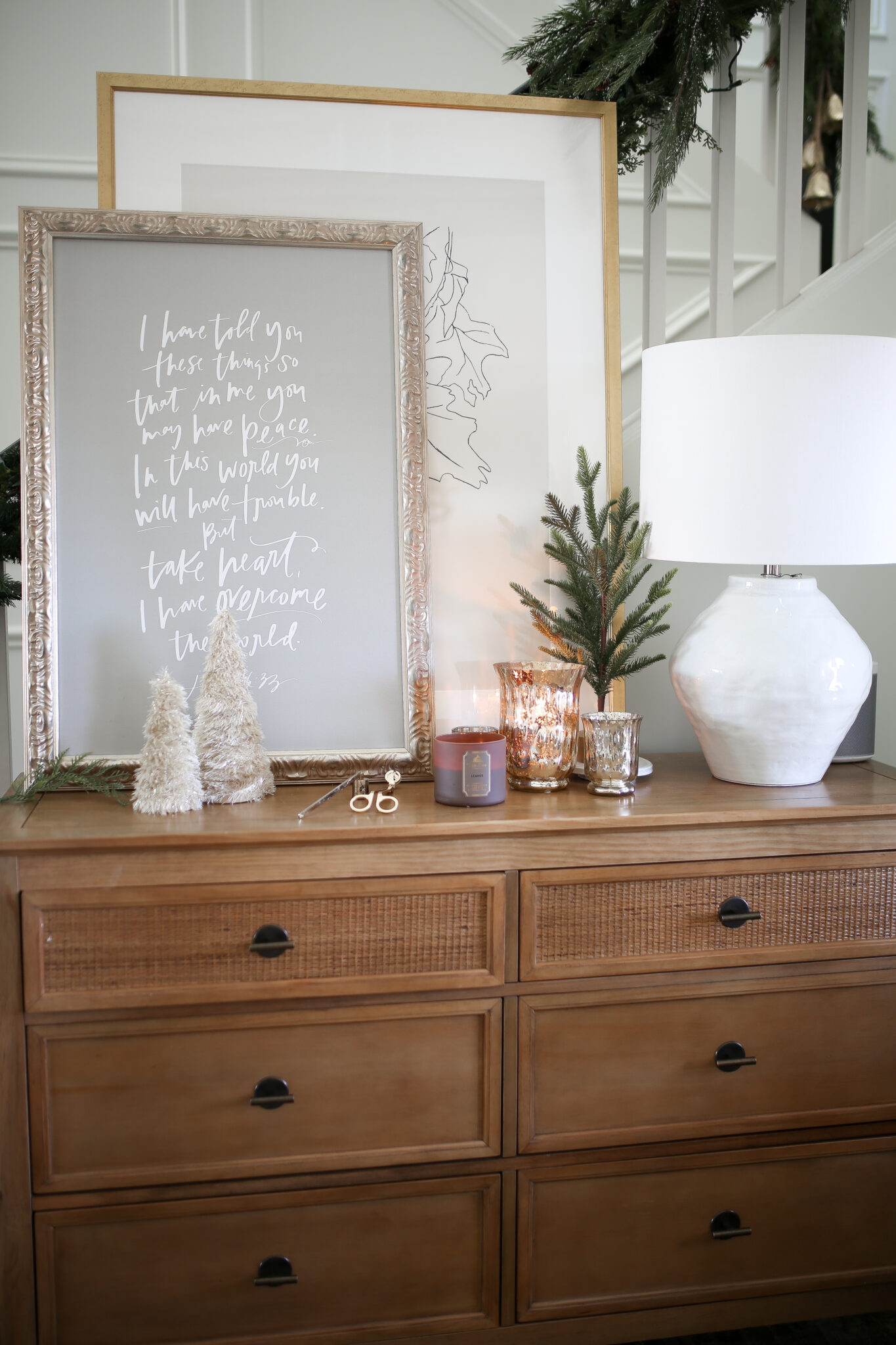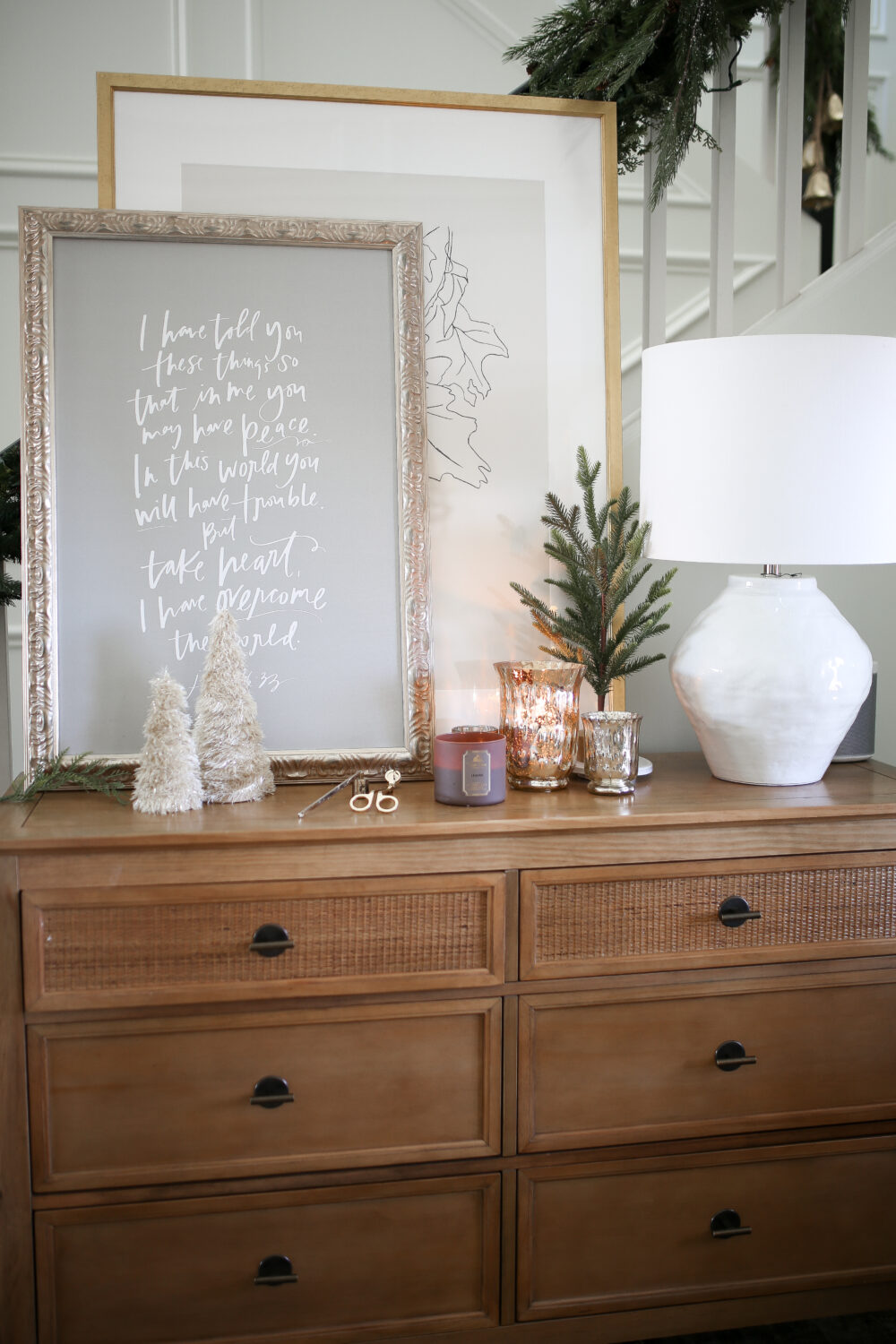 Family Room Christmas Decor
We just redid our entire family room with some beautiful pieces from Arhaus and I couldn't wait to dress it up this year for Christmas with our green built ins! If you're wondering what that green color is , it's Secret Garden by Sherwin Williams and it's my favorite shade of green!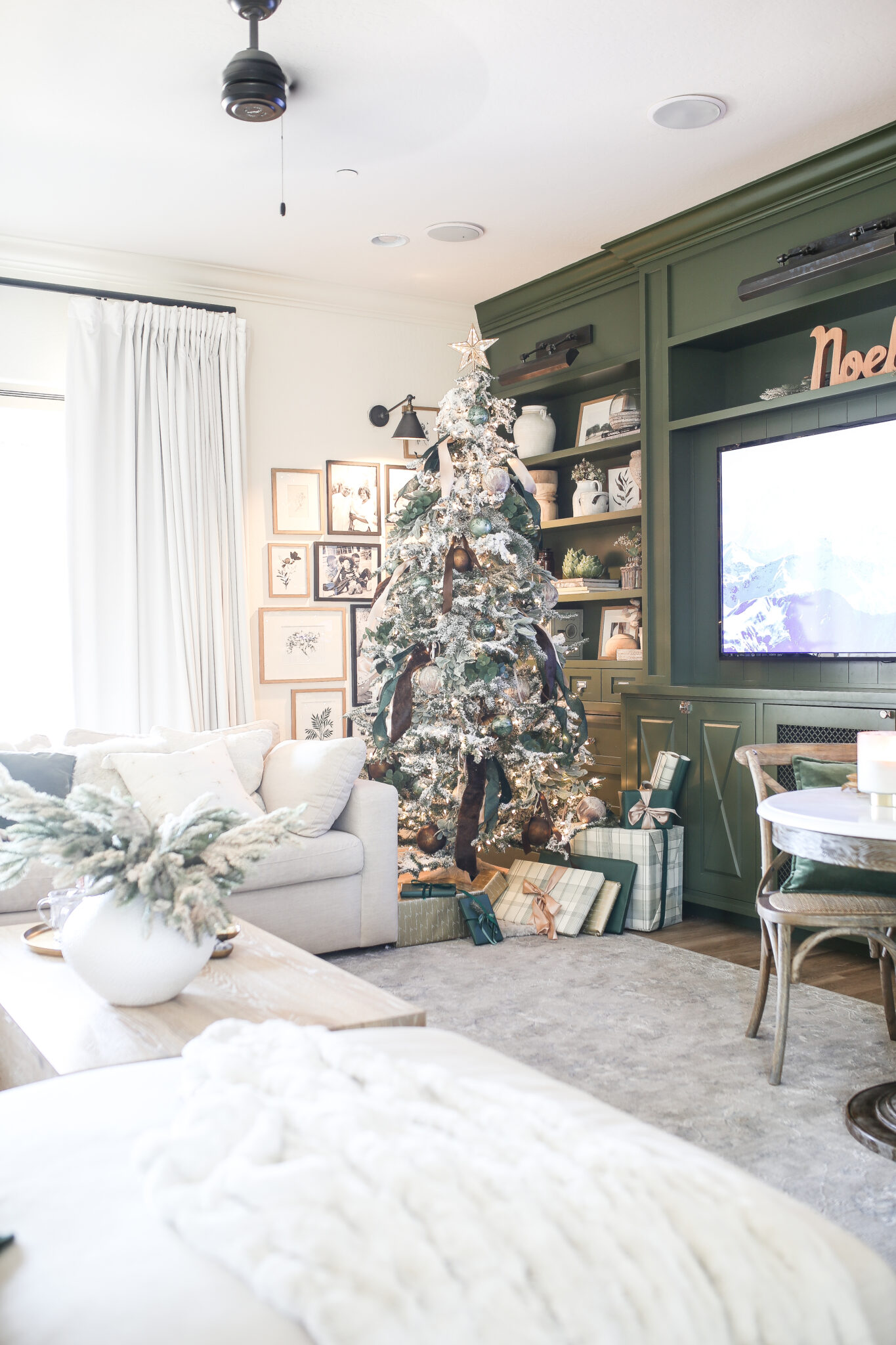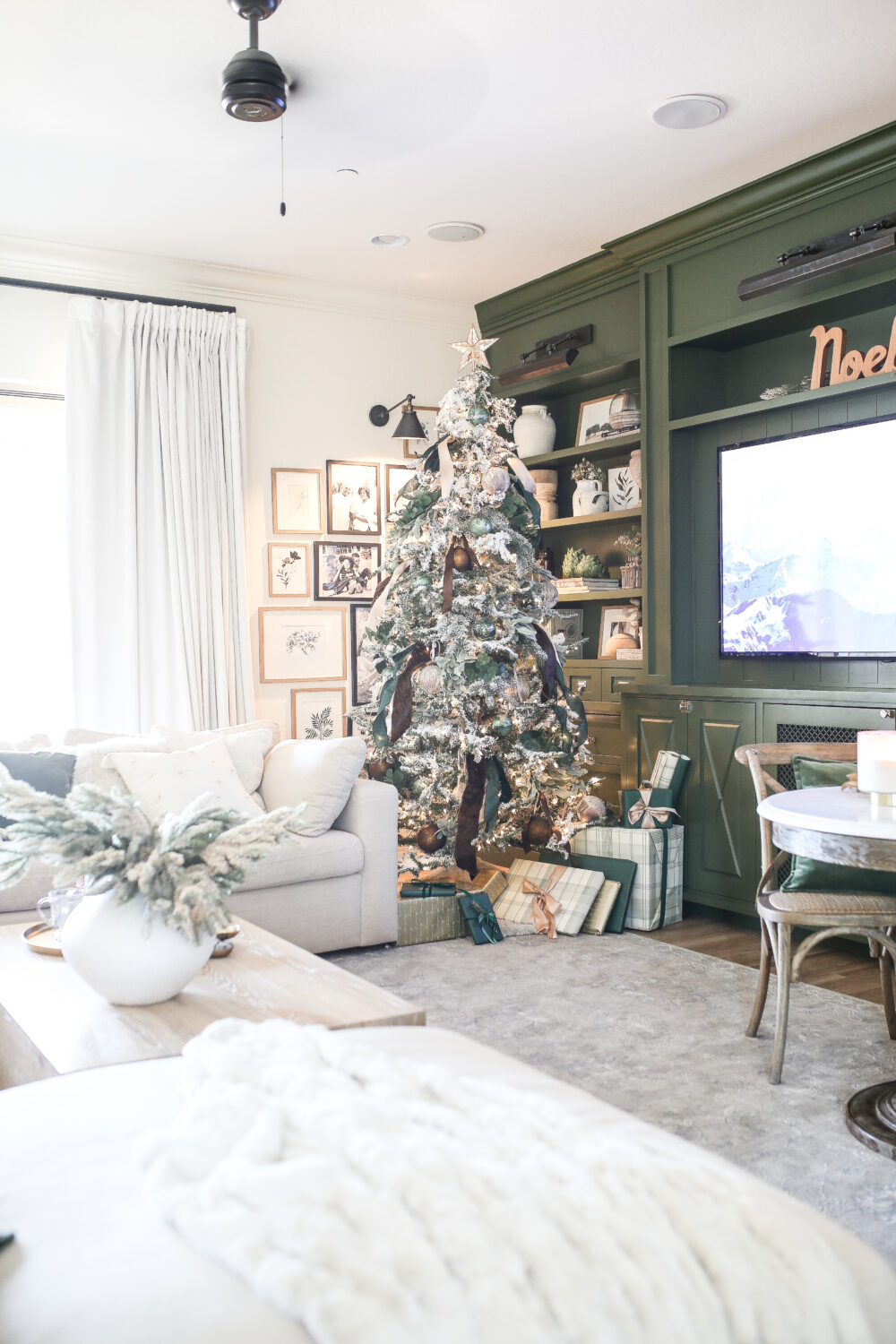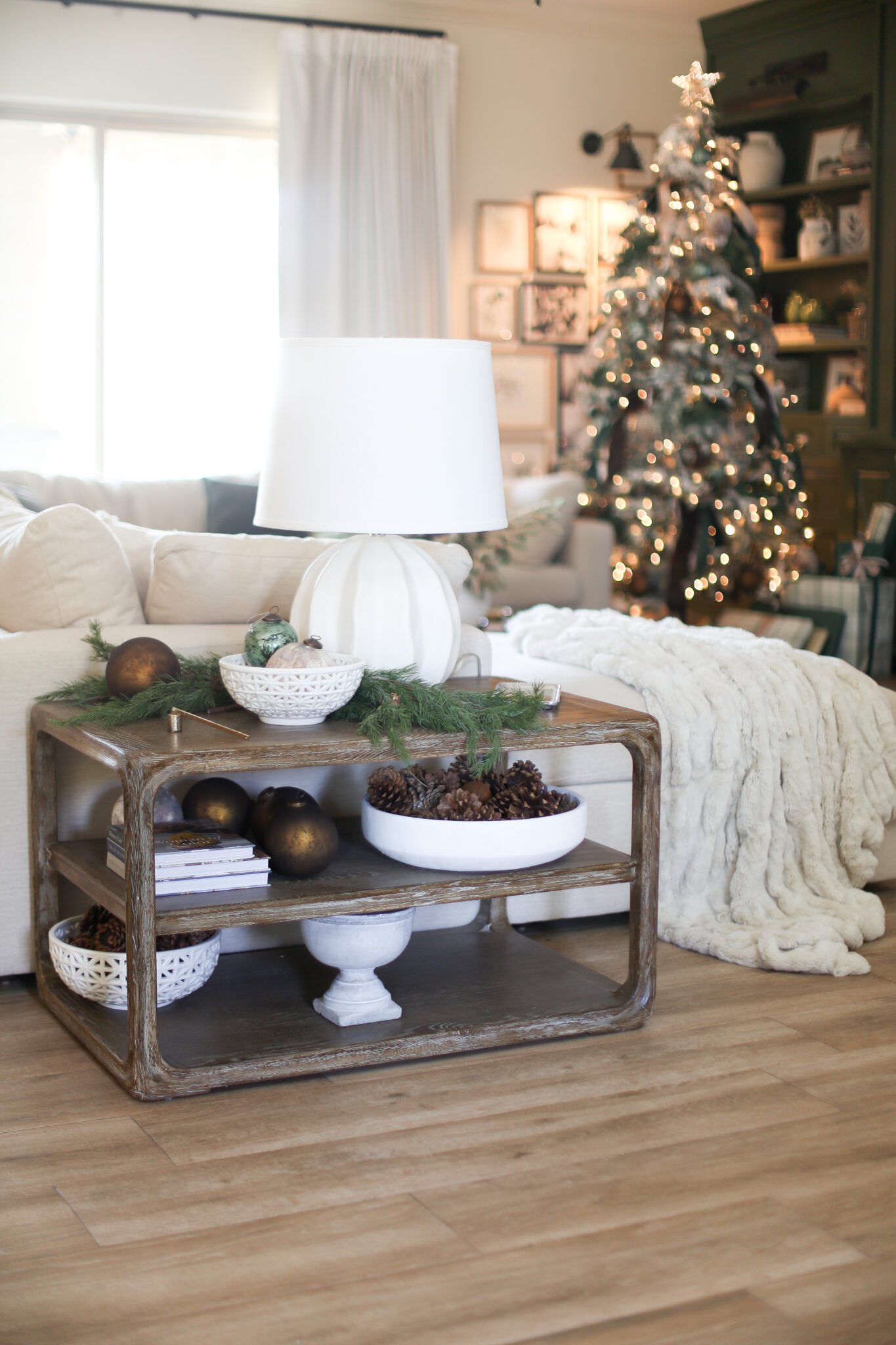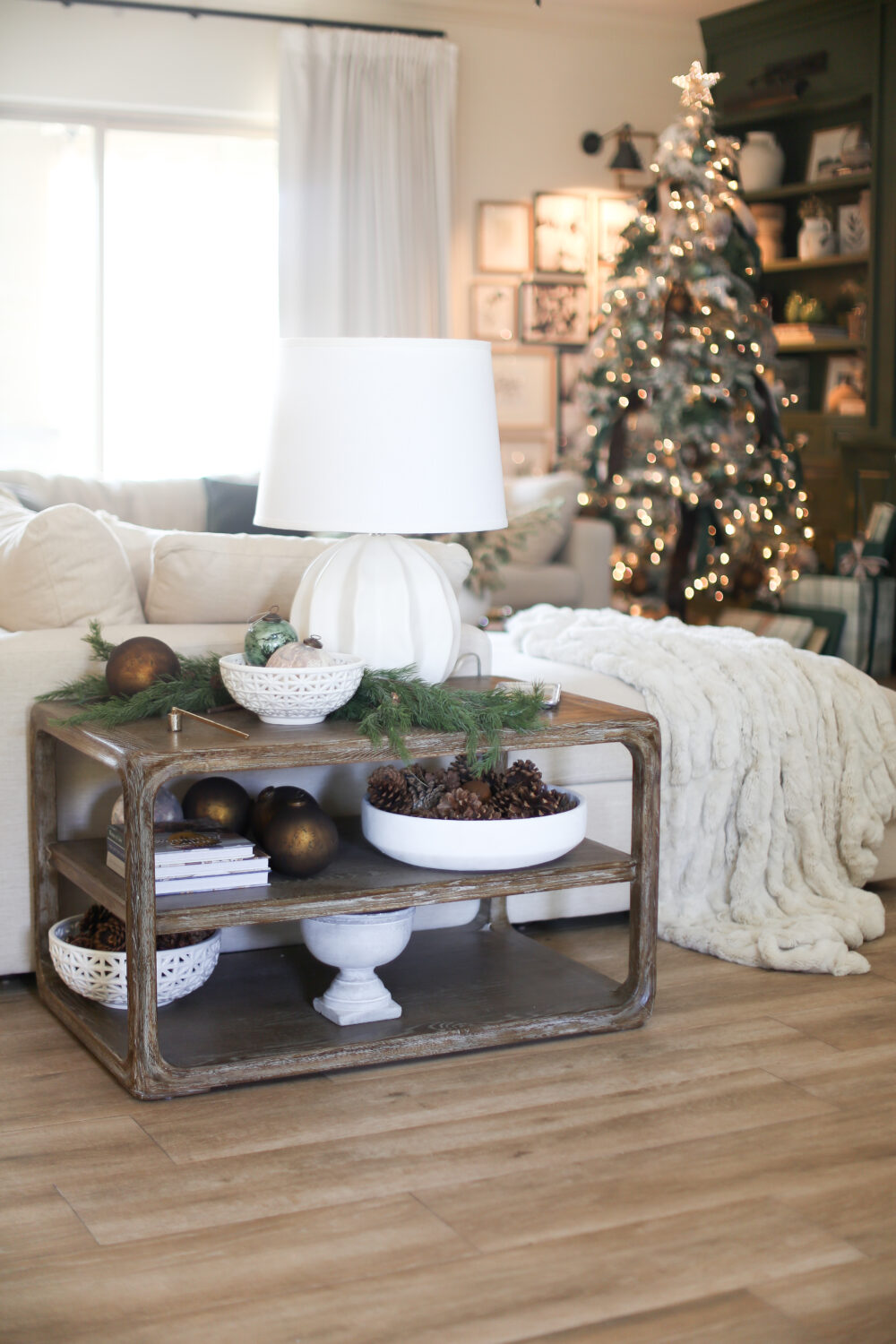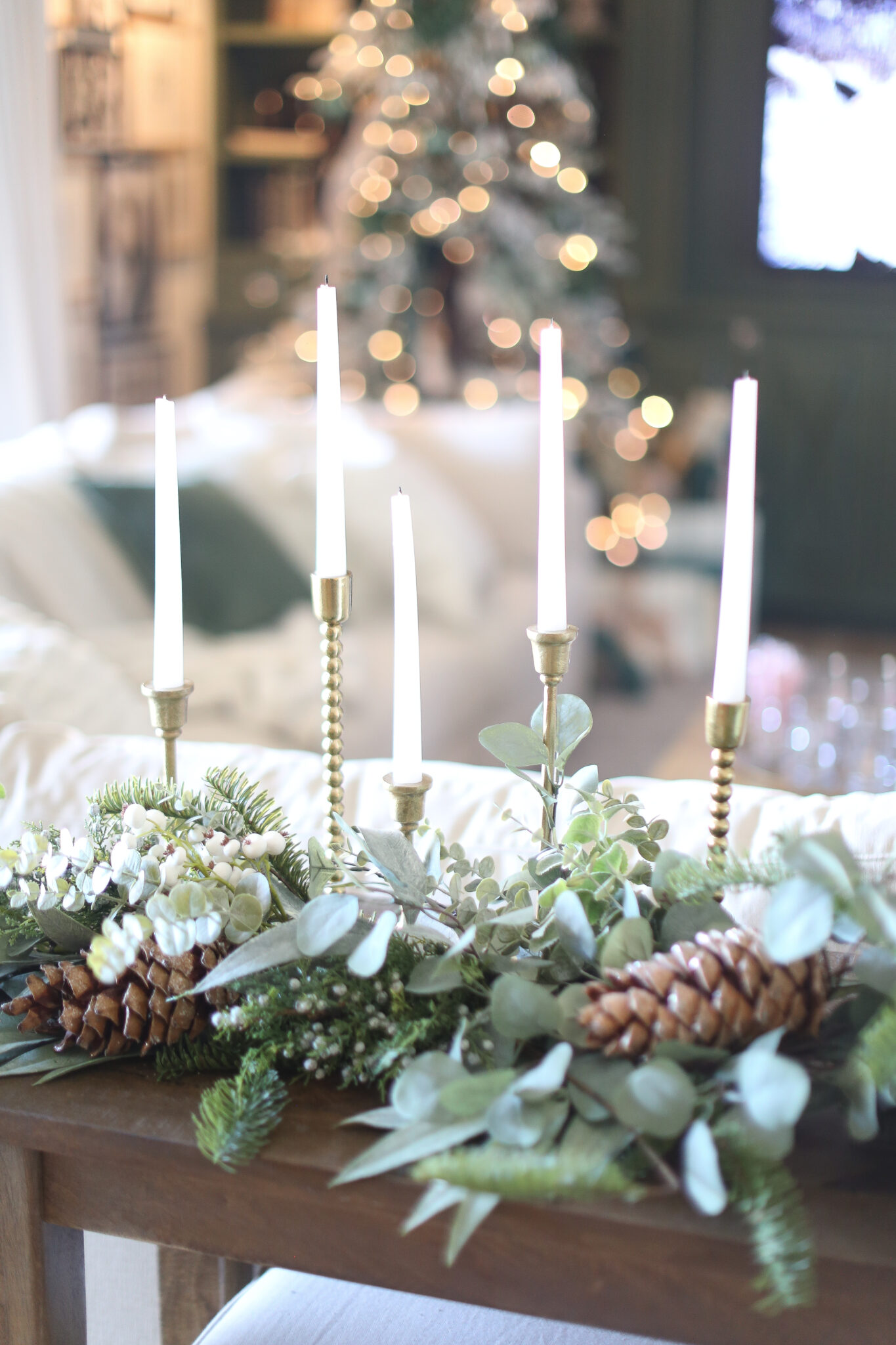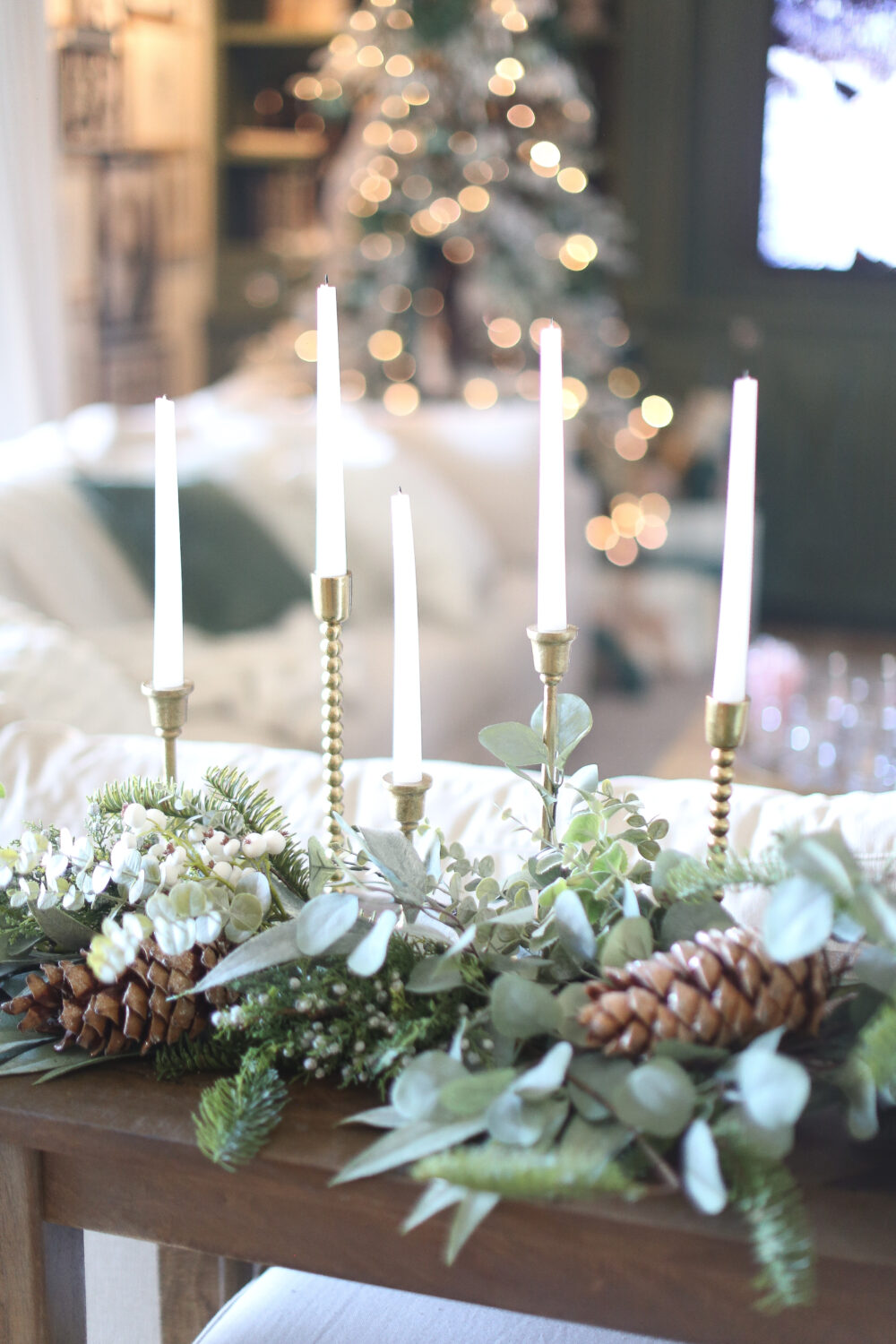 I even took some of the decor into our hallway we redid this year!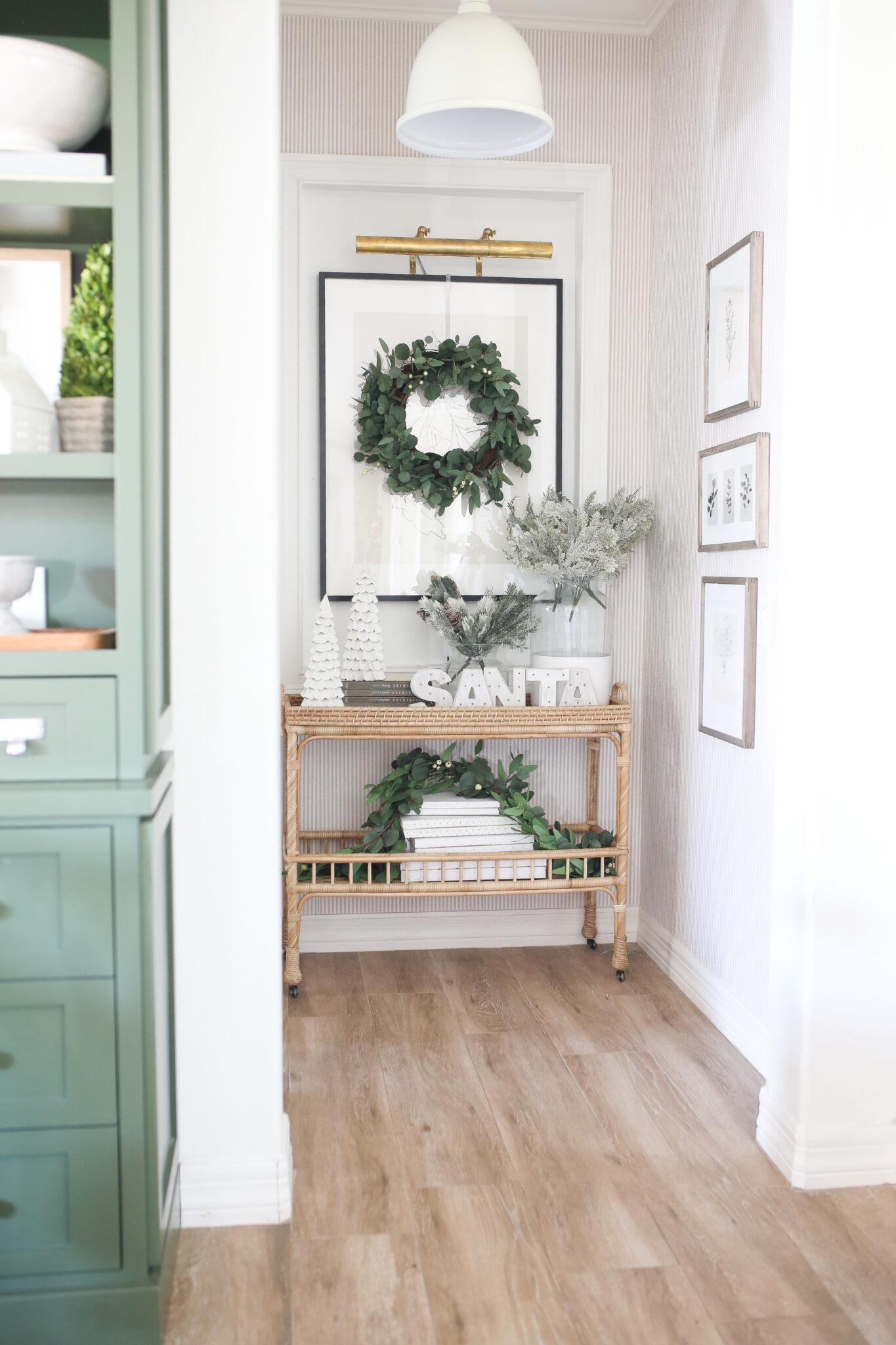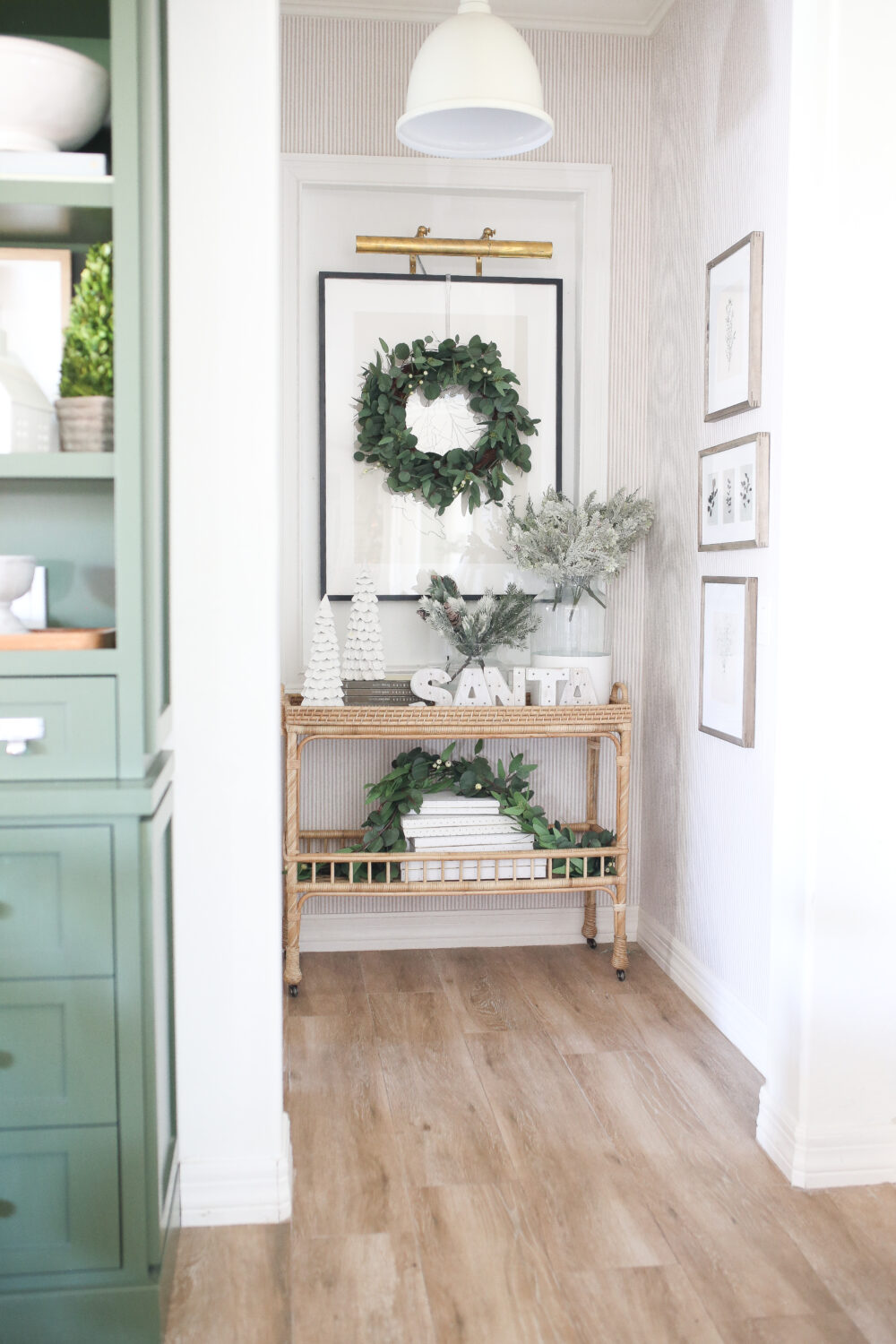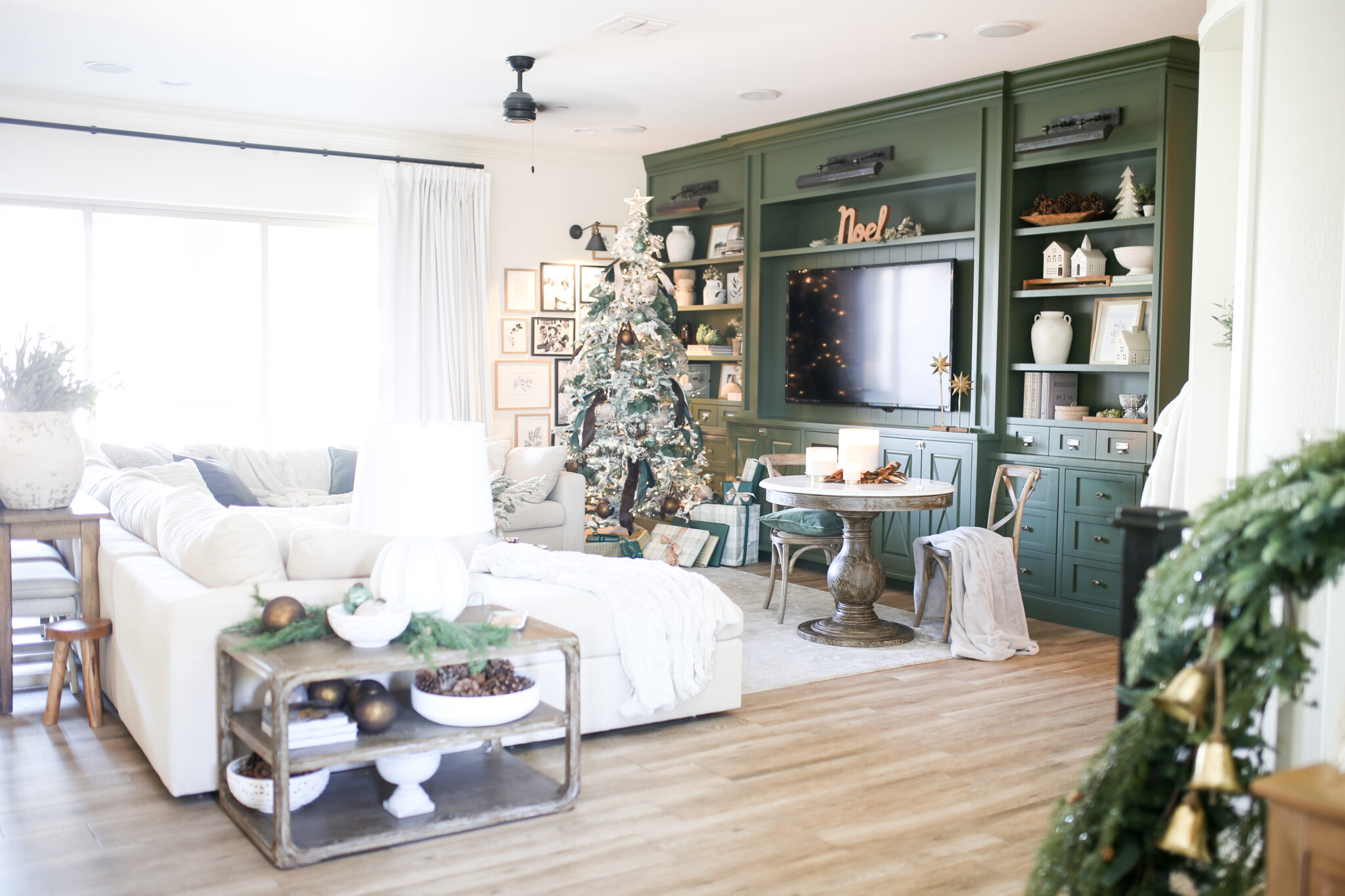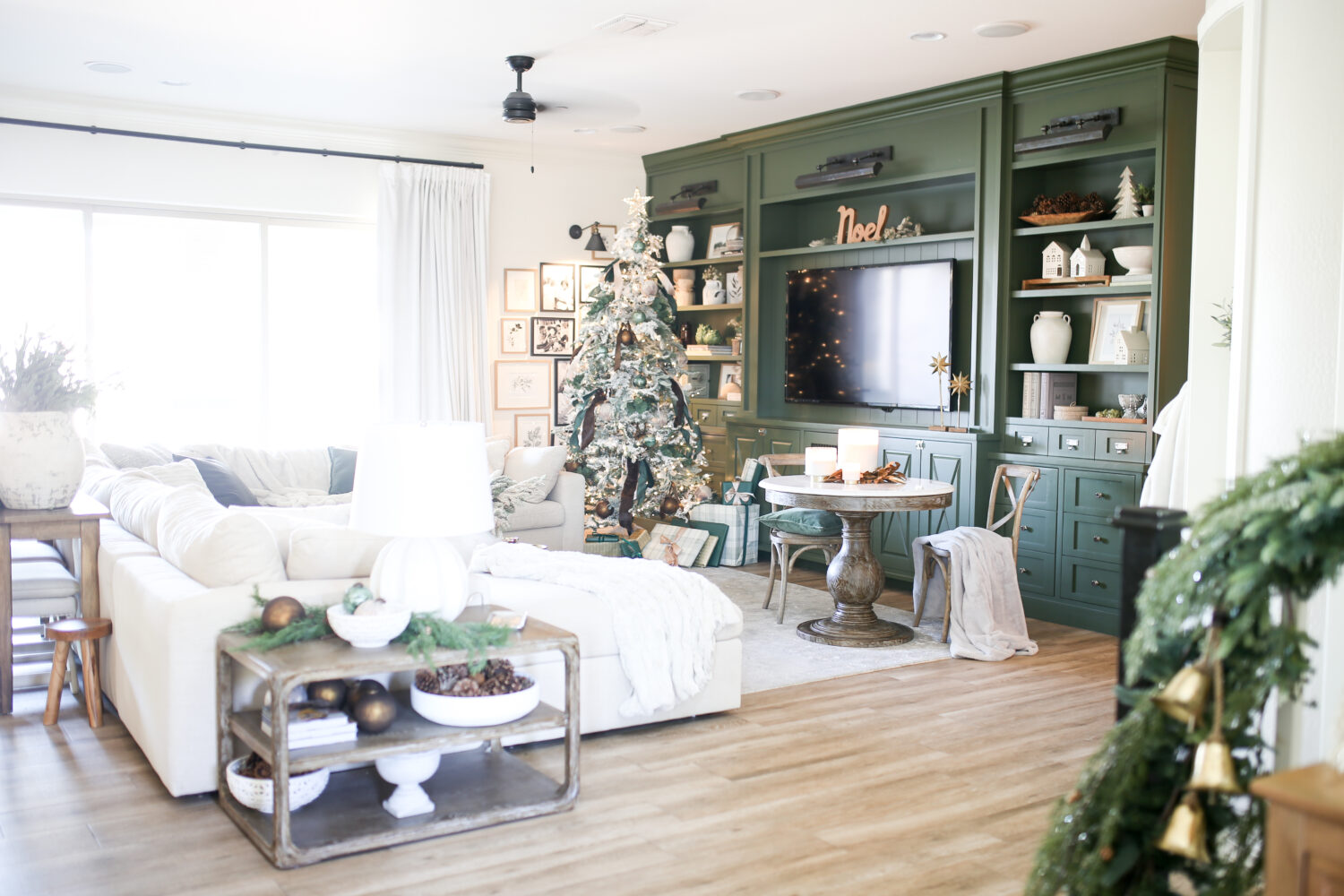 In this space I opted for a game table instead of a living room chair! All we need to do is move the candles and add the games! I might be the most popular spot in the entire room right now. The kids can have a snack or even draw on this table!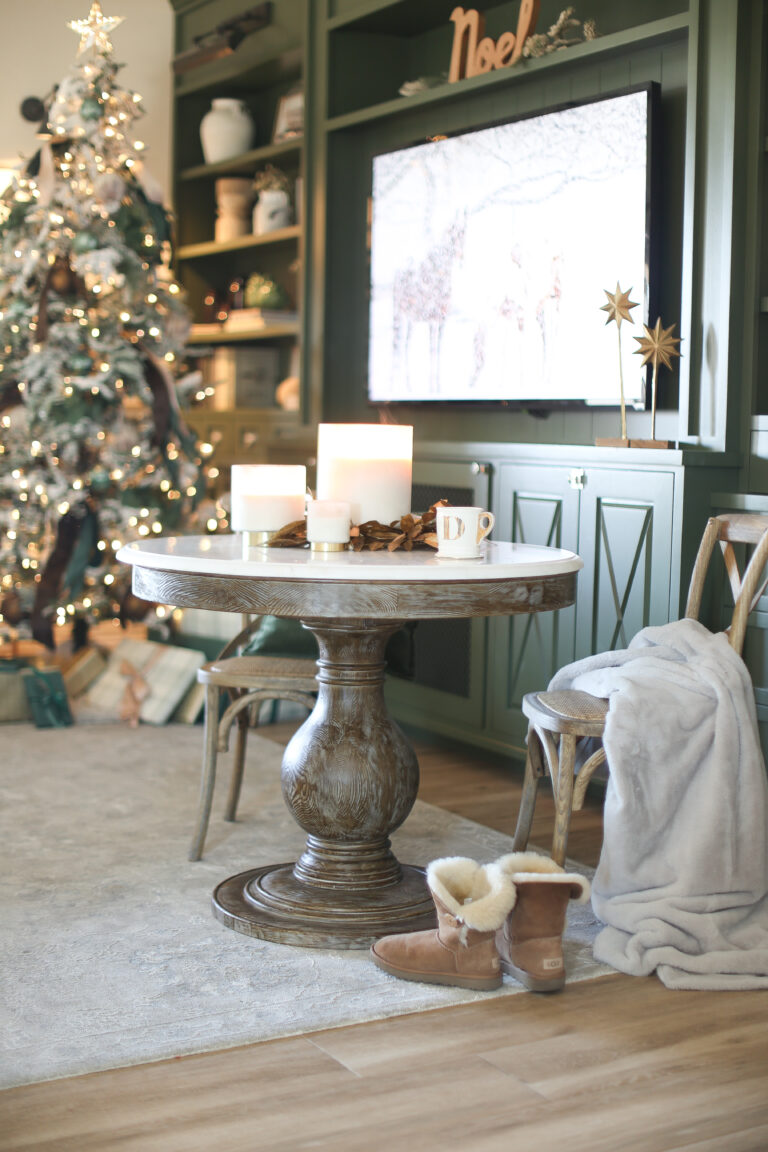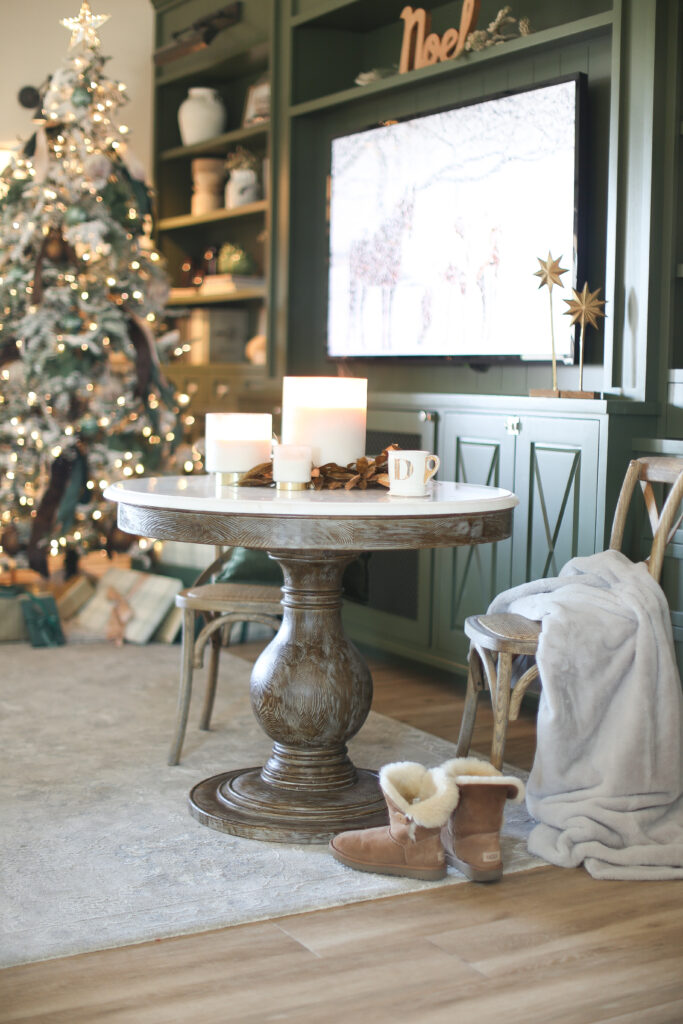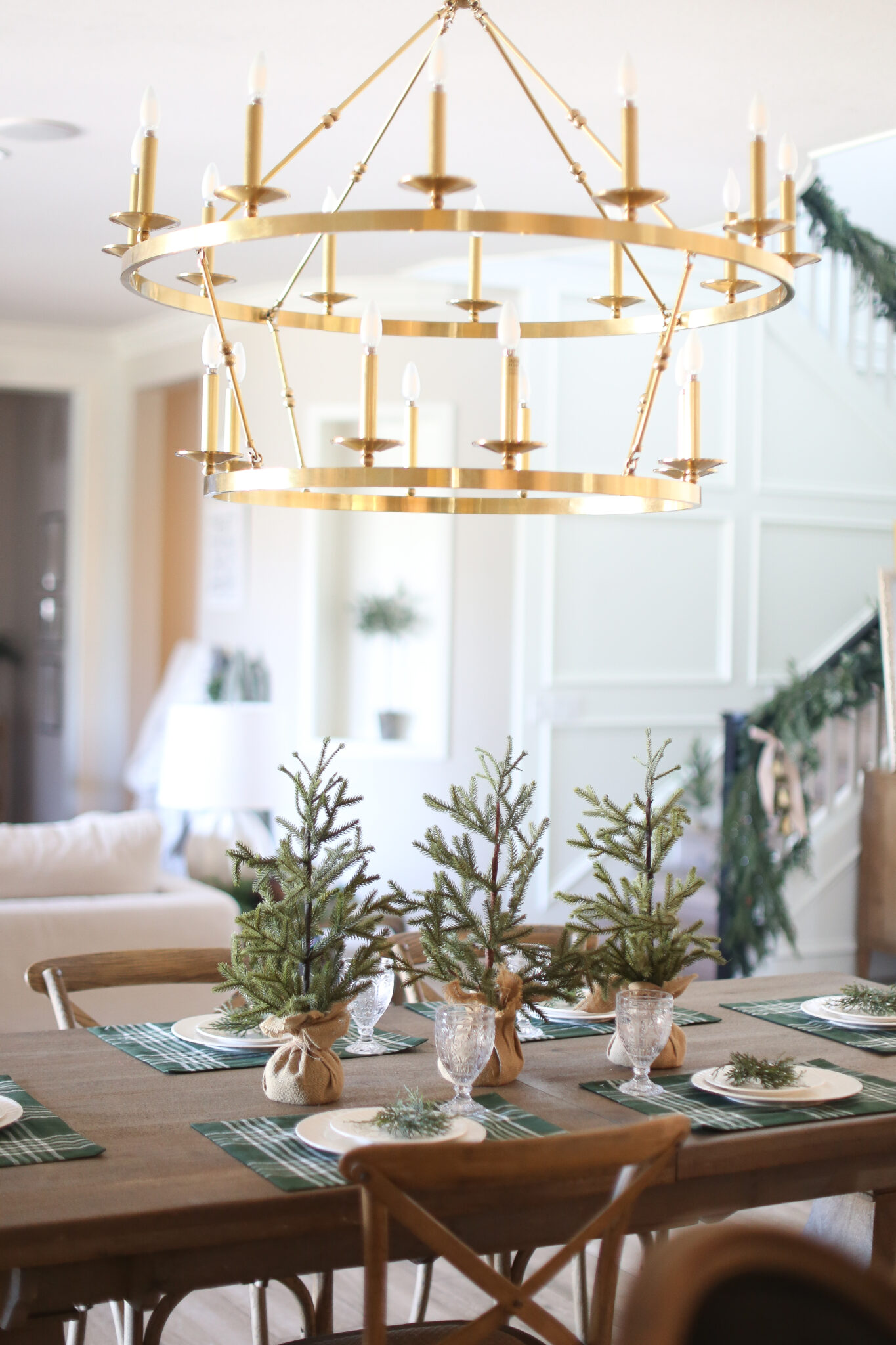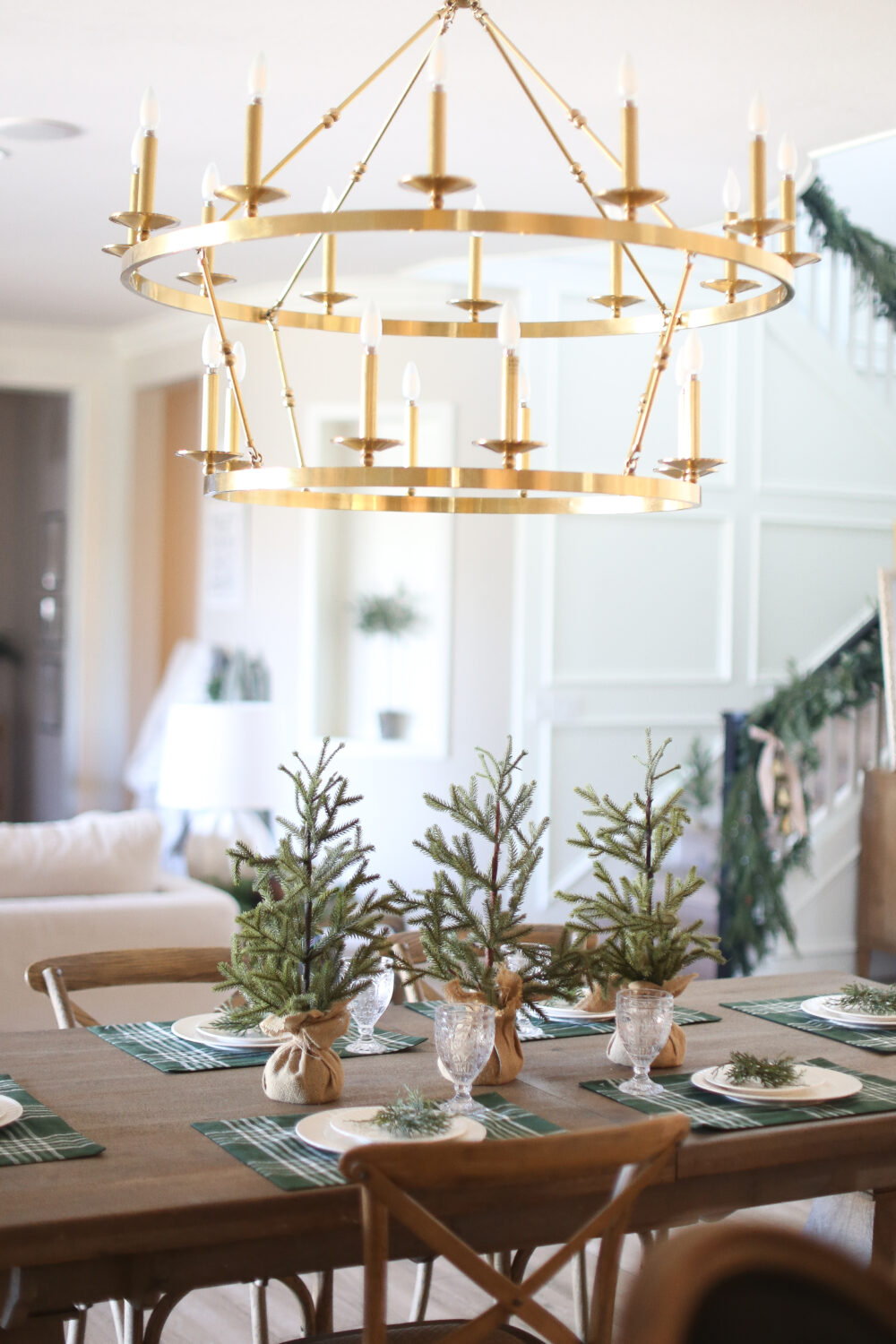 Kitchen Christmas Decor
Last space I'm going to show is our kitchen. Simple touches of greenery all around makes for a festive but not too fussy option for Christmas decor. You can check out all my other home tours featuring our kitchen here!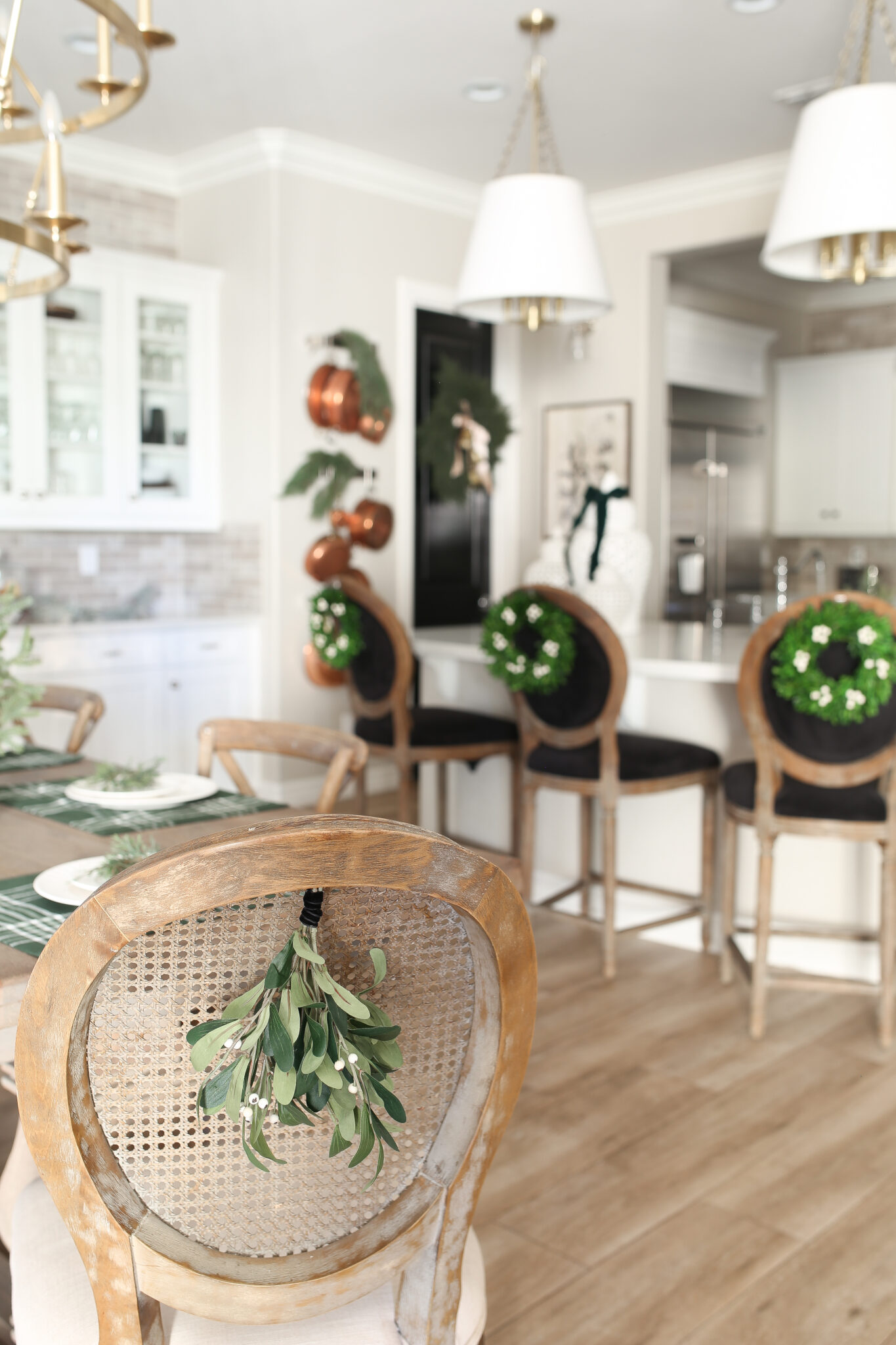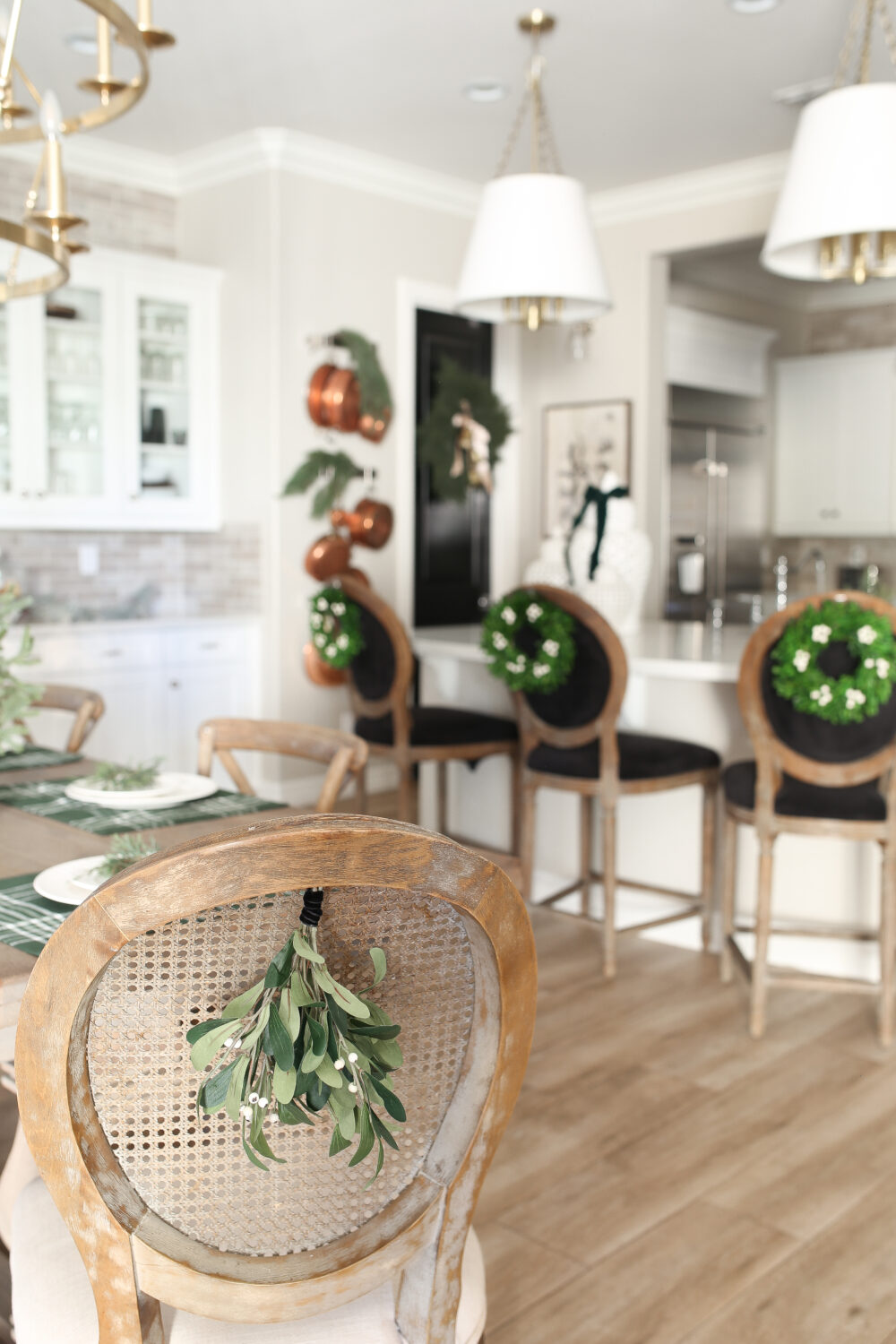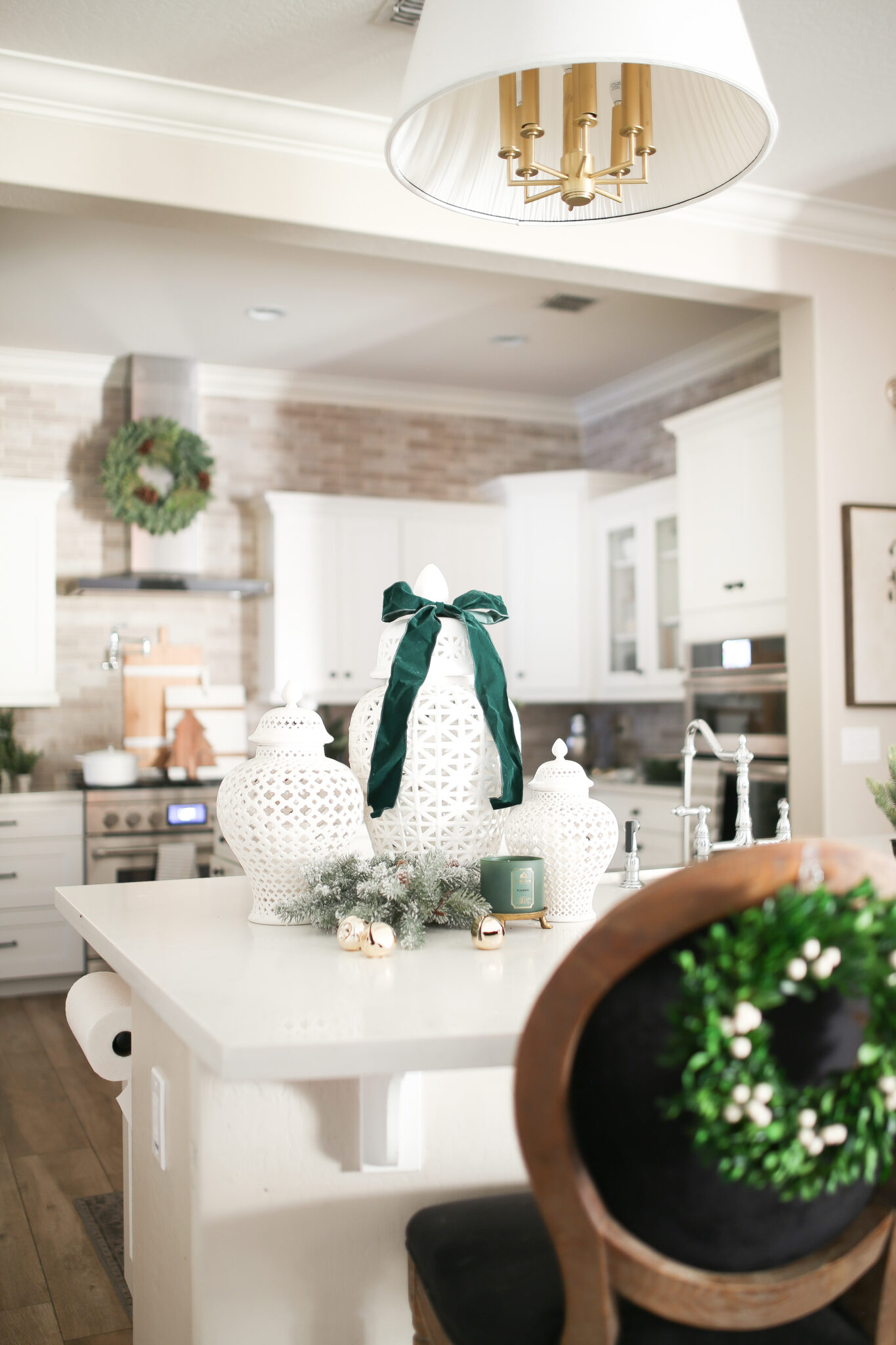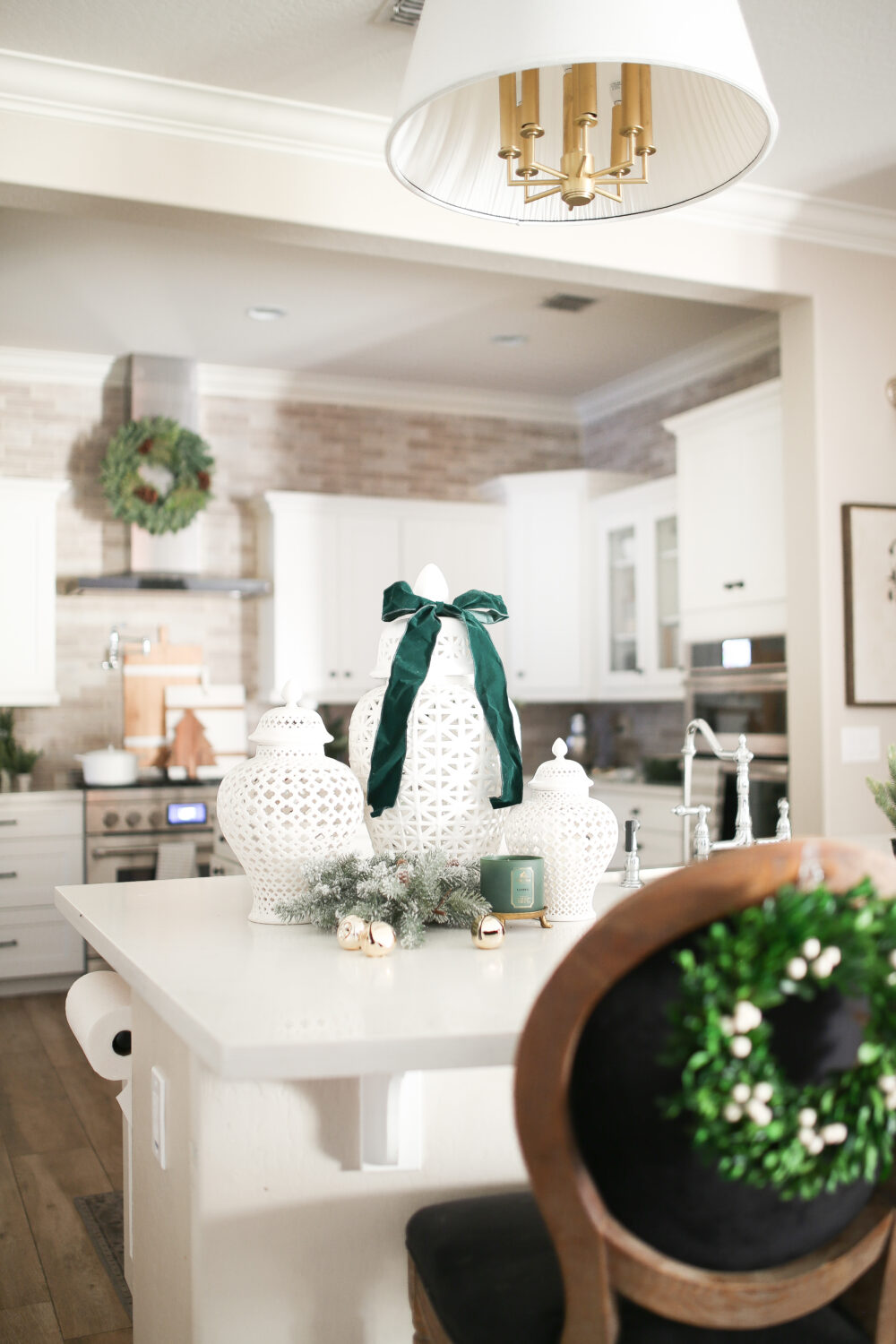 I love a pretty temple jar ( the elegant part of my style) so here on the countertop I made a little moment with a few of them. One is from Homegoods and the other two are from Two's Company! You can put candles or even lights in them for the holidays!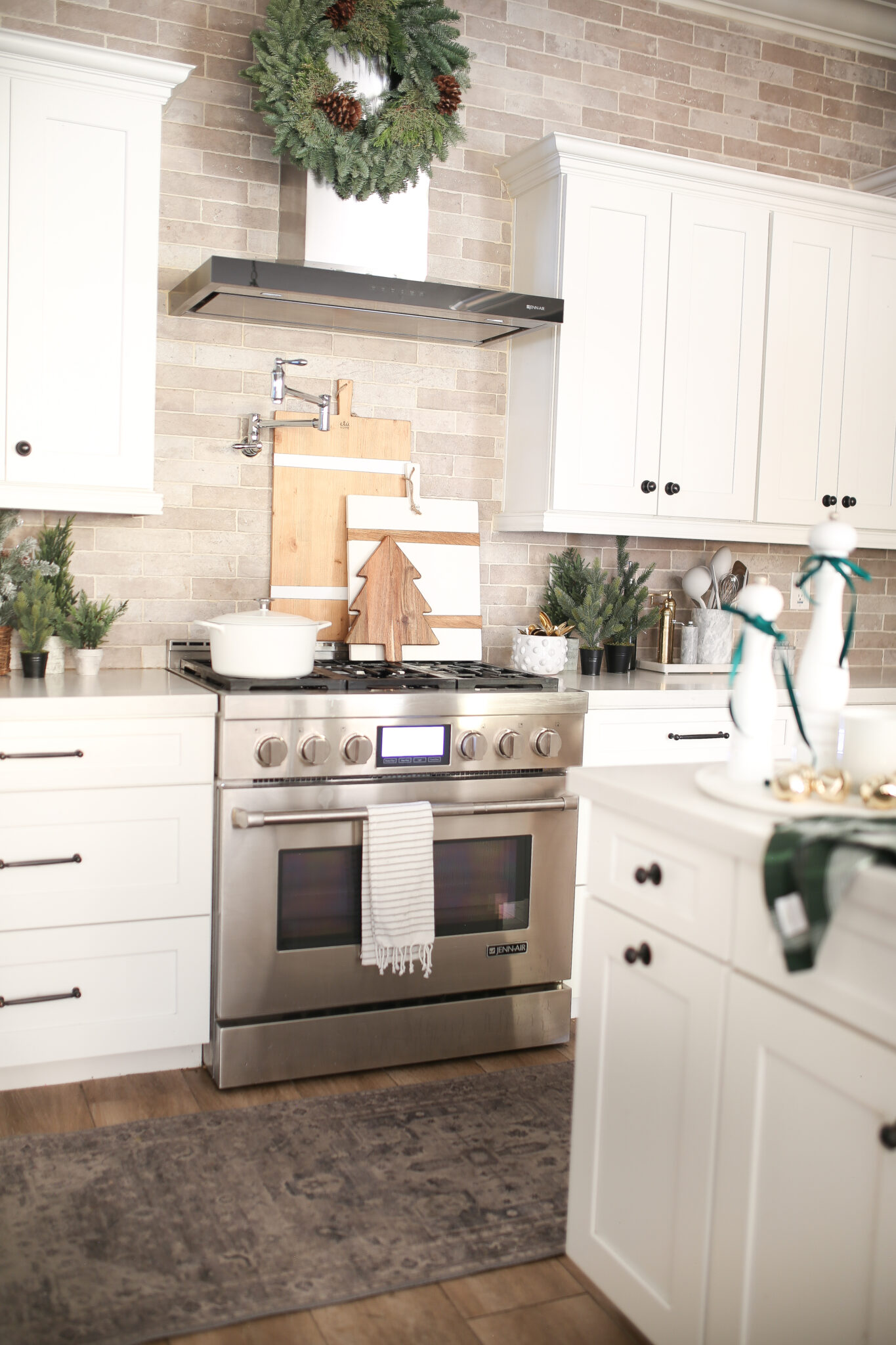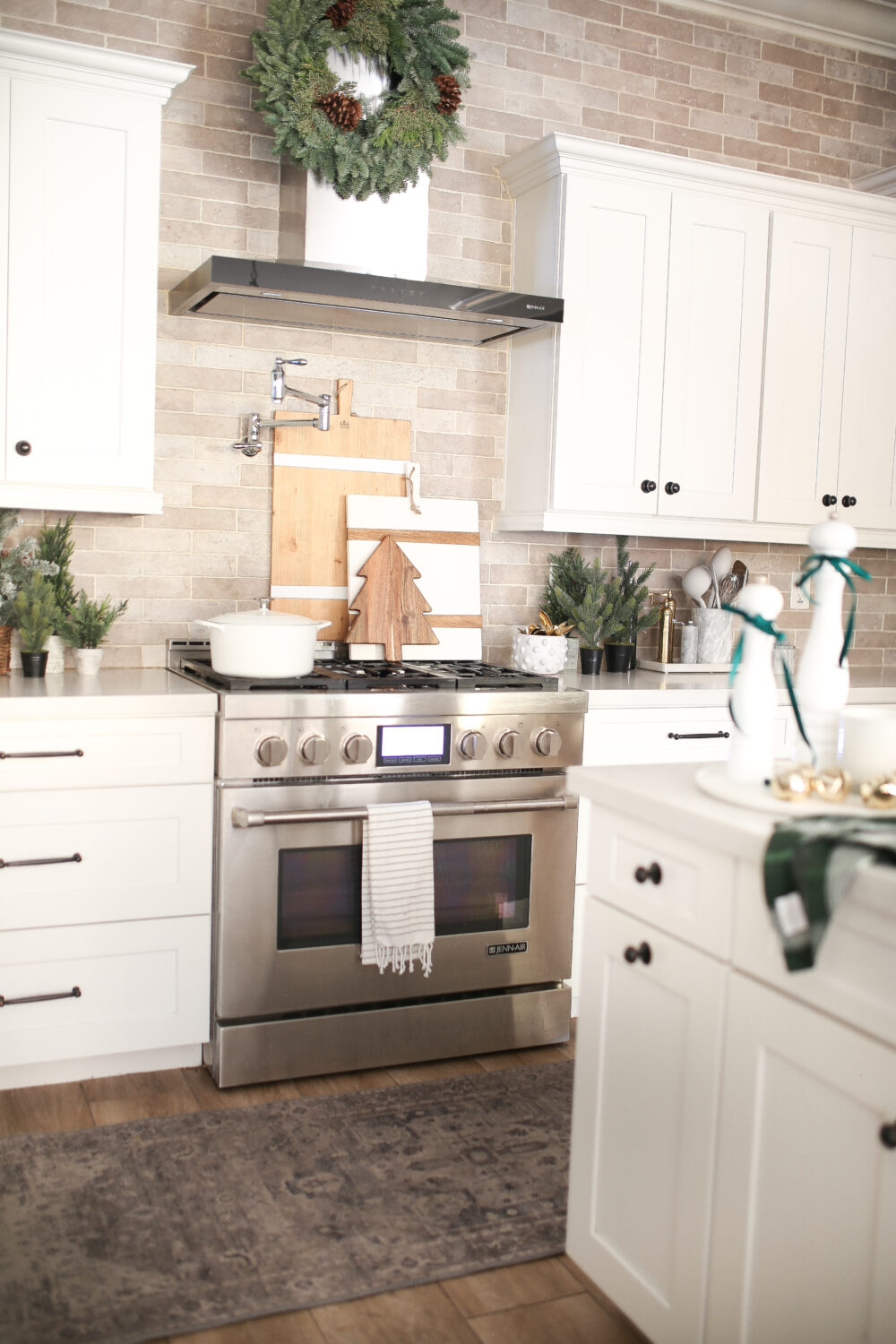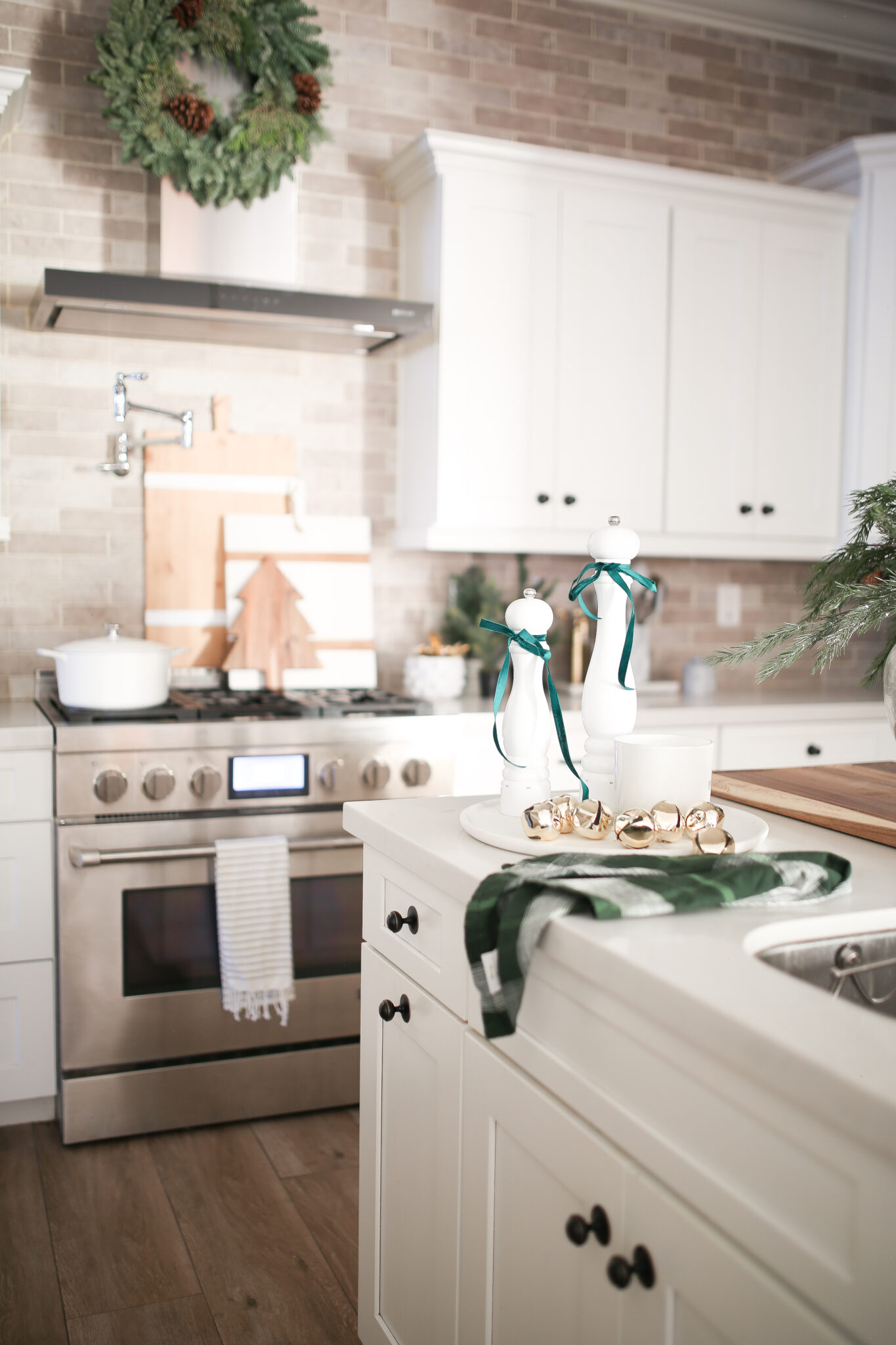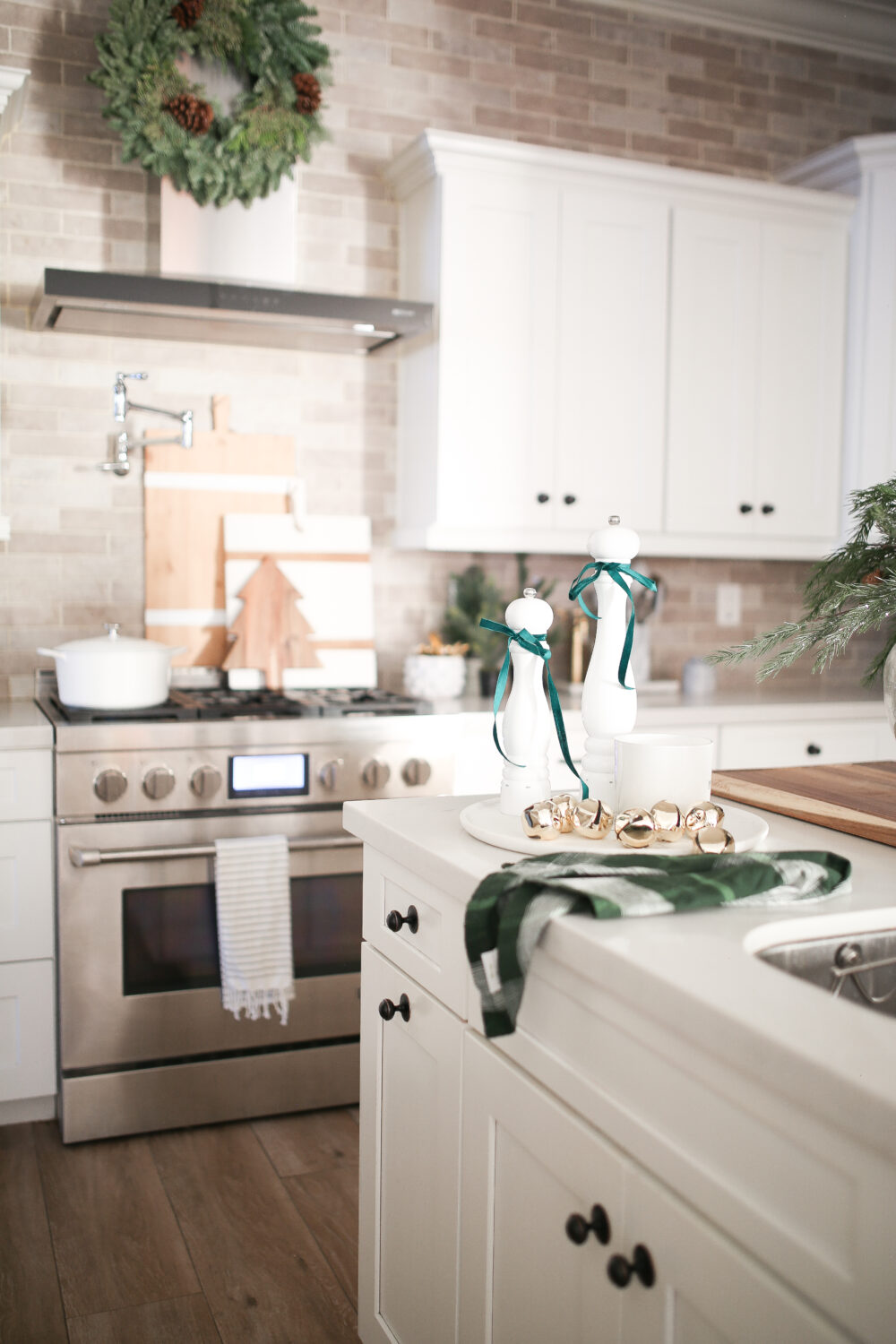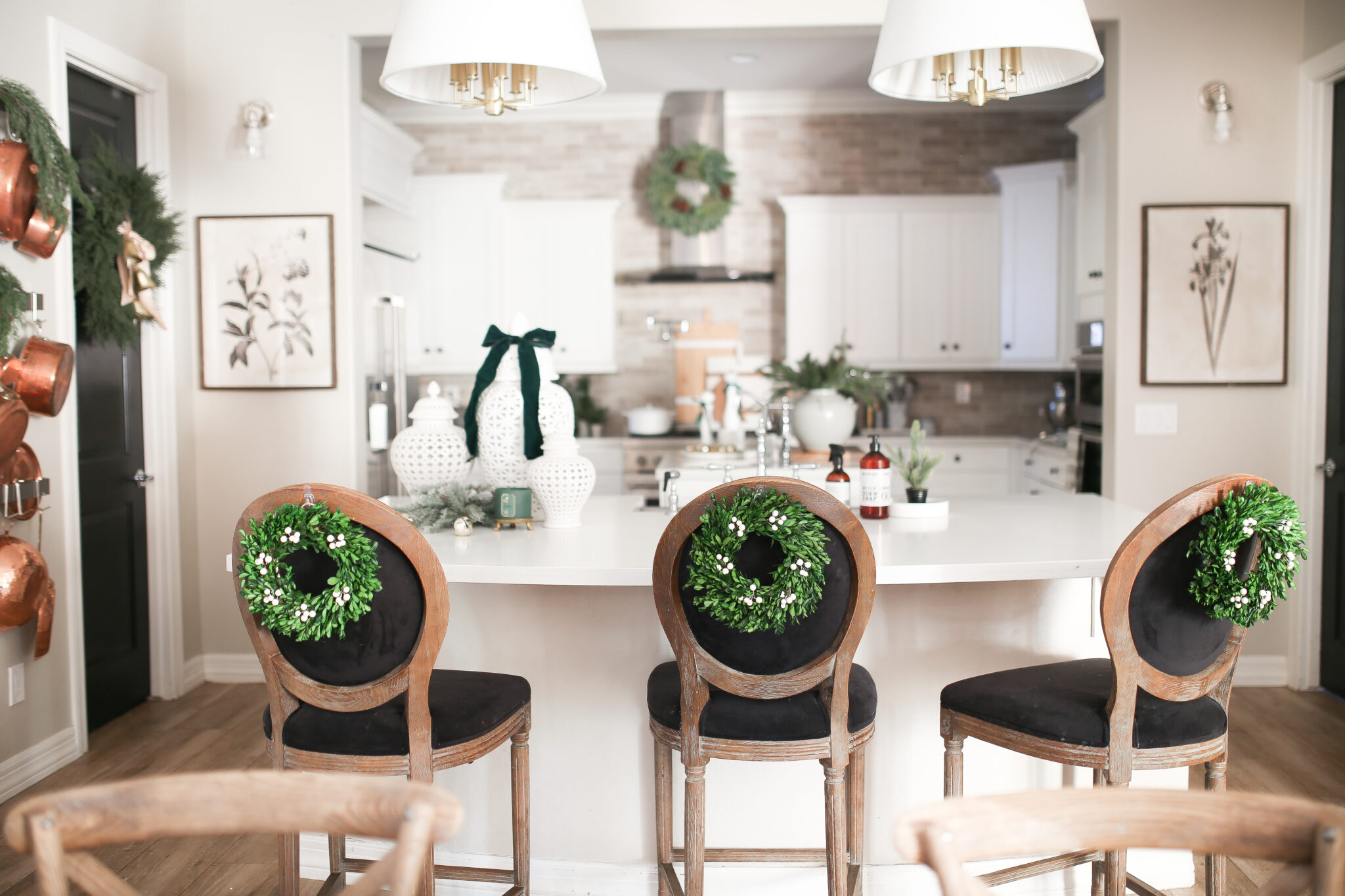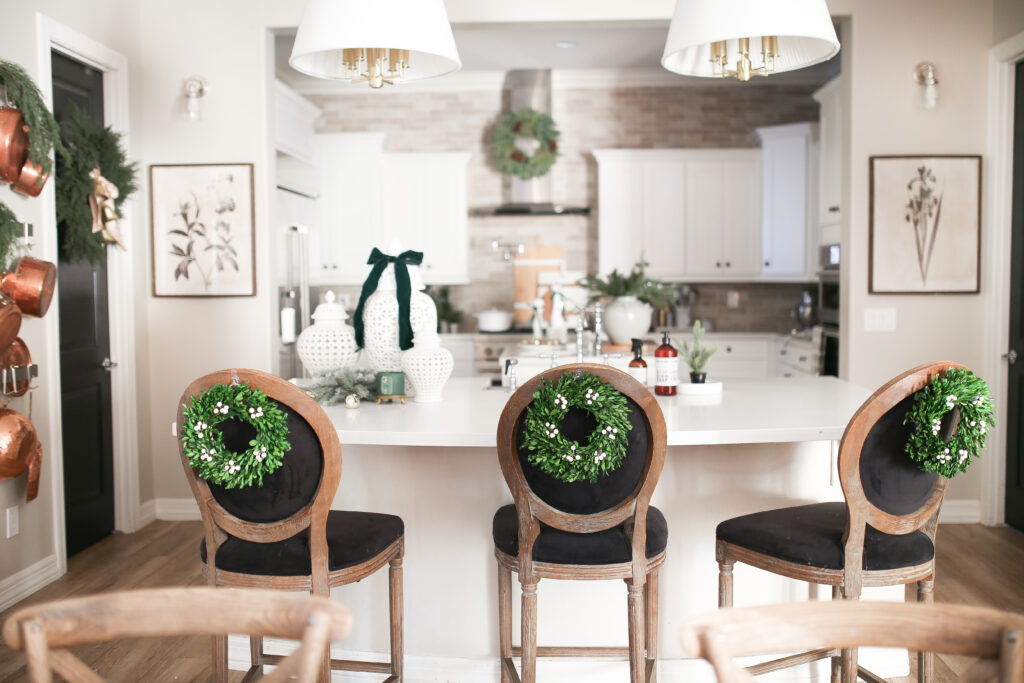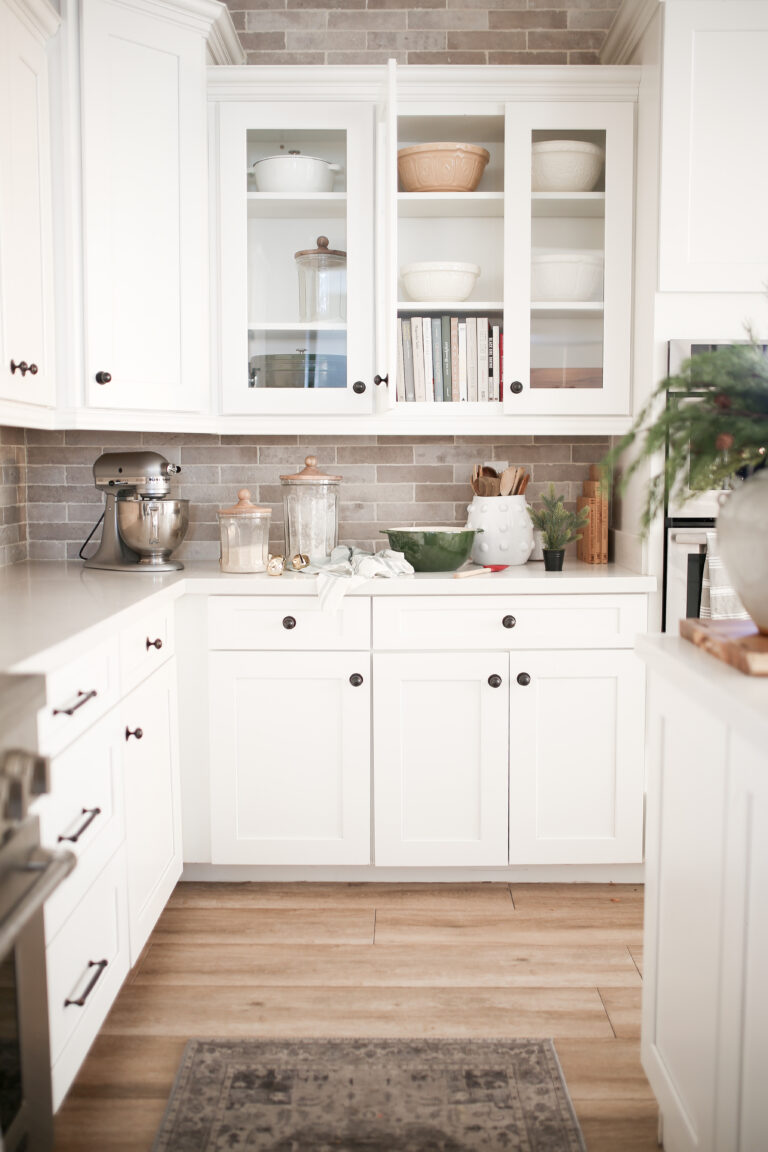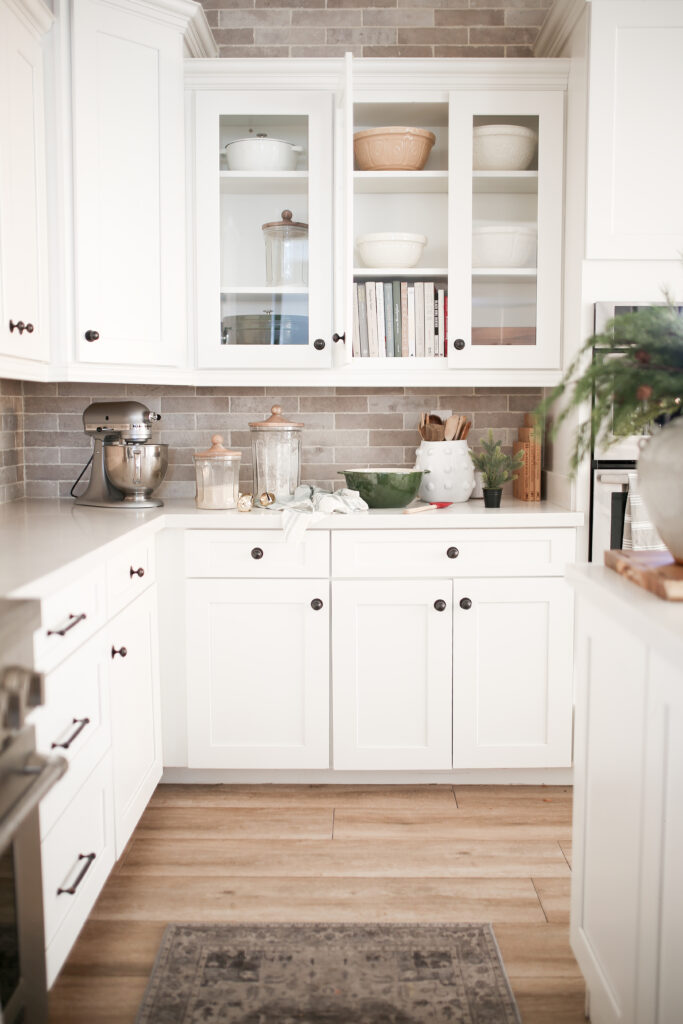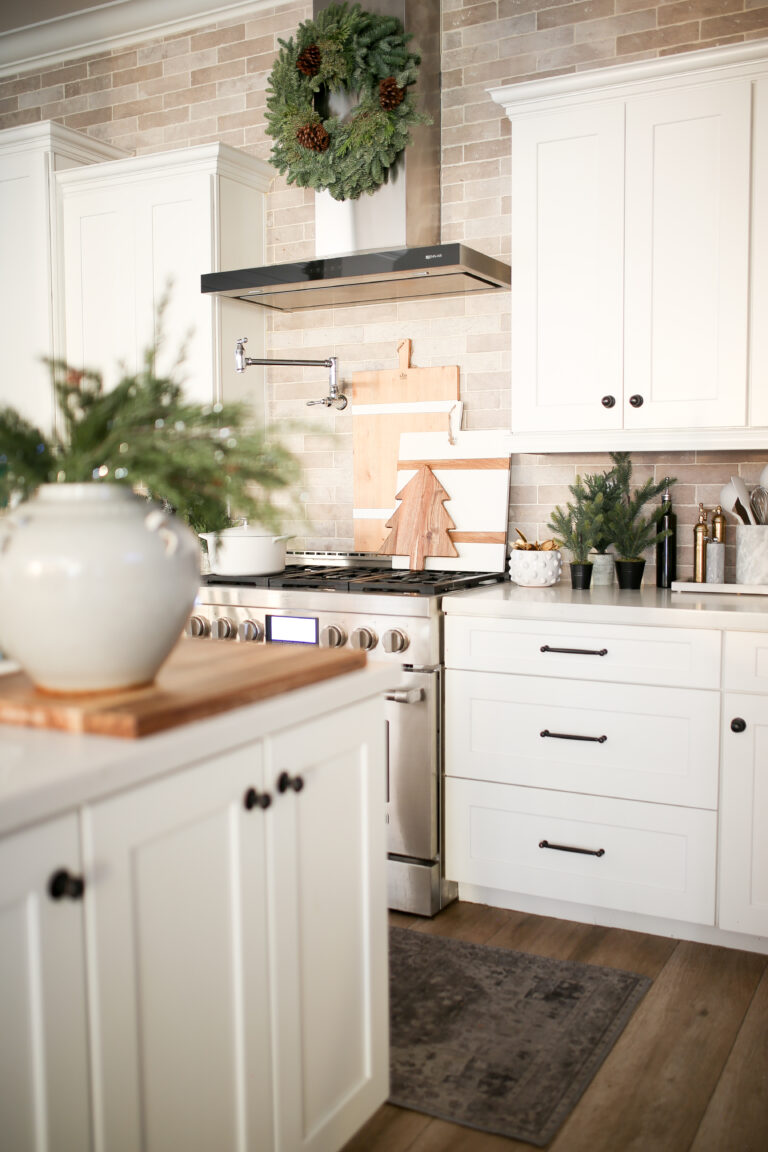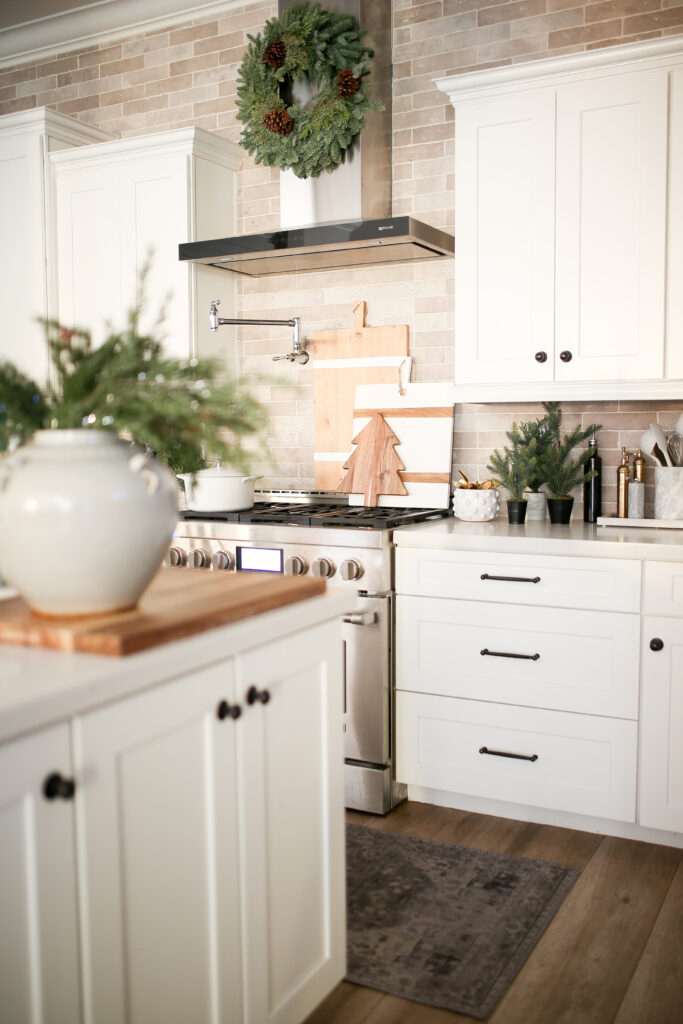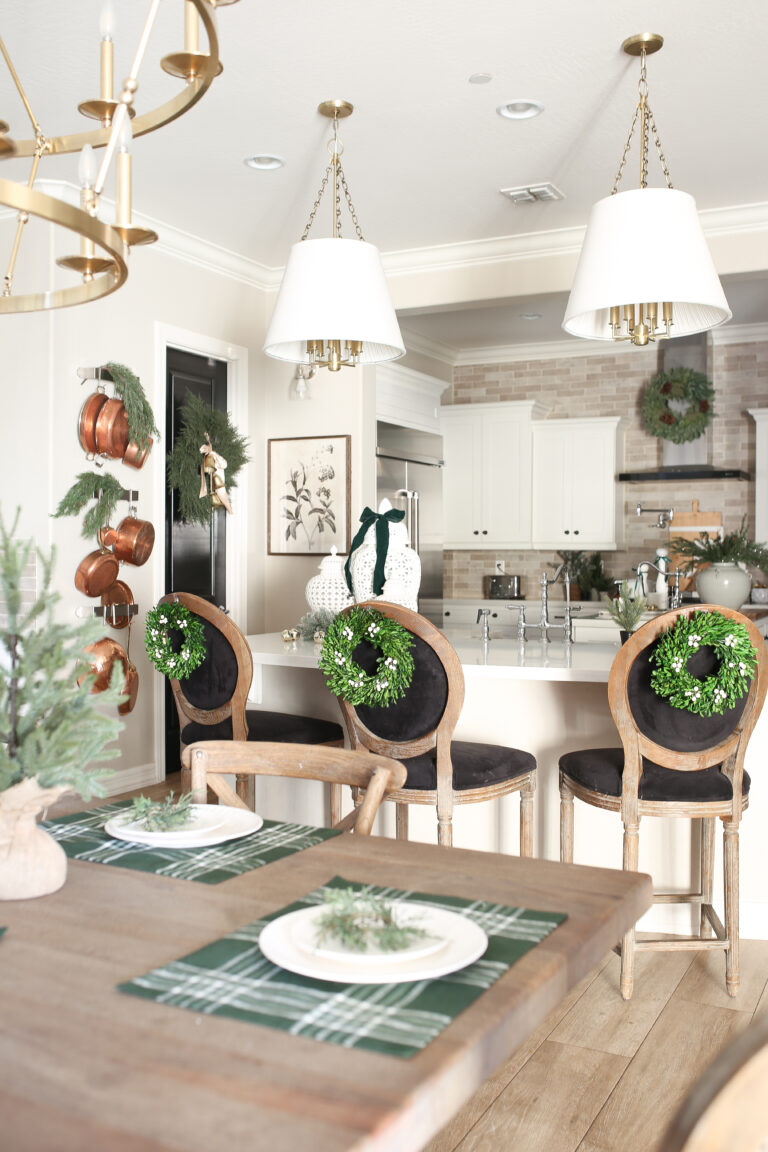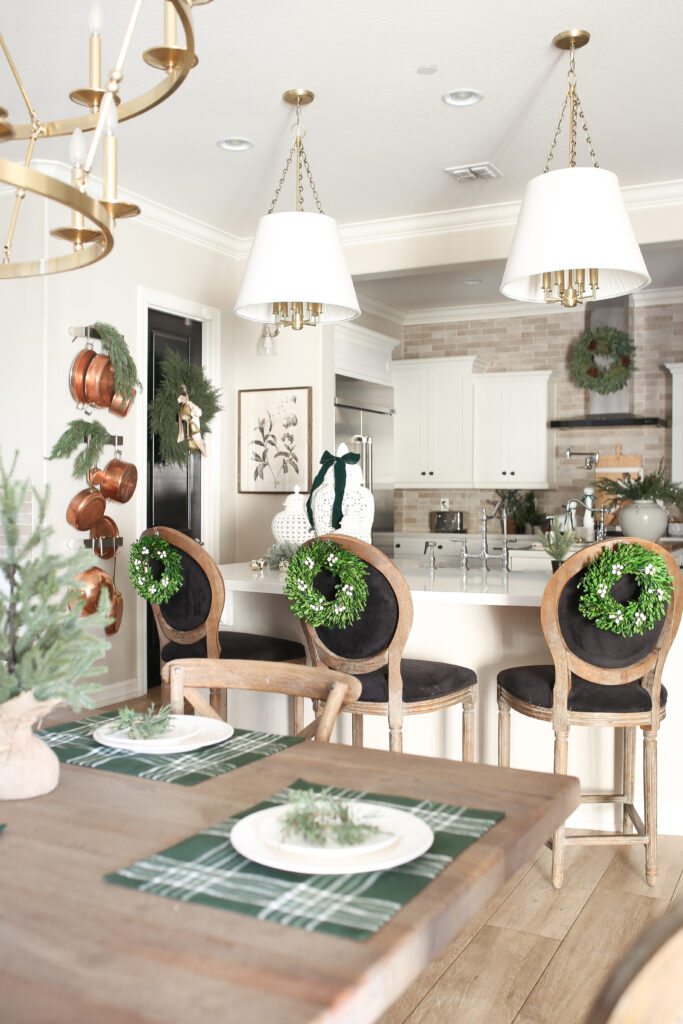 Well that's it for now friends! Hope you enjoyed a little peek into our home. I'll be sharing more this month so make sure you're following me on Instagram!
Next up on the Housewalk is My Sweet Savannah. A girl with impeccable taste, so you're going to love her home!!! Click the photo below, have fun and tell her I said "Hi! "