How to Decorate an Elegant Designer Christmas Tree Like a Pro
This post is sponsored and may contain affiliate links, please read my disclosure policy.
If you've ever wondered how to get the an elegant designer looking Christmas tree then I have THE perfect post for you! I've always loved designing Christmas trees. If you've been around some time then you've seen all of my Christmas trees throughout the years decorated a bit differently each time!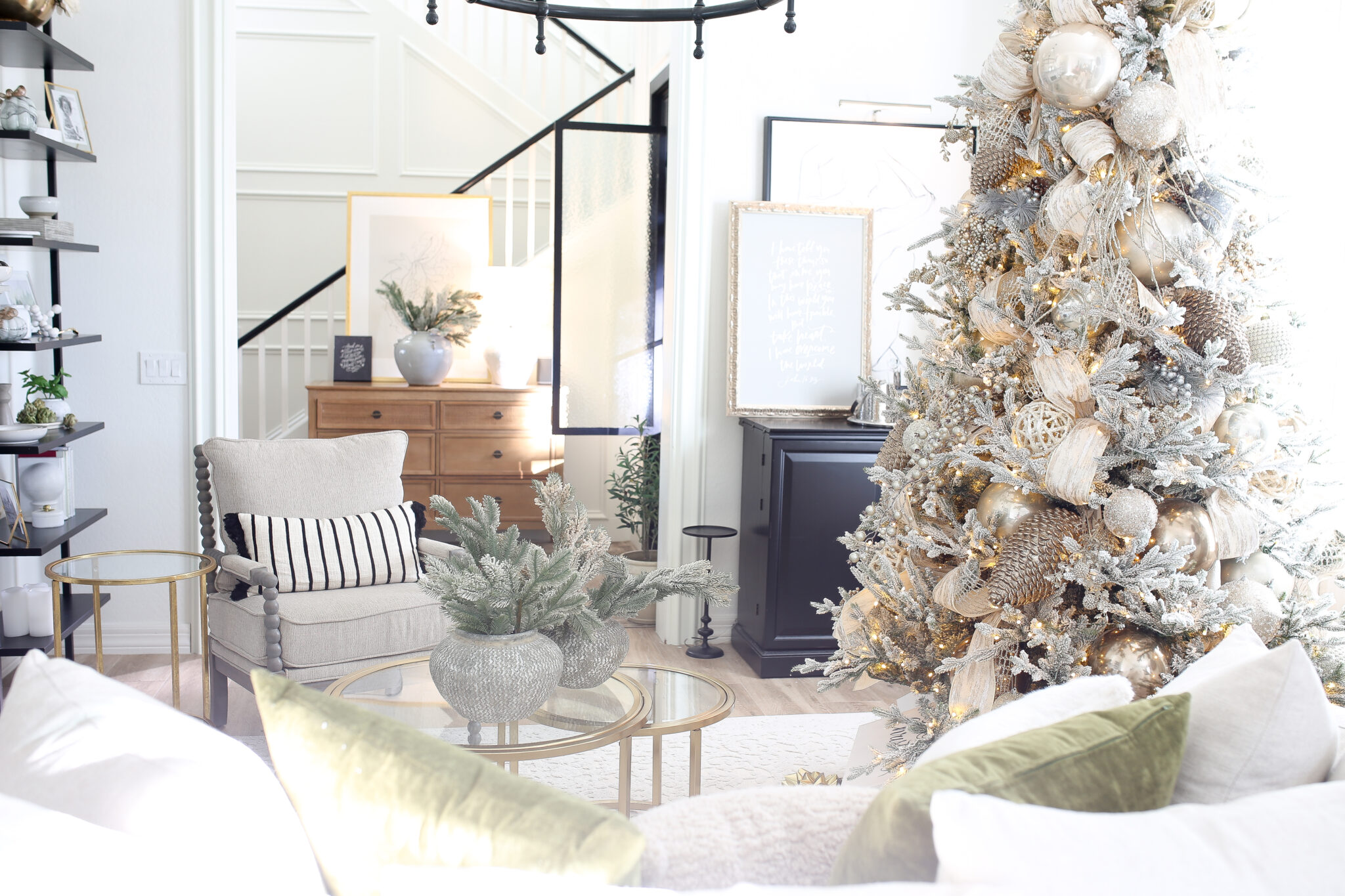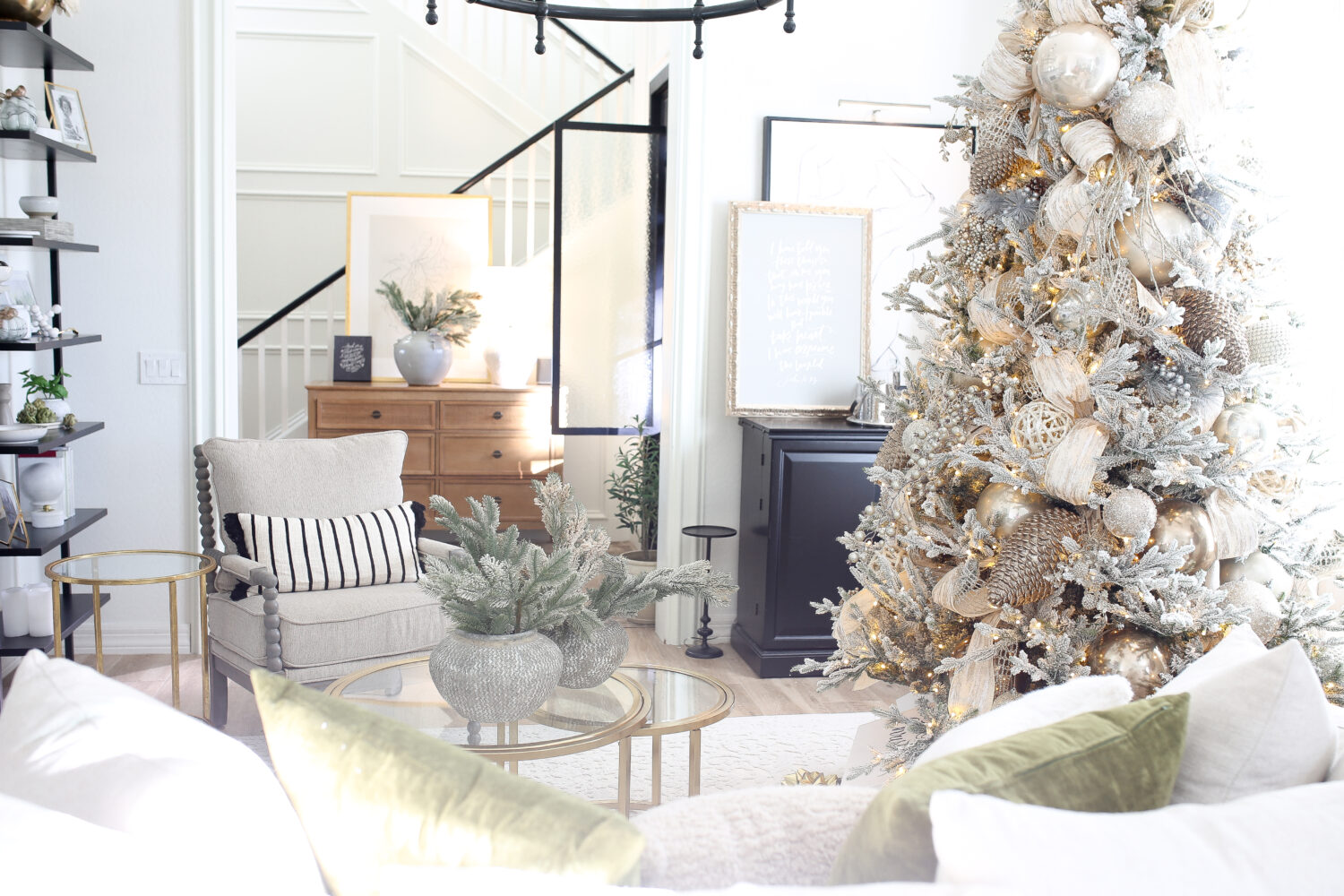 This year I was introduced to Decorators Warehouse and YOU GUYS! This is a Christmas tree lovers dream store! Everything Christmas you can think of and the prices are amazing.
Check out the tree I decorated this year using everything minus the tree from Decorators Warehouse!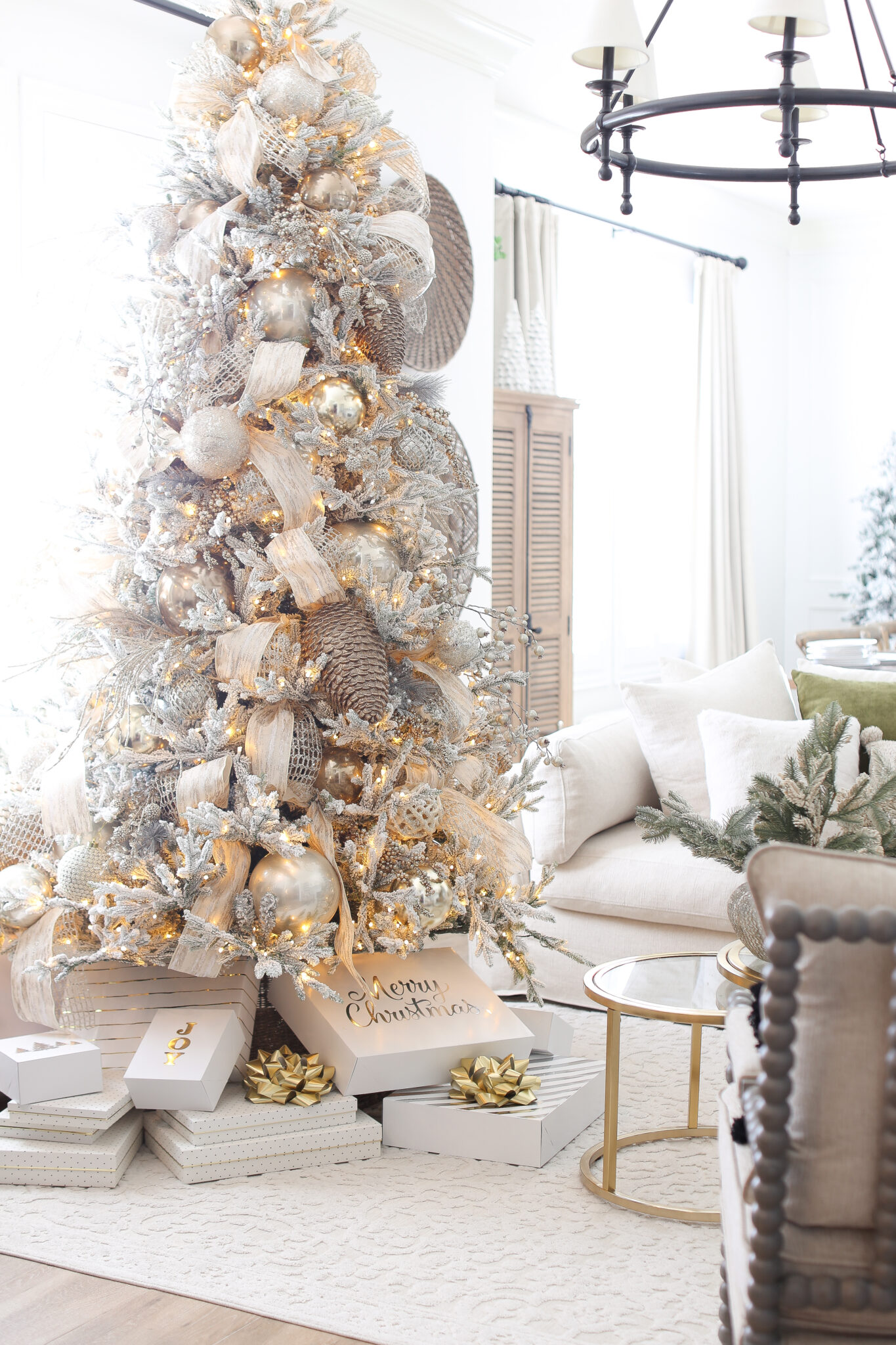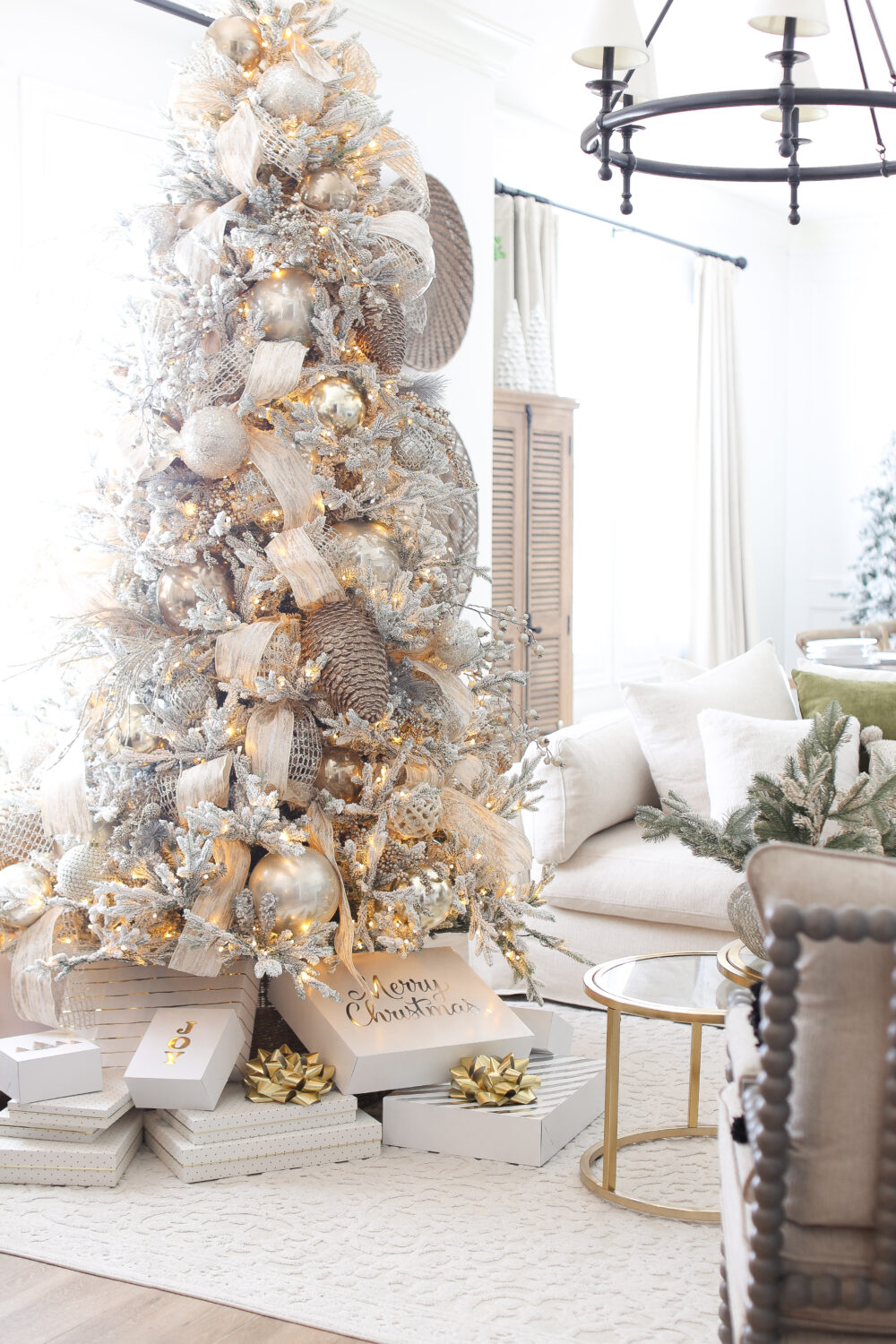 I mixed a few different collections to create this heavenly beauty. The showstopper on this tree are these big beautiful pearl ornaments! The color is this pretty off white creamy color that just stands out in the most perfect way. I think I could've done a tree full of these and it would have been beautiful and elegant for sure.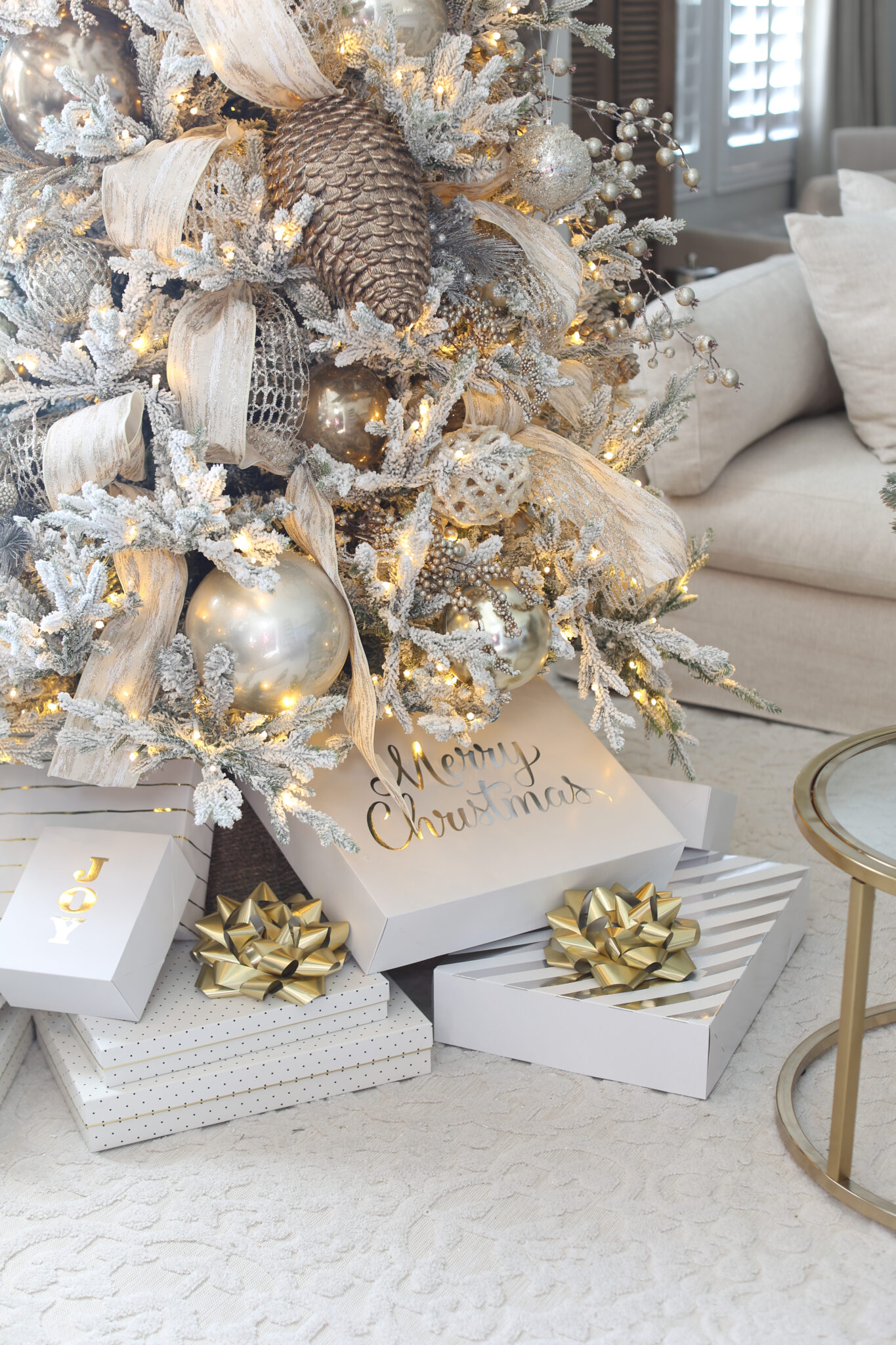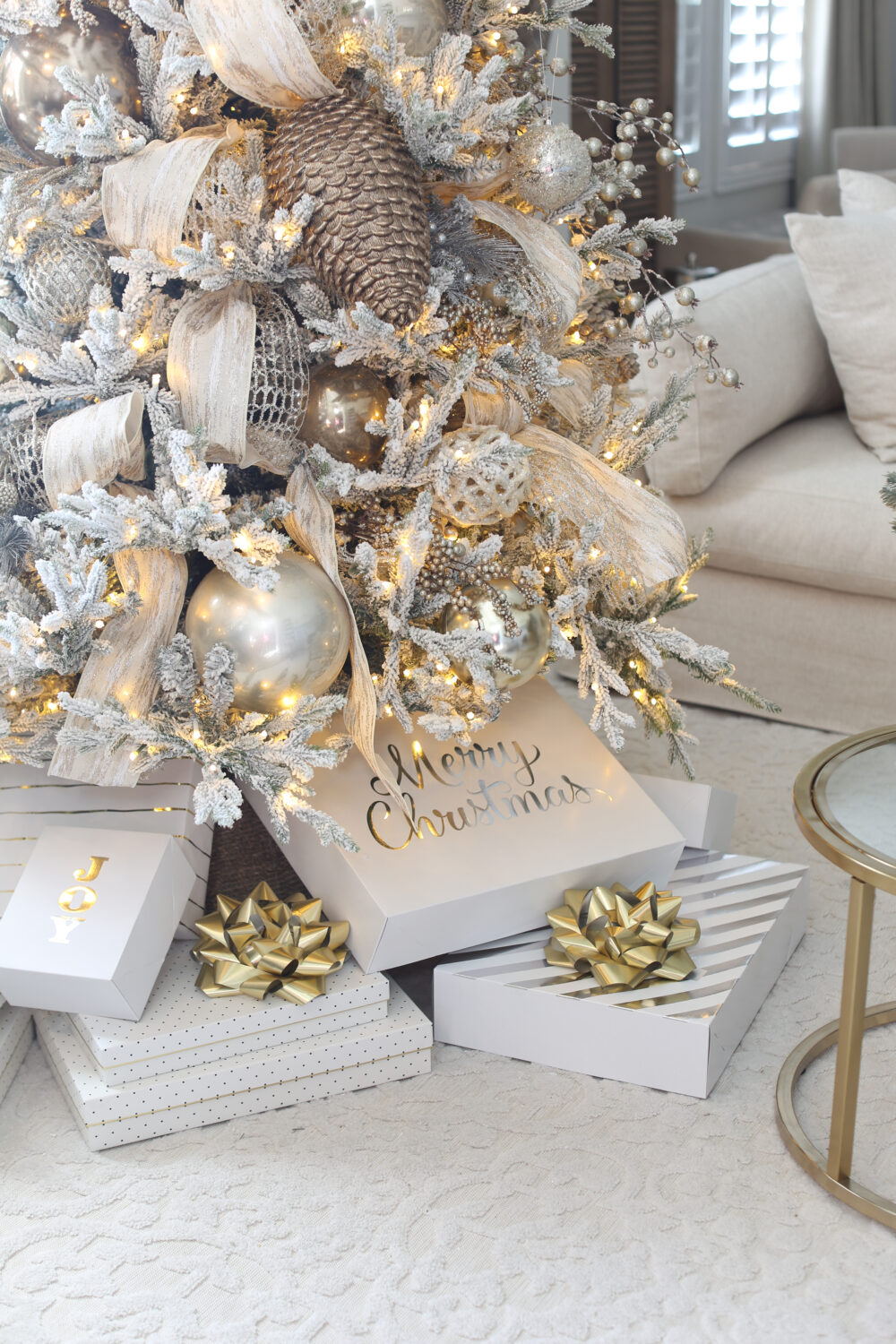 What I love about Decorators Warehouse is that they have some great resources to help you really design a show stopping tree all by yourself. With videos, bundles and my shopping my wishlist, you can legit put everything in your cart for your tree, have it shipped to you and you're on your way to a Christmas tree that will look like it's out of a magazine!
Of course there are some steps that need to be taken but don't worry! I got you on that!
Once you have your tree up then it's go time. For this tree I used a 9ft FULL tree meaning there isn't ton of space in between branches.
This is the order I like to do it in but you can also mix the order up depending on what look you feel most comfortable with.
How to Decorate and Elegant Christmas Tree
Assuming you already have a fluffed and lit tree, you can now begin! If not get yourself a full pre-lit to get this look.
Add the Ribbon– The best ribbon to use on a tree is wired ribbon. Also the wider the better. Especially for tall wide trees. I like to stick with 2-2.5 in wide ribbon for my trees that are 9ft. Work with small loops and manipulate the ribbon by tucking it deeping the tree and then bringing it back out in another loop. Repeat all over the tree. Work your way down making random loops so that it looks like the ribbon is coming out of a different part of the tree.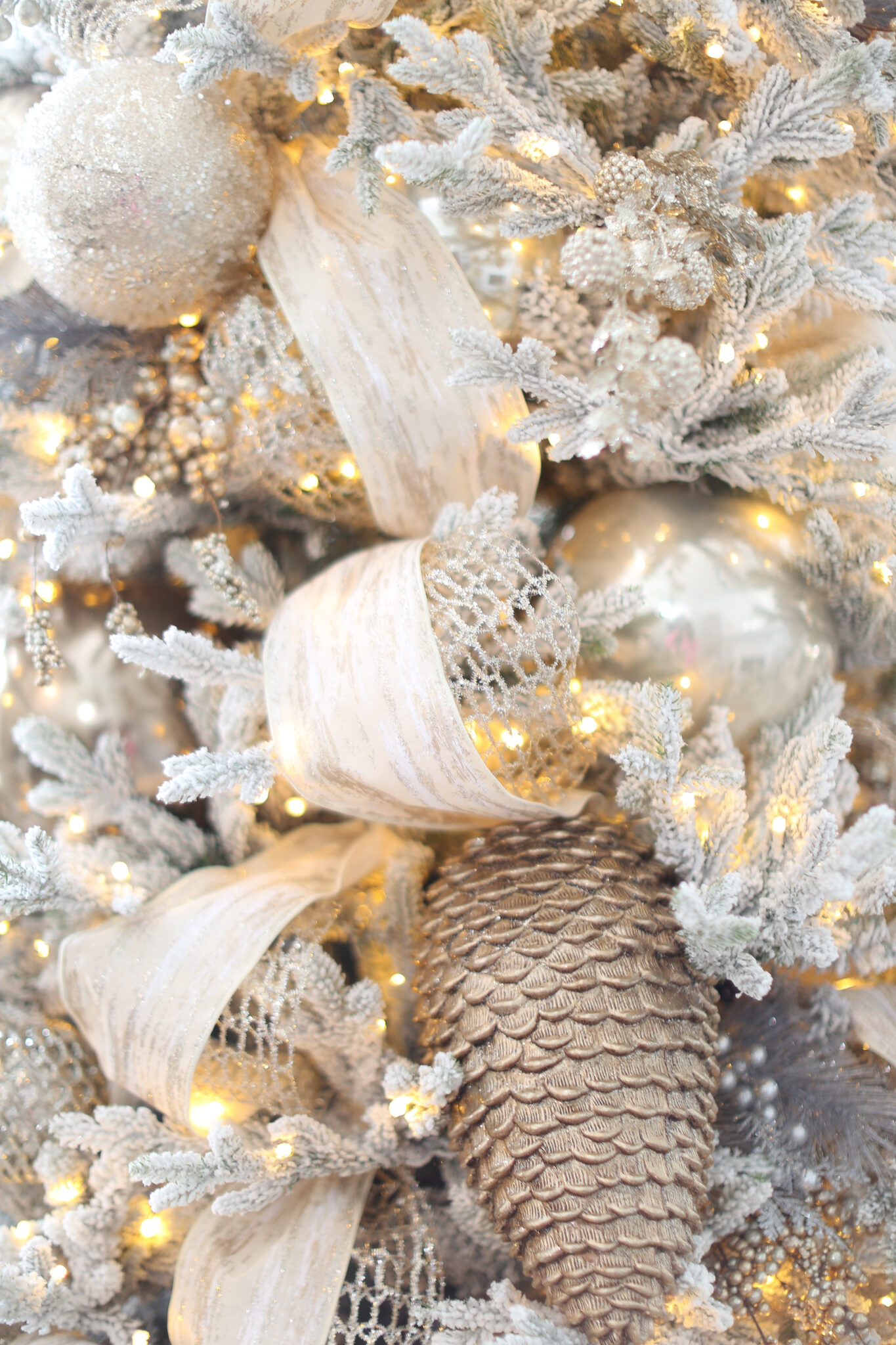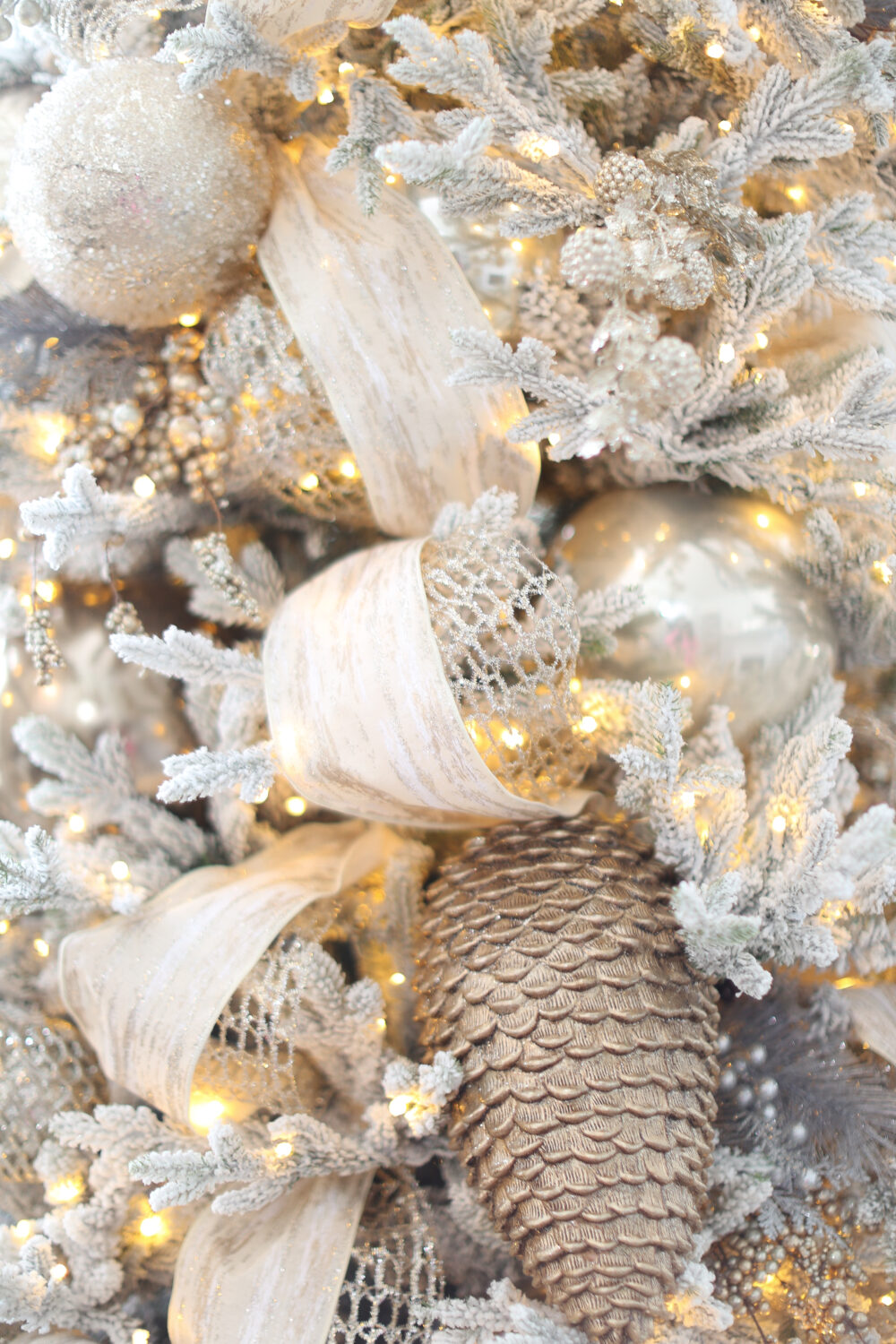 Add the Large Ornaments – Next add the largest ornaments. I was SO obsessed with these huge pearl ornaments from Decorators Warehouse. I feel like they really give the tree interested because of the scale of them. Mixing them with smaller and larger sizes in different hues are the key to also giving the tree interest! I used pearl, champagne and brownish ornaments throughout the tree.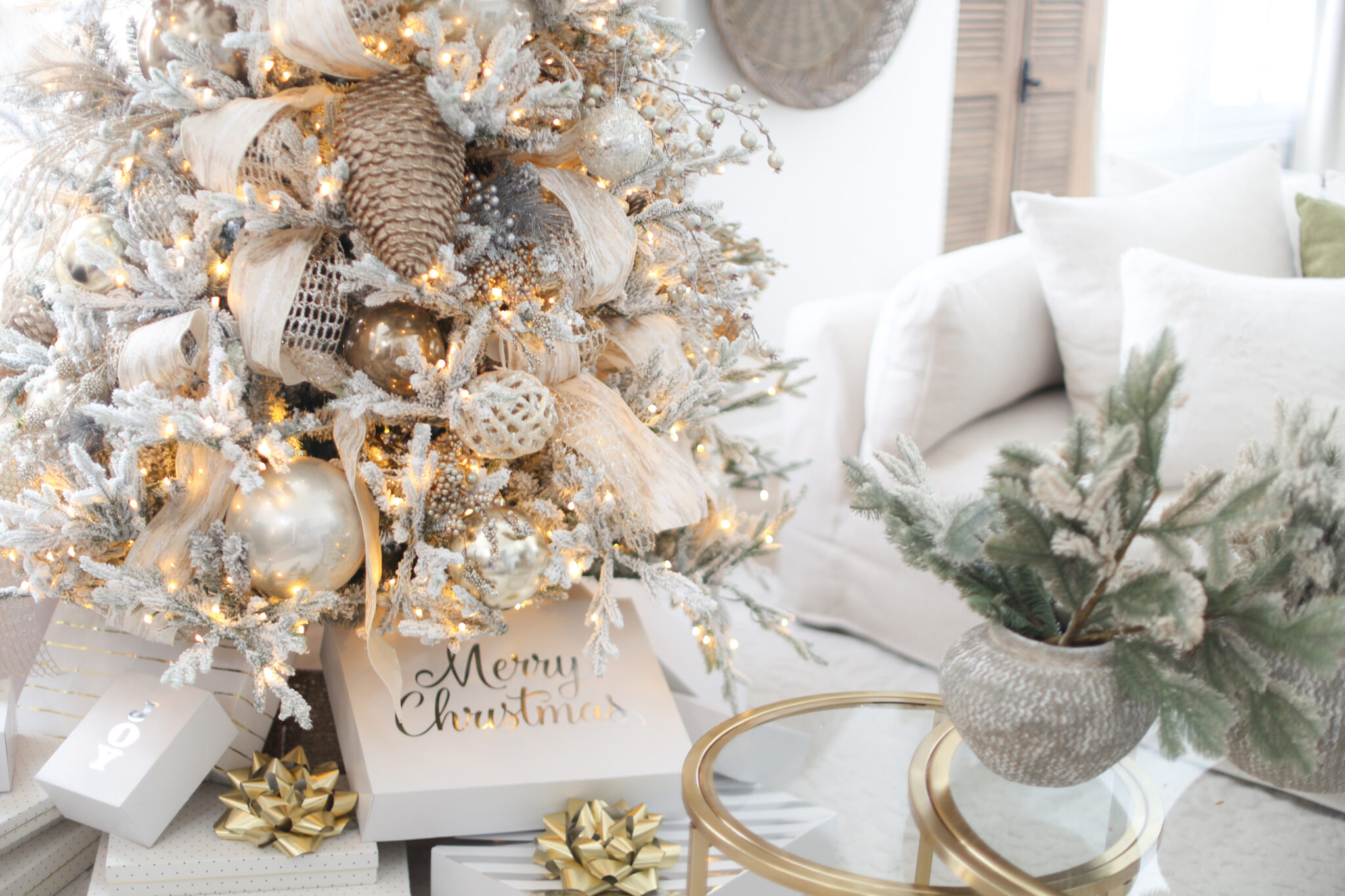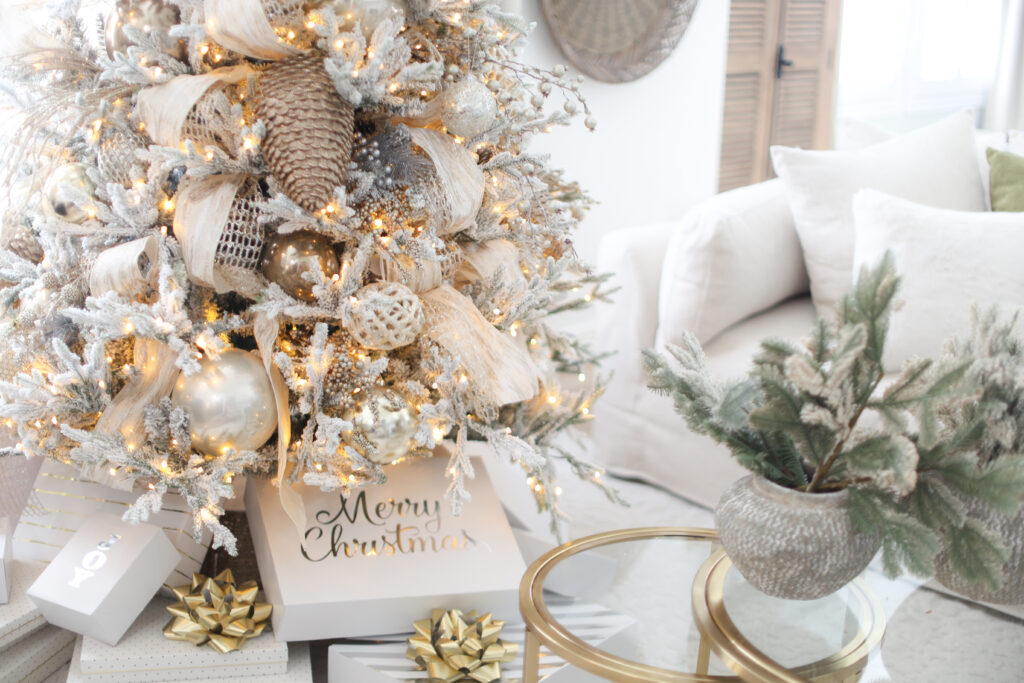 Add Picks– for texture it's all about the picks you select. I learned from Decorators Warehouse to group them together and repeat them throughout the tree. I did this but I also kept some picks by themselves. So you can do the same. Also make sure your picks are falling towards the bottom on the tree to make it look more natural. Check out all the picks I used here.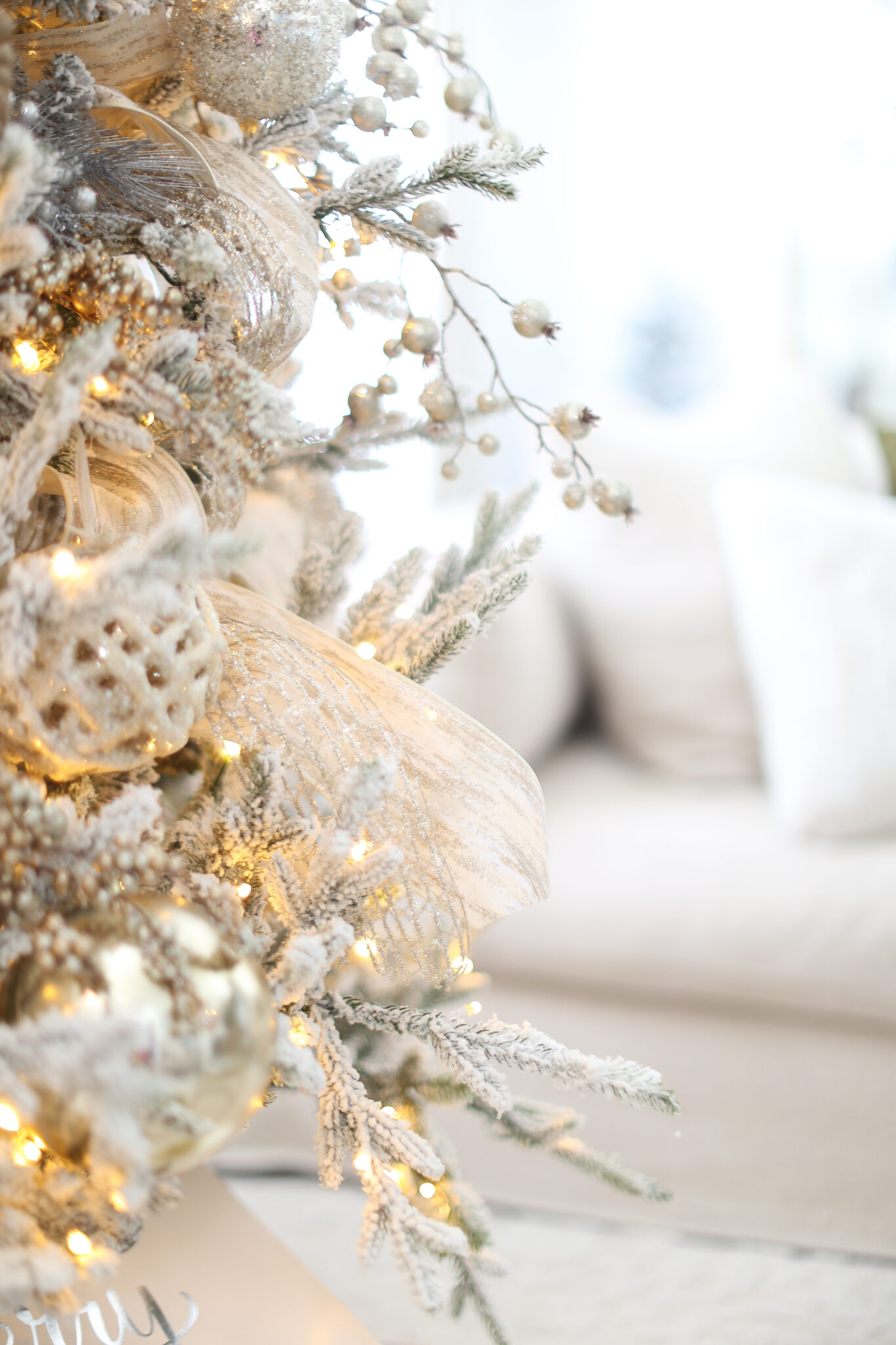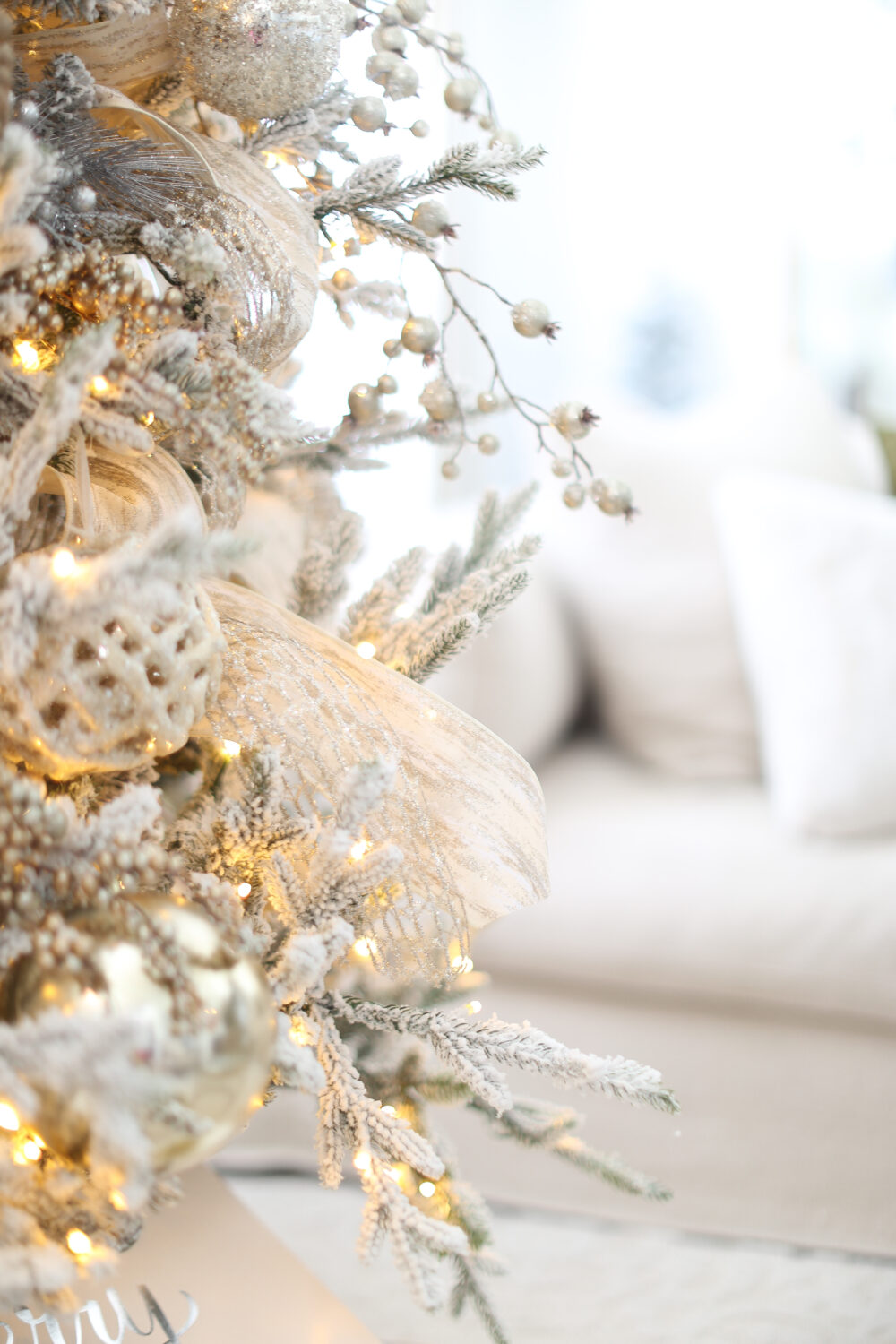 Add Decorative Ornaments and Decor- Now take all those gorgeous fancy ornaments and start to place these on the tree. Tuck them in deep or leave some hanging delicately for all to see. My favorites on this tree are the Larger than life 12 inch Pinecones and these Glitter Sequin Iced Ball Christmas Ornaments.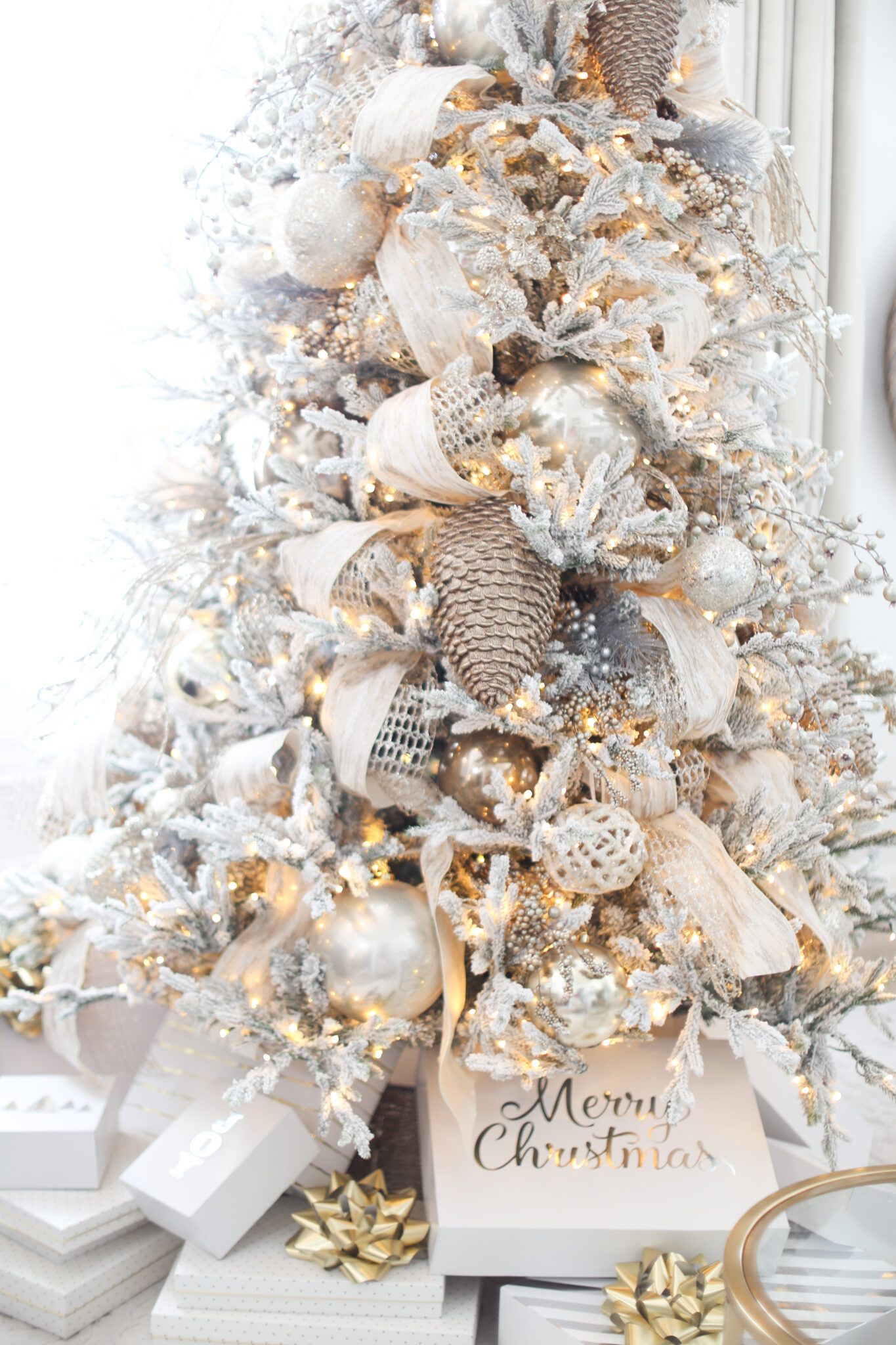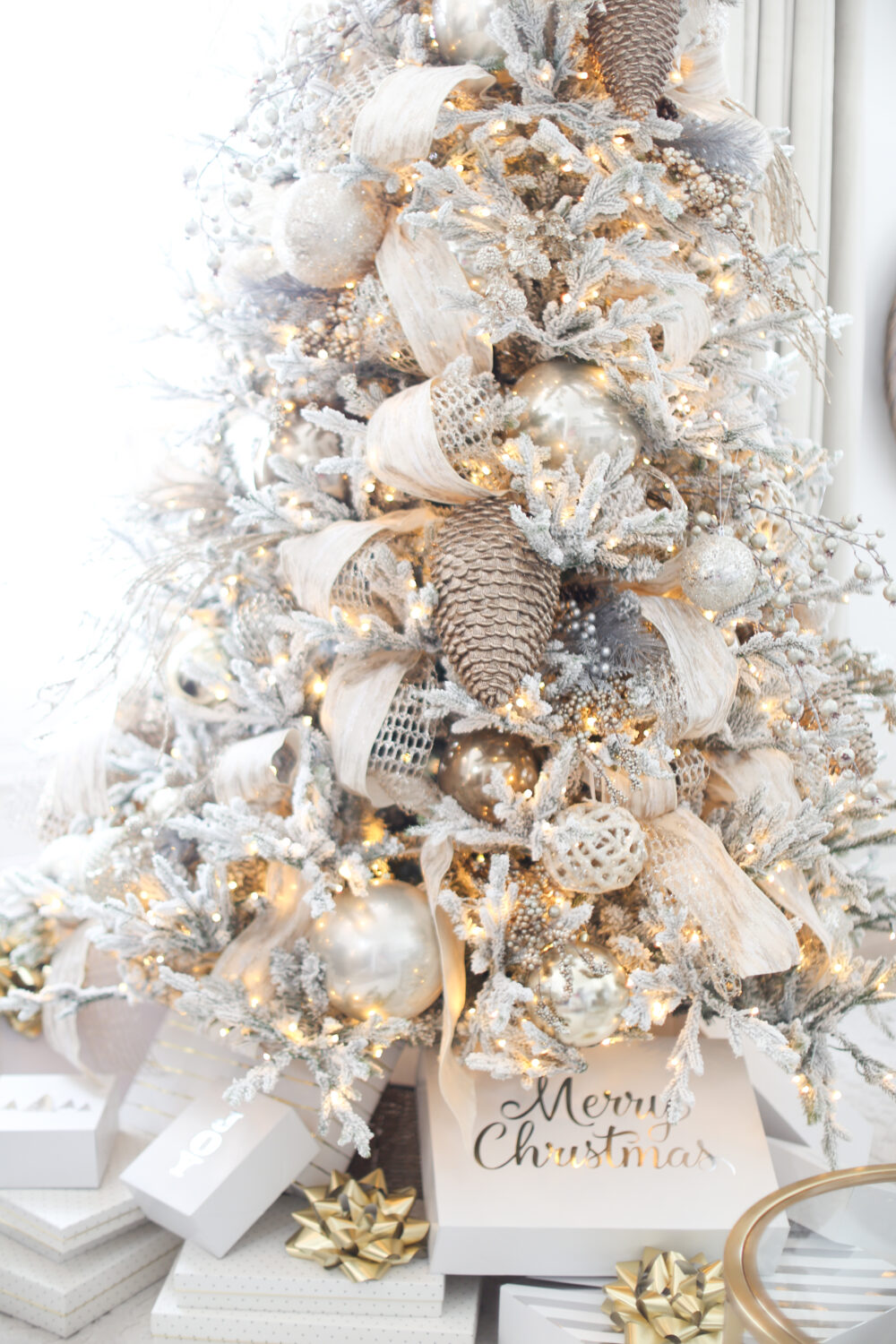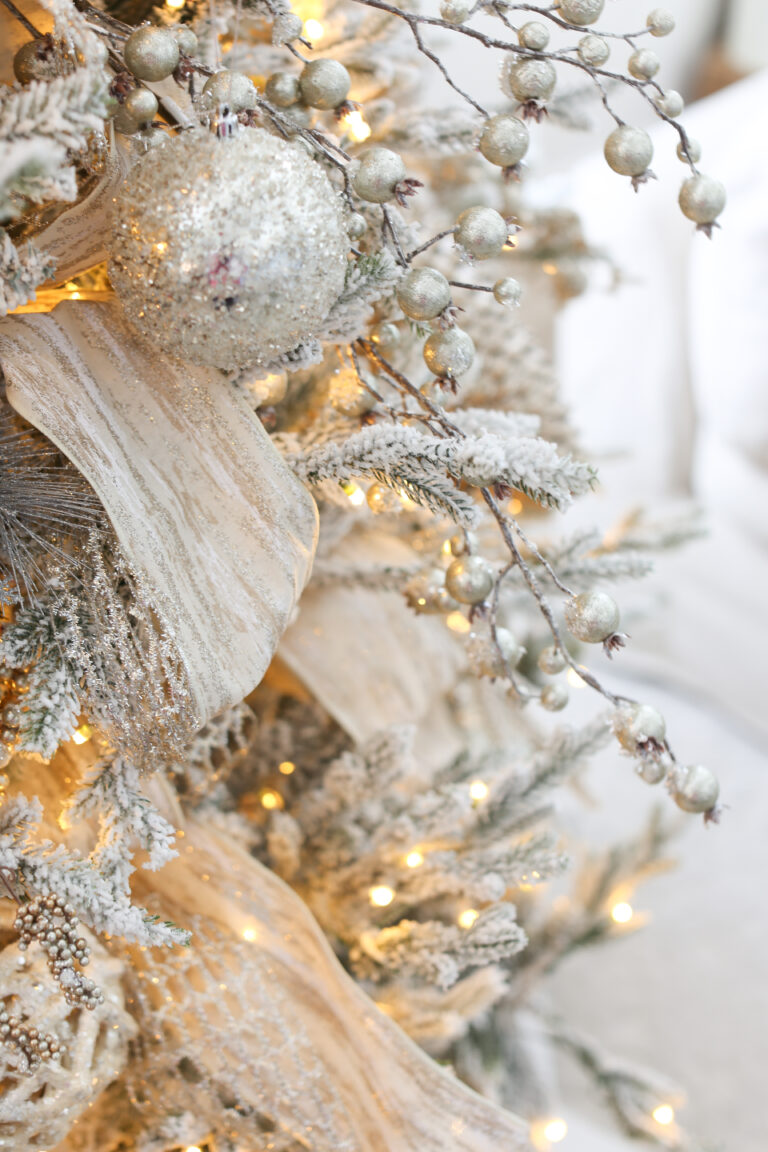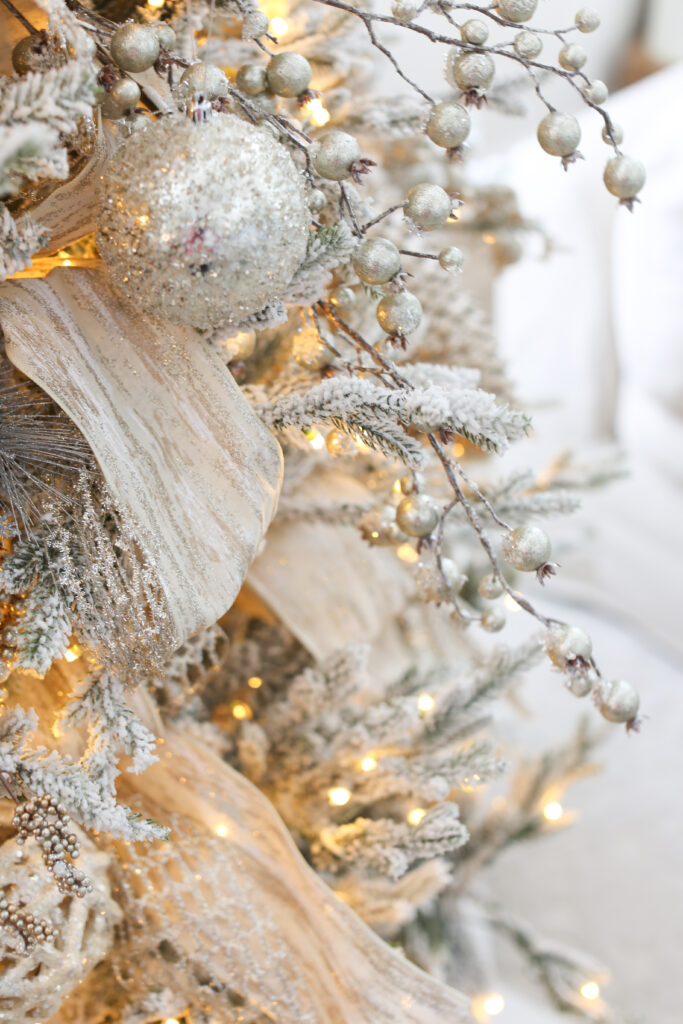 Add Topper – I like to put the topper on last but some like to put it on first. I actually don't have a proper topper for this Christmas tree but that's 100% ok too. You can use traditional stars, angels or a group of picks!
Elegant Christmas Decorations Tree Discount Code
Here's everything I used on my tree! If you're anxious to start shopping make sure you use my discount code JustDestiny for 10% off any full priced purchases thru December 25th.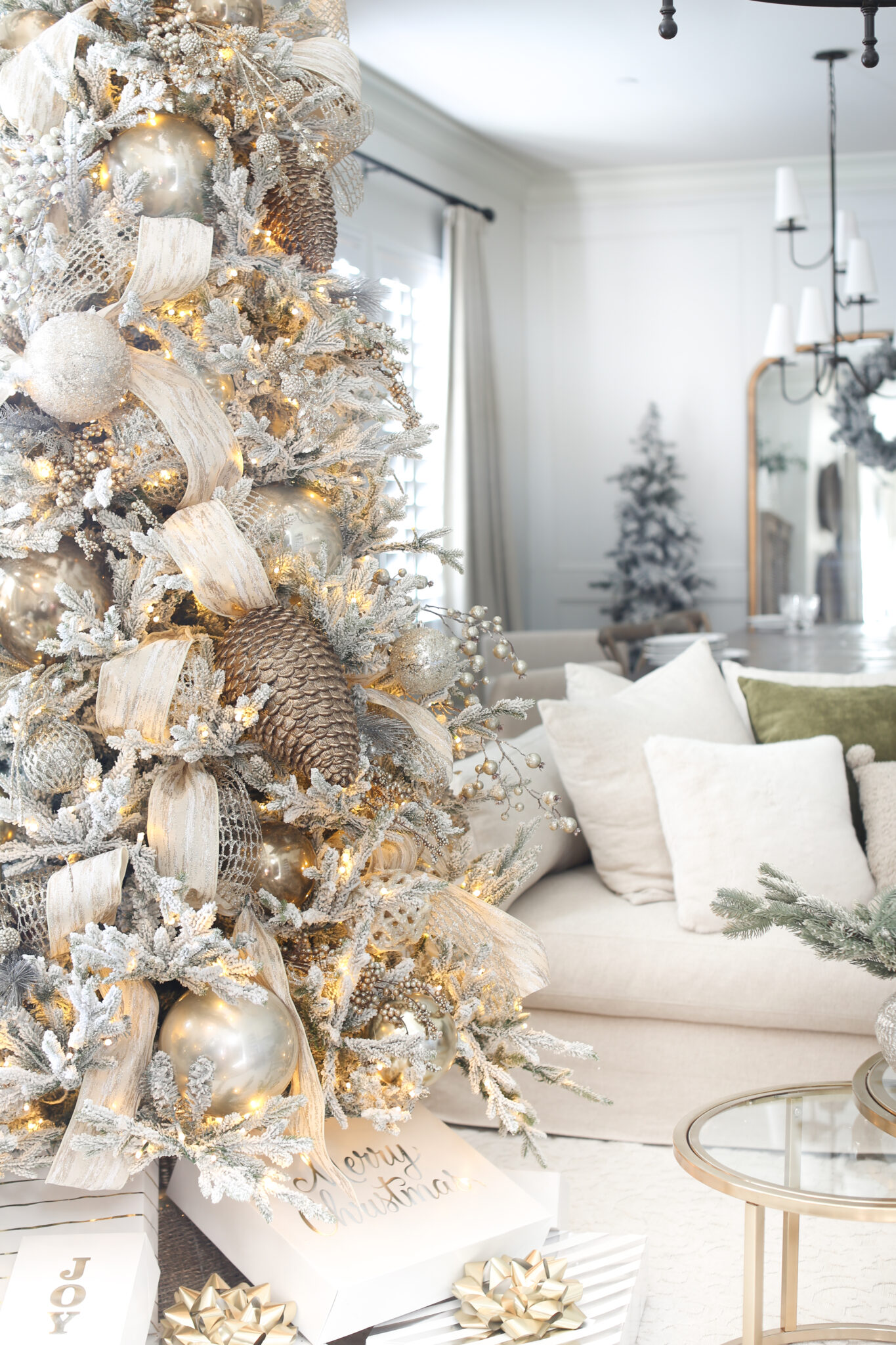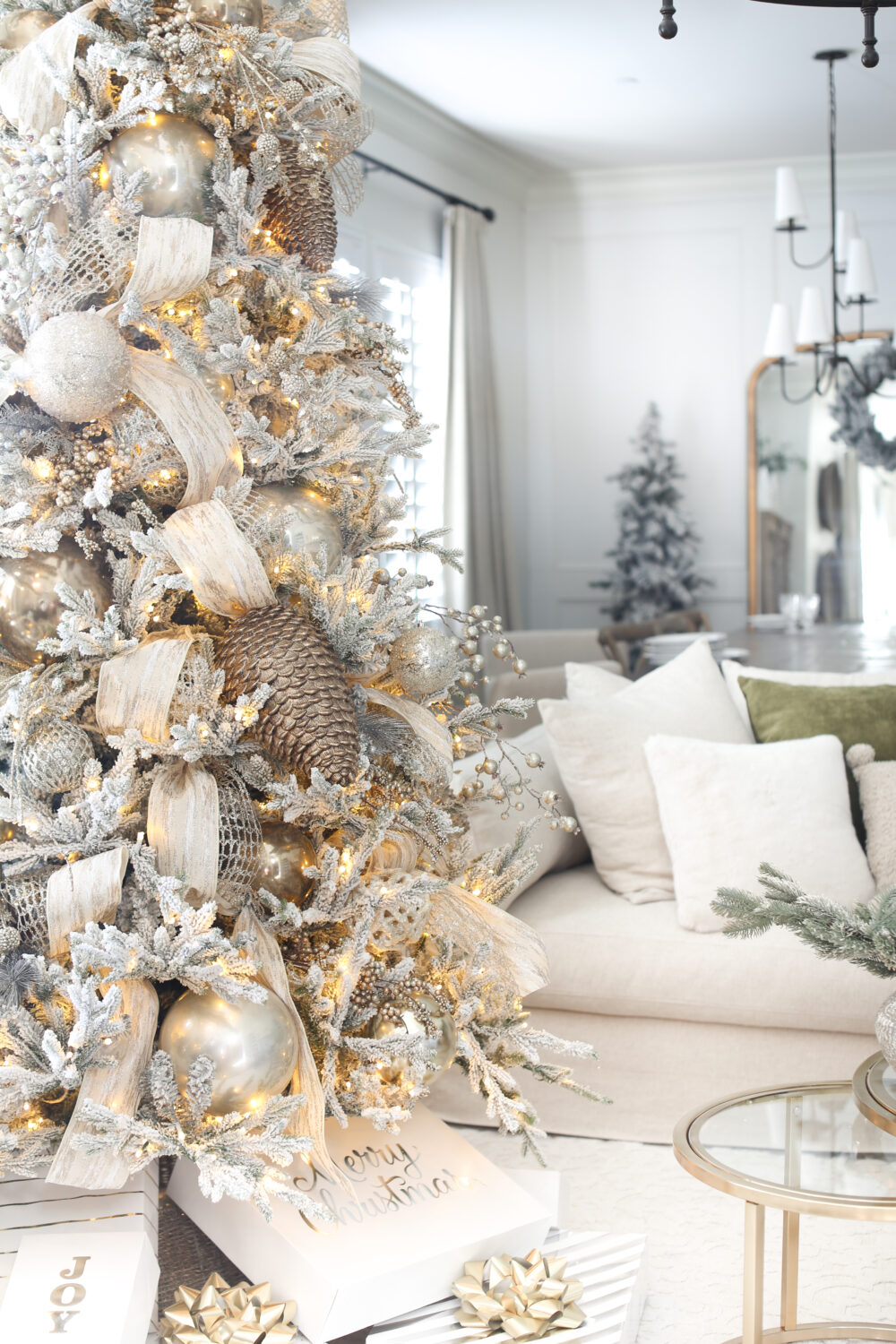 Just Destiny Elegant Christmas Tree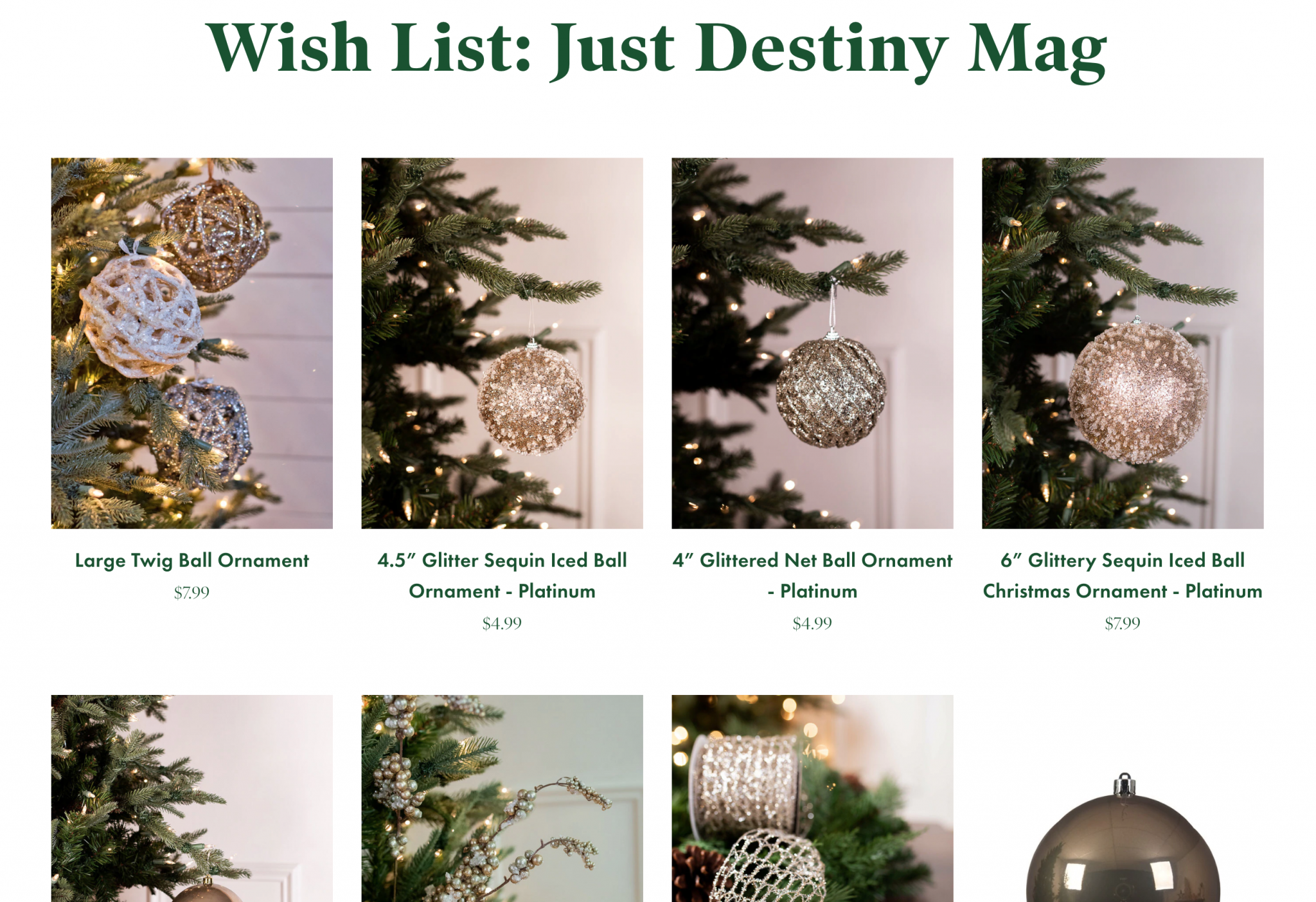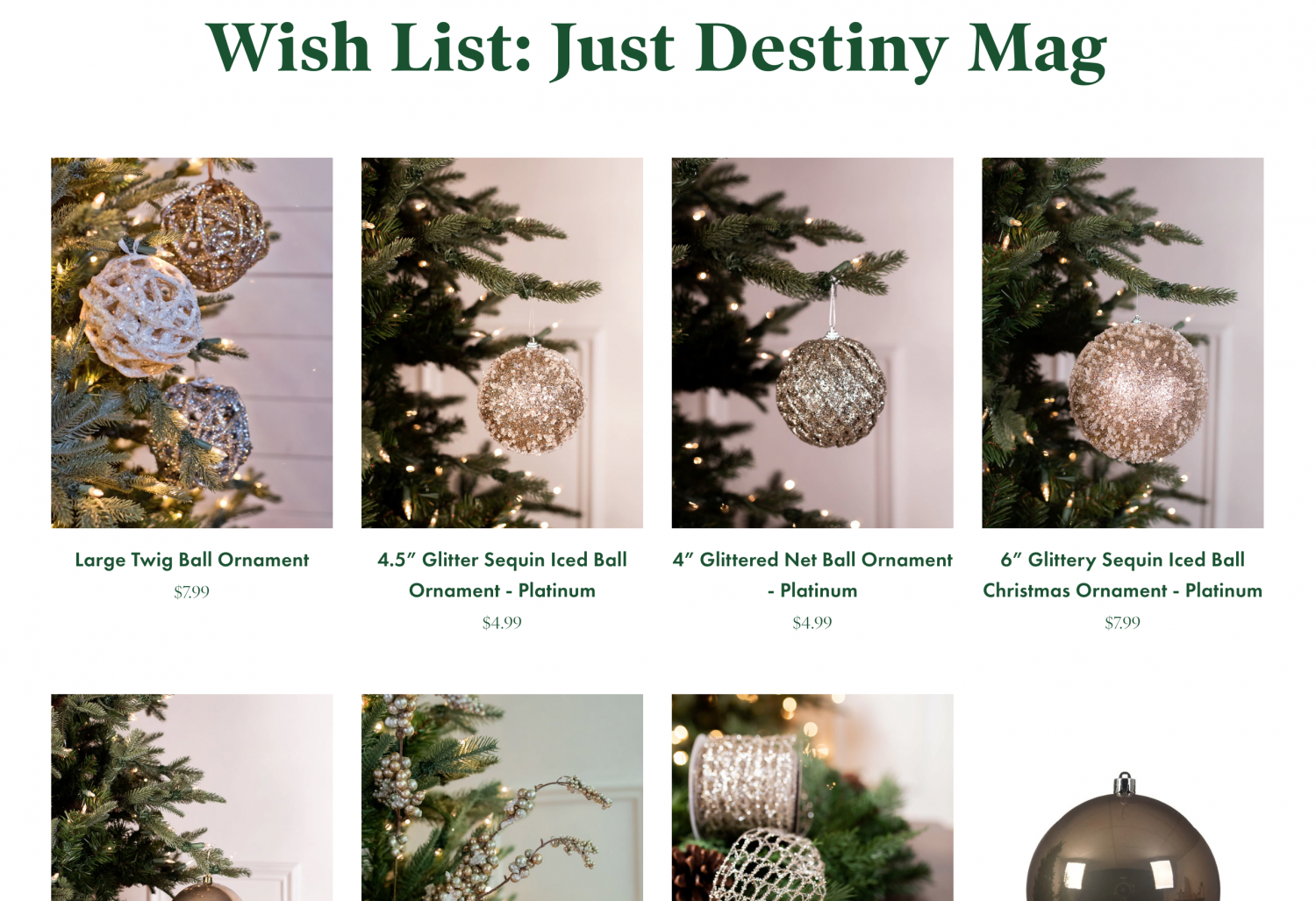 If you're wondering how much of each to get a good rule of thumb I heard from my friends at The Decorators Warehouse is to match the height of the tree with the number of ornaments you get! So for a 9ft tree I would get about 9 of each ornament of stem combo. This will make for a very full tree that is decorated 360 degrees. Sometime you will need less if your tree is backed into a corner!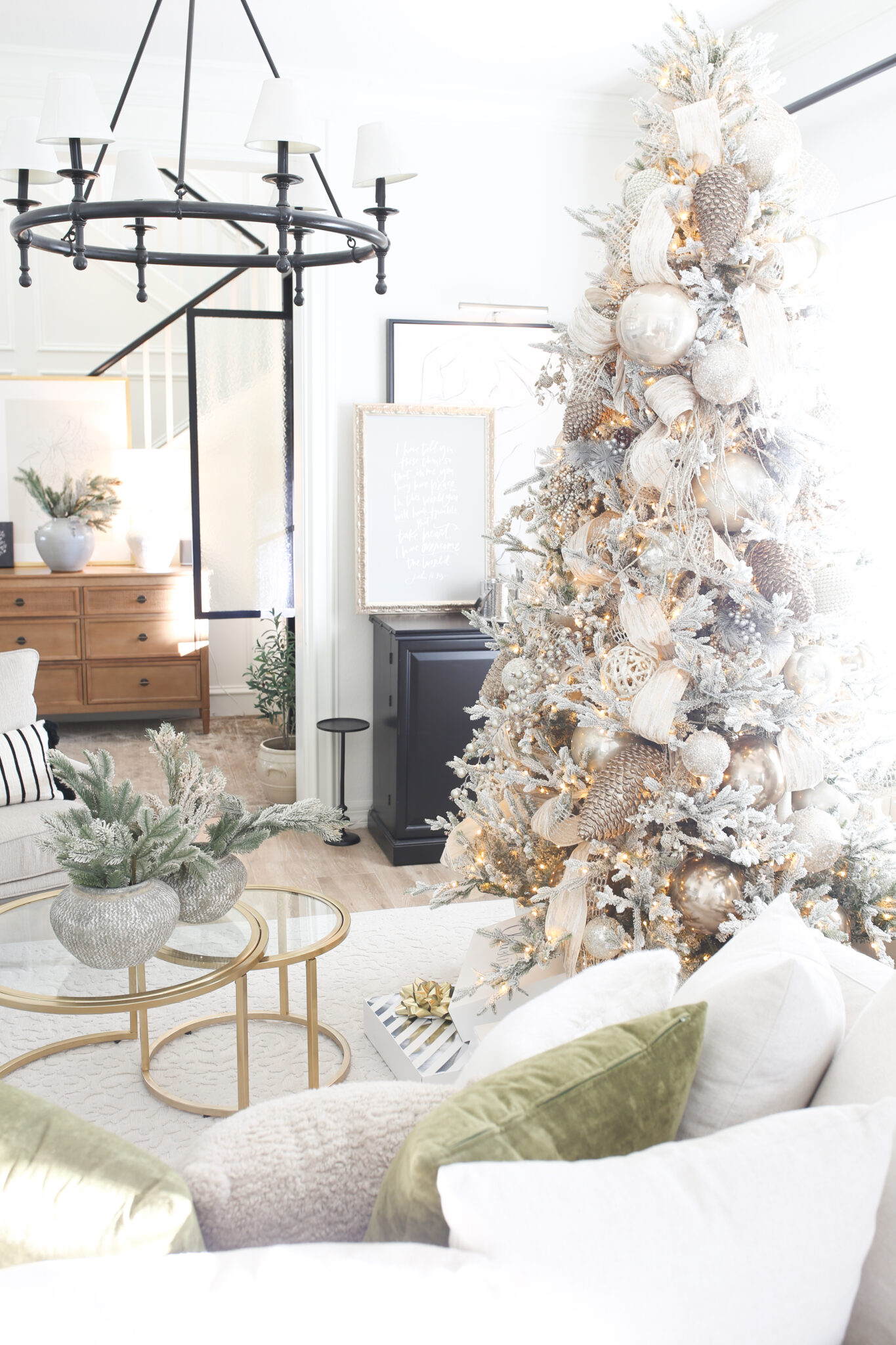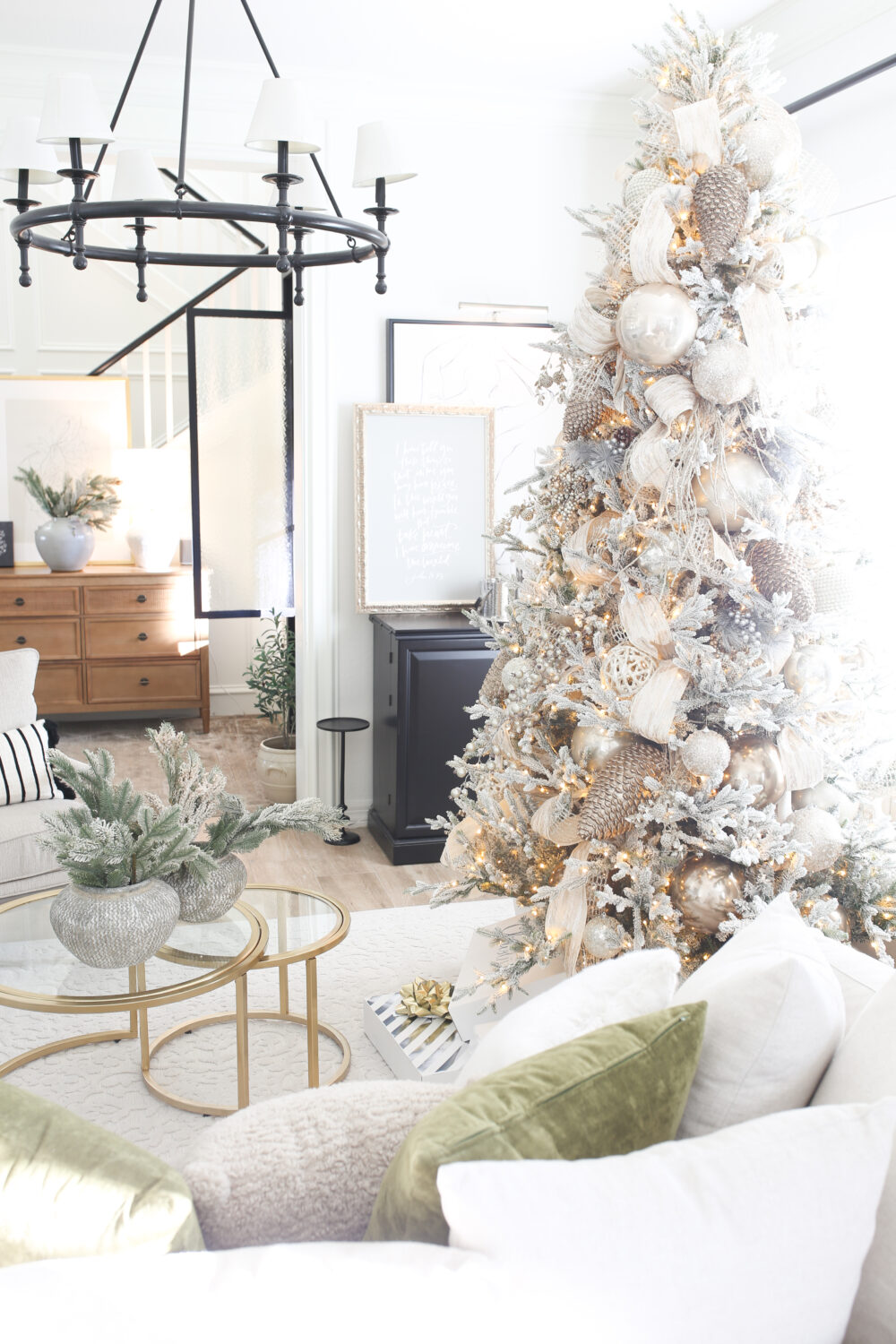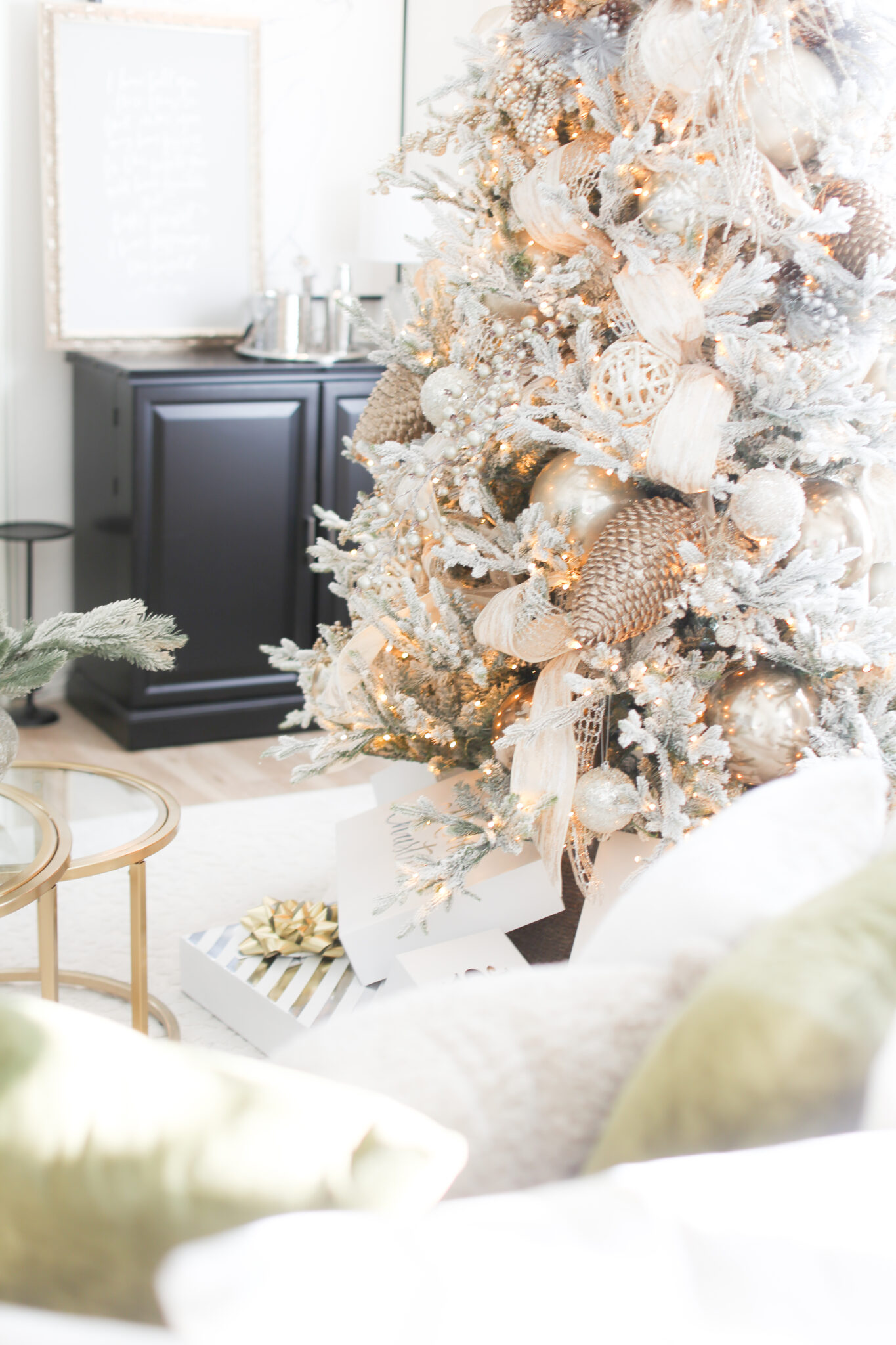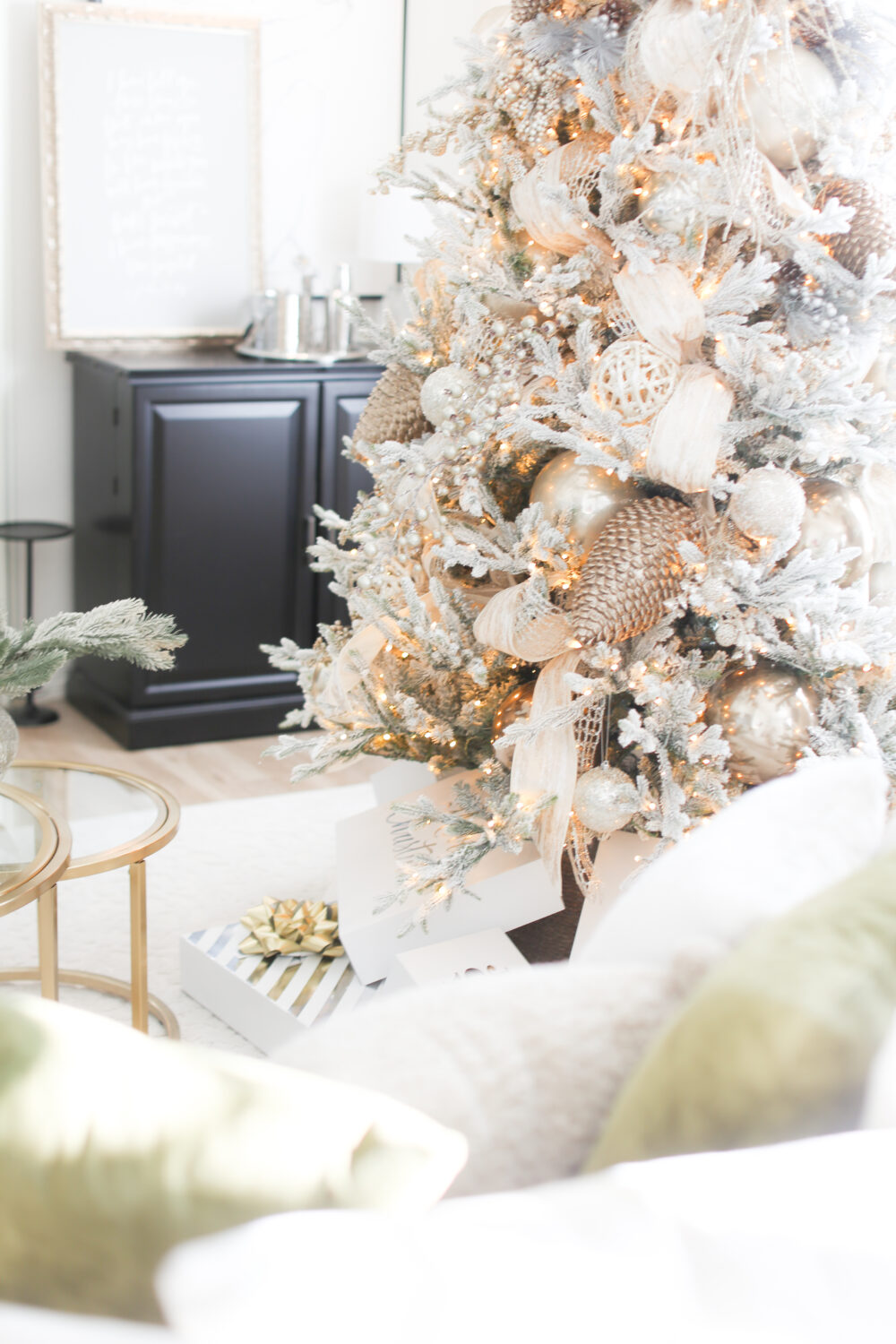 For your own elegant Christmas tree ribbon order I would get 3-4 spools each of 2.5×10 inch ribbon design for a 9ft tree like mine.
Check out some of my friends from all over the interworld as they decorate their trees this year with Decorators Warehouse! There are so many different styles and ideas!
Rustic Wild Arrow | Start At Home | Giggles Galore | Blue Gray Gal
Just Destiny Mag | A Blissful Nest | Our Signature Swag | TX Sized Home
Megan Martin Creative | Life By Leanna | Live Sweet | Cuter Tudor