Outdoor Family Time with Bassett Furniture Outdoor Collection
This post is sponsored and may contain affiliate links, please read my disclosure policy.
This post is sponsored by Bassett Furniture. All opinions are mine.
While the rest of the world is heading indoors, we are heading out. Right now we are enjoying the most beautiful outdoor weather of the year. After three months of record breaking heat, this Phoenix native knows the best is yet to come. Oct-March we will be enjoying some cooler temperatures and even though things do get chilly when night falls, we still make plenty of time to sit outdoors and enjoy family time.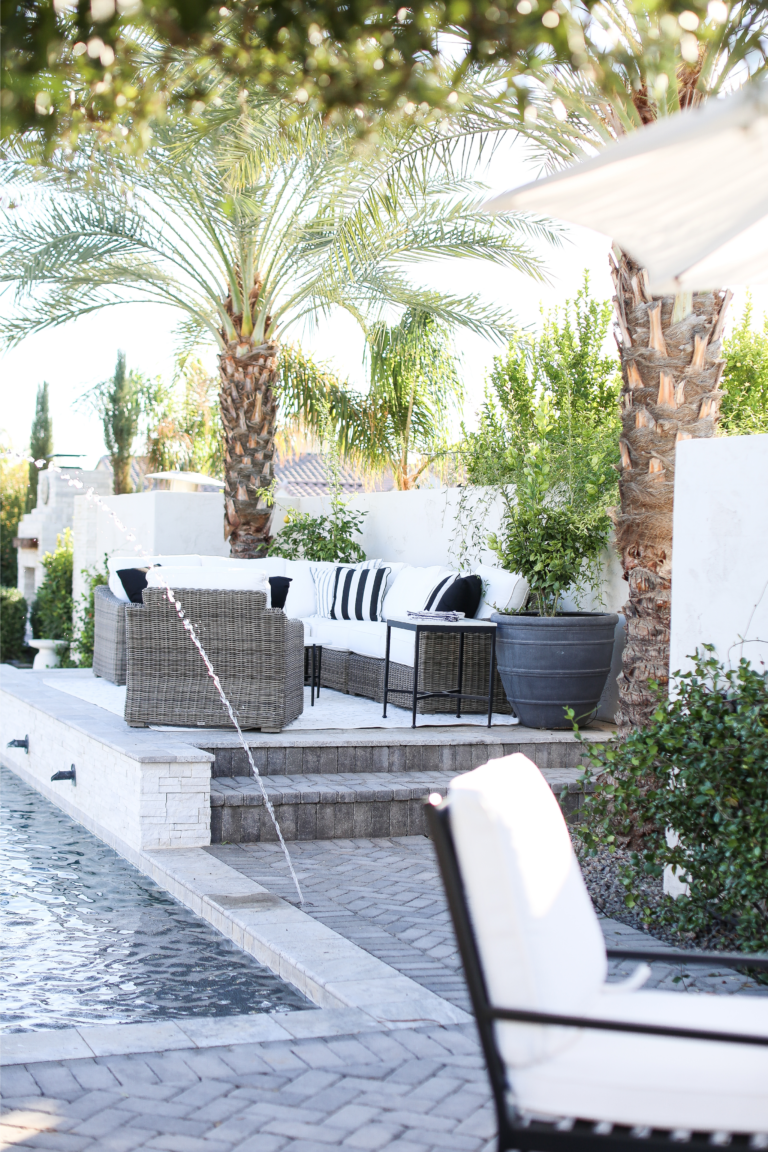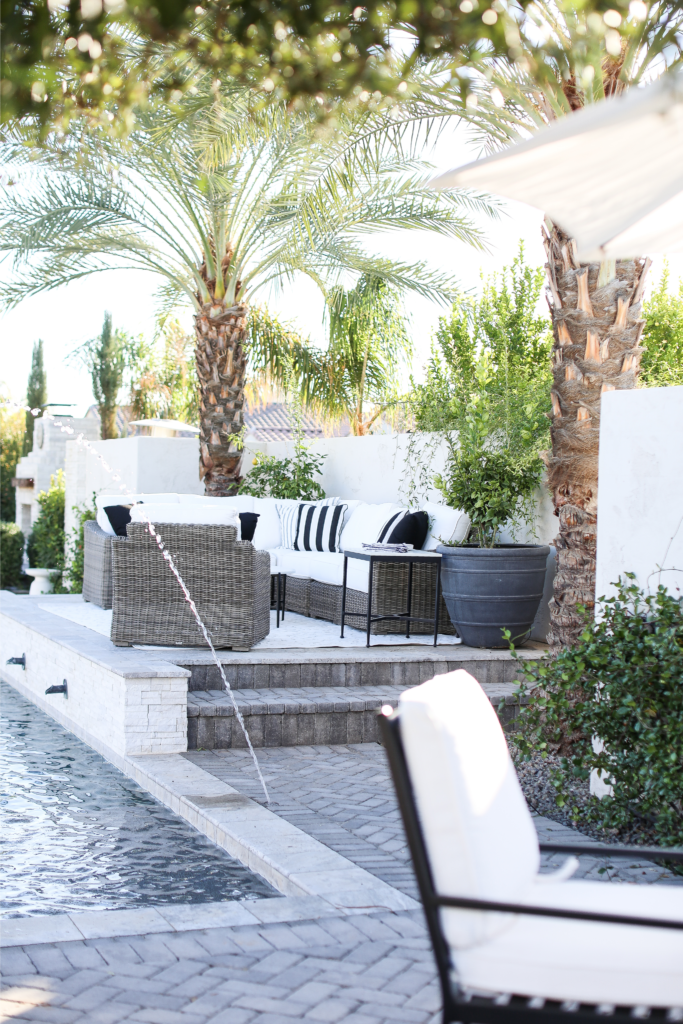 Thanks to the amazing selection of Bassett Furniture's outdoor collections, we now have plenty of stylish seating to help us enjoy this outdoor weather to the fullest. For more than 100 years Bassett Furniture has been perfecting the art of crafting furniture full of American ingenuity. They are dedicated to making comfortable, long lasting furniture to enjoy for generations!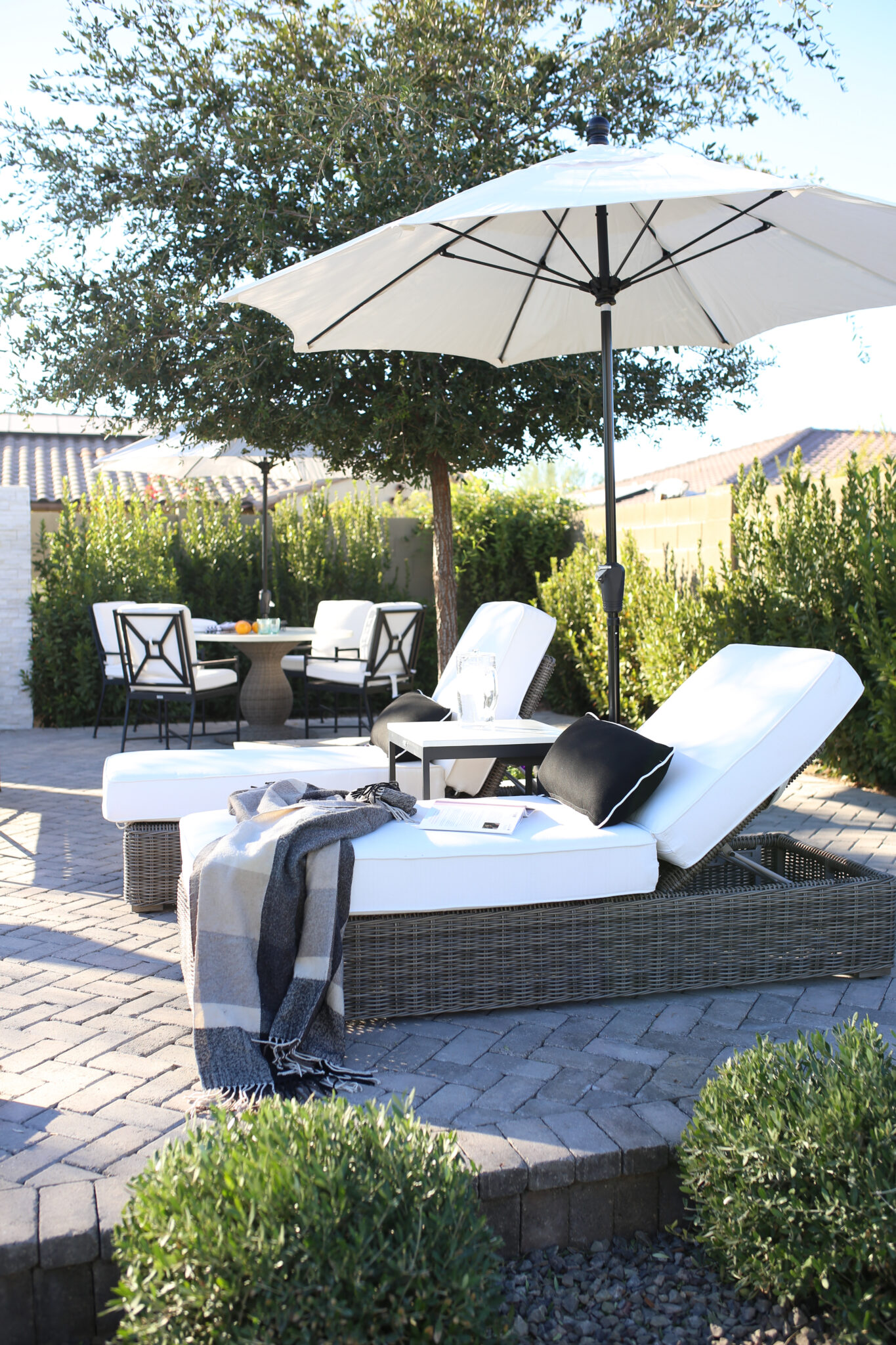 Patio Plans
We have two large patio sections right by our pool that needed to have a more cohesive look, so I designed a little place I like to call a Resort Style Getaway!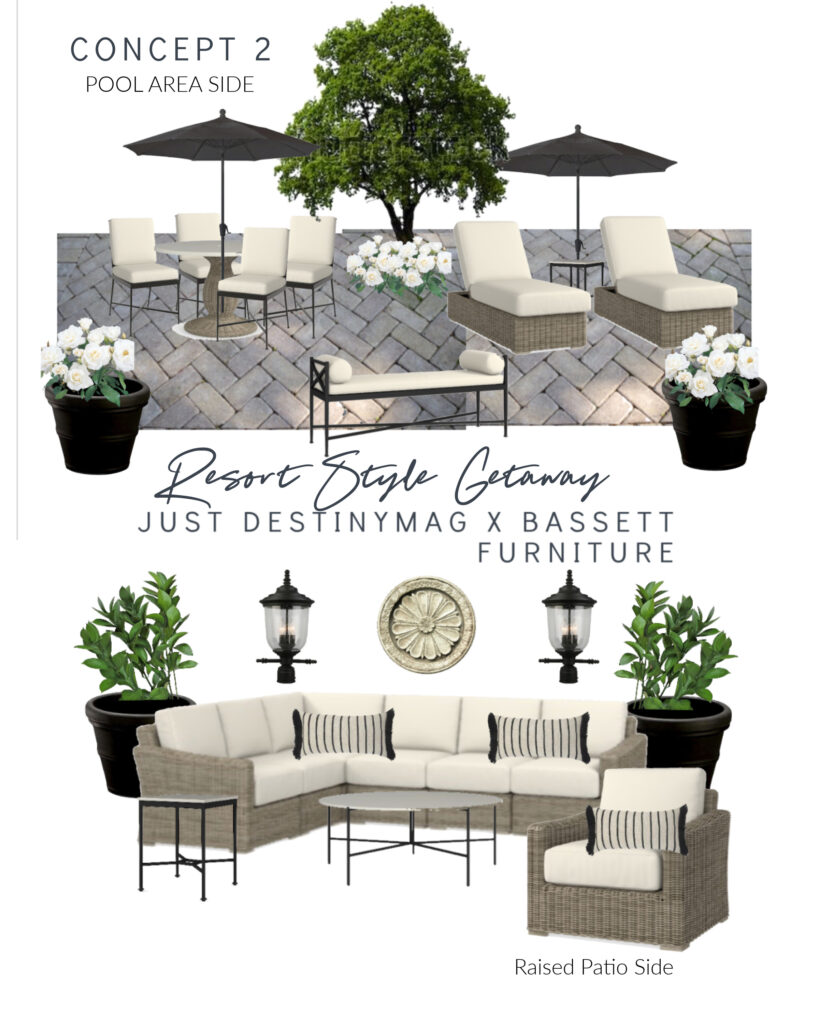 So many people have compared our yard to a five star resort and even though I didn't necessarily design our yard with a resort in mind, I guess living around some of the best resorts in the world I naturally brought that look to our outdoor space.
I wanted a living space with lots of seating for gatherings, a dining space for those al fresco brunches, and spa poolside chaises that invite you to relax. I imagined this place as a real retreat for our family and friends with a luxe feeling!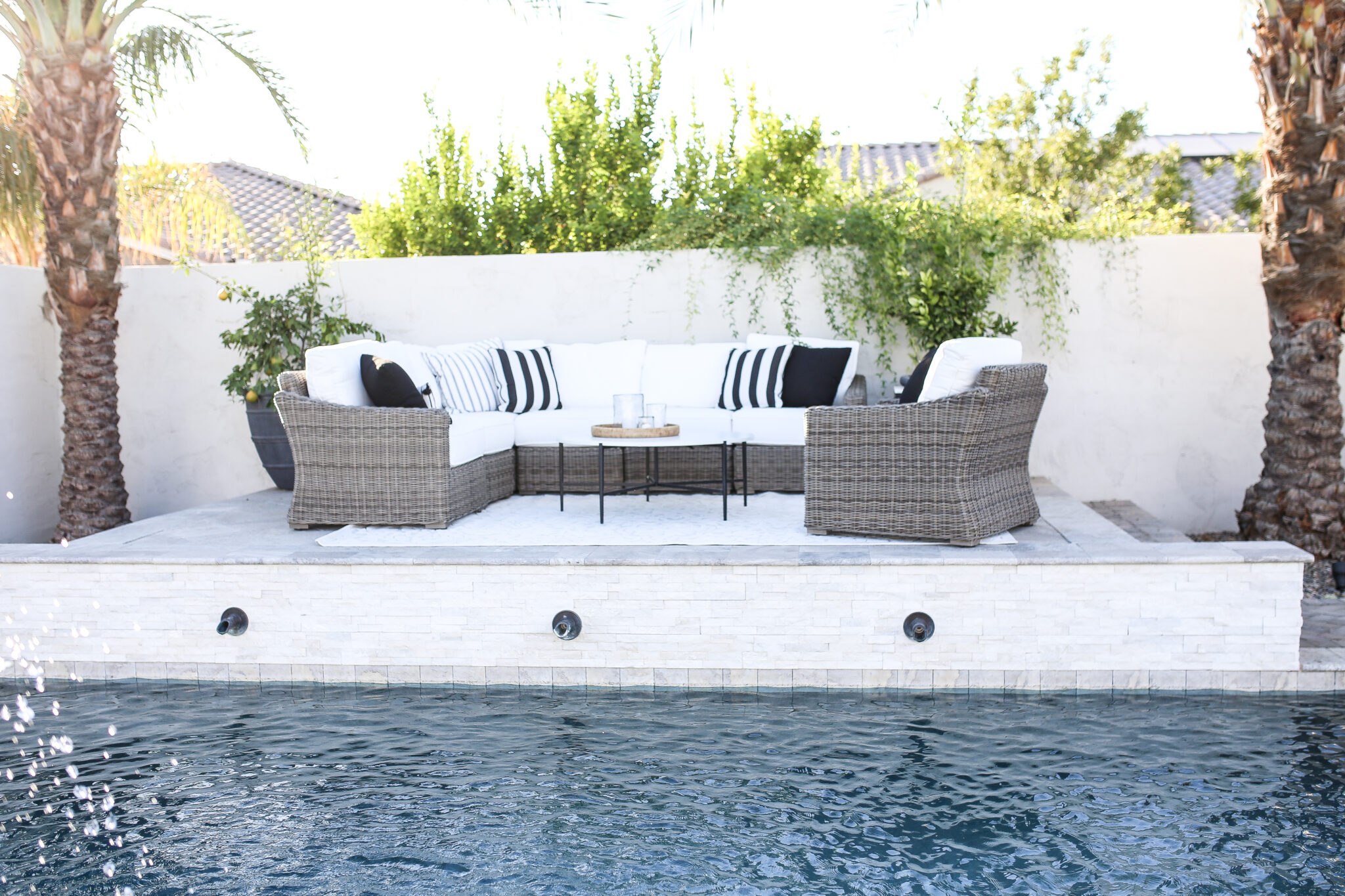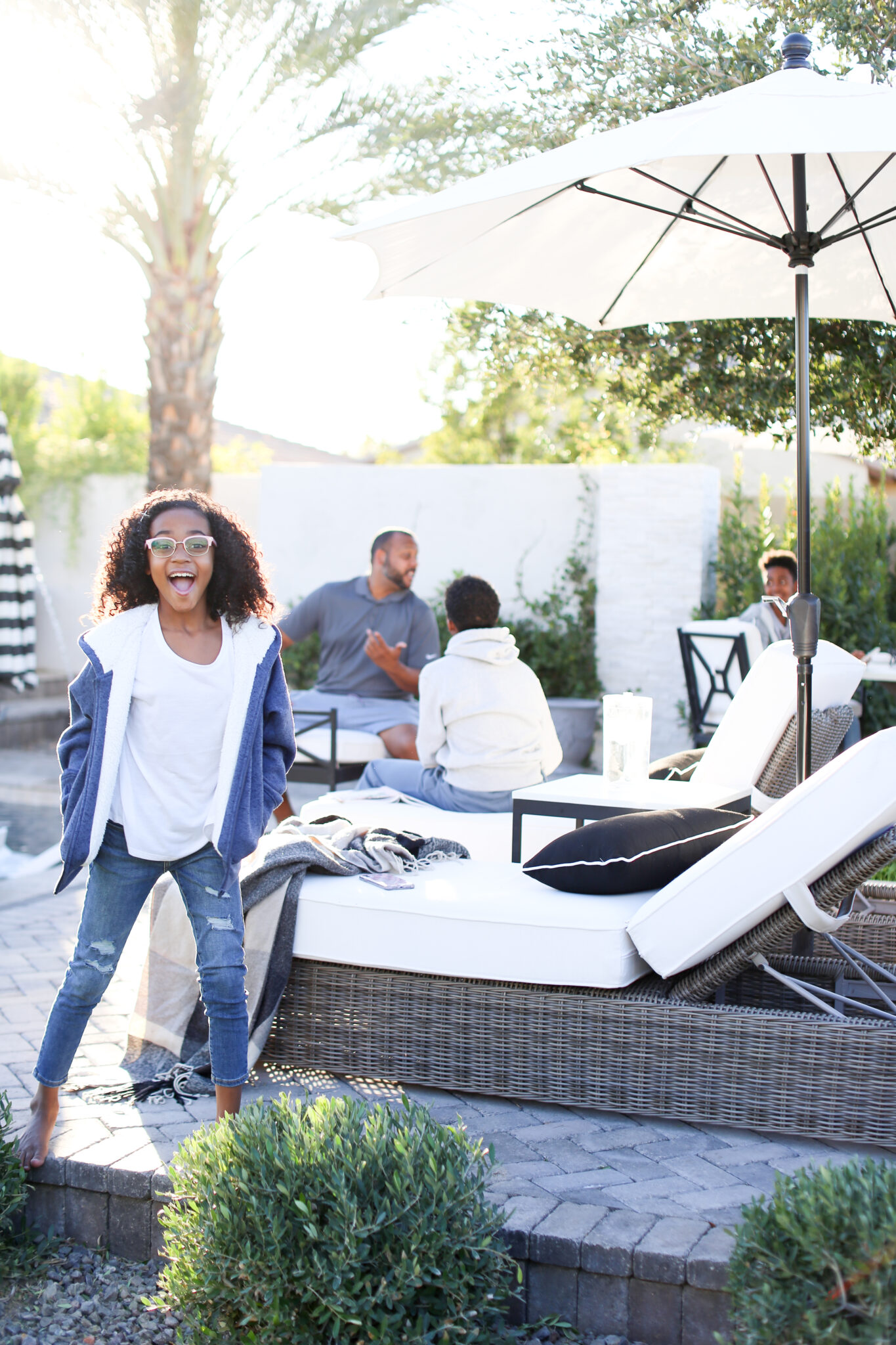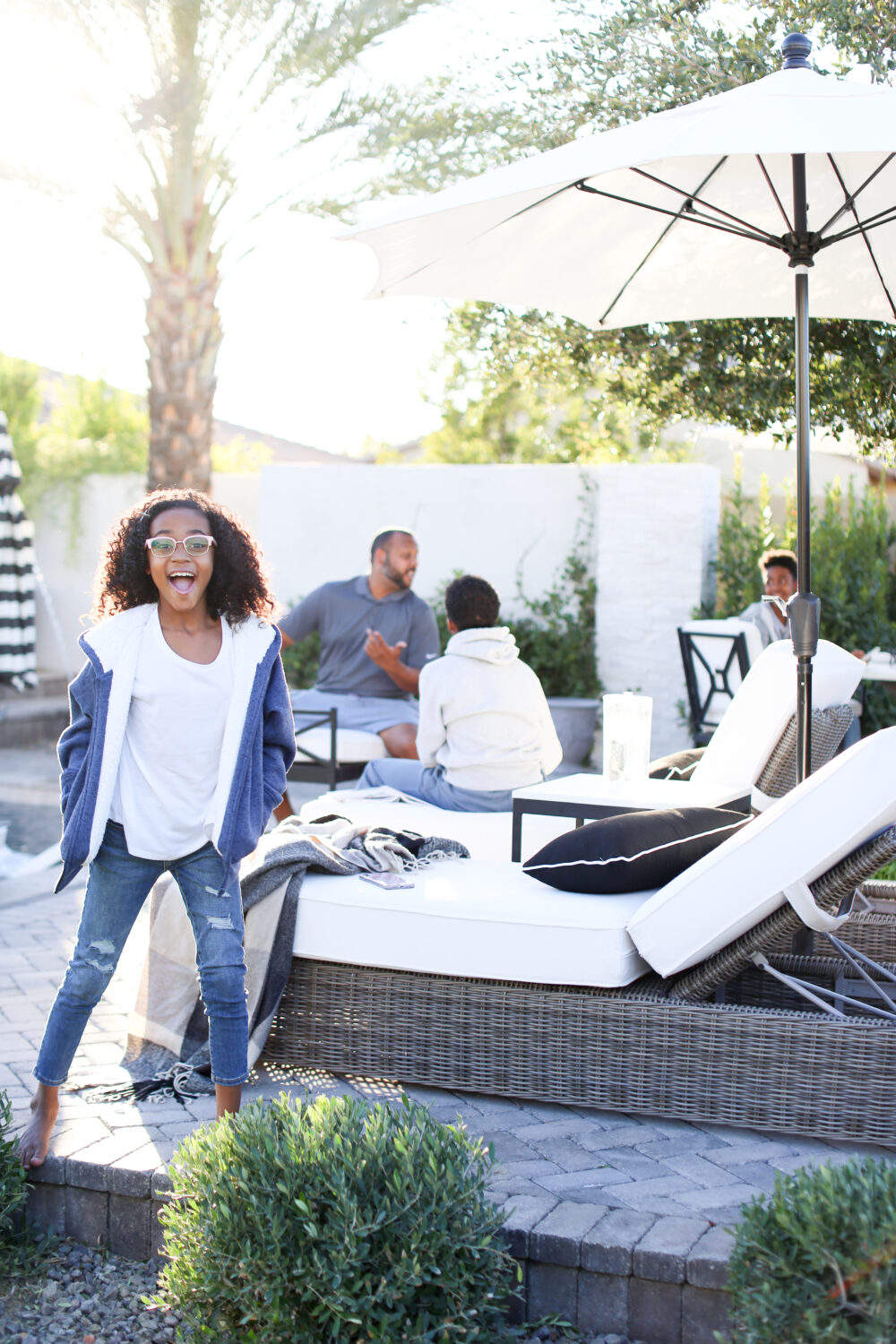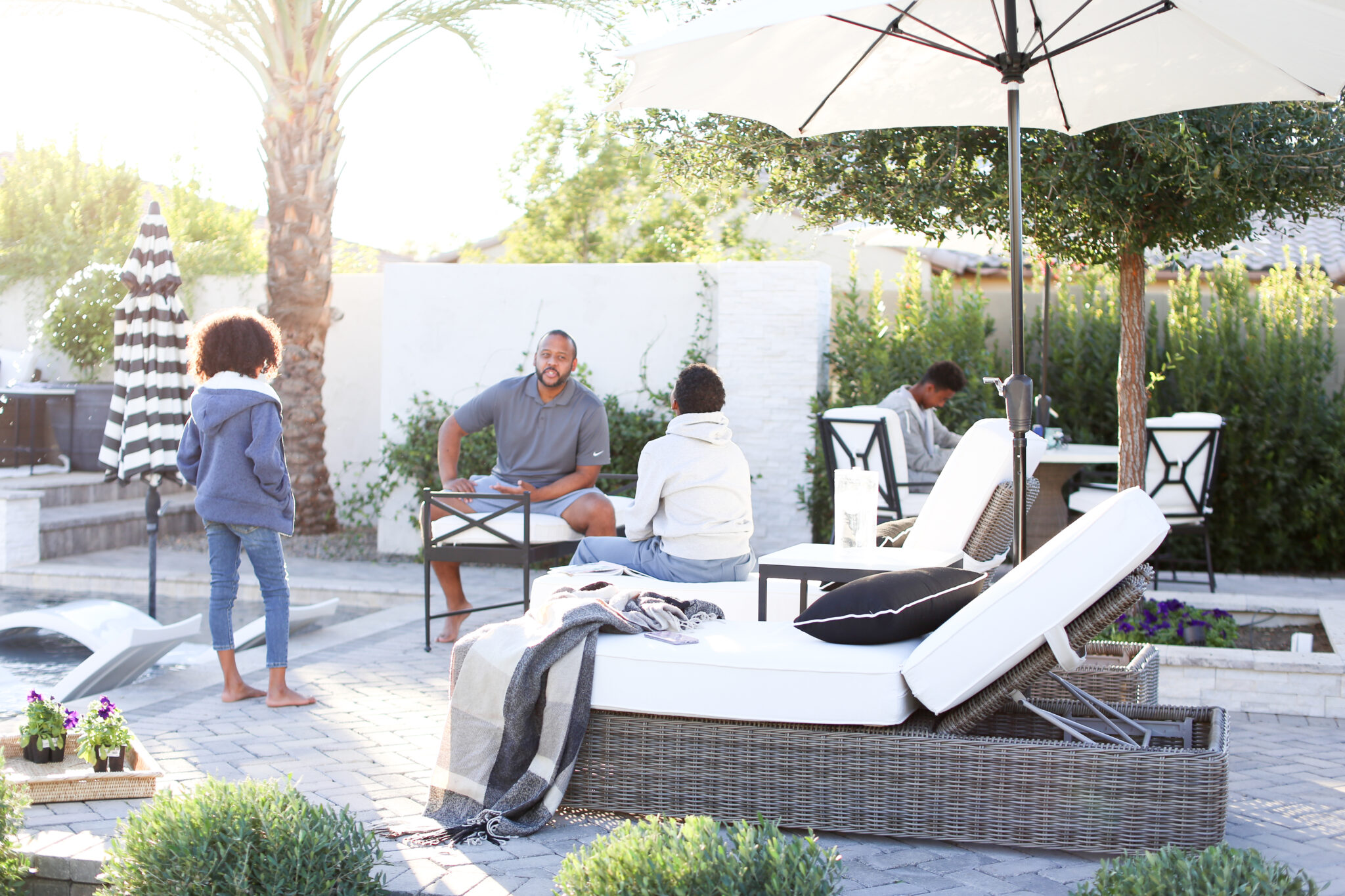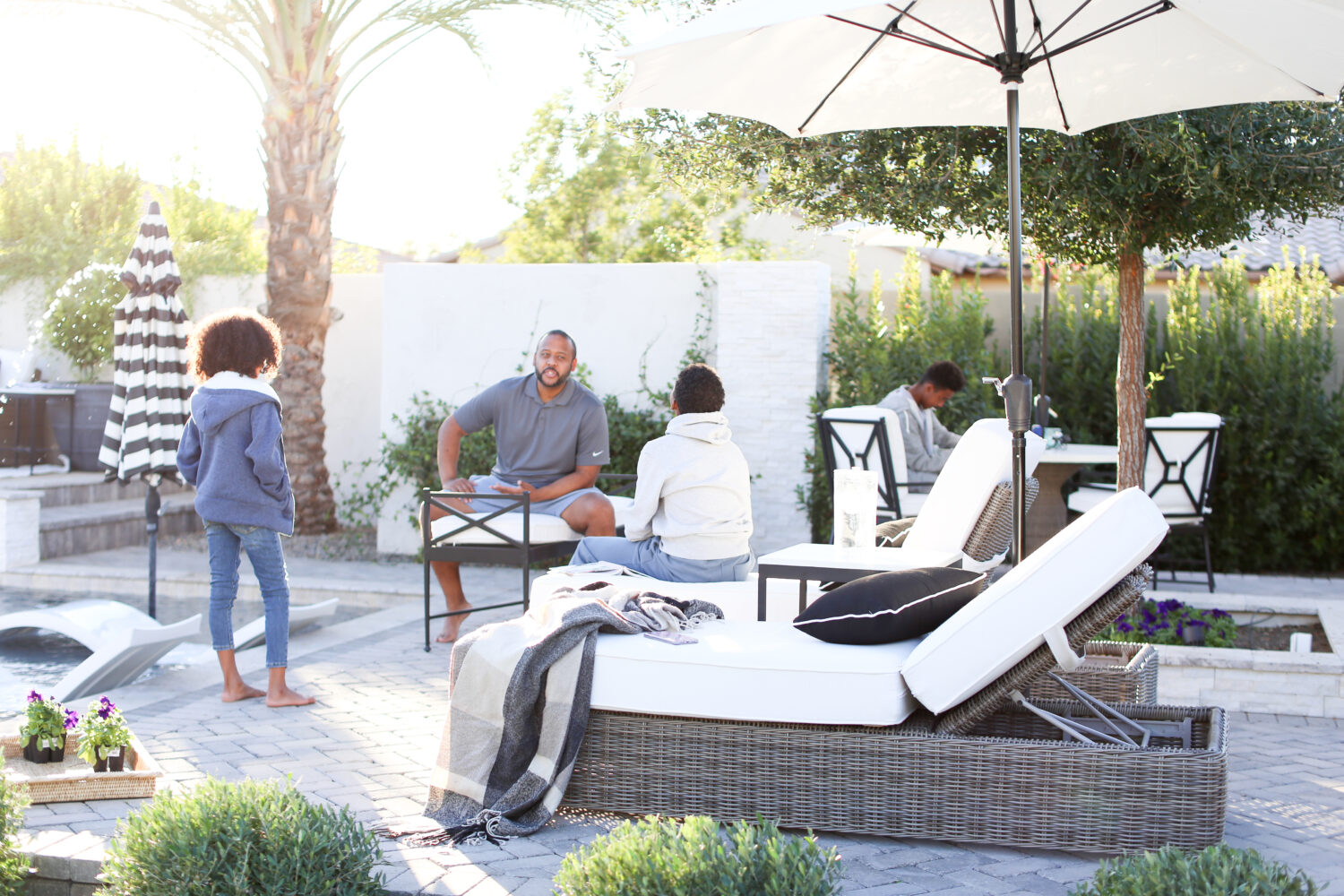 We were so excited to give this area it's best look. After imagining all the possibilities and landing on this design it's nice to have a coordinating and comfortable set of furniture that we can enjoy!
Bassett Furniture Outdoor Collection
Walking out from the house your immediately drawn to the poolside area. You get the feeling of not only having a place to gather but it's also SO relaxing and calming. Bassett outdoor cushions are surprisingly soft! I kept running my hand over the performance fabric because it felt so comfortable! One you take a seat on any of the seating, you really understand how we could spend all day out here!
Our pool has two water features that give you the sounds of running water from all areas of the patio. It legit sounds like a spa out here you guys! During the spring the jasmine on the trellis will be in full bloom but right now you can enjoy the scent of the 50 bay trees that line our yard.
I also love the fact that the neutral color scheme I chose doesn't take away from the natural beauty of our yard. So with four out of the five senses ( sight, smell, hearing, and touch) going off, you get a full lux experience! Pure bliss.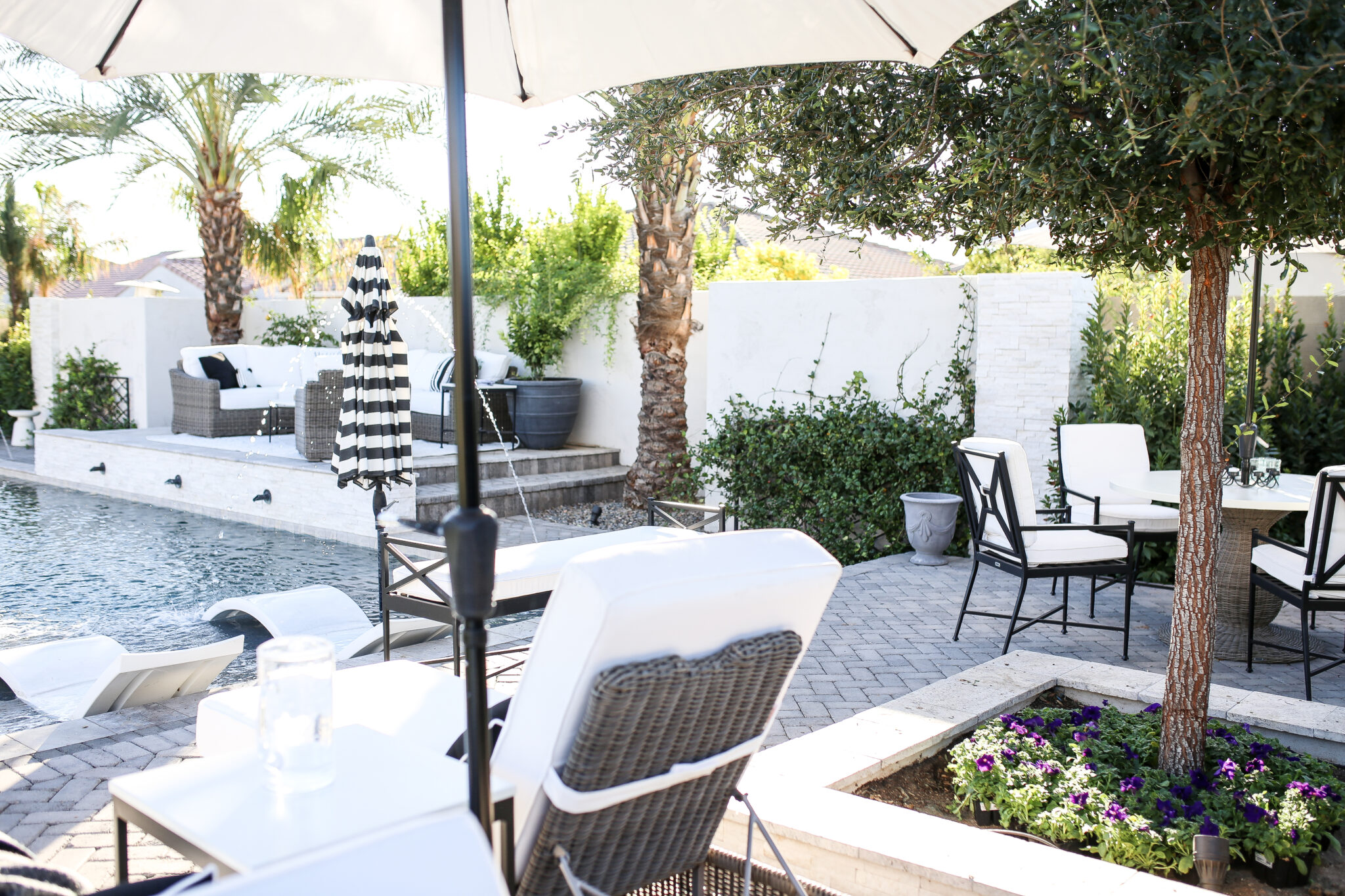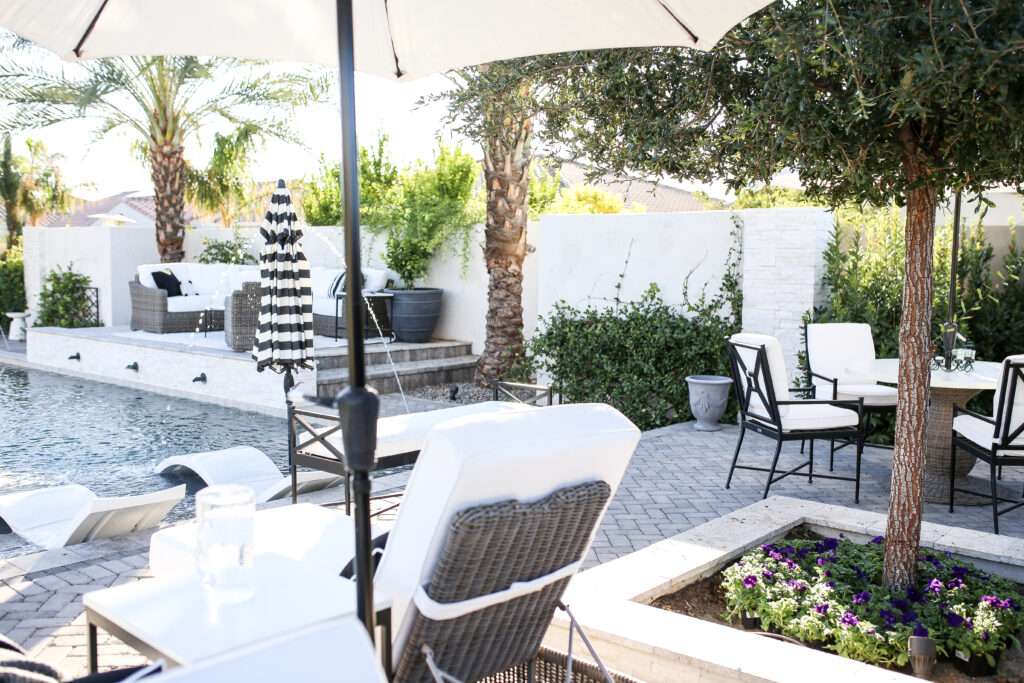 I used two Bassett Furniture outdoor collections to create a style that is both casual and elegant! Just my aesthetic. The Huntington Collection is made of Bassett Performance resin wicker and the Florence Collection is made of aluminum alloy and is the optimal choice for durability in outdoor furniture. These two materials do great in Phoenix with high heats during the summer!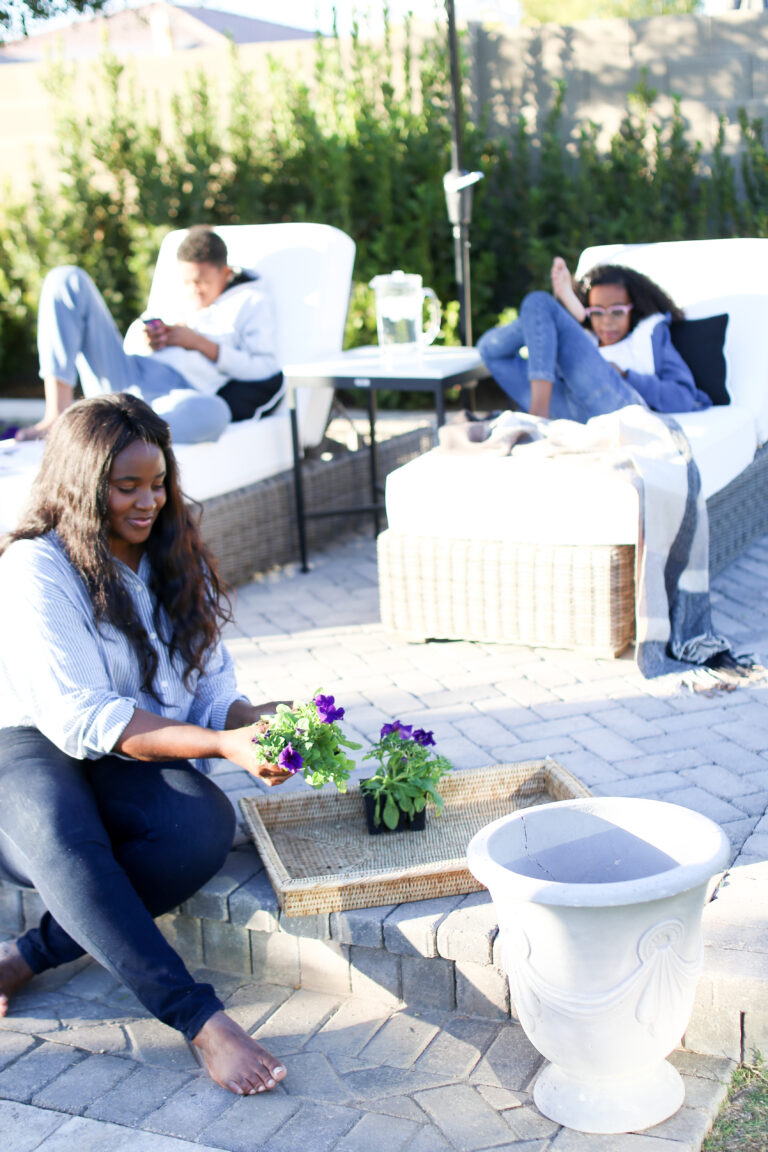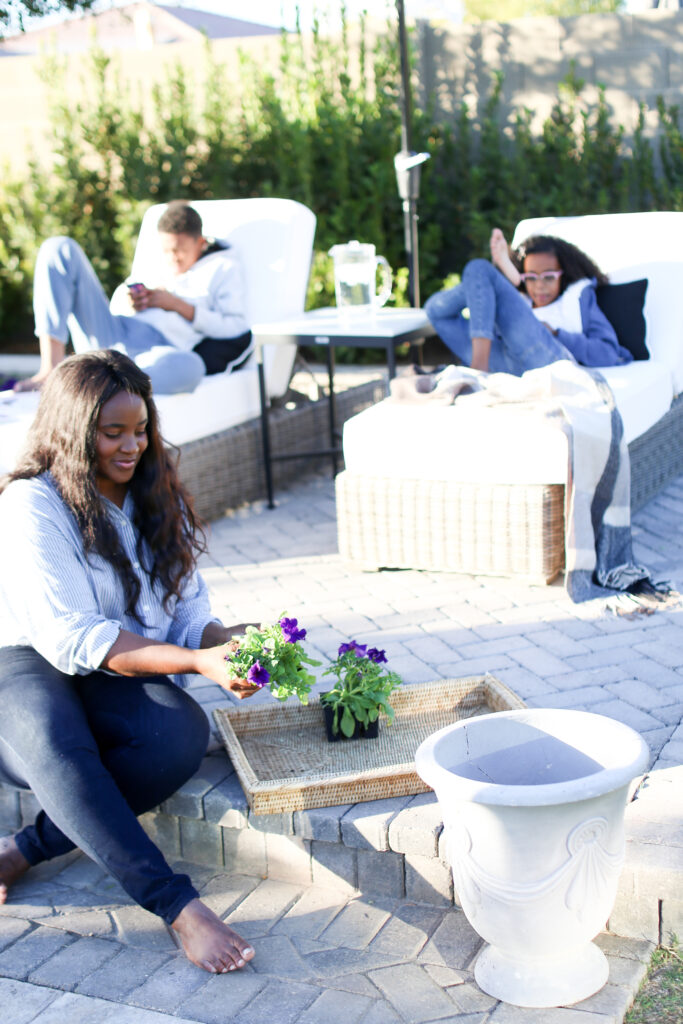 This part of the poolside patio is split, so on one side of the oak tree we have Huntington loungers dressed up in a white performance fabric called Snow. I know I know! WHITE! Yes, I did choose white and because it's a performance fabric I'm trusting it will hold up well. We also invested in some awesome outdoor covers so we will only be uncovering them when they are in use. Something I HIGHLY recommend to invest in if you are looking to upgrade your own patio.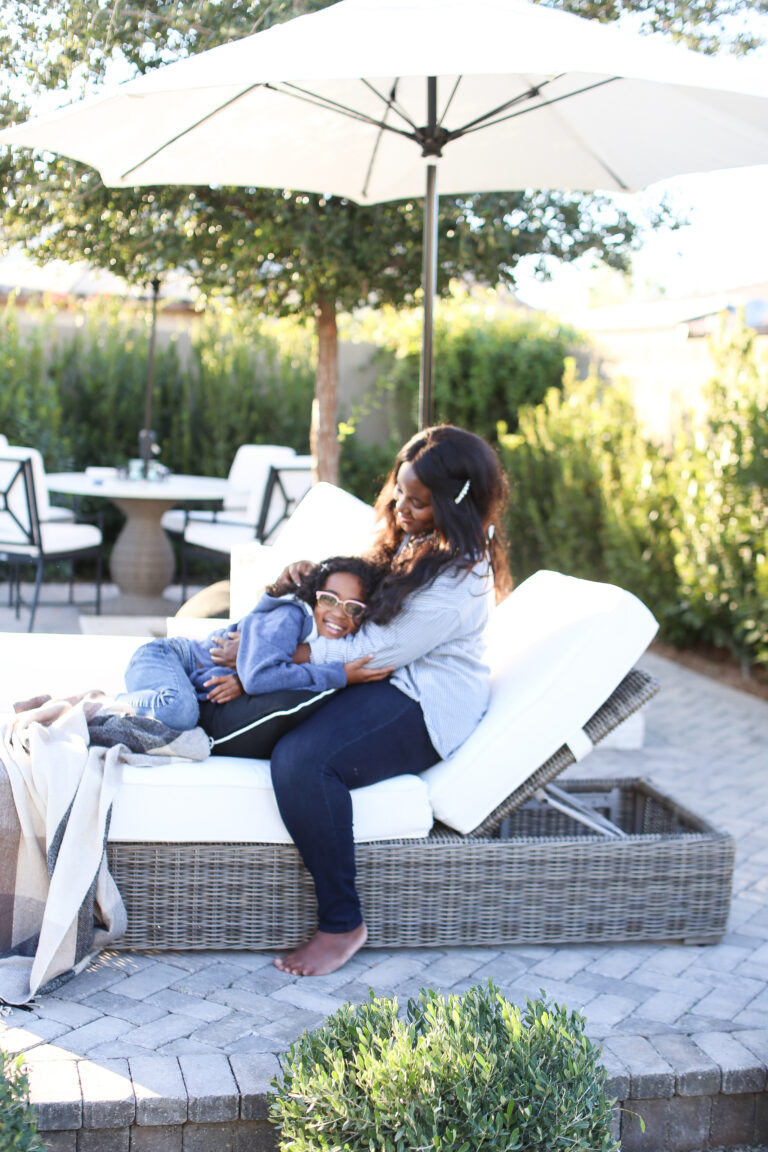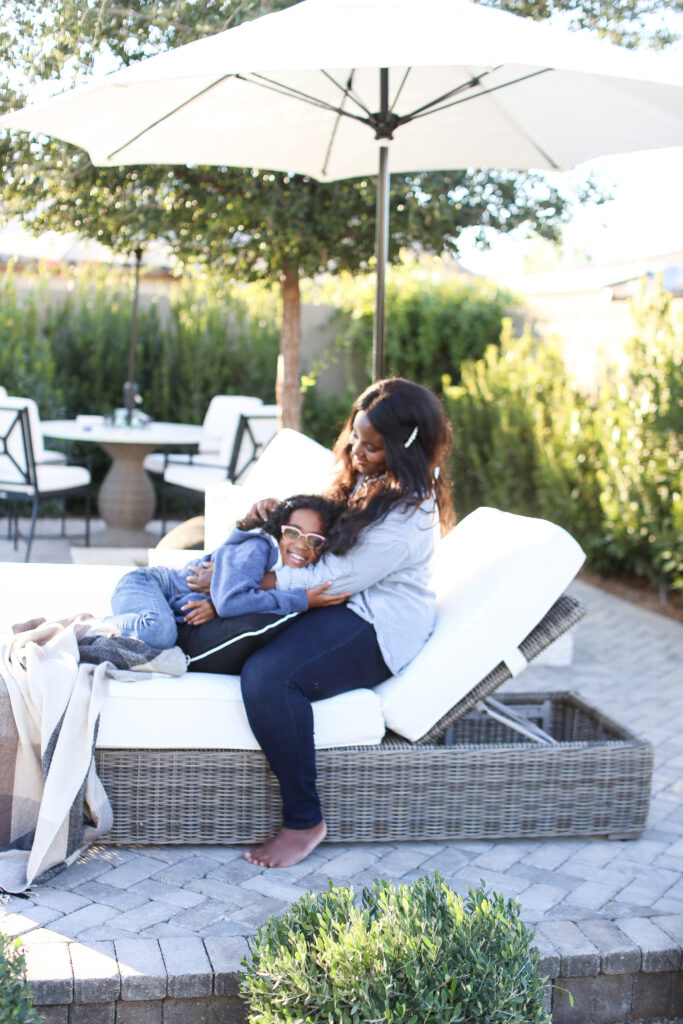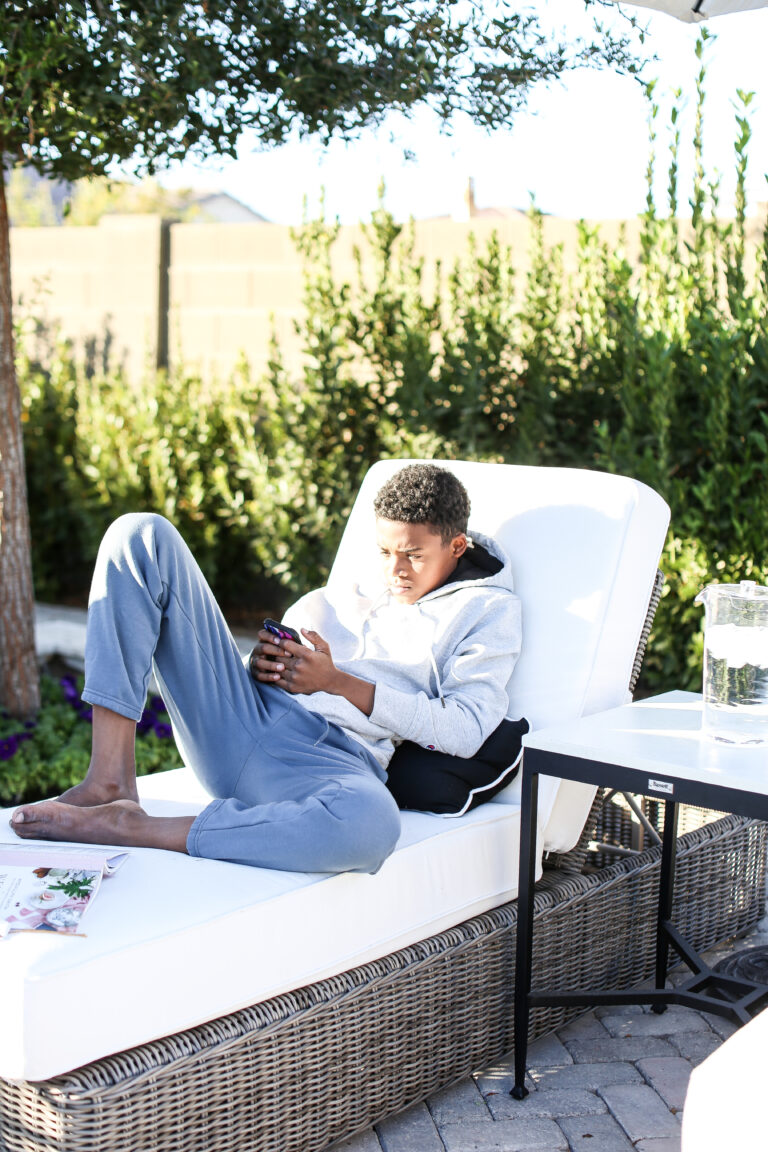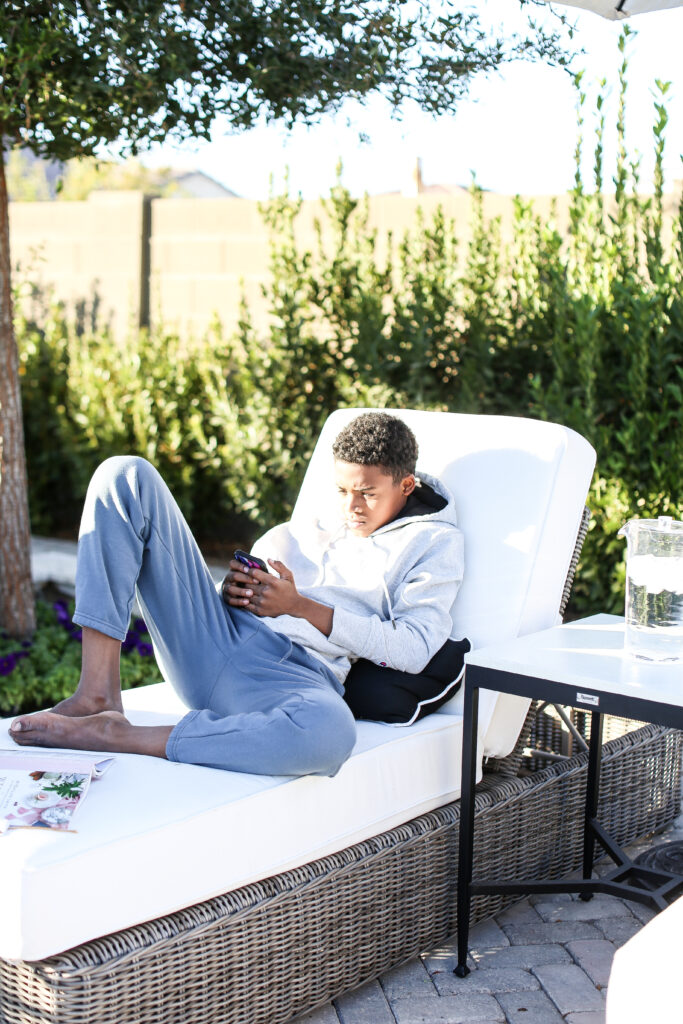 It's shaded by the Terrace Umbrella also from Bassett Furniture. I actually love to layout during the day especially this time of year. I also encourage the kids to go outside and get some sun so these are perfect for that too.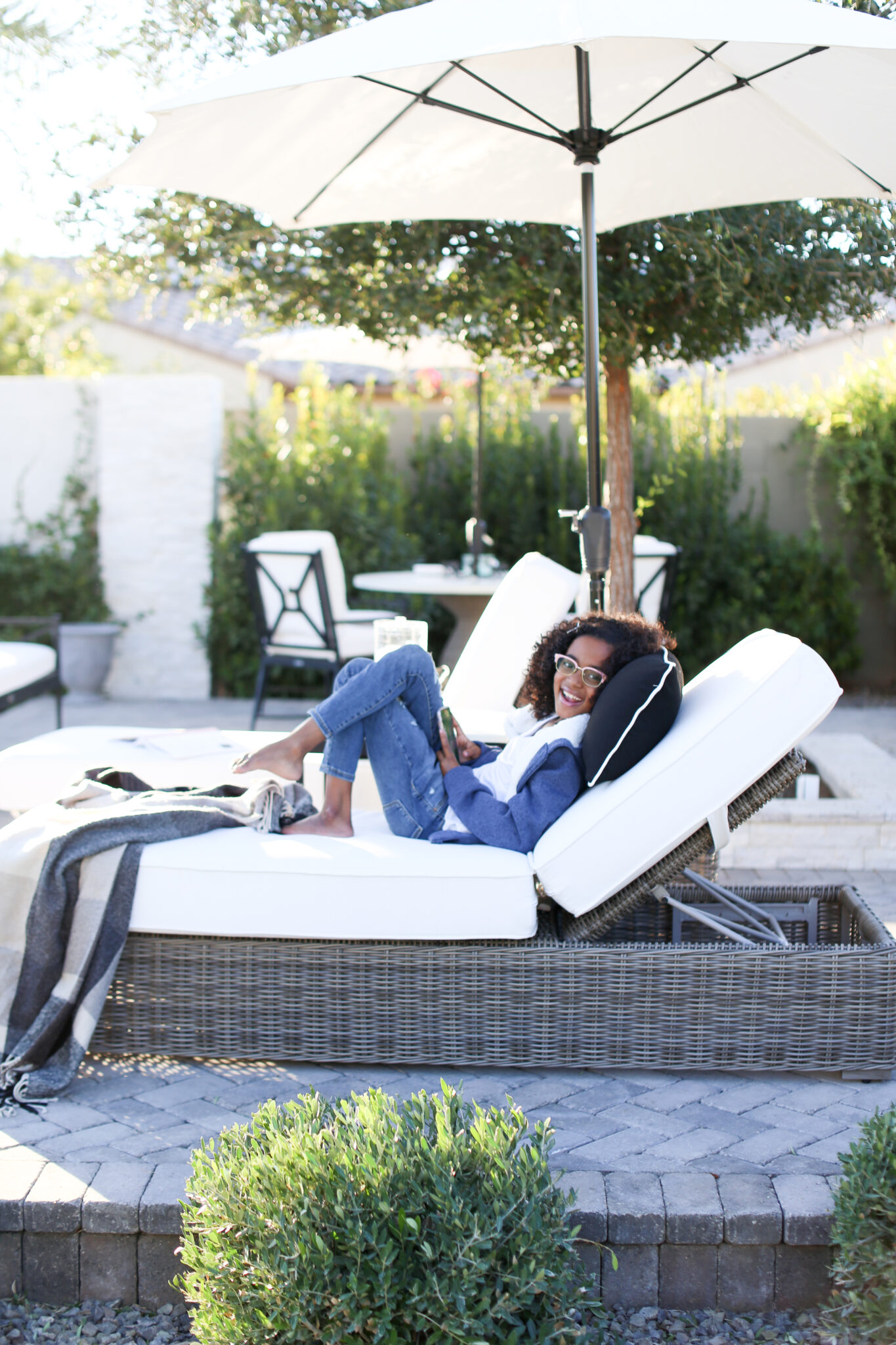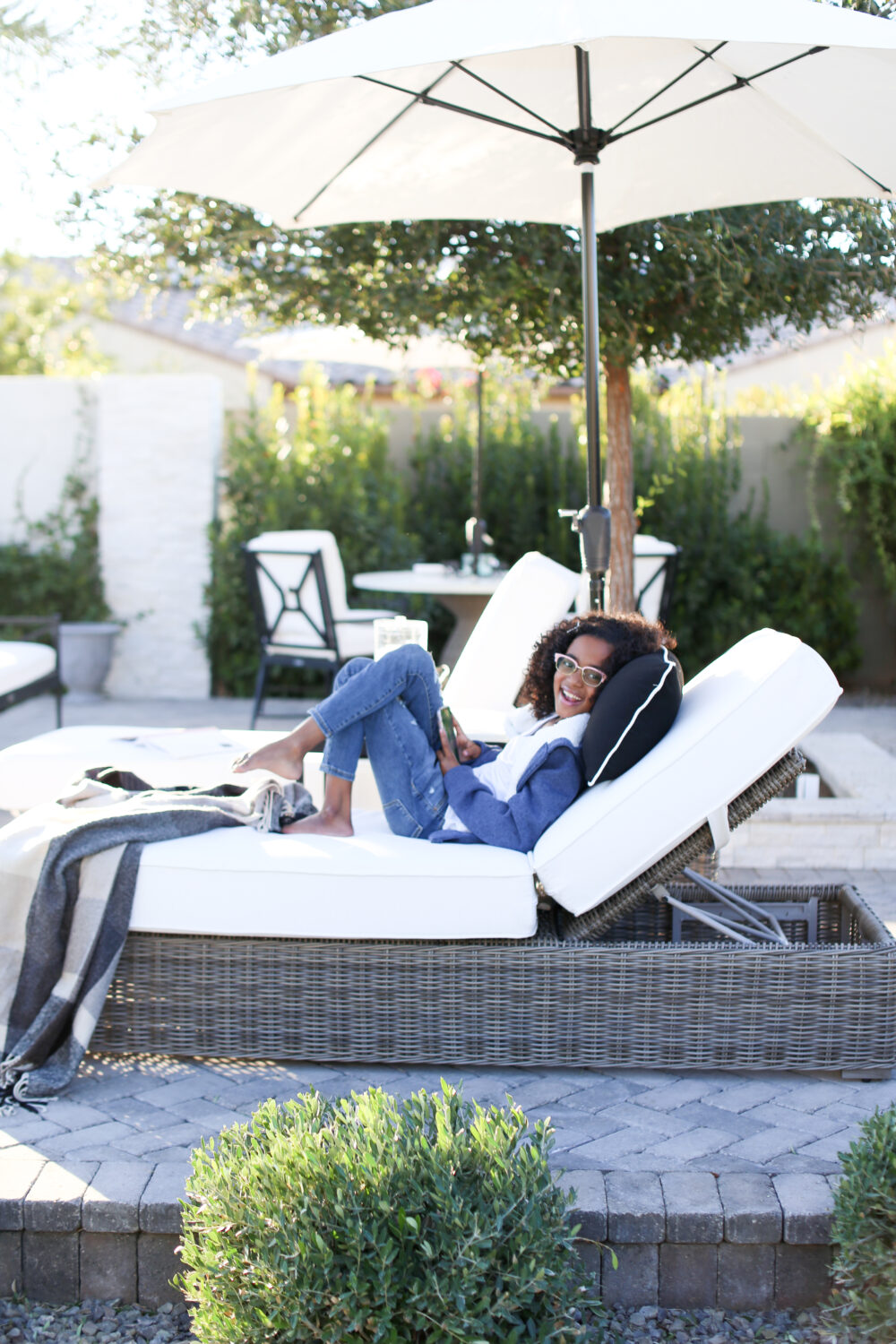 In the front of our patio we have a little bench for extra seating. During the summer it's a great place to take your shoes off and dip in the pool. But right now it's just a good place to sit and chat or jump on daddy!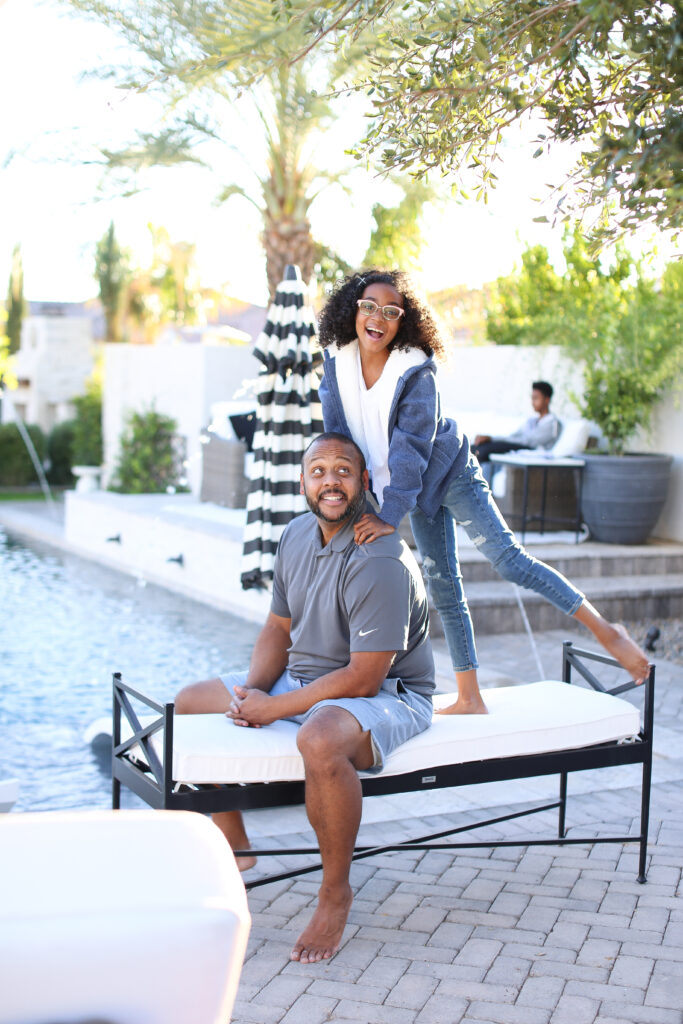 On the other side of the patio is a combination of the Hunting Collection, Savannah Round Dining table and Florence Collection Dining chairs. I knew I wanted a dining place since our pool is off the house. So this allows us to eat over here!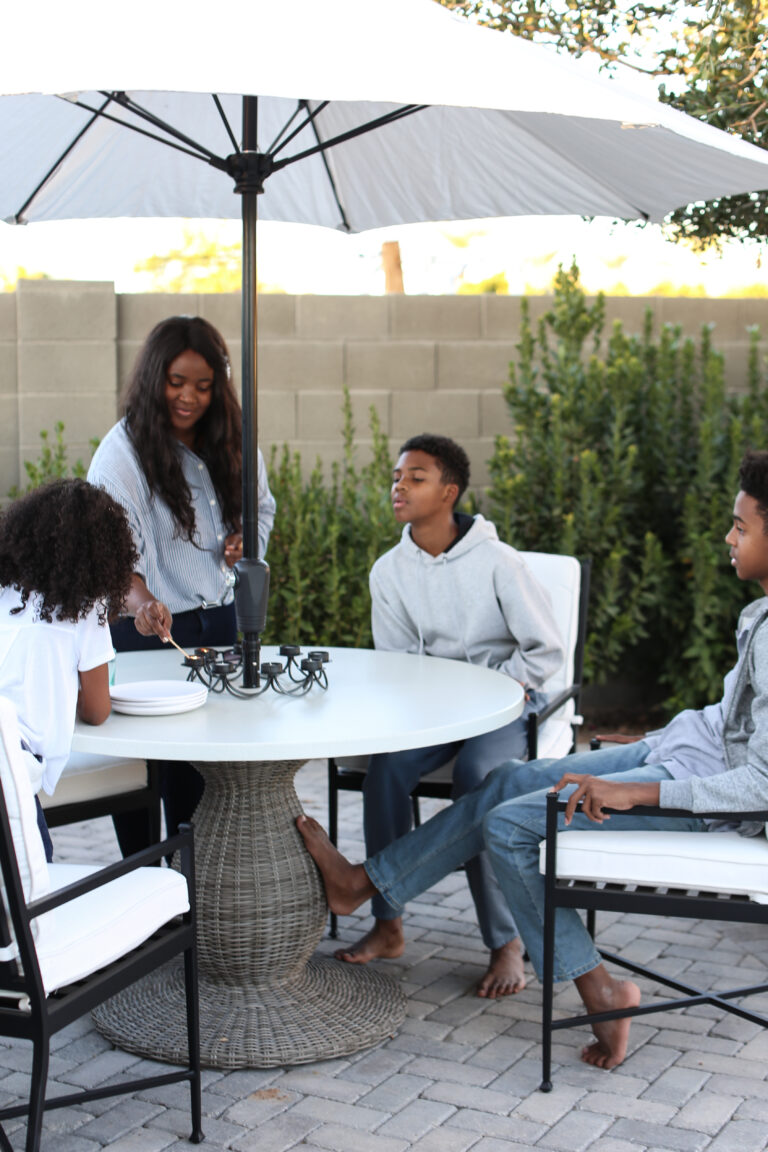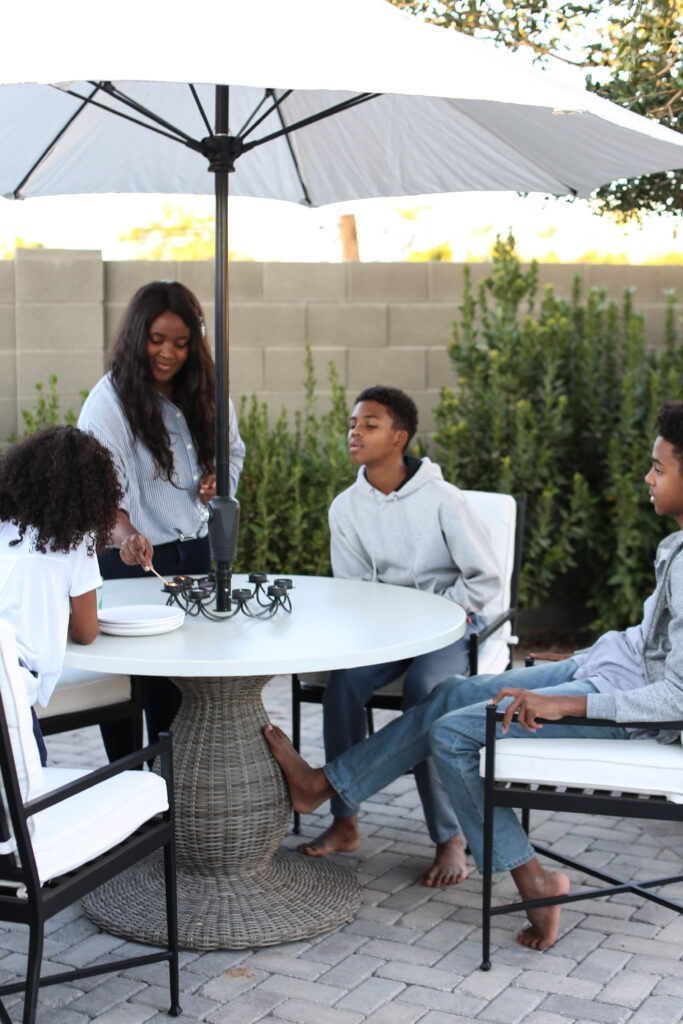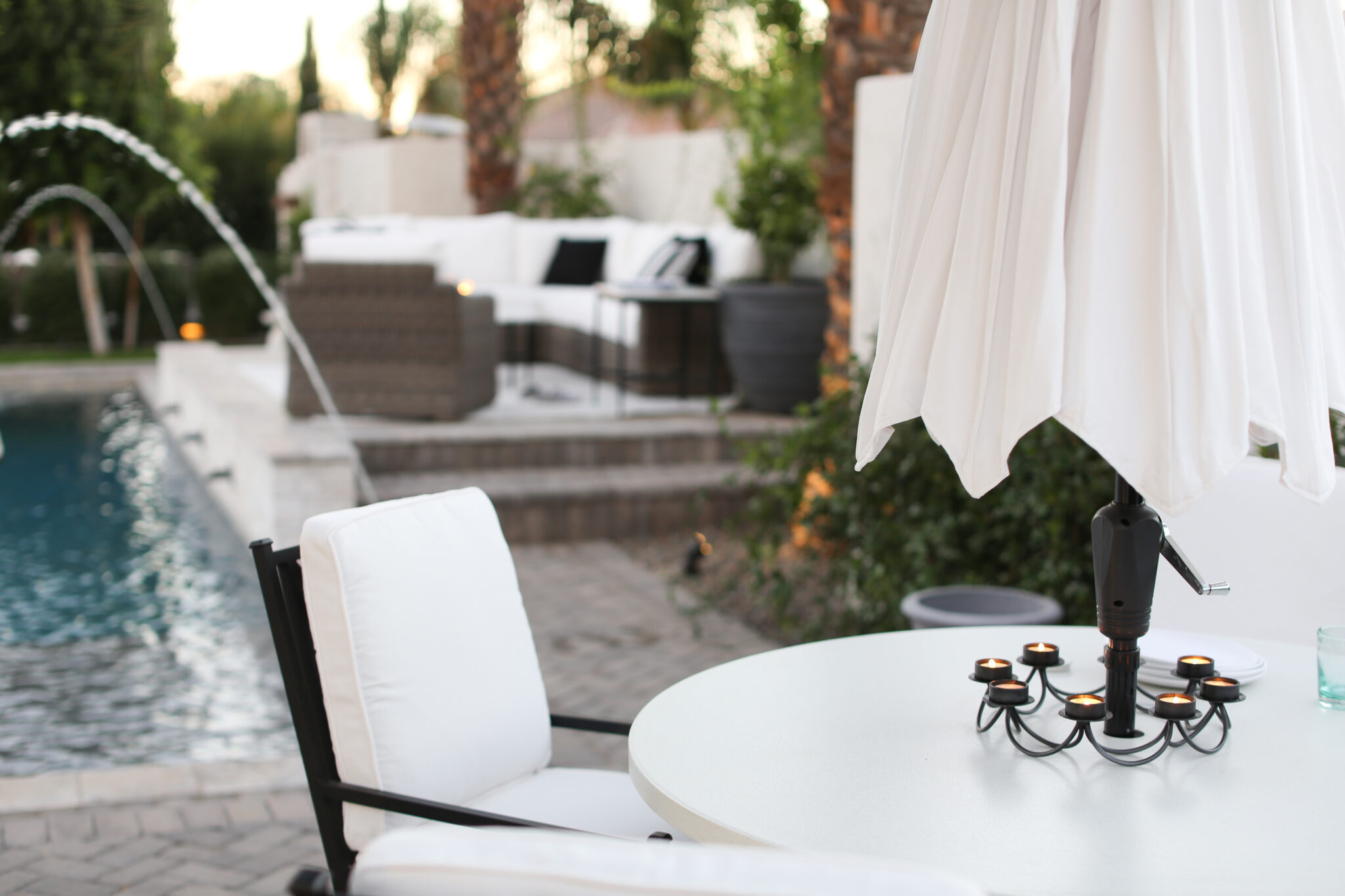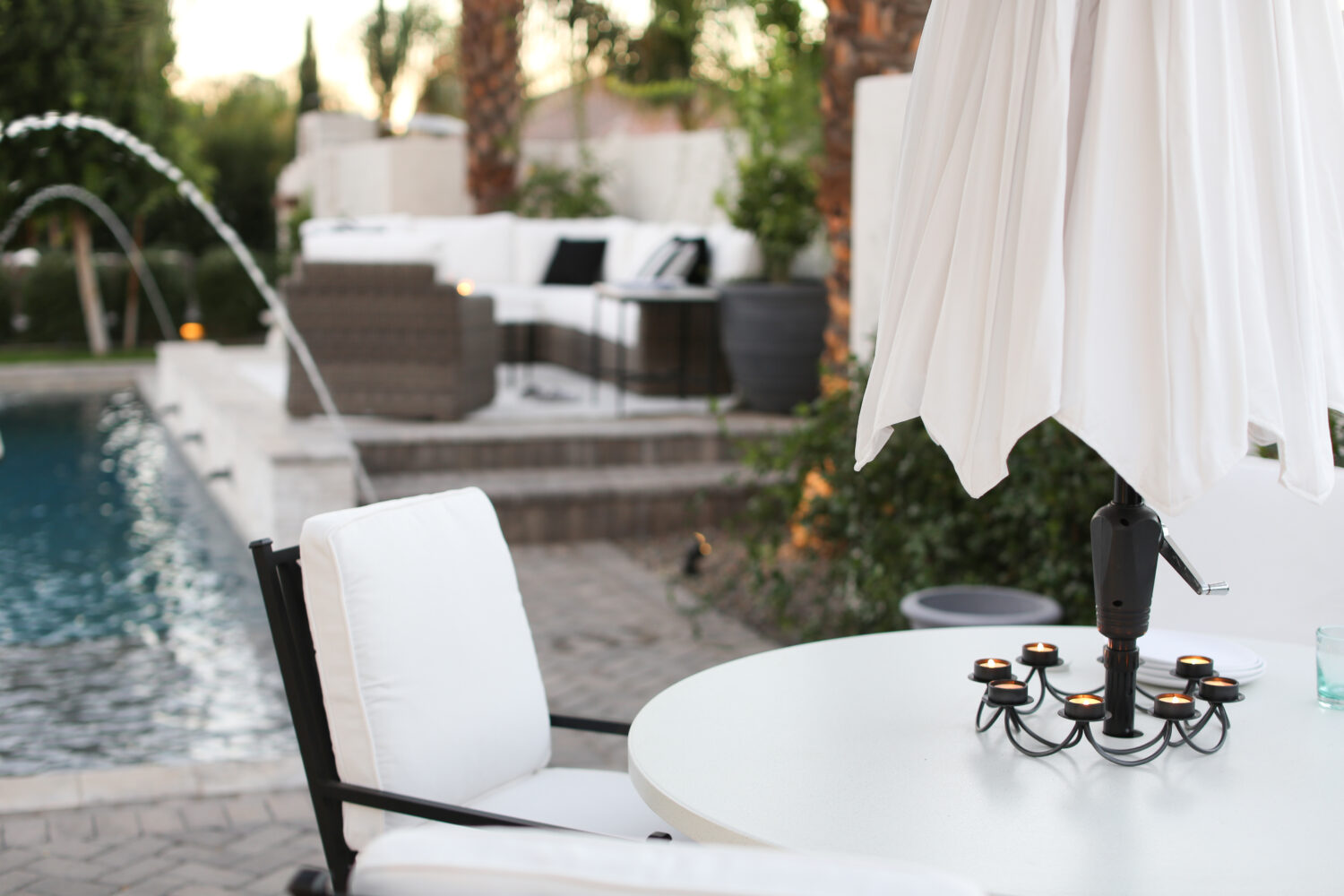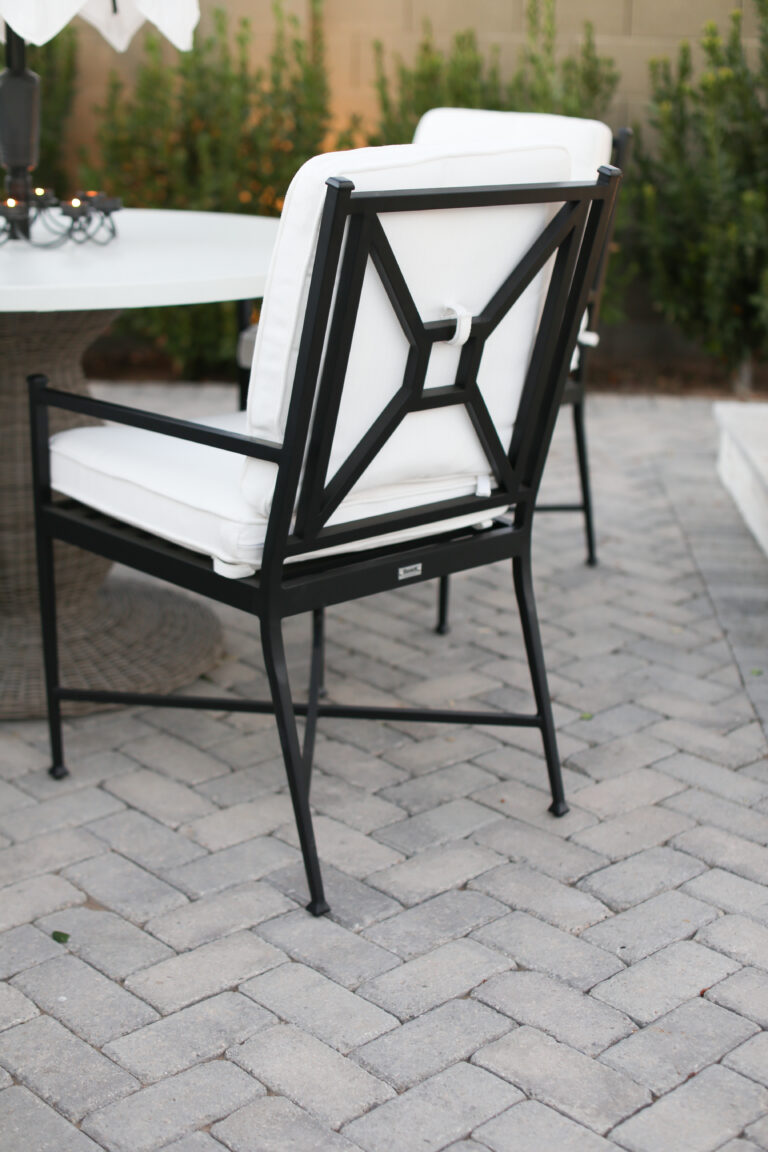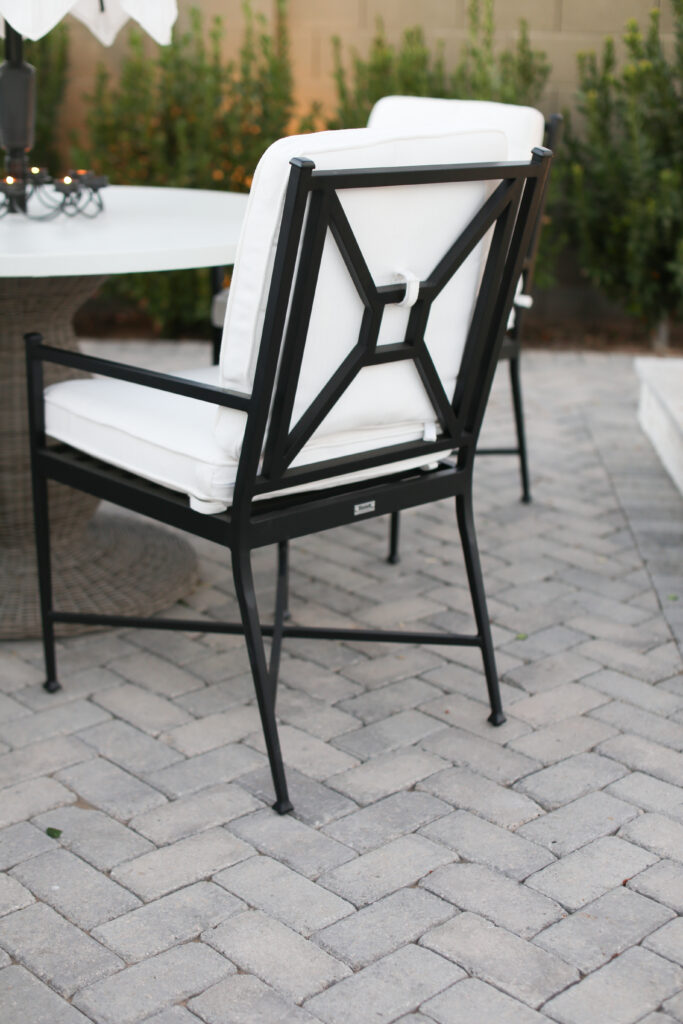 Heading up a few stairs is another patio that we dressed up.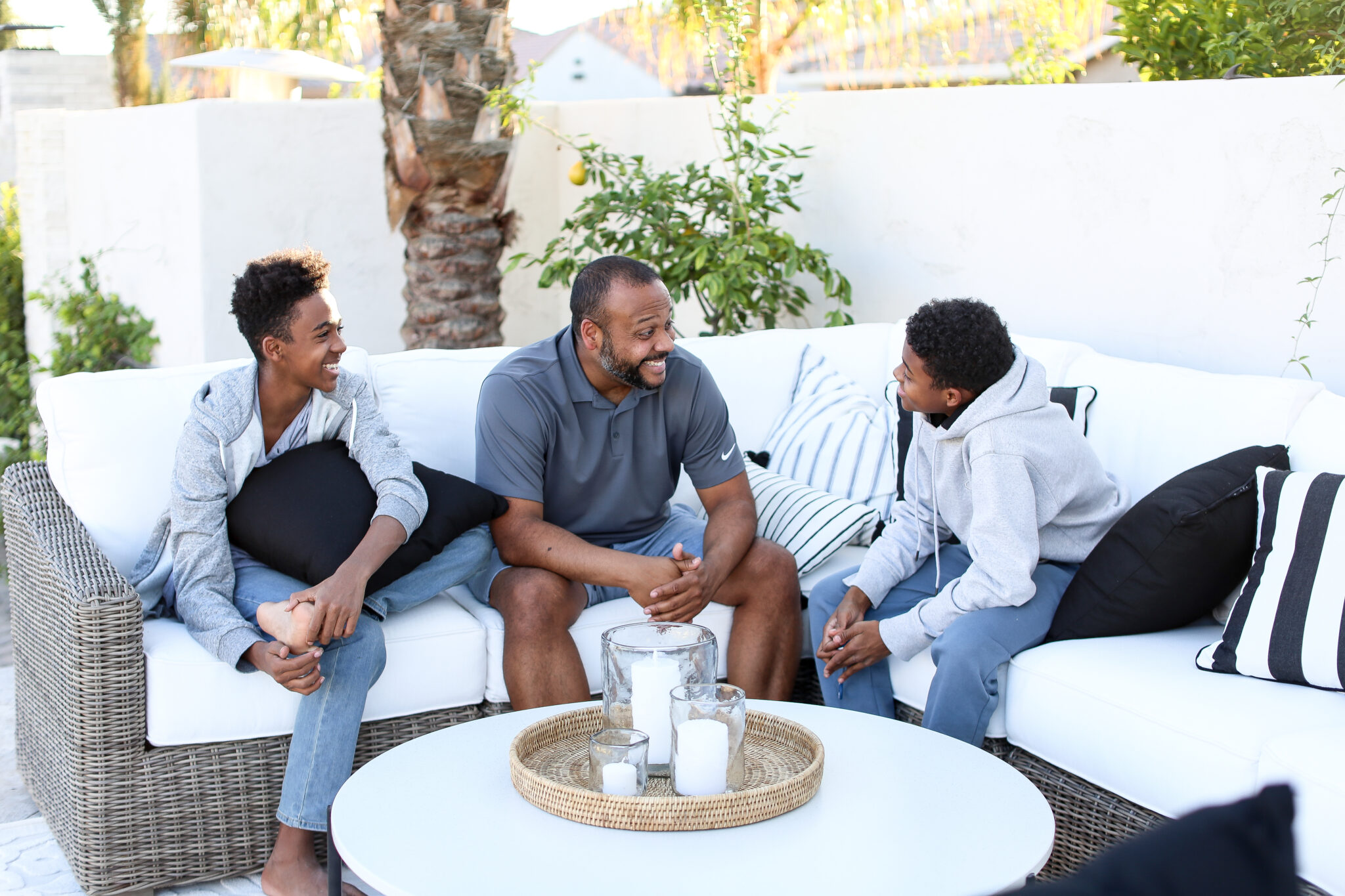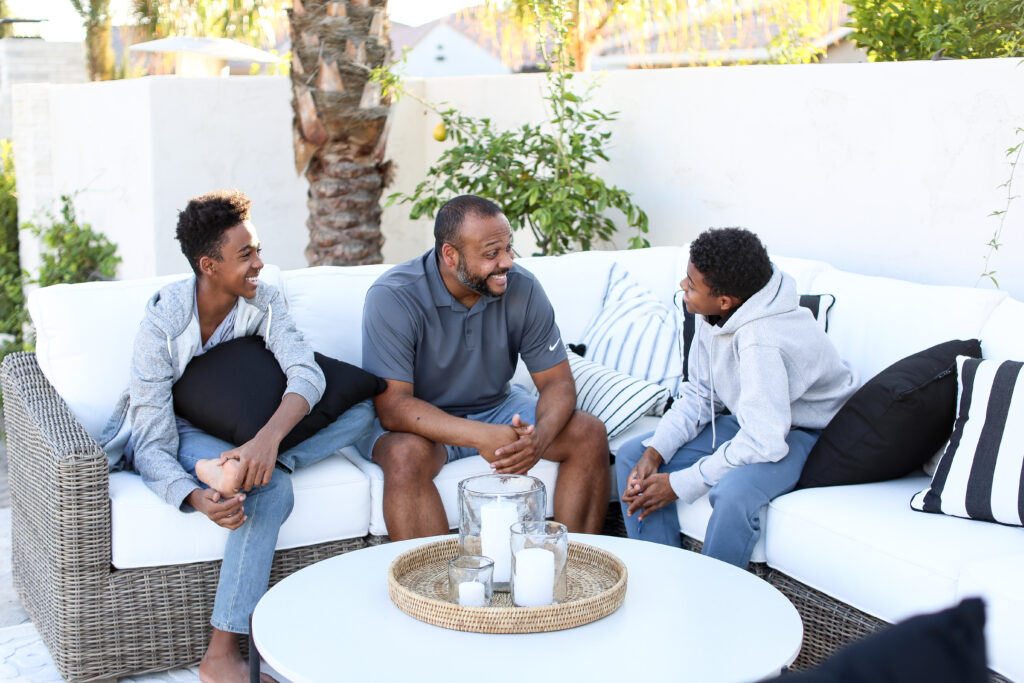 After hanging outside all day, it's the perfect spot to put up your feet, watch the kids play or hear the running water. There's just something about enjoying the outdoor and enjoying all the God has created.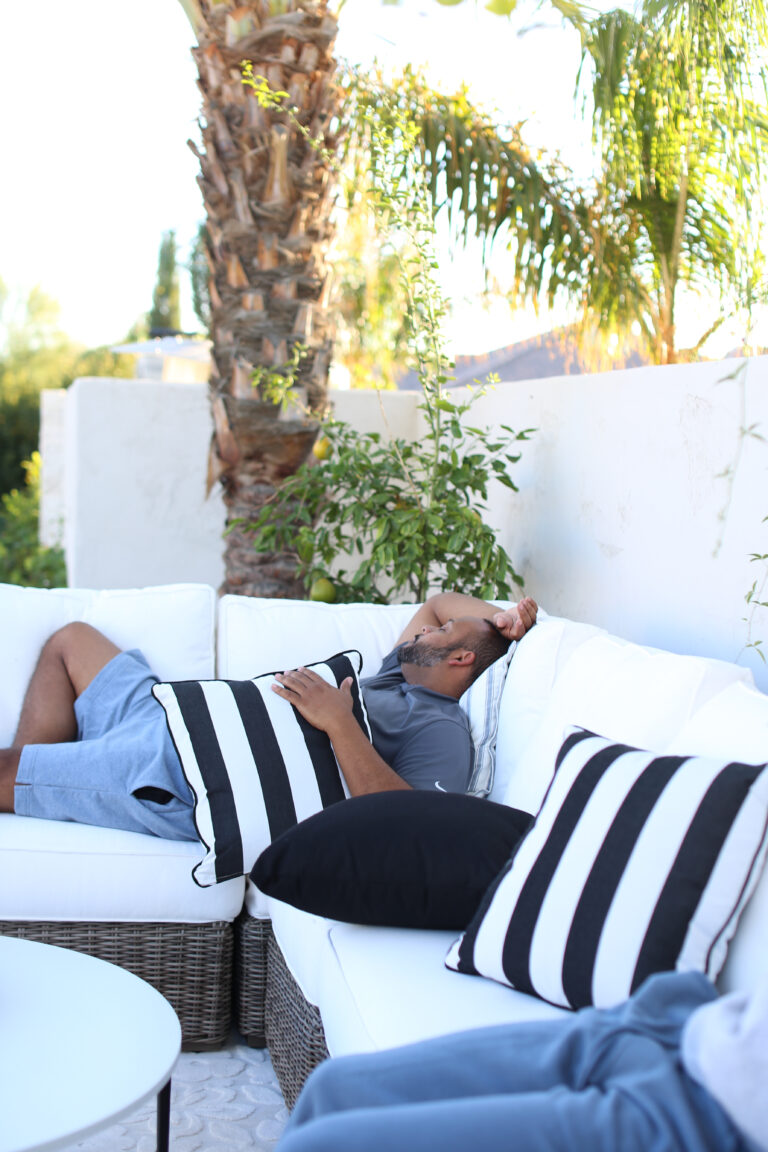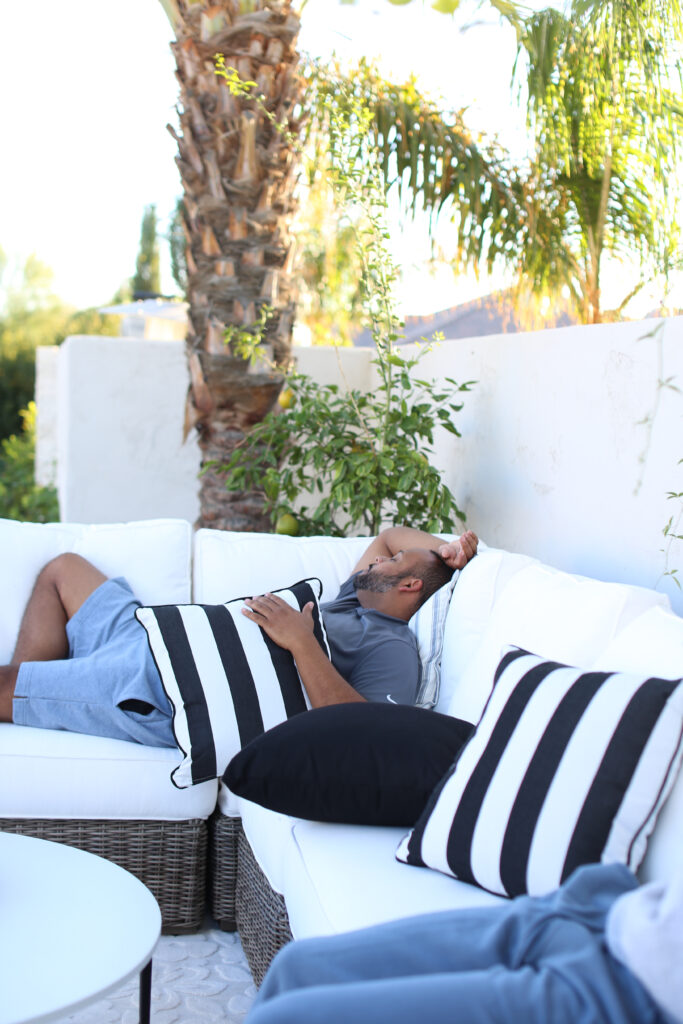 I knew the L-shaped Huntington Sectional would be a perfect fit and definitely gives our yard that outdoor resort feel. Outdoor pillows and soft cushions are perfect for naptime and family conversations!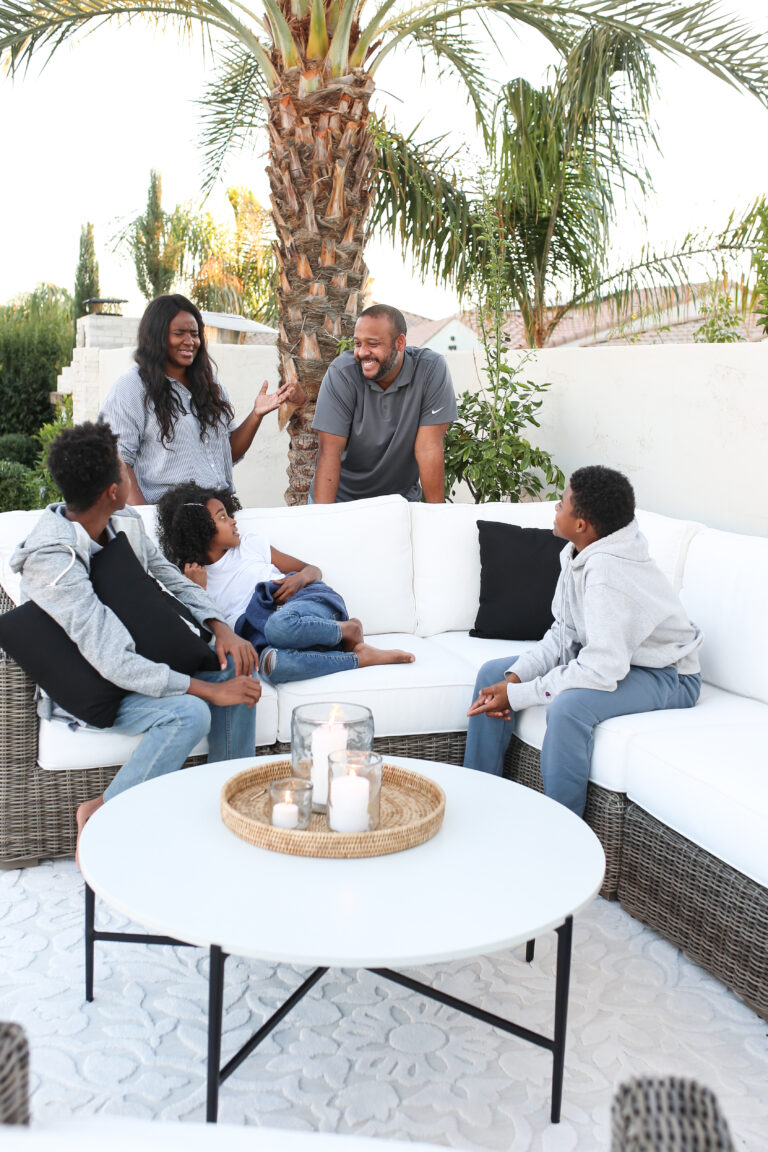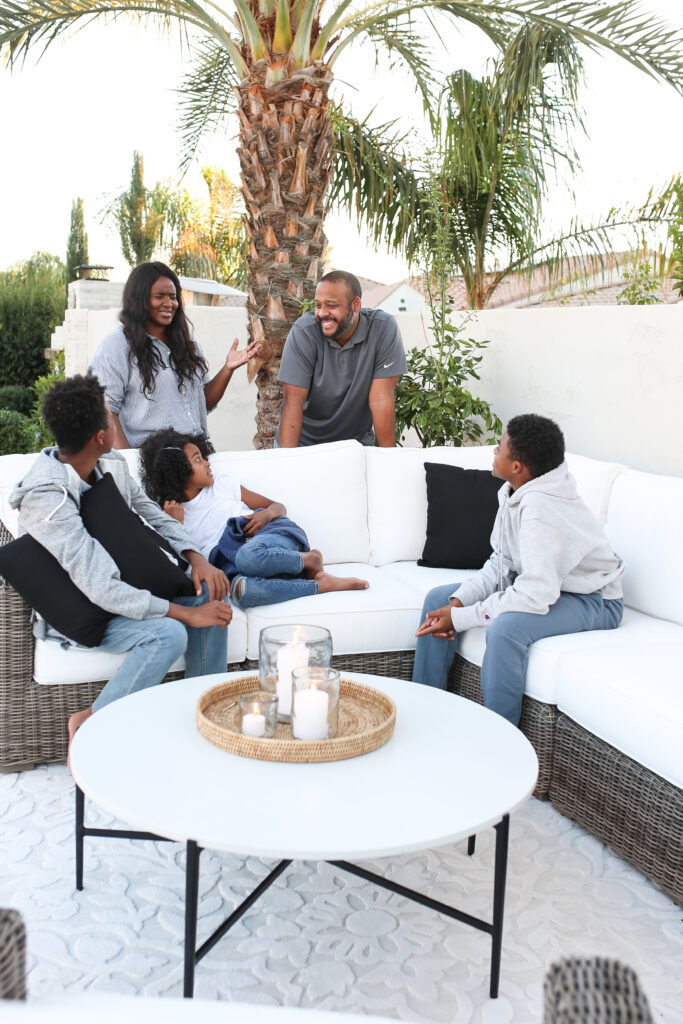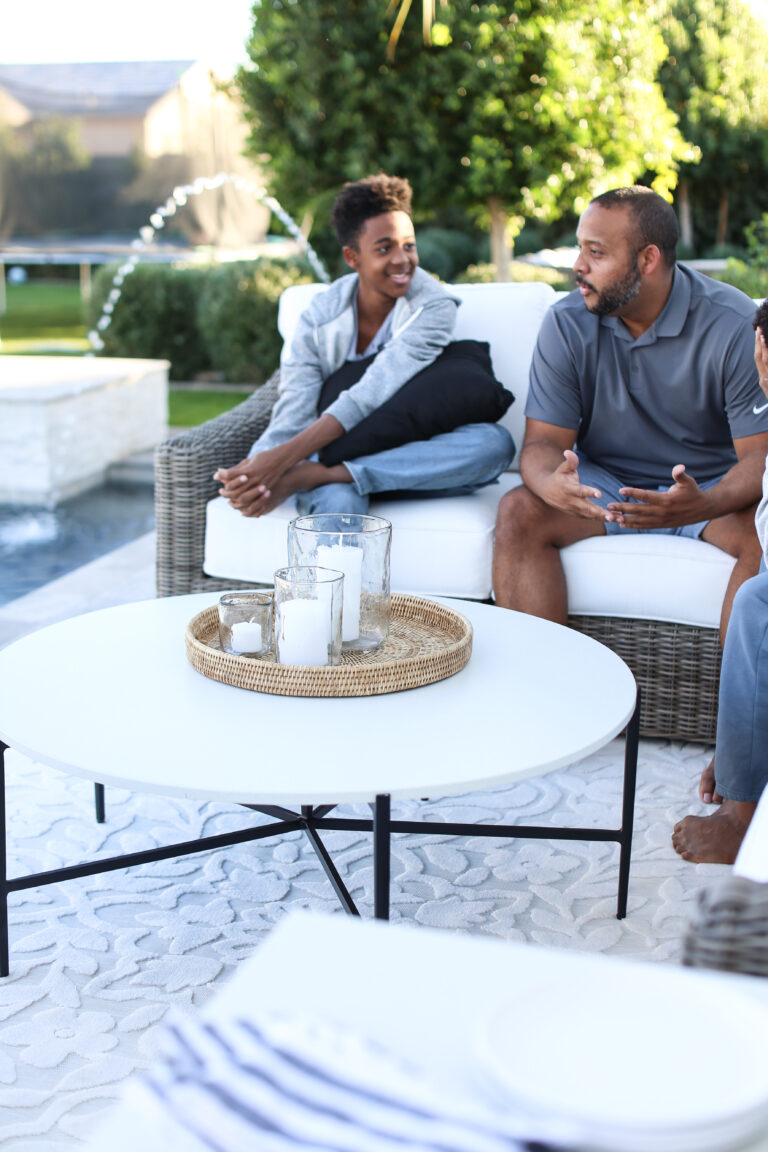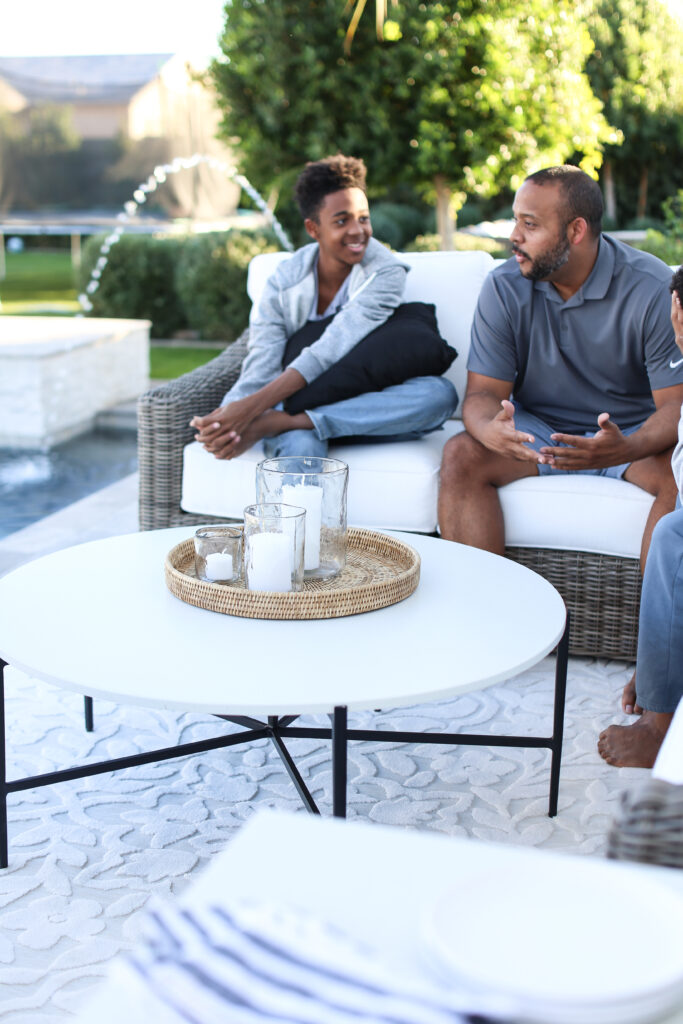 In the middle of this seating area I selected Leigh Round Cocktail Table. I love the idea of softening up the space with some round curves. This outdoor rug also makes this space feel more like a living room area you find indoors.
I love that there are so many different spots to chill right after a long day or working in the yard. Reggie and I are both are entrepreneurs so after working all day at home, we love to just relax out here and unwind.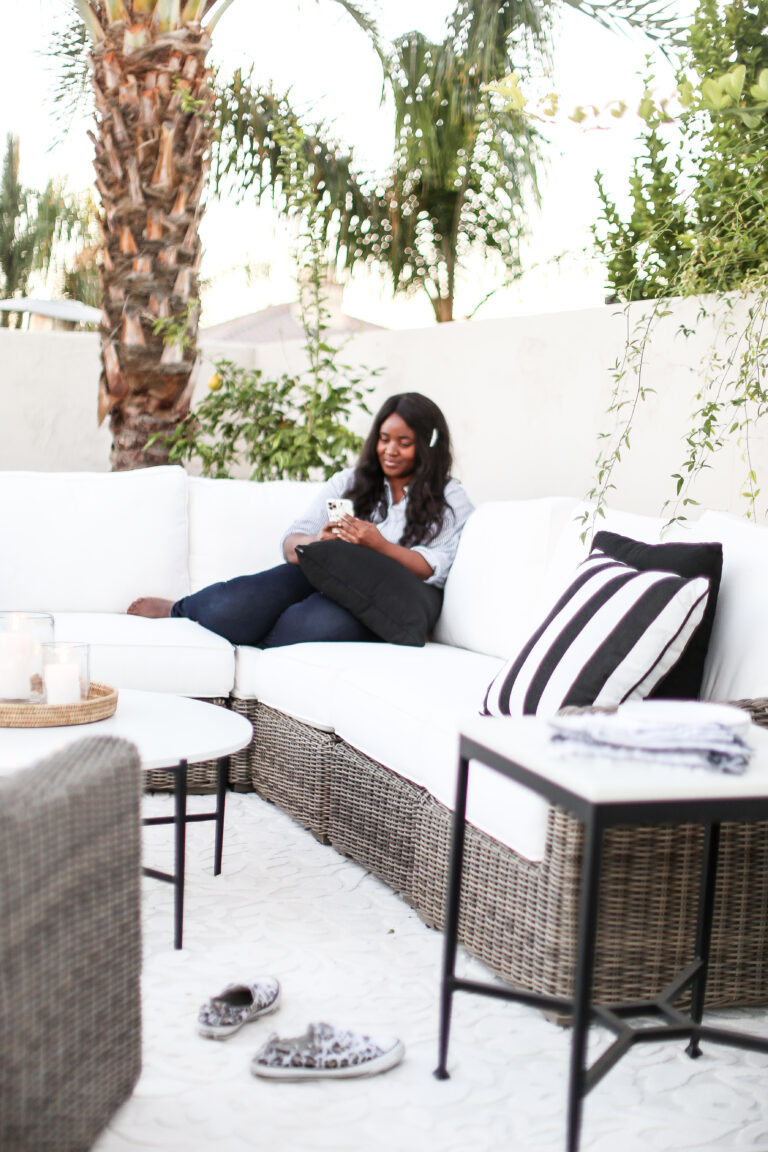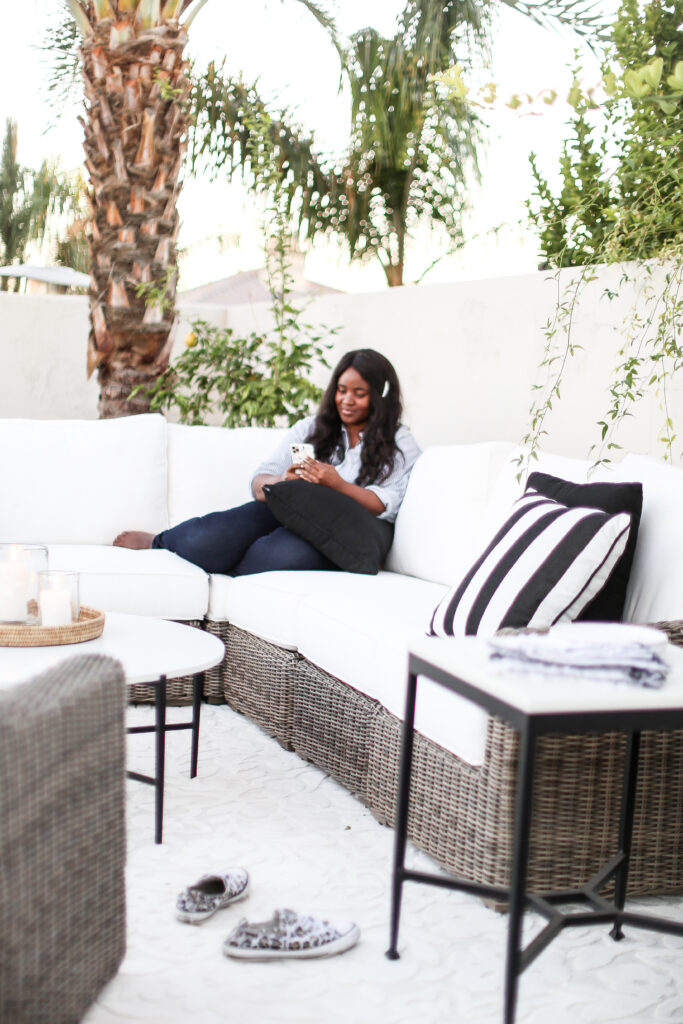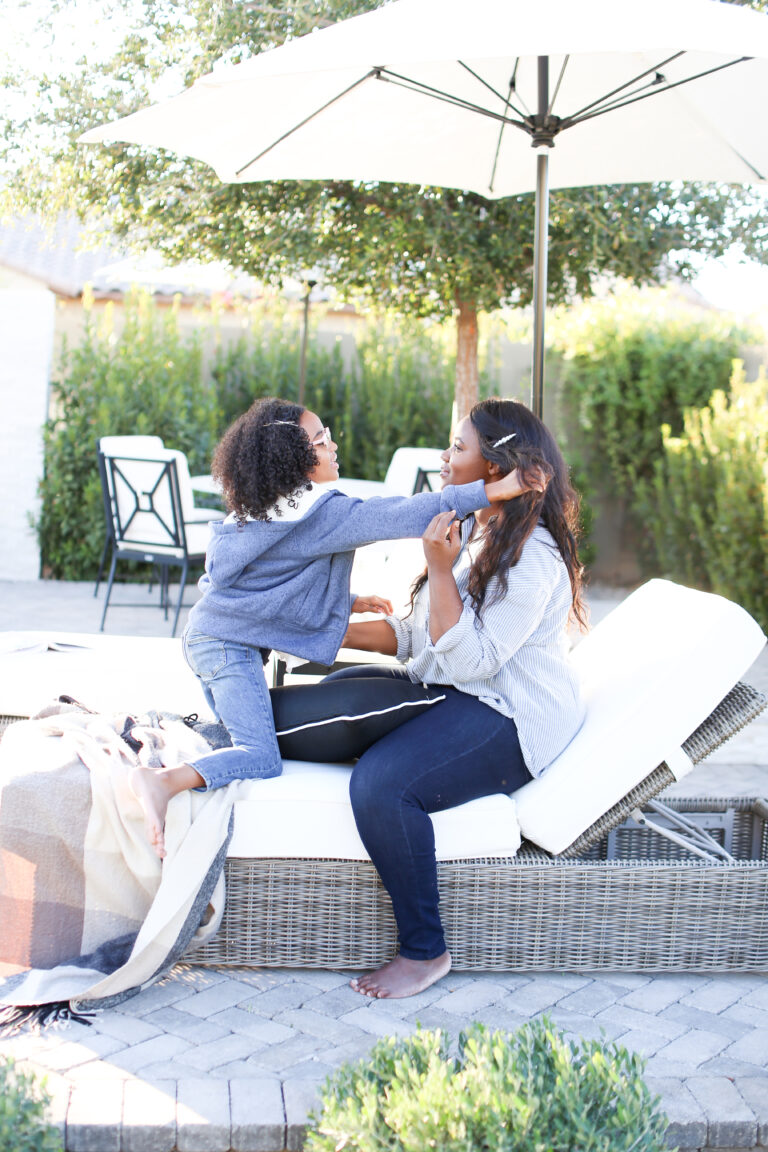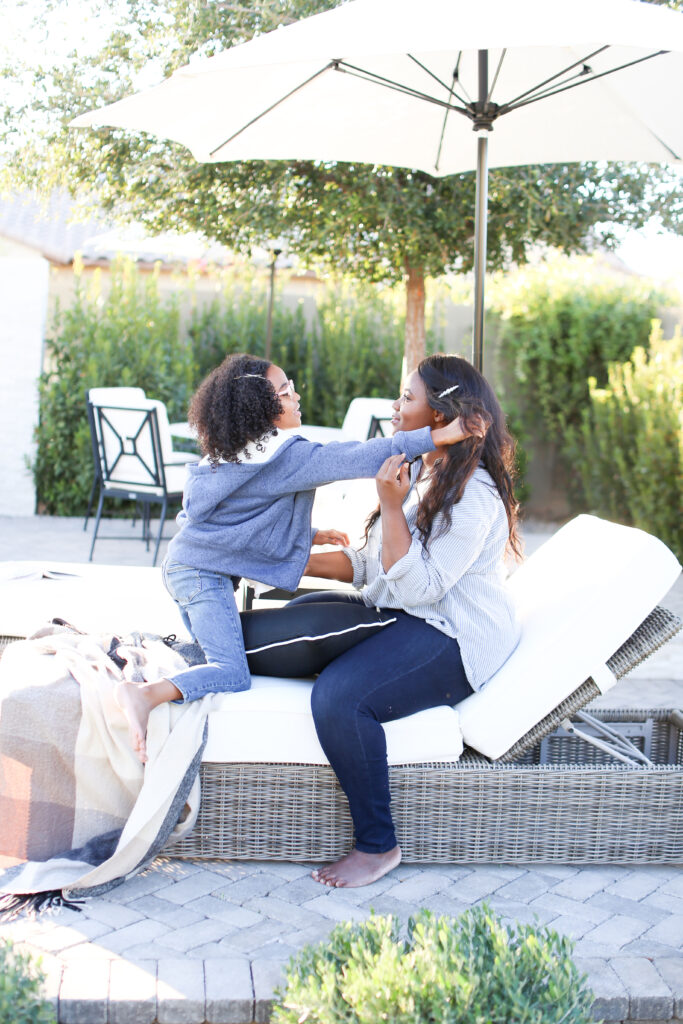 After learning how to spend more time at home and more time with each other this year, this space is now one of our favorite spots to be together! Learn more about Bassett Furniture Outdoor Collection on Bassettfurniture.com. There are even more collections to explore!
If you're eager to get your own backyard oasis planned then you can book a complimentary design appointment today at Bassettfurniture.com for an in-store consultation, virtual consultation or you can even have website chats with live agent to answer questions you may have.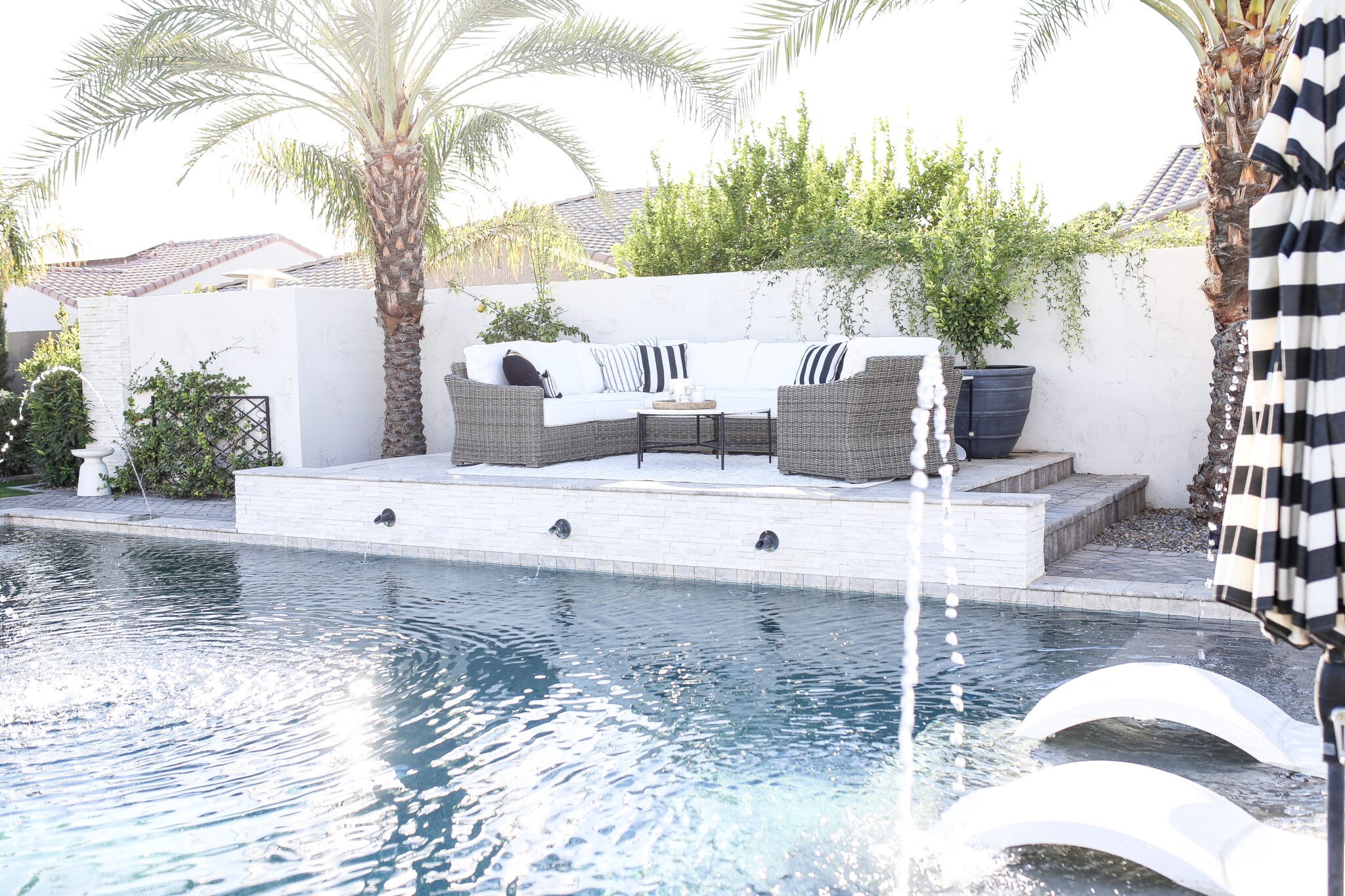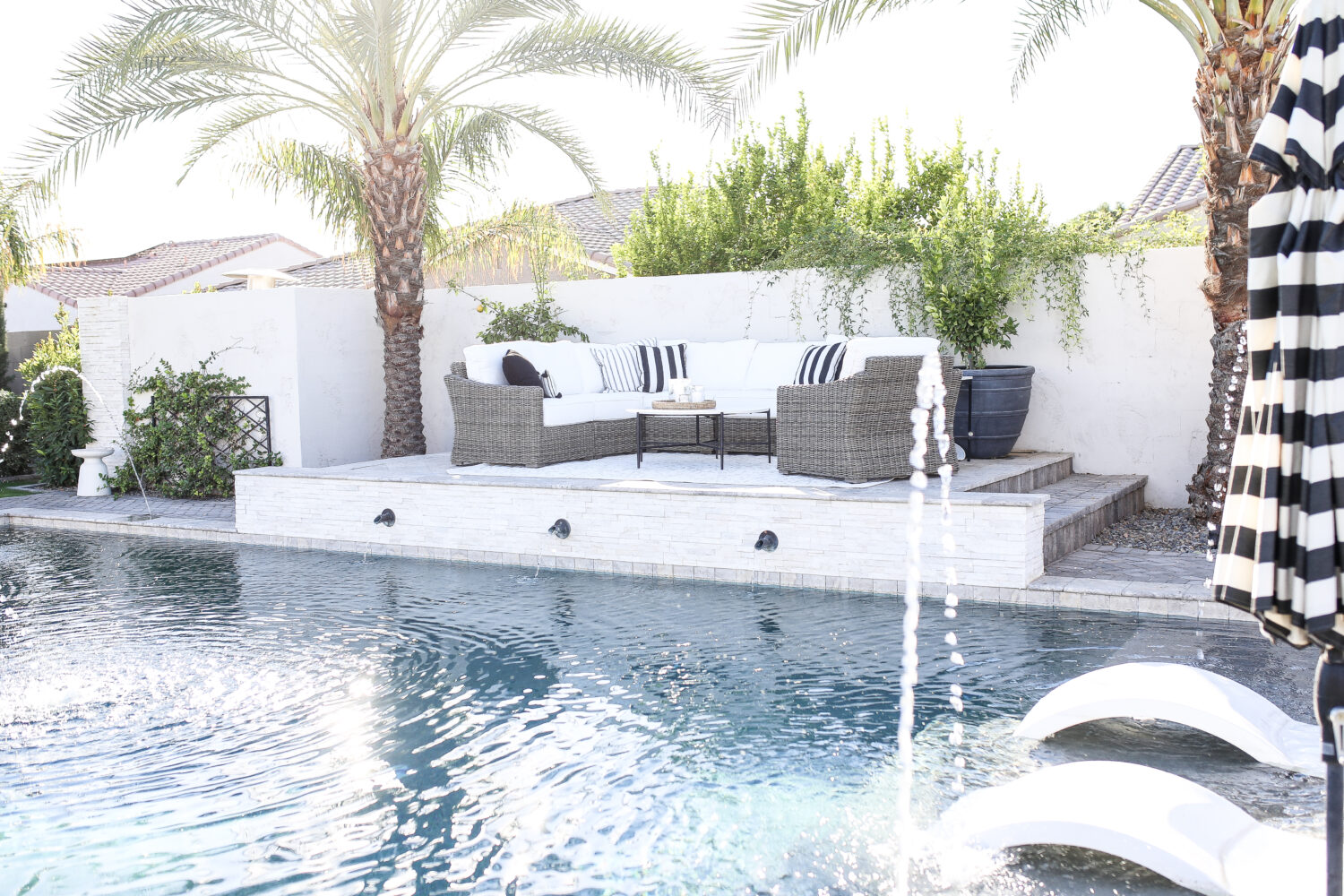 Each consultation is lead by a professional designers who is there to help you bring your vision to life. Don't have a vision? That's ok too! They will be more than happy to walk you through that design process!
Creating a home in one of the many joys we have to look forward to! I'm so thankful for companies like Bassett Furniture who come along side you like a trusted friend!