Favorite Shrubs and Bushes for a West Facing Backyard
This post is sponsored and may contain affiliate links, please read my disclosure policy.
Shrubs and Bushes for West Facing Backyard
There were a lot of things I needed to consider when I was researching plants for our yard. It was actually one of the most exciting parts of planning our west facing backyard. I love doing research when it comes to topics I'm interested in so this was not a chore. I don't know if I mentioned it before but my dad owns his own landscape business here in Phoenix. So I grew up around a lot of landscape plans and ideas. My dad focuses more on the maintenance side but his business has definitely has rubbed off on me!
I know most of the landscape plants, trees and shrubs here in Phoenix due to all the research and my upbringing! haha! But for our yard I wanted something different! A different look which I talked about a while ago. Which was going to require some digging.
Because our yard is west facing ( meaning we get the hot afternoon sun that is setting in the west) we have a lot of challenges. The first being HEAT and the second being reflective heat and lots of it. We all know what heat is but it's a bit different out in Phoenix because it's so hot and dry. While things in different parts my wither and welt. Things in Phoenix burn.
When you add reflective heat ( plants that are next to hardscapes and walls) then its becomes really hard to grow plants and shrubs.
For the most part we stuck with deciduous, heat-tolerant, drought-tolerant shrubs and trees because they work best on the west side. The allows the plant to conserve energy needed to grow and keep healthy. Of course it was and still is trial and error but so far we have had great luck with these plants! So much so that even our neighbors started to plant some!
Before you begin your research on shrubs and bushes for you yard, figure out what zone you are in! You can find that information online!
Iceberg Roses
---
Light: Full Sun
Zone: 5-9
Deciduous: YES
Water: Regular
These beautiful roses I first saw on Patina farm and it took me almost 2 years to figure out what they were! I'm not sure why it took me that long but I think it's because they have a few different names. Anyways, I finally found them this year at my local nursery after I made a decision to plant some roses in the yard. I've heard that roses do great in Phoenix but once again my yard was a bit unique because of the position. I planted these this spring and they have been doing great so far! We will definitely up the water as it heats up.
We also put mulch around them to retain the moisture that WILL get lost during the day and we also have them on a drip to help with consistent water. I also think overtime they will do great here because we have two ficus trees that will give them some nice shade in the future.
These flowers have a continuous bloom so you have flowers for most, if not the entire year!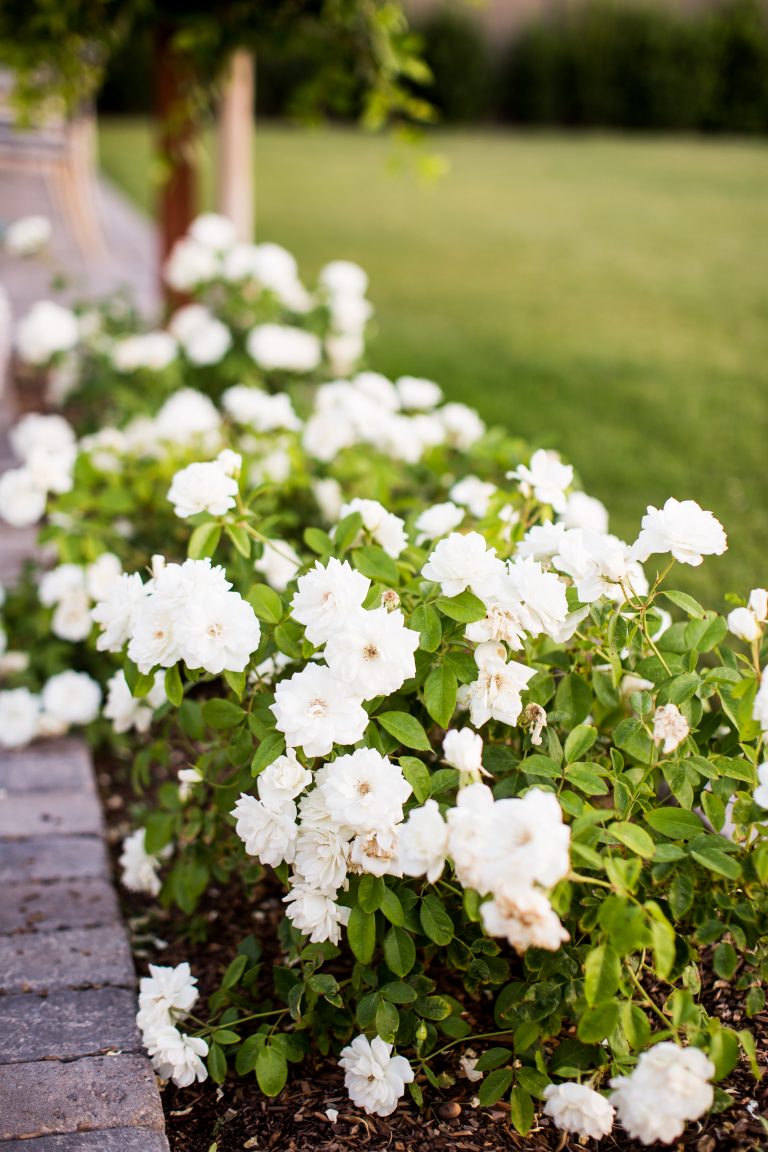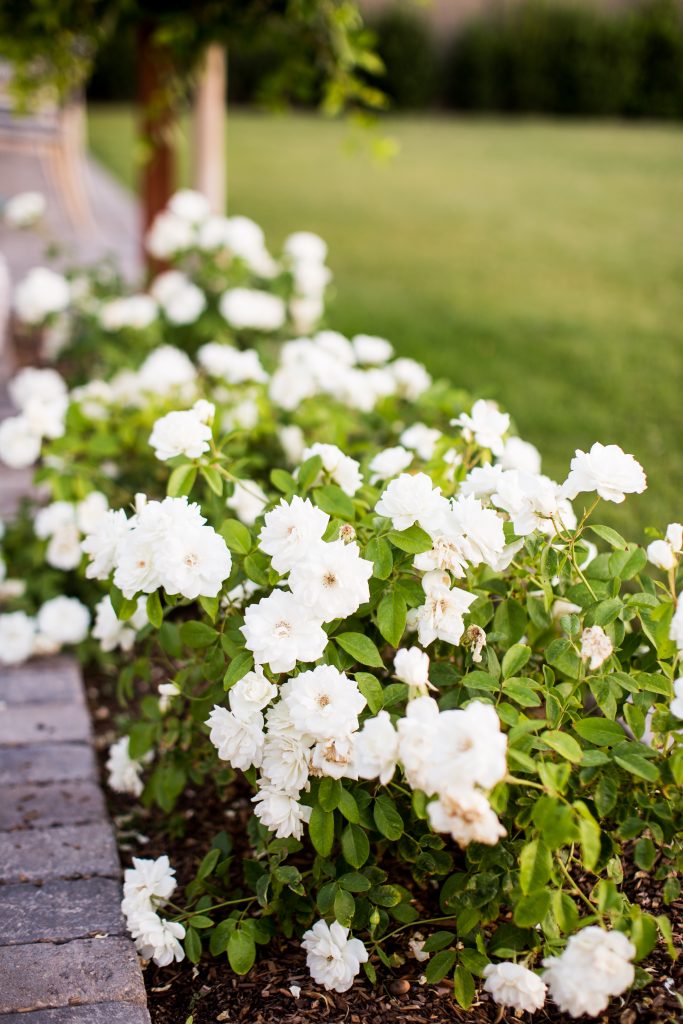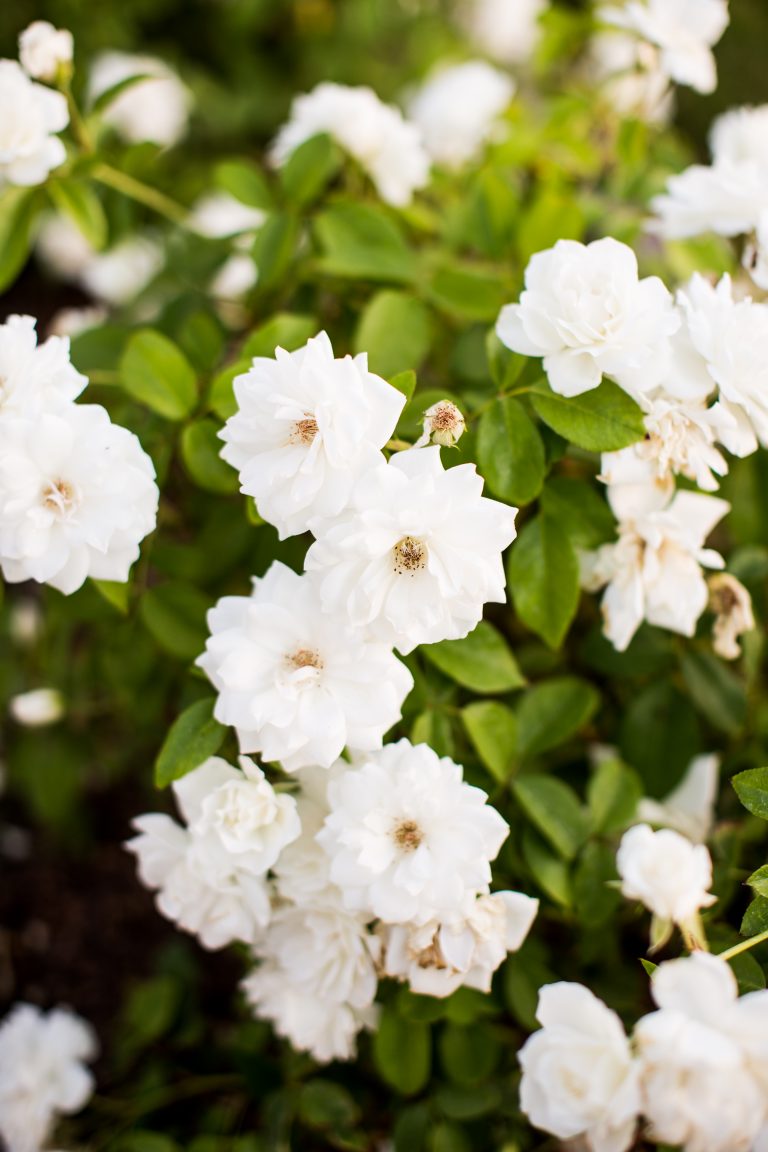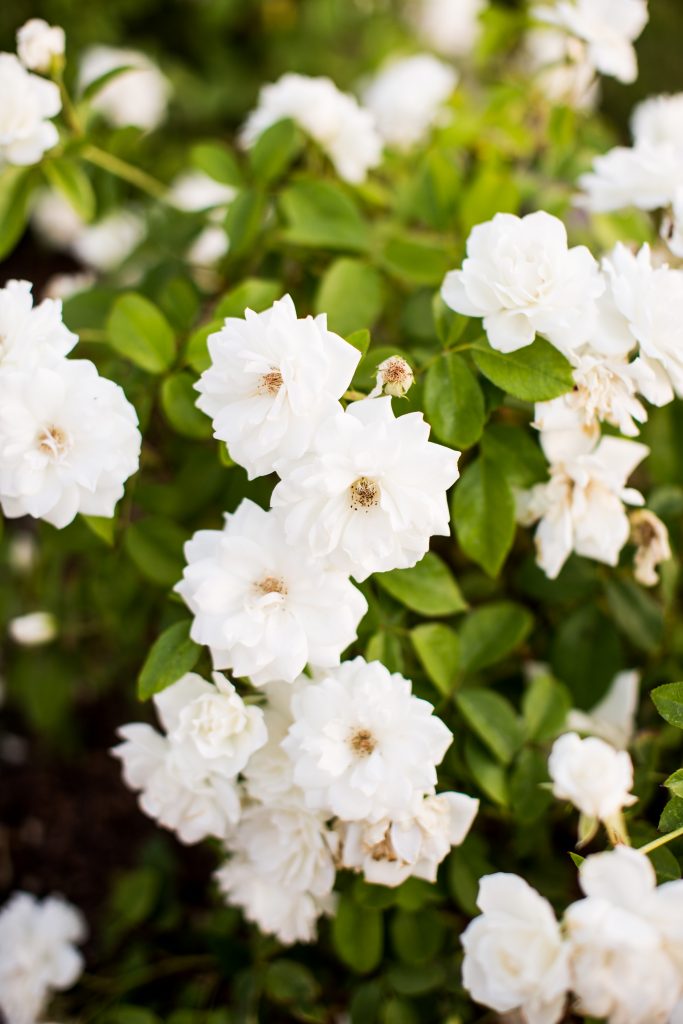 Little Ollies
---
Light: Full Sun
Zone: 8-11
Deciduous: YES
Water: Once established, water occasionally
If I had to pick a favorite for the yard, Little Ollies would be #1. Why? Because they are just so stinkin pretty and simple. So gorgeous to look at with their dual colored leaves. Once they are established they are pretty much effortless. Plus they can take the reflective heat pretty well. I just planted more next to the pool to fill up a little bed that we had empty after our Japanese Boxwood bit the dust. I was really looking forward to those! But they couldn't take the heat at all. Even after they were established in the spring.
They grow in natural round shaped and get up to about 3-4 feet depending on your backyard weather. Ours started out as 15 gallon beauties and have almost doubled since being planted last year! We have a drip going to them with a personal water plan depending on the weather of course.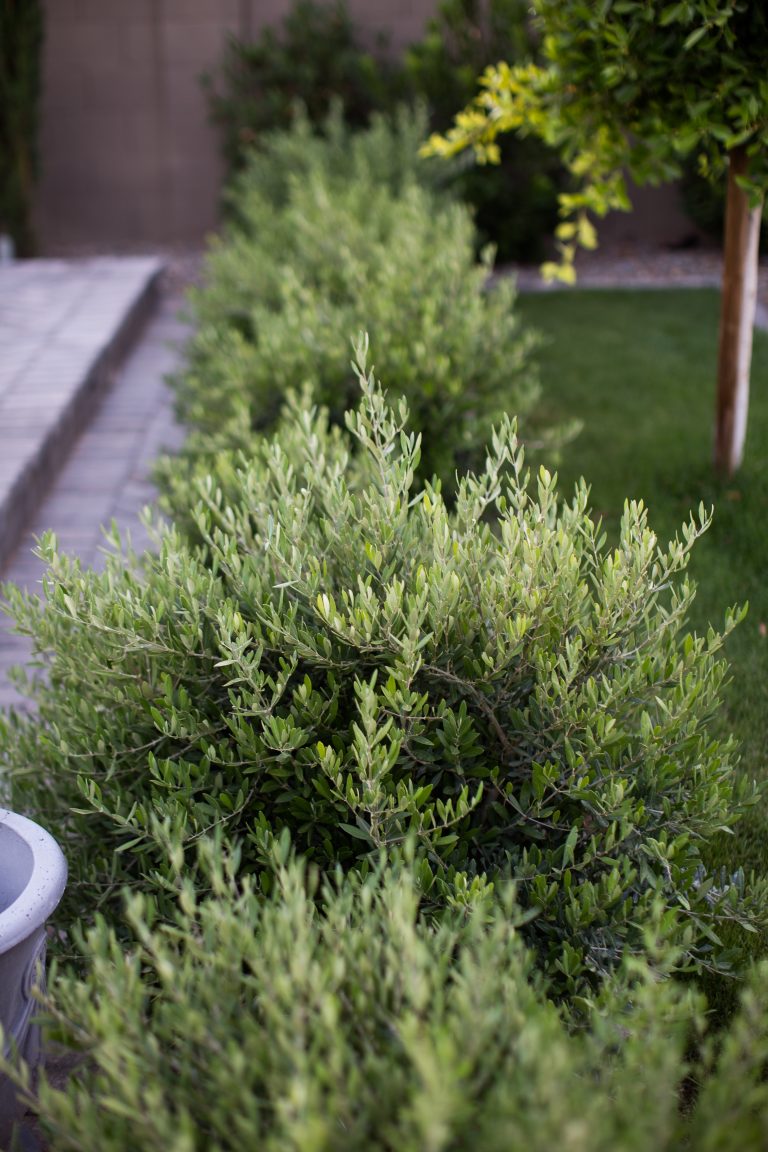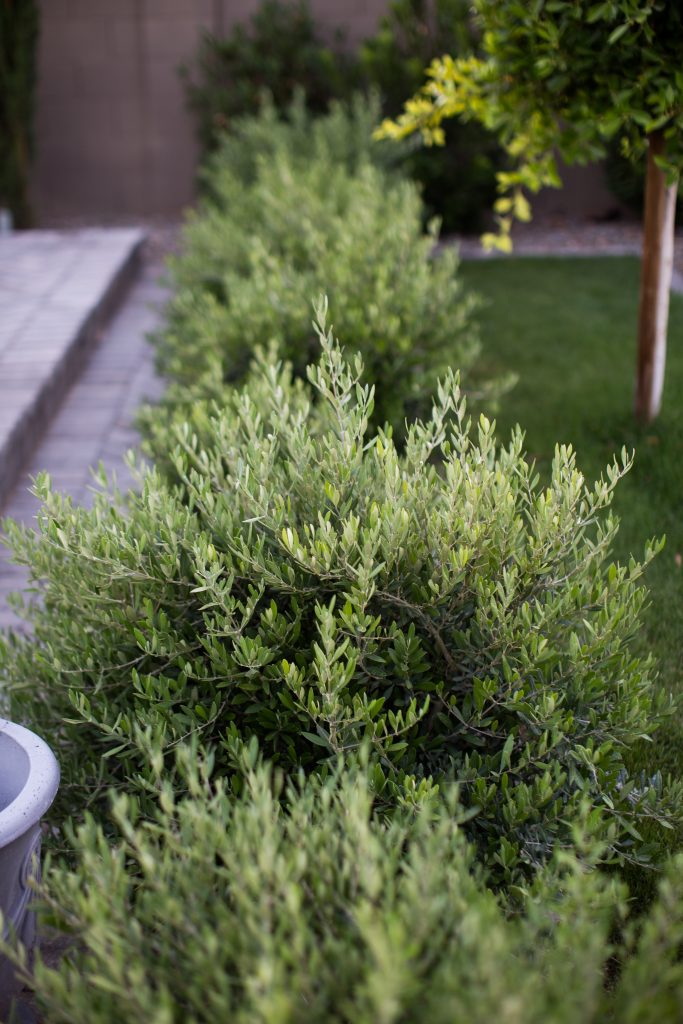 Bay Trees
---
When we planed the yard from a blank slate, I knew I wanted to have an edible backyard. I not only wanted it to be beautiful but also useful! I did A LOT of research. Hopefully that's what you are doing right now and these beauties kept coming up as an option for a hedge to hide our ugly brick wall and to give us some privacy from the neighbors.
The reason why I was so attracted to these was because they are evergreen and have a great tolerance to heat. Once they're established they're pretty water wise and drought resistant! , and of course they are 100% edible! I thought we were going to lose these beauties during the first summer because of course it was the summer we hit 122º and they were BURNT. But they came back during the spring and have been doing really well! One side is doing better than the other mostly because one side gets more shade. But eventually I hope they grow and serve their purpose which is to hide the brick wall!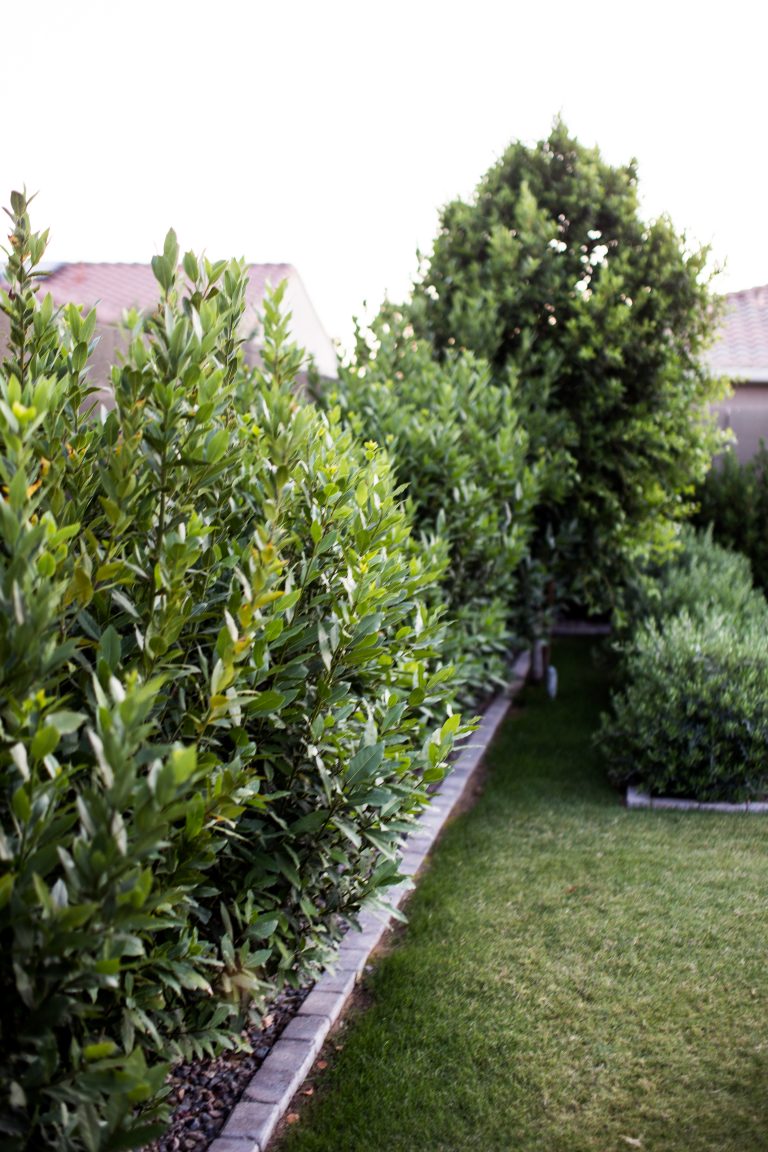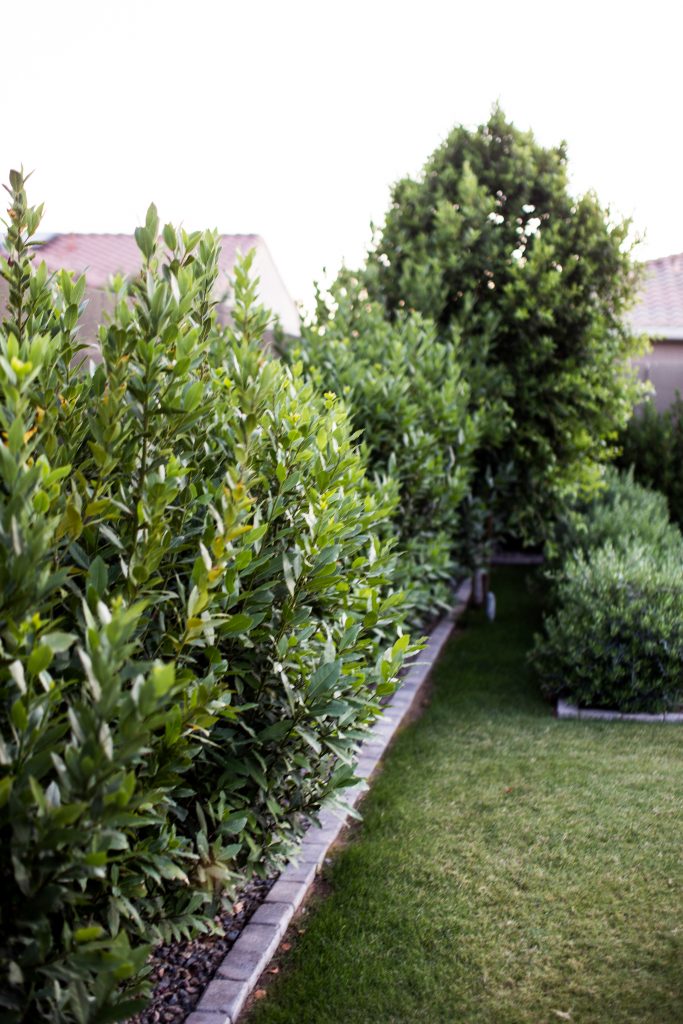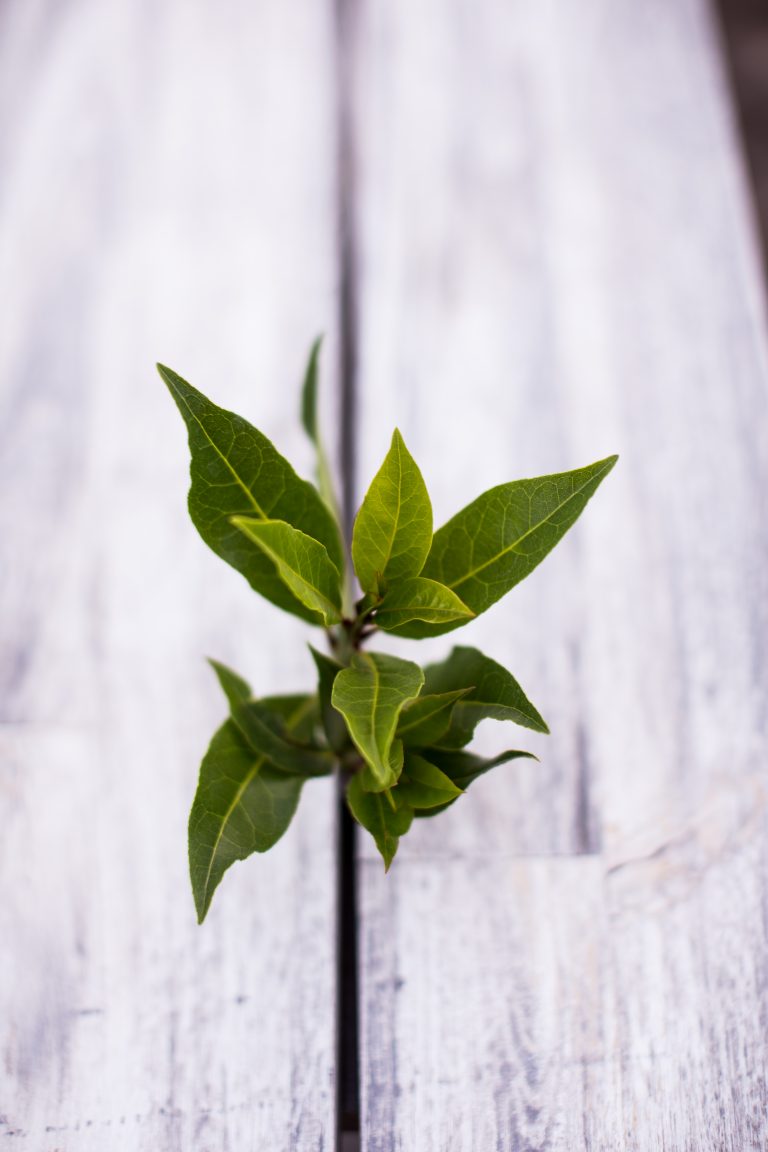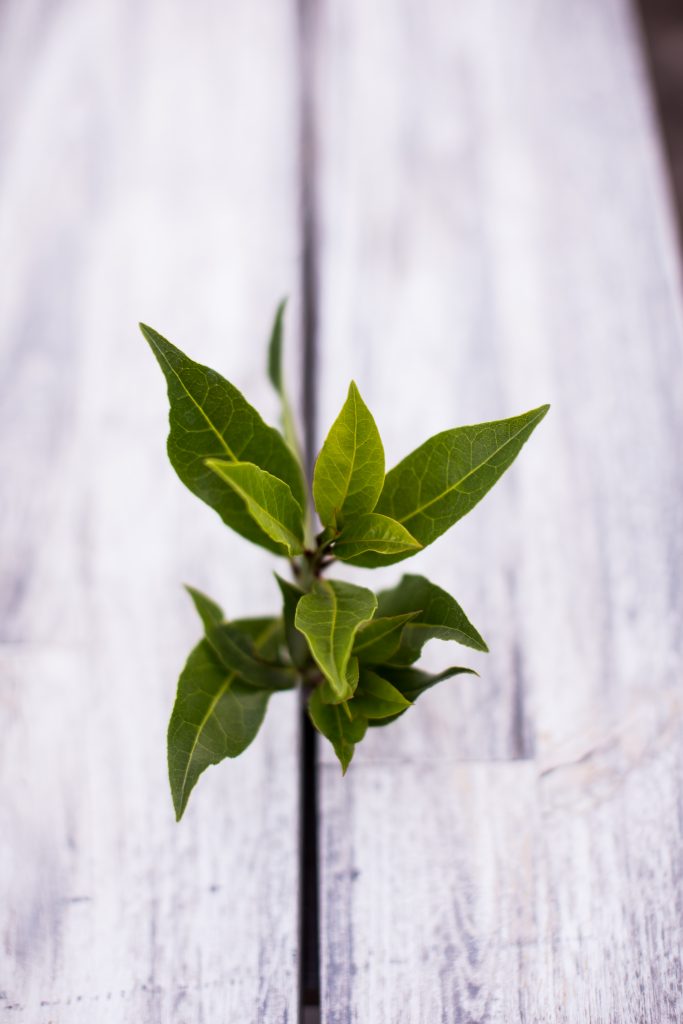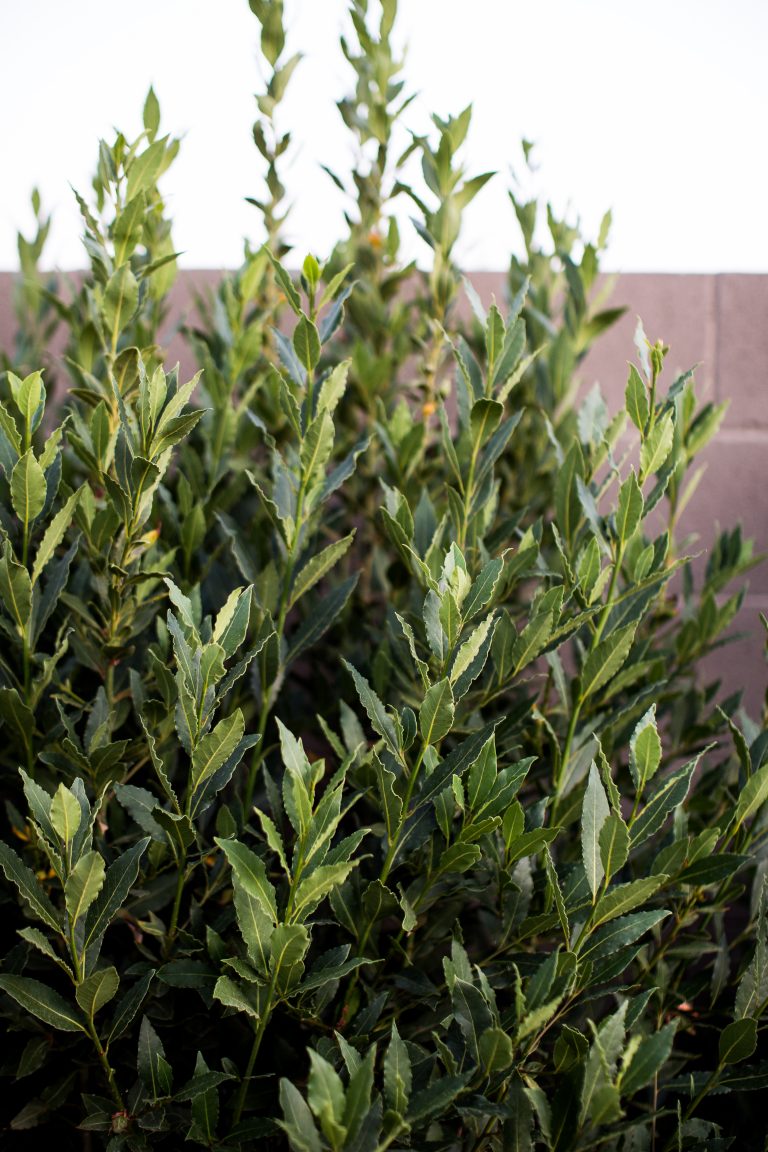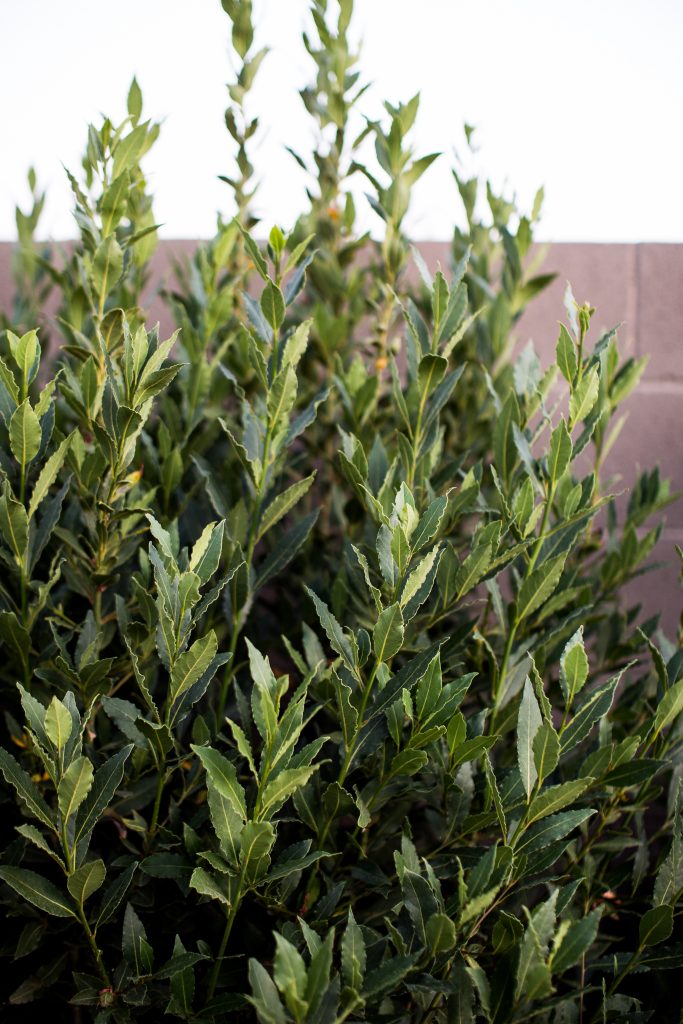 Jagged Lavender
---
Light: Full Sun
Zone: 9-10
Deciduous: YES
Water: Once established Occasionally
I don't think you can have a mediterranean yard without some type of lavender. It's an essential! Along with olive trees, lavender seems to give yards a soft touch. Almost like a delicate paint stroke on a landscape picture. Our lavender is a jagged lavender and is defined by a bush fern at the bottom and is followed by long stems of dark purple lavender blooms. It does well in rocky hot soils so we put a bunch of it in a small raised bed by the pool!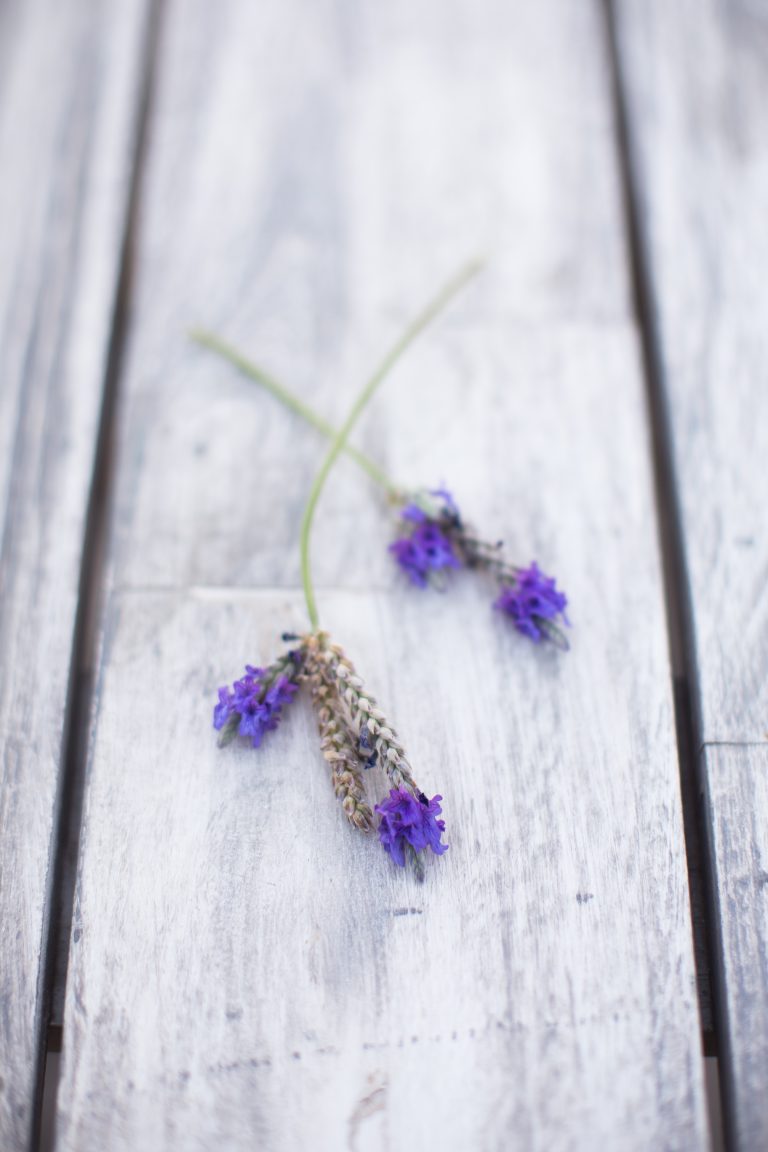 Meyer and Eureka Lemon Trees
---
Light: Full Sun
Zone: 9-10
Deciduous: YES
Water: Regular watering – weekly
We have two different types of lemon trees in our backyard and both are doing well! One meyer and one eureka tree were planted next to our gate that leads to the garage area. They get plenty of sun throughout the day and this year we finally have a TON of potential lemons on our meyer tree! Lemon trees in any variety do well in the heat and thrive Going along with the edible backyard theme, these were a perfect option. I mean who doesn't love lemons! Books like Love and Lemons feeds right into my obsession!
Plus each year our neighbor brings me an abundance of lemons from her own tree so I can't wait to return the favor and gift some to friends and family! Funny thing about this lemon tree is that I thought it was dead after the first year! But I cut all the dead ends back and the next spring it bloomed like crazy. Lemon blossoms were all over it and the bees pollinate it into a healthy giving tree this year! I can't wait to show you the harvest! It feels so good to grow something. With help from God of course!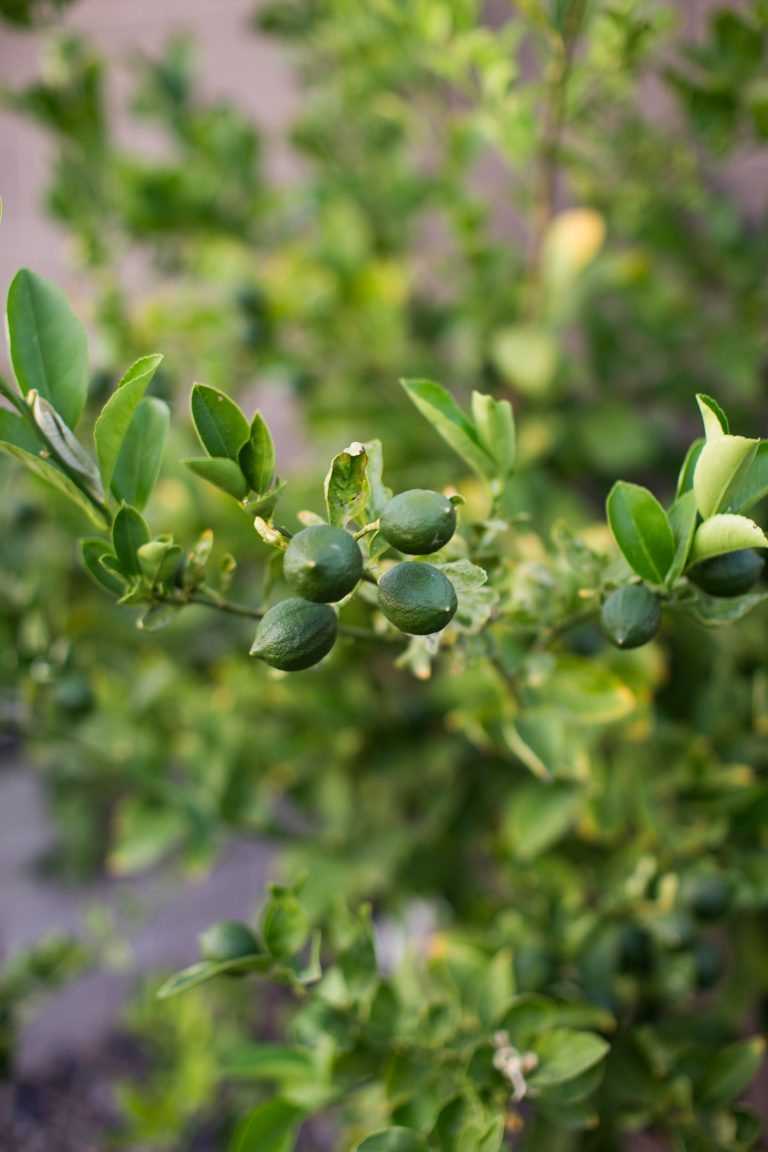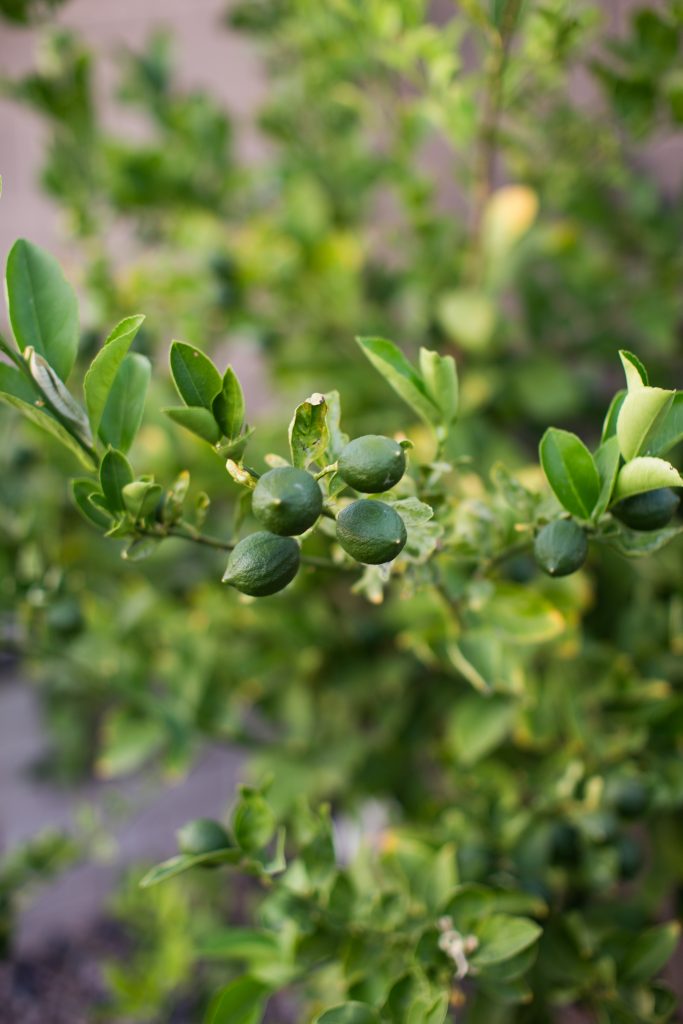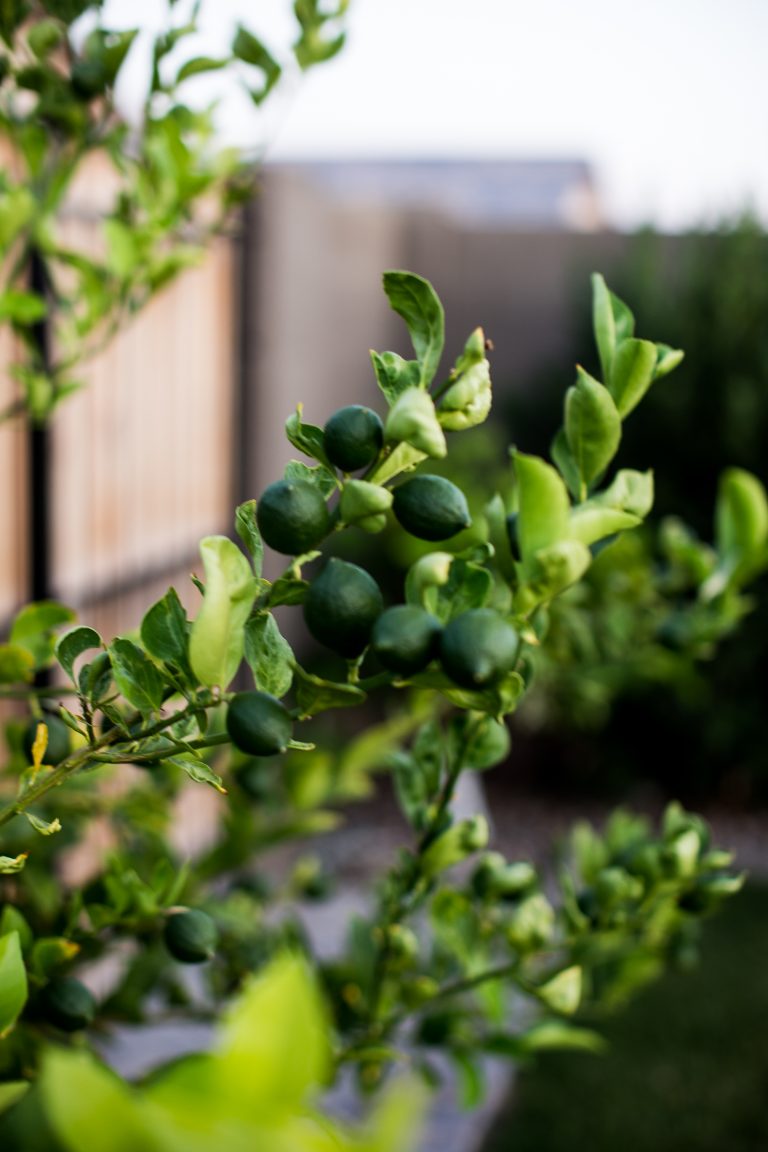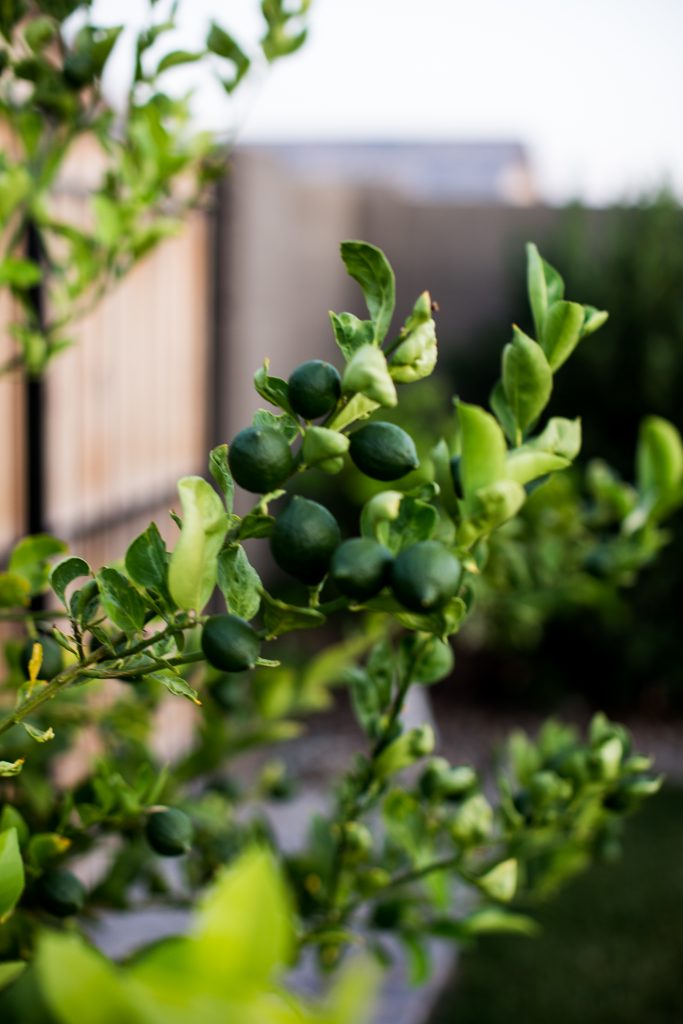 Jasmine
---
Light: Full to Partial Sun
Zone: 8-111
Deciduous: YES
Water: Water regularly – weekly
There's nothing quite like the smell of blooming star jasmine in the middle of spring. I think the bloom is the first sign of warmer weather here in the valley. I knew I wanted something beautiful climbing our black trellis that my father in law made for us. If you are looking for something similar I love these. Jasmine just like any vine is pretty fast growing so it didn't take much time for it to climb up the trellis. I want it look a little fuller and then maintain it as a perfect little rectangle when it blooms. It's going to look great on both sides of the pool. I also have this planted next to the outdoor bbq so I can do this project. It's going to be so pretty!
Star jasmine does GREAT when it gets a little shade. So I have this one a wall that gets alot of the morning sun and then gets shade during the hottest part of the day. All day heat exposure might be to much for this beauty!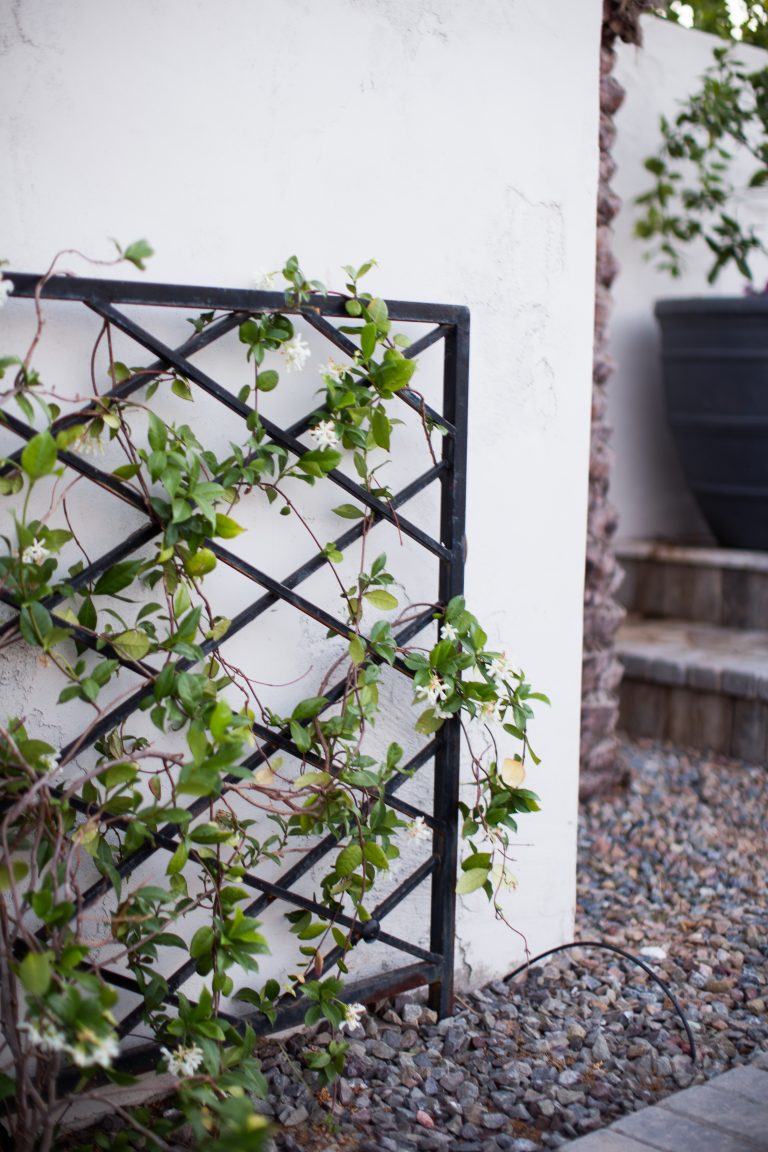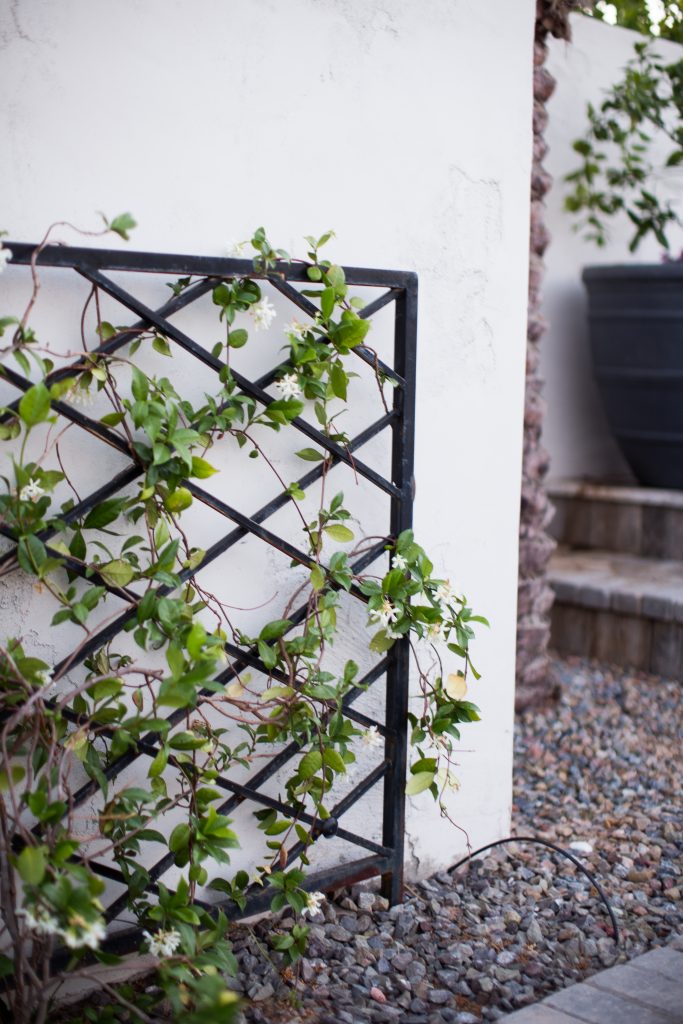 I'm loving everything we have in our yard so far and plan on adding more in the future! I think I will also give you guys a tour of our small raised garden and the decision to go small and not big! Plus I still have more to share like our trees selection! Hopefully you found this information useful on your own search for shrubs and bushes for your west facing backyard!