Family Room Tour: Parkway House
This post is sponsored and may contain affiliate links, please read my disclosure policy.
Hello friends!  After almost three years in our home I'm finally ready to give you a full tour of our family room! This room has come a long way since we built our home back in 2016! I had many plans for this room in the beginning and even with those plans things have changed so much!
Today I'm giving you some practical tips on how to decorate your family room. As my casual elegance style has become more defined I was able to really nail down how I wanted this room to function. I wanted it to have place for…
Relaxing
Talking
Reading
Watching TV
Gathering
Eating ( Yes we ( the adults ) eat in the family room sometimes. The kids….um no! ha!)
Once I figured that out, is was easier for me to make choices and decisions!
How to Decorate your Family Room
Sofas and Sectionals
Our family room is anchored with seating and lots of it! We have two large 96 inch sofas with 2 chair and halfs that can fit a parent and child perfectly. I've even seen couples cuddle up on our chairs!
We are are all about comfort when it comes to lounging in this room so we made  sure to spend a lot of time breaking in these sofas and chairs! In our last house we had a nice big sectional ( which we are thinking about getting again, ) but for this house we opted for two large sofas.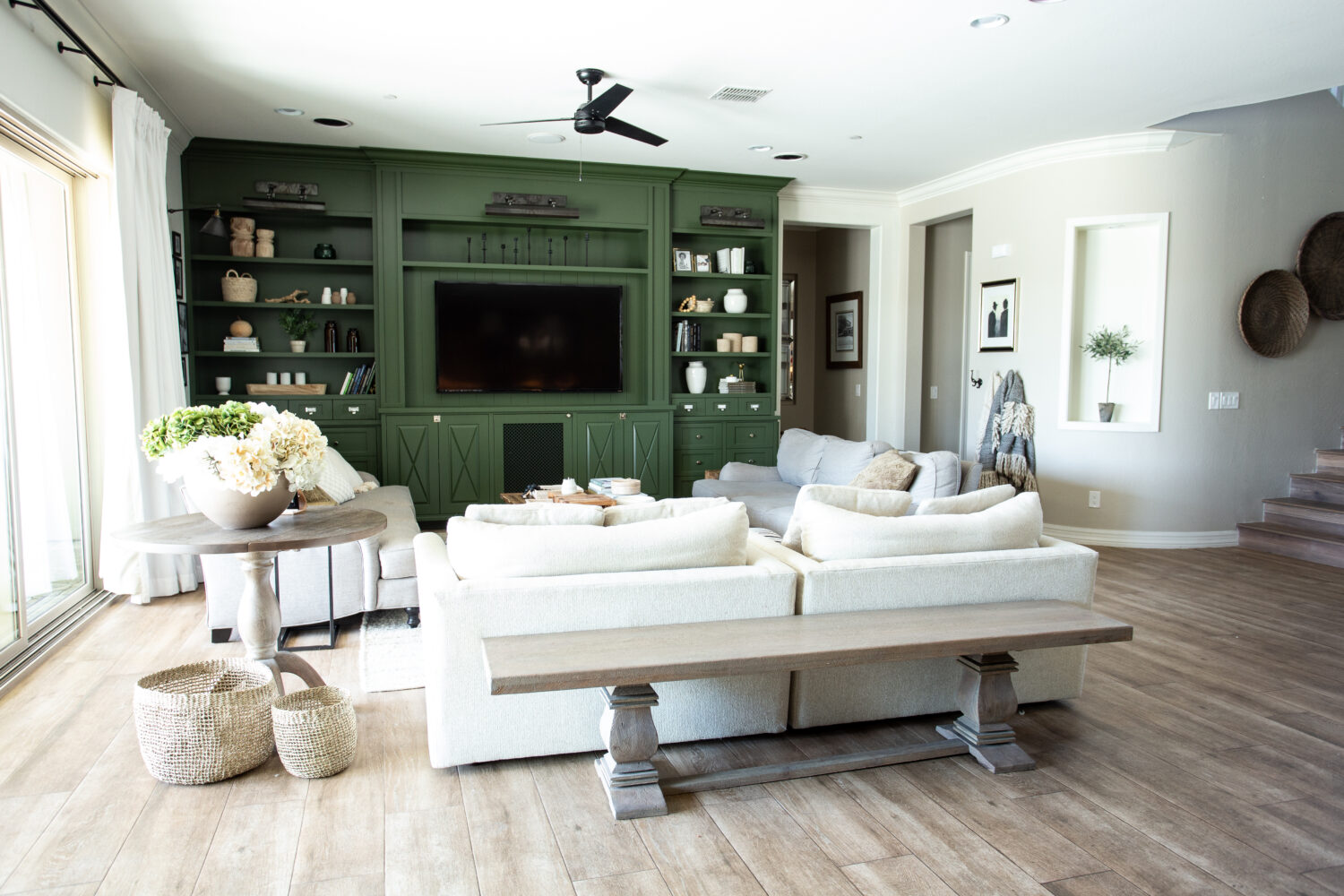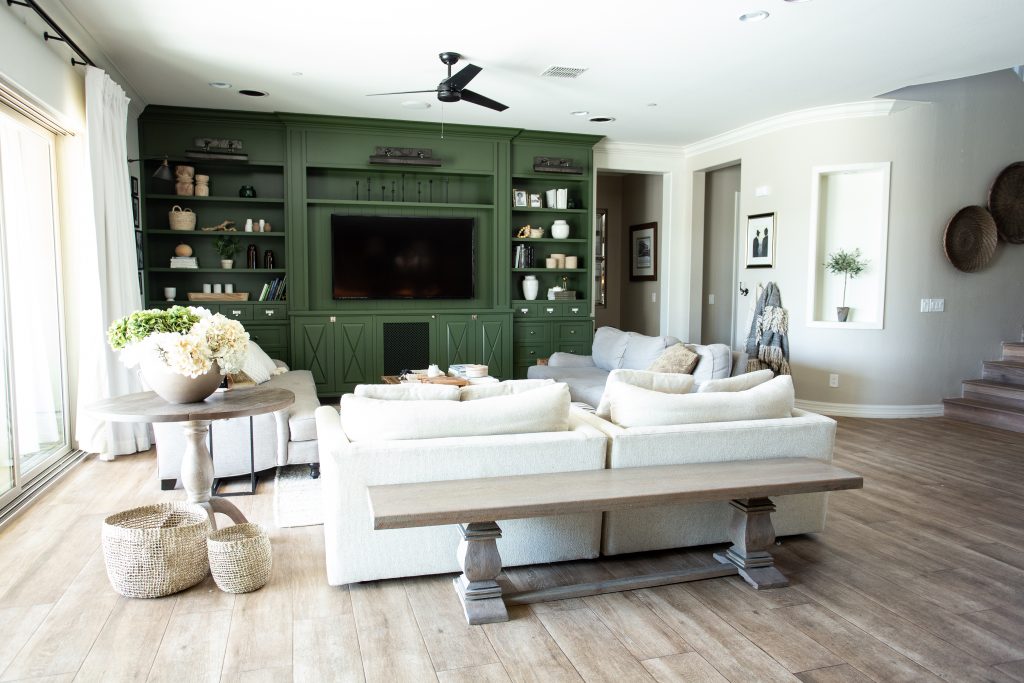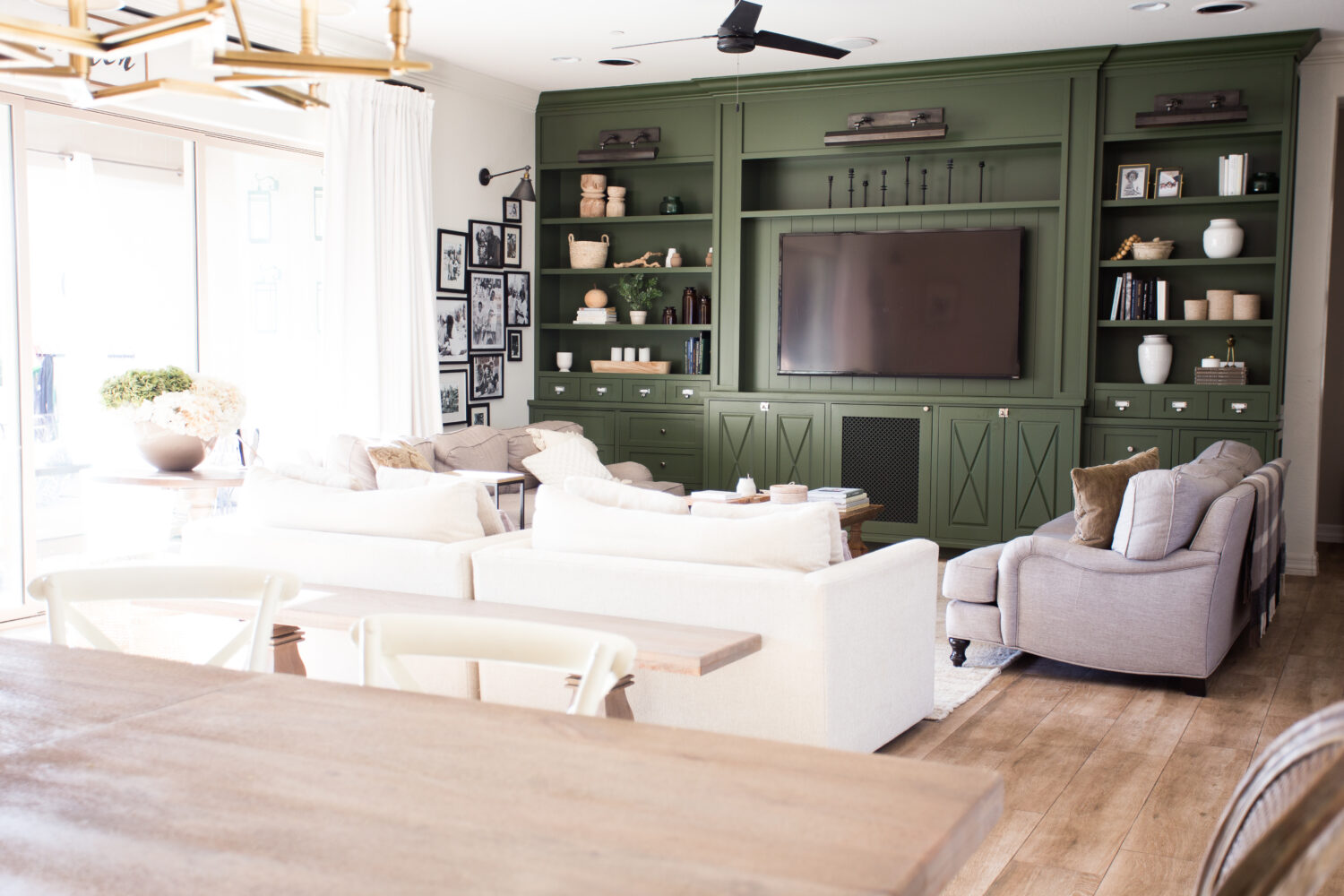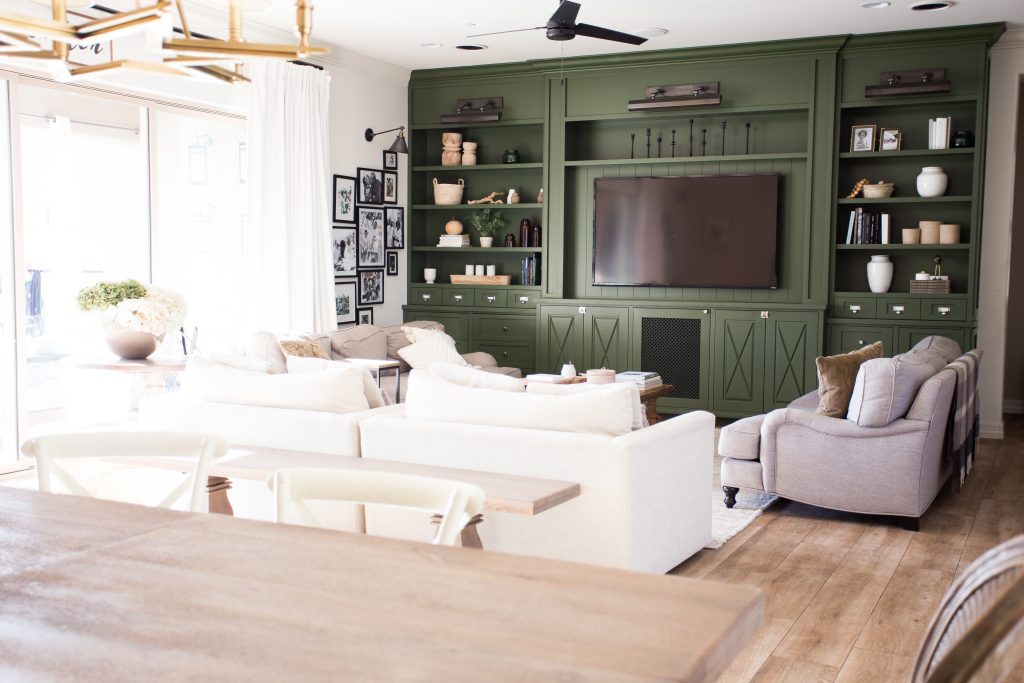 The sofas are from Living Spaces and all though we do LOVE shopping there, these sofa are just not living up to the quality we hope they would have. The biggest issues we have is the feathers come out ALL.THE.TIME.
I'm constantly picking up feathers. Vacuuming feathers and we have feathers on our clothes and in our hair. So I do NOT recommend them at all until they get them fixed. You'd be better off going with a foam cushion ( if you're on a budget)  or a higher end feather sofa that is wrapped properly!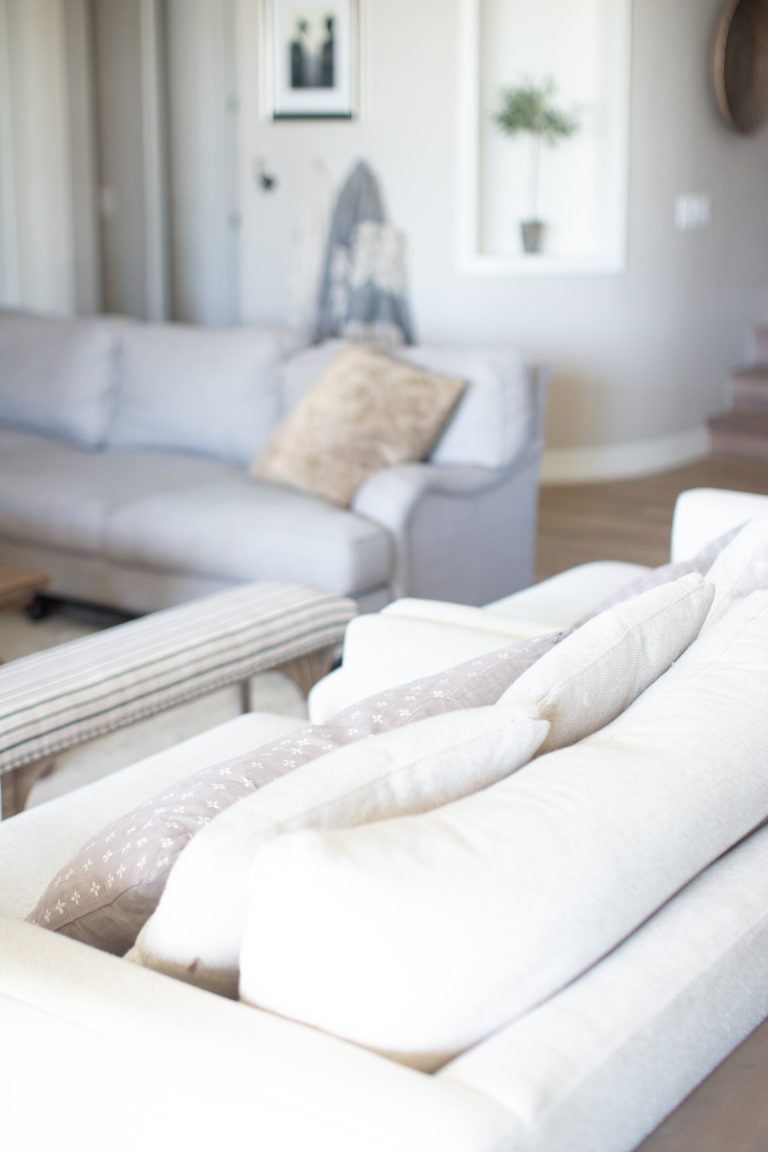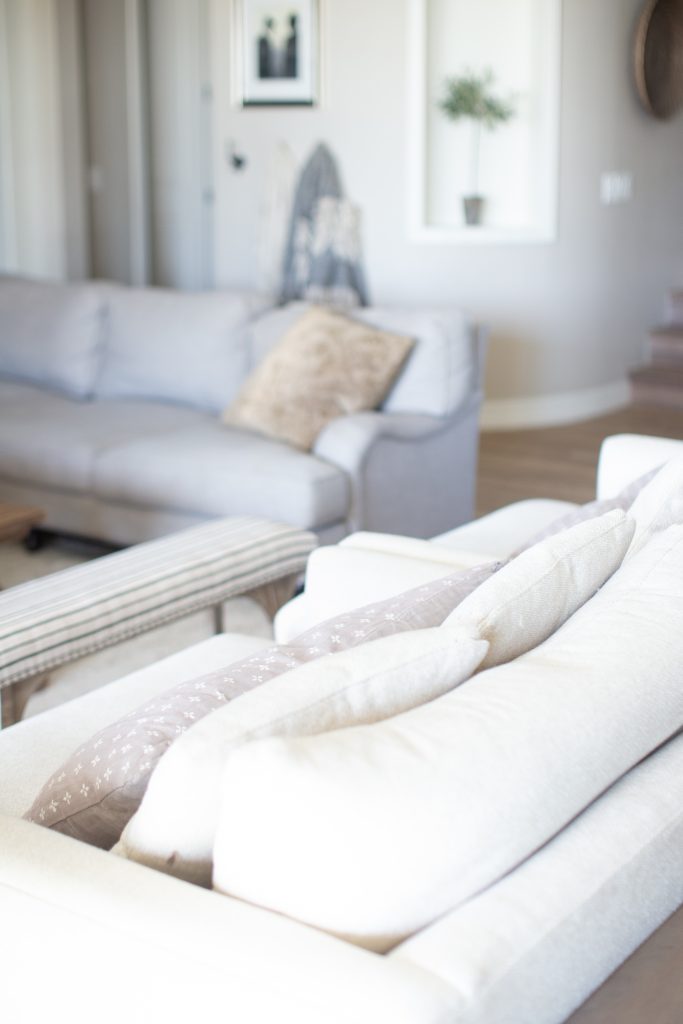 Our chairs have down cushions and I see very few if  any feathers from them.  I recommend looking at something from ROWE or Pottery Barn and Crate and Barrel for sofas. Don't skip on the sofa! It's a big investment but worth it in the long run. The Rowe kid proof sofa seems like the answer to all my prayers!!! Have you seen the features?
Extra Seating
Besides our sofas and chairs we have extra seating in the form of ottomans and benches.  This really comes in handy when we have parties with large groups of people. Guests can pull up a chair from the dining table, an ottoman from the corner, or a bench from behind the sofa! I also love using our side tables as extra seating options! They hide in plain site but add so much function to the space.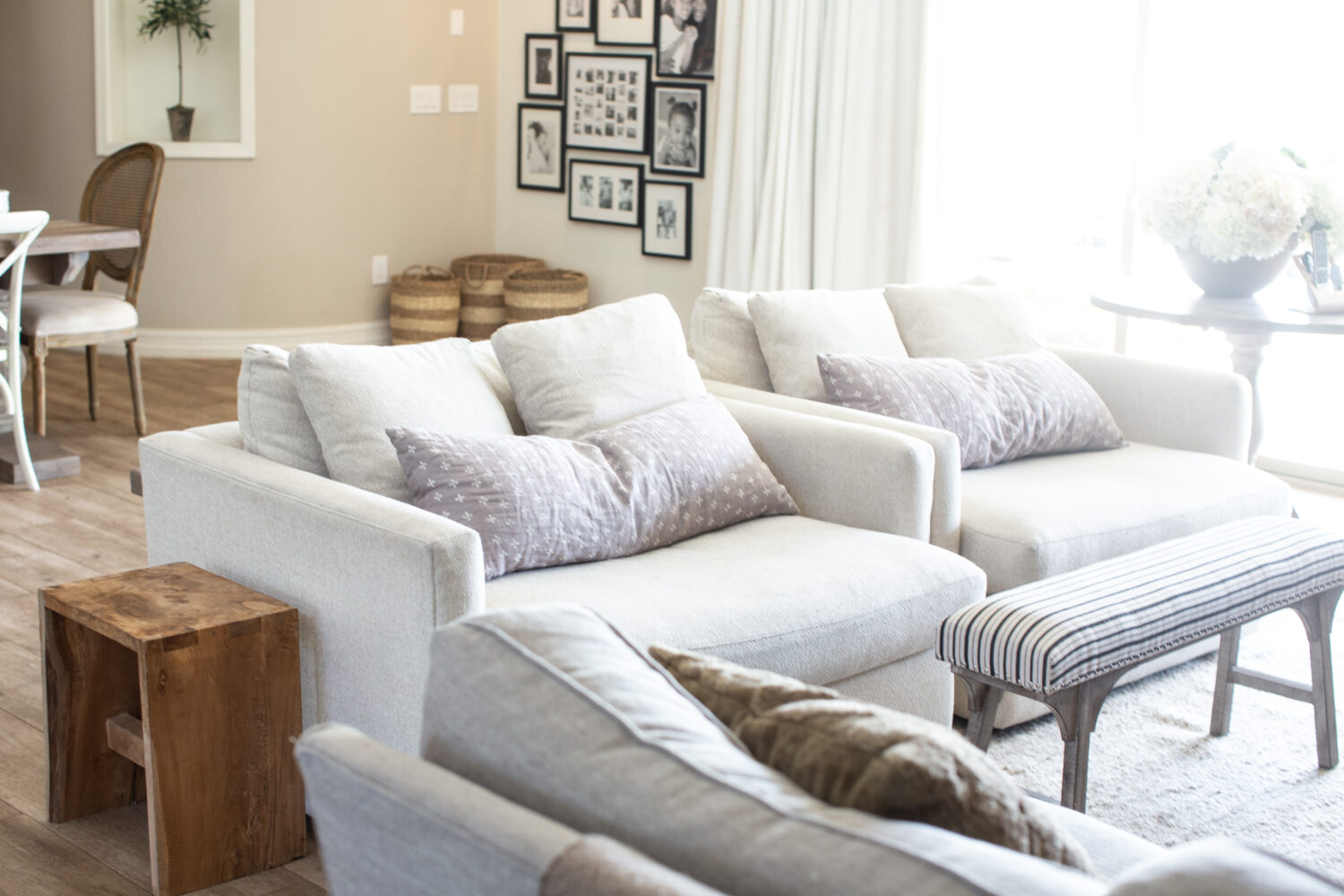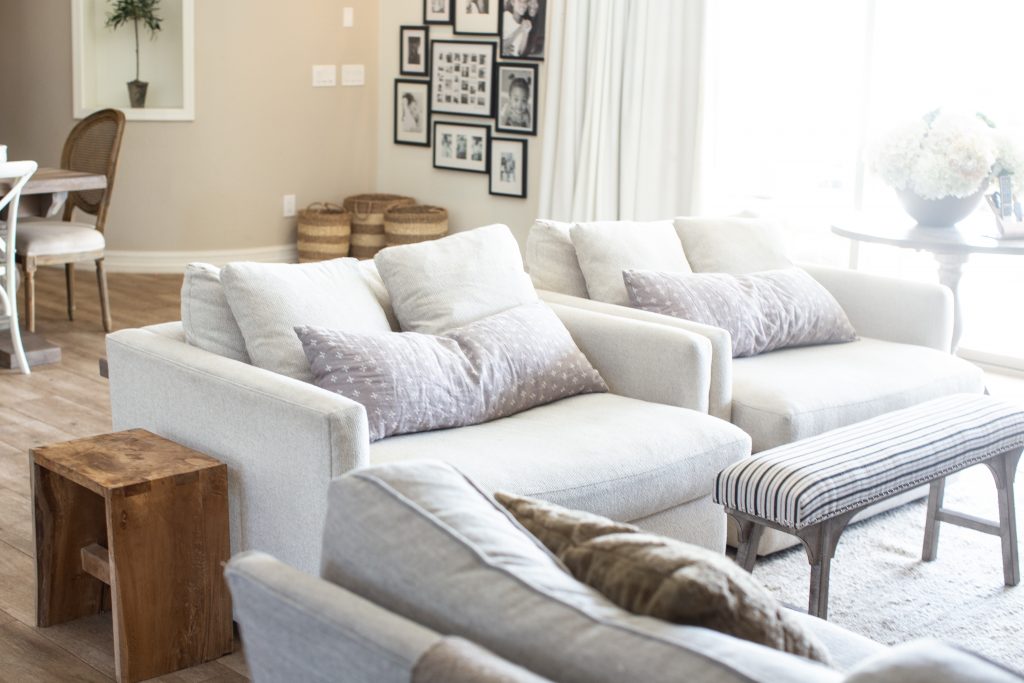 How to Decorate your Family Room with Beautiful Lighting
When we built the house we made sure to put recessed lighting in a group of four above the family room area. Above lighting provides enough light for parties and social functions! We also upgraded the lights to these Philip Hue light bulbs. This way we can control the lights via an app and Alexa for dimming and atmosphere!
You won't find any lamps in our family room. At least not yet! But our built ins feature some beautiful lights from Hudson Valley Lighting! They have a hardwired and plug in option which I think is AMAZING!! We power them using led lights with a remote! This adds to the atmosphere of the entire room!
I've also recently changes started to change all my other non Phillip Hue light bulbs to this color and it has made such a big difference. Everything just looks prettier.
You'll also notice our ceiling fan doesn't have a light kit either. I think it makes the room more streamline.
On the back wall of the family room I have two scones that light up a gallery wall of family photos! It's one of the first things guests look at when they walk into our home!
Decorating your Family Room: Rugs
For over the hard tiled floors ( that look like wood) I layed down a cozy sweater like rug! It feels amazing on bare feet and neutralizes the space well. It has a very quiet pattern that doesn't really compete with anything in the room but still adds value!
The rug does shed but not much. After a good vacuum it's under control again. When you're looking for a rug make sure it's big enough! A 5×7 may work in some situations ( like right in front of a sectional) but for the most part your rug should be 8×10 or larger for the family room. The furniture should sit all the way on it or at least have the front legs touching it.
See a list of my favorite family room rugs!
Curtains
Drapes and curtains make rooms looked complete and are usually only decorative. But our drapes are not only decorative but are on a traverse rod making them completely functional! I ordered a custom rod from Smith and Noble to cover our 16 ft sliding door and used ready made drapes to cover them!
I used these drapes in my last house and they are THE best ready made drapes I've come across for quality! They are fully lined, heavy and beautifully made to stack nicely! They also come in so many colors it's hard not to pass on them! Even if you don't have a sliding door I recommend the 100 inch wide ( double wide) curtains because they look so good stacked a the end of the window! If you want to know the secret to hanging curtains, check out this tutorial.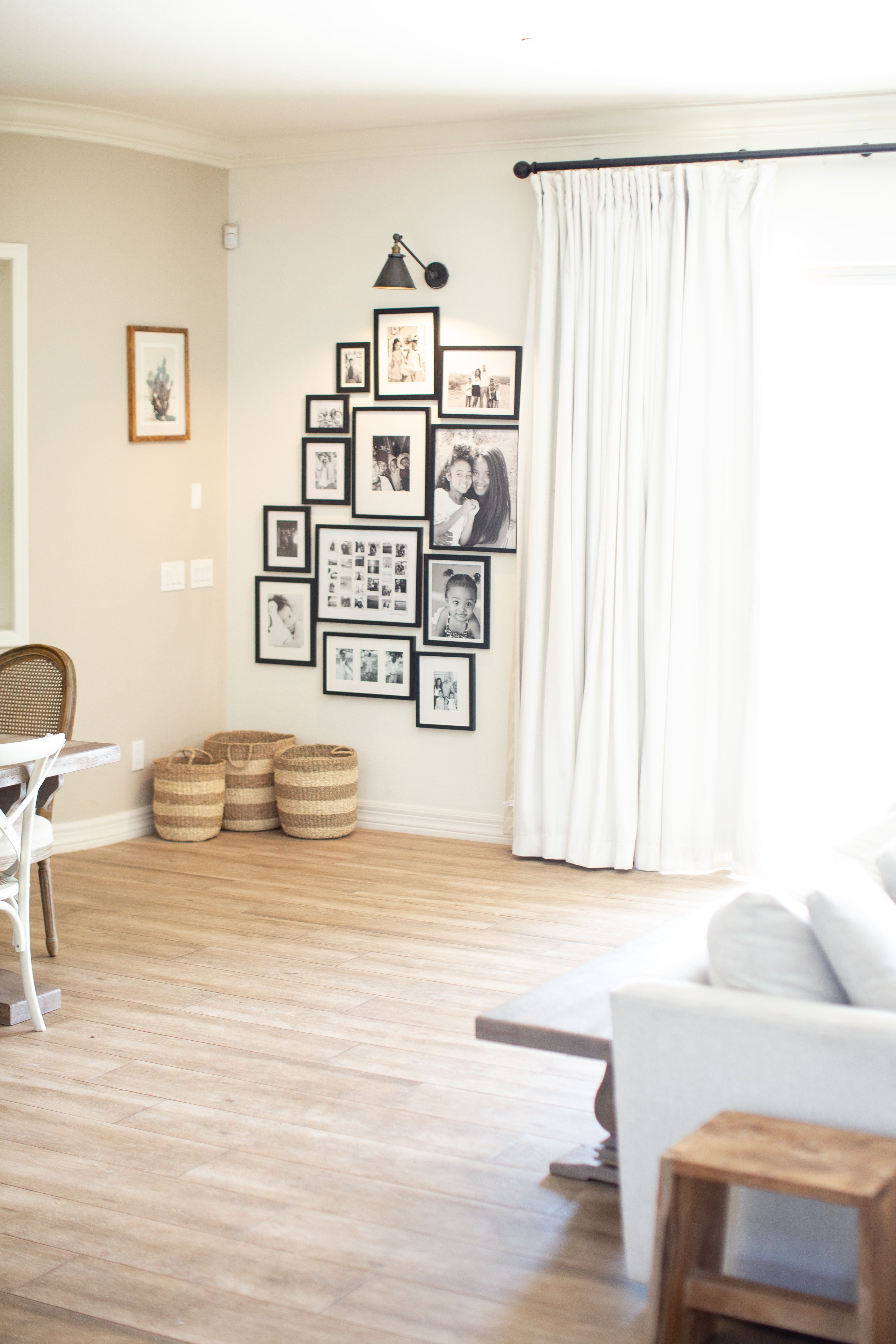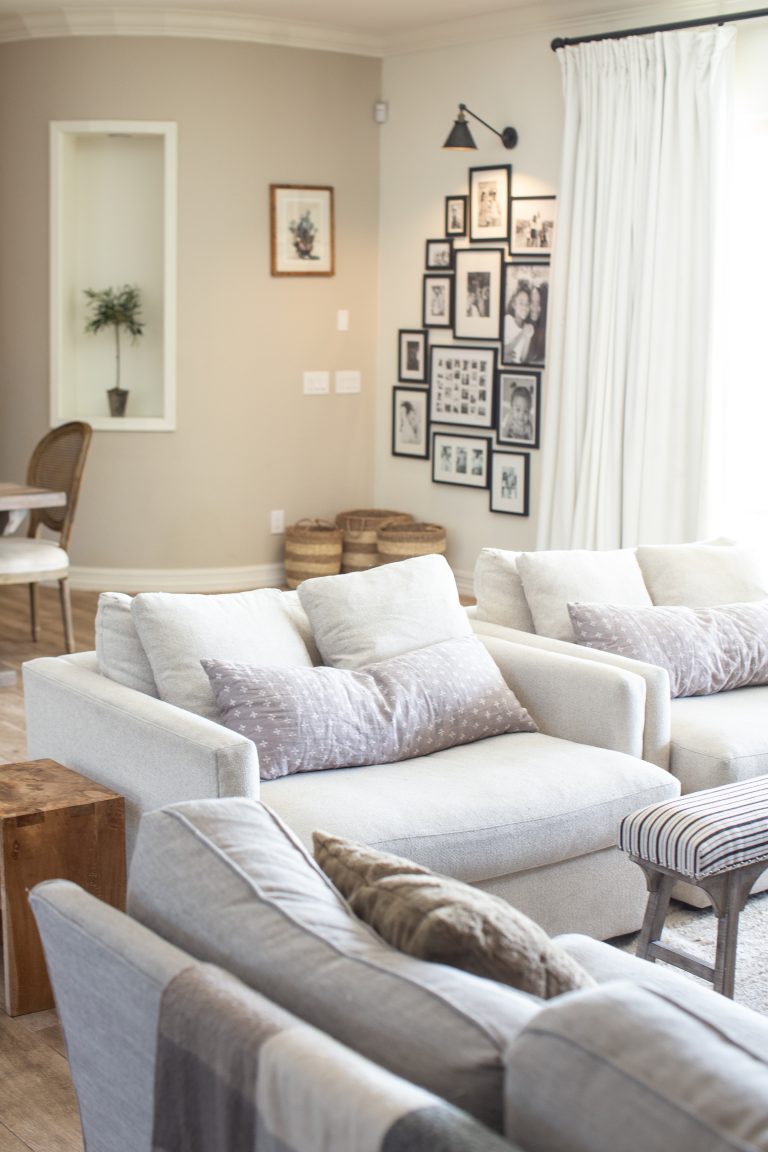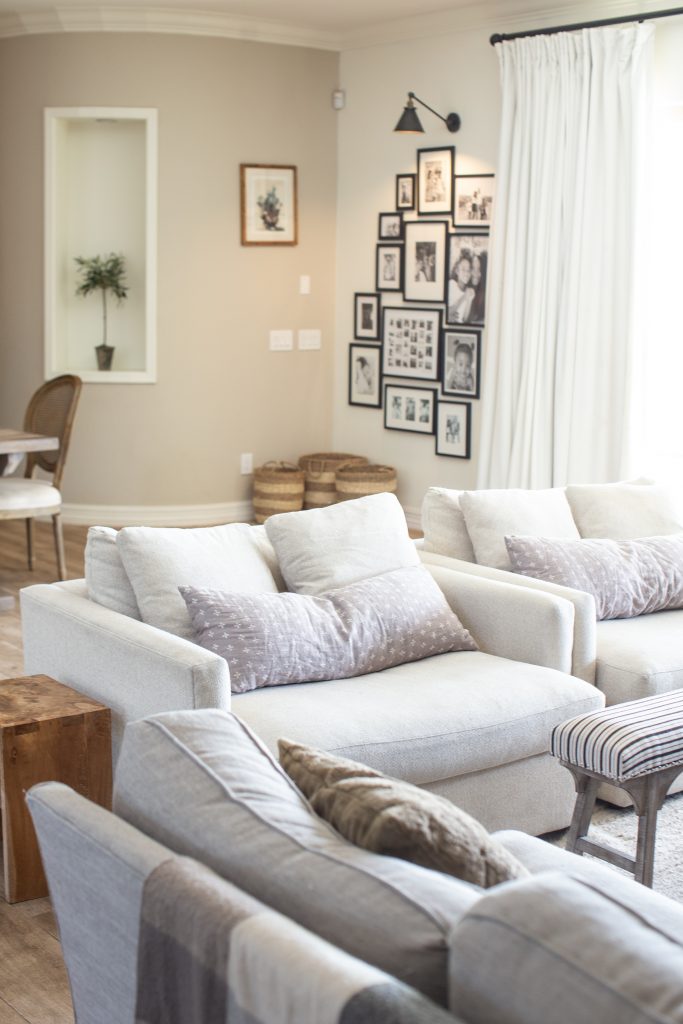 How to decorate your family room with Throws and Pillows
It's just not a family room without pillows and throws! My family room is covered with comfortable pillow and throws for relaxing and lounging! Over the years I have found that down pillows are not the most comfortable to lounge on. These inserts from pottery barn are super comfortable!
Also any throw that sheds needs to go! I collect throws throughout the year and hang them right off the family room on hooks. This is one of the most efficient ways to make sure your family room stays clean! So many times my kids and husband didn't know what to do with the throws. Now they just hang them up.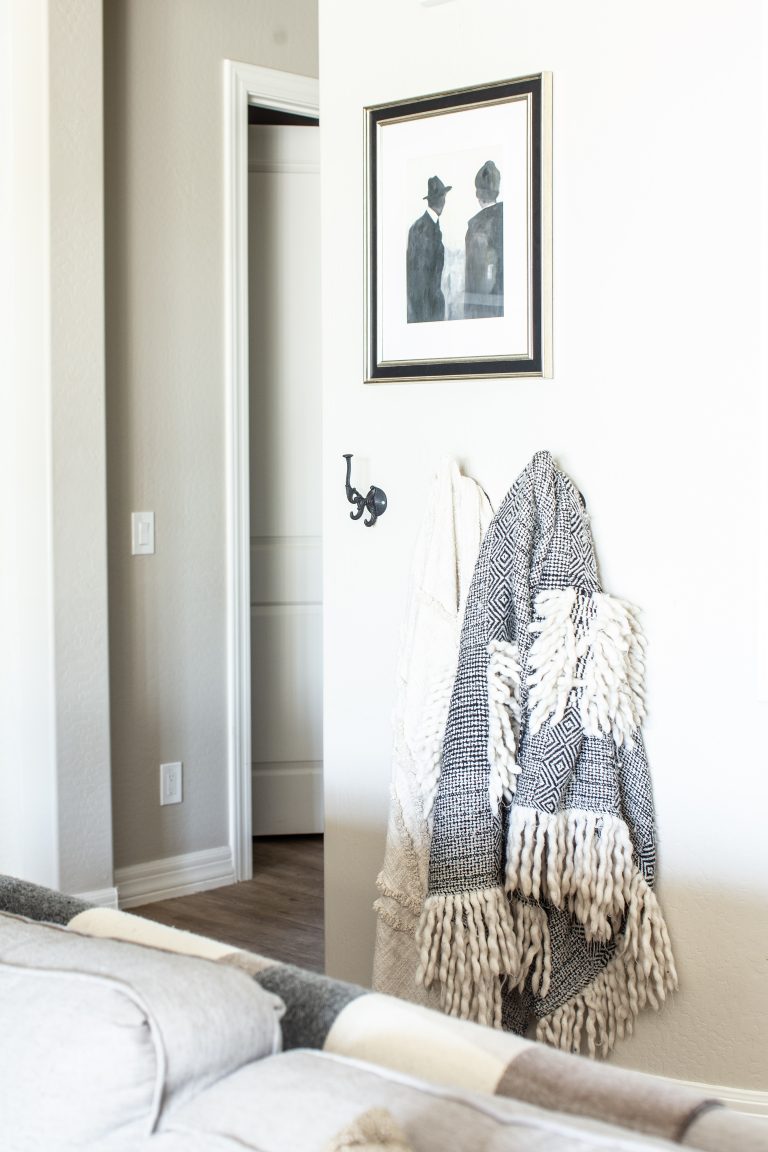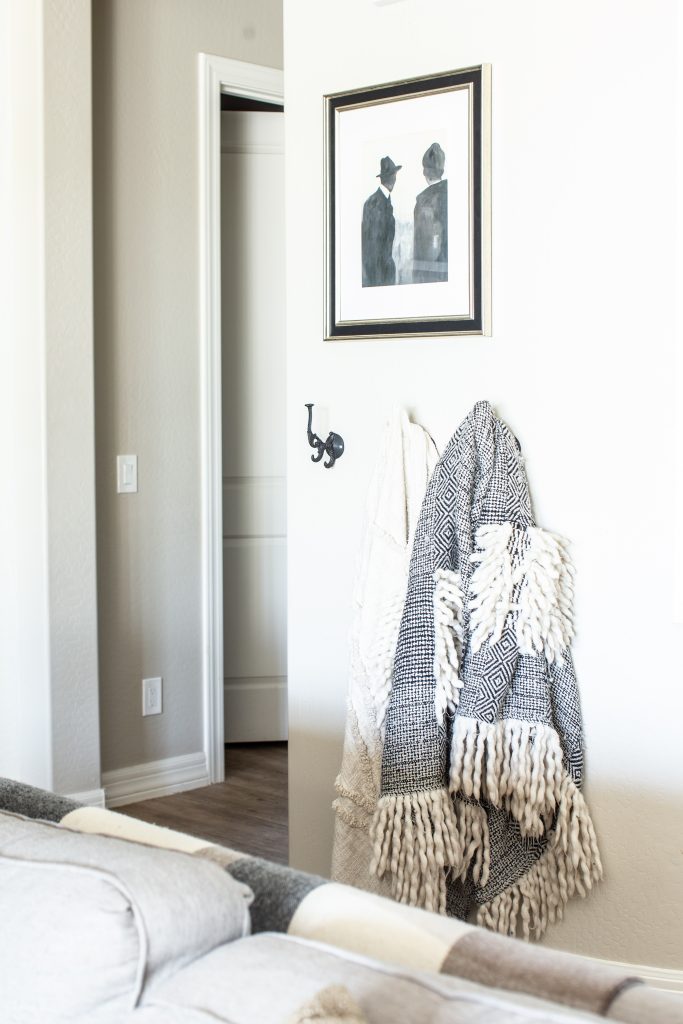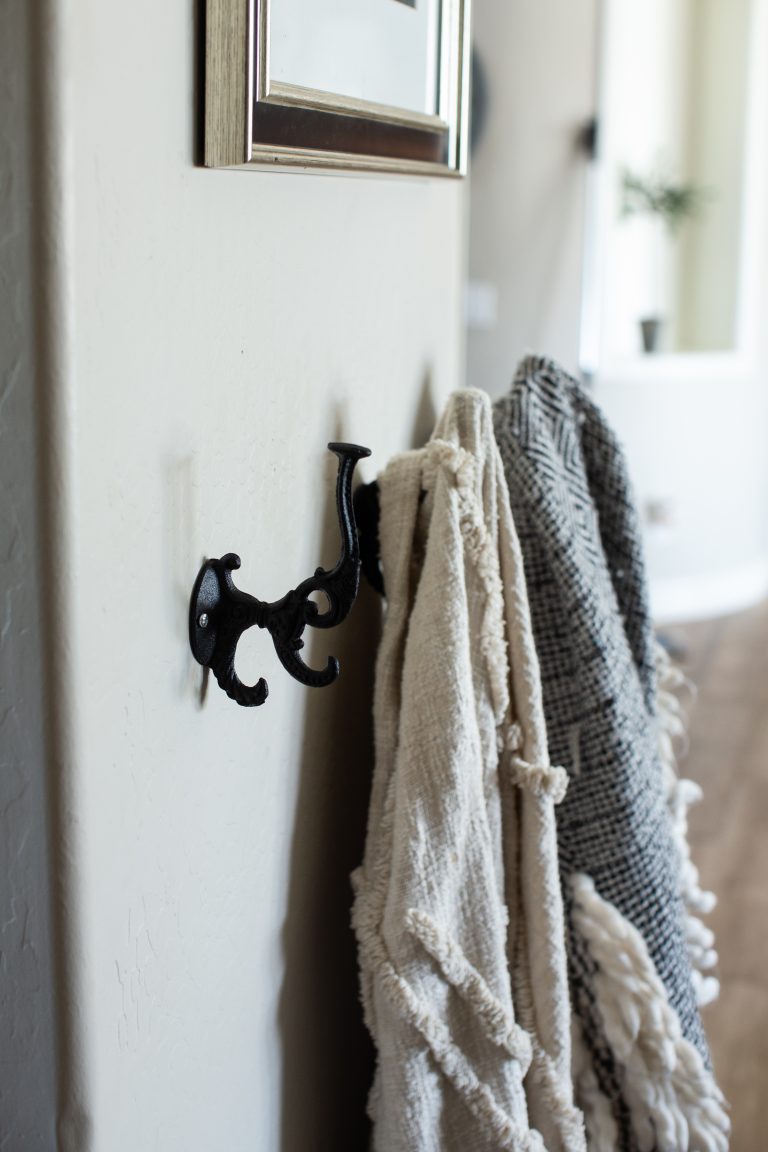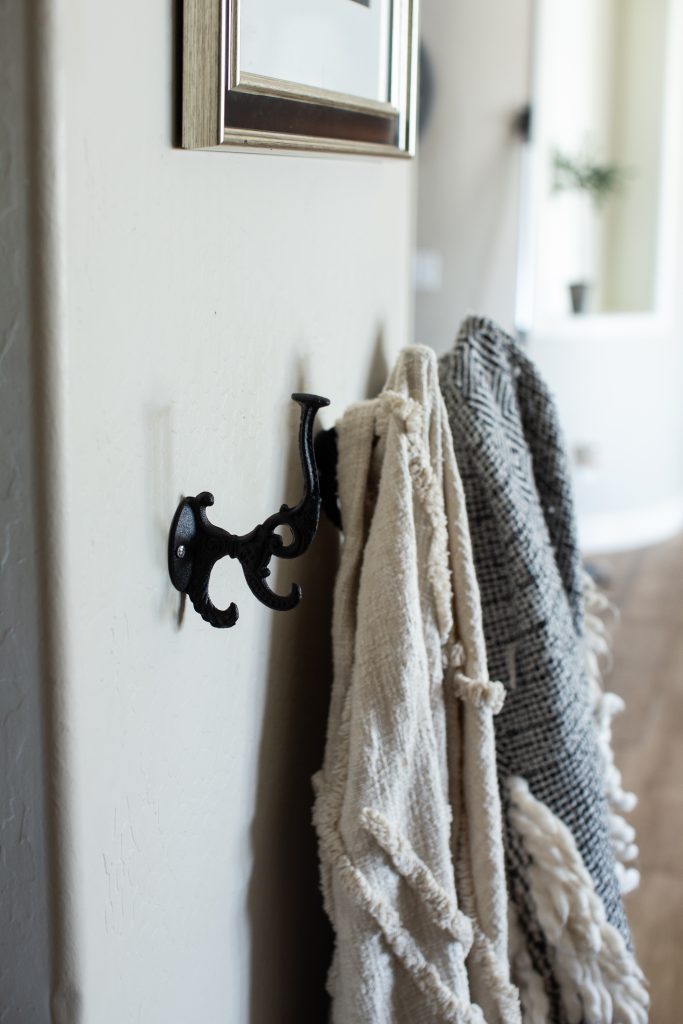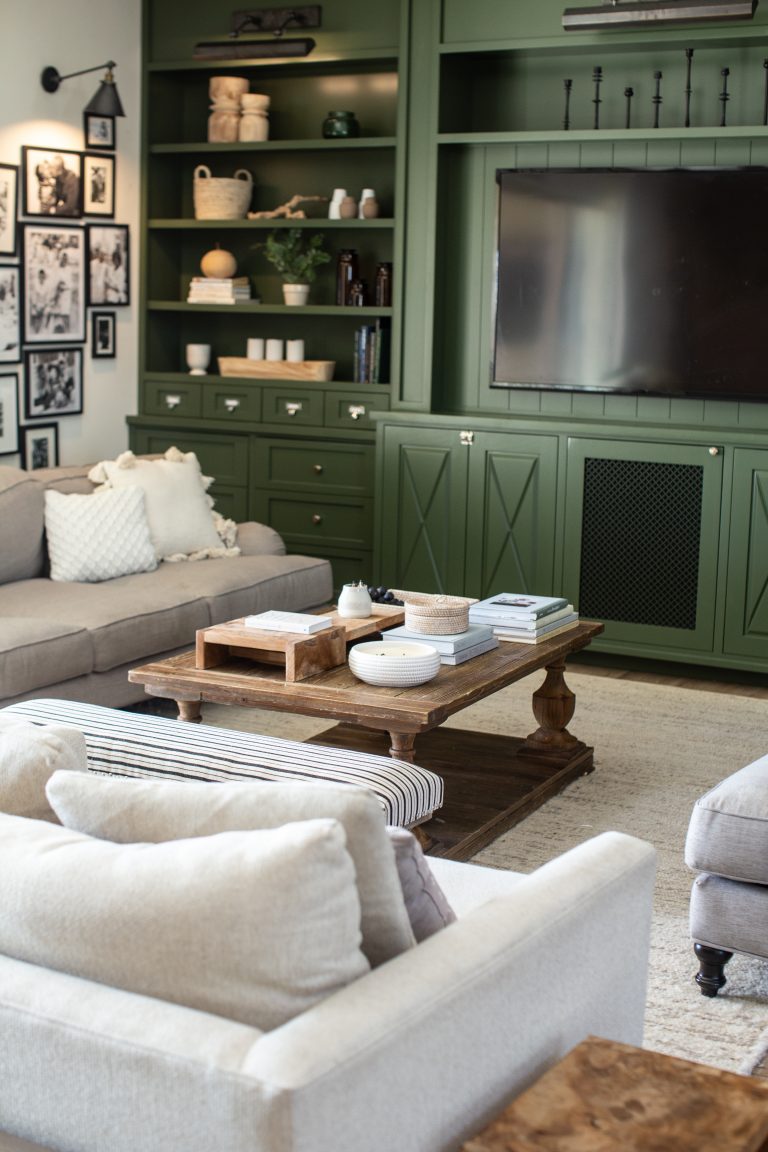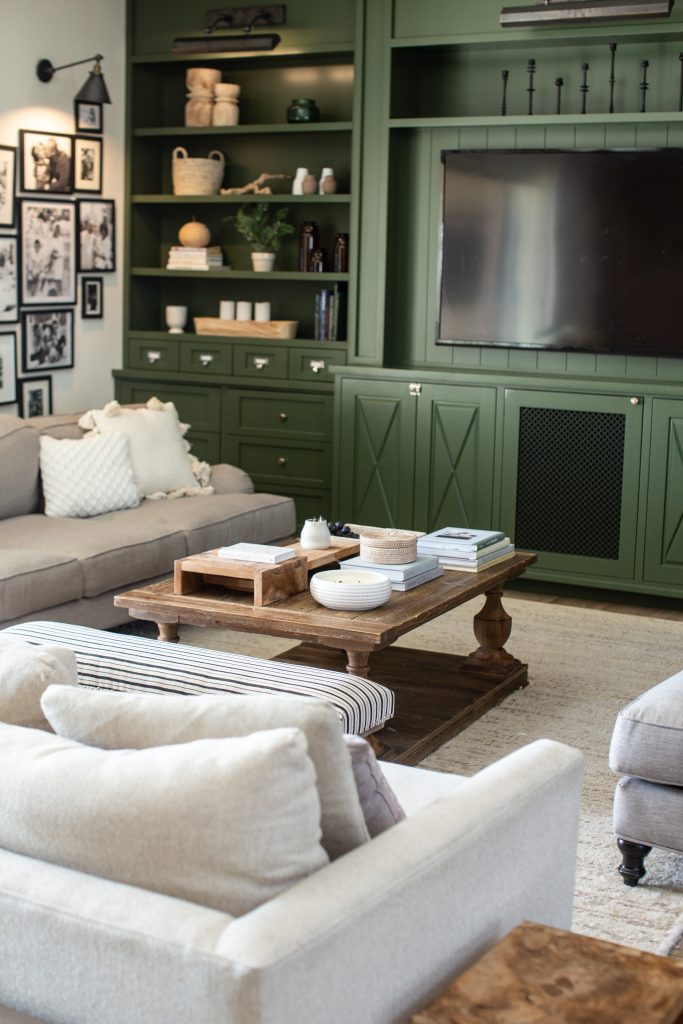 Built in or TV console
One of the the biggest changes or upgrades we made to our family room were these beautiful custom made built ins. I went back in forth on wanting maybe just one long console with a blank wall or an entire wall covered with bookshelves all the way up to the ceiling!
Obviously I choose the later,  but I think either one would have looked great! I decided to go the opposite of white and cream shelves and do a dark green finish called Secret Garden by Sherwin Williams. All though this color is trending ( I hate trends…lol) I still do think it will hold up well over time for my personal style! You can order a peel and stick paint sample instead of getting a bucket of paint! Genius.
Our built-ins were made by the team at Public House Creative here in Phoenix and they did an amazing job from start to finish. They can do just about anything you want and if they can't they try to find a way to make it happen! Because they build everything in the shop the installation really only took one day! For bigger projects it might take longer but they really try to be efficient!
Our bookshelves are styled with items from some of my favorite shops like Design Ideas, Target, Walmart,Studio Mcgee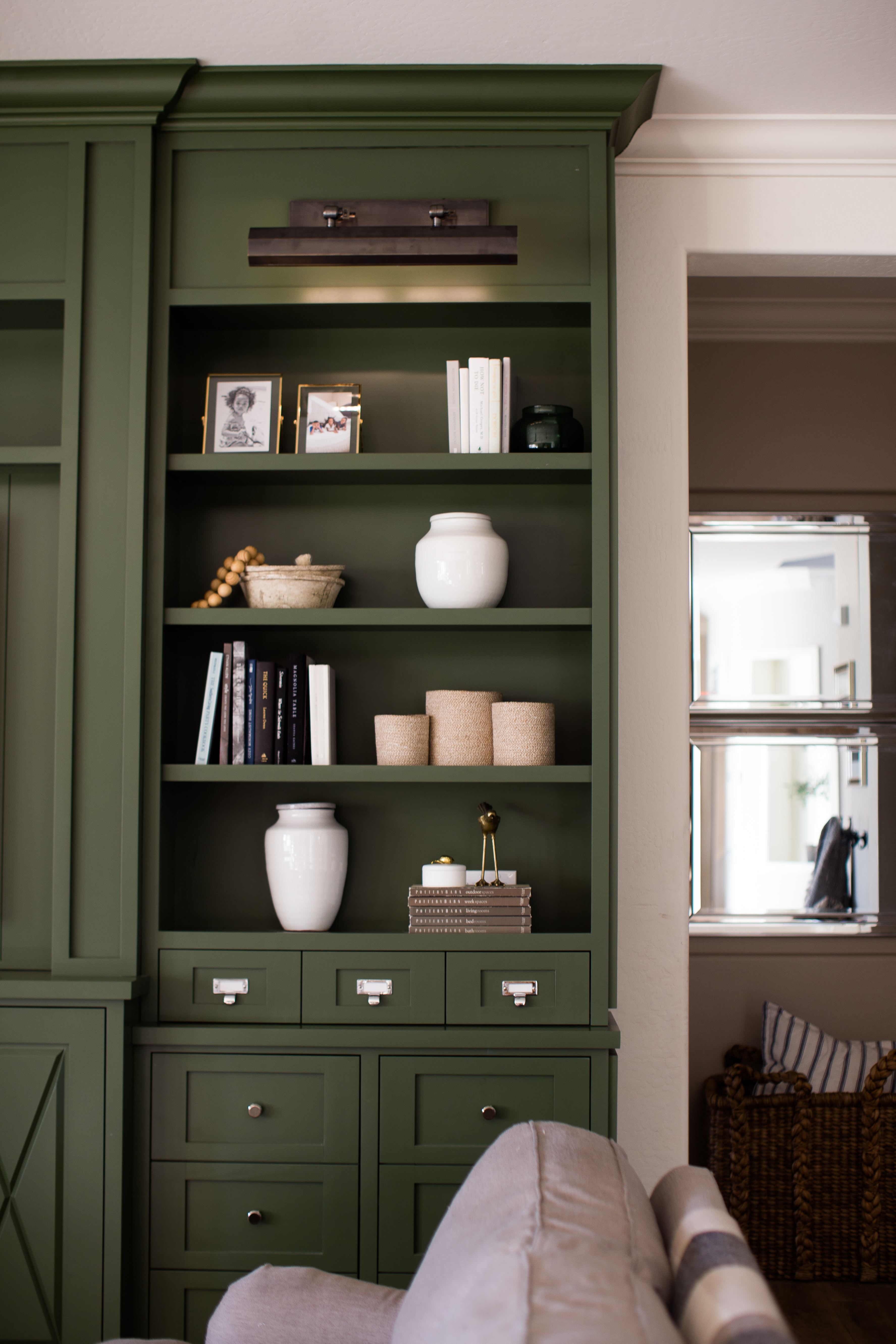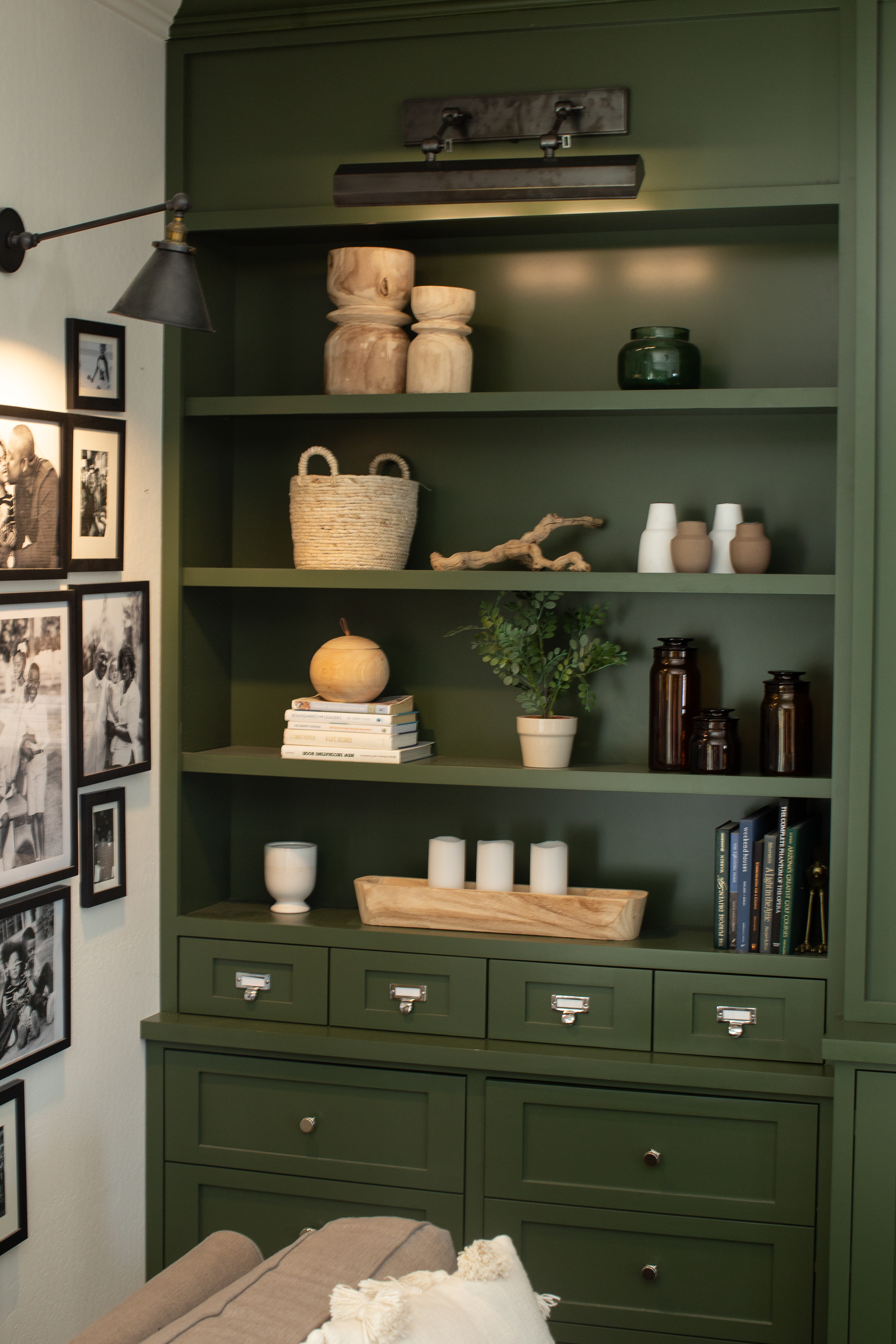 Storage
The built ins provide all the storage we need in this room! Between the bookshelves and the storage below we have plenty of room to store board games, subwoofer, books, morning hair supplies, photo albums and more!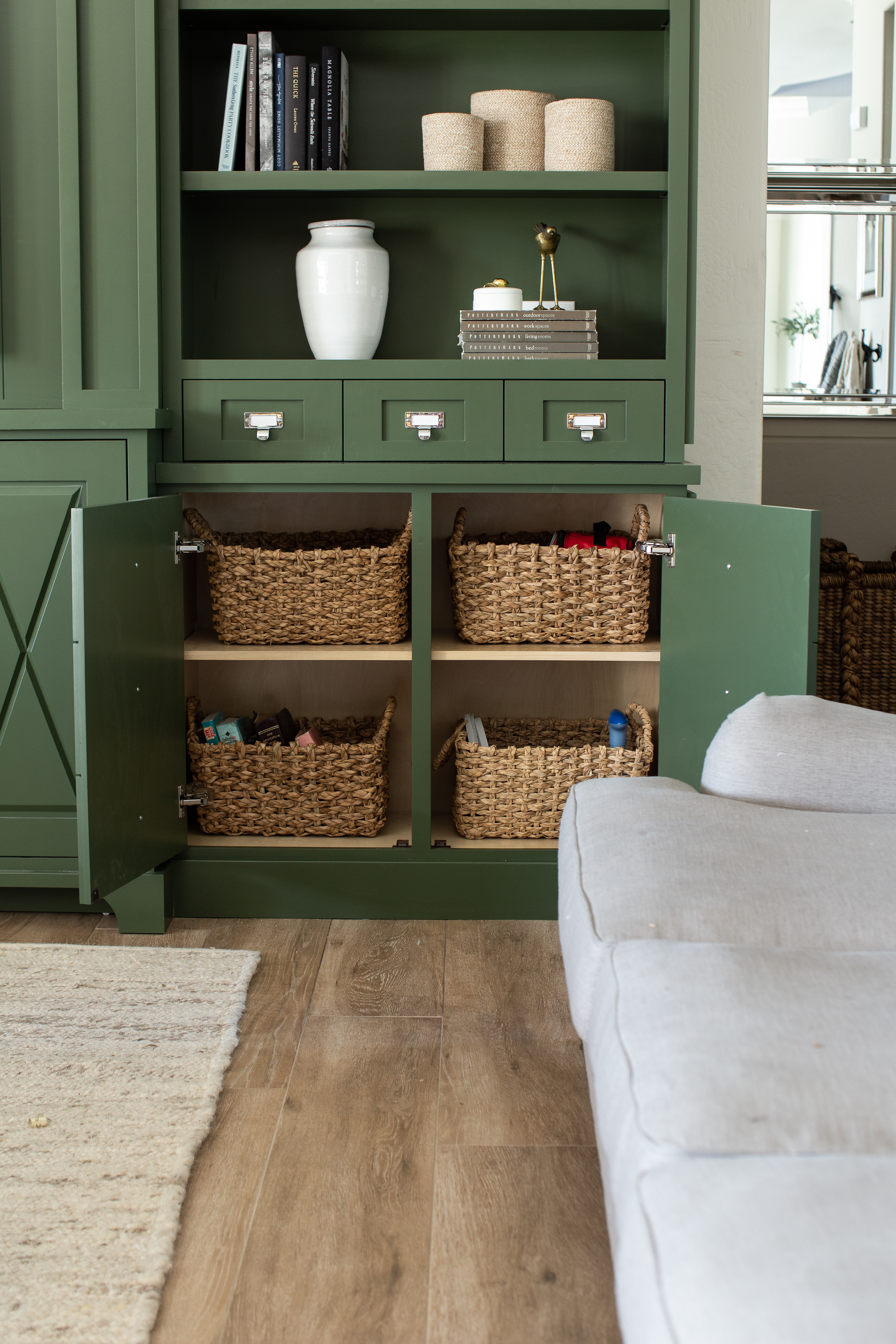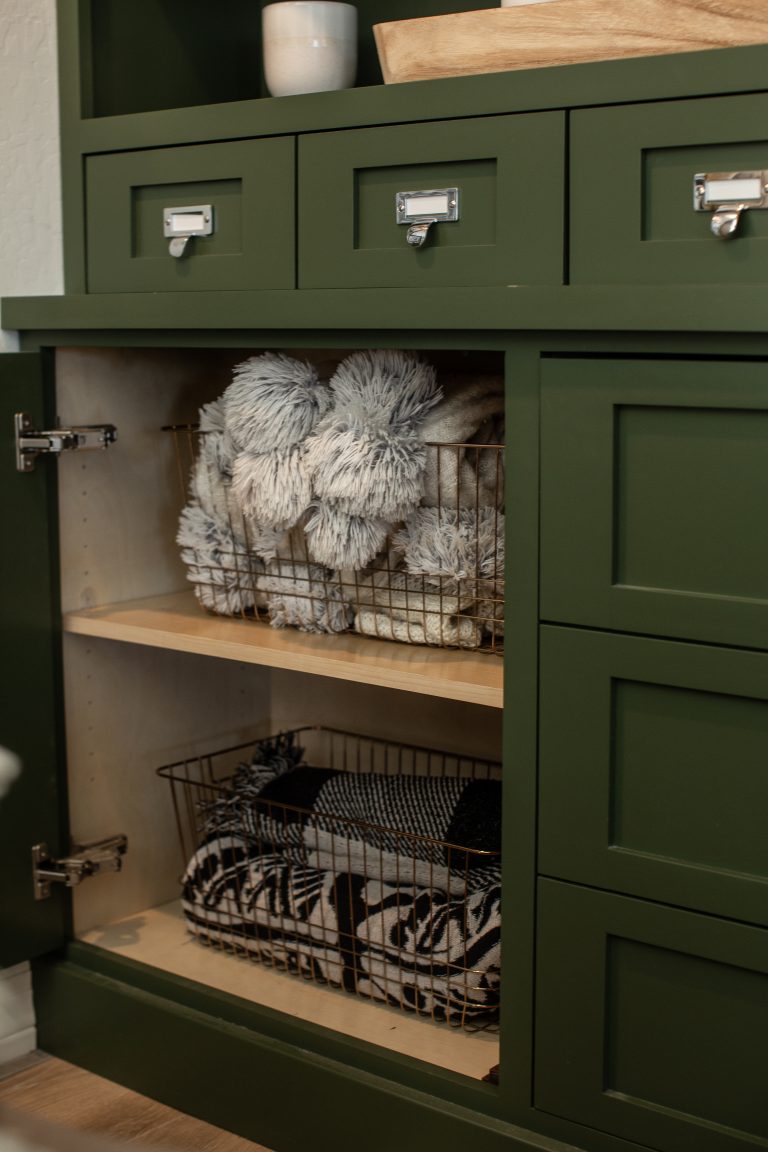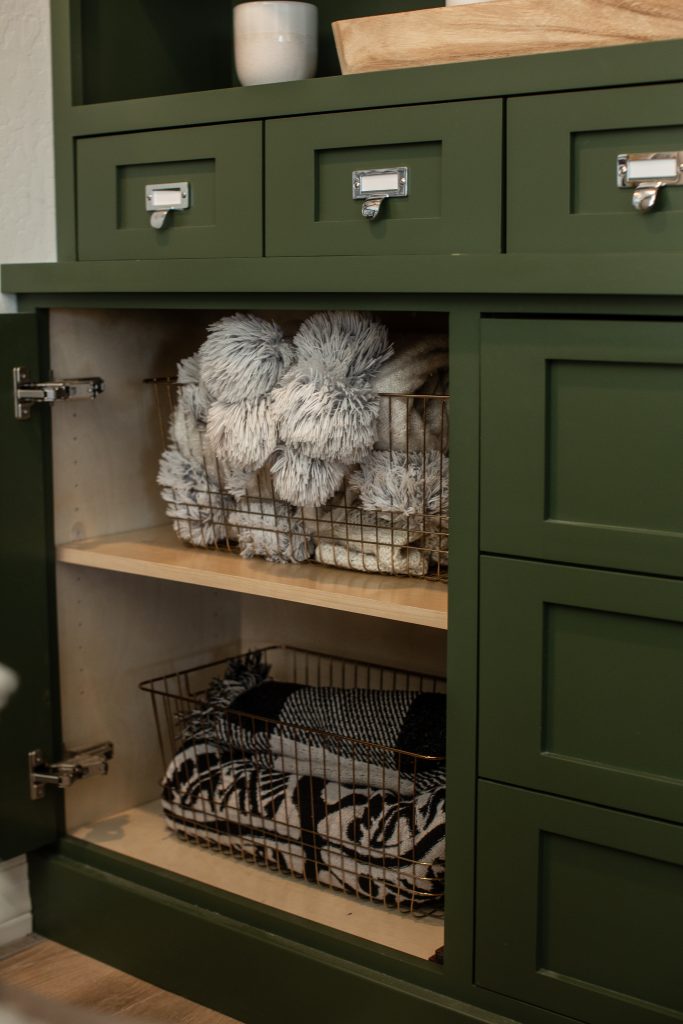 The coffee table and side tables are also a good storage spot! Under the coffee table is the perfect place for magazines all though I try to keep that clear! Under the side tables baskets are used to store extra pillows and blankets.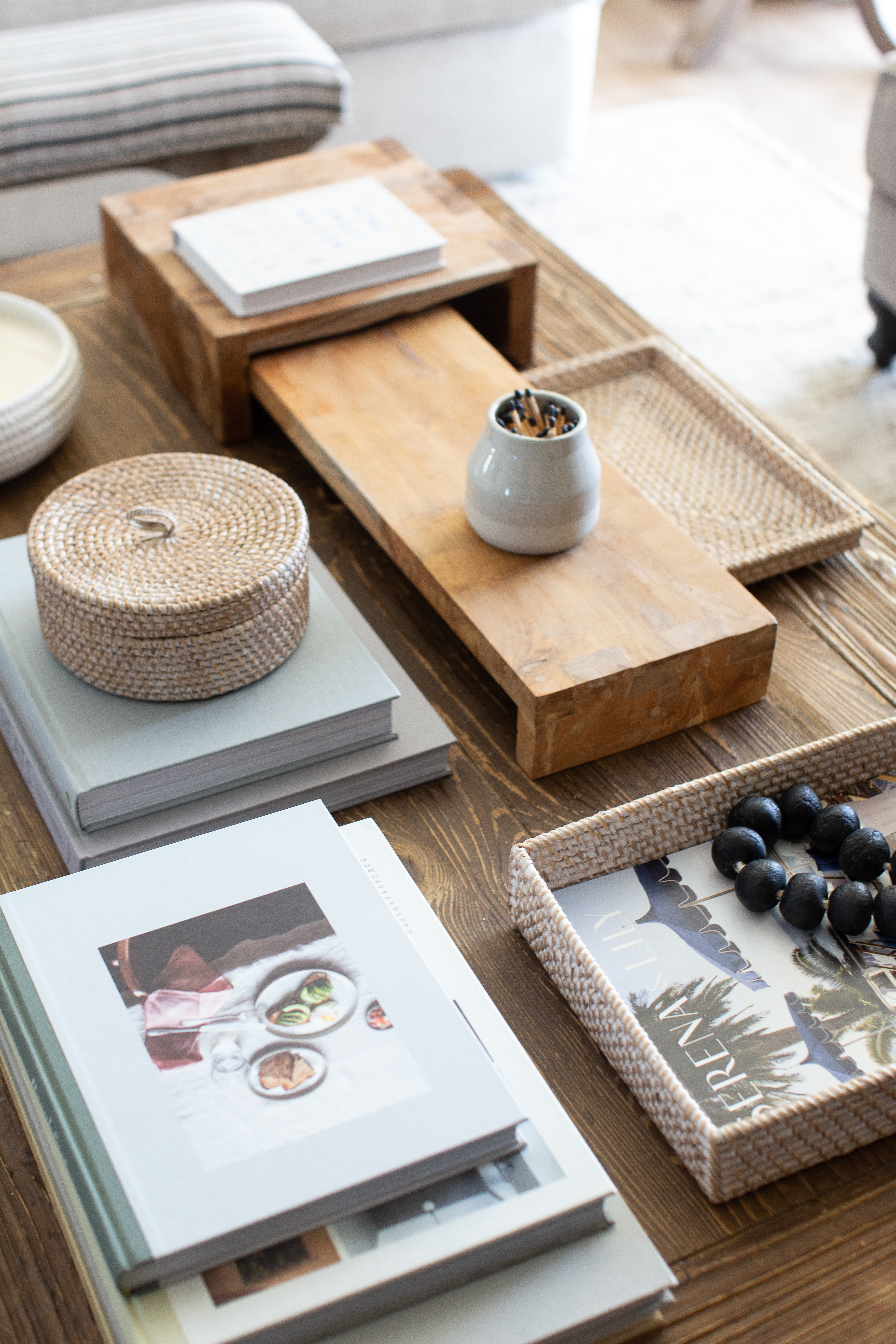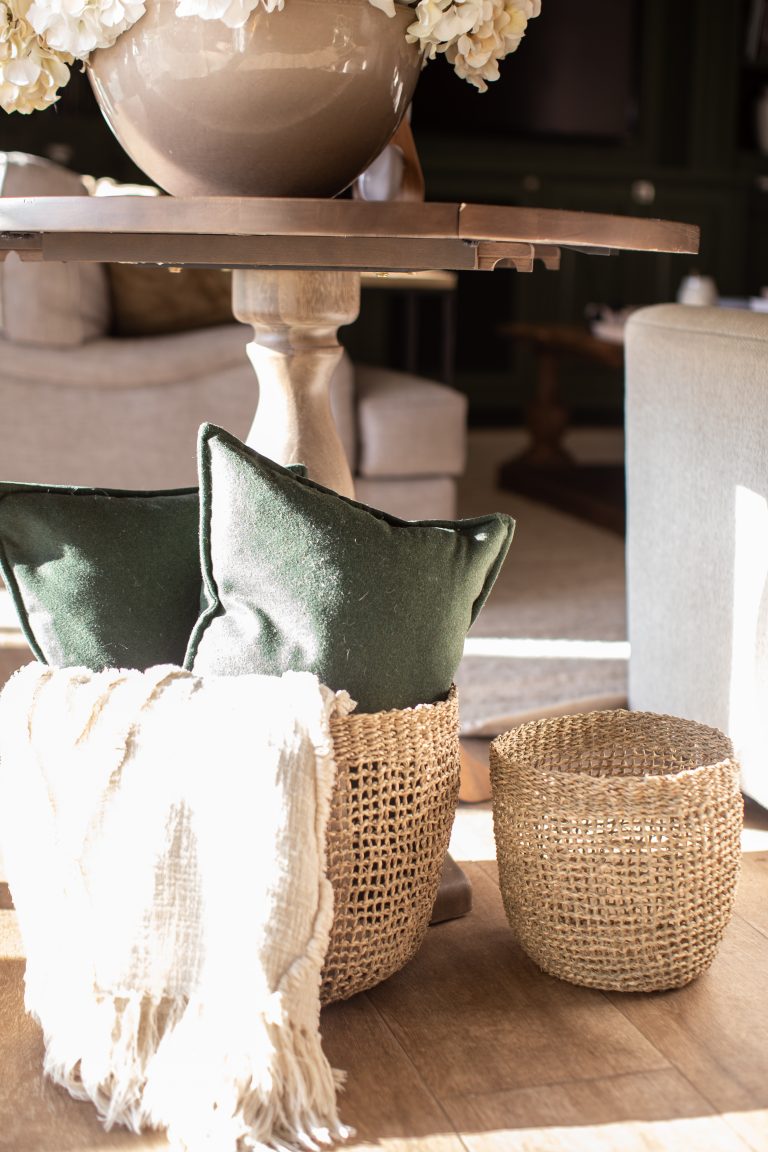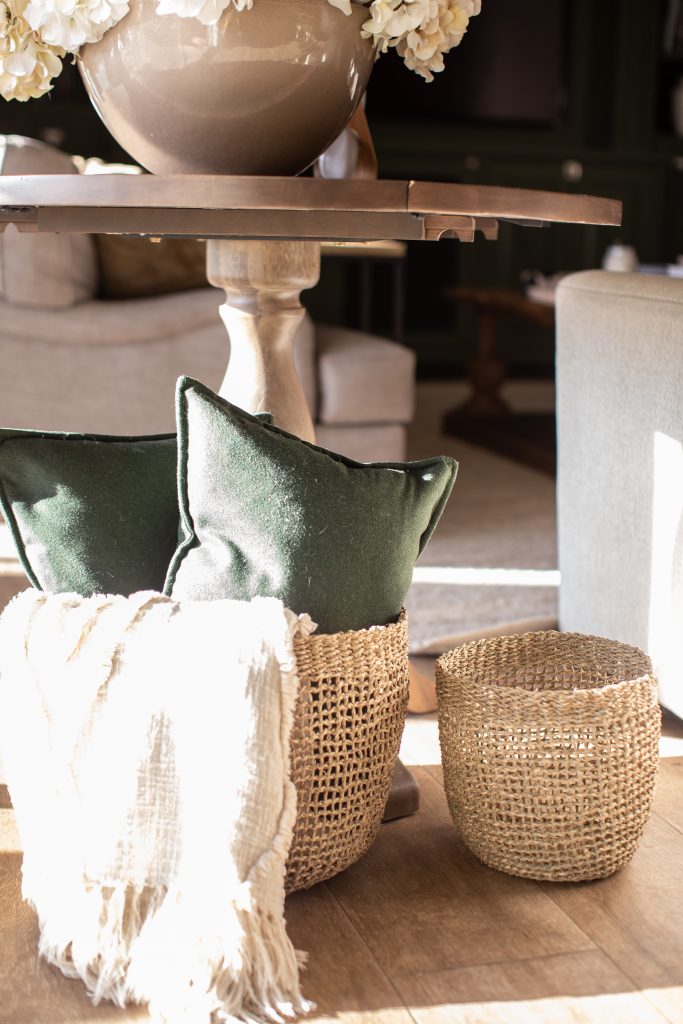 Surround Sound
My husband wouldn't let us build a house without surround sound! He is a big sports and movie guy so creating a min-theater experience was one of his top priorities! We opted to hardwire our system and then installed speakers. We also have throughout the house that all connect to one another and a Sonos bridge connects your hardwire to the rest of the Sonos speakers!
Loved and loving how this space has come together! Hopefully you picked up some good tips on how to decorate your family room. Looking forward to sharing more of our home with you all! I'm also wanting to give you more updates in a newsletter? Are you interested? What would you like to see?
---
Sources for Family Room
---