Easy Last Minute Halloween Costumes
This post is sponsored and may contain affiliate links, please read my disclosure policy.
Just a couple of weeks until Halloween! This months Michaels Challenge has us Micheals Makers making Halloween costumes! I have a pretty fun one for you that won't have you spending hours behind a sewing machine. It's actually a no sew which is even better! I know a thing about last minute costumes. One year I seriously didn't buy the boys costumes out of pure exhaustion. I had just had our baby girl and I guess I just couldn't think straight. When it came down to the day OF Halloween my neighbor and I ended up with a lions costume!
This one should be as stressful though. You can pick up just about everything from Michaels this year to make your little girl a easy and simple last minute, cat costume with a black tutu.
[line] Cat Costumes[line]
Here's what your going to put in your cart when you go to Michaels:
Black Spool of Ribbon 1 inch
Black Boa
Black Shirt ( or a black shirt you have)
3 Spools of Black Glitter Tulle
1 Spool of Black Tulle Wave Pattern
1 Cat Costume Ear, Tail and Bow Tie Set
I spool of Gold Rhinestone Ribbon
Other items:
Black Tights
Shoes
Hot Glue Gun with Glue
[line]Cat Tutu[line]
1. Cut to size a piece of ribbon with room to tie around the waist. Mark each side were the ribbon will be tied around the child's waist.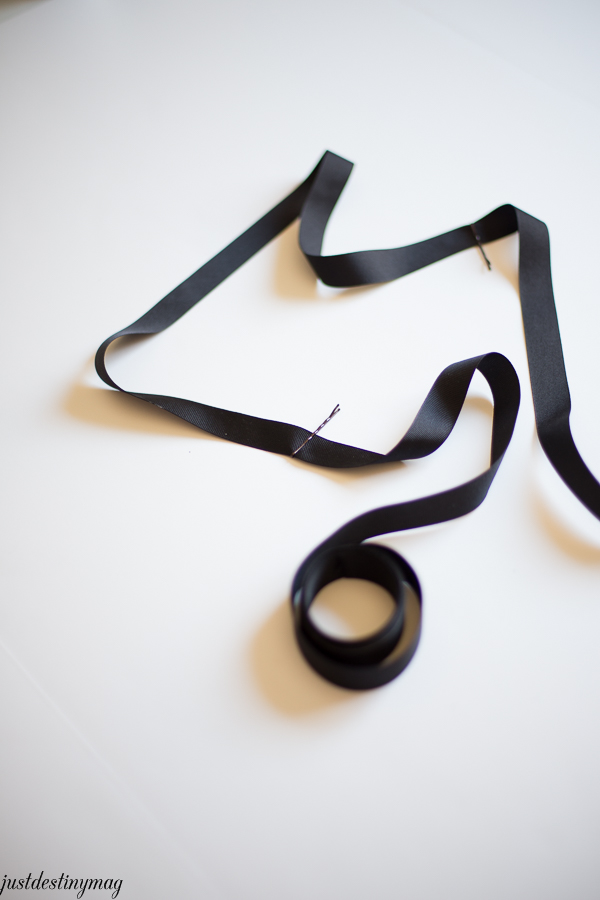 2. Take the tulle and cut it into long pieces according to your child's height. My pieces were 7-8 inches in length when folded in half. So 14-16 inches total.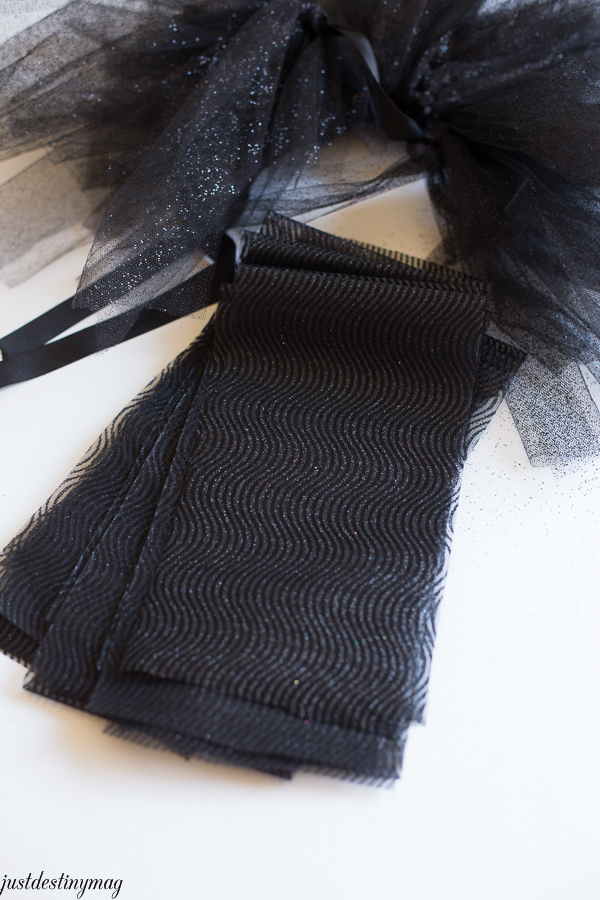 Next I used a combination of knots to secure the tulle onto the ribbon. I used two different types of tulle and a traditional knot and a slip knot to secure the tulle. This makes the tutu a little more fuller all the way around.
To slip knot, fold each strip of tulle in half. This should create a loop on one end and two loose tails on the other.Then take the halved tulle strips over the ribbon so that only a few inches of the loop stick out over the top. Then fold the tail ends around the waistband and pull them through the loop! Tighten and repeat until finished!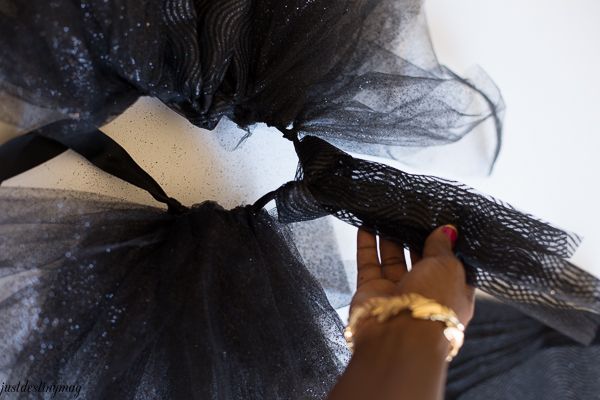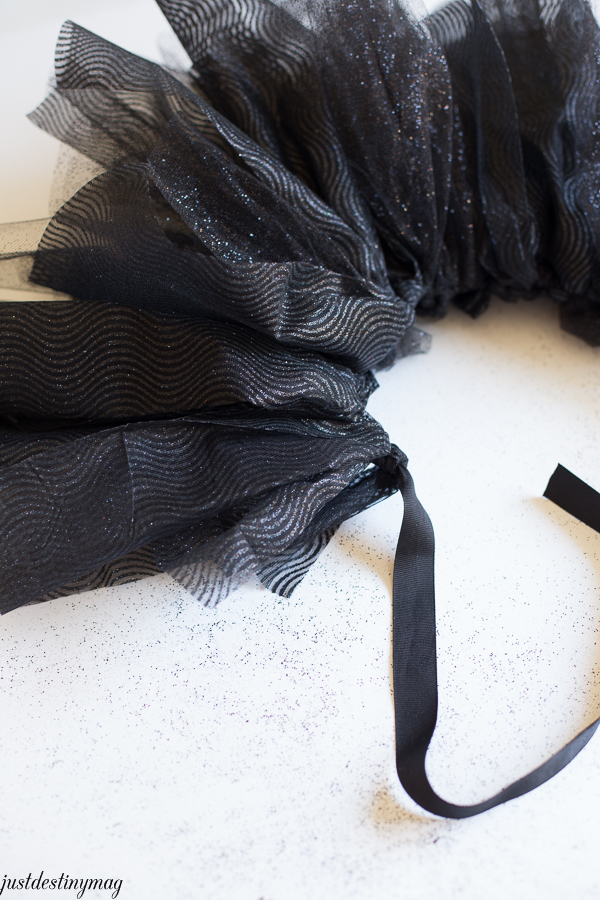 T-Shirt
To create a boa colar and wrists simply take a long piece of boa( black) and cut it to size to fit the neckline of the shirt and wrists. Secure it with hot glue on all sides!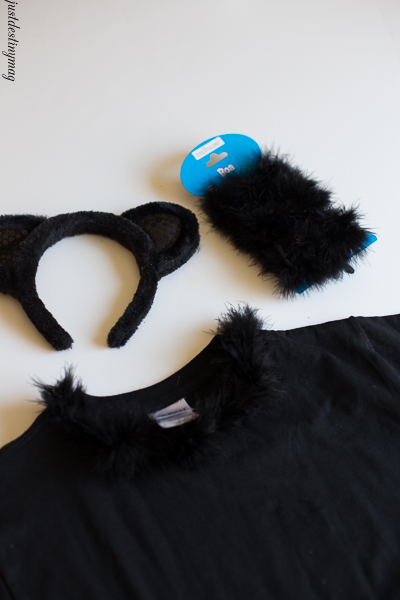 Extra Details:
For a little fun I also added a gold belt and gold ears by cutting out some gold rhinestone ribbon and adding it to the waistline of the shirt and to the ears of the cat using hot glue! I think this could also work with Michael's vinyl glitter!
To finish off add your little ones tights, shoes, ears and tails! You can also find some awesome black face paint at Michaels for those cute little whiskers and nose!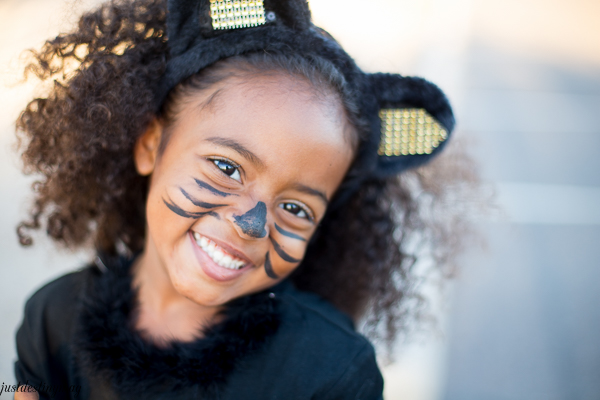 Haven't decided what you want to be yet? Take a look at some of Michaels DIY
Halloween
costume projects on
Michaels.com
for inspiration.
Did you check out the September Michaels Makers challenge? There are cute home décor projects for fall if you're looking for quick DIY projects to spruce up your nest.Just Destiny Mag is a Micheal's Maker Partner!
Check out the other costumes from this months challenge!!

<!– end InLinkz script —>