Buffalo Check Christmas Tree
This post is sponsored and may contain affiliate links, please read my disclosure policy.
Now that Halloween is officially over, folks like you can fill their Pinterest folders with tons of inspiration for Christmas decor without getting dirty looks!! Today, I'm so happy to bring you some of my inspiration for Christmas this year. Each year for the last 4 years Michaels has put on a Dream Tree Challenge for bloggers. Last year was my first one and I loved the experience. This year as a Michael's Maker I was asked again to create a dream tree using the Hartford Pre Lit Tree from Michaels Store. Each one of us received the same tree and were asked to transform it into a dream!
Black and White Buffalo Plaid Christmas Decor
Now, my dreams don't change much year to year. My dream tree in general is something festive, something beautiful and something ME! So this year I kept the same color palette for the most part but added some of my favorite elements like wood, tin and of course buffalo plaid! I even snuck in a little black velvet, giving my tree a cozy cabin feel.  I also added the dusty miller from my Thanksgiving decor this year.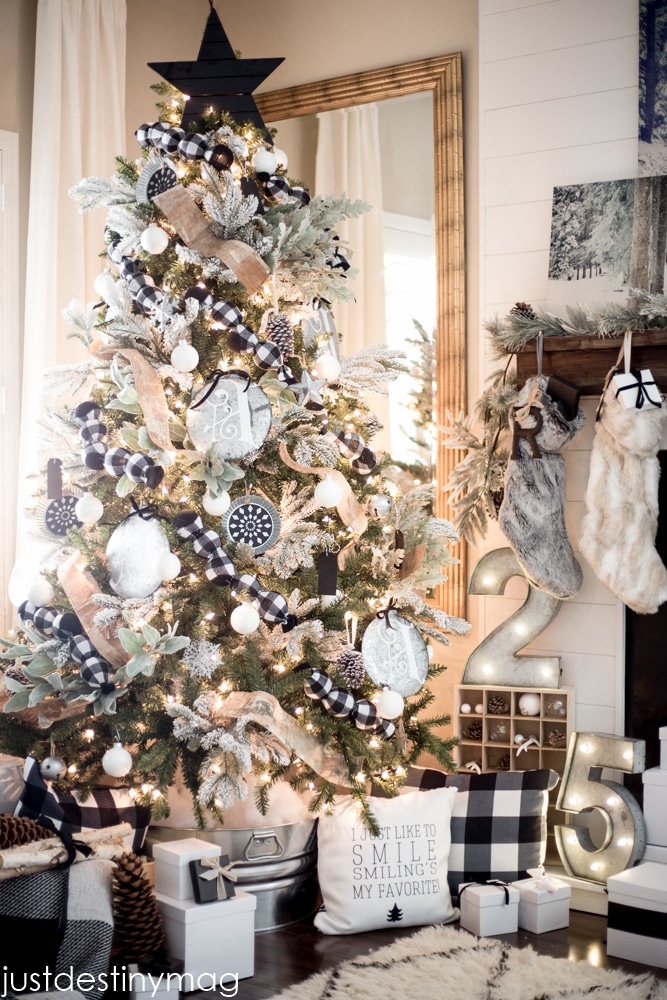 I know it's not realistic for you to go out and purchase and entire new tree with all the trimmings every single year so I encourage you to use some of the same items from last years tree and still have a fun new look!  For example, instead of striped ribbon like last year you can use a buffalo check ribbon or garland like the one above. It's all about mixing and matching and staying true to your style!
---
How to Decorate a Christmas Tree with Buffalo Check Decor
---
Here's how I put my tree together this year.
Just like last year I added flocked stems to the tree to get a flocked look. Then to change it up I added some dusty miller stems! I love the frosted color that it gives! You can find a these stems in the floral section but the selection varies from store to store.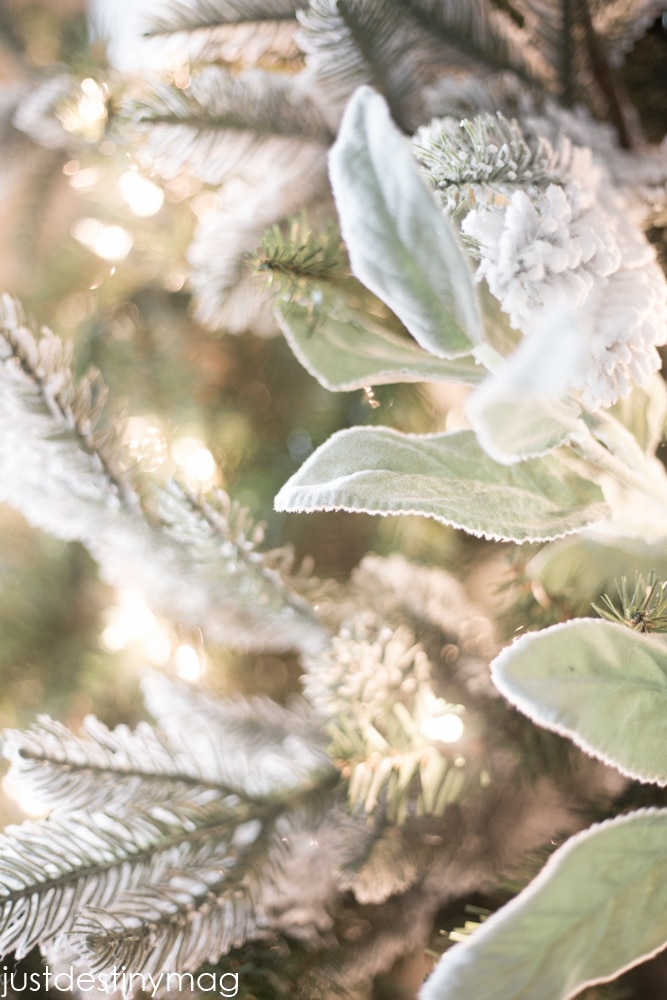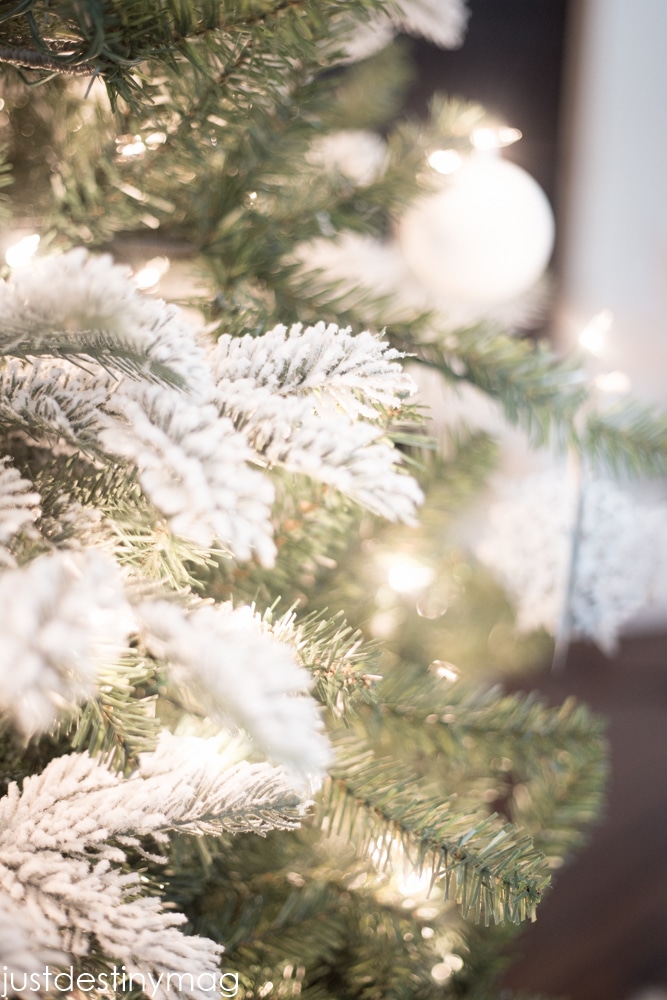 Next, I added garland! But instead of ribbon this year I uses….SOCKS!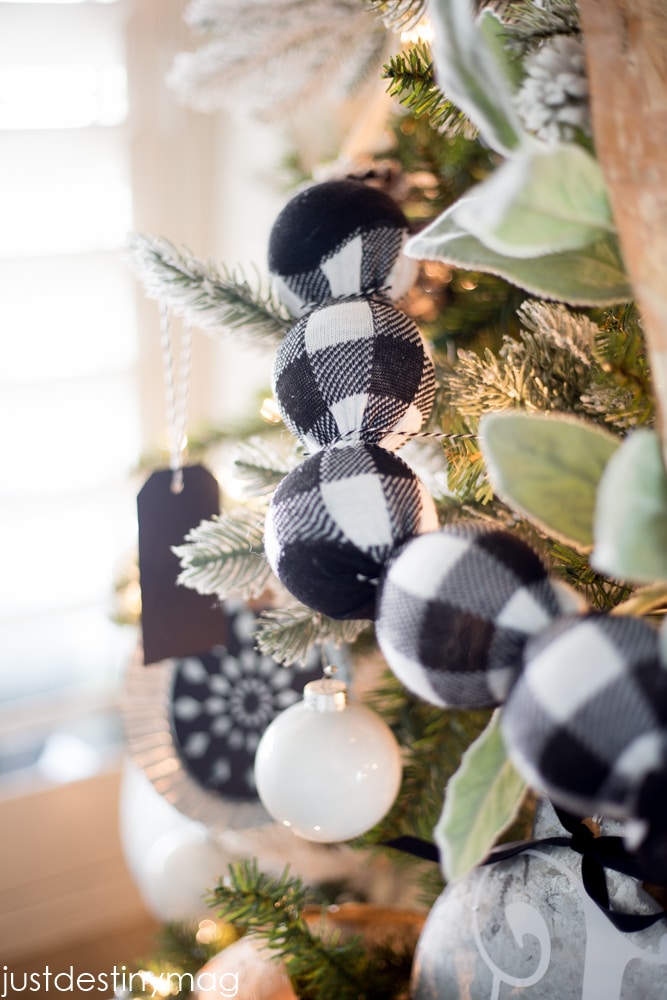 Yes, this garland is made of socks. More on that later. But I basically filled them with empty bulbs and tied them off! I got them from the dollar section at Michaels. But I think ANY sock will do. The texture it adds to the tree is SO fun. I can see myself doing this in white or even red for my trees years to come! It's like an updated popcorn garland but with a much larger scale.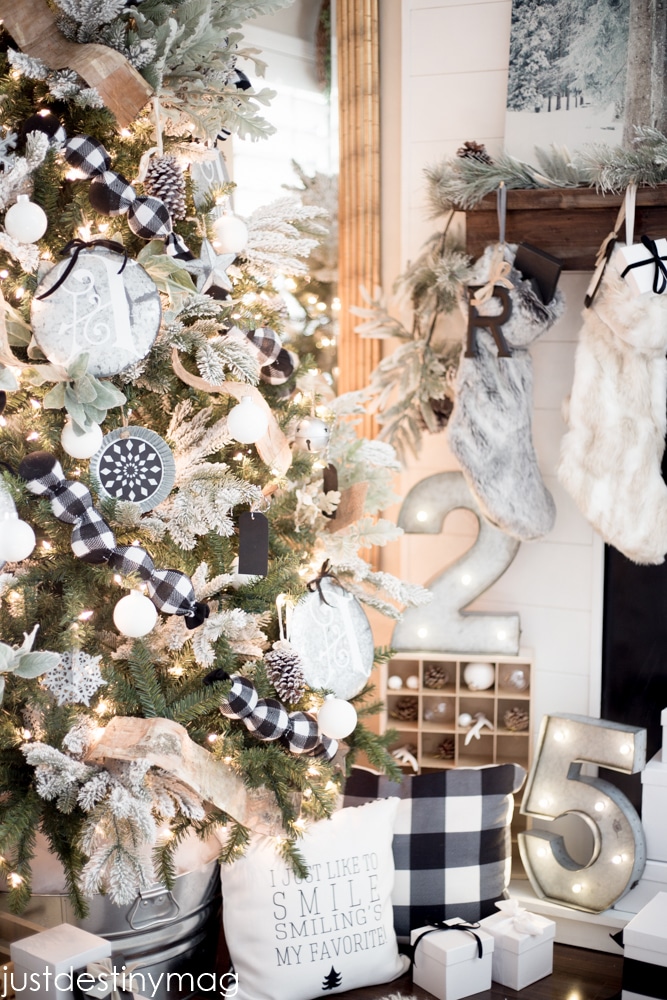 I also added this BEAUTIFUL wood ribbon. I'm actually not sure if its ribbon but I found it in the naturals section at Michaels. The color and texture that it adds is dreamy!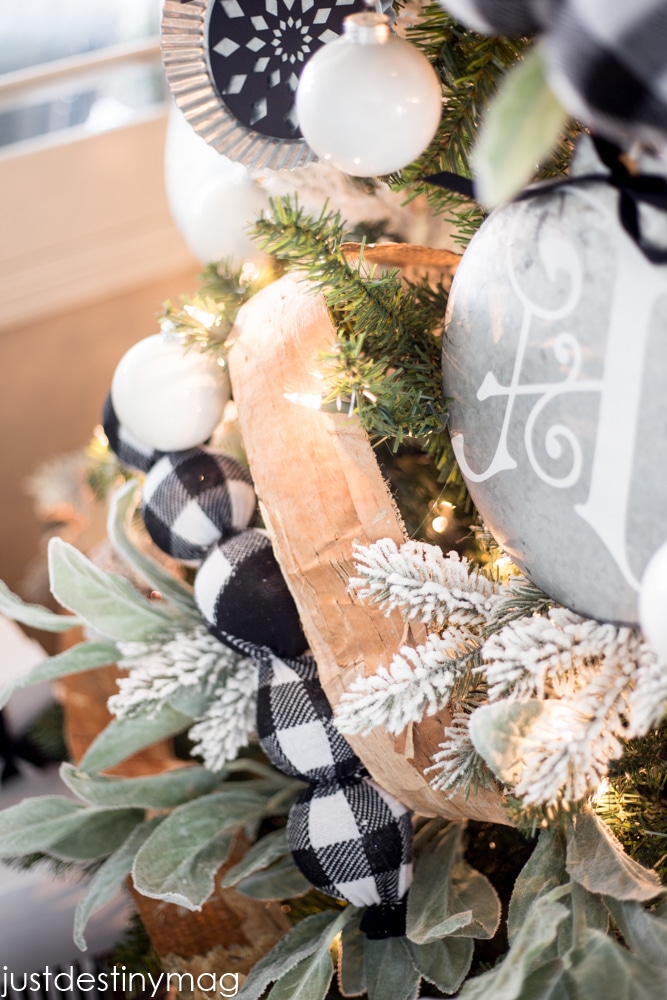 Next I added my largest ornaments. As soon as I saw these large flat tin bulbs I knew I had to have them. I paired them up with this amazing monogram that I found on Pinterest and cut it out with vinyl on my Silhouette Cameo. I love the elegant look that it gives the tree.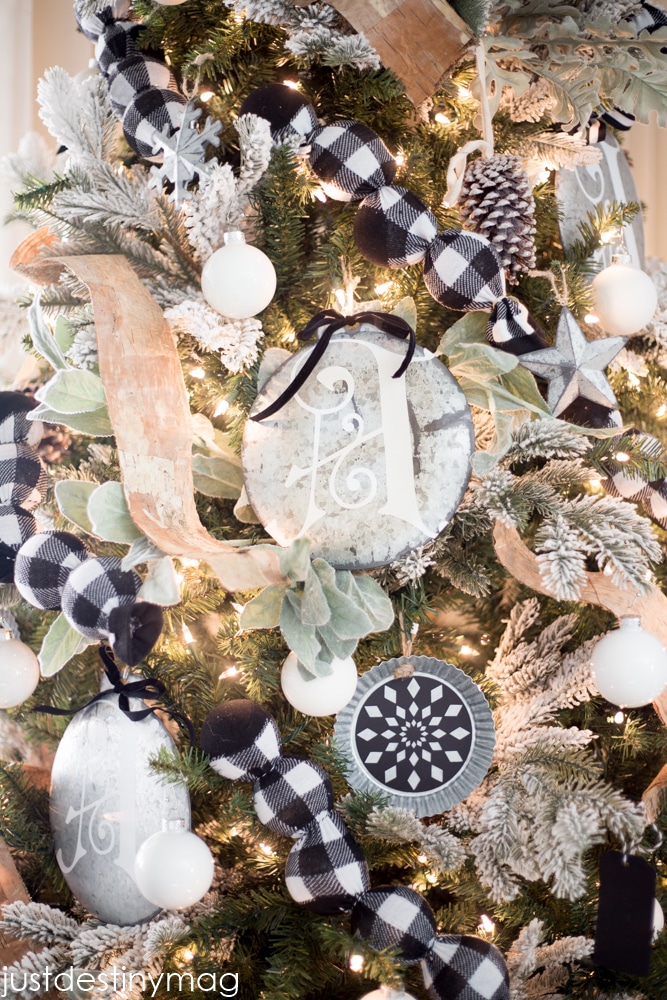 After that I added all the small ornaments in black, white and tin to the tree.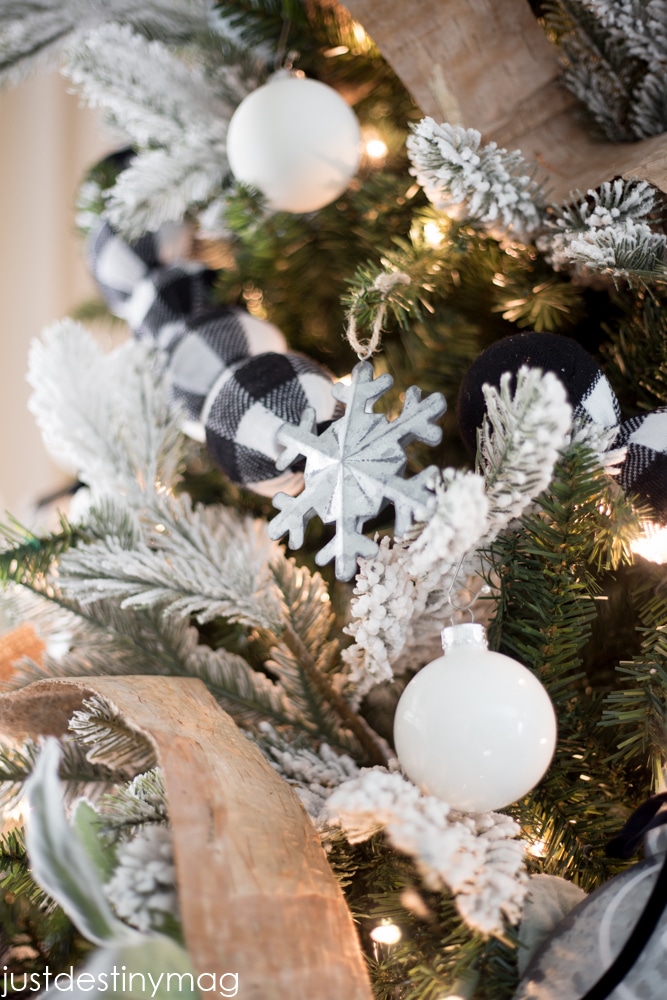 I made sure to use different finishes of white in glossy and matte.
I also added a black snowflake cut out to these tin pans using my Silhouette Cameo again! You can find the bottle cap tin pans in the wood and tin section at Michaels. I love how it gives the tree a quilted look!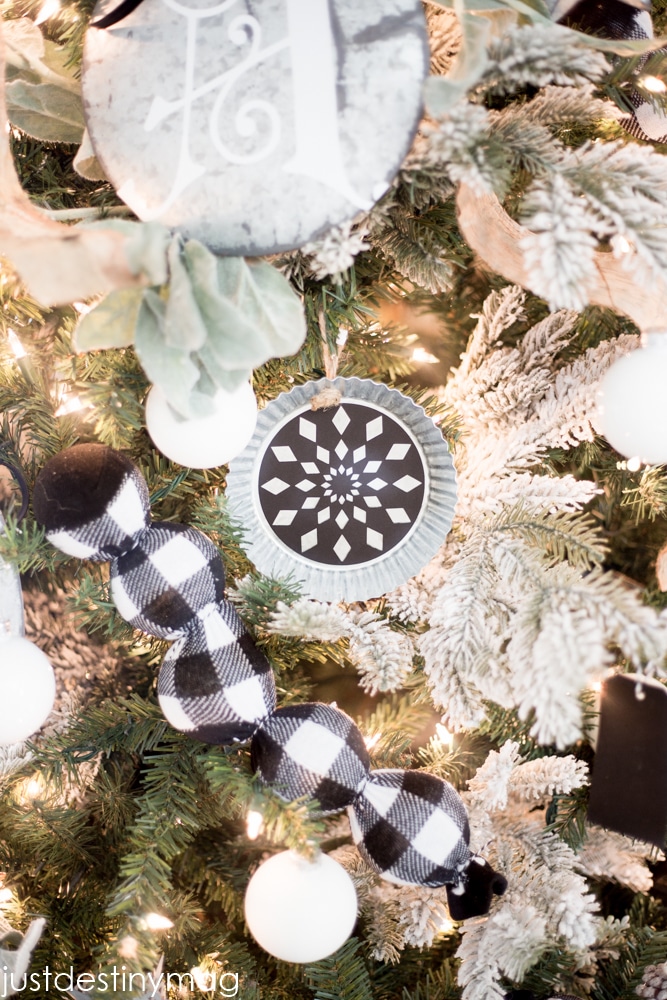 For the tree topper, I spray painted a wooden star and tied it to the top. I always make a big  fuss about the top of the tree. It stresses me OUT! haha But this year I wanted it to be simple and there is nothing more simpler than a star!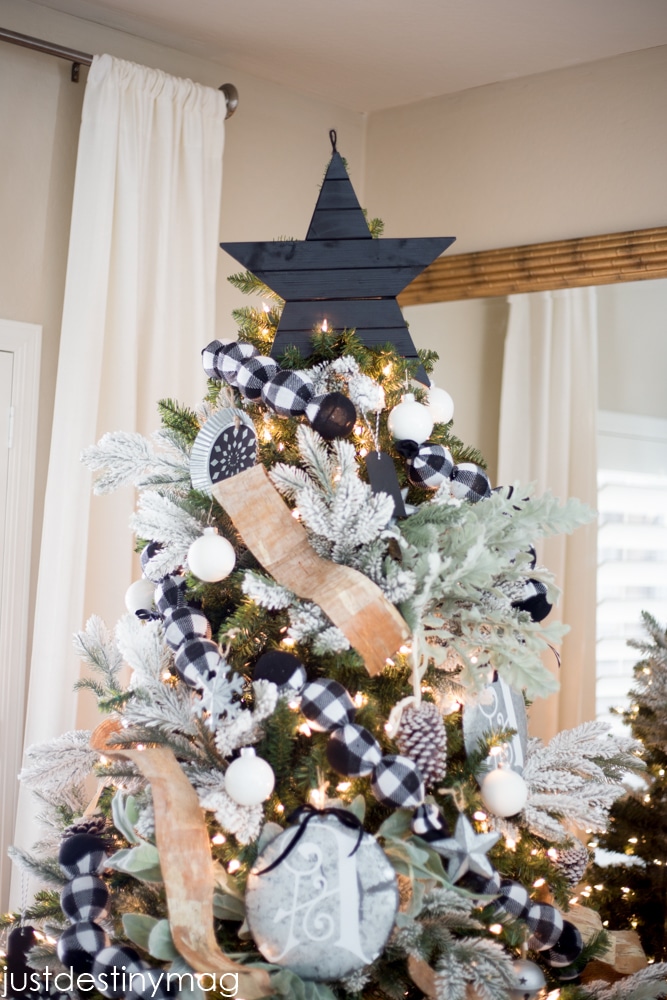 Here are some other shots of the tree.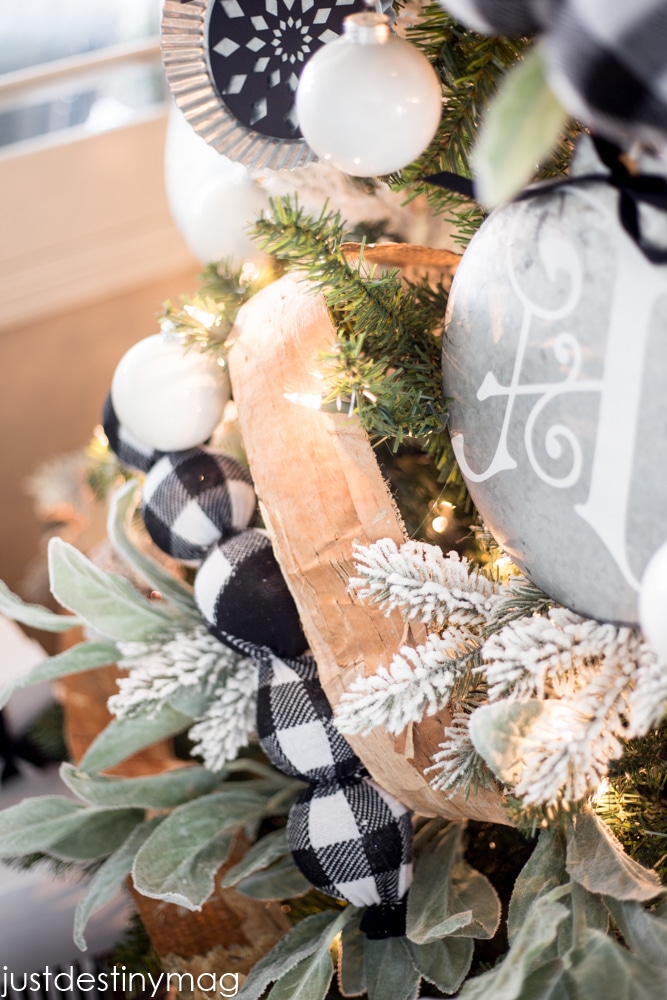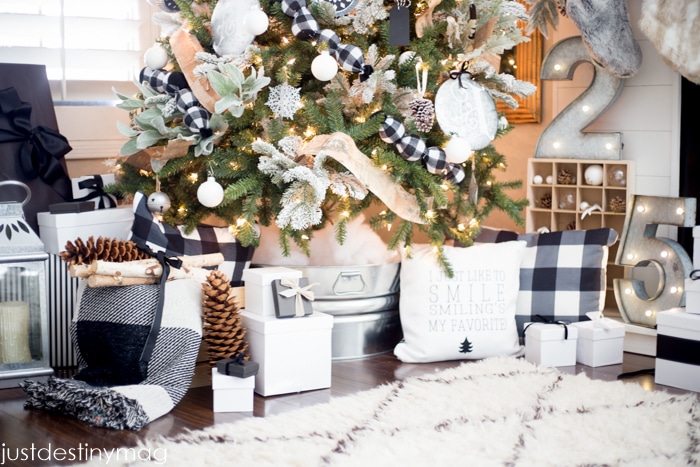 You can find those marquee numbers at Michaels too! They are battery operated and come in all the letters and numbers!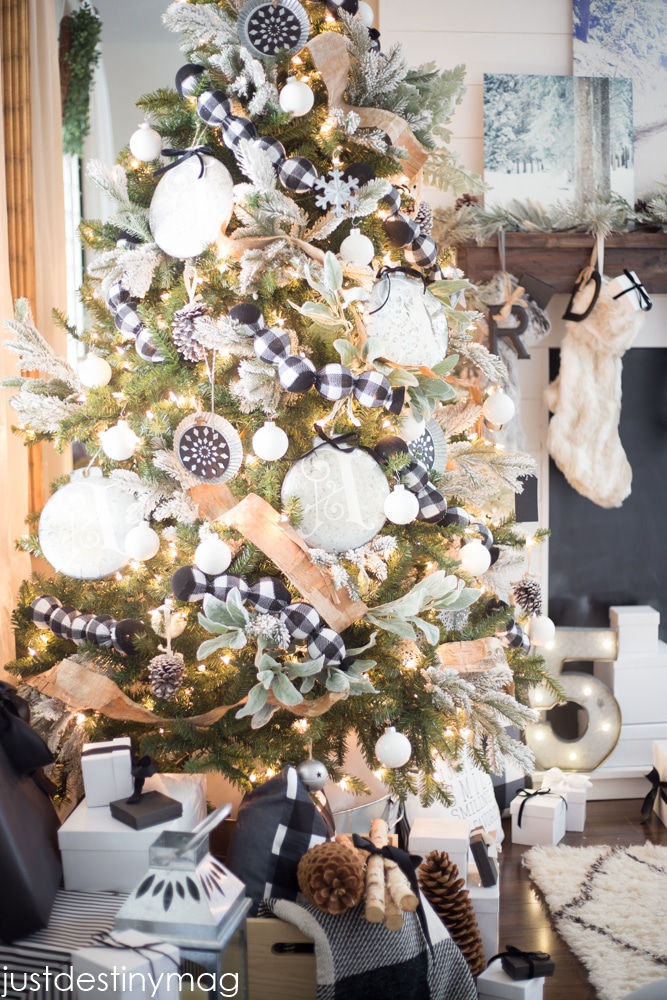 ·         
Check out even more Christmas trees for inspiration. I've been decorating trees for years and I'm happy to share them with you!