2021 Christmas Family Room Tour
This post is sponsored and may contain affiliate links, please read my disclosure policy.
Hello and Welcome!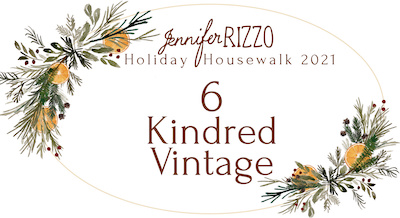 Can we say dreamy Kindred Vintage??? I always look forward to her tours each year! The magical lighting, her adorable family and her pure love for home that shines through each time. SO thankful she shares her beautiful world with us.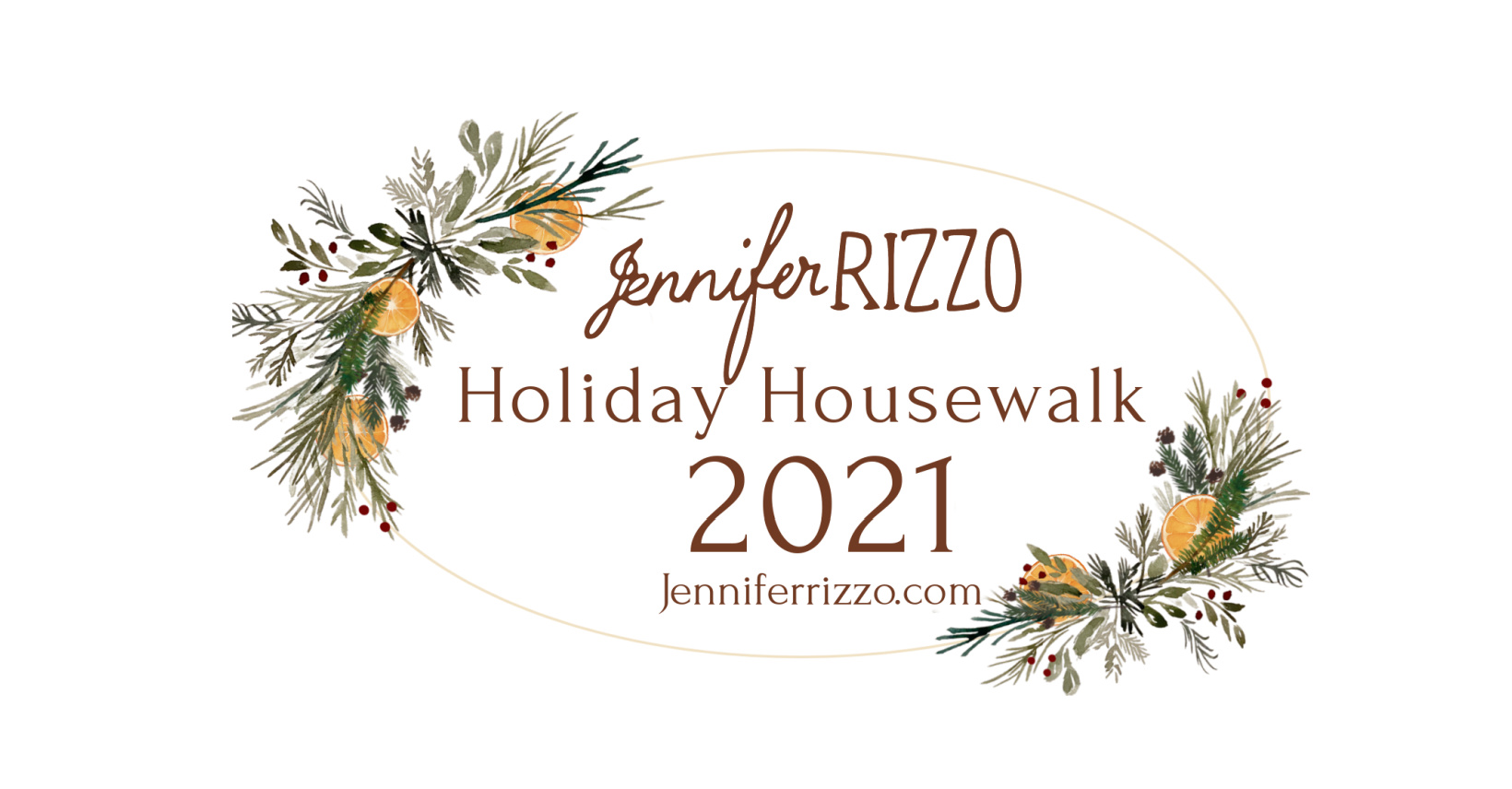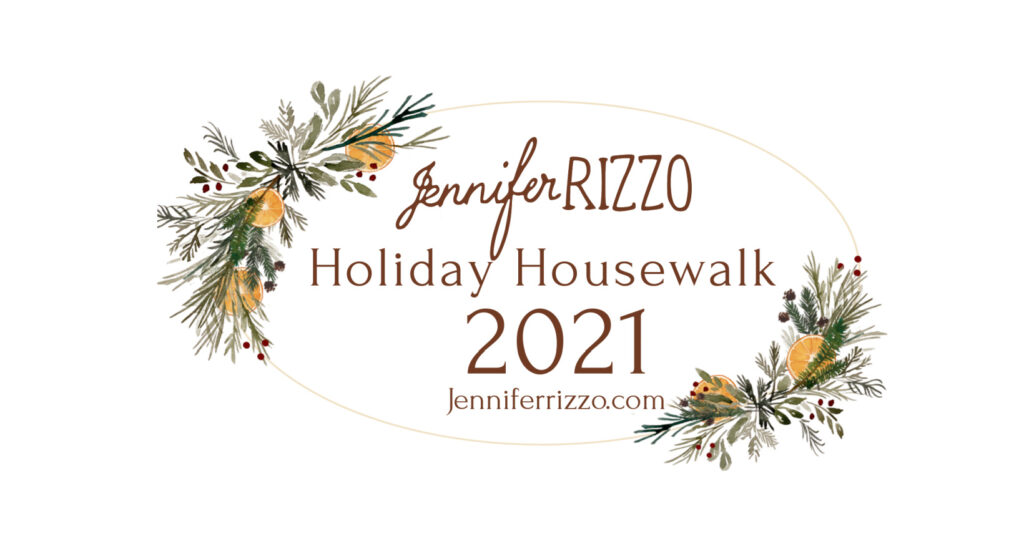 I also enjoy this Holiday Housewalk each year hosted by the beautiful Jennifer Rizzo. Star the tour from Day One HERE! She works so hard to keep this tradition alive in such a fast past, content consuming world. My hope is that this tour and tradition bring you joy! Take your time. Sip some tea. Light a candle! Morning person? Snuggle up on the sofa before the day starts and just ENJOY!
I only did a few areas this year but I hope you still find yourself inspired!
Christmas Front Door
I dressed up our front door with some simple decor. Buy my goodness, I love how it turned out. Thanks to a few items from McGee and Co our front door looks better than it has in years! The planters are a One Kings Lane find that I'm SO obsessed with and the topiaries are faux because well this girl is a plant killer. But my favorite is the black and white mat I found. It just elevates the entire door!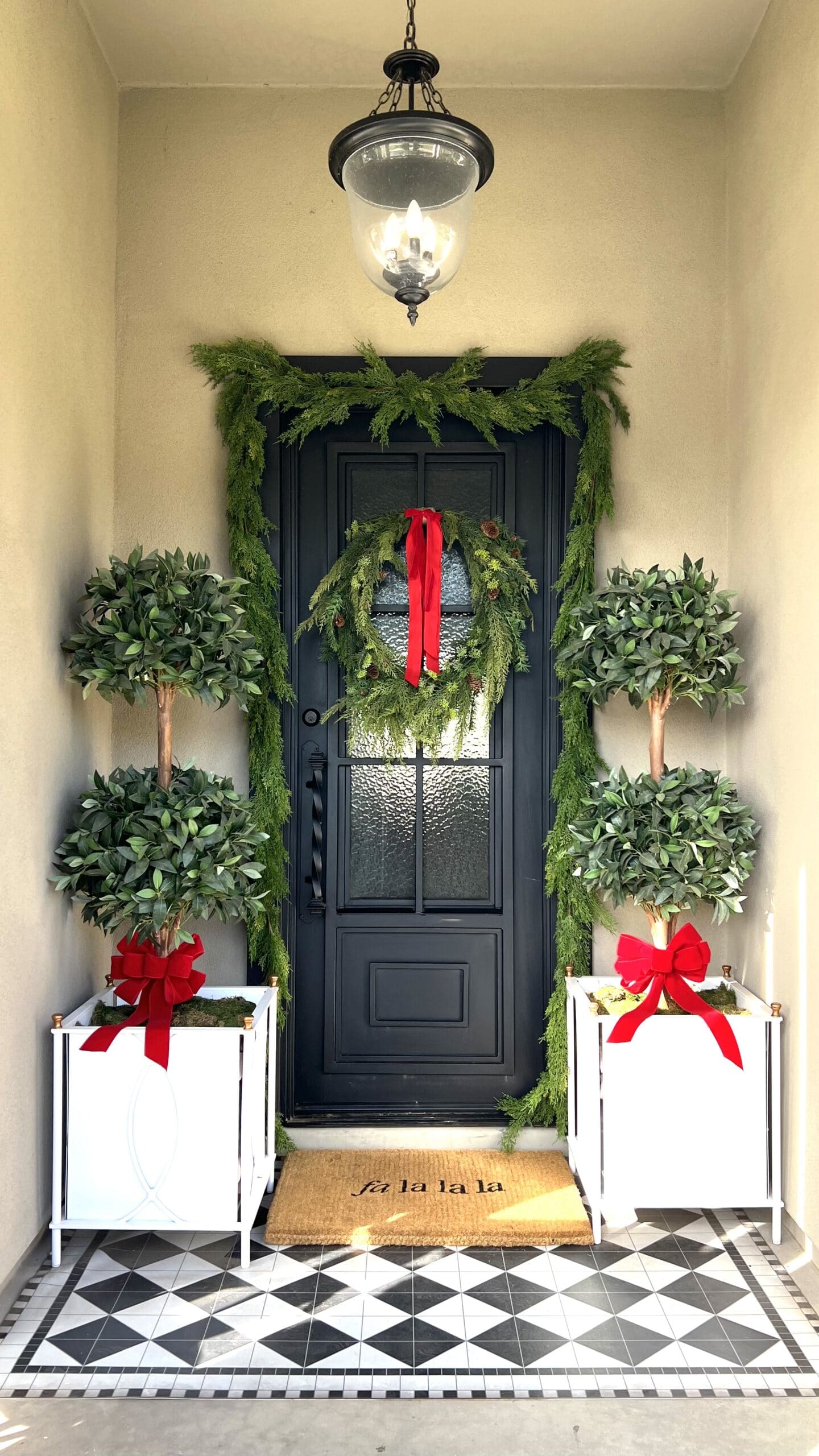 Pretty in Red Christmas Entry
When you come through the front door you immediately enter the entryway. This year I decorated the stairs with pretty garland and velvet red ribbon hanging every few feet. The garland and ribbon I found at AT HOME! Seriously some of the most affordable decor ever!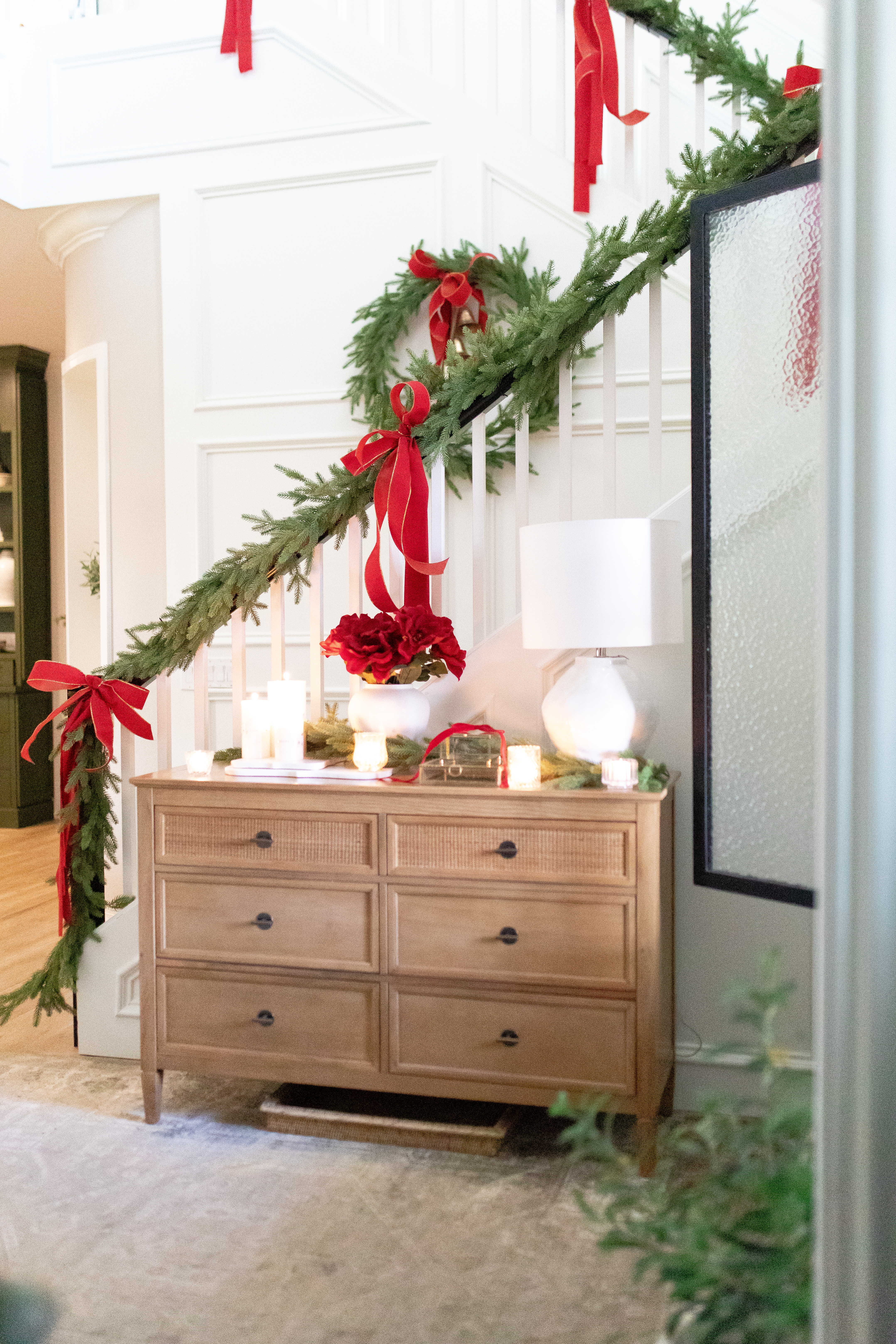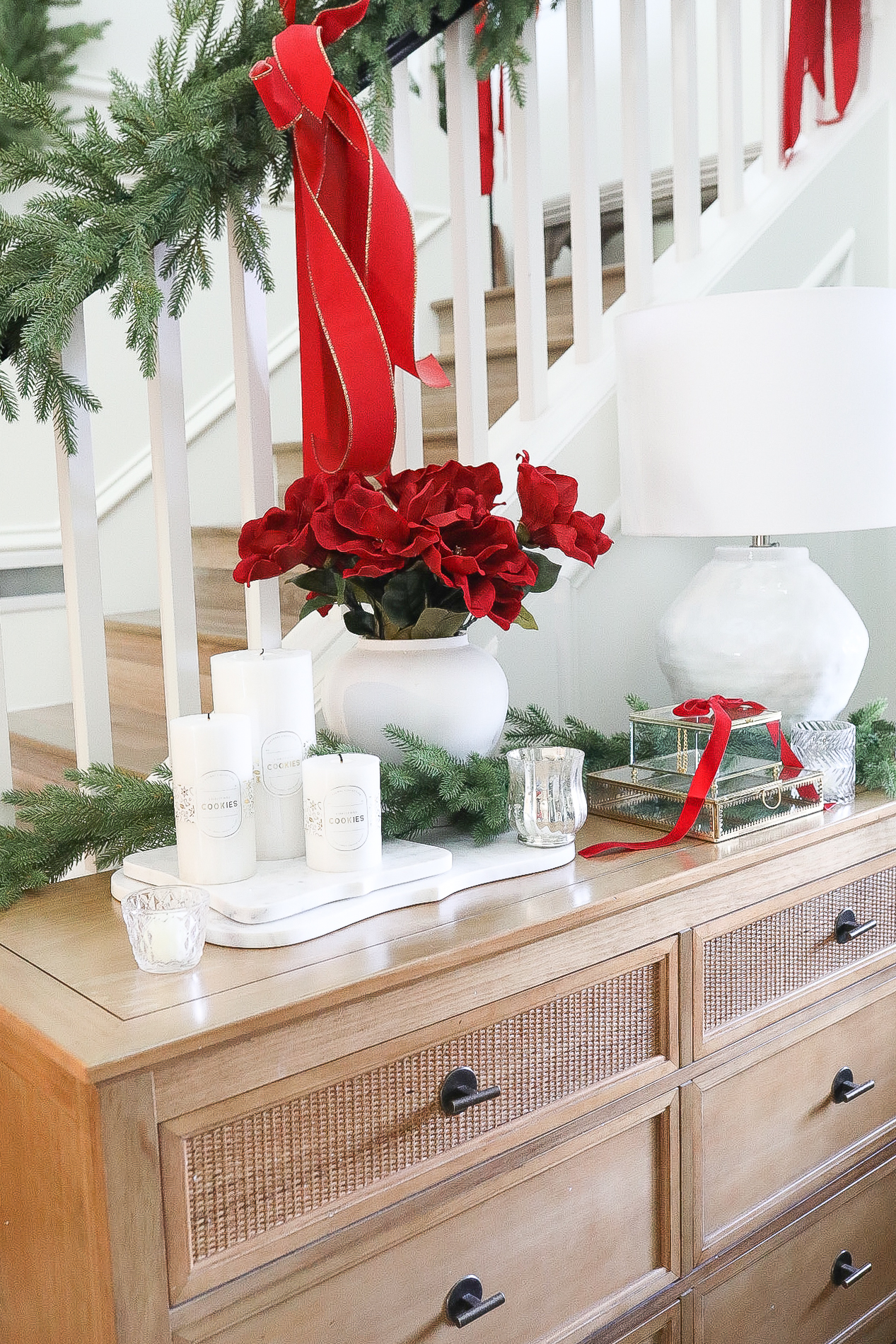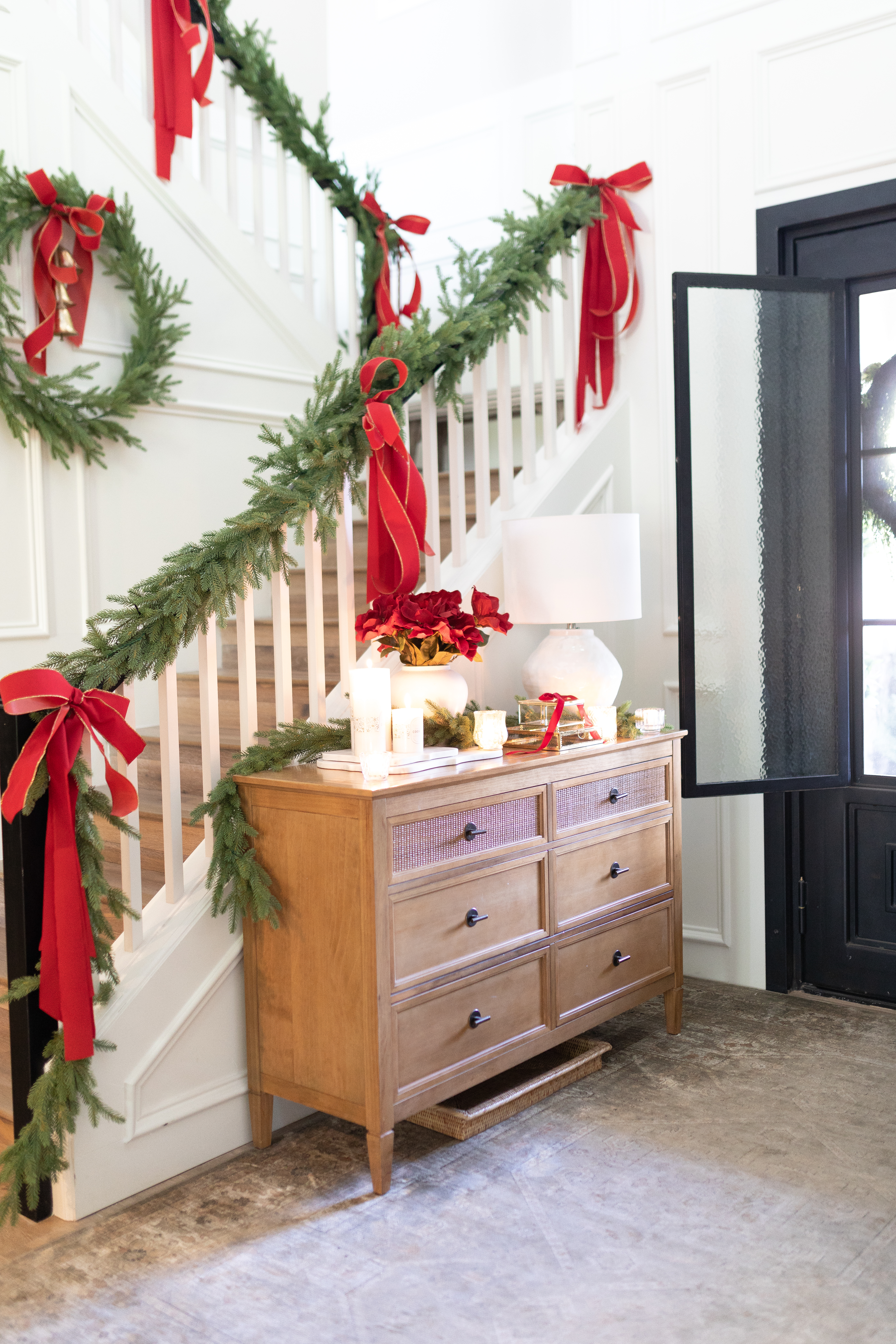 Red Family Room Christmas Decor
Now we step into the final room on the tour and that's the family room. There's a lot going on here but it's all pretty haha!
If you take a look at this photo below you can see the one thing that inspired my entire vibe this year.
The red rose.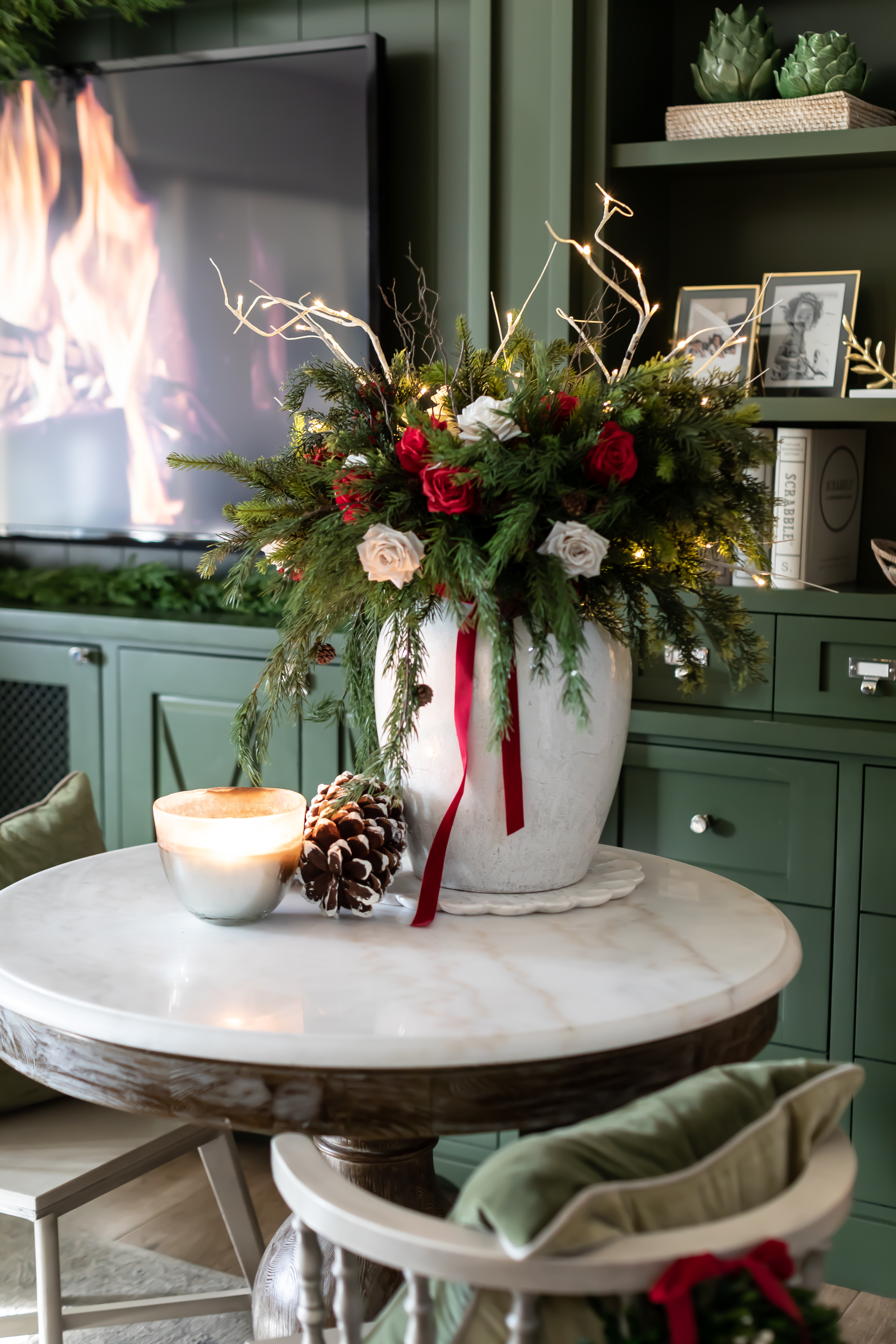 Yep. That's it. From there I added red throughout the entire room. With help from my friends at Arhaus and Lindsay Letters who sent over that red print in the hallway, the color red just flowed so beautifully from corner to corner without it feeling forced.
I say that because I love my neutrals. But Christmas sometimes just calls for that classic red and I could not resist this year!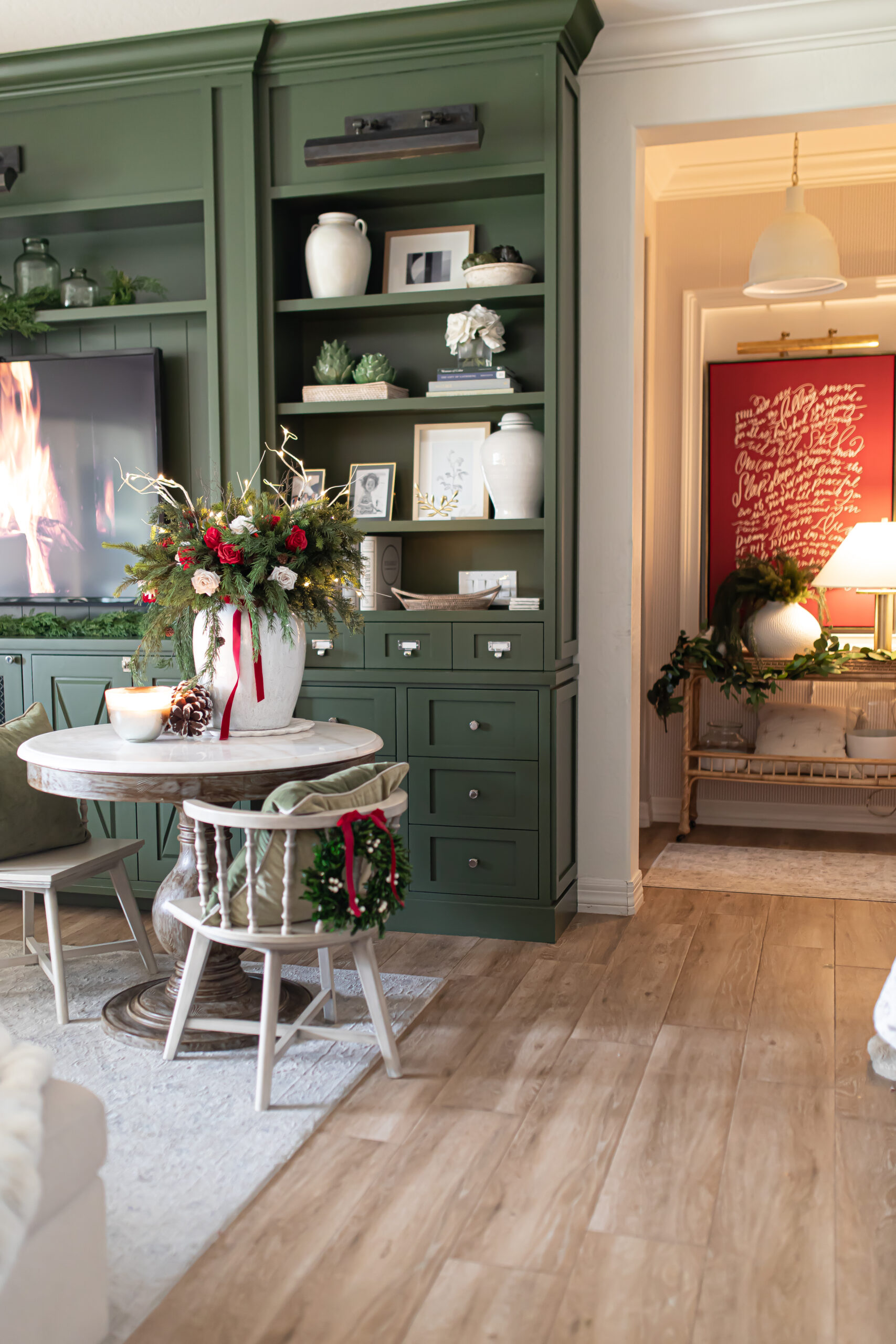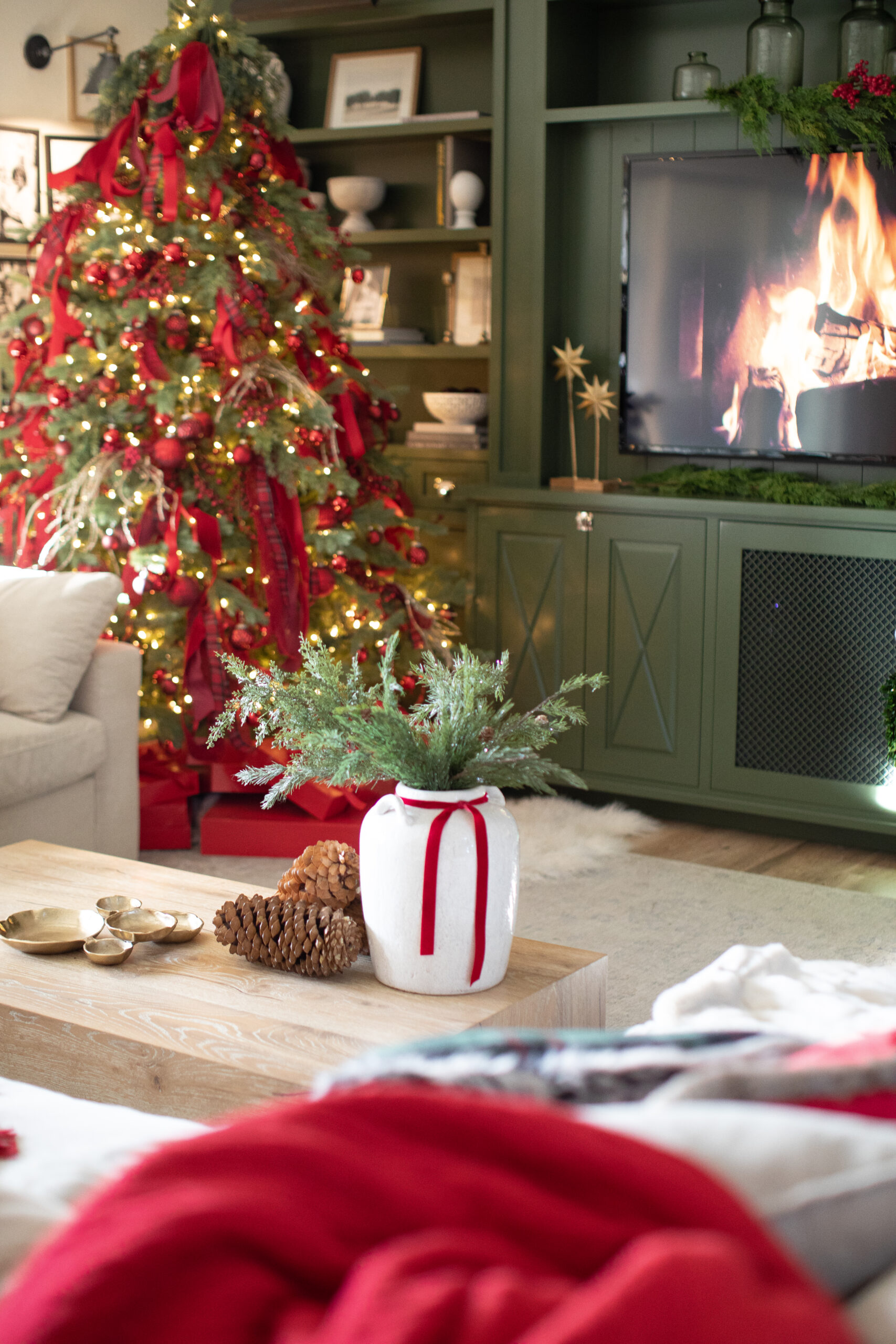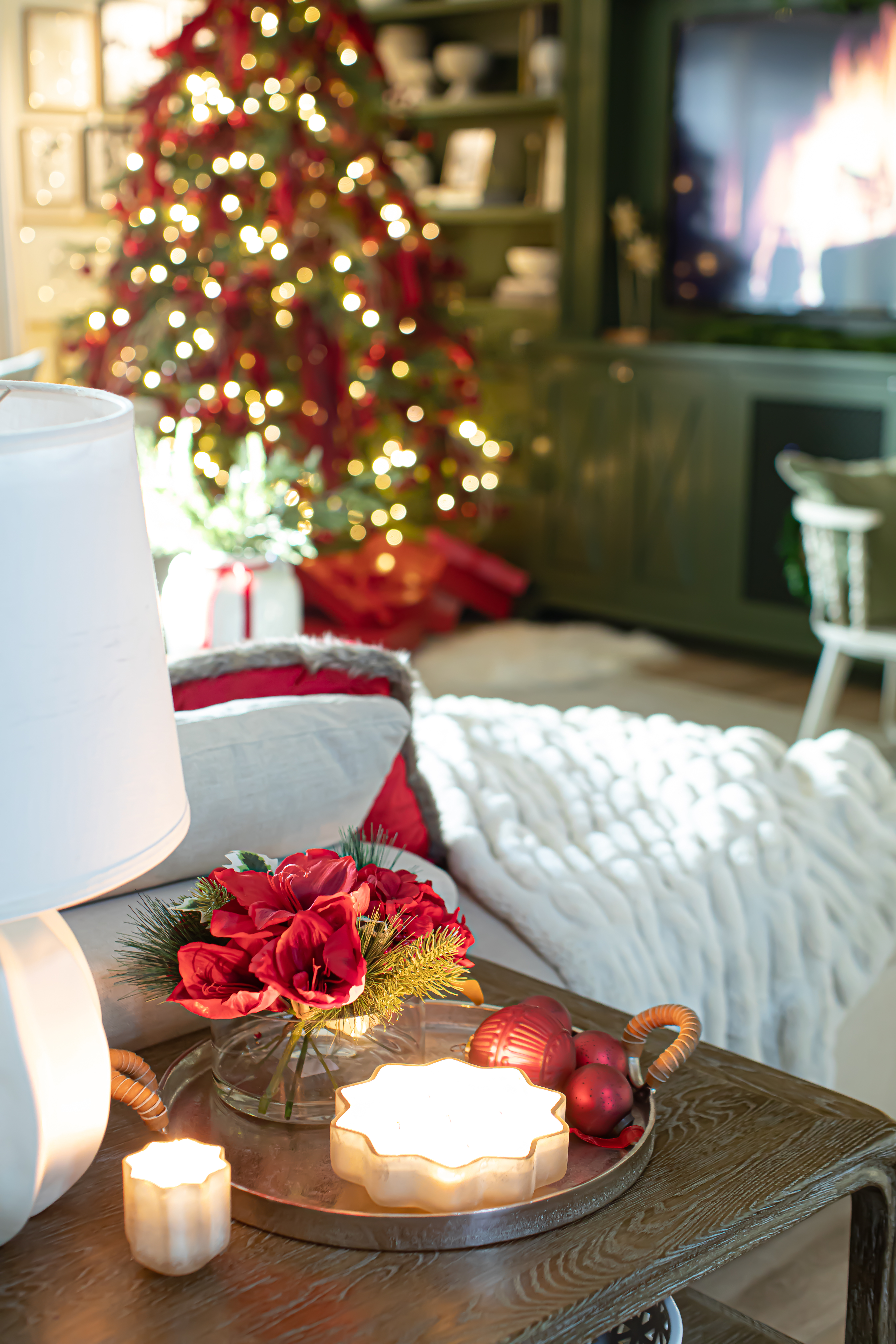 If you're in the mood to shop I have everything linked for you on my LTK shop. It's a place to shop my home and all my favorites!
Red Christmas Tree Decor
Here's a closer look at this years Christmas tree! For so many years I used a flocked tree but this year I decided to go traditional and I'm so happy I did! This gorgeous tree is from The Home Depot and is decorated with RED everything ha!
I knew I wanted to go pretty monochromatic. Mostly because it was easy lol. I didn't want to think about a secondary color, ornament placement, etc I just wanted to focus on decorating.
The key to achieving a similar look is texture and layering!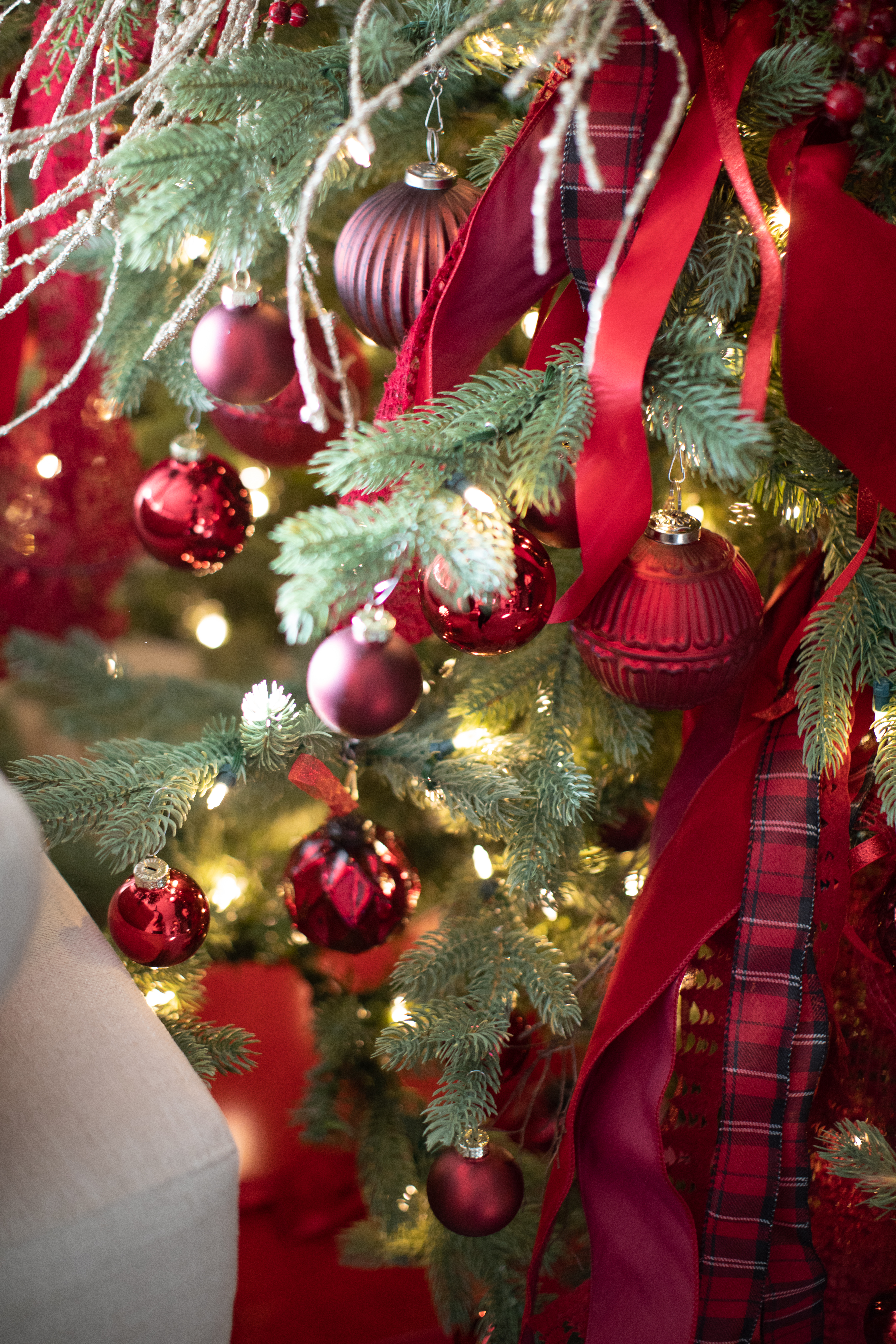 For this tree I started with the ribbon. All I did was gather 3-5 different types of ribbon (all in red ) and tied them together to make sort of a flag. Remember that ribbon on the handlebars of your bike? Yep just like that. It's a banana bike ribbon vibe haha!
To make it fuller I tied the middle with a pip cleaner ( only because I happen to have like 30 pipe-cleaners in red lol!) Otherwise floral wire will do!
After that I stuck them in the tree so that the ribbon tails would hang beautifully. Then I kept adding different layers. I also made sure that as I placed the stems and ribbon that everything was pointing down. I felt like it was more natural looking that way!
I added:
Berry Stems ( Walmart has similar ones)
Cedar Stems ( Joanns)
Glitter Stems ( various retailers but mine are from Decorators Warehouse)
Matte and Shiny Red Ornaments ( Important for that texture!)
Large Heirloom Ornaments ( Arhaus and TjMaxx)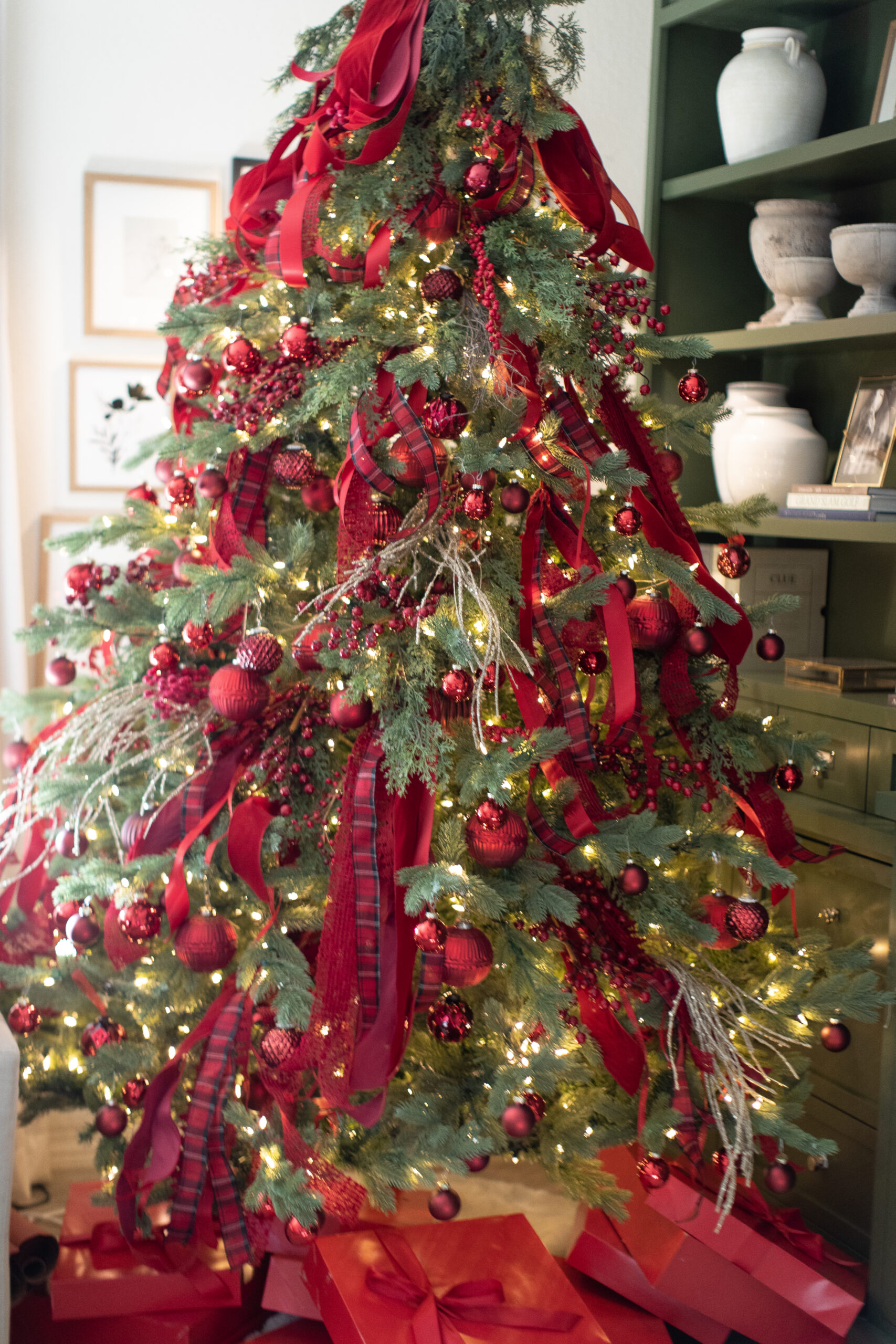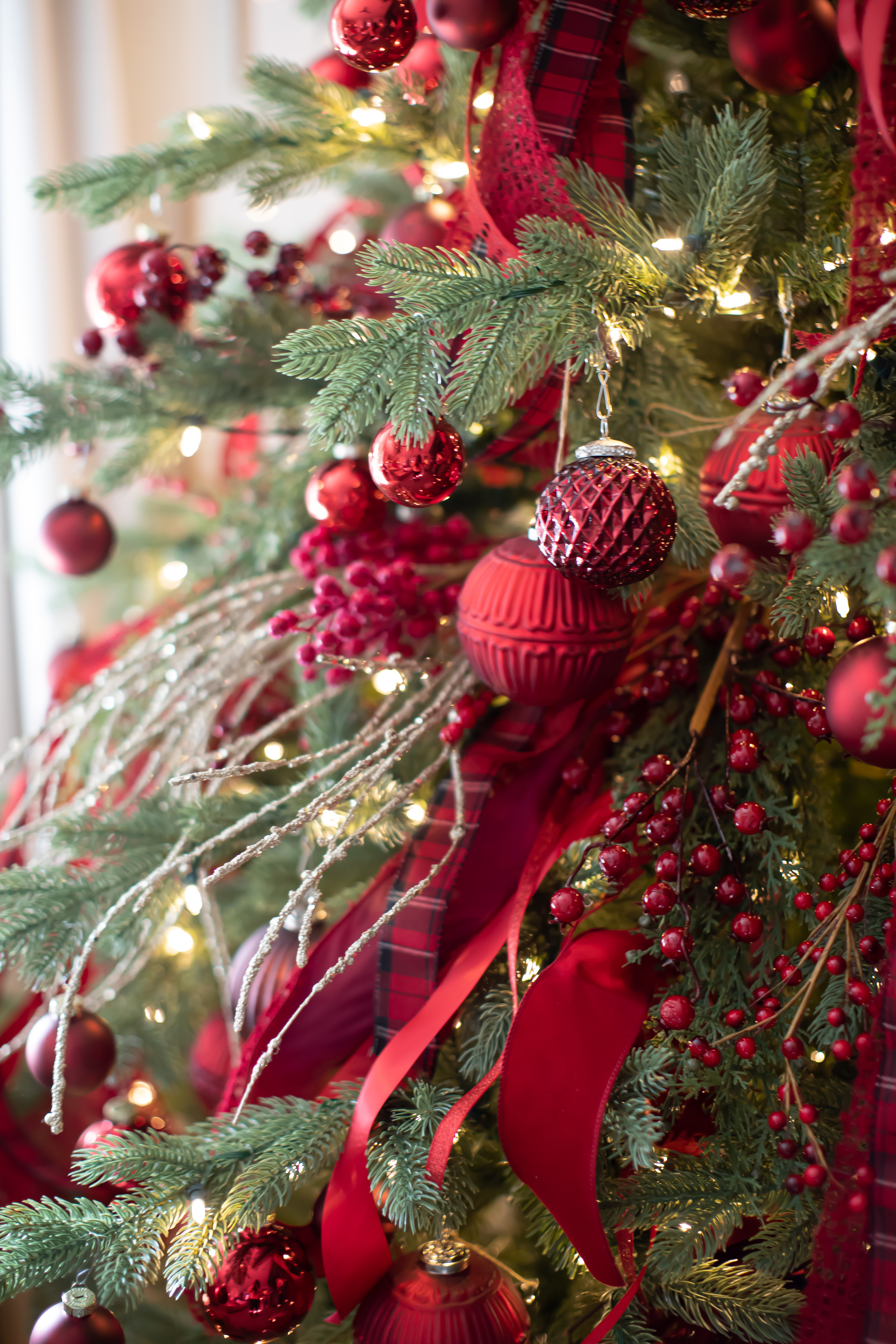 It was so fun hanging out with you guys! I hope you enjoyed the tour! Feel free to pin away and share with your friends!
Are you ready for another one? Say hello to Savanah from Sweet Savanah as she invites you into her lovely home this Christmas! Click the photo to head to her page and continue the tour!