Home Decorators Collection- Stunning Products That are Worth the Buy
This post is sponsored and may contain affiliate links, please read my disclosure policy.
Buying furniture online can be a SO intimidating. If you don't have a background in decorating, a best friend who's an interior queen or just even one clue on what to look for it will paralyze you! You don't want to make a mistake or regret the purchase. So today I'm breaking down a few of my favorite buys from The Home Decorators Collection that are worth the buy to help you make your decision! I'll list a few things I like and a few things you might want to think about before you buy! Just look out for the "good to know" tips as you follow along.
If you ever wondered what happened to The Home Decorators Collection website it actually owned by The Home Depot ( one of my favorite partners to work with). This is consider a premier home decor line that gives your home a high end look without high end prices.
You can find some products at your local Home Depot. Think ceiling fans, bathroom collections, flooring and blinds. But when it comes to home decor you can find it all online. It will be shipped directly to you! Read more about Home Depot online and all the wonderful decor lines here.
Good to know: Most furniture pieces will come in multiple boxes so you will need to assembly them yourself. So keep that in mind. I've been partnering with Home Depot for over a decade as a digital creator. I've done room makeovers with them, product reviews, and I've even gone to Chicago to design for their print catalog! So these products have been in my home and have been used and loved!
This post may have affiliate links that I receive a small commission from. Thank you for supporting our content!
1. Gold Nesting Tables
These nesting tables were first purchased for our living room. I love a pretty brass/gold finished but I needed something that had a smaller foot print. I thought they were perfect because I could store one under the other when they weren't in use and save on space.
Good to know: If you like for all your metals to match then this gold table not might go with your other finishes. This table also comes with a faux marble top instead of the glass top we have. Also there has been no chipping of the finish and the tables have held up very well.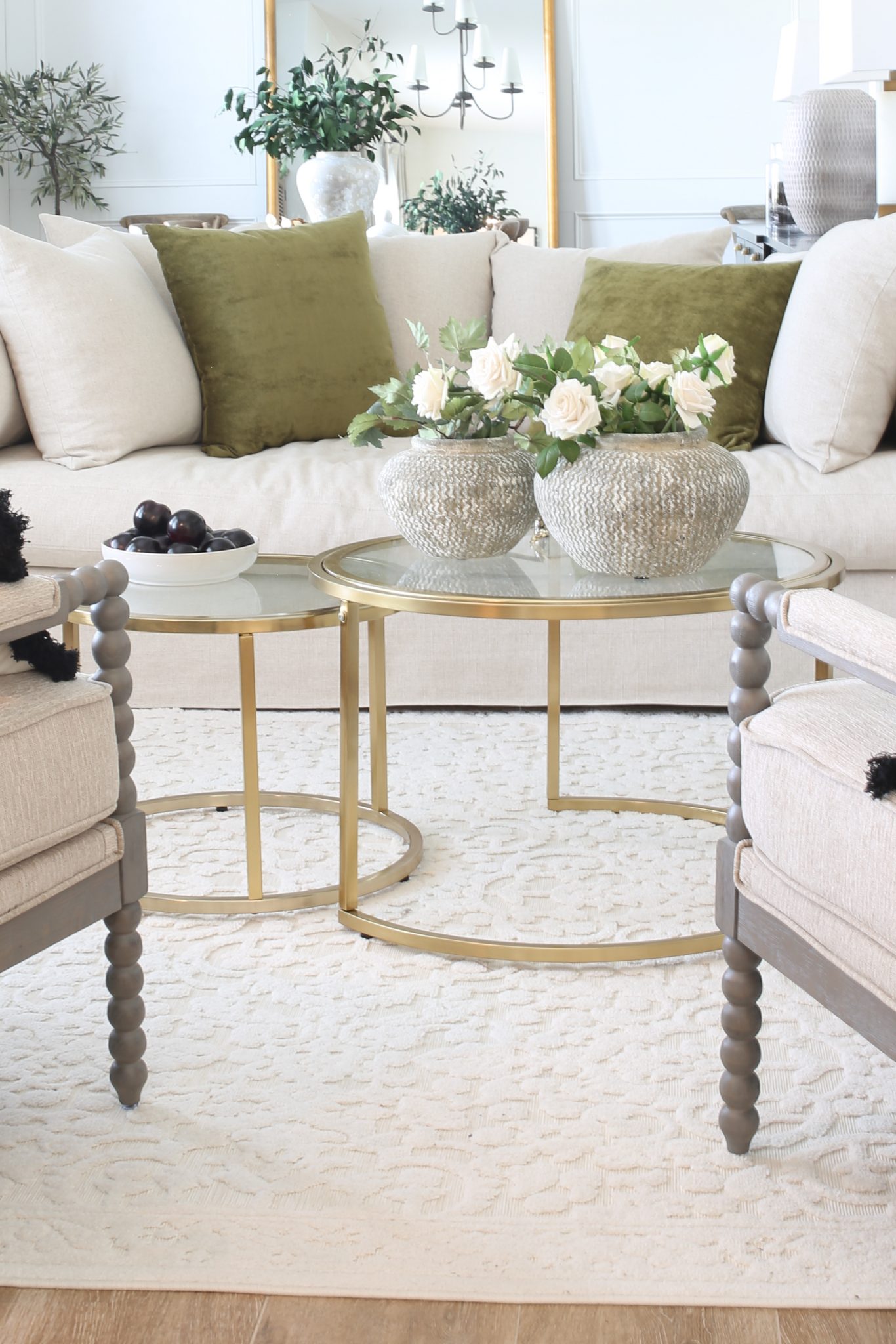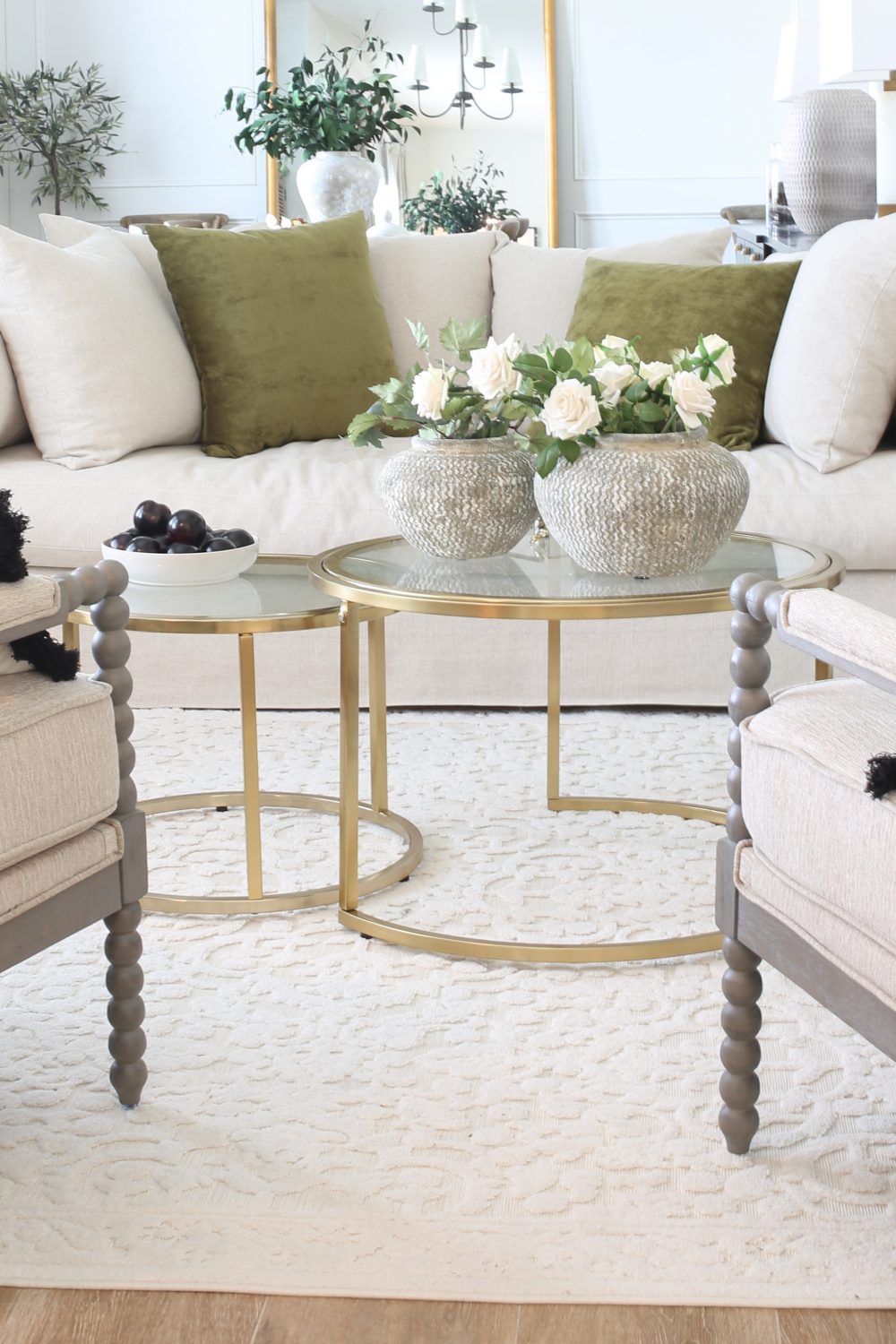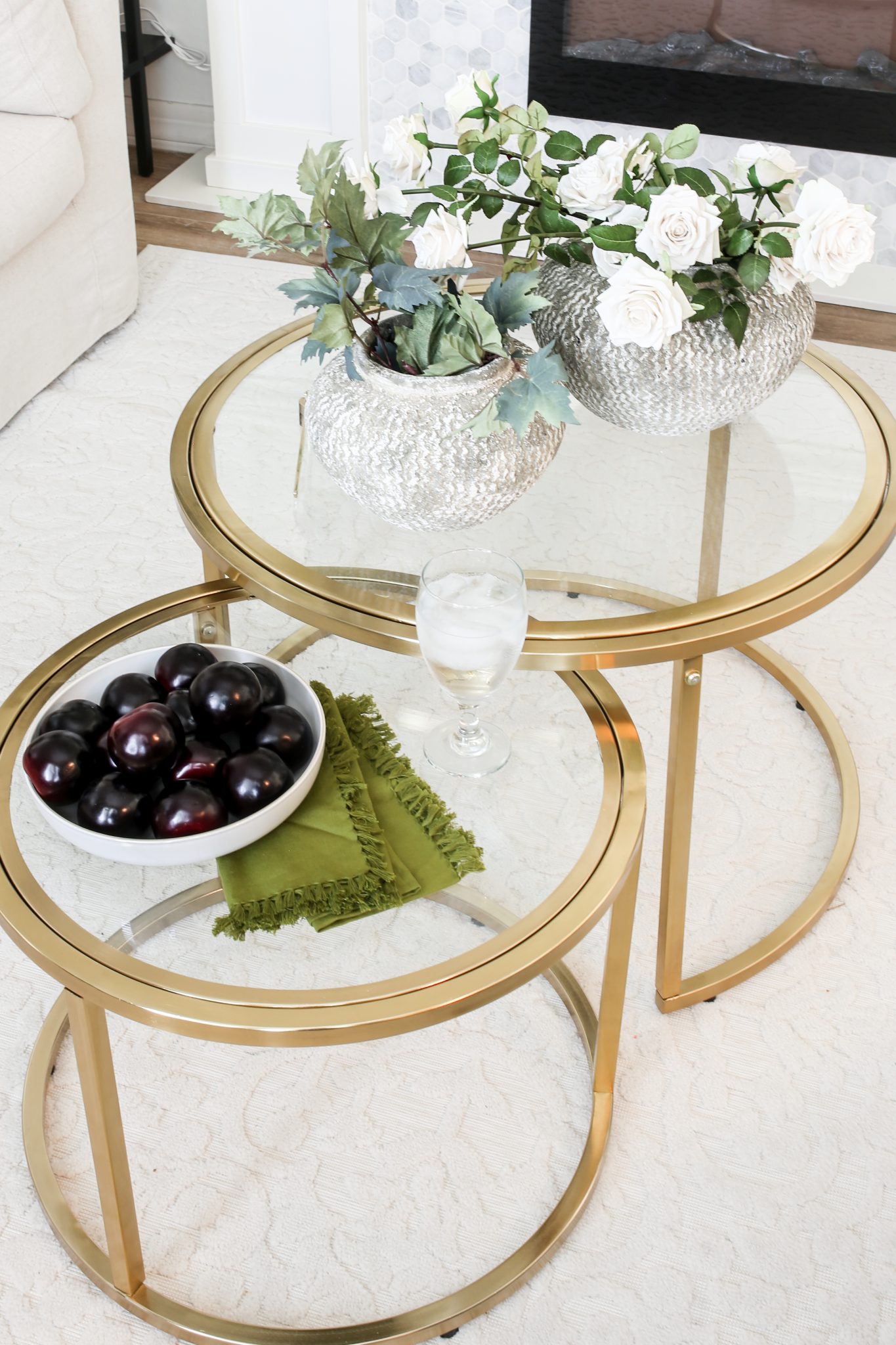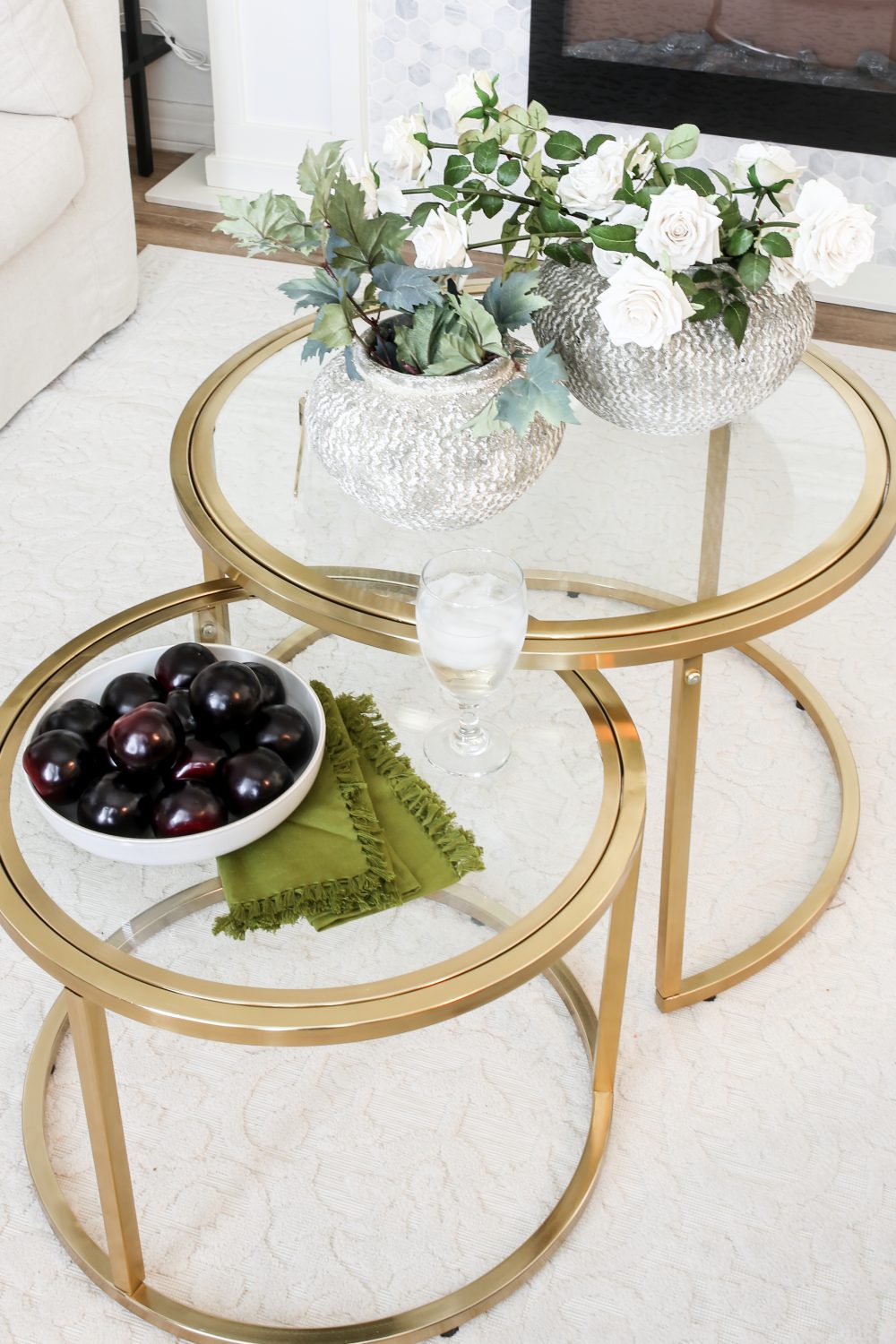 2.Gold Leaf Glass Tables
Now if you want a more antique gold then the Bella Table Collection might be your best bet! I LOVE this collection. I have the gold glass table and the coffee table and I think it brings such elegance to each space. The gold leaf finish is so pretty and doesn't look fake at all. This collection looks more high end with out the high end price. It also come in a pretty bronze color as well.
You should also check out the matching console table in this shape, the end table . I think these collections do well in a living room or a bedroom like mine.
Good to know: These are tables with glass tops. The gold finish is darker than a shiny brass. You also will need to assemble them.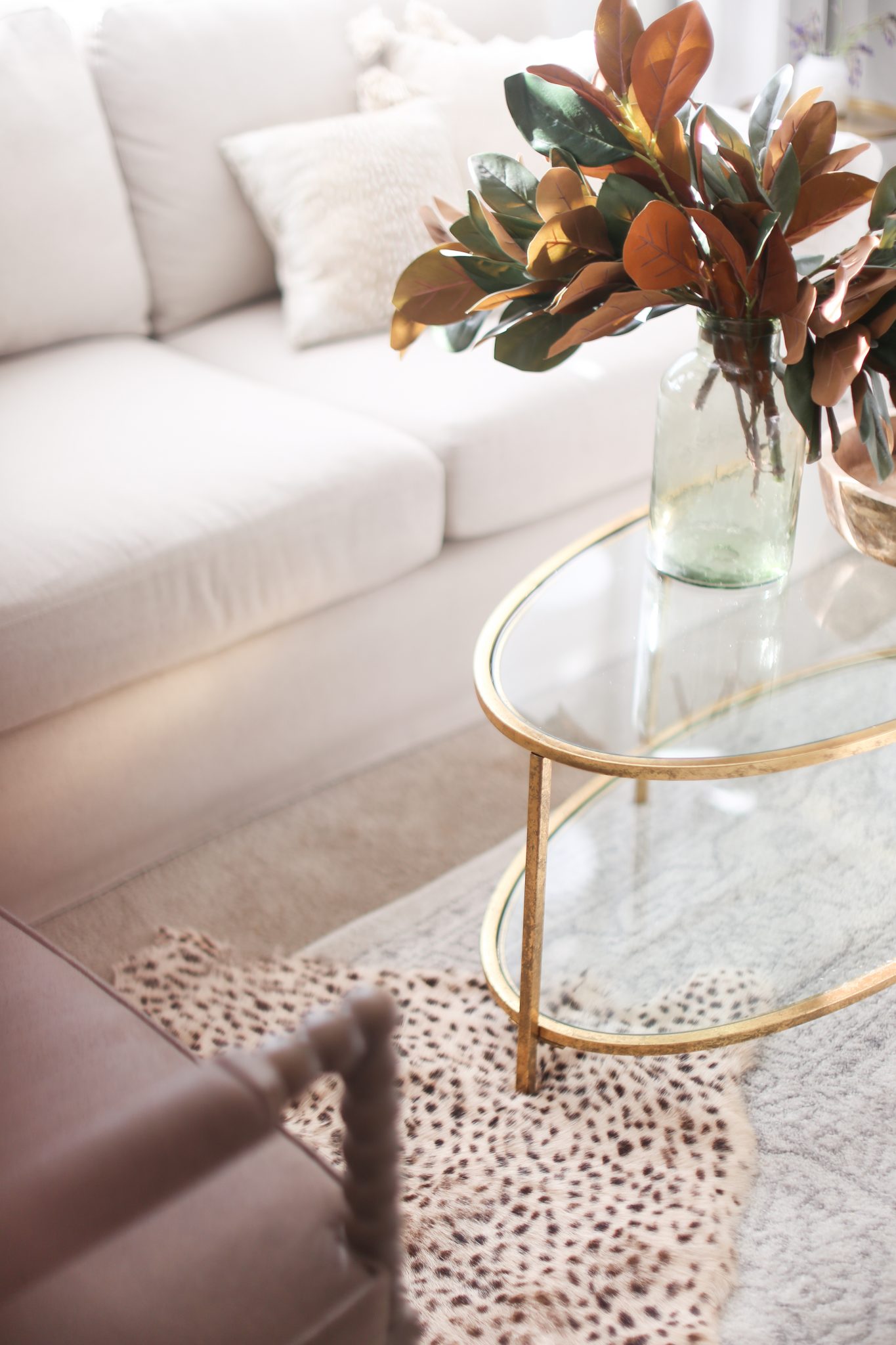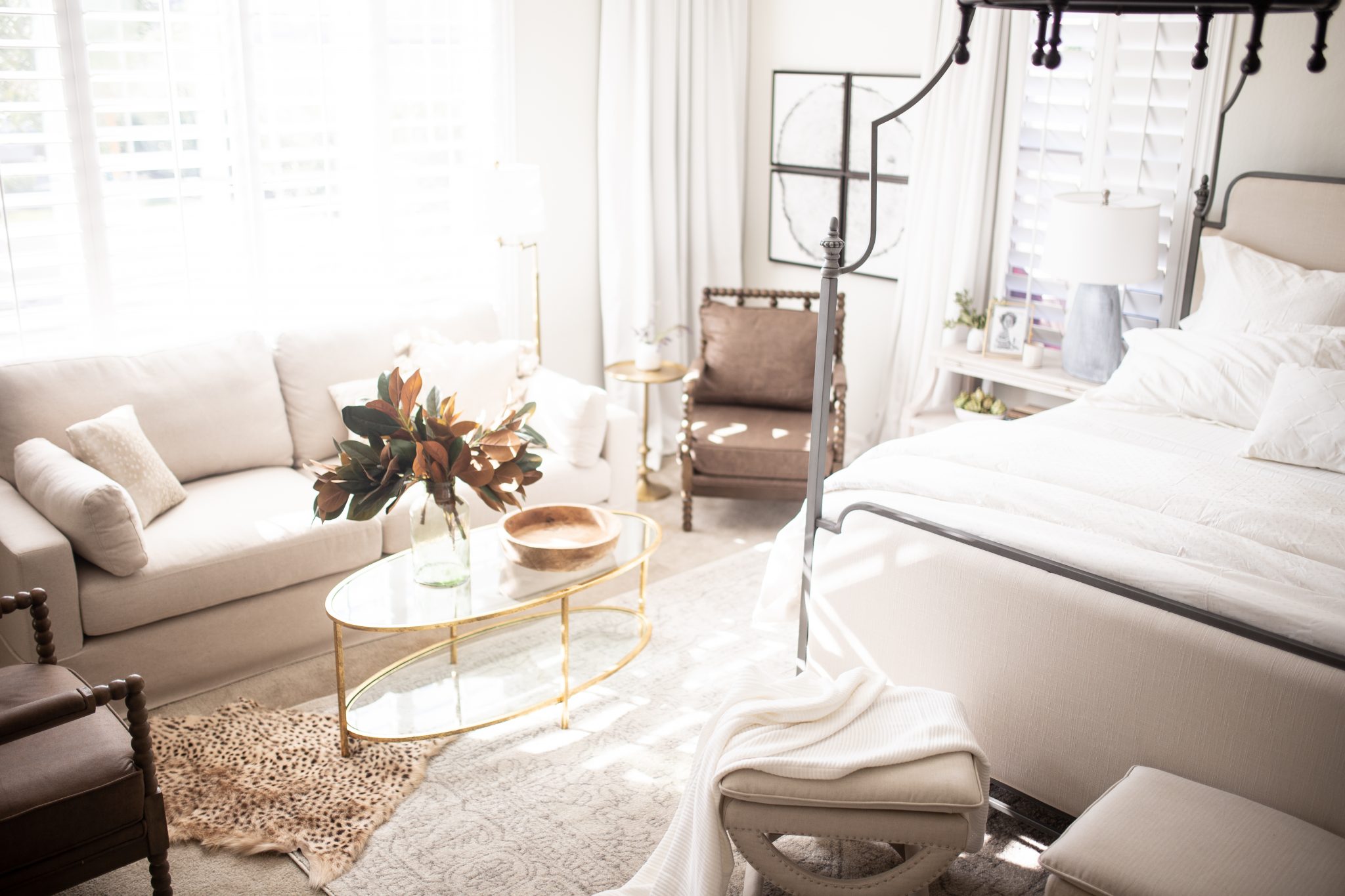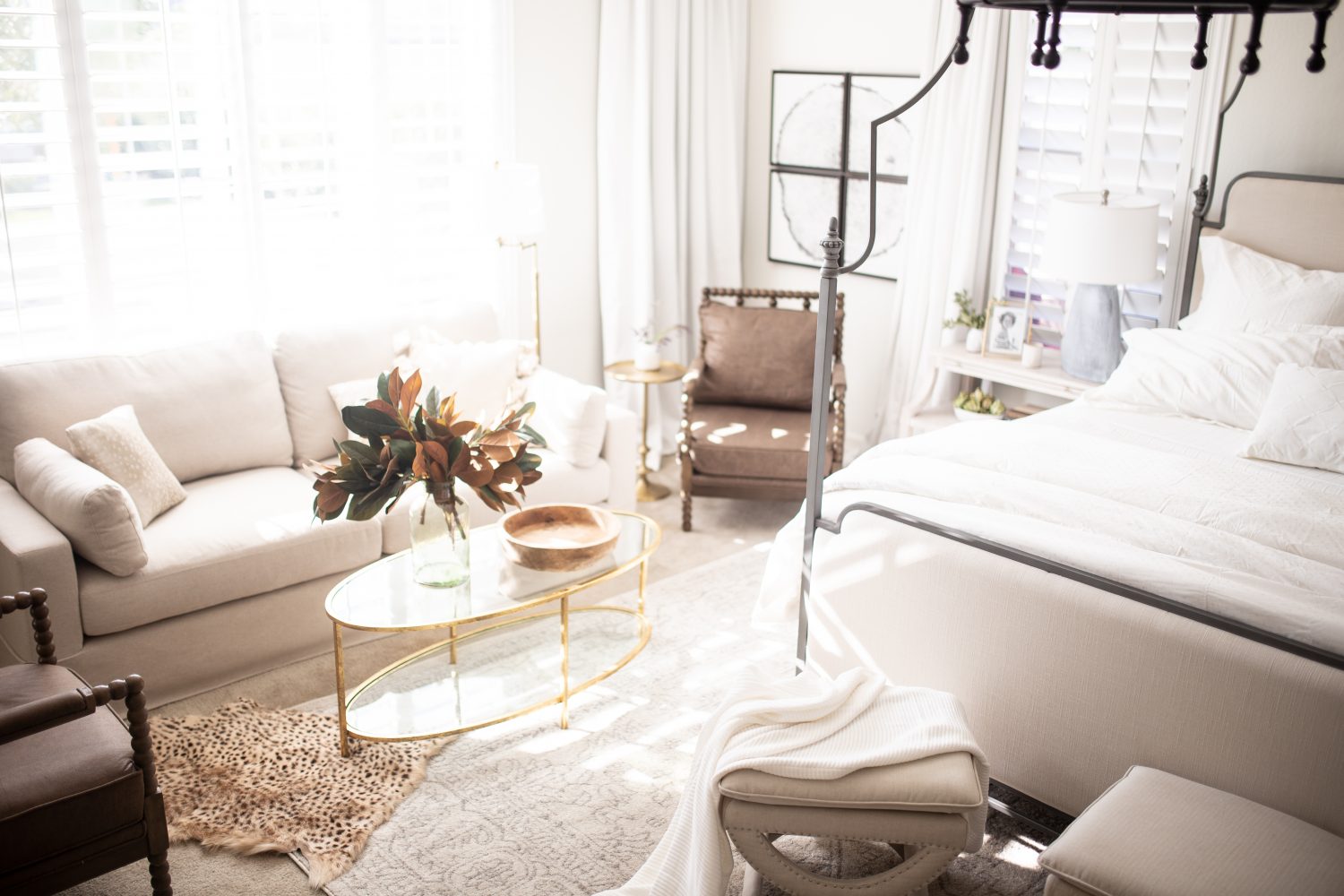 3. Black Bar Cabinet
This is a piece that I get asked about ALOT. What is that cabinet?? Well it's actually a bar! Yep this cabinet swings out to a full size bar. But guess what? We don't even drink haha! But when we have family over we like to give them an option. Also mocktails are GOOD! 
It's also such a space saver. The engineering behind it is perfect. Most of the time I use it as a cabinet but it still serves another purpose and I love that. It's like getting more bang for your buck. The cabinet is also on wheels so it's easy to roll from room to room!
Good to know: This cabinet opens up pretty wide so make sure you have room for it if you plan on using it at its full capacity. It can store 20 bottles of wine and has a interior shelf for bar tools and extra storage.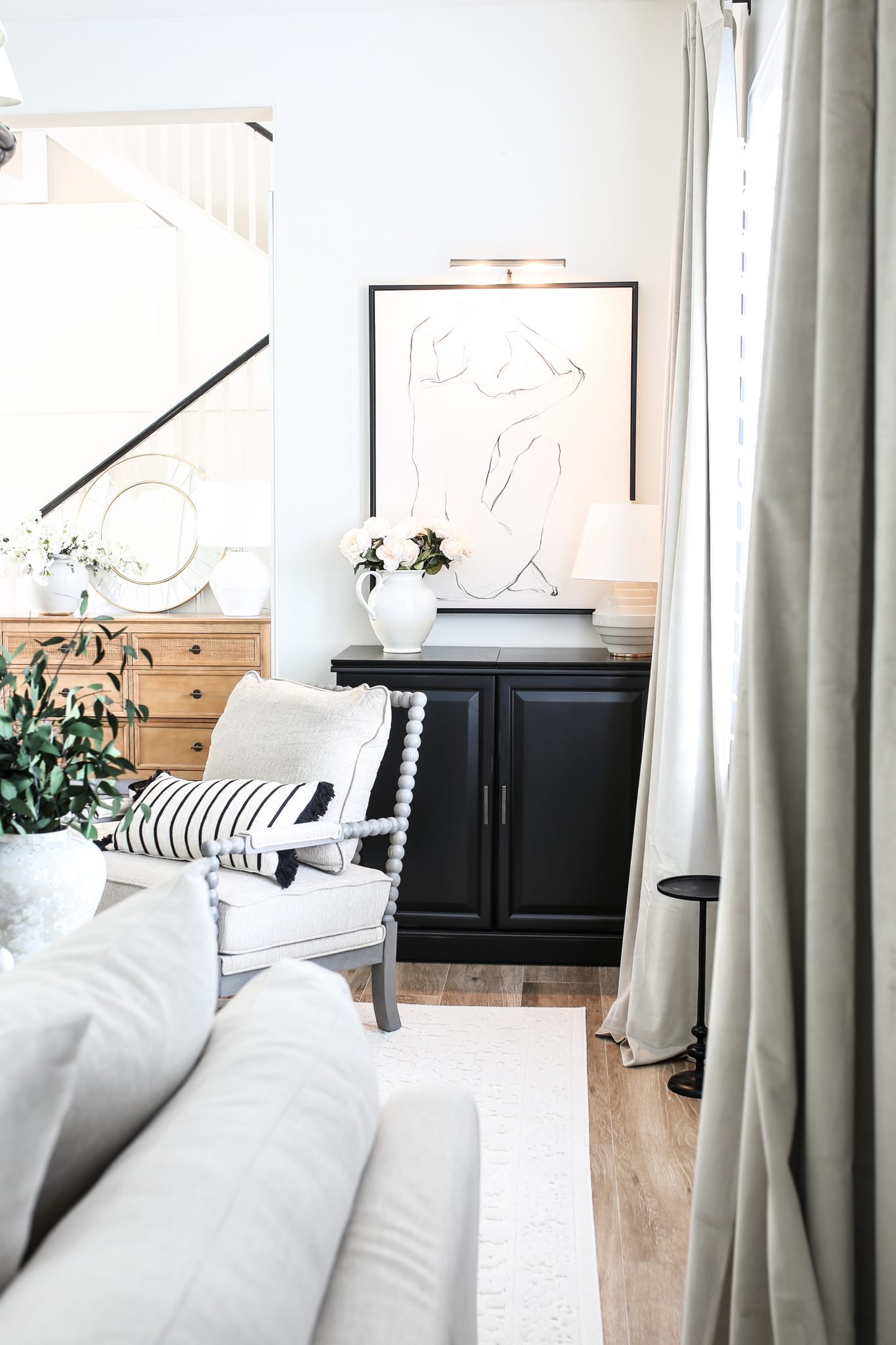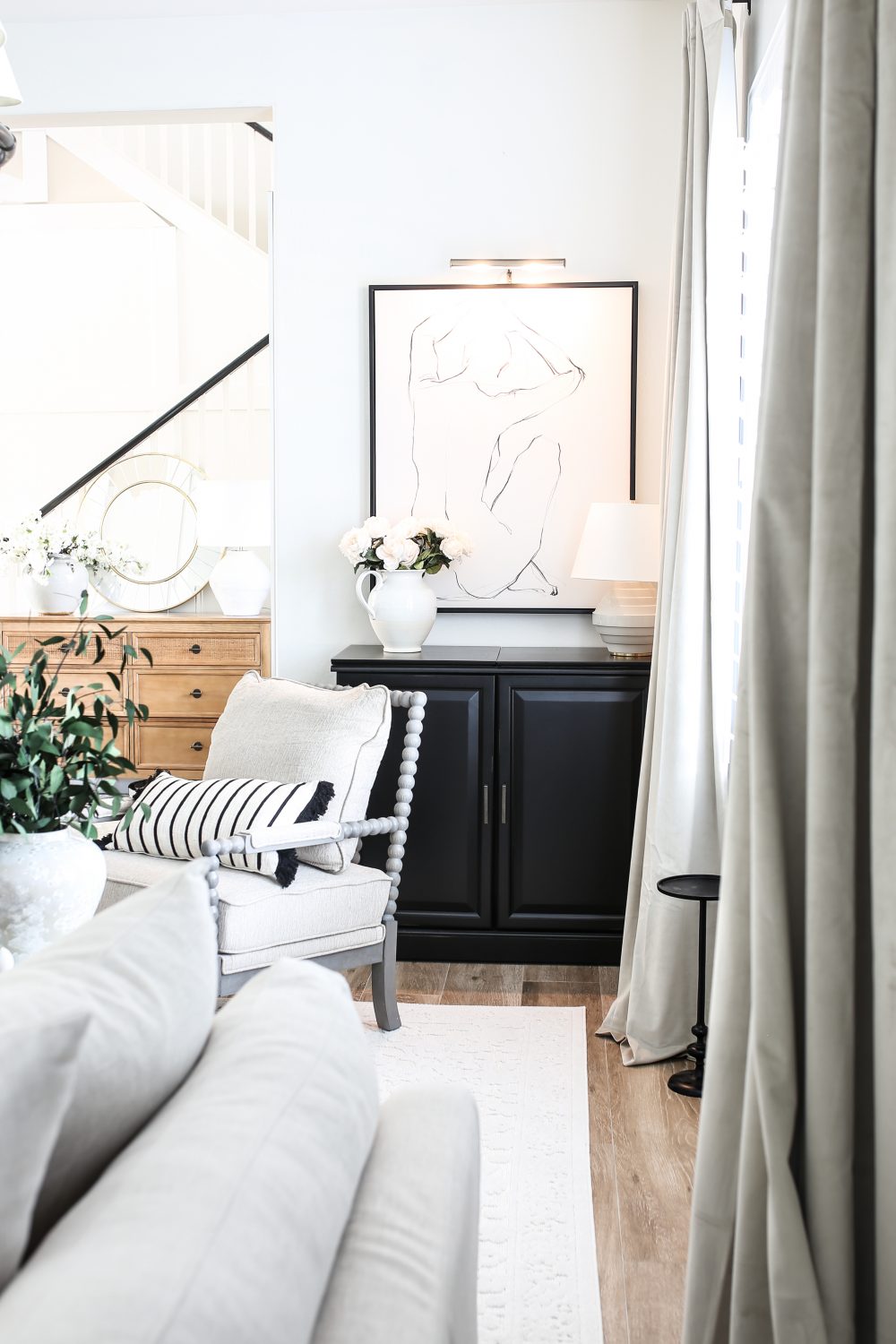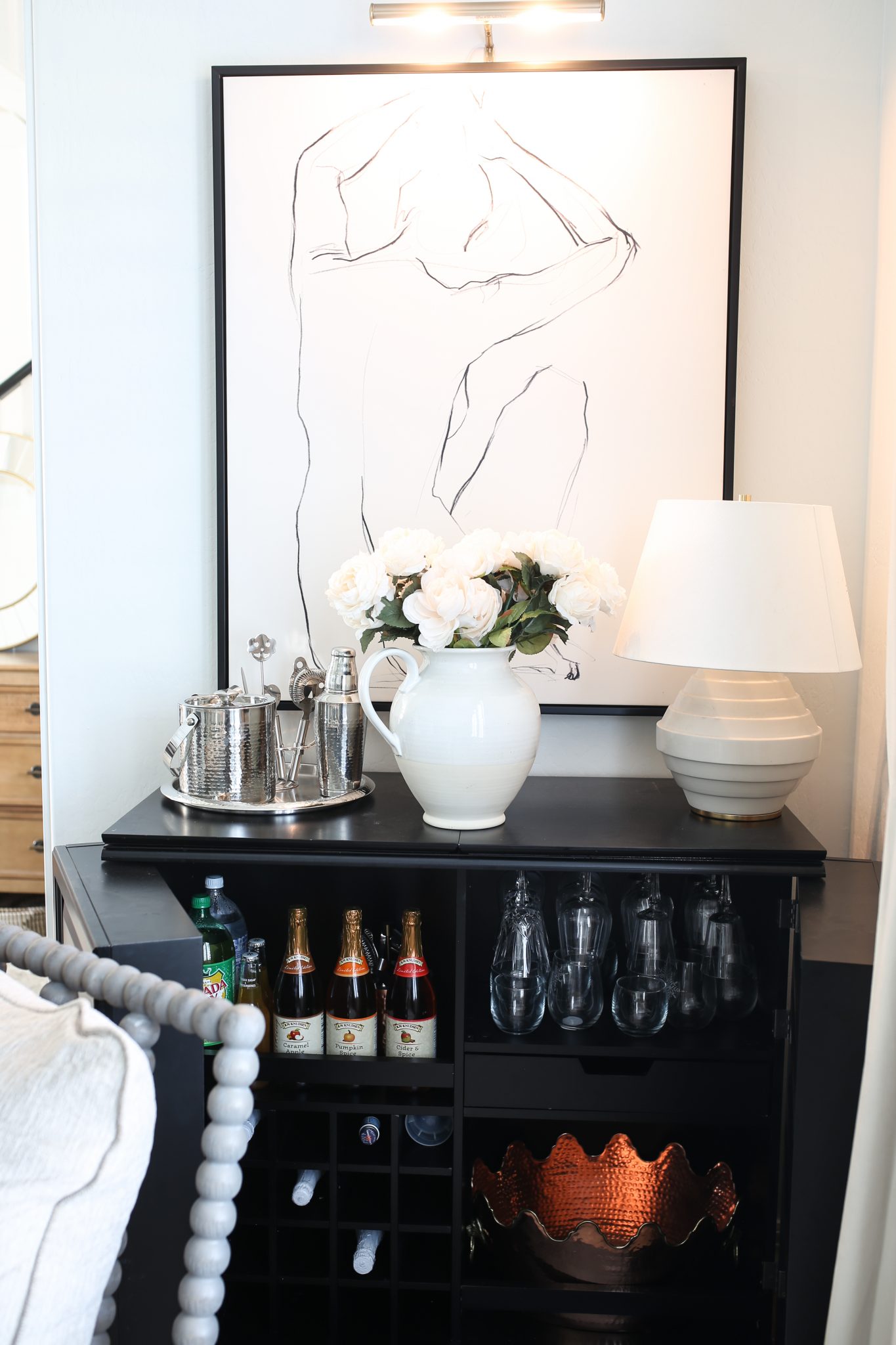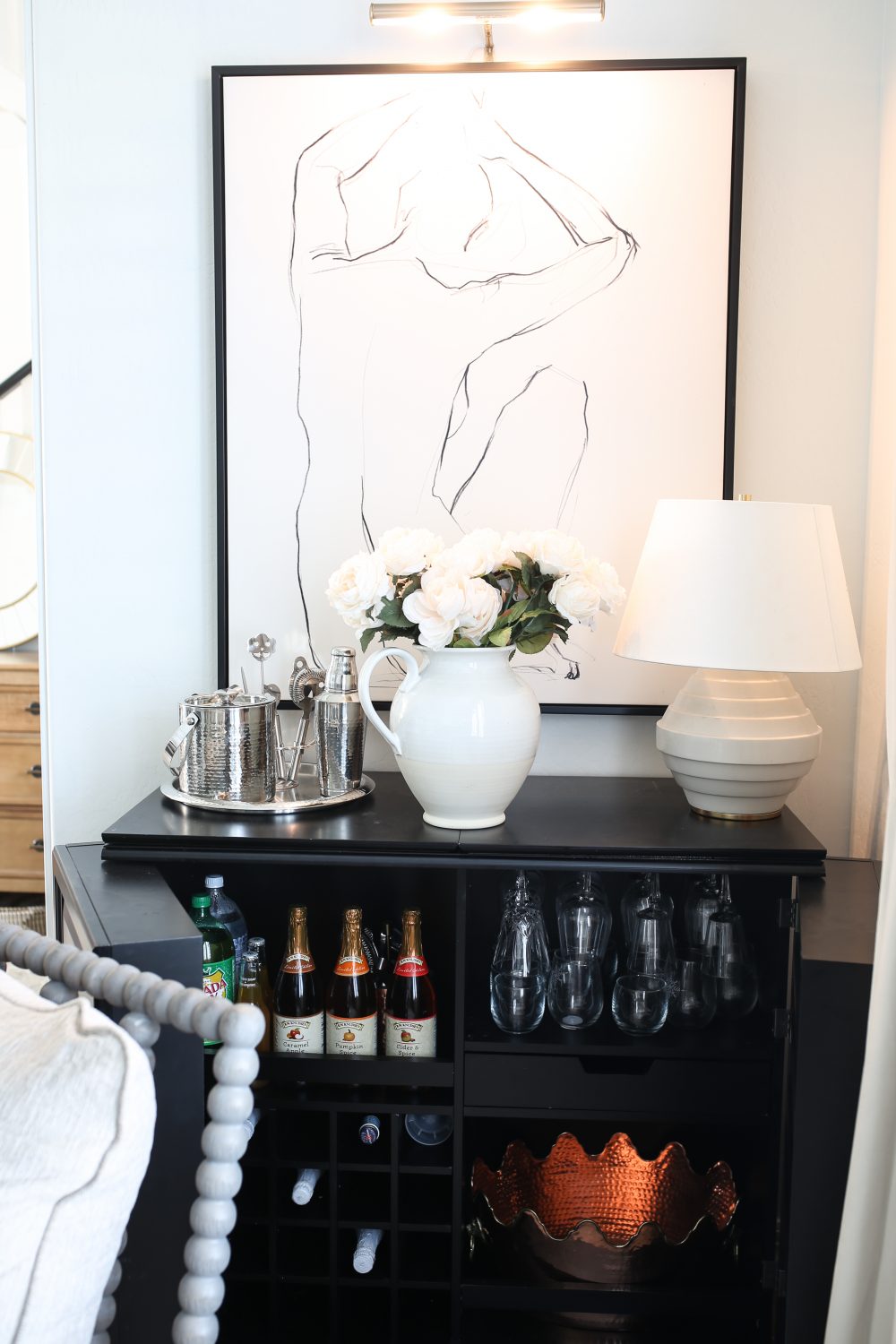 4. Stunning Nightstand
Another item that seems to go in and out of stock is the Aldridge Collection. The great news is that it's been a staple under the Home Decorators Collection for years so it's a great collection to add on to over the years. I have the dining table with hidden leaf and also this nightstand that is featured in our bedroom. I love the classic silhouette and the finish.
Good to know: There is no assembly with this piece. The drawers are not on metal sliders. Instead they're on wood so the opening and closing isn't that smooth.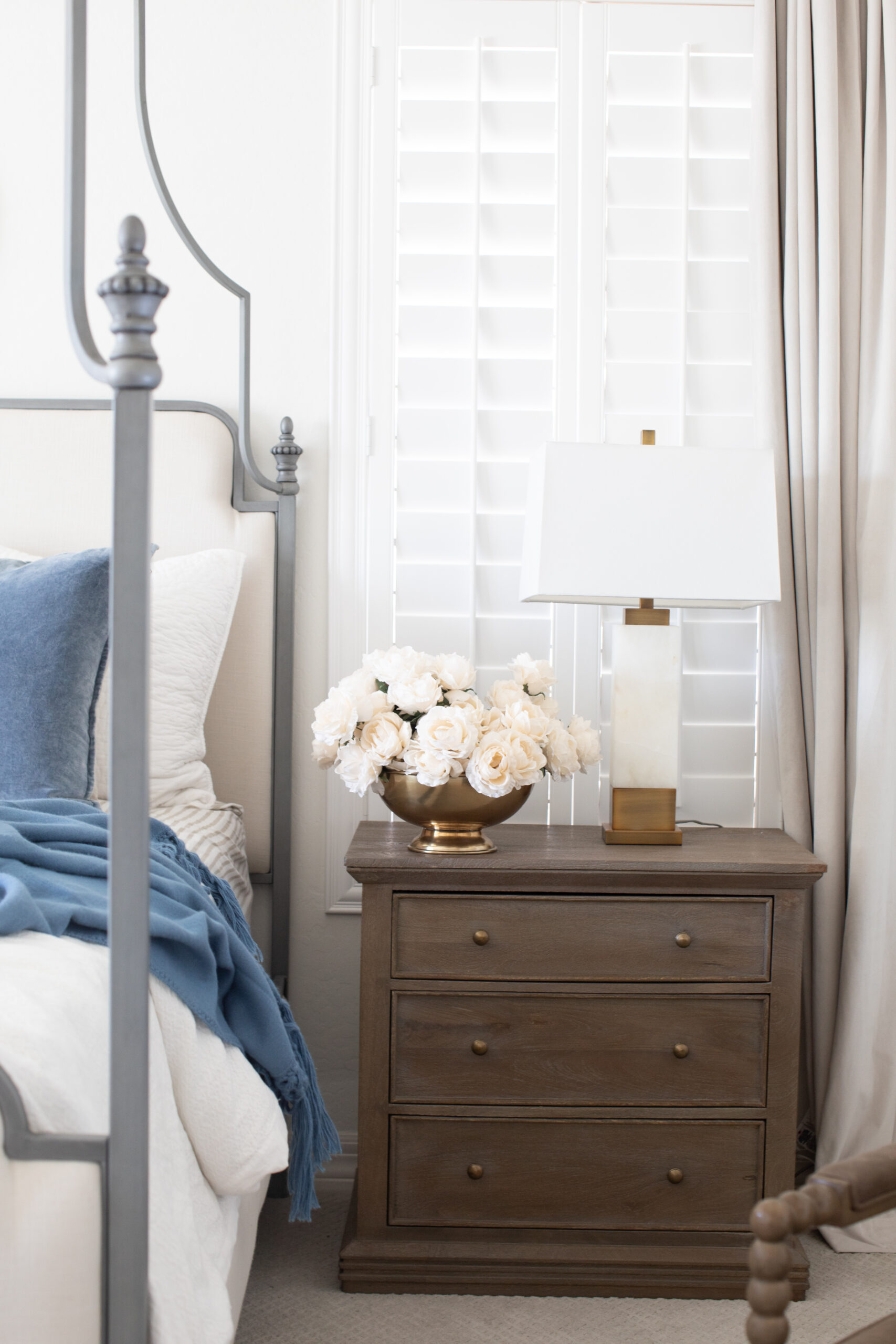 5. Patina Dresser
This dresser is also a popular item in our home. Instead of a traditional entryway console I opted for a dresser. It was the perfect size and I loved that it gave me STORAGE. I usually keep our candles stocked up in each drawer. But I admit I also have some junk in those drawers too. haha! But at least it's all hidden right?
This dresser has a gorgeous finish and features the prettiest cane details on the top two drawers. Here is another piece from the collection that's a nightstand.
Good to know: This dresser goes in and out of stock because it's popular! I like to use wood glue whenever I put furniture together for a nice sturdy fit! I used it on this one and it's solid as a rock! I think this picture displays the color perfectly so take note.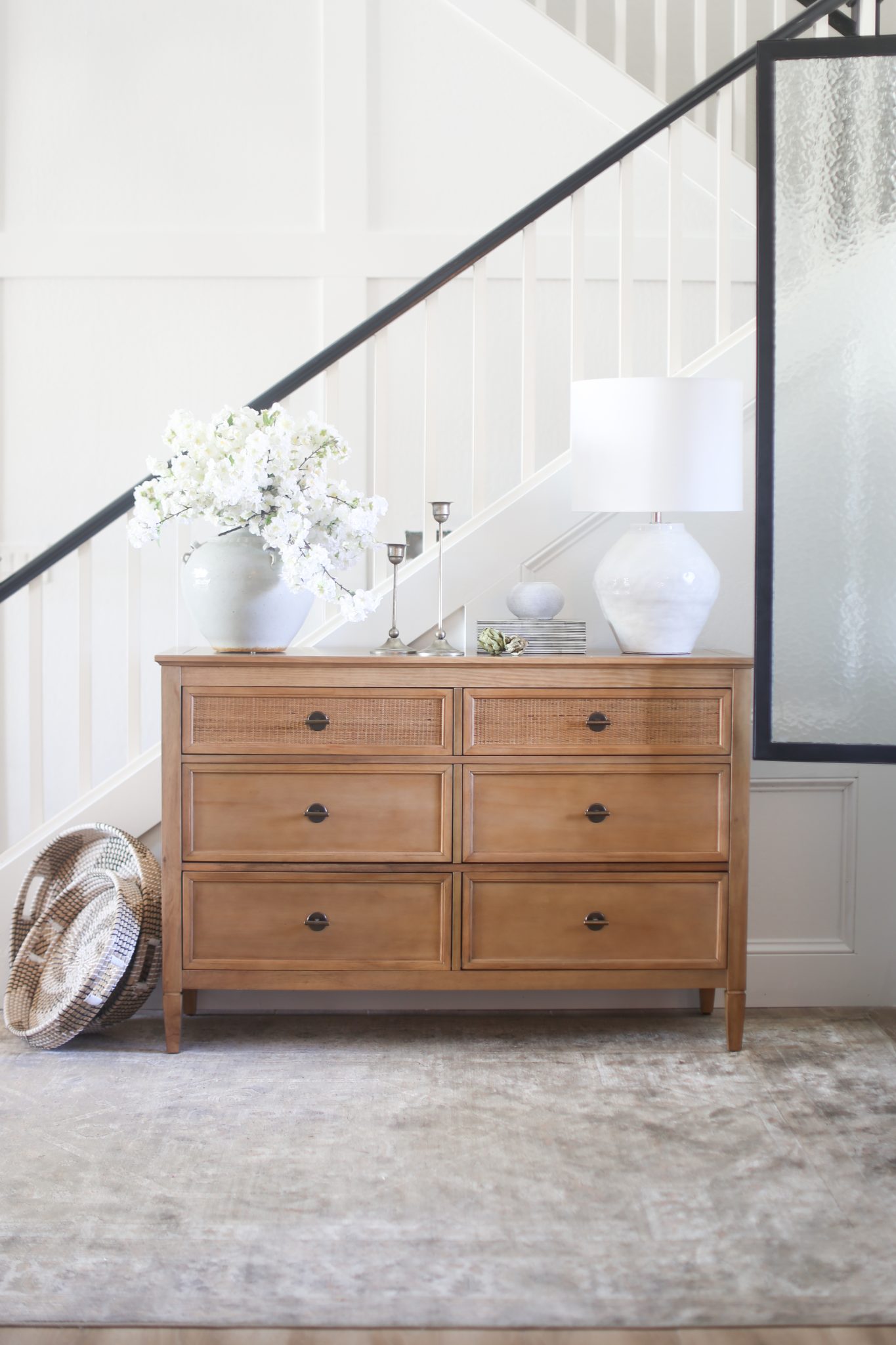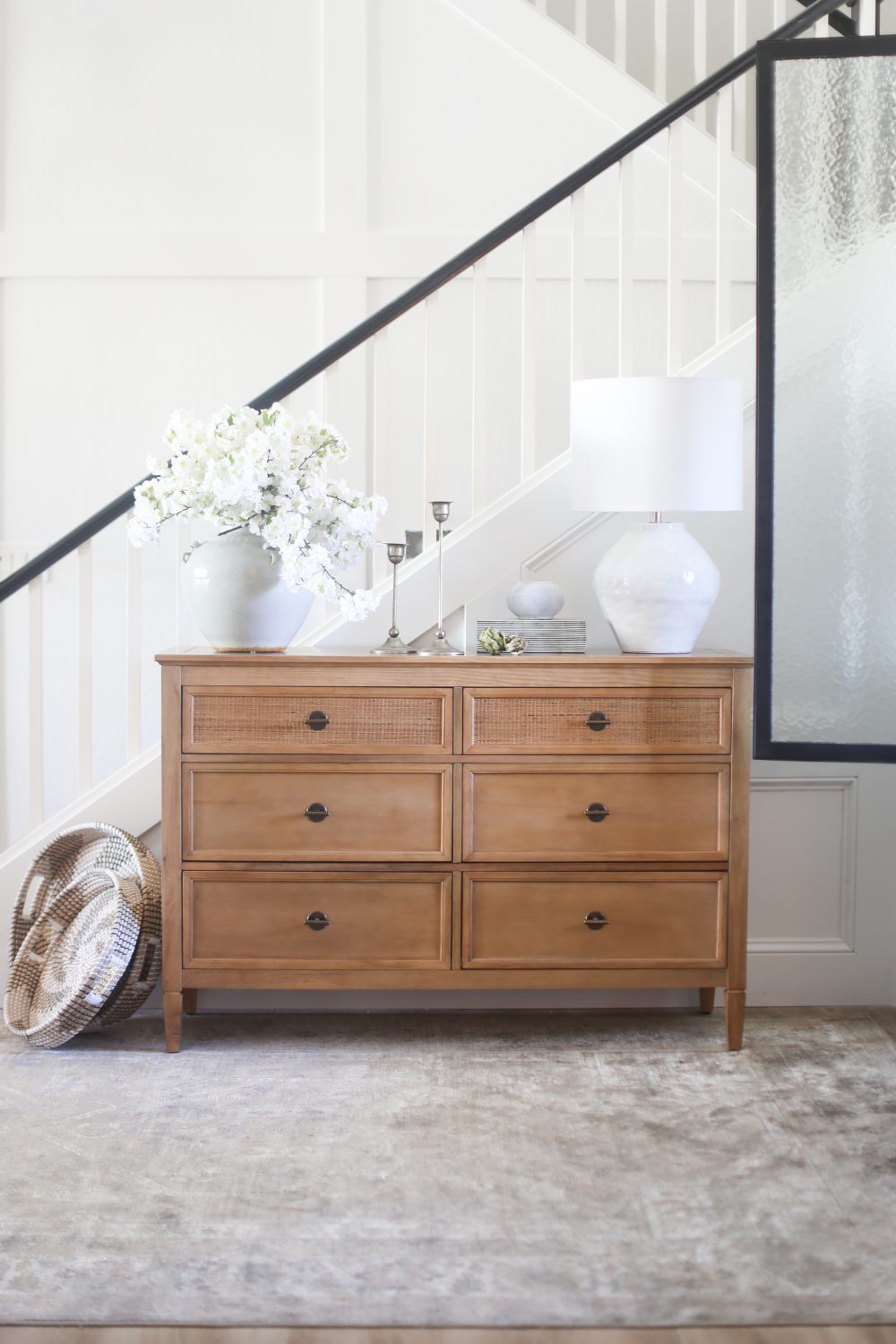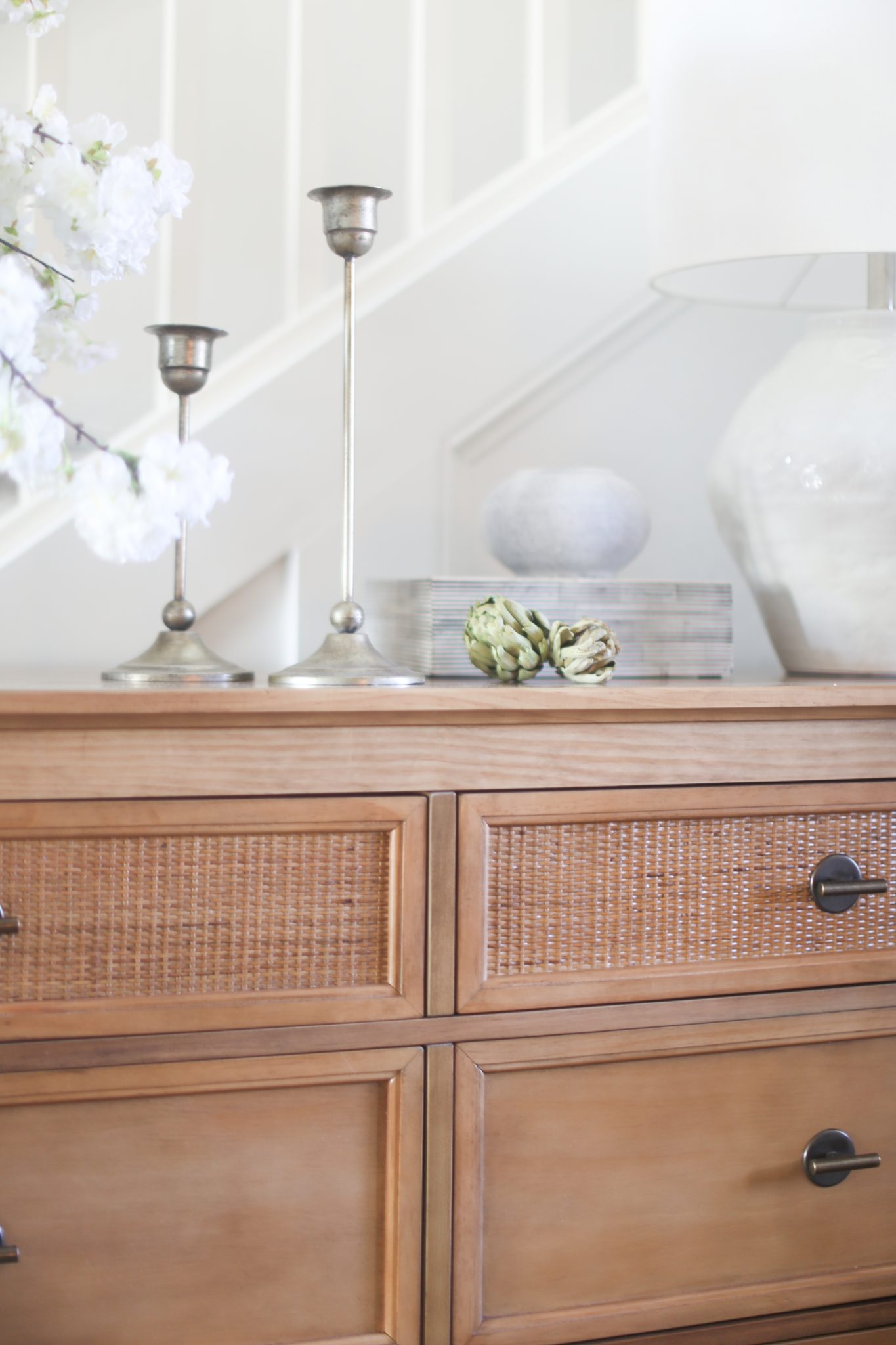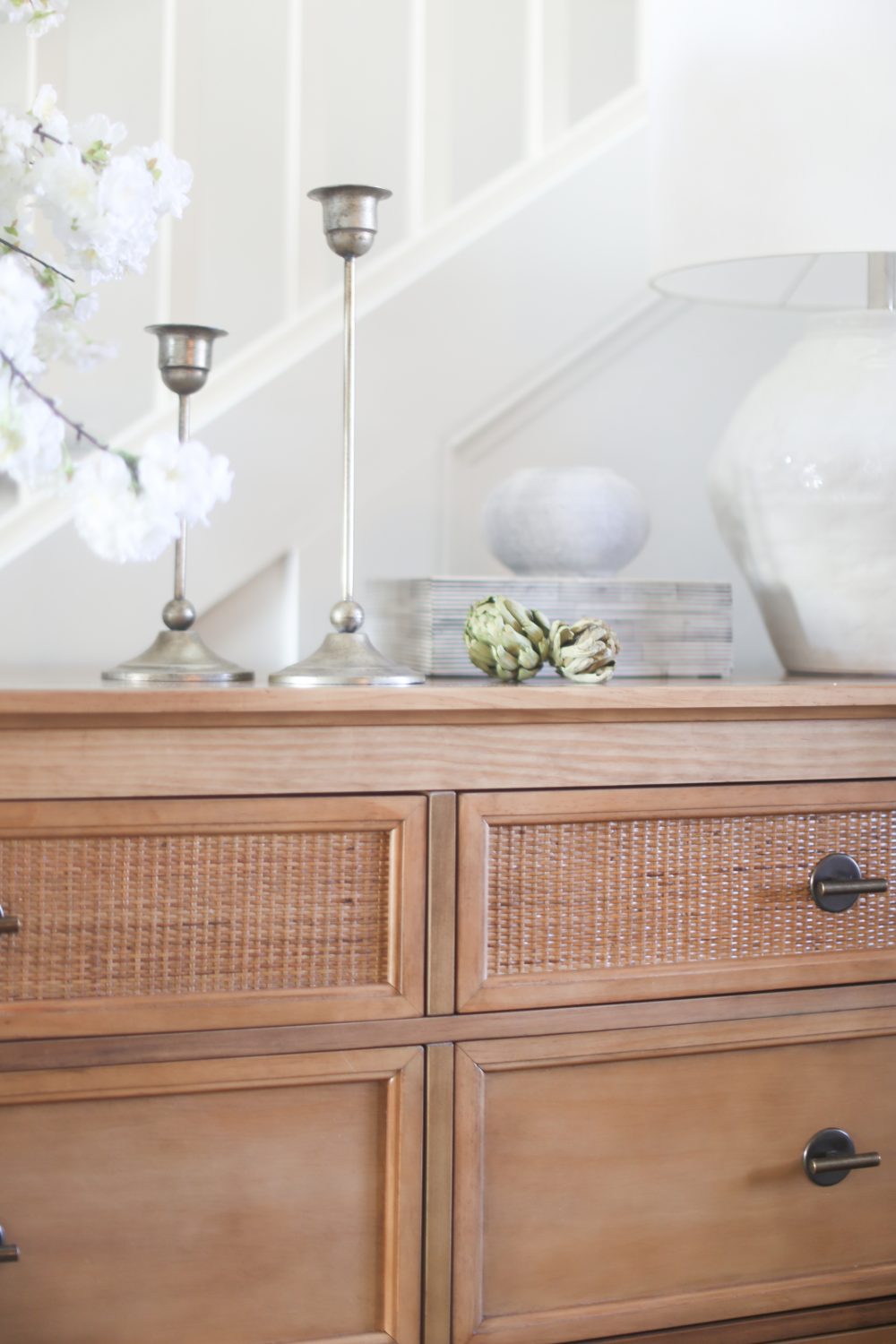 6. Patina Oak Finish Dining Chair
The most classic chairs at a great price! I think you will love these chairs. No assembly required! I had similar chairs from Restoration Hardware and these are SOOOOO much better. The ones from RH only had the cane material for the seat. So the seat would continuously break. It was horrible and a big miss on their part.
These chairs have a hard cane bottom so it's much more durable.
Good to know: They come in a set of two so that's how you must purchase them.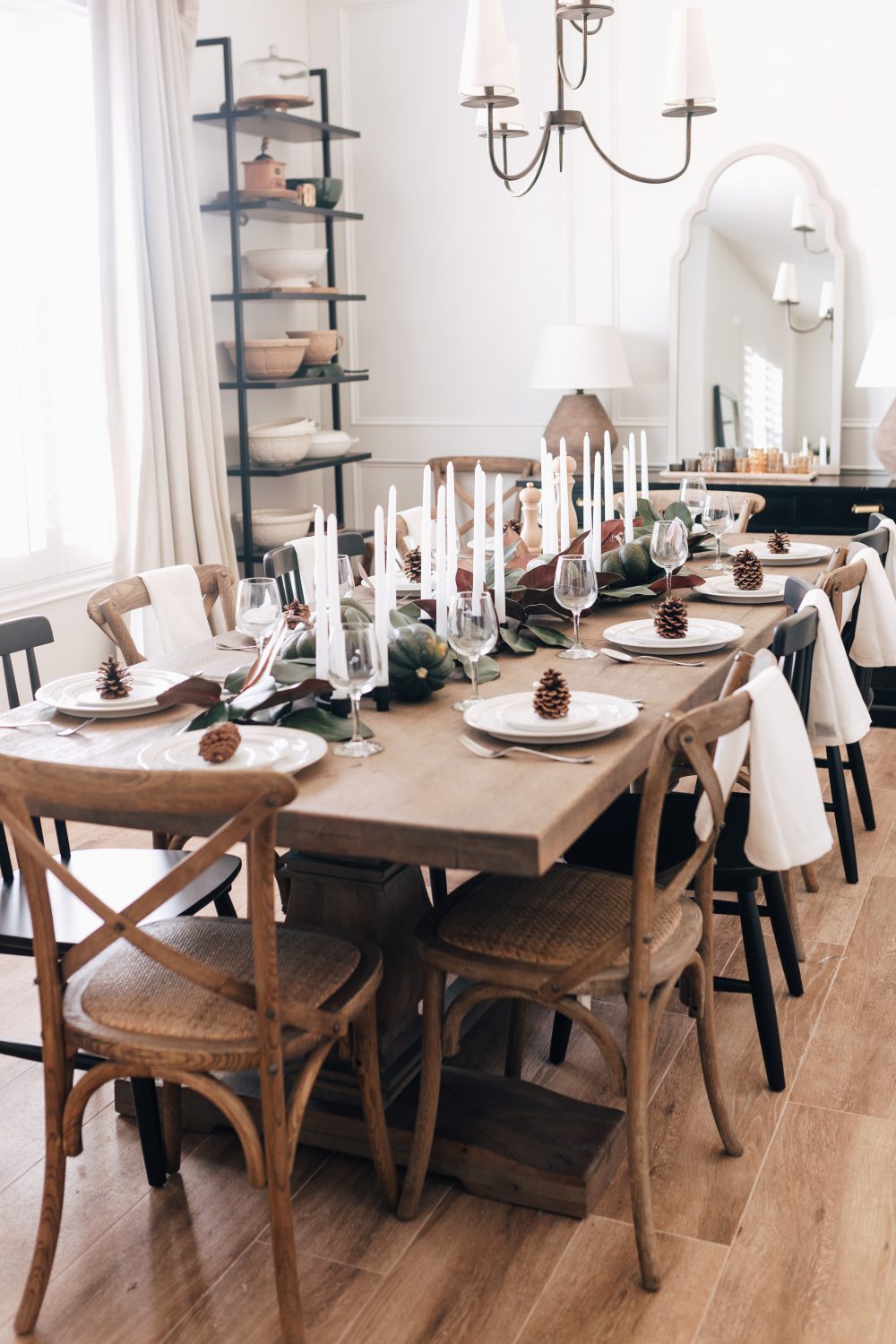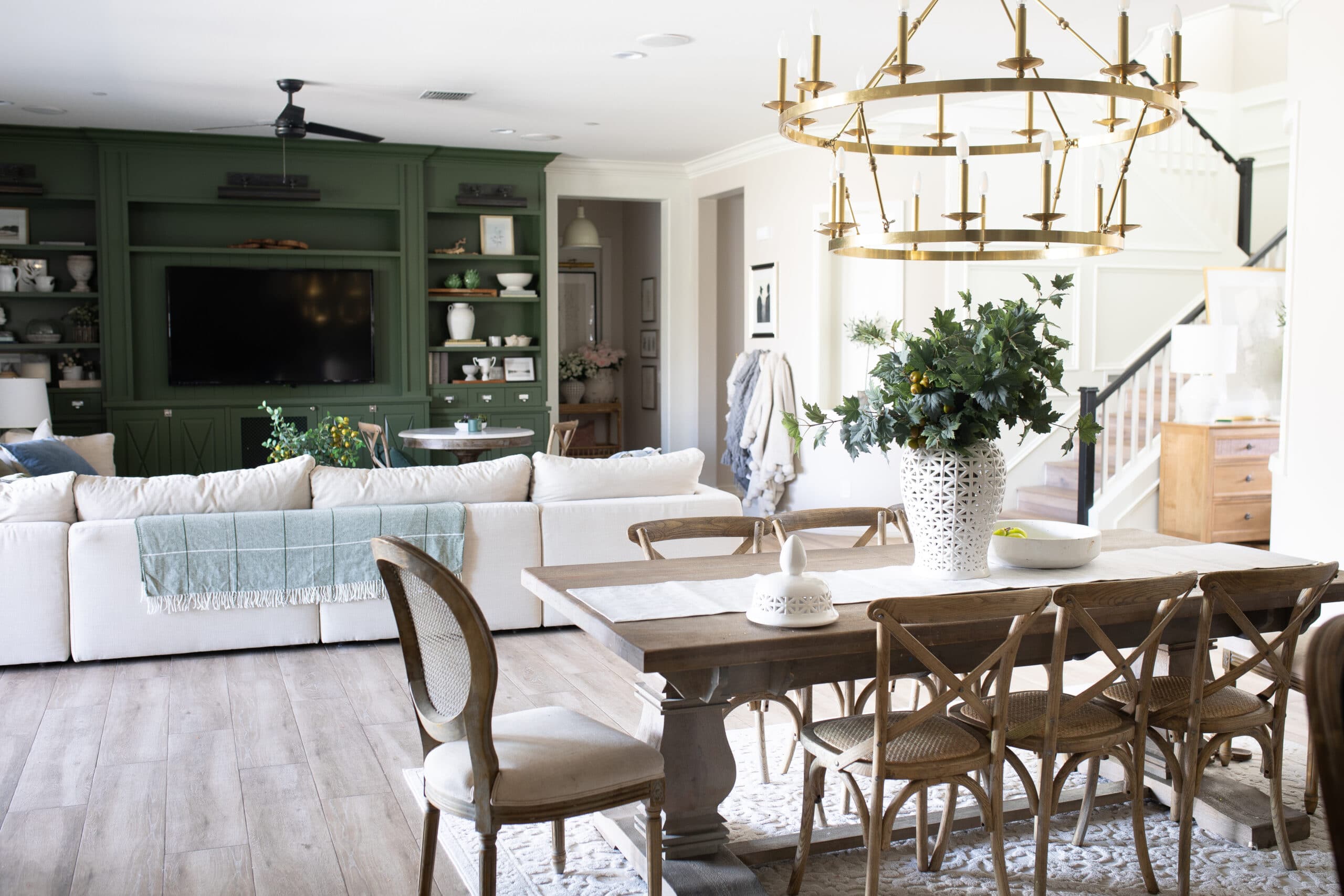 7. Hampton Black Buffet
I love adding black to my spaces. So when I spotted these online I knew they would look great in our dining room. My favorite part is the extra X detail on the front. I also have the same detail in our family room on our green cabinets.
Good to know: Buffet will arrive in three boxes! I doubled up to make an extra long buffet. I also changed the standard hardware which is a great trick to elevate the look. Also works as a media stand too!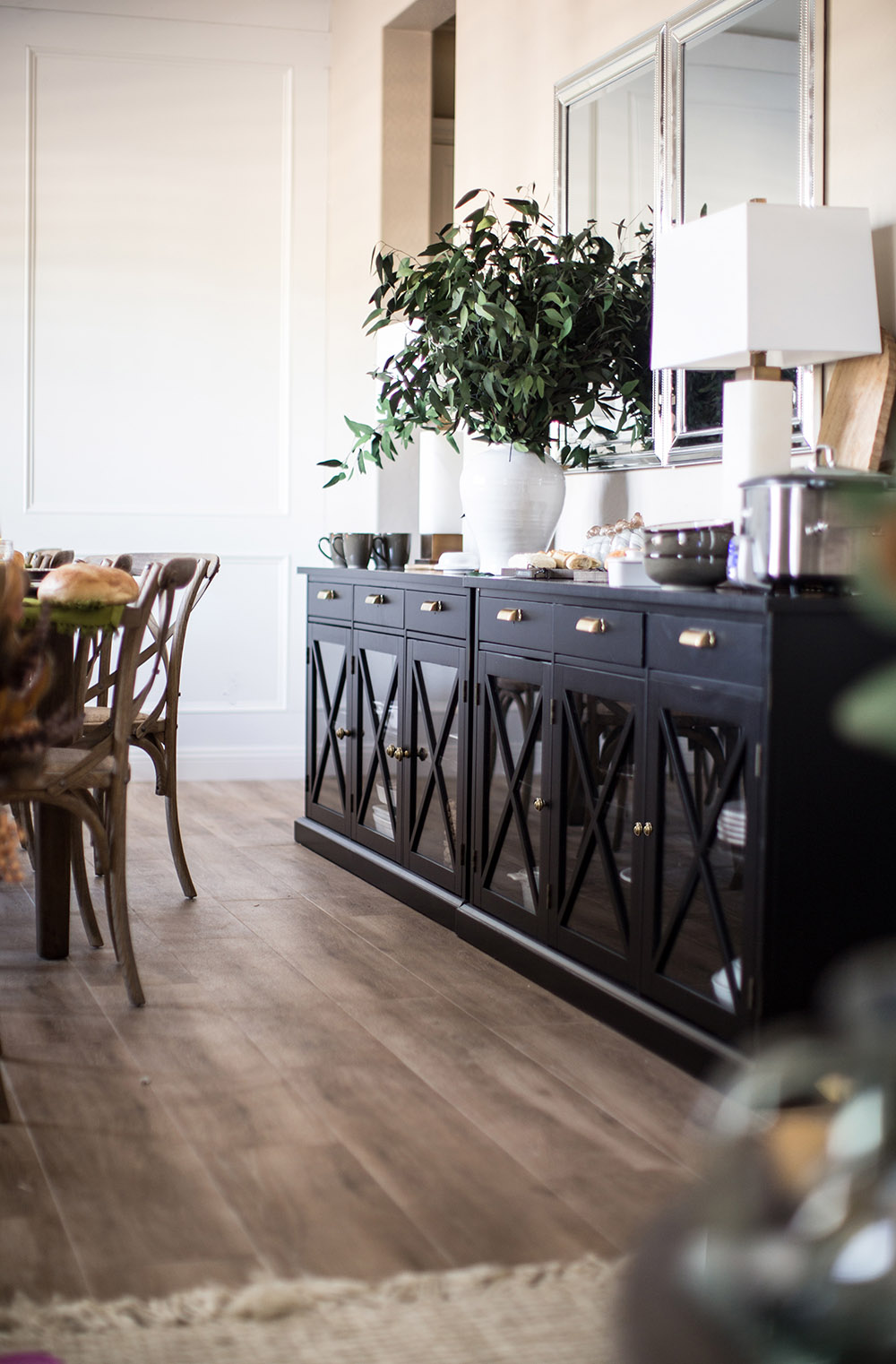 8. Round Metal Accent Table
If you need a small and stylish table that is functional I can't recommend this table enough. It comes in three different finishes and fits nicely next to a sofa, chair or in the corner of a hallway.
Good to know: The top twists on and off for easy assembly. Perfect for beverages and small accessories but not a lamp.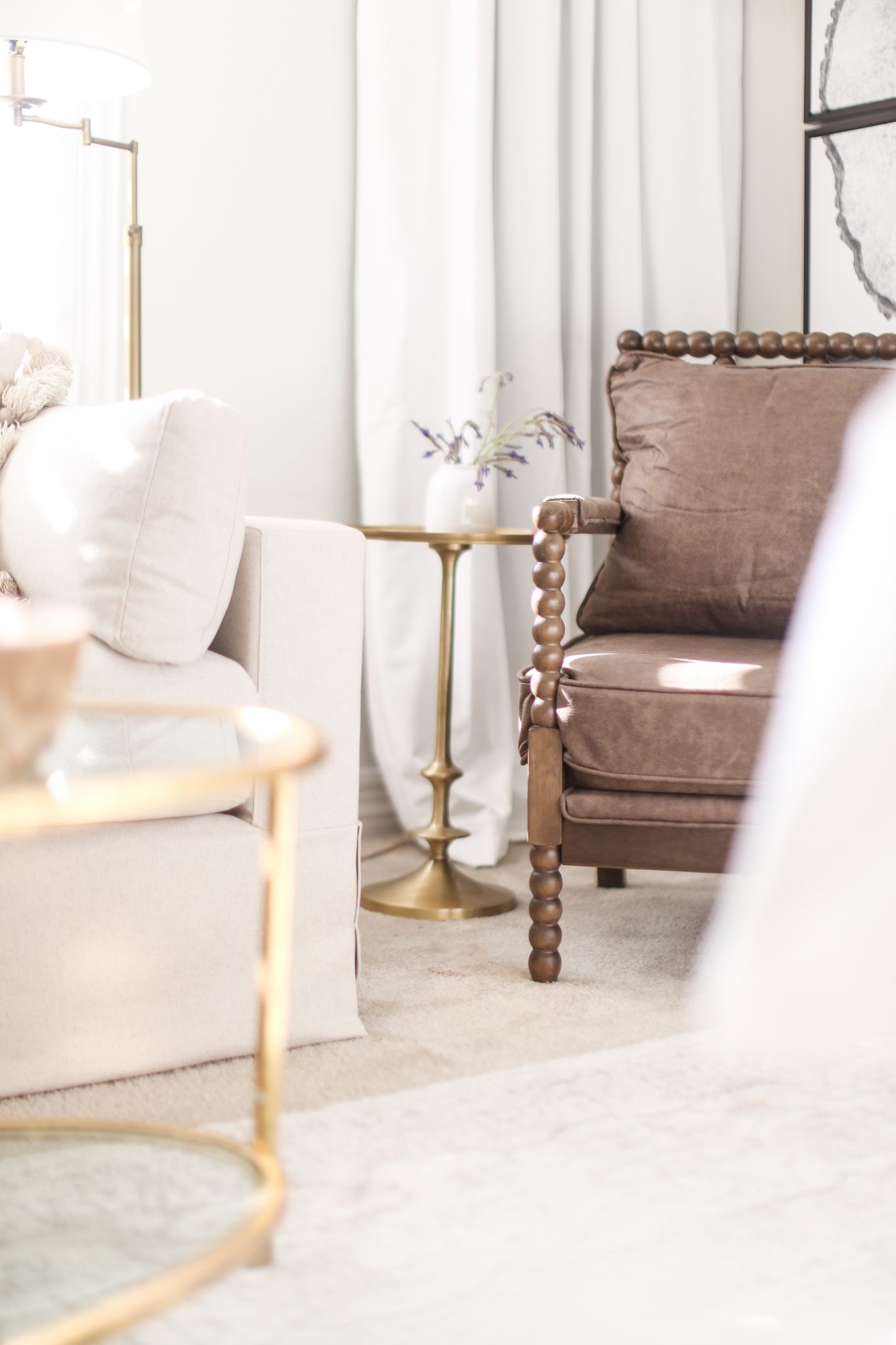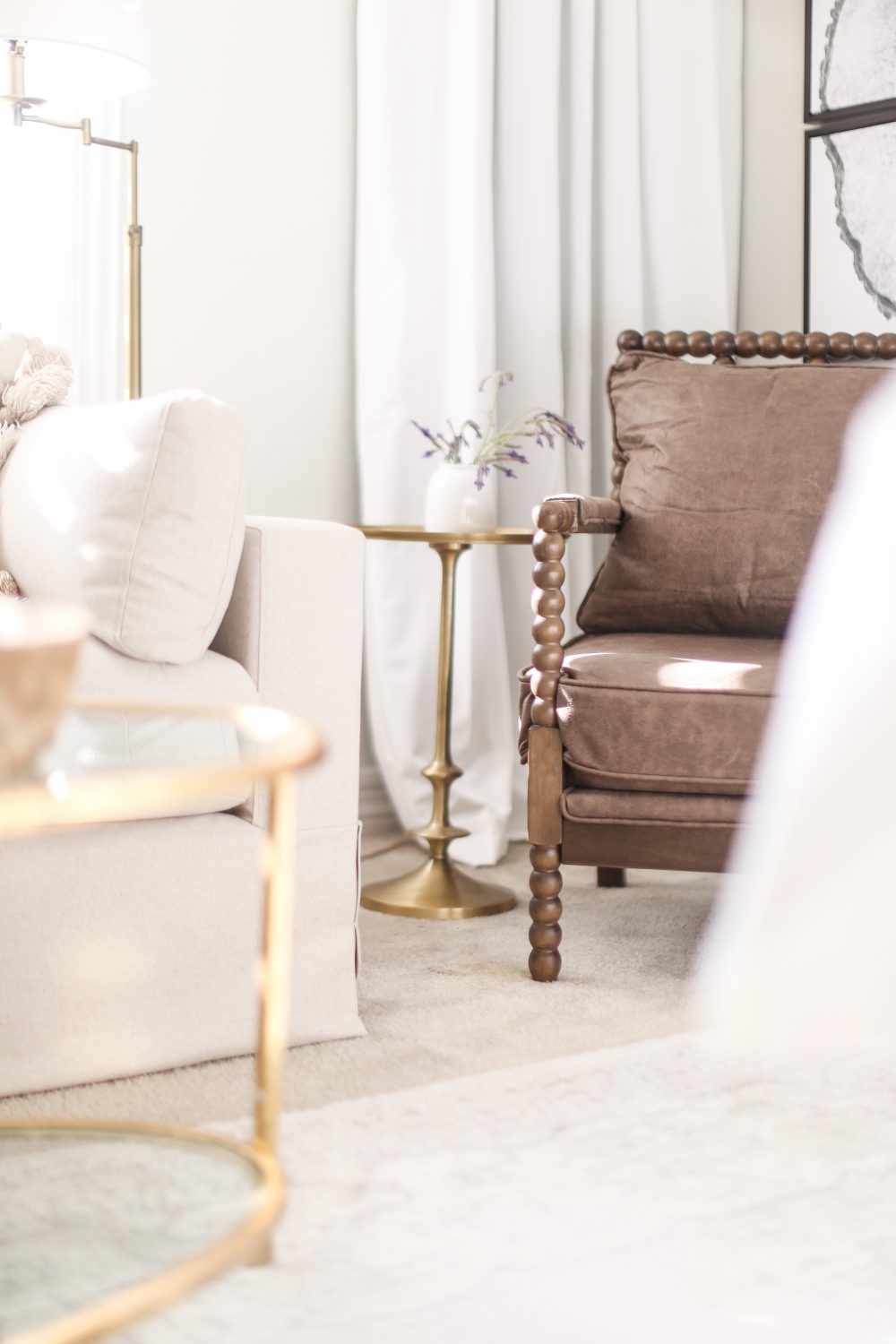 9. Home Decorators Collection Christmas Tree
Yep! Even Christmas trees. You can find some Home Decorators Collection Christmas trees in store but there is a bigger selection online!
This gorgeous tree was featured in our living room last year. It's 9ft tree that is lit with warm white lights and is just stunning. If you love fully flocked trees then you will love this tree!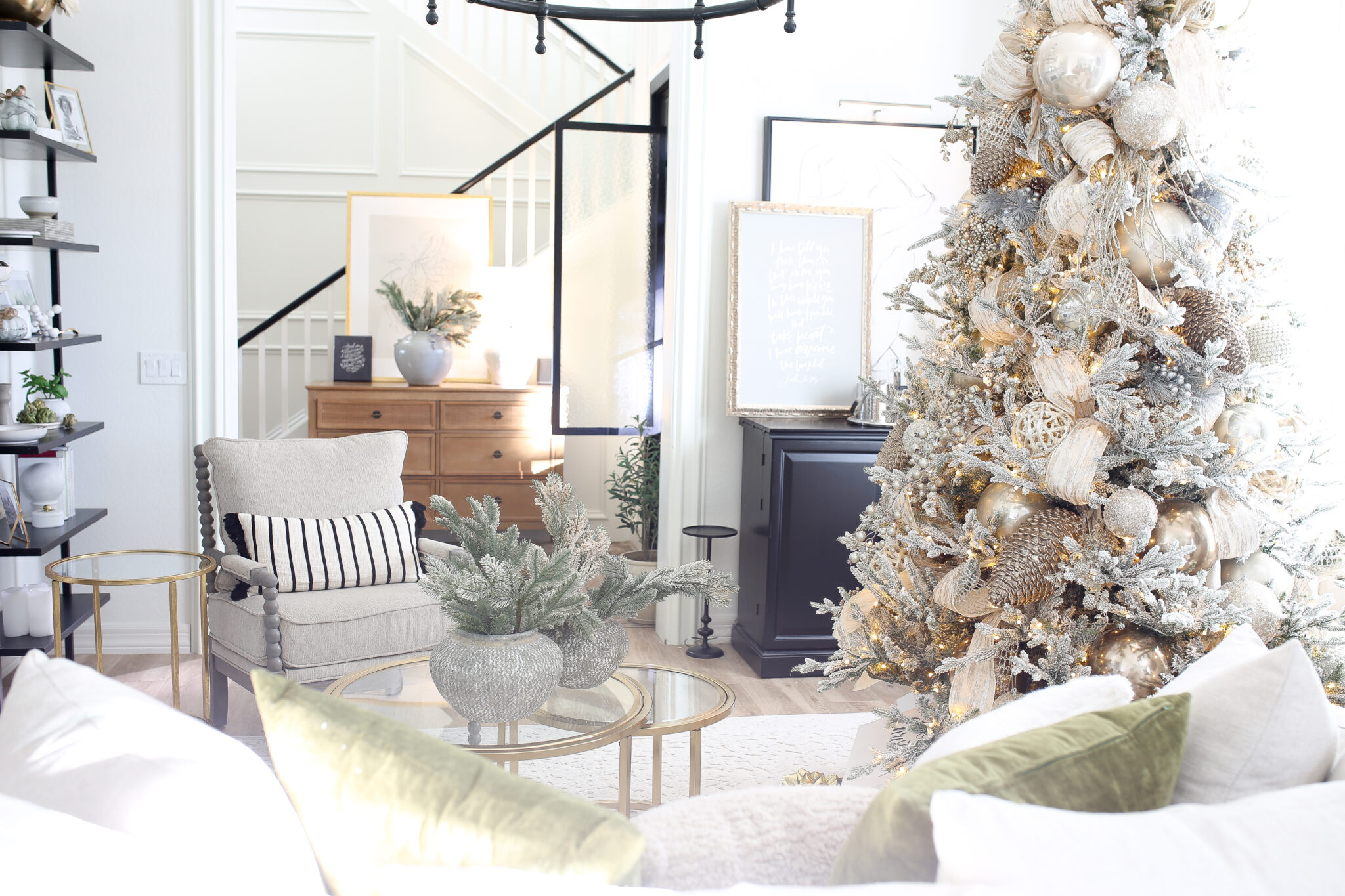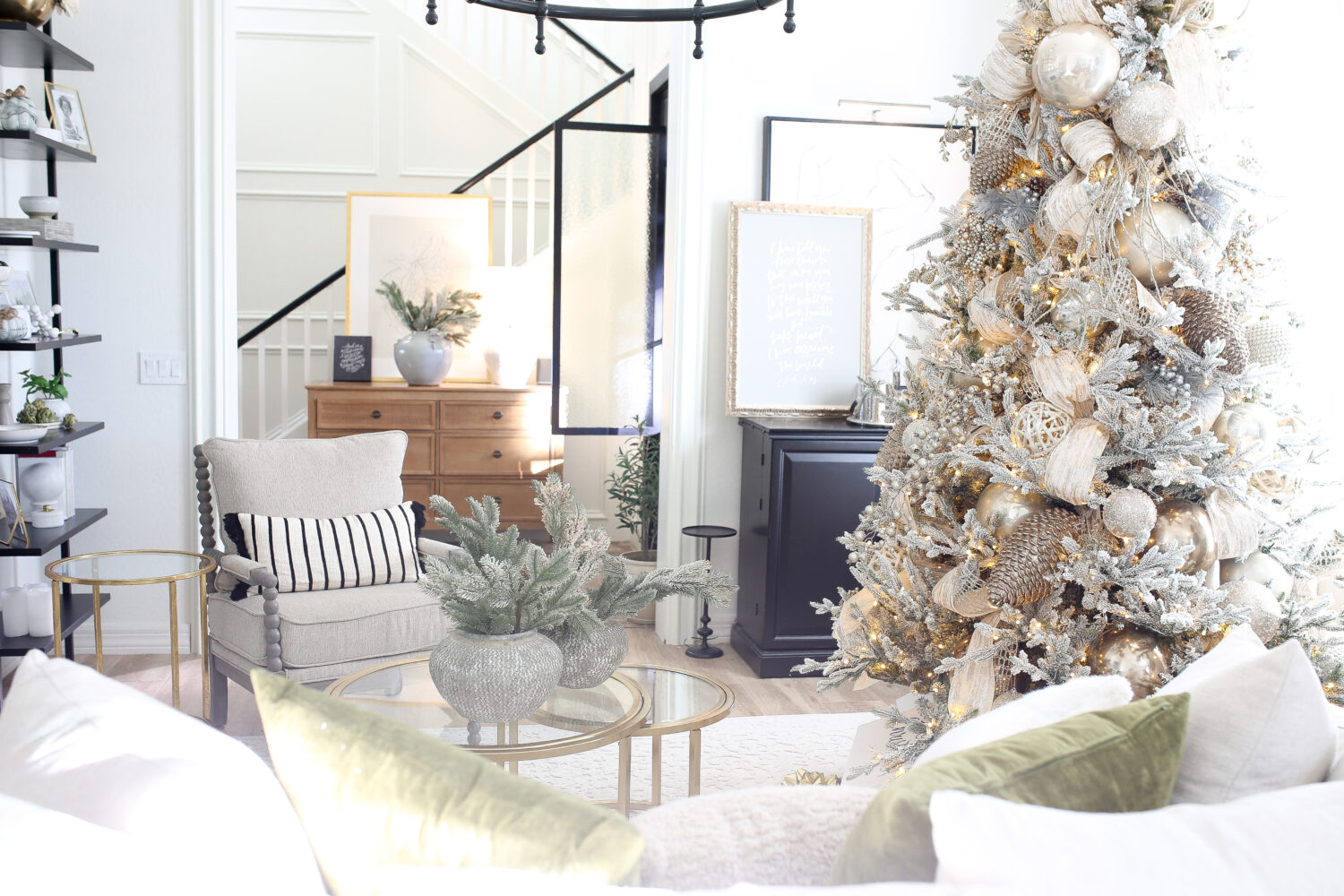 Home Decorators Sateen Bedding
There is just so much to love right? I also have the sateen sheets and duvet set and it's so luxurious. This sheet set and this sheet set have nearly perfect reviews and I see why.
Good to know: ( This bed is also from The Home Depot but is discontinued!) Read how to care for your sheets before you wash!! Even though sateen is cotton, to keep them in good shape you need to watch the temperature of the water to help them last longer.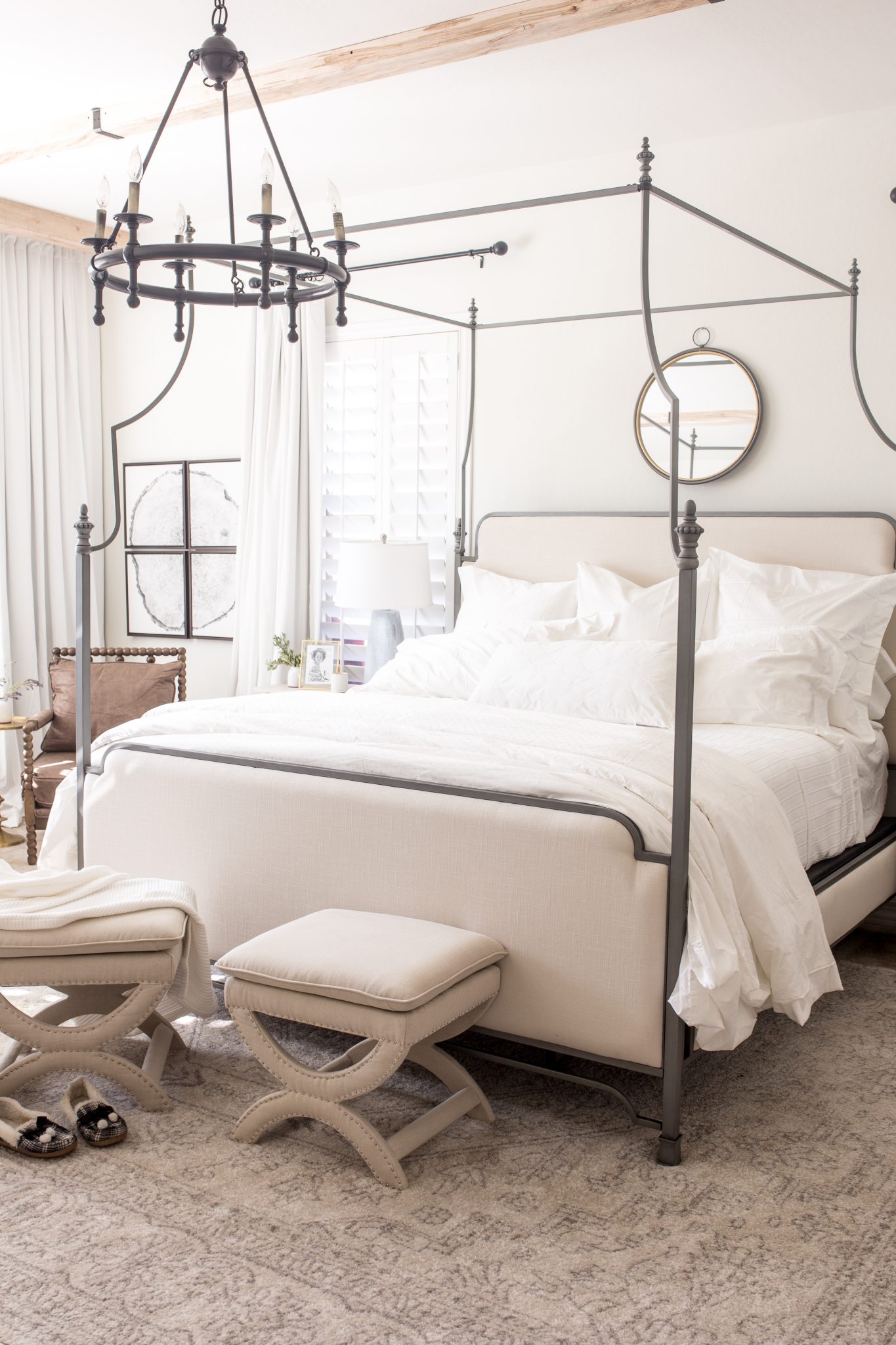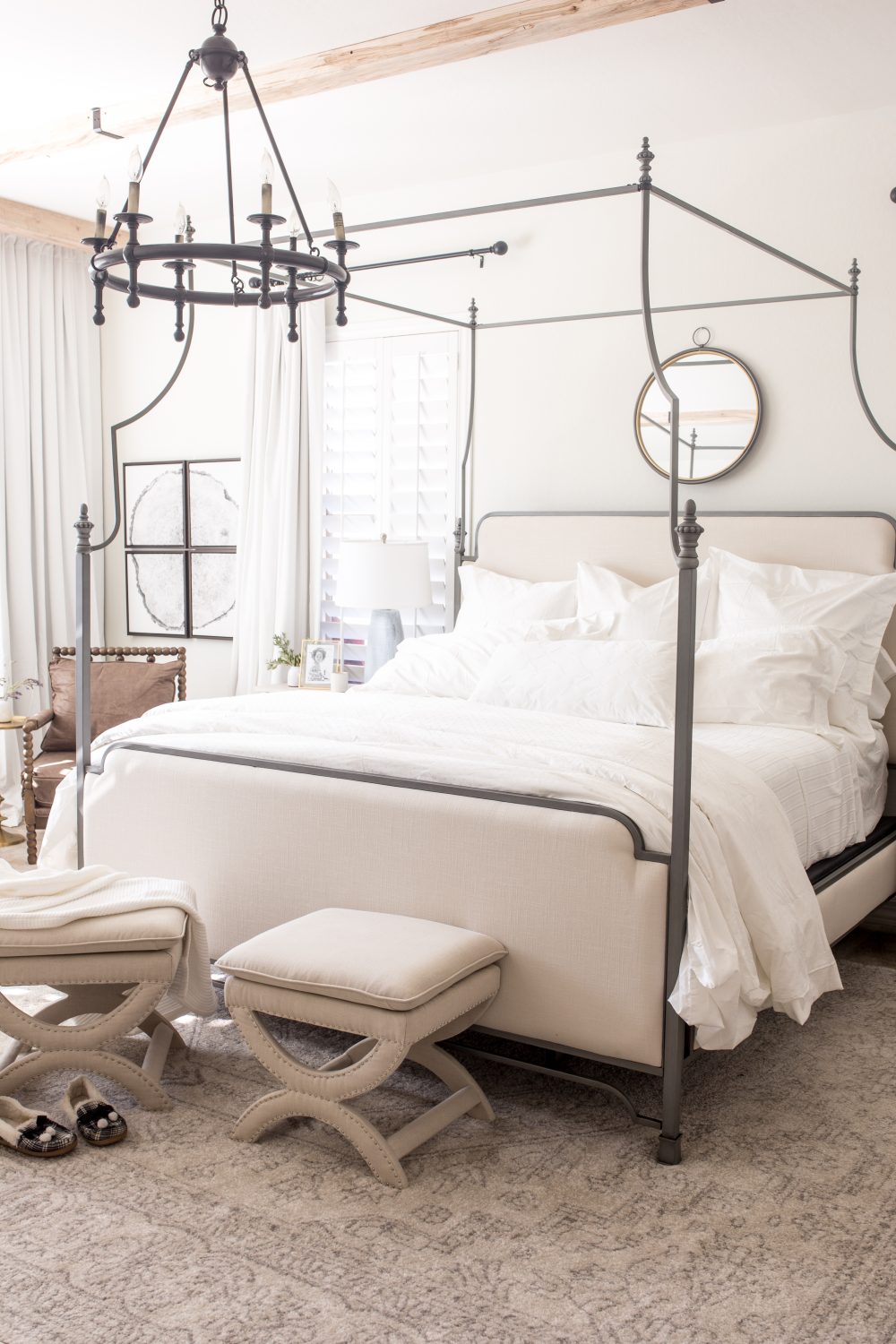 I bet you can see some of these pieces in your own home now right? It's fun to imagine the different choices. Hopefully this helped you see some of those pieces up close and in a real home!
Shop even more Home Decorators Collection online here.