How to Style your Front Door for Christmas
This post is sponsored and may contain affiliate links, please read my disclosure policy.
It's a common question that I've even asked myself! After doing some research and practicing for a few years lol! I finally have pretty simple "recipe" on how to style your front door for Christmas and it's pretty easy.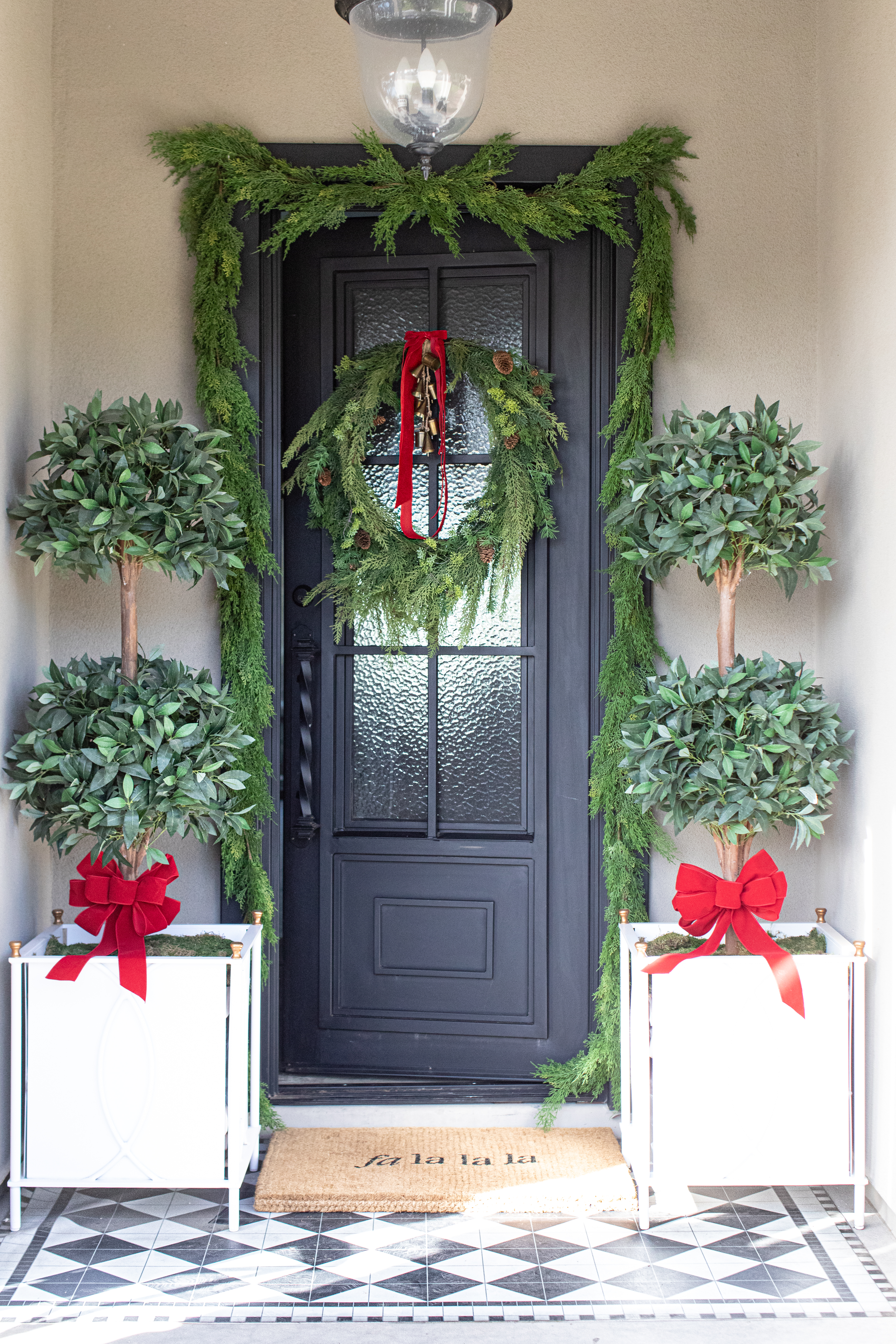 I think what makes any space interesting are the layers. Flooring, wallpaper, trim, paint, fabrics, etc. Every single one is essential to the makeup of the space.
It's the same for the front door!!
Our front door was upgraded after about one year living in our home because I knew I wanted it to be special. This iron door has a glass window in the middle to let light into our entry and to add a little design element. But even if your door isn't as fancy you can still layer your door to really make an entrance to your home. Especially around Christmas time! To upgrade your door you can order one online and have a contractor install it for you. You can also find a specialty iron maker that is local to do the job for you as well.
Styling your Front Door for Christmas- Start with a good base
I love the look of traditional London front doors. Usually a black door with some type of patterned tile upon entry. I decided to replicate this look and was thinking about painting or even tiling our entryway when I came upon these mats and I've been in love ever since. They are graded for indoor but because I have covered porch it's been working great! Super easy to clean and the design just makes the door pop! You gotta try this trick your self. Order your favorite design on one of my favorite sites for deals.
I also like this one and this one!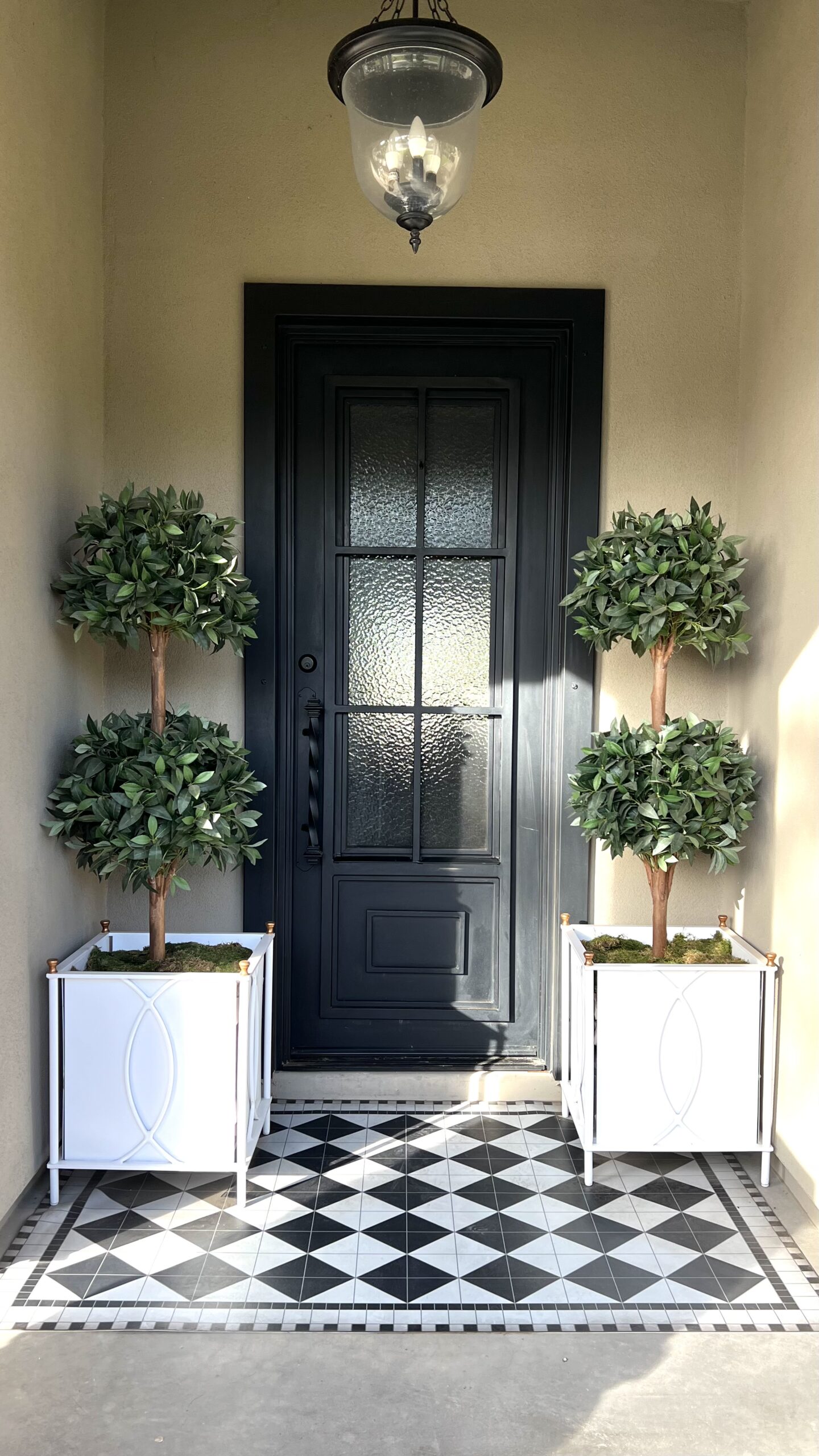 Add to scale planters and faux plants
Another important part of styling your door is to make sure you have planters on either side that are to scale! Not too big and not too small. This just takes a few moments to measure and you will nail it. Right now these beautiful white metal planters are my favorite. Super classy, a bit expensive ( when they aren't on sale) but worth it because they make such a statement. I got them on sale and I plan on getting more!
Once you have the right size planter choose some faux or real plants to plant them. The reason faux is a great ideas is because unless you have a drip system running to your front door then it will be hard to remember to water your live plants.
Also most front doors don't get enough natural sunlight. Just something to think about! I loved the look of the bay topiaries. I have some other options for you below!

So there you have it. A mat, planters and plants. This is your base. No matter the season, your door will look beautiful with just these basic items! ( Don't worry you'll be able to shop this look at the end and add a wreath) 
Essentials to Styling your Christmas Front Door
For the Christmas season you can simply add:
Satin or Velvet Ribbon
A Festive door mat
Wreath
Jingle Bells
Garland
Add some pre-lit or faux cedar to the edges of your door! Faux cedar looks SO real these days. You can hardly tell the difference.
Plus it's not going to dry up or leave a mess when you remove it! I used outdoor command hooks to hold everything up. It's doing an ok job but I want to find something better because it keep falling!
For this look I used four 6ft cedar garlands for my 8ft door.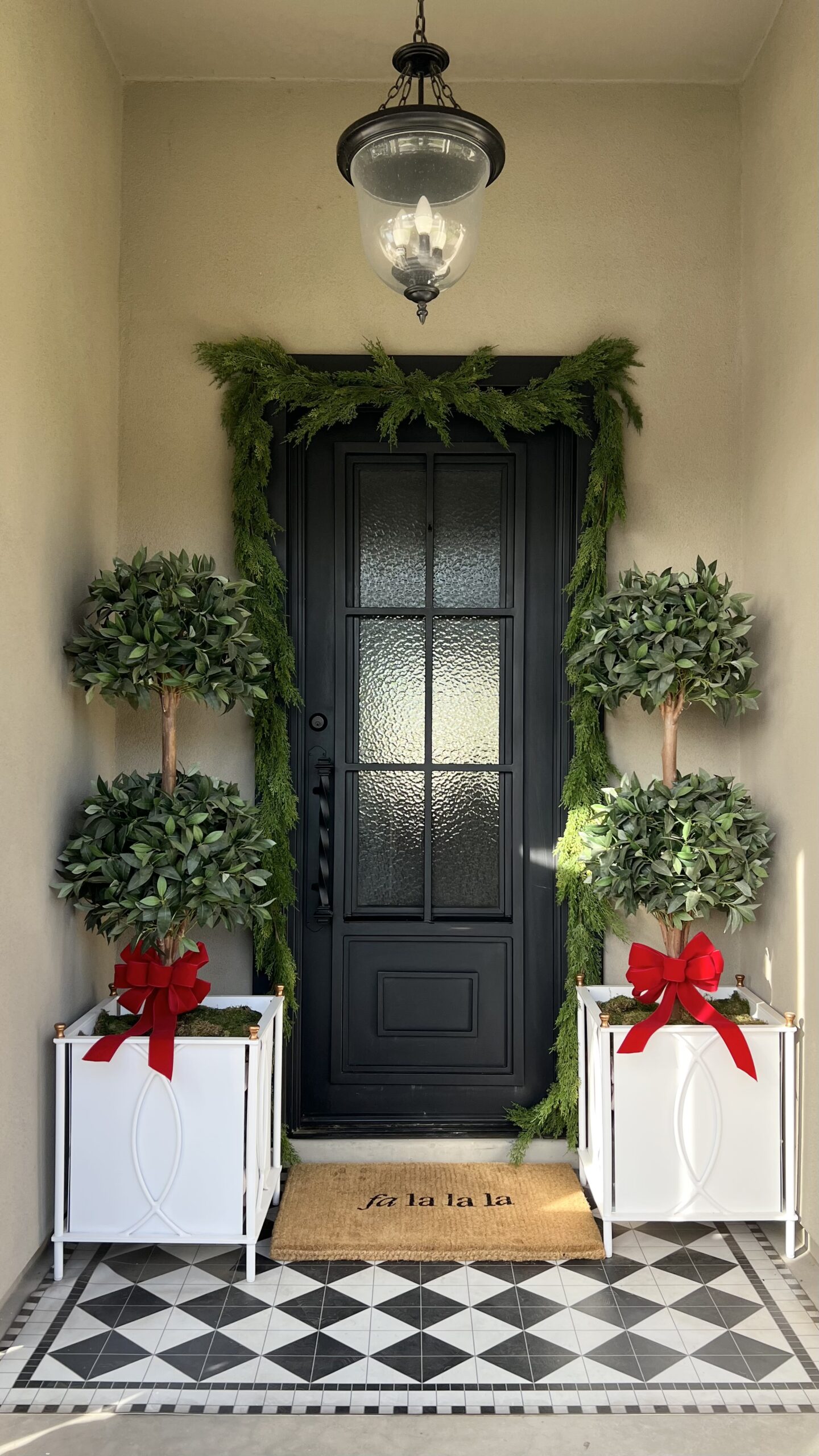 After that, hang a wreath that again is to scale with your door. If you don't know what wreath size you'll need then do a quick measurement. Most wreaths come in 24inch or 36 inches. This Pine and Cedar wreath from McGee and Co is as gorgeous as they come! It's 36 inches so you can see that a 24 inch one would be just a bit too small.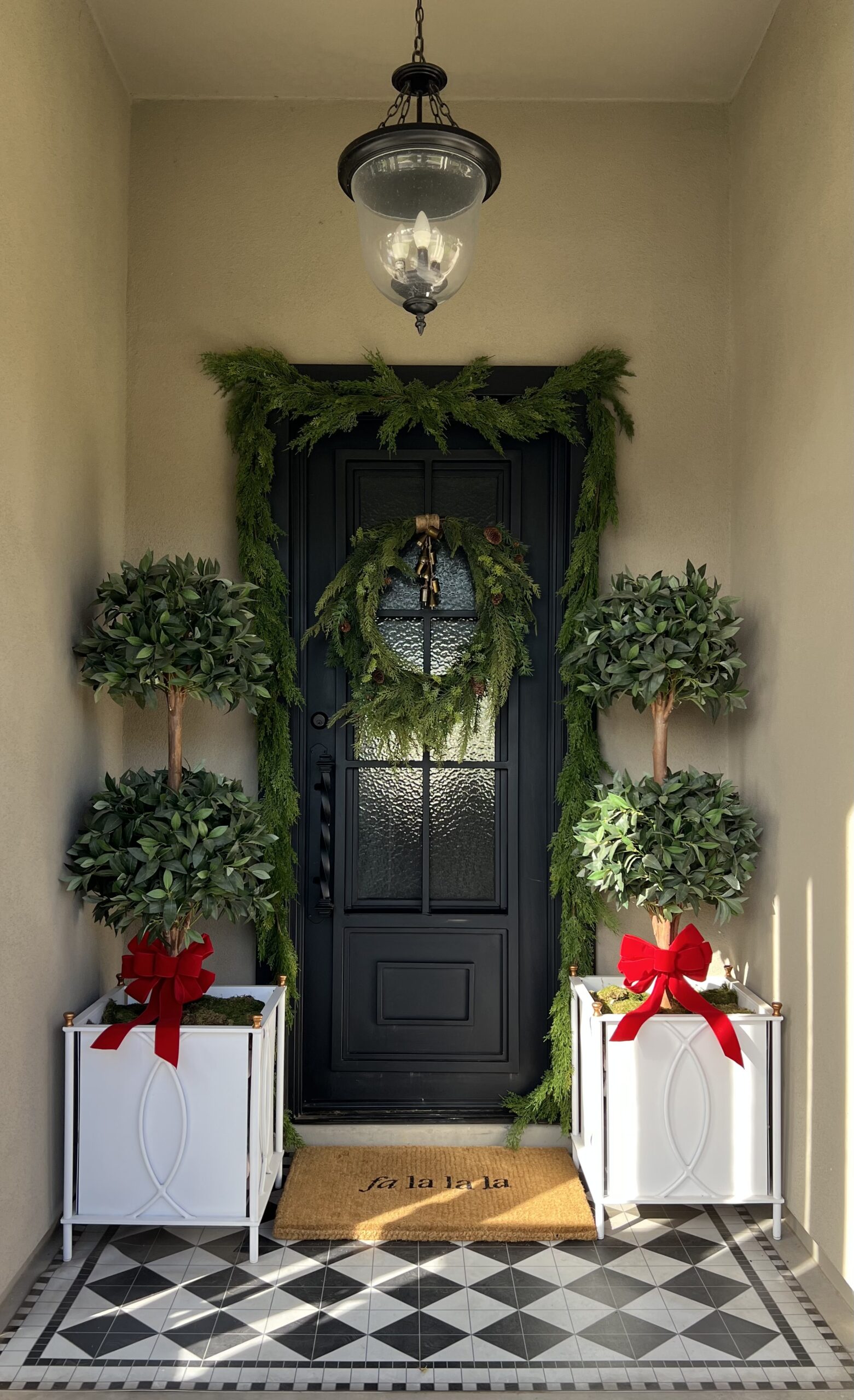 The finally details here are a cute little mat, bells (so the door jingles upon entry) and some velvet ribbon.
The cute little " Fa la la la la " doormat and bells are another McGee and Co holiday decor find. I also found some other similar ideas you can substitute my finds for!