How to Take your Own Family Photos
This post is sponsored and may contain affiliate links, please read my disclosure policy.
Well I finally sent out our Christmas cards. Nice to have that off my checklist! I've gotten some questions about how I took my own family photos via email, so I thought I would share some simple steps you can take to get some similar shots with your DSLR.
I feel like I must say that family photos done by a REAL PROFESSIONAL photographer is worth the investment. They have the skills to capture candid moments that you just can't get running to the camera. With that being said, if you find yourself in the middle of November and your favorite photographer is booked until January, this is a great option until you can get in! Plus if your like me, I love to document my family so this option works VERY well for us. I'm guessing the reason you got your DSLR is so that you could get those professional like photos all the time right? RIGHT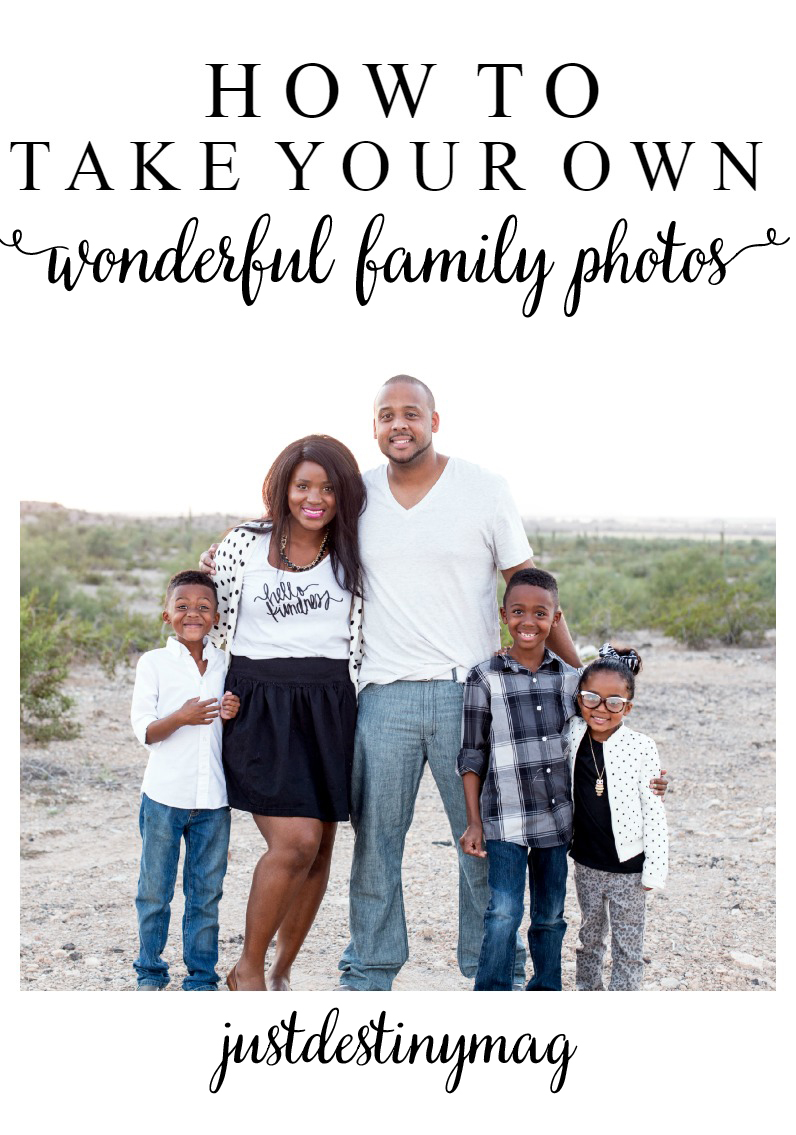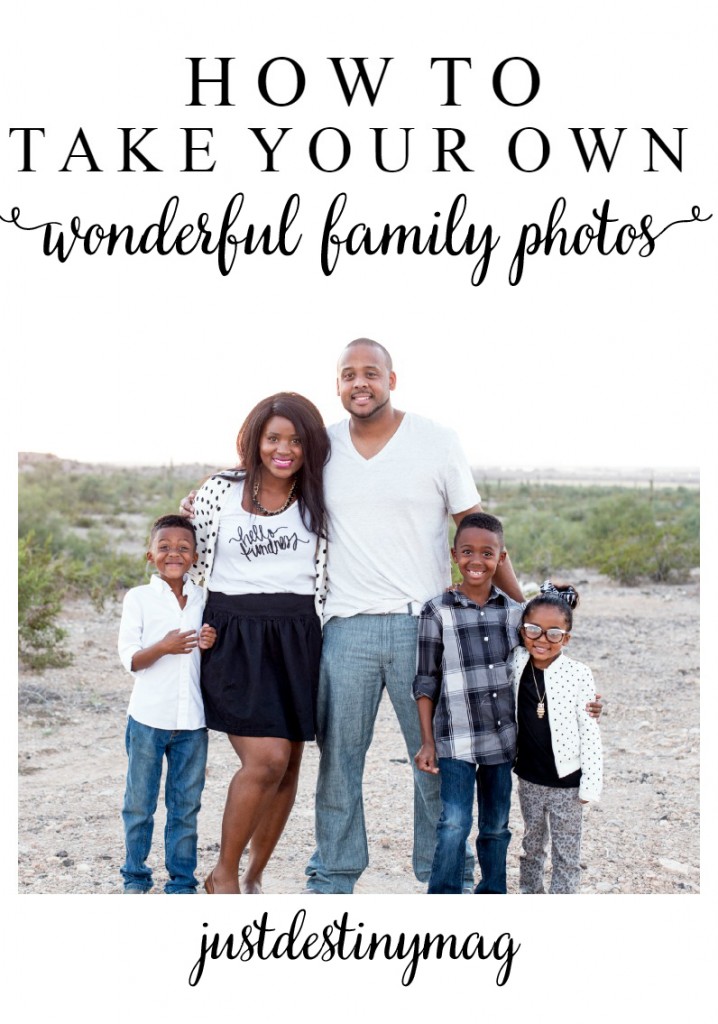 In my opinion, family photos are best when everyone is somewhat coordinating. Not matching, but coordinating. Meaning wearing a similar color and style. If you want to wear a bright yellow shirt or jeans make sure some one else in your family has a splash of yellow. Or if you decided on black and white like us, make sure everyone has a little bit of that all around. Again not matchy matchy just similar.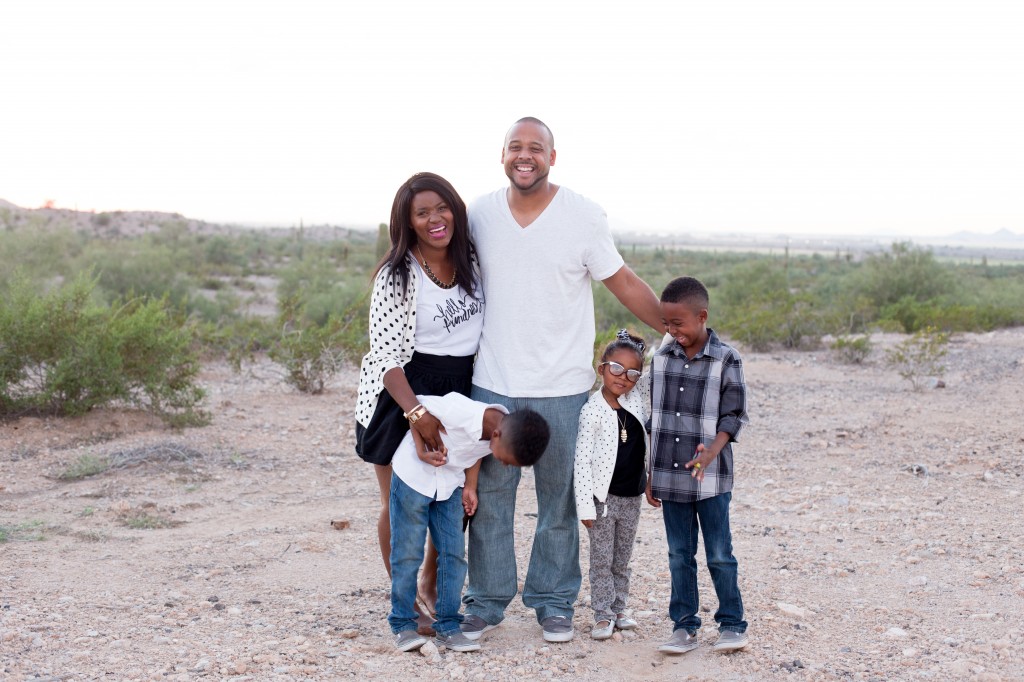 [line]Choose a Location and Poses[line]
Choosing a location is the first thing you want to do when looking to shoot your own family photos. Parks, open fields, or your backyard are perfect places to start. You want a place that has great lighting (read below for more info about that) and that portrays the type of look you're going for. I was born and raised in PHX so this year I just wanted something out in the desert, just a few minutes from our home.
Posing is another thing you want to have in mind. Start a Pinterest board like I did and take 3-4 of those poses and try them. Think of the age of your family members, how many children you have and even the height of your family members. Will you be on the ground with a blanket or nestled in between trees?
[line] Get a Tripod[line]
I guess this goes with out saying but getting a tripod is a must if you plan on taking your own family photos. Get one that is nice and stable. I have this one I got on Amazon, but you definitely don't need to spend that much on one if you don't plan on using it all the time.
[accordion title="Four Tips for Great Photos"] [tooltip text="Tip One"] As you're setting up you want to make sure your camera is set at eye level and that you have a clear shot of everyone. [/tooltip]
[tooltip text="Tip Two"] For a well lit picture make sure there is even light. This means cloudy days are GREAT for photos! But if you live in Phoenix like us, those are few and far between, so I love to shoot early in the morning (sunrise) or sunset because of the perfect conditions! Or I actually like places like garages or behind buildings where it's nice and shaded [/tooltip]
[tooltip text="TooltipText"] Before you begin to pre focus, stand with your family in the pose you want. Then go to the camera and pre focus. Auto focus is what I use and I usually focus on my hubby. I also like to shoot with a wide aperture, but it's HARD not to get soft photos and most are out of focus if you don't do it right. So, if I do shoot wide I try stand back about 10ft so we are all in focus and I still get that "look." But the rule of thumb is use an aperture that is equal to the number of people you have in your shot. So for me it would be 5. Instead I set my aperture at a 4. Rule breaker:0) But seriously if you want sharp and focused photos try to keep that rule of thumb! [/tooltip]
[tooltip text="Tip Four"] Last thing to do before you begin is to make sure everyone is touching. Holding hands, shoulder to shoulder, hugging or anything to eliminate gaps:0) Get in reaaaaaallll close:0) Also make sure you spread out the kids. If you have three or more children,place at least one on the other side of you or your spouse. Also try having one person looking at the camera and the others looking behind the camera or at some one else. It makes things look more natural! [/tooltip] [/accordion]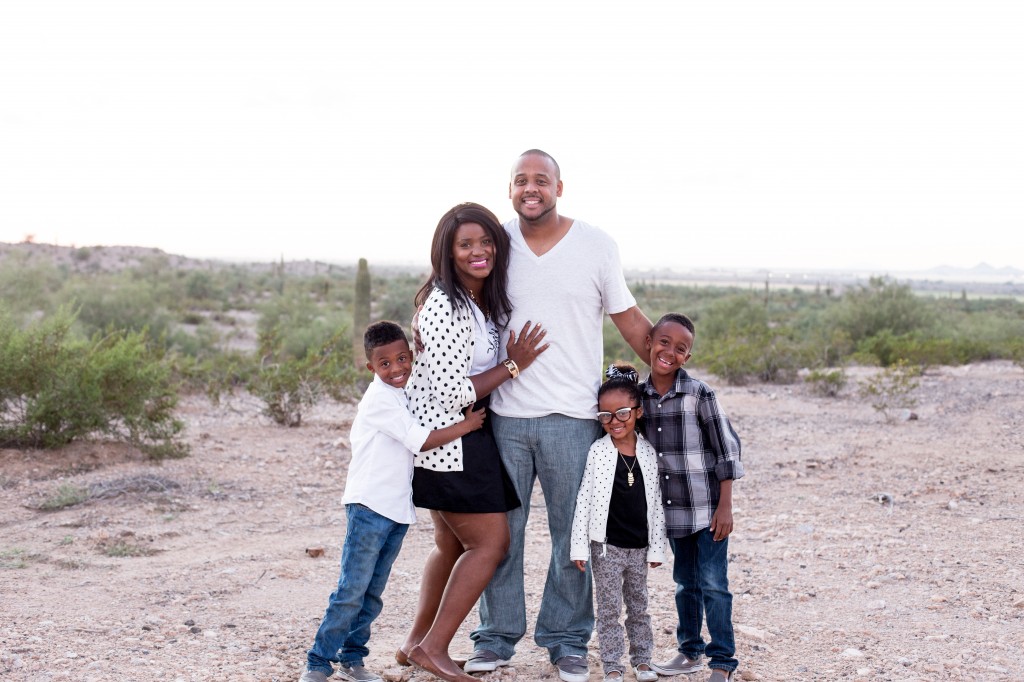 [line]Self Timer or Remote[line]
This is another MUST when taking your photos. If you don't have one of these then your going to need a real live person behind the lens.
My camera has a 10 second timer under the Drive Mode, which give me plenty of time to get back to my spot after focusing. Plus it allows me to take multiple photos in a row!
I also use my iphone.It has an Canon app that is connected to my phone and lets me take photos with a shutter button. But it's only available if I have WIFI around.
You can also use a remote like this one from Canon. Just hide it behind your hubby, while your hugging him so it's out of site:0)
[line]Take a lot of Photos[line]
Yep, take a lot. I think I took about 250. That way I had some to choose from. Someone were out of focus. Some I didn't make it in time. Oh, and Reggie said he heard a rattlesnake. haha! Even then, we had one little guy who just could smile "naturally" can you tell who? Ha! But yes take a lot. You won't be sorry!
[line] Have fun and do it Quickly[line]
I find if I make it fun for my kids, they do better. This usually involves some sort of treat afterwards:0) But making it special makes THEM feel special. I also like to keep things quick because once they get tired, your shoot is pretty much done. So make sure you have everything ready to go! Do your must have poses first and then have a little fun if your littles and your hubby are not annoyed with you yet:0)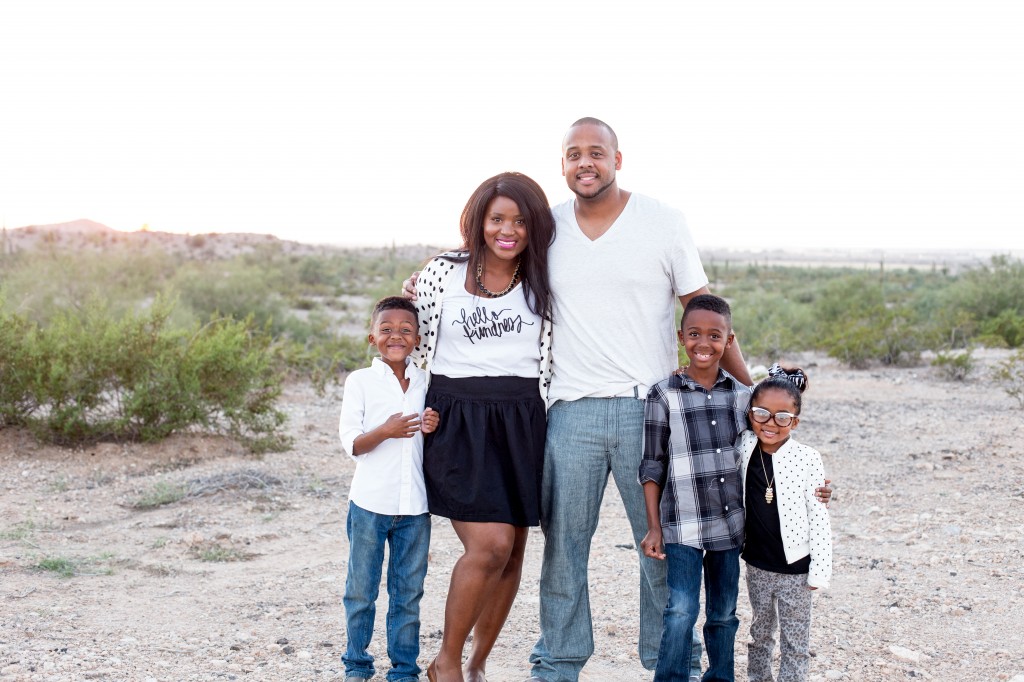 Hope these tips help! Let me know if you have any questions!
This post contains affiliate links♥