Stunning Black and White Christmas Tree Decor
This post is sponsored and may contain affiliate links, please read my disclosure policy.
.
I'm so excited to finally reveal my MICHAELS DREAM TREE! It was so much fun creating this black and white tree with a little touch of gold.  This black and white Christmas tree as well as the buffalo check black and white Christmas tree,  is one of my all time favorite color schemes. Here is why I love it and how I created it for the challenge
Why I Love a Black and White Color Scheme for Christmas.
Well that's easy. It's always in style and never gets old. Adding neutral metallics like gold, silver and bronze gives it just a little extra glam! If you LOVE color you can still get a look just like this. Just add one or two of your favorite colors and BAM you got yourself a dream tree
.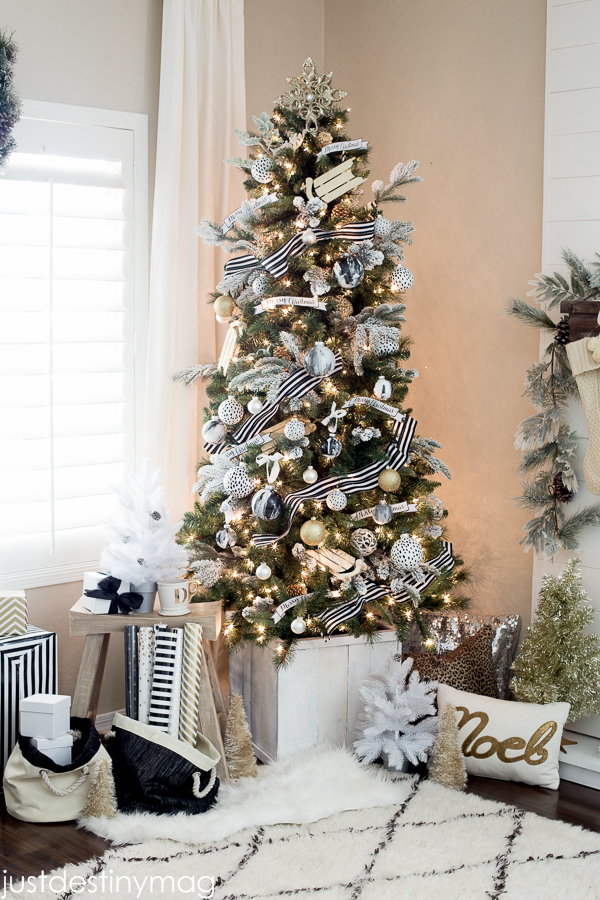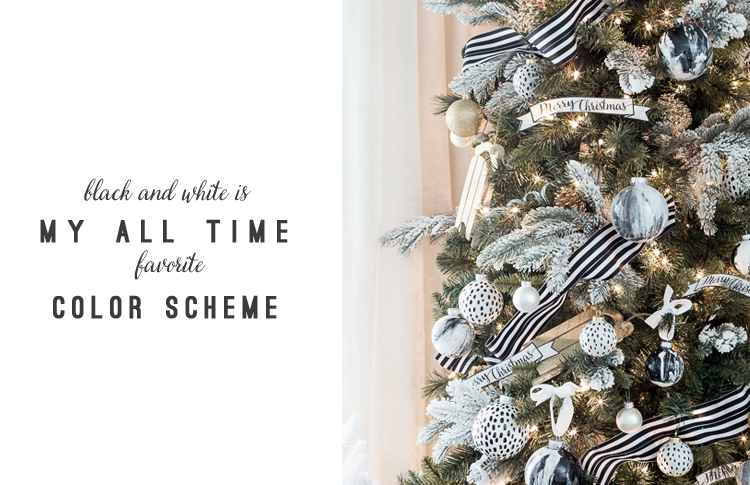 How I created This Dreamy Black and White Christmas Tree
When it came to creating this tree I wanted it to be cohesive. I feel like monochromatic rooms seem to invite those relaxing and calming atmospheres and that's exactly what I wanted.
To make this Black and White Christmas Tree I used 5 simple steps:
I added flocked branches to the tree to make it fuller and to give it flocked look
I added black and white ribbon to the tree to give it some contrast
I made marble and spotted ornaments for a handmade look
I added whimsical items like wooden sleighs
I finished with small bulbs in gold and silver
To start things off I added some flocked branches I picked up from Michaels floral section to my 7ft pre-litt Christmas tree to brighten it up a bit.
This is a great way to get a white flocked look without spending the extra money! Place several of them in the tree for a winter feel.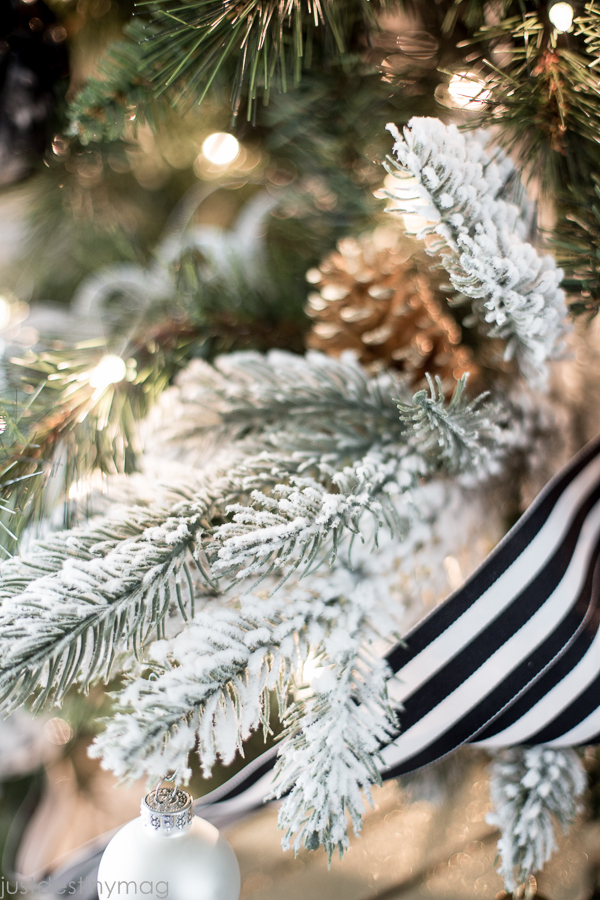 Next, I also added some other gorgeous trimmings like black and white striped ribbon, handmade banners and handmade ornaments!
These faux marble ornaments were so fun to make. I simply took plastic clear ornaments which you can find a the craft store, black and white paint and went to town! Just check out the handmade marble ornament tutorial for all the details.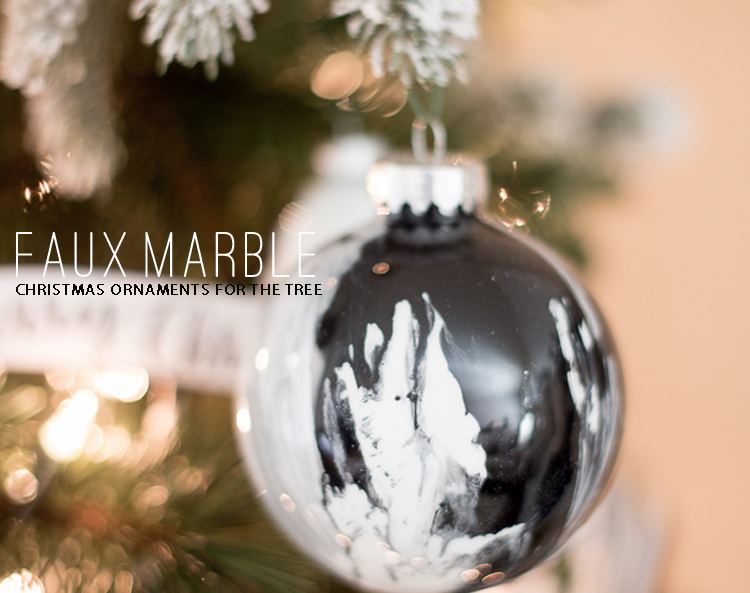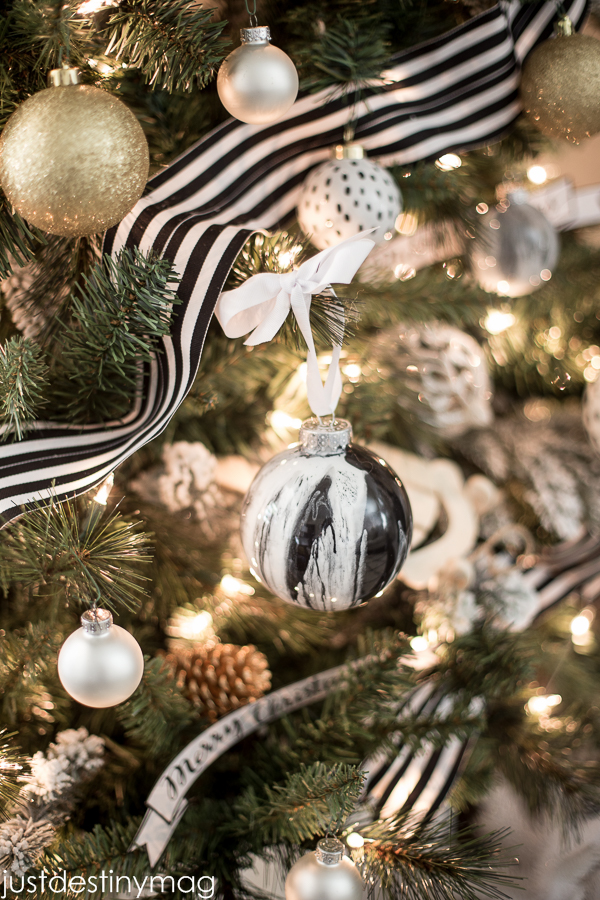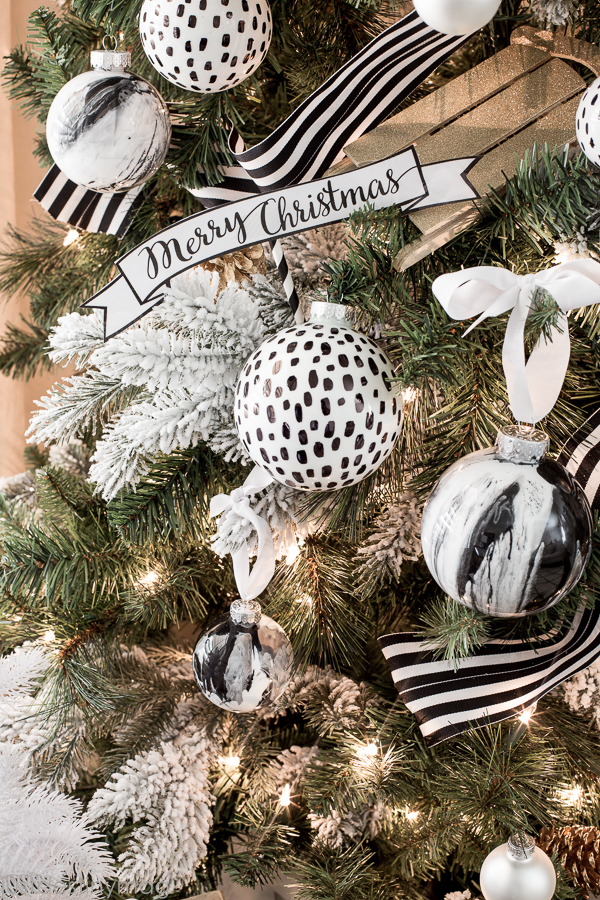 These wrapping papers are going to go great under the tree! Only $2 each folks! Plus there is a lot of paper on these rolls!  You can find similar items in the links below! But for now take a closer look at the black and white Christmas tree along with other supporting decor to go with the entire look. 
You'll notice I added whimsical items like wooden sleighs along with simple glass ornaments in golds and silvers. I love to use different sizes so that there is some interest throughout the tree.
Also small ornaments are perfect for the ends of branches because they are light weight!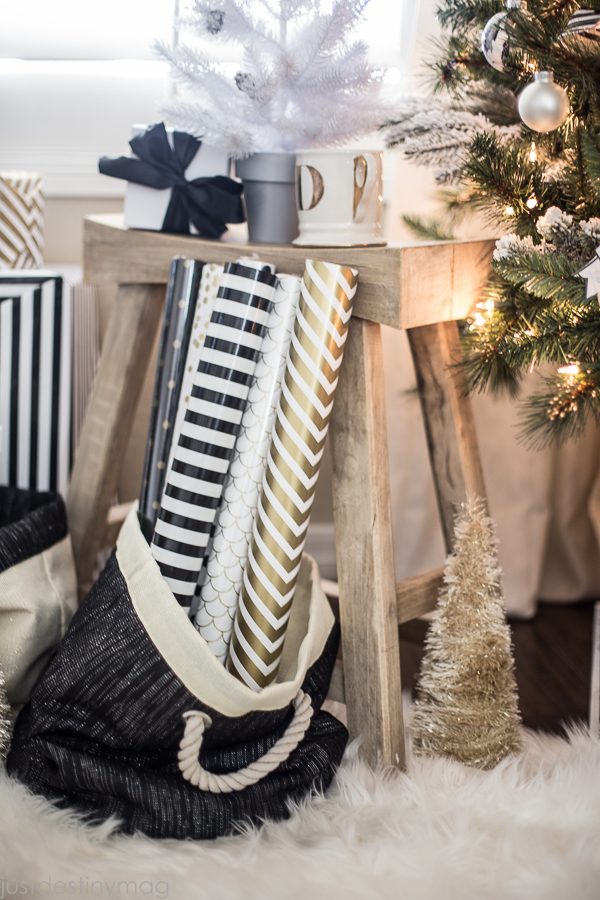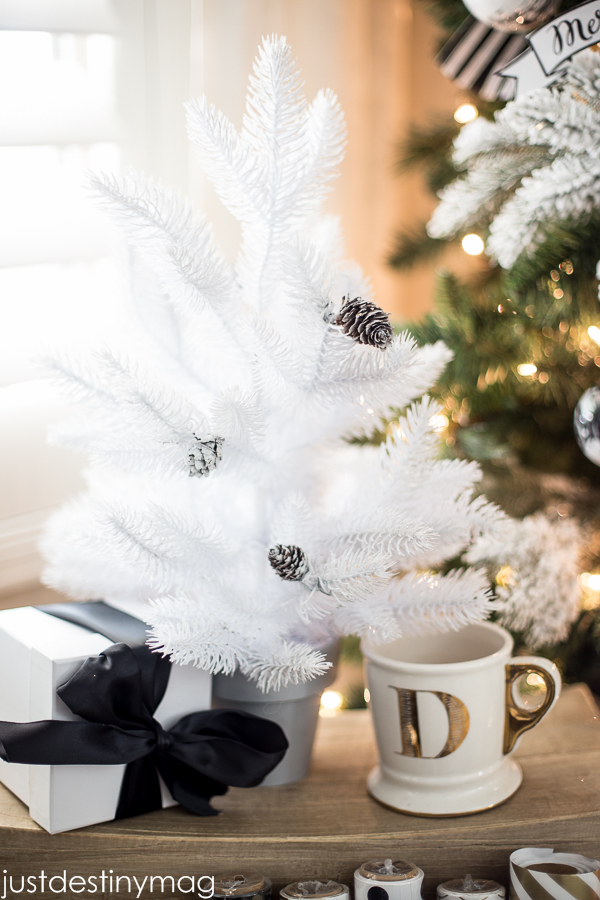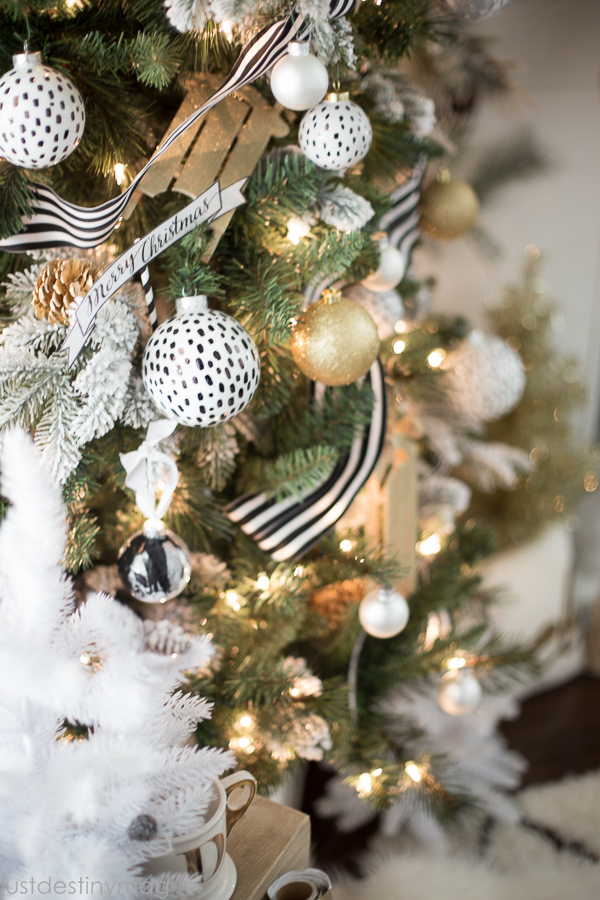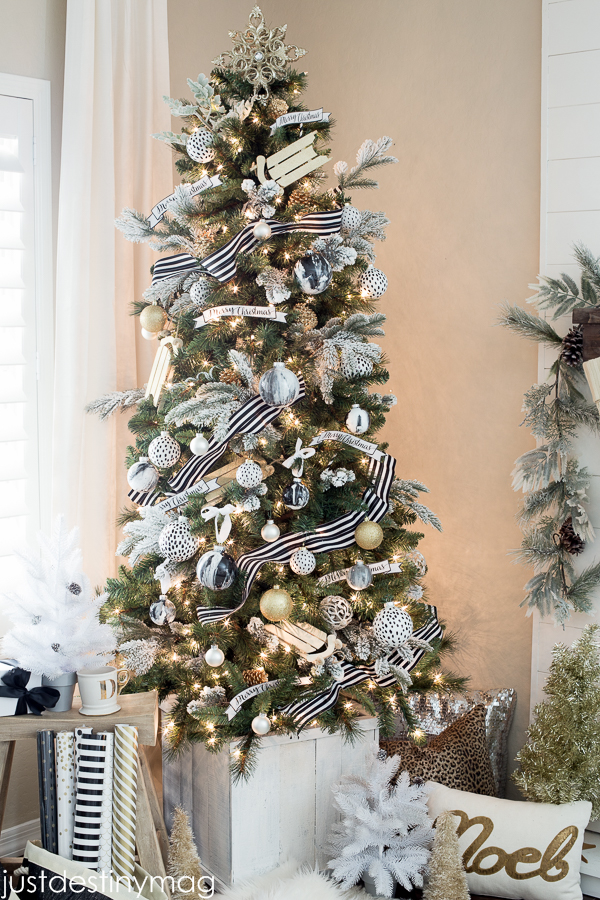 To recreate a Black and White Christmas tree shop these similar products below




Here are more of my favorite Christmas Trees! 


[col1]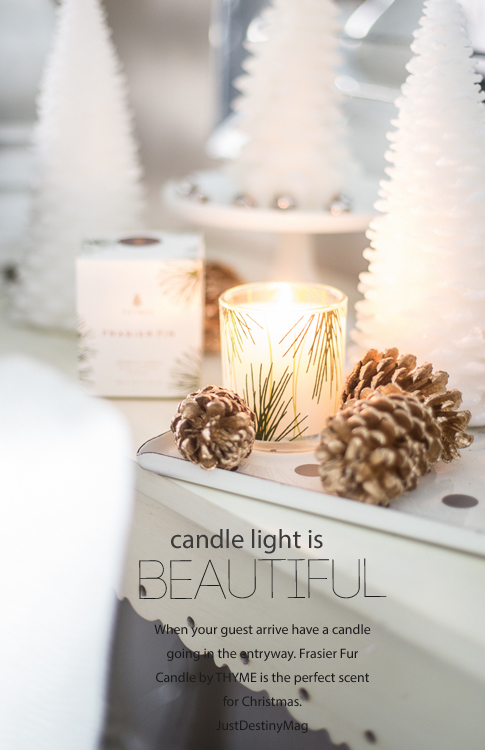 [/col1]
[col2]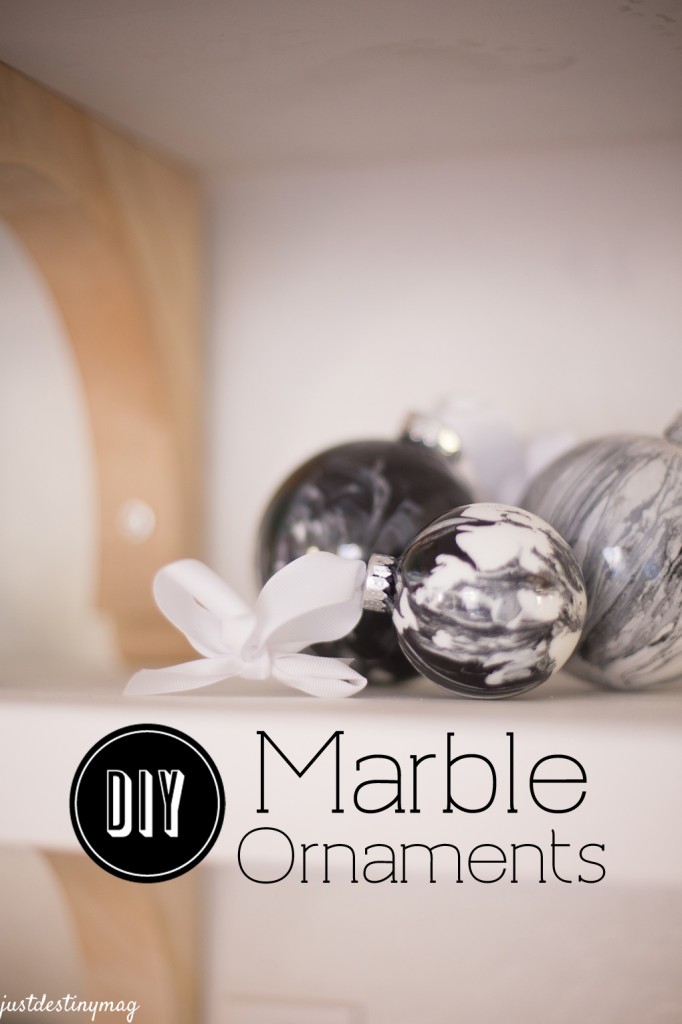 [/col2]
[col3]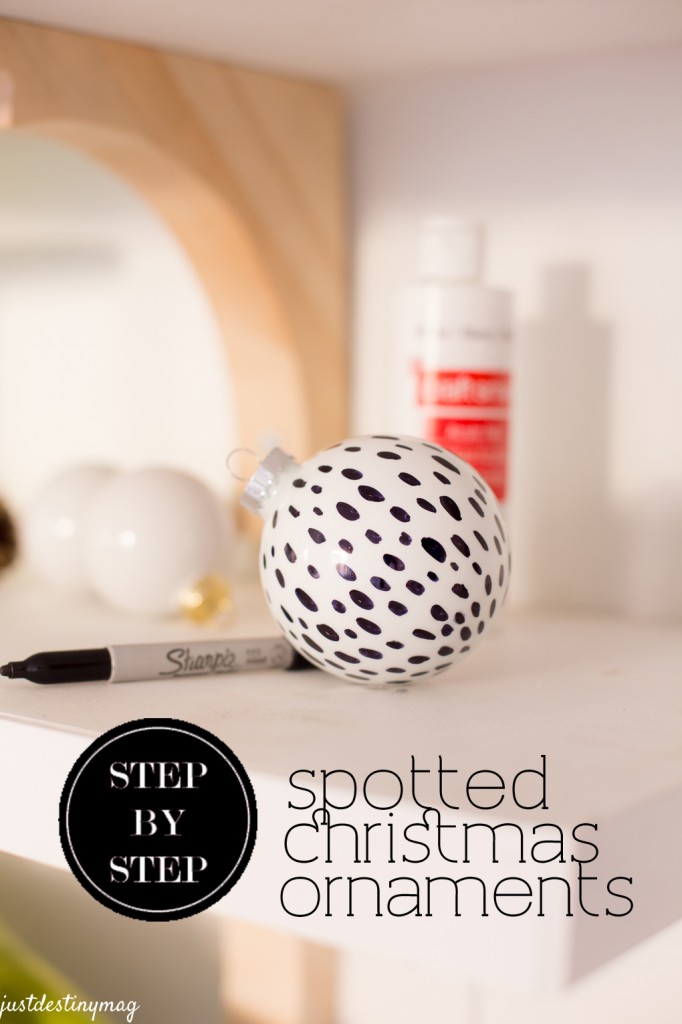 [/col3]