8 Stunning Christmas Tree Decoration Ideas that make you Look Like a Pro
This post is sponsored and may contain affiliate links, please read my disclosure policy.
I've been creating Christmas trees for you years! Not only is it one of my favorite things about my job as a creator but it's fun to see you guys love them just as much! If you're craving something different this year or just simply need some Christmas tree decorating ideas to get your own creativity going, then here you go!
Where should I buy Christmas Tree Decorations?
Great question! Here are a list of places I like to shop for Christmas tree decorations.
Budget Friendly Christmas Tree Decor
Higher End Christmas Tree Decor
Pink Christmas Tree Decoration
This is a tree that I decorated a couple of years ago for the Dream Tree Challenge. It was a simple tree with a fun theme, Pink and Paris and other girly things!
There are a few ornaments that really stick out on this tree and that's the iridescent stars and the glitter ifle towers. She also requested ballerina ornaments since she's a dancer! I found black dancers at JcPenny.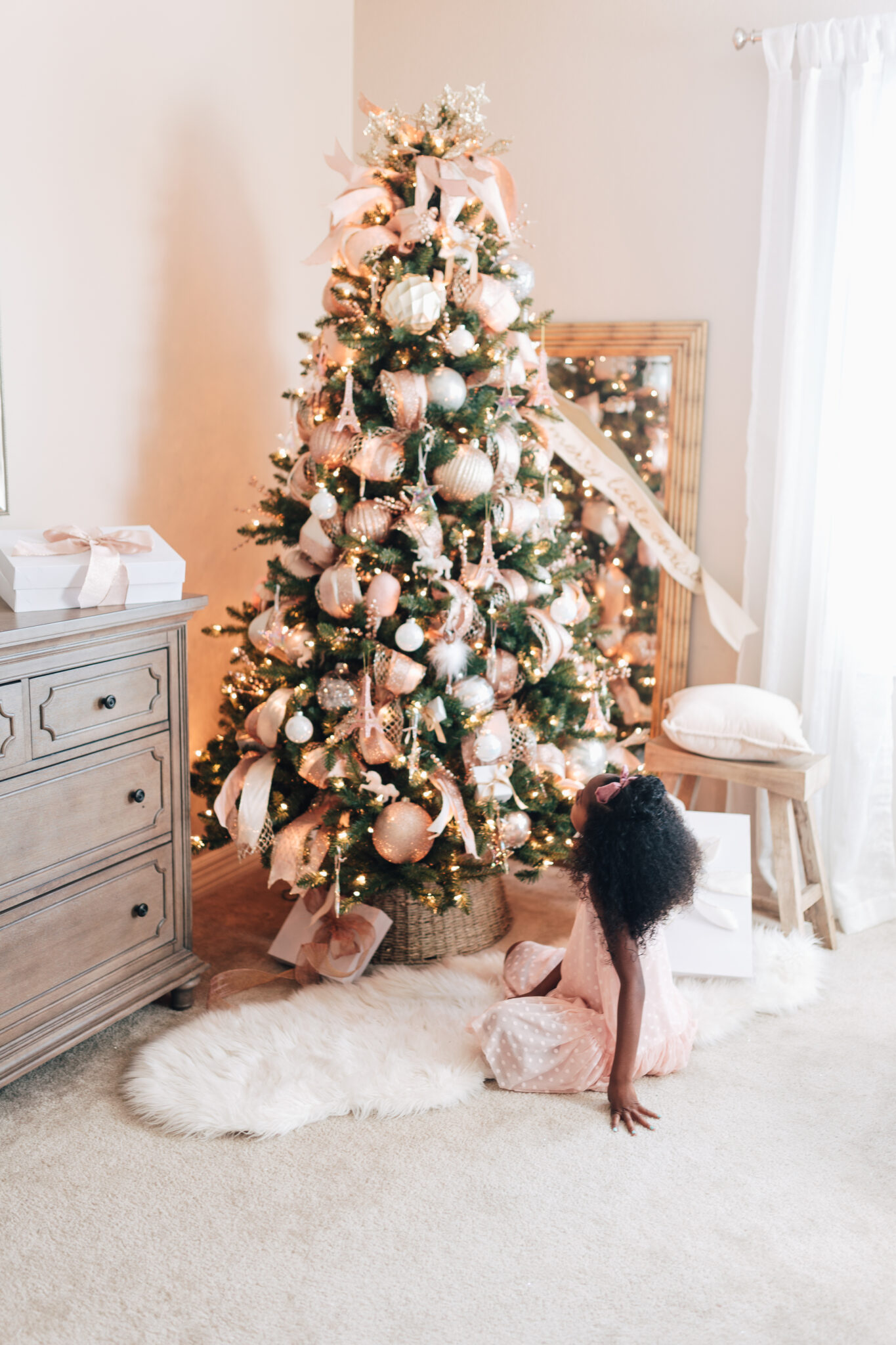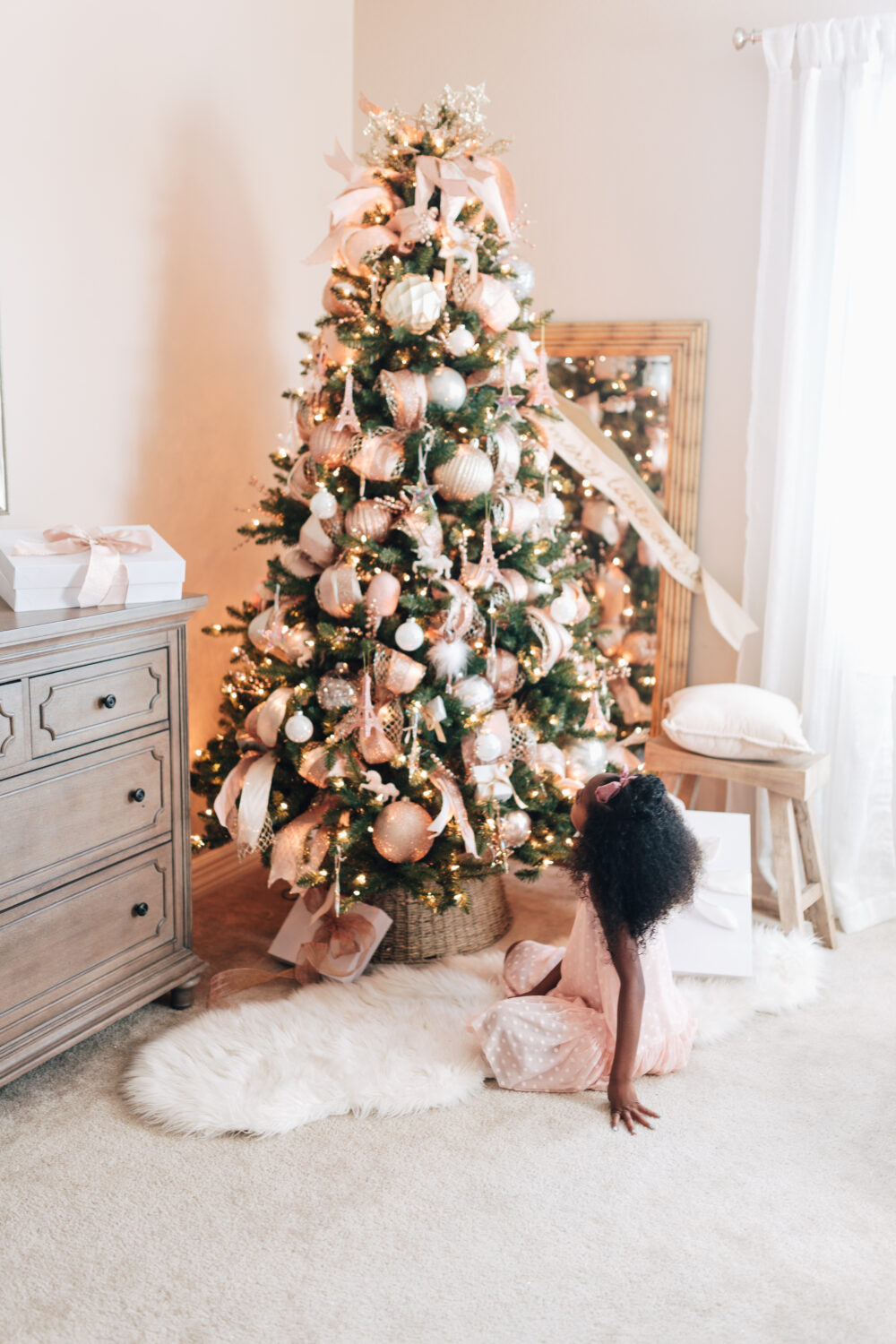 Gold Christmas Tree Decoration Ideas
Gold Christmas tree decorations will always be timeless. I decorated this elegant Christmas tree last year and it was SO fun to do. I have a tutorial on how to replicate this tree so you can do it this year.
One thing about Christmas decor is that you usually can't find the same decor items year after year so I do my best to source some look alikes for you guys. The key to this tree is VERY large ornaments and lots of ribbon!
This is truly a designer Christmas tree you would see in a department store! I purchased the tree from The Home Depot and the gorgeous tree decor is from The Decorators Warehouse which is the ULTIMATE Christmas tree decor store.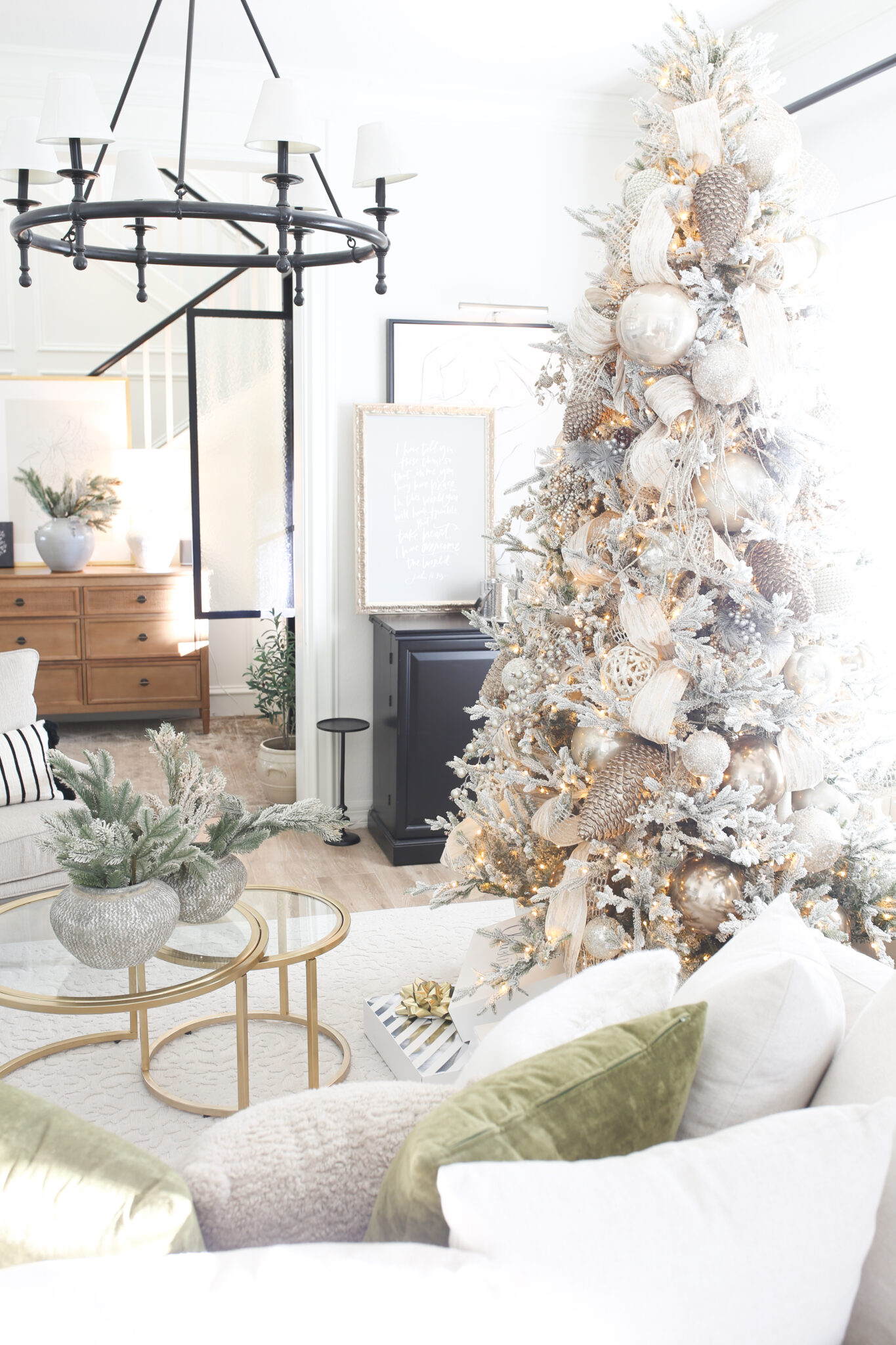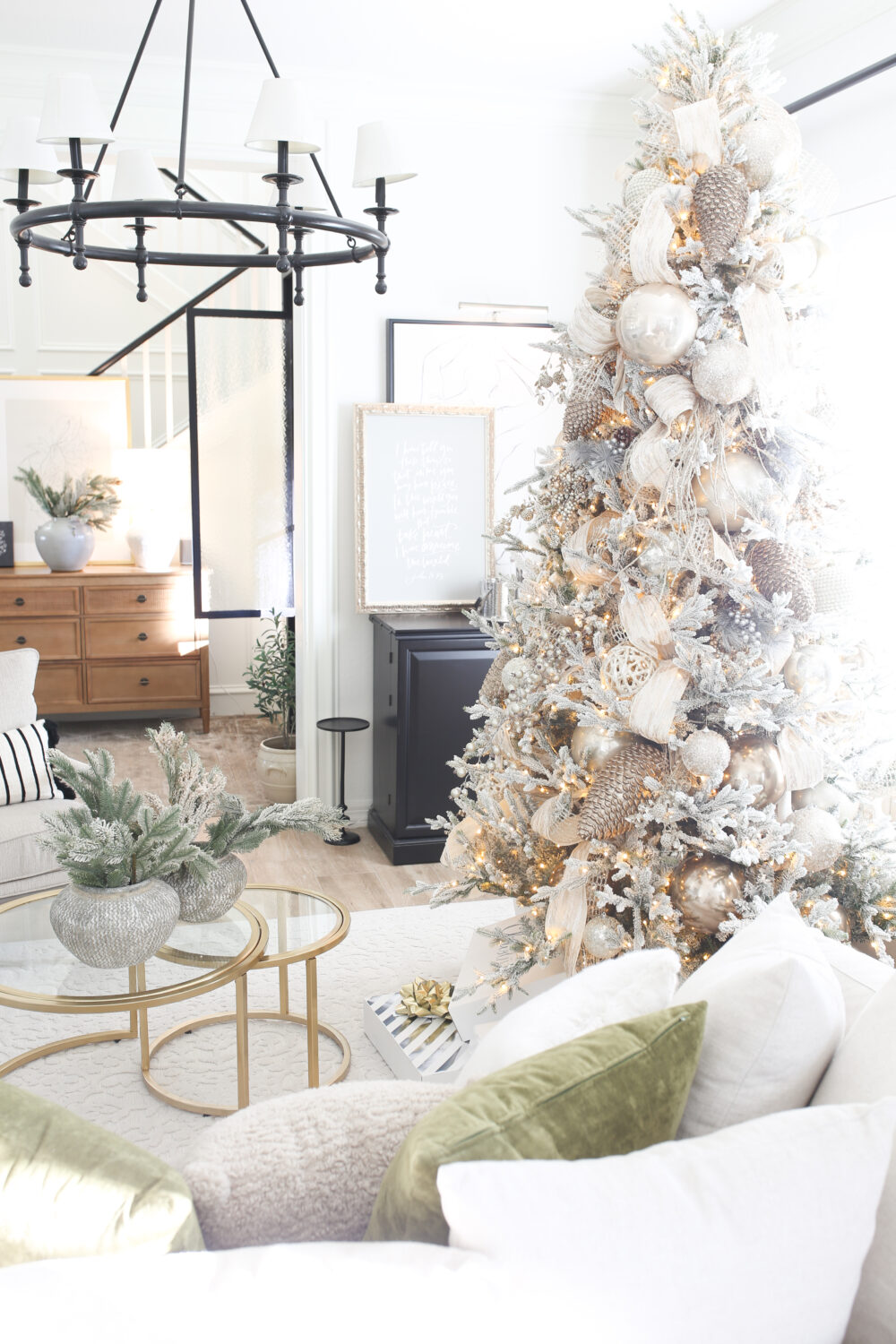 Winter Wonderland Christmas Tree
This beauty is super simple. Just a few icicle ornaments, beaded garland and ribbon and I made a beautiful winter wonderland tree. This has been a favorite tree of mine for years. Although flocked trees can be messy I love the white lights on this tree! It always made Christmas nights so magical! If you want to recreate this tree click the button below! You can also see more of this tree in my Christmas Home Tour.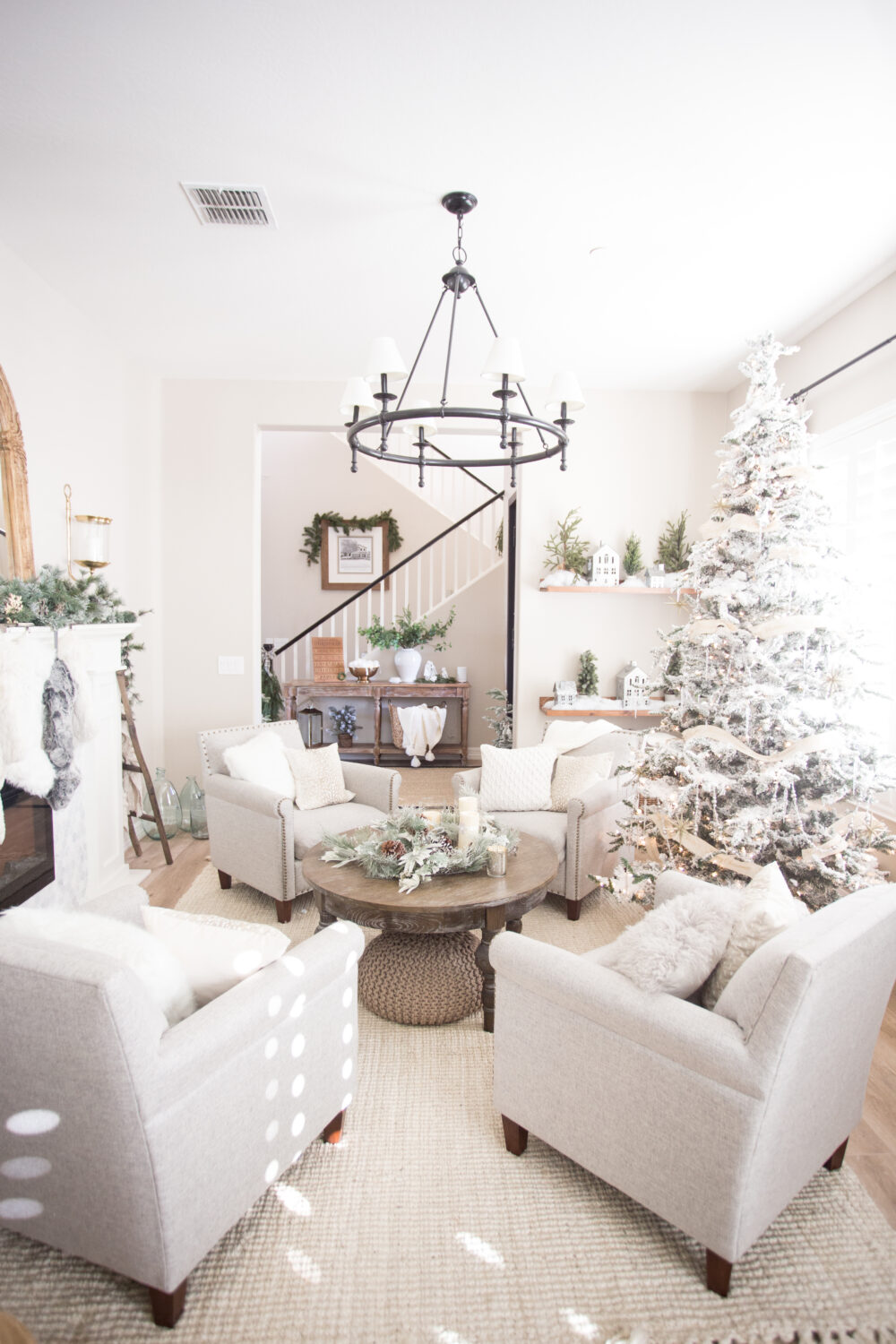 Kids Christmas Tree
This red and black buffalo check was a tree that I did for the kids playroom. It's super playful and is a perfect Christmas tree for the playroom. I used the black and red theme throughout the room with the decor as well.
The red knit stockings and large Christmas signs embedded in the tree really make this theme stand out. There were so many things I loved about this room that year but my favorite was the handmade gift topper for the tree and the Santa boots on the legs of the table.
This is a very affordable tree to replicate because it was mostly ribbon and simple ornaments in different sizes.
I miss my babies being young!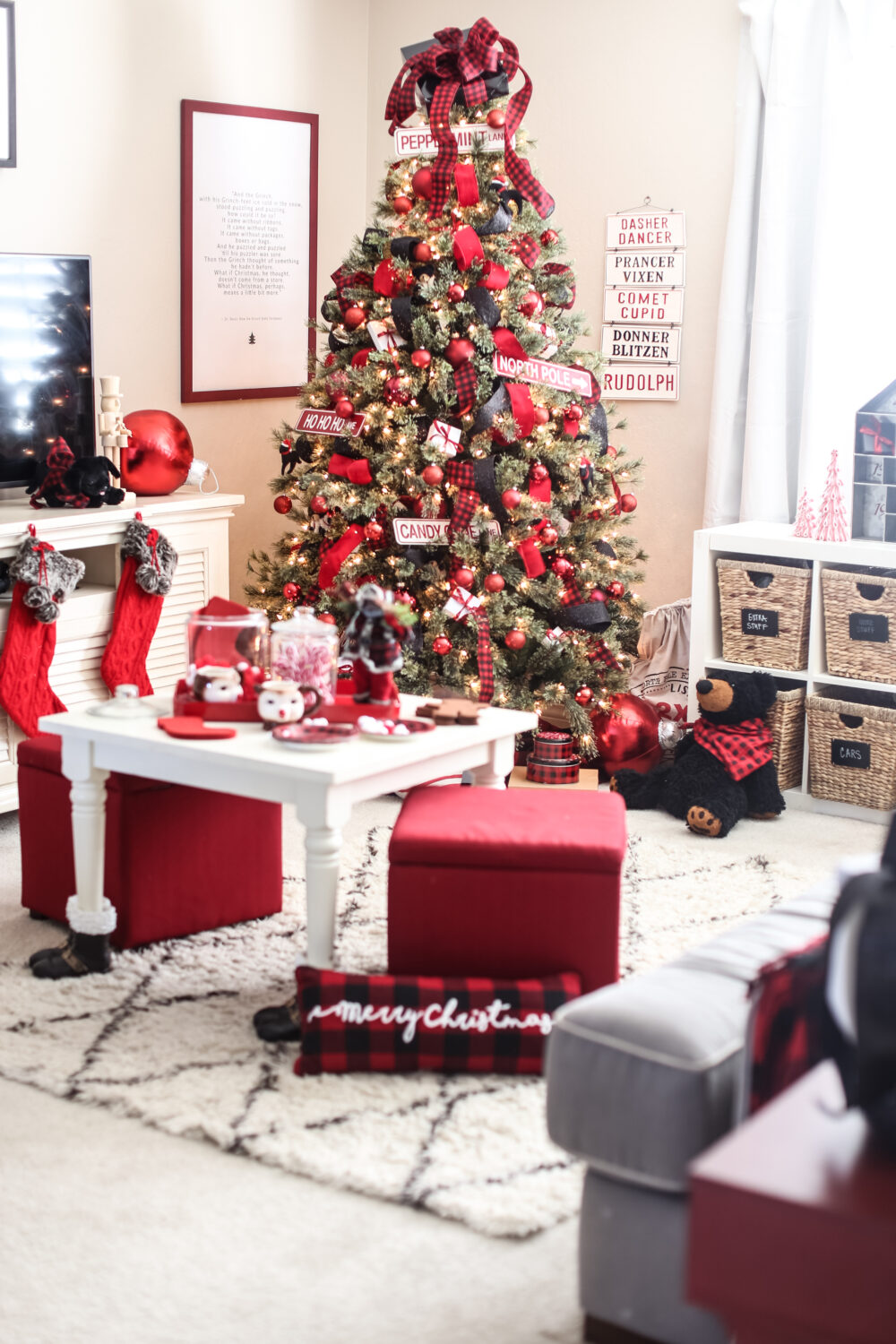 Another favorite tree of mine. I think this was actually the first tree I showed you guys online! This was another dream tree. What I love about this tree is the classic black and white theme. I remember not being able to find the ribbon I needed so I doubled the ribbon up using glue. So instead of the ribbon being 1.5 inches it was 3 inches which made it more substantial on the tree. I also made the marble ornaments which in 2014 you could not find either!
So here's a tree that's really all about being crafty. I also love this Christmas tree because if you can't afford your 9ft tree yet, use a planter box and lift the tree by 3 ft! Your affordable 6ft tree now becomes 9ft! Tada!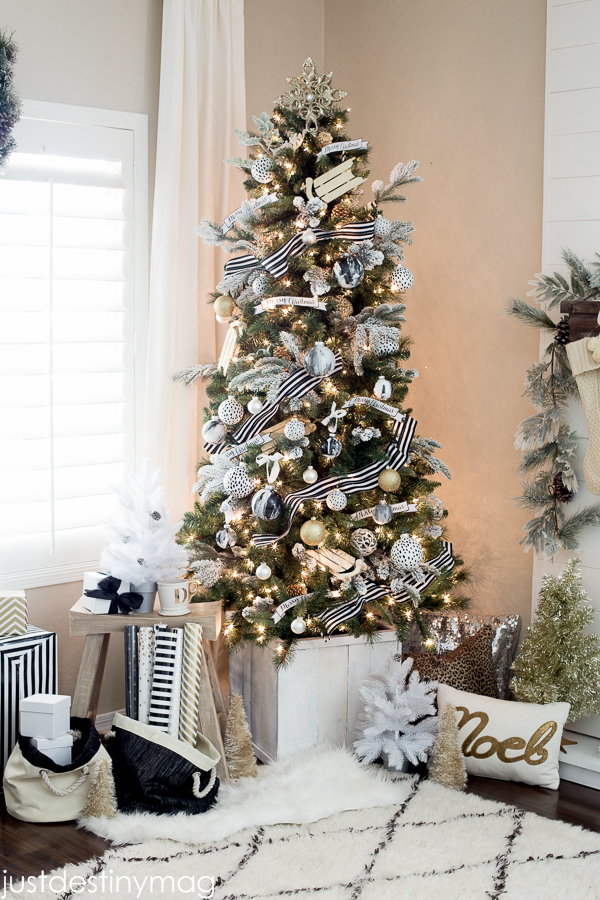 Buffalo Check Christmas Tree Decorations
Buffalo check was SO hot back in 2015 and in a way it will always be a classic. This tree went viral on Pinterest and the internet loved. I can't help but to put this tree on my favorite lists. The homemade buffalo check ornaments I made out of socks! Back then I could not find any in the stores lol! So I made them.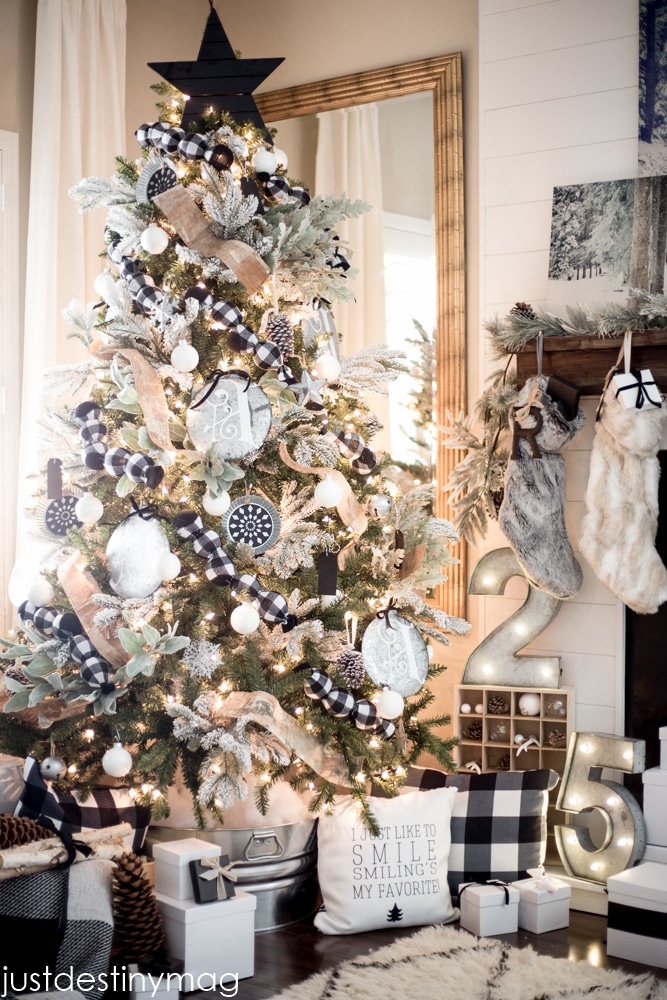 Green Christmas Tree Decor on a Flocked Christmas Tree
This green tree is another Dream tree challenge beauty.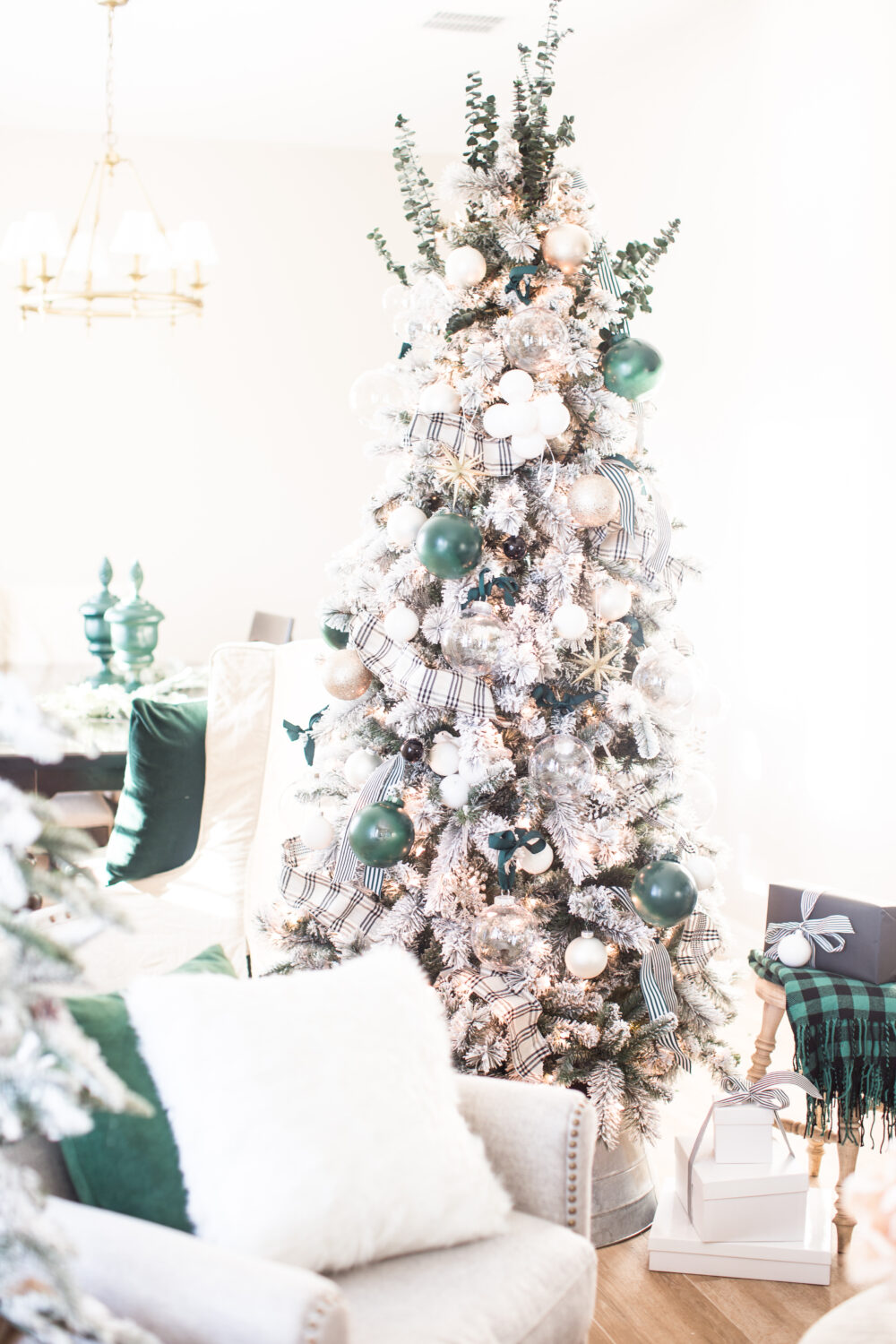 Rich Brown Christmas Tree Decor
This tree is rich with the colors brown and green on a flocked Christmas tree. The glass ornaments are from Arhaus and really make the tree! Definitely ornaments that are heirloom quality!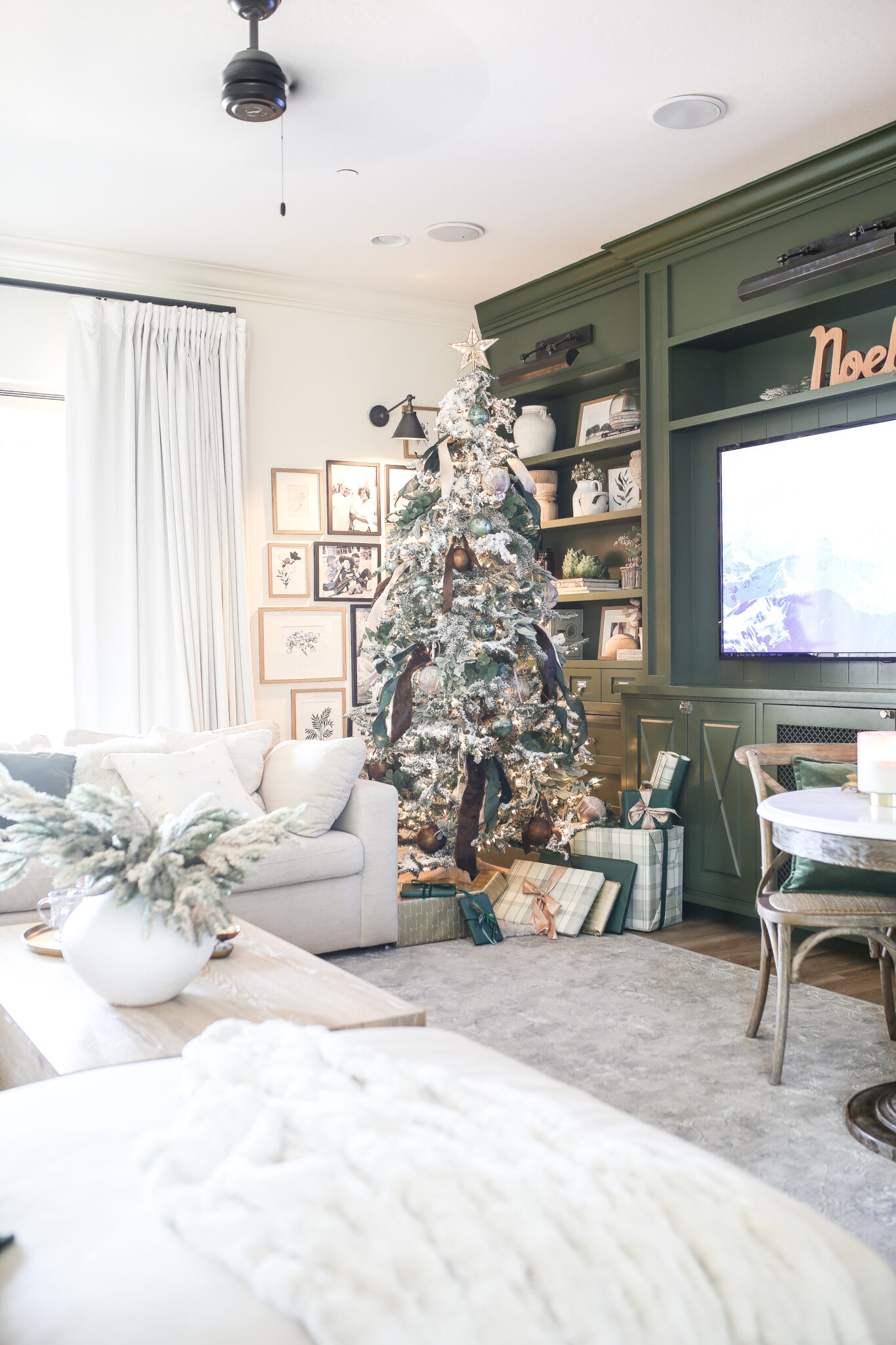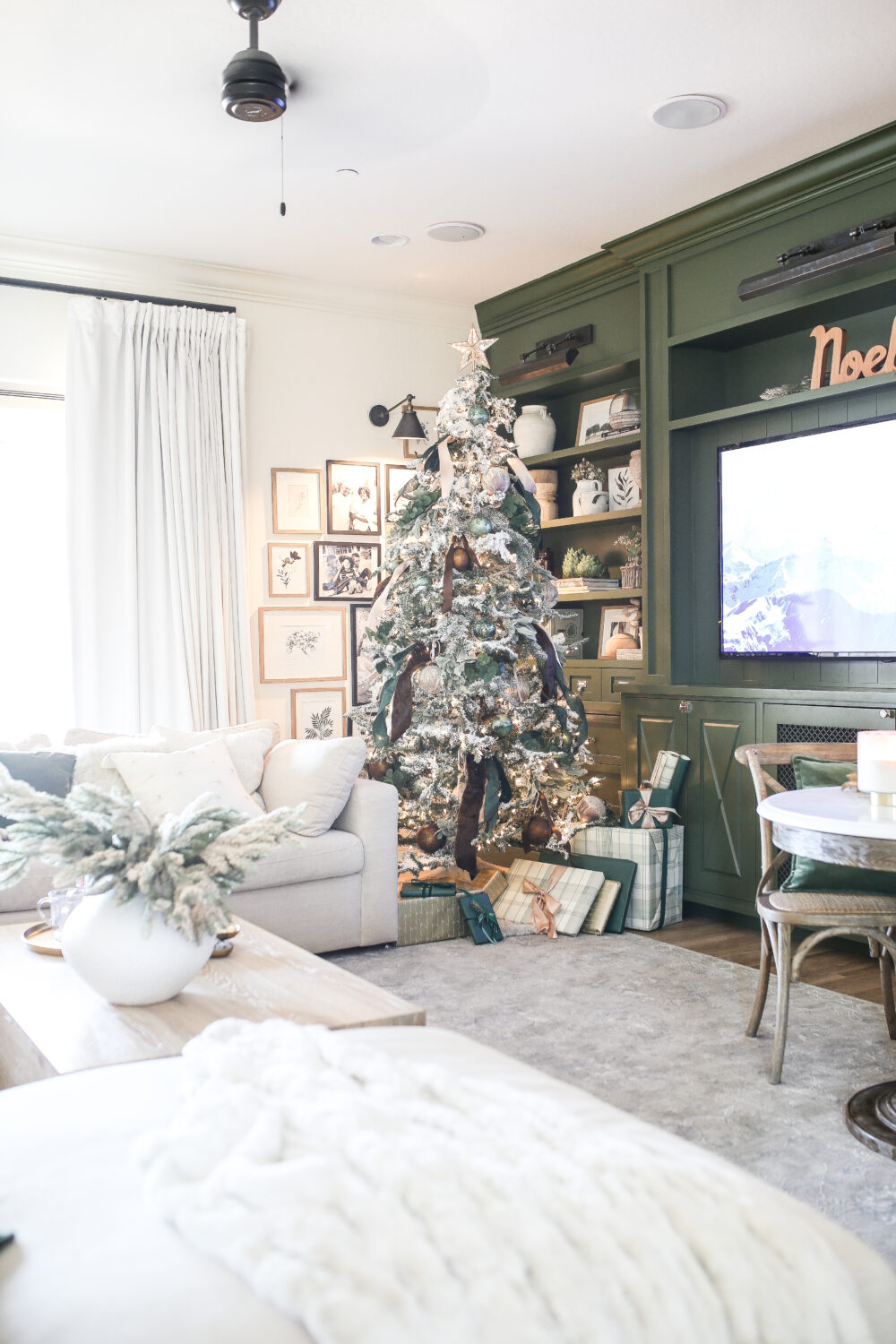 Visit me on Pinterest for more Christmas Tree Decorating Ideas!