Arhaus Sectional Review: FINALLY! A Beautiful, Cozy Sectional We Actually LOVE
This post is sponsored and may contain affiliate links, please read my disclosure policy.
Thank you Arhaus for being a Just Destiny Mag partner! All opinions are our own.
UPDATED REVIEW TOWARDS THE BOTTOM!
Our Arhaus Sectional is in friends and yep, we love it! This year we set out to find beautiful sectional for our family room area. After about 4 years of living with the worst sofas in the world ( FEATHERS EVERYWHERE) we decided we needed to finally upgrade to a new sectional.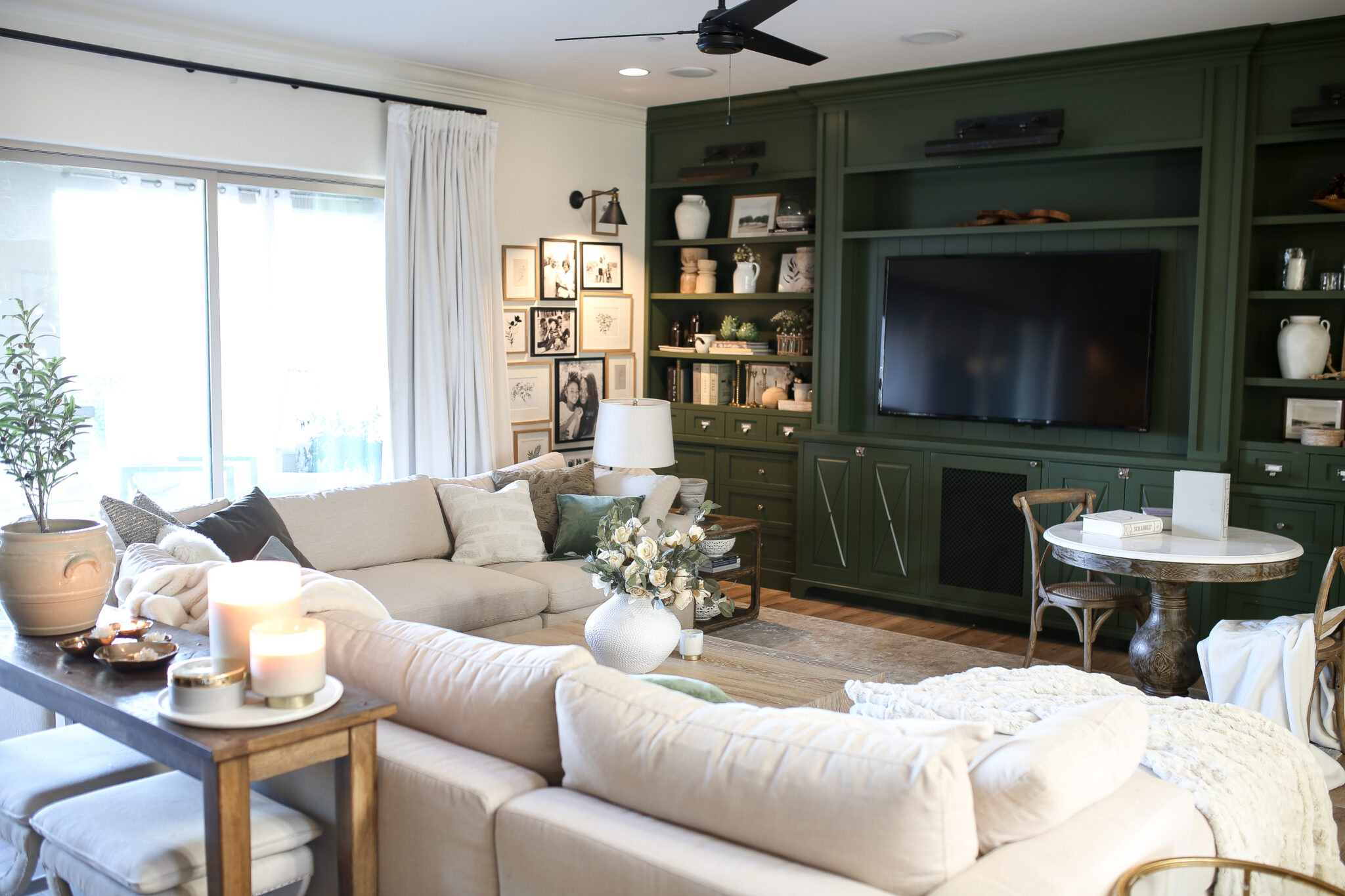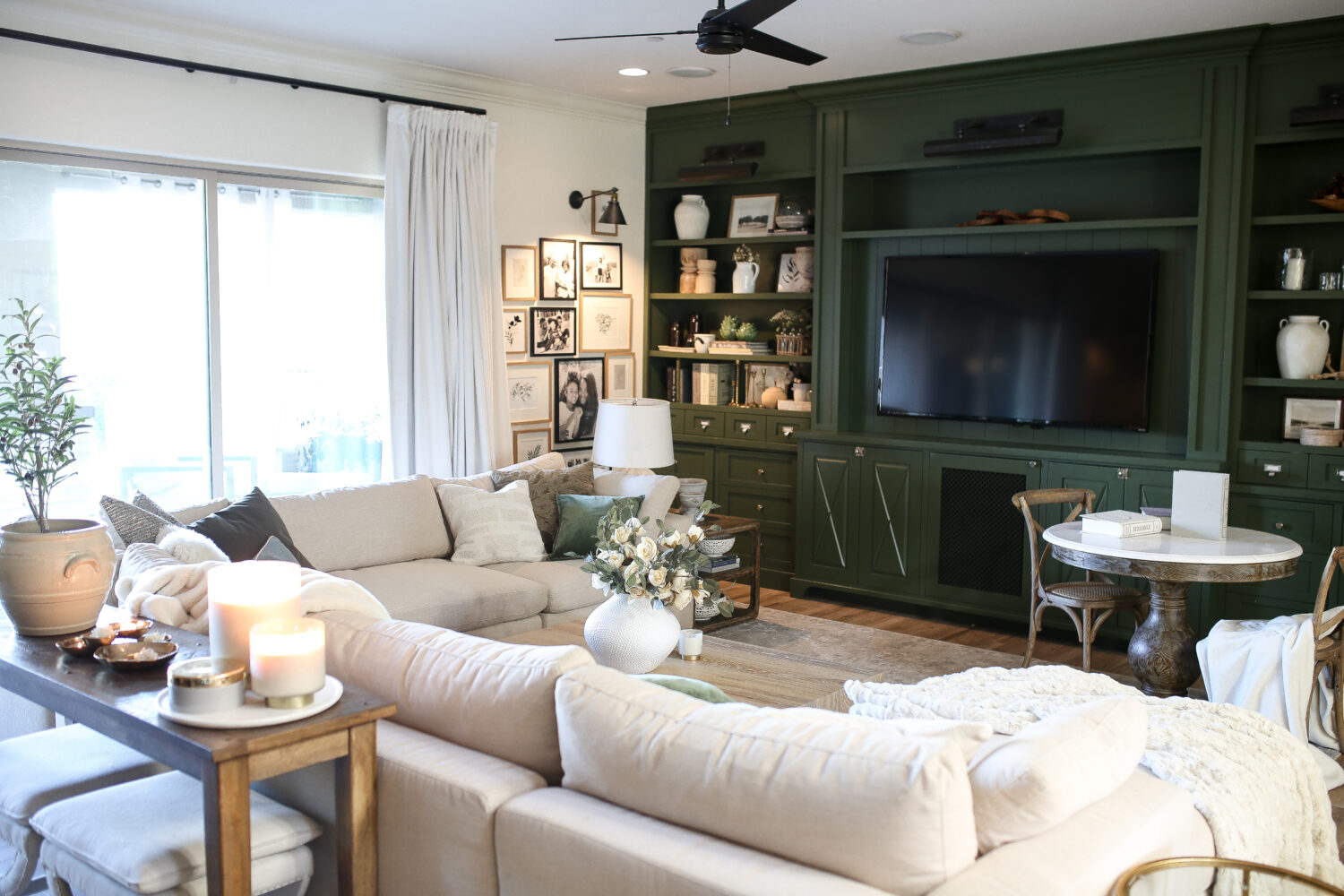 Before we partnered with Arhaus we dug in and wrote down some must haves to find the perfect sectional for us. We really had a good idea of what we were looking for when it came to this next piece for our home. Here are some questions you can ask yourself just like we did!
What to Look for in a Sectional
Dimensions– Will it fit your space? Measure and see how much seating your can get with different configurations.
Well Constructed– Your sectional should have little to no shedding of feathers ( but really none) and should have a sturdy frame.
Cushions– Do the cushion keep their shape well? This goes back to construction.
Deep Seating– this is a personal choice but most families will want deep seating depending on space.
Worry free fabric– Upgrade to a fabric that is kid friendly! Crypton and Sunbrella are known for being kid and pet friendly!
Nap worthy– sit and lay on the showroom sectional. Can you cuddle up, watch a movie, get comfortable or take a nap? Ask all the real questions.
The Beale Sectional from Arhaus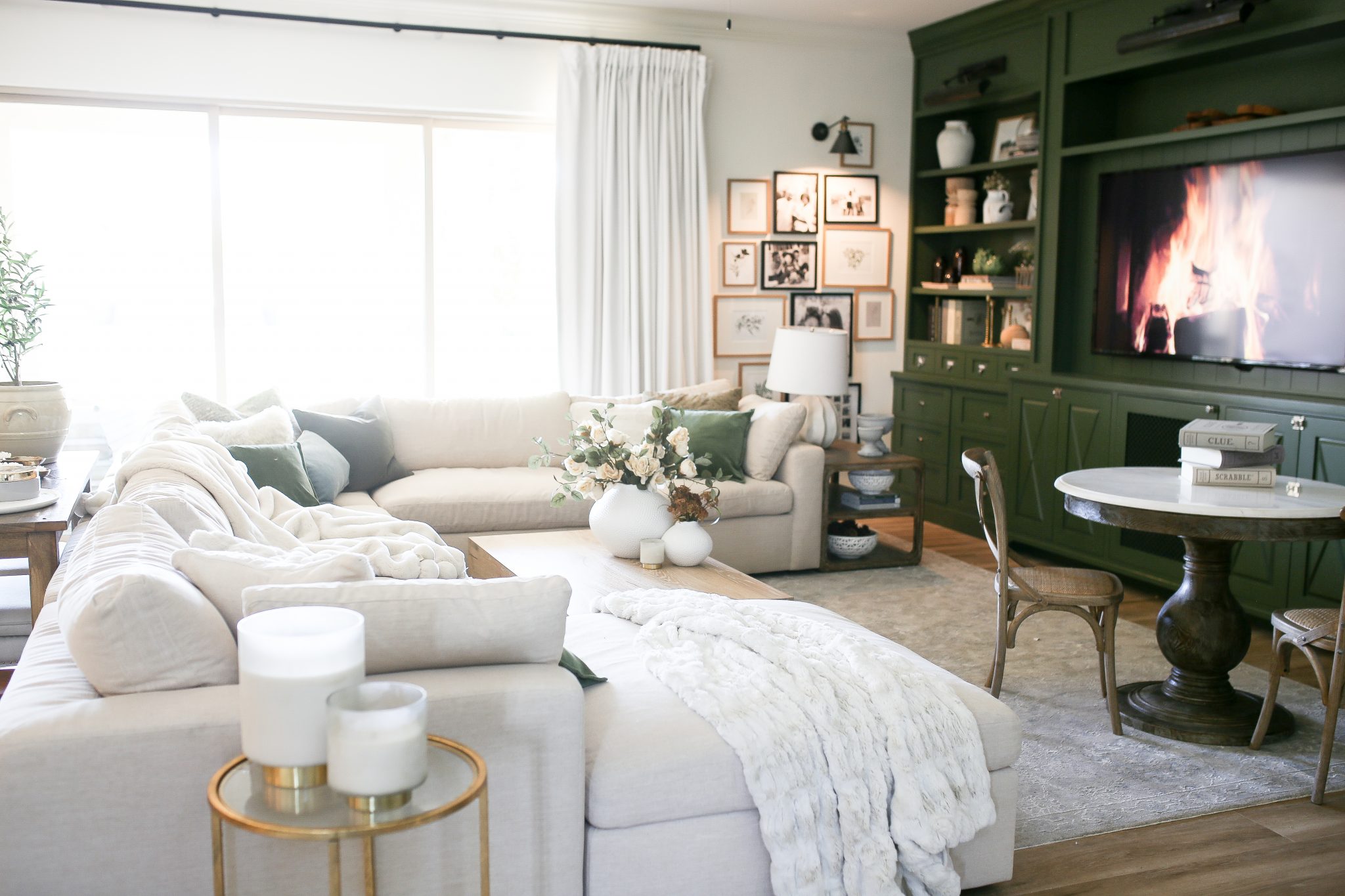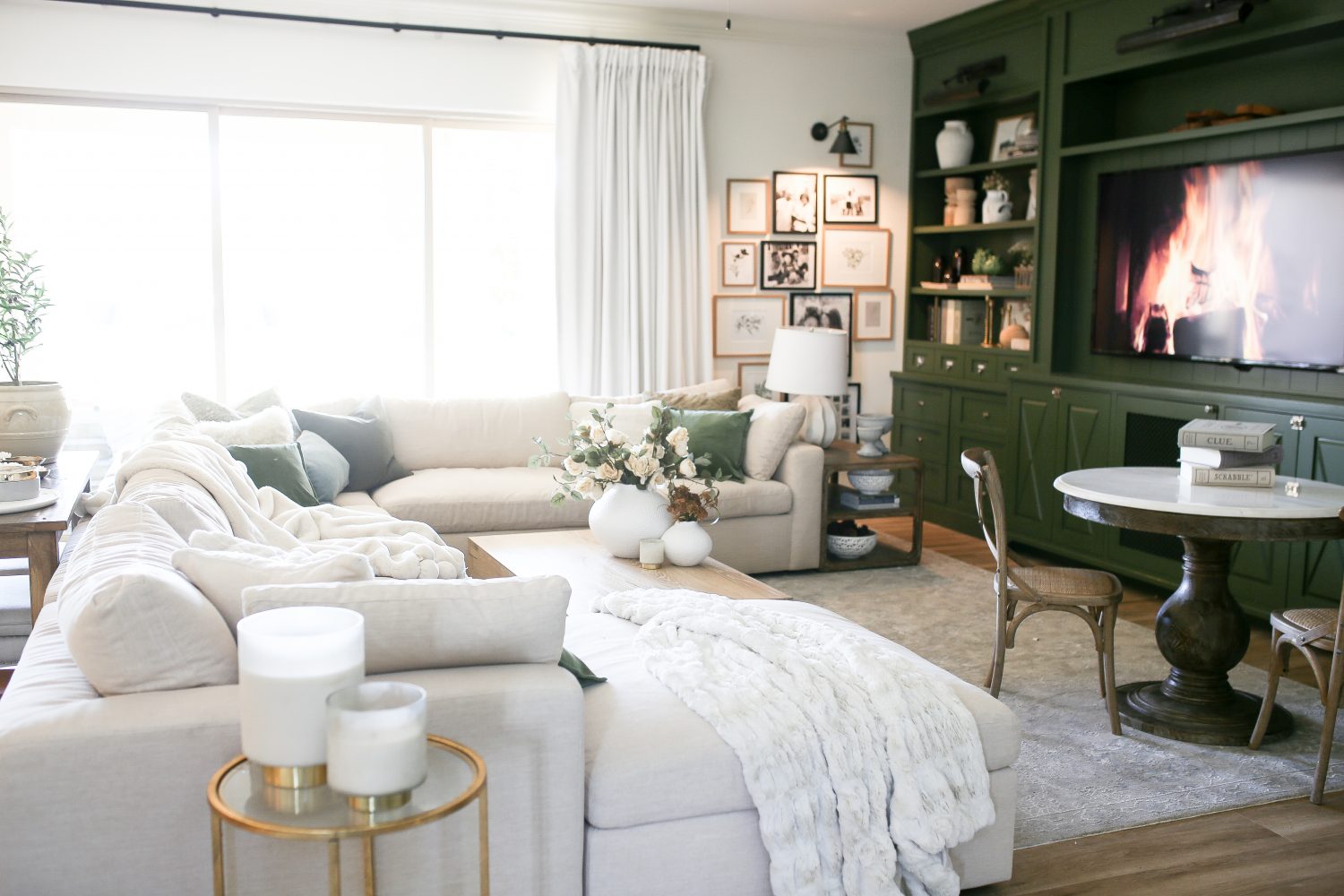 The 6 piece Beale Sectional from Arhaus is a beast of a sectional and fit our face perfectly. At its longest this sectional is 14 feet. Most family rooms will not need anything that big but it seems like our family room was made just for this one!
If you're sticker shocked looking at the price or at any of the prices then let me give you some insight! The stock fabric for this sofa is an upgrade. This sectional comes in a Crypton Nomad Snow. A pretty white cream that will go with just about any decor.
A lot of similar companies will charge you a base price so the price looks attractive BUT you get a fabric that will most likely not hold up well overtime like a performance fabric will! Arhaus has all types of grade fabrics, with different price points. But there are usually ones in the same grade as the stocked color, for similar prices. But if you change to a different type of fabric, it might change the order price a bit.
With Arhaus you get the BEST sectional/sofa period!
We chose a Crypton fabric called Nomad Linen. Very similar to the stock fabric Nomad Snow which is also a Crypton fabric but with more creams. I didn't want to go all the way white so I went with something that was still light enough for my personal style.
Arhaus has SO many fabric choices it will be hard not to find something you will love! Make sure you visit your local store to see all the options.
Crypton Fabric
You can read all about why Crypton fabric is so special but here are some reasons why I love and I think you will too.
Repels liquid spills
Odor control built in
Stain resistant
Moisture resistant
Earth-friendly
Many different fabric blends- I was so surprised on how soft our fabric was!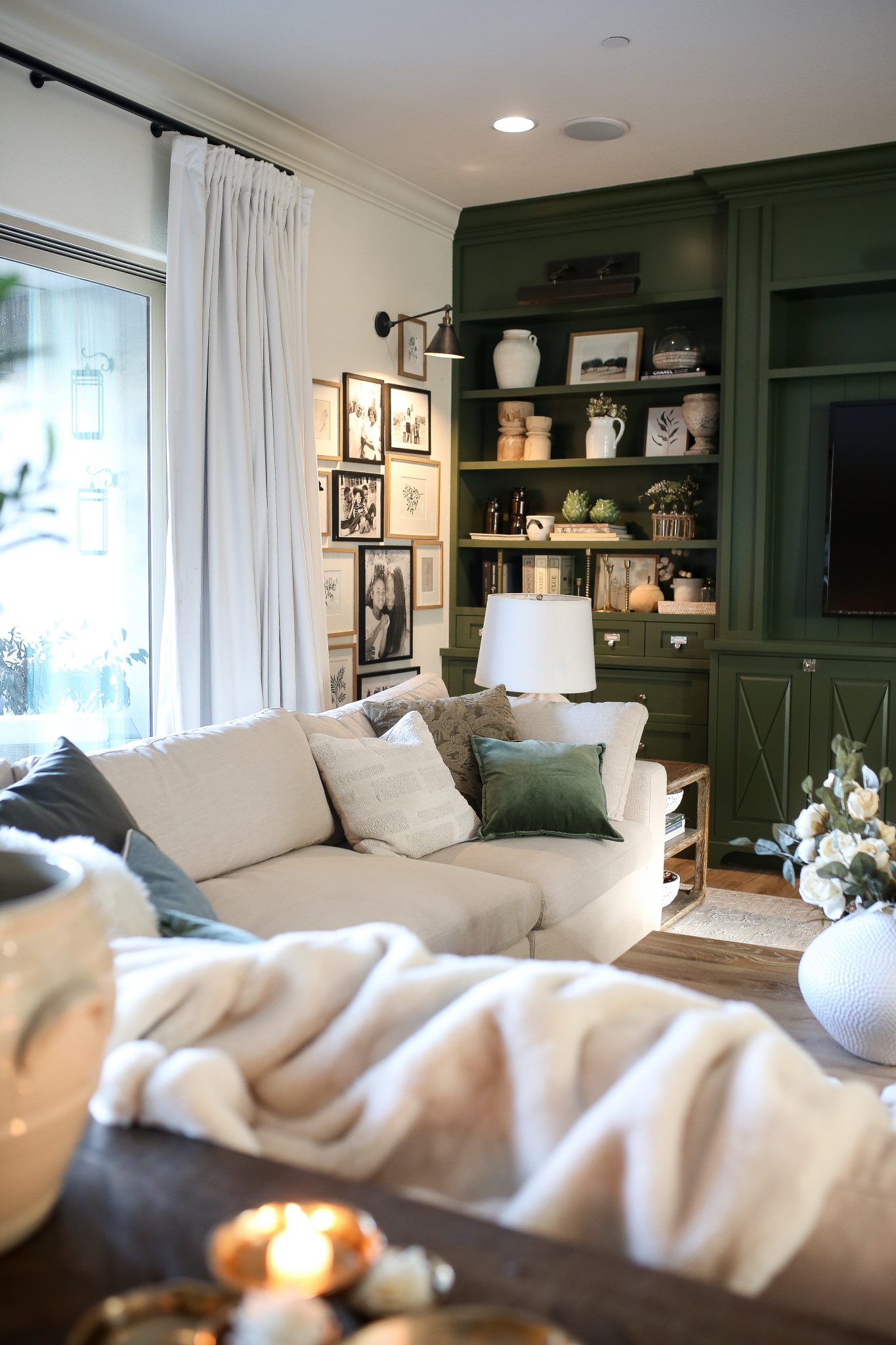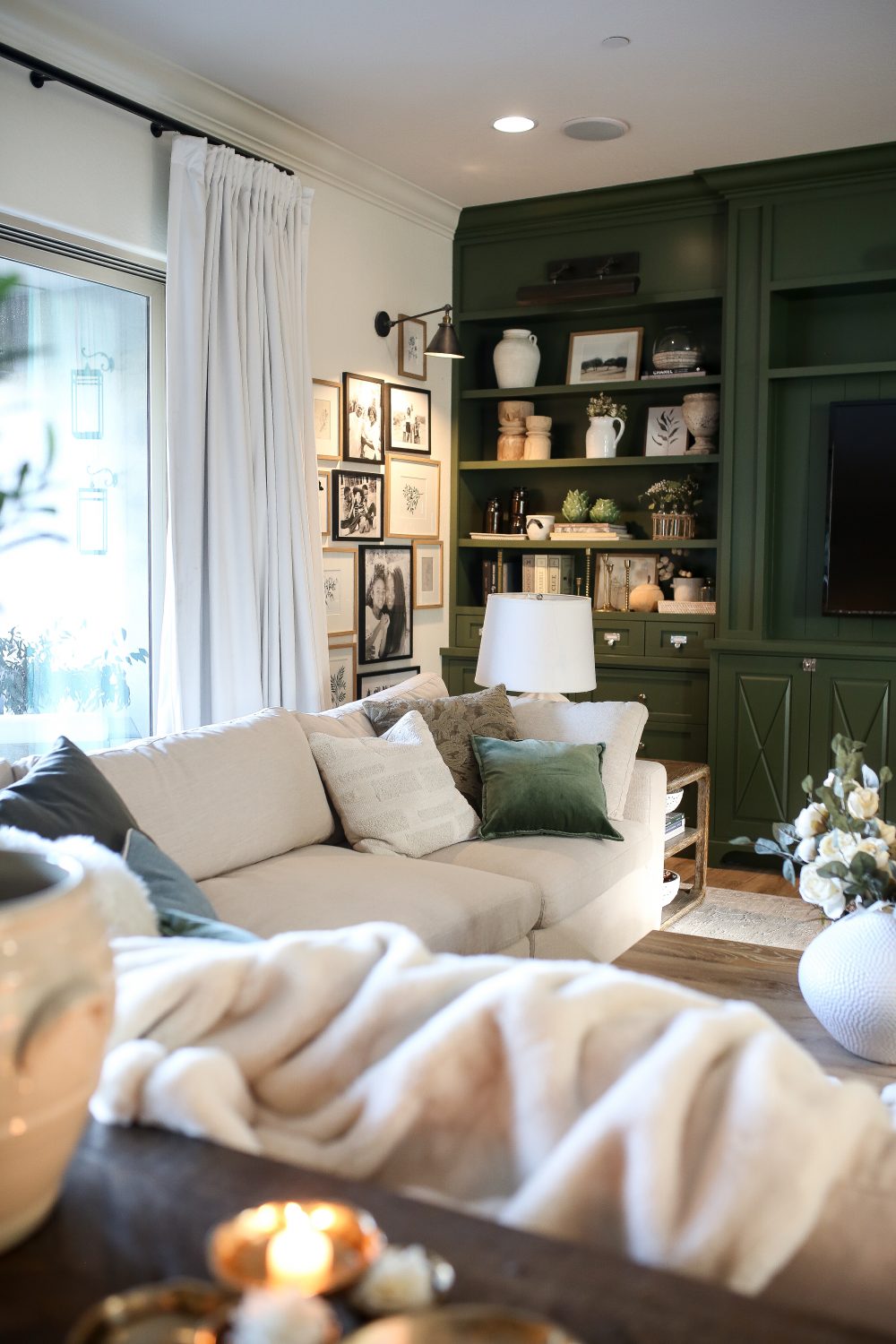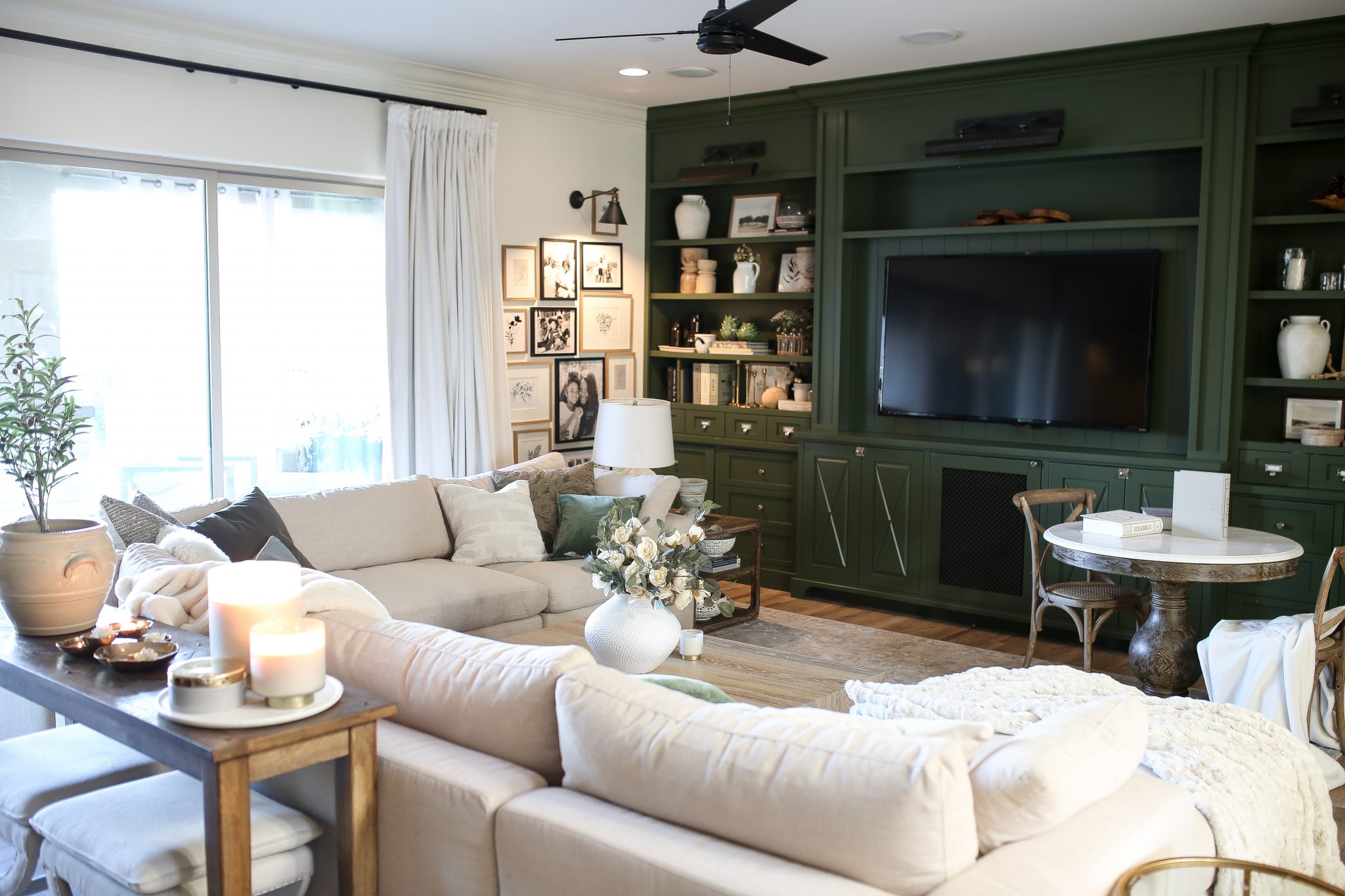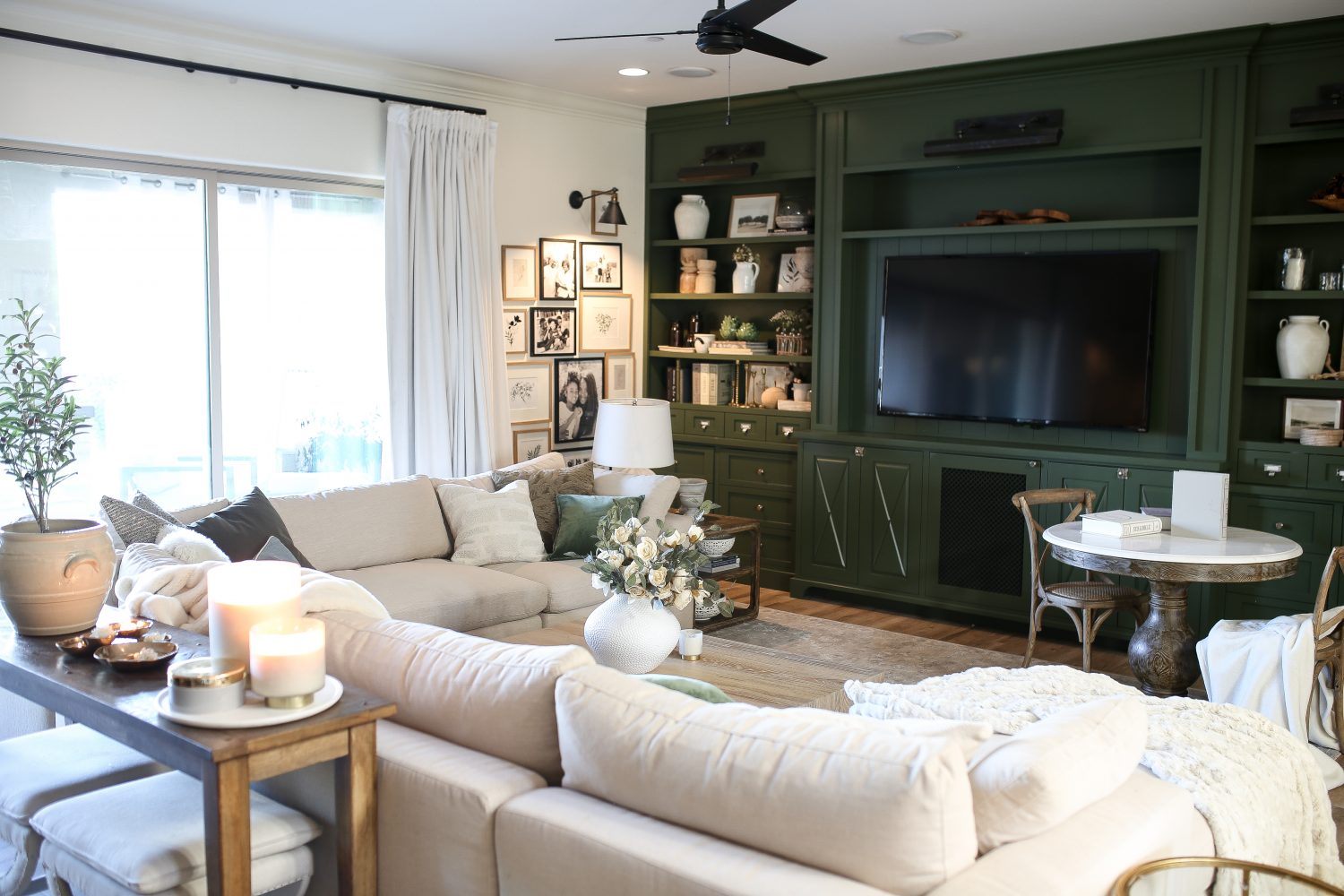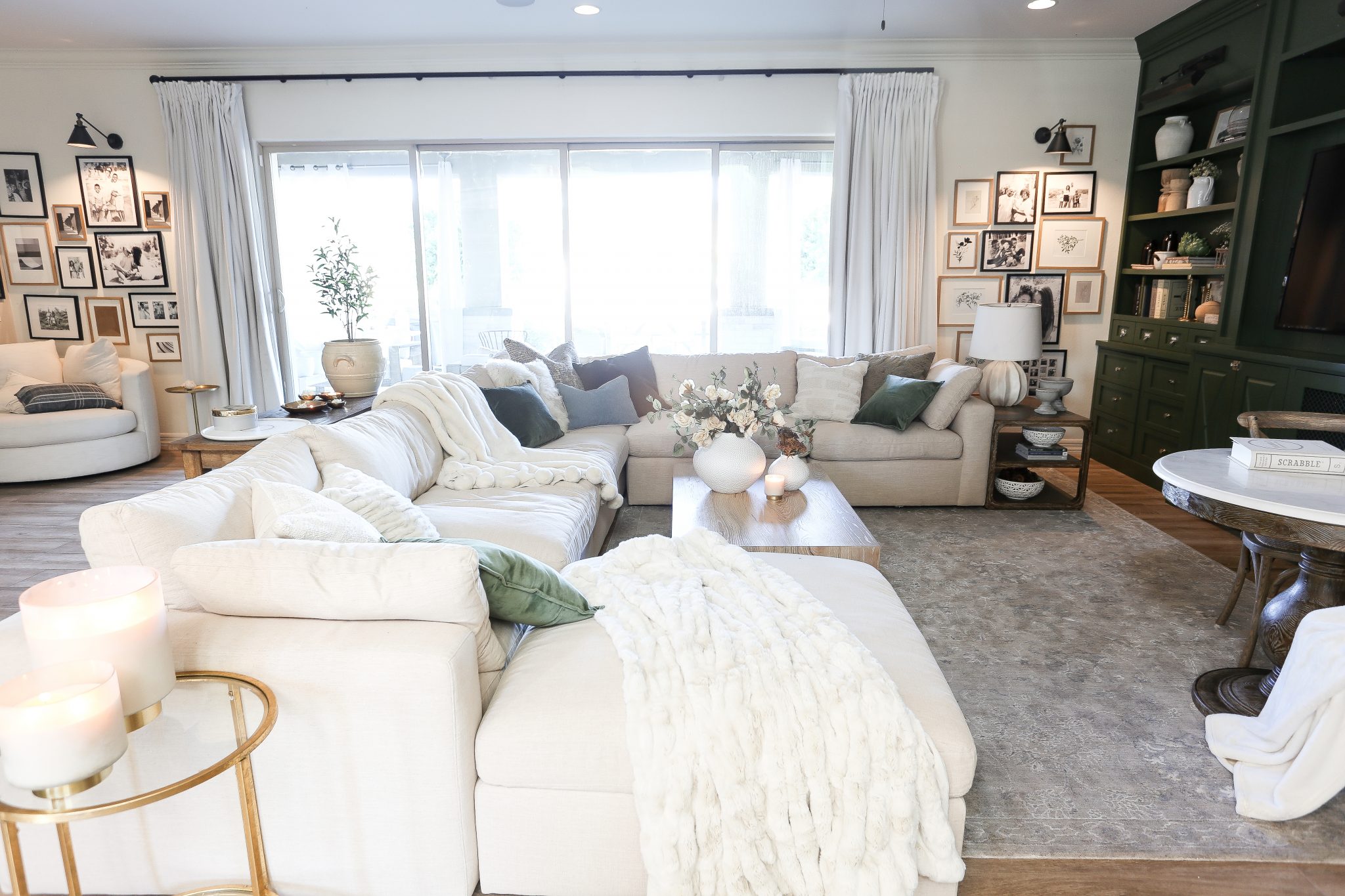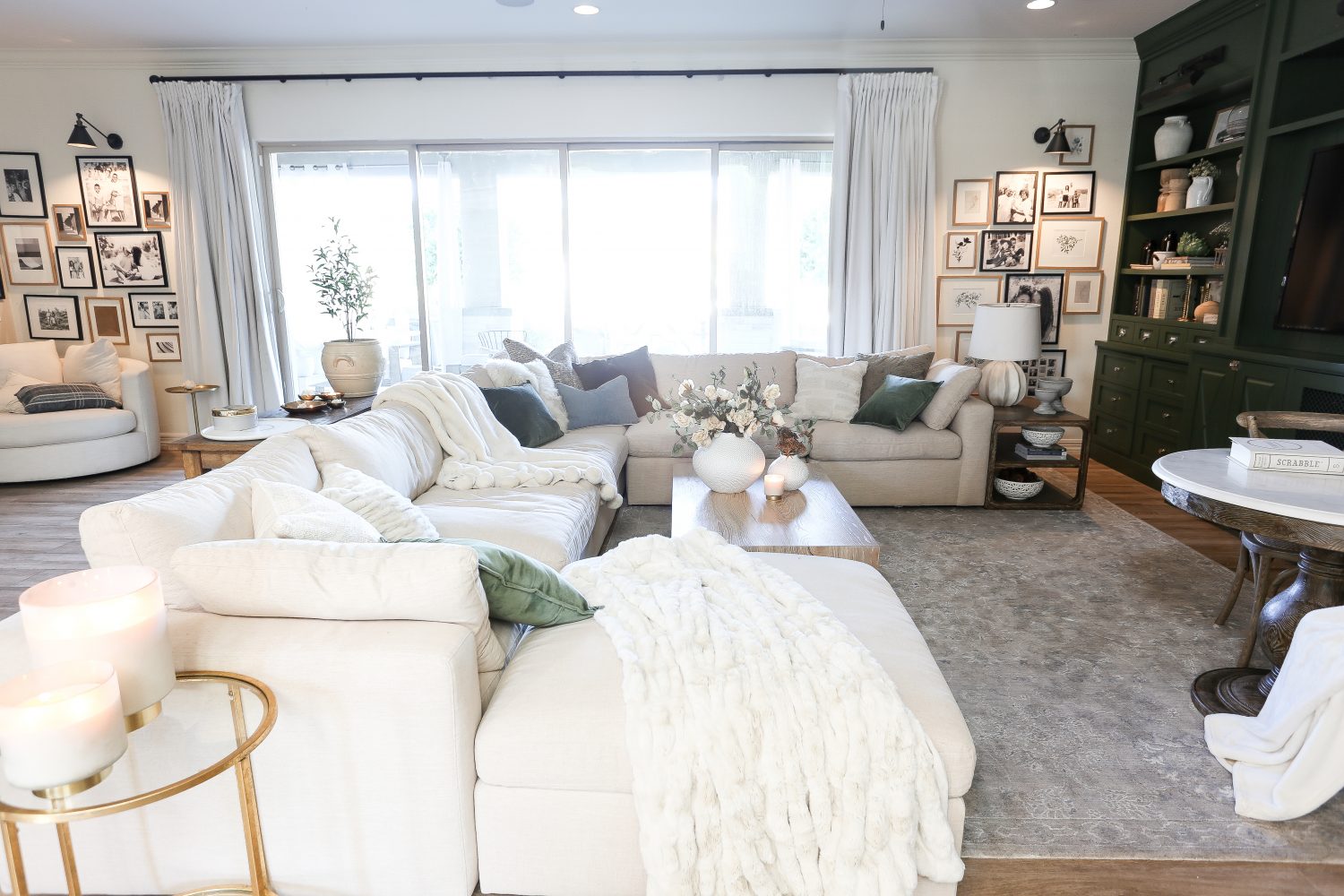 We ultimately chose the Beale sectional over the other sectional options like the Kipton, the Lansbury and even the beautiful Dune because of size, comfort and aesthetics. This sectional is such a great pick for more traditional/transitional spaces like mine. I like to call my aesthetic casual elegance because I love my spaces to feel very cozy but I also love finishes that elevate the space a bit!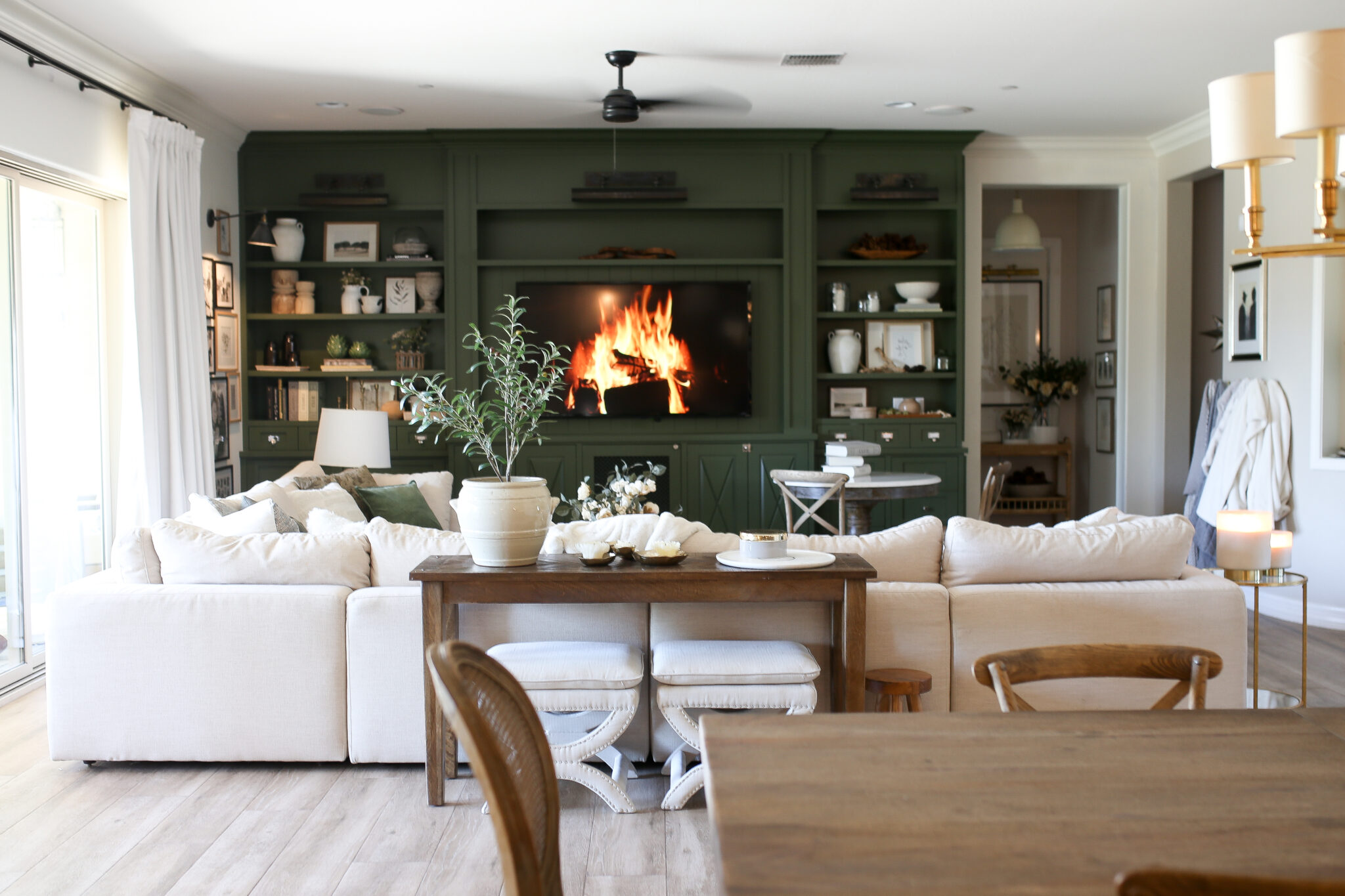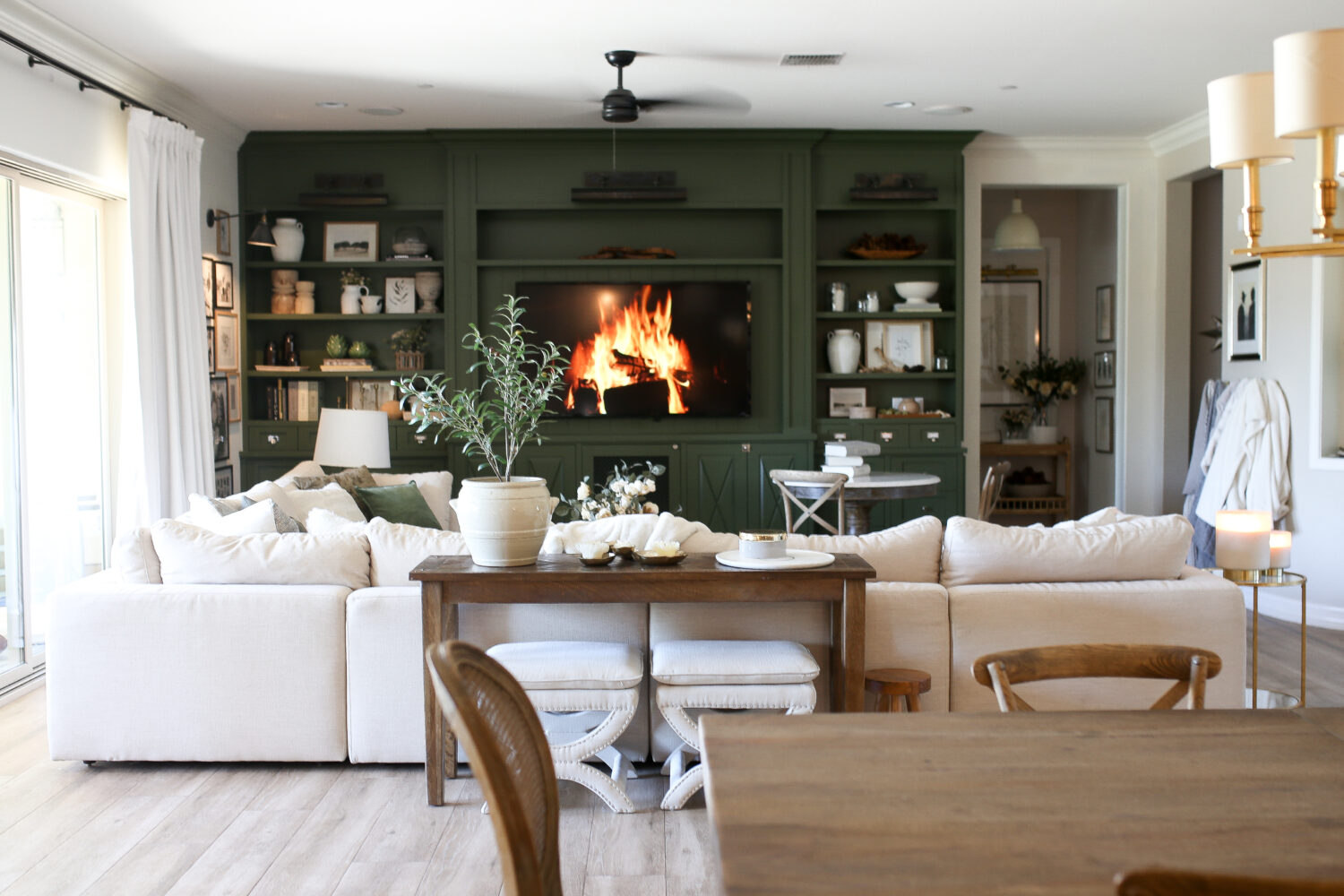 This 6 piece Beale configuration is HUGE and so comfortable. I'm not just saying that guys. It's an absolute dream to have something that fits our space perfectly and that offers a ton of seating for the five of us plus any guests we may have.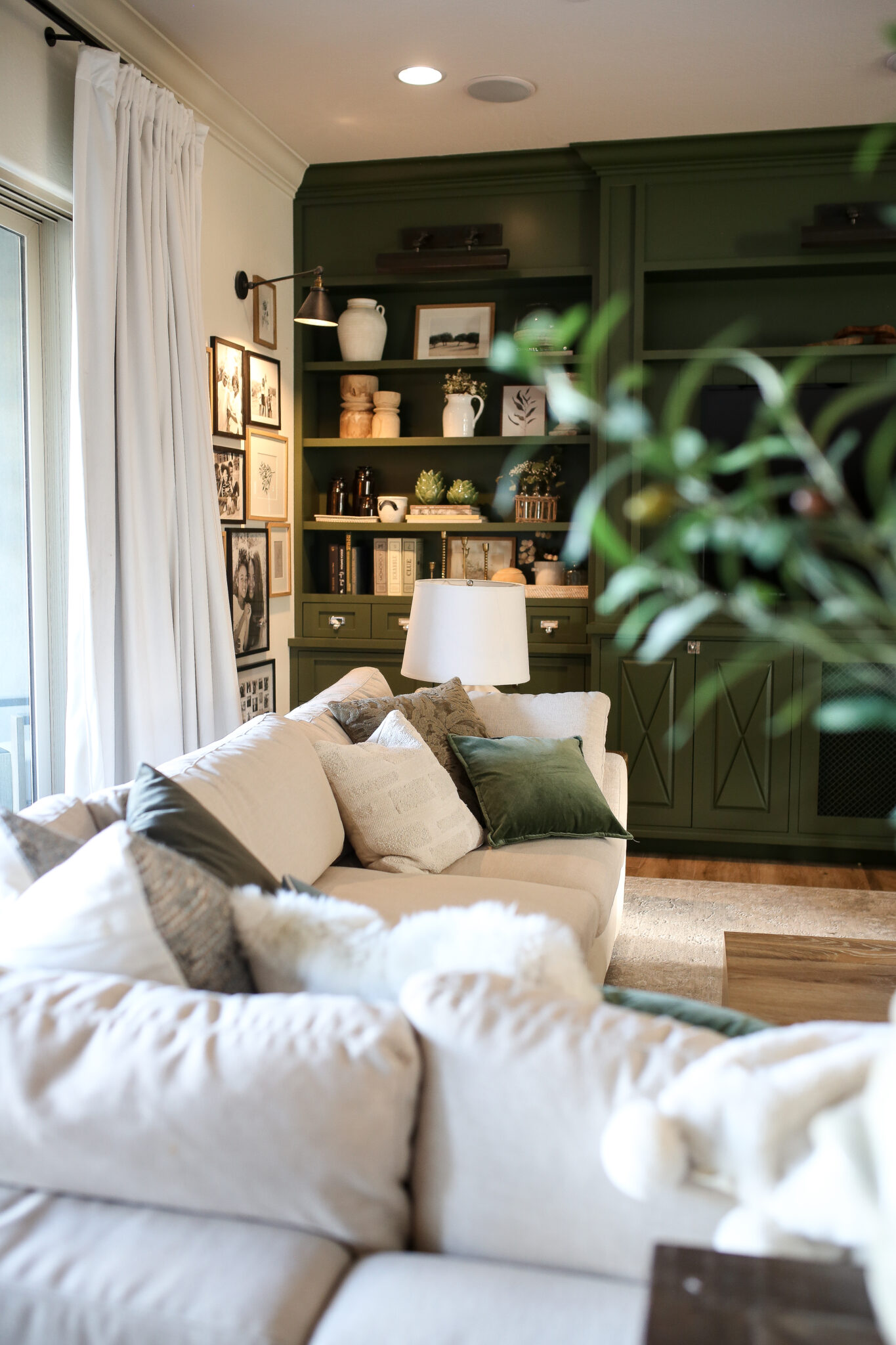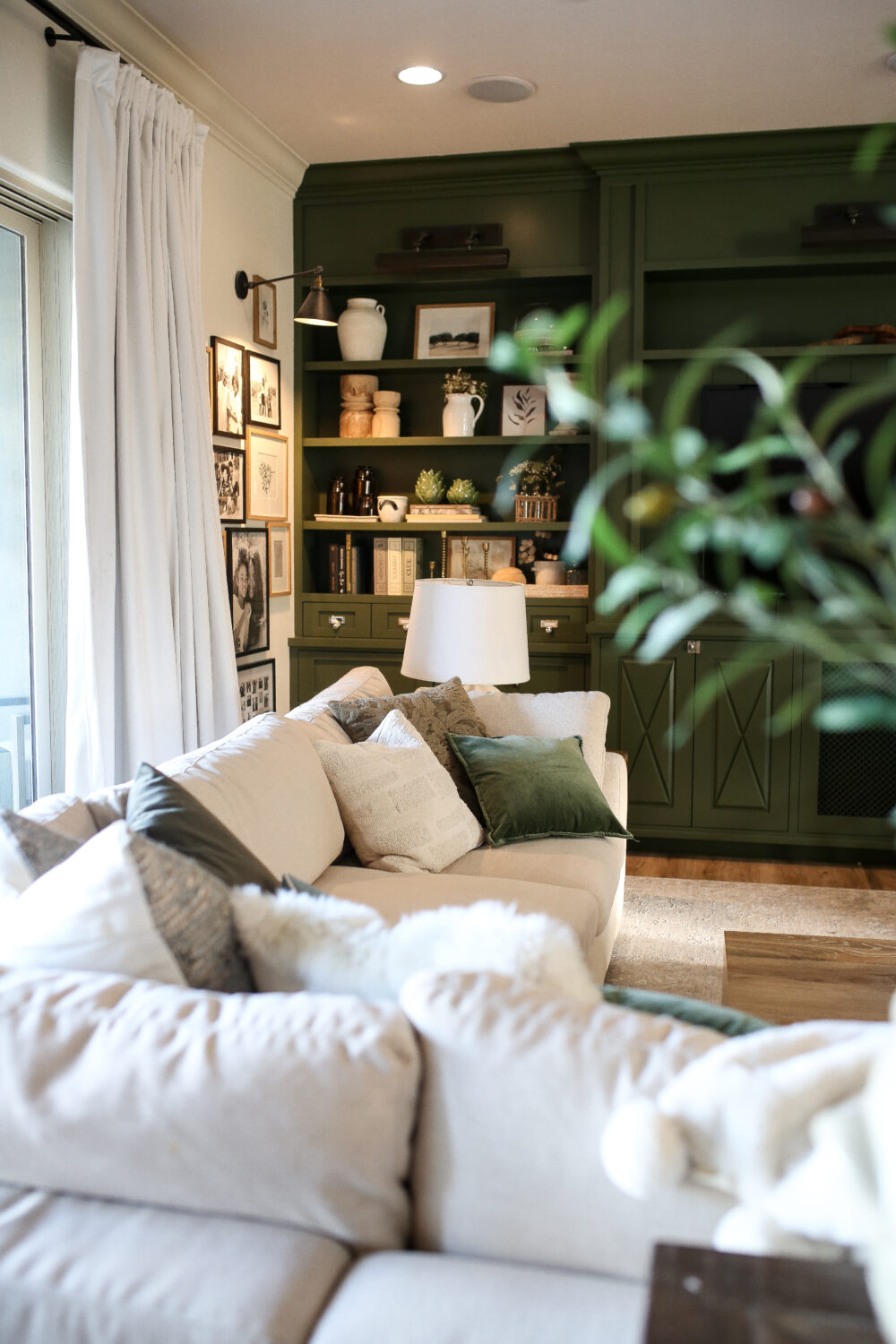 Check out a few more pieces from Arhaus!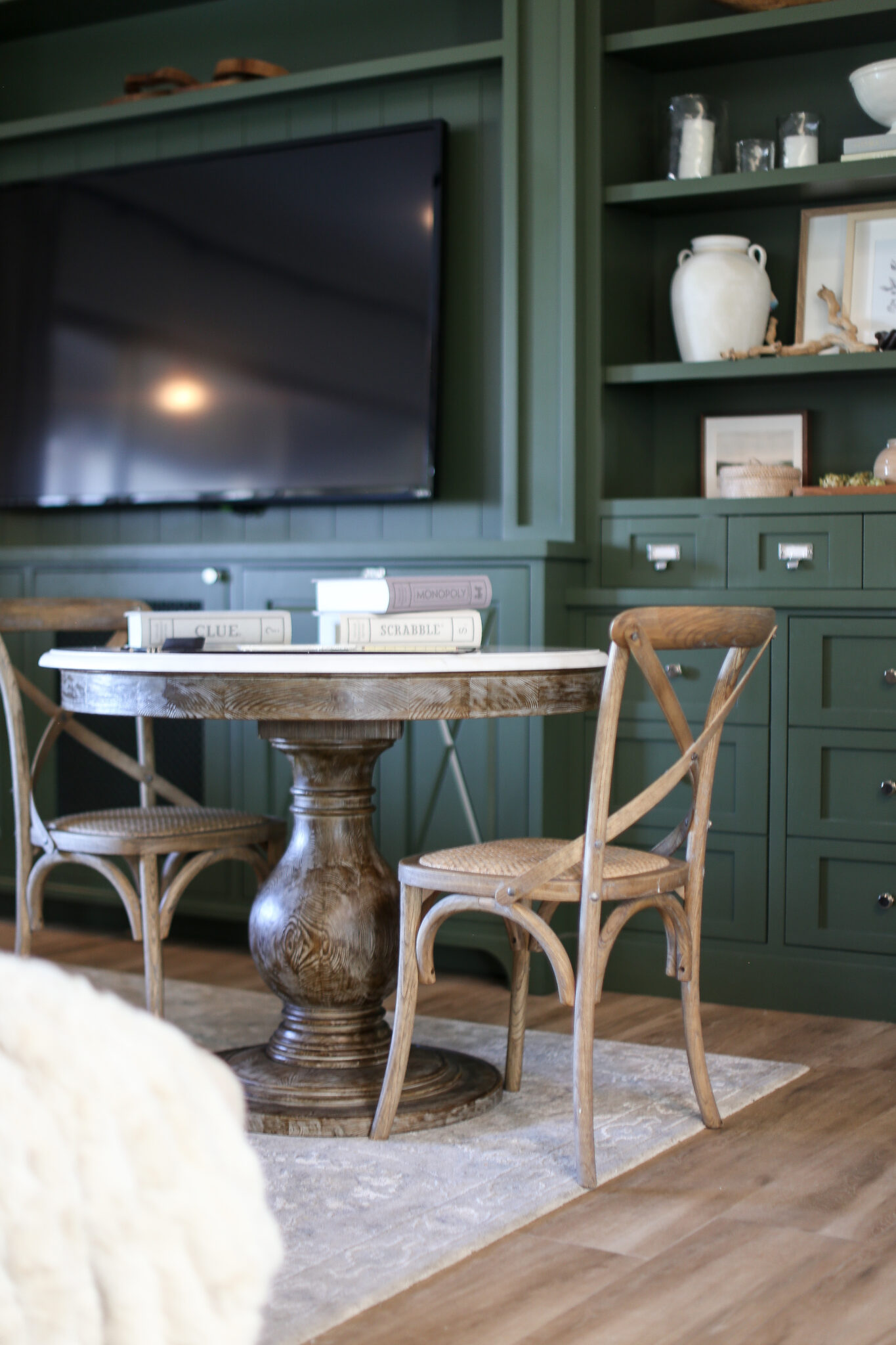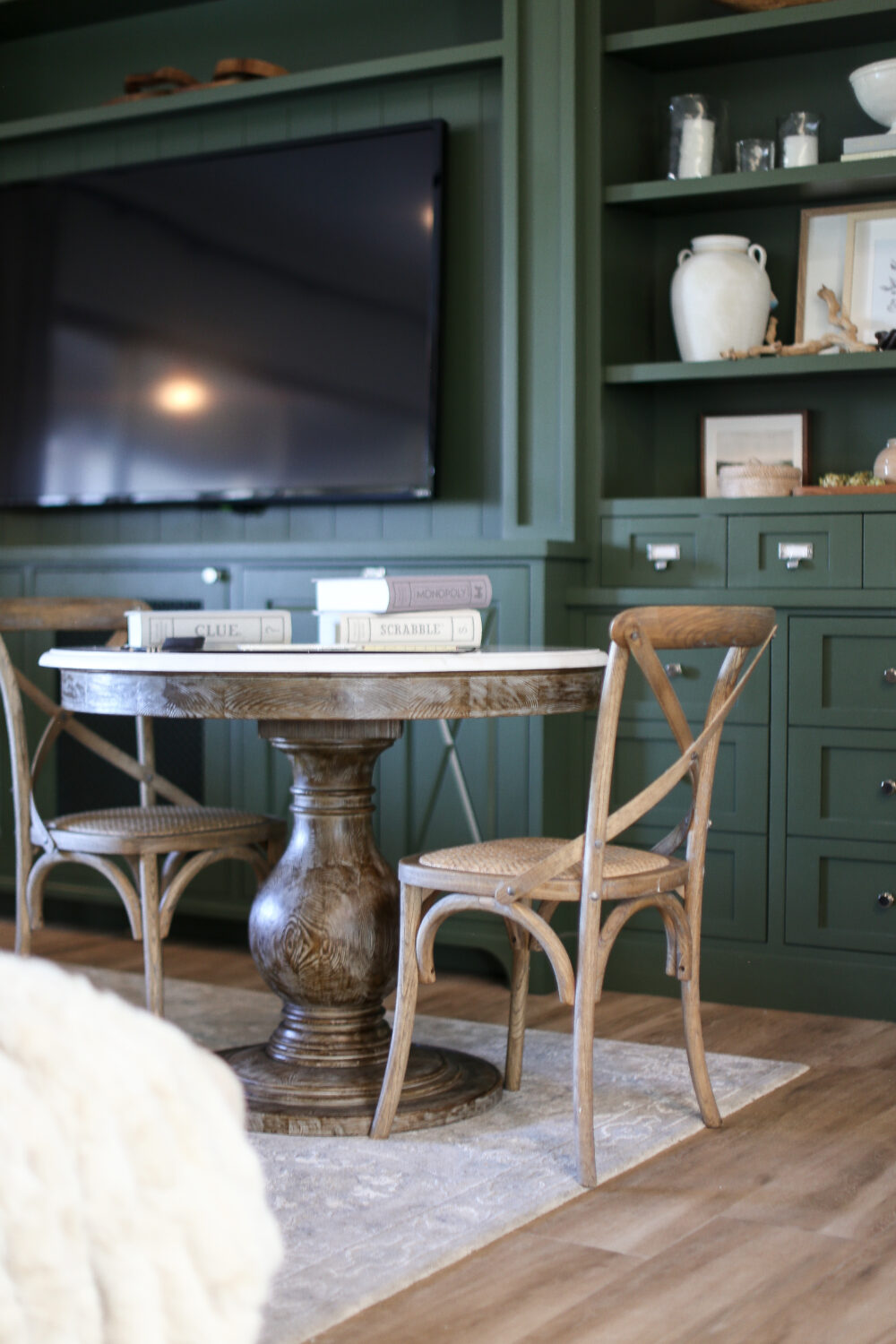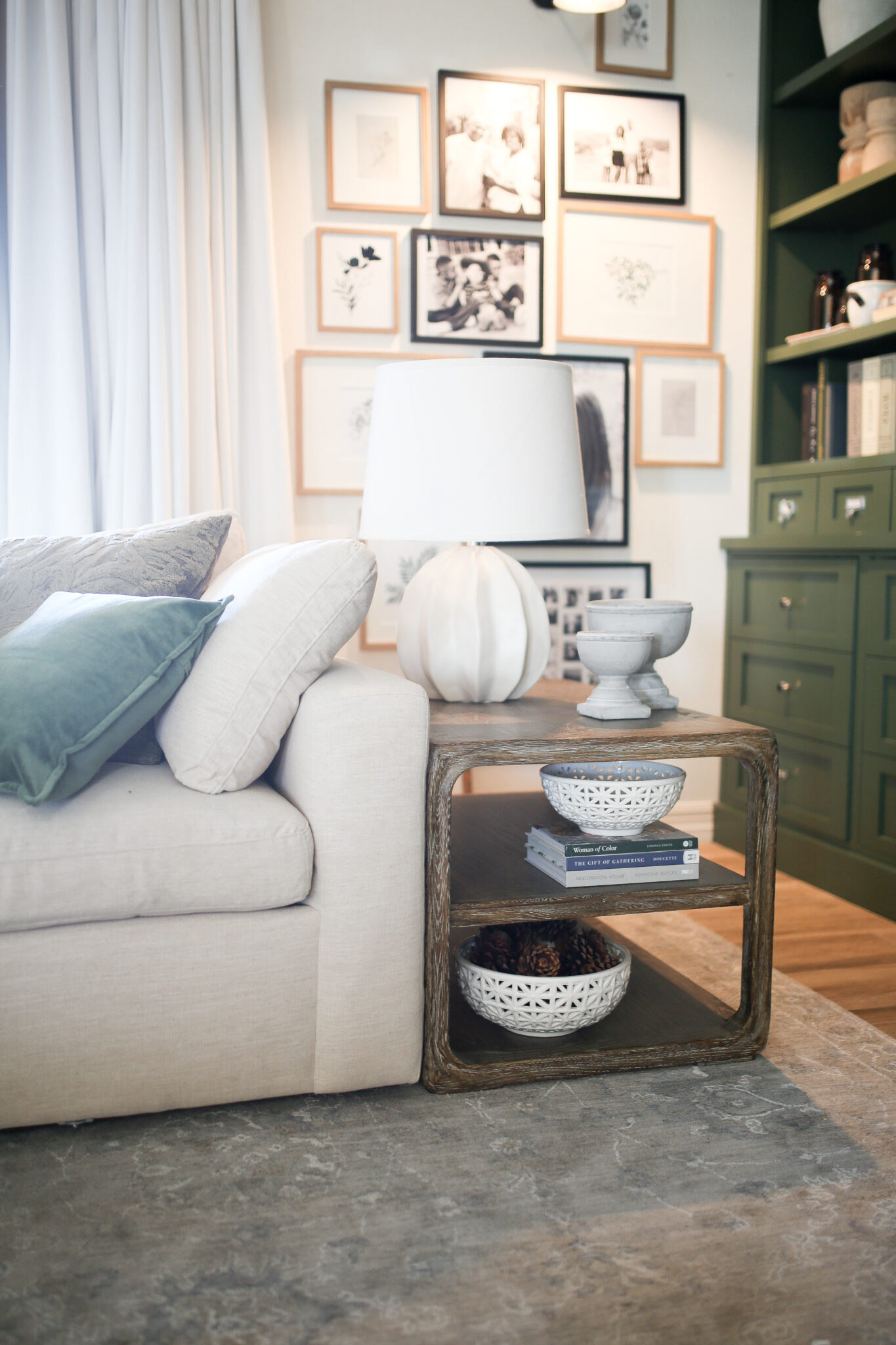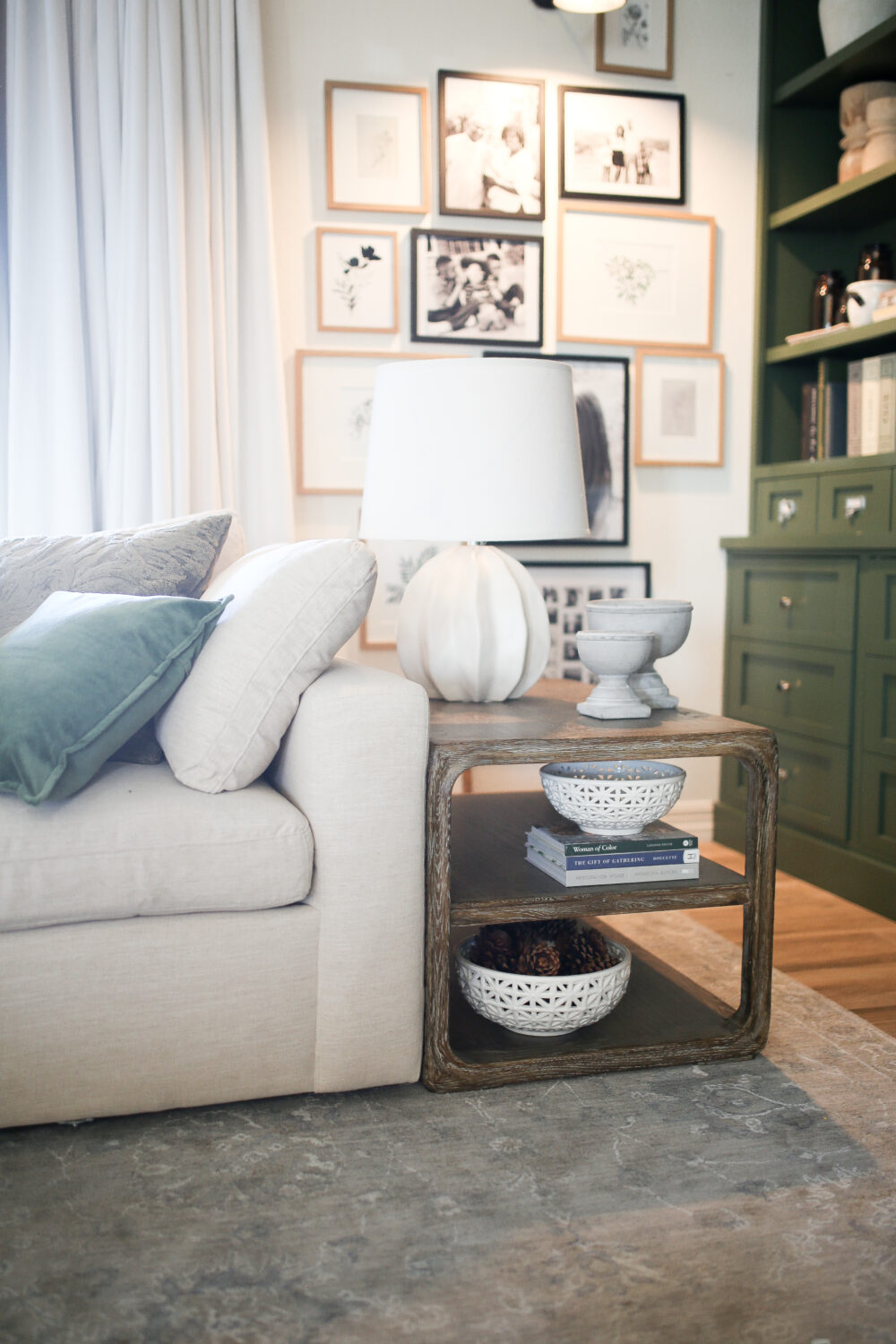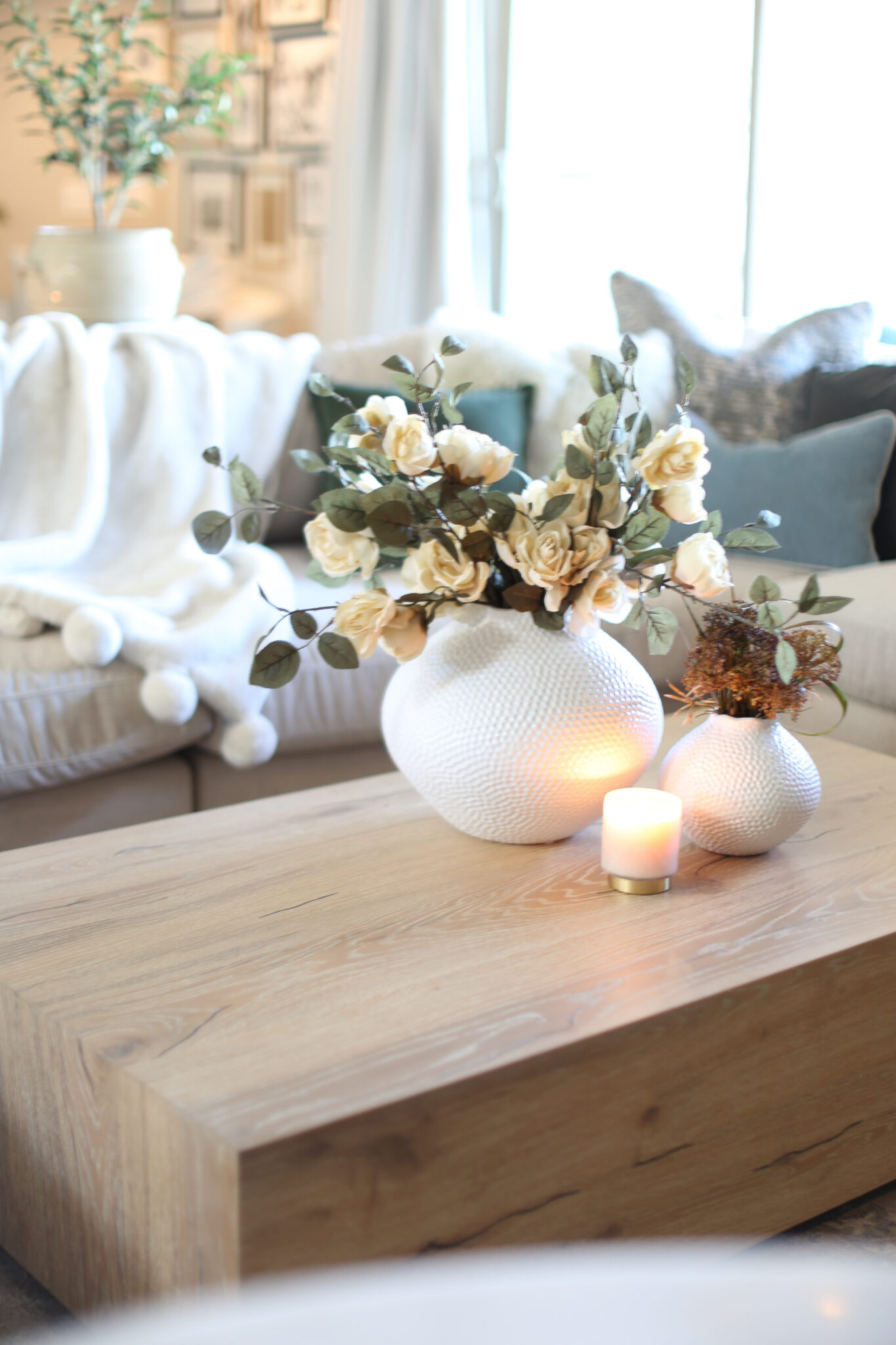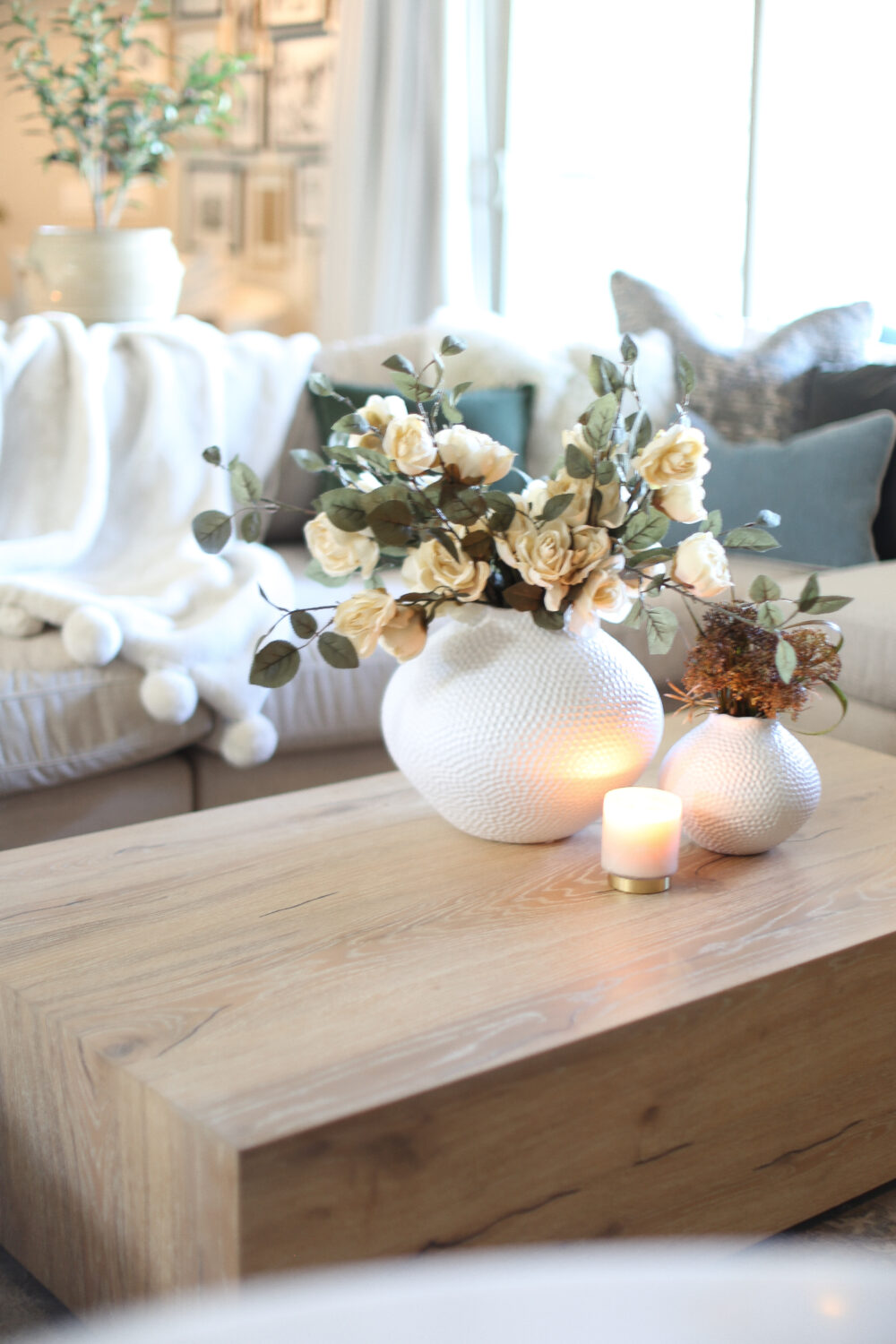 If you're looking to give your own family room a new look make sure you head into your local Arhaus store!
You can talk to any of the designers and they can help you create a room you'll love! The design services are completely free to help you get the best look for your room!
UPDATE July 2022
So how's this sofa been holding up? I can honestly say it's been great you guys! Remember we upgraded to a Crypton fabric and it has kept any spill and stains at bay. We've had a few large spills in the last couple of year and you can't tell not one bit.
Cushions
This was one of the biggest reasons why we decided to get a new sectional. The cushions on our old sofas were horrible. There were feathers EVERYWHERE! Everyday we ( I mean really me ha) had to pick up feathers from all parts of the sofa. They were on the floor, on our clothes, in our hair. It was horrible.
The cushions on our Beale sectional do have feathers ( only on the seats) But they are SO well made you never see any poking through. This is a good sign of seating made with quality.
Our top cushions are ones that you'll need to fluff and move on a regular basis ( a few times a month) to help keep the form. I also flip the seat cushions to and rotate them so that they dont get worn down. Many people are confused when a sofa looks sloppy and slouchy. But I can assure you that's how it's going to look until you fluff the cushions. If you want a more tailored look then these types of sectionals and sofa are NOT for you! So keep that in mind.
I've also put our cushions in the washer! I know I know! Shhhhhh! But it ended up being the perfect way to get an overall clean cushion outside of getting them professionally cleaned which I also recommend! I just take the covers off and stick 1-2 into the washer at a time. Magic I tell ya.
There are so many good and bad reviews when it comes to sofa/sectional buying. In my opinion you're going to want to first test drive whatever sectional you plan on buying. Arhaus has tons of stores around the US. Don't skip this step friends!
Sofa shopping is like mattress shopping. Everyone has a different fit and want.
You also want to make sure your sofa is well made. That's when reviews like this come in handy. Most of Arhaus's sectionals and sofas are made in the USA in High Point known as the Furniture Capital of the World!! Think of any high end sofa, it was most likely made here.
Plus I highly recommend getting the worry free protection plan when you invest in something this expensive. This way you legit don't need to worry about anything happening to your furniture. ANYTHINGGGG!
One Thing I Regret?
Overall I've been SO happy with our Beale choice. The only thing I wish I would've done is gone with the Nomad Snow fabric. I was so hesitant and scared of destroying it. ( Family with kids who have no regard for nice things haha) SO I went with with the Nomad Linen color.
I felt like it would be more forgiving and it totally has been. But after living with everything for the last few years I think the Crypton fabric has been a game changer. Plus if anything did go wrong I would also have my protection plan that covers anything and everything my kids or I could ever do to it haha!
So go for it friends!!! I really think you're going to LOVE this sectional! We are also thinking about getting the Coburn for the upstairs area! Do you think I should try that Nomad Snow for the kids??