Primary Bathroom Remodel Plans
This post is sponsored and may contain affiliate links, please read my disclosure policy.
So happy to be bringing you our first fun project of the year for the house! We try to do 1-2 big projects a year. Remodeling or just redecorating a room or space. This year we decided to focus on our master/primary bathroom. I have some plans and ideas I want to bring to life in this space. I think in the end it will hopefully be a dreamy place to relax and unwind. Here are some before shots.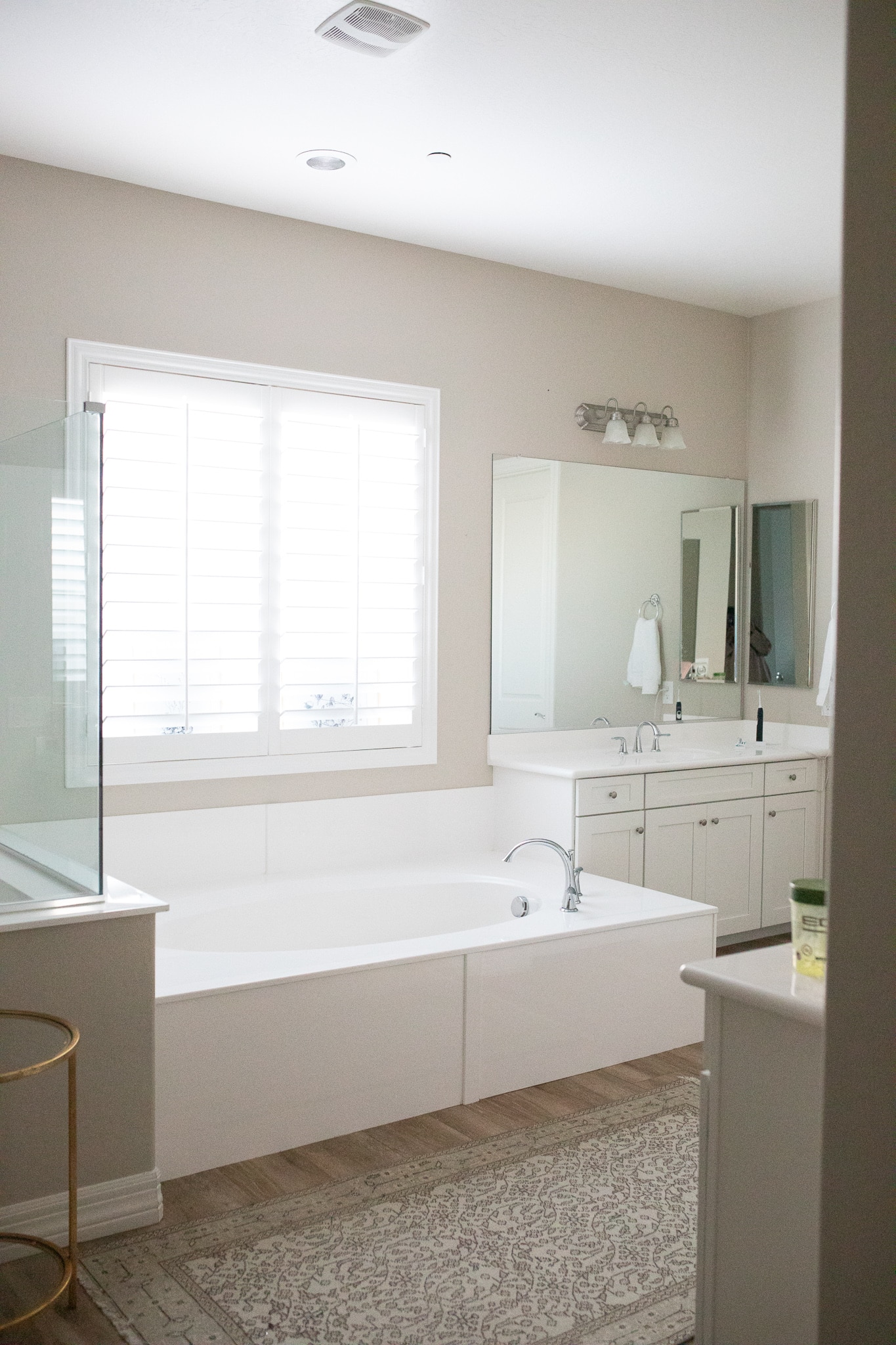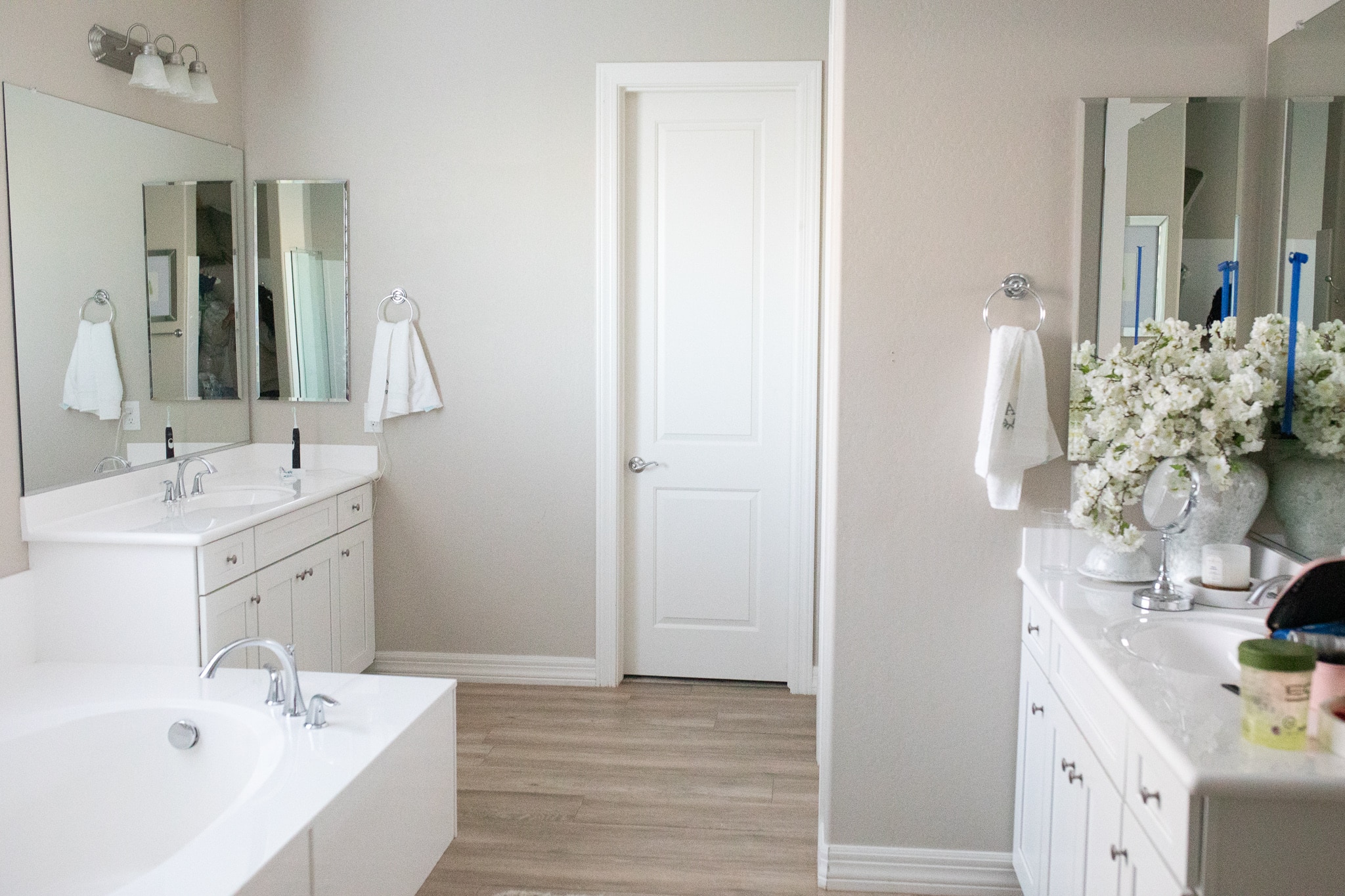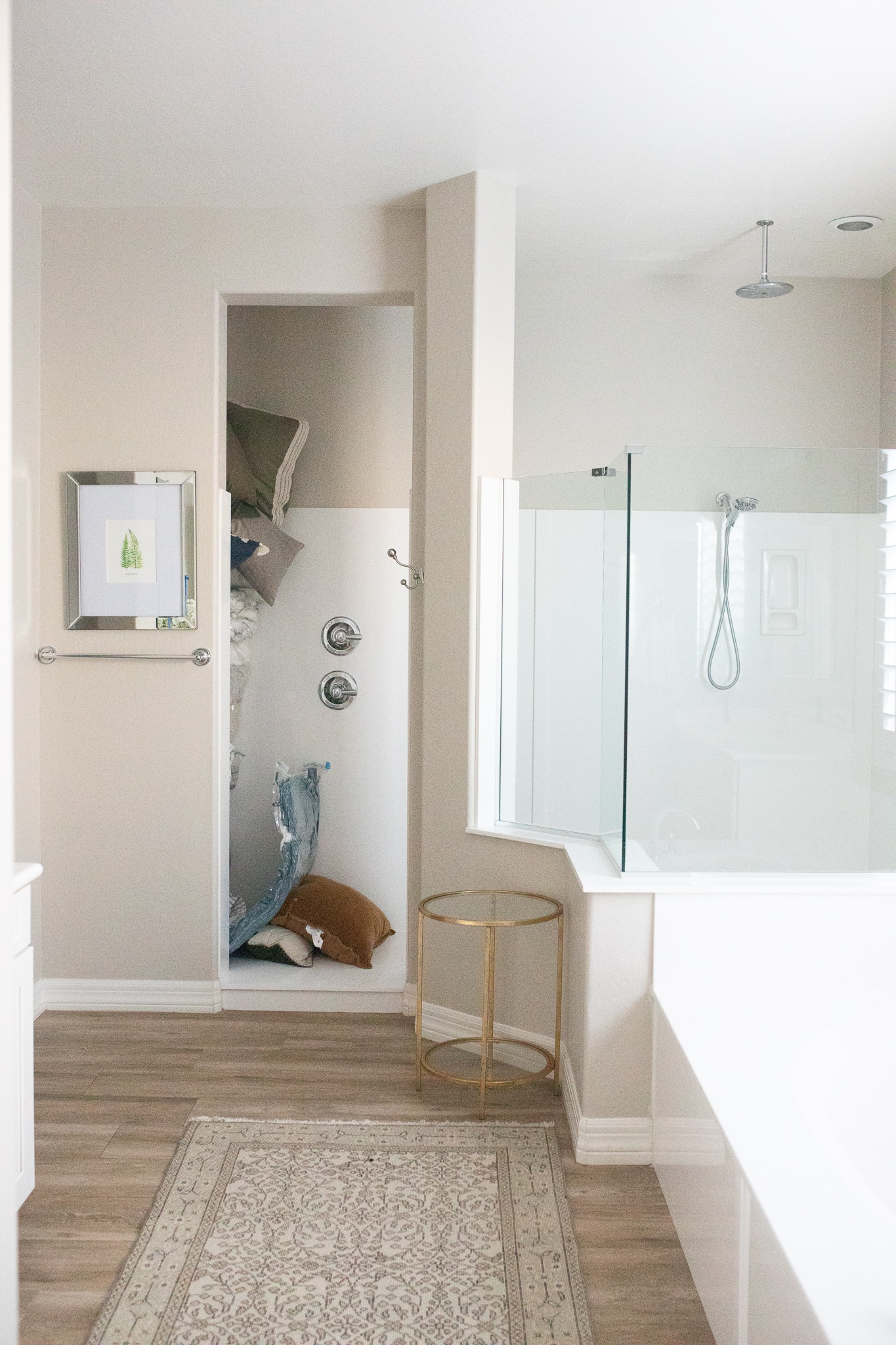 See how everything will come together at the end of the post.
Changing Out the Bathroom Vanities
We will be replacing the vanities in our bathroom. The only requirement for me was marble tops and a bump-out. I love vanities with bump-outs in the middle or the edges because it gives the piece more character. I wanted more drawer storage. I think drawers are just so much more reasonable in bathrooms. It allows you to organize more efficiently rather than having everything in a big open cabinet.
We ended up choosing this one from Wayfair. It checks all the boxes for me! Plus it was a reasonable price. I also love the ogee edge that comes standard. Although I don't love the legs, I think it will be ok with the overall look of the bathroom.
Here are some other ones that were in the running:
Shop Budget Friendly 60in Bathroom Vanities

Another option was to get custom cabinets. Of course, that was a consideration but wasn't necessary for me for this project. I used custom cabinetry in the family room and LOVE them, so I'm not against it at all. I just didn't feel like going through the process and lead time for our bathroom.
Bathroom Remodel Tile Choices
Every bathroom remodels ever has tile. So this was a big choice for us as I created our plan for the bathroom. Floor tile, shower tile, and backsplash tile are just a few of the different areas that will need to be addressed.
For our bathroom, we are keeping the tile on the floor. We have it throughout the house so we decided to keep it and extend it under the tub and the vanity areas. I'm so thankful that it was still available 5 years later! It's a popular tile for sure. The big planks and staggered install make it look like wood with the ease of tile.
Next is the shower area. I want marble so that's the direction we are going with. Because the area is big the presence of marble will be pretty substantial. I want to make sure the marble is balanced in the other areas of the bathroom. So I think two 60 inch vanities with a marble top will be a perfect balance for the opposite side of the bathroom. I have some great shower ideas saved on my Bathroom boards.
Wallpaper
I think wallpaper will make an appearance in the bathroom, I'm just not sure where yet. Maybe the toilet closet or on a couple of walls. I just need a few more elements to be installed first. I've already thought about the wallpapers I would 100% use in my house. So maybe I'll use one of those.
DXV Luxury Tub and Bathroom Fixtures
(Sponsored) Our tub and fixtures were generously provided by DXV which is the luxury line of American Standard. When they contacted us I was so impressed with the line and immediately knew which pieces I wanted to feature. We went with a classic freestanding tub named the St. George. It has the most beautiful classic silhouette. It will sit in the middle of the bathroom surrounded by some linen drapes and it will be a moment for sure. I went with polished nickel finish for the tub filler, faucets, and robe hooks because it's timeless. I've never regret making a polished nickel selection! But I do love mixing it with brass finishes, but you'll see more of that in the lighting.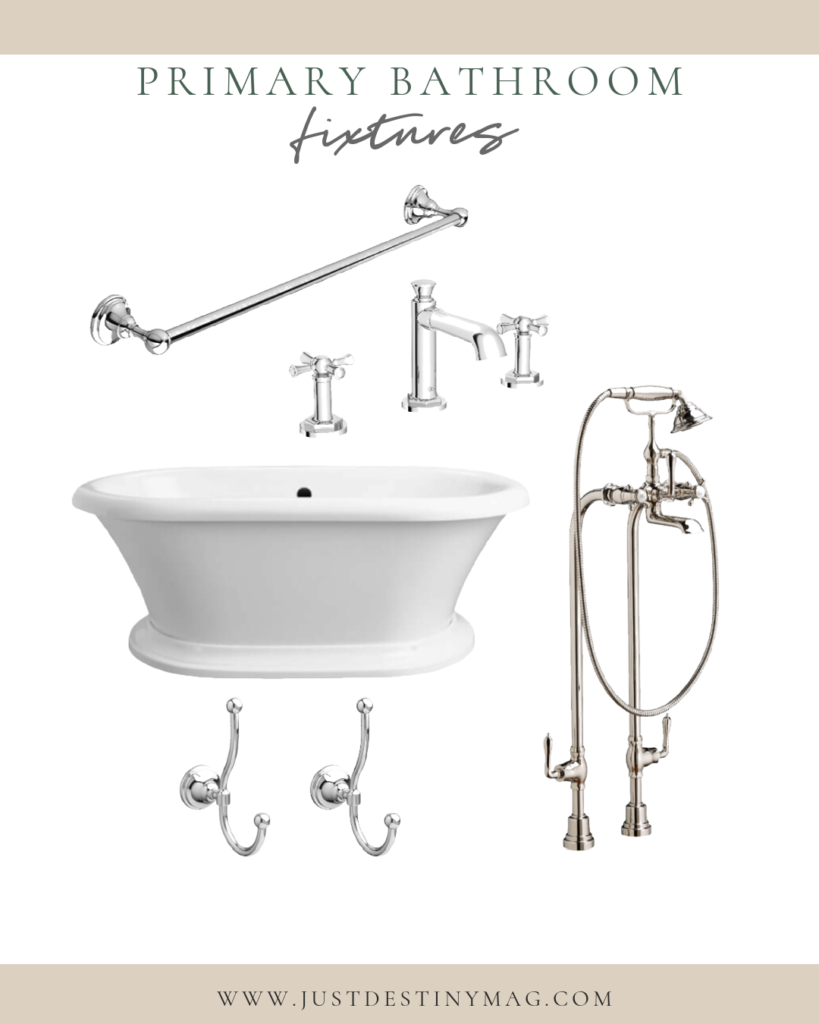 Lighting and Mirrors
All though the lighting plans aren't finally yet here are some that I'm looking at. I think a statement light over the tub or in the middle of the bathroom would be so beautiful. We will also need a few sconces for the vanities and also some matching lights in the closet area. ( We will finish that area up as well since it's connected to the bathroom)
For the mirrors I really want a custom design that looks similar to this. I just love it so much and I think it also adds more character to the space.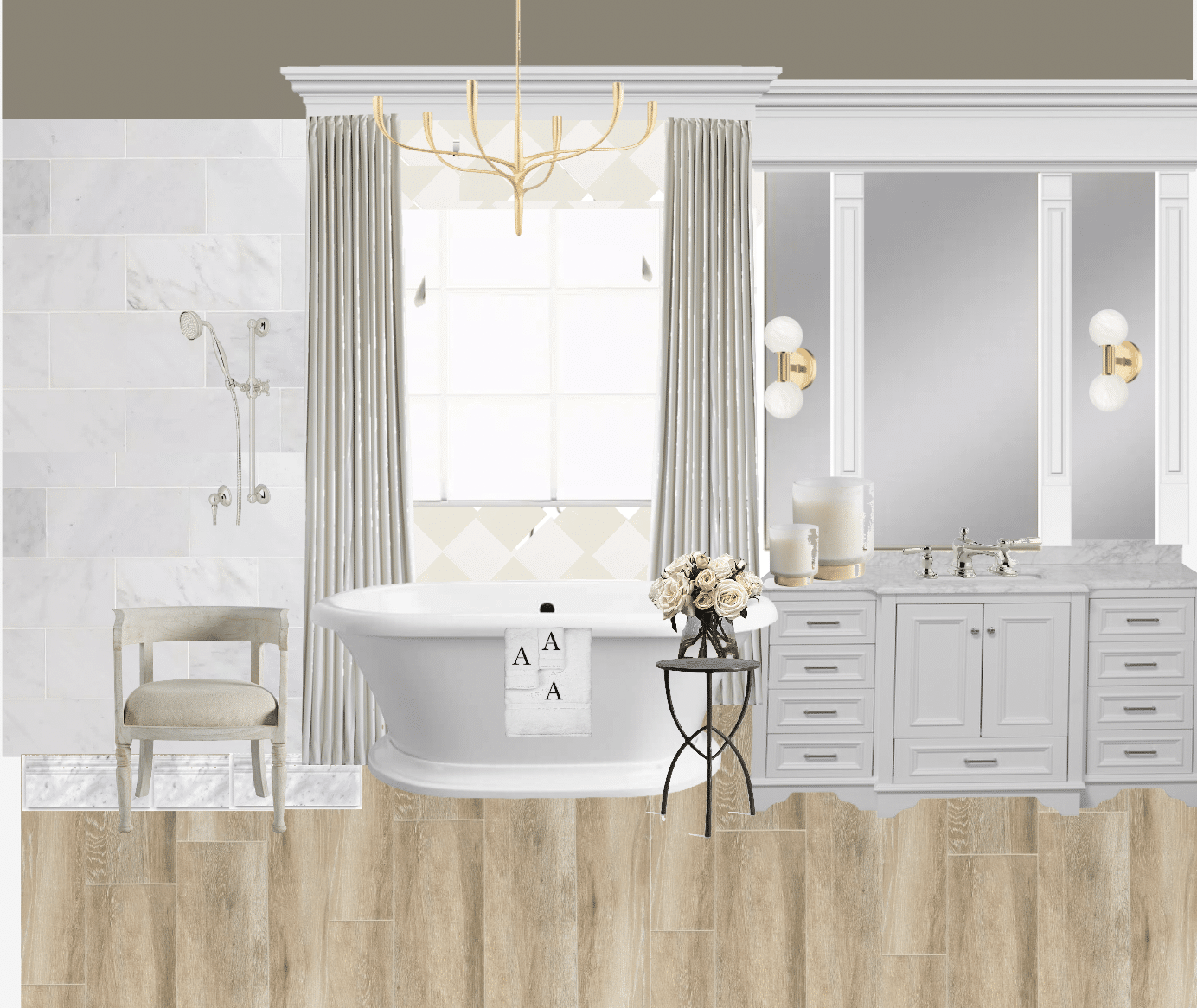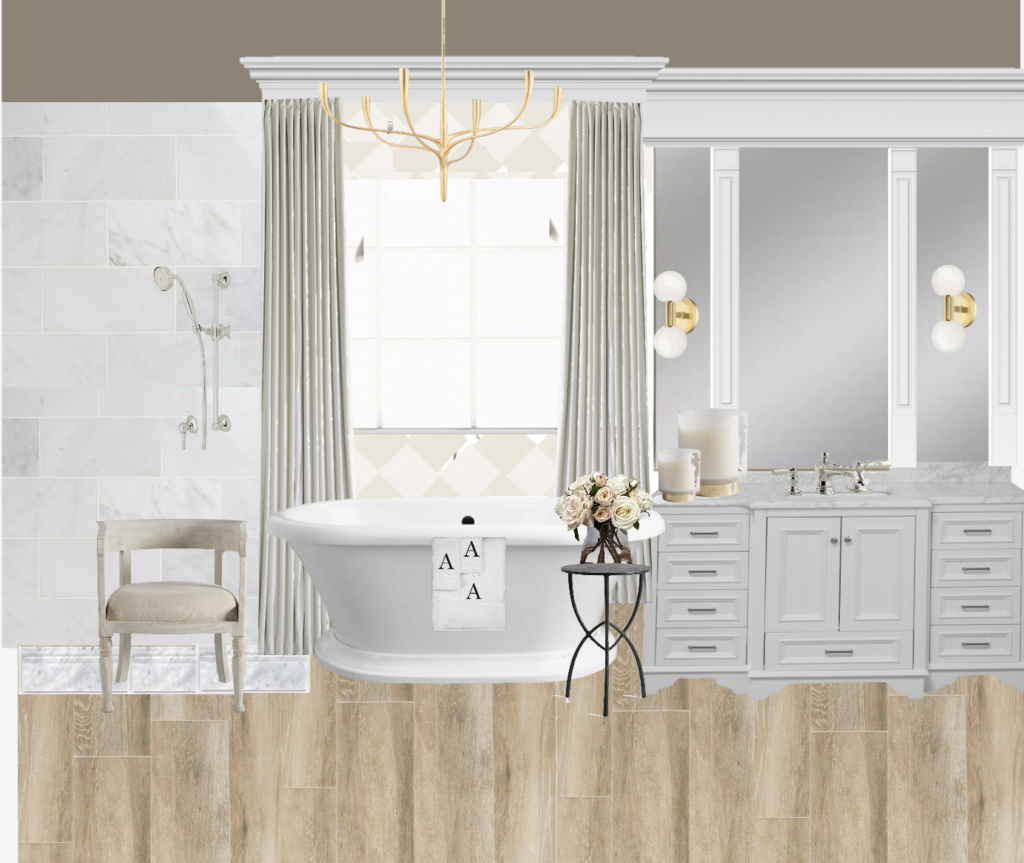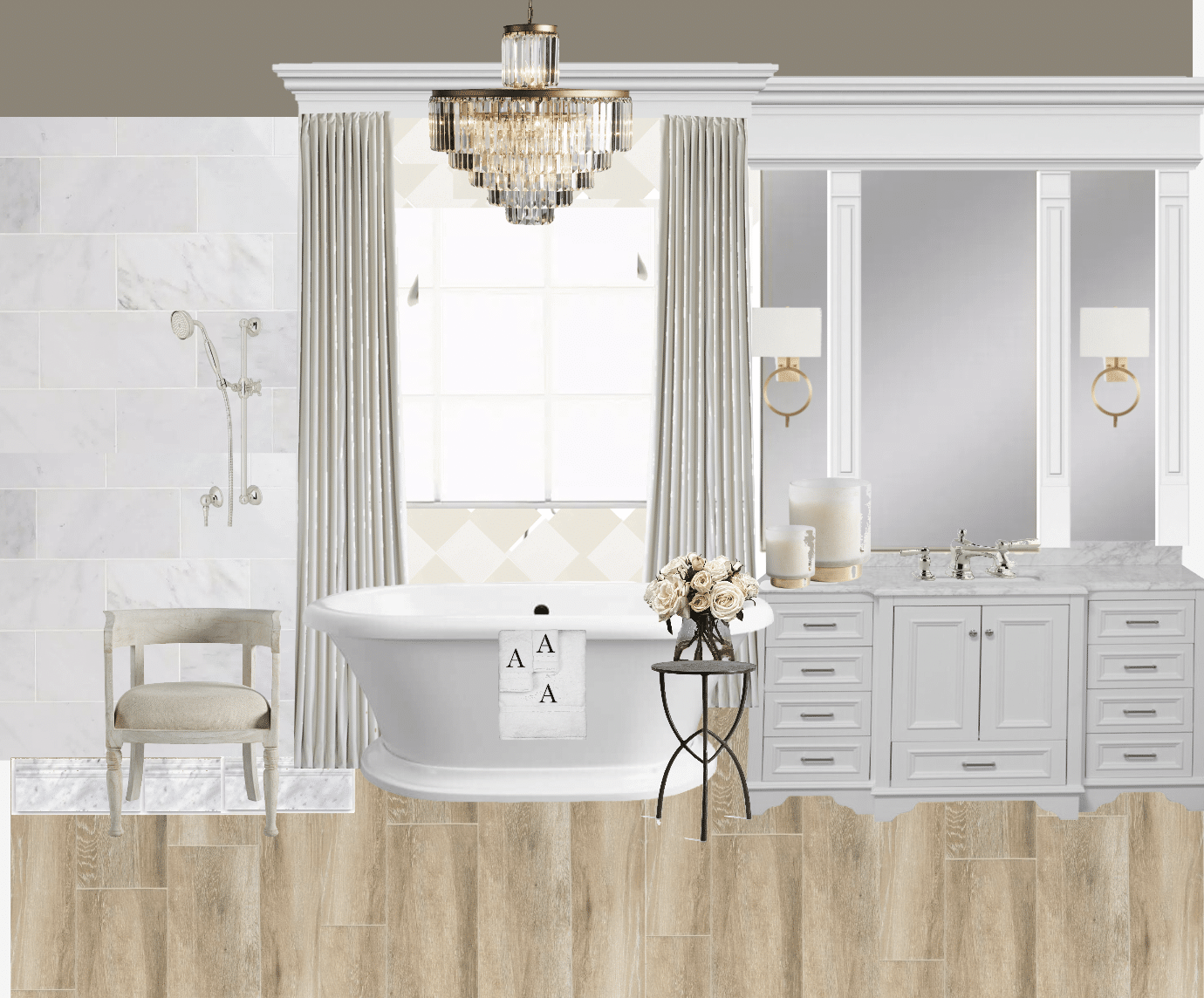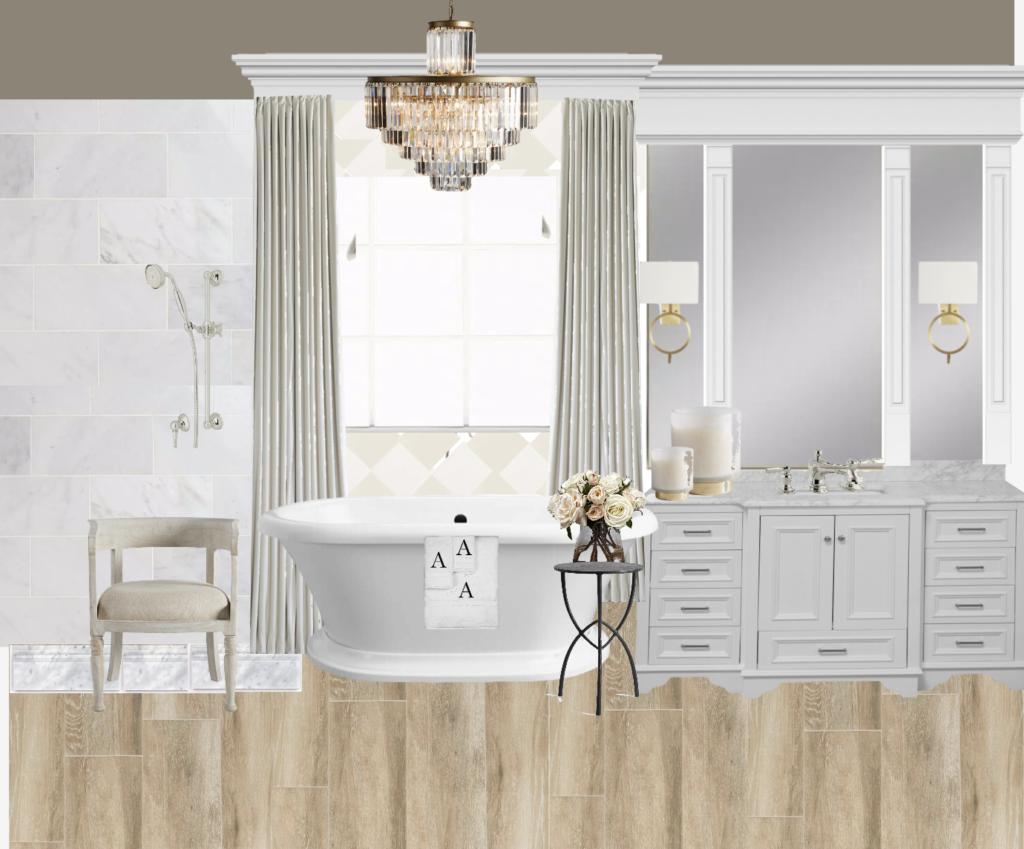 I also would love to install a french door between the closet and the bathroom. I just think after looking at the wall it could be such a beautiful moment for the space. Right now the space is closed off by one off-centered door. Opening up the space will just make everything seamless. Right now you don't know what's beyond the wall unless the door is open. With glass French doors it will be like one big room but well-defined areas.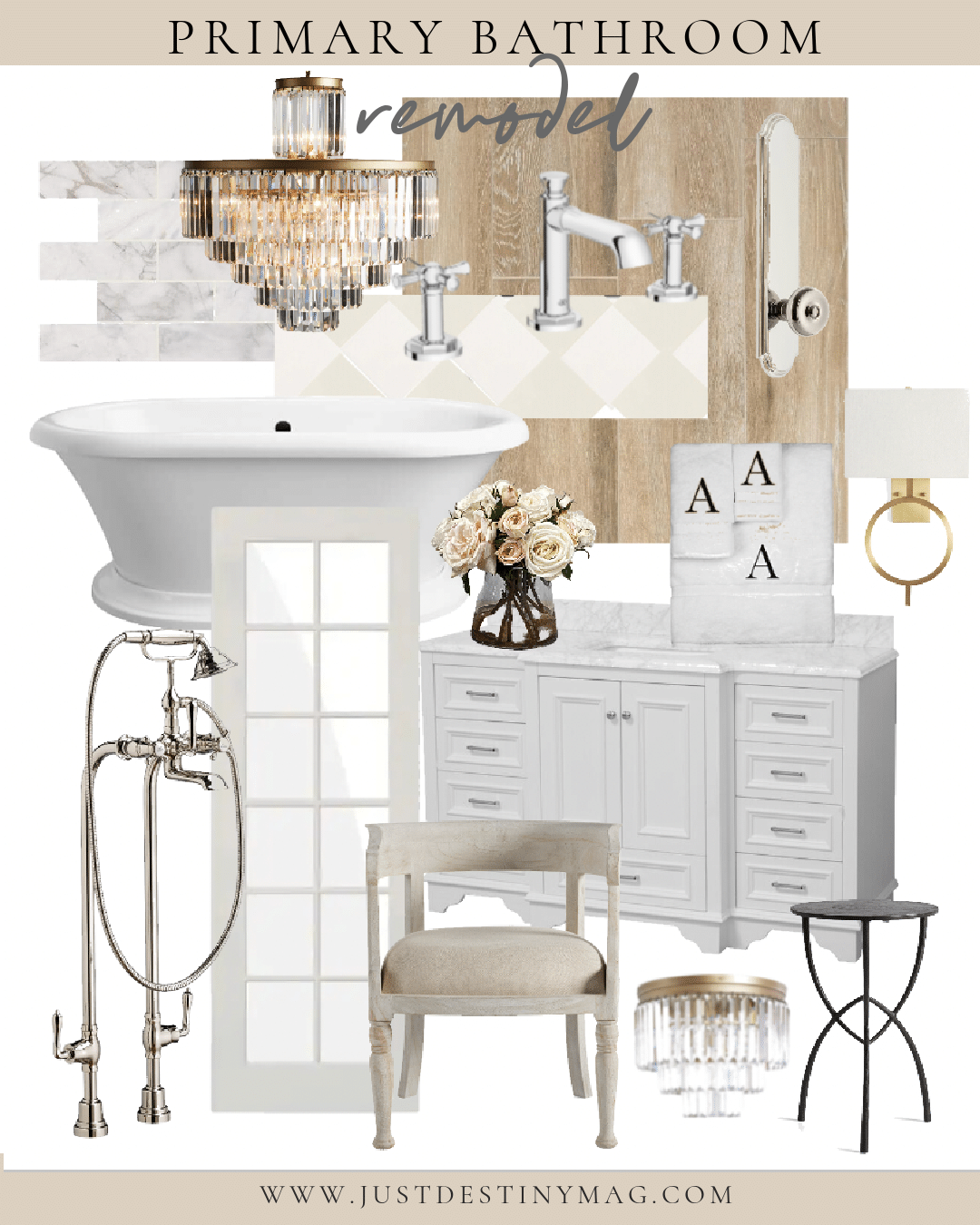 Can't wait to make this into a reality!